When you search French Riviera, you will often see the search results filled with Nice, Eze, Monaco, Cannes, Antibes, and Saint Tropez.  Actually, why bother searching when I could tell you about my first time going to Cote D'Azur?  Or I wrote again in my blog (2nd time going) about going to Eze and Cannes and Menton and Monaco. So you can check all of them out.  You can see my video clips at https://www.youtube.com/@travelwithabutterfly.  Or if you're like me, a tourist who wants to visit the off beaten paths and go to less touristy places, you can check out Sainte Maxime, Plateau de Valensole, Verdon Gorge and Gréoux-les-Bains.  It's so less touristy that most of the people in the region, including the staff in the hotel, that they actually don't speak English at all.  You can also read about Saint Tropez or places to eat in Nice or things to do in Nice.
We stopped by Sainte Maxime from Saint Tropez because we had to drop off our friend.  He had to go back to Nice to catch his flight the next day.  At first, he didn't really want to go to Saint Tropez because of the inconvenience of going to St. Tropez and back to Nice and worried he might miss his flight.  But since we were driving to Plateau de Valensole for the lavender fields, we would pass by Sainte Maxime there, which would be easier for him to catch an Uber, take it to Saint-Raphaël, and take a train back to Nice in the evening.  I think the uber from Saint Maxime to Saint-Raphaël costed about €50. Had he taken from Saint Tropez directly to Nice, it would probably costed him €300!!
Sainte Maxime
Sainte Maxime is really nice.  It's got beautiful beaches, and the streets are filled with local people, barely any tourists, and there are small yachts you can rent there as well.  It's an idyllic place and you really get to experience French Riviera without it feeling like it's a tourist trap, as if you've discovered a hidden gem in the south of France.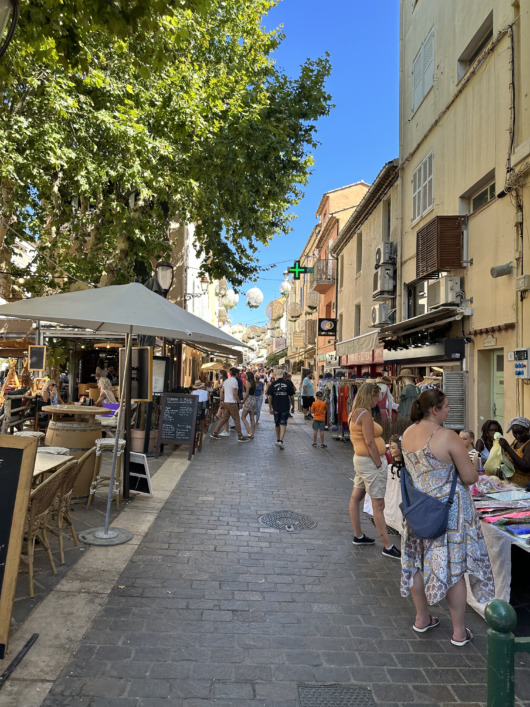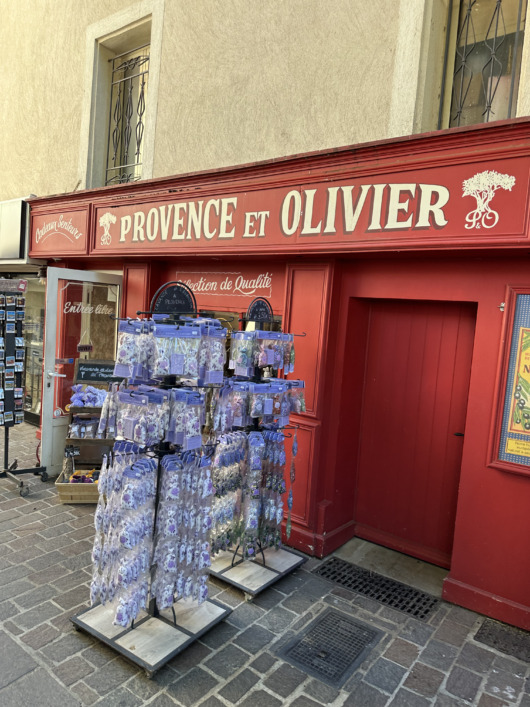 My friend recommended we stop at Sainte Maxime instead of leaving directly to the lavender fields specifically for this shop, Provence et Olivier (website).  He said this retail shop was located right here in Sainte Maxime (the only one in the world) and it was famous for its soap products and fragrances.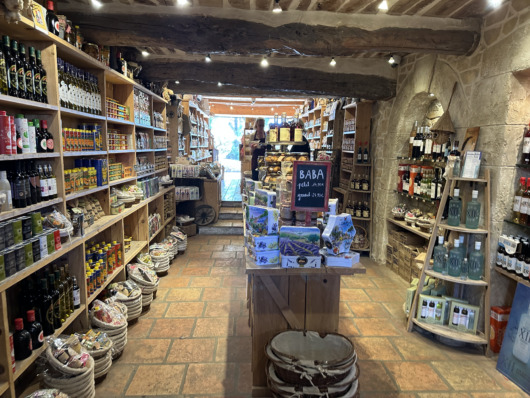 He ended up buying like 20 different soap products.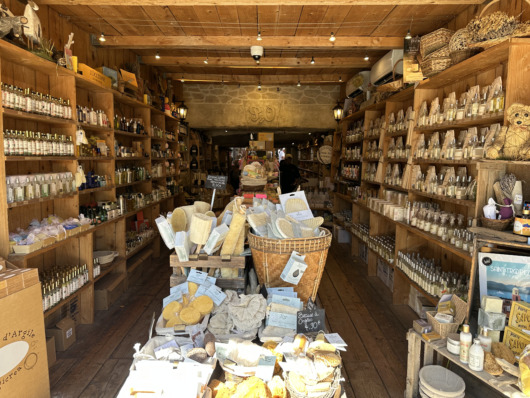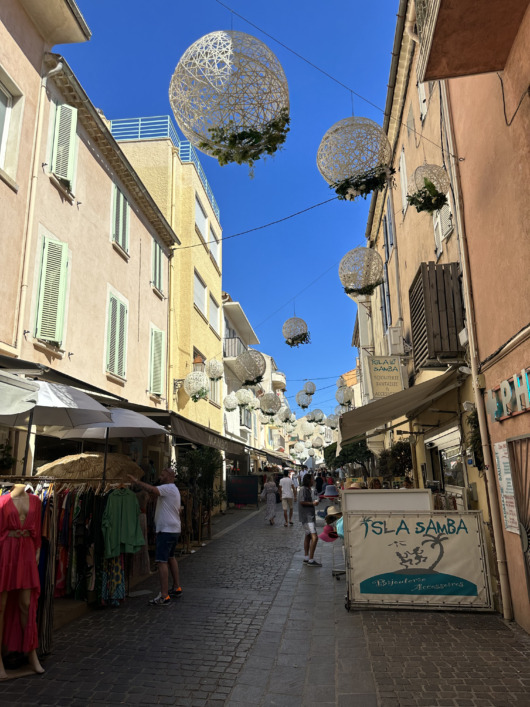 While he was doing that, I walked around a little bit as well.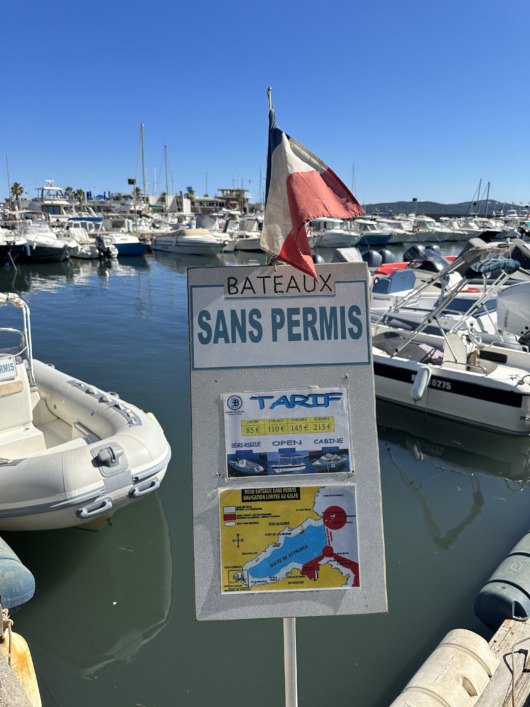 I think this is where you can rent the small yachts.  For my own reference as well.
Verdon Gorge
After sending off my friend and checking out the shops in Sainte Maxime for a brief moment, we went on our way to the lavender fields.  But before that, we wanted to check out Verdon Gorge.  I forgot what the real reason was, but the address I inputted to drive was Base de Loisirs La Cadeno, but along the way we actually stopped by this pit stop because we wanted to use the bathroom and my friend wanted to order something quick to eat.  But actually, the pit stop was where most of the reels and photos of Verdon Gorge were taken usually!  So had we not wanted to stop by the bathroom, we might have missed this part of the Verdon Gorge, which is the most popular area to take photos.
Not sure whether it was because Google Maps was trying to find us the quickest way to get to Base de Loisirs La Cadeno, but along the way, we encountered many roundabouts for a section (normal), and then we were on these mountainous roads where some of the roads were so narrow they only fit one car, but it was not a one way but actually two day road!  So if you do drive on these roads, be extra careful and slow.  While there weren't as many cars as normal roads, I guess double check and make sure the roads you are driving are more "normal" rather than Google Map shortcuts which aren't as "convenient" and "easy" to drive on, and if you do drive on these roads, then be extra cautious.  A 20 min drive for me on those paths felt like an hour.
Our original route was supposed to be Base de Loisirs La Cadeno then Moustiers-Sainte-Marie before heading to Plateau de Valensole, but due to time constraints we stopped by the pit stop with the beautiful and actual Verdon Gorge views and headed to lavender fields directly.  So in Base de Loisirs La Cadeno, you can rent canoes and paddles, which you will see in the photos afterwards.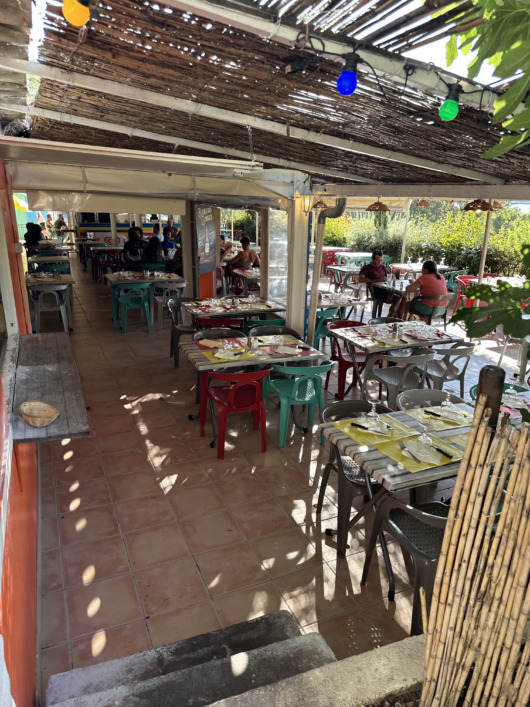 A restaurant we stopped by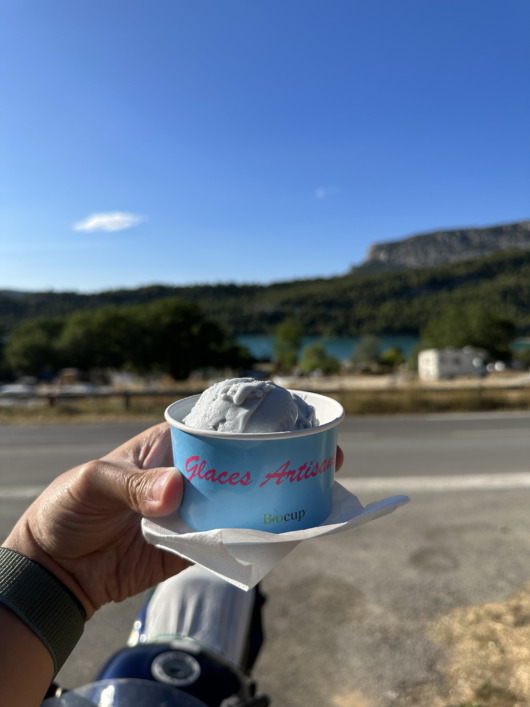 Lavender ice cream, since we were near lavender fields.  Was very lavender flavor!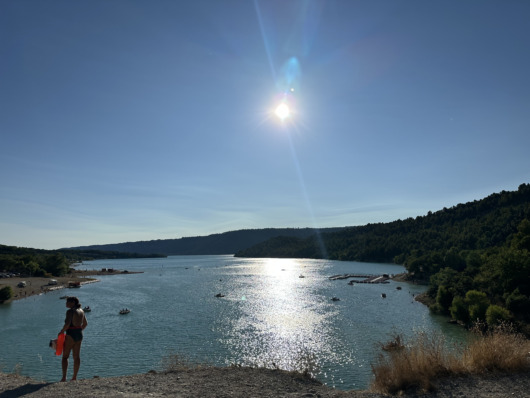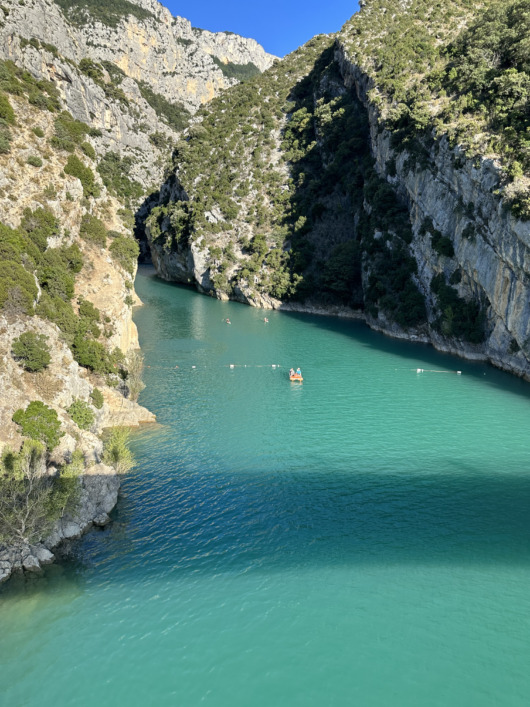 If you check out my Youtube shorts, you can actually see three guys jumping off the bridge into the waters of this canyon.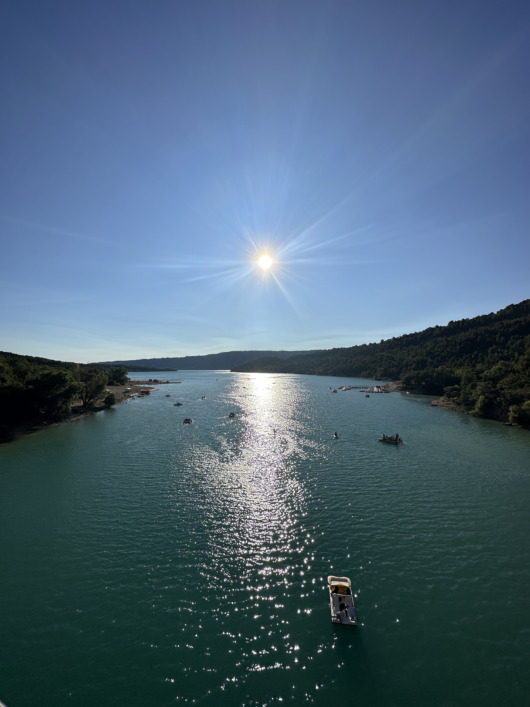 Plateau de Valensole
And finally, we made it just in time before the sunset so we could take beautiful photos with the lavender fields!  But… not really.
You see, I actually thought that I read somewhere that the best time to see the lavender fields was like end of July / beginning of August.  But actually, what the article said was that by the beginning of August, most of the lavender fields would have been harvested already, so the best time was actually mid June to mid July.  So yeah, even though we did see a bit of lavender field, most of the fields were depleted, and the flowers were short.  But hey, despite thinking we couldn't see any at all in the first place, we actually managed to see a bit, so we weren't completely disappointed after all.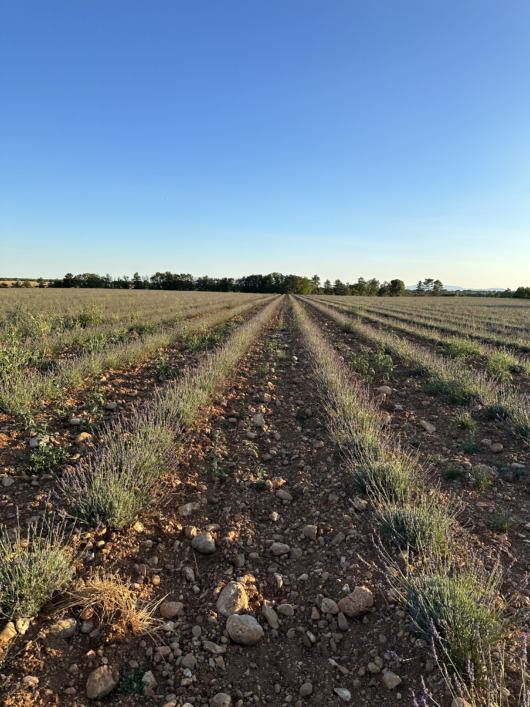 Not shown here were some of the chrysanthemum flower fields that we passed by as well.
Another place to visit lavender fields is Champs de lavande.
Gréoux-les-Bains
To be fair, I only knew about this region because I was staying in the Hotel and Spa in Gréoux les Bains (Villa Castellane) (website).  And I picked this hotel because this region was the closest to Plateau de Valensole, and on Google Maps it had a bit of beige color meaning the region was at least not rural nor countryside.
Turns out though that this region is actually a pretty upscale region, similar to my surprise when I visited Jackson Hole (the affluent town).  The region felt like a retreat for upper middle / affluent families to go to.  And I guess given the name of our hotel, it was probably a popular spa area as well.
In fact, not only was our hotel very clean and modern and big, it was also like one of the cheapest ones for our trip in the French Riviera on a per night basis.
So we didn't actually spend time walking around the region, since by the time we got to the hotel it was like 8:20pm, and we ate dinner, and it was already pitch black by 10pm, and we left early in the morning so we can return our car in time without being charged an extra day.  But around the region, if you do have time, there is a river you can walk along, there are a couple bars and upscale restaurants you can dine in, and the area just feels affluent and safe.
Think you can also do a wine tasting at Chauteau Rousset.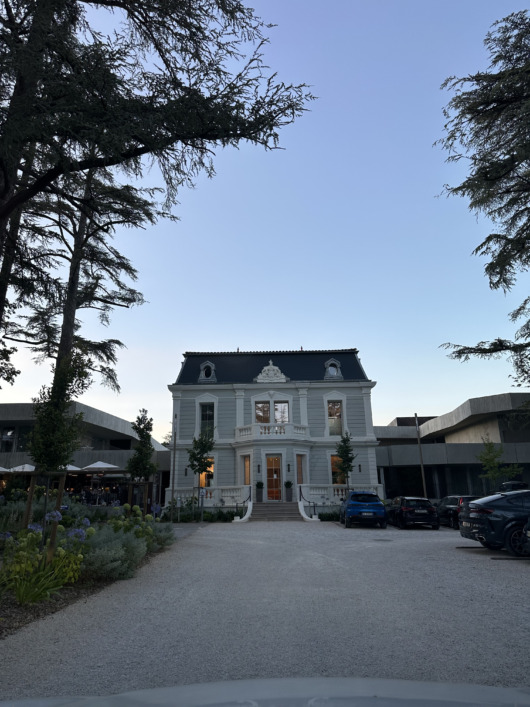 The hotel we stayed at.  Yes, and even the exterior just feels like a very fancy house.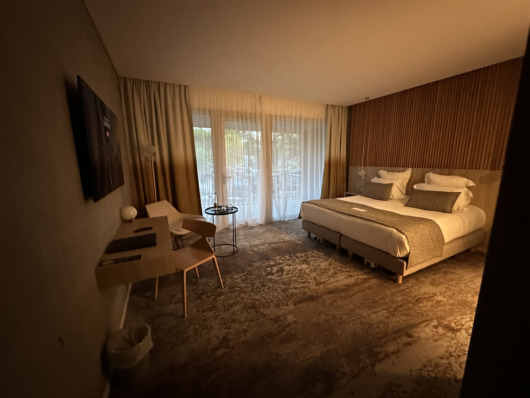 Our bedroom, much more spacious than the ones we stayed at in Nice, and even when compared with most hotels in urban cities.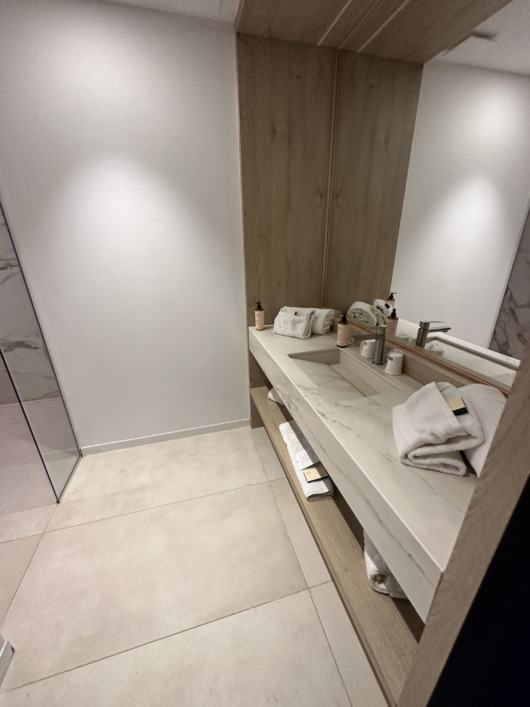 The bathroom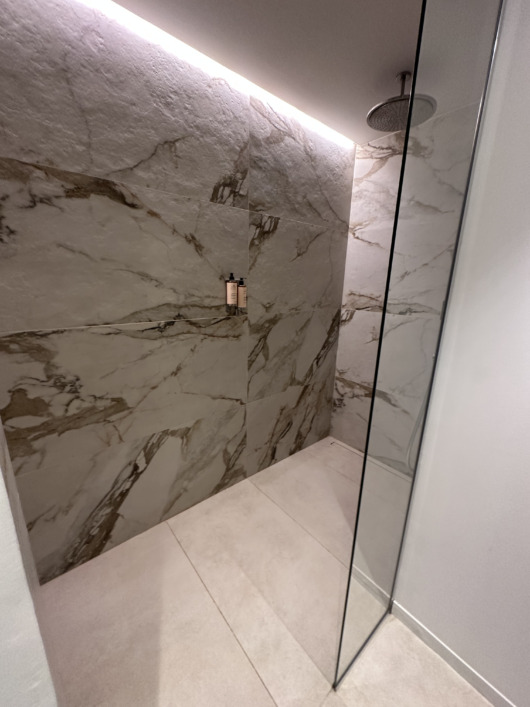 The shower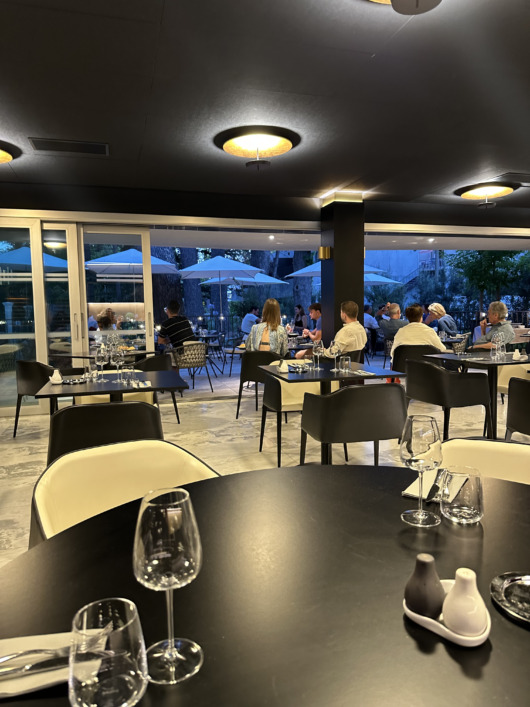 The Restaurant in Villa Castellane, yup that's the name of the restaurant.  Last order was 9pm I believe, and we were there at like 8:40-8:45pm.  A very busy day we had, driving all the way from Saint Tropez, to Saint Maxime, to Verdon Gorge, to lavender fields, to here.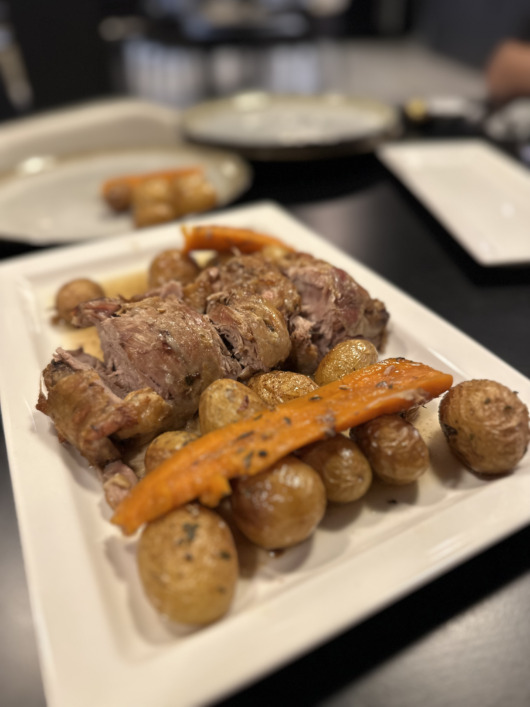 Think we got the lamb chops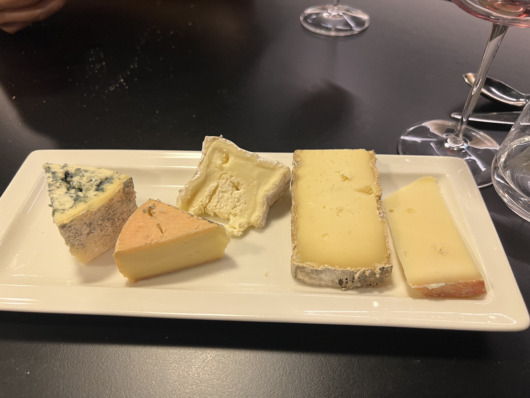 We got the cheese platter for our dessert as well.  The cheese here was actually very very yummy!  I wanted to eat them all.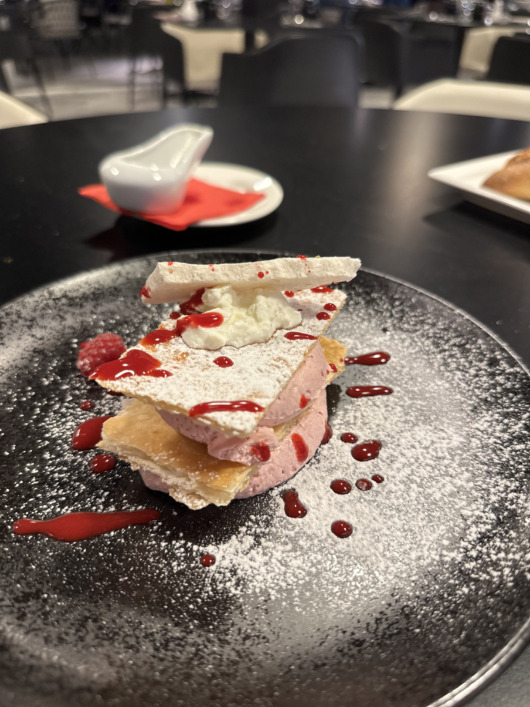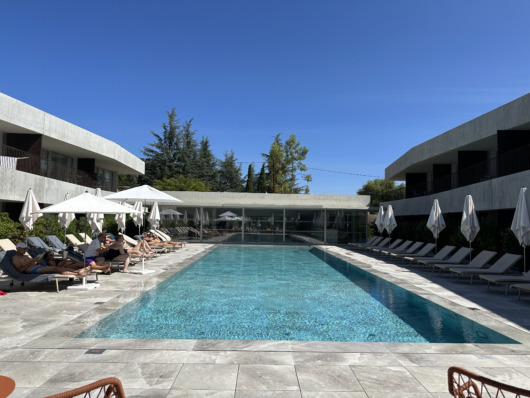 The swimming pool that we didn't get to use due to lack of time, during the day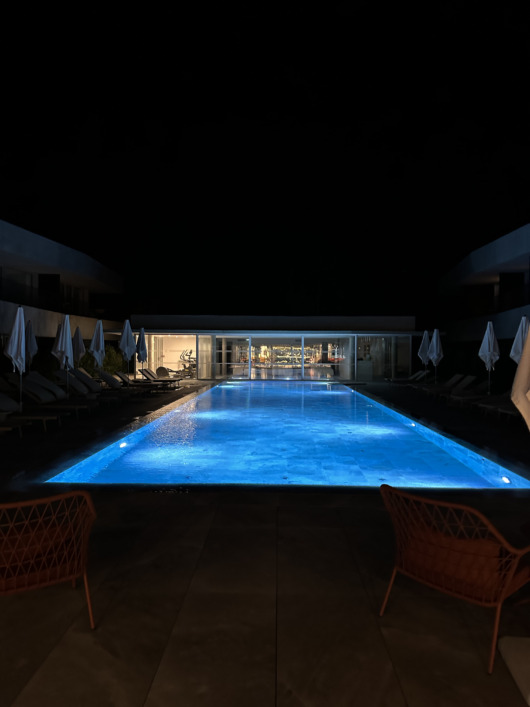 The glowing swimming pool at night, which closes at 10pm usually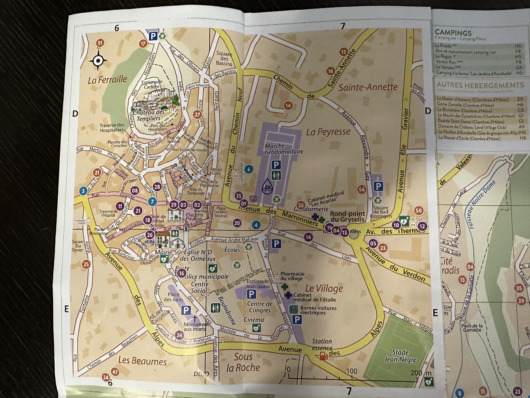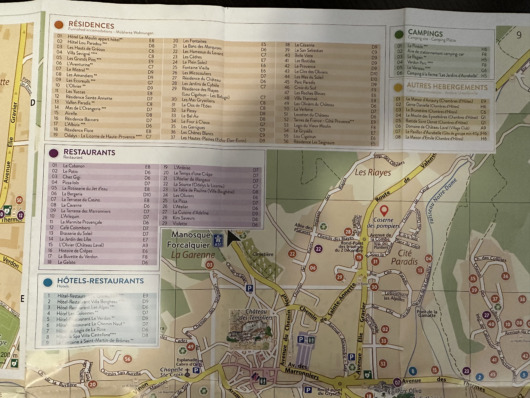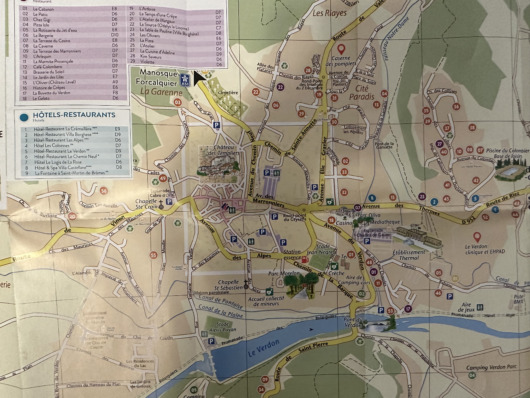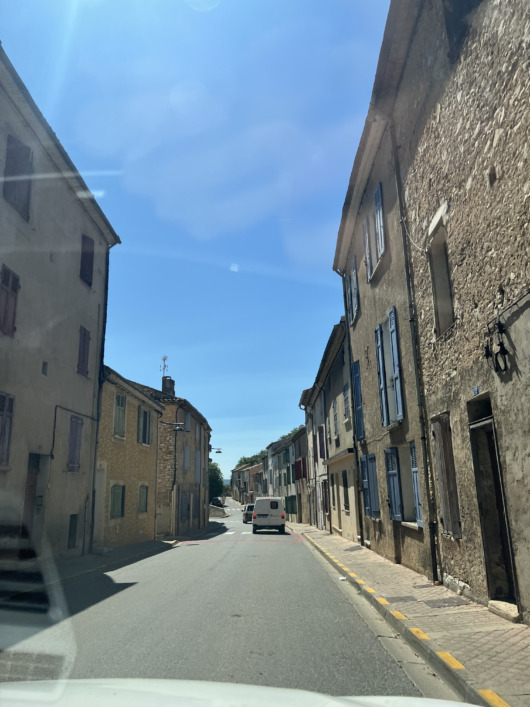 Ginasservis, on our drive back to Nice
I'm telling you right now – if you have even a week to be at the French Riviera, or if you've visited all the "popular" spots in the French Riviera, or you just want to go to the less touristy, more natural and local parts of the French Riviera, then you have to hit up these regions!
Original route from Saint Tropez to our hotel in Gréoux-les-Bains: Lac de sainte-Croix -> Base de Loisirs La Cadeno -> Moustiers-Sainte-Marie (village) -> Riez -> Plateau de Valensole -> Champs de Lavande