Since there is so much stuff I want to write about for Nice, I'm going to be splitting the Nice blog posts into two parts – basically one for the places I ate, which will be this blog post, and everything else, including the hotels, in the next post.  We ate a diverse range of different restaurants, from bakeries and pastries, to taverns, to one star Michelin starred restaurants.
Here are all the blog posts I've written so far about the French Riviera:
A One Day Itinerary to Menton and Monaco
One Day Itinerary for Èze and Cannes
Chateau de Cremat – the Bellet wine vineyard near Nice
Sainte Maxime, Plateau de Valensole, Verdon Gorge, and Gréoux-les-bains
What We Recommend for you to do in Saint Tropez
The Ultimate Guide For Exploring Nice
LOBSTA at Nice Airport Terminal 2 (website)
Since we were waiting at the airport, my friend and I stopped by this LOBSTA food stall right outside the terminal 2 of Nice Airport.  It was fantastic since the sun was setting, and the lobster was freshly prepared.  We shared a lobster roll and the lobster filling was very generous and fresh and the ingredients were all so yummy together.  Definitely recommend when you land!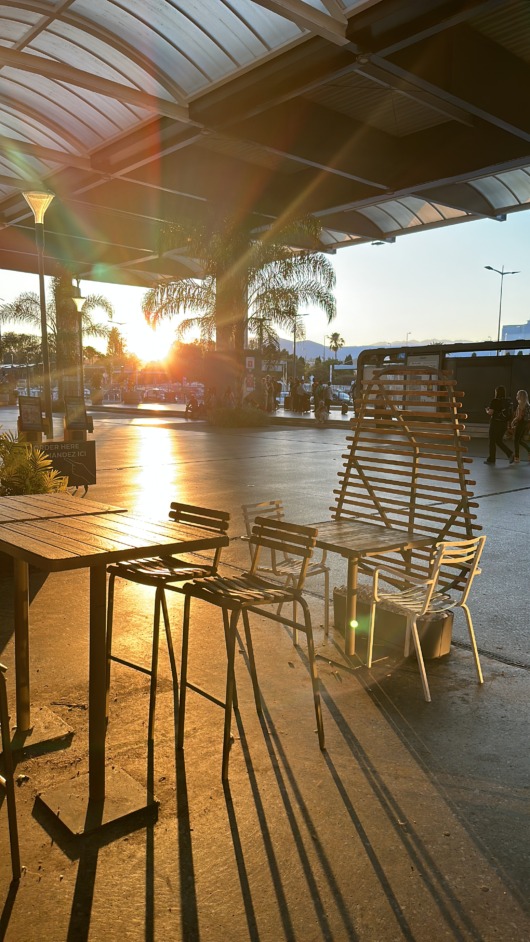 Sitting outside was such a vibe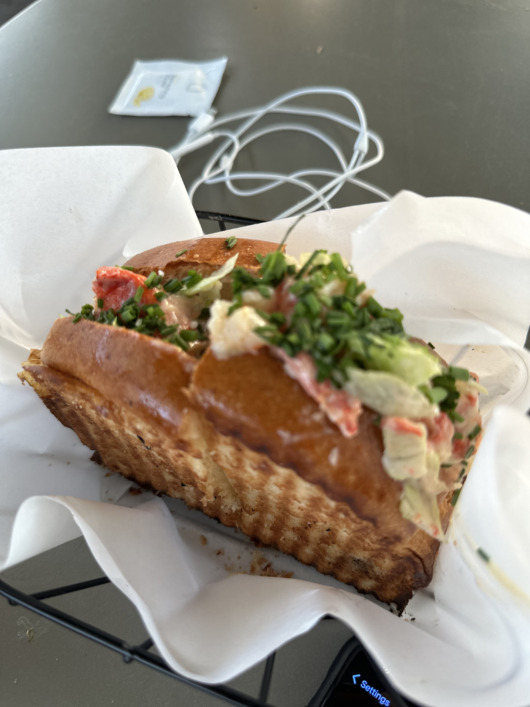 LOBSTA Roll.  Bread was good, lobster was good, condiments were good, amount was good perfect.
La Taverne Massena (website)
We came here since it was close by to our hotel and it was still open at like 10pm.  Actually, the area for La Taverne Massena, Rue Masséna, a lot of restaurants were still open, and a lot of tourists were still walking around late at night.  It was a Monday.  It was incredible to see so many people, but yet again its peak season for south of France.
Taverna Masséna is "Italian & French comfort food in a convivial tavern with outdoor tables & an old-world vibe."  Here is a description from their website of this restaurant, "Since 1963, 25 Rue Masséna has been a must-visit location in Nice. At the heart of the pedestrianised area and all its hustle and bustle, this well-known brasserie has attracted lovers of good food, whether on the terrace or in the nicely decorated dining rooms. Here you can try traditional dishes from across France (from the famous Alsatian choucroute to the Niçois petits farcis), all in a friendly environment. "
All I have to say about the restaurant was that the portions were gigantic, and I was actually impressed by the taste of almost every dish.  I would recommend for anyone to try out this place, especially if you're seeking for comfort food.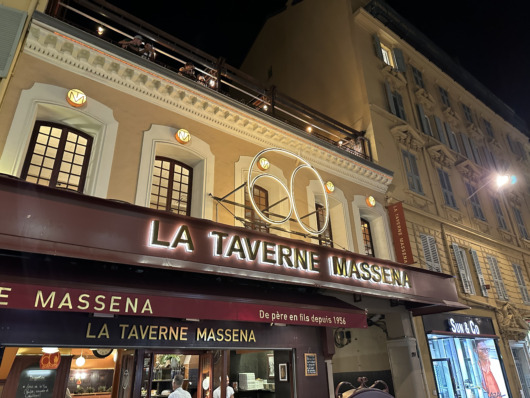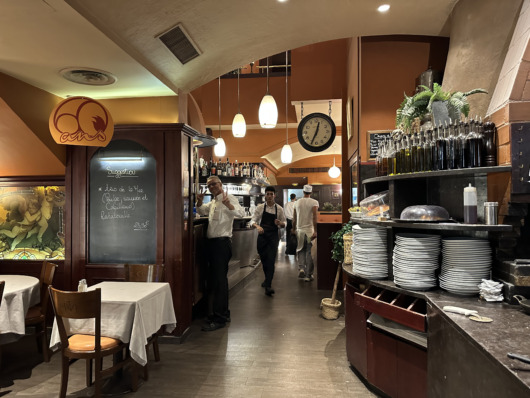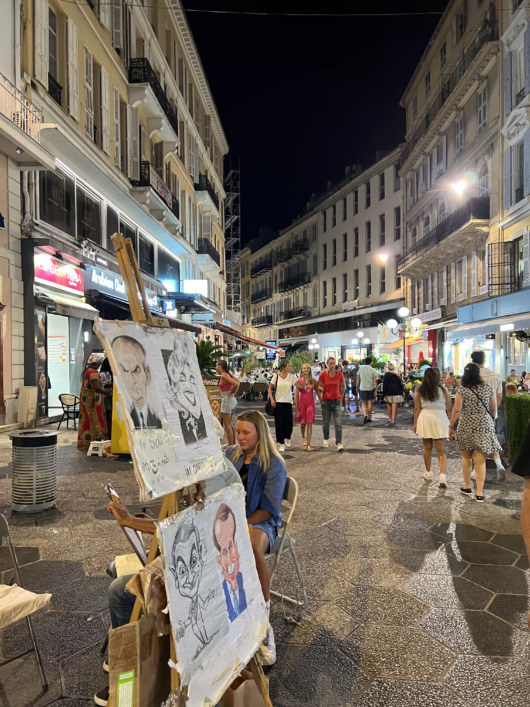 The area around the restaurant, you can see so many people walking around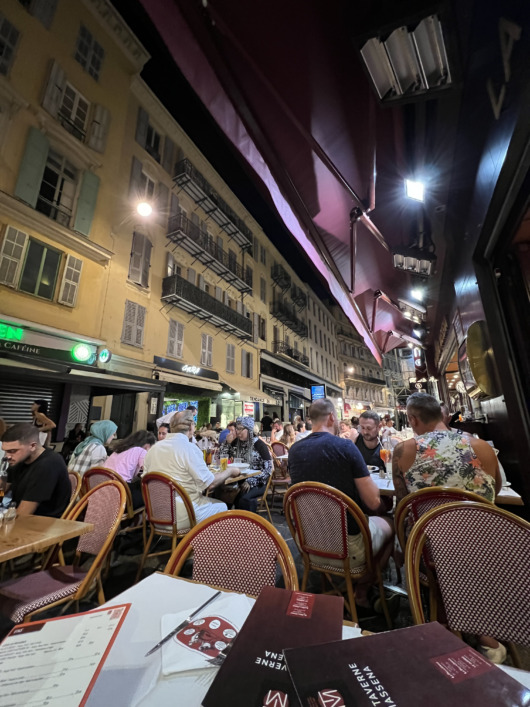 Outdoor seating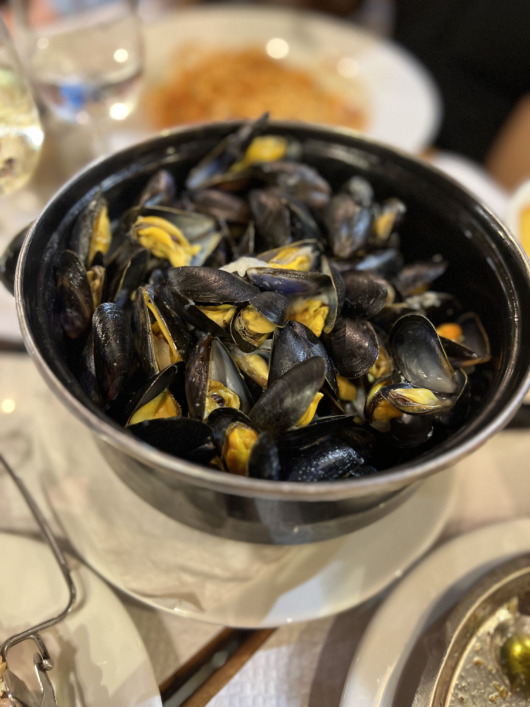 Mussels, felt like thousands.  Came with fries.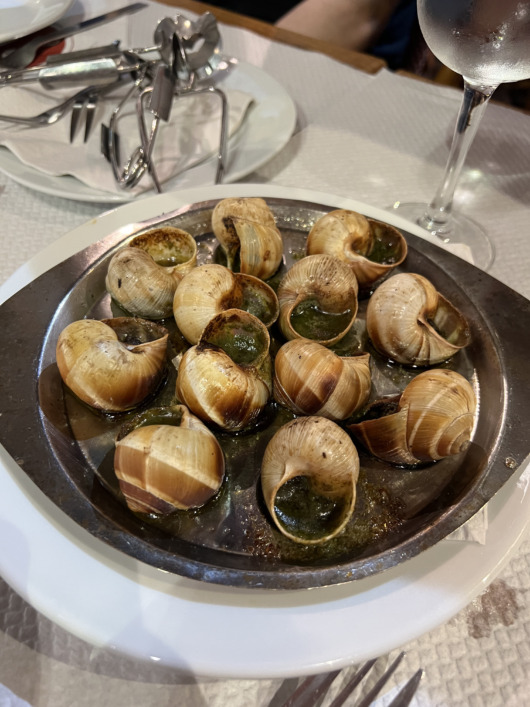 Escargots, came in hot!!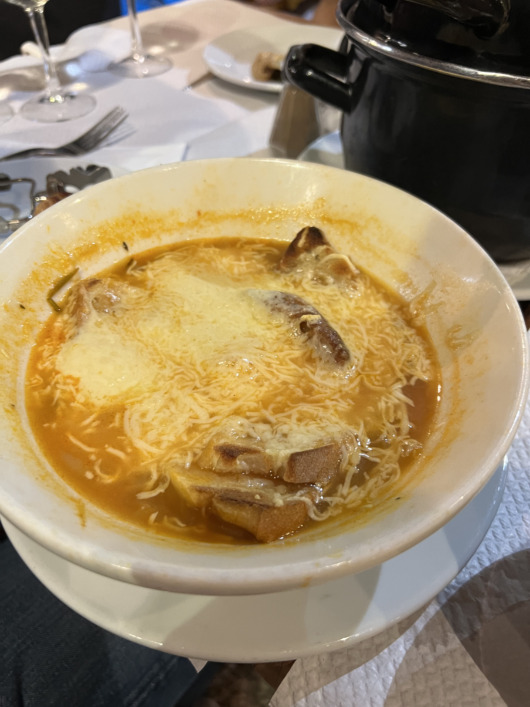 I got this onion soup for myself.  Loved it.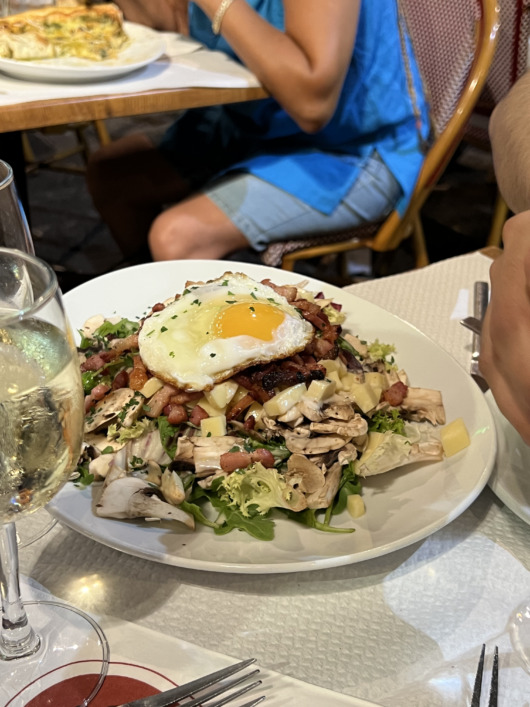 Taverne salad I think
He who was lurking for our food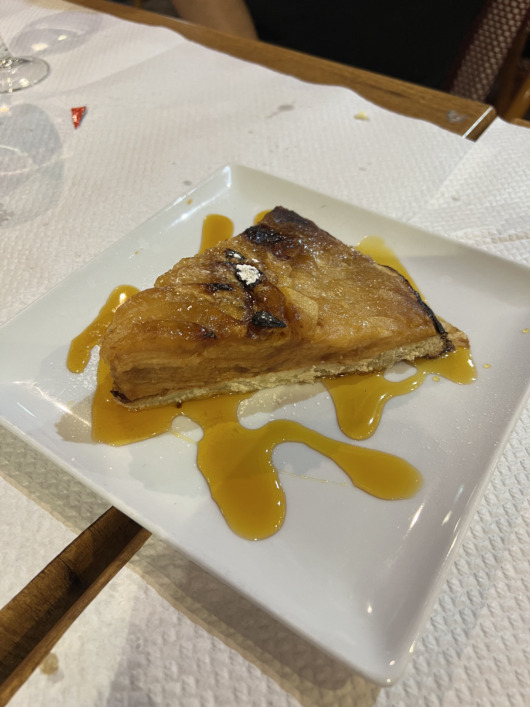 To finish everything off, we also ordered a warm apple tart.  We were super stuffed by then.
Les Balancelles, Nice (website)
We found this restaurant upon chance after realising it was across the bakery we wanted to go to, Mama Bakery, and it looked okay.  Secondly, we were tight on time since we had to visit the Chateau de Cremat and had to save some time for the Uber, so we settled for this restaurant.
Turns out though that this restaurant was quite healthy and tasty, and I actually thoroughly enjoyed it.  I also recommend going here!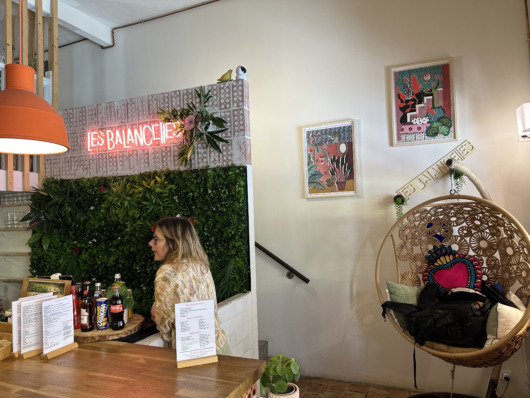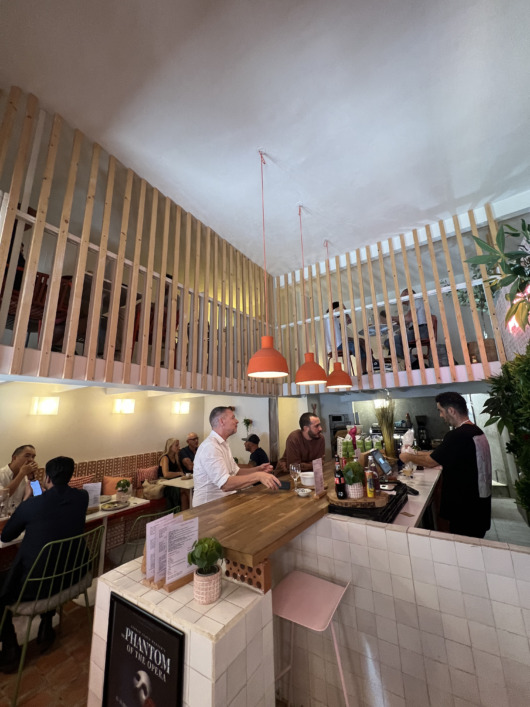 They were actually doing a photo session for some of the food items when we were dining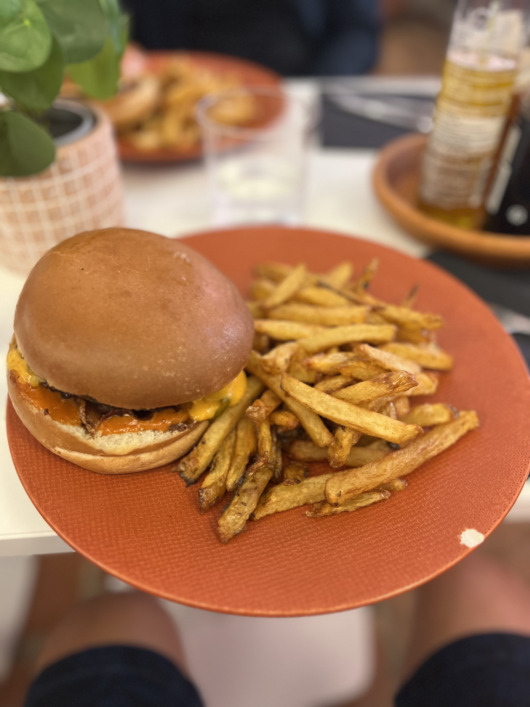 Brioche bun, chopped steak, grilled bacon, cheddar, onion confit, Balancelles burger sauce, sweet and sour pickle, + Roasted potatoes with herb pesto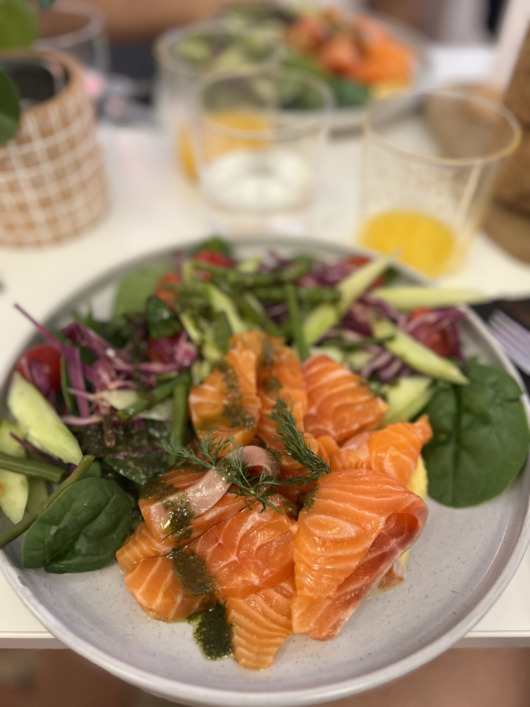 As much as I prefer a burger over salmon, I actually preferred this salmon salad more than my burger
Mama Bakery (website)
My friend wanted to check out a good bakery in Nice.  Actually Mama Bakery wasn't the first choice in our list, but unfortunately the one that we chose was closed, so we picked the second best one which was close by as well, which was this Mama Bakery.  Unfortunately I have to say that the breads in this place was mediocre, and my verdict would be to not go.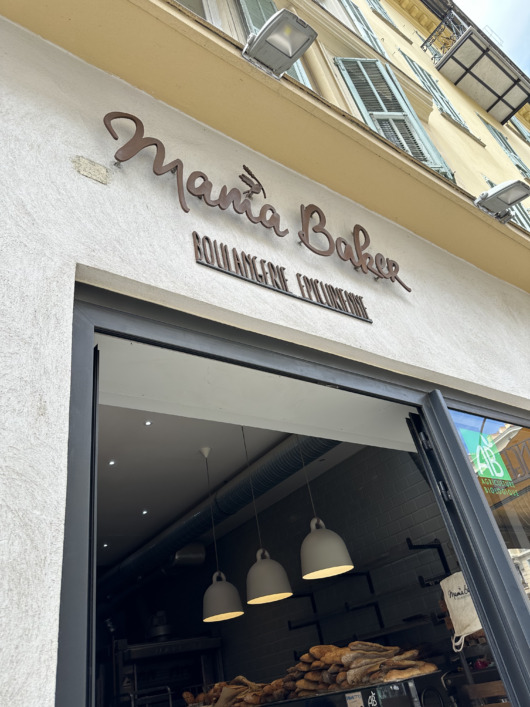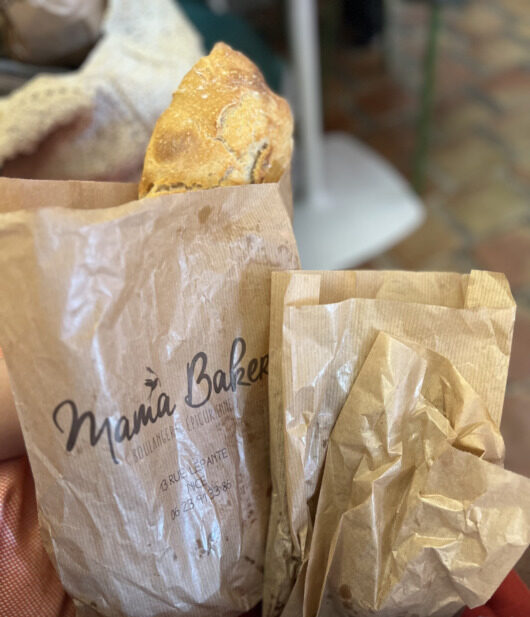 We got one long French bread and a couple of other breads, forgot what, but I think one was chocolate stuffed pastry
Random Bakeries and Places in Nice
So random I have no memory recollection of this place, someone help?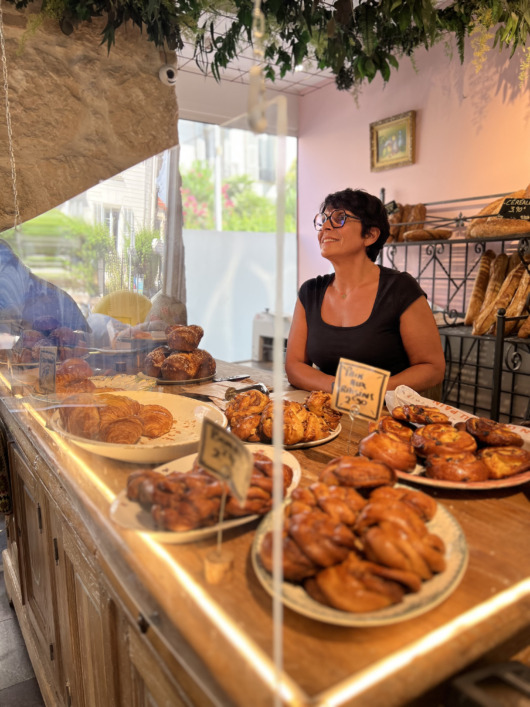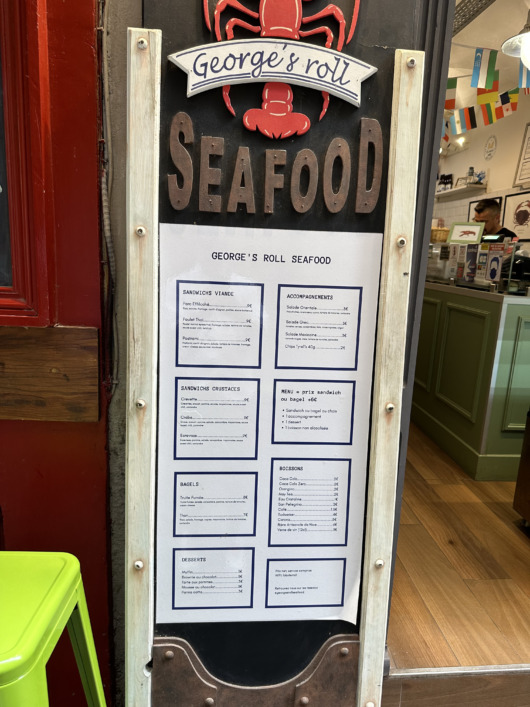 George's Roll Seafood, looked interesting from the outside so took a quick snap of it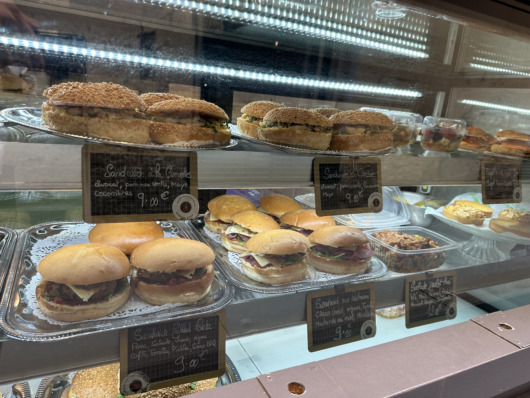 Olive & Artichaut (website)
For this restaurant, it was recommended by an Instagram influencer so we made a reservation for it.  Located in the Old Town of Nice, the restaurant serves Mediterranean food using locally sourced ingredients in what feels like a very homey restaurant.  All the dishes look very pretty and like girly (bright healthyish ingredients)?  It's a Michelin recommended restaurant in 2020.  I liked this place too!  But I think once is enough for me.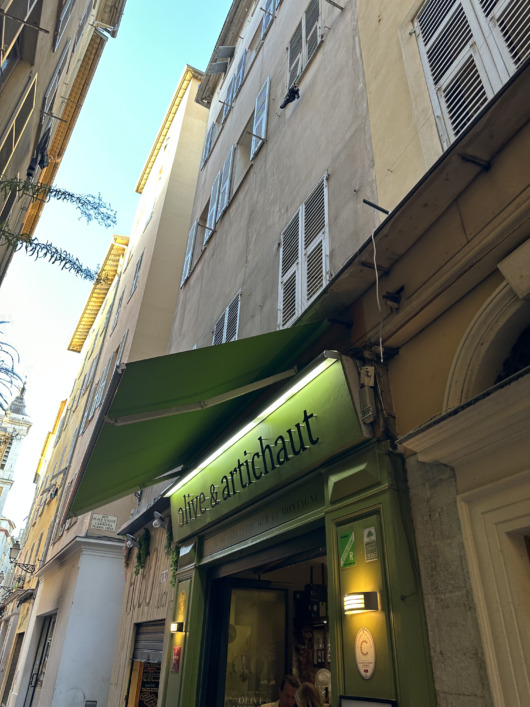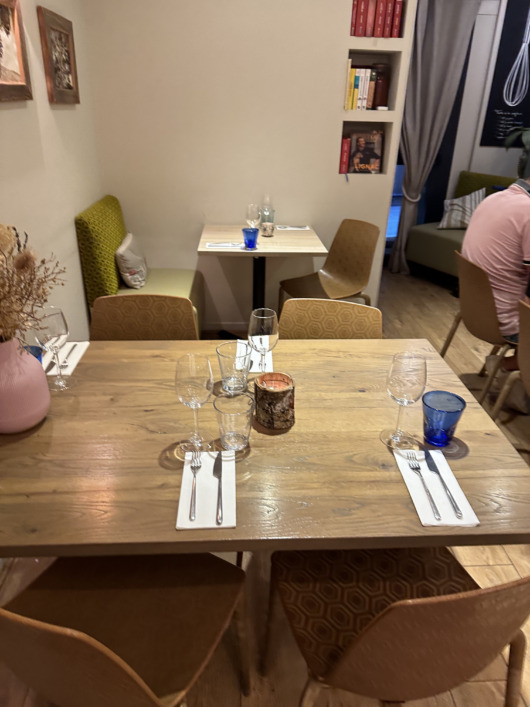 Kind of felt like we were eating in someone's home, gave off this woody, cozy feeling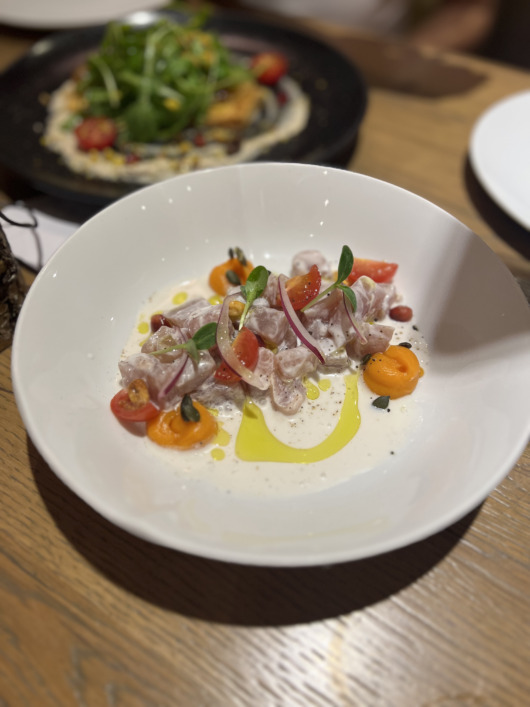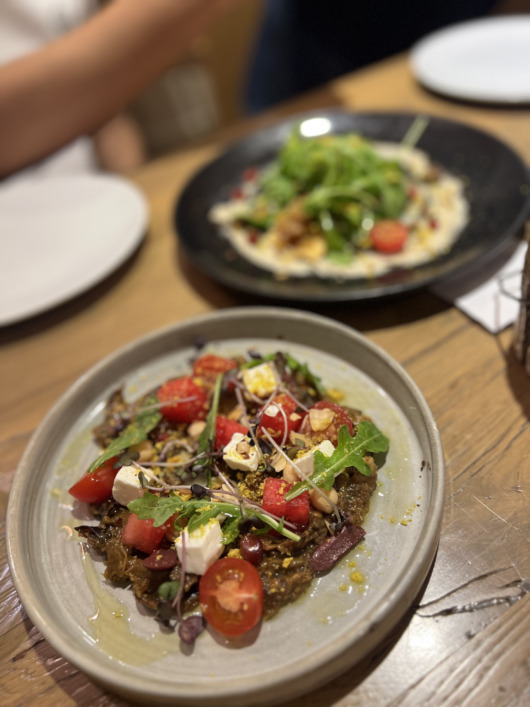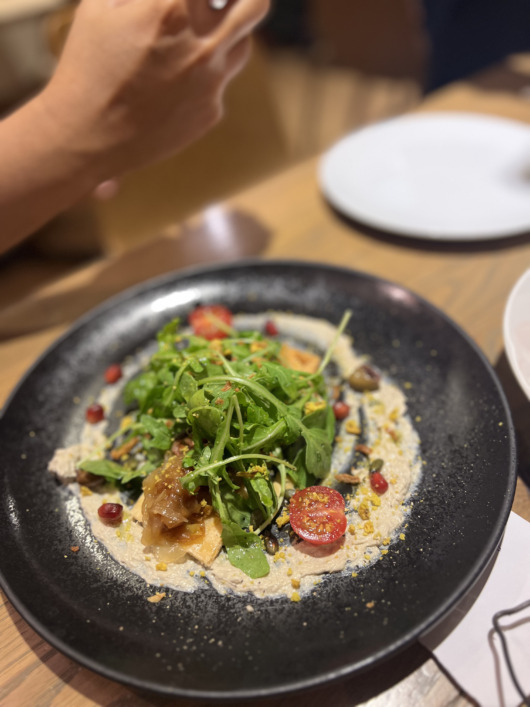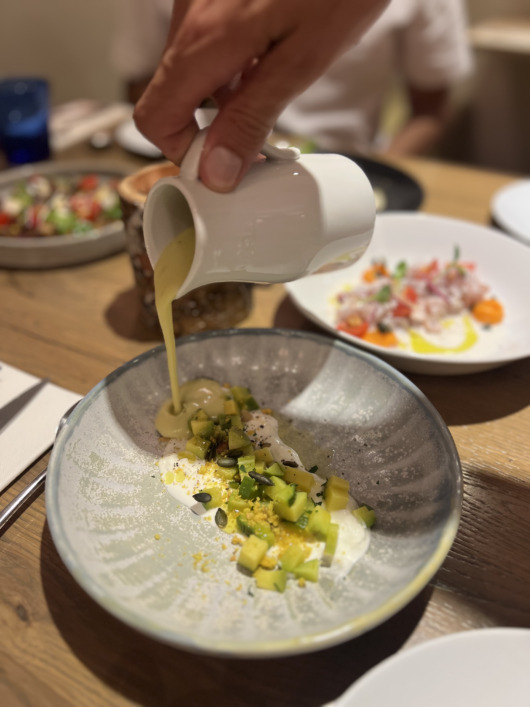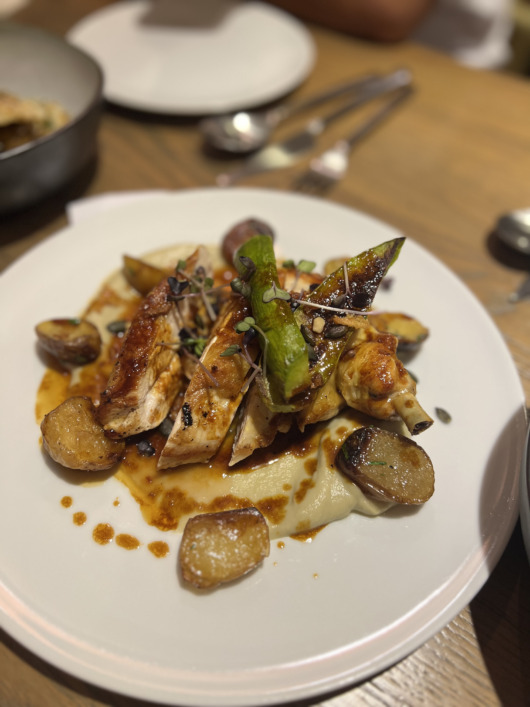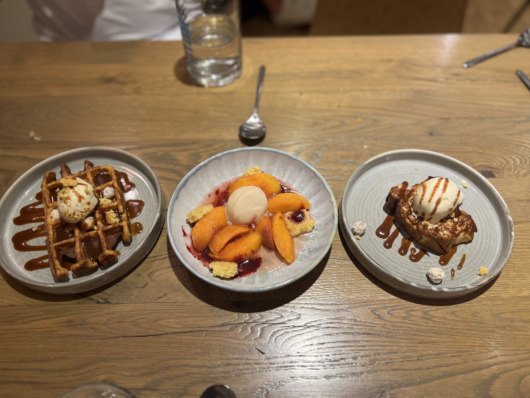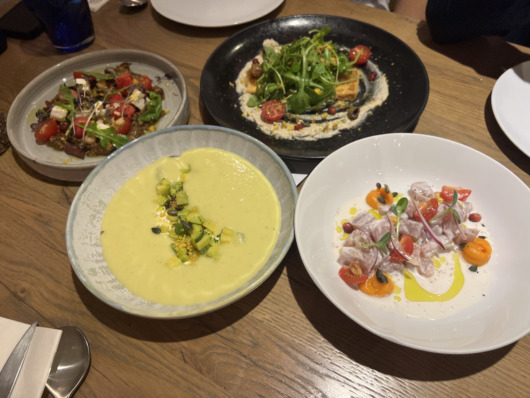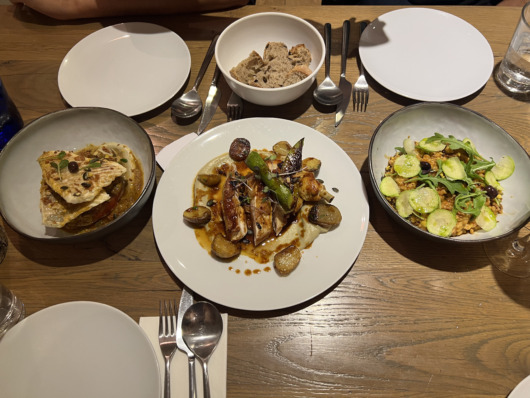 Boulangerie Maritime, Rue Lascaris
This bakery was located at Quartier du Port of Nice.  We only passed by it since our bus stop to Eze was nearby and we just ate nearby at a pasta restaurant.  If I remembered correctly, this bakery was also quite forgettable, nothing special.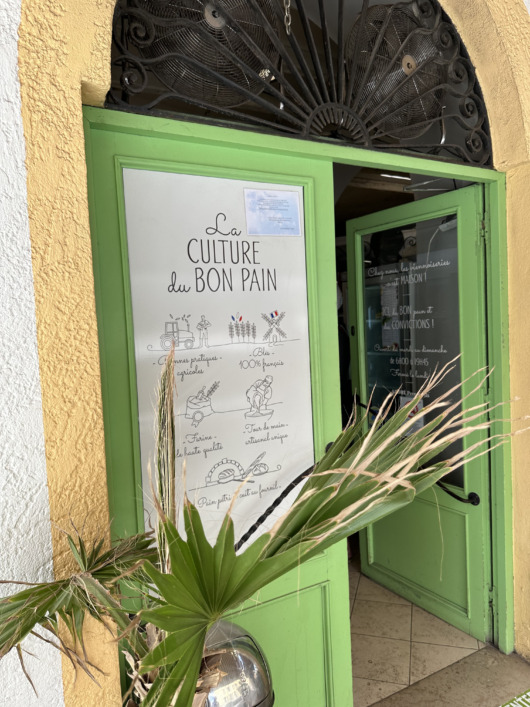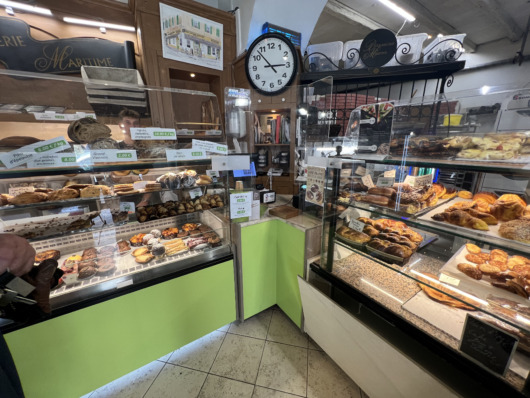 Le Local, pasta restaurant in Nice (address: 4 Rue Rusca)
This. Impressed. Me. The. Most!  Very unexpectedly delicious.  Maybe cause I'm just a pasta lover, but the dish I got, the pesto penne which was the absolute bomb!  I'm surprised there are so many disappointing and mediocre reviews on Tripadvisor for this place, cause I loved the pasta here.  I think it really does serve delicious, authentic Italian pasta.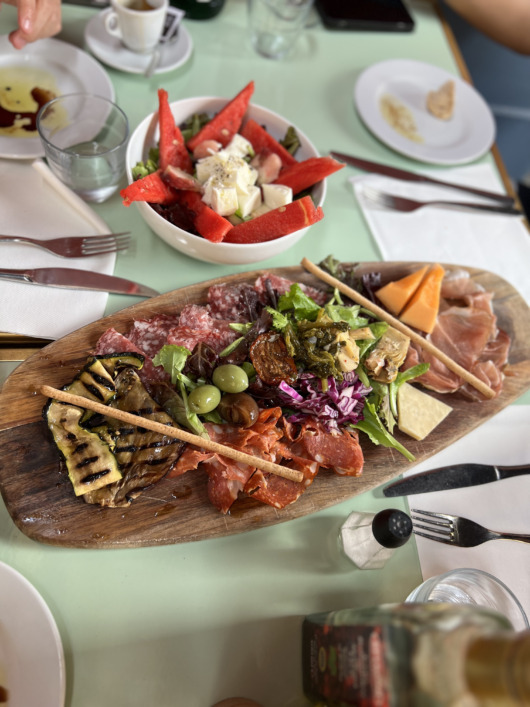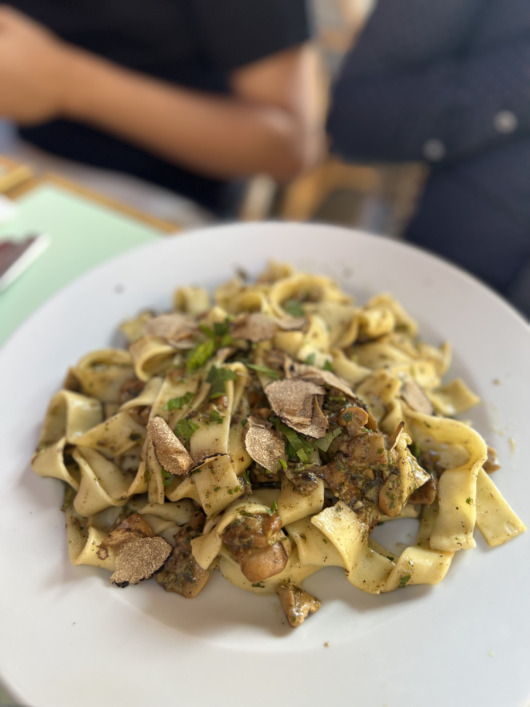 This was pretty good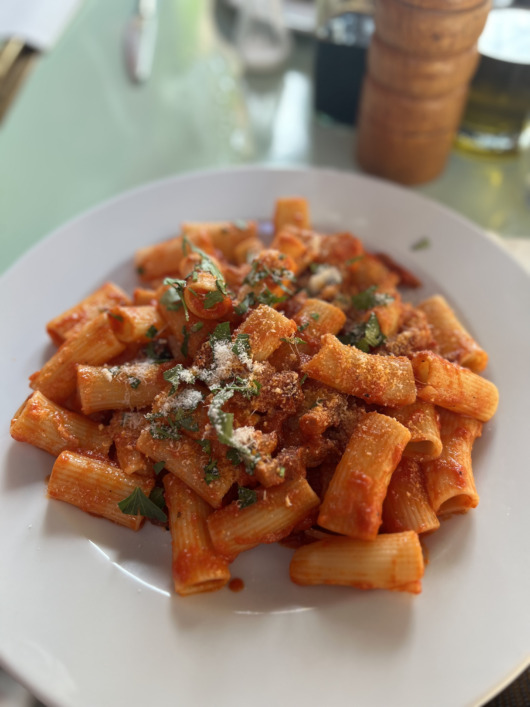 Very good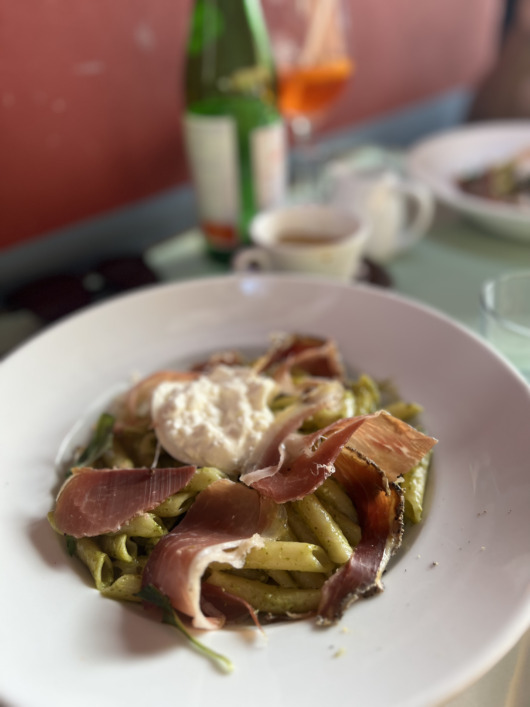 My dish, the absolute bomb!! Sooo good.  Best dish the whole trip.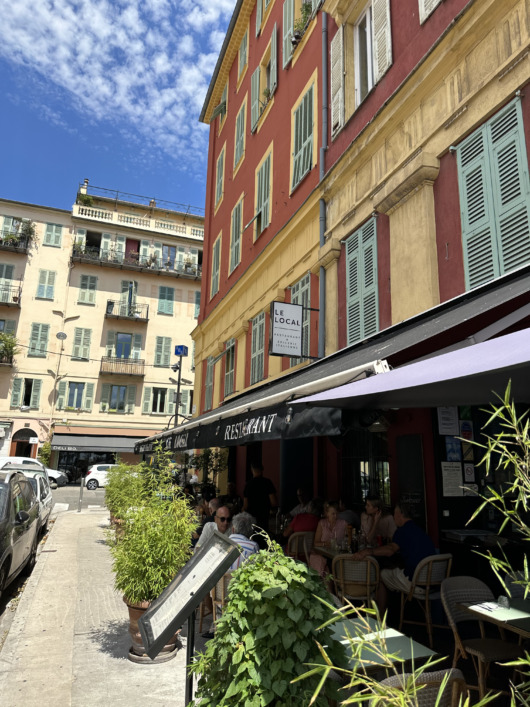 Le Local pasta place
Le Chantecler (website)
From the words of the almighty Michelin guide, "Le Chantecler, [Le Negresco's] fine dining restaurant, has "Meilleur Ouvrier de France" 2015 Virginie Basselot at the helm. In this exceptional setting, the Normandy-born chef doesn't beat around the bush, training her laser-like focus on serving up creative contemporary cuisine in the form of two set menus (without options, except for the dessert course) and an à la carte menu made from top-notch ingredients. Simplicity wins the day: cf. the poultry, white cabbage, kumquat and pistachio, or the subtle use of olive oil in the sweet dishes."
When I was booking it, I did not know it was actually a one star Michelin restaurant until I went to the bathroom and saw the accolades displayed.  If anything, it felt more like a two star restaurant.  A lot of one star Michelin restaurants are more casual than the ambience and professionalism of this place.  Beautiful decor for sure.
Even when the servers came up to you, they will serve the food in synchronicity.  The servers were also very attentive to your every need.  The only thing that I felt missed the mark was that a couple of dishes might have been a tad salty, just a bit, but of course I'm nitpicking right here.  But overall, it was a fantastic experience.  For your information, there was a 5 dish menu and a chef's menu with 7-8 courses, and we picked the 5 dish menu plus wine pairing.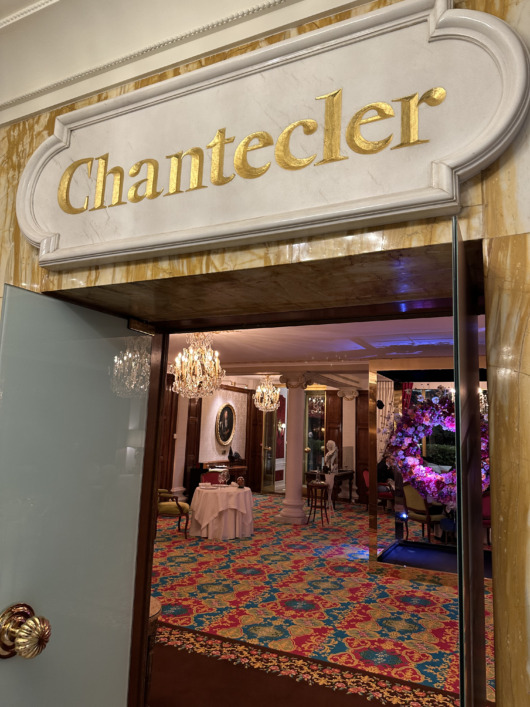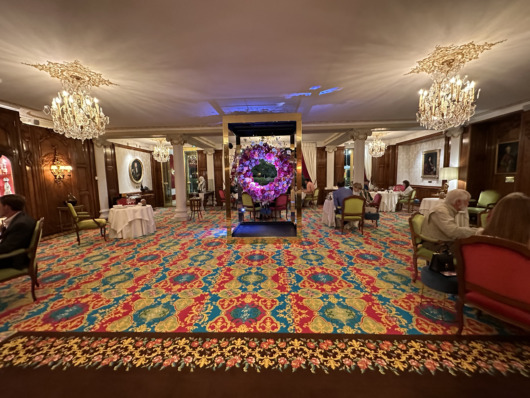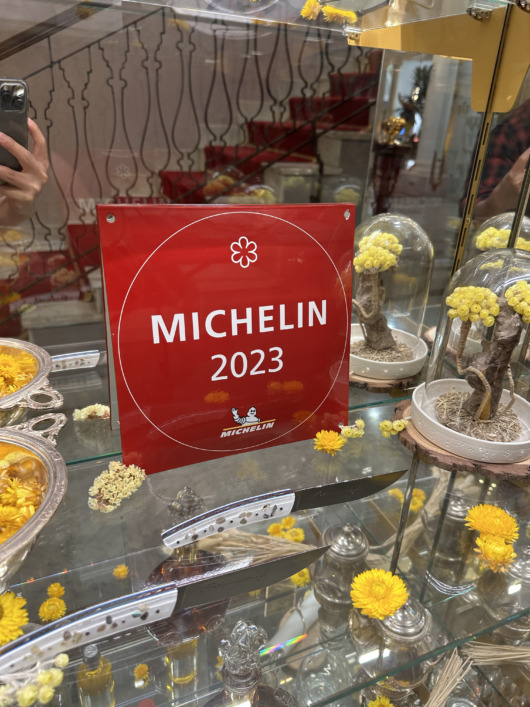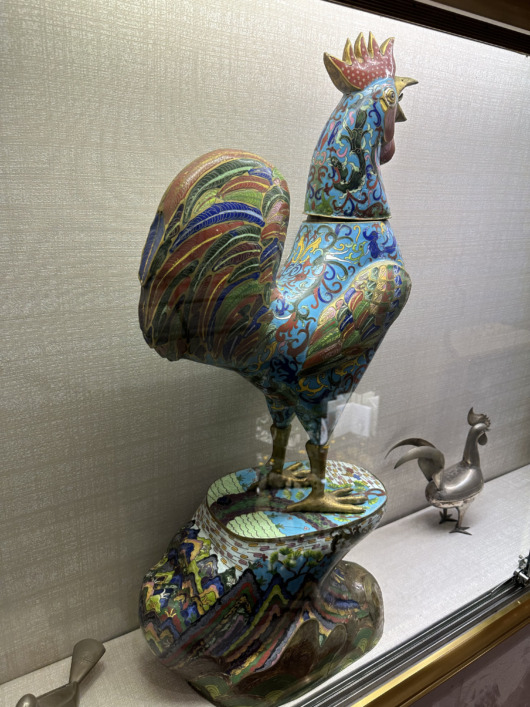 The host had an elaborate story about the inspiration of the rooster and why it's the icon for the restaurant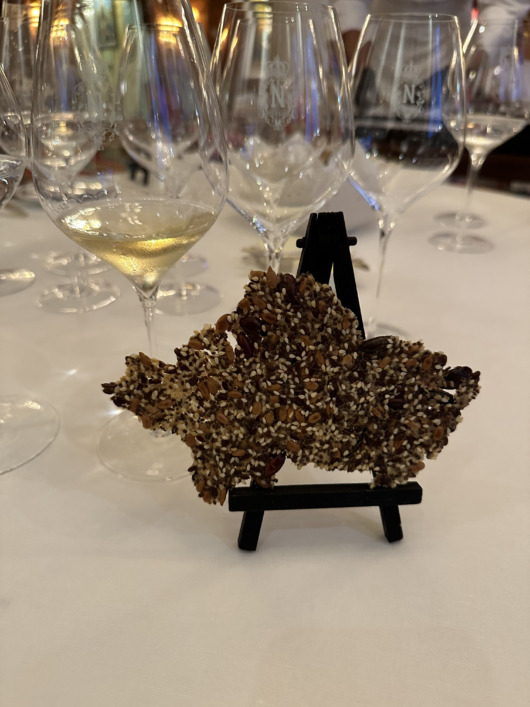 Looks a bit like Australia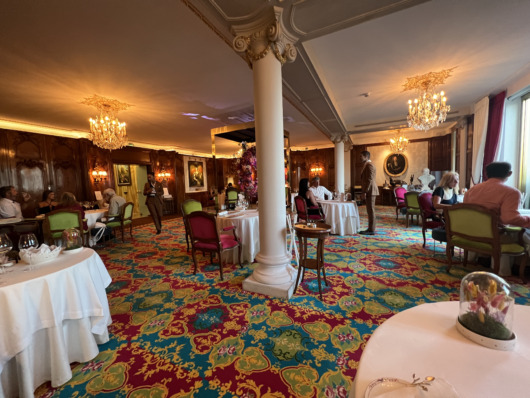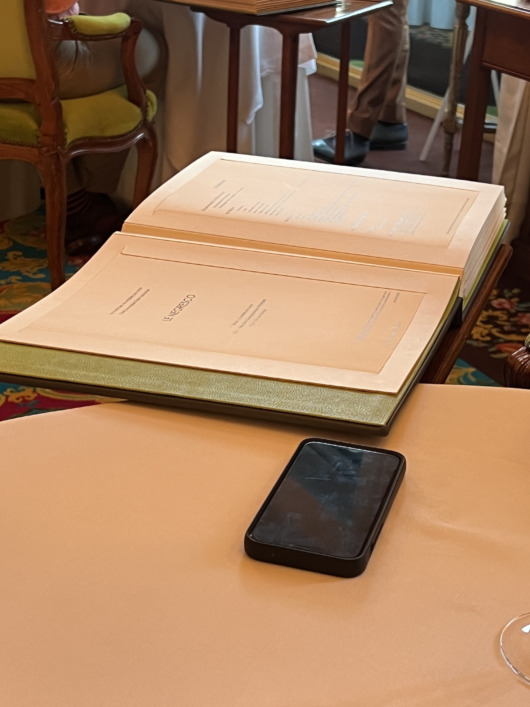 This is their "dictionary" of all the wines and champagnes that they had.  Look how thick it is!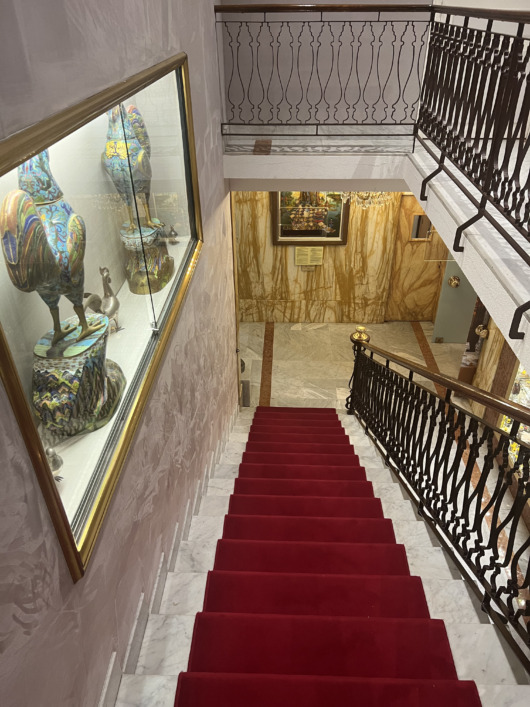 Stairs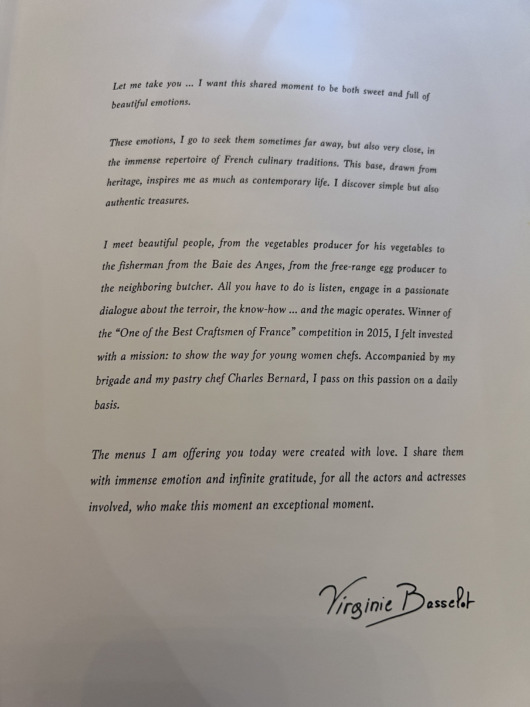 Chef Virginie Basselot was at the helm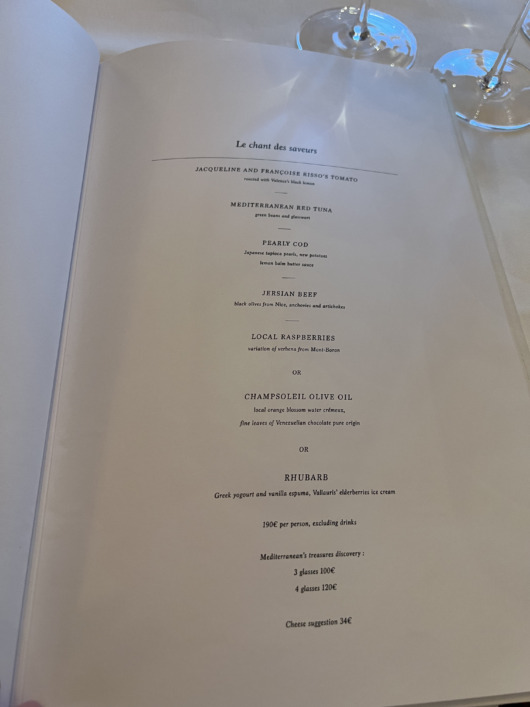 The menu I got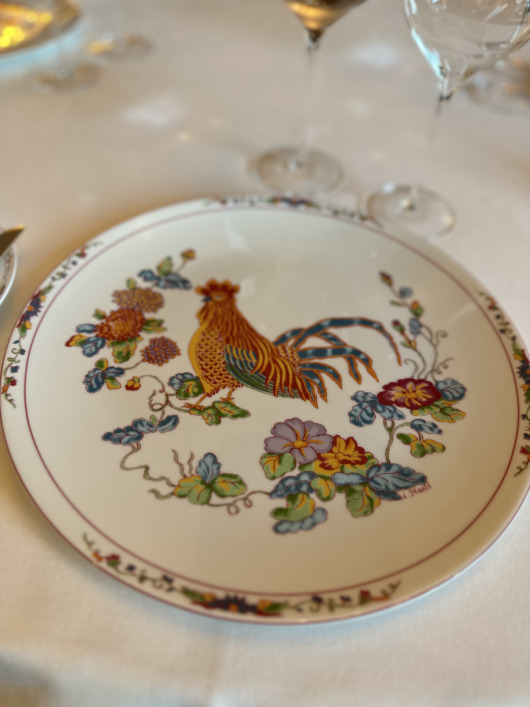 Beautiful dishes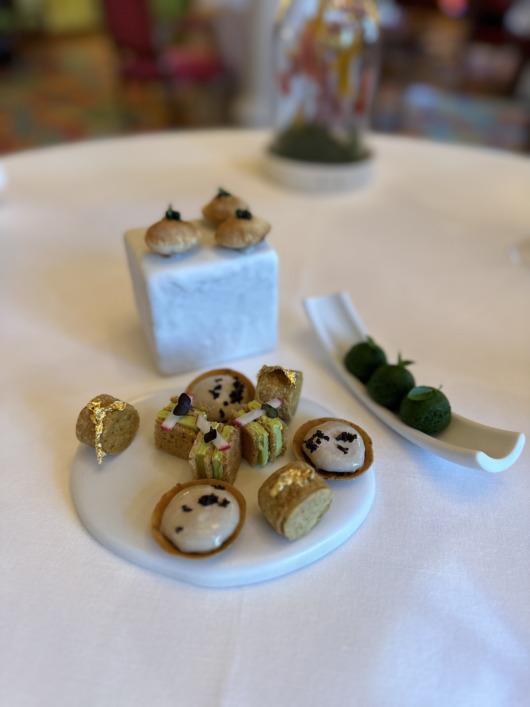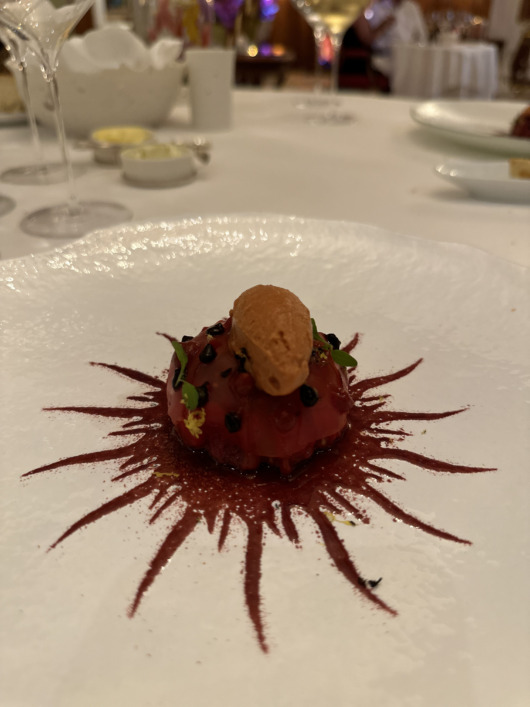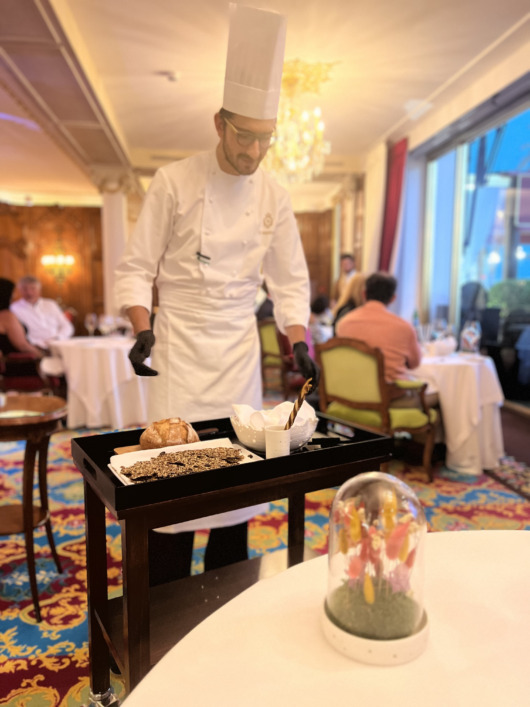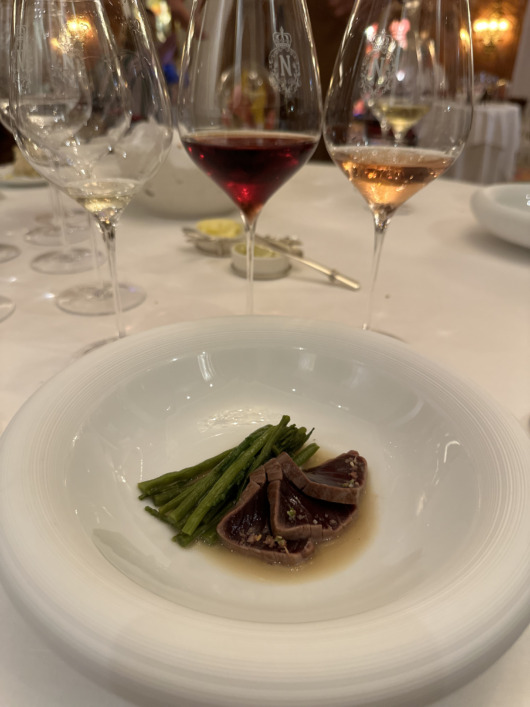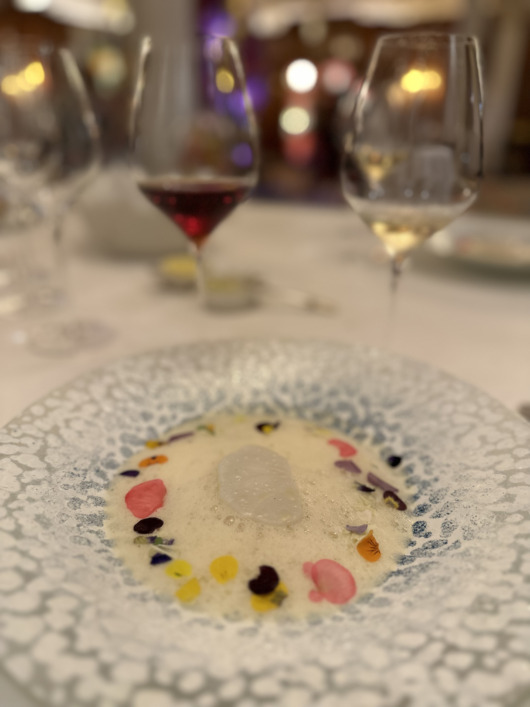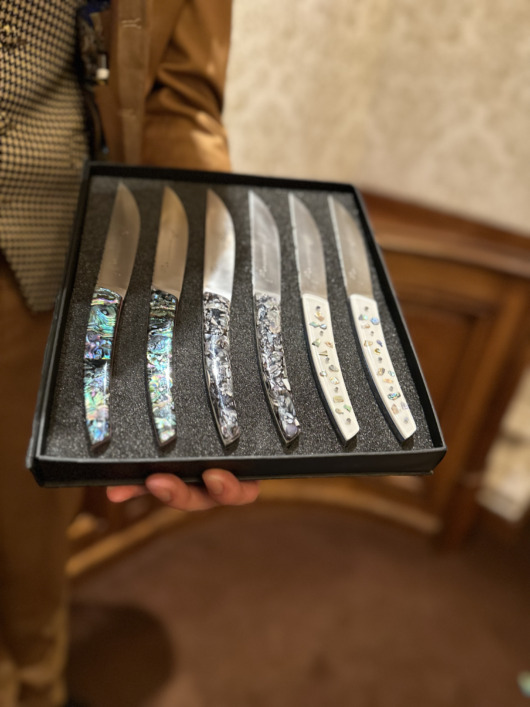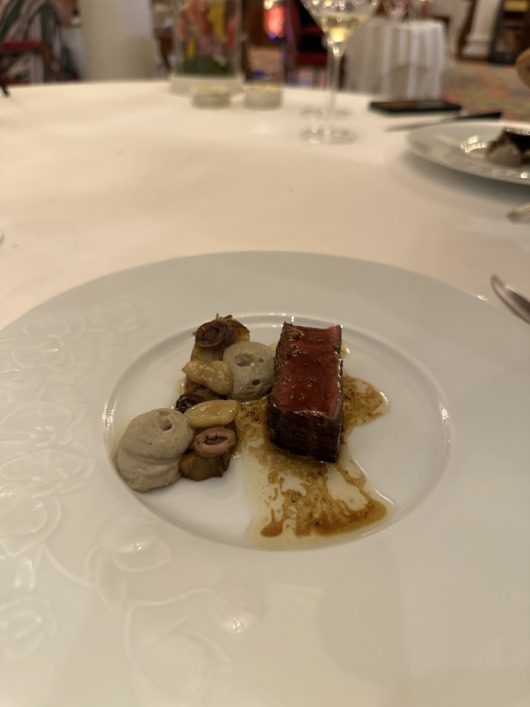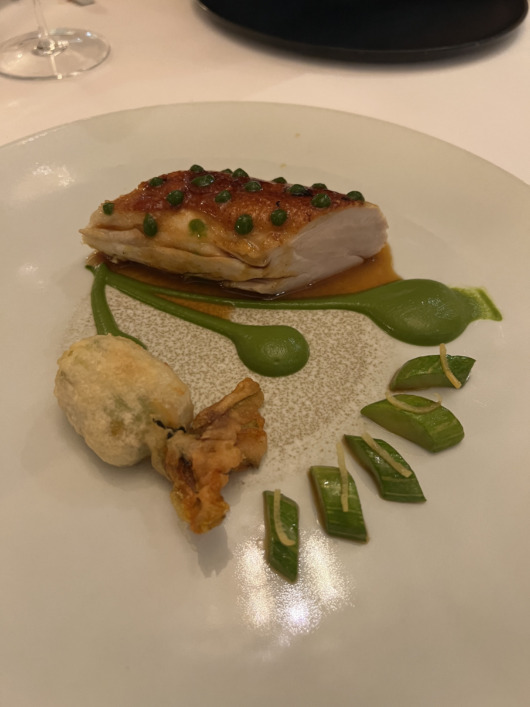 I think this chicken was an extra a la carte we added since this place was famous for its chicken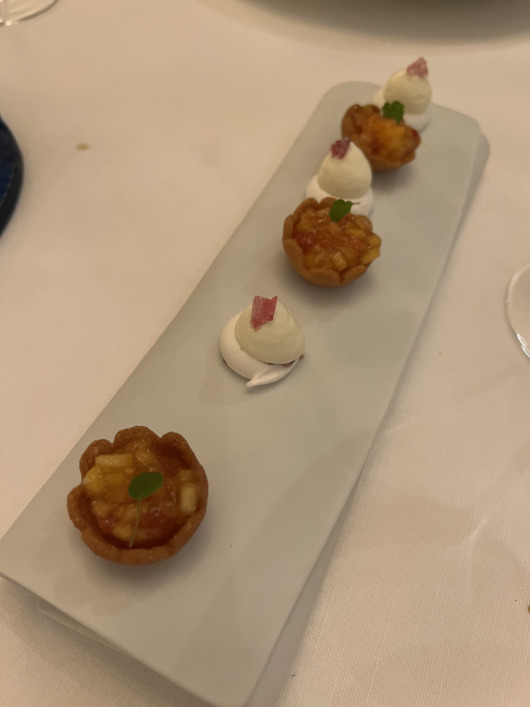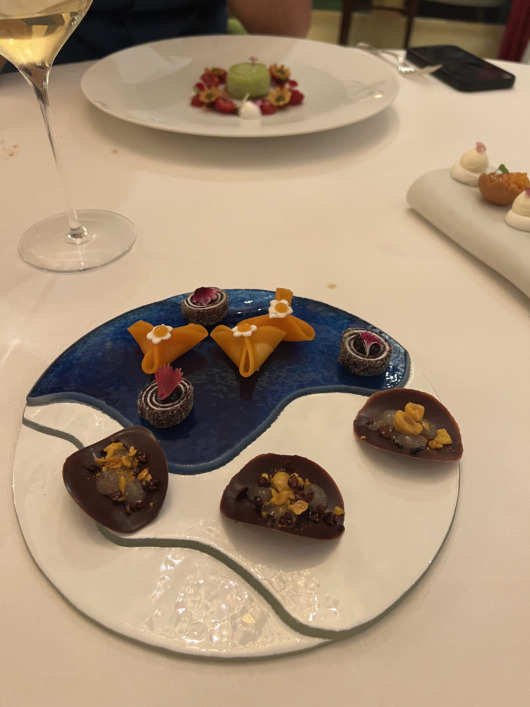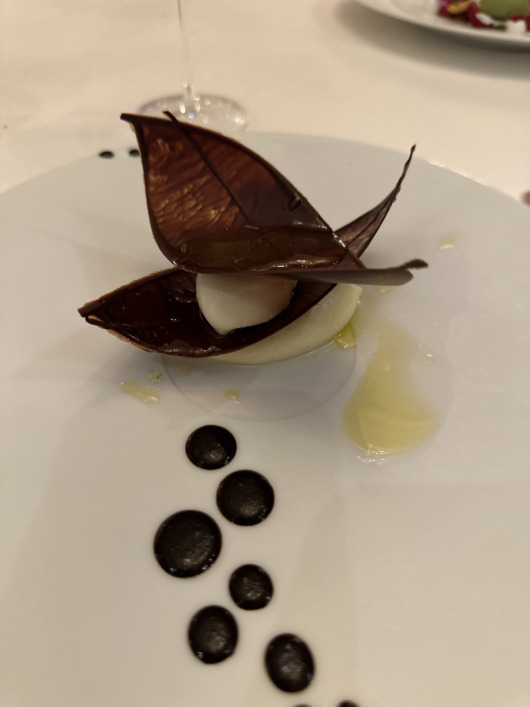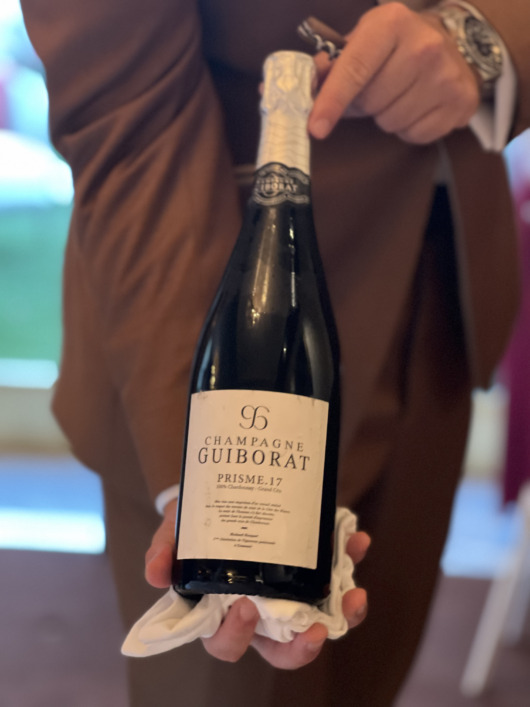 The champagne we tried, Champagne Guiborat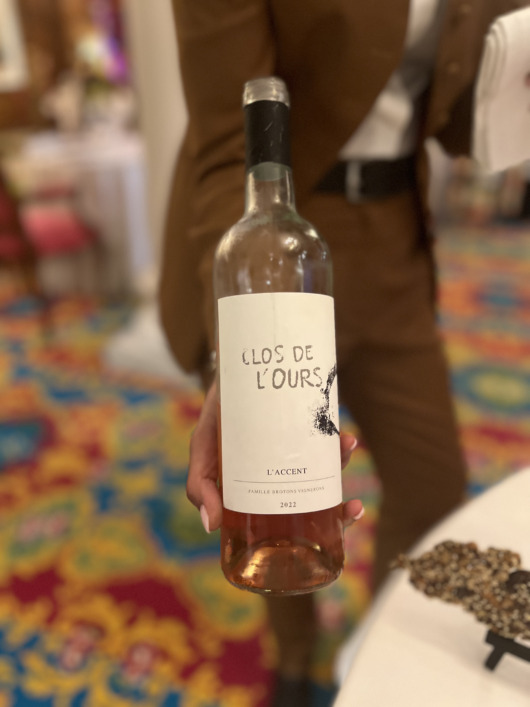 Rosé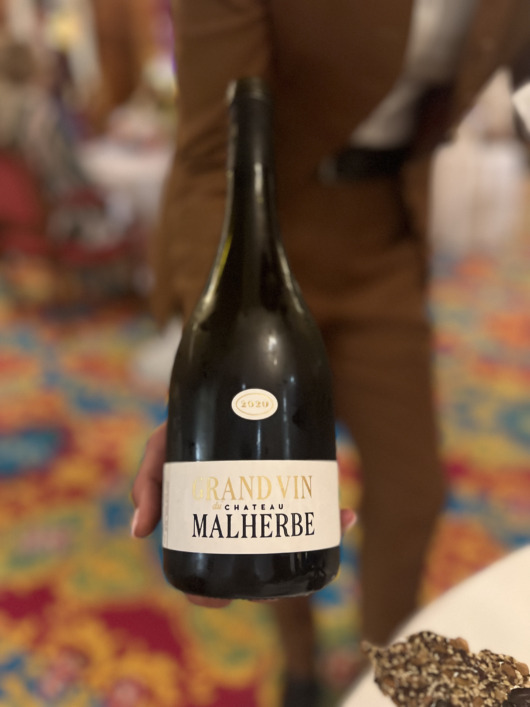 Red wine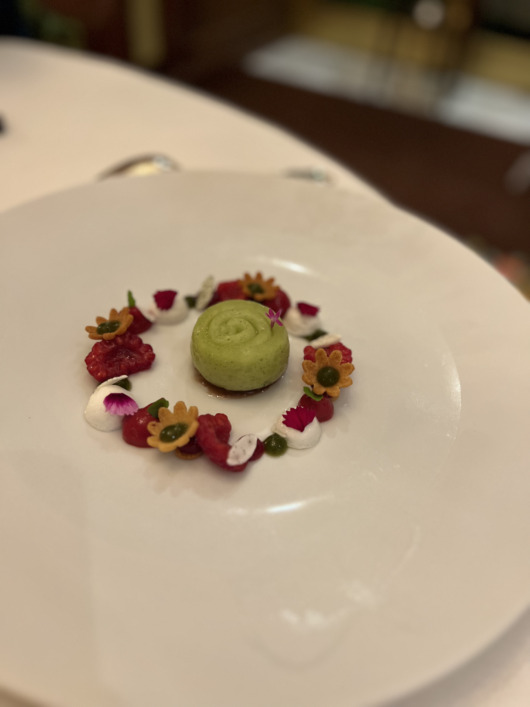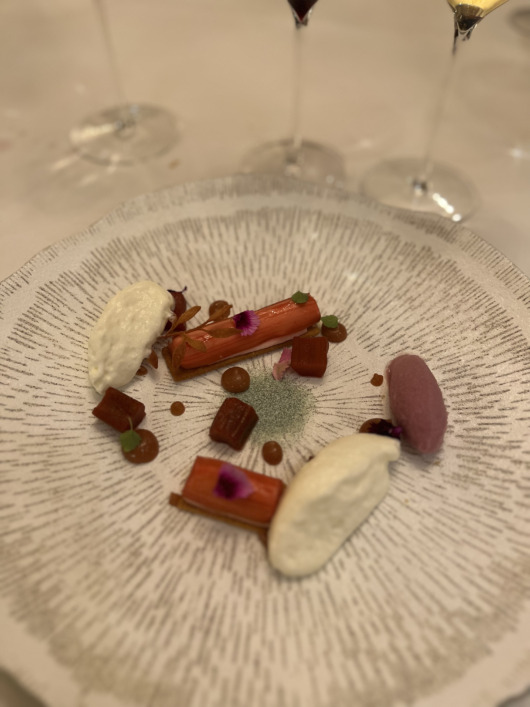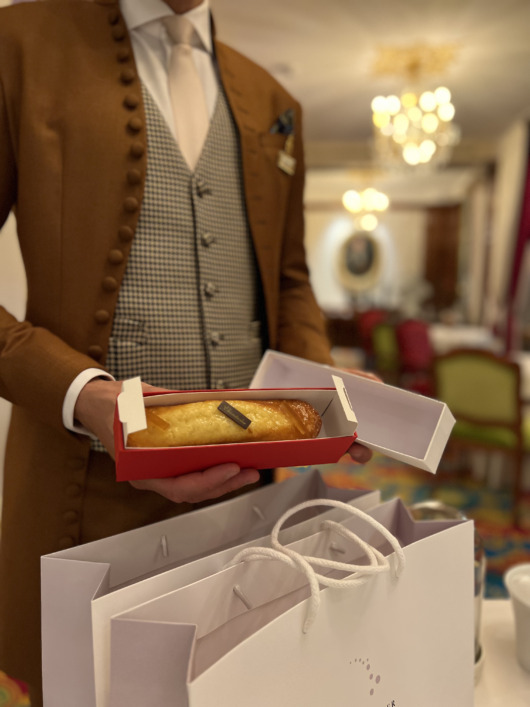 The takeaway gift we got as well
Bocca Mar (website)
The last meal that we had in Nice.  Bocca Mar was like 2 mins walking distance away from our hotel.  It not only offers a Mediterranean restaurant, but also a private beach for you to enjoy the Promenade des Anglais as well.  It has a nice stylish coastal and bamboo themed as its décor, and serves proper food as well as small plates.  The food here was also very good and I would recommend.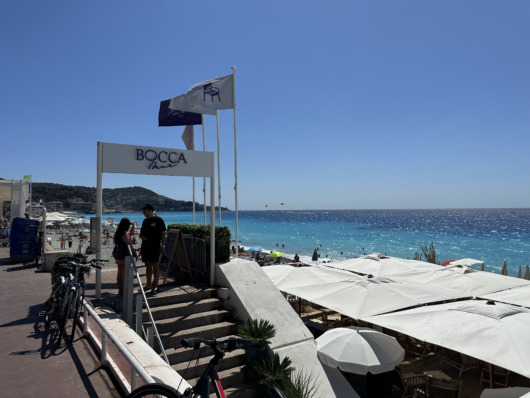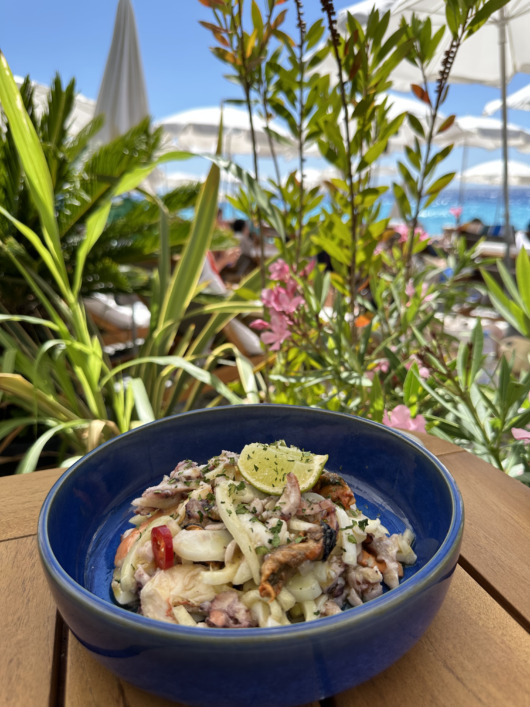 This should've been the Seafood salad (Insalata di mare)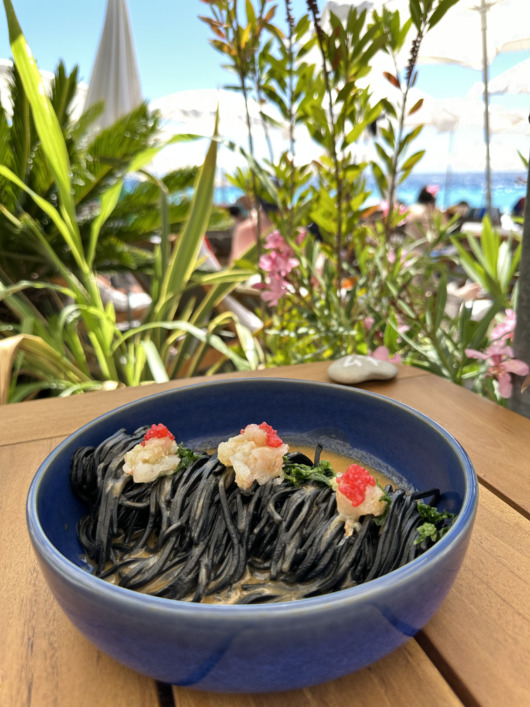 And I believe this was the squid ink spaghetti, both dishes were delicious!
And guess what we are going to wrap up the last few food places with?  It's an easy guess as it's a recurring theme… yes bakery and pastries again!
Copenhagen Coffee Lab (website)
Kinda ironic how we literally went to Copenhagen a week ago and ended up being back at a Copenhagen café in France.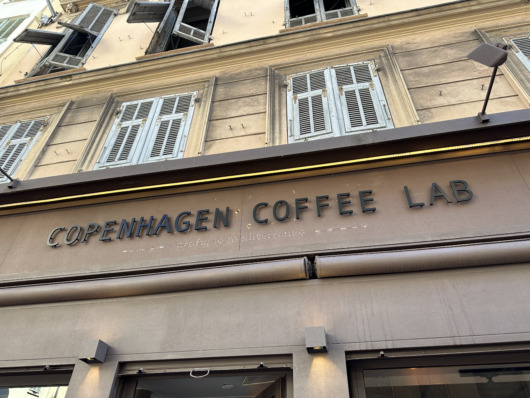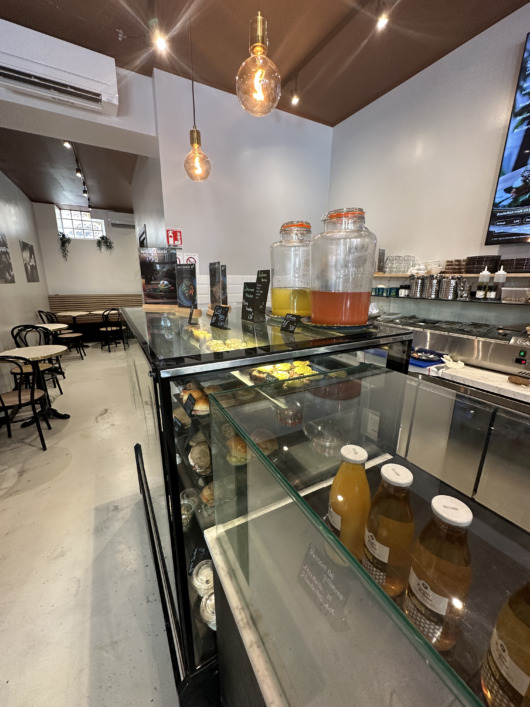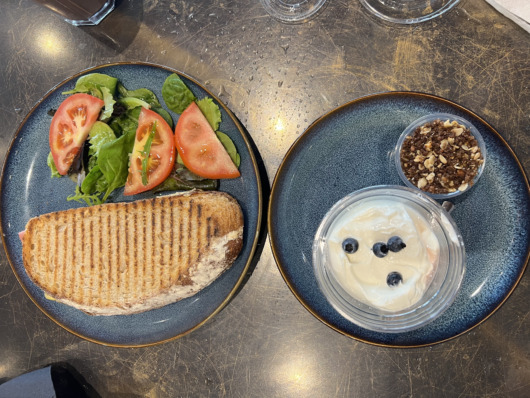 The yogurt was quite watery, and the panini was mediocre.  Not recommended to visit here.
Armand Patisseries (website)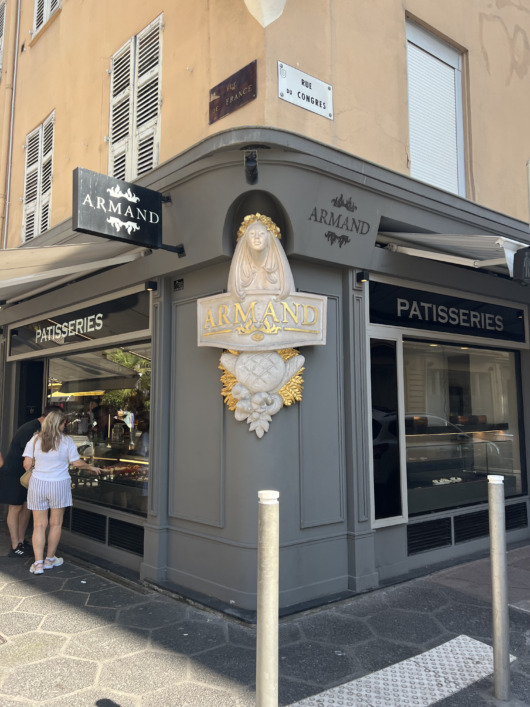 This one was okay, can go!
Bio Brod (website)
Bio Brod was another bakery shop that my friend wanted to visit.  We visited on the last day before we were about to depart.  It was about a 5 min walk nearby our hotel, and apparently it's a family-run boulangerie where you can get fresh and delicious breakfast and coffee.  This place was also decent, but short of fabulous.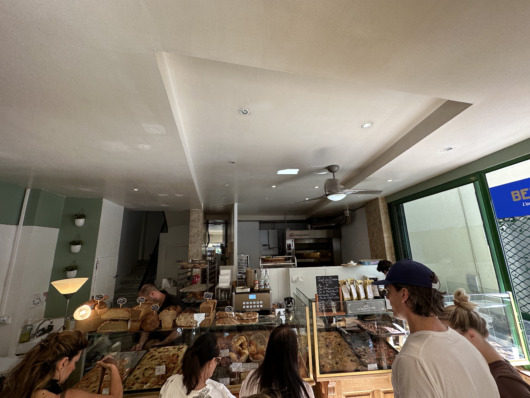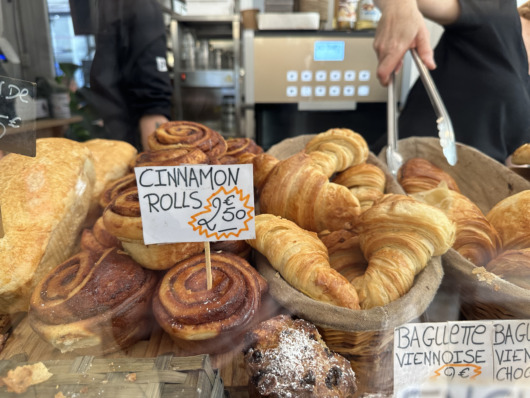 Grabbed a couple of croissants and other pastries
Not gonna lie, but I've never have had incredible bread in France, despite being famous for it.  Just a week ago, I had much much much better bread in Copenhagen when compared with France.  Whether it was the table bread or the bread we bought from popular bakery shops, it just doesn't compare.
With that being said, all the restaurants we went to in Nice, I was quite fond of, particularly Le Local and the pesto pasta was my absolute favorite, hands down.  Le Chantecler is your typical high end Michelin starred restaurant, quite pricey, but definitely gives off a romantic atmosphere if you're going for a dinner date.  And the tavern was definitely a surprise in terms of how good it was as well; initially I was a bit hesitant as I thought it would just be a touristy spot with mediocre food, something like the quality you'd expect from a British pub.
If you want to see my raw video clips of the places I went to around the French Riviera, you can check them out at https://www.youtube.com/@travelwithabutterfly