I've been to Los Angeles many times, because I studied college there, and so a couple of my friends are based there, and because it just so happens to be a place that has many events there or nearby, one time in Las Vegas for EDC Vegas, and this time to go to Coachella.  It just so happens that we had three days in Los Angeles to spend before going to Palm Springs, so here I will outline a good itinerary for three days in LA.  Take note – this post is not for first timers, or maybe even second timers in LA; you'll probably want to visit more "touristy" attractions and places if that's what you're aiming for.
Accommodations
Airbnb south of Downtown LA, near USC (website)
Between staying at a hotel and Airbnb, I think staying at an airbnb in Los Angeles is a much better option.  Because why stay at a small hotel room when there are so many houses to choose from.
We asked people familiar with Los Angeles to pick a couple neighborhoods which they thought was a great place to stay in but at the same time provided good value and was convenient (so the place wasn't too disrupted by traffic all the time, and convenient to go to all directions of LA from Pasadena to West Hollywood).  Options given were Culver City, Mid-city / West Adams, and near USC, and ultimately we chose a guesthouse near USC considering the prices and that we plan to mainly go to the west side originally.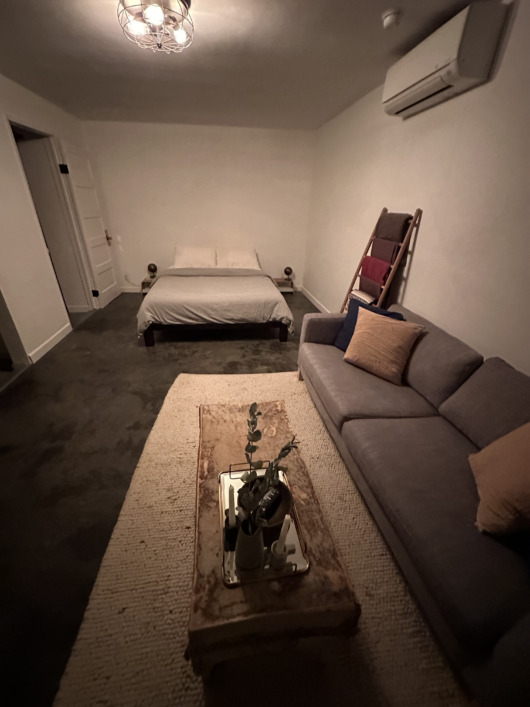 Actually the space was smaller than what it looked in the photos, this was a living room combined with the bedroom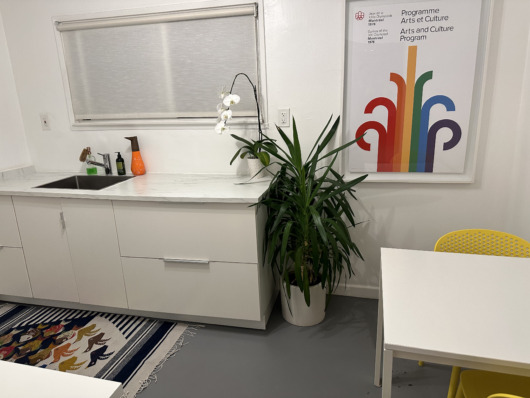 Kitchen.  Not shown was the bathroom, which was very tiny.  You can't put too many of your bathroom accessories in their bathroom.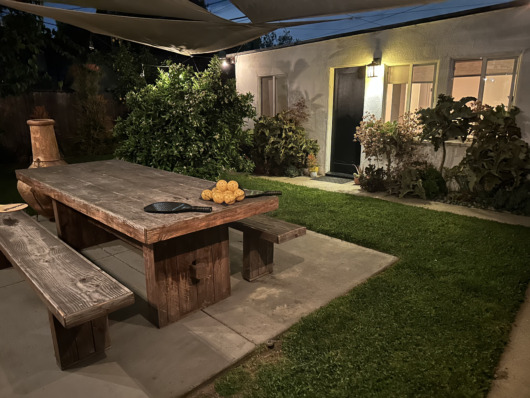 Outdoors which you can use.  Great for kids or to invite guests.  What we didn't like was when we had to get the keys around the corner, there were always bees during the day.
Renaissance Los Angeles Airport Hotel (website)
Wait, didn't I just say not to stay at a hotel?  That was true.  But on the first night (and the last night before going back to HK), on both nights we landed in LA pretty much almost midnight, so there really was no point for us to book an expensive accommodation, and we just preferred staying near the airport so we can just conveniently go to / leave the airport the next day and not waste time.
Outside the LAX, there were shuttle buses provided by the hotels that will go around each terminal to pick up passengers.  Depending on which hotel you stay in, the wait time can be between 5 minutes to 30 minutes.
We originally booked a night at Sheraton Four Points LAX on the first night, but because we got to the hotel by around 2am, when we checked in, they said they were overbooked (even though we reserved a room there months before), and so they told us to go next door to Renaissance LAX which was still taking in walk-in.  They said they will refund the night at Sheraton and also reimburse Renaissance LAX, but to this day I'm still arguing with Agoda regarding the reimbursement for Renaissance.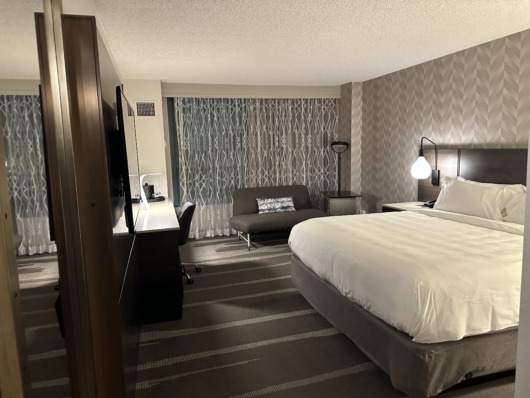 The room size was good and even the bathroom size is good, and everything was clean.  For the price, I thought it was quite acceptable and I would recommend
Transportation
Rentalcars.com for ACE Rent a Car (Rentalcars.com website)
It is highly recommended to rent a car in Los Angeles, because the city relies on driving.  Like if you plan to travel through public transportation like their trains and buses, you're going to have a bad time.  Unless you plan to take taxis and ubers all the time, which can add up and be expensive.  So remember your international driving license and your local country driving license.
Booked a car through rentalcars.com and rented from a place called ACE Rent a Car cause it was cheaper.  Booked an Infiniti Q50, but we got a similar car class – Dodge Charger, with an ostentatious Viridian green color.  At first, I wasn't used to the car since it felt really wide, but after driving the first day I got used to it.  It felt badass to drive it.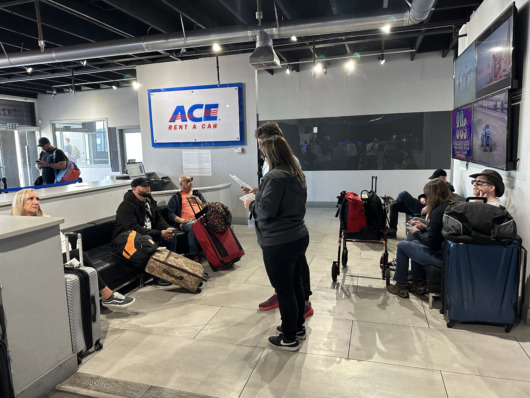 Waiting for our car.  Some bookings were even done virtually with a customer service rep that was like on a zoom call or something.
Ngl, looks kinda badass and attention grabbing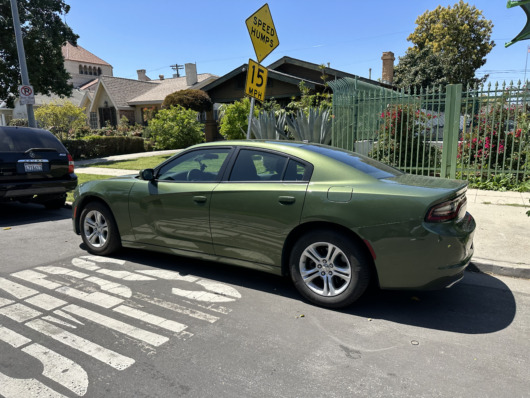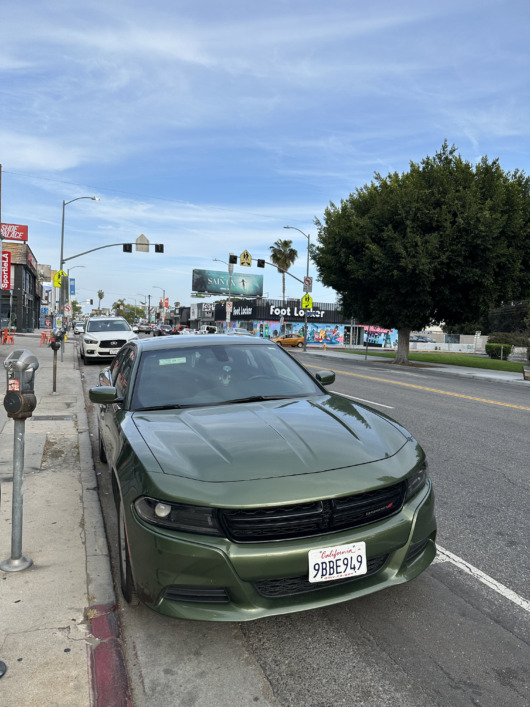 Budget.com (website)
Wait, why did we book another car?  Well, the story is that we missed our flight to Mexico after Coachella, like we tried to hurry to the airport but we missed the check in time because of morning rush hour, and so we had nothing to do, and so we rented another car for a few hours to drive around LA.  Ended up spending most of our time napping in the car and chilling outside Chick Fil A 😂  OK we spent some time in Marina Del Rey as well.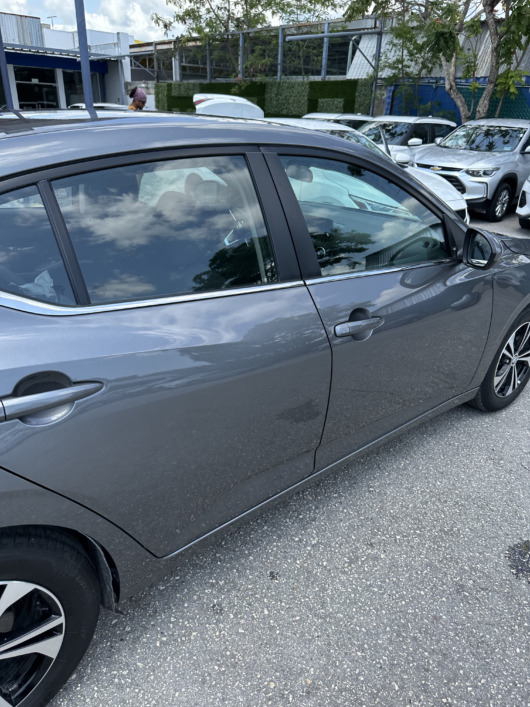 This time we got a Kia Forte.  I've never been a big fan of Kia cars, and continue not to be.
Itinerary
Day One
Blu Jam Café (website)
First we went to a brunch place called Blu Jam Café.  They have several locations in LA, but the closest one to us was in Downtown, and we met up with a friend there for brunch.
The Blu Jam Café in Downtown was located in Spring Arcade Building.  The vibes inside the building was already not impressive – it seemed old, run down, not well maintained, and just… not completely abandoned but just not new and modern.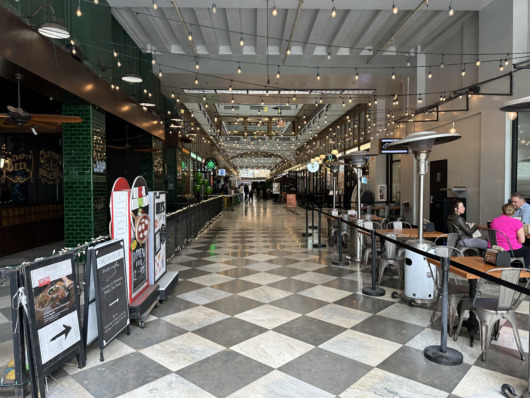 Felt a little old and dirty and whatever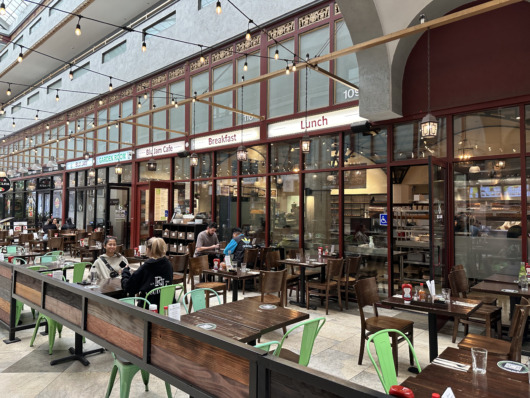 Blu Jam Cafe.  We sat outside, it was super duper cold!
This was Norwegian Benedict – Poached eggs, english muffin, Scottish smoked salmon, spinach, tomato, dill hollandaise, served with grilled potatoes.  Just okay, acceptable but nothing special.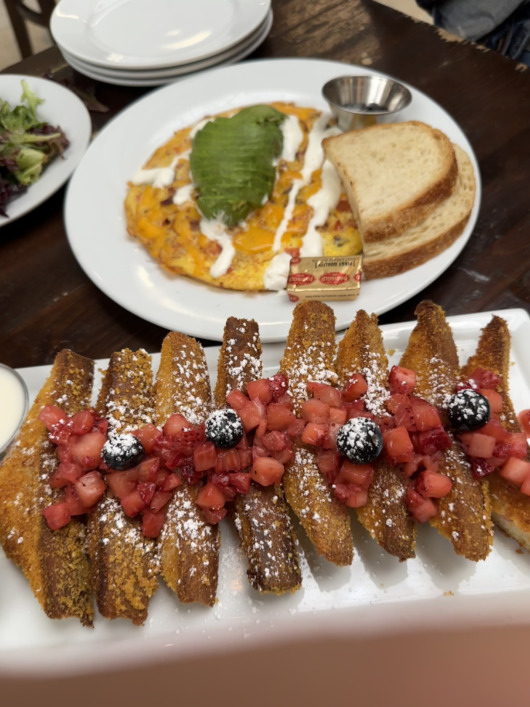 Bottom is crunchy french toast – French brioche dipped in secret batter topped with berries served with powdered sugar and vanilla bean sauce.  Forgot what top is but I think it's California Omelette – with smoked bacon, tomato, avocado, sour cream, cheddar, and toast served with mixed greens
My verdict about Blu Jam Café, specifically for the branch in Downtown, is don't go.  Don't waste your food quota with this place, find somewhere else.
Bottega Louie (website)
Bottega Louie used to be, in my mind, a very fancy upscale restaurant.  But this time around, just like Spring Arcade Building, it just feels like a fancy restaurant that was not well maintained, isn't as cleaned, and a little bit forgotten.  It still got it's décor going on, but the atmosphere and vibe just feels old and slightly dirty now.  We came here because we wanted to get some sweets and macarons.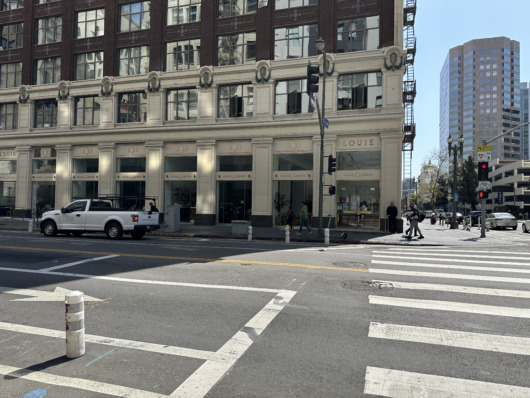 Downtown LA was ghetto, but now it's even more ghetto.  A lot of homeless people around.  Some people might not feel safe here.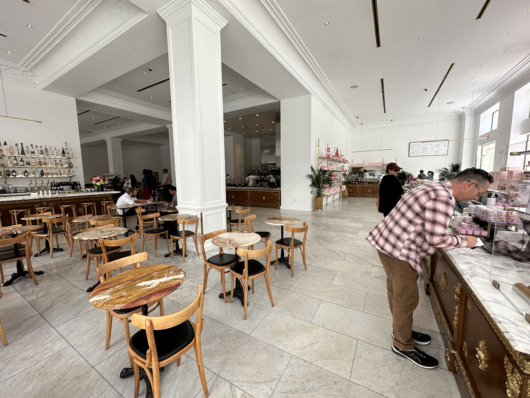 In my mind this used to be fancy.  But just looking at the tiles and furniture here, it feels cheaper than what I had in mind.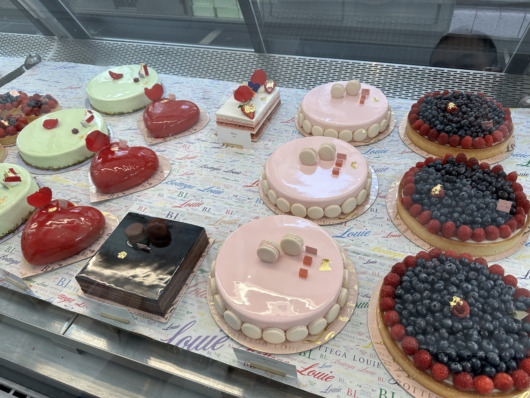 Desserts here.  We only got macarons and they were okay.
MadMen (website)
Now that cannabis / weed is legalized in California, why not try it out and get a bit high?  This place has a ton of different cannabis products, from pens to already rolled up rolls, CBD drops and more.  They have a couple branches in LA, the one we visited in Downtown, then there's one in Abbot Kinney boulevard, and a few more.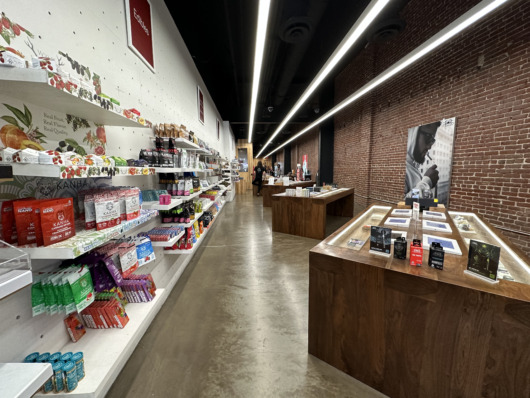 You'll need to show your passport / ID before you can go in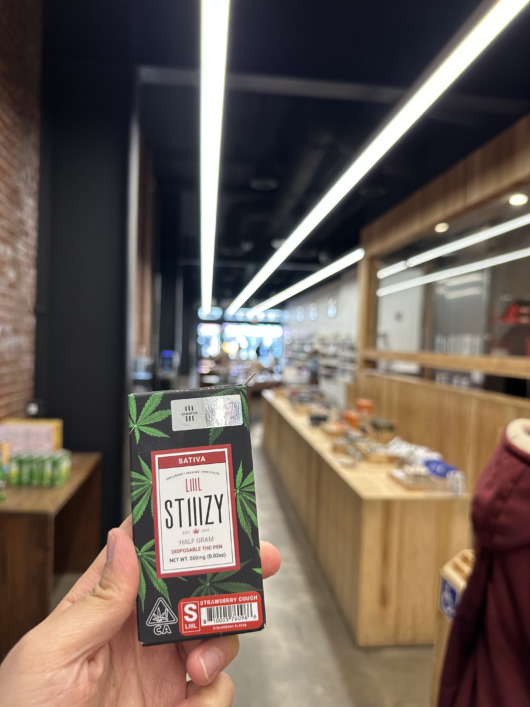 The pen I got for Coachella
The Last Bookstore (website)
The Last Bookstore isn't really the last bookstore in LA, but it's the largest new and used bookstore in California.  They also have an Annex where it features some of the rarest books and first editions of books collected there.  You can also find vinyl discs here as well.  They have sort of like a time travel tunnel which makes for a good IG post.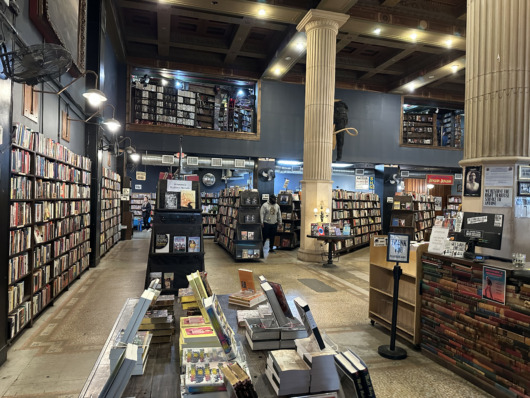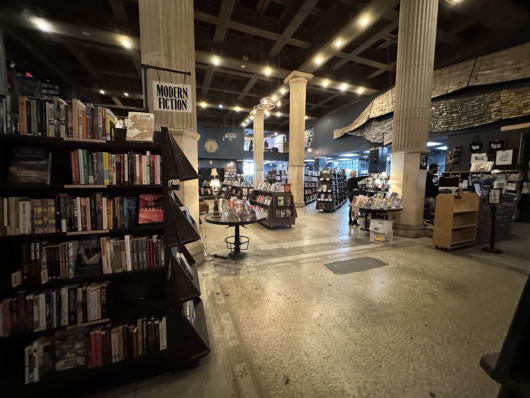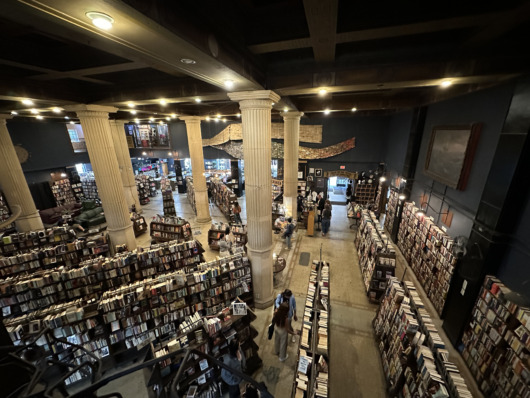 Melrose
An avenue filled with unique shops, boutique cafes, and just a more indie / local vibe.  A trend-setting neighborhood.  Good to spend half a day there.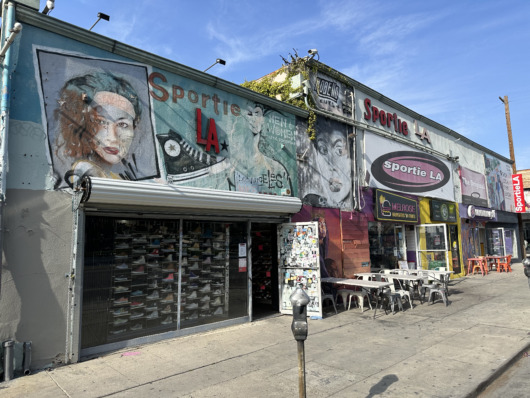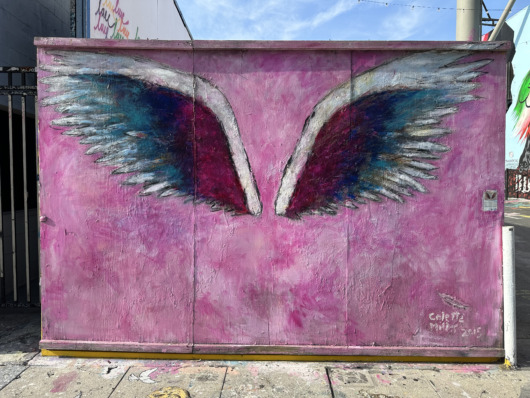 The iconic wings by Colette Miller, many people come here for photo op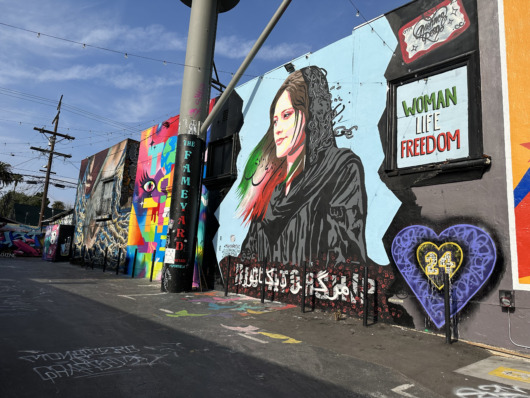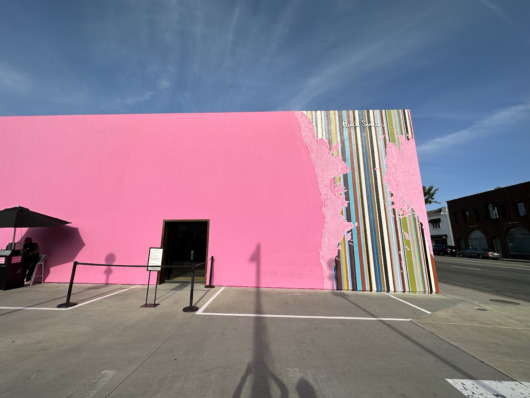 The Pink Wall at Paul Smith, also another famous place for photo op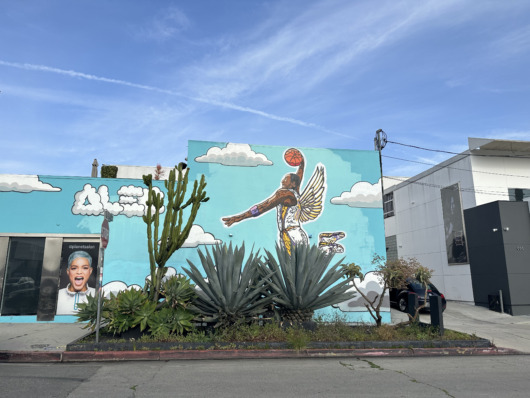 Kobe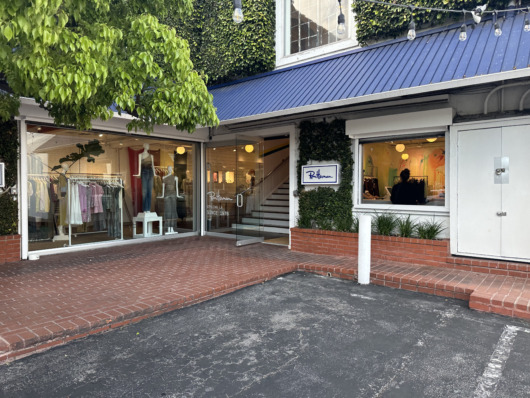 Ron Herman (website), used to be one of my favorite shops in Malibu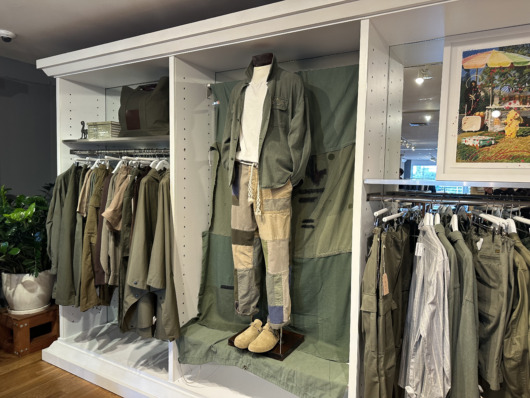 Ron Herman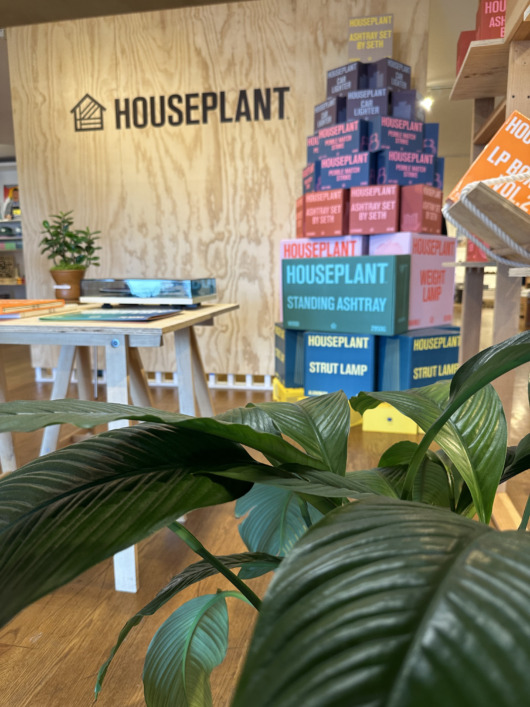 Ron Herman
Griffith Observatory (website)
This is my second time ever going to Griffith Observatory, the first time was when I still in college, so it's been about 10 years since I revisited this place.  We wanted to come to this place during sunset to get the best timing to take photos there.  The observatory is famous because it has a memorable exterior architecture, has telescopes to see outer space, and has beautiful views to see Los Angeles from above and is close enough to see the Hollywood sign.
One thing I do remember from this place is that parking is always a challenge, and you have to park on the hill slopes faraway from the observatory if you want to park for free.  There's paid parking but I have no idea how to get there.  We walked about 20 minutes one way to get to the observatory.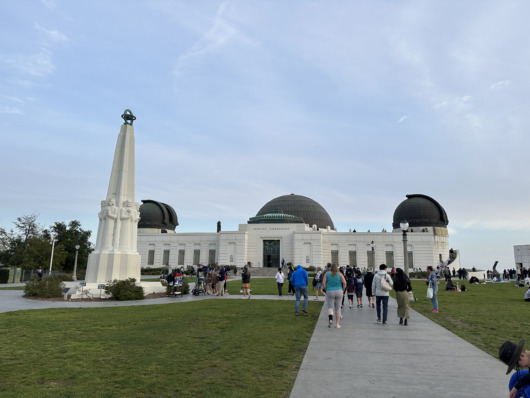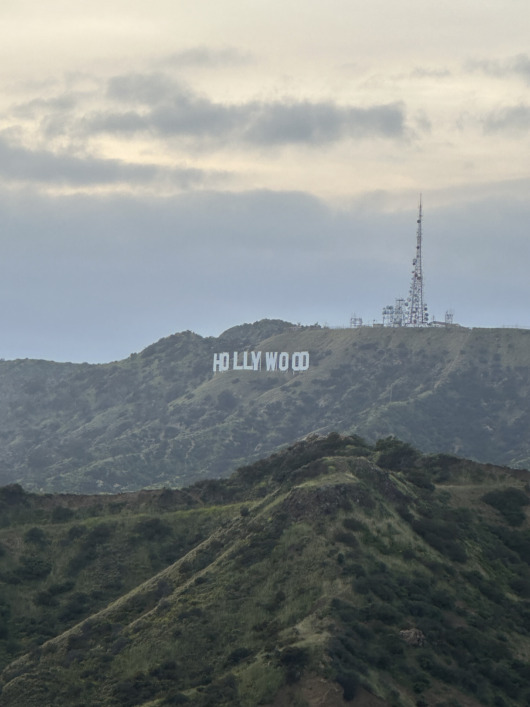 Hollywood sign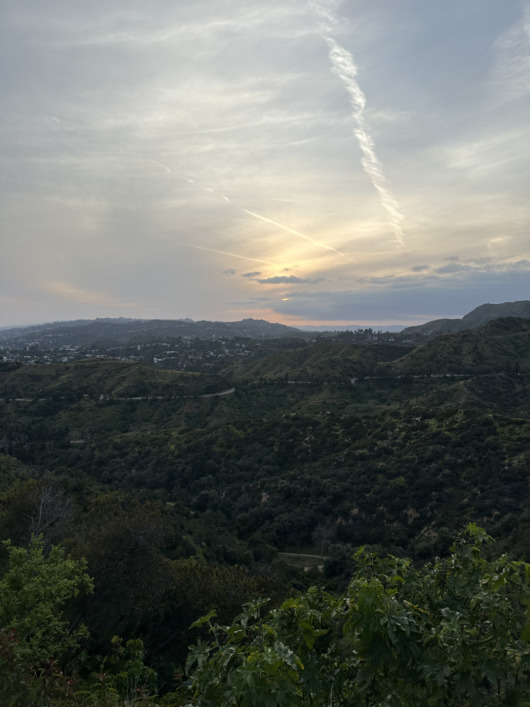 Sunset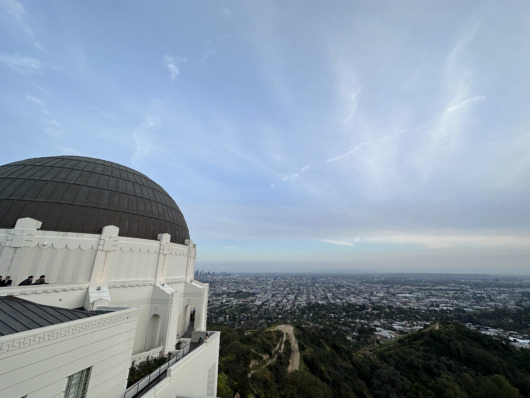 Views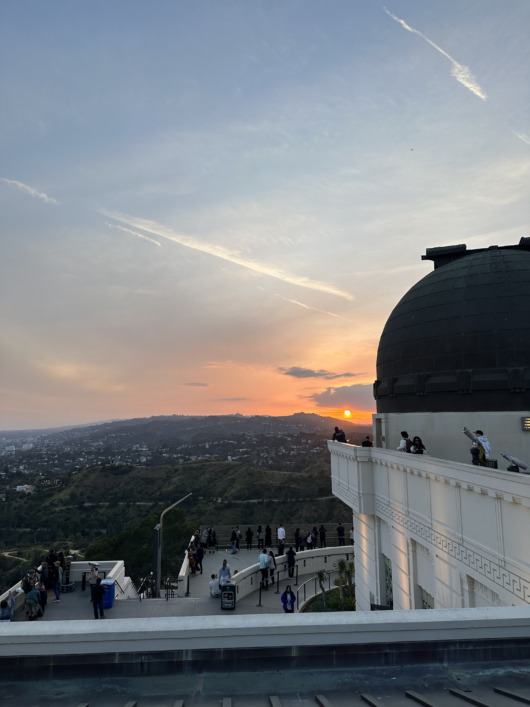 Views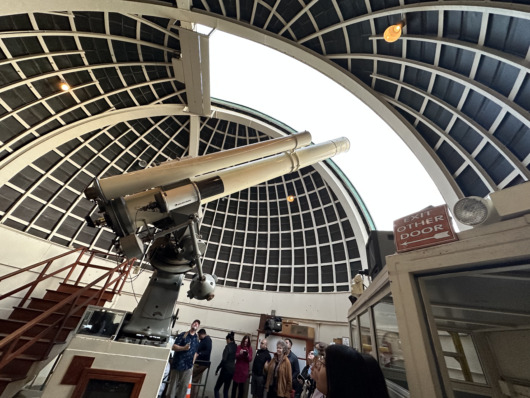 The powerful almighty telescope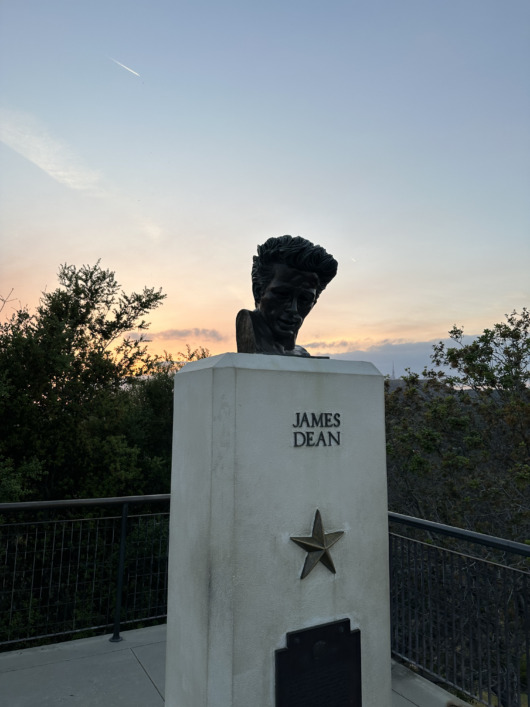 James Dean, one of the cooler actors in American film history.  Passed away way too young.
Kabuki (website)
Since we were meeting some friends in Pasadena, and since we were feeling fusion Americanized sushi, we decided to come to this restaurant.  I like the Pasadena area, it feels quiet enough and safe and clean and nice.  The restaurant itself, I'd say it was just okay, like the food was above acceptable but nothing special or splendid.  It is what it is.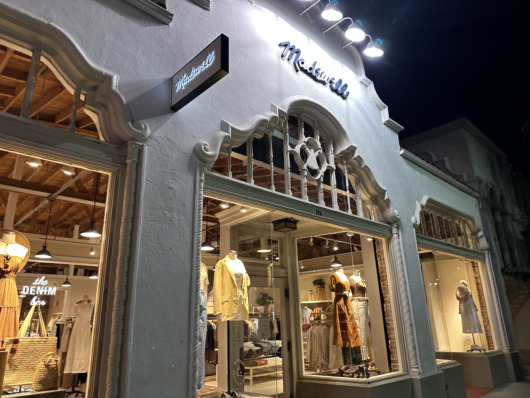 Where we parked, street parking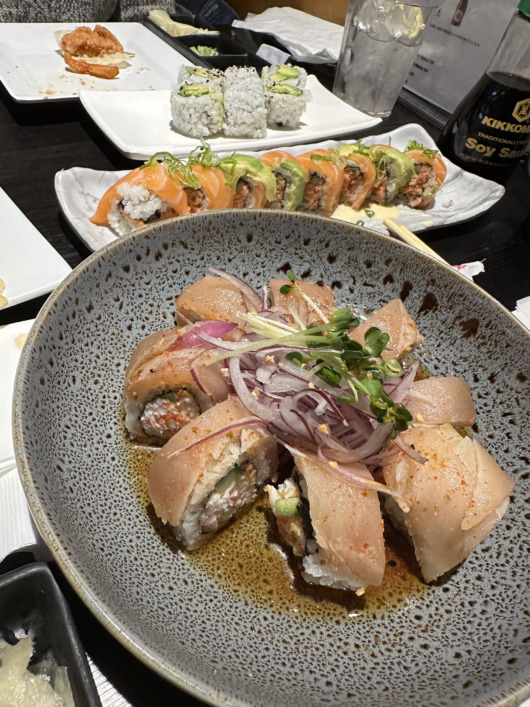 We ordered cilantro albacore roll (bottom) and I think sunkissed roll – spicy tuna roll, fresh salmon, and avocado (top)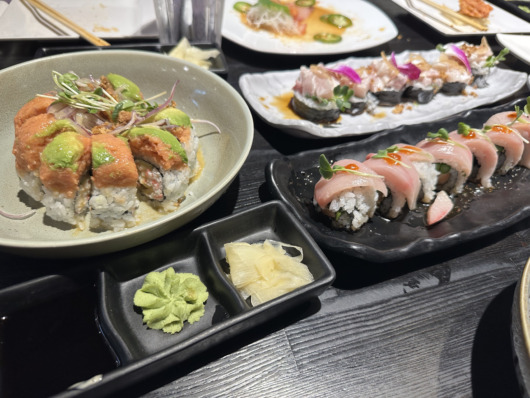 We also ordered other types of rolls and food too (like yellowtail carpaccio at the top center)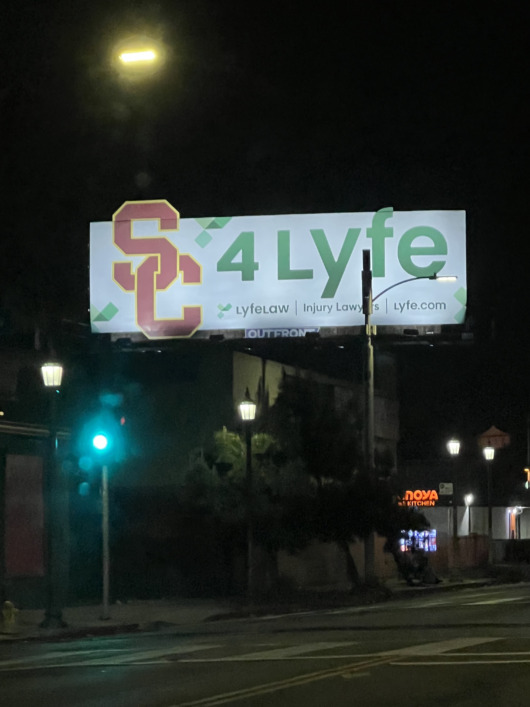 A sign we passed by ✌️
That wraps up Day One!
Day Two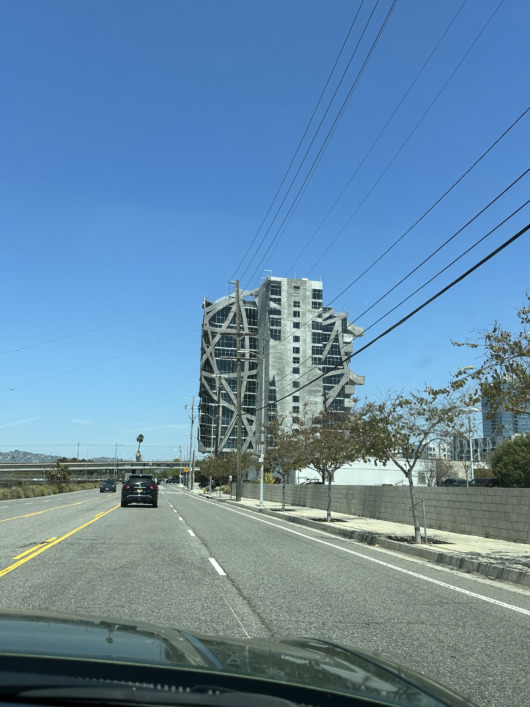 Some building that we passed by.  Does anyone know what this is?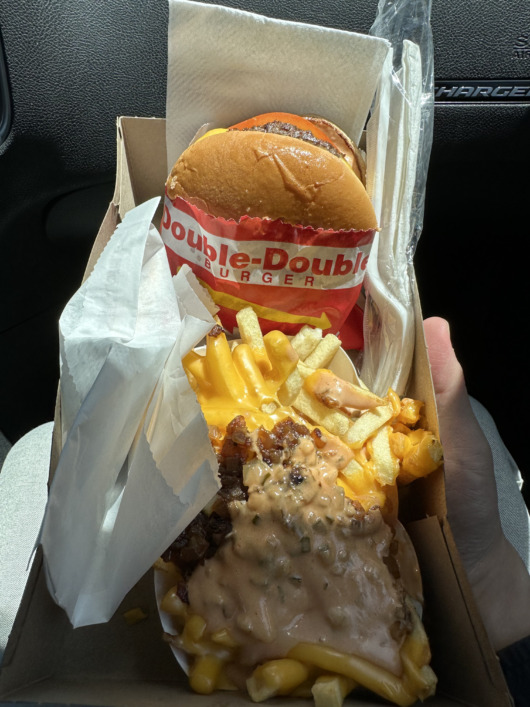 Anyone knows that if you haven't eaten an In n Out burger, could you even really consider yourself having ever been to Los Angeles?  If you want to get this type of fries, just tell the cashier you're looking for animal style fries (off the menu), which consists of caramelized onions, melted American cheese, and their secret In N Out sauce
Erewhon (website)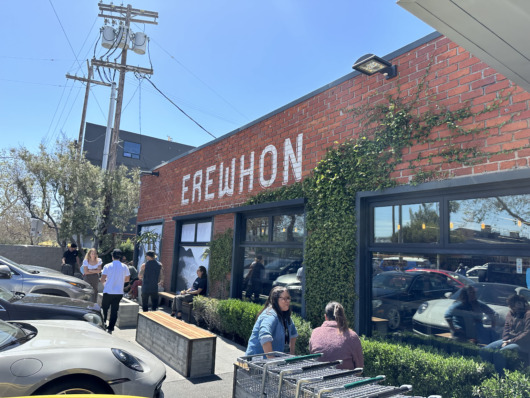 The popular market visited by basic white upper class women (I'm obviously stereotyping).  Lots of organic, healthy foods can be found here.  They have lots of branches in LA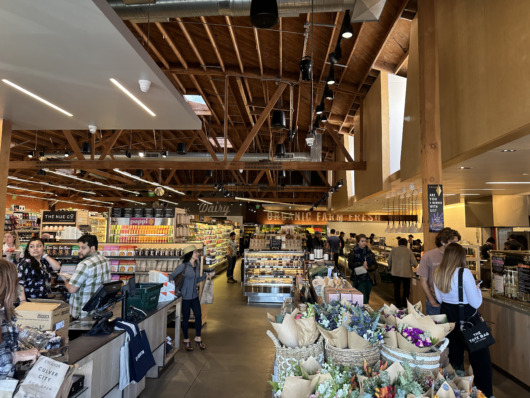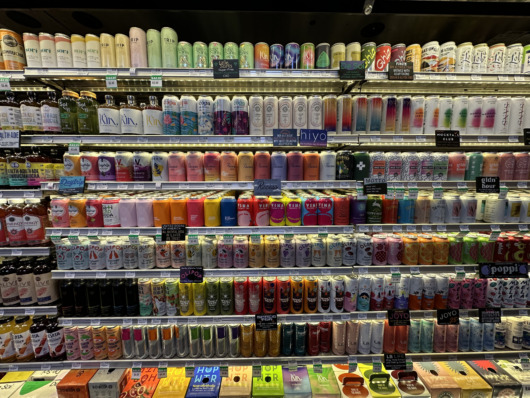 Lots of healthy drinks to choose from
Abbot Kinney Blvd
Another neighborhood like Melrose, but in my opinion cleaner and more upscale, and nearer to Venice Beach.  Lots of boutique and unique shops, cafes, and restaurants, from clothing, sunglasses, poké, jewellery, scents, and more.  Again, you can spend a half day enjoying here as well.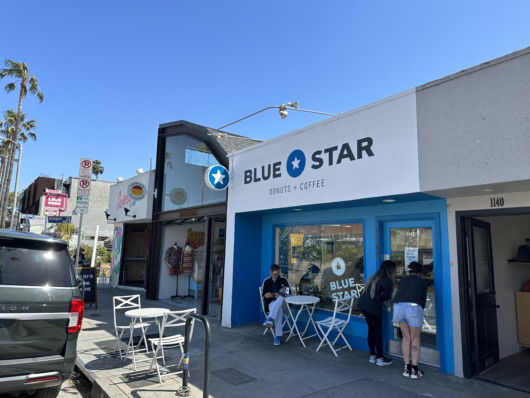 Blue Star – donuts and coffee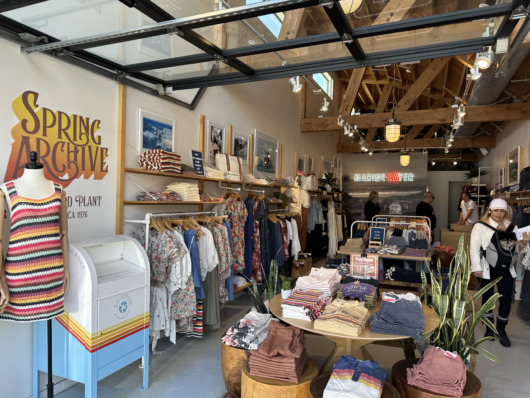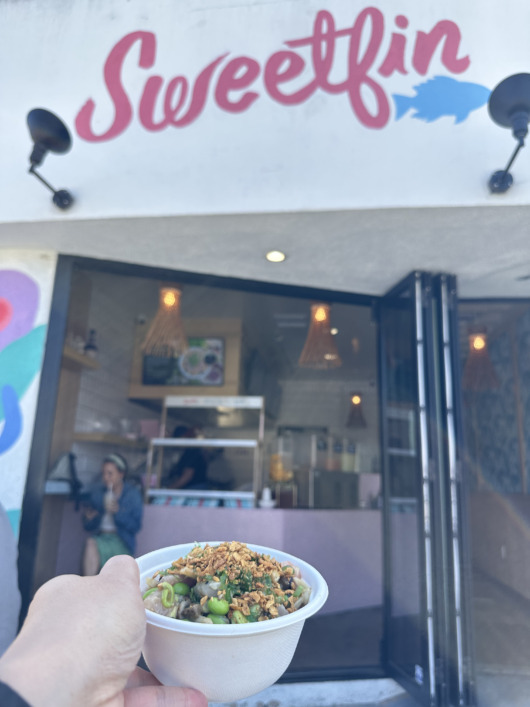 Sweetfin for poké.  So yummy!  Finally a restaurant I'd recommend going.  Really loved it.  You can customize your own poke bowl or select one designed by them.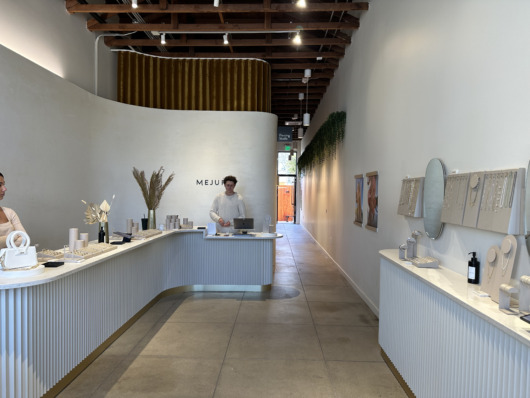 A place selling boutique jewellery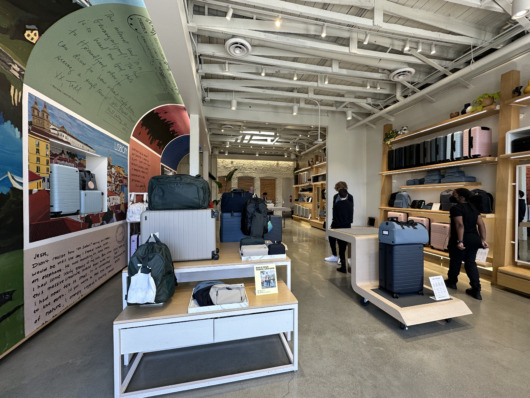 A place selling expensive unique luggages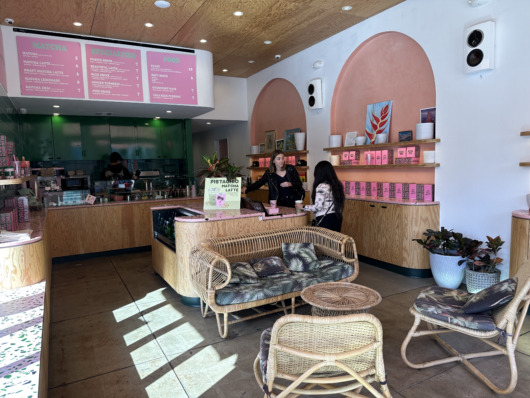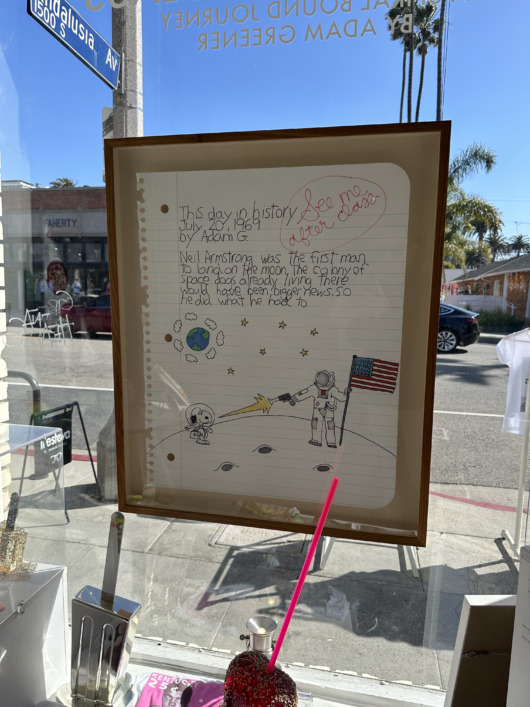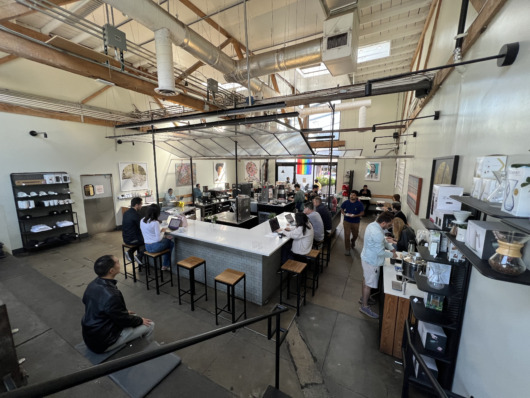 Intelligentsia Coffee (website), I mentioned this cafe in my previous LA post before.  Originally from Chicago.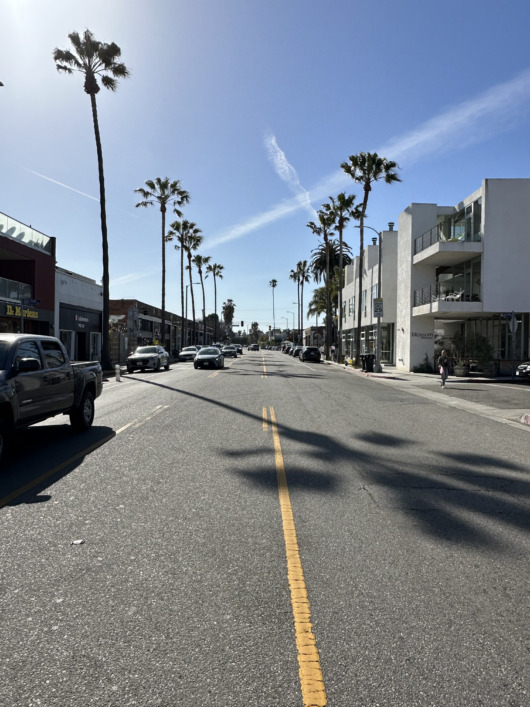 Taking a photo in the middle of the road.  Great weather when we went.
Venice Beach
A hipster, touristy neighborhood.  Lots of souvenir shops, a skateboarding park, outdoor public gym facilities, and of course a beautiful beach with lots of people surfing.  Here you'll smell a lot of weed as well.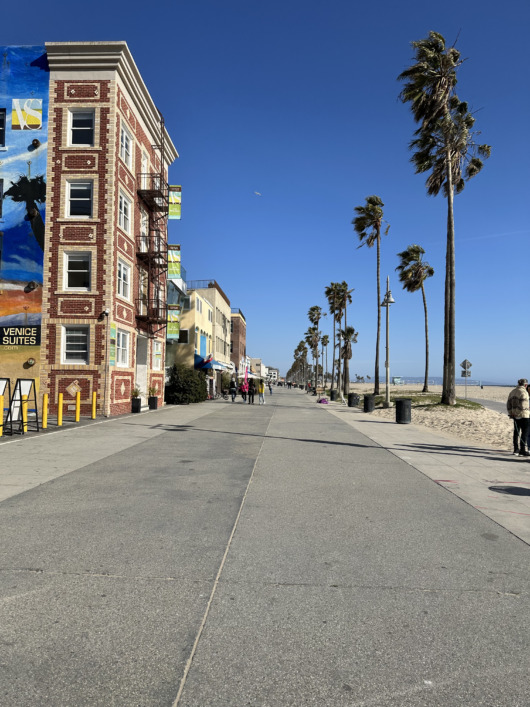 I took a photo right when there's not a lot of people.  Lots of people bike here and ride on those electric scooters.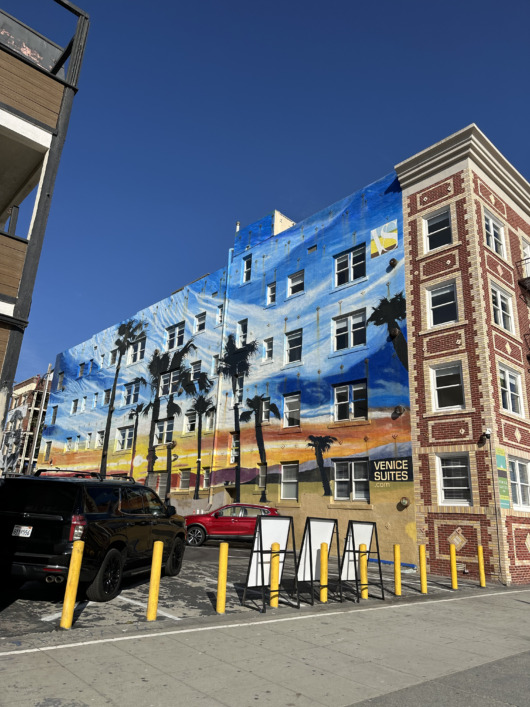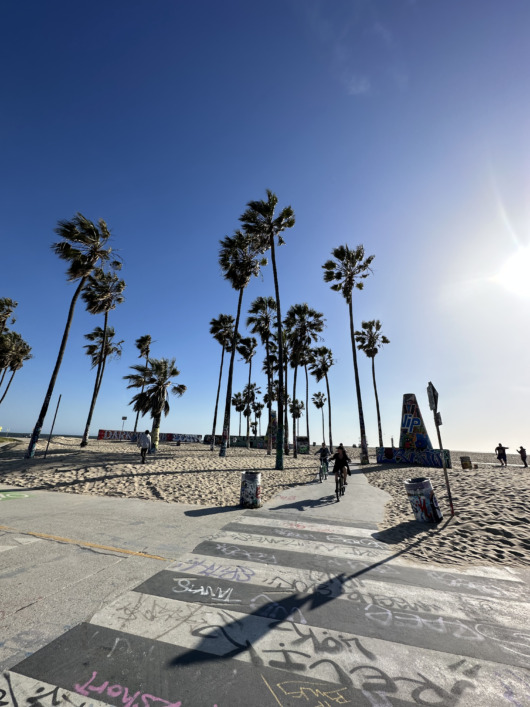 On a nice sunny day like this one, walking along Venice Beach is just amazing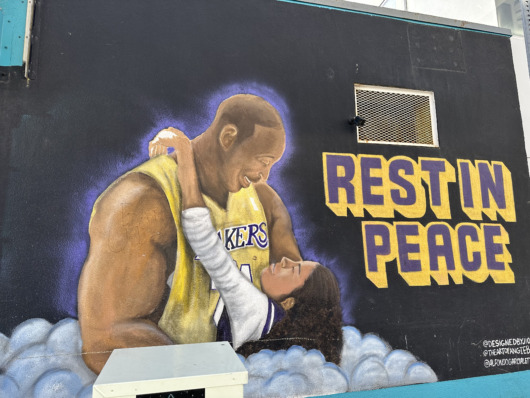 Rest in peace, Kobe Bryant and Gianna Bryant
Gwen, a restaurant by Curtis Stone (website)
Did you know that as of 2023, there are currently zero three Michelin star restaurants in Los Angeles?  And did you know that there are only 25 total Michelin starred restaurants in star-studded LA?  Only five of which are two stars, and many of them are actually Japanese restaurants.  (I actually went to Melissé, one of the five two starred Michelin restaurants, back when it was just one star a couple years ago.  Not sure why it's not in any of my posts though).
This time, we went to a one starred Michelin restaurant as recommended by my friend.  As a butcher shop / steakhouse, it was decently good and yummy, like somewhere you can't go wrong, but I wouldn't say it was one of the best meals I had ever in my life, nor in this trip (I liked the Italian food in New York most).  Pretty expensive, around $150 – $250 per person (depending on amount of alcohol you got), but it is what it is for a steakhouse and a one Michelin star place in Los Angeles, but like I said it's good, you can't go wrong, steakhouse, but there are definitely better steakhouses in the world and it won't be the best meal you would ever have.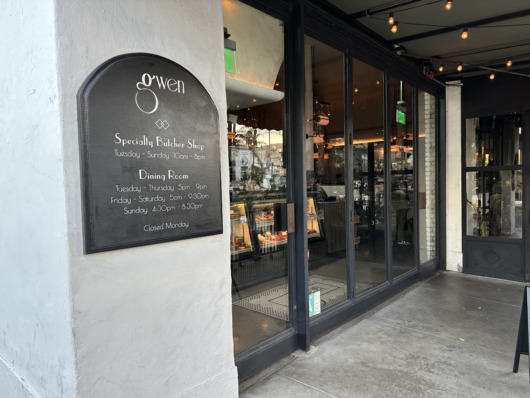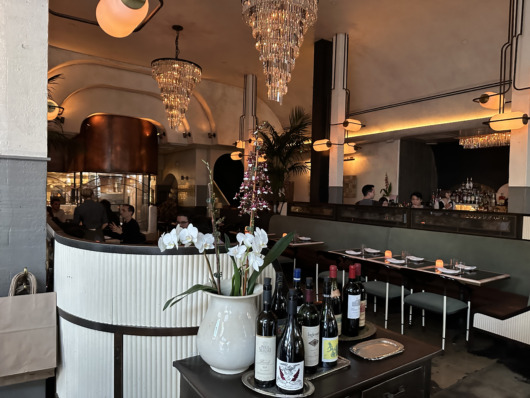 Fine dining vibes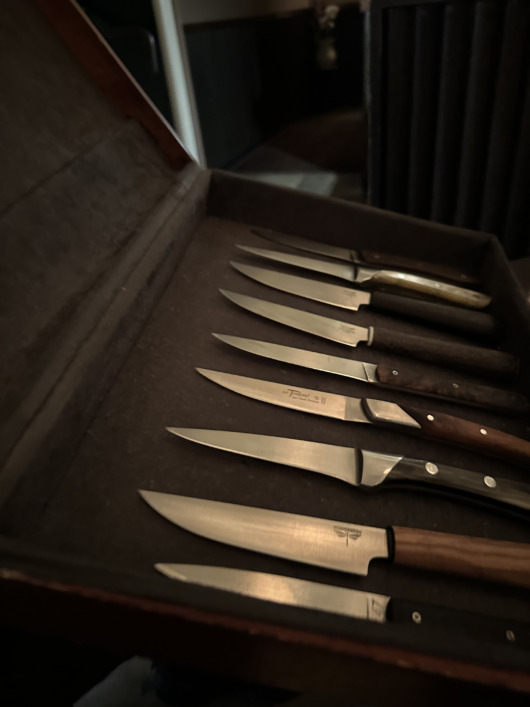 Pick your own knife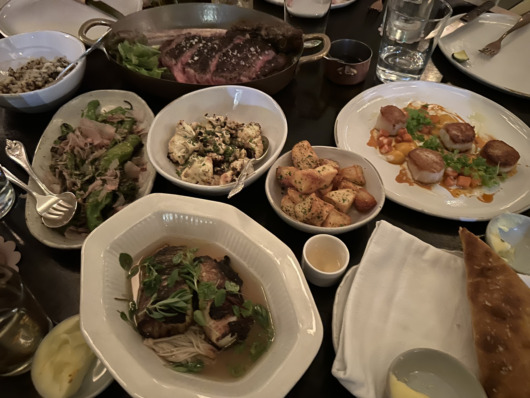 The foods we ordered.  What's not shown was all the alcohol we also ordered.  You can't go wrong with their steaks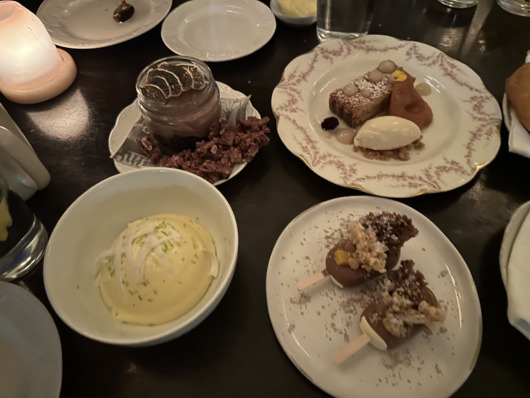 Our four desserts, yum.
Day Three
Chipotle
First things first.  After moving out of our airbnb, we must indulge in our favorite mexican fast food chain, Chipotle!  After so many years, it's still so yummy no matter which branch you go to.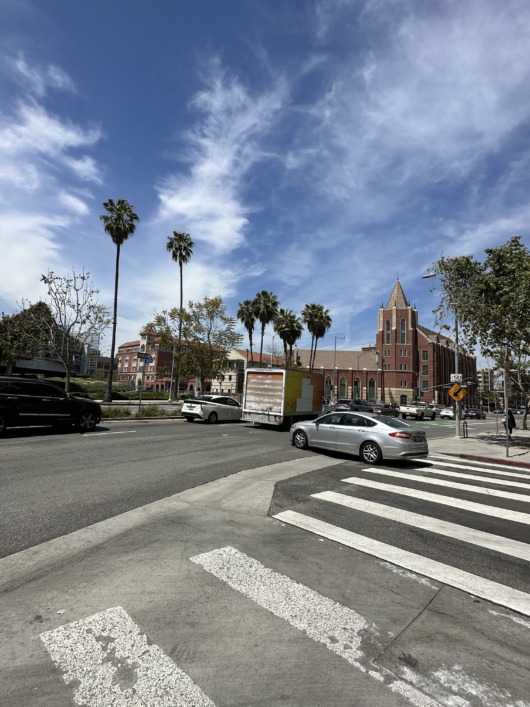 A quick look from outside my USC campus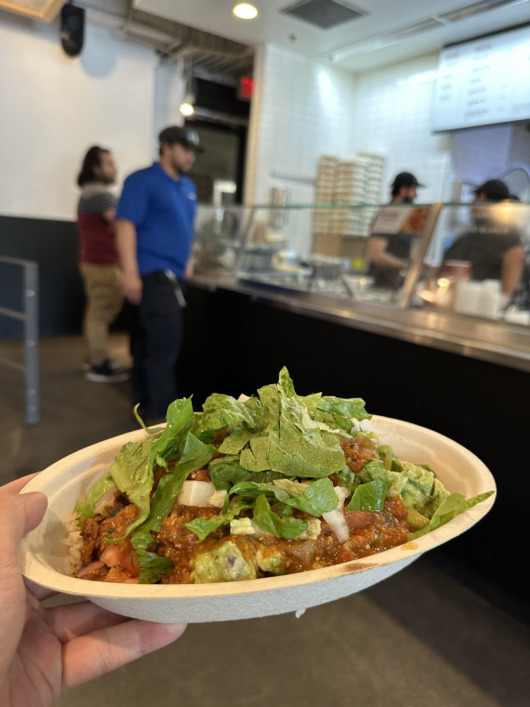 Chipotle!  Lots of stuff was given to me.  In fact, the sauce was a bit much so it was a bit watery, but I loved the spiciness of the chicken, the amount of guacamole given to me, and everything else on top of it.
Coin Laundry Laundromat
If you're like me and went on a three week holiday, you'll probably not have enough clothes for the entire trip.  So, I had to stop by a laundromat to get some of my clothes cleaned so that I would have enough clothes to wear for the rest of the trip.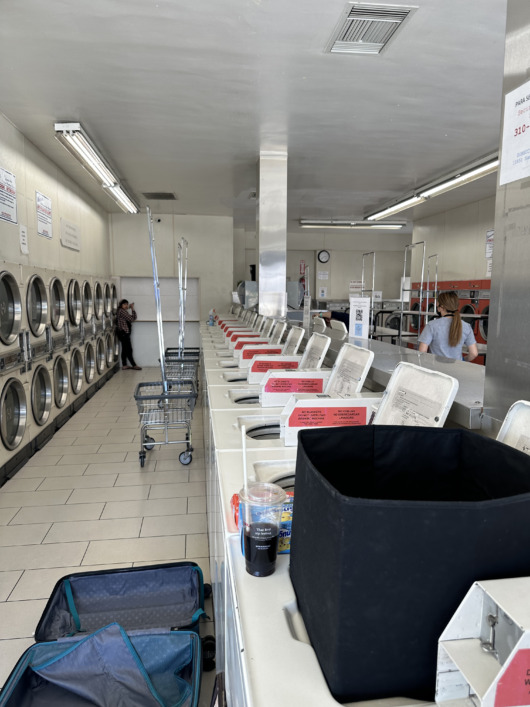 Something about going to a laundromat felt so LA to me… maybe cause of my college experience and maybe cause from Everything Everywhere All At Once scenes?  It just feels so LA to go to these types of public laundromats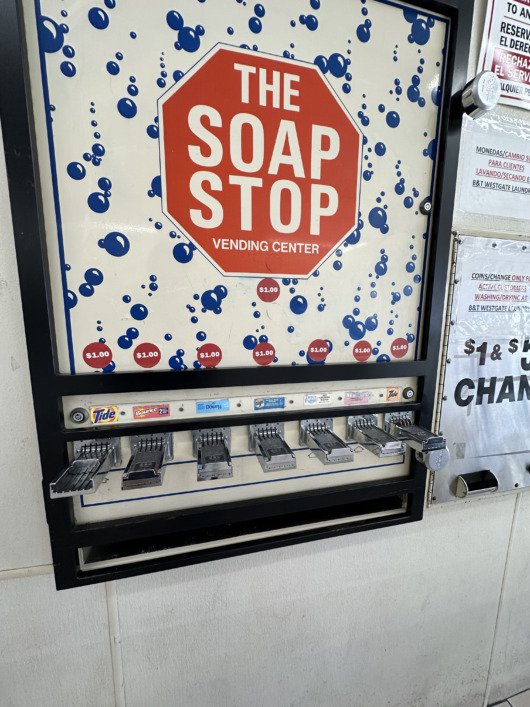 Like this feels so LA, putting quarters to get your detergent or bleach or softener, and after to use bills to change to quarters.
UCLA (website)
I've never really stepped inside the UCLA campus, since it was our rival school, but after stepping in, I have to admit that UCLA campus was large and quite beautiful.  If you have nothing to do in LA, you can also visit USC and UCLA campuses as well.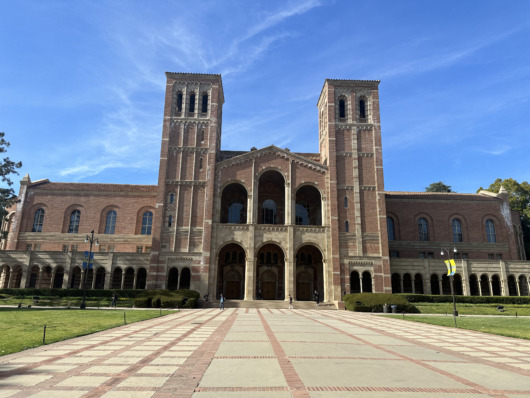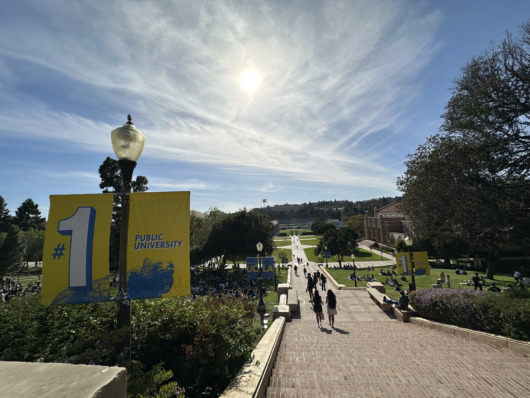 We saw a lot of students just hanging out on the grass and chilling on the slopes of the central area of the campus (like the image above).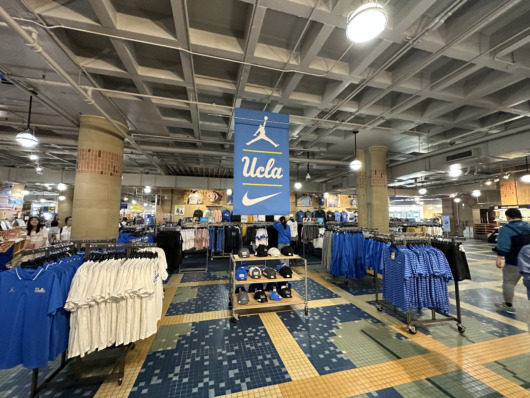 UCLA Bookstore
San Marino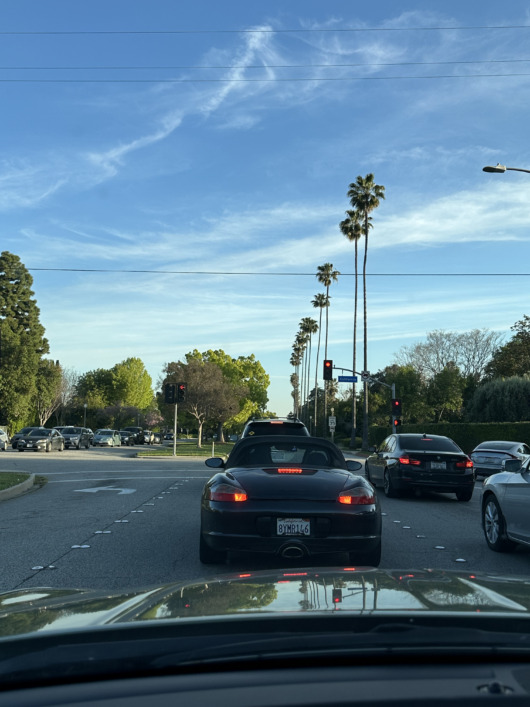 We stopped by our friend's place at San Marino, and this was the view while we were driving there.  So pretty.
Bopomofo (website)
A boba cafe opened by one of the co-founders for Wong Fu Productions in the heart of San Gabriel.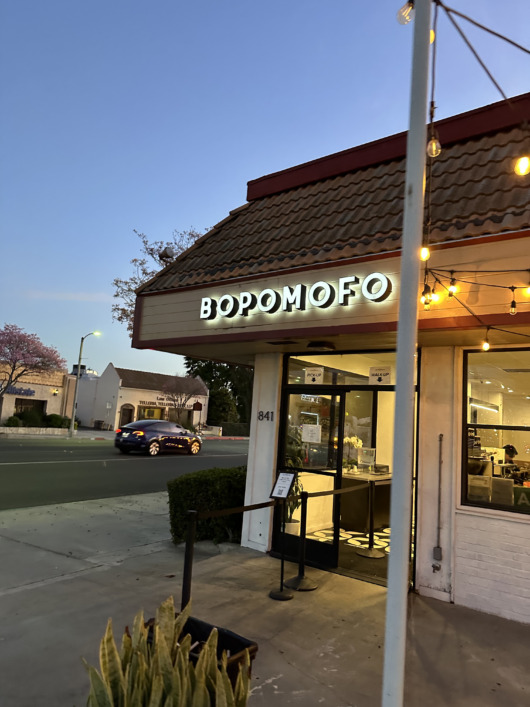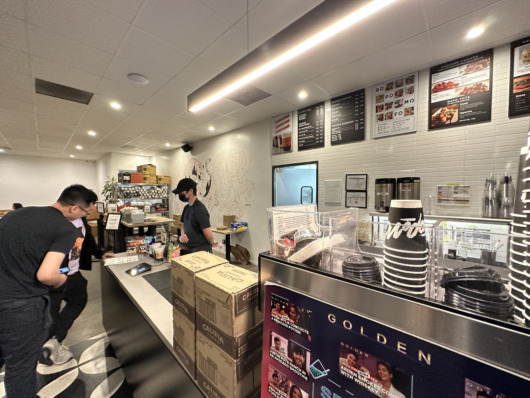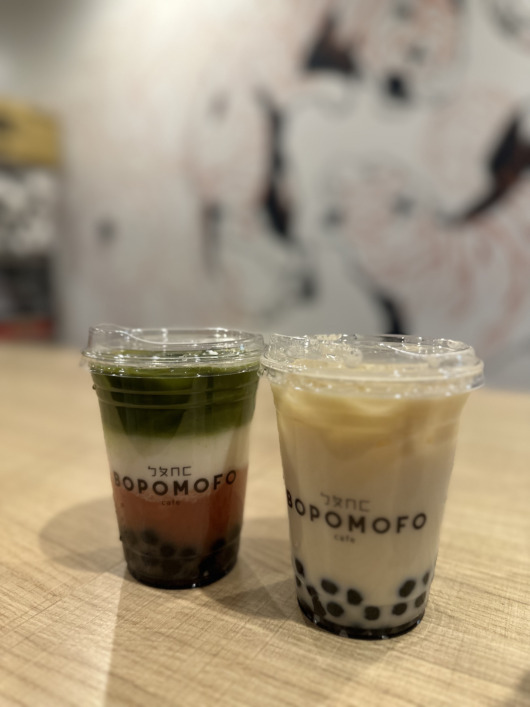 I thought the drinks were just okay, wouldn't go again on purpose
Golden Deli San Gabriel (website)
Supposed to be a really good Vietnamese restaurant.  My friend was mad that they purposely only gave him half a chicken meat (literally) or something once and thought it was cheap of them so he never went back.  They close really early, like 8pm.  But 8pm is not when the doors closed, it's when the walk in for getting a ticket closes, and we happened to make it just in time.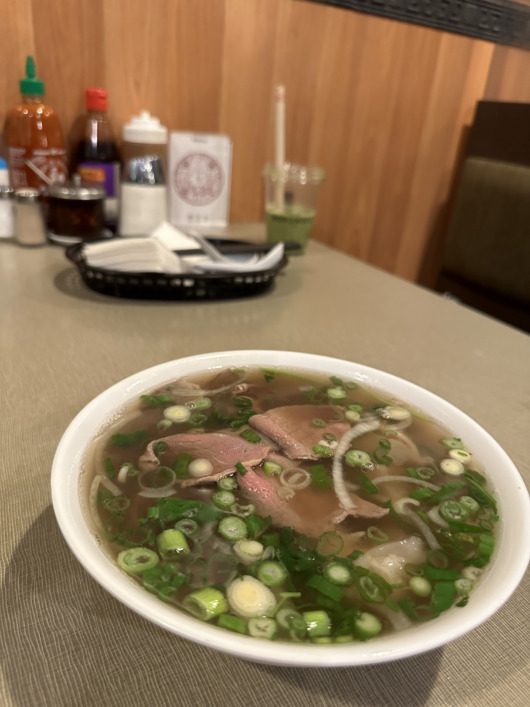 The pho that we got.  I thought it was just okay, nothing fantastic or special.  Some pho places in HK are better than this one here.
BONUS: Day Four
Marina del Rey
Remember how I said that we missed our flight to Cancun at the beginning?  So we were forced to spend almost an extra day at Los Angeles, and we rented a car to take a nap, eat Chick Fil A, and spent time near Marina del Rey.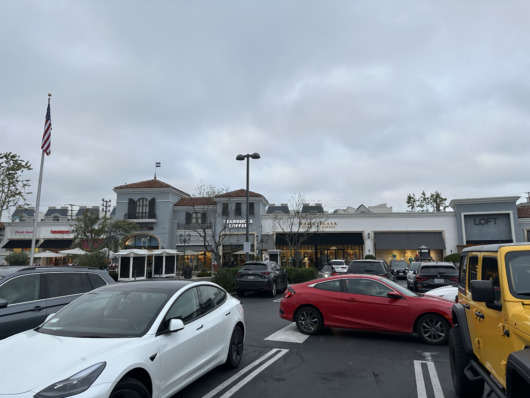 The square with everything you need – Starbucks, Chipotle (which we went again), Sephora, they even have Pinkberry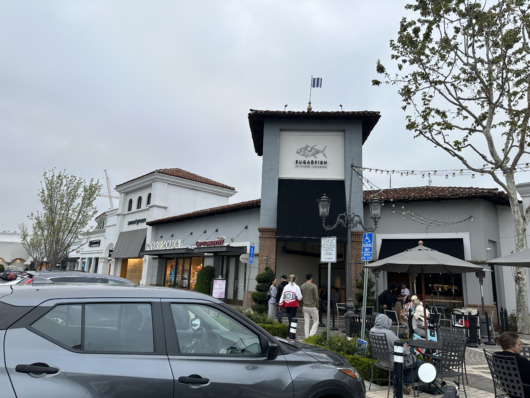 They even have Sugarfish, something I liked when I was studying college and went to Downtown for it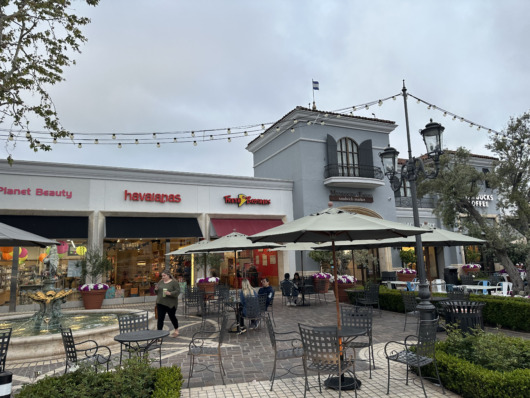 Marina del Rey is near LAX airport in case you have some extra time to spare before needing to go to the airport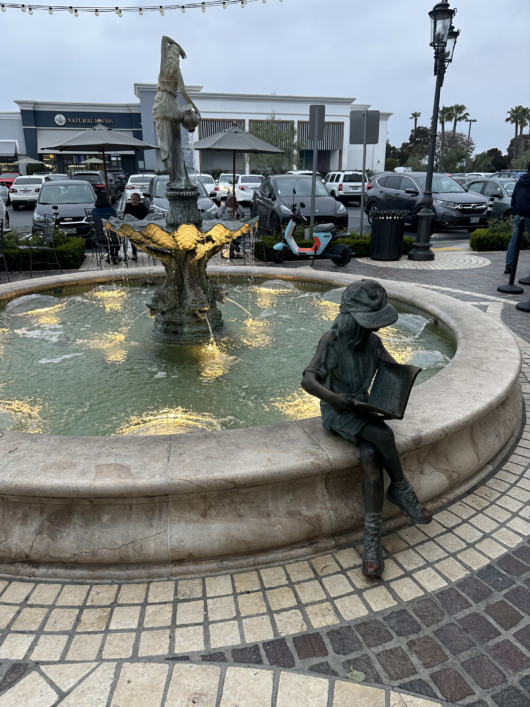 Fountain of reading
So yeah, hope my 3.5 day experience in Los Angeles will give you some ideas of what you may want to do in LA as well!  For more of my Los Angeles experience, you can read Los Angeles – Fun For A Few Days Only.