So I grew up studying university in Los Angeles for 4 years, and those were some of the best years in my life.  I think to a certain extent it was also because I was situated in Los Angeles, and as a university student, it was a good place to have fun there, especially when you have a car.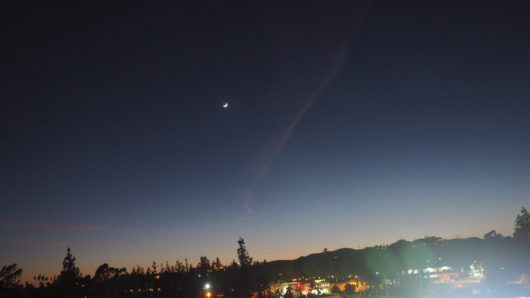 LA during the night
After graduation and moving out from the city, I would periodically come back to Los Angeles every few years, for differing reasons (nostalgia, music festivals, weddings etc.).  Each time finding myself needing to do more and more research to find out what else is there to do in Los Angeles besides typical city stuff, like eating.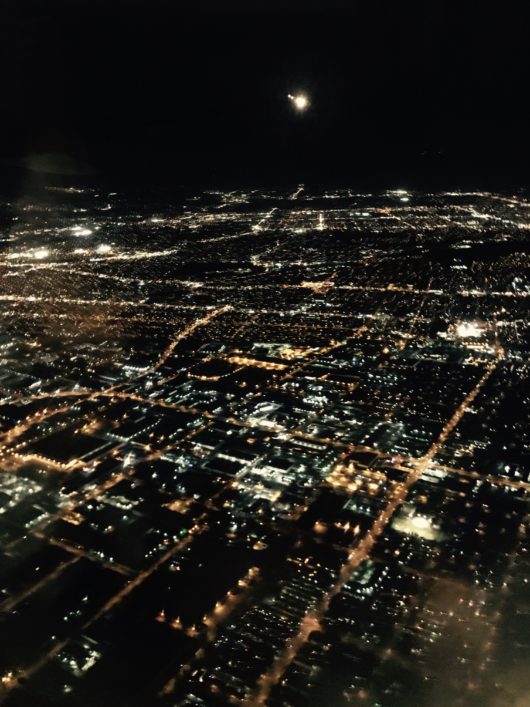 Flying into Los Angeles
Hence the word 'Only' in the title.  As a place to live, besides its necessity to drive and its horrendous traffic, Los Angeles is a great place to live.  But as a visitor or tourist coming here?  There are better places to choose instead.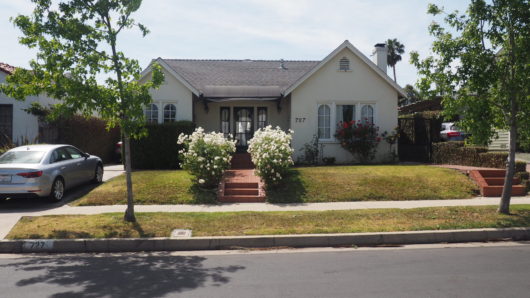 A house in Los Angeles
By the way, I was in Los Angeles for a few days before Vegas, and then a few days after Vegas.
Transportation
You must drive.  OK, it's not a must, but it's highly recommended.  The public transportation isn't efficient or convenient at all and it takes a long time.  If you don't know how to drive, don't have a license, or whatever reason, get someone to drive you around.
You can do taxis but they are expensive.  Well an alternative is to get an Uber driver.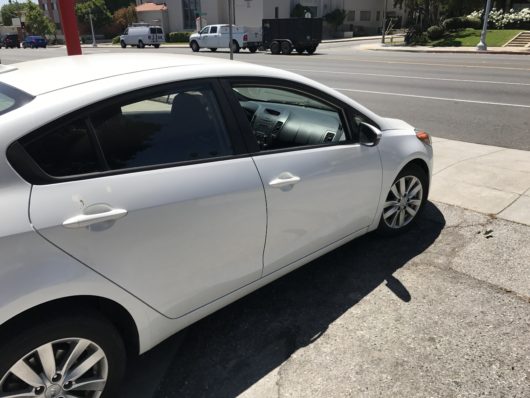 Got cheapest option, Kia from Avis.  Still expensive.  No good no good.  No power to accelerate, doesn't feel smooth, cannot smoothly brake and a little tug on the brake pedal does nothing, but a bit too much push and it brakes a little more than you want.  Also, you can have Avis fill up the gas tank for you at market price, but it will charge you as if the tank was empty, not how much remaining has to be left to be filled.  The employee told me this.
Be careful when driving!  As we were about to get on the freeway, someone paintballed us.  Not sure if intentionally or accidental, but more likely the latter.
Restaurants & Cafes
Umami Burger (website)
Umami Burger used to be a restaurant that only existed in SoCal and was a hyped restaurant that had the quality to somewhat back it up.  Now, based on its website, not only has it expanded to Chicago and New York, but it has a restaurant in Japan as well!
When I was studying uni, we would come here time to time.  Back then, they already had a few branches, one in Hollywood / Los Feliz the one we went to forgot which one, one in the Grove also sometimes we went to, and another one in Pasadena.  This time I went to the one in Pasadena as I was located closest to there.
Unfortunately, the quality has gotten poorer over the years, and the prices I think has gotten slightly up.  If you asked me whether I would come here again, it's a 95% no.  Even Hong Kong has better burger joints.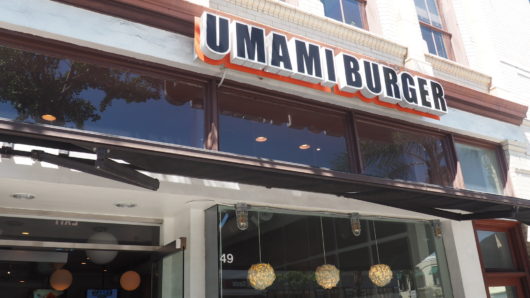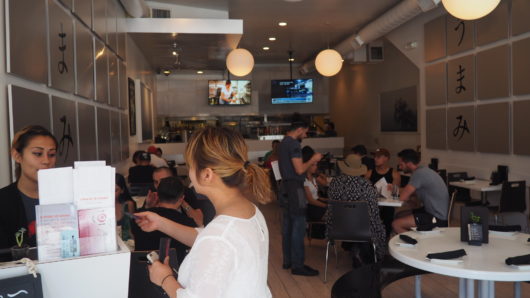 You can sit inside or outside.  We chose outside.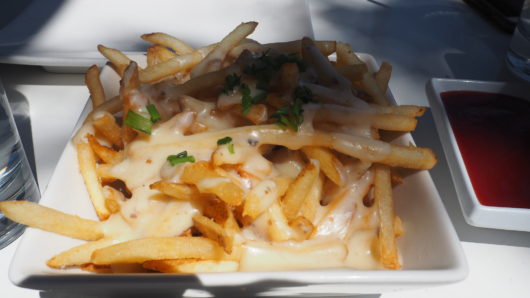 Truffle fries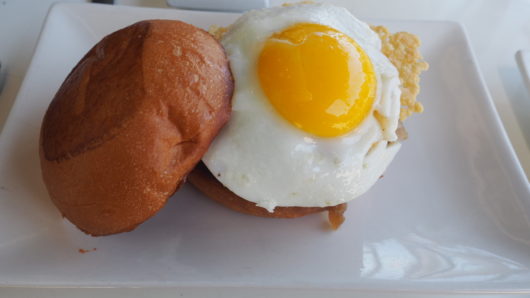 If I remember correctly, it's the Umami burger but I added an egg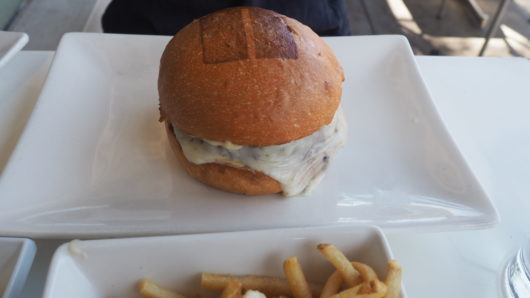 Intelligentsia Coffee (website)
I don't know what is up with this coffee chain, but last time I was in LA, I didn't notice this cafe place at all.  This time around, I see it in LA popping up here and there.  But based on some really basic research, it's a US coffee roasting and retailer company that's based in Chicago.  I guess over the years it's made it's way to the west coast.  The cafe I went to was next to Umami; was here while waiting for someone to buy makeup at Sephora.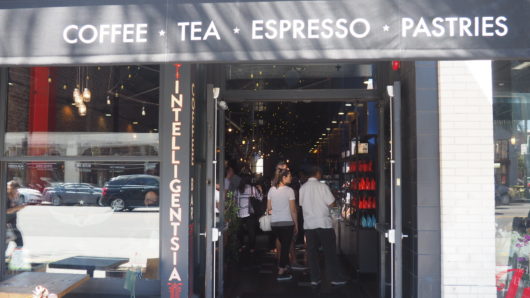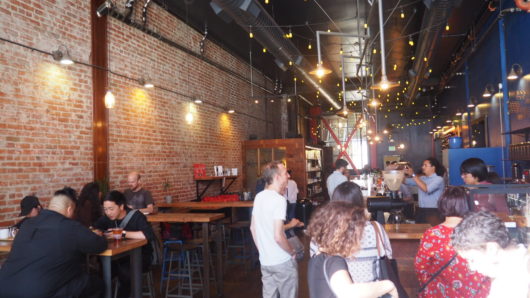 Spacious.  Would go here to do laptop work 7/10.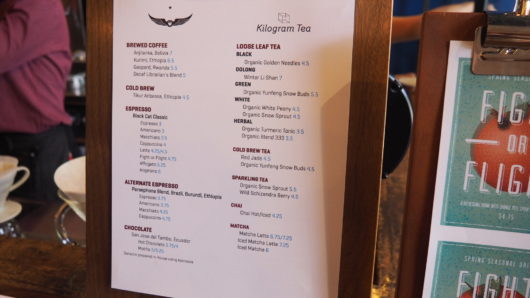 Menu.  I got Mocha cause I like chocolate.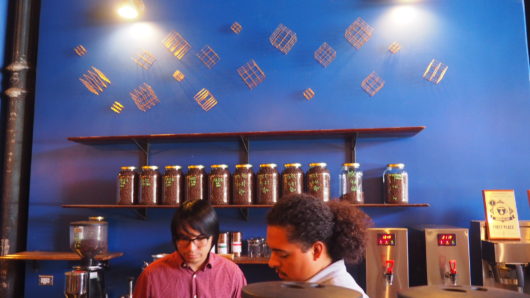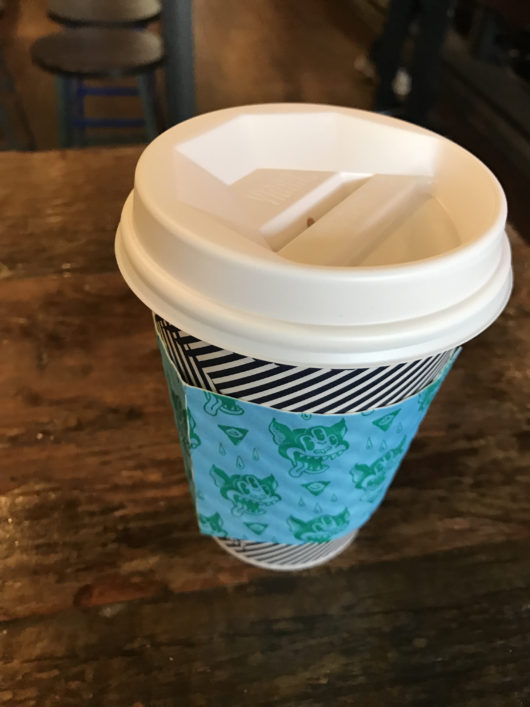 Philz Coffee (website)
Another coffee chain store that made its way from San Francisco to Los Angeles.  Some of my family members insist this place is amazing; I didn't try.  Anyway, they had a store in Pasadena so we visited that one.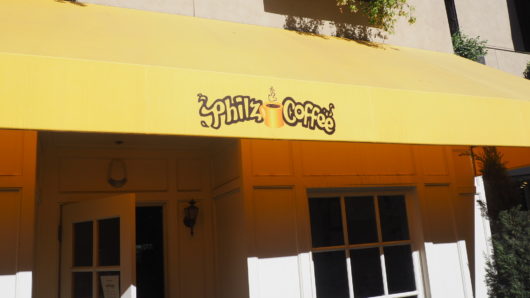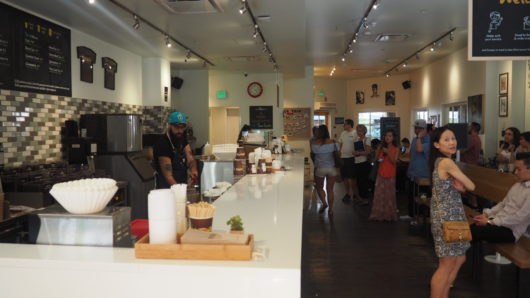 The Hat (website)
I should have doubted this restaurant when it had a sign that said, "World's best pastrami".  Since when did the richest man ever had to boast to people he was rich?
I did have two valid reasons to come here though.  I was walking to my car rental place, but I was starving as I didn't had breakfast and I didn't think I would make it in my time to visit the restaurant Providence in Melrose.  Secondly, I never had tried this place before all my times in Los Angeles, and since I heard about its reputation for having good Pastrami, why not?
It wasn't terrible to say the least, but the portions are gigantic (I could share this with three people and still be OK), but the pastrami quality wasn't even good at all.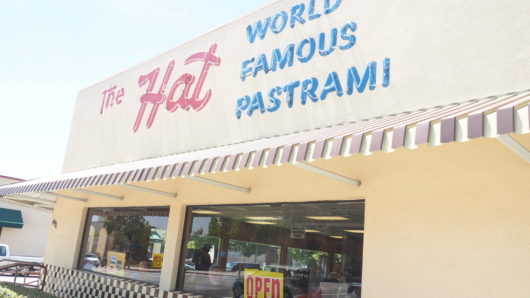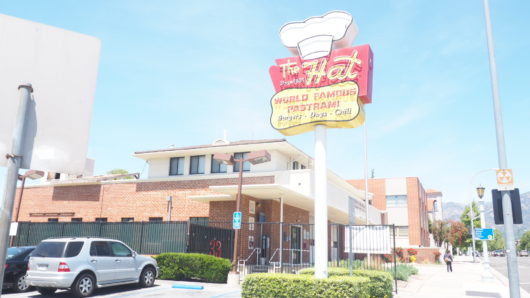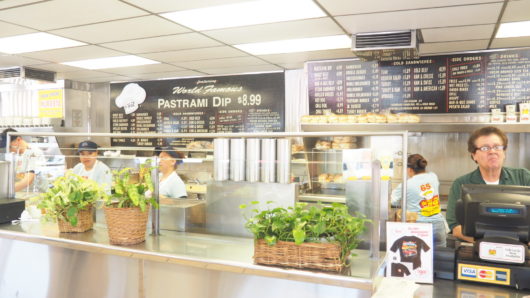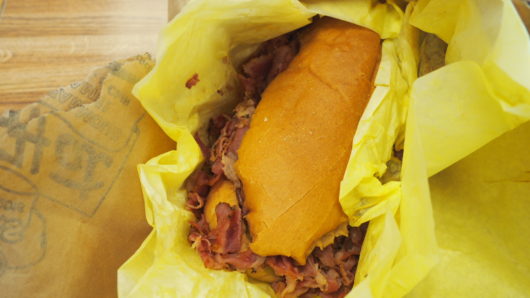 So much meat was overflowing that there was no way to stuff it all in the bread.  You just had to pick up the remaining pieces left on this yellow piece of plastic and eat the remains from there.
Jeni's Ice Cream (website)
Since all my friends were busy during the weekday daytime, and I never spent much time in Melrose, I wanted to revisit Melrose and walk around.  At the same time, I was also craving for some ice cream, so I was searching for the best ice cream stores in Pasadena, Melrose, or at least on the way there.  There was one that was convenient along the driving route, which was Jeni's Ice Cream.
Jeni's ice cream had many interesting, well thought out adjectives, flavors.  Nothing too exotic, but all sounding delicious from the way it was described.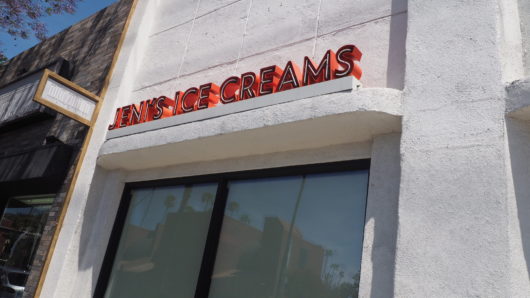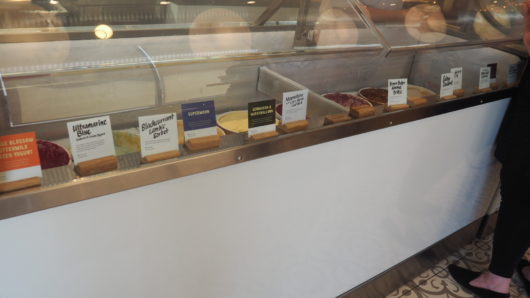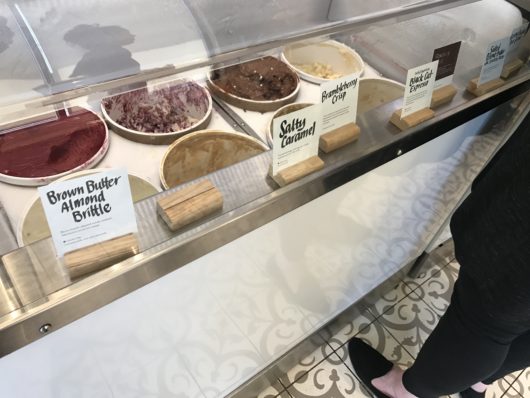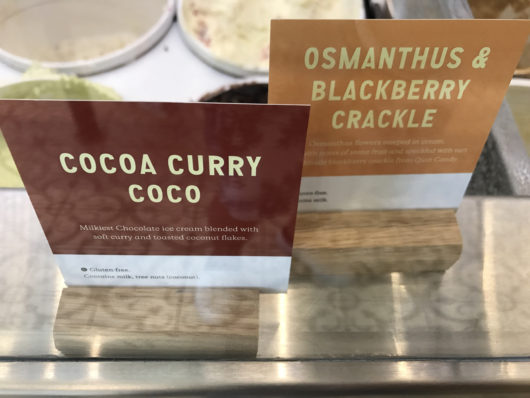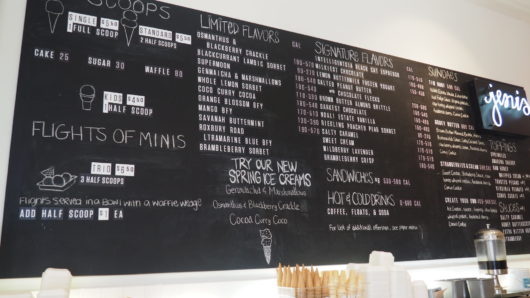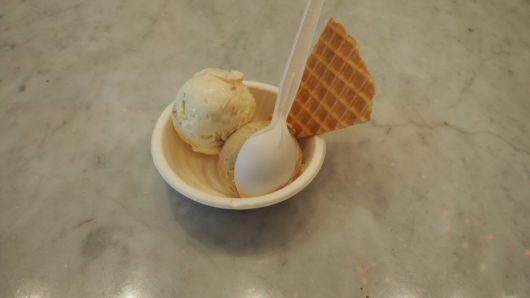 Chipotle (website)
I used to love Chipotle – it was my go to restaurant during the weekend's during my uni days.  So every time I come to Los Angeles, I would get it, but now every time I try it, I'm like mmm… it was okay but I could have gone for something better.
In fact, now in Hong Kong there is something that is almost exactly like Chipotle called Calimex.  I always like getting the grilled chicken with rice bowl and black beans with guacamole and lettuce and hot salsa sauce.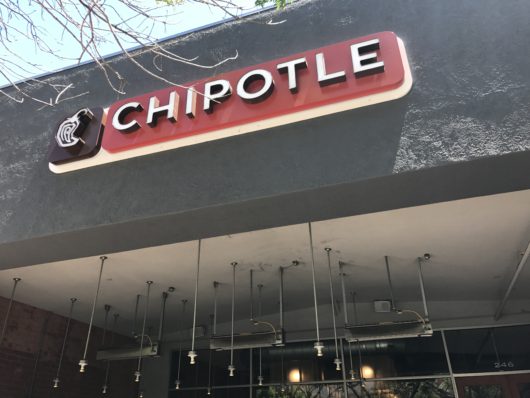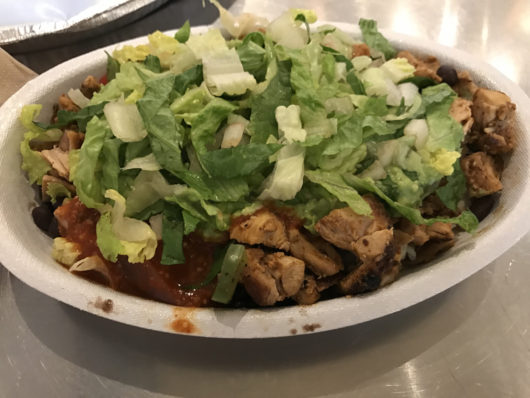 This was my meal just prior to driving to Vegas
Los California Tacos (website)
For some reason, after getting picked up at the LAX airport, I was craving for some tacos, especially some Korean tacos in Hoover street.  Instead, we settled with some Mexican tacos at a popular food truck in Pasadena and brought it home to eat.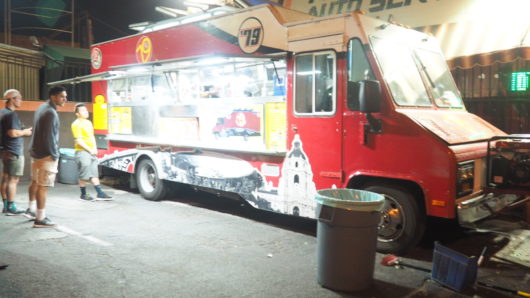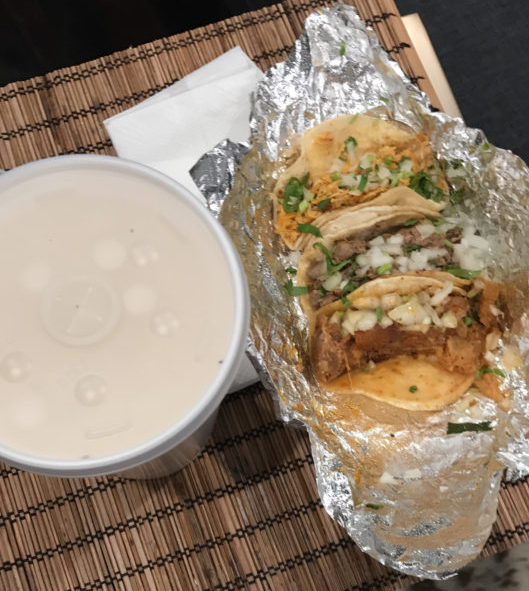 Carne asada, El Pollo, and Pork tacos.  Oh also, a LARGE cup of Horchata.
Panda Express (website)
I like how Panda Express defines itself as a fast casual Chinese restaurant, because those three adjectives describe the restaurant chain perfectly.  In fact, this used to be a staple of my university diet whether it was the Panda Express in uni or on Figueroa.
Panda Express is easy.  Pick one, two, or three items, some may incur additional costs, pick rice or noodle, and you're all set.
Partly fueled by hunger and party fueled by my nostalgic factor of this place, I had my last meal in Los Angeles at LAX Panda Express.  Like Chipotle and Umami, they were good restaurants to go to during University, but once you get older it's like these food becomes ok, alright.  Something good and quick to eat, but that's it.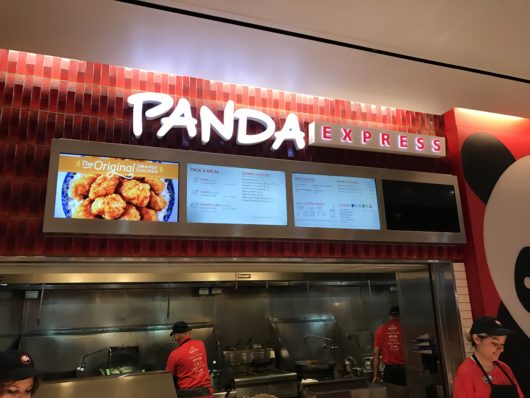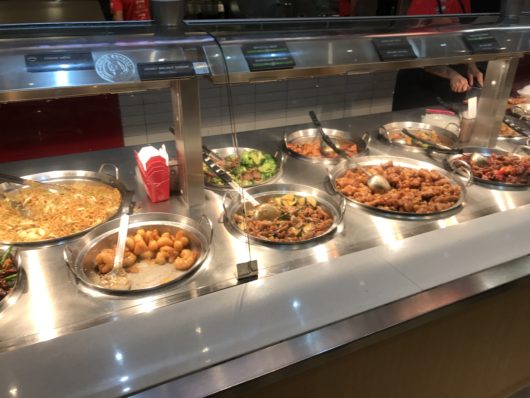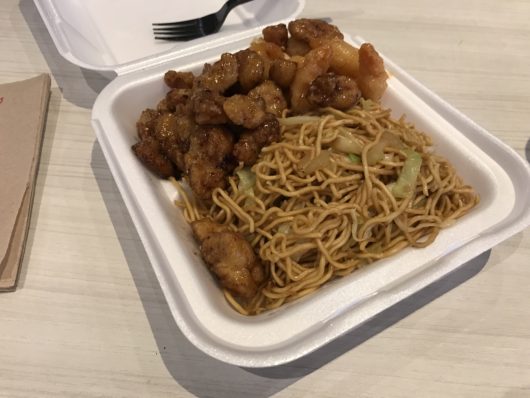 Orange chicken and Honey Walnut Shrimp with Noodles
TG Express (website)
On Google search this description sums them up really well, "No-frills joint with late hours & a variety of Thai standards for takeout or delivery."  This was my late night staple for many nights if I was hungry after dinner.
After a night out and being demanded to play Heroes of the Storm till the wee hours (~5am ish), of course I was hungry by 3am.  We were left with little option but to trust our always reliable TG Express to come deliver the food we wanted.  TG Express, to be honest, is never bad.  Their Thai iced tea that I ordered tasted exactly the same as it did 8-9 years ago.  If anything, it's the one place where I remembered the food and beverage tasted exactly the same as that many years ago.
Reason why they are so famous is because they do delivery.  Some apps or websites might require a minimum, but I called them up and they were ok to do for USD 12 or something like that.
G and B Coffee (website)
Once again, in my many years in Los Angeles, I have no idea how I never came across the Grand Central Market, especially since I used to go to Lil Tokyo quite often, and this market was in Downtown.  The only reason why I chanced upon this market was because I was searching up for a good nearby coffee cafe to go to in Downtown, and G&B Coffee popped up so I decided to check it out.
Again, I'm a chocolate lover, so of course I ordered Mocha.  Also very good.  You could pretty much just sit about anywhere.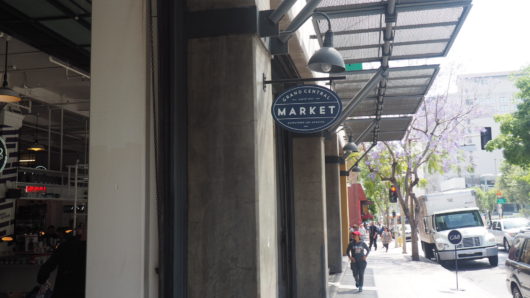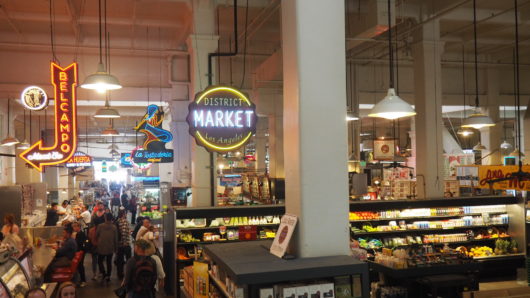 No idea how I never chanced upon this place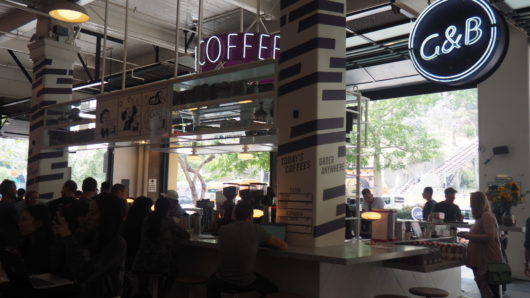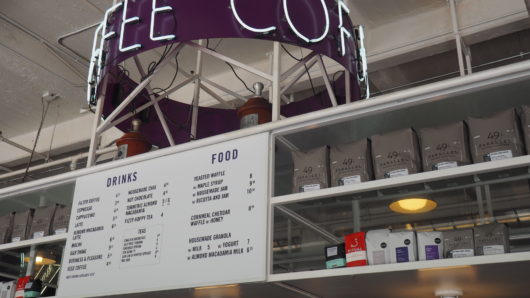 Also a great place to do laptop work on a sunny day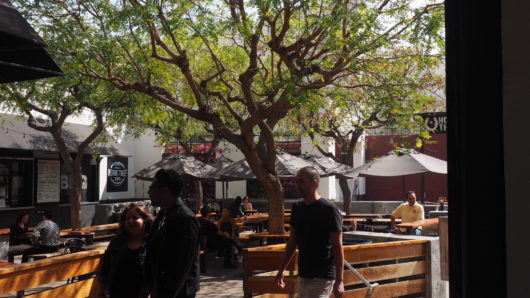 You can sit outside as well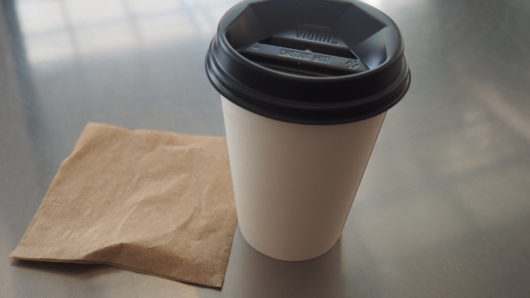 My coffee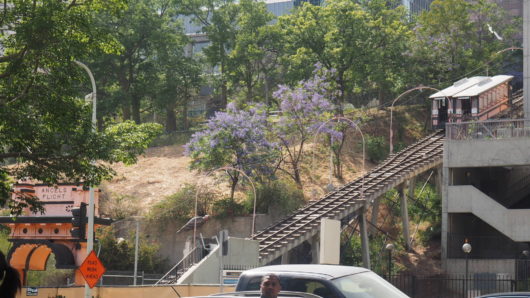 Right outside is the unusable Angel's flight
Ramen Hood (website)
I saw a lot of people sitting in this place, and I smelled something delicious so I decided to try this place out.  It wasn't bad, but I don't think it's something I would come again.  By the way, this ramen place is purely vegetarian, no meat.  I didn't find the service staff courteous or friendly… they weren't rude per say, but their faces look really bored and just here to get the cash and wanted to get out of work asap.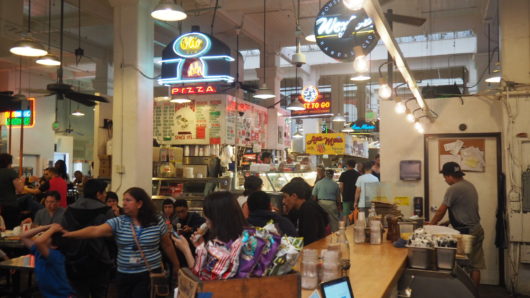 Another look inside Grand Central Market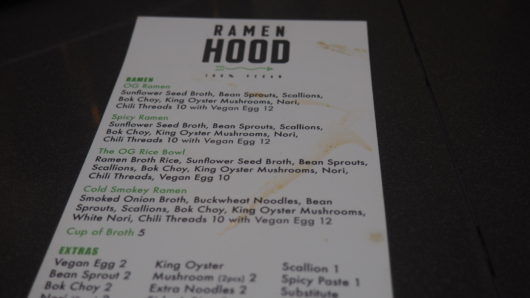 Menu.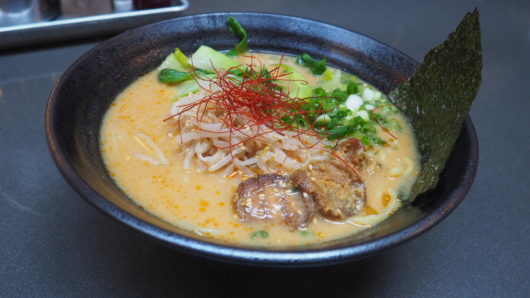 Ordered spicy ramen.  Wasn't spicy.
La Tostaderia (website)
I wanted to try at least one more place in Grand Central Market, so after Ramen Hood, I decided to try La Tostaderia because it looked somewhat appealing.
But my assumption was completely wrong.  Of all the places I went to Los Angeles, this was definitely the worst.  The ceviches were done too wrong – they were too sour and too salty at the same time.  And it wasn't cheap.  And they had ceviches spilling out from stale taco.
Do not come here!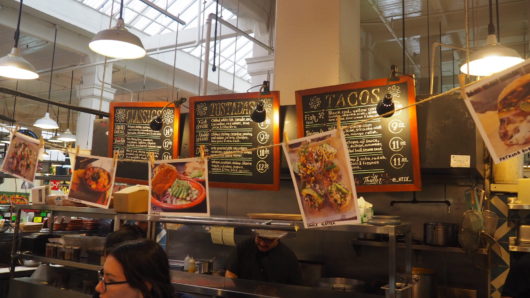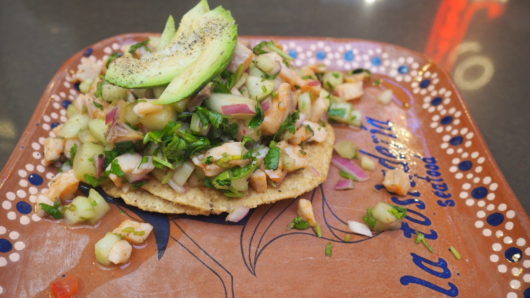 Racion (website)
After numerous suggestions and trying to get bookings for different places, we finally settled on Racion.  Racion is located in Pasadena with a focus on traditional Spanish cuisine using local ingredients.  Not a bad place to eat, quite liked it, but of course still nothing in comparison to my all time favorite gastronomic city, Barcelona.  Three people, but we got some huge eaters at this table 😉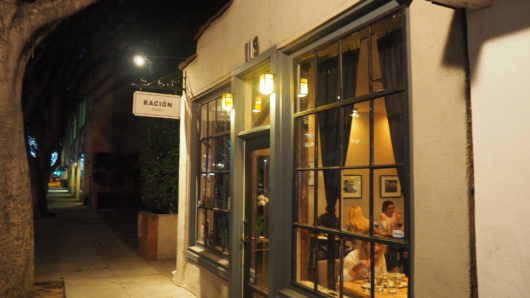 It is slightly tucked away in a corner.  And the humbleness of this restaurant is apparent with a sign that you can barely see the restaurant name until you're pretty much at the restaurant.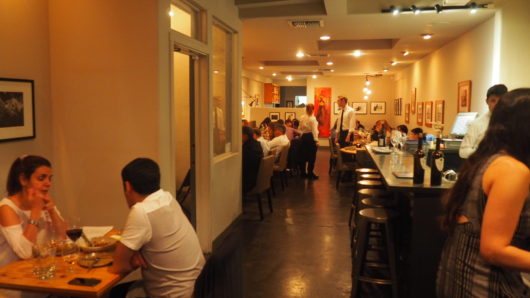 Simple would be an appropriate word to describe the restaurant's interior.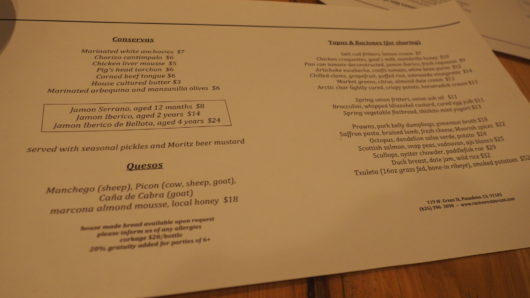 Menu
Chicken croquette, goat's milk, membrillo honey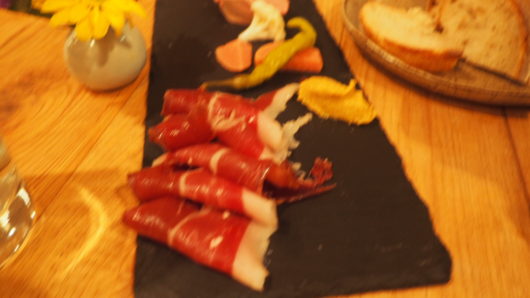 Jamon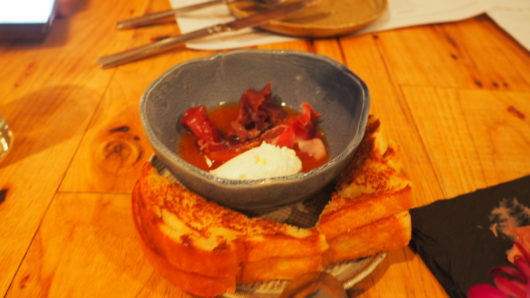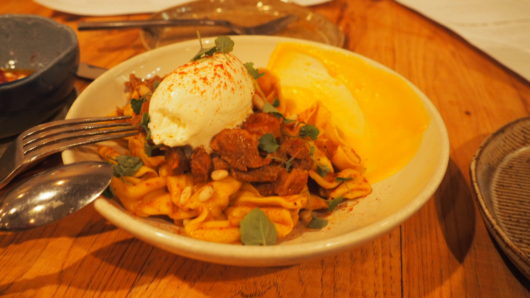 Saffron pasta, braised lamb, fresh cheese, Moorish spices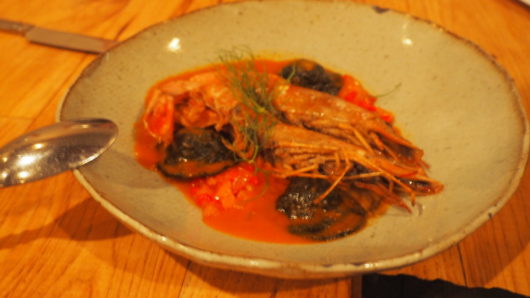 Prawns, pork belly dumplings, pimenton broth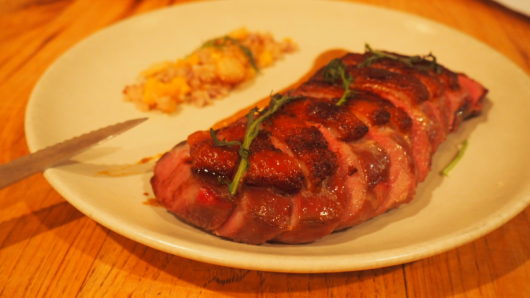 Duck breast, date jam, wild rice
Bone Kettle (website)
Got some suggestions as to where to go for a nice restaurant for a couple of people… Provence, Spago… but all those were already booked for the next night.  Leaving with fewer choices, and deciding to choose somewhere that's close by Pasadena, which was where I was staying at that time, I decided to book Bone Kettle instead.
On the website, Bone Kettle considers itself a South East Asian kitchen and a family restaurant, but my friends deemed it Indonesian, possibly because the chef himself is Indonesian.
So the restaurant is most famous for its bone broth, for its multiple benefits (see website 'About' for more details about this), hence the name Bone Kettle.
I know my friends complained about several things, most notably the service.  We got the wrong order, we got the bone broth and waited for a long time before the meat proteins came, and it was supposed to be eaten together.
But for me, I thought that the taste itself was great.  Valet parking is available in case you are not able to find street parking.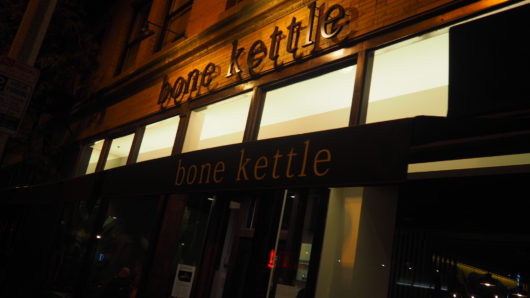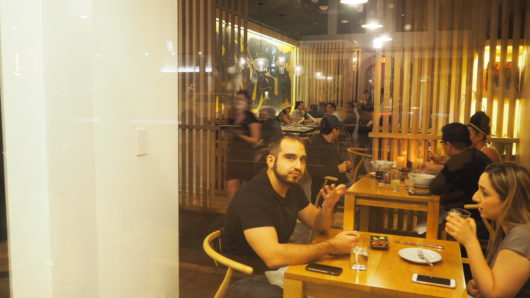 Every time I take a picture, someone is looking at me.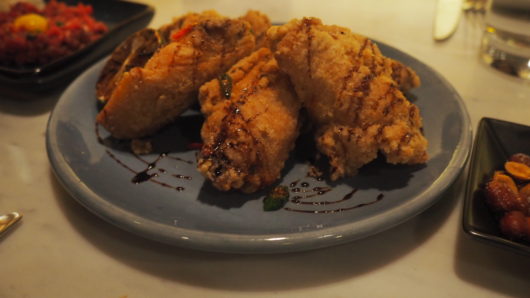 Citrus Brine Chicken Wings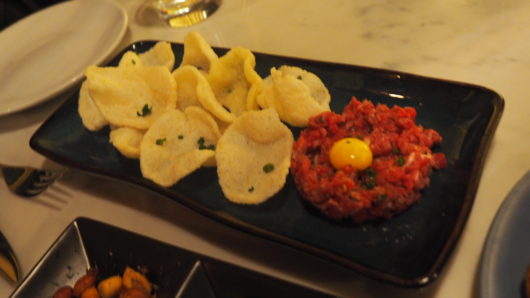 Tar Tar – St. Helen's Ranch Prime Filet Tar tar, garlic onion krupuk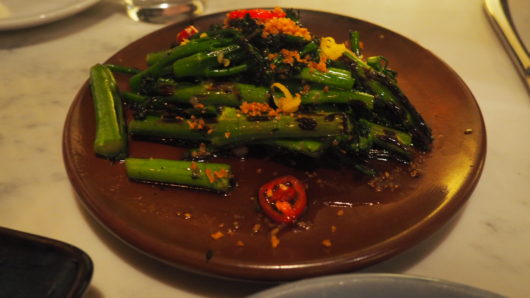 Charred Broccolini – Sweet sesame-hoisin sauce, lemon string, Fresno chili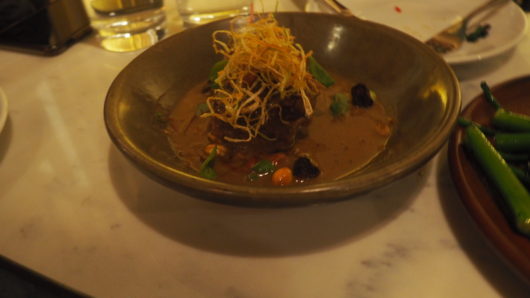 Short Rib Rendang – Indonesian curry, fried peanuts, roasted pearl onions, cream of avocado & fried leeks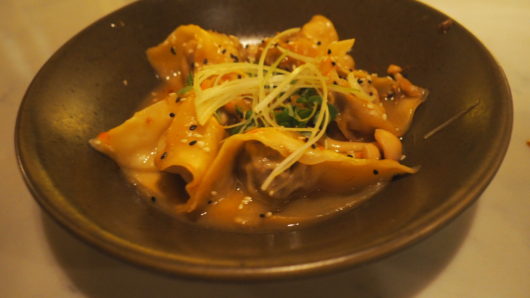 Steamed oxtail dumplings – oxtail tips, mushrooms, and San Bai Su Sauce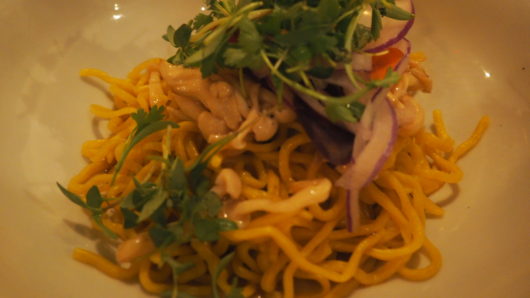 Mie Goreng Pedas – Traditional Indonesian spicy, wok-fried noodle with sous-vide egg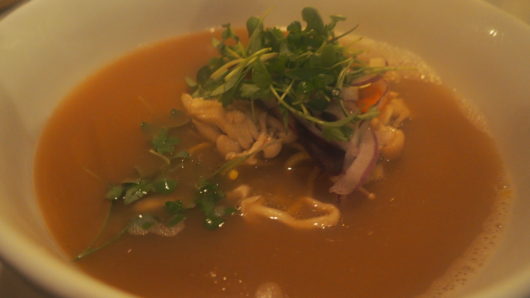 Bone broth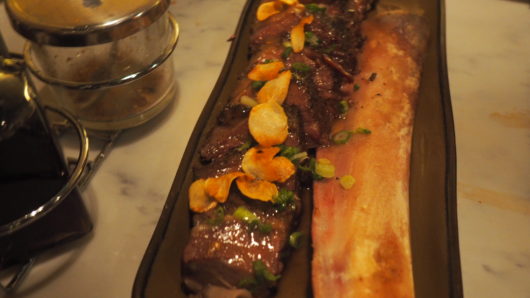 Beef ribs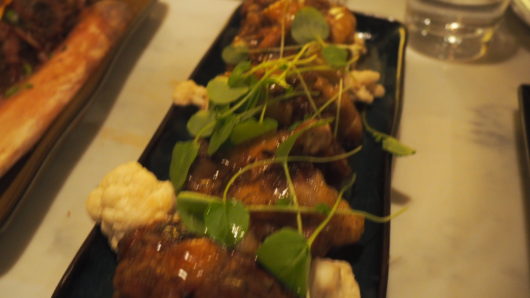 Coolhaus (website)
I was ready to be a level 8 that night (inside joke), but most people weren't and were just willing to go for just dessert.  We stopped by nearby Bone Kettle to Coolhaus for ice cream.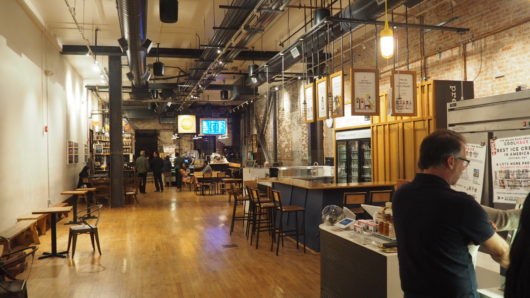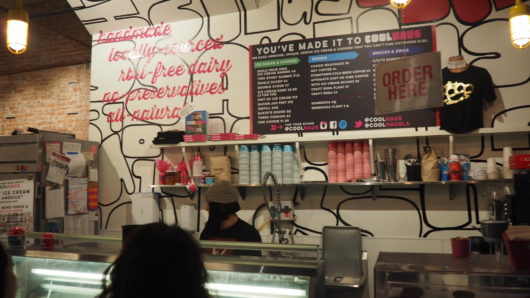 Toe Bang (website)
All my friends talk about Gaam, the Korean restaurant or whatever that's really fun or what not.  I've never been.  In fact, I've never been to this enclosed Korean district with many popular restaurants, including Gaam and Quarters.  The first thought that came to my mind when I came to this place wasn't where was the restaurant, but how the heck do people park in here.  Parking was so tight and I think there was even double parking, I had no idea how people would park in this place.
Secondly, I was feeling a bit queasy and a bit nauseous.  I don't know what it was, but we were taking an Uber from Downtown to this place, and during and after the ride, I didn't feel well at all.
Entering Toe Bang, the restaurant itself looks a bit dingy.  I'm not surprised, considering that it considers itself a Korean pub and has a BBQ patio.  A pub/bar with traditional Korean bites is more like it, but not like traditional traditional Korean food, but more like typical Korean delicacies and snacks.
Judging from the atmosphere, I expected this place to be less authentically Korean, and I expected the worst.  When the food came out, actually, it was alright… nothing special, nothing fancy, just typical Korean foods but not as bad as I imagined it would be.  Like, it's like your decent, average Korean restaurant.
I mean, if you were to come here as a group of friends and drink some soju at an affordable price, yeah sure this place fits the criteria.  But if you're trying to look for good Korean food, this place is not the place to go.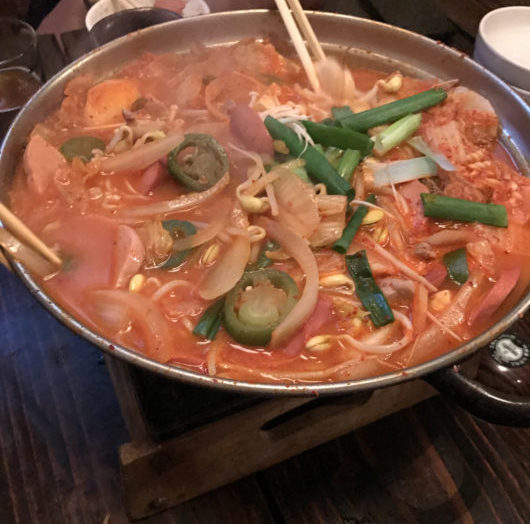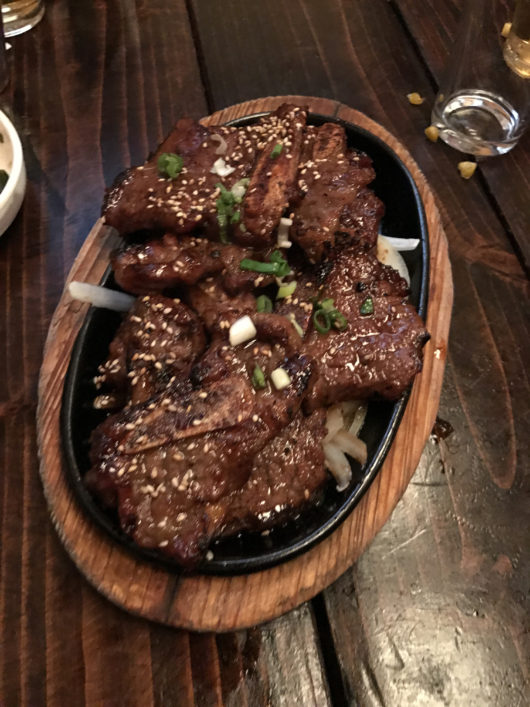 Galbi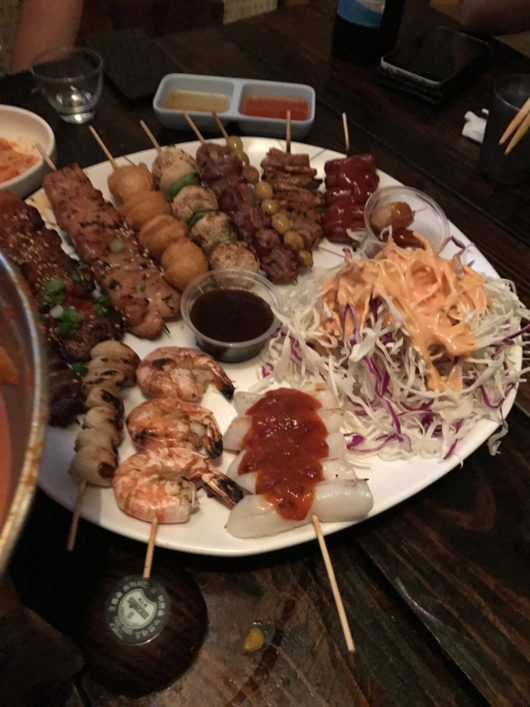 Skewers
Snow L.A. (website)
Just a block or two away from Toe Bang, Snow LA is notable for its shaved ice.  Like many Froyo stores, you get to choose the toppings after you choose your shaved ice flavor.  FYI, the sizes are huge.  Small is not small, and medium is more like large.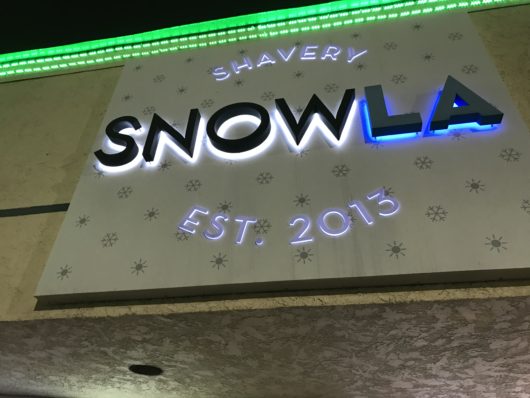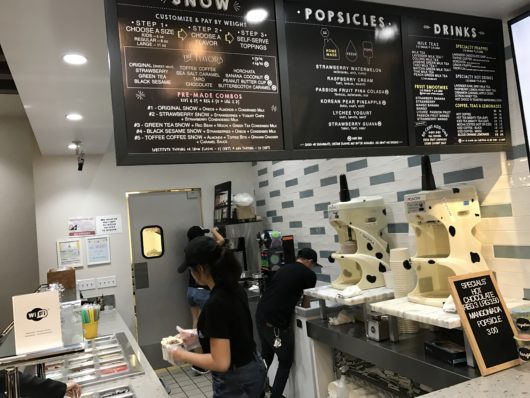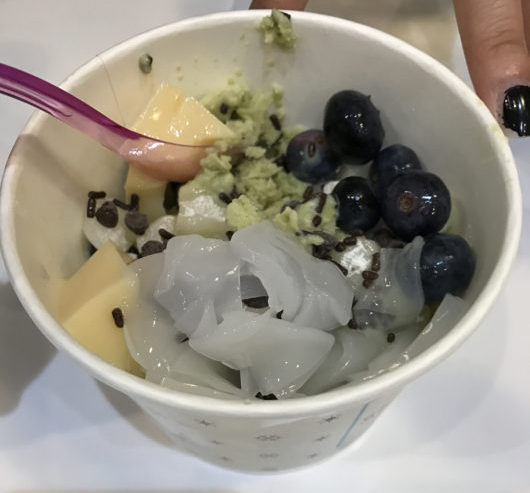 Sushi Gen (website)
One of my favorite, favorite places while studying in university, Sushi Gen also continues to remain the same quality, arrogance, and awesomeness as many years ago.  In fact, I would dare say nothing of it has changed within the past 8-9 years, which is amazing.
Sushi Gen started in 1980 and is quite infamous for its long waiting times.  Expect at least one hour of waiting.  You get to select either to sit at the bar, which means you are subject to sushi only, or you can sit at the table, with more menu selections available for your choosing.  At times, I thought it was my time, but the waiter kept insisting that it wasn't our turn yet, and I kept seeing people who arrived later than me to skip ahead of me.  Hmmm…  Fine.  Maybe they just chose the bar and I just chose the table… but I also saw some people who were sitting at the table as well.
No matter.  An hour wait is an hour wait, I've waited for other restaurants in Hong Kong with same or longer queue times as well.  Sushi Gen continues to carry a nostalgic factor with me, so I had to give it a go, and ordered very similar dishes as I had many years ago.
The quality continues to be amazing, price is worth the value even though it's still expensive for most people.  I think some people would think there are better Japanese places in Sushi Gen however in Los Angeles, and since I haven't explored many other sushi places in LA, I would love to try out other Japanese places next time I'm here.
But in terms of consistency of quality and worth of value, and it is expensive so it's gotta be pretty good to worth its value, Sushi Gen continues to be a great and safe choice.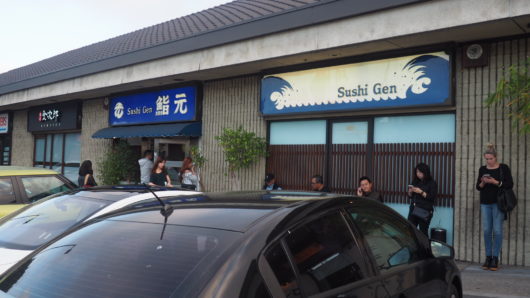 Not a lot of people but still takes a looong time.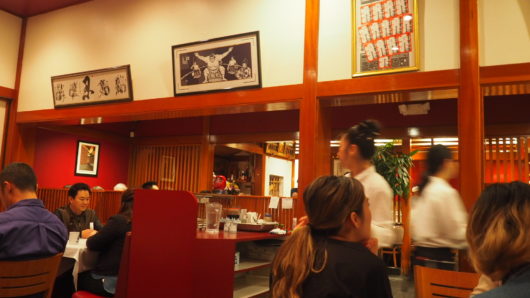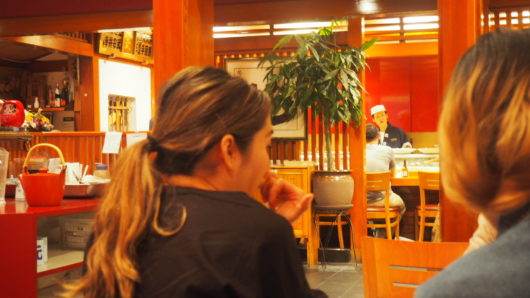 Inside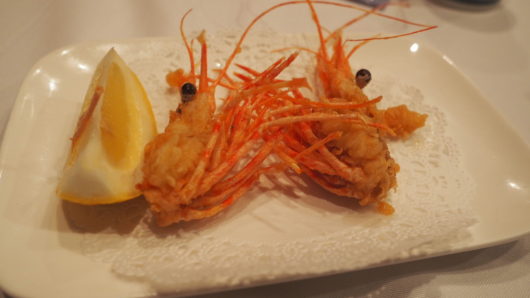 If you get the shrimp, you can choose either to deep fry the head or to drink it with soup.  I usually prefer deep fry.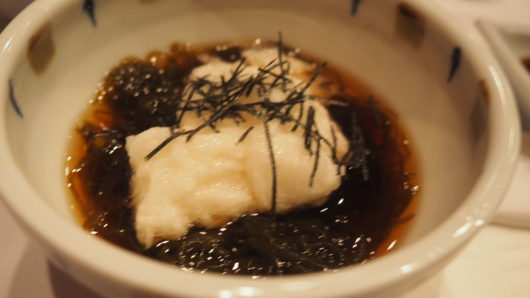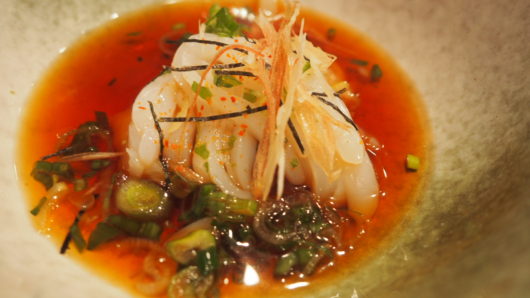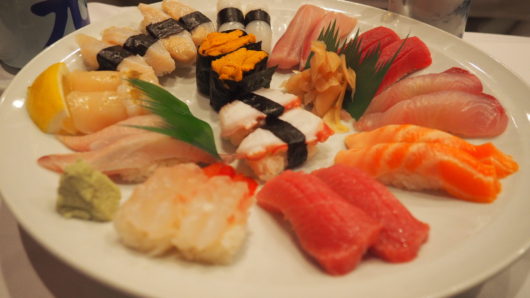 Twinkle Brown Sugar Tea (website)
Tea bar serving boba.  In Lil Tokyo.  Go there.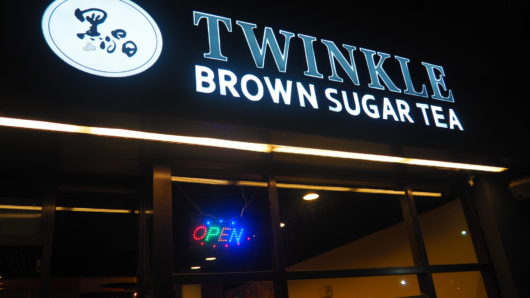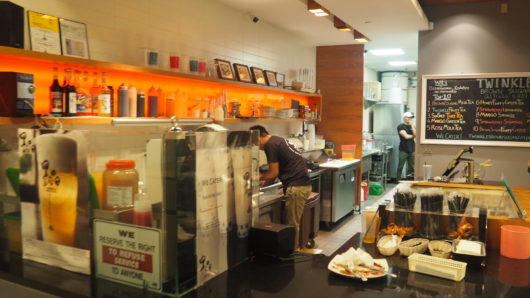 Mikawaya (website)
Also in Lil Tokyo, this little cafe is most famous for its mochi ice cream.  I've visited this when I was in university, and it continues to be USD 1 per mochi, and it continues to be just as good and cold just like how I like it.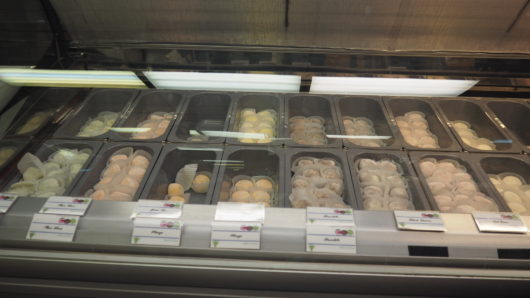 I always get the chocolate flavor.
Things To Do
For some reason, I did a lot of Artsy things in Los Angeles this trip around.  Here are a couple of things I did in LA that you can consider going as well.  In fact, I would say the museums I went to in LA were all really, really nice.
Melrose
As I mentioned before, I didn't had a chance to 'explore' Melrose that much years back, and since I had a lot of free time, I was thinking, why not look around a bit more?
Melrose has a lot of vintage shops, unique clothing lines, a lot of weed and smoke related shops, and a bit of arts here and there.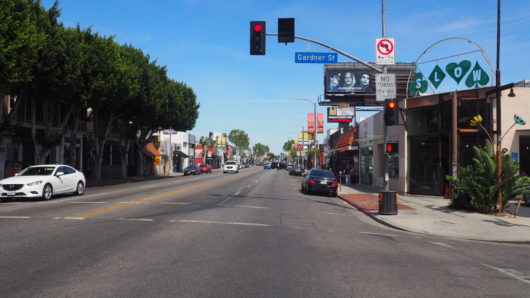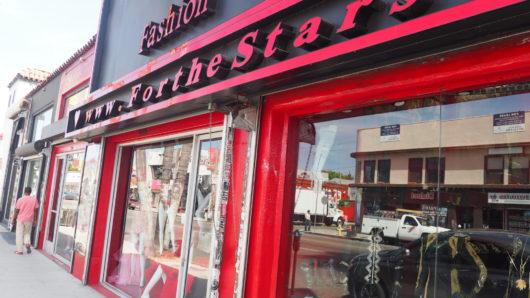 This clothing line specially sells over the top, stage performance purposes for celebrity clothing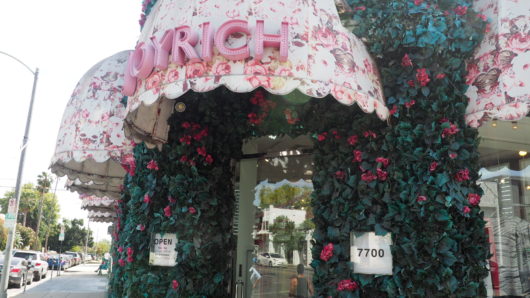 Joyrich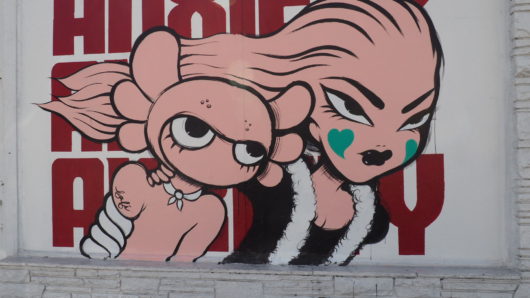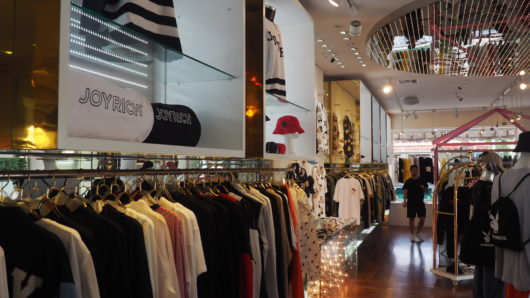 Joyrich – streetwear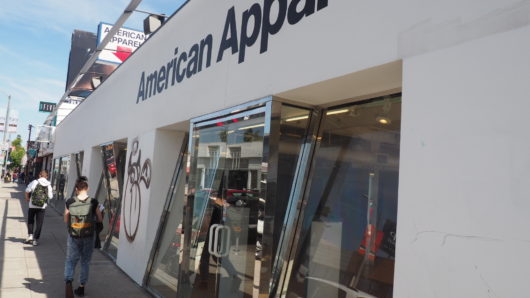 Funny to see an empty American Apparel store, now that American Apparel is closing down.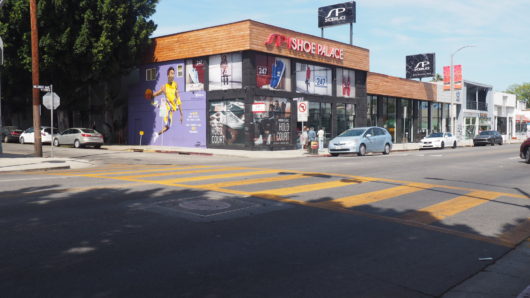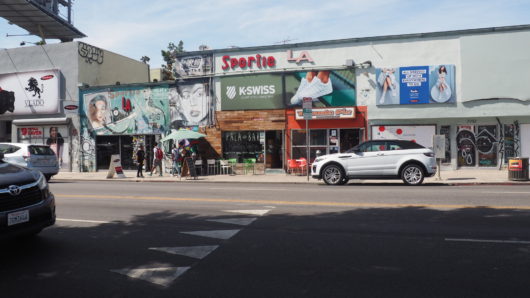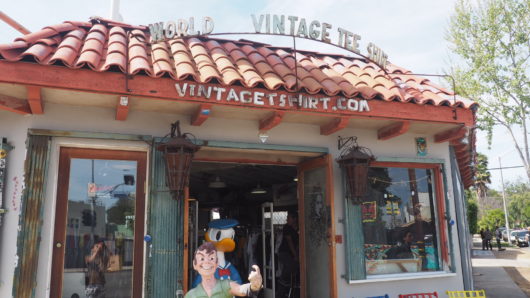 Very vintage tees.  You can find t-shirts referencing anything from the 1950's onwards.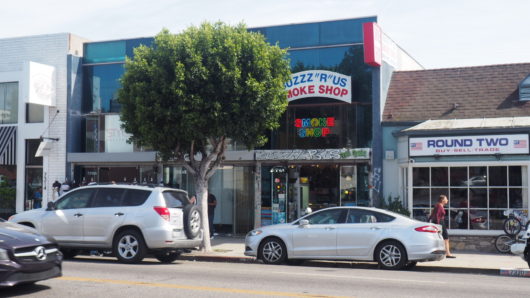 Smoke shop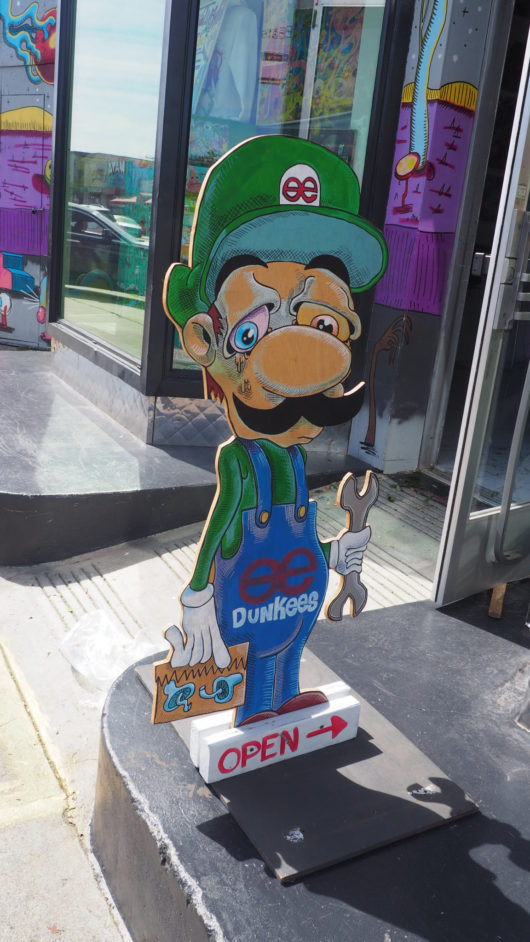 A high Luigi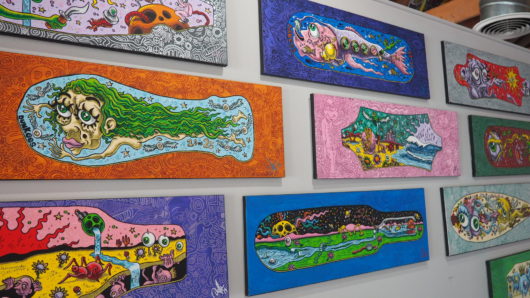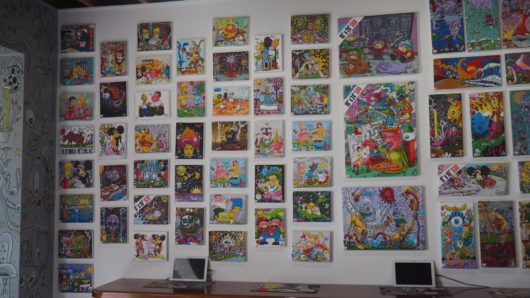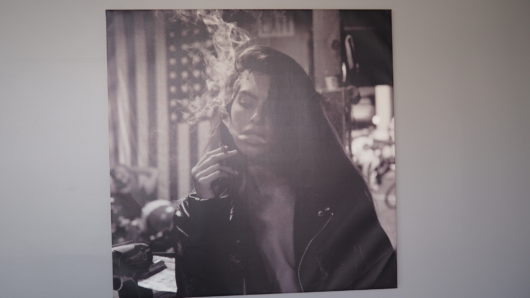 I love black and white photos sometimes.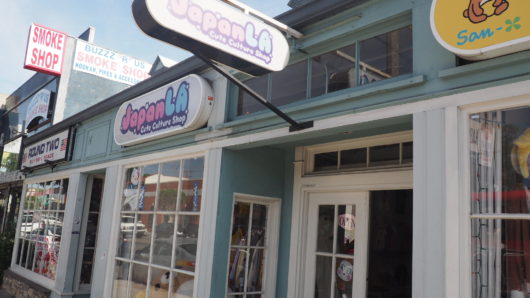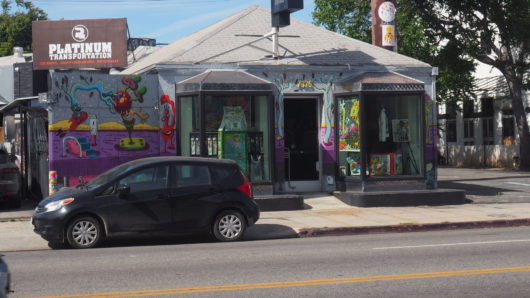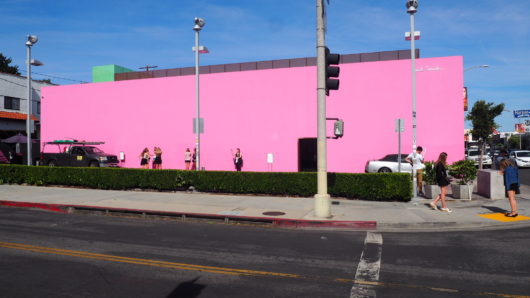 Paul Smith – all the girls were taking photos right outside this pink wall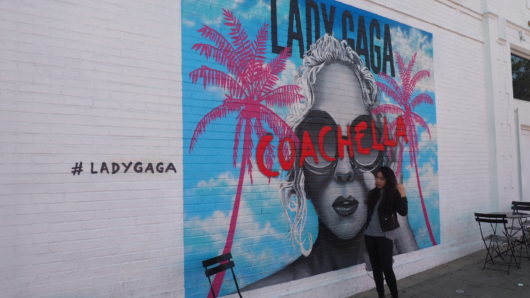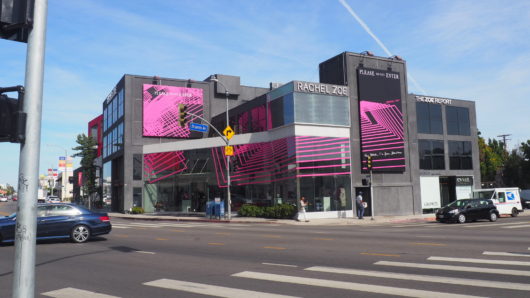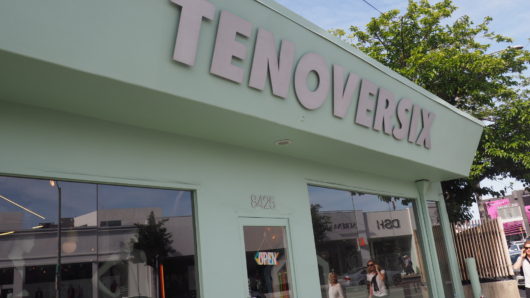 Tenoversix – it was recommended as a store to go to in Melrose.  BUT they sell more like baby clothing, family / home decor stuff like candles
LACMA (website)
I'm a much bigger fan of contemporary / modern art, so having coming here the art pieces fit the stuff I liked more, more than the constant art pieces of Jesus and religion instead (except the ones in Italy).  This is a must go as it's got a lot of really cool artwork.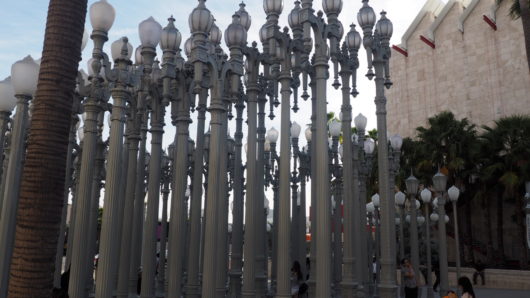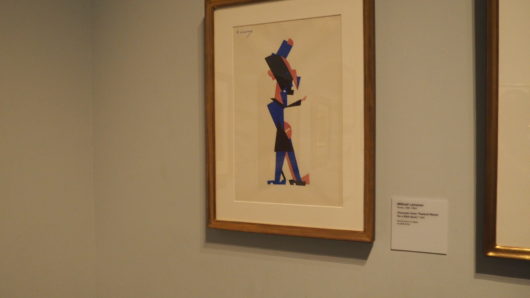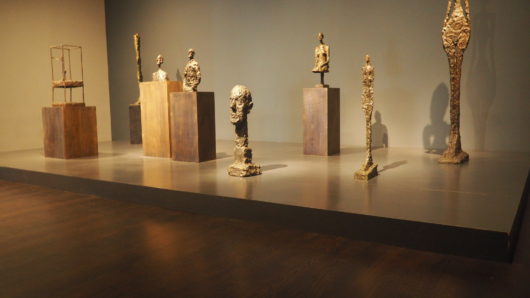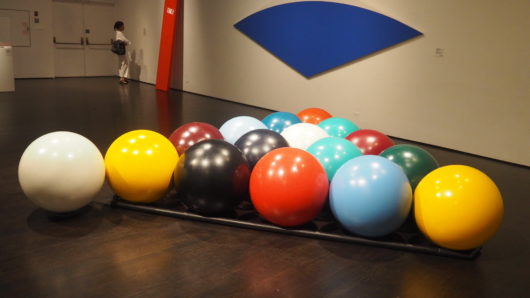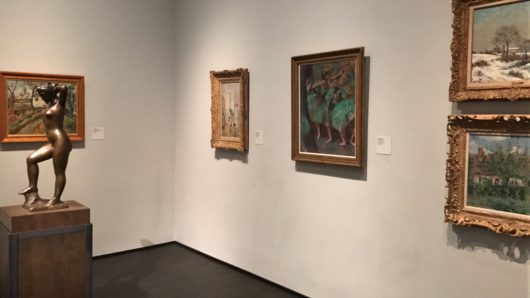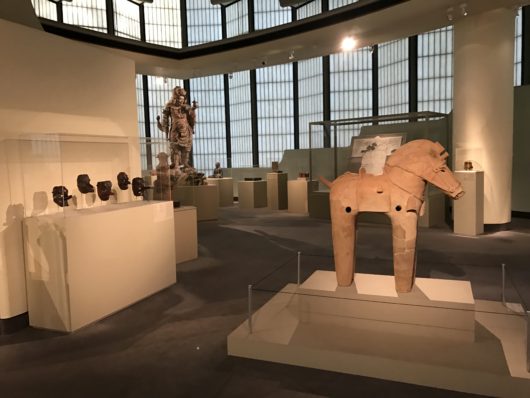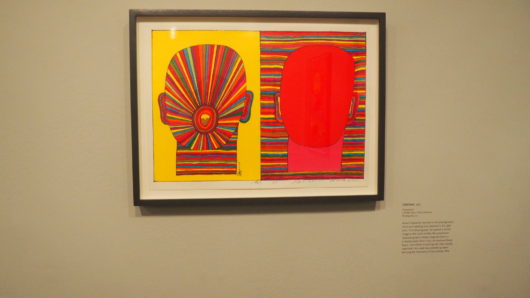 Awazu Kiyoshi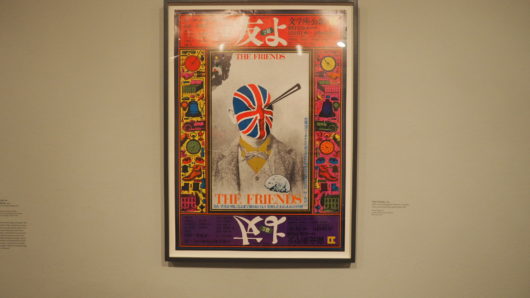 Awazu Kiyoshi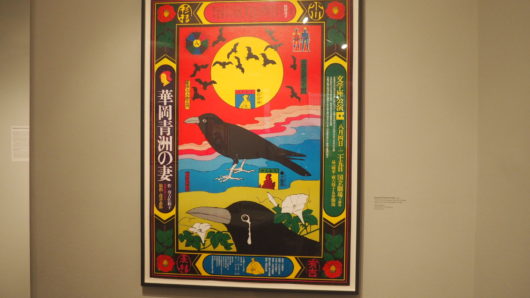 Awazu Kiyoshi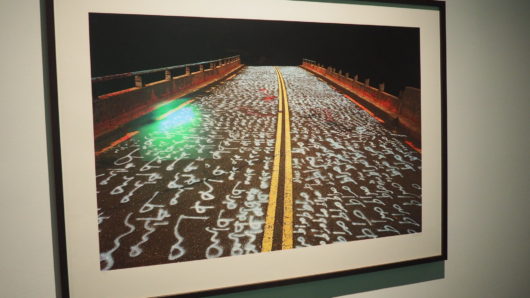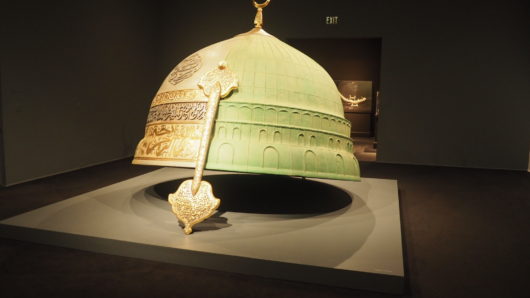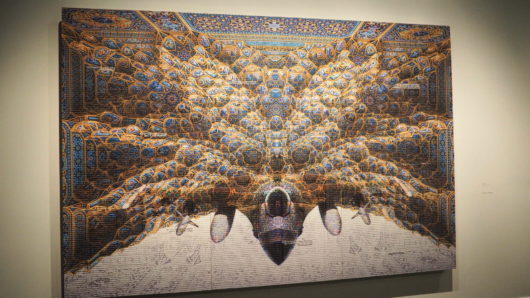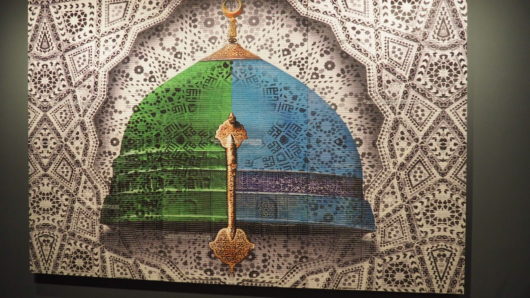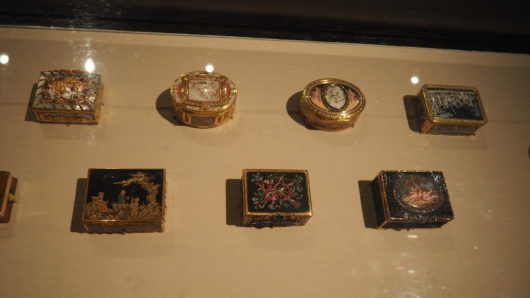 Jackalope (website)
The Jackalope is an indie artisan two day fair that is held in Pasadena that I happened to be around during the same dates that the fair was around.  Since I was finding things to do, we decided to come check out the stores there.
I guess they hold it every 6 months as the one I went to was end of April, but they have another one coming up on Nov. 18 and 19th.  Again, it will be held in Central Park in Pasadena, address is 275 S. Raymond Ave.
While initially Jackalope seems like a cool place to buy indie arts stuff, you quickly realize that a) the hundreds of stores they advertise about seems way smaller than you would have expected and b) to a certain extent the stores become repetitive in what they sell, such as candles, pillows, teas, artwork etc.
That's not to say you shouldn't check it out, but what I thought was a half day event, we were finished walking within 1.5 hours.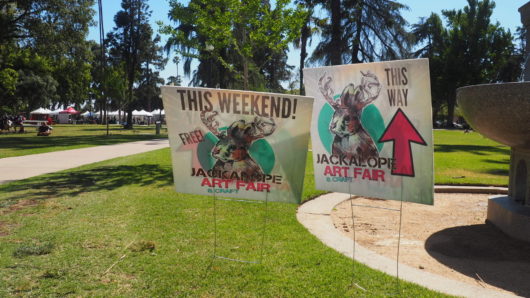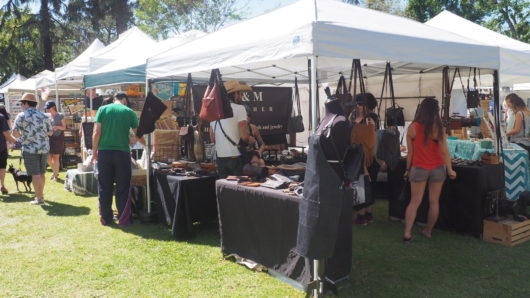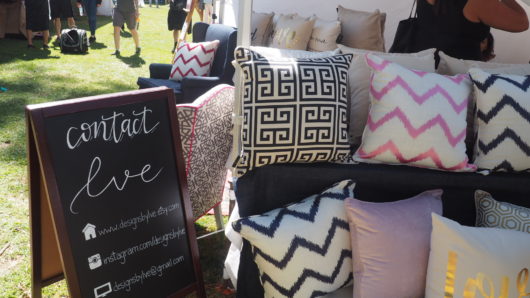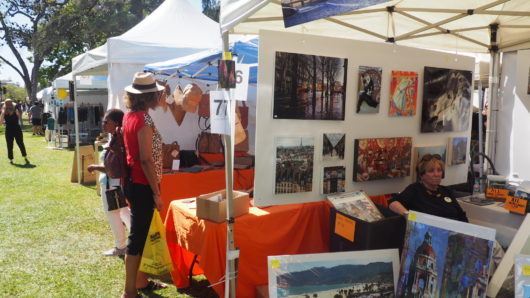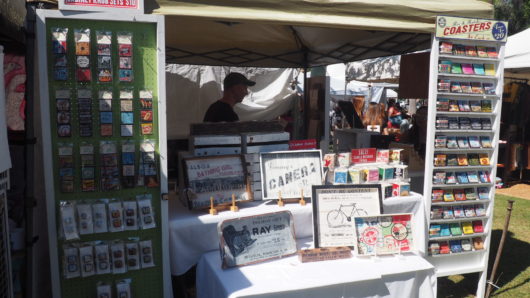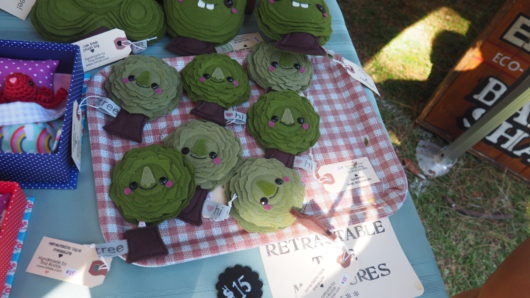 Can you guess what these cute bushes are?  Without actually having to try them out, it's hard to know, but these are actually measuring tapes!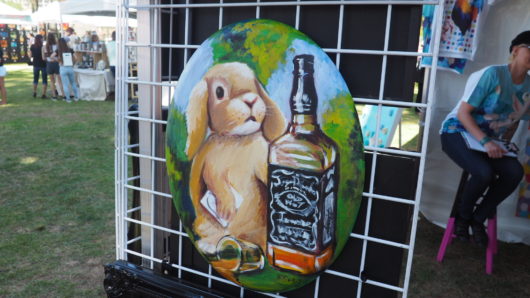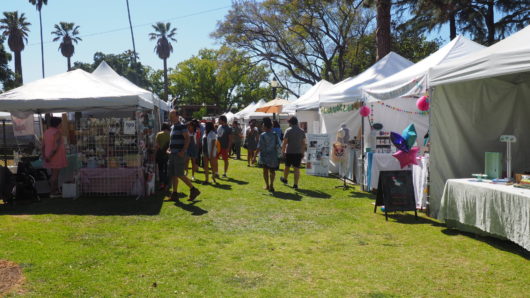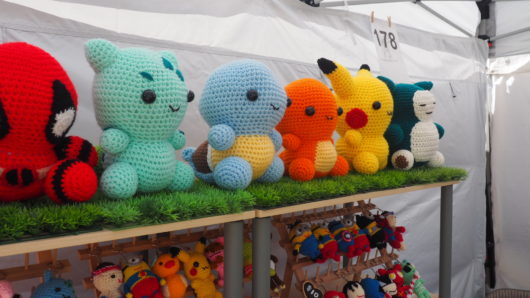 A lot of pokemon… from Pokemon Go craze maybe.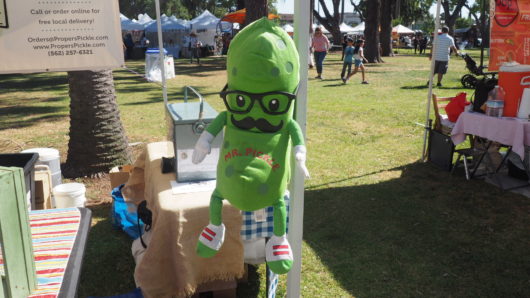 Pickle.  Some people don't like pickles.
Church of Scientology Pasadena (website)
What's to say, except that I didn't know it existed, and that it was right next to the parking lot we were situated at.  Maybe we will bump into Tom Cruise?
While the website says that 'All are welcome', I've heard from friends that they've shooed away some people just because they didn't look right for the church, ie. too hobo or trashy looking.  Oops.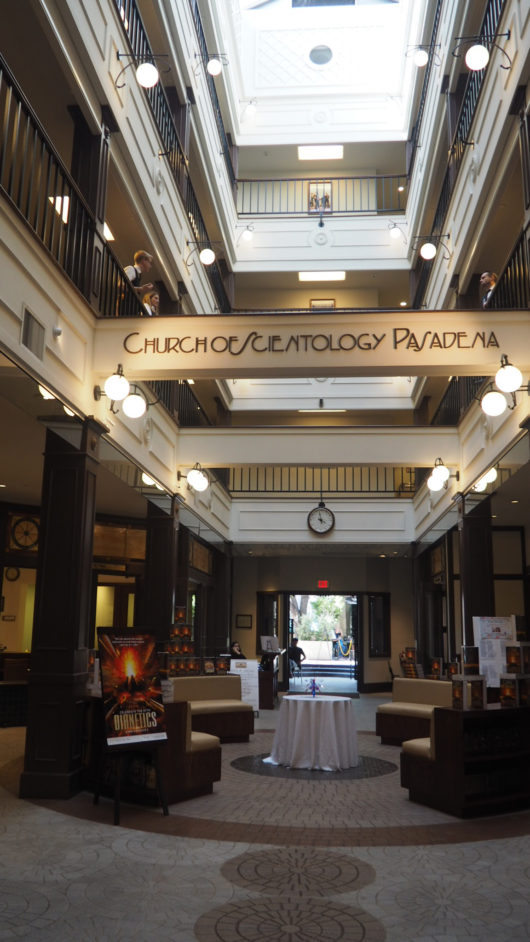 The Broad (website)
The Broad is a relatively new museum that was opened in September of 2015 that's located in downtown, right next to the Walt Disney concert hall.
The first thought when writing about this museum is that, do not, and I mean really, do not park in their parking lot unless you are left with no other options.  I'm saying this because the parking lot is expensive, and the museum is only three floors high and you won't be spending more than 1.5 hours max there, most likely 45 mins, and you're paying like USD 12 or USD 14 or something like that, it's just not worth it for the time spent there.  Find street parking.
Just like LACMA, The Broad also focuses on contemporary / modern art pieces, some incorporating more technology as part of the artworks as well.
It's a cool place, it's just that for the price I pay for the amount I get to see… well like I said I finished walking the museum in about 45 minutes time, but the entrance fee is also quite expensive.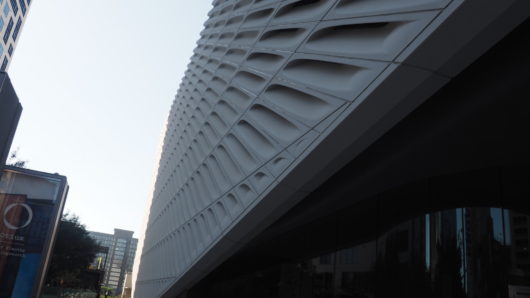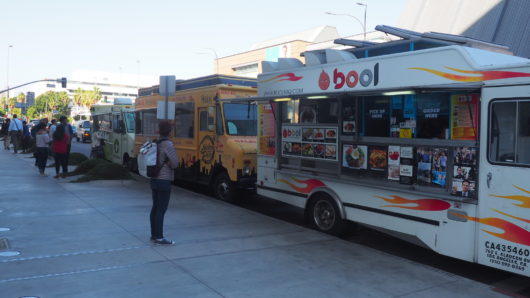 Food trucks right outside the Broad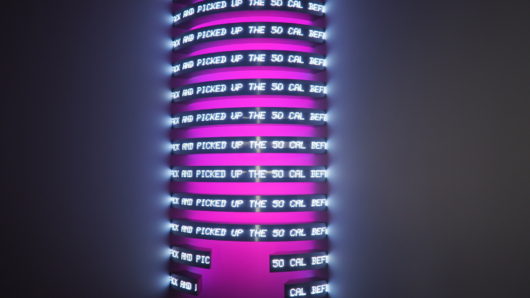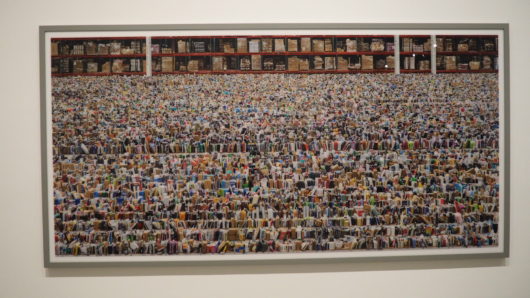 This was a photo taken inside of Amazon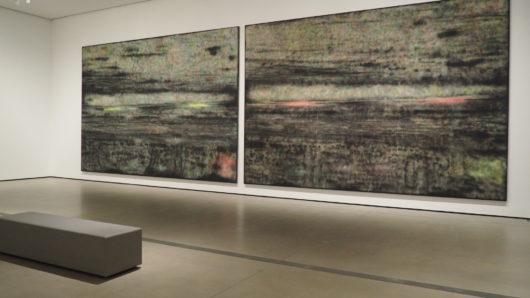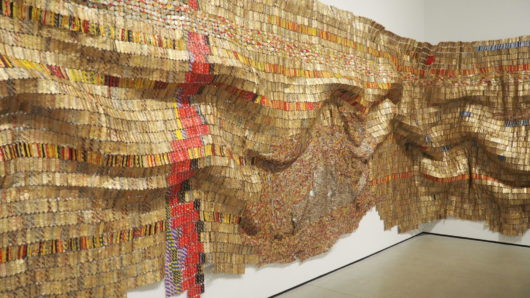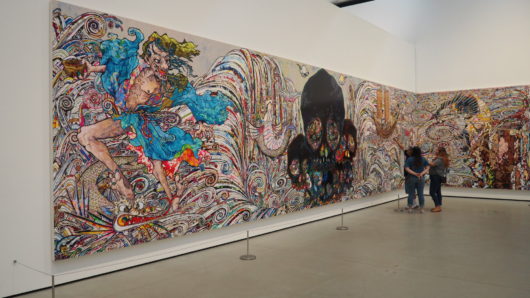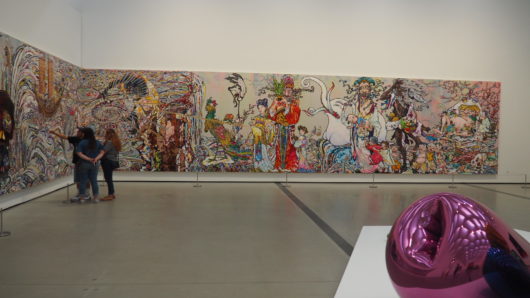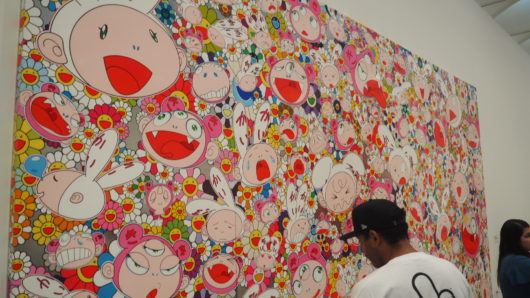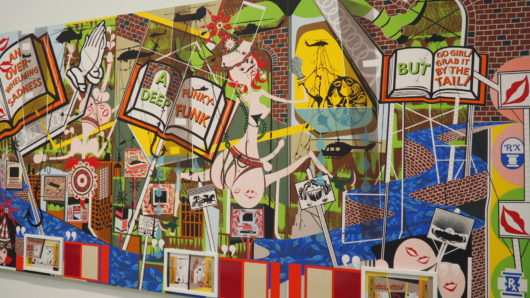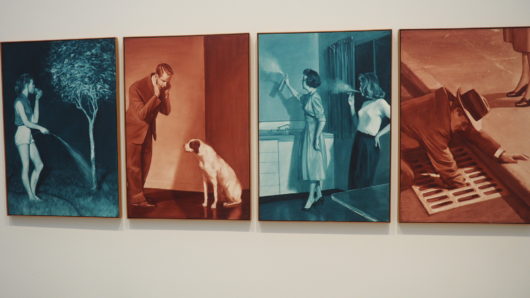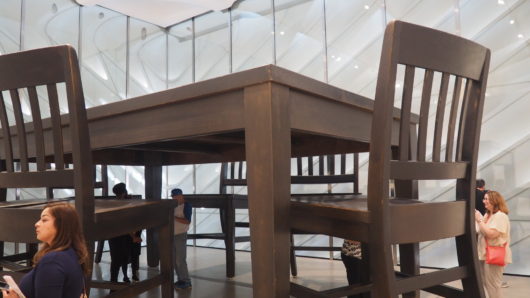 Putting things into perspective – when you're the ant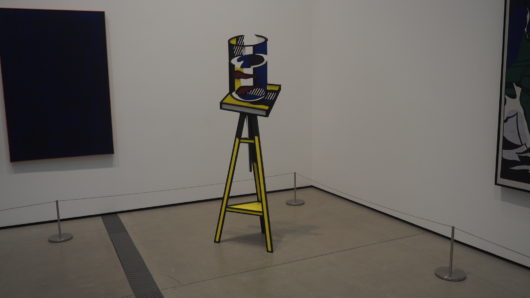 2D Piece looking very 3D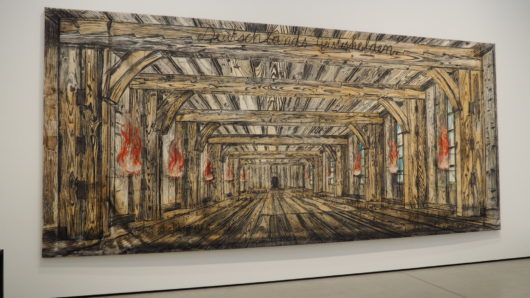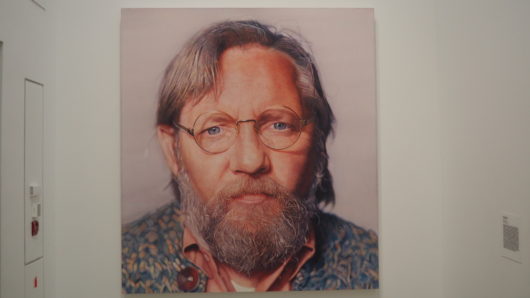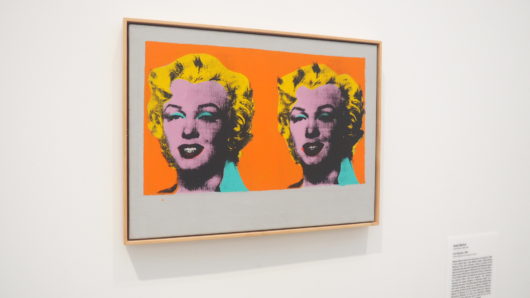 Andy Warhol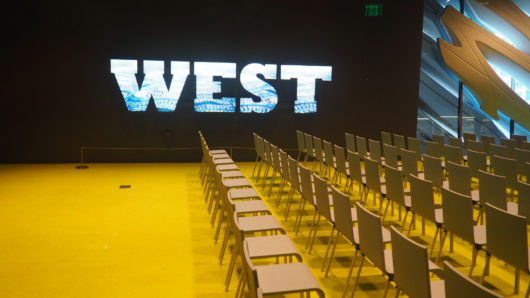 Office space
Downtown Los Angeles
Unlike Melrose, Downtown Los Angeles isn't really a district where you should just walk around and 'explore' because, well really, there's nothing to explore.
Downtown LA is notable in that when you are driving nearby it, or even when the plane is flying into LAX, it's distinctively noticeable due to the skyscrapers and high buildings, whereas the rest of Los Angeles the buildings and houses are relatively low.  So you will know when you are in downtown.  Plus because all the major banks and accounting firms are there, their buildings are more modern and are made of glass, again marking a contrast from other districts in Los Angeles.
So yeah, because it's downtown, it's mainly an office area.  There's shops, restaurants, and museums like the Broad here and there, but that's about it.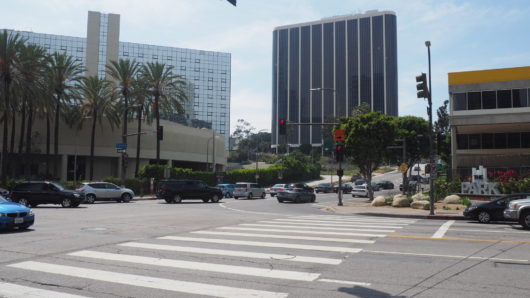 Besides Pasadena, I also lived in downtown for a few days
I will always remember this… the tunnel to Lil Tokyo.  Well, this one is Lil Tokyo to downtown.  Well… financial district I should say, as Lil Tokyo is part of downtown.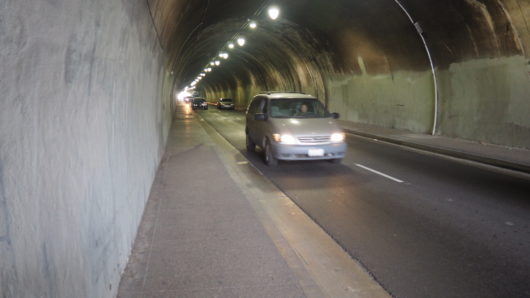 Cars whizzing by me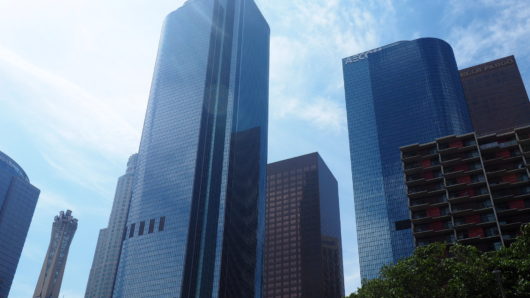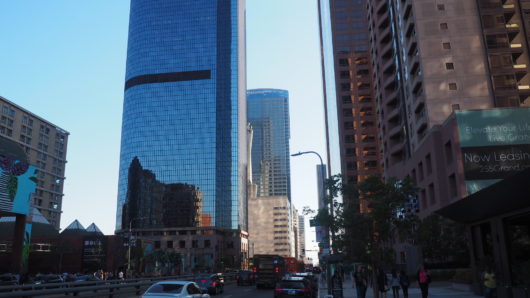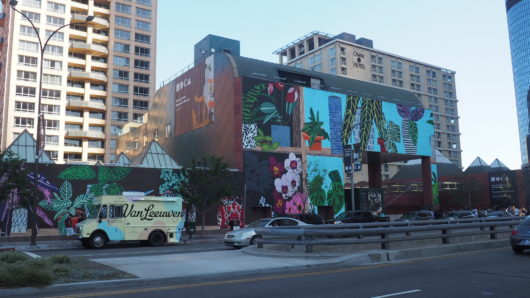 A museum I didn't go to, the Museum of Contemporary Art.  Across from the Broad.
Nightlife
It's surprising how a city famous for celebrities and home for the wealthy isn't the easiest city to find things to do during the night.  Trying to find a decent bar lounge to go to that wasn't ultra luxurious or too dodgy was difficult, not much was in the middle.  Plus, your choices are also limited by which area you want to go to.  For example, if you lived in Pasadena, you may not want to go to Westwood, where more of the higher end bars are located.
And why can't you find some decent speakeasy that doesn't play 1960's or oldie's music?  I want a cool speakeasy, like the ones you can find in New York.
Speaking of which, after this trip, New York definitely has a better nightlife by far.
Emerson Royce (website)
It was driving to here that we got paintballed somewhere along the way.  We even heard a loud bang when that occurred, right before we got on the highway.
Emerson Royce is located in a part of Los Angeles I rarely venture into, the east side.  For some reason, after we got off the freeway, the neighborhood looked pretty sketch.  Maybe cause it was dark so things looked a little more frightening than it should have been.
At first, I was like, ok it's cool.  I only saw the front end of the place, and I thought that was just it, a small 1,000 sq ft. dimly lighted bar.
But then, once seats were available, we moved to the tables outside of this place, which was at the back of the bar, and it became this massive space of rows and rows of tables filled with people trying to take selfies already.  This has got to be the most deceptive design of a bar, where I did not expect the existence of the back of the bar, yet suddenly this large space appears out of nowhere.
The drinks were OK, average.  It's a good place to chill with your friends.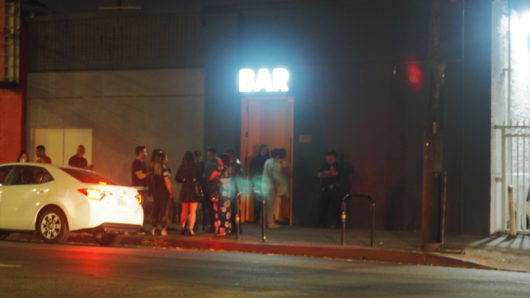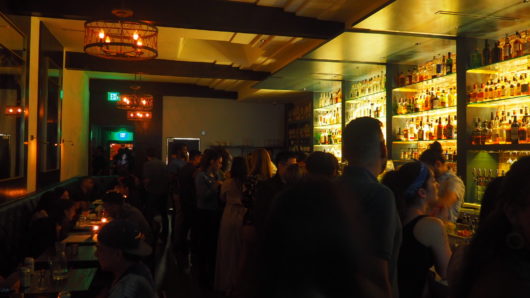 I thought the bar was just this area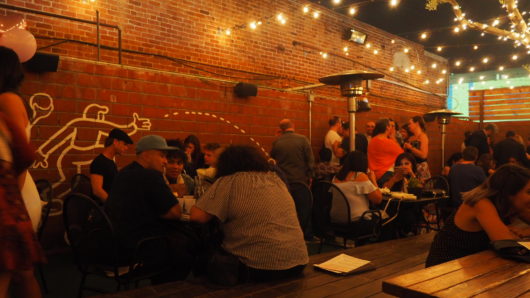 Walk past the bathrooms then there's a huge outdoor area
The Normandie Club (website)
The Normandie Club is located in… Hotel Normandie LA!  Surprise.
This place is very dimly lit, and is typical of a hotel bar, but very small.  If you got a crowd of over 6 people, expect to be sitting very closely with each other as the tables are quite small and you can get crammed easily.
It's not the easiest place to have a conversation, as with a small area and with people nearby, noise pollution just happens.
Think this place would be better to go to on weekdays.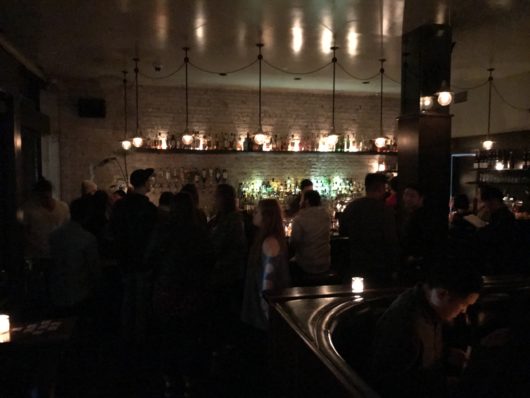 The LINE L.A. (website)
If you're looking for a nightlife filled with Asians, go to The Line.
Outside, you'll usually see a long line on a given day, but don't worry, the line moves pretty fast (puns intended).
What is most shocking is that when you enter this place, it is actually a hotel lobby turned into club at night.  I'm not sure how I feel about it, but it just sounds like a revenue maximizing move  and immediately loses its classiness for a hotel.  Also, it just seems kinda… weird.  I wonder how the hotel guests feel about this too.
Also based on the reviews and comments of this place, if you have a room in the hotel, you won't be able to hear the noise from this "club".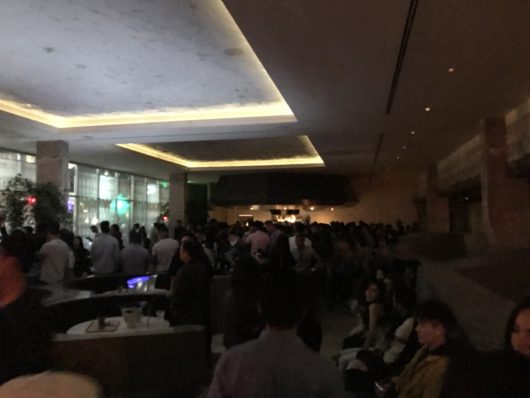 Like I mentioned earlier, Los Angeles isn't the ideal choice for tourists, but it remains to be a pretty good choice for someone to live.  The location is amazing, the weather is amazing, the restaurant variety is amazing… But when it comes to looking for things to do, either culturally, historically, or entertainment value that's not for locals, it becomes a little bit more difficult.
Also, I don't know what it is about this trip, perhaps it was in Pasadena, that I hear two university aged girls that kept using the words, "like" and "chill".  It's OK to use it time to time, but there comes a point in time where too much is too much.  I swear every sentence had multiple likes, and everything that they do they do because it's "chill".  Because hanging out with friends is like chill, like eating ice cream is chill, it's just chill to like drive around LA and then go shopping with someone cause it's chill.  Damn!  I know I might sound arrogant saying this, but it starts to sound dumb, and that's another thing I don't miss about LA.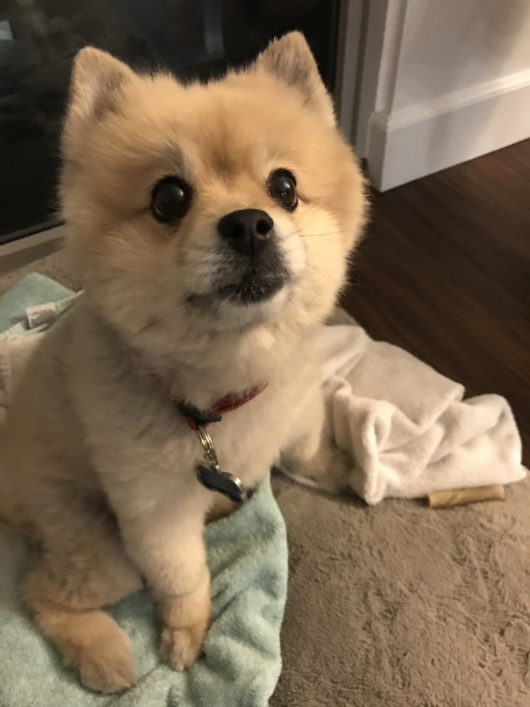 Also, you can say hi to my friend's dog Suzie at instagram.com/suziethepomadventures