"Welcome to DiverXO!  Be prepared to be delighted, entertained, and inspired by what our chefs have prepared for you today!"
I could imagine the pigs saying something along those lines when entering the restaurant.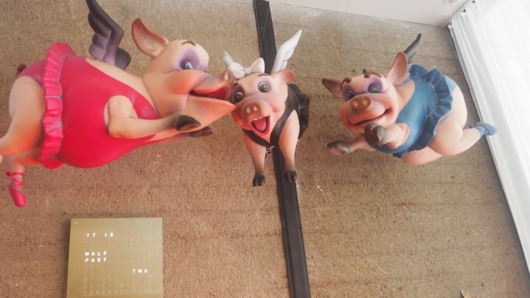 Yes, these flying pigs right here
The fine dining experience doesn't even begin at the restaurant… it actually begins at their website.  I mean take a look if you haven't already… https://diverxo.com/ … it's devilish, it's daring, and they got a video of bizarre actors being uncontrollably excited by the food, yes that's why I had to come to this restaurant.
Apparently the founder says that the restaurant doesn't even make money before, in fact it was losing a bit of money.  I think that's changed now, because the prices are standardised at 250€, whereas before there was an option for much less.  Mind you, for pairing option, that's an additional 150€… and they still can't break even?  I'm sure they do.  But they do put a lot into the aesthetics and high quality ingredients.
I have to say, the restaurant décor is truly inspiring.  The details are impeccable, and everything has direction and momentum, it's like there's action going on everywhere, even when there really is no action.  Like this photo below…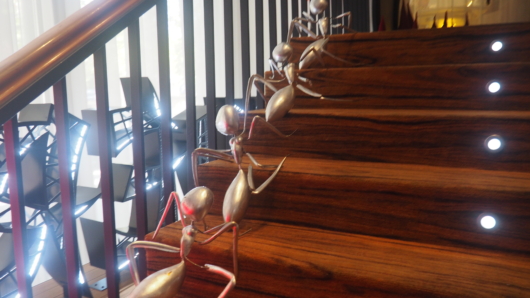 Ants climbing up a bunch of stairs, they don't move, but it's leading you somewhere
Booking
On the 1st of each month at 10:00 AM Madrid time, they will open reservations for the following month.  Meaning that when I wanted to book for one of the dates in September, the reservations for October (from Oct. 1 to Oct. 31) will open at September 1 @ 10am.
It didn't matter, as even when I opened their website on that exact time, not only were their web servers disturbed by high traffic, but when I actually managed to get to the reservation page, all the dates that I was in Madrid was already booked out… we're talking 3 minutes into the website!  Grrr… so we were initially put on the waiting list.
Luckily enough, about 3 weeks before the actual date we went, one of the slots opened up and I was lucky enough to partake in this experience.  Which by the way, was a slot at 2:15PM… super late lunch.
Restaurant Décor
Like said in the beginning, the placement of their animals suggest a certain type of momentum, where they suggest you to follow their direction to be led somewhere.  The dizzying and playful colors as well as the animated expressions from the animals bring them to life, and this combination makes you feel as if you are entering somewhere surreal, the exact feeling that it wants you to feel.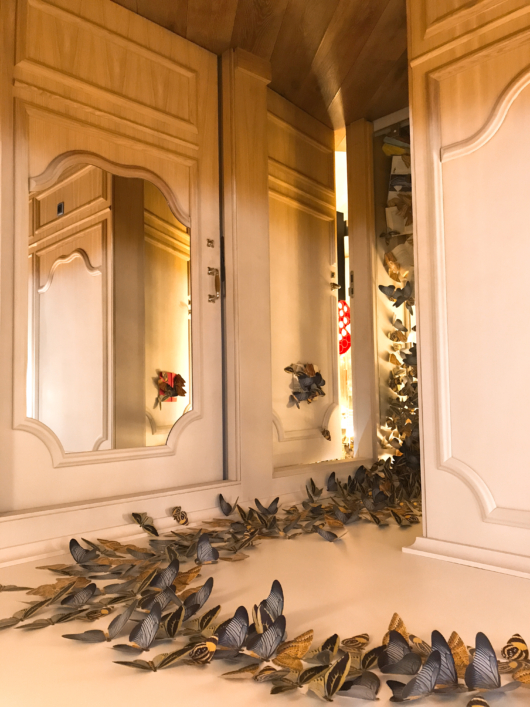 Butterflies that lead you to the bathroom… I have to admit this is my favorite part of the décor… I mean come on it's butterflies, and this blog is travel with a BUTTERFLY
When sitting at the tables, you're sitting pretty much what would be the equivalent of a first class of an airplane.  The seat space is plentiful, the table is bigger than you need it to be, and you have a somewhat transparent curtain to maintain some privacy with you and your company.  Each table also differs in lighting top and the support of the table, making it natural for patrons to wander around and to observe what other tables are like.  What's also really cool about these chairs is that the armchairs can be lifted or put back down, exactly like on an airplane, so it's much more convenient for you to go the bathroom.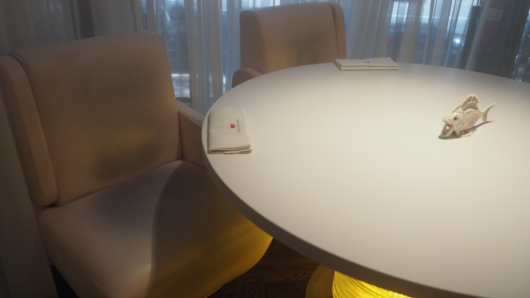 In a way, it feels like you're sitting on one of those "Alice in Wonderland" teacups ride in Disneyland, but frozen in one moment of time.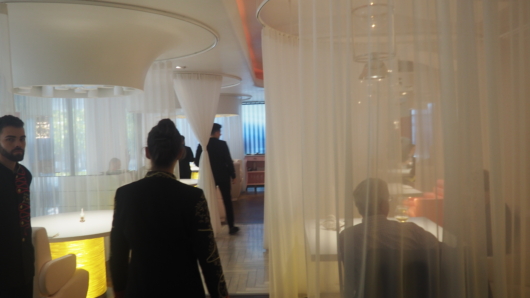 Again, the colors used were light, playful, with sprinkles of rich colors to both give its personality of fun but at the same time upscale vibe.
The kitchen itself was busy and frantic, it kind of felt like you were in a Formula 1 pit stop where everyone knew exactly what they were doing and were doing it in precision but at the same time people were communicating with each other.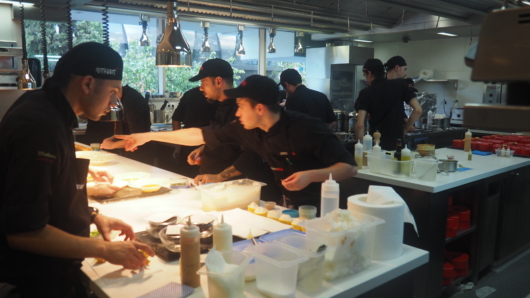 A tour of the kitchen before we were brought to our seats
The Flying Pigs Cuisine
This was a 26 course meal… so yeah we were incredibly stuffed at the end of this.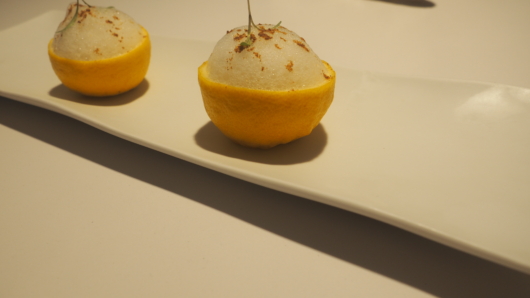 Cantonese Chicken Greaves and 5 Chicken Spices Lemon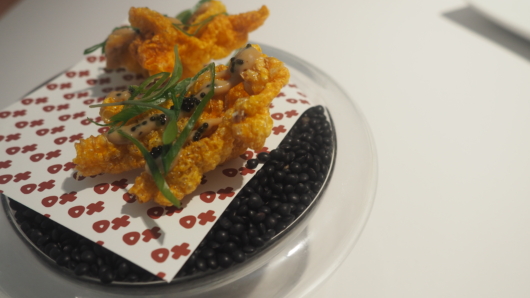 Same dish as above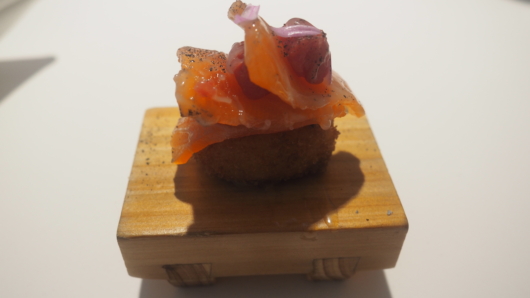 "Niguiri-Croquette" Made of Sheep's Milk and a "Milefeuilles" of Madurated Salmon in Jabugo Fat, Tomato & Smoked Tea Marmelade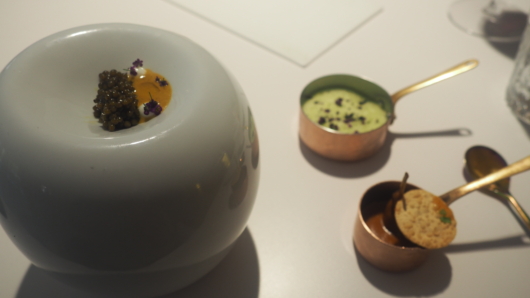 Main Dish: Roasted caviar in a "Tandoori" oven with "Vindaloo" curry and Greek Yoghurt.  Bottom Right underneath the circle: Frog Legs as "Butter Chicken Masala", Pickled Mint (top right), "Papadum" of Lentils & Mango Chutney.  Bottom right circular object: Steamed Cheese "Naan" with Truffle, Corn, and Acidulated Parmesan Cheese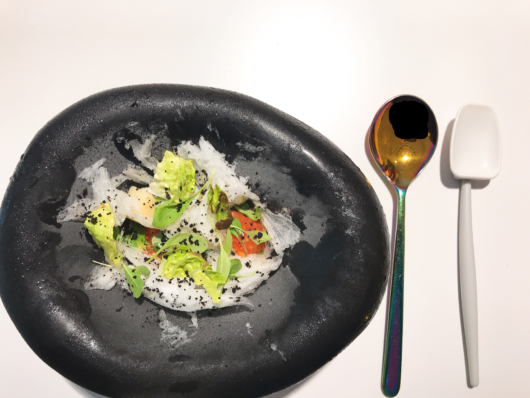 Frosted Salad from the Back of the Fridge… that black circle on the golden spoon was edited by me to cover my face (shy)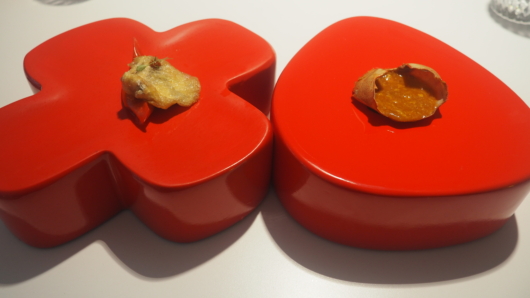 "Nécora" (Velvet Swim Crab) Dumpling "Chilli Crab" version of Chipotles with "Kokotxa" in a Roman Style of Duck Yolk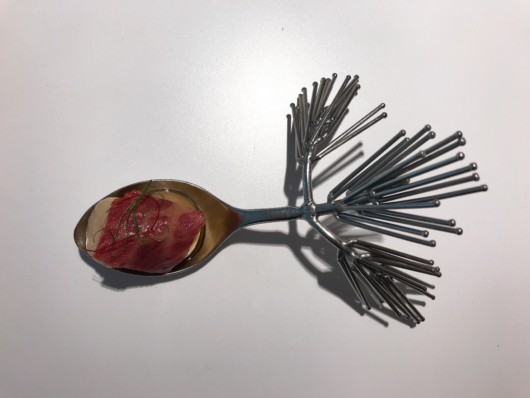 Xialongbao XO… Iberian Soup Dumpling with Aged Beef Rib & Bone Marrow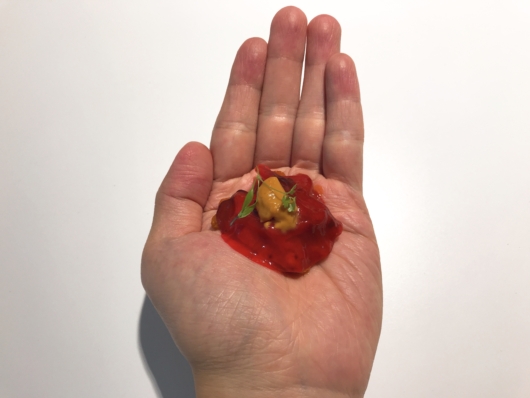 A Trip to the Tsukiji Market… "Sea Urchin on the Hand", Prawn Coral, Sea Grape, Veil of Toasted Achiote & "Palo Cortado" Wine.  The story behind eating the uni from the hand is that the founder behind DiverXO, David Muñoz, went to Tsukiji Market in Tokyo and was sampling some food there.  One of the Japanese market sellers offered him some fresh uni, directly from the uni itself, and during that time there wasn't any plates or utensils, so he was given the uni straight from his hand and had to eat it directly out of his hand.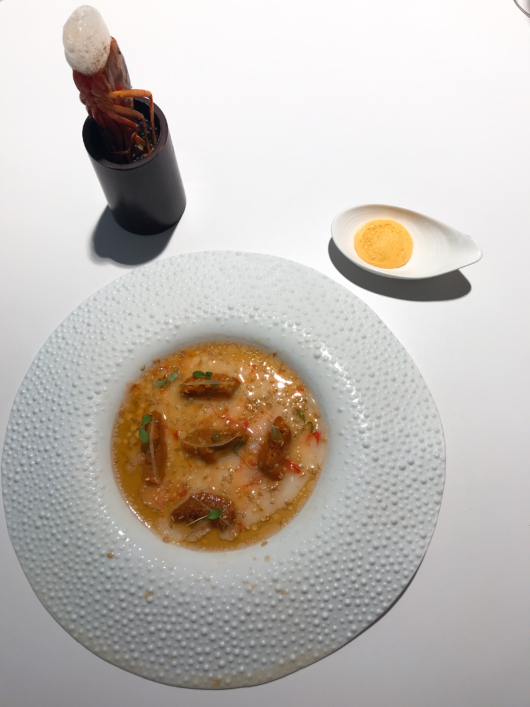 Top left: Slightly roasted red prawn's head, bittersweet, filled with sea urchin and "Palo Cortado" Wine.  Main dish: Upside Down Fried Red Prawn Carpaccio with Sea Urchin, Sesame and Ponzu Made of Green Shiso.  Bearnaise Sauce.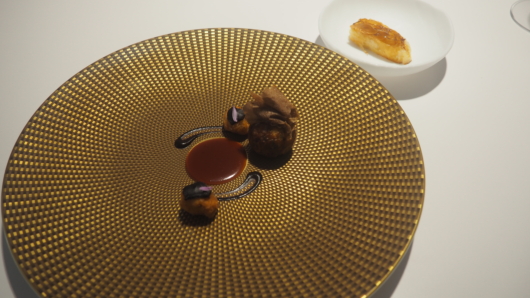 "Tortiyaki" made of Potatoes, Pickled Chicken Juice, Black Garlic, Fried Chicken and White Truffle. – Soaked Croissant Crumbs from the Botton of the Chicken Roast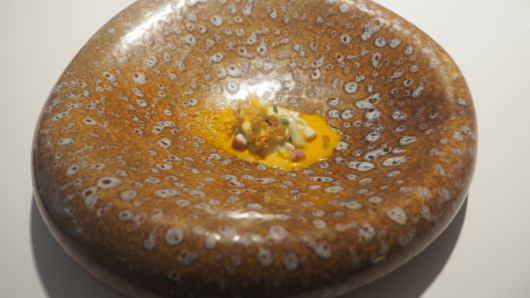 Chargrilled Espardenyas in the Robata with a "Pil-Pil" Sauce of "Aji Amarillo" (Yellow Chilli Pepper), Warm "Leche de Tigre" Made of Red Mullet, Fried Red Mullet, and Smoked Eel.  Definitely one of my favorite dishes.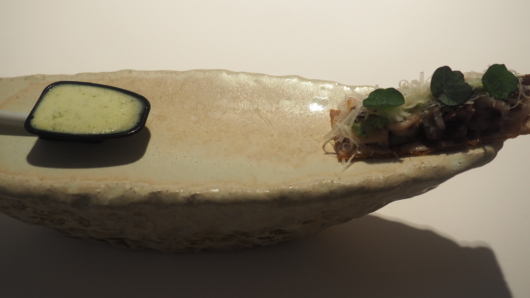 Crunchy "Canapé" of suckling pig skin, little squids, mature tomatoes & dried little squids marmalade, chargrilled "habanero" chillies purée & idiazabal cheese, frozen green lemon with coriander root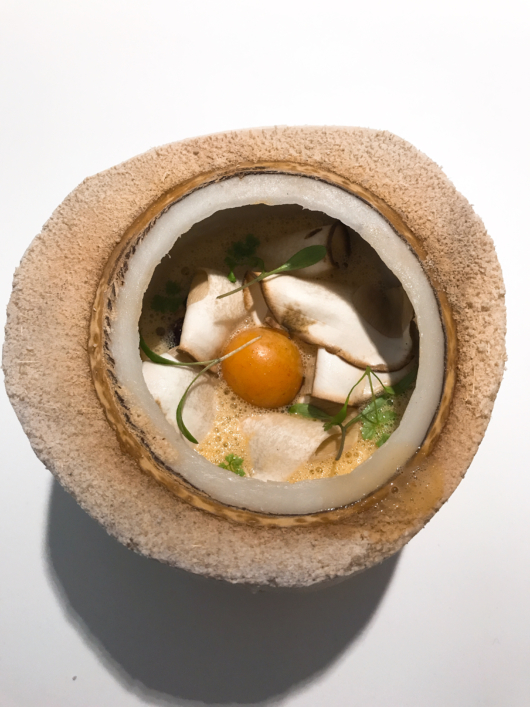 Steamed foie ramen, guinea fowl's bones soup emulsified with its foie and roasted yolk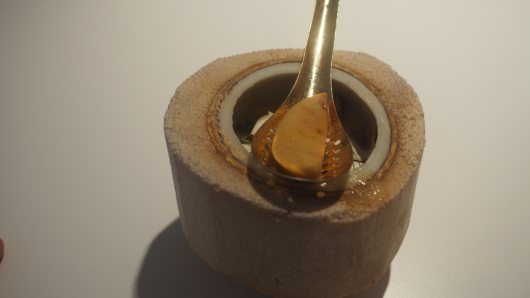 Same dish as above, but including the foie
Roasted langoustine served with its bordelaise sauce, black garlic butter, kimchi, xo sauce and Botarga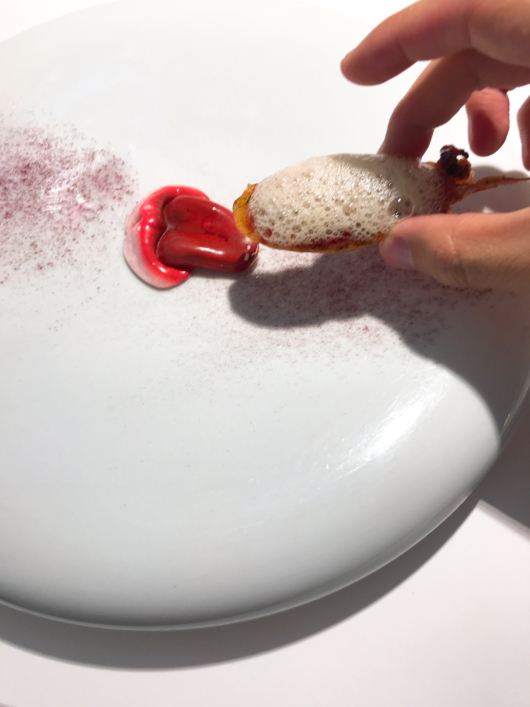 Langoustine's head with "Menuniere" of bittersweet lemons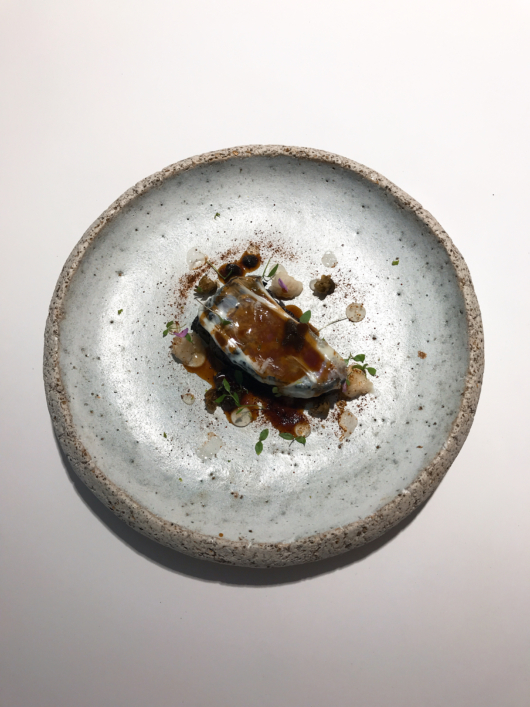 Silk in your mouth… "Txuletón" & Tamarind Meuniere, Wagyu from Kagoshima Roasted and Marinated in Toasted "Mojo".  Buffalo Milk Skin.  Sake & Yuzu-Organic Vietnamese Steamed Rice with Sake, Green Tea, and Bambu.  Rice is not pictured.  The wagyu beef was sooo delicious, very soft and tender.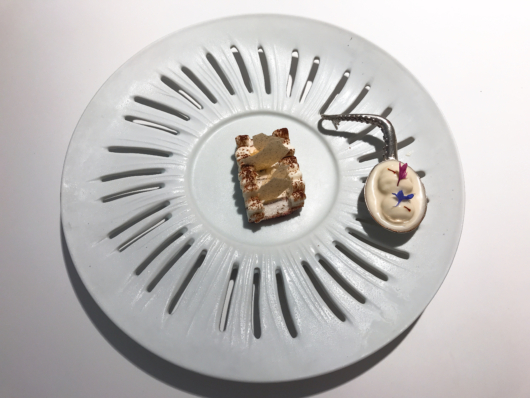 "Contesa" of Chai Tea, Lychee and Finger Lime… Yoghurt Lassi and Saffron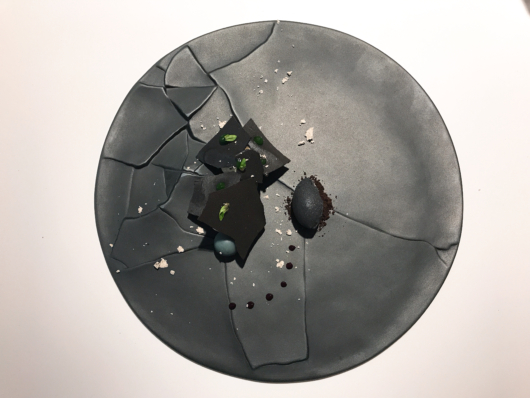 Coconut Ganache, Black Garlic, Blackcurrant Bubblegum, Basil & Liquorice… Coconut-Yuzo Ashes Ice-Cream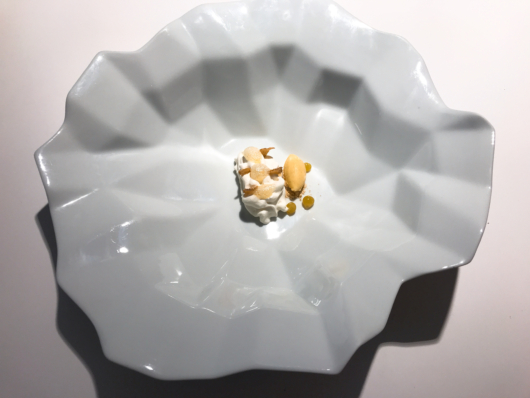 Corn, Lulo, Vanille and the Leftover Milk from the Bottom of the Cereal Bowl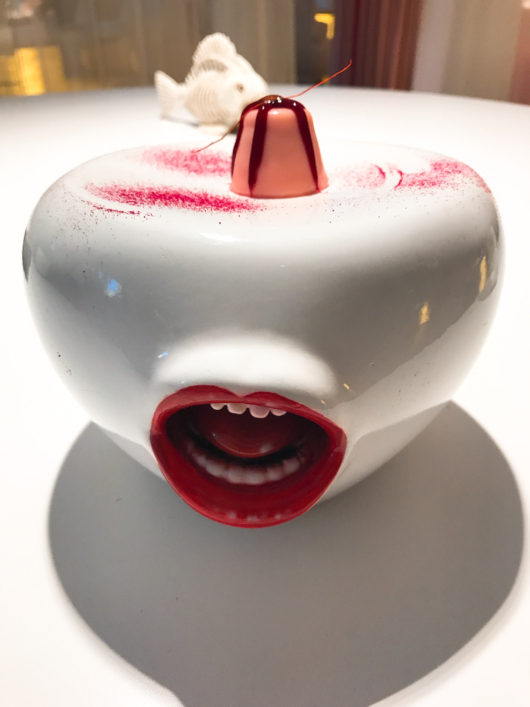 Slurping your childhood… Cotton Candy Flan, Beetroot, Vanille and a Touch of Sriracha Sauce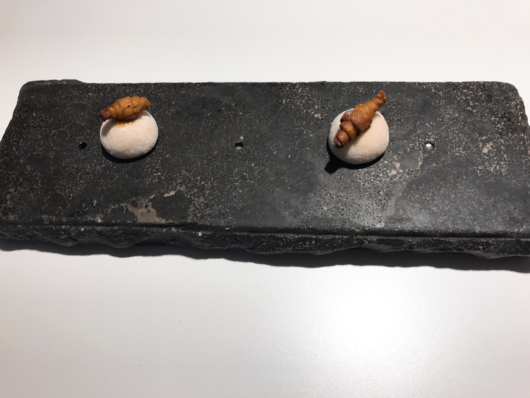 The Afternoon Tea… Croissant & White Cookies Mochi
I also had a glass of Château Haut-Bailly, Château Le Pape 2012 red wine.
Items I couldn't identify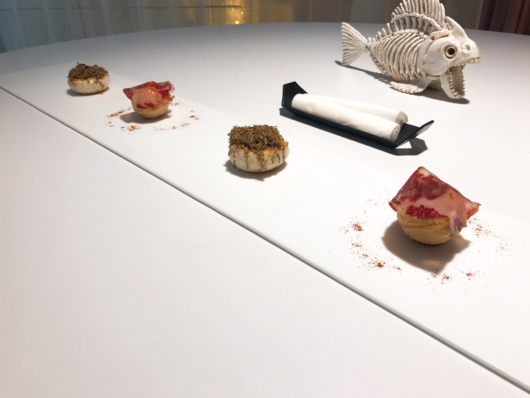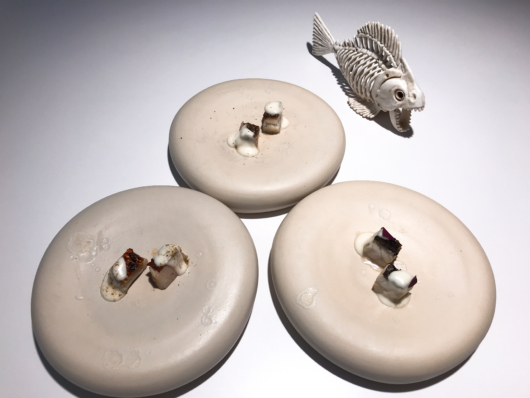 This was supposed to be three different types of fish… I can't seem to match it with the menu they gave me -_- but this was also one of my favorite dishes too
In menu but didn't match
"Taco-Crepe" of Purple Corn with Crunchy Duck Tongues, Cucumber & Tonburi
"Pani Puri" filled with New Delhi "Salmorejo" and "Joselito's Coppa"
"Dal Makhani" with Whey Made with Sheep's Milk Chlorophyll
Verdict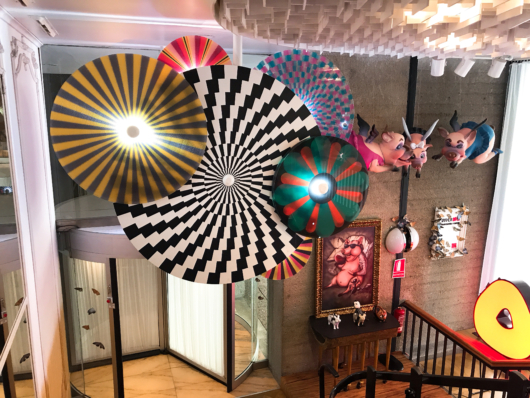 Straight up, I will tell my readers that I emphasise mainly and particularly on food and the taste when dining at any restaurant… I could care less about the service, atmosphere, crowdedness… etc.  DiverXO will probably not be the top of the best foods I've eaten, although some dishes stood out a lot such as the three types of fishes, the wagyu, and the Espardenyas.
However, I do feel that DiverXO rightfully deserves its *** Michelin, and also justifies its prices at 250 Euros.  I'm guessing the *** isn't just based on the food, but the overall experience, and I think from an experience perspective, DiverXO is at the top.
From the photos, you can see that the restaurant has put significant effort and details into the décor of the area, from the entrance to the tables to the lighting, there wasn't a single spot that was left out.  Even their website was done to excite the customers beforehand.
The service is outstanding.  The servers will ask about your feedback of each dish after you have finished every single dish (imagine saying it was OK 20+ times!! tiring).  And it is one of the very very few, perhaps the only one in my lifetime, that I've been purposely offered a tour of the overall restaurant prior to dining.  They explain every dish to you, the ingredients and any stories or inspirations behind it.  Every time they conversed with you, they will make eye contact with you as well.  And I love their uniforms, it is so sharp, so red, so official.  There's a certain fun and professional aspect behind it.
Overall, all the dishes were delicious, all of them looked sumptuous, and from the ingredients you can tell that they've put in the time to really come up with something creative, so I'd give 10/10 for creativity of the menu items.  Some criticism I have, and this is probably because I'm from Asia, is that a lot of the inspirations from this course was from Asia.  You can see that the dishes have taken ingredients and recipes from India, China, and Japan.  But since I'm based here, I've had better Xiaolongbao, fried chicken, Uni, and Curry than this restaurant; it wasn't authentic enough compared to the ones I have over here in Asia.  Also, it was an incredibly long meal… had we stayed for coffee or tea it would have been about 4 hours.  It should be expected in fine dining, so I'm not complaining, but for those who are considering coming here for lunch make sure that you are not in a rush to do anything until the late evening.  Also, since the timing of the meal was so awkward, this was literally our only meal of the entire day.
My favourite parts of the restaurant was definitely the restaurant atmosphere and decorations, and the creativity of the food and the uniforms of the staff.
Website: diverxo.com
You can read more about food in Madrid in my blog post Food in Madrid, with the Oldest Restaurant in the World.