When you think of the culture of Spain, one might imagine passion, royalty, and excitement.  Seville embodies these traits perfectly, and its passionate heat was felt throughout my time there; it was hot enough to wear t-shirts during the day whereas in Barcelona it was already cold.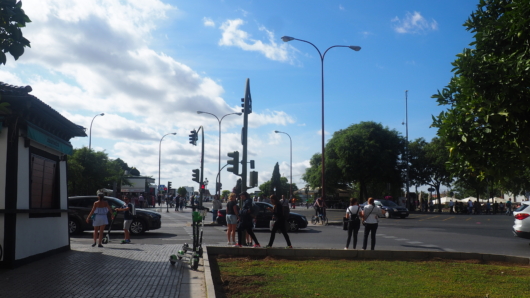 Seville is notable for its bullfighting events and its flamenco dancing.  I was unable to witness either of them, although I did watch some flamenco dancing that was on the streets.
In a way, Seville reminded me of Nice (you can read my blog about Cote d'Azur here), where everything was spacious, a tram ran through the city center, it was the whole vibe and atmosphere that was very similar… I guess both cities being part of the Southern part of their respective countries lends itself to create such an atmosphere.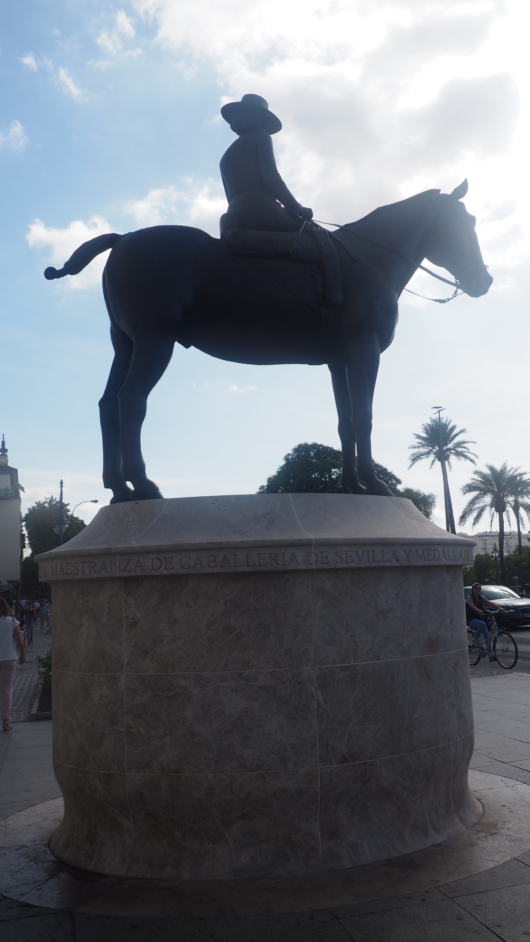 Accommodation (Airbnb)
This was my first Airbnb for this trip after staying in hotels in Barcelona and Madrid prior to this.  The airbnb was hidden in a corner of a black gates, right next to a Mercedes Benz shop.  A comfortable sized living room and kitchen were all well equipped, then there was a queen size bed as well as a bathroom that I felt was a little too dim.
The street outside my apartment, diagonally across you can see a market which I didn't go since I went to one in Madrid and Barcelona already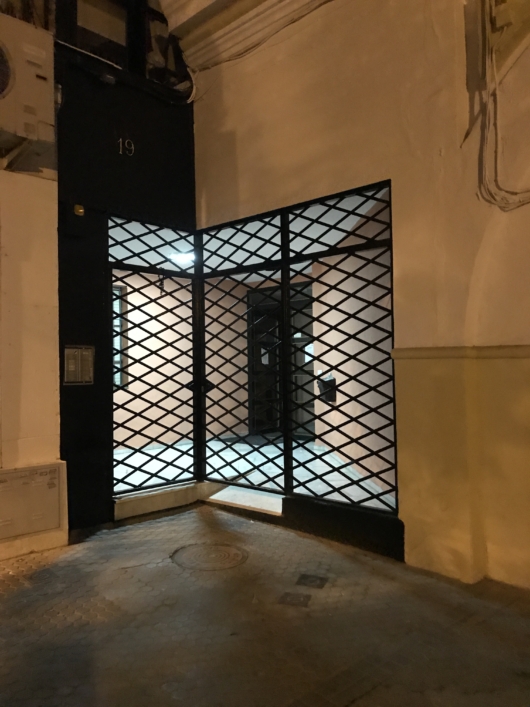 Part of the black gate
Inside the gated door is a block of residential apartments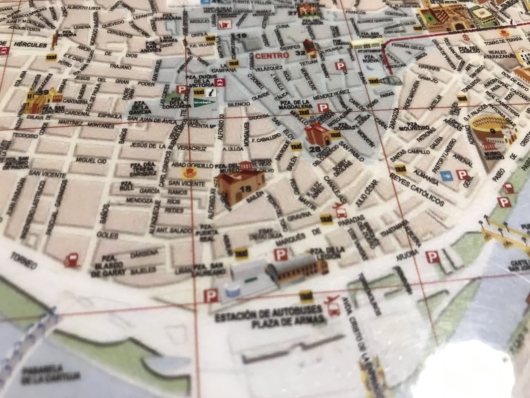 A map of Seville that the host gave me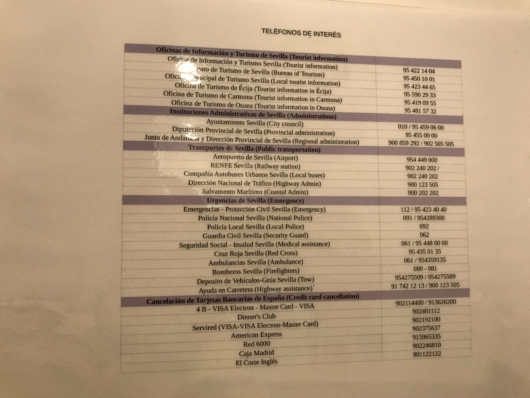 Emergency numbers in Seville, in case I needed anything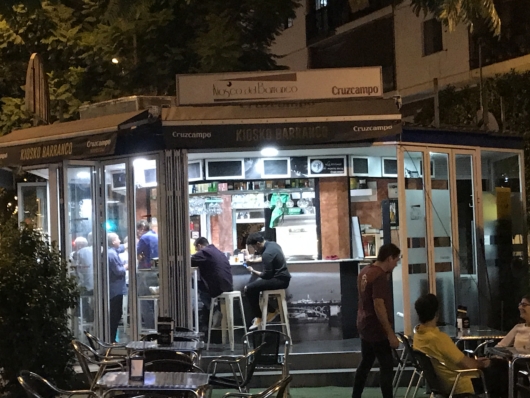 A restaurant that was called Kiosko El Barranco that I didn't get to try, although the reviews don't look too appealing
Transportation
Railway Trains
So, I booked my train incredibly late from Barcelona to Seville, in fact it was the day before my actual planned date to go.  There were literally no seats left, and the only one available for the train that I could take was one that left at 9am, but also at the same time the train duration was 11 hours!  Yes that's right, 11 freaking hours!  Usually if it's direct, it would take about 5.5 hours, but the train I bought was a regional train that stopped at many smaller cities in Spain, including the ones near the south, so that's why I ended up taking so long.  Had I departed from Madrid even, it would have just taken 2-3 hours only.  I thought the trains to Seville would be plentiful.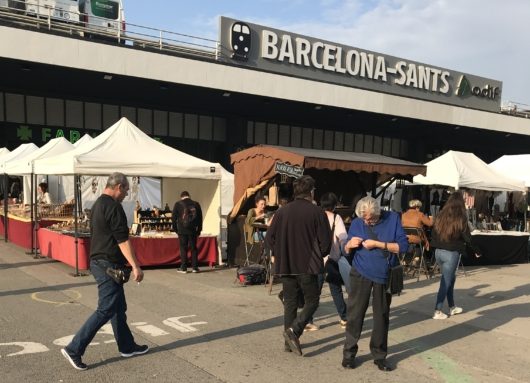 The train station from Barcelona-Sants, from where I took the train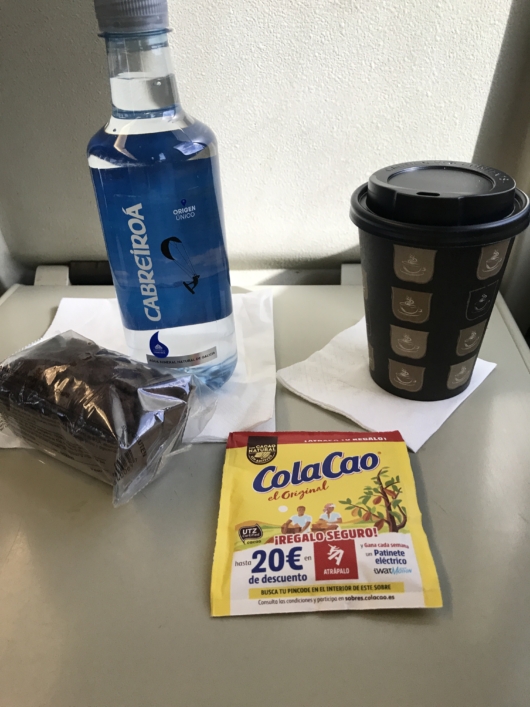 This was pretty much my meal for the 11 hours, yes that's ALL I ate.  So funny, I asked for chocolate drink, he pours me a cup filled with hot milk and then I had to add the cocoa powder myself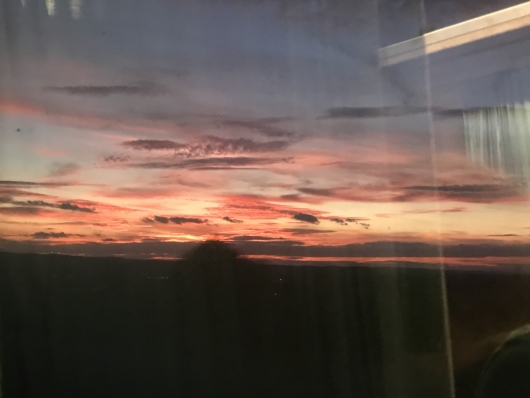 Look at this incredible sunset.  This photo is nothing like compared to the one I saw on the train, but the colors here are still magnificent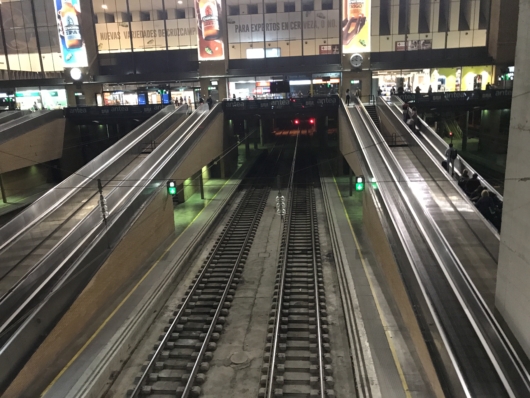 Sevilla Santa Justa station.  FYI, I ordered a ticket from Klook for the Eurail Pass that you had to pay around USD 250 and then you can get cheaper tickets when you book other trains and railway trains around Europe.  If you're planning to go to a lot of European cities, it's probably worth it, but it can also be a little bit of a hassle as their website is hard to book and not all trips and routes give the discount.
The train terminal
Bus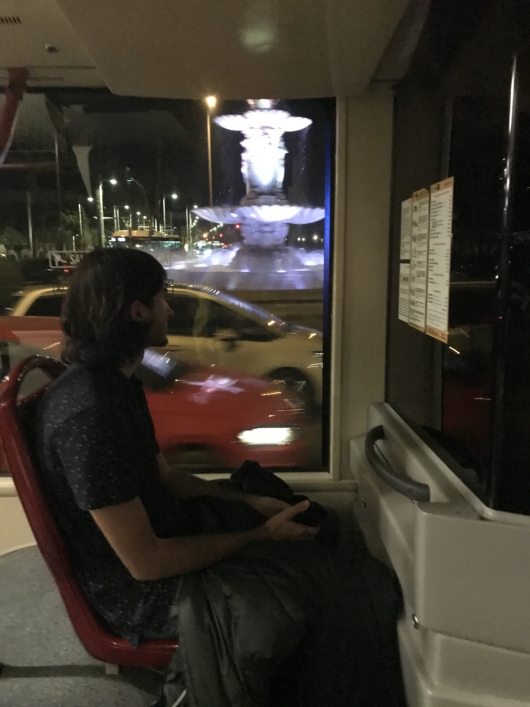 The only time I took a bus in Seville was after getting off the train and heading towards my Airbnb.  The driver was super nice, telling me to sit on the disabled person's seat so that he can inform me when to get off.
Walking
Other than that, the major tourist attractions of Seville are pretty much walkable.  Some might be better off by riding on a bus, but I was okay with just walking around and intaking the sceneries around me.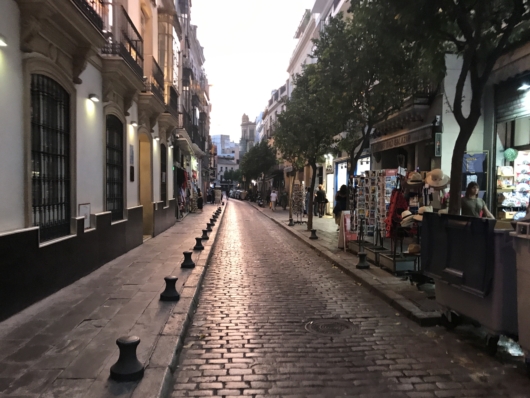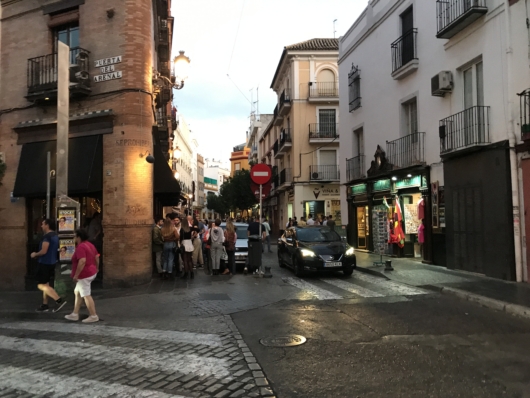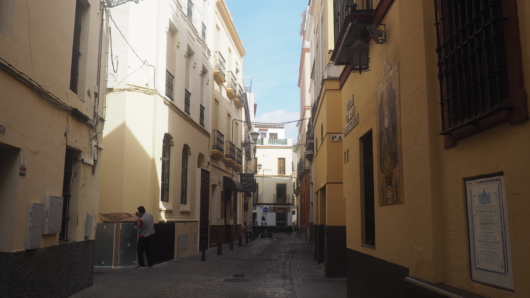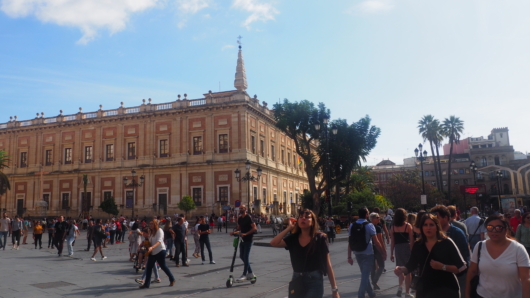 Santa Cruz neighborhood
Things to Do
Given my packed schedule, I was only able to do a couple of things in Seville.
Plaza de toros de la Real Maestranza de Caballería de Sevilla (website)
One thing to note of this and other attractions in Seville, including the Sevilla Cathedral and the Royal Alcázar of Seville – book your tickets beforehand!  Otherwise there will be a long queue and you'd have wasted 30 to 45 minutes standing in line.
But yes, while waiting in line for the Royal Alcázar of Seville, I realised that I still may be able to go to the bullfighting pit early in the morning… well not super early like 12pm which was early for me since I had to catch a bus to Faro later in the afternoon.
It was really worth it as a tour guide will bring you to different areas of the bullfighting pit, behind the scenes, and talk about the history and interesting tidbits of the arena.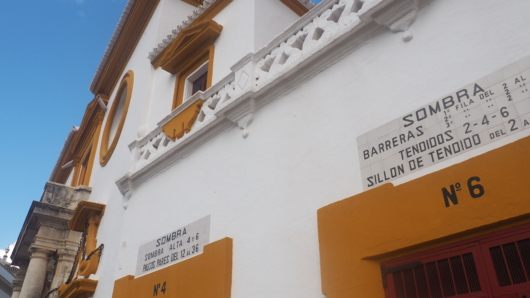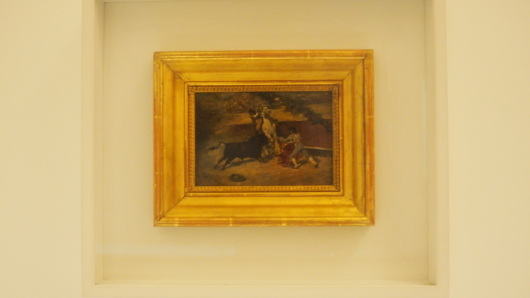 They talk about the stages of the bullfighting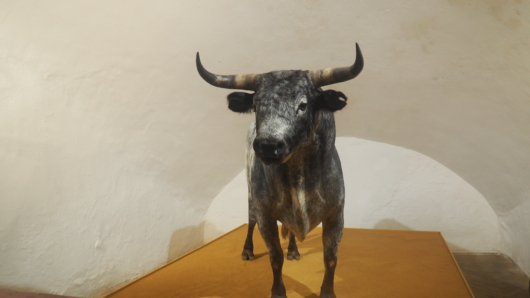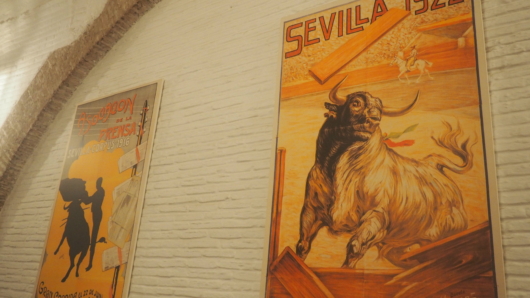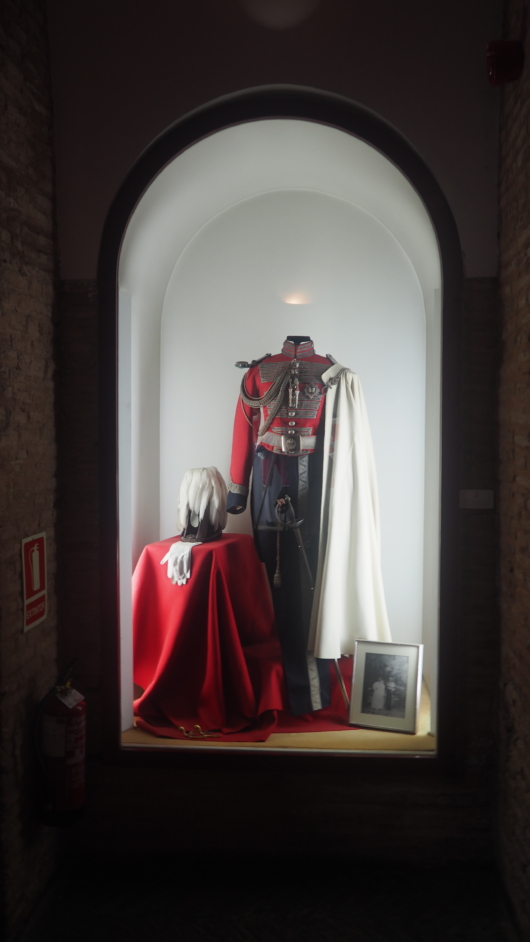 The uniforms are so intricate and beautiful; love it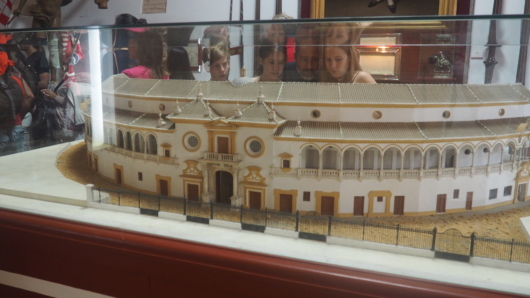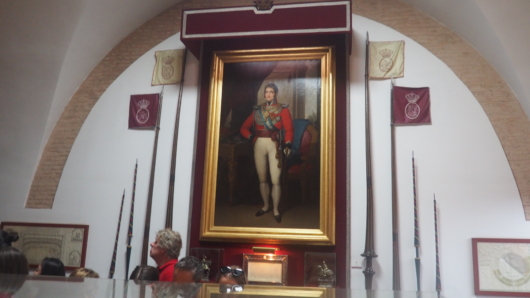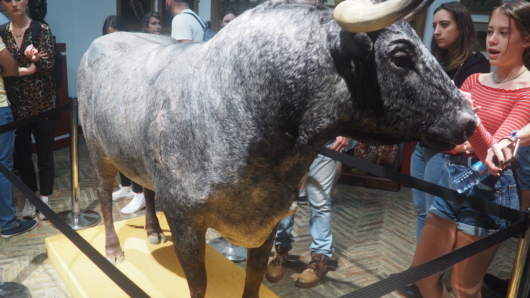 I remembered that the matador can actually get to keep a bull's ear if he gets three points, and rarely does the official grant any matador three points; usually it happens once every decade or two decades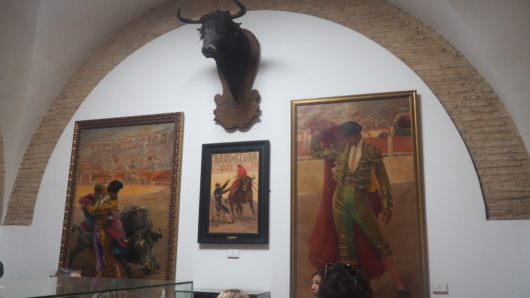 Two famous rivals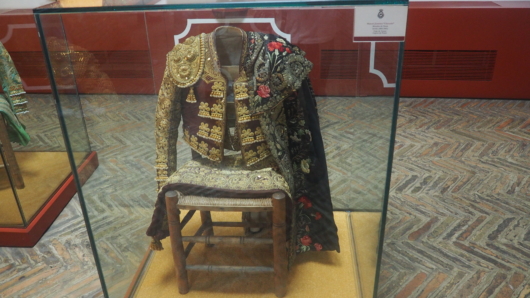 Again, another very beautifully designed uniform, isn't this just amazing?  I love the black cape attached to the left side of the uniform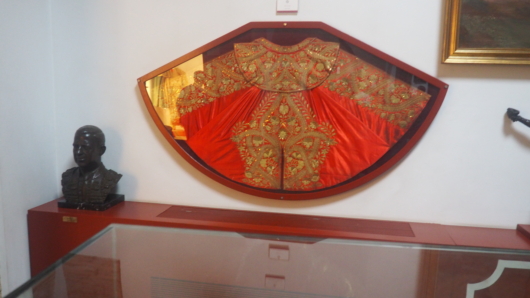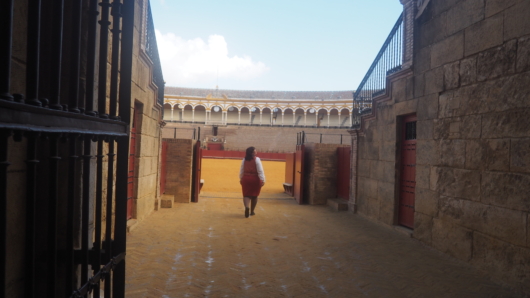 And out we go
Tada!
Just amazing
Royal Alcázar of Seville (website)
OK you can find most of the history about the place on Wikipedia, so instead I will just share you my feelings and photos of this place.  A quick search shows that this place is free on Mondays on the final hour of the day, but even during the weekends where you have to pay, the lines were long, and there were lots of people already, so I could imagine how packed it'd be on Monday.  That said, remember once again to purchase a ticket beforehand!  I had to wait in queue for this for at least an hour.
Anyway, once again just like in Girona, Royal Alcazar of Seville was used in various scenes in the hit TV show Game of Thrones, including many scenes depicting Dorne.  For more information and to book a tour to get the "behind the scenes" from Game of Thrones while visiting this site tour, you can do so here.
This palace borrows many influences from Islamic designs, which is no surprise considering Seville's proximity to countries like Morocco.  Me personally, I love these Moroccan and Islamic type of designs.
I felt that this palace was incredibly captivating, and ranks as one of the top things I did this entire trip.  Matter fact, I'd probably rank this as one of the must to do's when visiting Europe.  Its a place with character, enchantment, and carries a mystical vibes with it.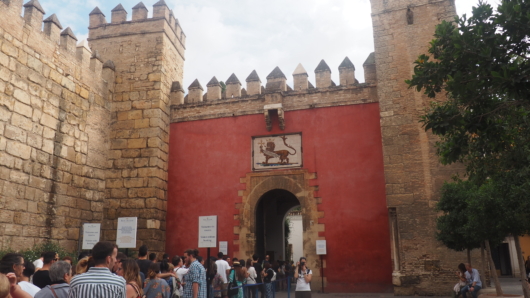 Outside waiting in line…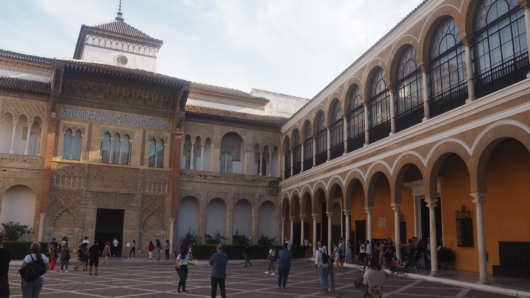 Inside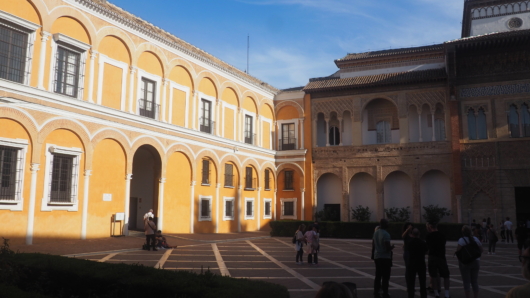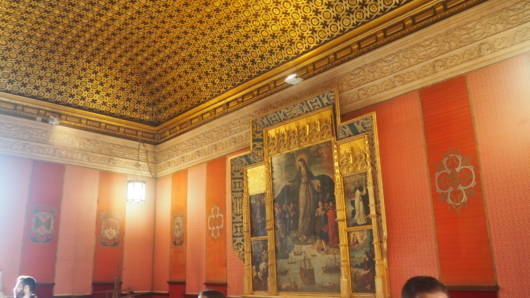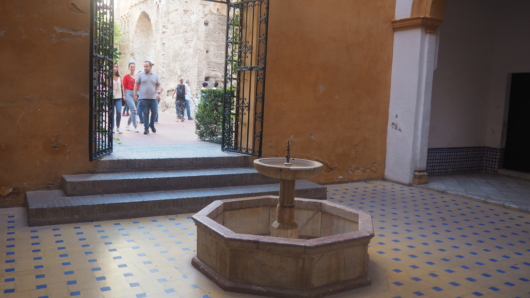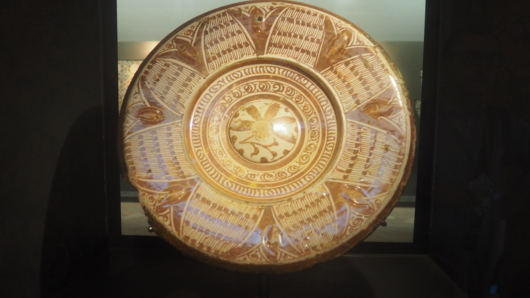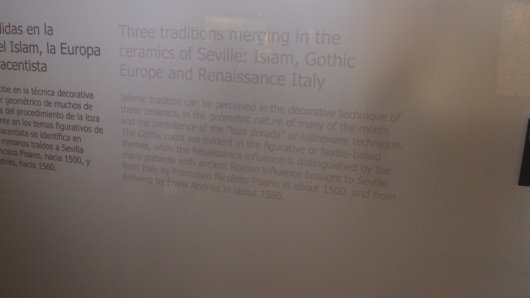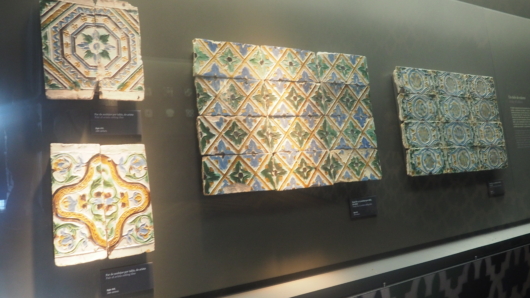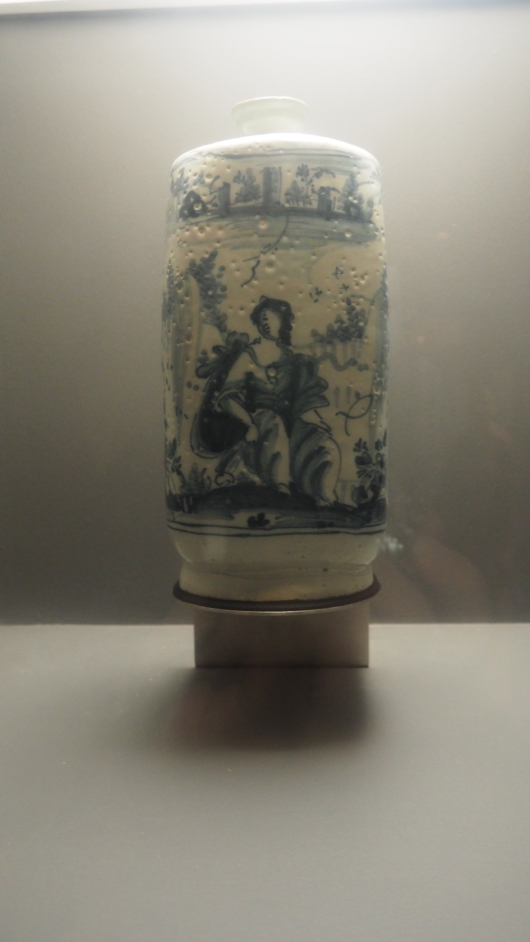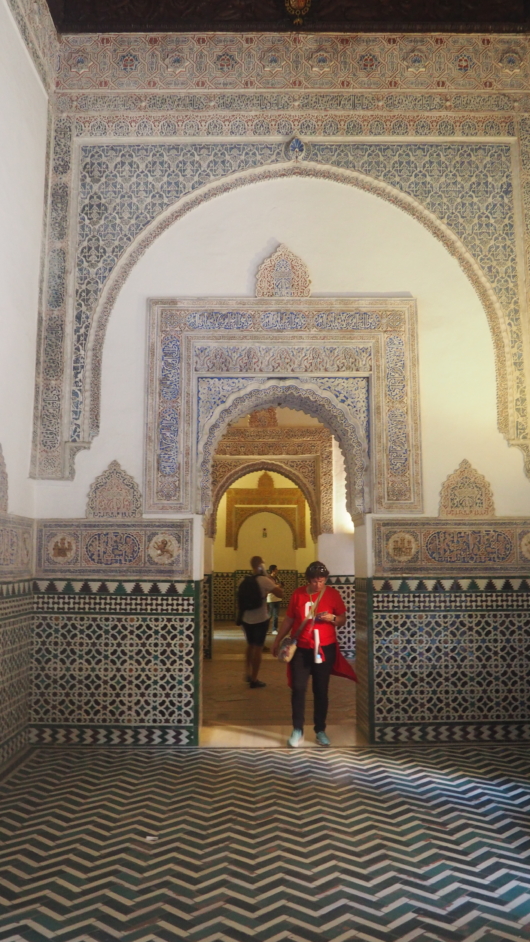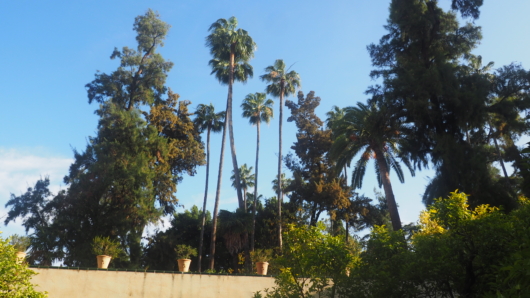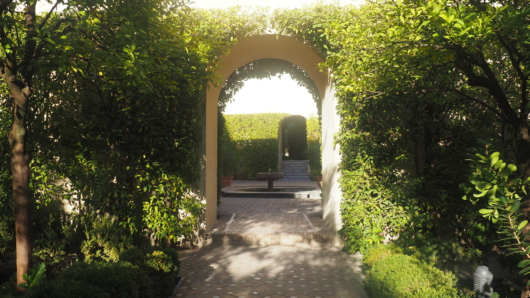 The gardens might look familiar if you've watched Game of Thrones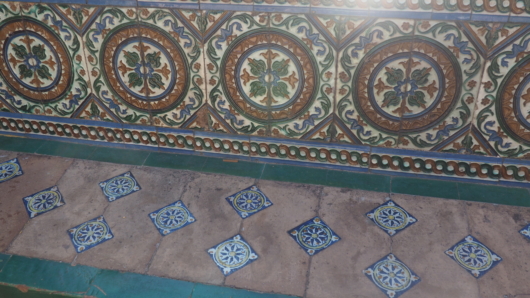 Taking photos to remember the patterns and designs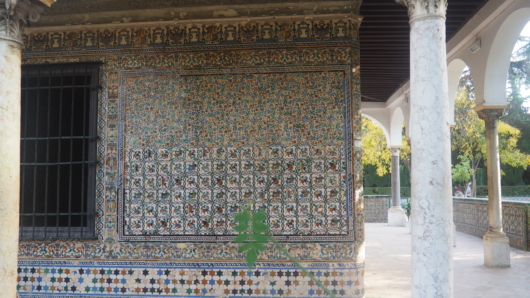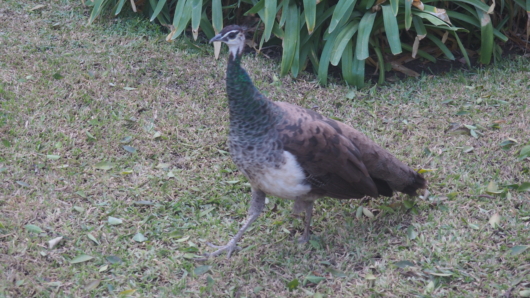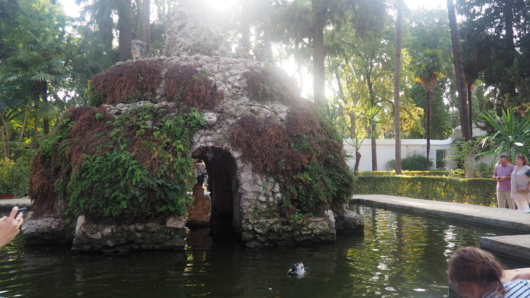 Where the ducks were swimming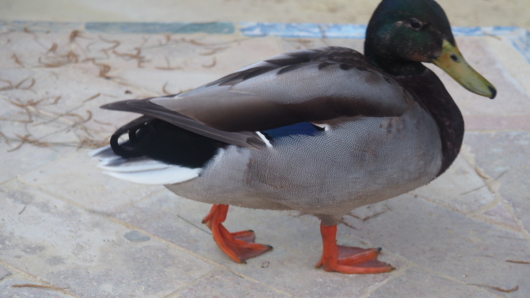 Closeup of one of the ducks, their feathers look like photoshopped here lol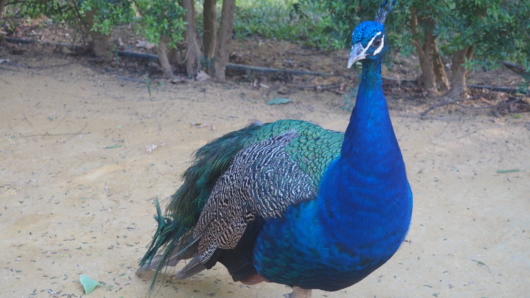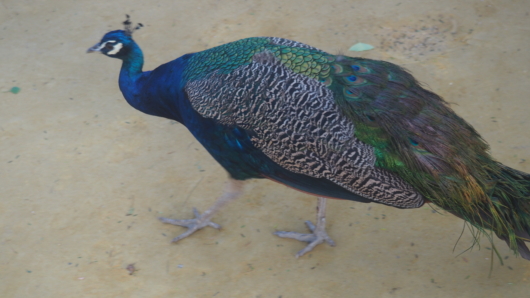 Hunting for food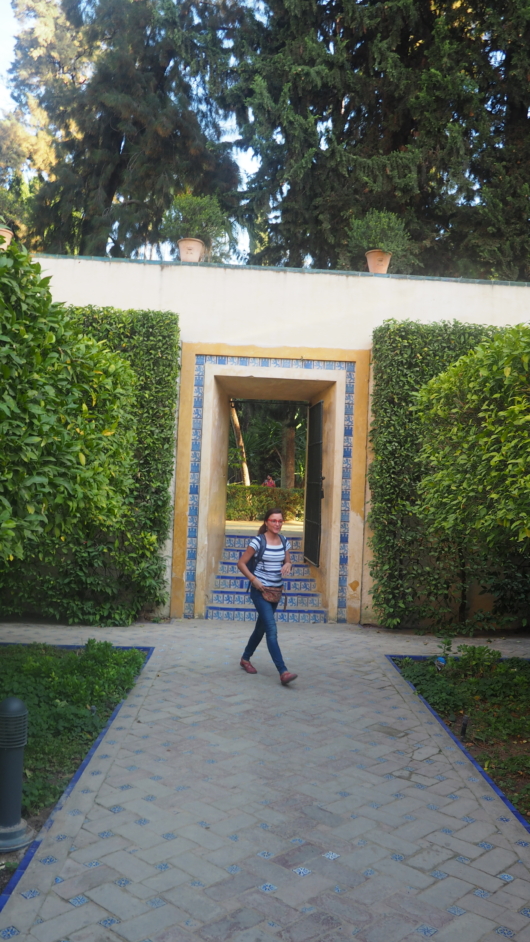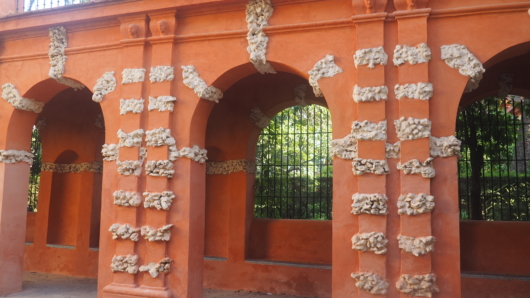 I love how each "area" of the palace had their own unique pattern, but at the same time it somehow all links up with one another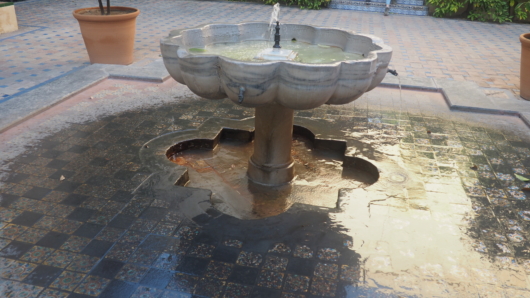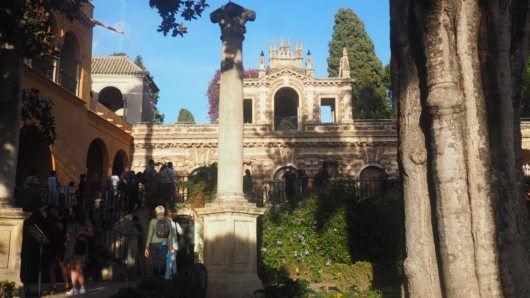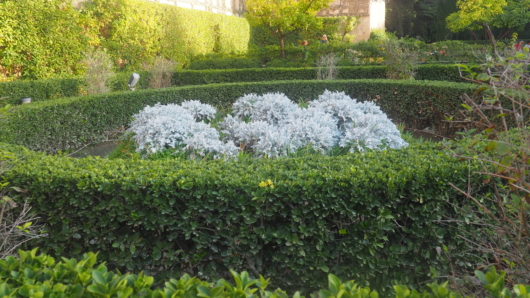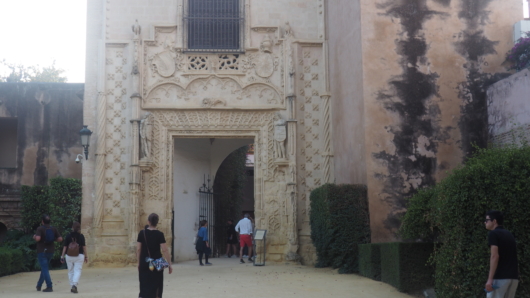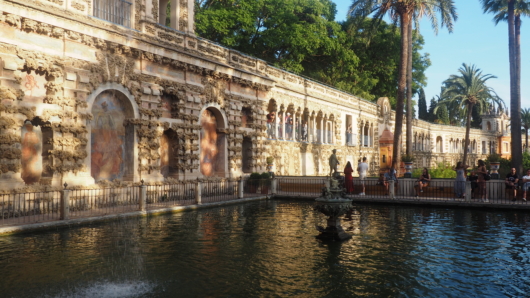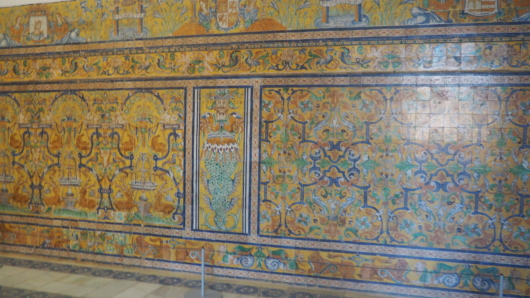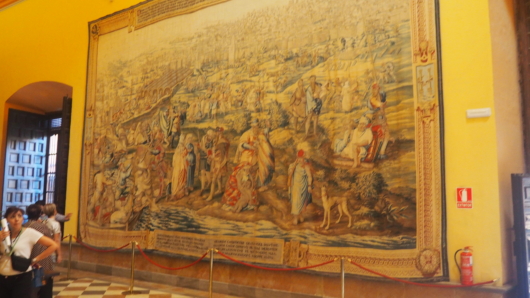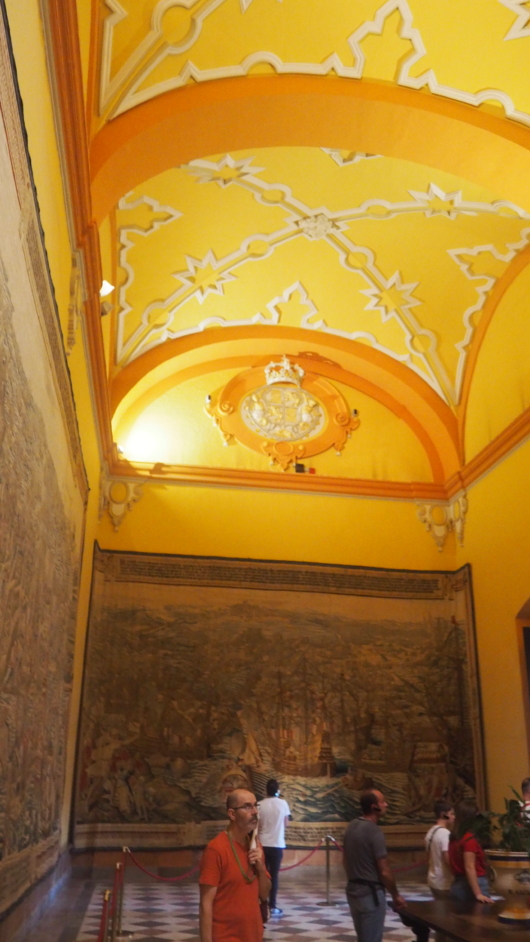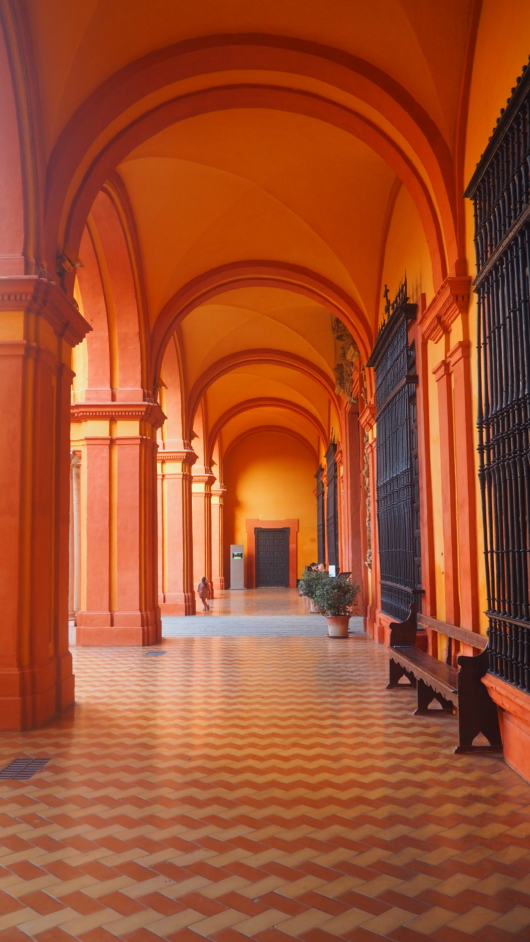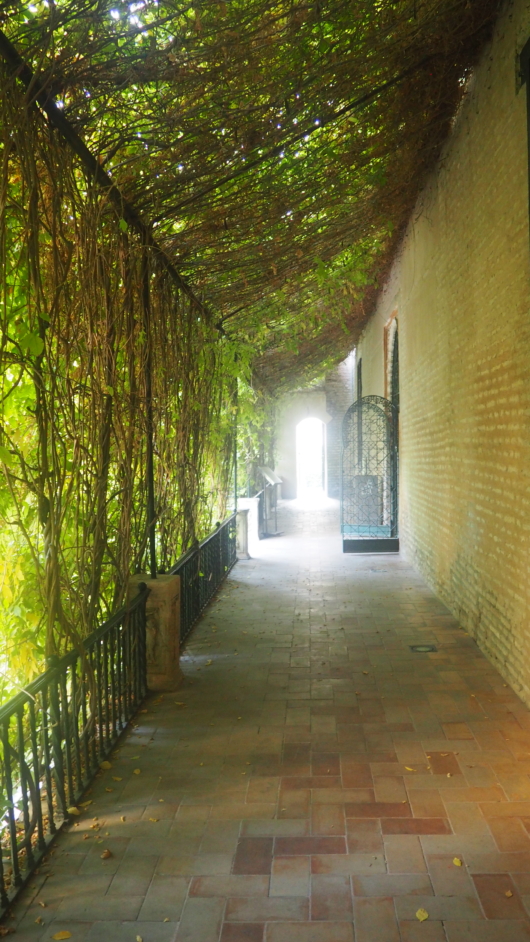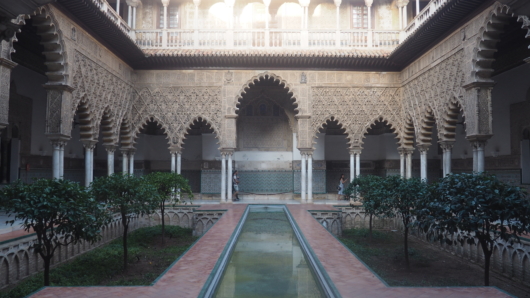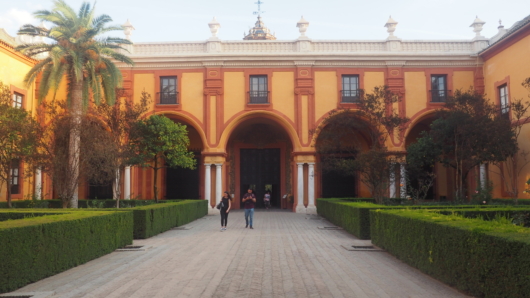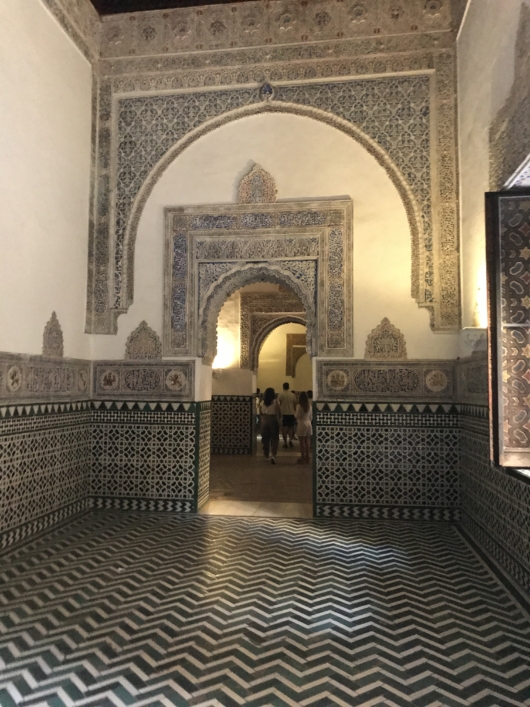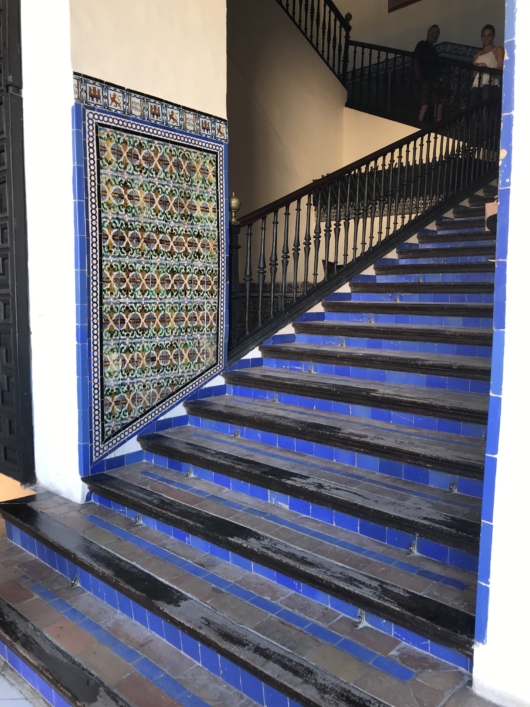 Santa Cruz and Plaza de España
After visiting the Royal Alcazar of Seville, it was about a 10-15 minutes walk to Plaza de España.  Unfortunately!  The place was closed due to some preparation for some music event or something like that.  Forgot to mention, that during the weekend I was there, the MTV Europe Music Awards was hosted in Seville.  Instead, I could only take photos going to Plaza de España and also the Santa Cruz neighborhood, which was the most "touristy" part of Seville where prices are supposedly more expensive compared to other areas.  My airbnb host told me that besides Santa Cruz where they charge touristy prices, everywhere else would be normal.
By the way, Plaza de España is a plaza that's in Parque de Maria Luisa.
Santa Cruz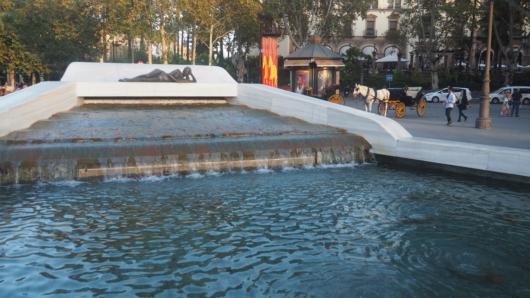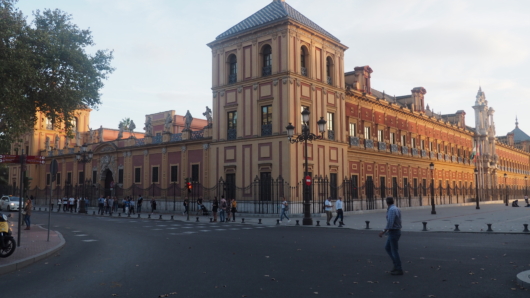 University of Seville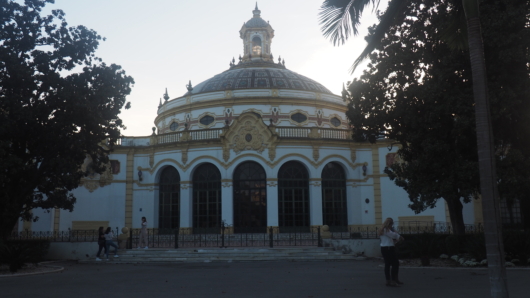 Near Plaza de España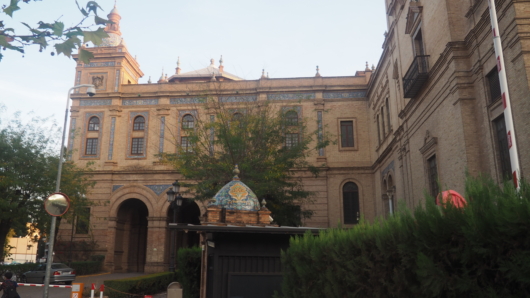 Seville Cathedral (website)
The Seville Cathedral is incredibly breathtaking and you will not mistake it due to its incredible size and beautiful exterior design.  It's by far one of the best looking cathedrals out there.  Unfortunately due to time constraints and again due to a long line, I wasn't able to go inside (plus I have had enough of churches and cathedrals in Madrid and Barcelona already).  But here are a few photos for you to enjoy the magnificence of it; and I highly urge you to go inside if you can!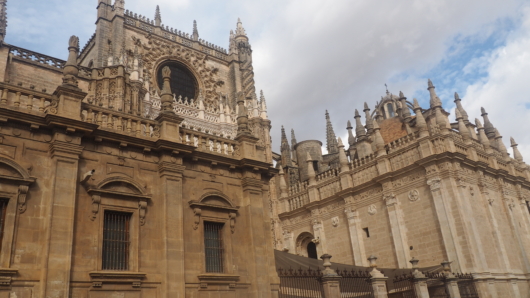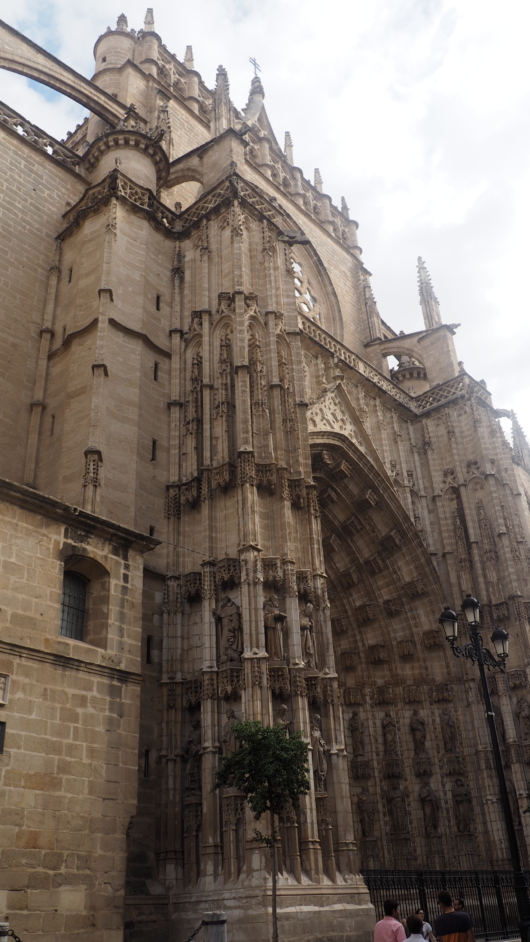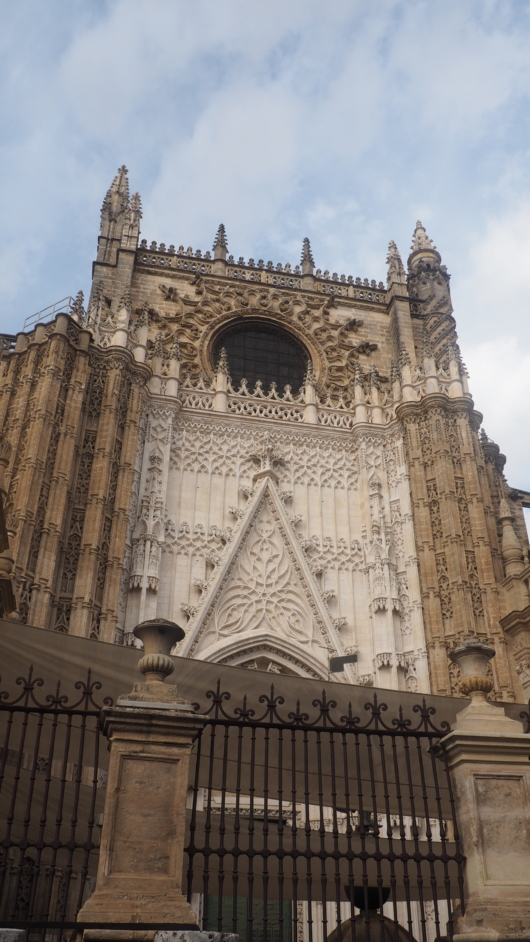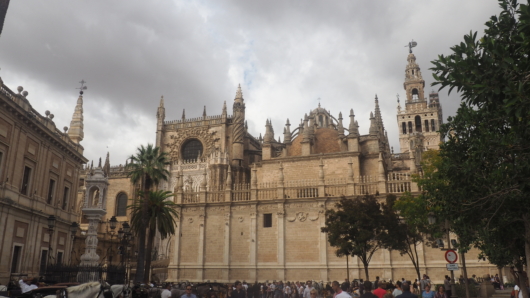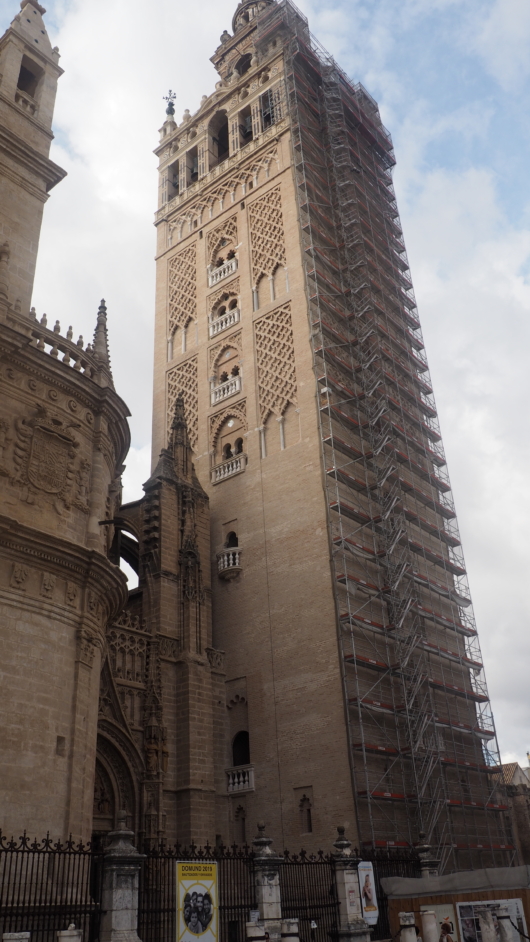 La Giralda, the bell tower of Seville Cathedral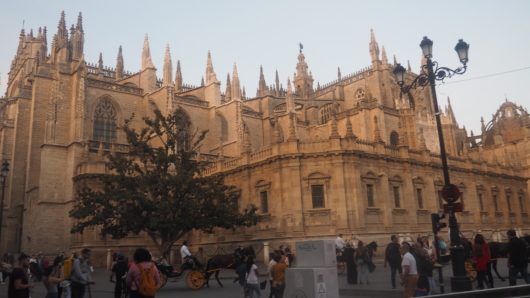 Mercado de Triana
This author wrote it best, so here goes – "Teeming with a gypsy spirit, plenty of flamenco flair, and some of the best tapas in the city, Triana is well worth your time. Here's how to make the most of your visit to the emblematic barrio across the river."  You can visit this author's site at Spanish Sabores.  Basically it's a neighborhood with many small local shops, bars, and shops.
My home was literally minutes away from Puente de Triana, the bridge connecting Seville to Triana.
Views from the Puente de Triana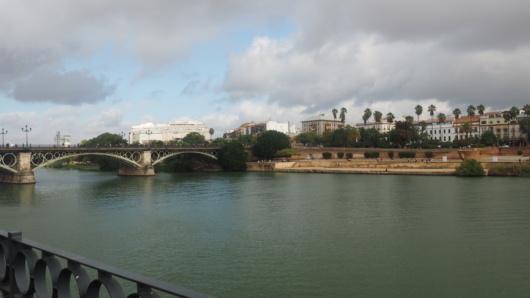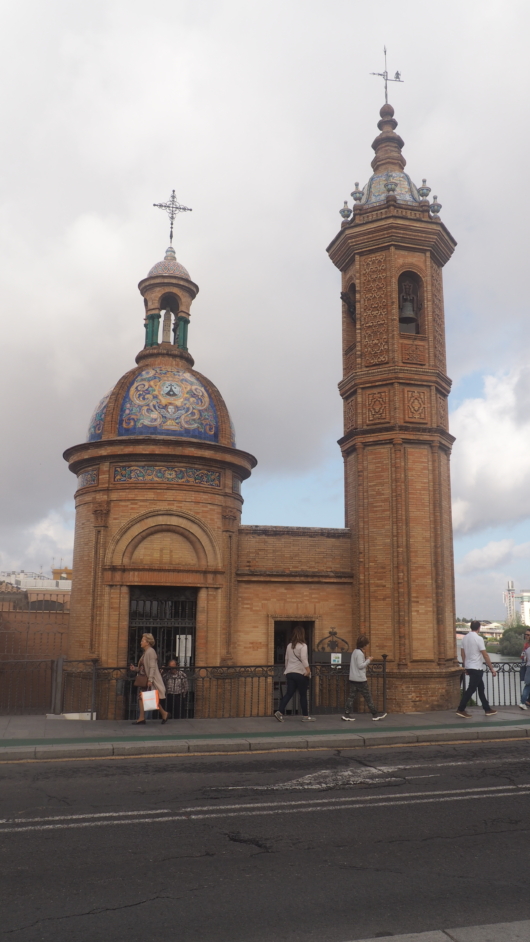 Capilla Virgen del Carmen
Unfortunately, Mercado de Triana, while listed as one of the things to do in Triana, really wasn't worth spending much time there.  It literally is just a wet market and food market, but there were no restaurants inside it.  I spent less than 5 minutes there and it already lost my interest and I was out.  If you don't have time, skip this.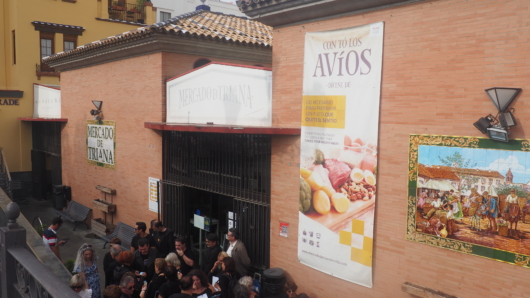 The entrance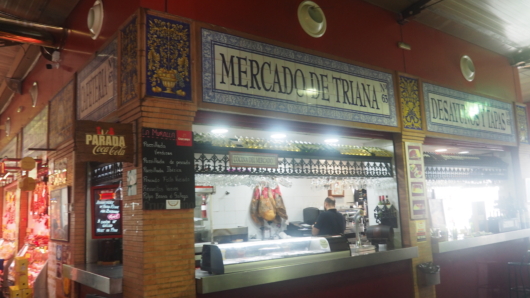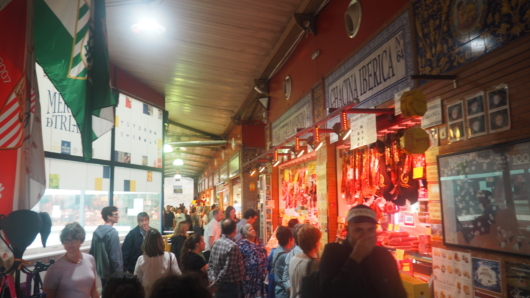 Some Iberica ham shops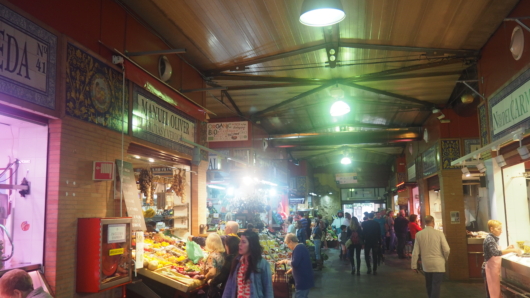 Other Things To Do
A place called Reales Atarazanas which was near Sevilla Cathedral, some boutique arts and crafts shops there
Restaurants and Places to Eat
Las Piletas
The first night I was there, I ate at a place called Las Piletas, which was around the corner of my airbnb.  I chose this place as Google Maps said this was an Andalusian restaurant, and I wanted proper Andalusian cuisine, so this seemed authentic and local enough.  I particularly liked the décor of the place, as it really resembled the Seville culture.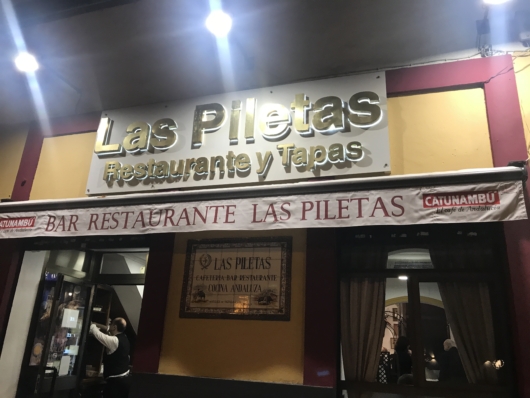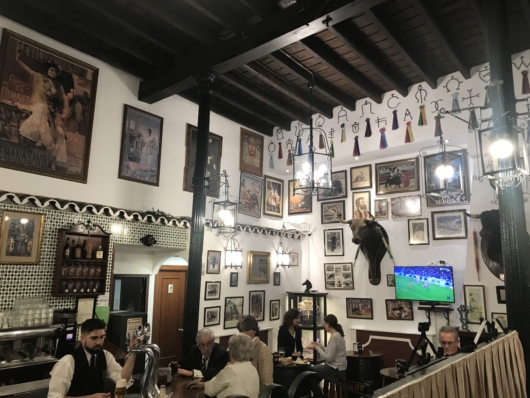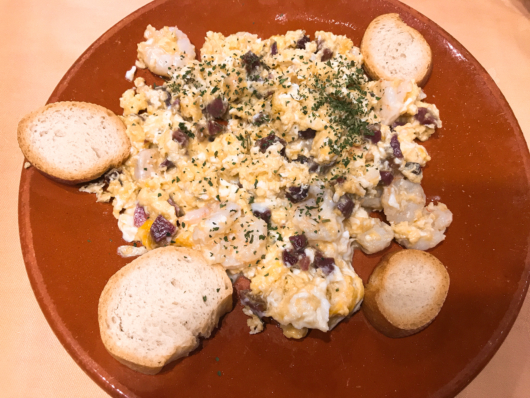 Iberican ham with scrambled eggs and shrimp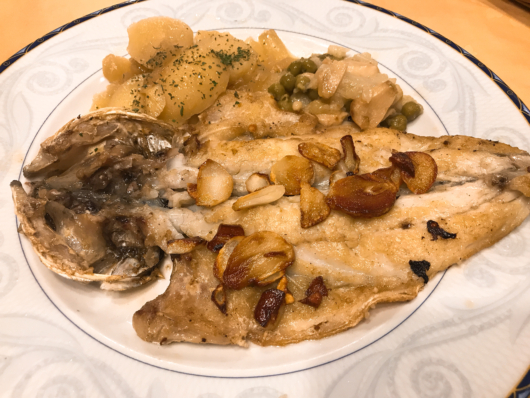 Some fish, not sea bass, perhaps sole but I don't clearly remember
In general the food there was good, but nothing spectacular nor was it terrible.
Amorino Gelato
Dying for some gelato?  There are Amorino shops laying around here and there around Seville.  It's the same shop that I particularly loved when I visited Nice.  The one I took a picture in was in Santa Cruz.
La Azotea (website)
La Azotea was recommended in the Michelin Guide 2020 and many reviews say it is one of the best tapa bars in town.  It's a little more upscale than most of the other tapa bars you might imagine, and it's sort of a twist of a "modern" tapa bar.  The restaurant was packed, and the atmosphere was well lit.  The food was decent, but again I wouldn't say it is one of the "must go back" to places… in fact if I come to Seville again, I'd probably skip this one.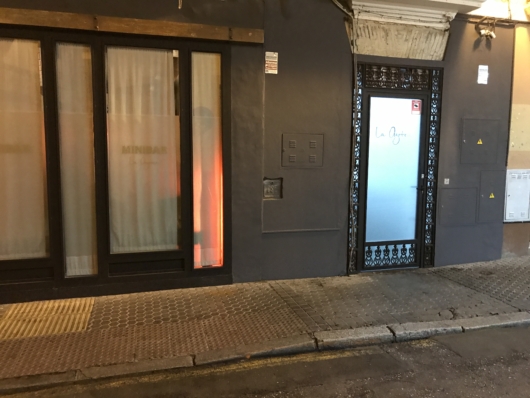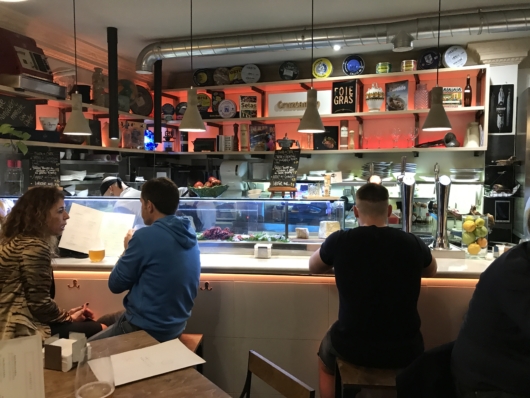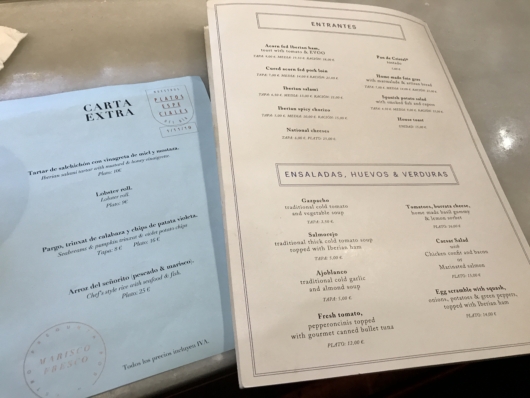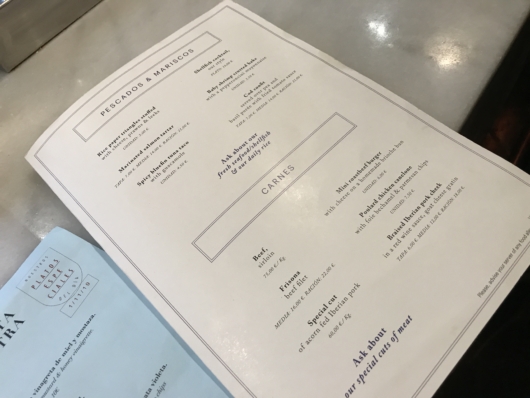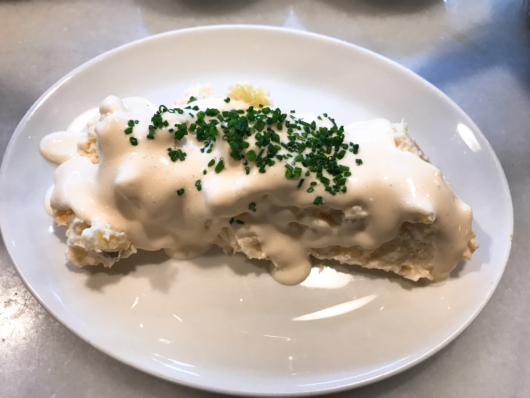 Spanish Potato Salad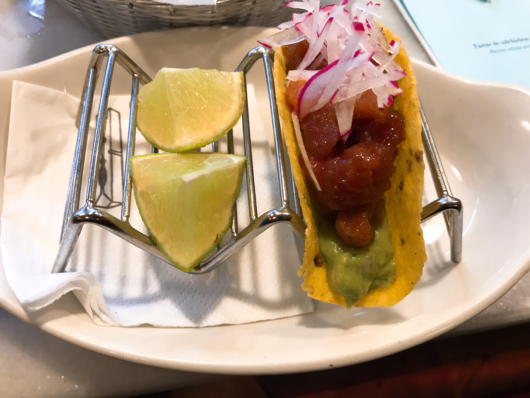 Tuna taco with guacamole
Salmorejo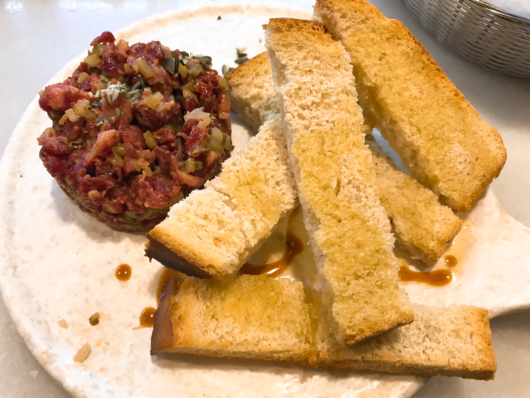 Iberian ham tartar.  I didn't finish it because once again… it was SOO salty!!  Also I was pretty full again, but it was more because it was too salty and chewy, so I didn't really enjoy it.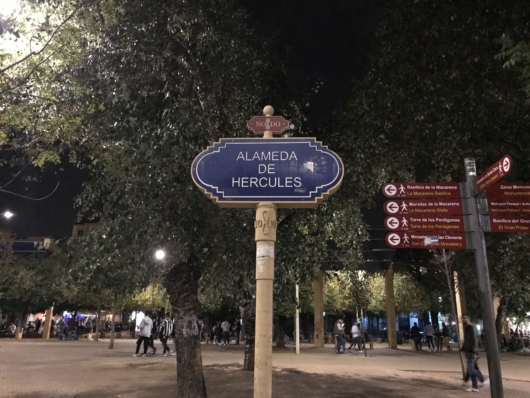 Forgot to mention that this restaurant was located in Alameda De Hercules, where once used to be a sketchy place, but more and more hippy and trendy restaurants and bars have been opening there, so the area is quite "popping" now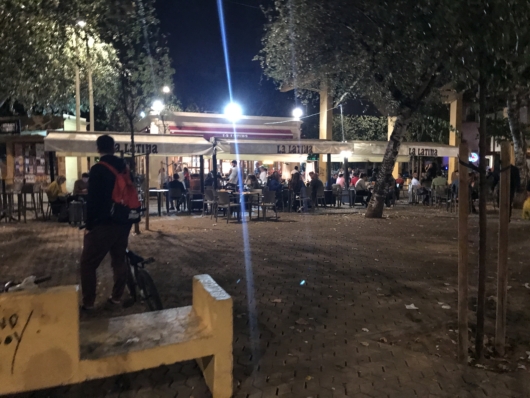 Another look at Alameda De Hercules
La Chunga Tapas
This tapa bar was located nearby my airbnb place.  Since I had some spare time from the moment I was at the tapa bar to my bus to Faro, and I had to carry lots of luggages with me during that time, and passing by it seemed to attract a lot of diners, I decided to give this a go.  After dining here, I felt this place was pretty good, but again nothing mindblowing.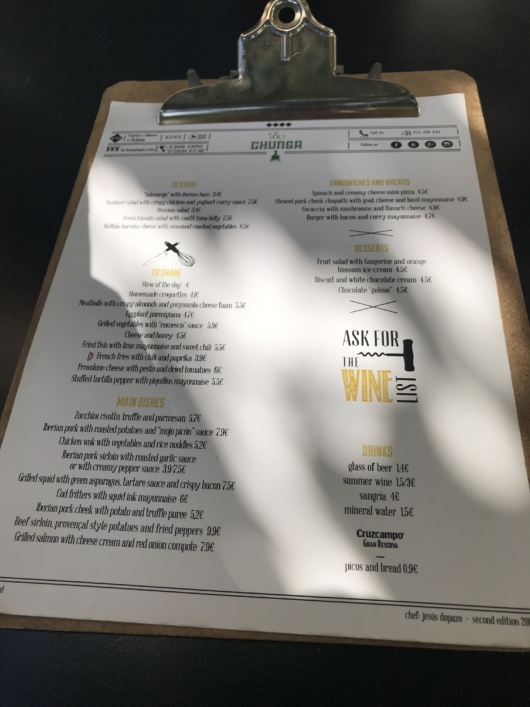 Their menu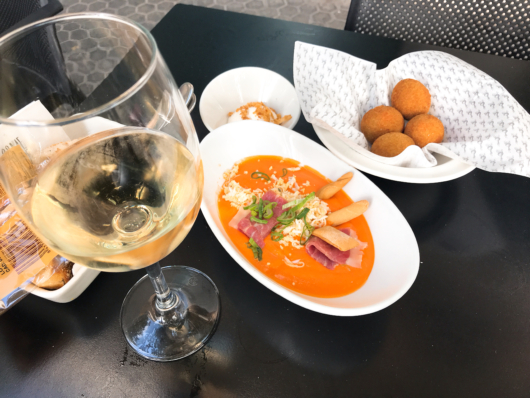 As you can see from this blog post and my other blog posts, I love ordering the cold soup or cold purées; usually I can only order hot soup but I like cold soup too!  I think the top right are Iberian ham cheese balls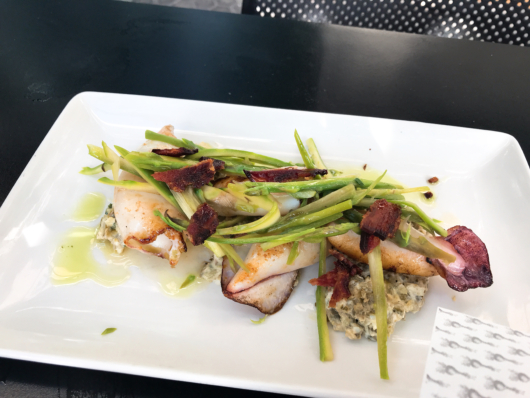 Octopus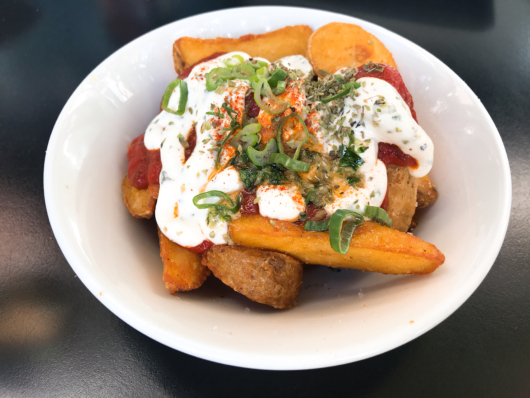 Special fries, they were OK
Casa Morales
Ah, this place was recommended a few times by many other blogs and review sites during my research on places to eat.  Perhaps this place was also close proximity to Sevilla Cathedral and hence the popularity.  Again this is another tapas bar, but this one really has a lot of bustling vibe and a lot of hecticness.  Also, just note that even if you order, it may take up to 20 minutes before your dish arrives just because of how busy the place is.  I also love the server I had, as I felt he really portrayed an incredible character.  Bald head, big dark eyes, slender but strong, he looked like he could totally play a villain in a movie, but he was a really nice guy.  In fact, the way he acted was quite animated and in your face.  This whole restaurant had character.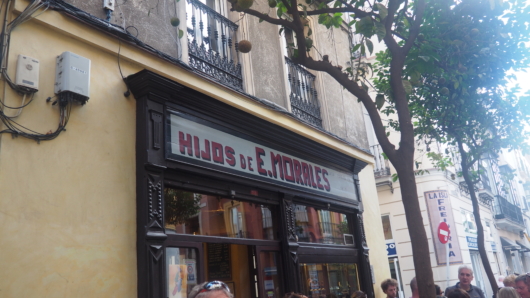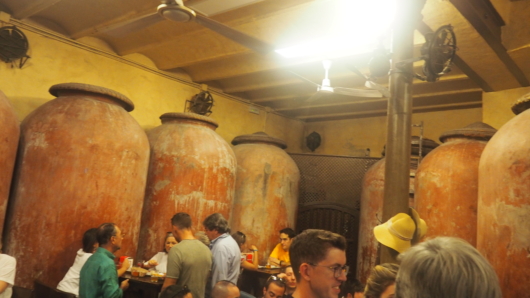 They are quite prominent for having these massive jugs
Tapa dishes like meatballs, blue cheese with fish (gross), and it's funny in Seville they always serve the biscuits and utensils in this bread biscuit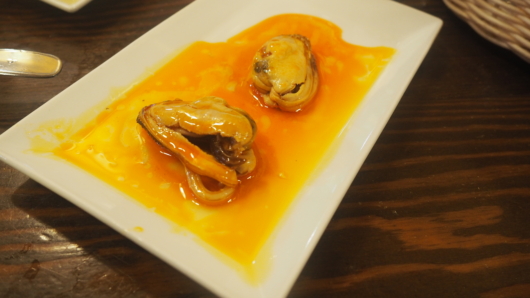 Mussels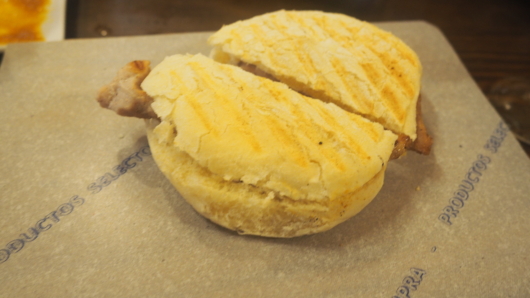 Pork sandwich I think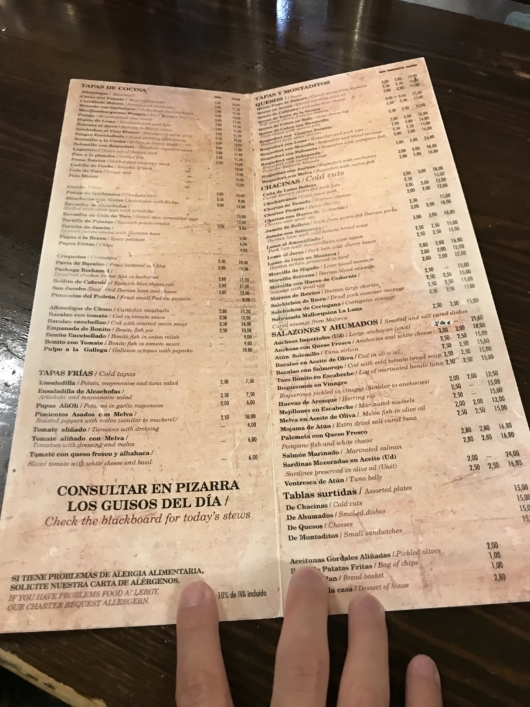 Some restaurant I took a photo of but didn't dine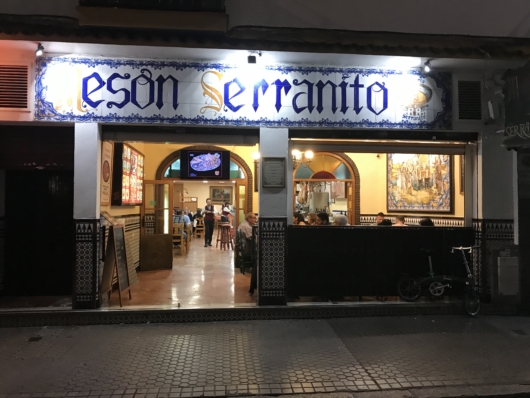 Nightlife
Hops & Dreams
Hops and Dreams is a popular craft beer bar located in Alameda de Hercules.  It is quite north from Seville.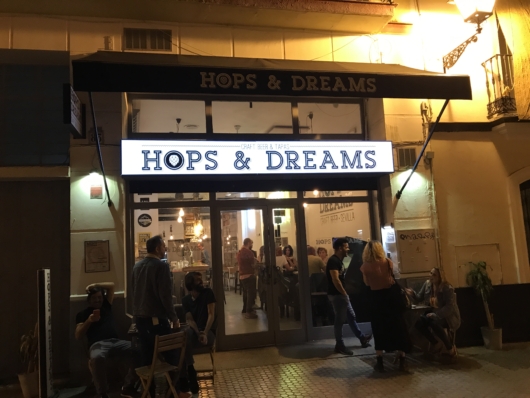 Uthopia
A nightclub in Seville, this was notably the most popular nightclub in Seville especially for expats.  A friend recommended me to go here, so there I was.  Initially, I wanted to go to Terraza Alfonso, but apparently that place only opens during the summer.
Uthopia was fun, as they played a lot of Spanish bump and grind music all night long, and the drinks were decent.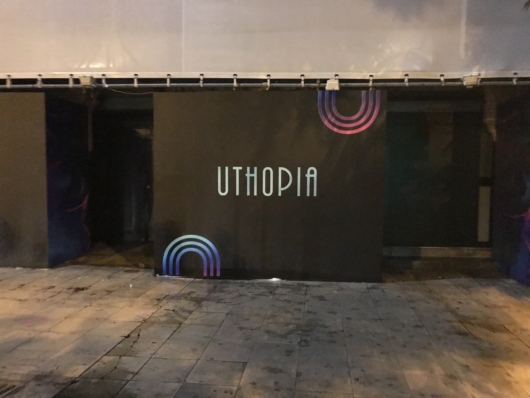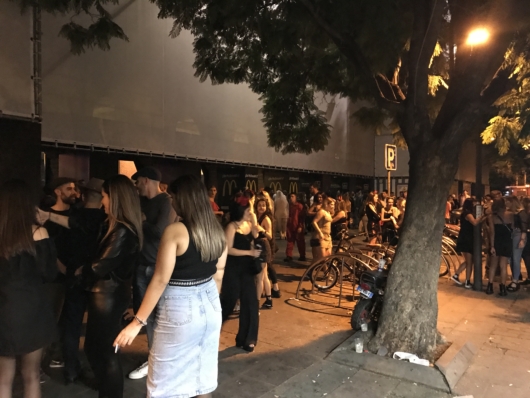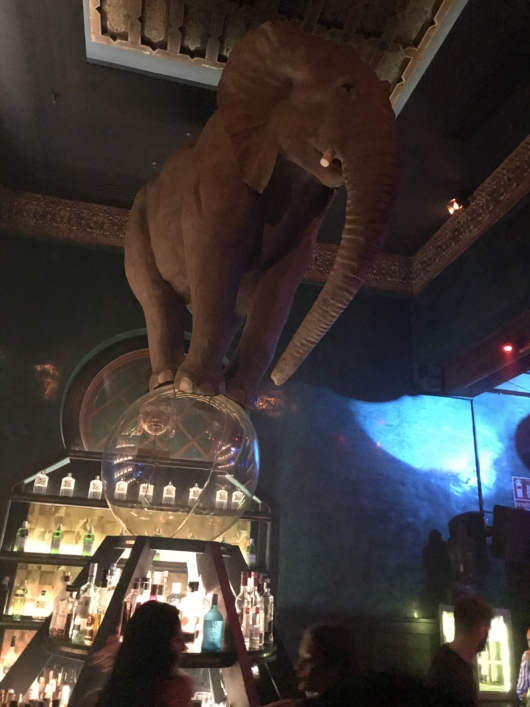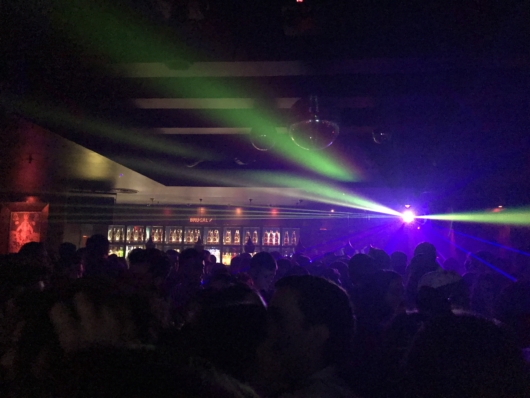 Long Island Bar
Located in the Triana neighborhood, this place was perfect for pre gaming until like midnight, and there were a lot of expats in this bar too.  The main reason?  Beers were only €1 each!!!  Soooo cheap… I was even telling my friend that in Hong Kong, the beers could be as expensive as HKD 90, so like 10 times more than what I was paying for in this bar!  Needless to say, I got a little tipsy right here.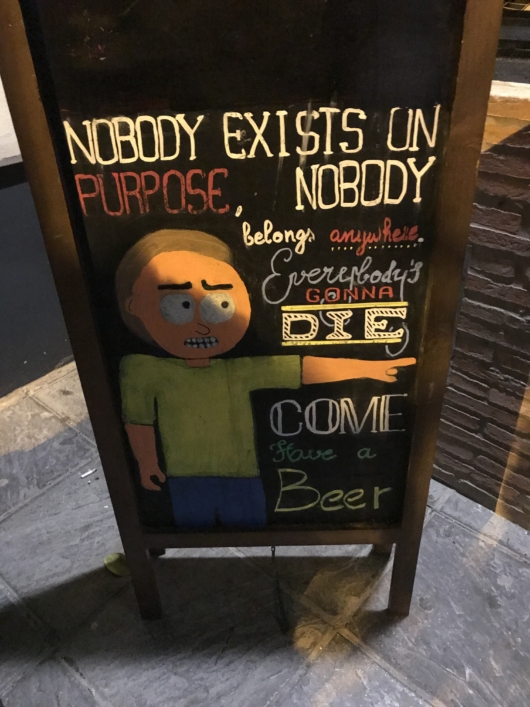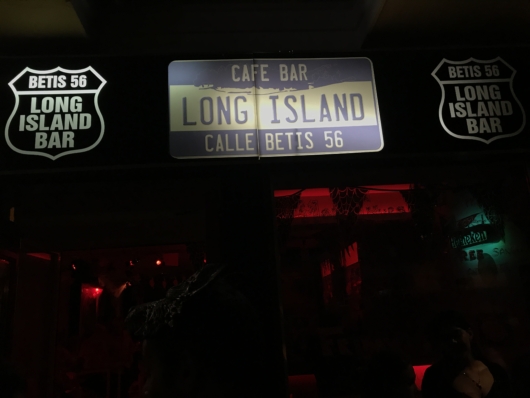 I only brought my iphone for photo taking so it was a bit difficult to take photos at night
Conclusion
Seville's probably one of my favorite places to visit in this recent trip!  I love the prominence of bullfighting, flamenco, and the colors of red, white and black everywhere.  I love how it reminded me of Nice in Santa Cruz, and I especially love Real Alcazar, such a beautiful and amazing palace, it's a must visit!  Although the food wasn't outstanding, I felt that the food in general was pretty good and I don't have any complaints about it.  Would love to come here and visit again!  Also, apparently, Málaga is supposedly really fun too, which is about 1-2 hours away from Seville, so I would love to go there as well.
Seville at night
Other Things I Wrote Down That I Didn't Do
Things to do
AREA A
General Archive of the Indies

Flamenco*: Tablao El Arenal (near Cathedral); La Carboneria

Barrio Santa Cruz (Barrio de la Cruz) – Stop for the killer tortillita de camarones (shrimp omelette)

Banos Arabe – Aire de Sevilla (ancient baths)
AREA B
Archaeological Museum

Museum of Popular Arts and Tradition
AREA C
Flamenco: T de Triana

Museo del Castillo De San Jorge

Flamenco: Lola de los Reyes

Right bank of the Guadalquivir
AREA D
(optional, more north) Las Setas De Sevilla – good for sunsets

another Flamenco option is Casa de la Memoria

Casa de Pilatos

Museo de Bellas Artes

Alameda (hip, alternative neighborhood) – stroll along the Alameda de Hercules, a peek at the art in the Convento Santa Clara, coffee at an offbeat café such as Gigante (also great for cocktails), then a spot of vintage shopping (Buhoneras is a treasure trove of funky finds).

El Viajero Sedentario – boho book cafe

Future reference: Andalusia (small town requires driving); Granada, Alhambra
Eating / Restaurants
Dishes: Albóndigas de choco y gambas; Berenjenas rellenas; Rabo de toro or the Costillas al miel; fresh fish tapas (de pescaito)
AREA A
Mamarracha

Lobo Lopez

Zelai

Seis

El Pasaje

Freiduria La Isla
AREA B
Freiduría Puerta de la Carne

Ispal*

Restaurante Oriza* (expensive) (3.9 stars on Google maps)
AREA C
Alfareria 21

La Brunilda (need to go right when it opens)

Castizo

La Cata Ciega

Bodeguita Antonio Romero Origen

Abades Triana* (nice view, but expensive)

Bodeguita Romero – The standout dish at this tiny, locally run bar has to be the montadito de pringá. This small sandwich filled with delicious tender pork chunks and black pudding is one of our favorite pork sandwiches in Seville

Taberna del Alabardero (expensive)

Blanca Paloma – unpretentious, untouristy – tapas only available at bar
AREA D
El Rinconillo (one of the oldest bars)

Canabota – seafood

Al Aljibe

Az-Zait* (and expensive)

Antigua Abacería de San Lorenzo

Bar-Restaurante Eslava***

Fargo

Bar Europa

Bar El Comercio (cheap)

Creeme

Bolas

Freskura (ice cream)
Undefined / Out of Place
Bar La Bodega

La Taberna de Panduro Baños*

Abantal – michelin* (and expensive)

Becerrita

Mediterraneo

Sahumo
Nightlife
AREA A
Terraza del Hotel Dona Maria (Rooftop Bar)

Terraza Eme (Rooftop Bar)

EME Catedral Terraza (rooftop bar)
AREA B
Paseo de las Delicias; Libano, Bilindo

Alfonso Terrace
AREA C
Premier El Zielo de Triana at Zenit Hotel

Paseo de Cristóbal Colón: MKC; Boga

Calle Betis
AREA D
Corner House (rooftop bar)

Naima Cafe Jazz

Fun Club