We have had more than enough time to cover all the major tourist spots in Barcelona, so we decided why not visit some of the nearby towns in Barcelona to get a sense of a different experience?
The first and most obvious choice was Valencia, but not only have I already been there, we only had one day and we had to be back in Barcelona by the evening, so it was too far for a one day trip.  There's of course Figueres, where it is most famous for having Teatre-Museu Gala Salvador Dalí, a large museum designed by Dalí himself, but we wanted to visit a town rather than just a museum; we've seen way too many museums by this time (even though I personally really like Dalí a lot).  There was also Sitges, famous for its seafront promenade, but again I have already been there and there wasn't much to do anyway besides enjoying the bright happy promenade.
So, we settled on Girona.  It was a small town located a little more than 30 minutes of train ride from Barcelona Sants, plus it's most notable for being one of the filming locations for the hit TV show Game Of Thrones, where they filmed Braavos, Oldtown, and King's Landing for Season 6 (source: barcelonayellow.com)
Besides the image of the Girona Cathedral, I had no idea what Girona would look like, and in fact I'd imagine it to be a little more run down and old similar to Tarragona.  But when I'd got there, it actually reminded me more of Lancaster of Pennsylvania, a small charming town that's clean with a laid back atmosphere, filled with smaller upscale boutique stores.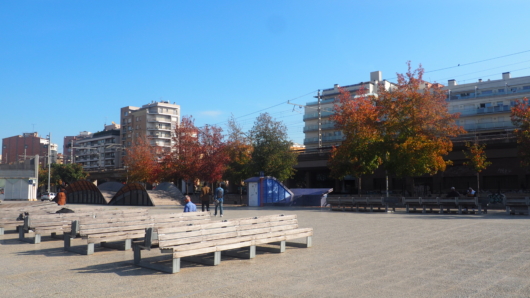 Right outside the Girona station, the trees look magnificent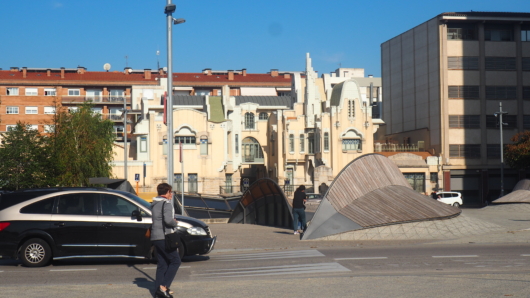 Shops
So there are a couple of European boutique stores sprawling across the town along your way from the Girona station to the Cathedral of Girona, a lot of brands which I did not notice in Barcelona, possibly because Barcelona was bombarded with the usual big brand stores.
So it was very interesting to see some of these unique shops here, and it really caught my attention and intrigued me.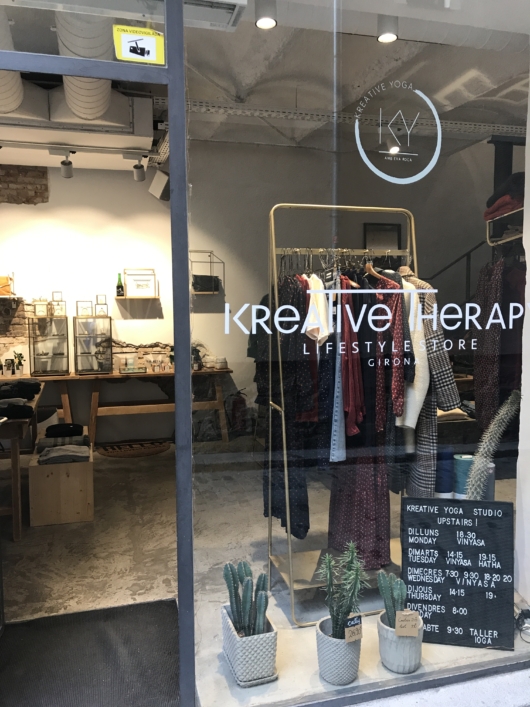 A lifestyle store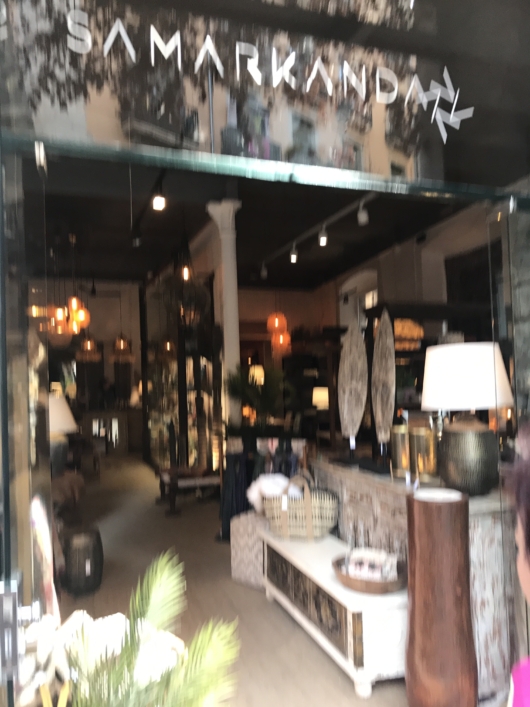 Samarkanda, apologies for the quality of the photo – upscale furniture shop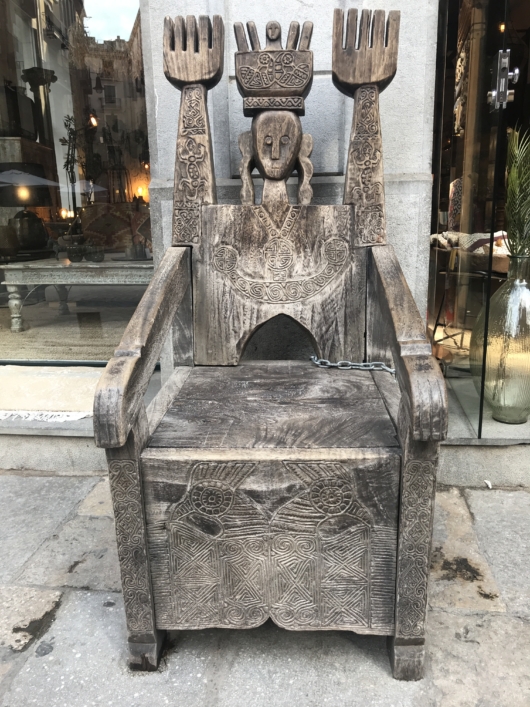 Outside Samarkanda was this wooden carved chair, representing what to expect inside the store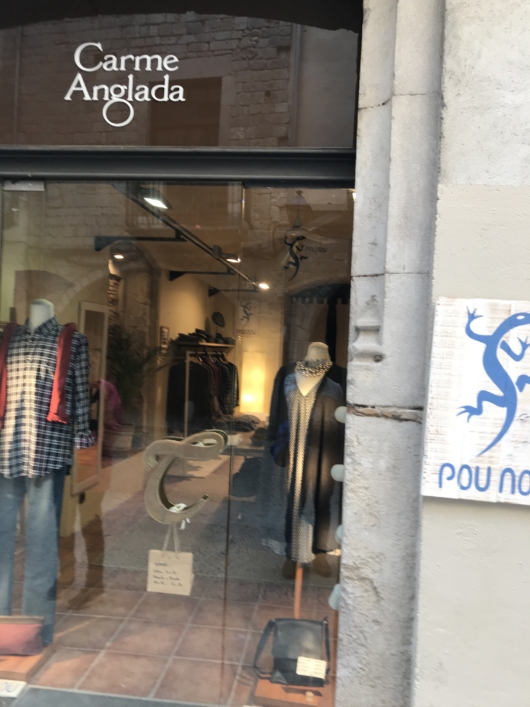 Carme Anglada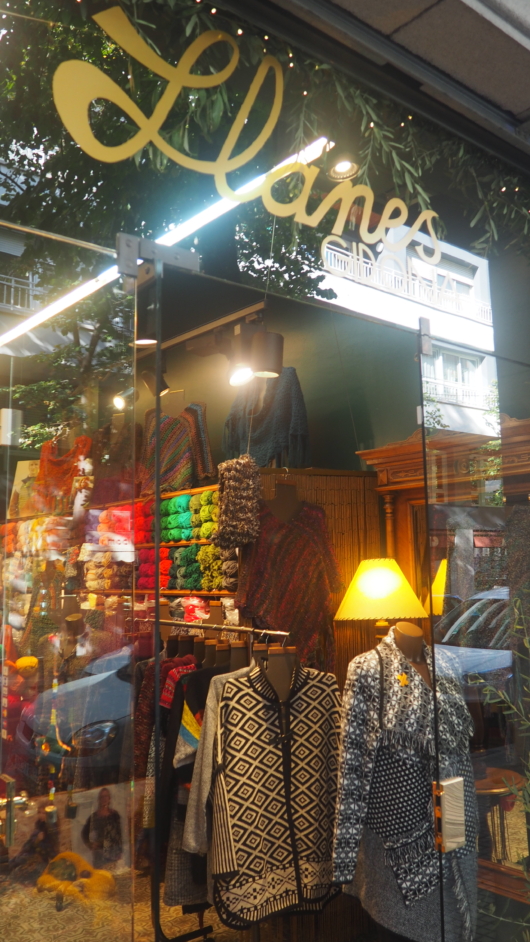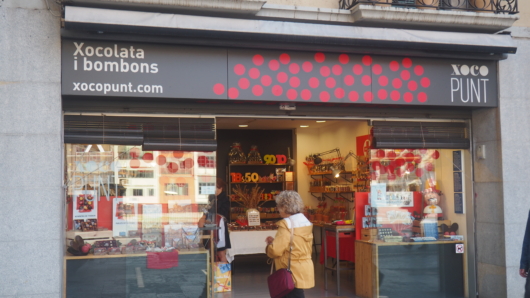 And a chocolate shop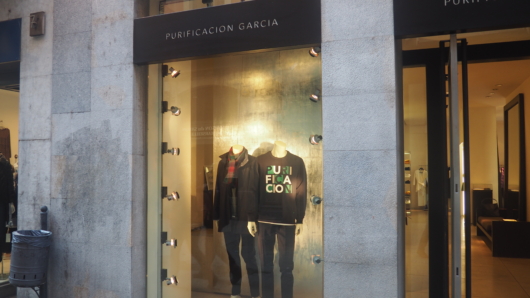 Purificacion Garcia
Cathedral of Girona
As mentioned, this cathedral was used as the backdrop for Game of Thrones in a couple of ways, most notable were as the steps for the Great Sept of Baylor.  We didn't get to go inside, but you can understand why GoT decided to film here once you are at the top of the stairs; there is a grandiose and magnificent feeling when standing there.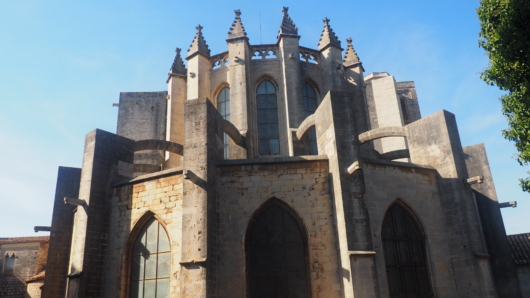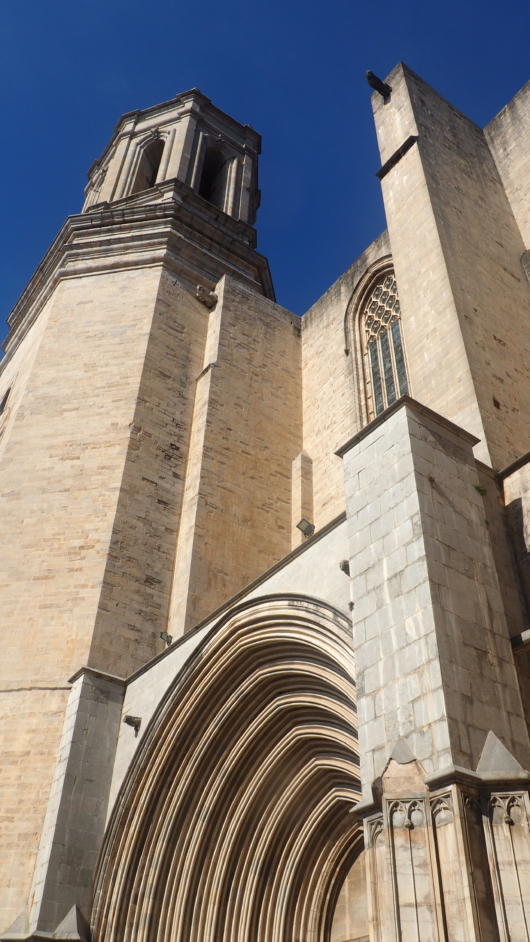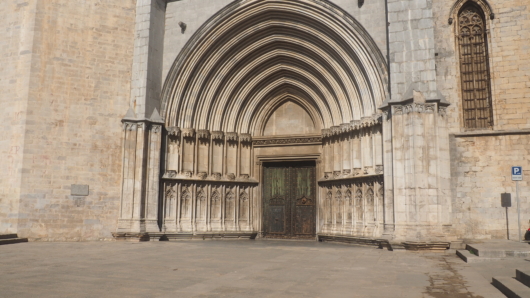 The door was closed; forbidden
From an angle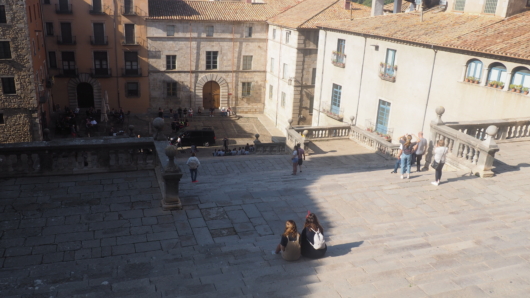 The steps of the Cathedral
Basílica de Sant Feliu
Girona's first cathedral, it is quite prominent as its slender and tall figure lends itself as a good indicator that you're headed to the right direction.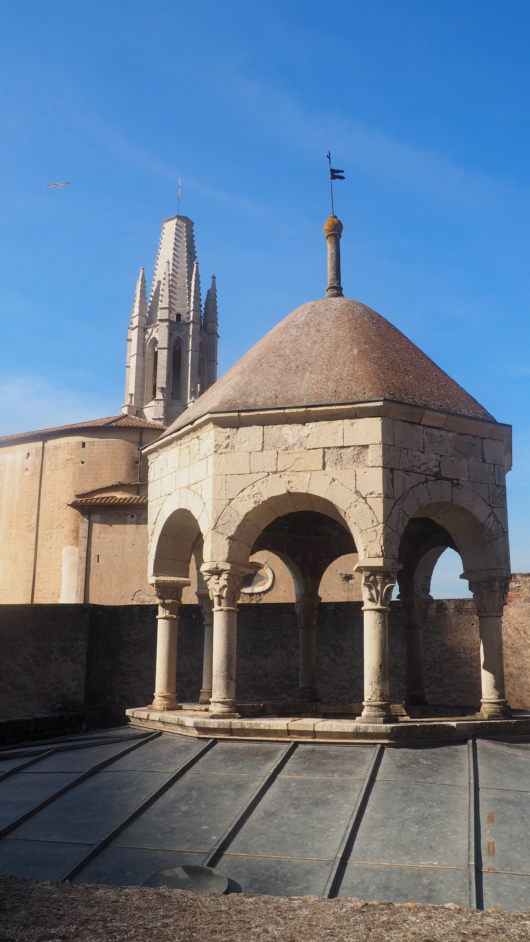 And a little bit closer, the figure behind
Sant Pere de Galligants
We went inside as it housed the Archaeology Museum of Catalonia.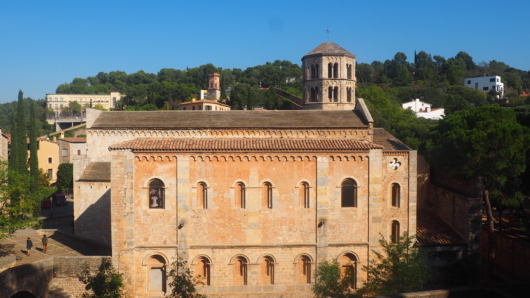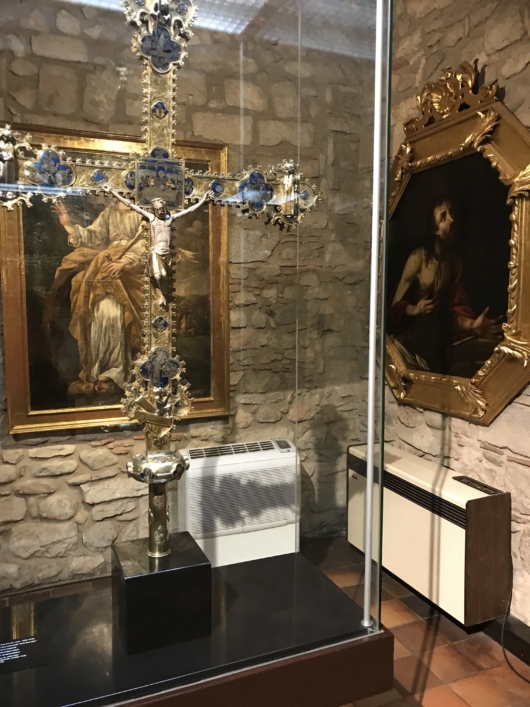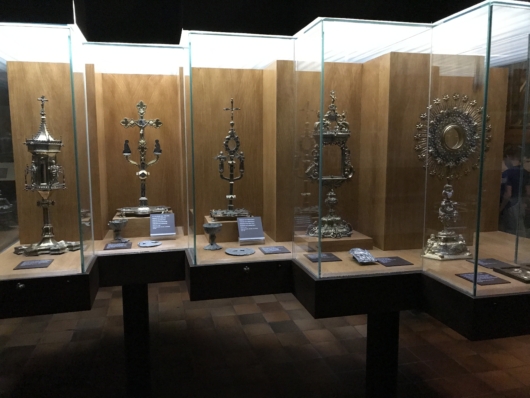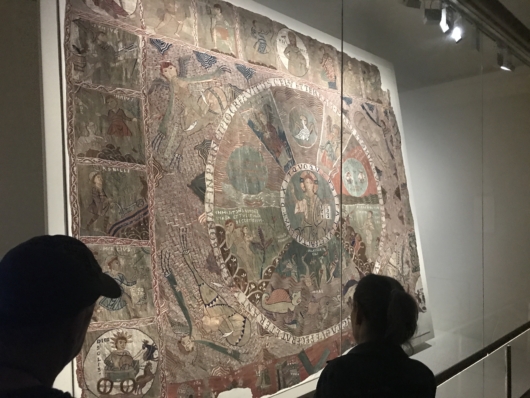 Many people were observing this carpet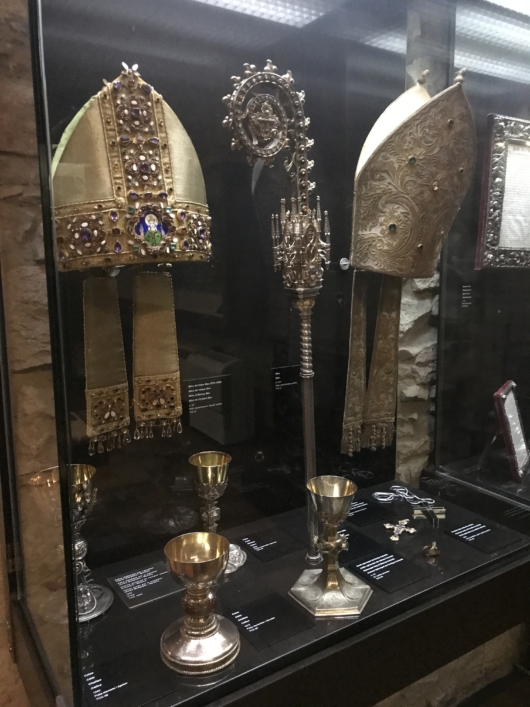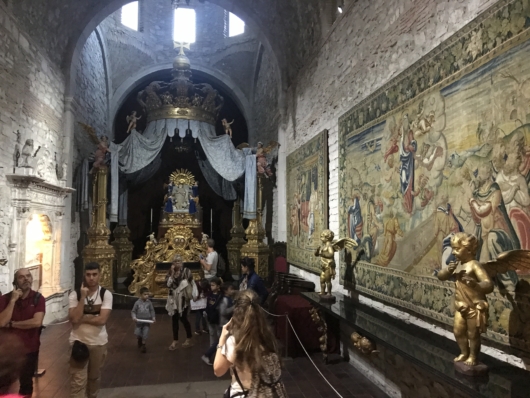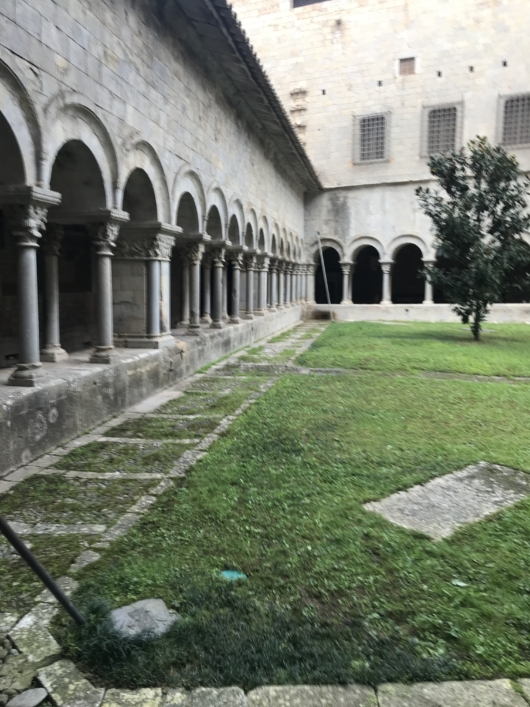 Banys Àrabs (website)
Or in English, known as the Arab Baths.  It's a great place to take photos, especially when the sunlight is seeping into the rooms, providing enough light but not too harsh for some great effects.
From the actual flyer itself, "Users of the baths would do a tour of the four rooms, each of them with a different function.  The locker room or apodyterium is the most characteristic room of the whole set of baths.  The central floor and the small octagonal pool surrounded by columns topped with large-sized capitals and a lantern with a dome are particularly noteworthy.  The capitals are abound with a nature and animal themed design related to the allegories of the Garden of Eden and zoomorphic icons of Christian symbology.  The cold room or frigidarium was the first area on the visit and meant the start of the bath's wet area.  It was accessed by double doors with two swings that closed due to the force of gravity and turned the room into a practically watertight area, meaning that its temperature remained low.  In the warm room or tepidarium, users would recover from the intense cold of the frigidarium in it and would prepare themselves for the extreme heat of the caldarium, which was the next room.  The heat came from the oven via an underground source known as the hypocaust and it was distributed throughout the room using a glazed canal built into the wall.  This sytem also heated a shallow pool.  The caldarium was the warmest area in the whole set of baths and could exceed 40-50 degrees CElsius in temperature, with a large amount of steam."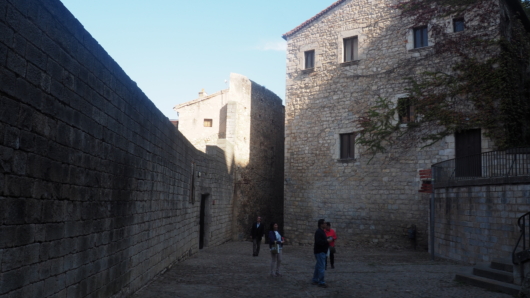 Towards the left, where you see a door opening, is where the entrance lies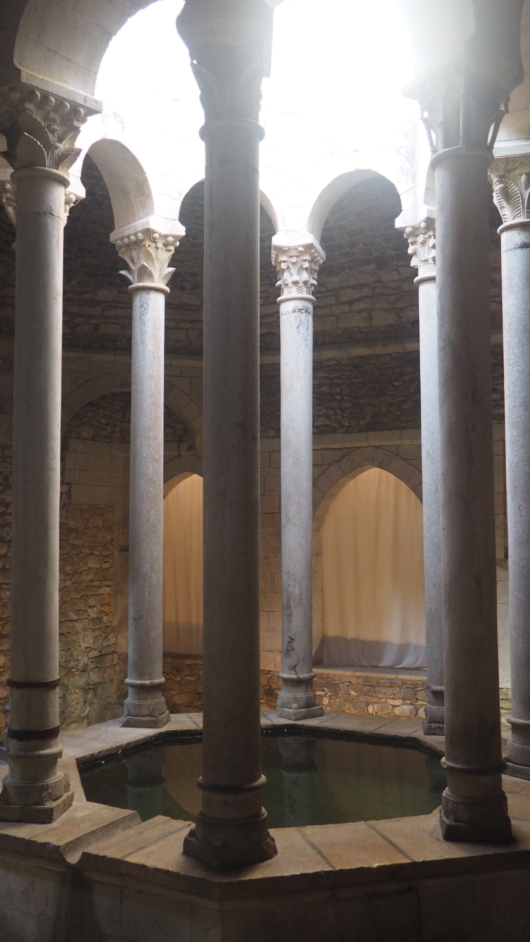 The pillars surrounding a hexagon of a bath, perfect for photo taking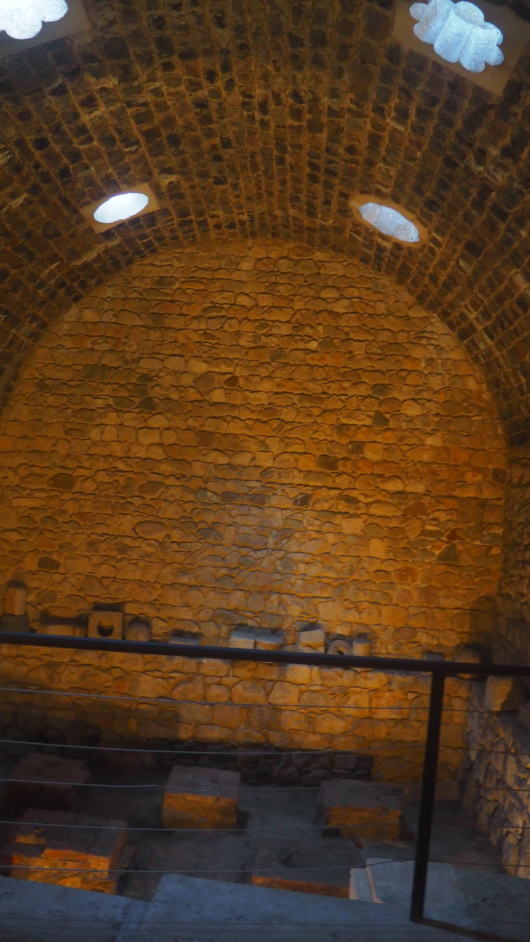 Sauna?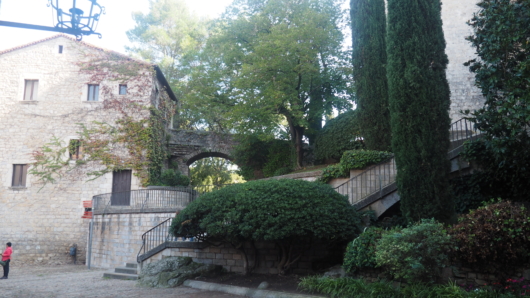 Right outside the Arab Baths are beautiful healthy green trees
Some Place Nearby Cathedral of Girona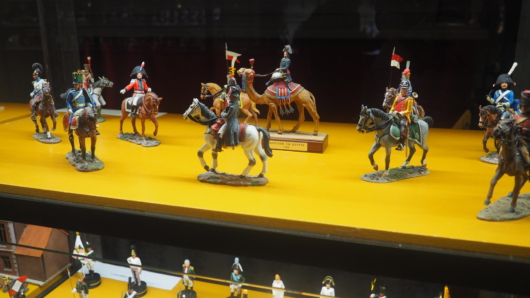 This place had a couple of small miniature figures, I forgot where it was but it was really nearby the Arab Baths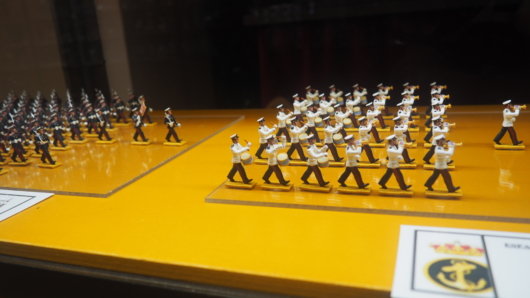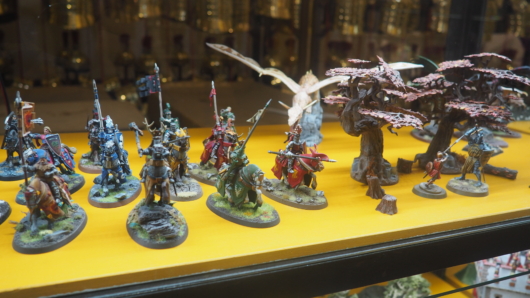 Eating
Nearby the Cathedral of Girona was an open air plaza bordered by many different restaurants, cafés and gelateria!  It's an amazing place to sit, relax, reminiscence, and enjoy your meal.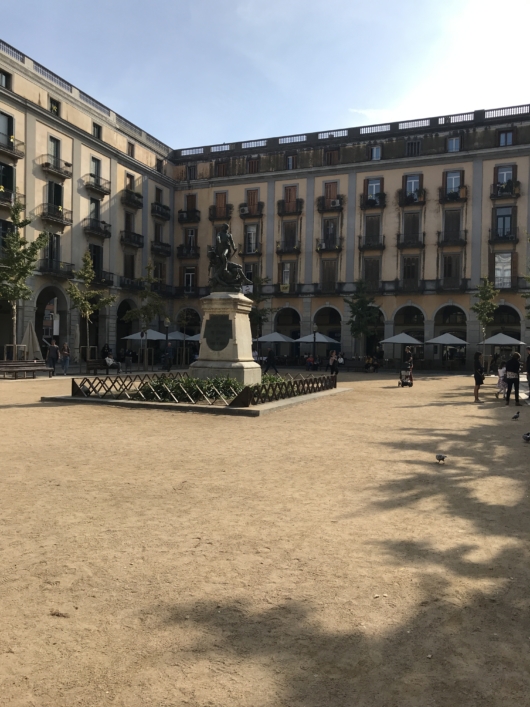 Plaça de la Independència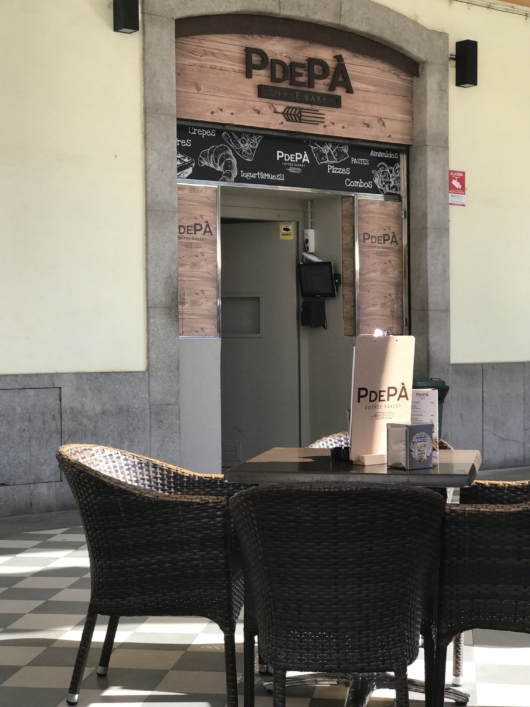 The restaurant we went to, PdePà
We actually ordered pizza but I didn't take a photo of that, but here's a beef carpaccio, yum!
La Bombonera, really good gelateria and also famous for crepes! (website)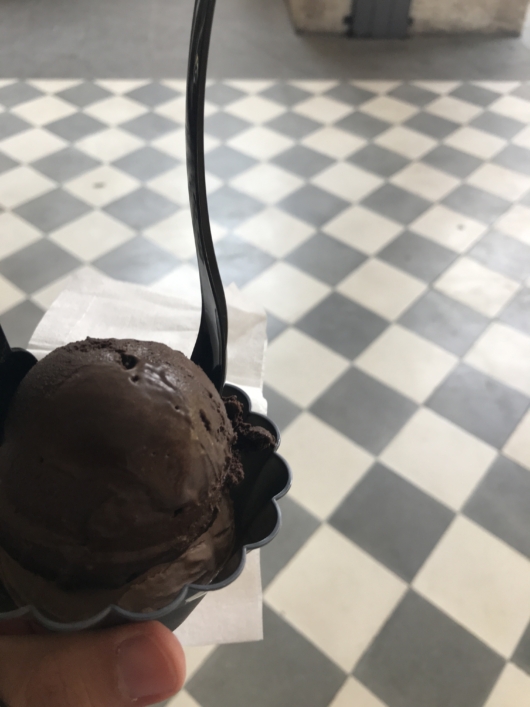 The chocolate ice cream was incredibly delicious!  I think I ordered an espresso ice cream underneath this scoop.
Walking Around and taking Photos
Girona is a beautiful small town to take photos in.  The sunlight just seeps into the town in a very natural way.  Here are a few places to walk about and a few places to use as your backdrop.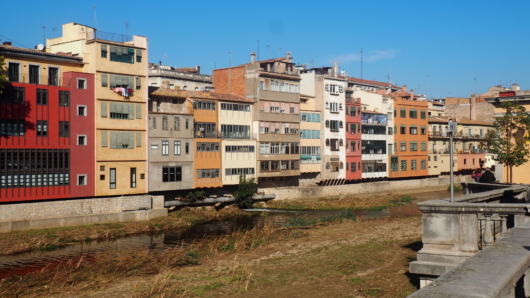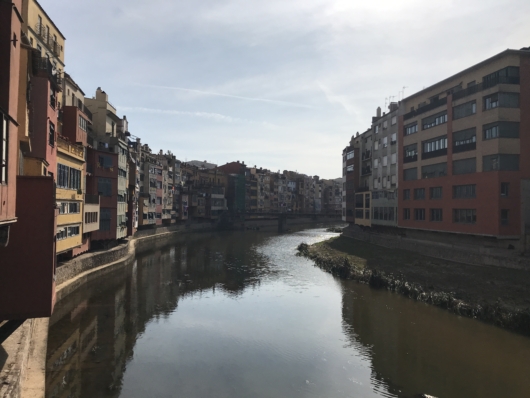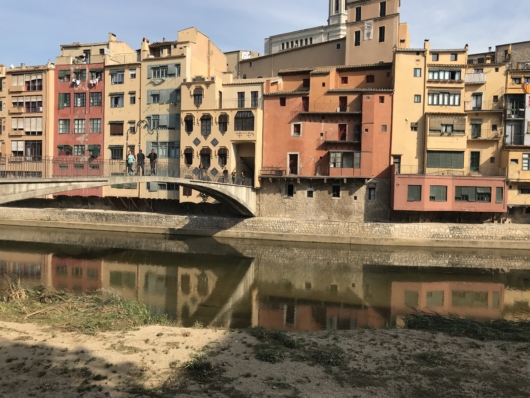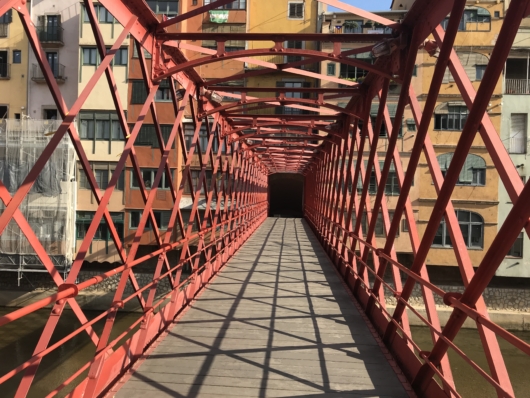 Pont de les Peixateries Velles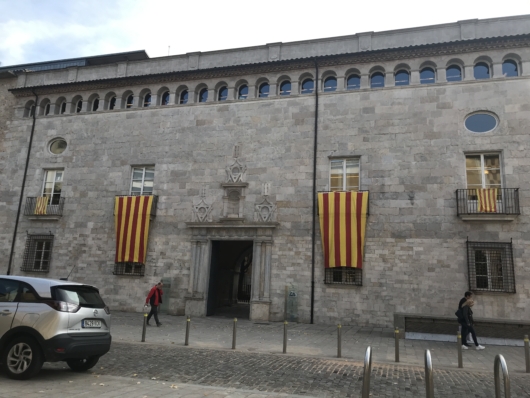 Forgot what this is…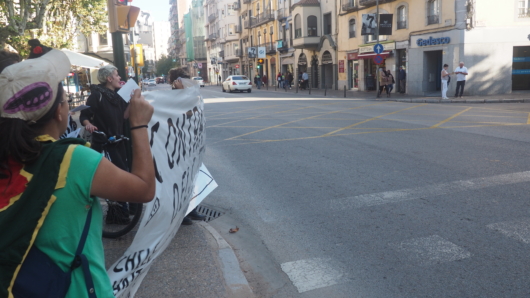 People were protesting; I am not sure what they are protesting about, but could be wanting Catalunya as a separate nation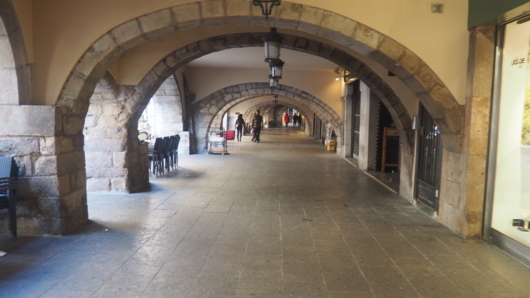 Arches
And that's it for Girona!
Last update: Feb. 18, 2020