In my previous post on Too Much Art and Walking in Madrid, I mentioned that since I felt that post was running a bit too long from my over display of photographs from museum art, I decided to separate the food portion of Madrid into a separate post, so here it is.  You can expect a shorter post.
But yes, just like most food in Spain, you can expect food in Madrid to be "saltier" than what you may be accustomed to.  For your information, just because a restaurant is packed may not necessarily mean it is fantastic – it may just mean that the décor and theme of the restaurant was intriguing, but you'll see what I mean in a bit.
I also separately covered DiverXo in xoxo DiverXO – A Restaurant Review, for those looking to find out more about the three star Michelin restaurant.
La Rollerie
There were a couple of these branch restaurants sprawling across Madrid.  This one was close by my hotel, Hotel Catalonia Plaza Mayor.  I did not dine here, but the setting looked elegant, so I took some quick photos.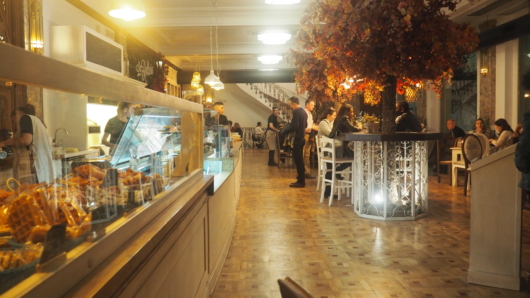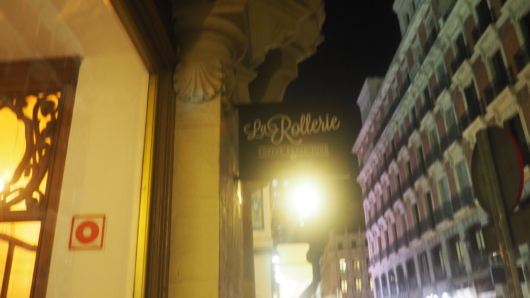 Museo del Jamón
There are a ton of these jamon shops everywhere in Madrid, but the one we happened to walk past was packed with heaps of people.  The shop is divided into two sections – one where you can order different kinds of ham to bring home like ham legs and stuff, and another section where people walk up to the counter and ask for the type of ham sandwich that they want, and they can pair it with a glass of cerveza (beer) for you as well.
It's quite magical as they don't give you any ticket to know who is in front of you in the queue, so you're left in a scattered crowd wondering whether the shopkeeper actually noticed you in the first place, but they actually do remember the lineup and will take your order accordingly.
I never tasted the ham sandwich myself, but we ordered a pack of parma ham back to our hotel and I'd have to say it was really yummy.  Would love to order another pack.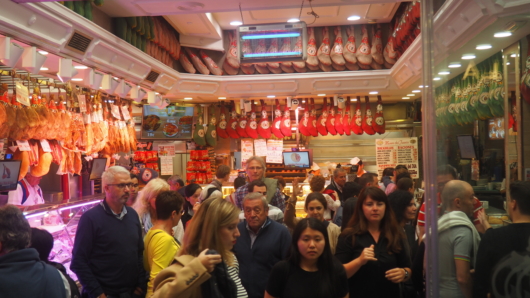 And this section is the buying the ham section, people spilling out from the other side since it was so packed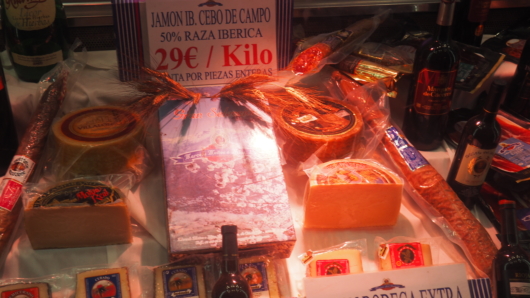 You somehow wait for them to give you attention then you place your order.  I also love how the ham packaging are in different colors – red, blue, green, I wonder if each color meant something different.  You can see the menu on the overhead screen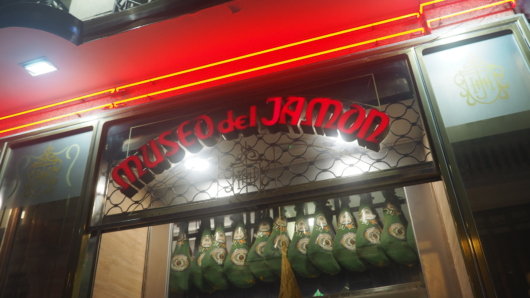 Rosi La Loca (website)
The first time we came across this restaurant, we saw a ton of people lining up.  The restaurant looked flowery and fantasy like, sort of resembling Alice in Wonderland.  There were many Asians lining up as well, and given we have similar tastes, OK we decided to book this restaurant for the next day.
So the next day we did end up going to Rosi La Loca.  And inside, its restaurant décor continue its flow of yellow and green fantasy colors, bringing us to the downstairs level where there were more seats and tables.
We ordered some food and I ordered a glass of sangria, which the drinks came first.  When the food finally arrived and we started munching into it… the food was meh.  The temperature of the food when arrived was warm, not hot.  The portion sizes were quite small.  A huge letdown from the heightened expectations when coming into the restaurant.  Hence at the beginning of this post when I said that on an infrequent occasion, those restaurants with lots of people may not be the most tasty ones, they are just pretty and "instagrammable."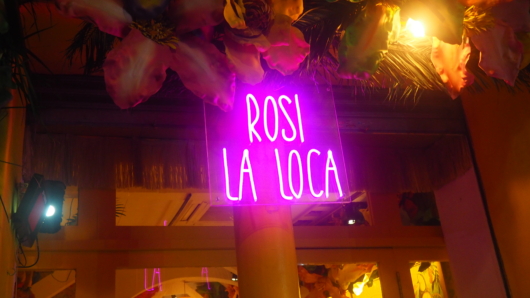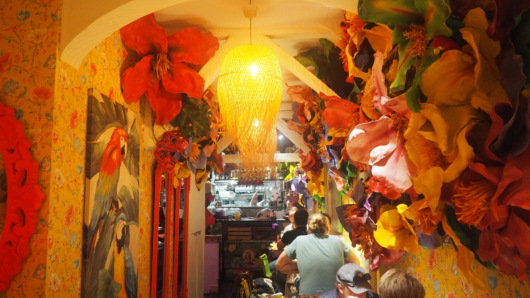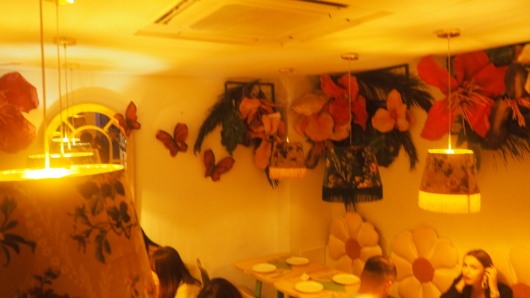 Kind of like DiverXO with the butterflies and flowers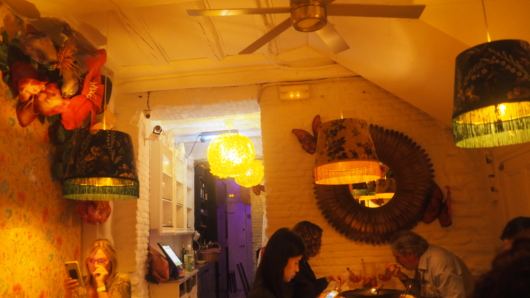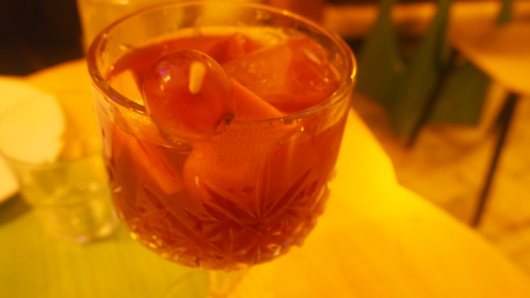 My glass of Sangria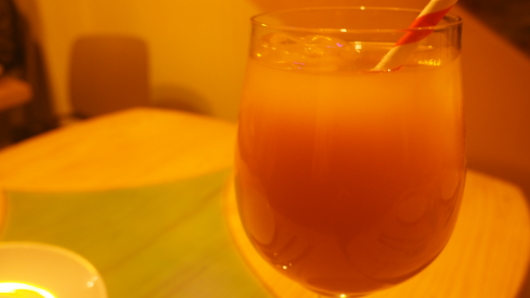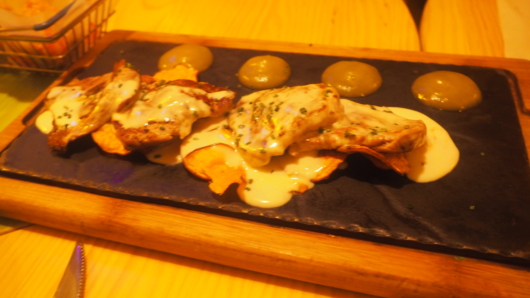 Grilled pork tenderloin with special sauce and sweet potato chips.  The 'special sauce' was like smelly strong blue cheese tasting, so this was no good for me.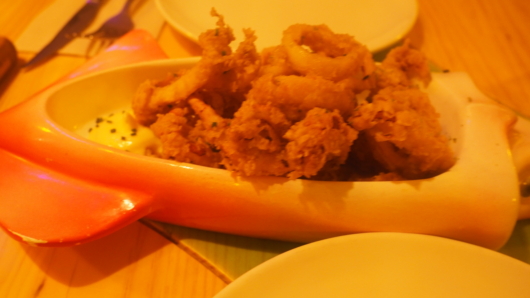 Calamari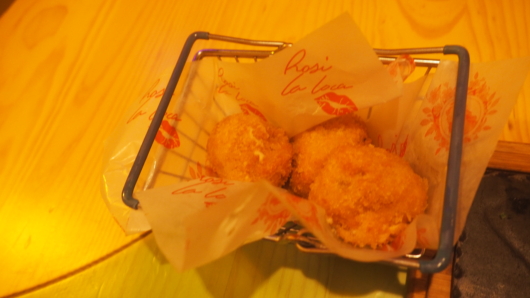 This should be the Iberian ham croquettes by "La Rosi"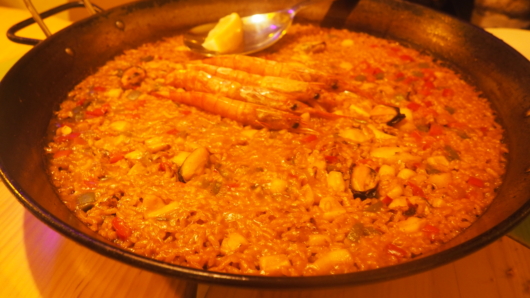 Seafood paella with shrimps, mussels, baby squids, and more…
Mercado de San Miguel (website)
A trip to Madrid wouldn't be complete without a trip to Mercado de San Miguel.  And wow, while finding the website of this place, apparently this wholesale foods market has been around for more than a century!  It looks much newer and modern that you couldn't even tell it's been here for 100 years.
The market is right next to Plaza Mayor.  In this market, you'd find coffee, ice cream, tapas, oysters, seafood, skewers, €1 tapas, although most tapas are around the €4-6 range.
I think most €1-3 tapas that you can get are already quite delicious, and I think those that are priced at €4-6 are a bit too expensive for the same size you're getting, but I guess it really depends on what you feel like eating during that time.
Mercado de San Miguel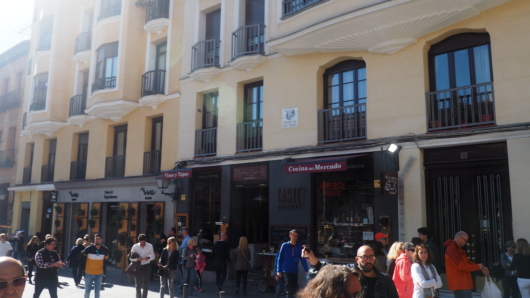 Nearby the market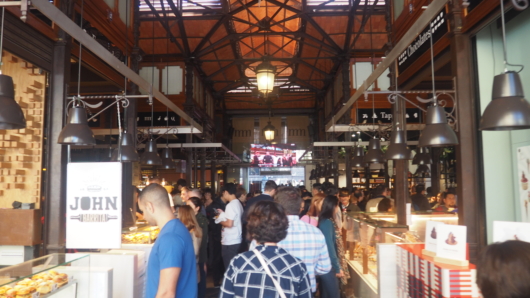 One of the burger stores, John Barrita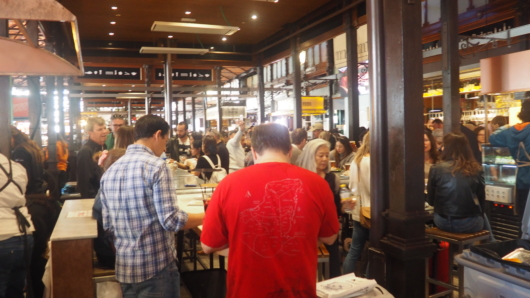 There were tables not just in the middle and behind the stalls, but also towards the glass walls of the market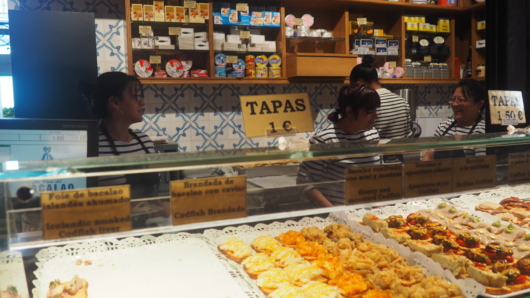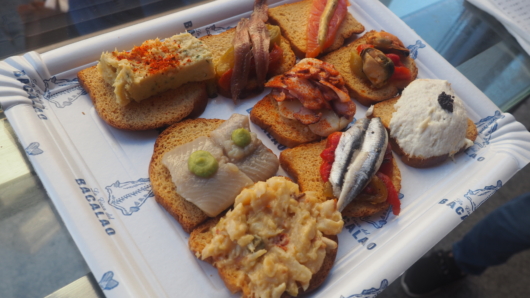 Yummy; these are all €1 tapas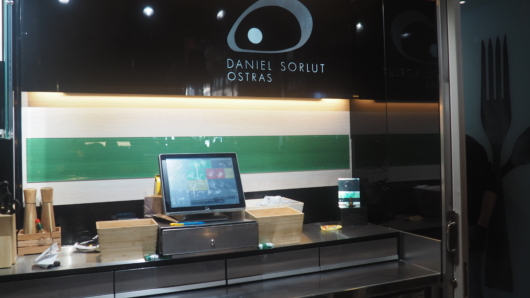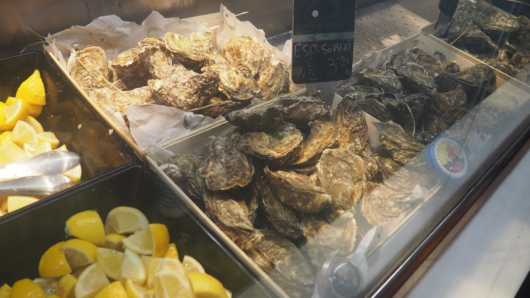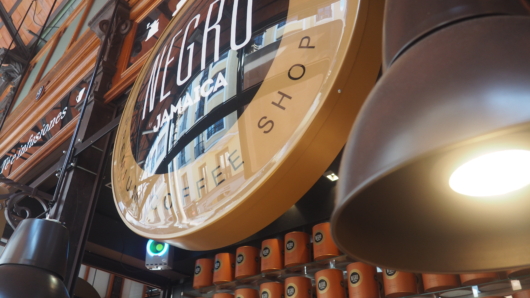 Negro Jamaica Premium Coffee Shop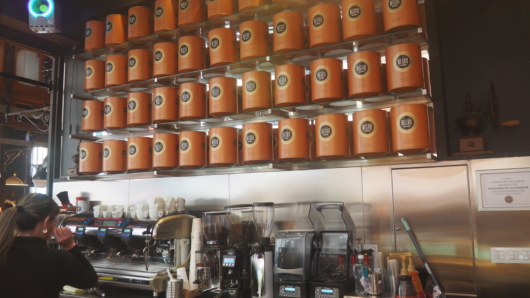 Mercado de San Antón (website)
A much smaller and lesser known market that I passed by while I was wandering around the Chueca area.  The vibe isn't as busy, but they still have two floors worth of restaurants.  I wouldn't purposely walk my way to here, but hey if you happen to pass by and are hungry, you should try some of these places.  I only walked in and took a few photos.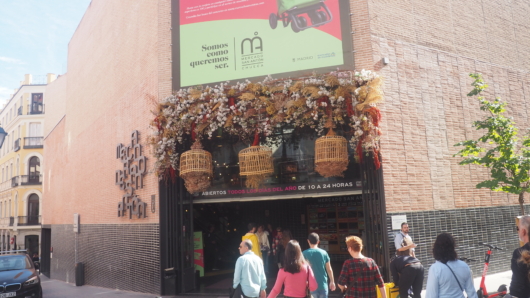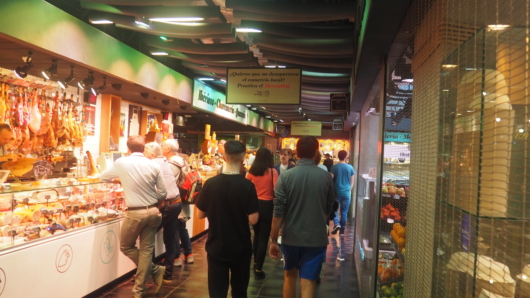 El Cisne Azul (website)
Another bar/restaurant in the Chueca district which I just passed by but did not dine in.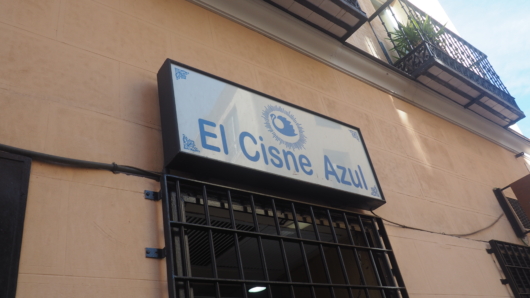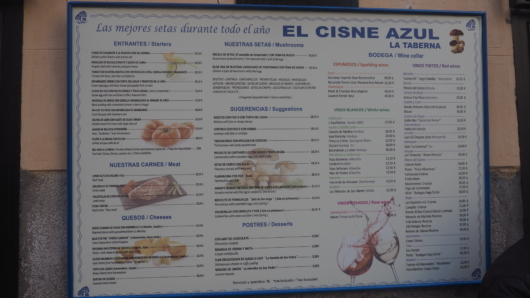 El Cisne Azul menu
Mercado de La Reina (website)
Despite its name being Mercado, it actually is more of a bar/restaurant than a market.  I didn't get to dine in this restaurant once again, but this restaurant serves traditional Spanish cuisine.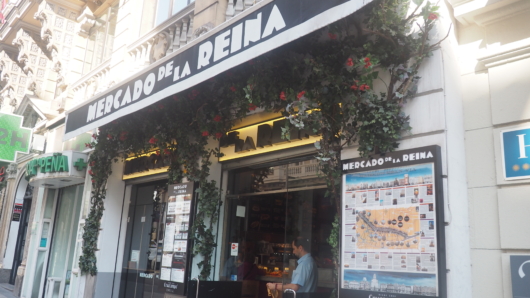 Steak Burger Bar Gran Via (website)
So instead of eating at a Spanish establishment, someone was tired of eating Spanish tapas and food and therefore we ended up choosing an American burger joint.  In fact, this restaurant opened quite late, and we had to wait a bit before being let in.  The hours said it was supposed to open at 1pm, but it ended up opening its doors around 1:15PM instead.
It's a very American restaurant this place was, the meat was whatever, the buns were forgettable, and the portion size was huge and was filled with lots of cheese.  I wouldn't recommend you to go to this Steak Burger Bar in Spain.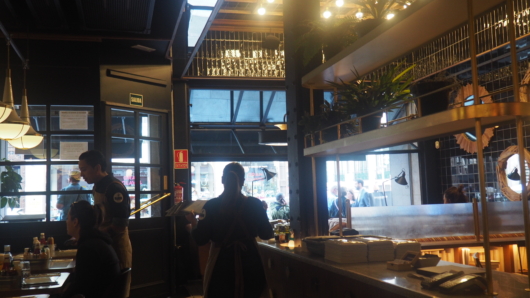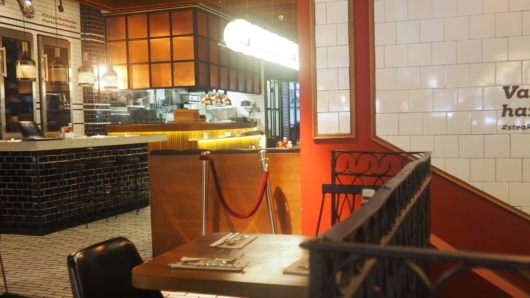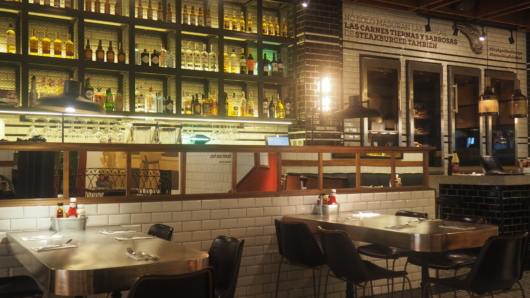 They even have a nice looking collection of alcohol on the wall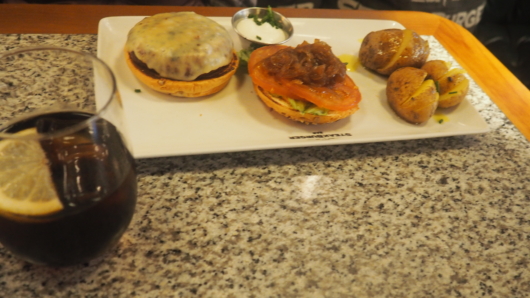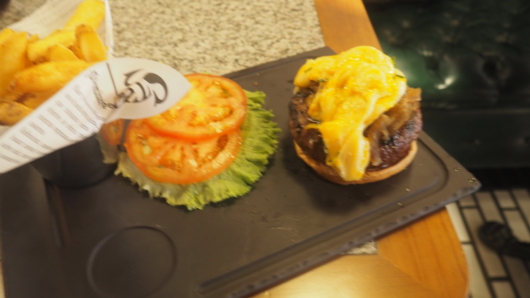 Too big to handle, so I broke the burger etiquette and used my utensils rather than having the meat, juice, and condiments slide out from the bun
Restaurante Botín (website)
Casa Botín is recognised by the Guinness Book of Records as the oldest restaurant in the world, with its founding year as of 1725.  I suggest going to their website as it boasts some of their most notable delicacies and also some of the more famous personalities who've visited the restaurant, including Ernest Hemingway himself.
But yes, Restaurante Botín is a very traditional, classic restaurant that serves no nonsense traditional Spanish dishes.  Its attire from the staff is formal and they serve with a very professional attitude yet at the same time there is a relaxed demeanour to it.
Compared to the other restaurants in this blog post, this was probably my favorite restaurant to have dined at.  It was also conveniently located near Mercao de San Miguel, which means it was also located near Plaza Mayor.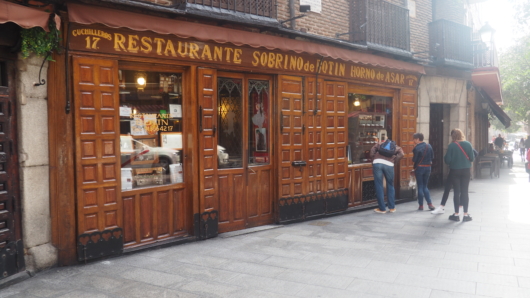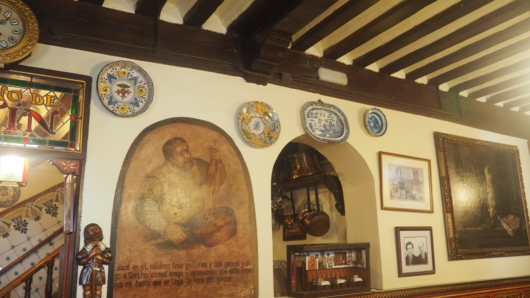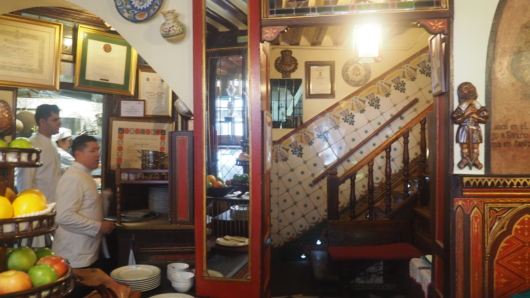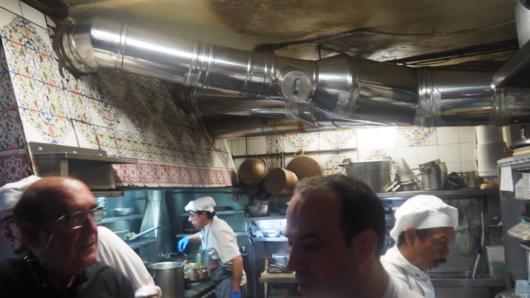 We also walked by the kitchen before arriving at our table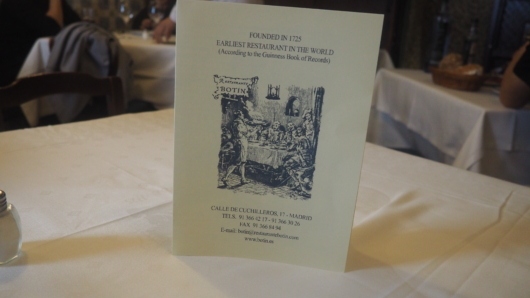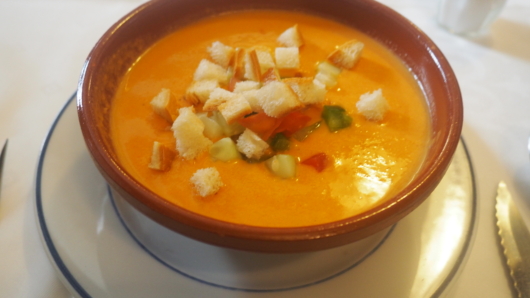 Gazpacho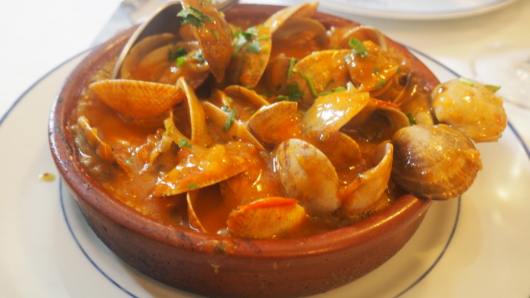 Clams Botín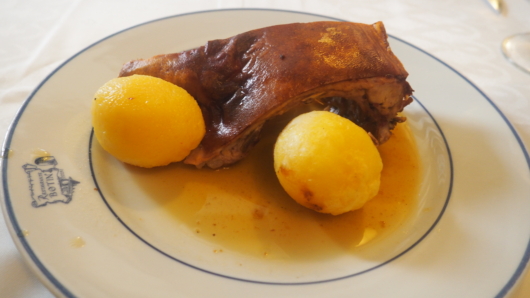 Roasted suckling pigs, one of their specialties
What's been your favorite dining experiences in Madrid?  Share at the comments below!
Other restaurants / eating places in Madrid not mentioned:
Churros at San Ginés
Calamari Sandwiches / Squid Rolls (Plaza Mayor)
Los Galayos
Cantina La Traviesa
La Mallorquina (Spanish treats)
La Tasquita de Enfrente
Mercado de Vallehermoso
Coque ($$$$)
Mercado de la paz
Bodega La Ardosa
Casa Parrondo
Try out Cocido Madrileño at Taberna La Bola*
La Barraca (paella)
La Chata (tapas)
Mercado de San Fernando
Tapa hopping in La Latina (Barrio de la Latina and Barrio de las Letras)
La Azotea del Círculo de Bellas Artes
Tinto Y Tapas
La Tasqueria (20-70)
Coffee cafes: Hola Coffee, Misión Café
Tapas: Petiscos, El Tigre, Cruz Blanca, El Gallego, Zoko
La Casa del Abuelo (many)
DSTAgE (135-160)**
La Terraza del Casino (79-185)*
Albora (60-91)*
Cebo (80-110)
Corral de la Moreria Gastronomico (30-74) includes flamenico show
Santceloni*
La Biblioteca at Hotel Santo Mauro
Punto MX* (Mexican)
Ramon Freixa
Lua
El Club Allard*
Lakasa
Desencaja
La Perejila
Viridiana
Cebo
A'Barra
Cafe Comercial
Txirimiri
La Cabra
El Pescador (for fish)*
Stop Madrid (wine and ham)
Dessert: Casa de Las Torrijas
Breakfast: Chocolat
Tapas: Juana La Loca
Calamari rolls: La Campana
Paella: El Arrozal
La Paella de la Reina
Market restaurant: Casa Dani
Brunch: Carmencita
Chamberí, skirting hip Malasaña, is now the talk of the Madrid restaurant scene