"Welcome to DiverXO!  Be prepared to be delighted, entertained, and inspired by what our chefs have prepared for you today!"
I could imagine the pigs saying something along those lines when entering the restaurant.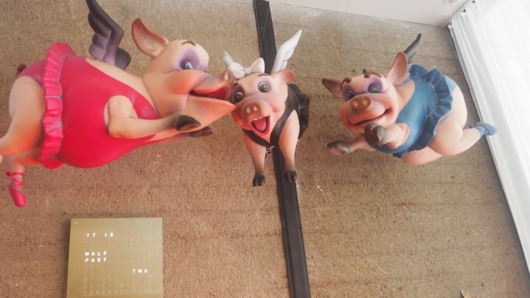 Yes, these flying pigs right here
The fine dining experience doesn't even begin at the restaurant… it actually begins at their website.  I mean take a look if you haven't already… https://diverxo.com/ … it's devilish, it's daring, and they got a video of bizarre actors being uncontrollably excited by the food, yes that's why I had to come to this restaurant.
Apparently the founder says that the restaurant doesn't even make money before, in fact it was losing a bit of money.  I think that's changed now, because the prices are standardised at 250€, whereas before there was an option for much less.  Mind you, for pairing option, that's an additional 150€… and they still can't break even?  I'm sure they do.  But they do put a lot into the aesthetics and high quality ingredients.
I have to say, the restaurant décor is truly inspiring.  The details are impeccable, and everything has direction and momentum, it's like there's action going on everywhere, even when there really is no action.  Like this photo below… Continue reading xoxo DiverXO – A Restaurant Review