This is a continuation of my Japan trip.  For more information on my climb to Mt. Fuji summit, read below.  For part one on Izu Peninsula, Hakone, and Gotemba, read here.  For part three on Nagoya, read here.  For part four on Tokyo, click here.
Accommodations
Mt. Fuji Station Hotel.  2-7-12 Matsuyama, Fujiyoshida-shi, Yamanashi, Kawaguchi-ko / Sai-ko, Mount Fuji, Japan, 403-0016.  Booked through www.agoda.com.
Similar to the Hotel MyStays; it's like those very good budget hotels that aren't terrible but is quite small but honestly it has everything you need, and it's tidy and clean enough that you don't have to worry about a thing.  Please note that this hotel was booked for the days we were suppose to visit Fuji Five Lakes AND Mt. Fuji, but this hotel is not exactly in any of the locations.  It's still some driving distance (around 15-20 mins) from the lakes, and definitely far from the Yoshida 5th station at Mt. Fuji (more on that in 2nd post).  Also has parking.
Tidy, clean, a small room with a comfortable bed.  Is perfect if you're looking for just a nice clean place to stay at an affordable price.  Breakfast is included, although you are mainly stuck with two choices – curry with rice or congee with Japanese pickles.
Another great aspect of this hotel was that it was close to the bus station that brought us to Yoshida 5th station, where we started our journey up the summit of Mt. Fuji.  It was less than a 5 minute walk.  They have a strict timetable and their times are not very frequent, both going and getting back.  It is an hour bus ride from that bus station to 5th station.  More on that later.
By the way, be sure to always get coupons from hotels.  Some hotels may have discounts to go to the tourist attractions so be on the lookout!
Mount Fuji Resources
http://www.garyjwolff.com/climbing-mt-fuji.html – very informative, but I would like to add that for the climbing times you see, add one hour for both the up and down and that should be the average time for a climber.
http://www.japan-guide.com/e/e6901.html
http://wikitravel.org/en/Mount_Fuji
http://www.fujisan-climb.jp/en/ – Official site of Mt. Fuji climbing.
http://www.japan-guide.com/bus/fuji_season.html – Timetables of Mount Fuji Buses
Additional tips and hints
Unless you are a professional, the climbing season is generally beginning of July to middle of September.  Otherwise, there may be snow at the summit.
I know the websites tell you to bring a thick coat to wear, but unless you're planning to stay overnight or climbing outside the climbing season, I was doing fine with a thick sweater layered on top of my t-shirt.  I did need a pair of gloves and beanie and sunglasses.  The thick coat I never wore ended up being a heavy load on my shoulders instead.
Even if you do not feel the sun beating down on you heavily with heat, you must wear lots of sun tan lotion.  I felt the sun wasn't so strong only until the next day did I realize my skin was peeling off.
If you drove to nearby Mt. Fuji, please note that you cannot drive directly to 5th station during climbing season!  Therefore you are forced to take a public transportation there (see bus timetables just above) so schedule your plan accordingly.
I did not know when the buses were and thought they were going to be frequent.  We only barely managed to catch the 9am bus, and yet we didn't make the night bus on time and had to take a taxi (costing over HKD 800 / USD 100 for over a one hour ride, most expensive taxi I've ever rode in my life) back to the hotel.  So my advice, especially if you're not staying in the Mt. Fuji huts, is to go there as early as possible so that you can ensure you can catch the last bus home (9pm) from Yoshida 5th station and you can pace yourself, otherwise you will be rushing to get back.  Try to take any buses at or before 8am.  However, if catching the sunset is important to you, which we managed to catch by pure luck (we got to the top at around 6pm), 9am bus is a good time to take.  9am bus from Fujisan station, got to Yoshida 5th station at 10am, got geared up with food and drinks and stuff and by the time we started walking it was 11am.
You MUST bring headlights / flashlights!  These are important in case you do get lost in Mt. Fuji in the dark (like us) because there is barely any light on Mt. Fuji at dark.  And if you get lost (like us), with no light, you will start to even consider sleeping in the middle of the Mt. Fuji roads until the next morning.  Trust us, it's a really bad feeling and you do not want this.  Get a headlight no matter what.
Another thing I didn't bring, and thankfully didn't need, but would recommend, is a first aid kit and medicine, just in case anything happens.
You actually get cellular data pretty much all the way up to the top if you have Japanese data plan.
Wear hiking shoes.  Sand and rocks get slip into your shoe soles and they feel uncomfortable.  Also they can be rocky and when going down slopes, the slope angles are actually quite steep and you don't want to slip and slide all the way down.
I would also recommend wearing pants and shoes that you don't mind getting dirty as you can have a lot of dirt on those clothes.
One thing that could have made our trip up and down the summit of Mt. Fuji WAY more comfortable in my opinion is getting a hiking stick.  We didn't have a hiking stick, but I think it would have really helped to have one to really bring the thrust to bring us forward for each step.
There are lots of huts along the way, each providing lots of foods and drinks.  For example, you can order ramen or even curry with rice in some huts.  You can even order beer.
Conserve your energy and rest along the way.  If your slowest group member needs rest, you should let him / her.  I believe that forcing someone to go way beyond their limits and not getting enough rest is just a recipe for injuries, which makes it even more bothersome and unpleasant for the entire group.
I know a lot of reviews would say the huts are dirty and this and that and absolutely don't stay.  This was why I didn't stay in the first place because it swayed me that they were in horrible condition.  But thinking back, I think especially if you have a friend who's not physically fit, it may be more advisable to stay in a hut than try to conquer Mt. Fuji in one day.  Although I didn't stay in the huts, from what I saw it didn't seem as bad as people described it.
Also, I have to say that you know Japan has the cleanest toilets in the world when even the toilets in Mt. Fuji are extremely clean, an outdoor attraction visited by thousands each year.
Anyway, all other tips you can pretty much get from the links I posted under resources.
Itinerary
Mount Fuji is a beast!  It's not a beast that is impossible, it's definitely, conquerable, but it's much harder than it looks.  It is easy to get overconfident in the beginning as the roads are much more smooth and easy as compared to the rest of the way.  In fact, only when you start getting tired do the roads become rockier and steeper, and the air becomes thinner.
I've been to Mt. Kilimanjaro as well, and while I did Mt. Kilimanjaro in 6 days (4 days up, 2 days down), I guess because Mt. Fuji we did it in only one day, it felt much more tiring at the end of the trip for Mt. Fuji.  Note I said tiring, not more challenging.  Besides, for Mt. Kilimanjaro I had a porter to carry my bigger backpack along the way.  Plus I was a lot younger back then and healthier (or maybe I just don't remember how I felt exactly at Mt. Kilimanjaro.  I did have a fever going down).  Anyway.
Plus maybe it was our mistake to have gone up to Yoshida trail, then down the Subashiri course and walking towards Yoshida 5th station after that.  In other words, instead of climbing up and down, we did a triangle instead, so we walked an extra few km.  But those extra few km mattered, and it made us depressed for a while.  It was literally walking down Subashiri, really slopey and sandy in the dark, and we kept going down one slope to the left then right and we were constantly above the clouds wondering, when is this gonna end!??!  We took the Subashiri course purely by accident, not intentional.
Even initially, I thought, "Pfft.  6km up to the summit?  I usually do that running in 30 mins."  The sign says it will take 360 mins.  It ended up taking 360 mins, just to go up.
This climb actually wasn't part of the itinerary for Japan.  One week before this climb, this wasn't even part of the plan.  This was planned pretty much 4-5 days prior to the climb.  Originally I thought I would be spending time mostly in Tokyo, but some planning and this and that and we end up deciding to do Izu, Hakone, Fuji Five Lakes, Mt. Fuji, and Nagoya.  Somehow the time I went was also the climbing season for Mt. Fuji.  Perfect.
Anyway, this post will focus more on pictures.  The information can be found on the resources I gave you plus you can just search engine the other stuff.  I'm here to encourage you to do the Mt. Fuji climb as well hehe.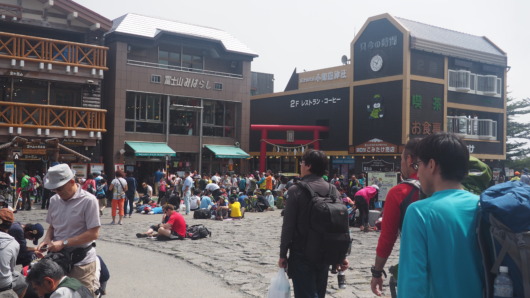 Yoshida 5th station.  This is literally the last place to regain supplies before you head up.  I mean you can still buy food from the huts and stuff along the Yoshida path, but you might need other stuff too.  Also, you can buy souvenirs here.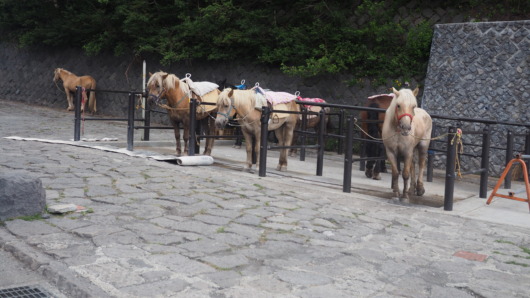 You can rent horses.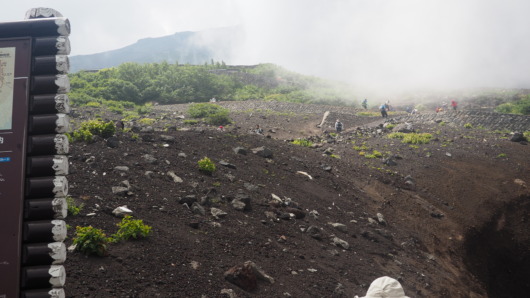 The terrain in the beginning of the climb.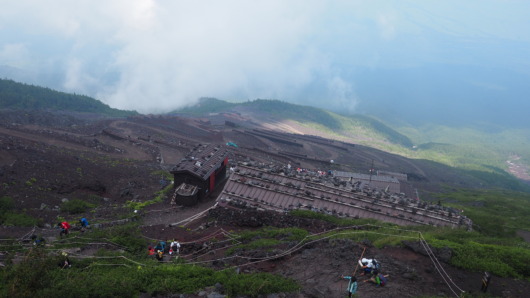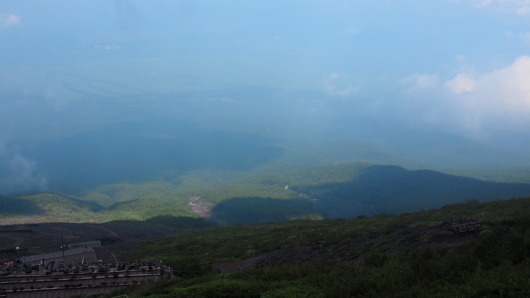 Many huts to still continue climbing towards.  More difficult than it looks.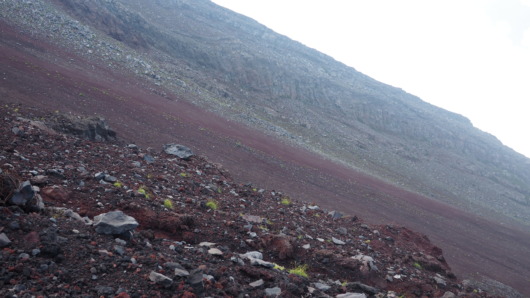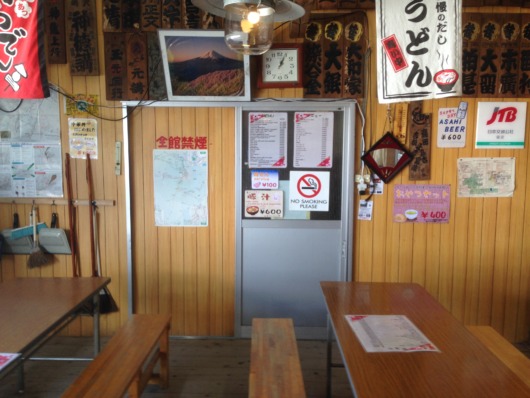 This is one of those huts.  There are many of them along the Yoshida path.  Sometimes you cannot sit inside if you did not book a room in their huts.  See, it's really not so bad IMO.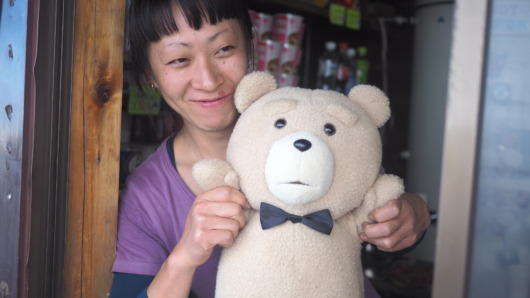 This woman really loved Ted-o, like he was the cutest thing ever.  She works in one of the huts.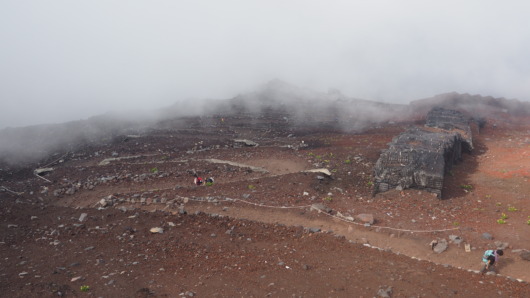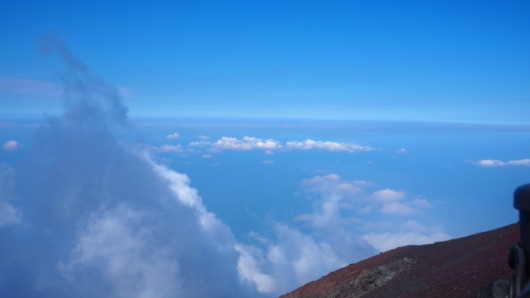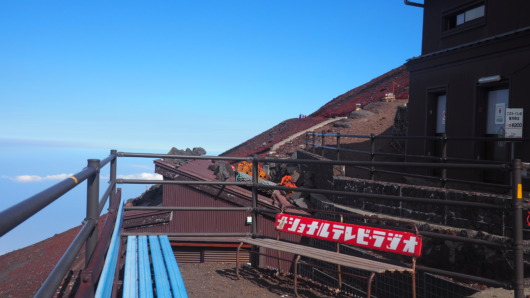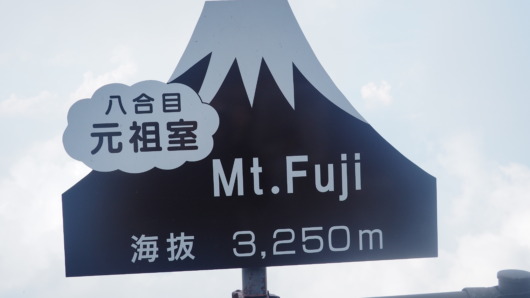 Almost there!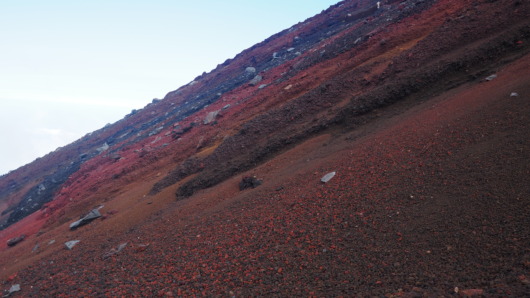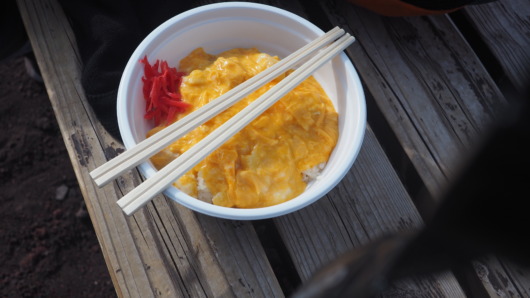 Time to enjoy some overpriced chicken egg rice (but still good!)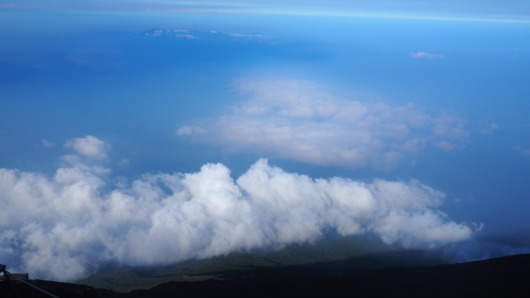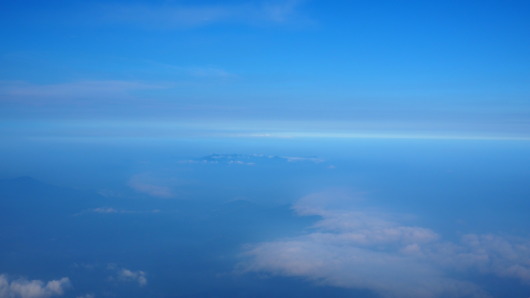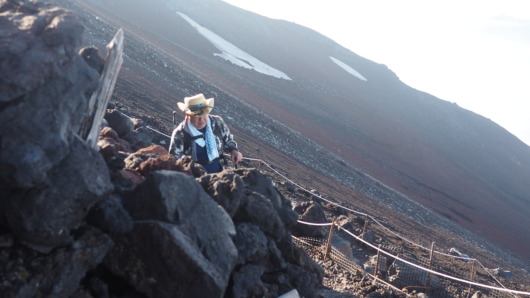 If he can do it, you can do it!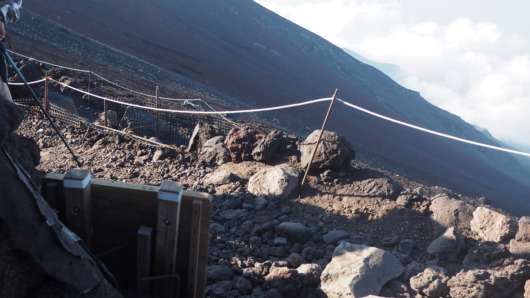 Look at the terrain now… it's so rocky.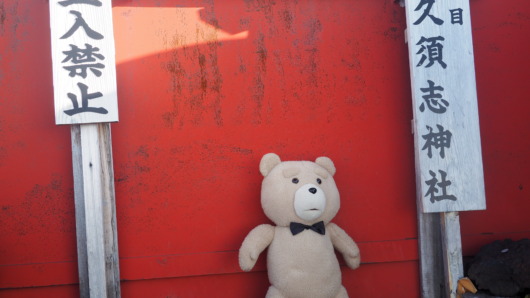 OK, if TED can do it, you can definitely do it.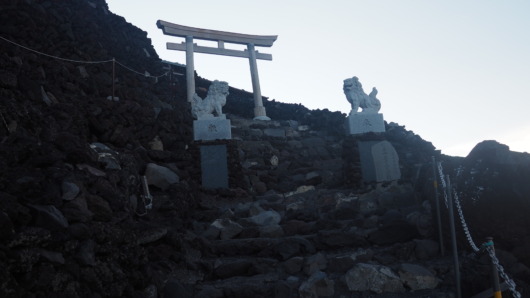 Now this really means you are like meters away from the summit, literally.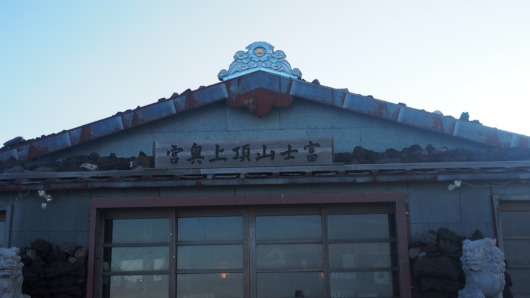 We have finally arrived!!!!  Quite chilly now.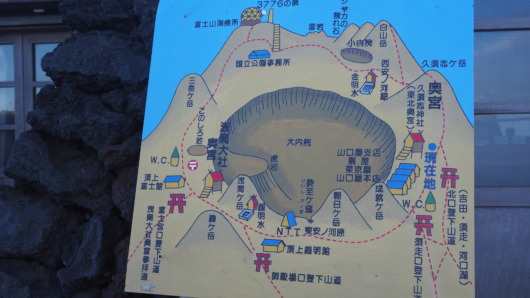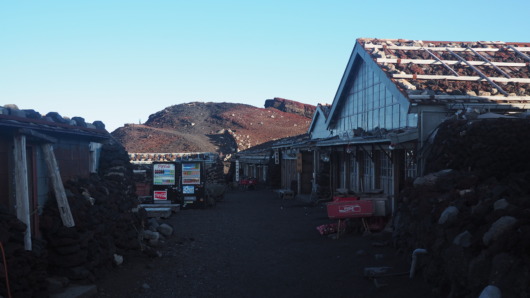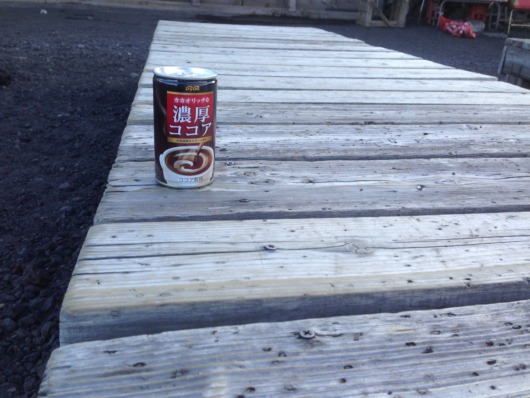 And by getting to the top, I'm rewarded with a hot can of chocolate drink!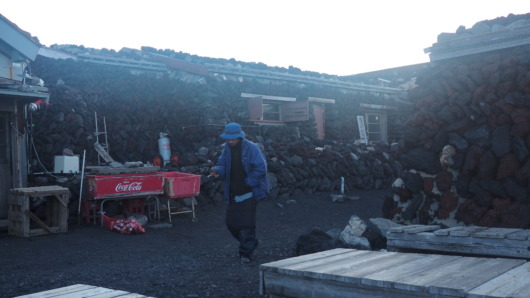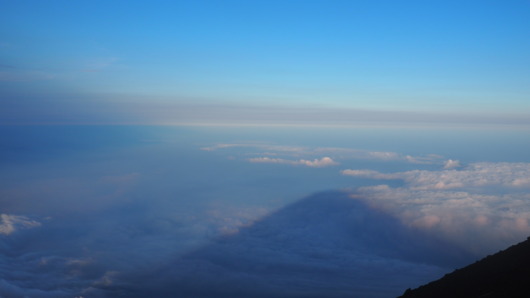 View from the top of the world.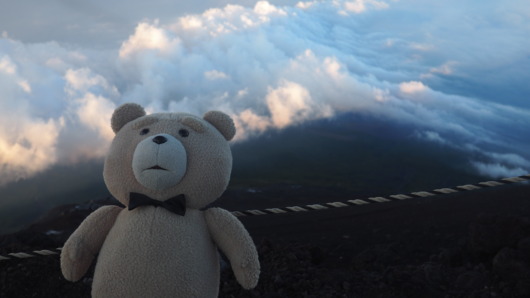 Just chillin'.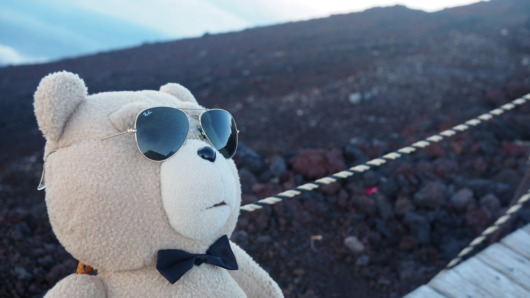 #tedonmtfujisummit #nobigdeal #seriouslynbd #tedinjapan #easy #wherewasthechallenge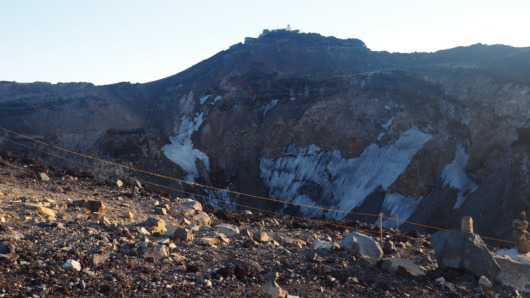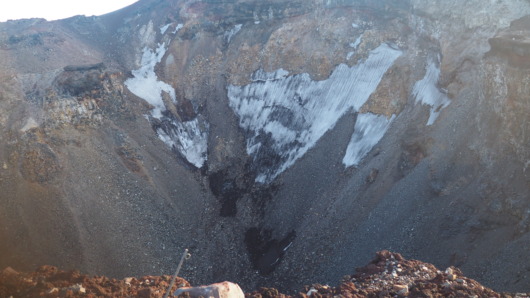 I promise, these photos are almost over!!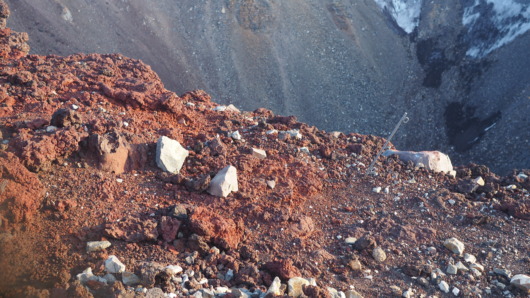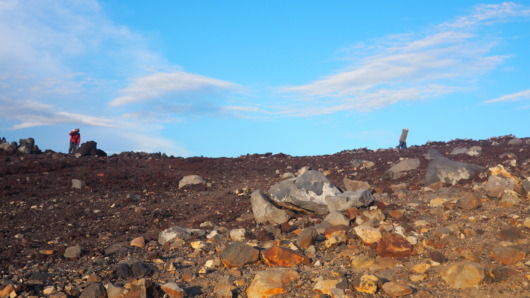 I really love this picture.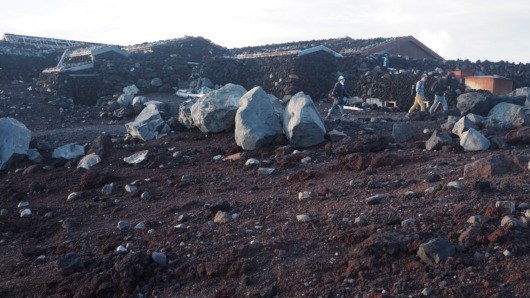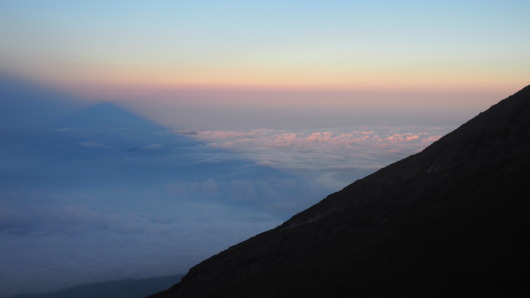 Starting to sunset
And then… we took the wrong path and got lost.  Luckily, we managed to bump into several Japanese climbers who were also in the dark but they had headlights and were able to guide us back to safety. Whew!  At Yoshida 5th station, somehow a taxi just dropped someone off and we were pretty much forced to take a taxi back to our hotel.  Again, let me reiterate, it was a hefty HKD 800 ride!!!
The next day, we drove to see one of the Fuji Five Lakes, the most famous one, Lake Kawaguchiko.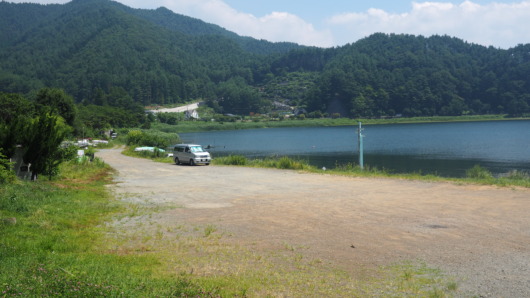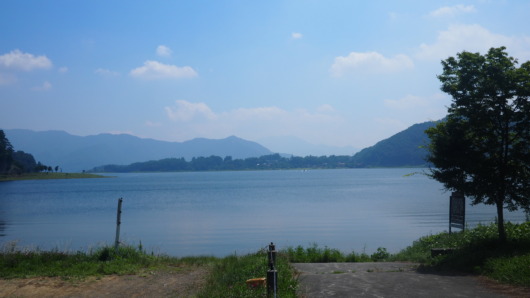 Because we were driving to Nagoya that day, we happened to pass by Gotemba, so we made another stop at Gotemba for a few more hours again.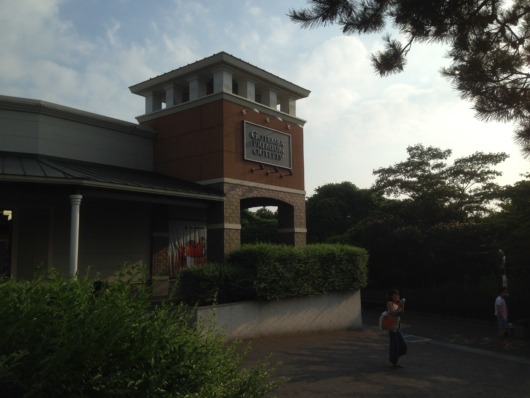 Things to do in Fuji Five Lakes that we didn't have time to do: Fuji Q Highland, Kubota Museum, Hoto noodles, Sengen Shrine, Chureito Pagoda, Oshino Hakkai, Music Forest, Lake Yamanakako, Gekko-ji.
Would you want to attempt to climb Mt. Fuji after seeing these pictures?  I hope you do!  There is a Japanese proverb that goes by this, "A wise man will climb Mt. Fuji once; a fool will climb Mt. Fuji twice."
Will I do it again??  Haha I would really have to think about it, although I would love to try something new.
Continue reading Part 3 about Nagoya by clicking here.
(Last Update: Feb. 18, 2019)
*Originally published on Aug. 21, 2015