Out of the four posts in this series of posts of Japan, this title is probably the most misleading as I didn't drive around Tokyo.  After Nagoya, I returned the car near Shibuya and took public transportation for the rest of my stay here.  As you may know, Tokyo boasts some of the most expensive parking and finding places to park isn't easy.  Even just driving here from Nagoya was a headache for the last two hours as I spent most of my time stuck in traffic.
Read part one: Izu Peninsula, Hakone and Gotemba
Read part two: Mt. Fuji and Fuji Five Lakes
Read part three: Nagoya
Accommodation
Tokyo (first three nights) – Wayne's apartment at Ebisu.  Booked through www.airbnb.com.
Decently cheap, location is ok but not great, and the bedroom is quite nice.  That's the only good things about it.  When we first walked in, we noticed there was a cockroach in the sink.  Immediately a bad impression of this place.  The sink was very old a bit rusty and dirty, and the bathroom was extremely small.  You had to move the switch to move the water from the shower to the sink.  Also, the water was either too hot or too cold, there was only a minute of 'just right' temperature water before it started going into the extremes again.  The bathroom was so small and there was no shower curtain that water inevitably sprayed on the bathroom floor.  Also noteworthy was that the shampoo and body soap provided was like those packages you buy from convenience stores… so they were not good at all.  They had wifi but it didn't work during the three nights we stayed there… although the host says that's because Tokyo had bad internet during those days… hmmm…  also the aircon was leaking.  The air con also wasn't very strong.  As you can tell, I was mildly upset from this, even on the first night, and we tried telling the host to refund us for the other 4 nights and we'll pay for the first night since we are staying there.  Instead, the host insisted in refunding only the first night.  After much debate (not heated, it was friendly), he agreed to refund us 2 nights.  After our complaint, the host took longer than usual to respond to us, in concern with wifi and also the refund (although he did respond to us that he will agree to the refund).  If you are looking for just a 'place to stay' at a cheap price at an ok convenient location, you can try this place.  But in all honesty, I would pay more and book some place else.  We switched to a different hotel for the 4th night (and 5th night I just slept at the Haneda International airport until check in time).  Not extremely safe as anyone can walk in through the front door of the complex, and the security guard was like missing all the time.  The location wasn't very easy to find as well… it took some time to find it.
Tokyo (fourth night) – Granbell Hotel (Shinjuku). 2 Chome-14-5 Kabukicho, Shinjuku, Tokyo 160-0021, Japan. 81-3-5155-2666.  Granbell Hotel Shinjuku Website.
The rooms are decently sized, and with the size given they actually managed to do a really good job in making the room have a more designer, futuristic feel to it.  Better than the budget hotels of course, but we paid at a higher price since it's in Tokyo, plus we paid for the hotel pretty much the day before we checked in.  They also have a very nice restaurant with good food, and also a nice bar with an OK view.  Super convenient to Shinjuku… just a 5 minute walk from the central part of Shinjuku.  They also have chains in Shibuya and Akasaka.
Overview
As I mentioned before about Tokyo, the food here could be a hit or miss.  I've beenhereo numerous times and tried a couple of sushi places and to be honest, it wasn't that great.  Also, like Hong Kong, Tokyo is one of those shopping/eating cities.  If you are tired of that, then you get tired of the city rather quickly.  But of course, Japan in my opinion has a better shopping due to its larger number of variations (whereas in Hong Kong it's all the international luxury brands).
By the way, Tokyo is hot hot HOT during the summer… totally didn't expect it to be this hot when coming here!
Itinerary
Mainly just shopping and eating.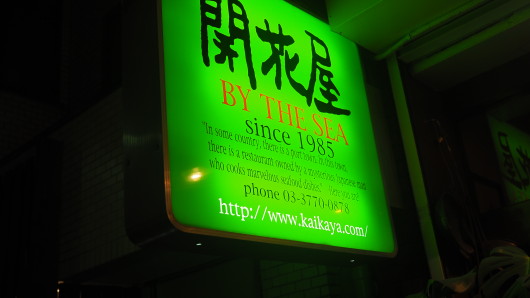 First restaurant I had this time in Tokyo.  Seafood mainly.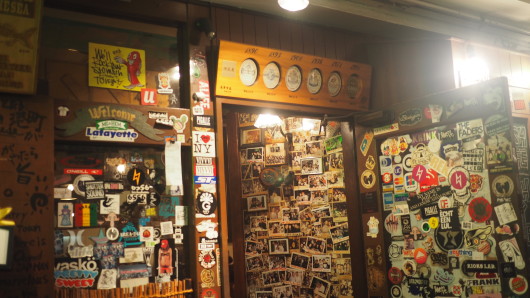 Suppose to be top 30 restaurants on Tripadvisor.  Mainly for expats.  Sorry, I thought the food here was so-so only!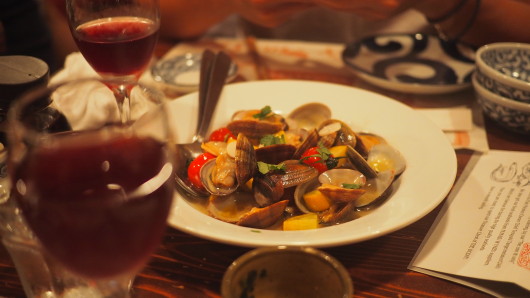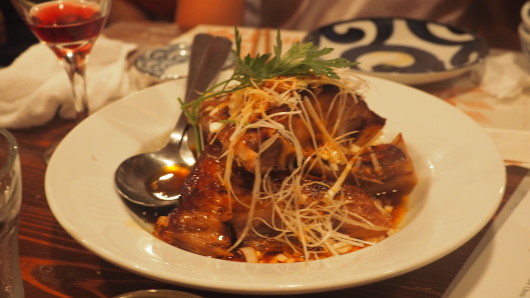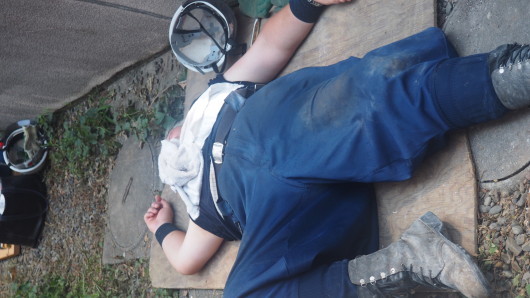 Right outside our airbnb…
Our guide book says celebrities go here because you get great sushi for an amazing value.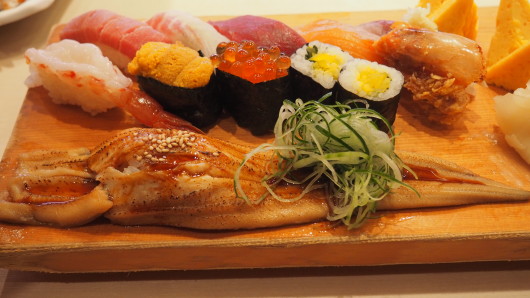 Even though the picture here looks good, the taste is not as good as you would expect.  Don't get me wrong, it's not bad!  It's just not very good.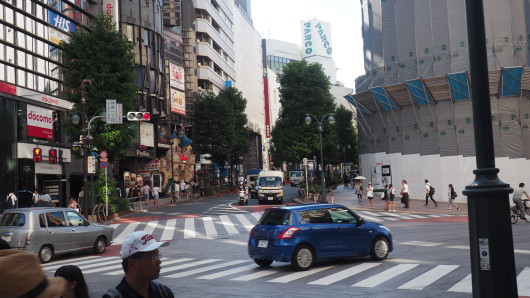 Shibuya on the way to Harajuku.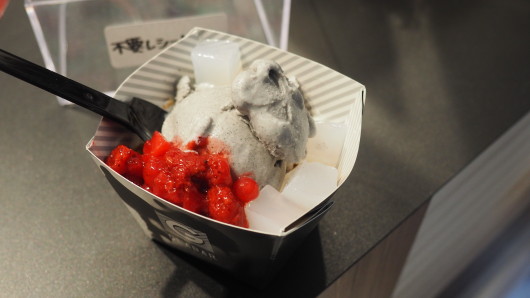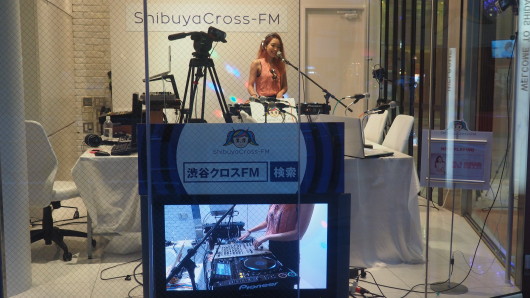 I wish we had these in Hong Kong.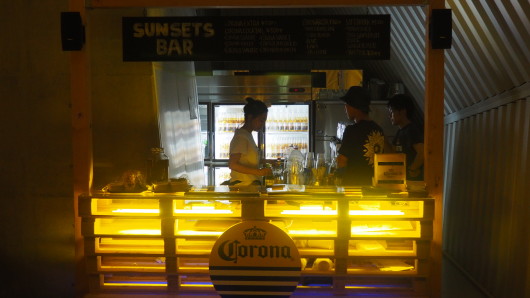 One of the coolest thing I witnessed in the entire trip.  A four stories Corona Bar.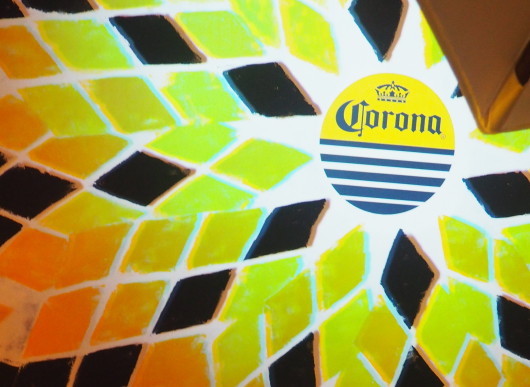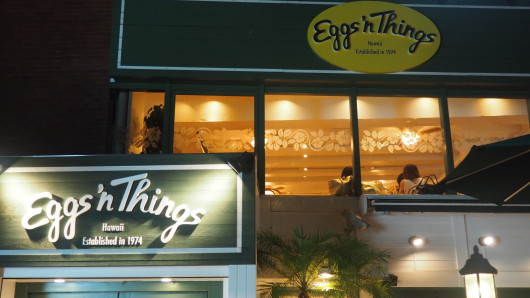 Eggs 'n Things.  We didn't go the first time around, but we went to a different chain in Odaiba later in the week.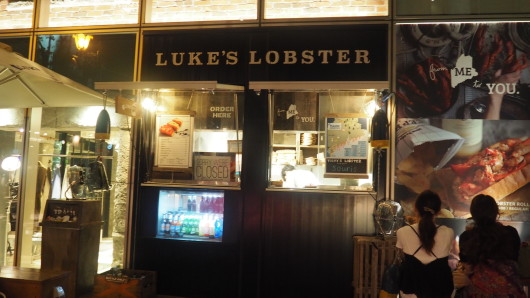 CLOSED. But did I come again? Find out below!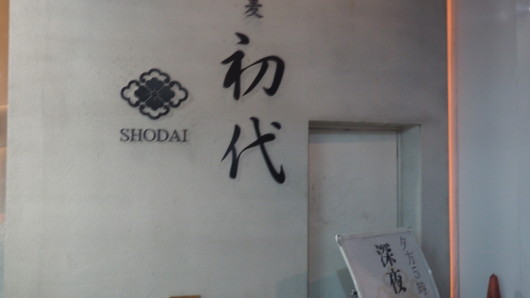 Shodai.  Located near Ebisu station.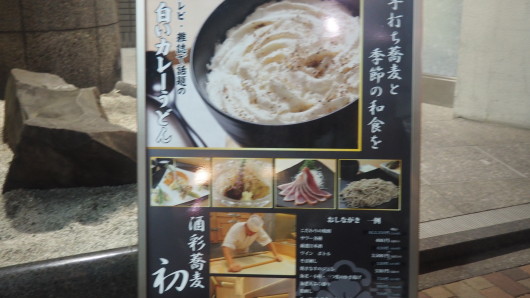 It is most famous for its "white curry" udon.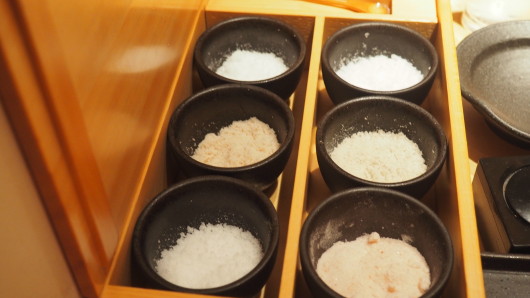 Six flavors of salt you can choose from.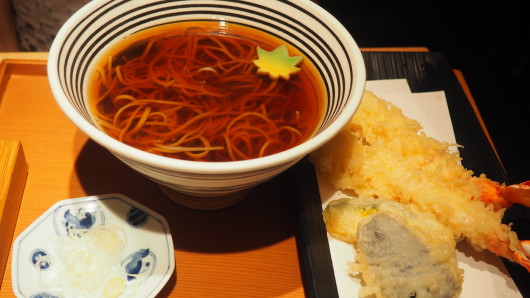 But it's best dish, as they claim themselves, is the tempura soba.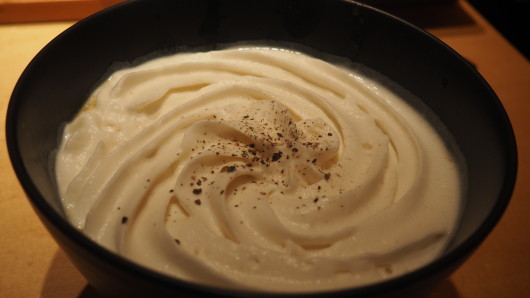 This restaurant, I WOULD recommend.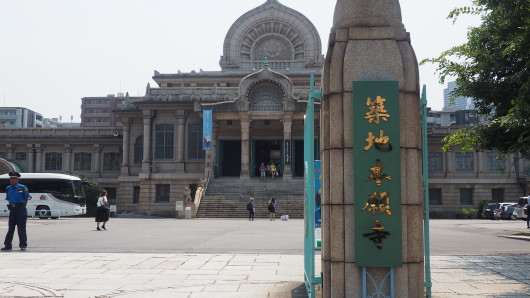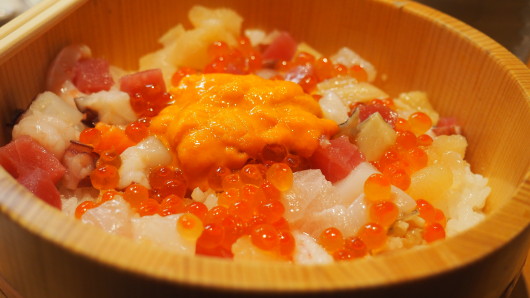 THIS. THIS. My 2nd favorite meal in the entire trip, found in Tsukiji Market.  It's actually won some Oyakodon competition on TV or something like that.  Here's how you eat it.  Three sections.  First section you eat it as it is.  Second part you eat it with seasoning.  Third part you eat it with the soup.  Again my favorite way of eating it was to eat it just as it is.  SOOOO GOOD.  Usually I don't even eat uni as it's got that weird taste.  But this uni had none of that.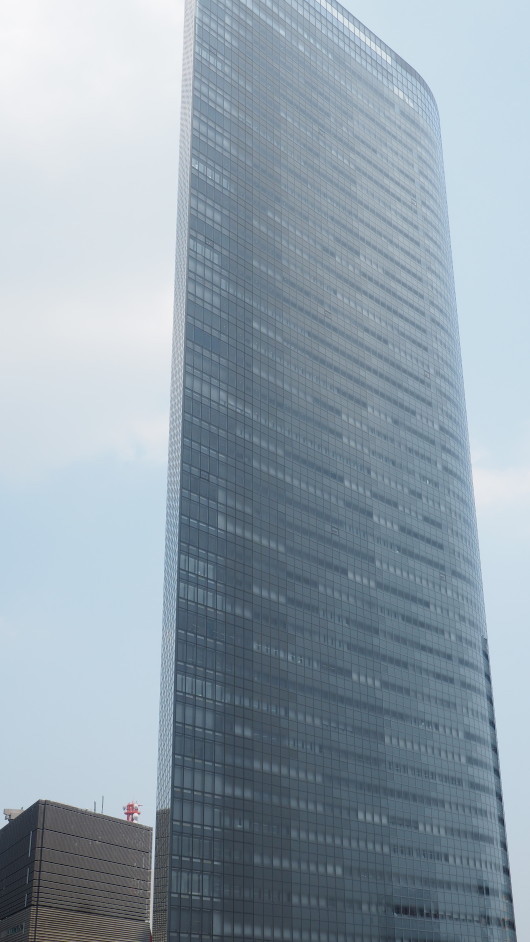 Dentsu Headquarters.
Fuji TV Building.  You may recognize this from Ultraman.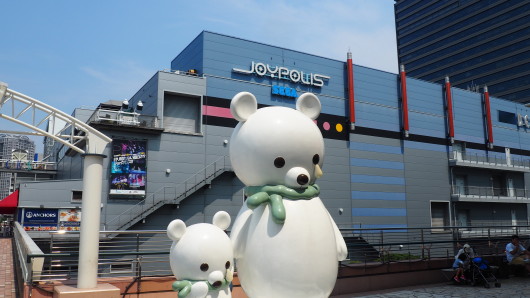 Joypolis.  Three stories of arcade games / rides.  When I was much much younger, I had a fond memory of this.  Like over all these years whenever I think of this place, I think of how fun this place was and how big it is and stuff.  This time around however, I guess now that I'm all grown up, it looks a lot more "different".  It's lost that childhood fantasy land feeling if you know what I mean.  Now it just looks like a three story building designed for high school kids… =(  Hate being old.  Also in Odaiba.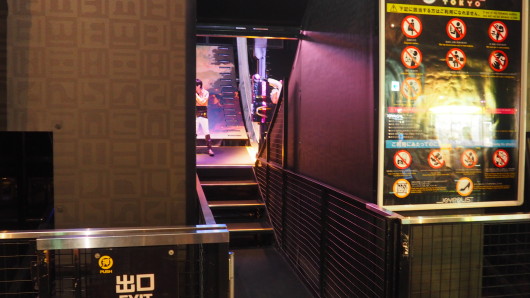 Last time when I was young, I didn't get to ride on the giant skateboard.  This time I did.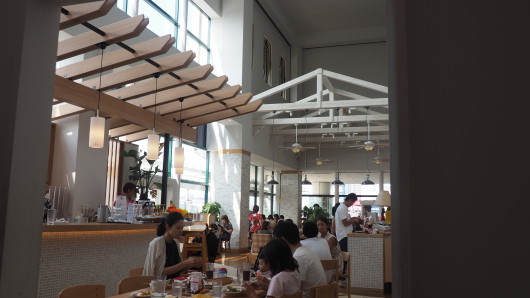 Remember the Eggs 'n Things picture just now?  This is also Eggs 'n Things but this one is in Odaiba.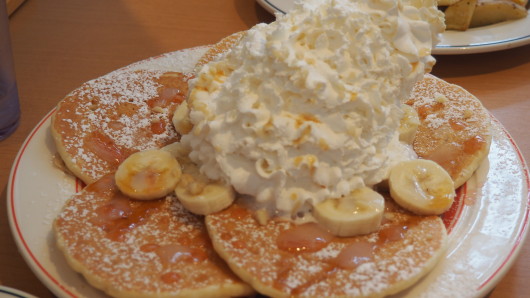 They are very known for their pancakes.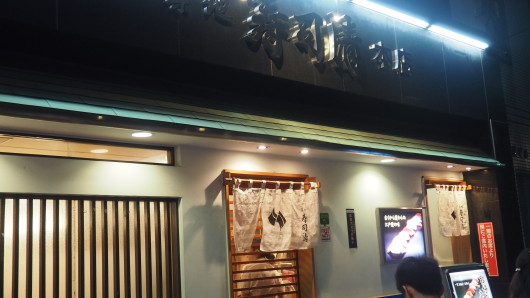 We went back to Tsukiji Market for dinner… I think this is the restaurant we wanted to go, but because we had to wait, we opted for a different restaurant instead.  This one is supposingly very good and very popular.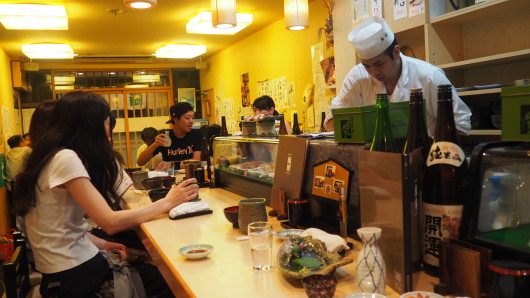 The other restaurant we ended up going.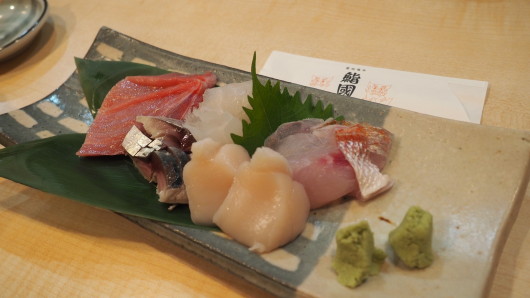 You can't go wrong with Tsukiji Market.  The whole meal was sooo good!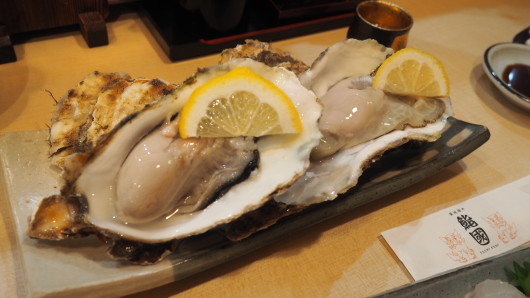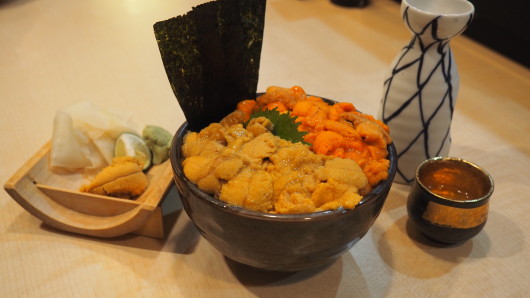 oishi!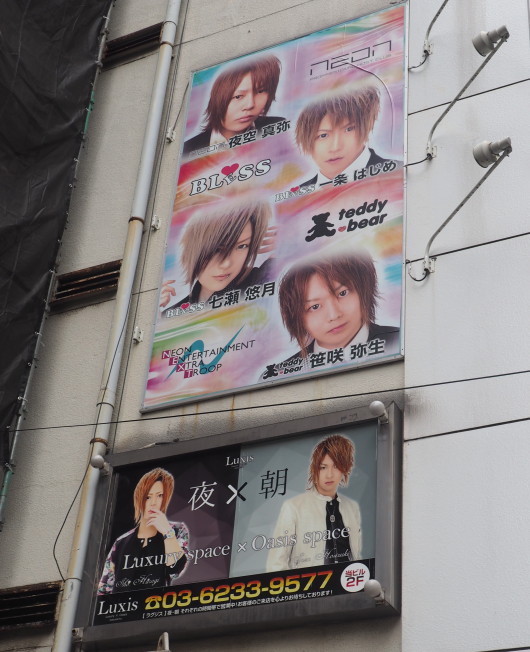 After we moved to Granbell's Hotel, this was the first thing that caught my eye in Shinjuku.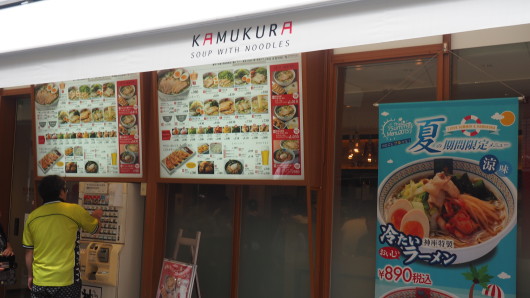 Kamukura.  For ramen and pork rice.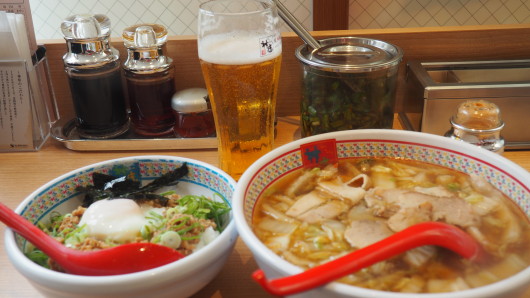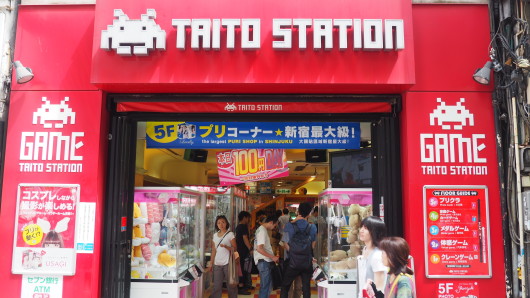 The birthplace of Ted-o!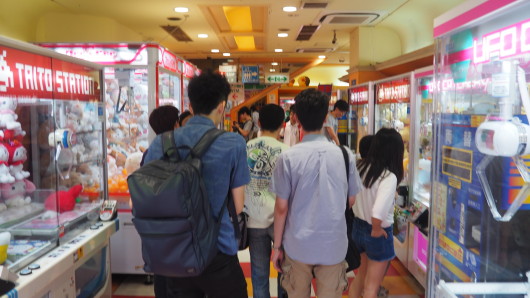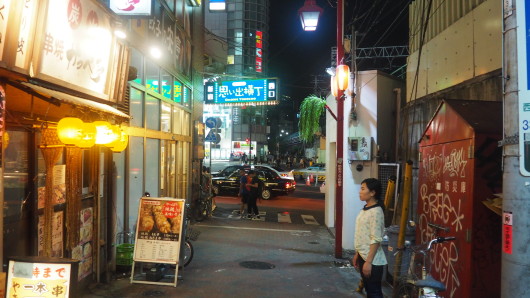 At night, we went to this skewers alley.  See that green billboard with yellow words on it?  Yep there.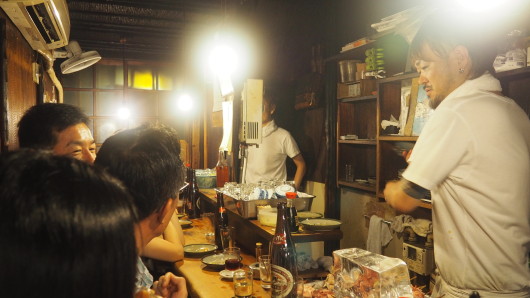 Great environment, great people, so good.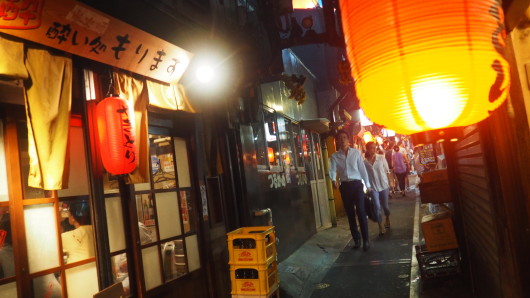 Part of the alleyway.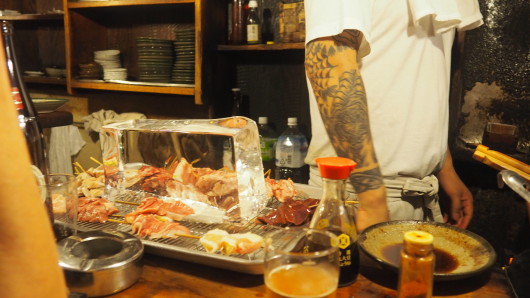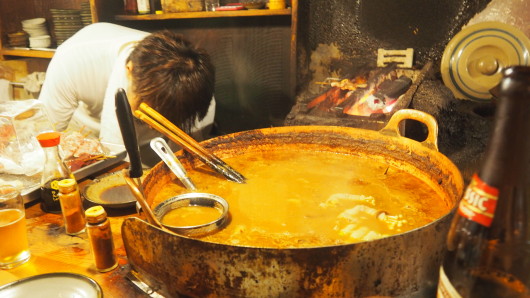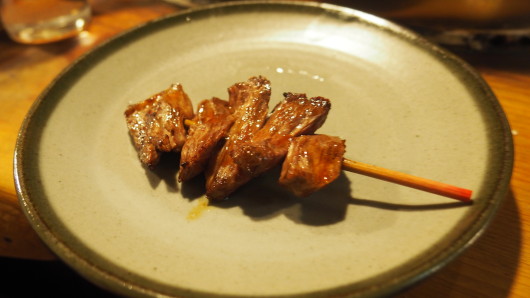 I ate like 10 of these myself.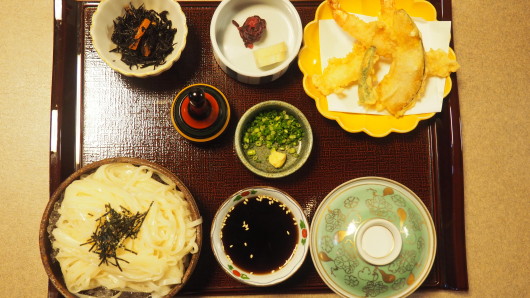 Next day lunch.  Mmmmm.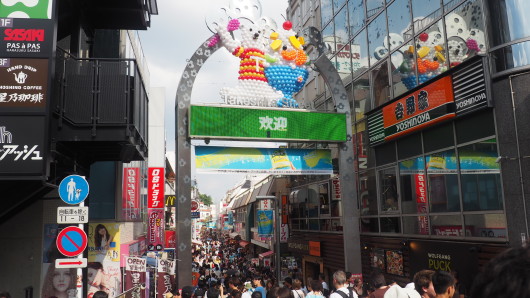 Harajuku.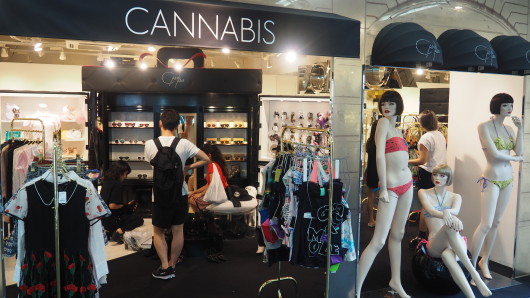 Sorry, just clothes here only!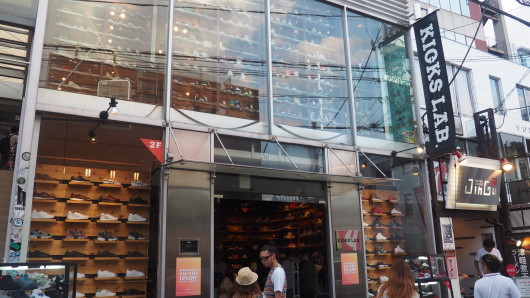 Kicks Lab.  This is my favorite store of the entire trip in Japan.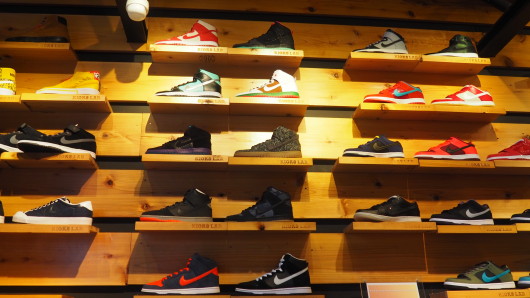 They sell so many different types of shoes.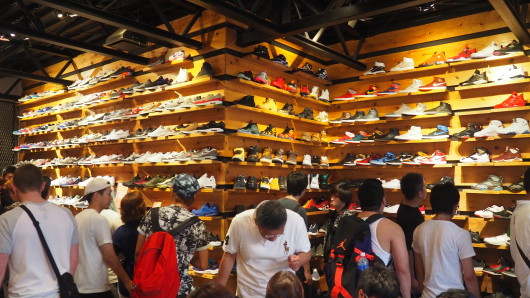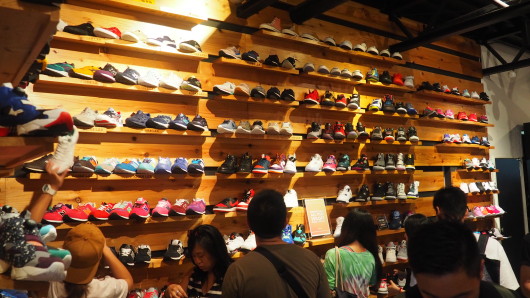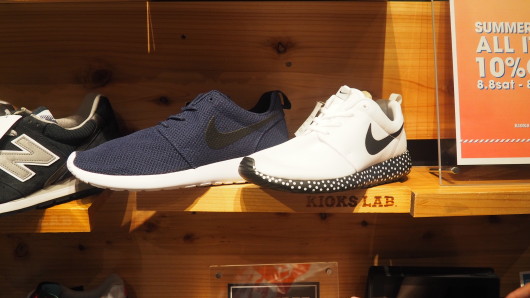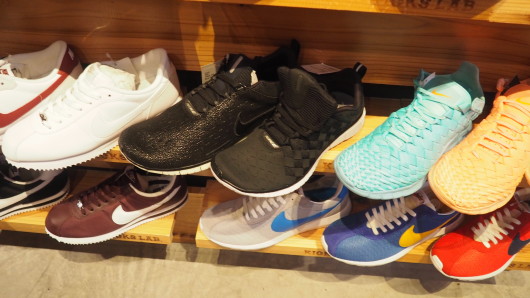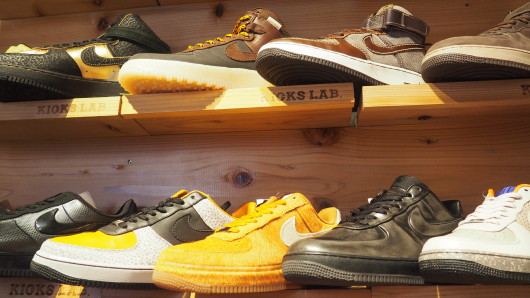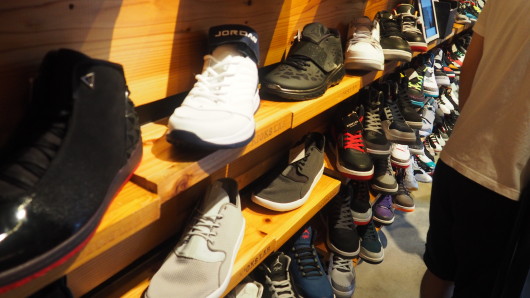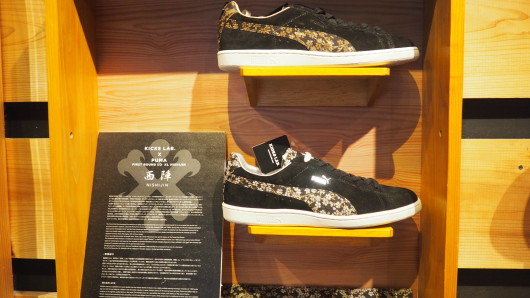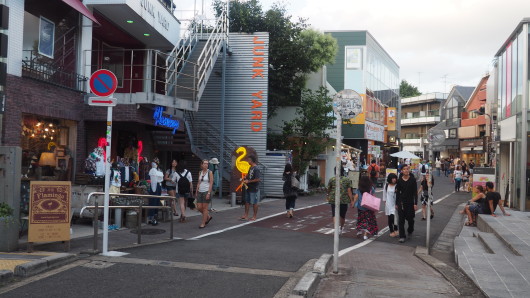 My favorite shopping district in all of Tokyo.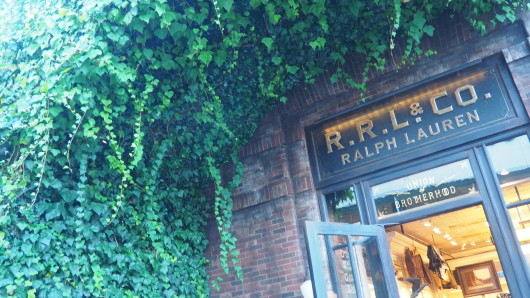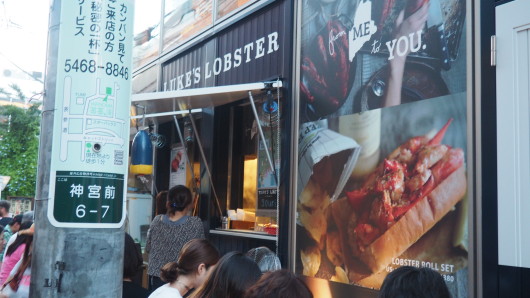 OPEN.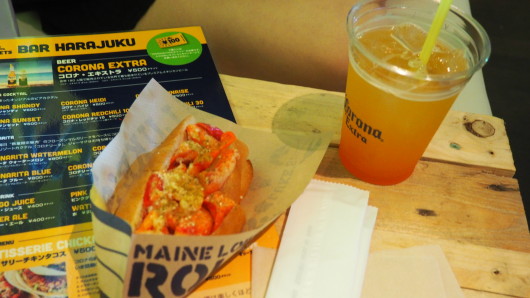 Expensive but so worth it.  Going back to the Corona bar and handled it with a Corona cocktail.
Line Friends Store.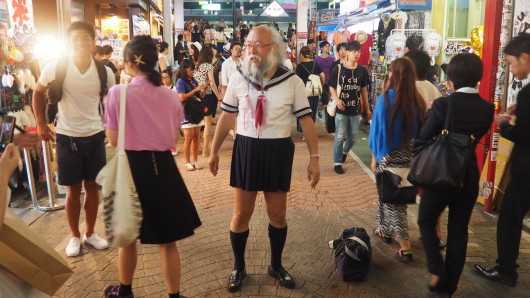 Santa Claus in School Girl Uniform.  If you watch the Broadway TV commercials in Hong Kong you will spot him as well.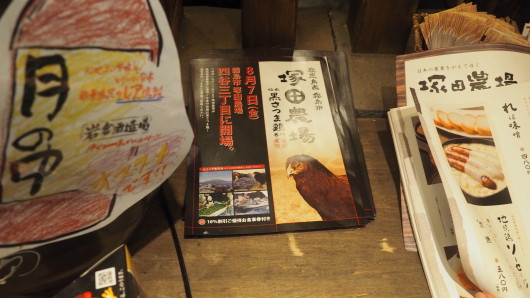 My last meal of the trip.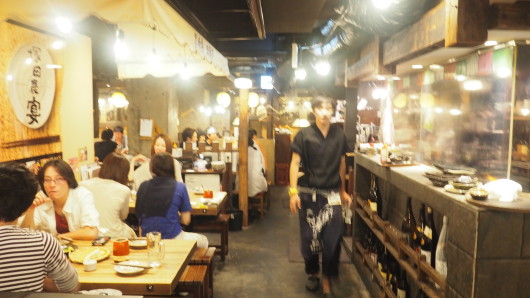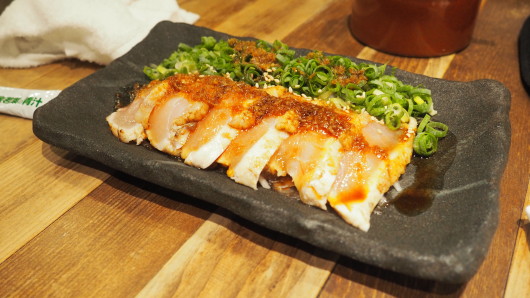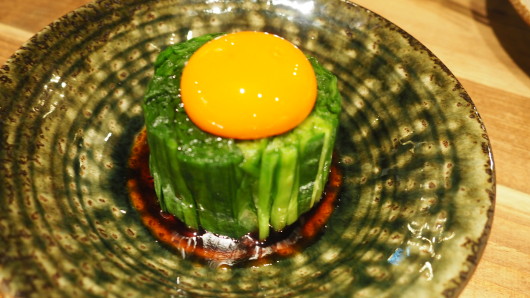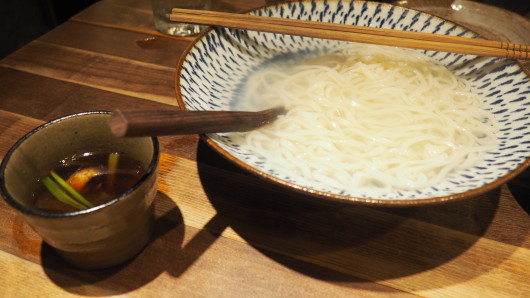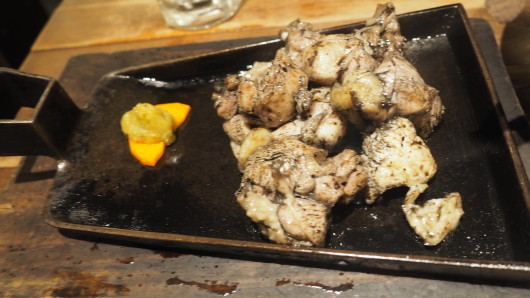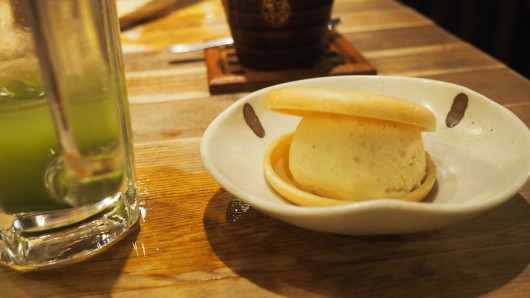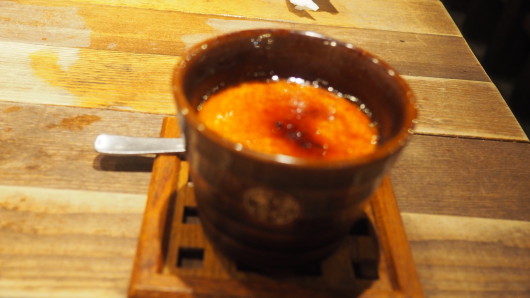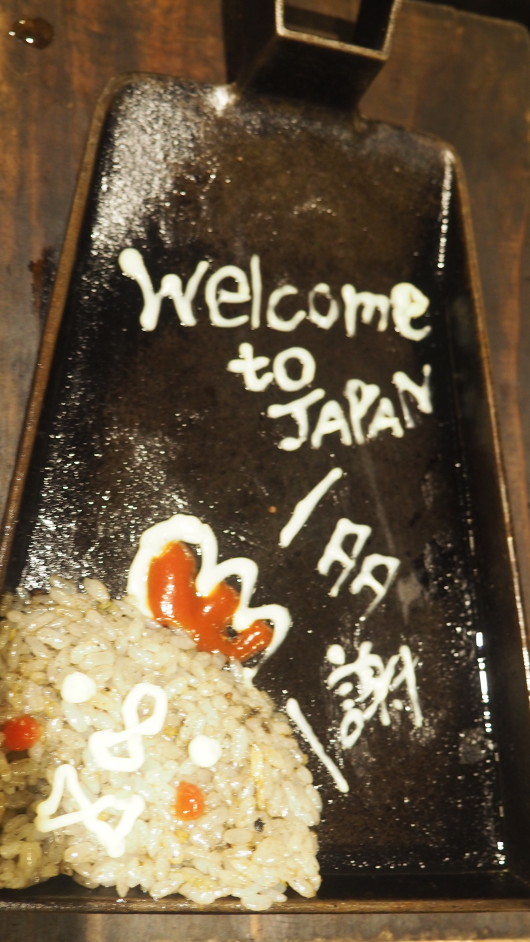 Great service from the staff since they know we were from Hong Kong!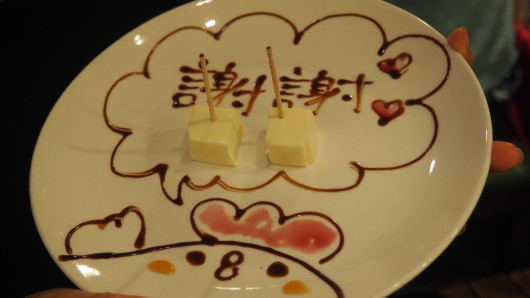 Once again! A li ga do!
Additional tip for men: You know that famous mall Shibuya 109 Men?  Sorry the clothes there aren't that great.  Instead, I would recommend you Luminee Men… on the way from Shibuya to Harajuku you should encounter it.
And that's it!  That concludes my trip!  Must go to Tsukiji Market again for the food!!!
Things I didn't have time to do in Tokyo: Tsutaya Records, Robot Restaurant, Bonjour Records, Ganso Zushi, Hiroki, Dozeu, Mega Web
*Originally published on Aug. 21, 2015