I was back again at one of my favorite cities in the world, Barcelona!  Nom.
This time, much unfortunately and for whatever reason, the weather was much colder than last year's.  In fact, at one of the days during Mobile World Congress (MWC), it was actually snowing!  Gone were the pinkish and blue skies this time.  Nevertheless, I still enjoyed my time in Barcelona, it's just a beautiful place to be.
I'll dive right in since I've made some posts about Barcelona already – Barcelona, the City of Gastronomy, Barcelona Architectural Design and More, and Mobile World Congress 2017 – The Next Element.
Accommodation
Barcelo Sants Hotel (website)
I'm not really expecting to have a chance to travel to space during my lifetime, yet Barcelo Sants Hotel provided me a glimpse of what it would be like if I did live in space.
The space themed hotel had robots (that didn't do anything) in the lobby, red scrolling text on black digital banners, and stock photos of people floating in air.  In the elevator areas, there were pictures of space as if you were with the stars.  In fact, any request of a double bed was simply two twin beds stuck together to form one bed, so you would still feel the hole in the middle between the two beds.  Probably how falling into a space hole would feel like.
Regardless of this, I find the theme rather cheesy and humorous at the same time.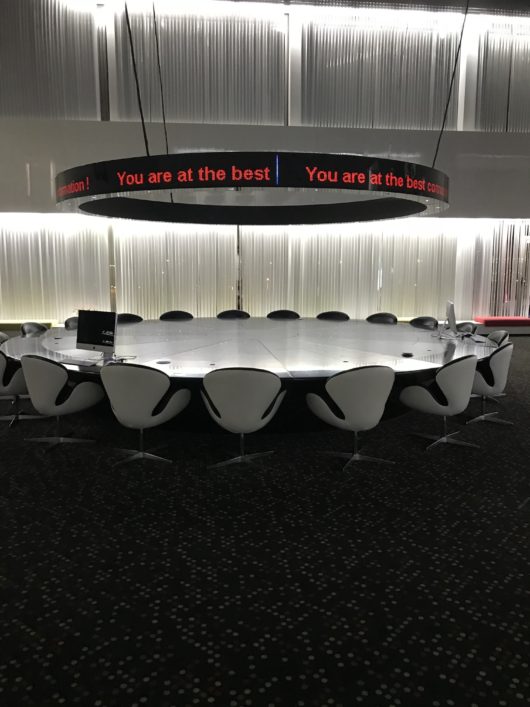 When having a space meeting
I'll start off with what's bad.  The design is quite bad.  If you have two persons or more in the room, the bathroom light will wake them up.  The floor was squeaky.  One time, some random guest was able to have access to our room.  The room felt smaller than last year's at b hotel.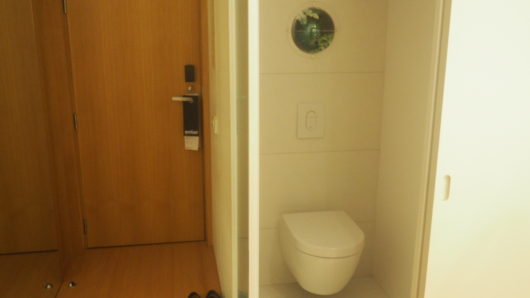 The sink was outside the bathroom, so if you're washing your face or brushing your teeth, other people in the room can hear.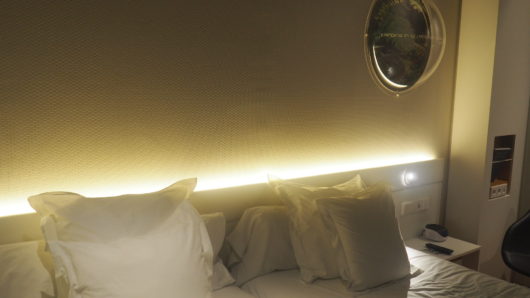 What was OK was breakfast.  If I recall correctly, there were different types of jambon (ham!), omelette service, boiled eggs, salad, other cold cuts, sausages, cereal, bacon, cheeses, different fruit juices etc.
What was good was the hotel service – they were very attentive upon checking in and with providing good places to eat and were also professional and positive.  The best thing about the hotel was its location – you were right above the Barcelo Sants station, which provided so many different train lines for you to get to different places.
Places to Eat
Con Gracia (website)
Last year, I wasn't able to walk in directly to this restaurant.  That was last year.
This year, I made sure I had a booking at the restaurant.  I was impressed.
While still not good as some of the restaurant greats in Barcelona, such as Tickets and Cera 23, Con Gracia shouldn't be something considered as something to pass up on either.  This tasting menu restaurant provides a good intimate romantic setting, with exceptional explanations from the hosts themselves (perhaps the owners) with every dish that comes out.  The match ups of the food were well thought out, and the tastes were wonderful.
The restaurant offers two different tasting choices – one is their classic, original tasting menu, and the other is seasonal, 'omakase' style filled with surprises.  While dining, I noticed that there were some overlaps between the two courses.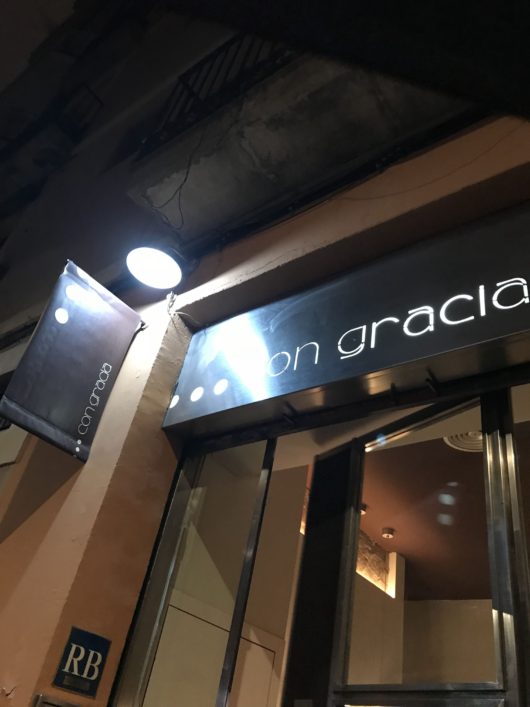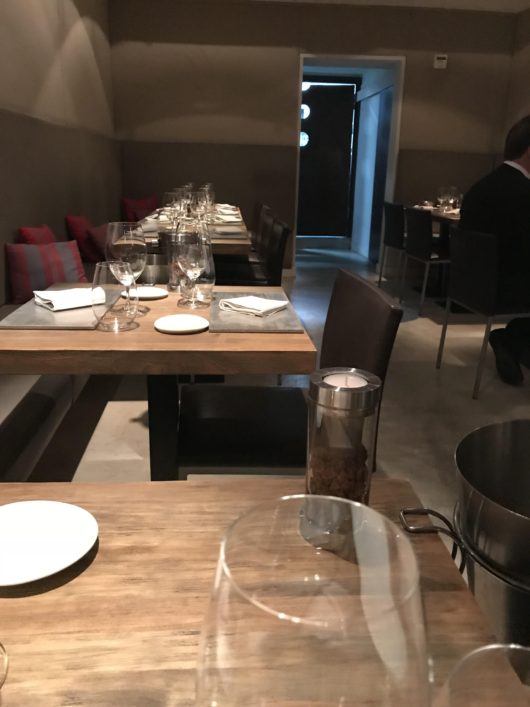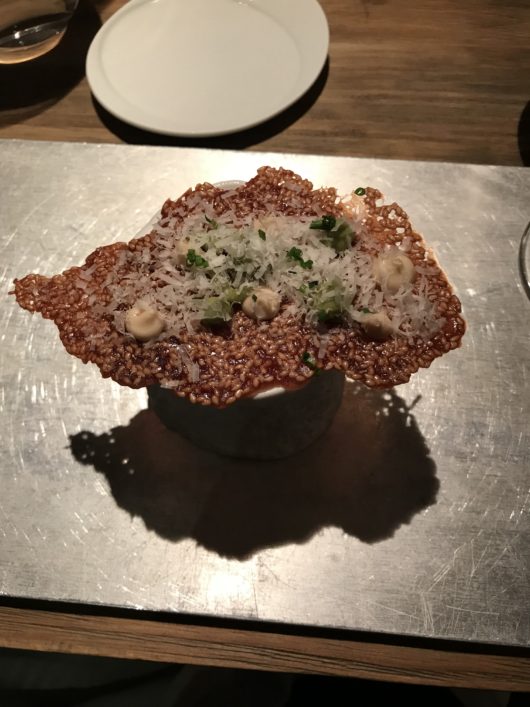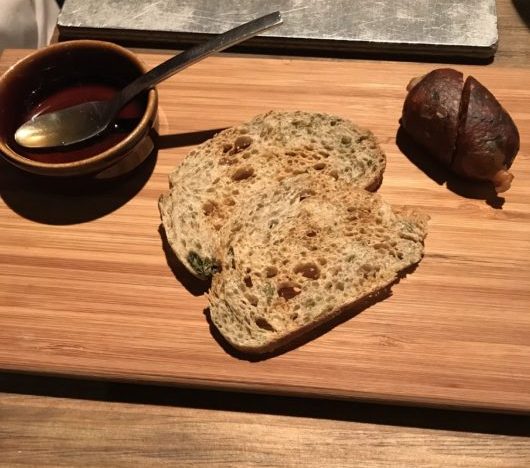 Fish Chorizo with seaweed bread and Organic Honey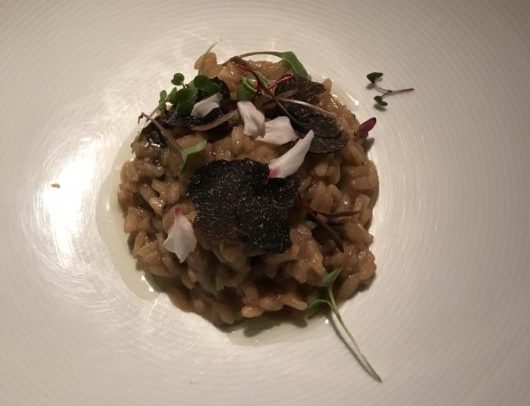 Mushroom Risotto with truffle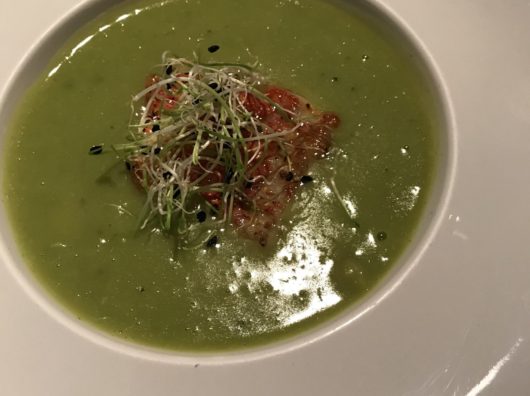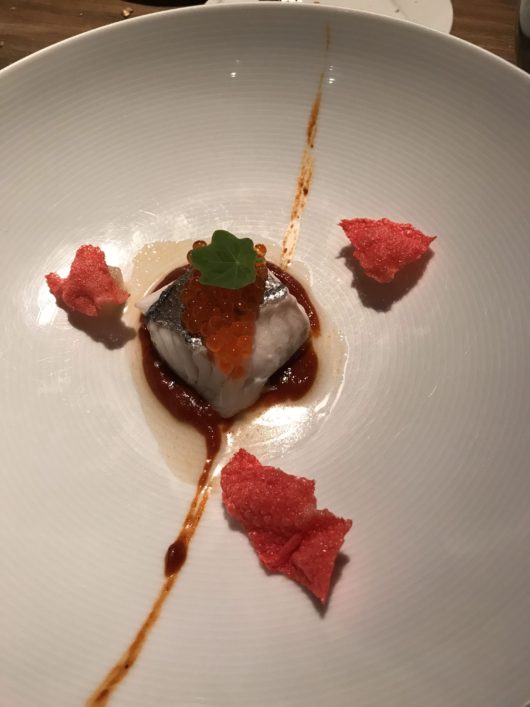 Steam Hake with Vizcaya Sauce, Apple with Cardamom, Crispy Peppers Rice and Caviar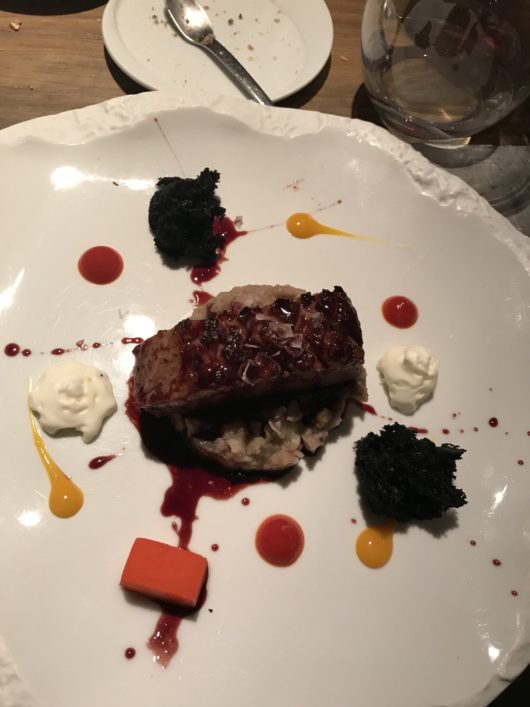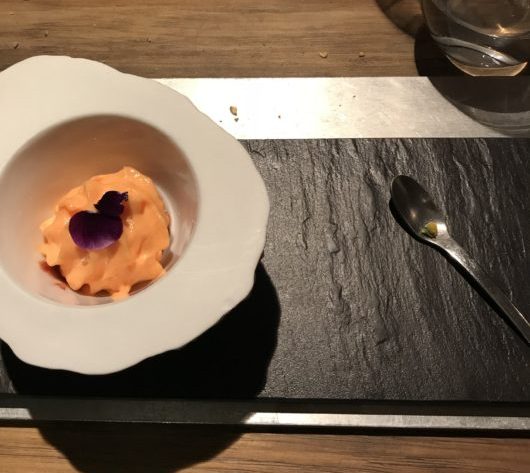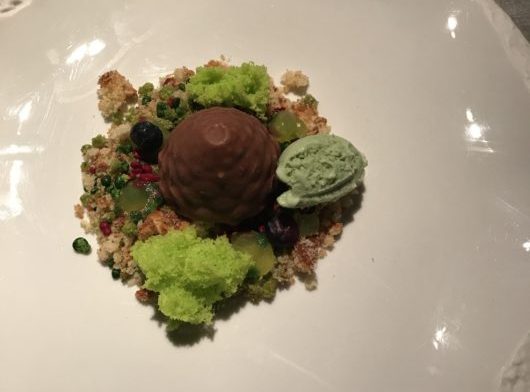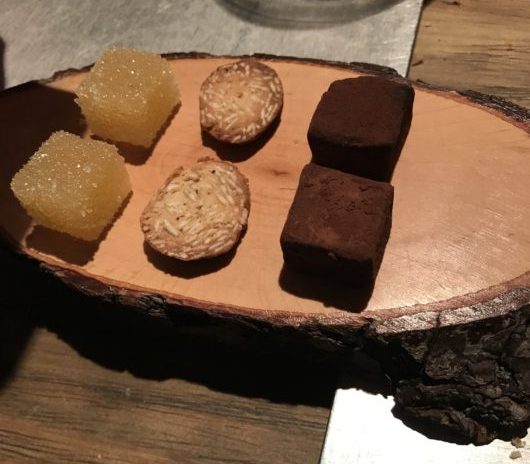 Petit Fours
Petit Pau (website)
We chose Petit Pau because of its high ranking and proximity to the hotel.  By the time we checked into the hotel, it was already after 9pm, and since starting our day in London, it had been a very tiring day.  That said, most restaurants in Barcelona close late since Spanish have a habit of eating late lunches and dinners, so we managed to snag a table there at around 10pm.  Lunch tends to be around 2 or 3pm, and dinner doesn't begin until at least 8pm, usually 9pm or even later.
The staff / chef there was exceptionally welcoming and friendly; we were treated almost immediately to glasses of white wine.  I tried rejecting him but he said it's our treat!  So we had to accept it.
It's a very cozy, simple, and yes petit restaurant decor with cozy, simple food.  Clams were actually large!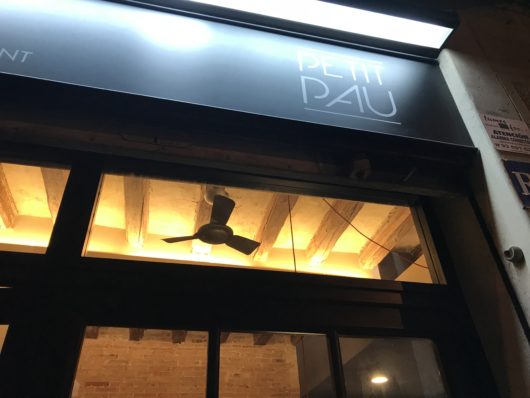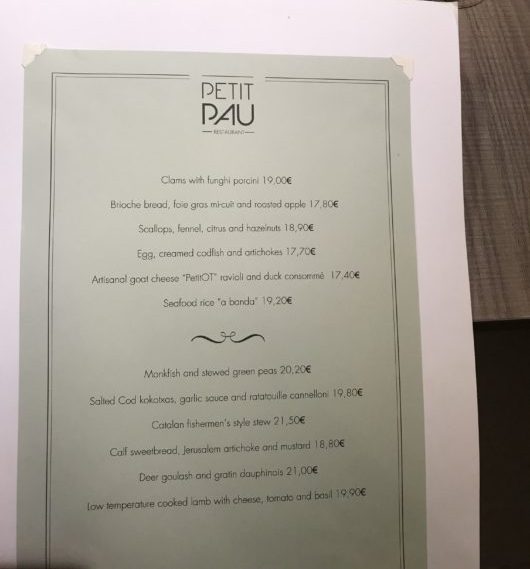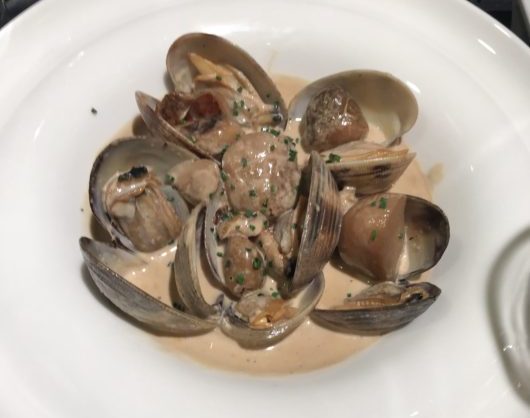 Clams with funghi porcini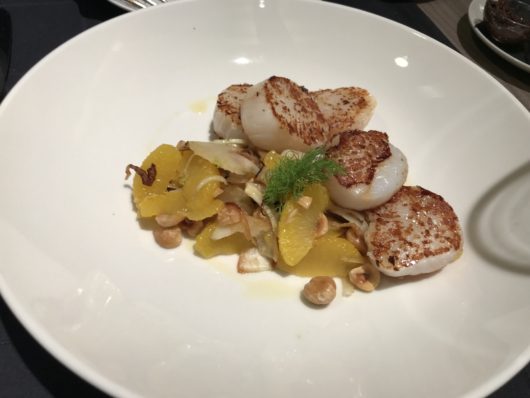 Scallops, fennel, citrus, hazelnuts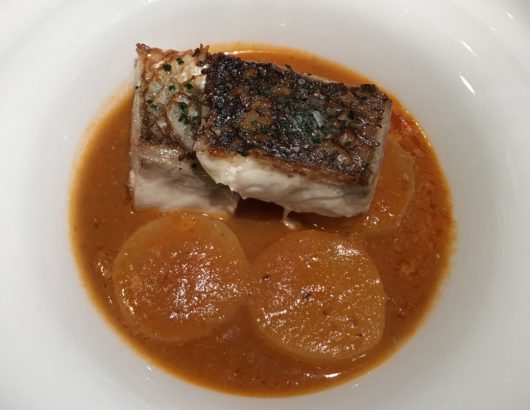 Catalan fishermen's style stew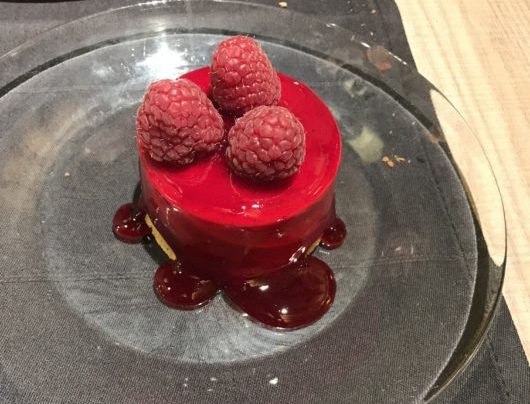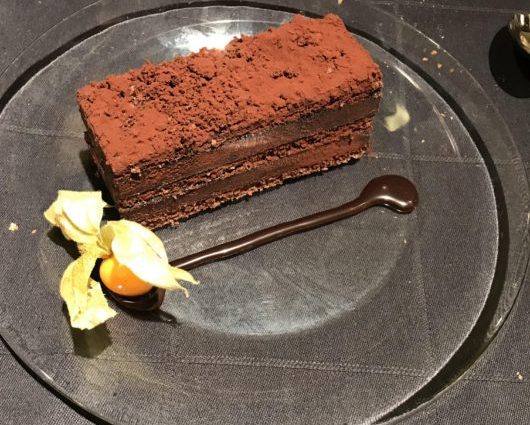 Yummy chocolate cake
La Granja 1872
Recommended in the Time Out Barcelona magazine, La Granja was a bit difficult to find at first because of its small letters of its cafe.  As stated in the magazine, its an art nouveau cafe that began around 1872 with the remains of the original Roman walls still evident.
They have quite some variations with the type of coffee flavors they provide, such as Moroccan style, Mexico style, with honey etc.
All in all, it was OK, but nothing exciting.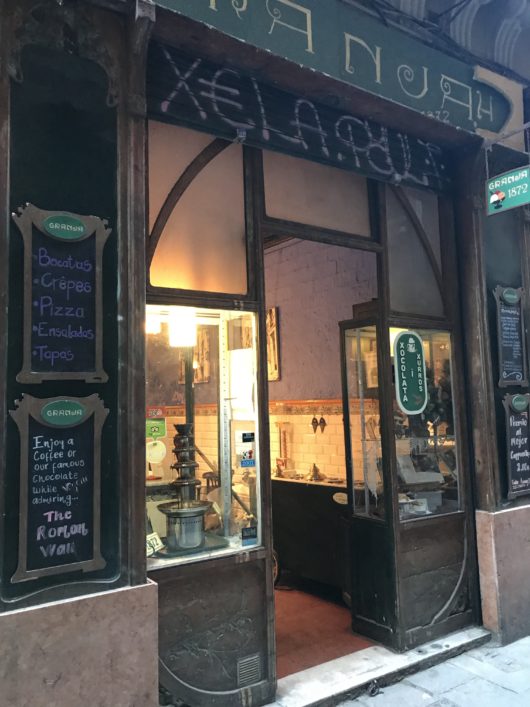 Outside the cafe; you see the top right?  That was the entrance sign… hard to spot.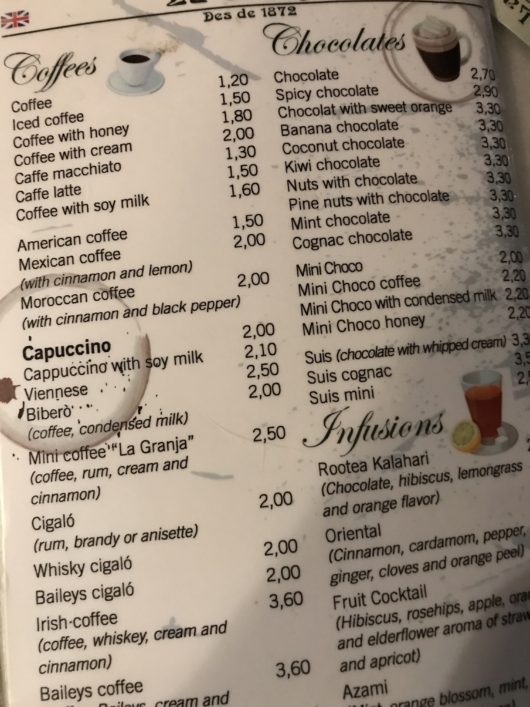 Menu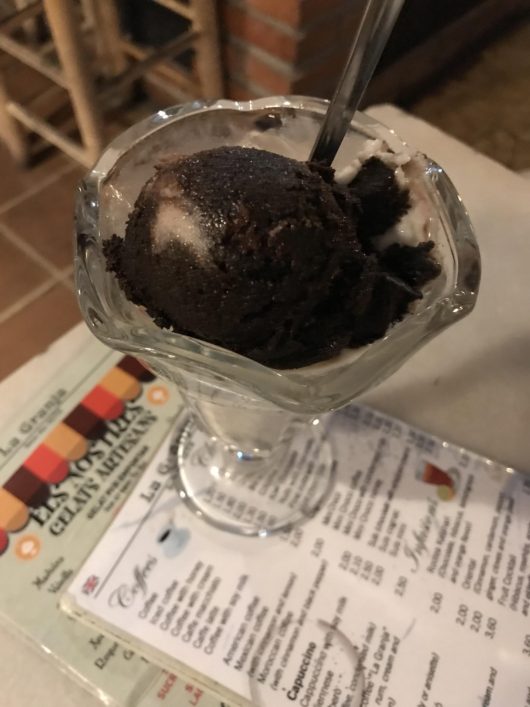 Some sort of gelato they had
A Ruta Gallega
You would expect the locals to know their food.  I have been taken to different restaurants by locals and have been disappointed again and again, and this time was no different.  My advice for all of you reading this is always trust a foodie, regardless of which city he's from.  The foodie will always go for good food, no matter where he travels, and will always do their homework with the restaurants too.
Nearby the Clot station, a local suggested this restaurant for tapas.  The interior wasn't appeasing, but I'm all ok for it… I've been in not as fancy interior designed restaurants all the time, and they usually live up to its local and authenticity of the food.  This one matched.
Some of the dishes weren't warm, such as the inside of Spanish croquettes.  In fact, I was about to down an olive when there was a fly that was on it and it was wiggling its legs as if it was trying to run from my evil mouth (and no I didn't eat it).  But you can imagine the horror – bad food, bad interior design, and I almost ate a fly.  This was by far the worst restaurant I've had this trip.
The service was decent.  The owner/chef wanted to give us ham croquettes because we didn't like the goat cheese croquettes they had in the first place.  I was already losing my appetite by then but fair enough.  The ham croquettes were a tad better…
That's not to say I didn't like the local, I extremely appreciated her help and time for choosing the restaurant and spending time with us.  But we need to separate both elements and recognize that its the restaurant I won't get back to, the person was pleasant.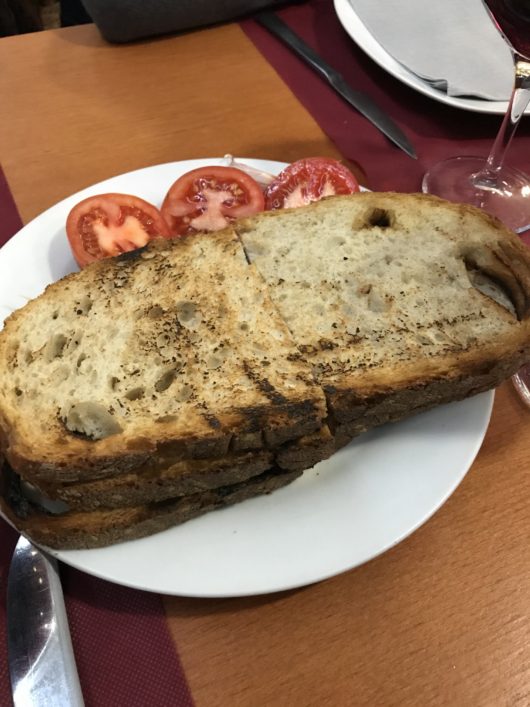 The Spanish way of eating bread, mesh up garlic and spread tomato all over the bread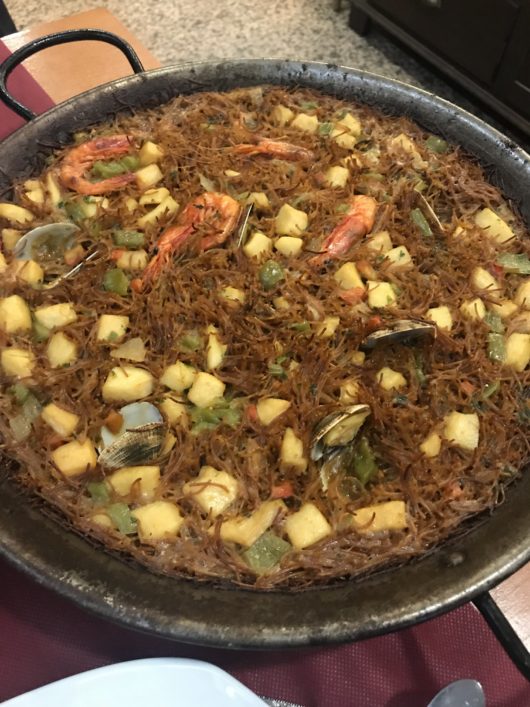 Some seafood paella but noodle style; this was edible
La Fresca
If A Ruta Gallega was underwhelming, La Fresca was a surprise.  Neither were restaurants we pre-booked so we had no expectations for either of the restaurants, and while both of them were geared towards locals, La Fresca was much better.
Situated near the Barceloneta station and right nearby Museu d'Historia de Catalunya, La Fresca was a restaurant tucked in from the 'touristy streets filled with touristy restaurants' and was the only restaurant occupied by quite some people.  While not the best indicator for taste quality, it at least serves a guarantee it can't be too bad.
So after a brief walk along Passeig de Joan de Borbo, which the weather was extremely chilly and rainy during that time, we headed back to La Fresca.
We were first greeted by some locals sitting in a corner table, most notably tipsy, gesturing us to come to their way.  Ignoring their plea, a waiter guided us to our table.
Once again, La Fresca is an even cozier and home made style menu serving Spanish tapas.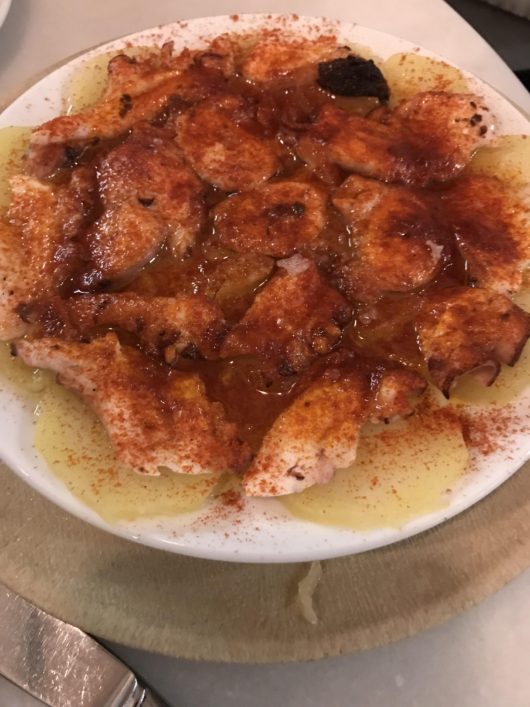 Octopus with soft potatoes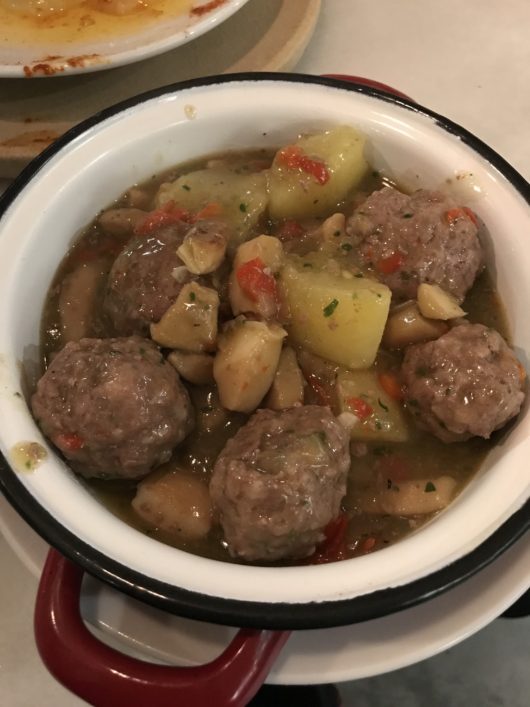 Believe this was cuttlefish meatballs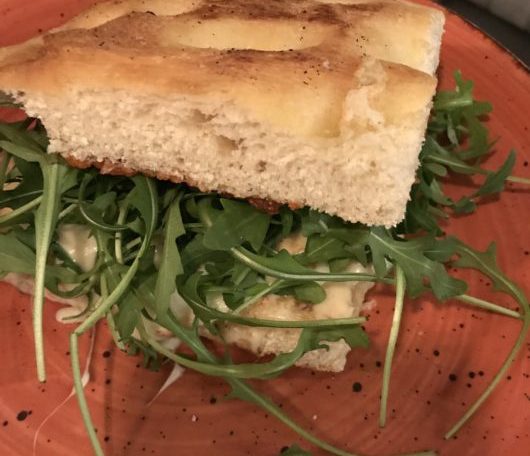 Ham, cheese, rockets sandwich.  If I were to not order one dish, it'd be this one.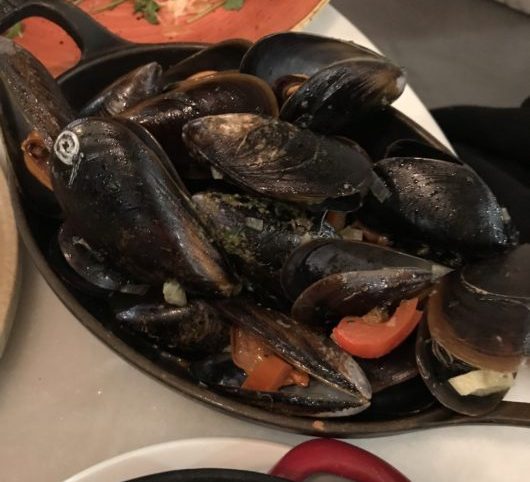 Mussels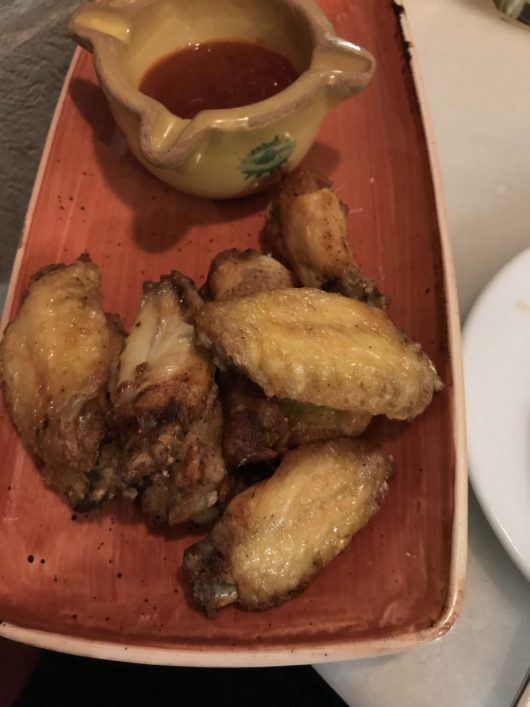 Chicken Wings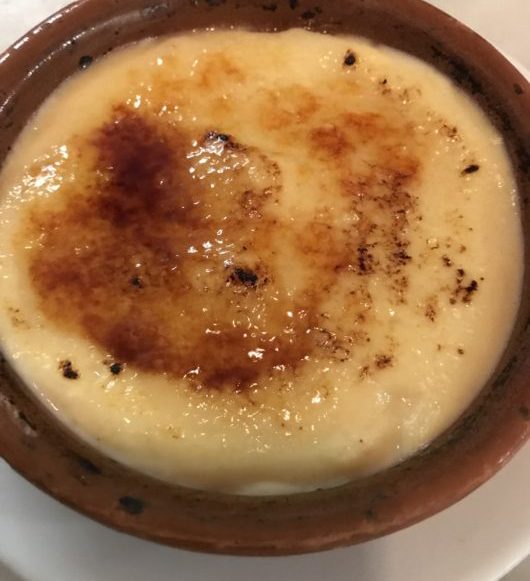 Crema Catalana – Spanish burnt cream custard, tastes almost identical to creme brulee
La Pepita (website)
While working, a colleague was telling me if I ever go to La Pepita, I must order the red prawns.  Say no more – the next day she told me, without a restaurant choice in mind, we head over to La Pepita, which was funny because it was the restaurant I wanted to go to after passing it by when going to con gracia in the first place.  Bingo.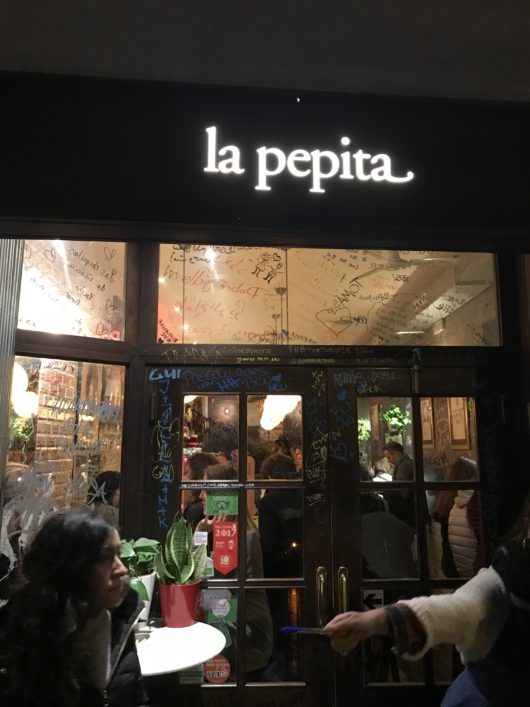 La Pepita was joyfully crowded with waitresses popping in and out of the restaurant.  It was so full at first that we were directed to go to its neighbor restaurant, la cava, to sit down and order food from La Pepita and dine at la cava.  While sipping on some cava at la cava ;), we were eventually summoned back to return to La Pepita for eating.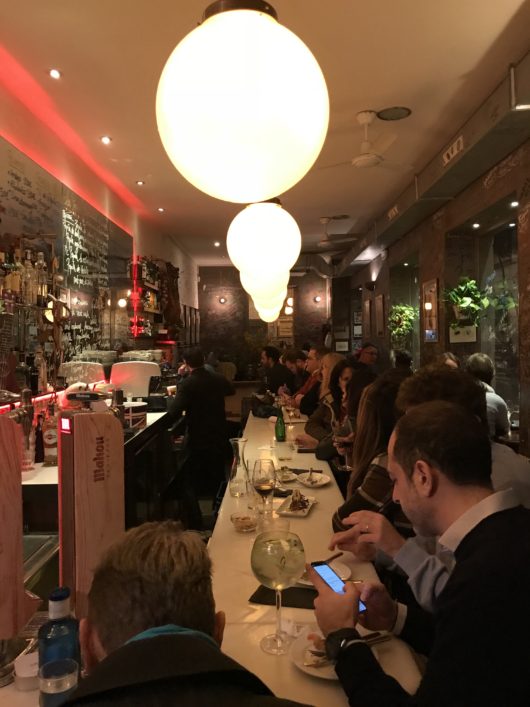 With a total of 3 persons, we were able to gulp down more food than usual.  Worthy of note – the restaurant is not somewhere spacious; you can already tell from the picture above.  The three of us were sharing a table the size of four ipads combined together.  It was so small I was forced to take many pics with other dishes around it, as you'll see below.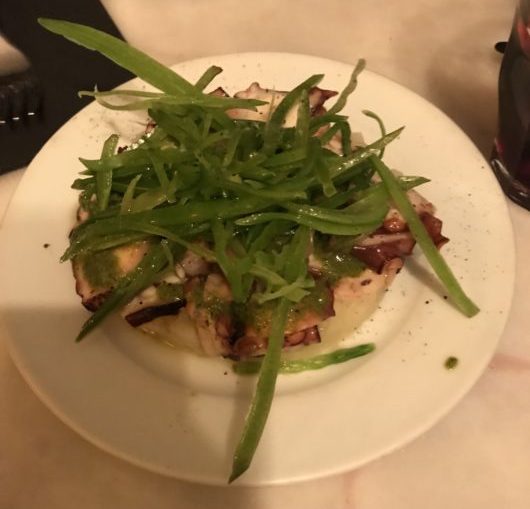 Roasted octopus with green "mojo picon" sauce, potatoe mash and snap peas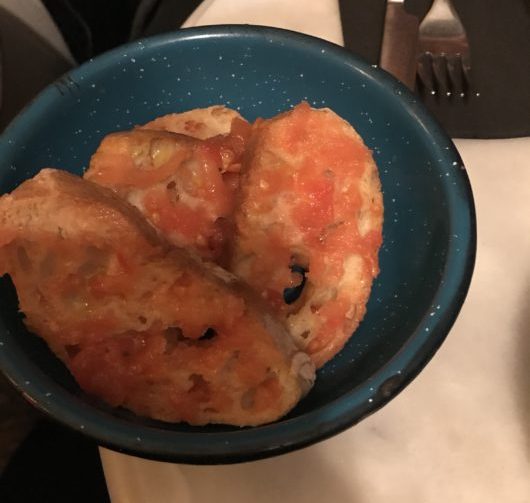 Catalan tomato bread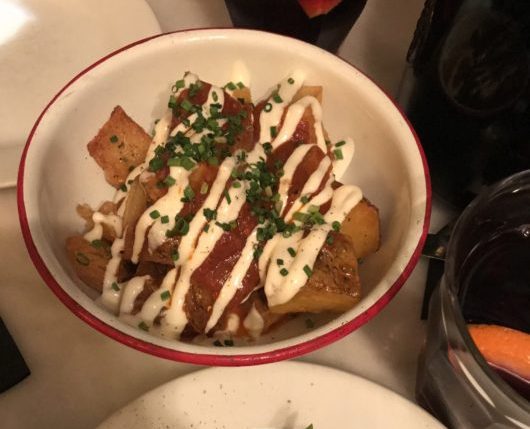 la pepita potatoe bravas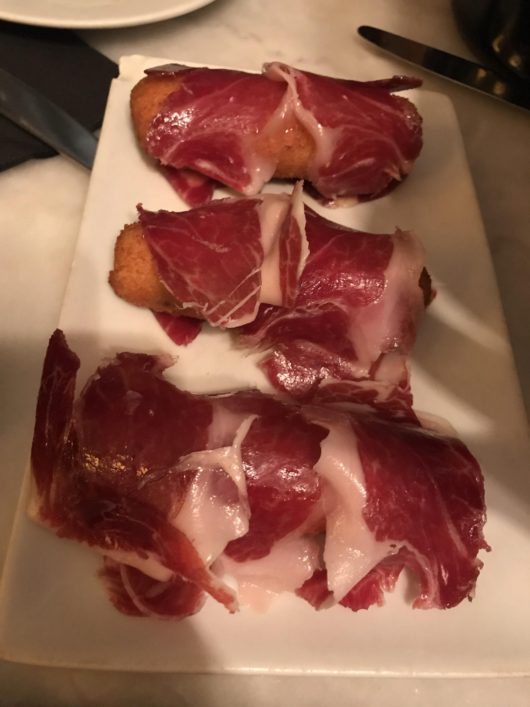 Iberian croquette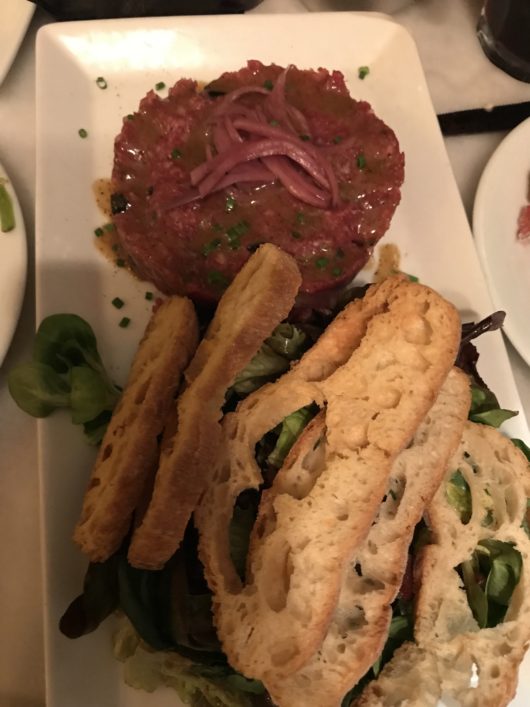 our steak Tartare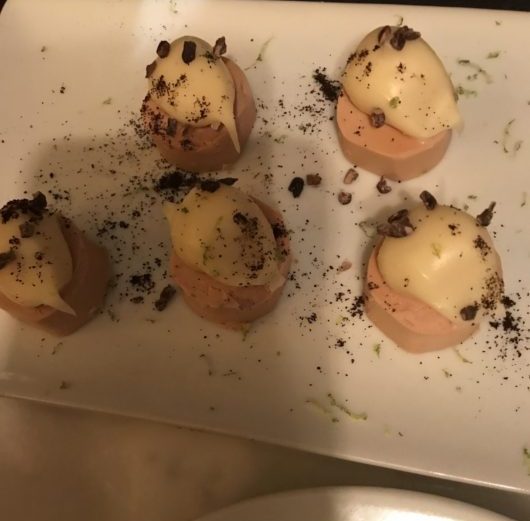 foie gras micuit with white chocolate, coffee, hazelnuts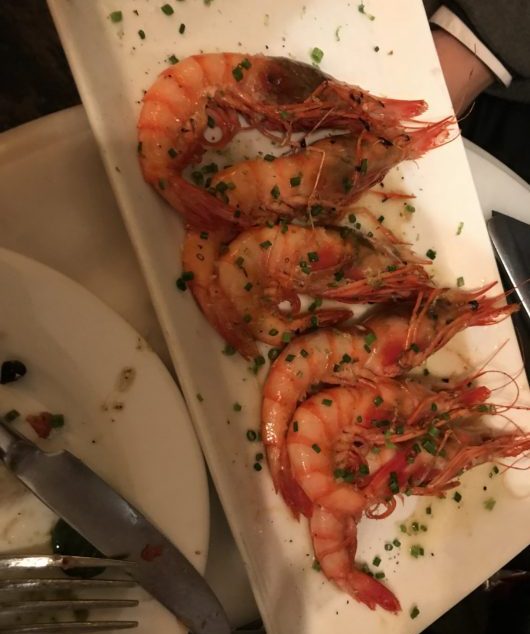 Grilled red shrimp… yes these turn out to be extra delicious!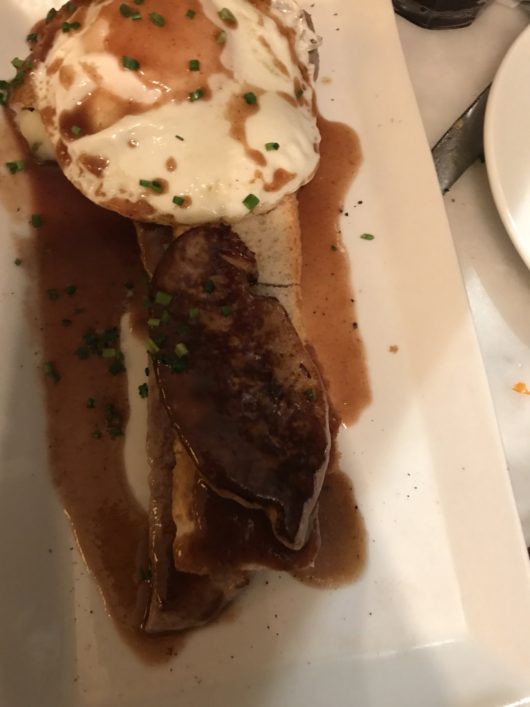 the golden pepita – our beef pepita with grilled foie and fried egg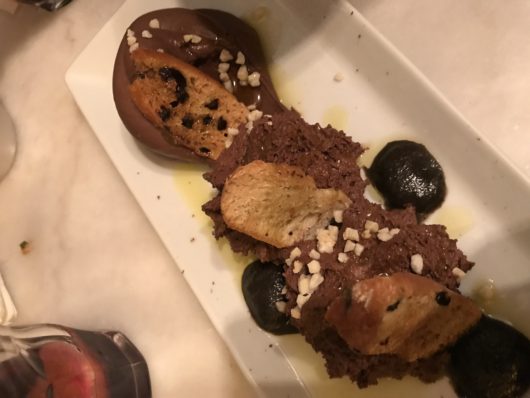 chocolate pepita with oil, bread and black olive jam
La Pakta (website)
While we have awarded the worst restaurant, we also need to give an award for the biggest disappointment, and that award belongs to no other than la pakta.
There's a difference between a disappointment and appalling.  With the latter, the food quality is just bad.  On the other hand, a restaurant can be good and disappointing if there is a major gap between its expectations and its actual taste quality.  Pakta was in that category – a restaurant that was OK, but with all the hype given around it, you'd expect so much more.
You see, La Pakta was owned by Albert Adria, the younger brother of Ferran Adria, and both famous for working at el Bulli, the best restaurant in the world (the #1 restaurant of three michelin stars! but no longer exists).
From what I read up / heard about before, La Pakta was an innovation centre where new recipes were invented in this restaurant.  That was how it felt like eating there – 20+ courses of food that were being experimented on us – a similar feeling as when your mom wants to try out a new recipe and gives it for you to try.  The unique combinations of the food were great, but it lacked an oomph factor, and the dishes did not possess that zest and specialness… it felt like eating at a typically OKish good restaurant, but not something you'd expect from a top 50 restaurant in the world.  I understand some Cataluyan restaurants tend to lean towards having the dishes more salty than in other cuisines, and la Pakta was no exception to this.
Anyway, Pakta is a Japanese-Peruvian mash up.  I value creativity, but the innovativeness was the only part that would have earned a 10/10.  The service was great, the restaurant interior as well, but the taste and ingredients need improvements.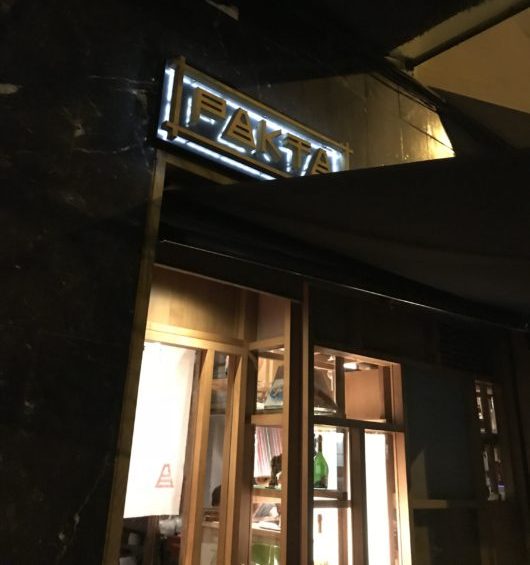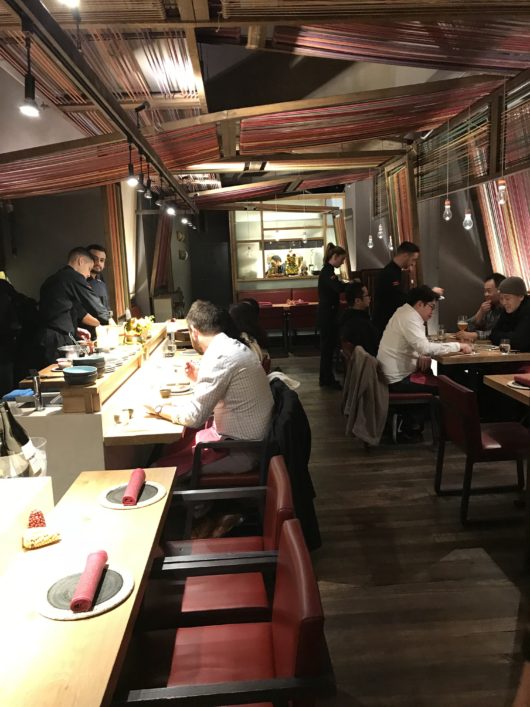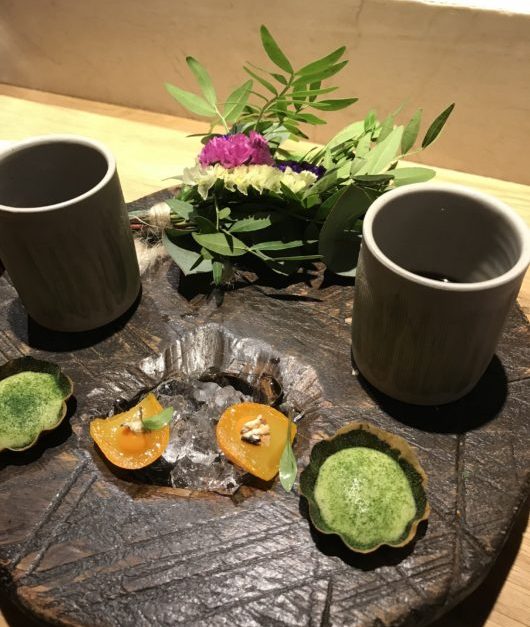 Before we were given the menu, some cleansing palate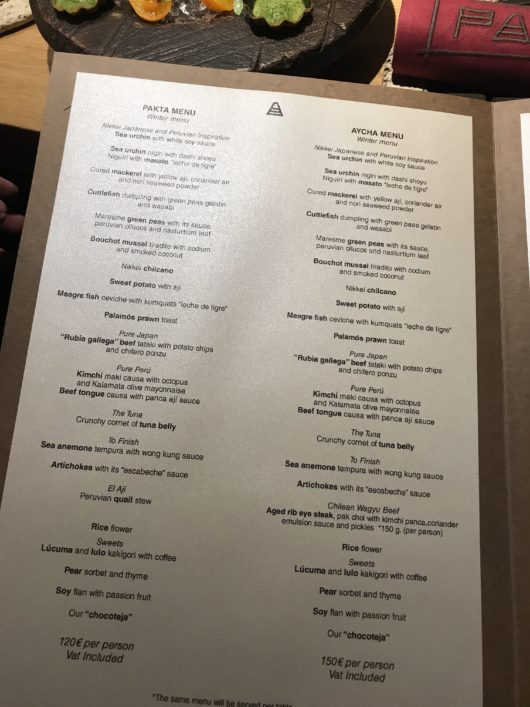 If you have a group of people, they must order the same tasting menu.  We ordered the Aycha Menu, on the right.  I'll let you do the matching for the following pics.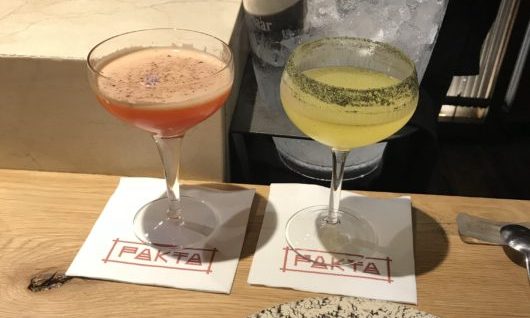 Not part of the menu, but some cocktails we ordered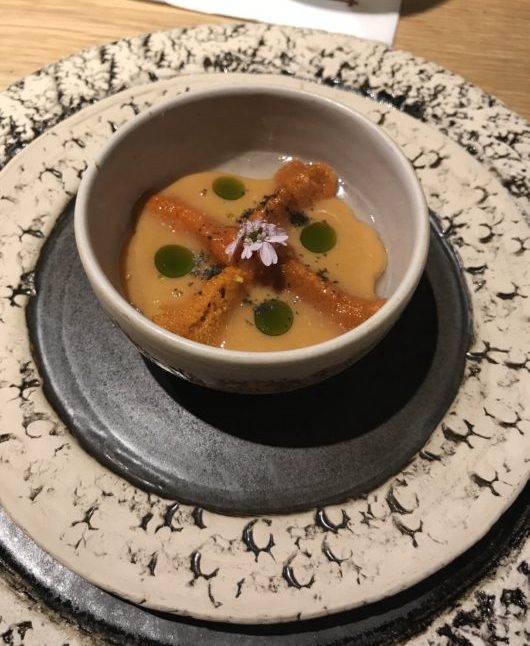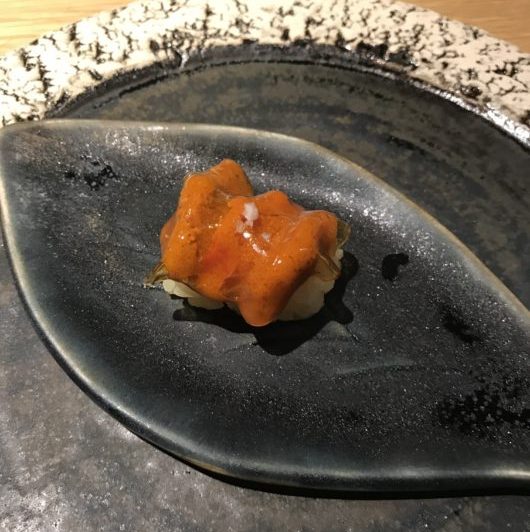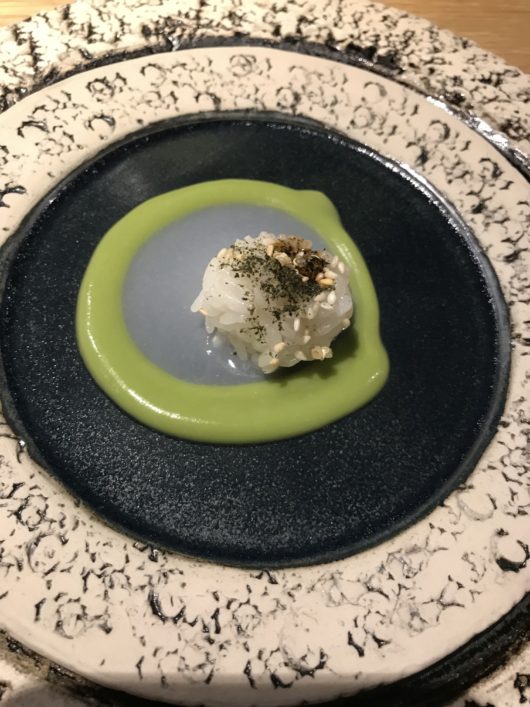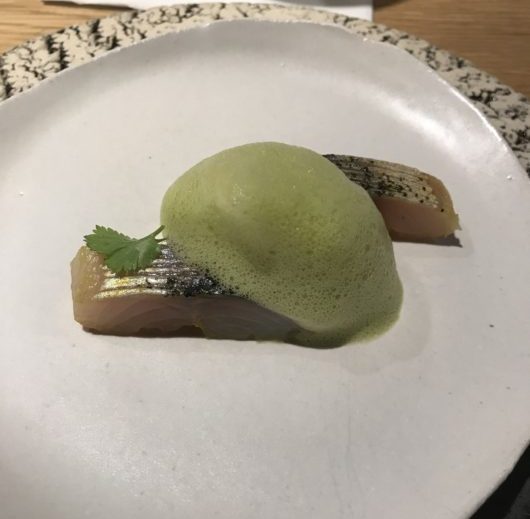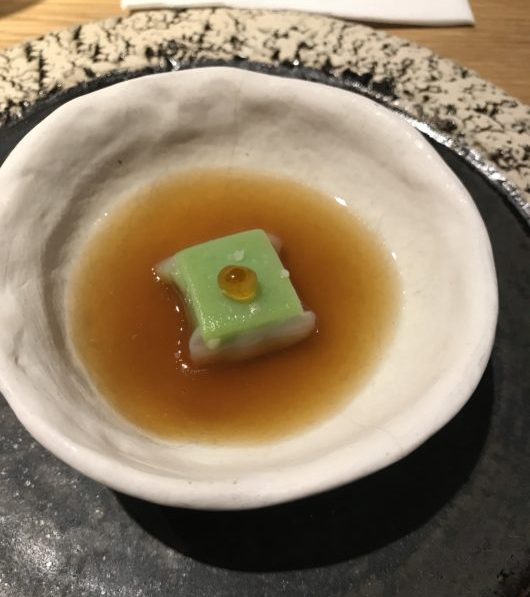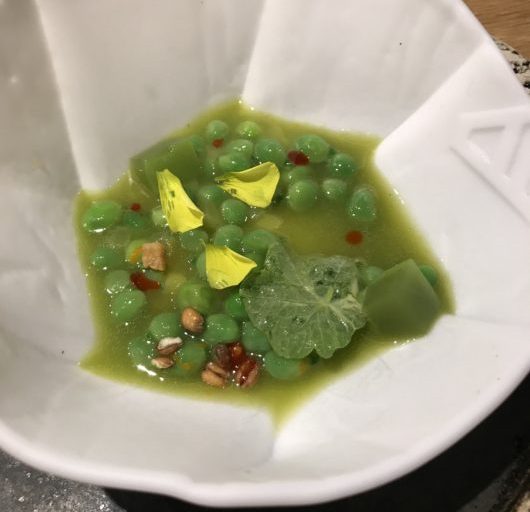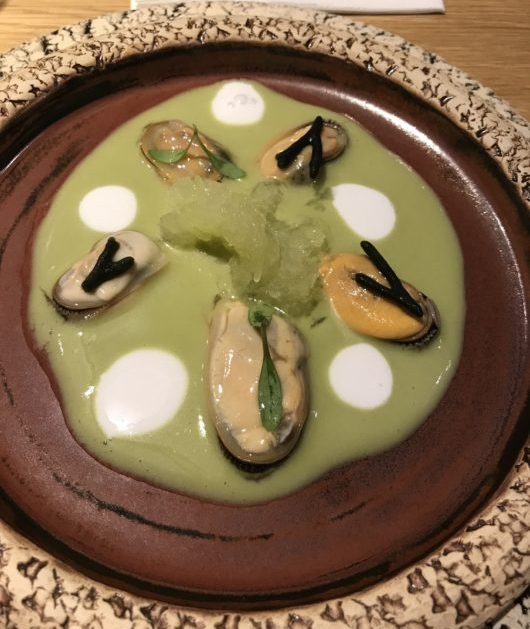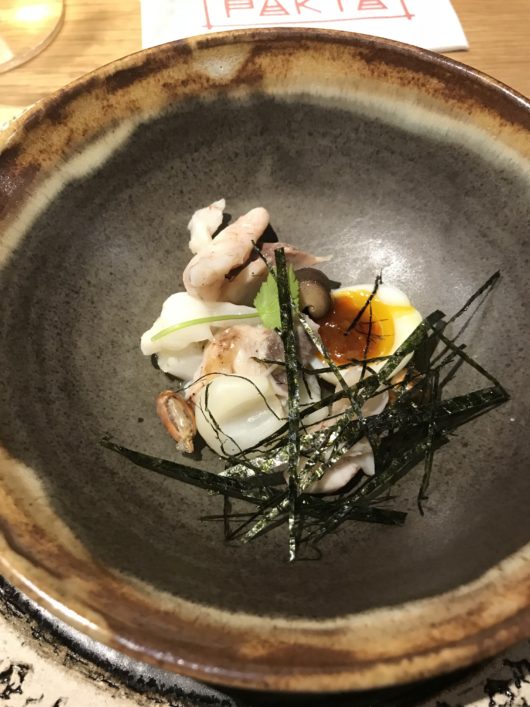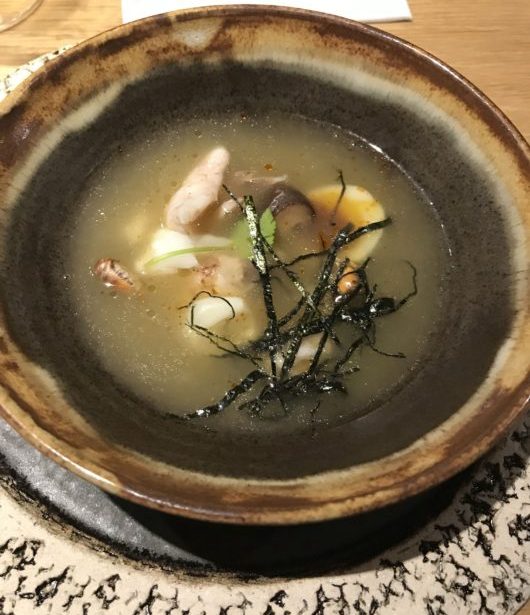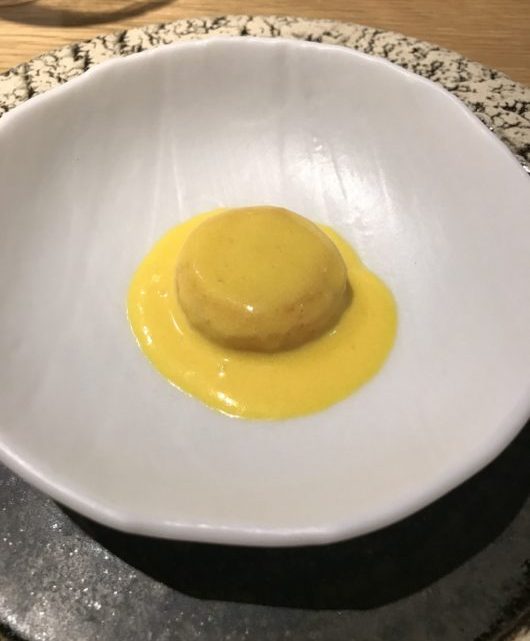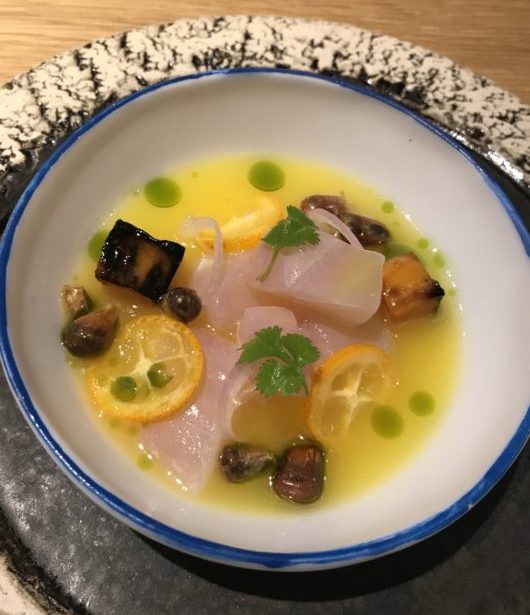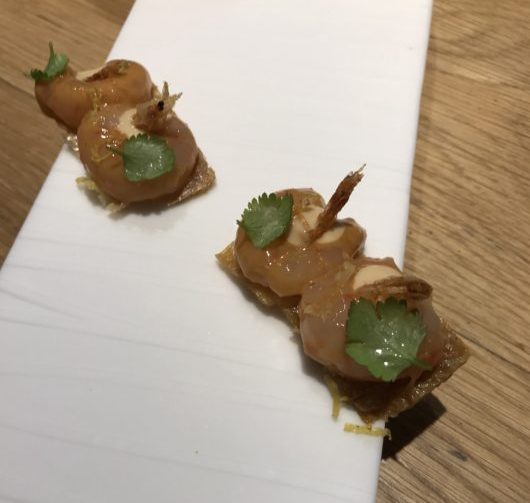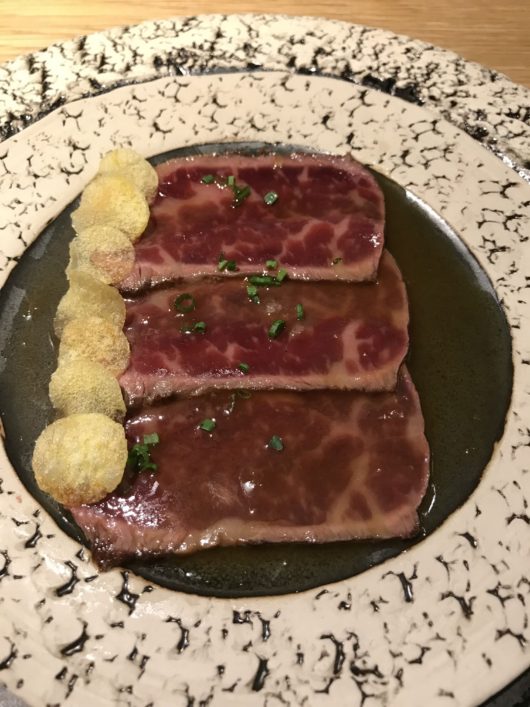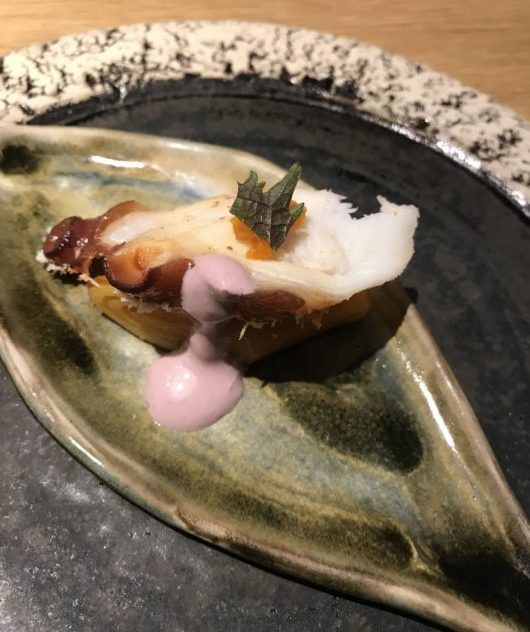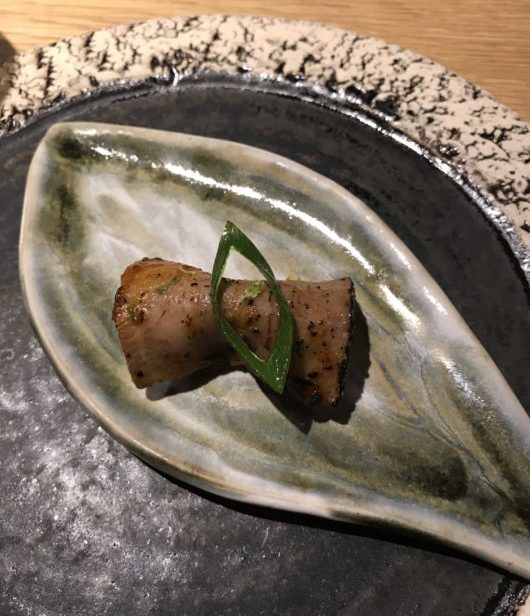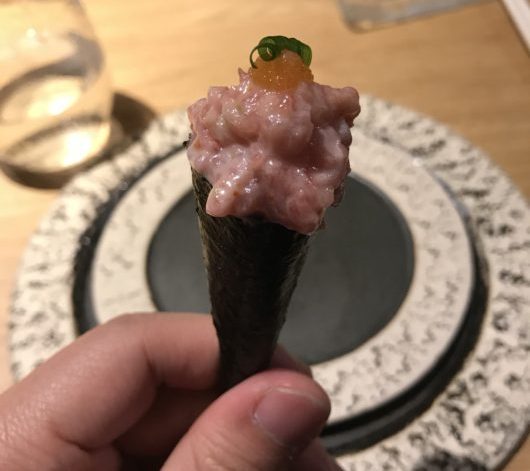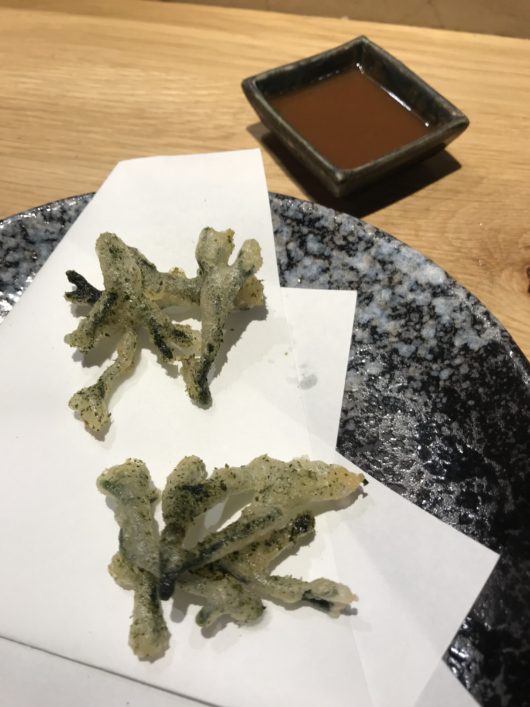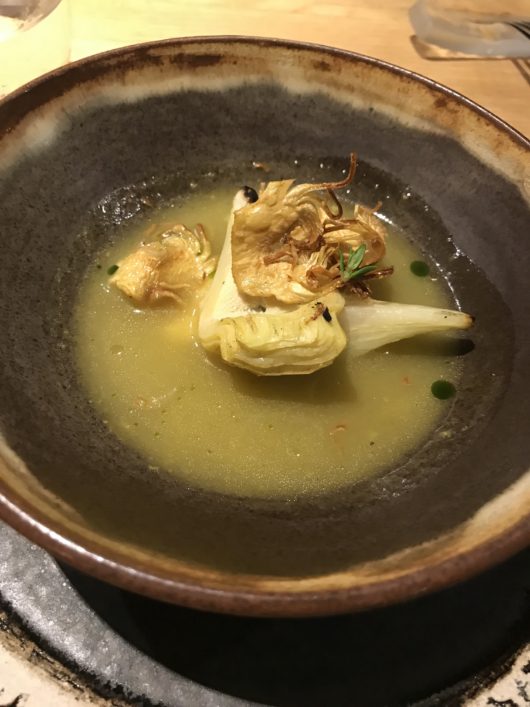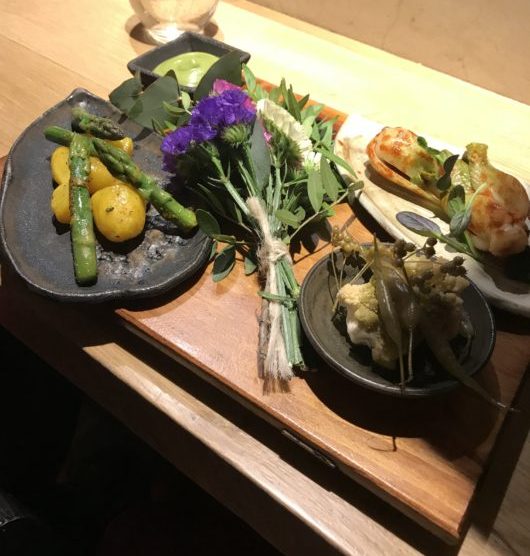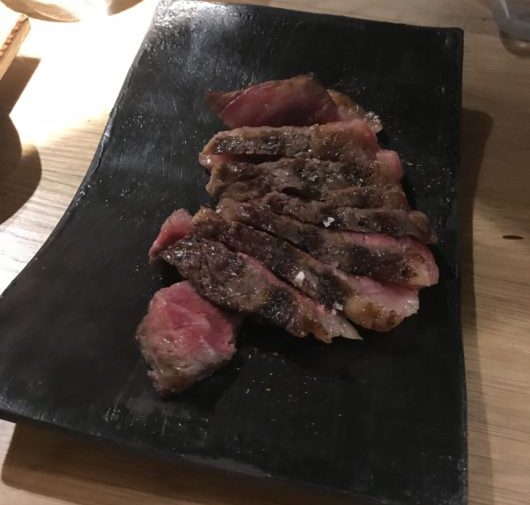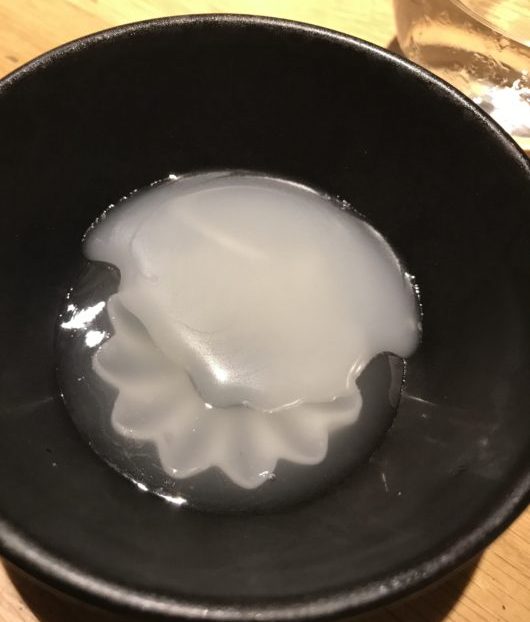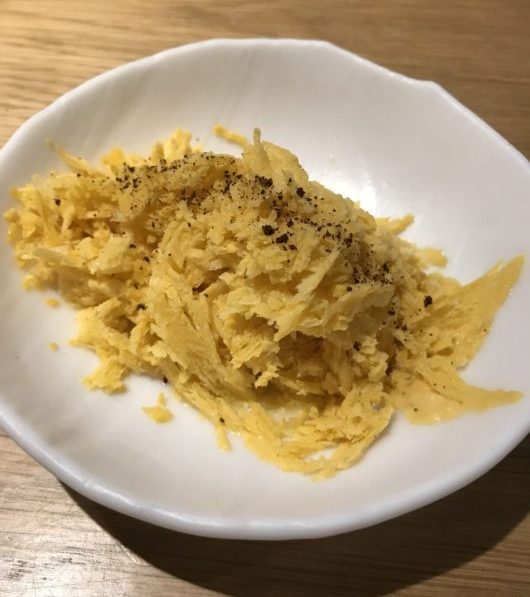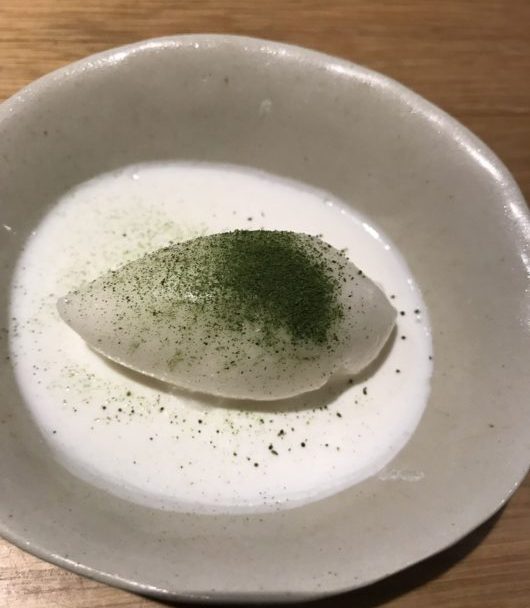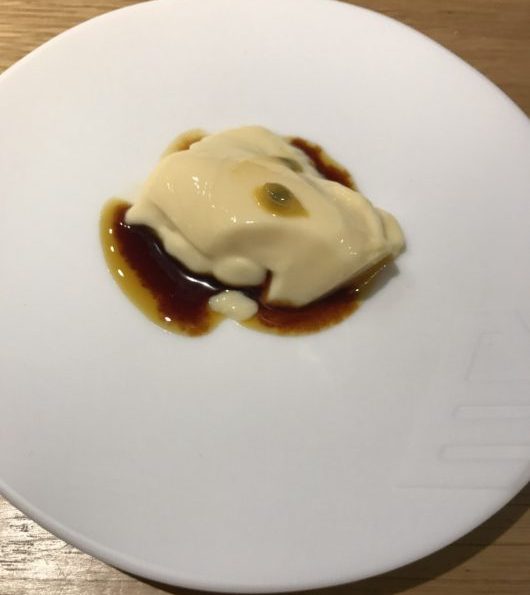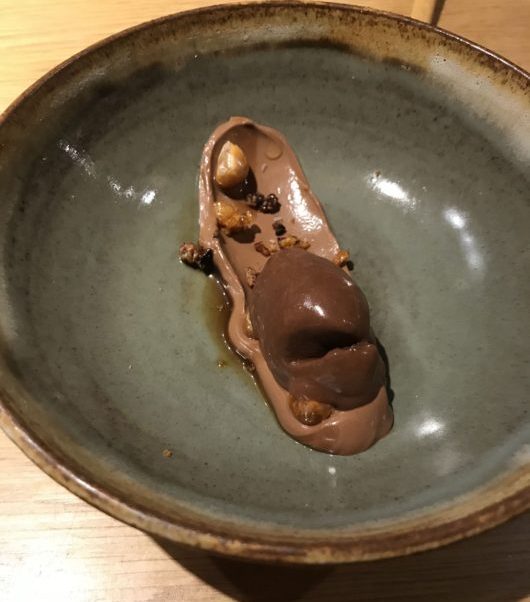 Brunch & Cake (website)
Supposedly the place that invented brunches in Barcelona, Brunch & Cake was filled with people at whatever time we went.  We first tried going to the store at around 12:30pm on a Sunday, but with a 30 min. queue, we opted for somewhere else.  The second time we went was during a Friday at around 9:30am, and while there were people queuing, we were able to get a table almost immediately.
The food there looked incredibly instagrammable and filled with colors and brightfulness.  It was the perfect restaurant companion to those health and fitness seekers.  While the appearance was youthful and energizing, the tastes were just OK.
Yet, it still is very popular.  From the two times we've visited the brunch place (they have multiple branches), there were many solo travelers who ate there as well.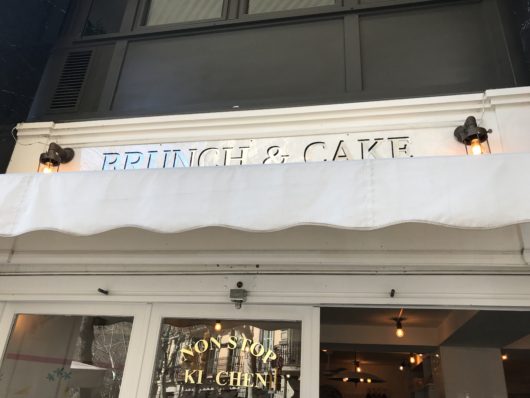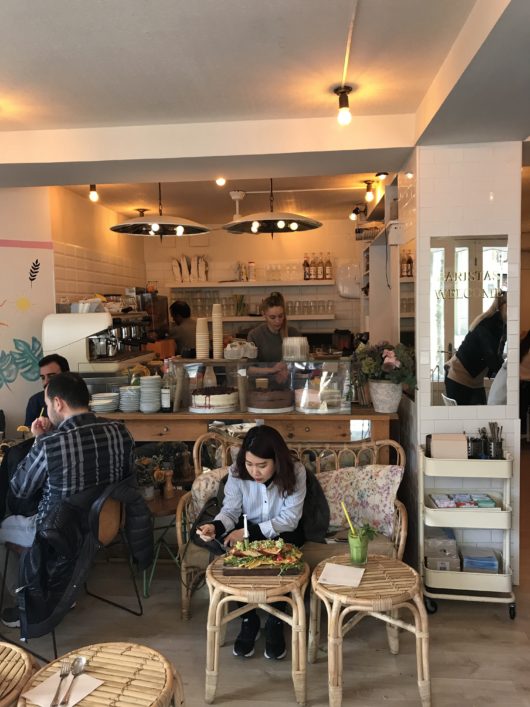 The solo traveler diner I was talking about, one of them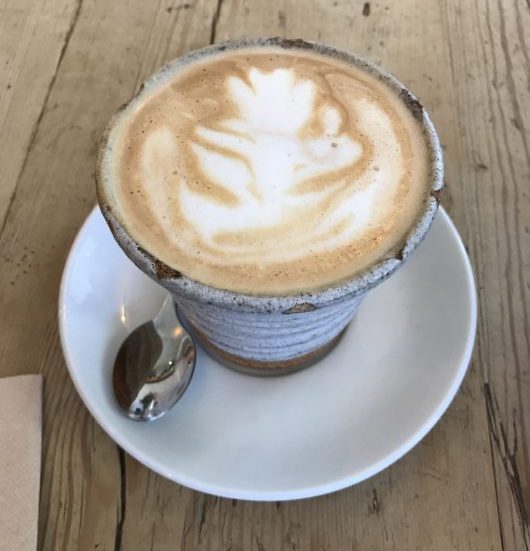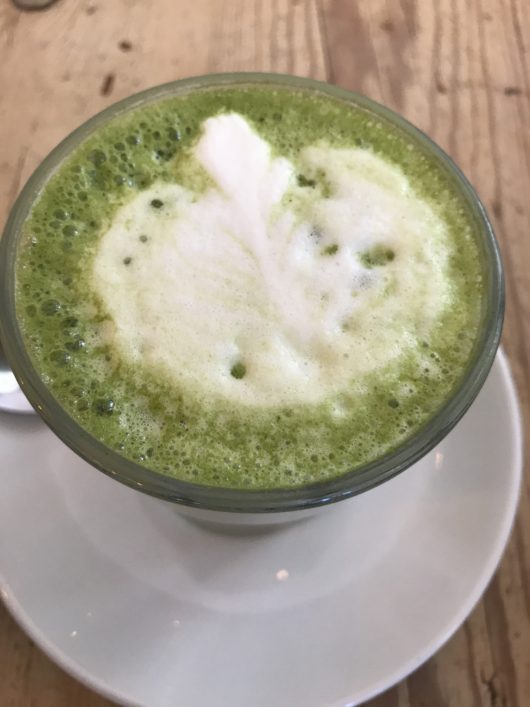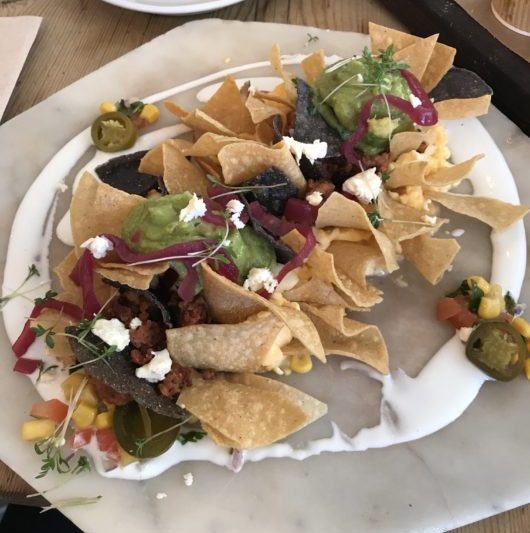 Chicken, nachos, guacamole, and chipotle yogurt / mayo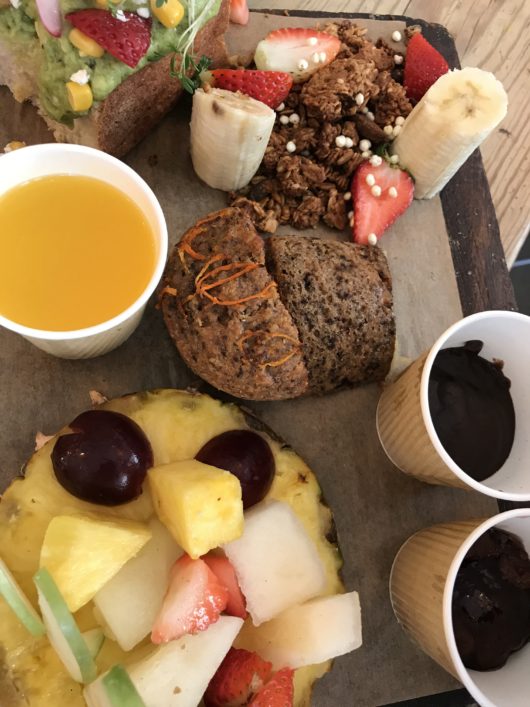 Mashed avo on toast with bircher muesli and fruit salad
Things to do
Mobile World Congress 2018 (website)
The point of this whole trip was to work at MWC, where I had an excruciating schedule of waking up at 6am ish and finishing work at around 7pm with little rest in between for multiple days.  It was really fun though, and MWC does achieve its purpose of being a platform for the whole mobile ecosystem to congregate together, especially for senior executives to have meetings, listen to conference presentations, and to see cool innovations and tech.  It's a very high quality exhibition show compared to other shows in Hong Kong I've seen for example.  This year, we had over 107K attendees and featured topics such as IoT, AI, 5G, Content & Media, VR/AR/MR, and so forth.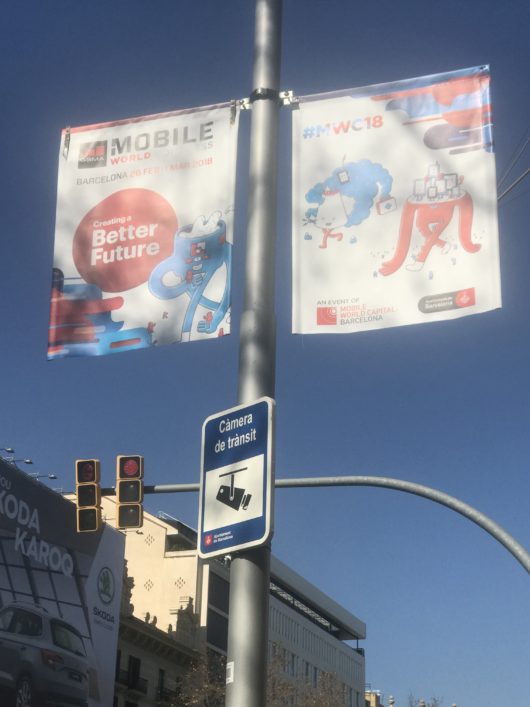 Everywhere in Barcelona there are marketing for MWC, starting from the airport and then around the cities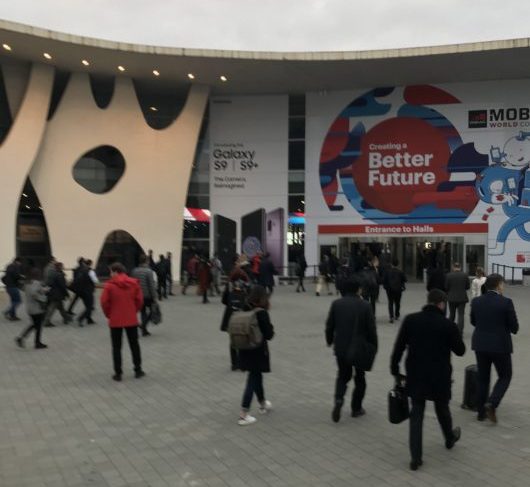 This year's MWC introduced SDG (sustainable development goals) characters, one aspect of the GSMA that they are striving to achieve to have the mobile ecosystem contribute to the 17 SDGs as stated by United Nations.  Also this show was when Samsung introduced Galaxy S9.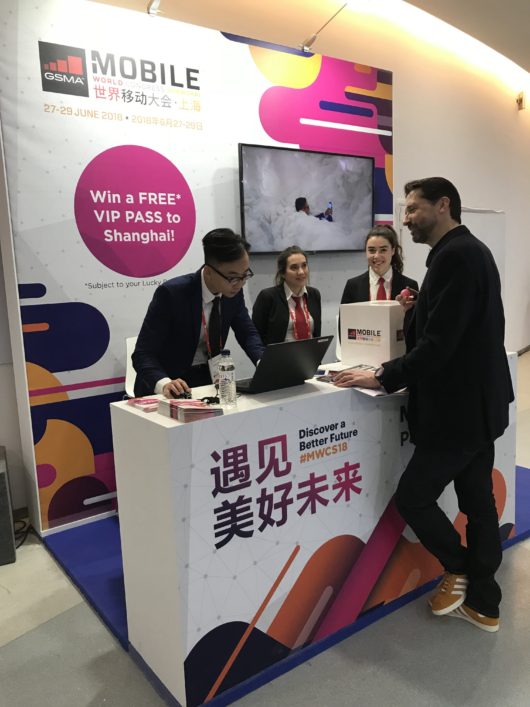 Lucky draw for our next event, MWC Shanghai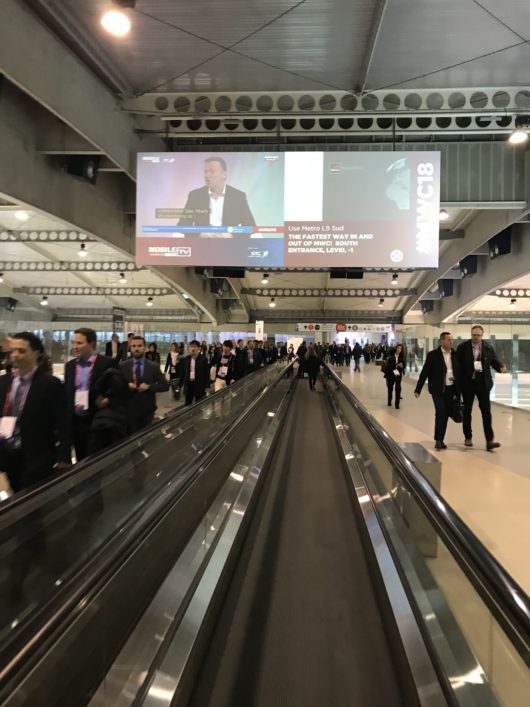 Upper walkway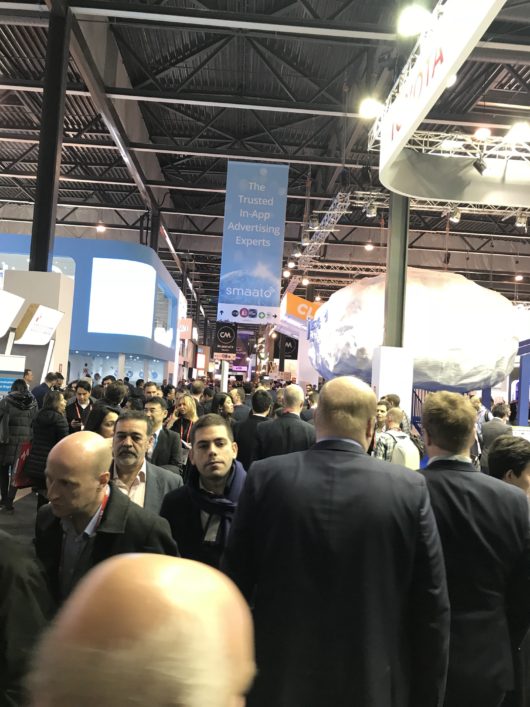 So many people! -o-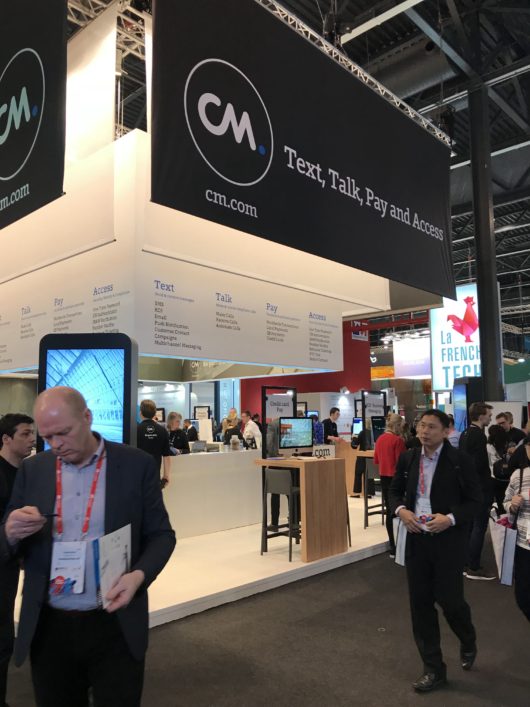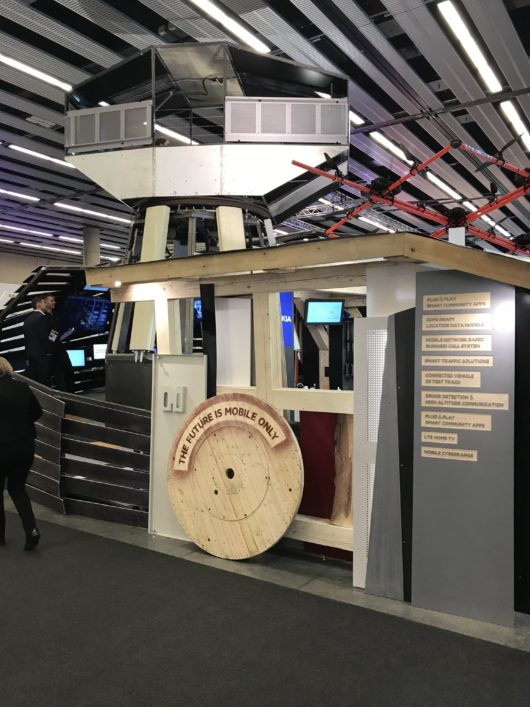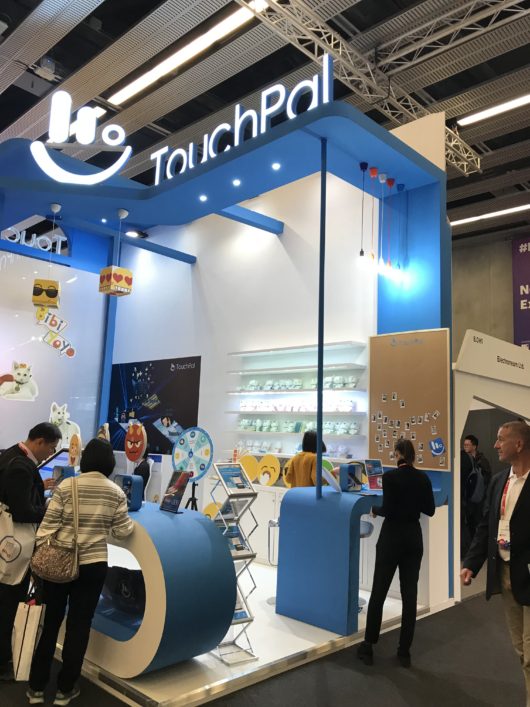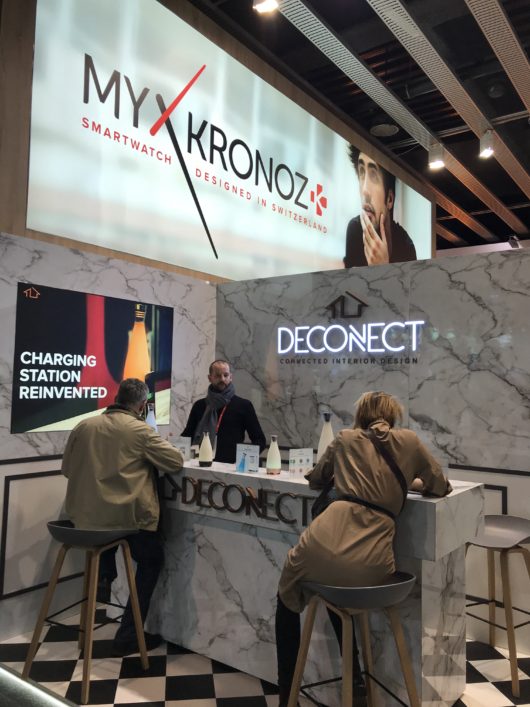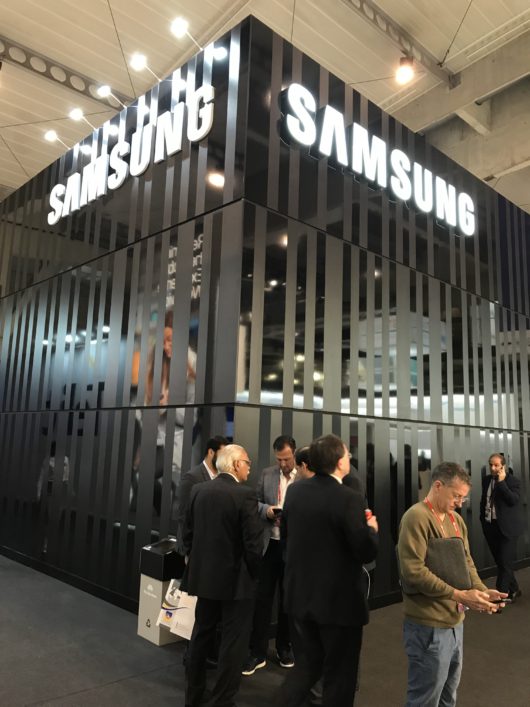 Once again, Huawei continues to impress us with their exhibition stand.  Their exhibition stand inside itself has different restaurants, exhibition halls, meeting rooms etc. so impressive!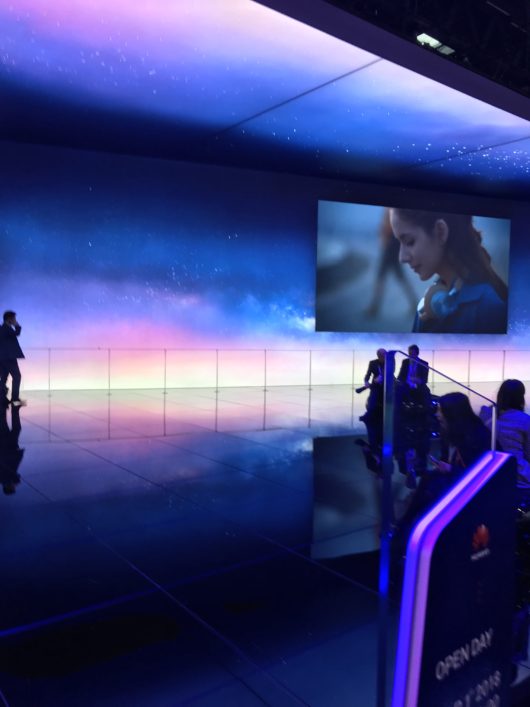 Again part of Huawei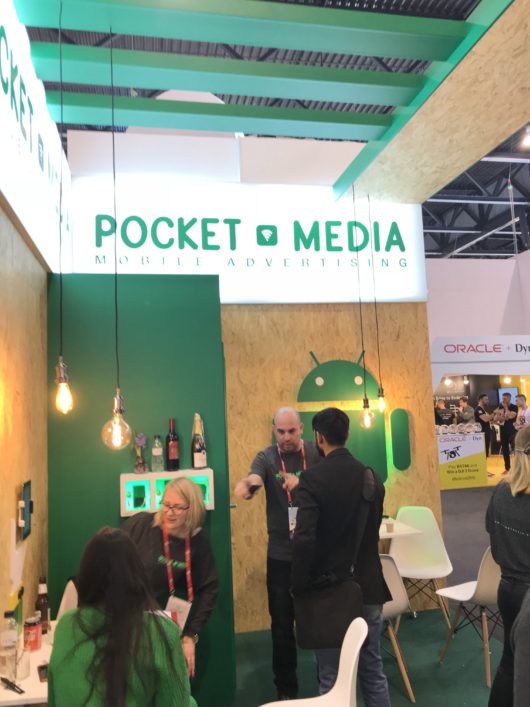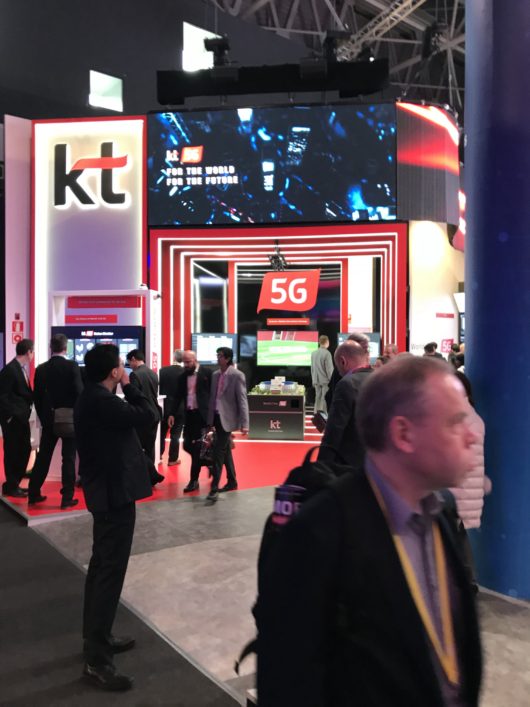 Explore the City
Once again, you know I absolutely love my time in Barcelona.  Just walking around the city gave me a serene pleasure.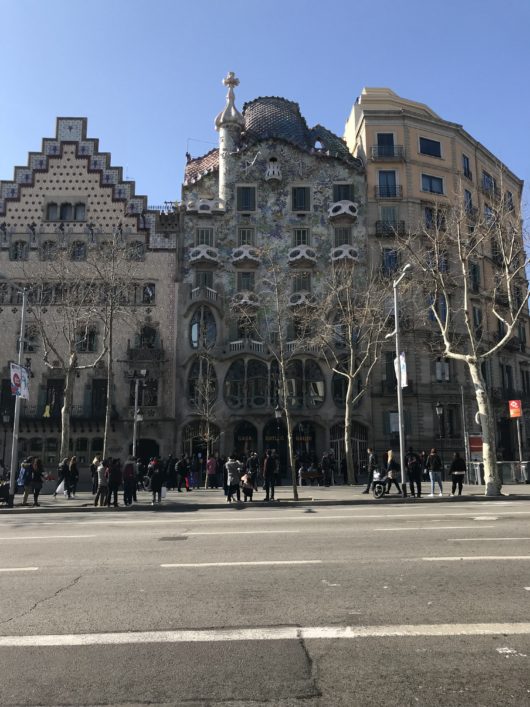 Once again, outside Gaudi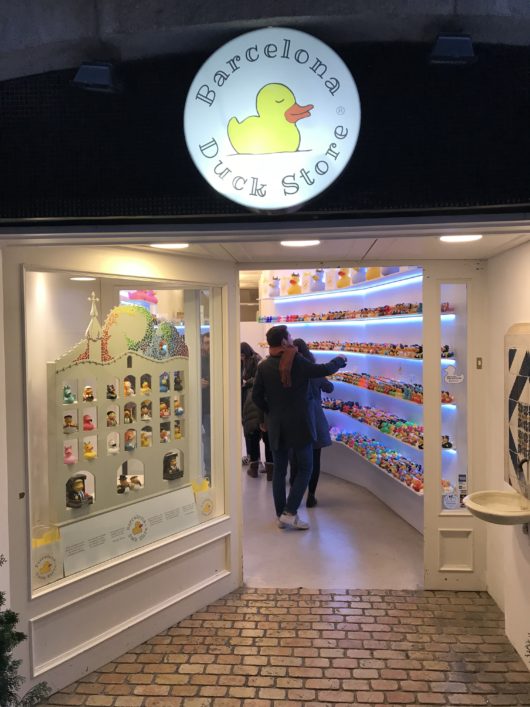 Barcelona Duck Store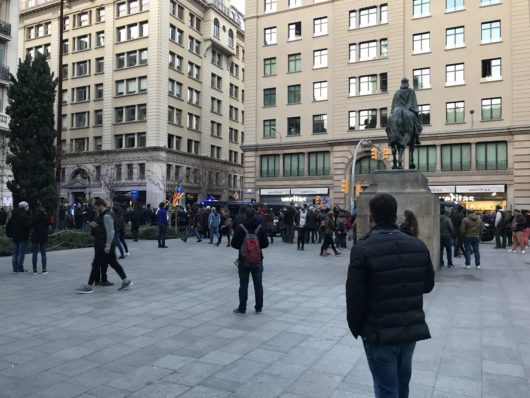 During one afternoon, we saw people protesting as they walk to protest for the demand of Catalunya independence from Spain.  It seems that the sentiment for independence is strong in Barcelona.
This time, it seemed that the restaurants I tried had saltier food.  There were ones that were great, but none of them compared to Tickets or Cera 23 that I had last year.  Unfortunately I also didn't have much time in Barcelona as pretty much the day I arrived till the last day in Barcelona I had to work, and the day after I was already on my way to Valencia, so the time to explore around the city was very short this time.
Adios Barcelona, and I'll see you again.