The reputation for Spain and its marvellous food is undoubtedly some of the best and most creative food I've ever tasted.  The struggle to find a fitting title that Barcelona deserves gave me hesitation; it deserved its respects.  The City of Food wasn't even thought of and would have been outright rejected.  The City of Taste was too simple and too surface.  The City of Flavor was a bit better as it brings out the meaning of tasting in depth that is all too important in Barcelona restaurants.
What about Gastronomy?  A simple definition look up indicates that gastronomy is "the art of choosing, cooking, and eating good food" (Merriam-Webster).  Perfect, this exact word was what I was looking for.  The good restaurants in Barcelona contained all the requirements of good food – flavorful, creative, generous and ideal portions, unique combinations of flavors, fresh ingredients, and the ability to 'wow' you when it touches your tongue.  Other bonus factors, while not necessary, include atmosphere, service, and presentation of food, and all the good restaurants excel in those criteria as well.  Go to a Barcelona restaurant's website and you can just tell that they take their food seriously.
I was lucky enough to go to Barcelona due to a work trip for Mobile World Congress.  You can read more about the exhibition by clicking here, my recent blog post.  Anyway, whether or not it's a coincidence or because of natural geographical advantages, cities located close to the sea always have amazing food, and let me continue to rave about Barcelona and say that it is no exception as well.
Anyway I've teased you enough about how amazing the food is already, so now it's time for me to grant you pictures of the food in Barcelona.  This time, let's try something a little different and I'll sort the restaurants into three categories – the OK, the Wow…, and the restaurants that deserve a top 10 spot of all restaurants that I have ever ate in.
And just before I post the pictures – el Bulli, near the town of Roses in Spain, was a three Michelin star restaurant that kept earning the #1 restaurant of all Michelin stars.  Yes that's right – earning three Michelin stars is already difficult enough, imagine being the top restaurant in the world year after year.  It would take at least a year to get reservations, and reservations are not guaranteed, and it was only opened 6 months a year.  Sadly, it closed down in 2011 and is now a creativity centre since 2014.  The point I'm trying to make is that even the world's best restaurant is located in Spain.
THE OK
Fortunately, none of the restaurants I ate were terrible; everything was at least better than what I can cook.  These restaurants are sitting at the 'OK' spot as their tastes are in general, ok.
Filigrana Restaurant (website)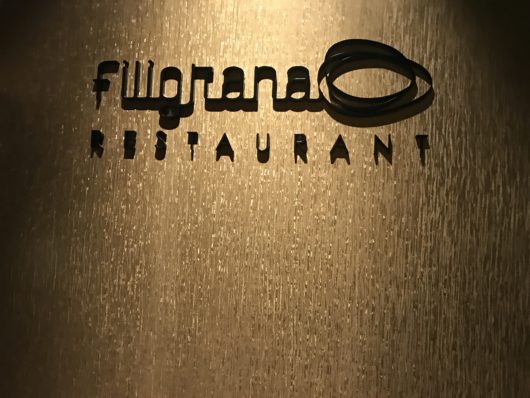 Located near the b Hotel, the business hotel I stayed in for MWC, Filigrana Restaurant is currently the #88 of 7,973 restaurants in Tripadvisor.  I don't trust websites that encourage the commoners to rate and review restaurants as too often their tastes are too simply satisfied, or they weigh service and atmosphere too heavily etc.  For these websites, I use them as a rough indicator of what to expect.  For me, when it comes down to it, taste is the most important deciding factor.  A true foodie, in my opinion, is one that relies mainly on his or her taste for judgment and has experienced the realms of street foods all the way to exquisite fine dining and therefore has better judgment of food.
You could say it was the high ratings that led to a high expectations that led to its downfall, but I disagree as some restaurants I will write about later in this post have higher ratings but yet they still excelled beyond expectations.  The thing with Filigrana Restaurant is that there's nothing special about it, there's no 'x' factor.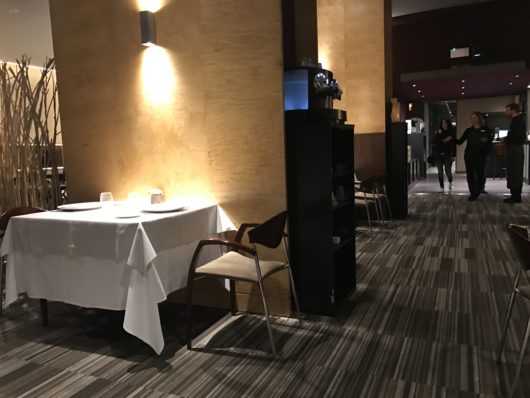 Restaurant interior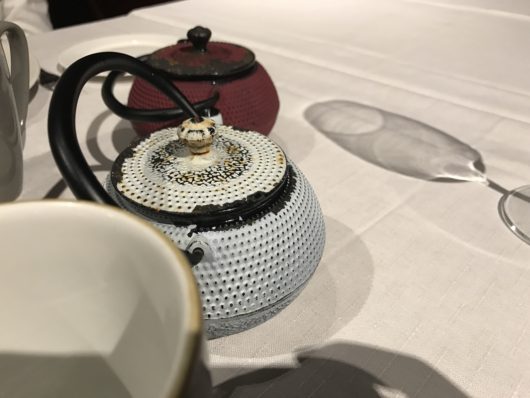 Teapots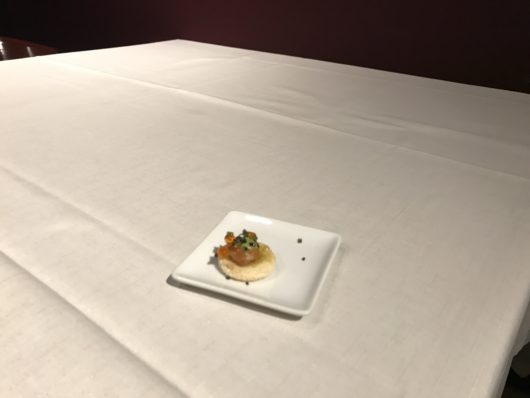 Forgot this, but this was complimentary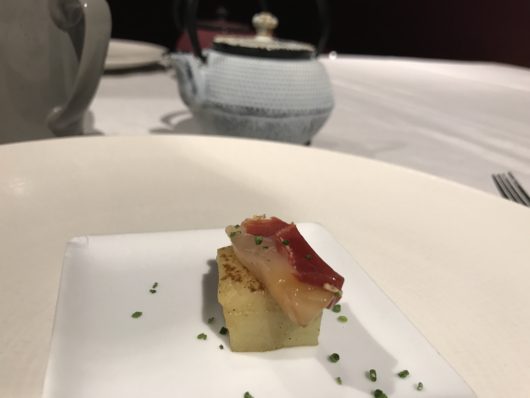 Also complimentary, possibly Iberico ham with potato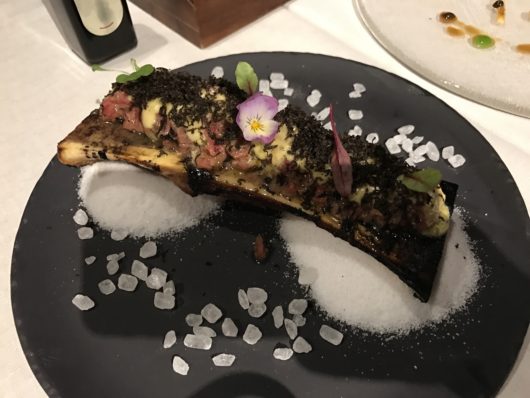 I believe it's Ireland angus tartar, bearnaise sauce and truffle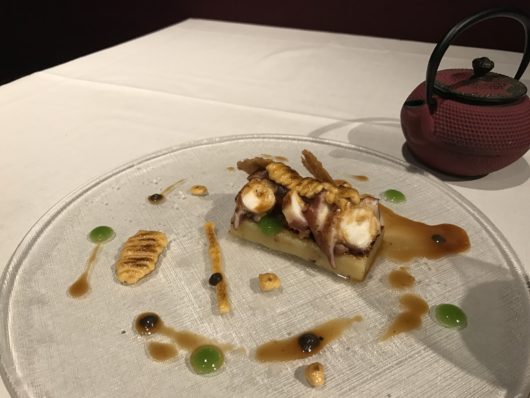 Hashed potatoes and cabbage, grilled octopus and peppers emulsion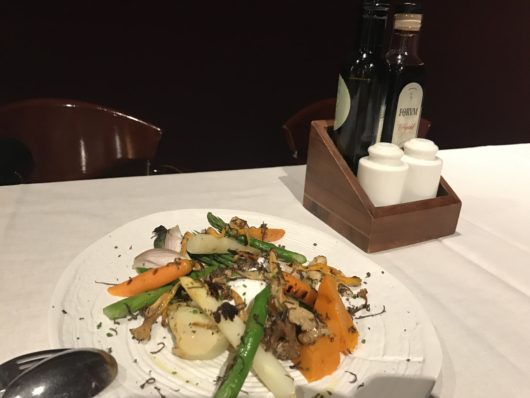 Autumn grilled vegetables with low temperature Calaf eggs cooking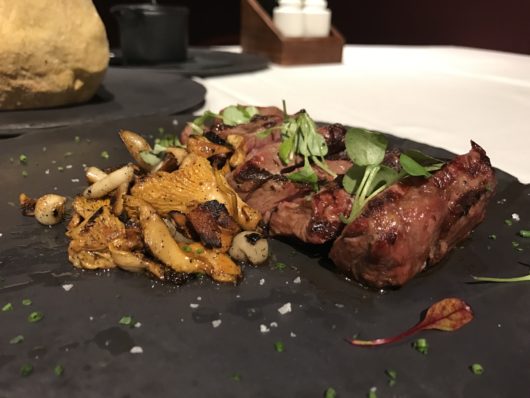 Black angus 200 gr (Nebraska).  This dish was just normal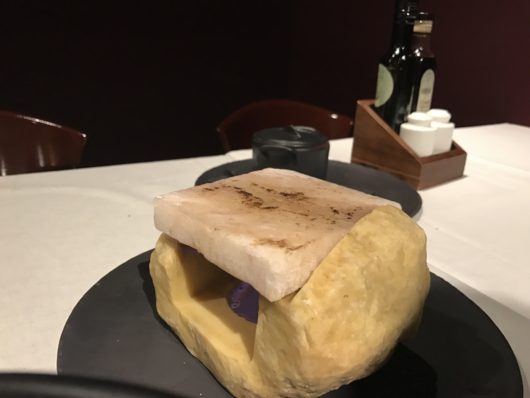 Their sort of 'special' factor – using the stone and cooking the meat on top of it
From the pictures, you can see that it's presented decently, it looks good, and it tastes not bad – but that's it, it doesn't taste bad at all.  Reasonably priced.  To be very frank, Filigrana was sitting just below the 'Wow…' category.
Nobook (website)
Owned by the same chef as Uma (the #1 rated restaurant in many review sites and requires at least a month before to book), Nobook is another creation by Iker Erauzkin located in Barcelona's Sants neighborhood.  Upon looking at the reviews, one Tripadvisor reviewer summed it up best – "the idea is great and innovative.  The visuals superb.  The food is definitely no good."  Its orange decor is representative of its innovativeness and its overwhelming of boldness.  Like when it comes to the food, the flavors are sometimes too strong or weak, and the taste quality is mediocre.  This is surprising given that Uma is the top rated restaurant in Barcelona at the moment, and Nobook is ranked #55, yet there are points for its creativity, there are many other restaurants in the world that are just better.  They serve sort of a South Eastern Asian cuisine.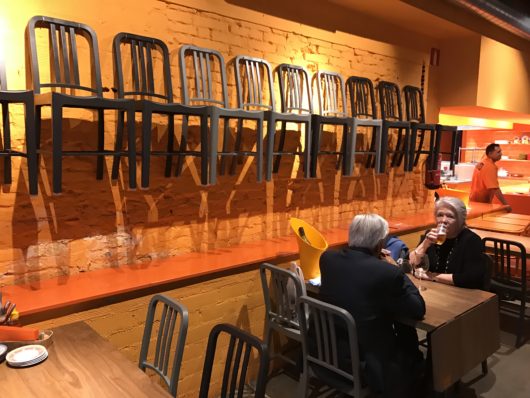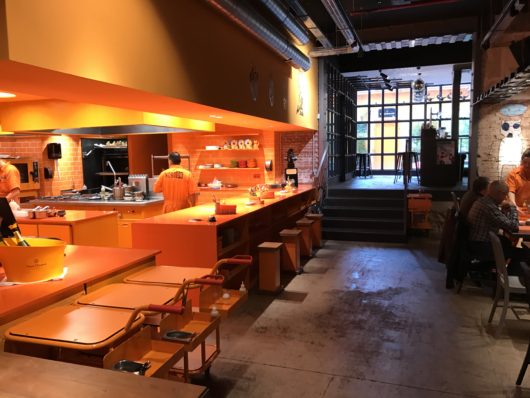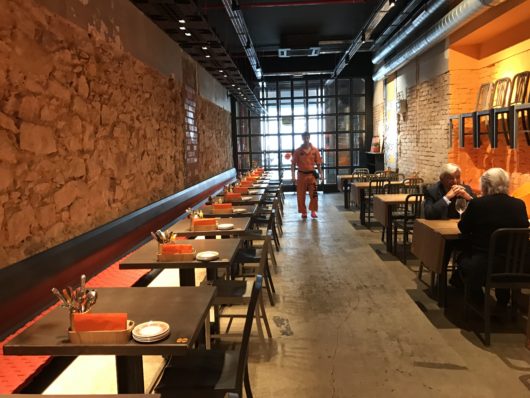 Its use of its orange colors actually make this place feel a sort of like… a prison.  No offense (pun intended).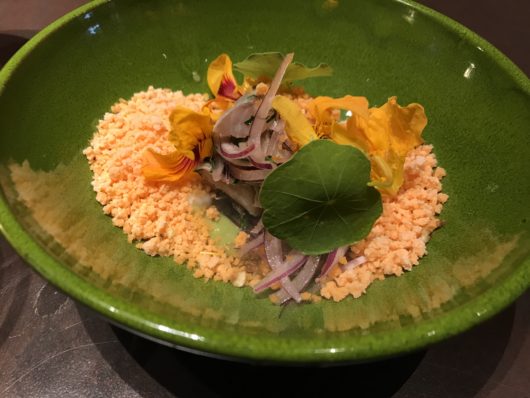 Cebiche – wild fish ceviche, cloud of yellow aji, nasturtium, coriander and avocado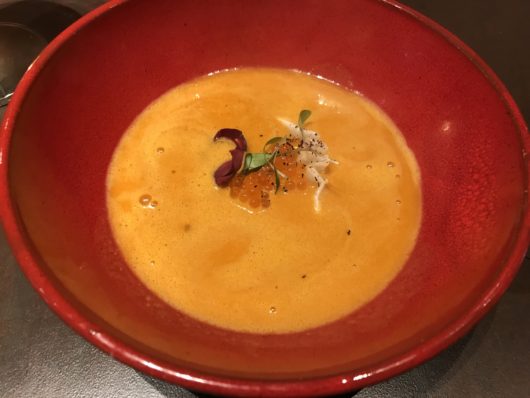 Love soup – prawn soup, coconut, coriander and ginger with prawn dumpling and lime kefir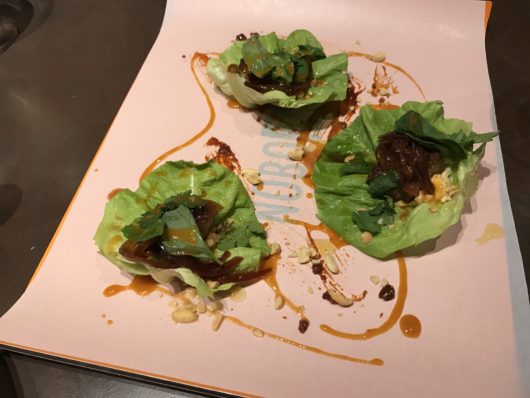 Sam Jang – Crispy Iberican pork belly, Sam Jang, lettuce, basil, coriander, mint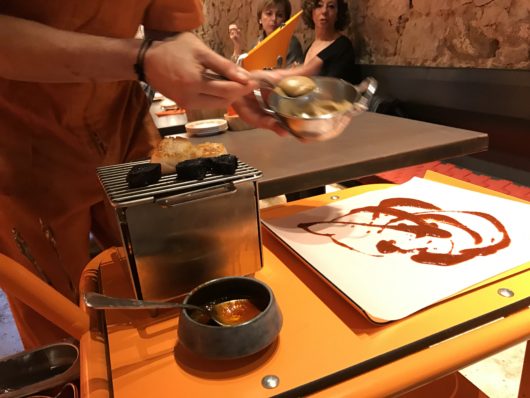 General Tso Chicken – crispy garnished chicken caramalised with a spicy, sweet and sour sauce
And this is Restaurant Uma! For those wondering.
Dora Tapas Bar (website)
We happened to stumble upon this bar while navigating for a restaurant to try.  Bear in mind, we didn't come here to enjoy an actual meal; rather, we just wanted to quickly eat something, sort of a snack, before we went to eat our actual meal.  In fact, we went to Dora Tapas Bar right before heading to Nobook, which was nearby.
All the tapas are actually shown through the glass counter, so you can just pick and choose which one was the most delicious.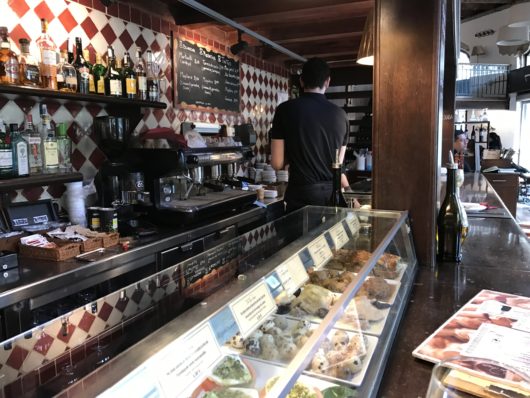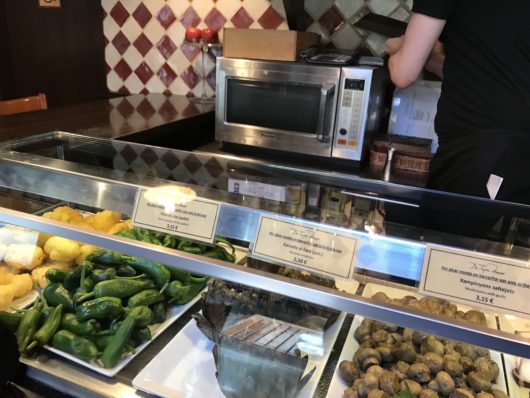 Pick and choose what you wanted to eat
A glass of white wine along with a dish of Octopus Salmigundi
Basilico Bar (website)
 So Basilico Bar is located on the Av. del Parallel, the street that has many other reputable restaurants including Tickets (covered below) and Ikibana (my colleague's favorite restaurant in Barcelona although I've never tried).  Similar to Filigrana without the heightened expectation, Basilico Bar offers a variety of typical restaurant food with dabbles of creativity here and there.  Once again, the food was good, but short of amazing, and hence its position in this category.  To give it some rep points, it does have great service – the host was friendly and talked to us, and the ambience and seating arrangements are excellent for group bookings.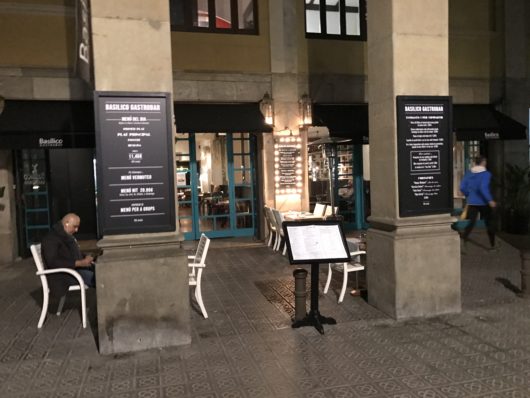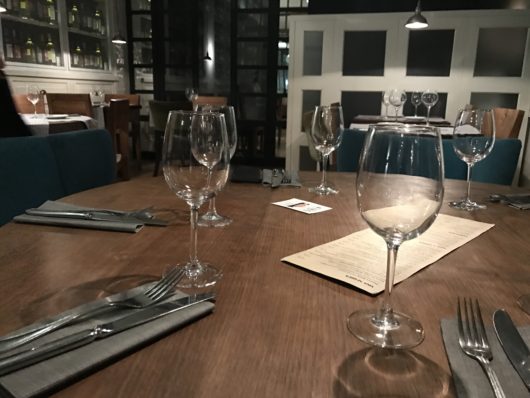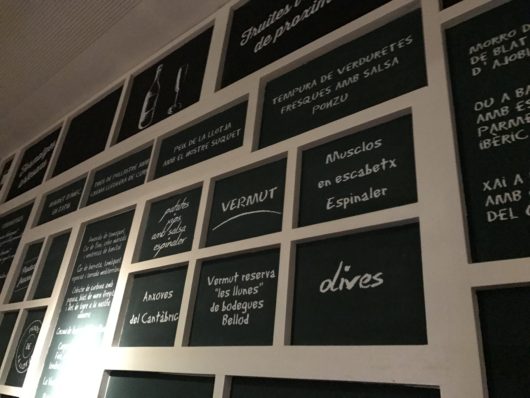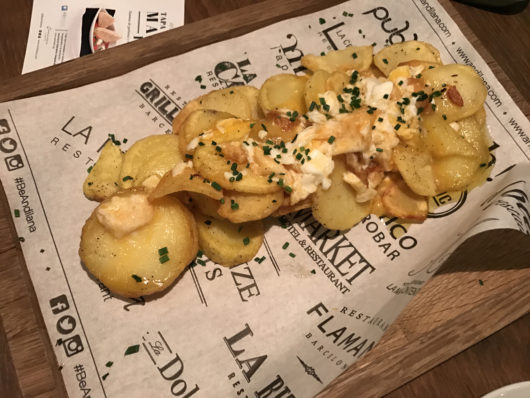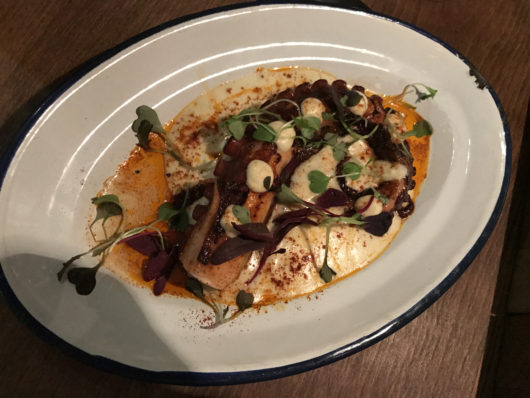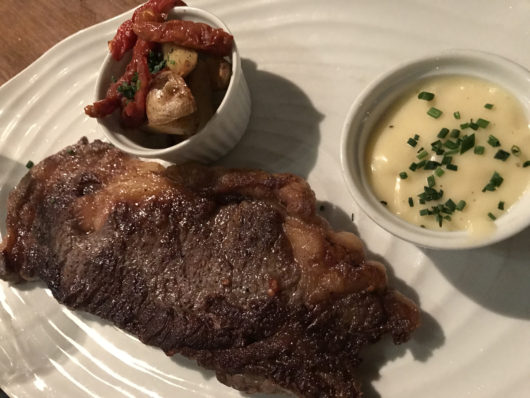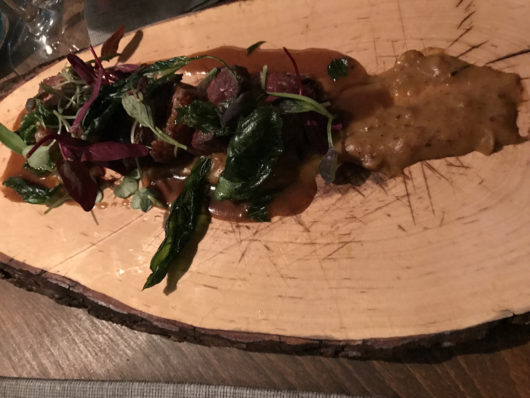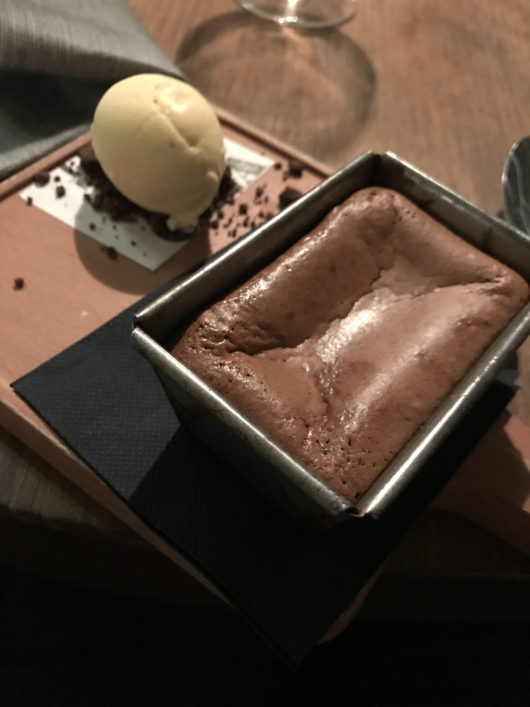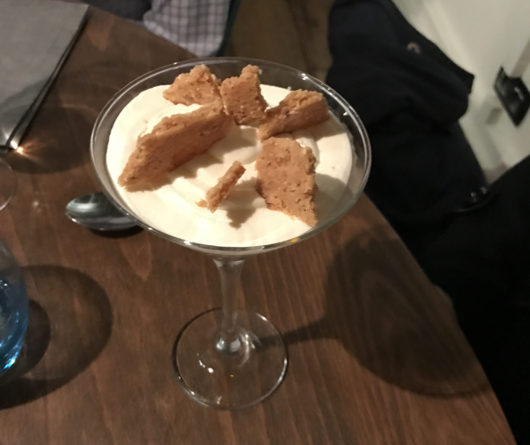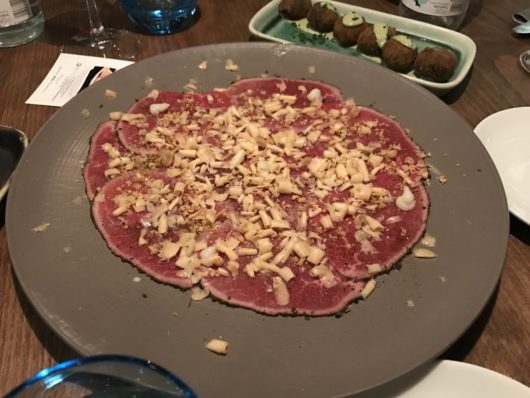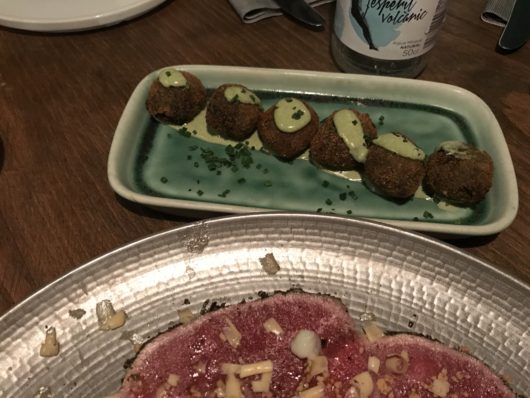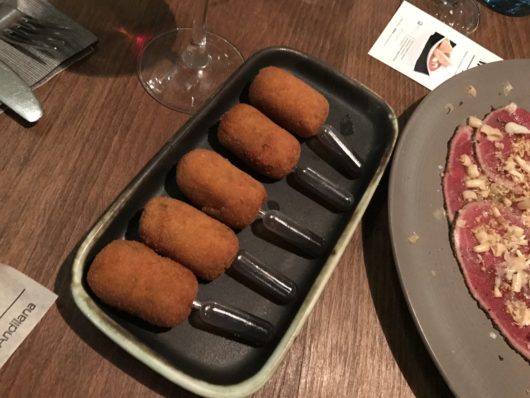 Possibly the most interesting dish, as you have to squeeze the 'sauce' into these croquettes.
Anardi (website)
When you first enter Anardi, you picture it to be a fun place.  There are ready made tapas on the counter, there are people chattering amongst themselves while indulging in wine, and Spain is famous for tapas so how wrong can it be?
Amongst all the restaurants listed in this post, Anardi proves to be my least favorite.  A fun restaurant doesn't mean it was going to be a good restaurant, in terms of taste.  The ready made tapas should have already been a warning.
The bread was stale and cold, the ingredients didn't taste fresh, and some tapa plates have just been put out too long.  It's edible, and it's unforgettable due to its not so good taste.  Save yourselves a meal by going to a different restaurant.
Some dishes you have to order through the menu, and some you just get it from the counter and they will count how many of the sticks you have gotten through the counter.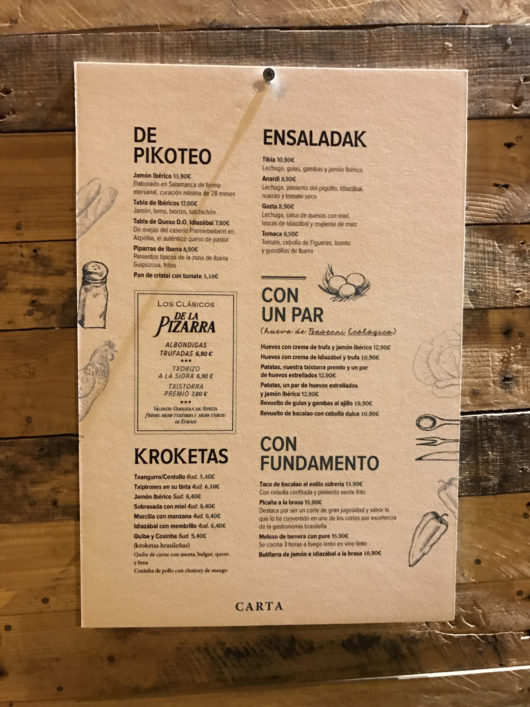 The menu outside the restaurant; in Spanish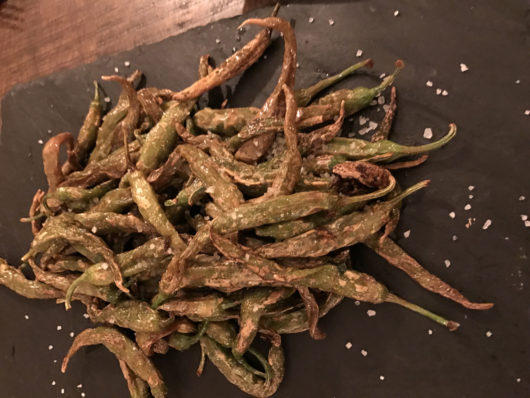 Green chilli peppers, salted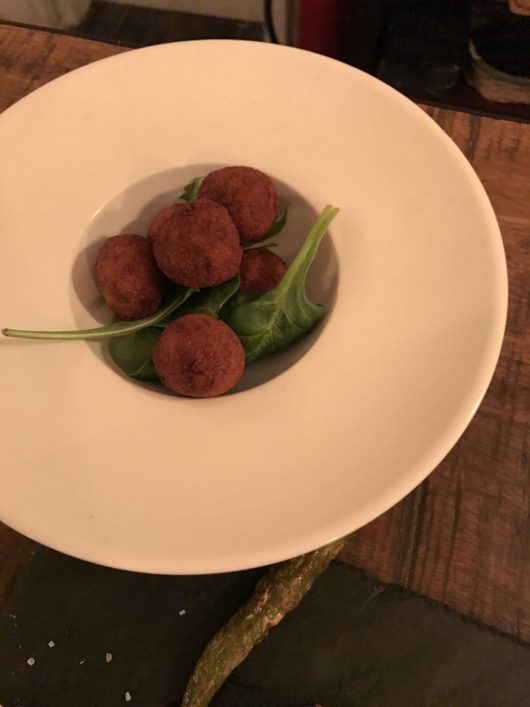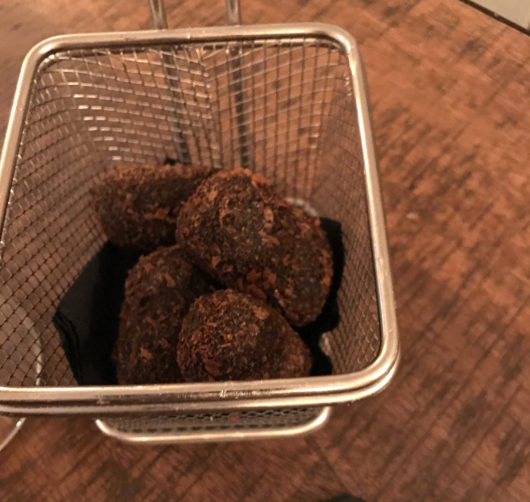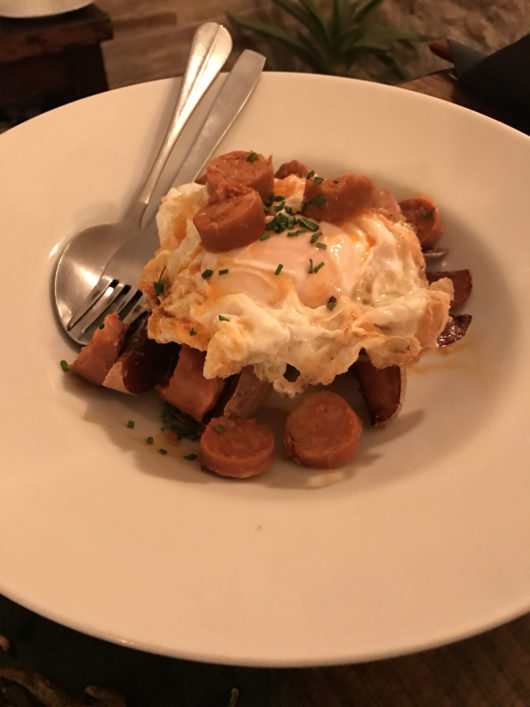 Sausage and scrambled eggs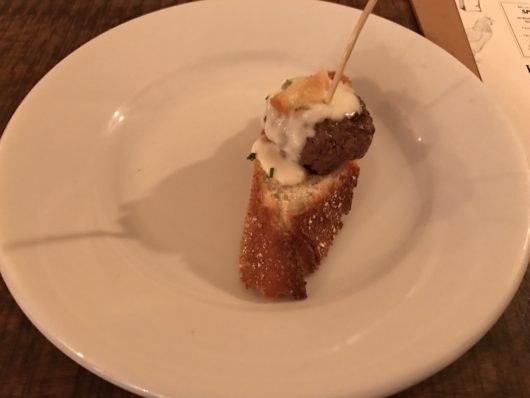 So they count up the sticks to see how many of their "tapas" you've had.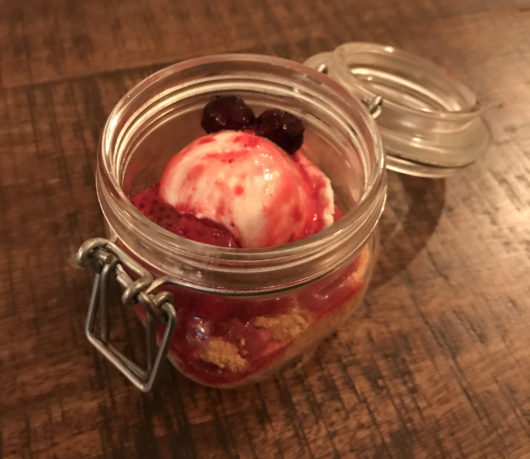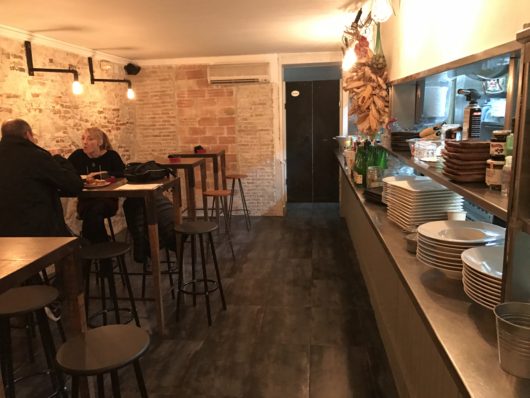 Restaurant interior, upper level
Gallito (website)
Full disclosure, I only had the Catalan tomato bread, or the Tomato-Rubbed bread, in this restaurant that was located in W Hotel after we went biking.  So, I will admit, it isn't completely fair for me to judge a restaurant by one dish, especially a dish that is served before an appetizer, but guess what, I fairly liked Gallito!  I was actually quite impressed and wanted to order a second dish, however their kitchen closed and had to prepare for dinner.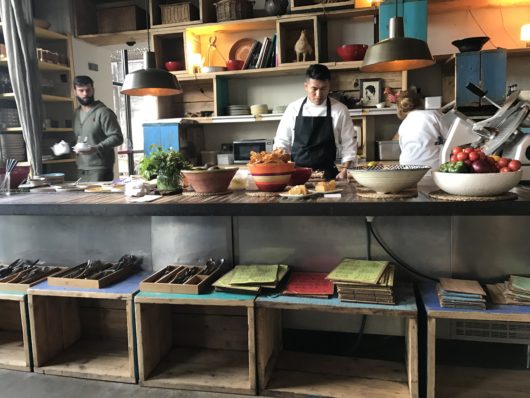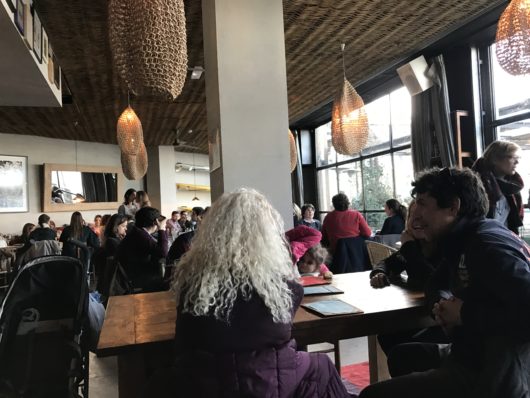 Inside the restaurant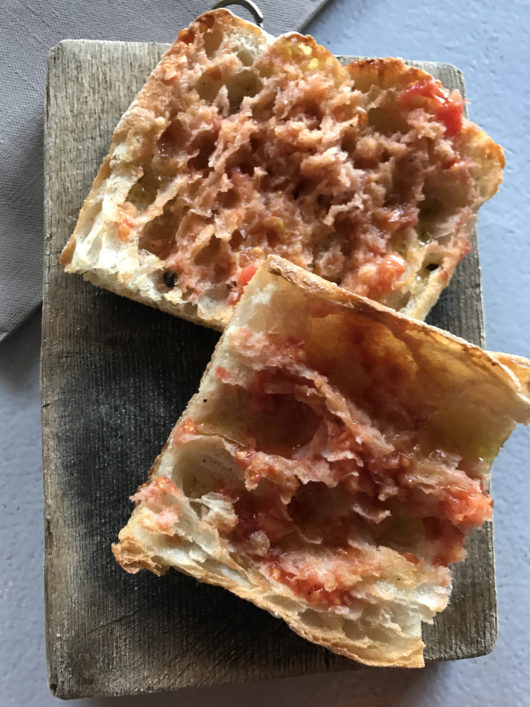 And this, my ladies and gentlemen, is the tomato rubbed bread.  Looks so plain right, but secretly delicious!  Called bread with tomato for 2.5 Euros on their menu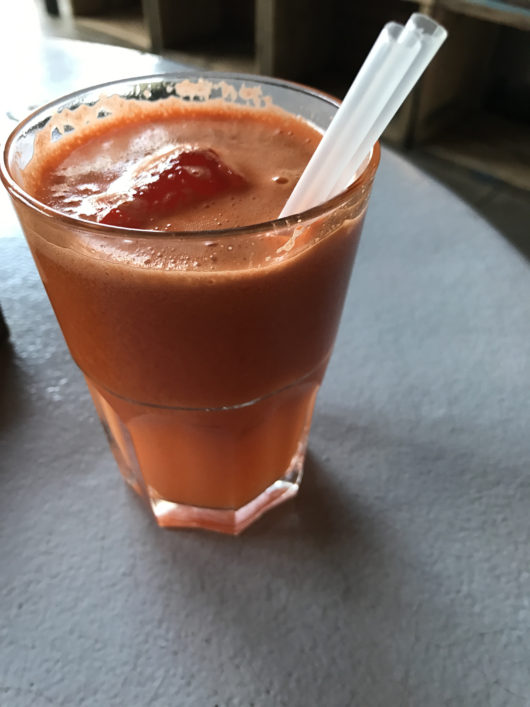 Carrot juice with cucumber water
THE WOW…
Assunta Madre (website)
We chanced upon this restaurant almost by desperation.  Our initial choice was con gracia (website), but with a handful of tables available each night, a walk in during the weekend for a fabulous restaurant was 90% bound to be fully booked.  We asked if we could eat at a later time, to which the restaurant manager politely rejected us.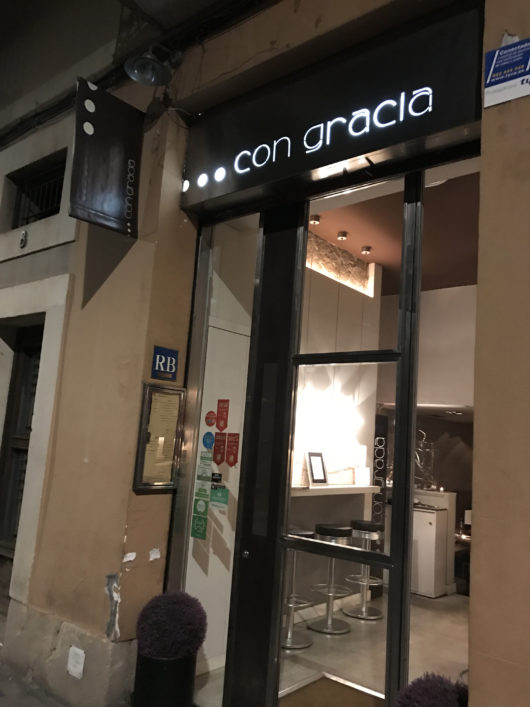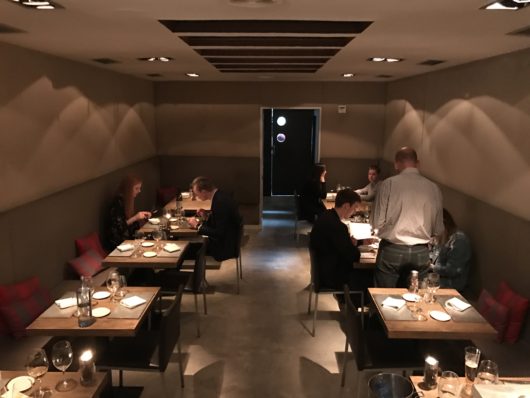 A look at the intimate decor of con gracia
Feeling slightly disappointed, we make our way to our hotel of H10 Casa Mimosa to spot any restaurants that had an appealing menu along with sufficient amount of people there eating.  We chanced upon two Japanese restaurants with long queues of people, one I remember being a ramen shop.  But why go to a ramen shop when we are from Hong Kong and we have good ramen in Hong Kong already, and especially since Japan is only a couple hours away and a frequent trip already?
So instead, we opted for Assunta Madre, a seafood restaurant that looked romantic and intimate but darkly exciting.
Without any reviews or ratings about this place, we took a chance with this restaurant… I was pleasantly surprised with here actually!  Being a seafood restaurant, of course we ordered some seafood, and the result was that I would come back here again!  It's a bit pricey, but I love the texture of the various seafood we had… you could eat each of the seafood's delicacy.  When the food enters your mouth, you could feel its soft, natural, room temperature.
While I hate to admit it, Assunta Madre does have restaurants in other parts of Europe, Rome being its first restaurant opened.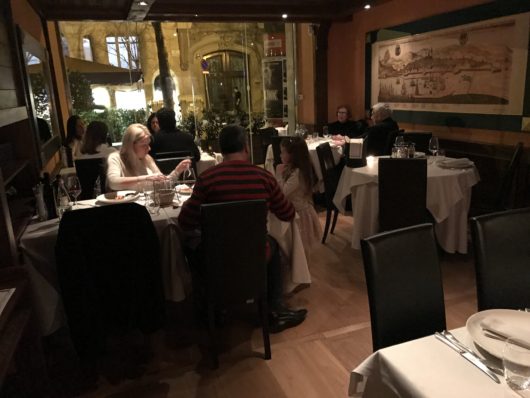 There were some people…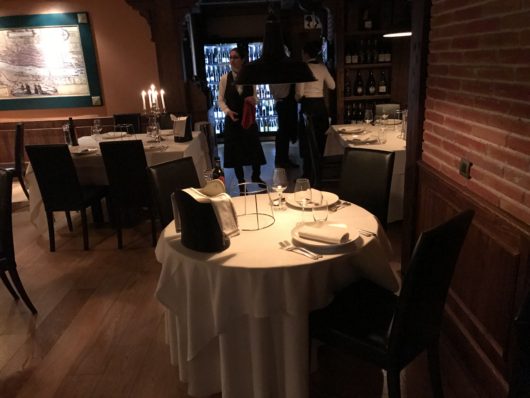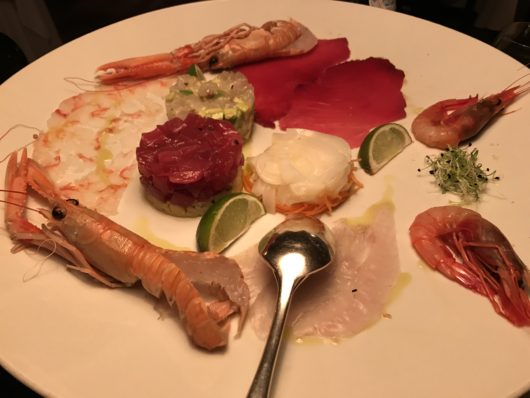 Some seafood platter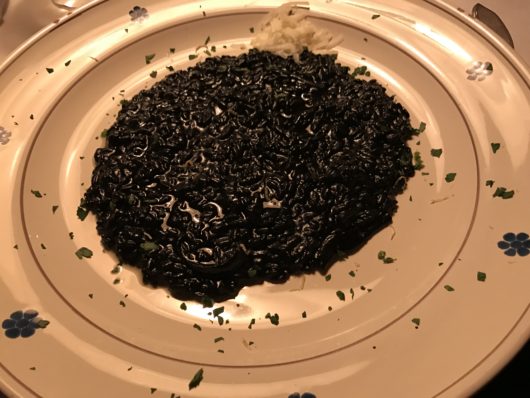 Squid ink pasta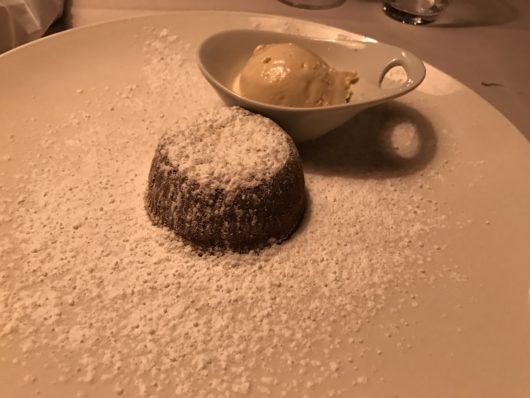 Molten chocolate lava cake with vanilla ice cream
Bar Clemen's (website)
There is a market in Barcelona called La Boqueria with an entrance from La Rambla.  This is a public market that is actually well worth visiting!  Lots of hams and fruits to try, lots of restaurants to try, and more.  But this post is to focus on the restaurants, so let's start with the first restaurant we tried, Bar Clemen's.
Bar Clemen's is located at the opposite of the entrance from La Rambla on the other side, and is one of the many seafood restaurants in La Boqueria.  Very very good, memorable owner and restaurant manager and very friendly!  Got a glass of beer and was willing to refill it for free!
Unlike Assunta Madre, the seafood here were usually cooked, but still, you could taste the freshness and fineness of each of the ingredients and dishes.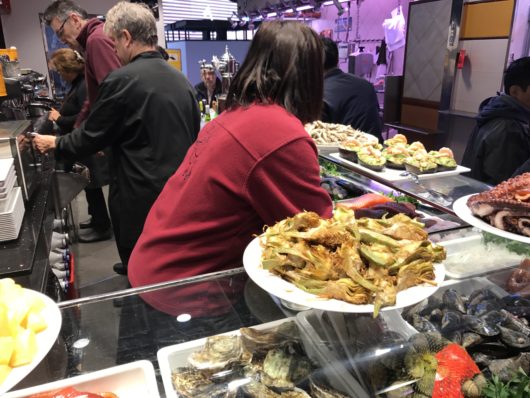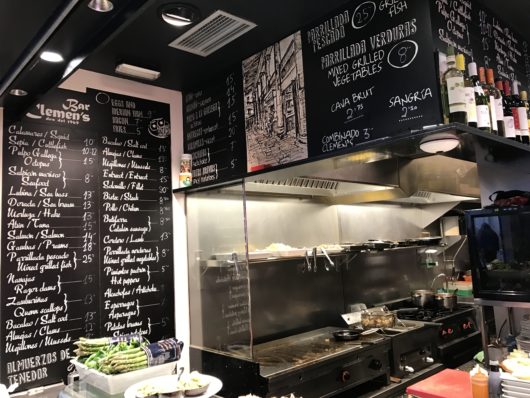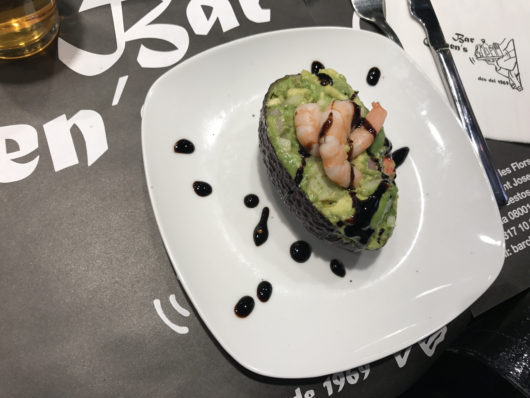 Avocado filled with shrimp, soooo good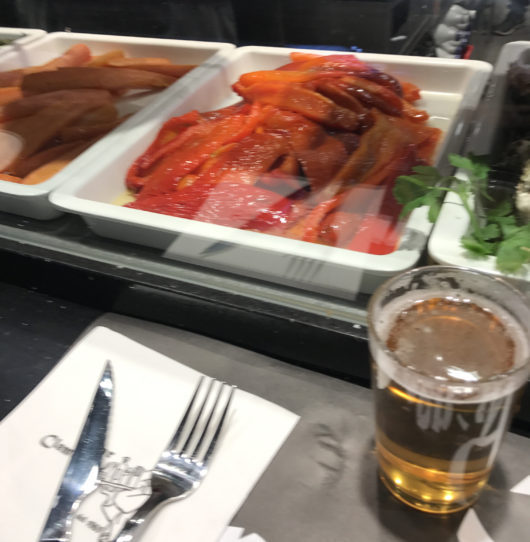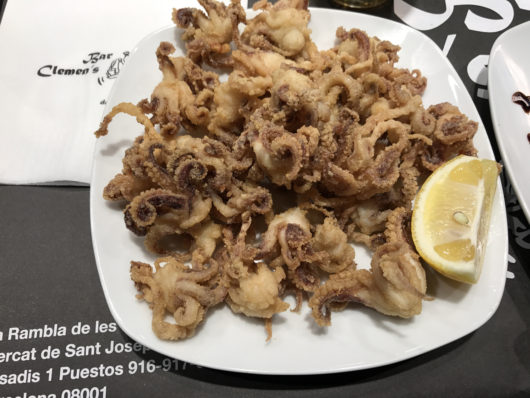 Calamari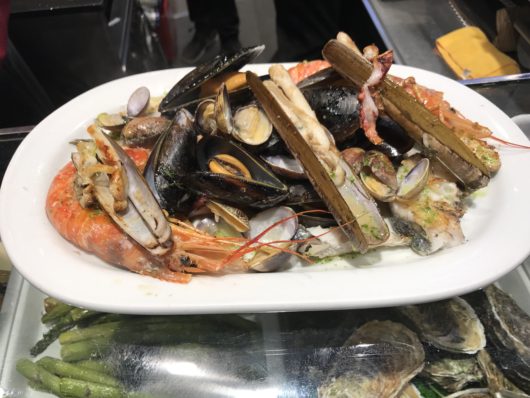 El Quim de la Boqueria (website)
This was the second restaurant we went to at La Boqueria.  Why did we go here?  Because there were many people lining up to try this small restaurant, so we thought, it has to be good!  The first time we wanted to try it, because of the queue, we decided to go for Bar Clemen's first, but we knew we had to come back here to try.
Maybe all the restaurants in La Boqueria is like this, but once again this restaurant's ingredients felt so natural and organic.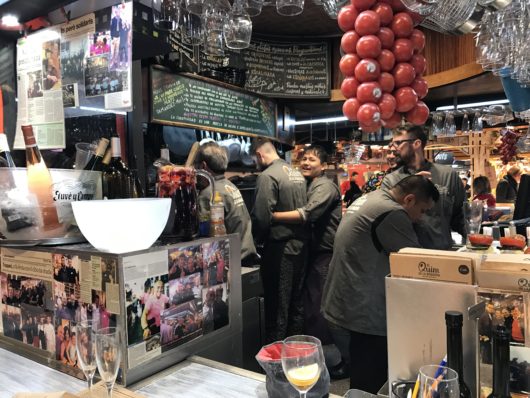 So many restaurant staff crammed up in this small space, including the kitchen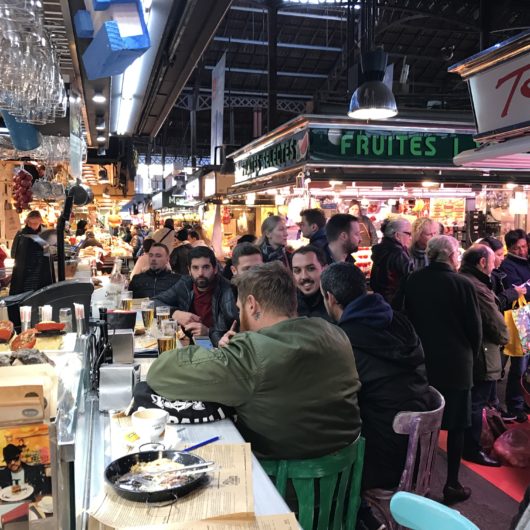 Seating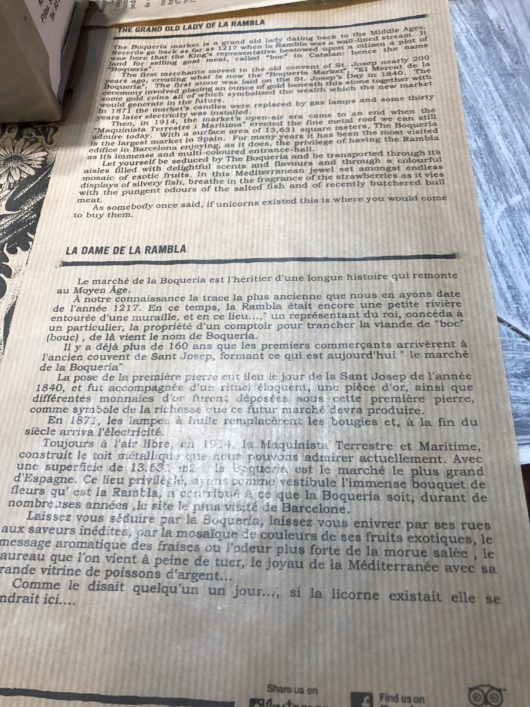 Story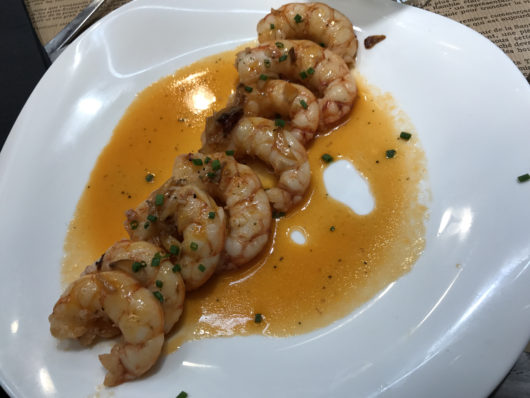 Prawns in garlic with cava reduction.  I love this dish.  The use of cava to create the sauce and have the flavor sink into the prawns was so innovative but works so perfectly, I enjoyed it thoroughly.  I too will try to use more alcohol when cooking.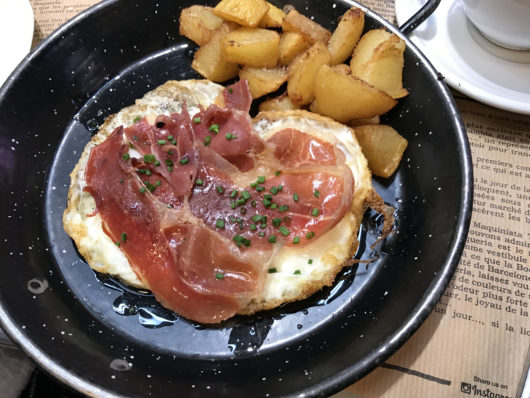 Two fried eggs with ham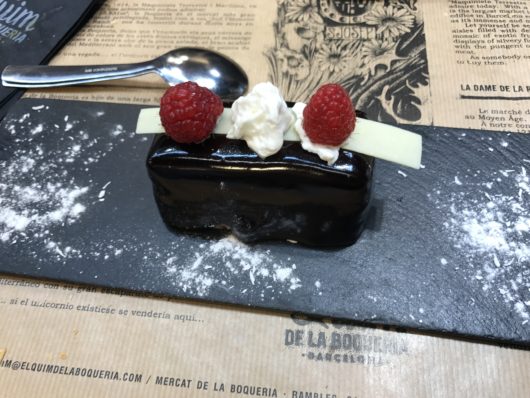 Grandmother's cake.  Dark, rich, deep, just like how your grandmother liked it (to have cooked, of course!)
Arume (website)
Arume is a restaurant serving contemporary Galician Cuisine and located deep within alleyways that tourists would usually not venture to.
Arume's interior is similar to other local restaurants, giving a homey and friendly atmosphere accompanied by one (maybe two?) upper levels.  Its corridors run deep rather than wide and restaurant staff are constantly walking everywhere serving food and taking orders.
Like some Spanish restaurants, especially our favorite ones, they tend create dishes with a combination of ingredients that you would never thought would work.  But my jolly, these dishes are absolutely fantastic!
One of the must order isn't even a dish, it's their Blackcurrant mojito.  It's sweet, rich, flavorful, and truly one of the best cocktails I have ever tasted.  What's funnier is that this cocktail was originally created from their sister restaurant, Cera 23, yet Arume's blackcurrant cocktail is way better than Cera's.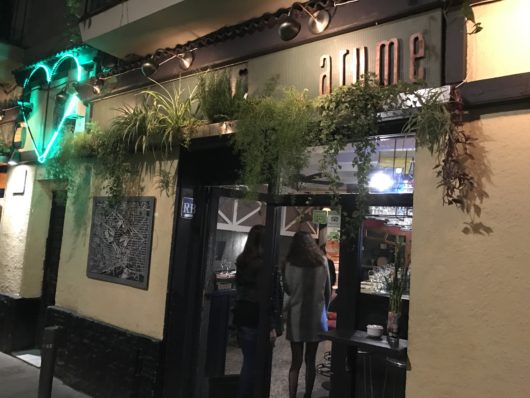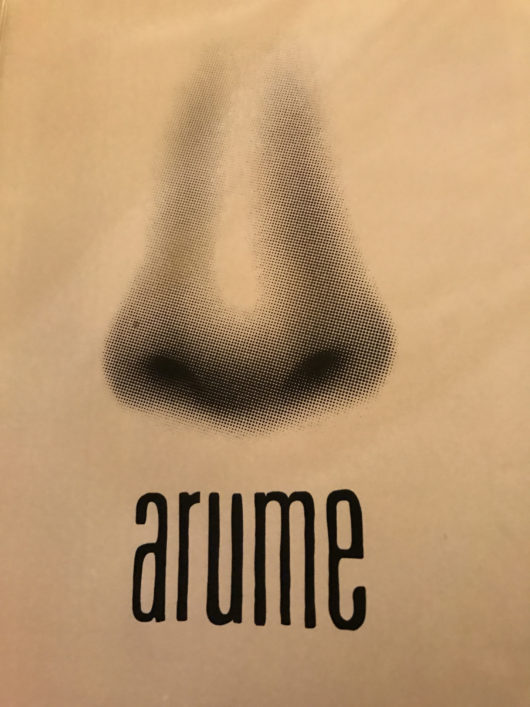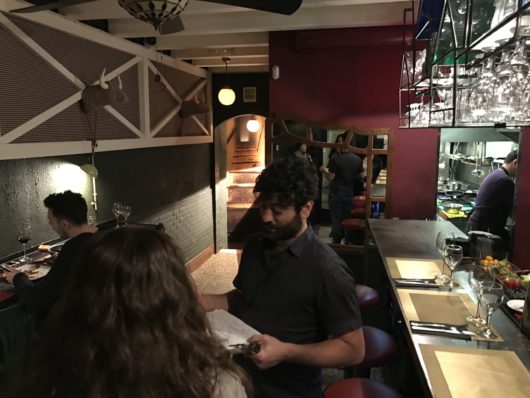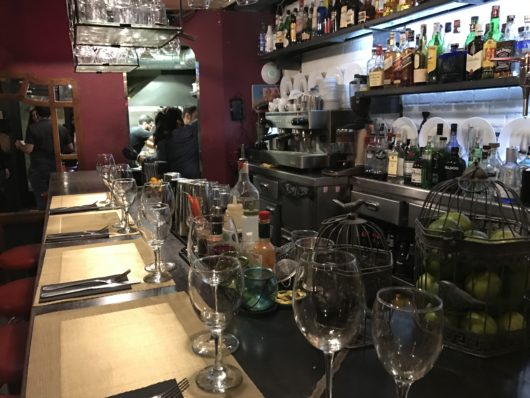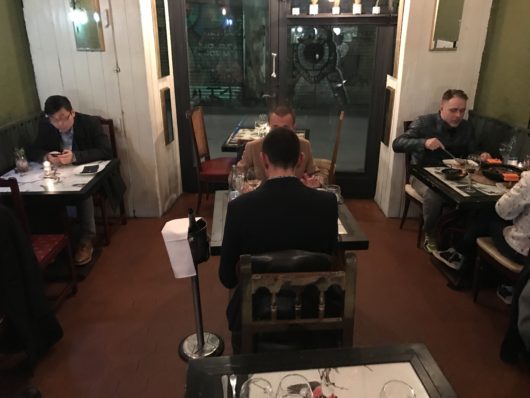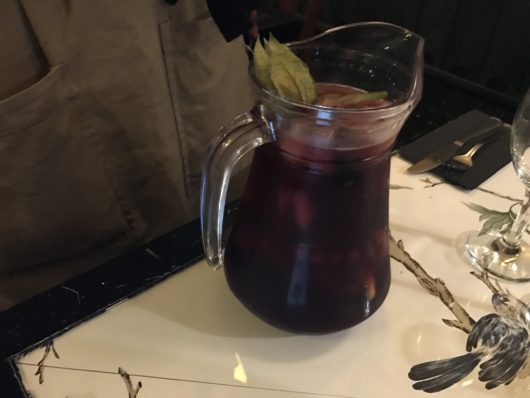 Actually we also ordered sangria first.  Come on, we're in Spain right?  Let's get some proper sangria.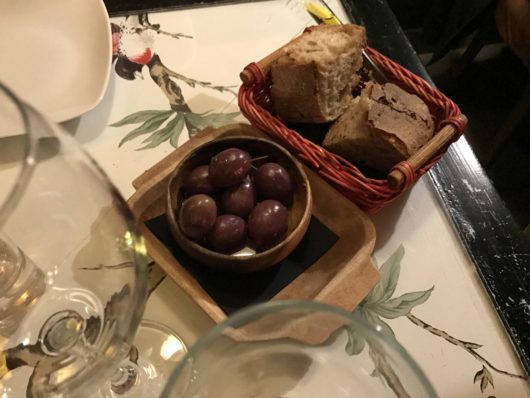 Olives and bread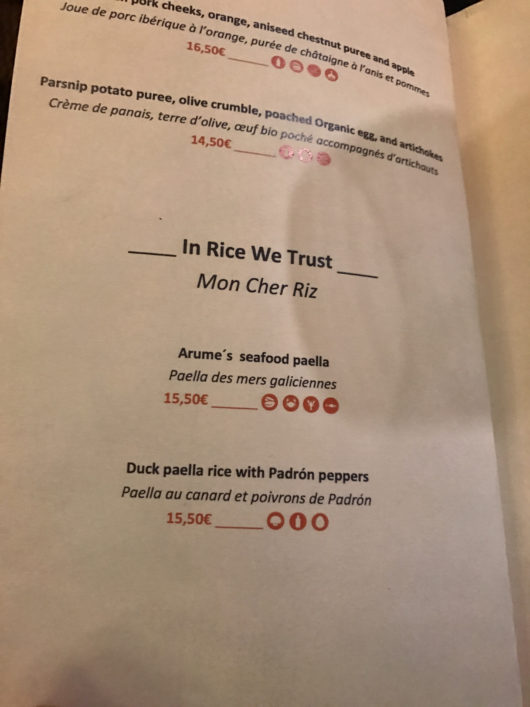 You can also see their whole menu here.  While seafood paella is pretty common, the duck paella rice is a must get.  We got both.  Both are equally outstanding, but the duck paella stands out in its uniqueness.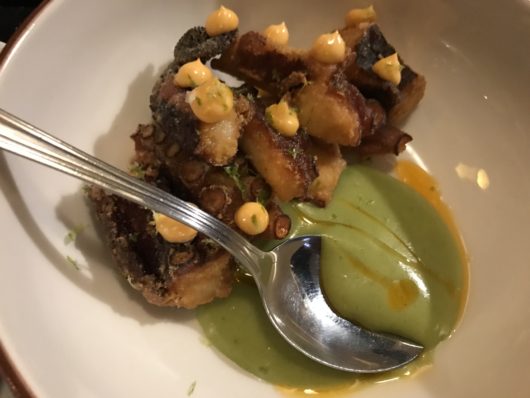 Crispy octopus, potato sea weed espuma and paprika oil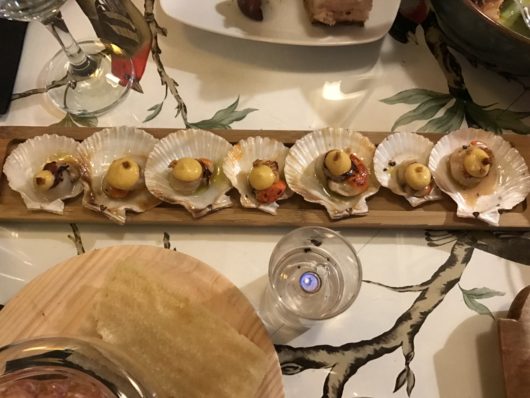 Baby scallops, sweet corn sauce, kimchi and rye bread.  OK this one I felt was a bit too weird and meh, because while eating the scallop, it felt like inside there was a half bitten M&M that you were eating as well
Galician creamy steak tartar, cured egg yolk and capuchina flower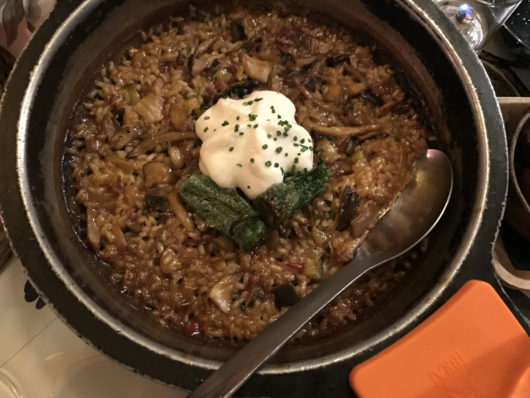 Duck paella rice with Padron peppers.  If you could only eat one thing from Arume, it's this.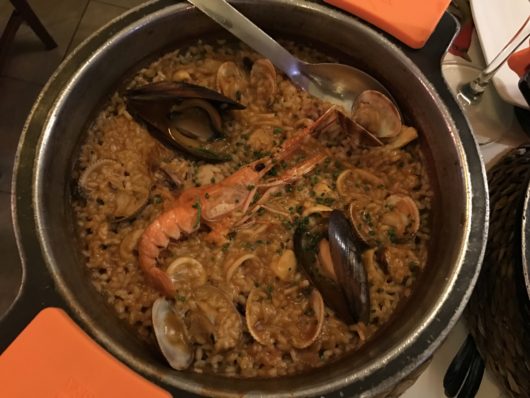 Arume's seafood paella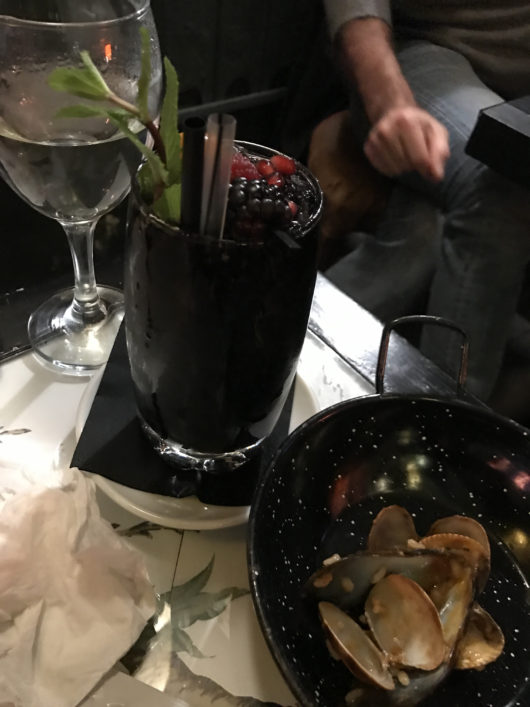 Must order.  Their blackcurrant mojito.  Look how deep and full this cocktail looks.  The flavors are so fresh and sweet that you would barely notice the alcohol.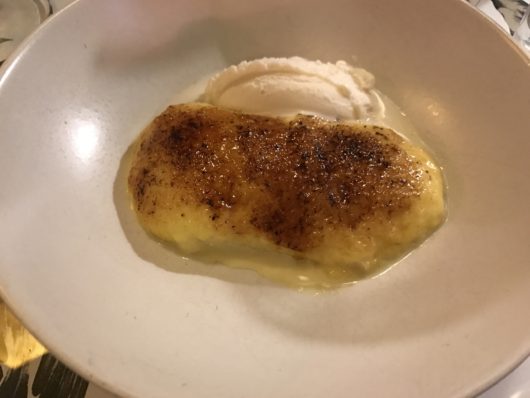 La Torrija de Manuel with yogurt ice cream
THE RESTAURANTS THAT DESERVE A TOP 10 SPOT OF ALL RESTAURANTS THAT I HAVE EVER ATE IN
Cera 23 (website)
I consider myself quite picky in terms of selecting restaurants that are absolutely outstanding.  Most people always say every restaurant is good, or let the service and environment affect their ratings, or let Michelin stars give them a head start bias to give the restaurant a positive prejudice.  While other people's ratings and reviews give me a guideline as to which restaurants to pick and choose to eat, it all comes down to food.  I even heard that the Micheline guide also puts the brand or type of utensils that diners use as part of its criteria.
I must however say that I value consistency as well in restaurants.  If I've eaten there once and thought it was fantastic, I would usually need to try it a second time to ensure that it was as good as the first time.  There are some restaurants where you go there the first time and it was phenomenal, but then for whatever reason the second time was just appalling.  However, since I was travelling, a second try would be difficult given that I wanted to try many other restaurants during my time there, and thus hopefully the first try is consistent of continuous tries.
Being the sister restaurant of Arume, it serves a cuisine of Mediterranean, Italian, and Galician merger.
I remember the first thing I noticed in Cera 23 was that… they were projecting a movie clip… from the Charlie Chaplin movies!  Old school.
For some reason, the photos I took of Cera 23's food, in my opinion, doesn't look as attractive as Arume's.  However, I guarantee that the food in Cera 23's is up a notch.  However, their blackcurrant mojito, while being invented here, was not as good as Arume's surprisingly.
Also, the restaurant gets quite crowded, so be prepared to wait for at least 15 minutes.
We sat near the front, and the restaurant manager loved to entertain us with his singing.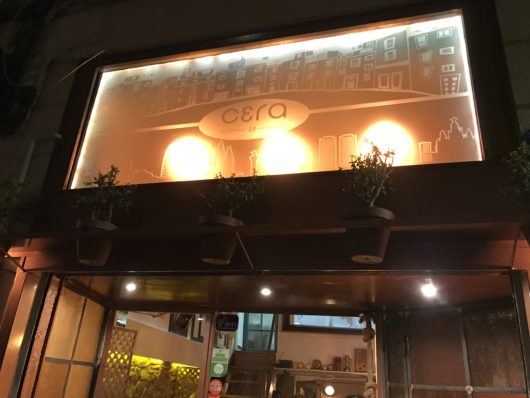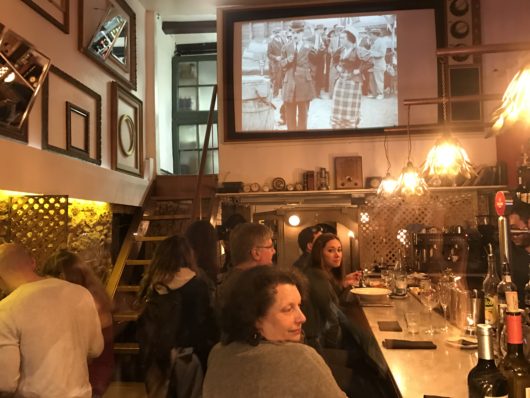 Restaurant interior design similar to Arume's.  At the front is the bar where you can sit and eat and a stairs leading to more tables and corridors.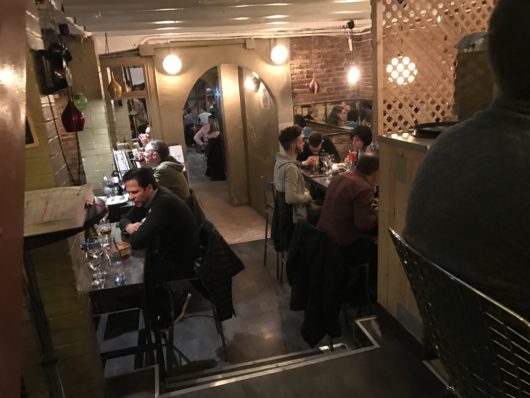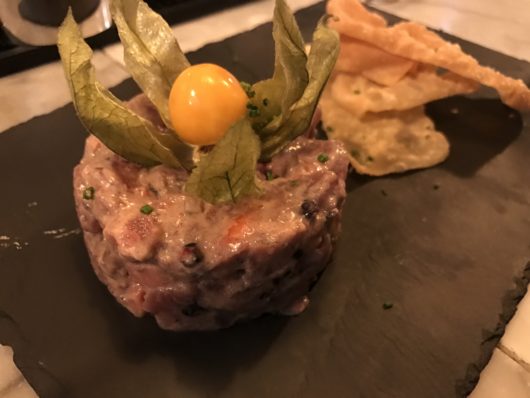 Tuna tartar with red fruits and crunchy wanton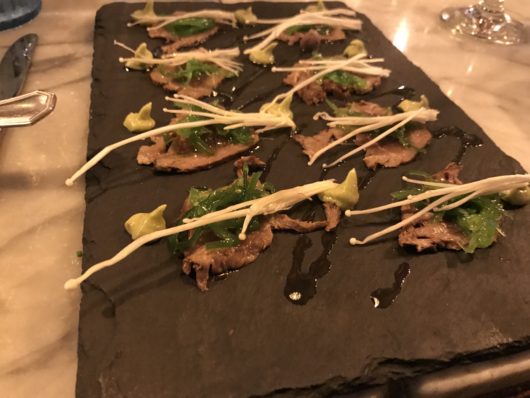 Ox's fillet Tataki, seaweed salad and enoki mushrooms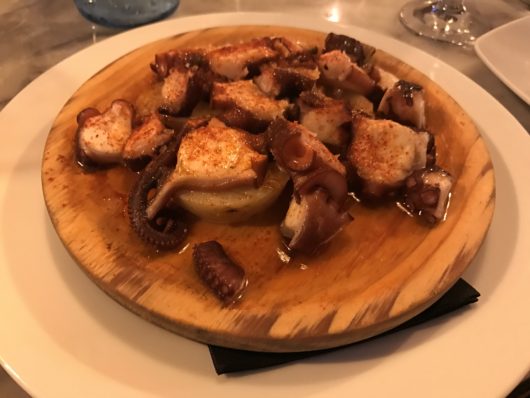 Galician octopus from Muros' Bay, cooked in the traditional style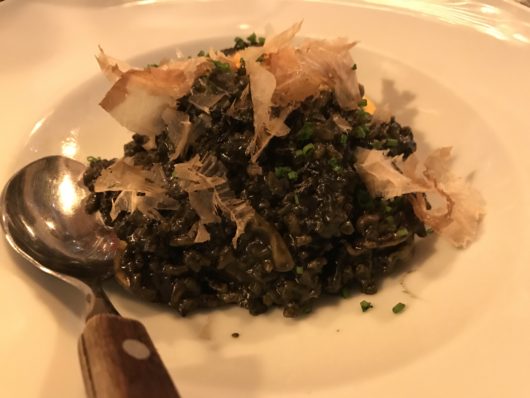 Volcano of black rice with seafood, parmesan cheese and saffron sauce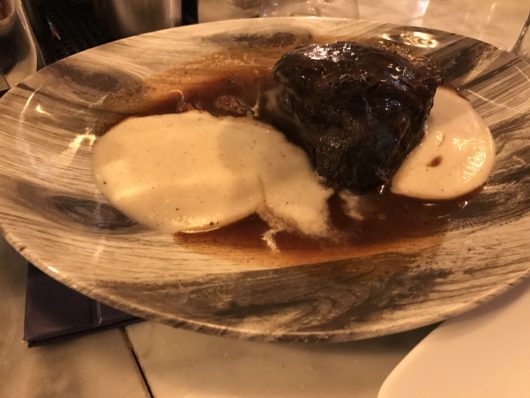 Honeyed beef cheek with white truffle parmentier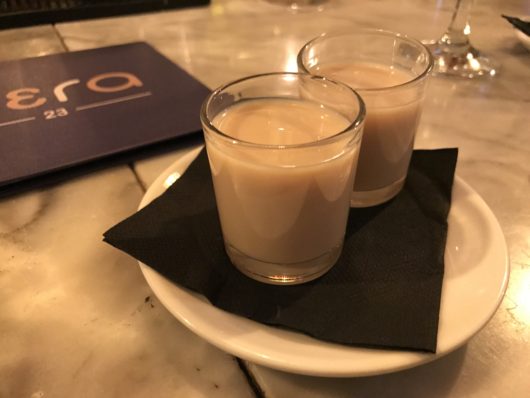 Tickets (website)
Asked about the restaurant Tickets,  as we heard many good things about it.  What did the hotel receptionist say?  You're not going to get in.  You have to book reservations for at least 2 months before in order to get in.
Tickets, a one star Michelin restaurant, is owned by Albert Adria.  Who's this guy?  Well, he's the brother of Ferran Adria, the guy who was the head chef of elBulli, the number one three star Michelin star restaurant for five years!  But the brothers are reowned for creating the world's best restaurants.
Tickets hits the check mark for everything I'm looking for in food – amazing taste, creative combinations, delicious ingredients, everything was just right.  Its cuisine is mediterranean, Spanish, and molecular gastronomy.
We walk to Tickets, and as expected, the restaurant hostess straight away rejected the 4 persons that was queuing right in front of us since they didn't have reservations.  Our turn, 2 persons, so let's be hopeful that with a smaller company they'd be more accommodating.  Once again, the restaurant hostess asked us if we had reservations, and we said no.  Then she said sorry she can't accommodate us.  Then I asked if we can do later, like 9pm (it was 8pm during that time).  Then she said 9pm is OK, but we would have to order the chef's menu / full course, which was like 15 dishes or something like that.  We said OK, since how can we miss out on the world's top 50 restaurants right?  Then she said, wait, actually do you guys mind sitting at the bar, to which we reply, of course not!  So we sat at the bar and I had one of the most extraordinary meals of my life.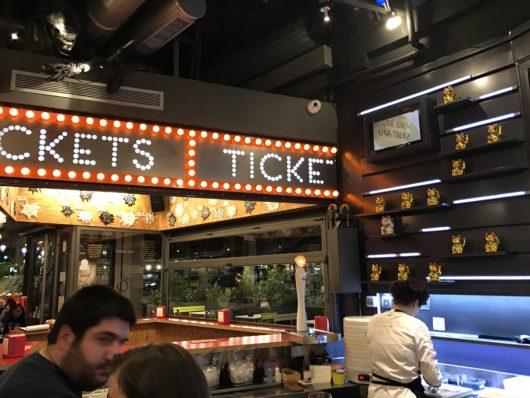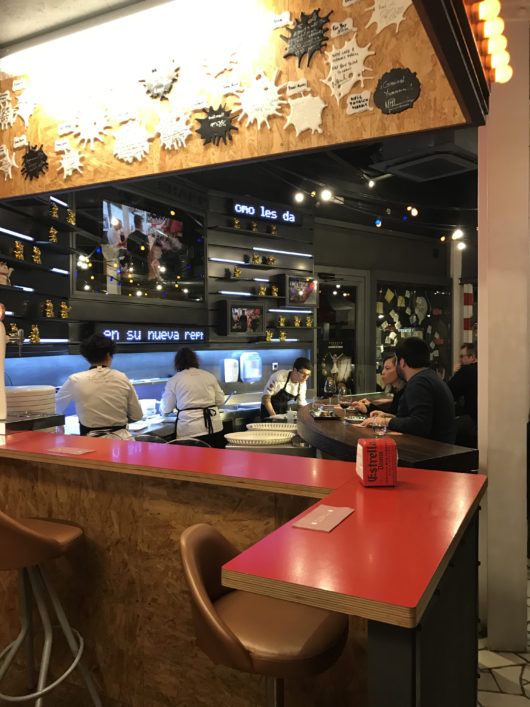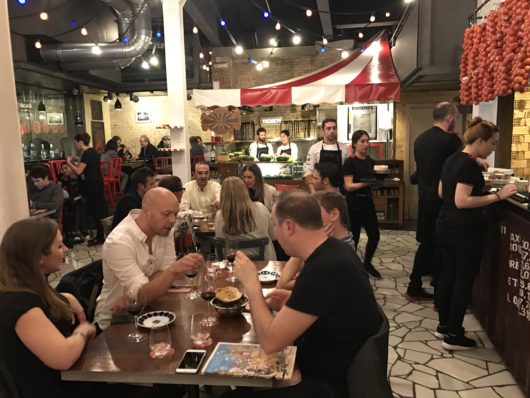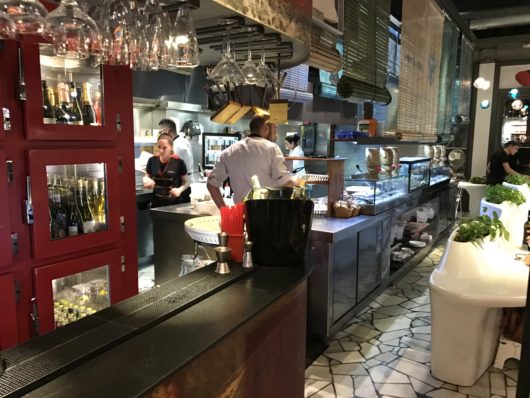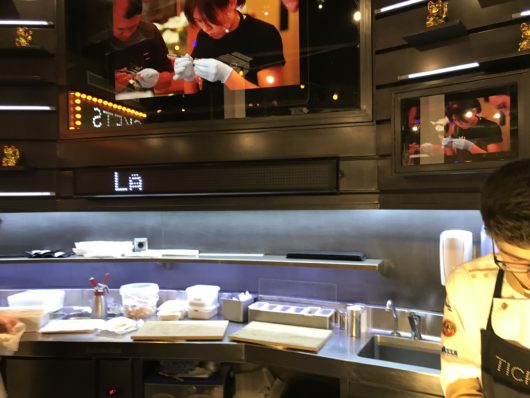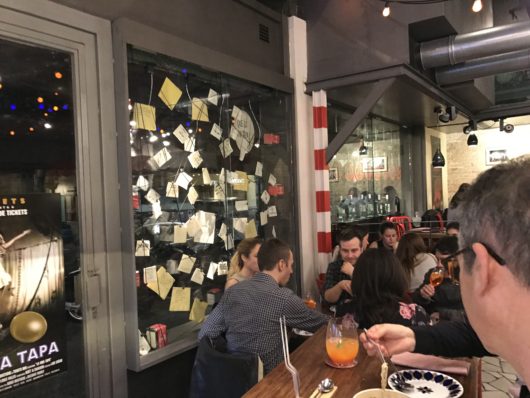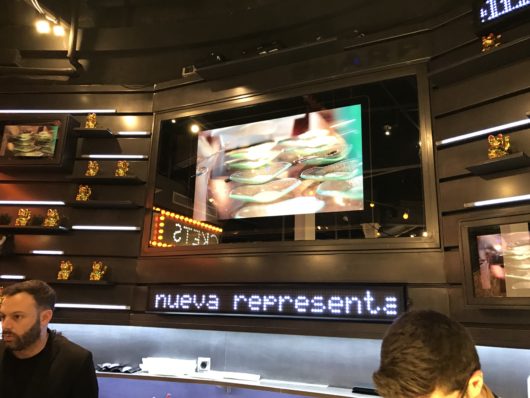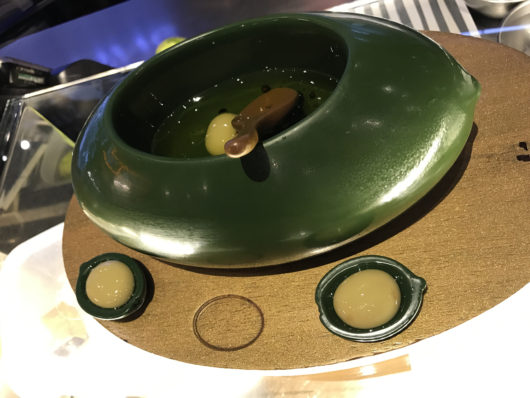 Liquid olive.  This olive tastes like an olive with a texture like pudding.
Pink Flamingo, the absolute best cocktail I've had in my life!  It has a very aromatic and peaty flavor to it.  Beautiful, exotic, and just perfect.  Forget the cost, I had three of these.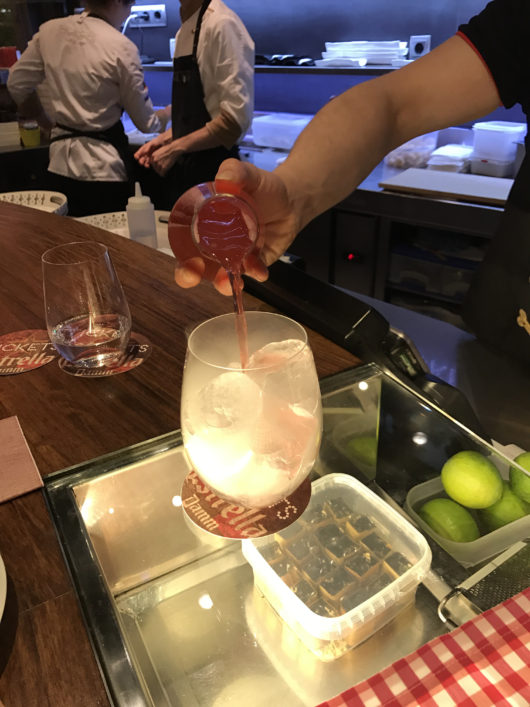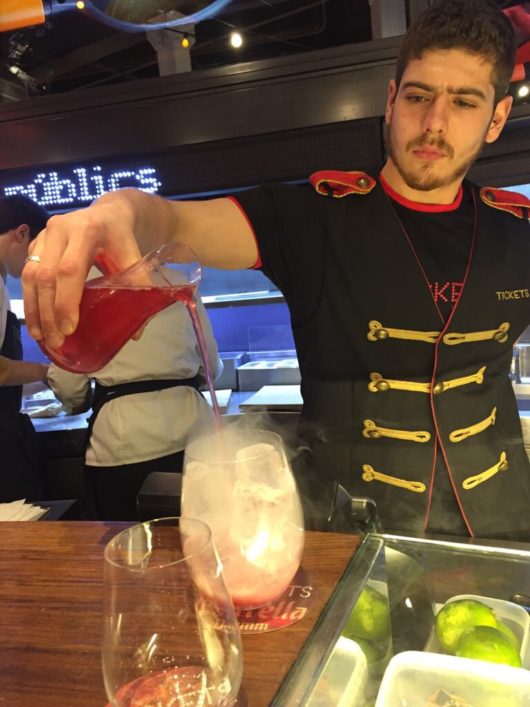 Our main host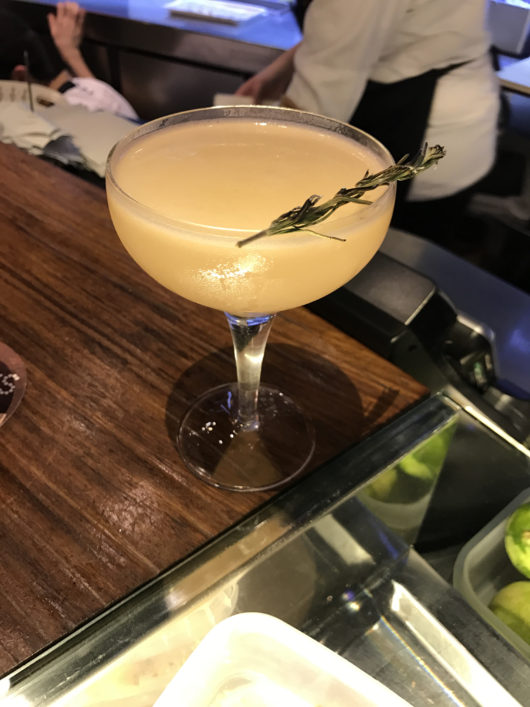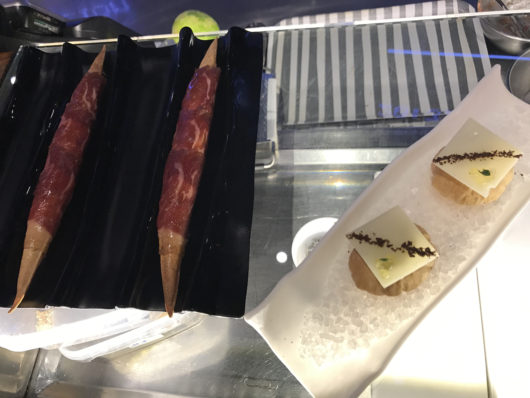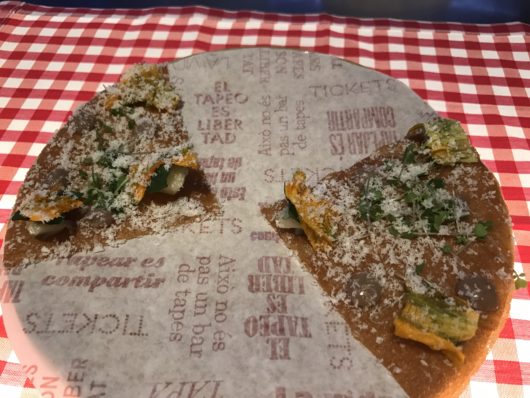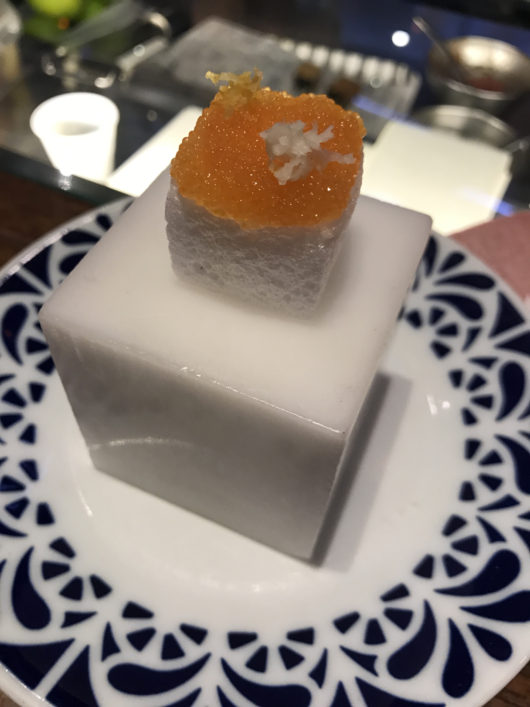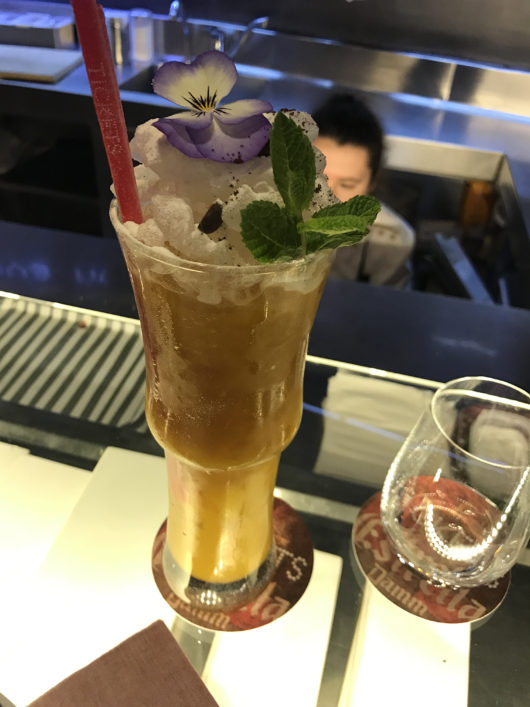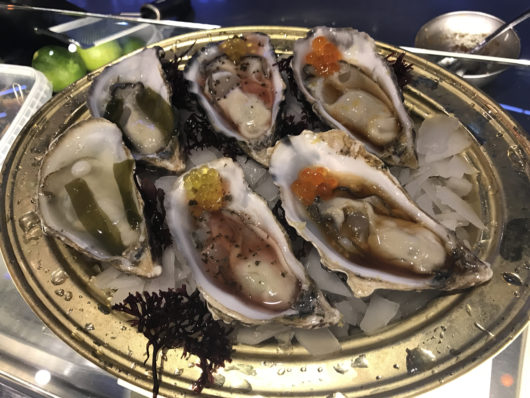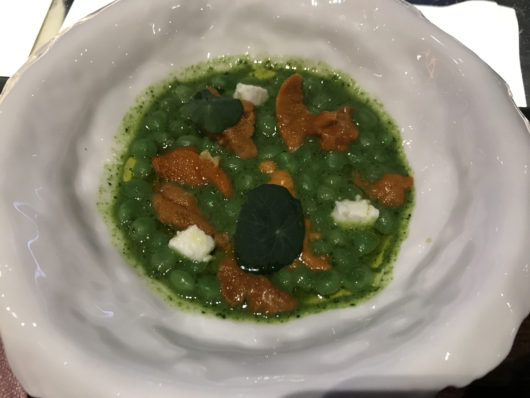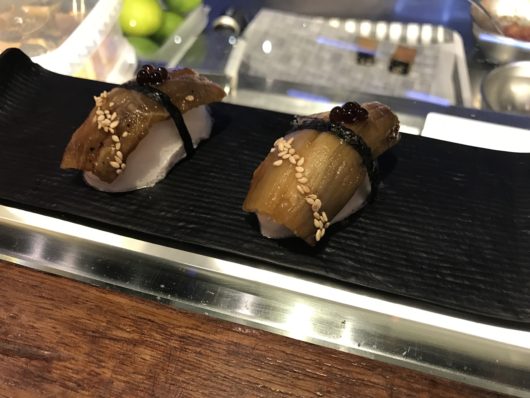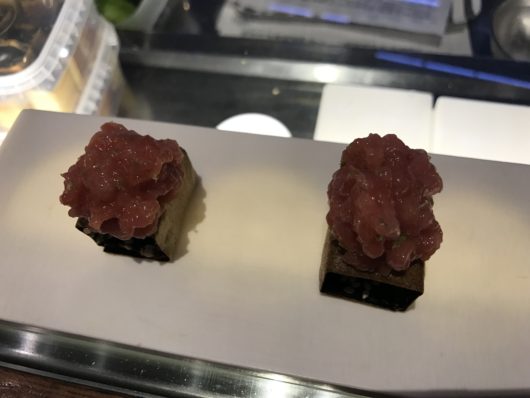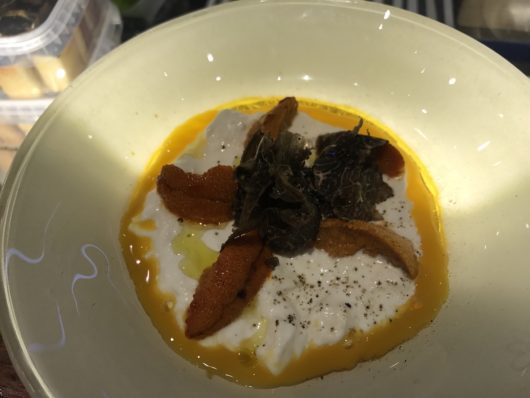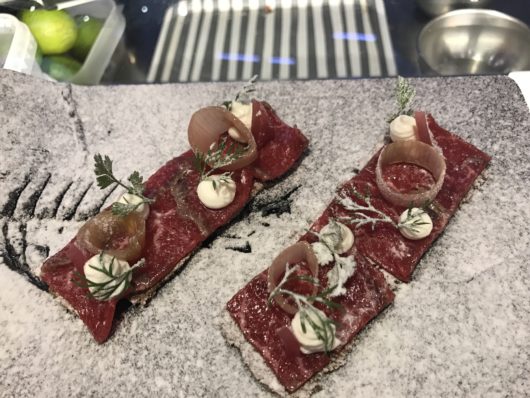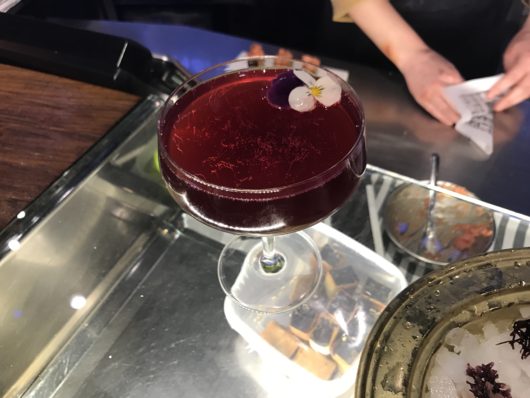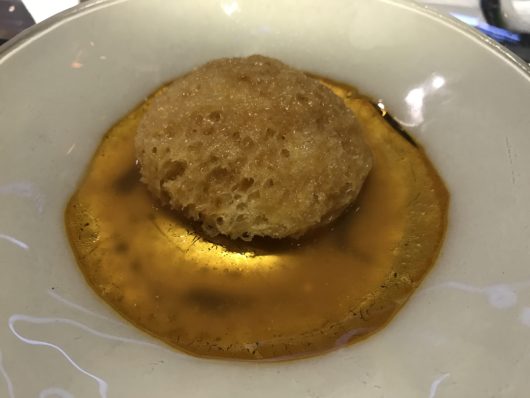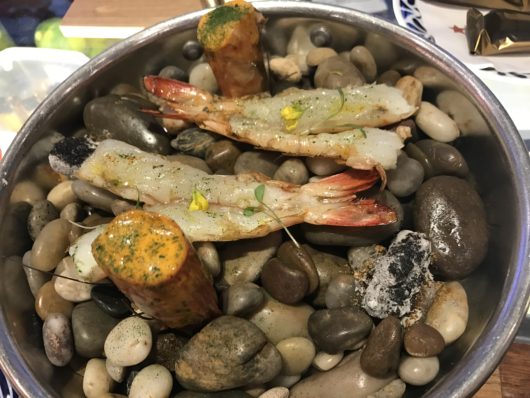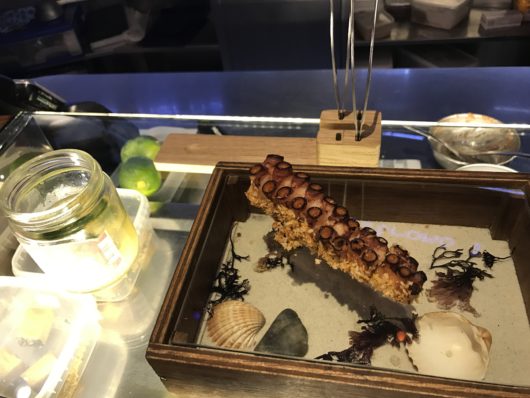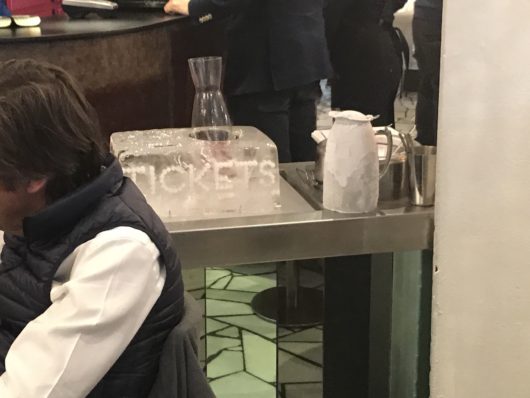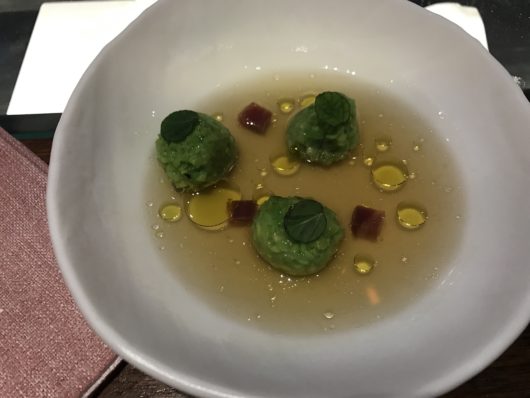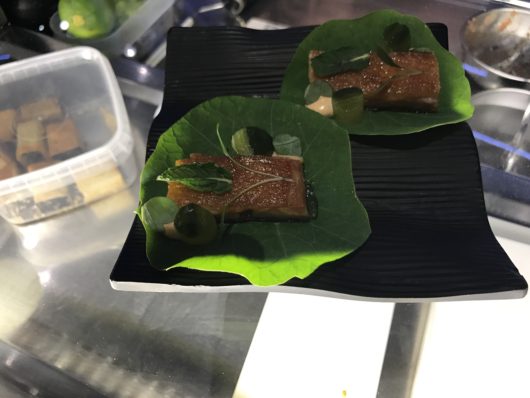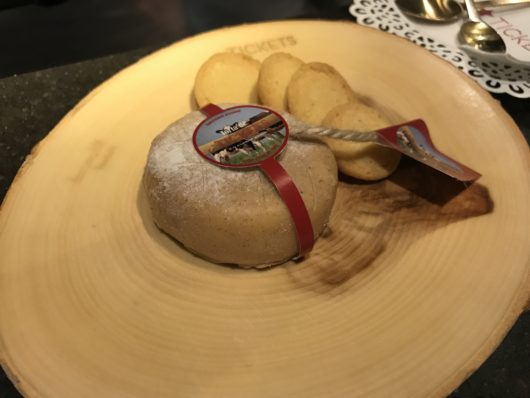 They also have a 'secret' as well, but I'll leave it to them to show you 🙂
So once again, to wrap it up, there wasn't a single restaurant that I tried, except Anardi, that I thought wasn't good, but some restaurants were just way beyond outstanding.  Next time you go to Barcelona, hope you can get to try some of the top 10 restaurants ever or at least the wow restaurants!
Other restaurants to try, as recommended by a Barcelona native (Francisco) who was working at Ole Spanish restaurant in Hong Kong:
1881 per Sagardi in History Museum of Catalonia
Cerveceria Catalana
Champaneria
La Bodega
Last updated 23 November, 2017