I admit again, NorCal really isn't my favourite place to visit.  I always felt that the culture and the vibes weren't what I desire, and the food and things to do here were just meh.  But since I had to come here due to personal reasons, I was brought around to try different things and did a bit of research to maximize the things I could do at this place.
Regardless of how you feel about NorCal, here I've written a couple of things that you can go visit or eat and my opinions on them.
Accommodation (Airbnb)
A super practical, simple, and well equipped Airbnb that's incredibly clean and with a communicative host.  There were three bedrooms each equipped with their own bathroom, own towels, the host bought a small vacuum cleaner while we were there because we requested for one, an electronic fireplace, and a comfortable living room.  The Airbnb was also in a quiet neighborhood but a less than a 10 minute drive from downtown.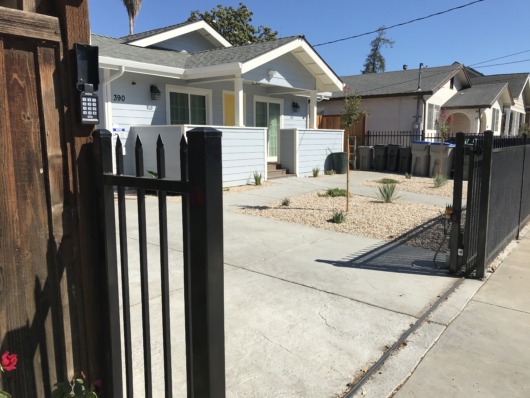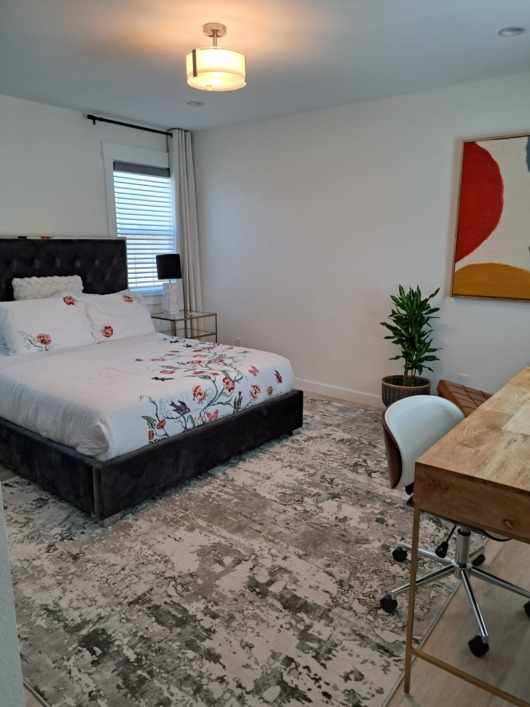 Master bedroom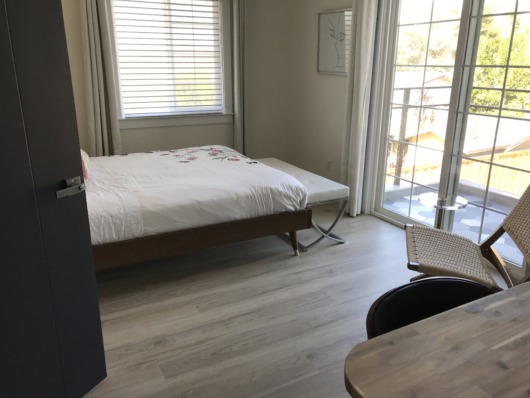 My room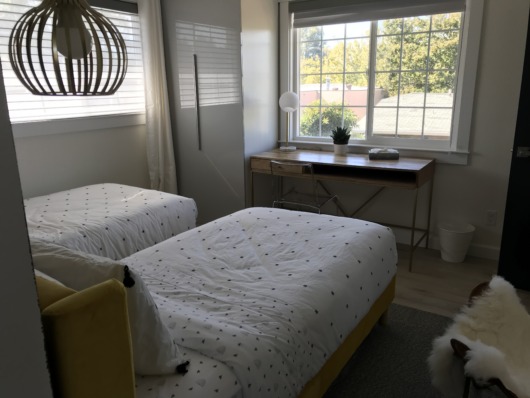 Third bedroom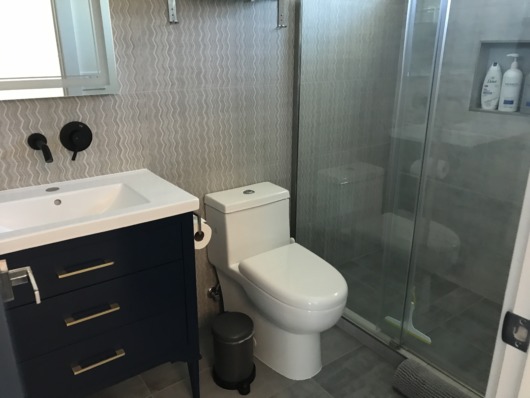 One of the bathrooms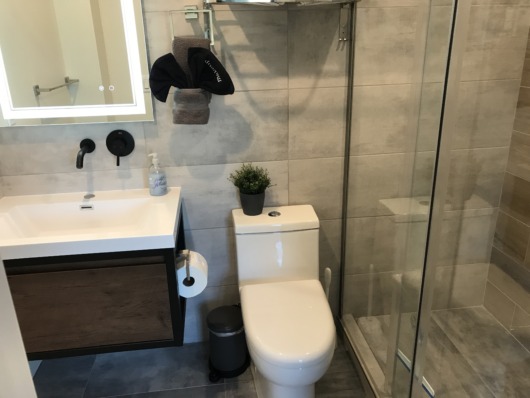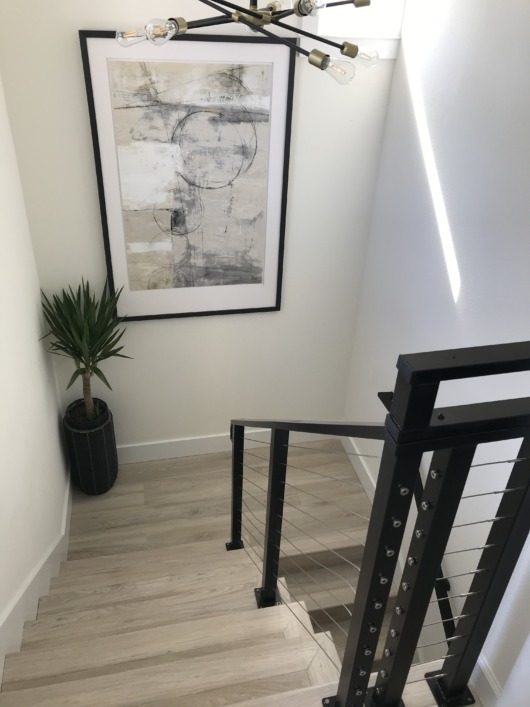 This Airbnb was super practical in the sense that the second floor were the three bedrooms and downstairs was the kitchen and living room.  The one thing we didn't like was that it used a central air conditioning system, so if people disagreed with the room temperature, someone would have to suffer.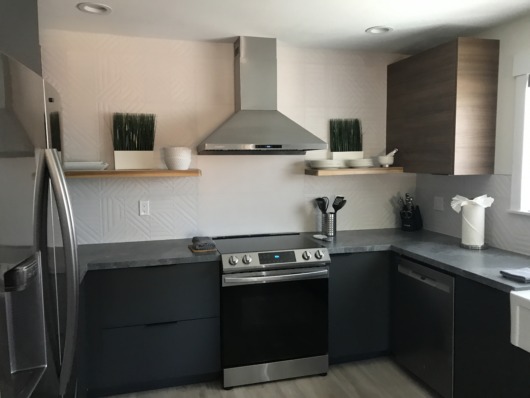 Kitchen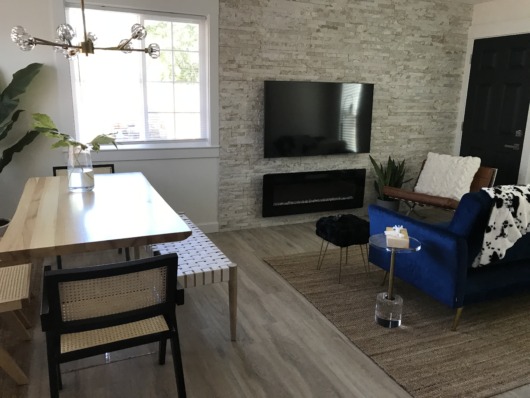 Living room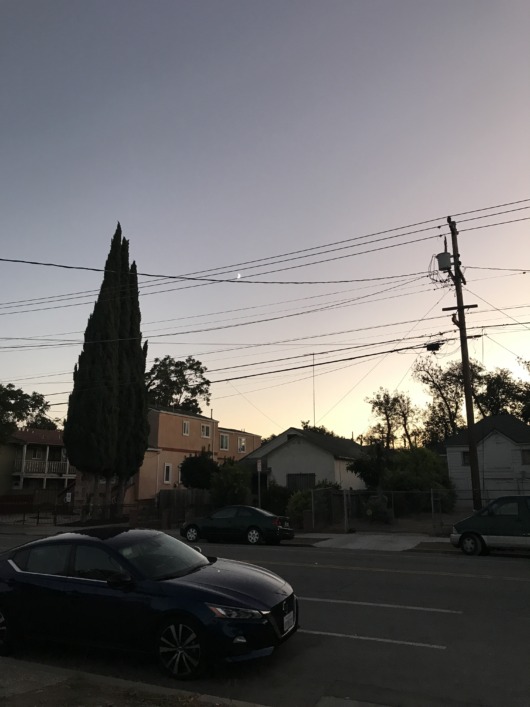 Right outside Airbnb, a sight to behold
Transportation
We first rented from Hertz while we were here before our Yellowstone trip.  After we came back from Bozeman, we rented from Sixt.  You will have to drive or have someone drive you around in San Jose and Fremont (or California in general cause public transportation is too inconvenient).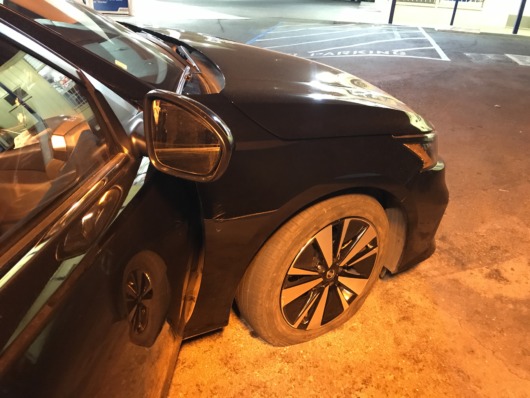 A couple things.  We booked this car, Nissan Altima, from Expedia (Hertz).  In total we paid $272 INCLUDING Collision Damage Waver and Third Party Liability for SEVEN DAYS!  One tip is do not rent from airports because they tend to be more expensive, so we actually got this from a Hertz counter in a DoubleTree hotel and gave us this car.  BUT!  See the tire above?  It was a completely flat tire on our second day driving.  We had to wait about an hour to get someone to replace it with the spare tire from the back of our trunk, then we drove to the airport to Hertz to get another car (for free).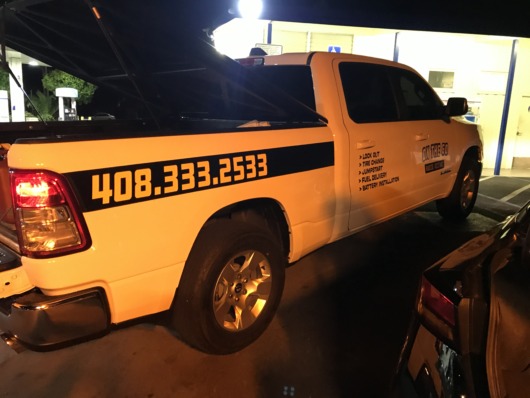 Luckily we weren't on a freeway or anything.  This was the first time I ever experienced a flat tire.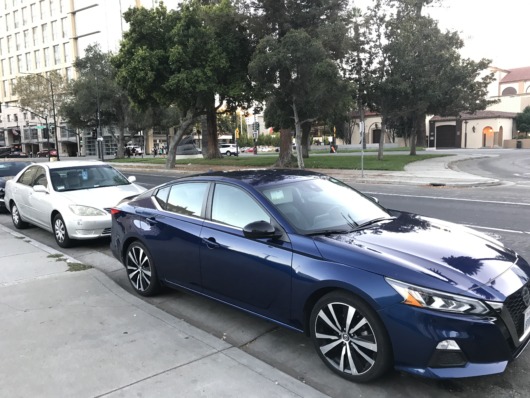 The replaced car we got, but it was also a Nissan Altima, but this time was a Nissan Altima SR.  Felt smoother to drive than the previous one, grip felt good, slightly sensitive, and I noticed a lot more safety features implemented in these cars nowadays like if you're off the lane the steering wheel will vibrate, and if there was a car next to you on either lane there will be a light near your door in case they were in the blind spot.  You can use Carplay and connect your iPhone to use Google Maps, play Spotify etc.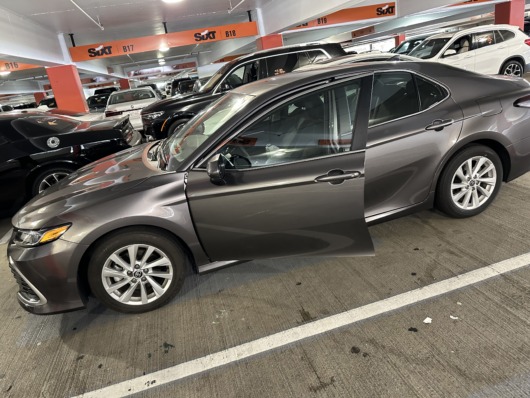 Ha, brutal experience.  This car we got from Sixt because we saw it was only $59 per day, but ended up being $656 for four days!  Here's what happened – I booked through Expedia, but the first time I booked it Expedia showed there was an error, so I booked again.  The second time I booked it, I also received an error after payment, so I went to check my email and it showed I made two car rental reservations, both paid!  So after lunch, we went to SJ airport.  I explained what happened and they said they will cancel for me without charges and to contact Expedia, okay.  Then I asked why when I booked for 3 days and 7 hours the price was vastly different than booking 3 days, shouldn't the 7 hours be pro rata?  But guess what.  They charged me a full day for it instead of 7 hours when return!  So I asked whether I can be charged for 3 days instead, and they said no, so I requested them to just change the return time to 4 days rather than 3 days 7 hours instead.  Also on top of that, the price online didn't include Collision Damage Waver and Third Party Liability so I spent another $168.  Incredibly deceiving!  From $59 x 3 days and 7 hours (about $194) to total of $656.  Never Sixt again!! (although the double confirmation wasn't their fault, it was Expedia's).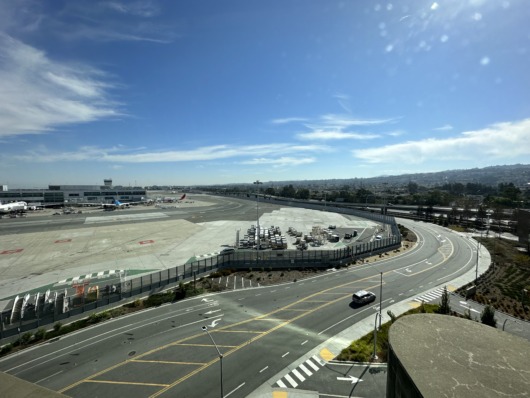 A view from San Francisco International Airport, the airport to and from Hong Kong.
Restaurants
I came here not expecting this to be a foodie trip, and in general I can say it lived up to its expectations.  Here are a few restaurants I've eaten: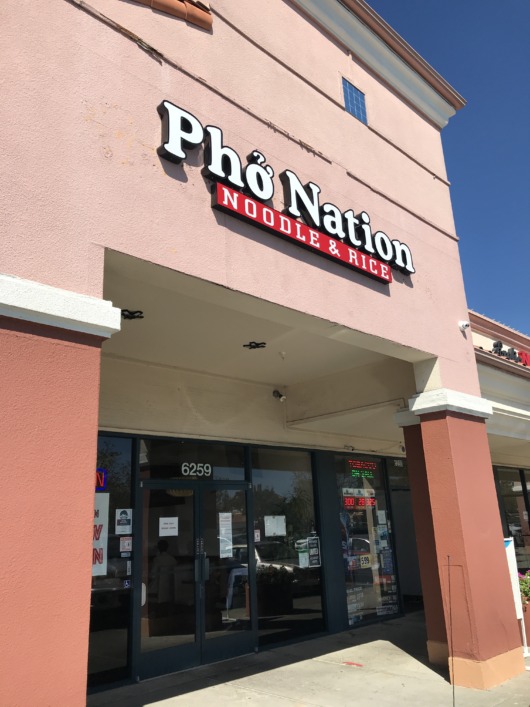 Pho Nation in Fremont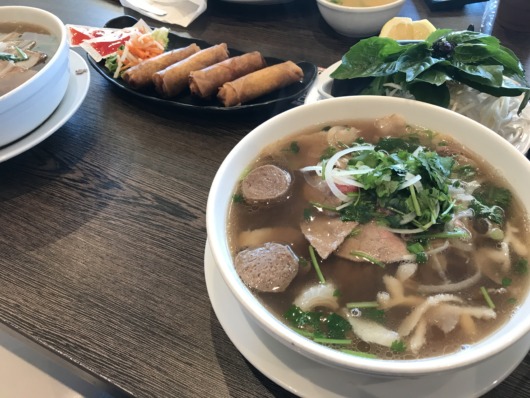 Three bowls of pho and a dish of spring roll cost $81 including tax and tips.  So expensive wth!  Taste and meat is whatever, but the size is gigantic (a medium bowl is like 1.5 bowl servings in Hong Kong)!  Not recommended.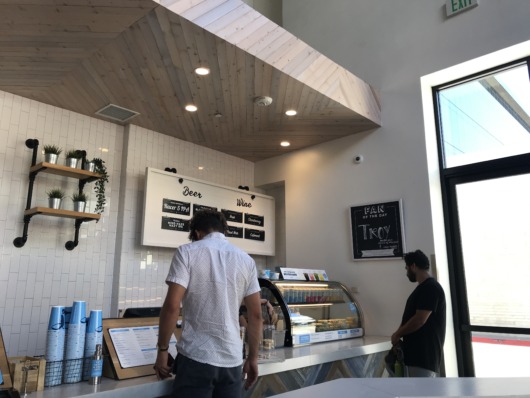 Mendocino Farms in Santana Row (website)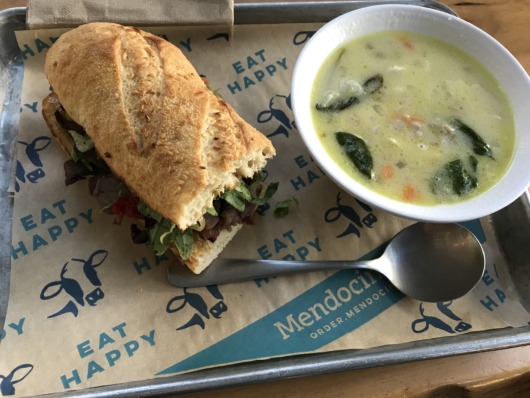 We each ordered the half sandwich meal, which either comes with a soup or side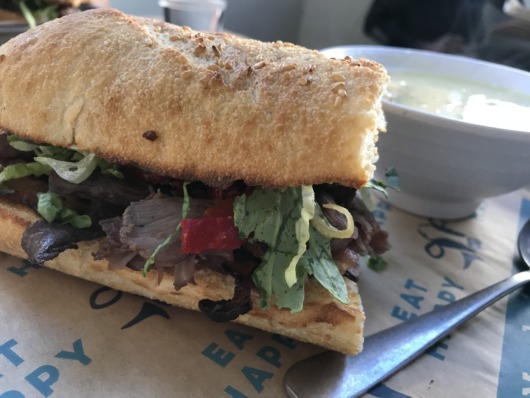 I ordered the Chimichurri Steak & Bacon sandwich with I think lentil soup.  Highly recommend this place!  The sandwich was scrumptious!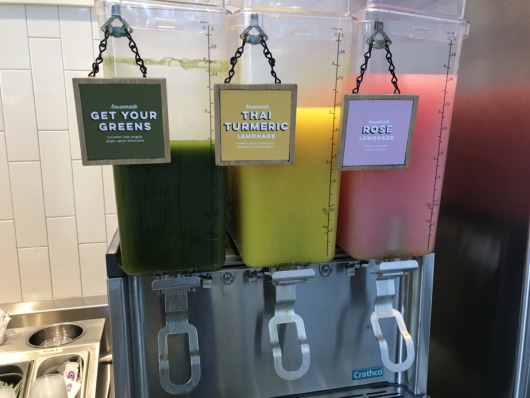 Oh it also came with a drink.  I got "Get Your Greens".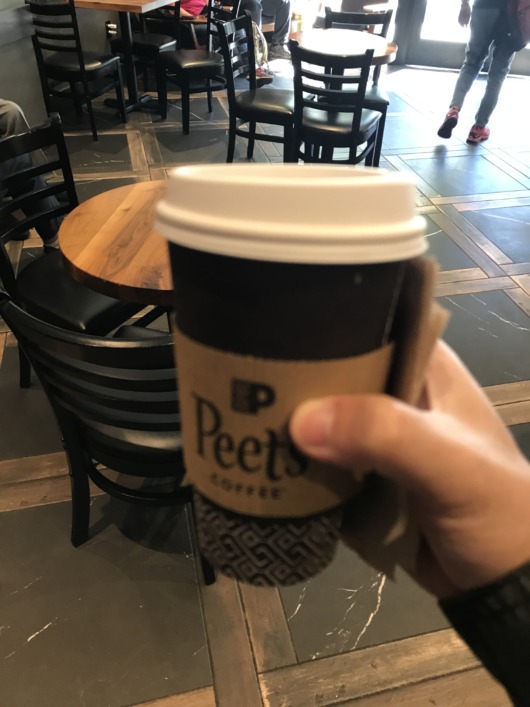 The classic coffee cafe chain in NorCal, Peet's Coffee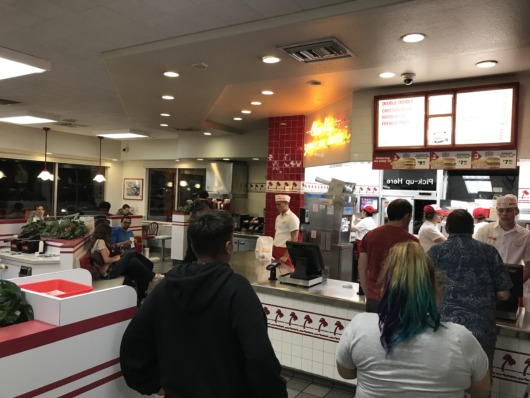 After we replaced our car after our flat tire incident, it was already 11pm, so we went to the only restaurant that was open around the area, In N Out Burger!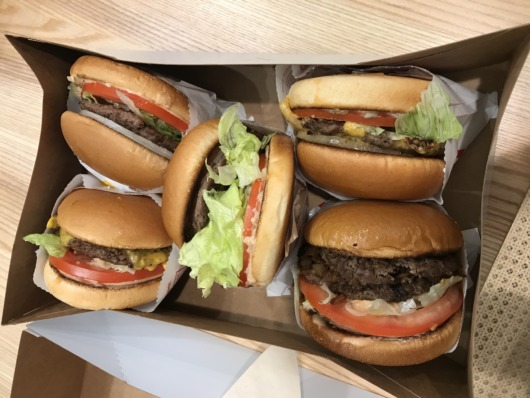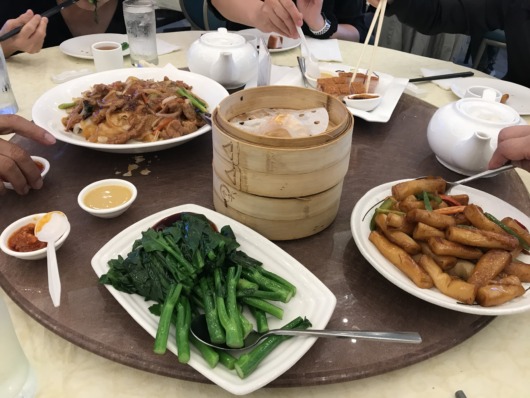 Wanted to yum cha (not me), so went to Pearl Bay Restaurant.  Definitely not comparable to Hong Kong.  Said this was the best place to yum cha in Fremont?  I hope there is better, because I would not recommend going here.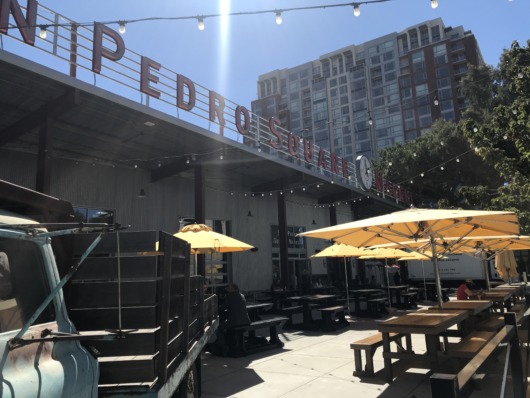 Lots of different food stalls and drink shops in San Pedro Square Market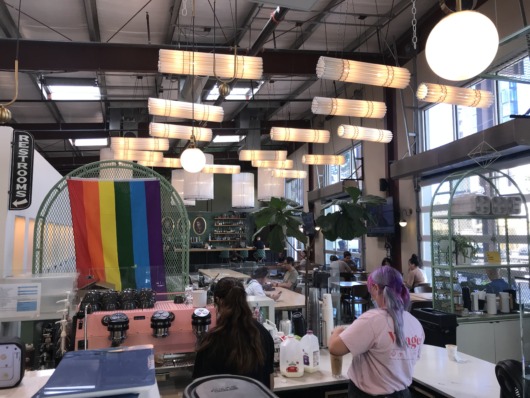 Voyager Craft Coffee (website)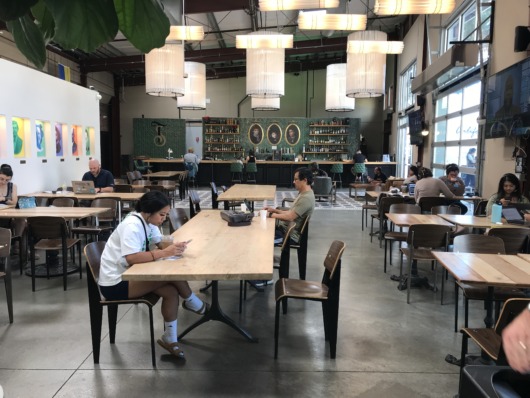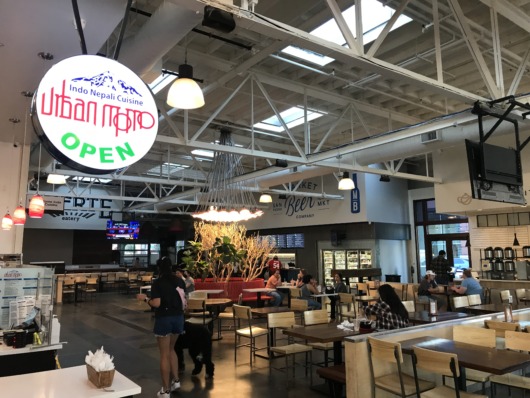 We didn't eat in the market, just walked around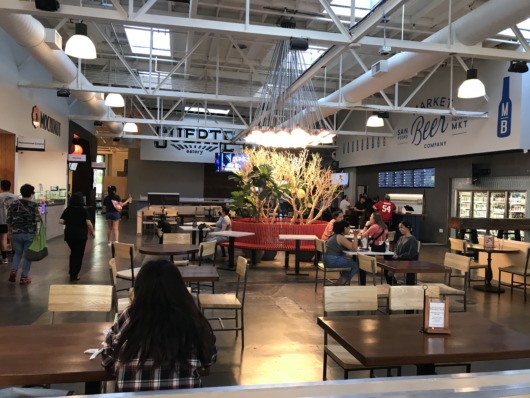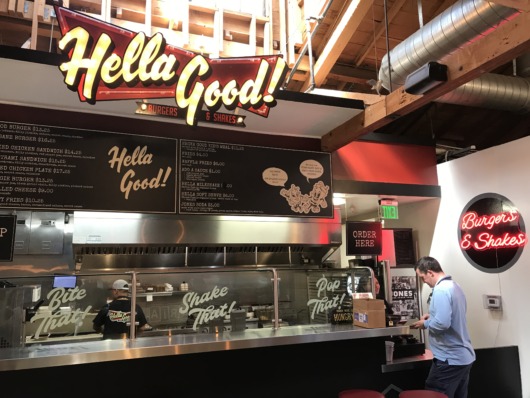 The Boiling Crab.  Was good!  Recommend.  Full of flavours and spicy, seafood was delish.  No pics of the food because we were getting our hands dirty.
pekoe for boba, also very much recommend!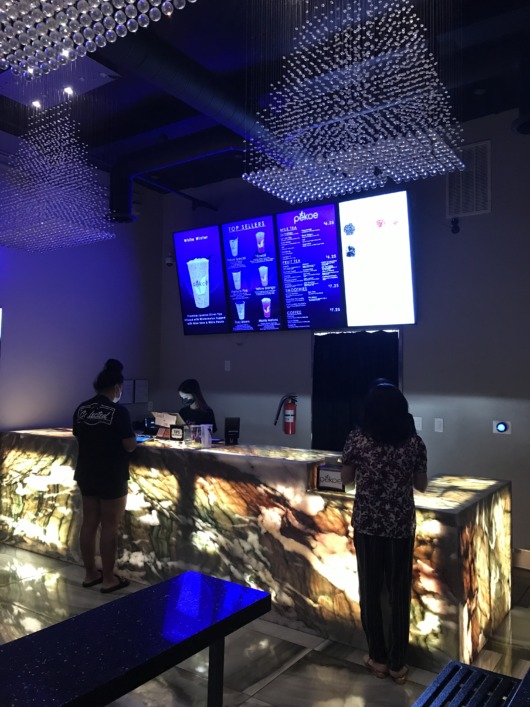 This place was decorated like a night lounge / club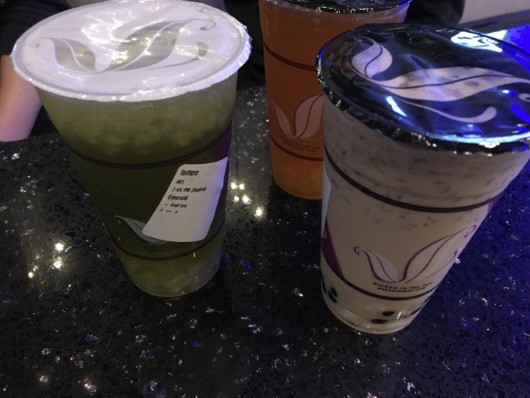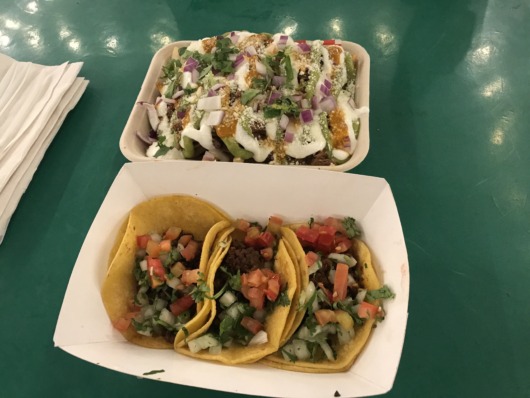 From a food truck at Garden at the Flea (scroll down for more info about this festival).  Tacos were okay.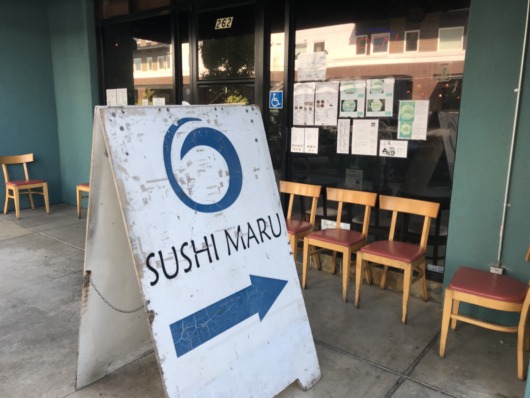 Sushi Maru.  Do not go.  Yuck.  (website)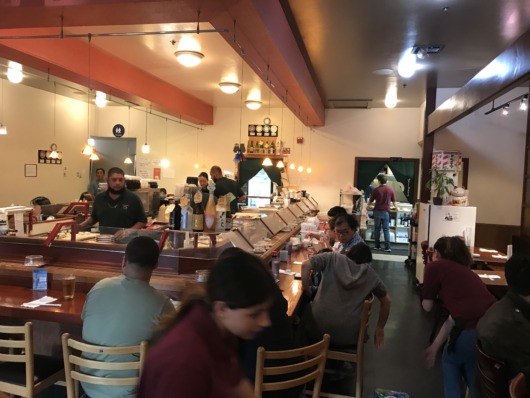 Barely edible sashimi don.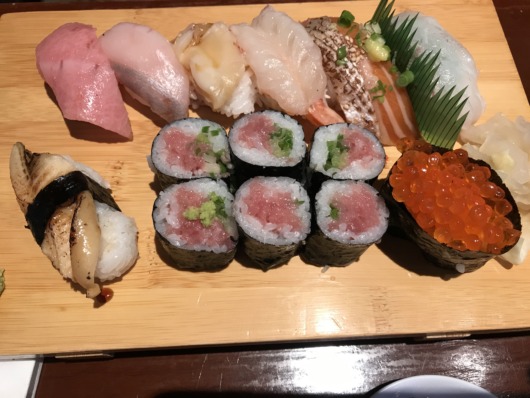 Barely-want-to-put-in-your-mouth sushi set.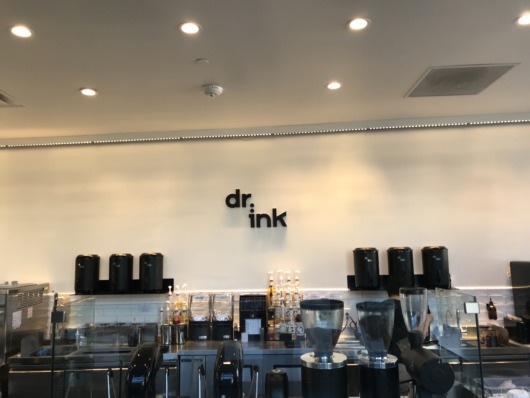 dr.ink (website), nearby San Pedro Square Market.  Yummy!  Can go for coffee, tea, boba.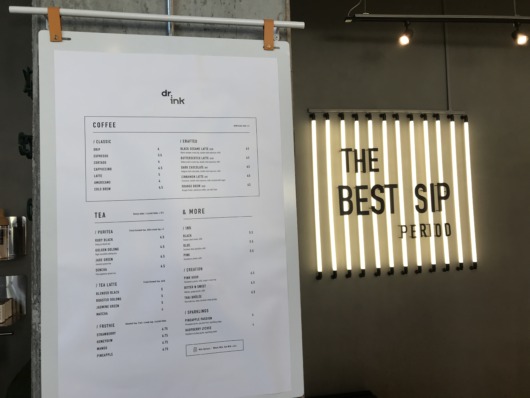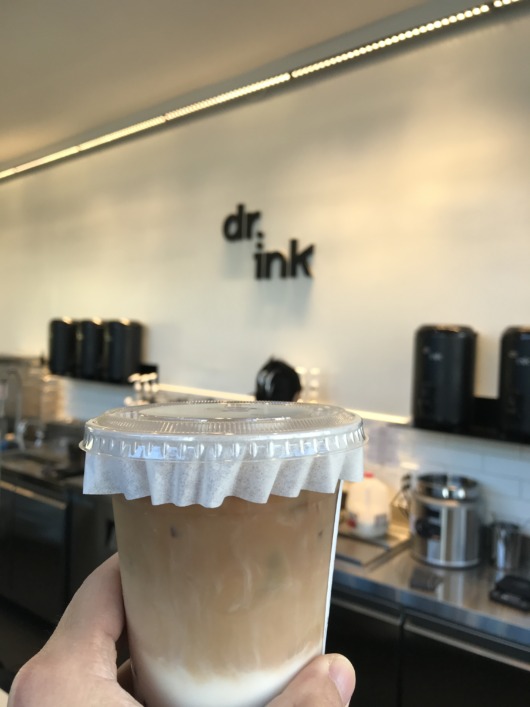 Hello latte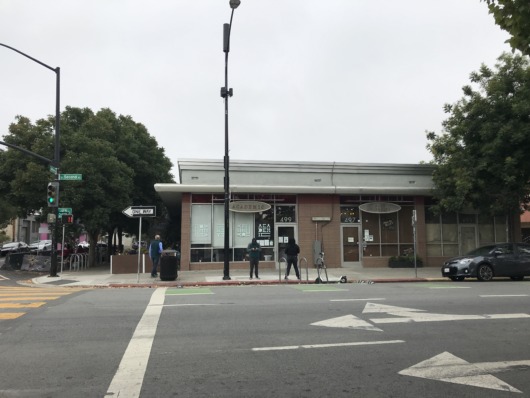 Academic Coffee (website) also good for coffee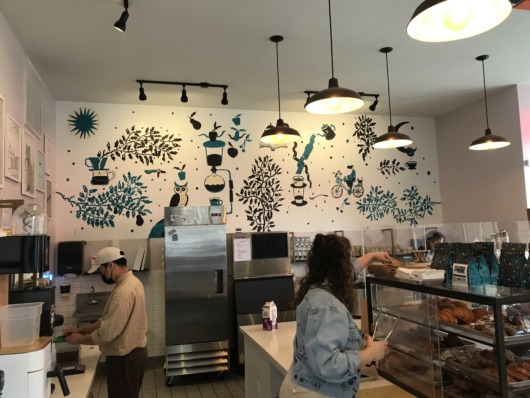 Academic Coffee, inside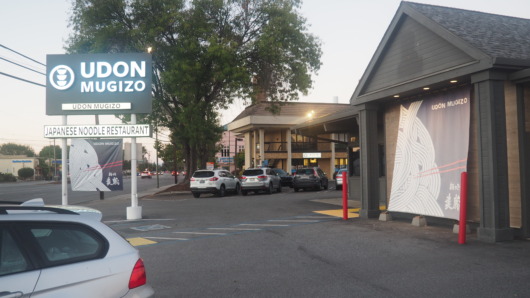 Udon Mugizo (website)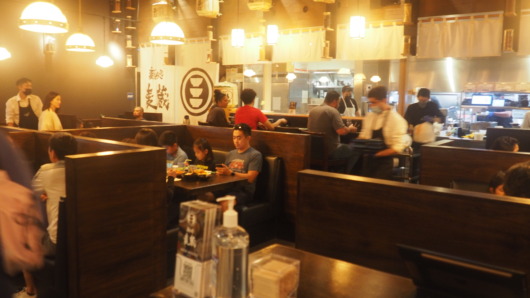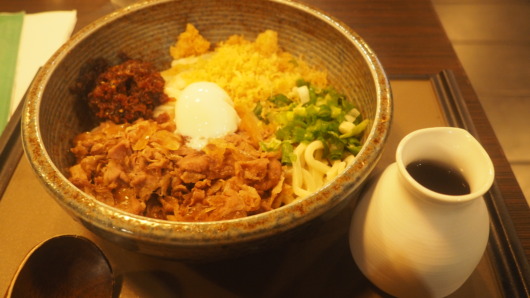 While some people didn't like it, I actually enjoyed it!  Maybe cause I have a favorable bias towards udon.  I got the Spicy Niku Bukakke Udon.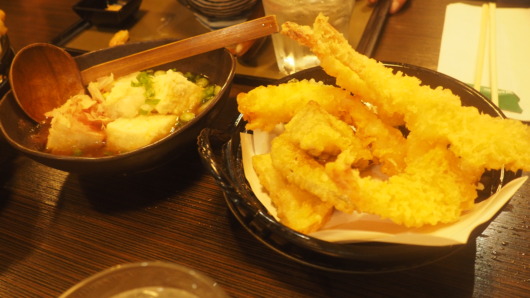 Assorted Tempura, to share and a dish of Agedashi Tofu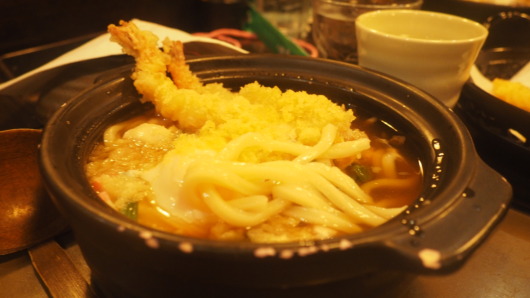 I think Nabeyaki udon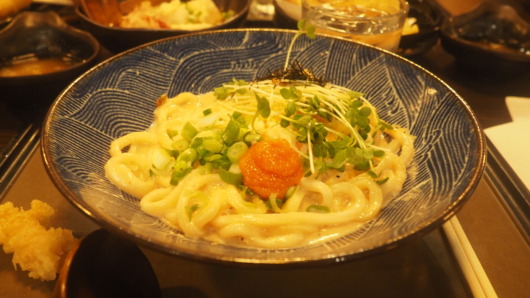 Mental cream sauce Udon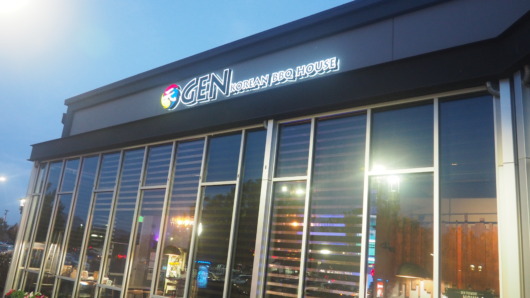 GEN Korean BBQ House (website)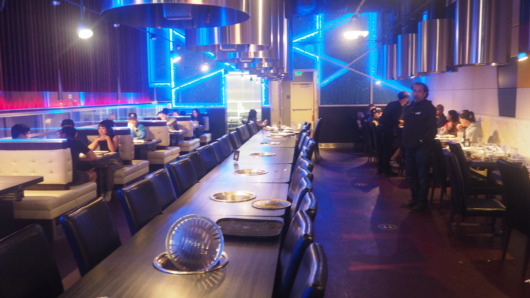 Again lots of glowing future tech room ambience reminiscent of certain nightclubs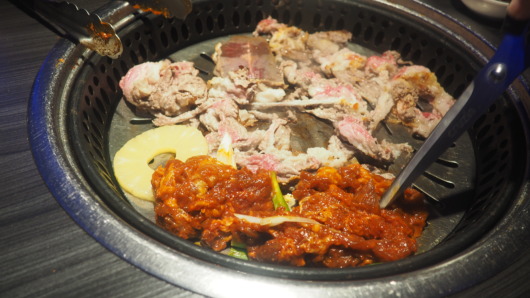 Food was decent and value was okay.  Definitely get the thin beef briskets, those were our favourite.  Would recommend to go if you're craving Korean BBQ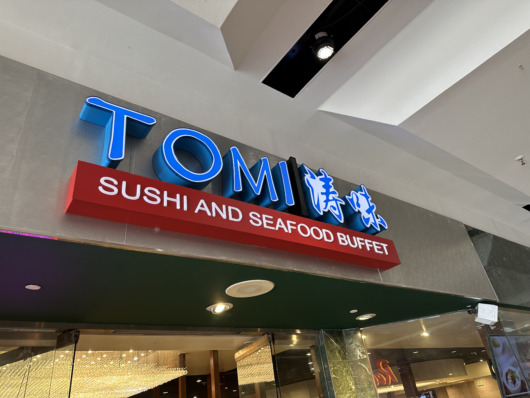 Tomi Sushi and Seafood Buffet.  Lots of Asian food like Chinese and Japanese to select from, all you can eat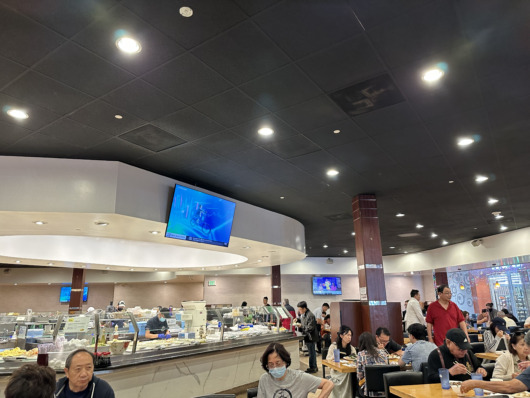 While it was quite cheap ($12 per person and below if I remember correctly, around that ballpark), the food was… whatever.  It's really hard for me to compare Asian food since I'm from Hong Kong and the Asian food there is so much better.  In fact, I realize after this trip how Hong Kong is actually quite a food haven as well.  Anyway, I would not recommend going.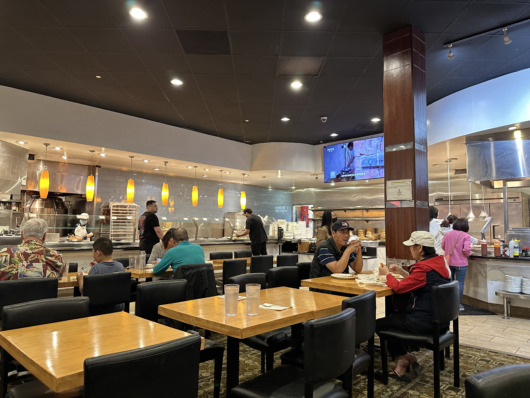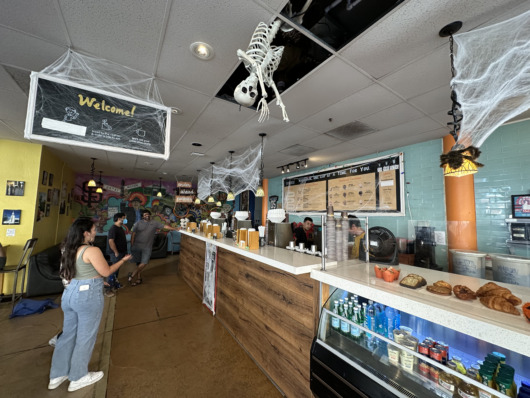 Philz Coffee (website) They were doing Halloween themed coffee mixtures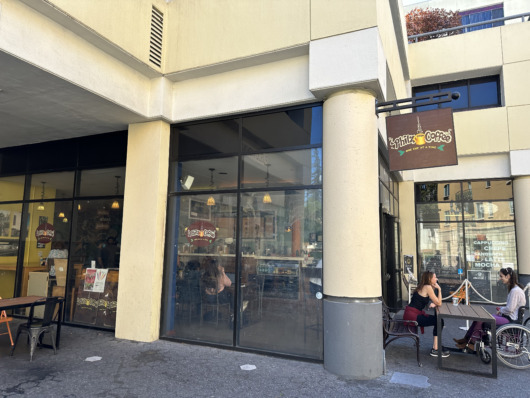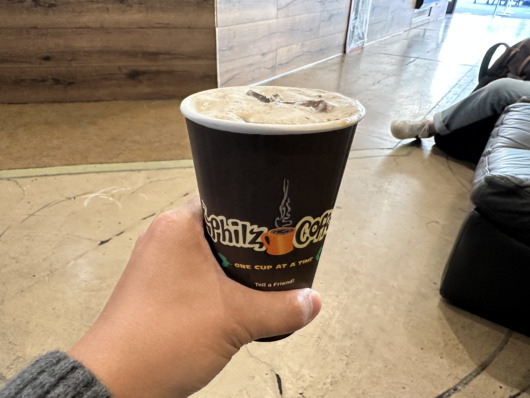 Too sugary too sweet, we didn't like our coffee that much. This branch was near SJ State University.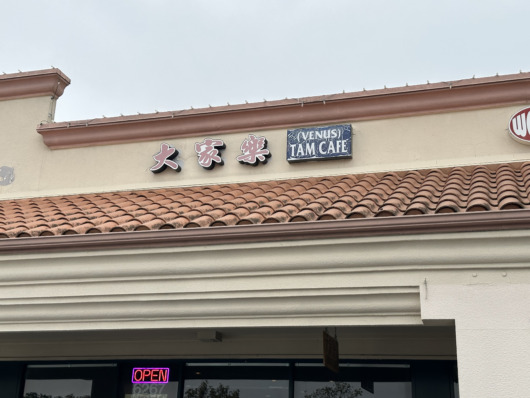 Venus Tam Cafe.  If you're looking for Chinese style breakfast like porridge and fried noodles in Fremont, I guess you can go here?  The food again wasn't very tasty but the portions were huge.  One porridge felt enough for two persons.  They also have western style breakfast as well.  My verdict?  I would not recommend.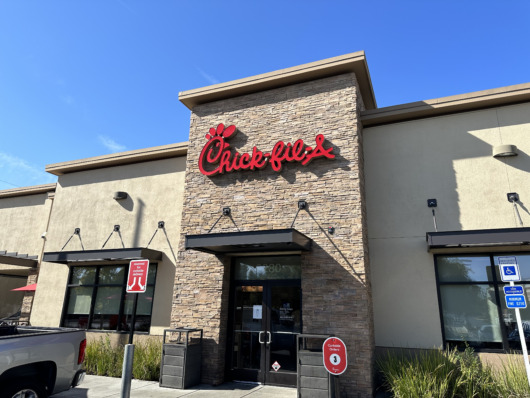 I missed Chick Fil A!  Still just as juicy for chicken burgers.  Would recommend!  I'm glad in HK we have Shake Shack because their chicken burgers are just as comparable.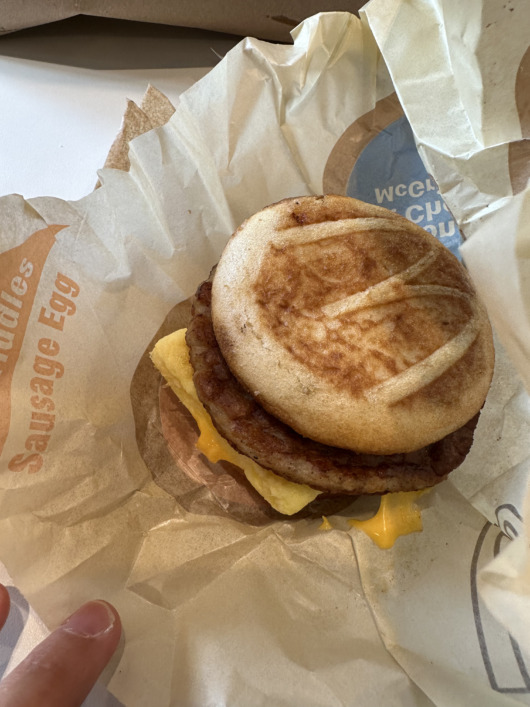 Some of the best meals we had this trip were all from fast food restaurants – Chipotle, Chick Fil A, and now McDonald's.  They don't have McGriddle in Hong Kong so I ordered one for breakfast on the day I was flying back to HK.  It was wonderful and yummy!  A bit of honey mixed in with the egg and sausage.  Would order again.
Conclusion after eating all the food in US?  Don't go for Asian food, stick with sandwiches, steaks, sometimes European food, and even go for fast food.  Also.  Damn, eating in California has gotten a lot more expensive!  Inflation + Tax + Tips = $$$$$.  Much rather be paying in Hong Kong for expensive meals.
Things to Do
There are many day trips you can do outside of San Jose and Fremont, which I've written about for Muir Woods, Napa Valley, San Francisco itself, and Carmel by the Sea + Monterey + Santa Cruz.
But there are also some things you can do in San Jose and Fremont as well.  I felt after this trip, I definitely exhausted the things to do around the area though, so yeah started feeling there wasn't much to do here.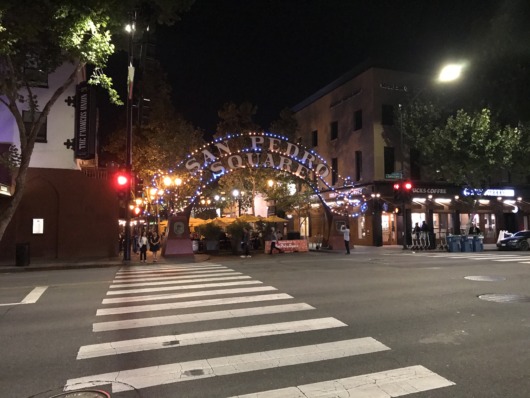 San Pedro Square with lots of restaurants around it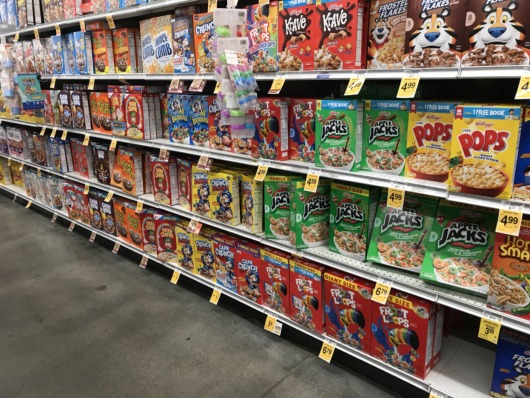 Visited Safeway to buy groceries and buy cereal.  So many different types of cereals in US!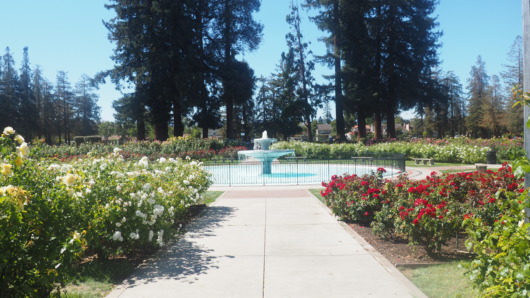 Municipal Rose Garden (website)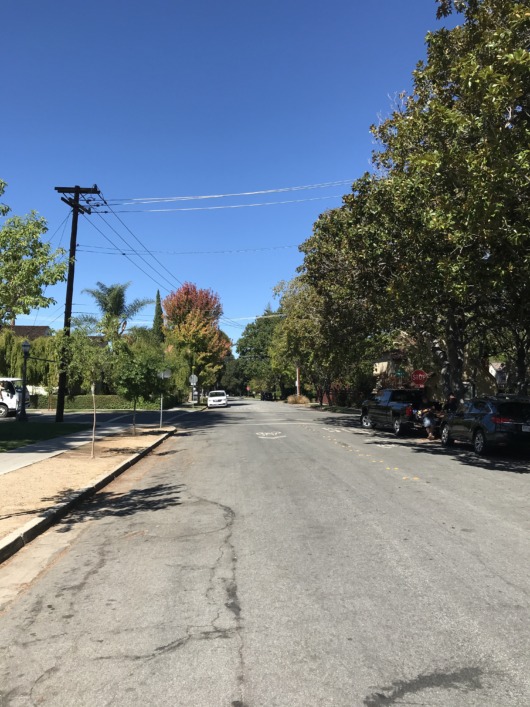 Right outside the rose garden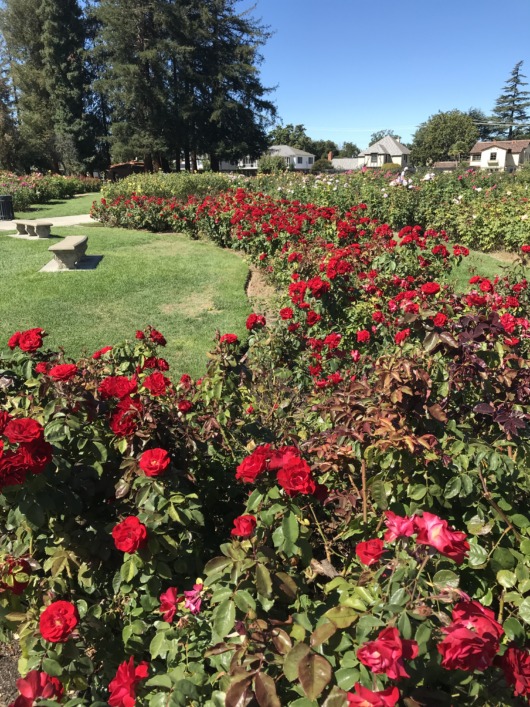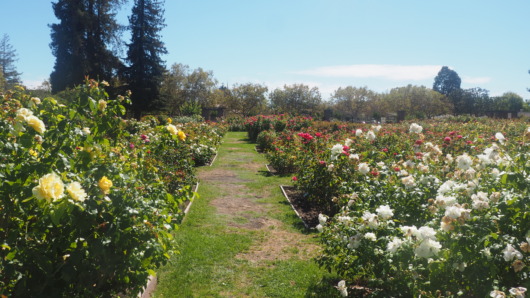 A good way to try to adjust to our jet lag, one of our first activities the day after we landed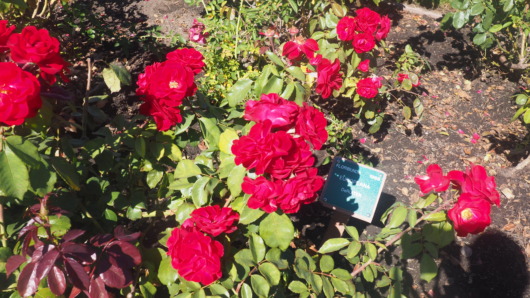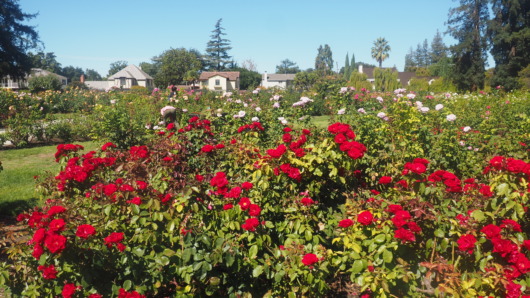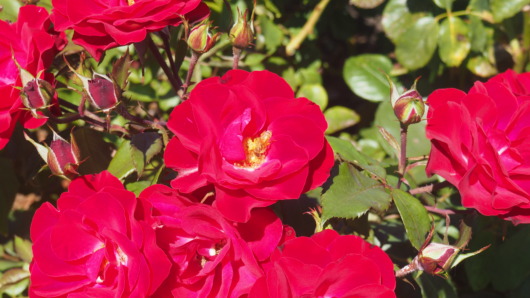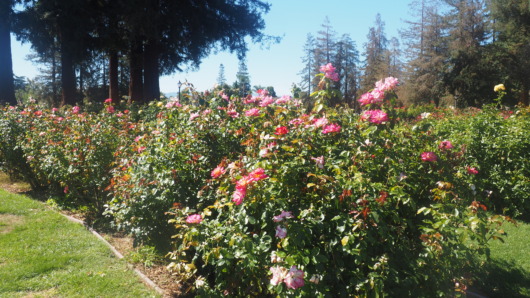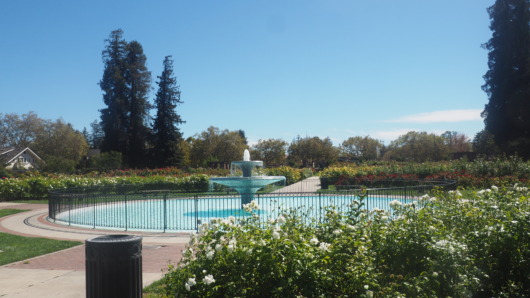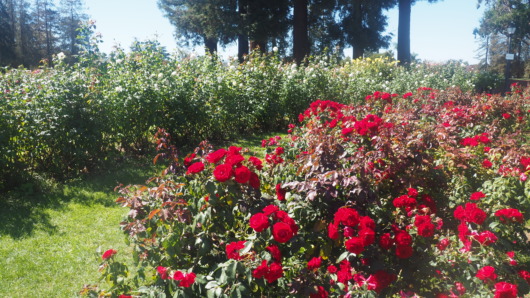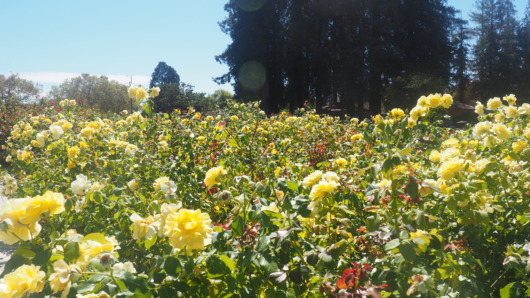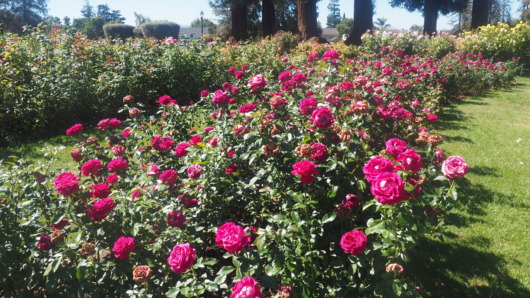 Not just red roses, but yellow roses and pink roses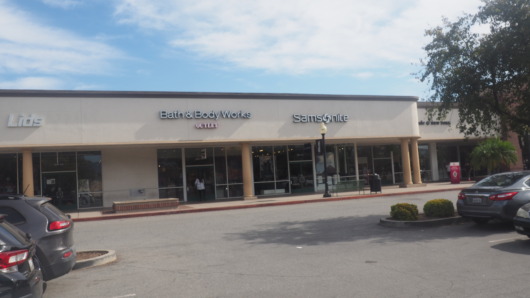 Gilroy Premium Outlets (website)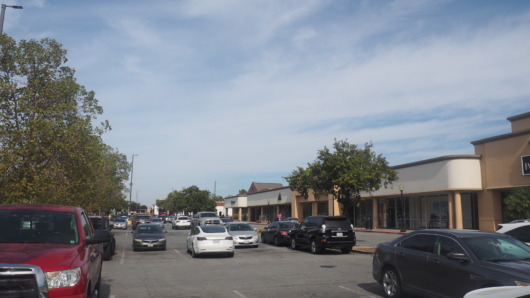 The outlets were split into three different sections.  To be honest we felt that there weren't that many shops to visit, and a bit inconvenient to drive to each of the sections.  The sections were next to each other but because the area is so big, it's better to drive from one carpark to another even if it takes 2 minutes.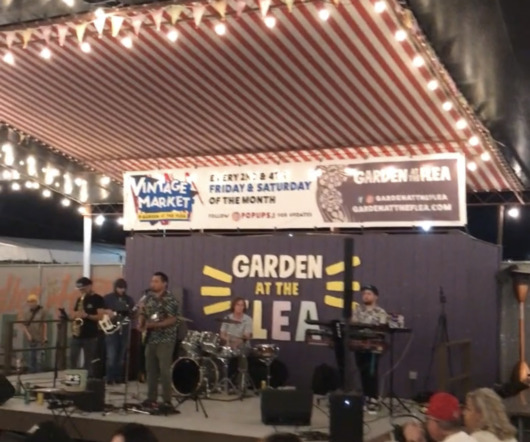 Garden at the Flea at the Berryessa Night Market (website).  Just like how coincidental I was at Half Moon Bay during the pumpkin festival, it was also awesome that this event was happening while I was there.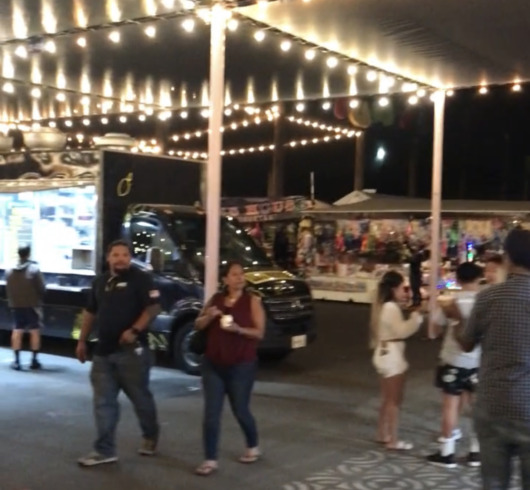 Pretty cool event if you asked me.  Food trucks, live music, clothes, arts, crafts being sold.  Can definitely check it out.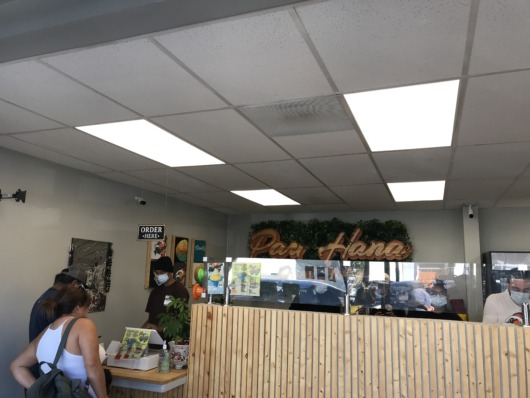 Japantown, one of the shops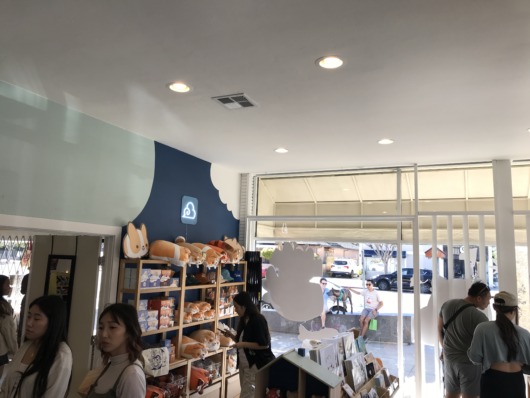 Japantown was so small!  Literally like two streets.  Very unimpressed.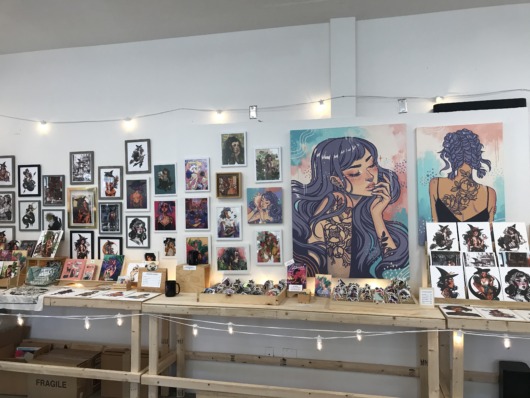 Get Down, a dancing studio to get your salsa moves going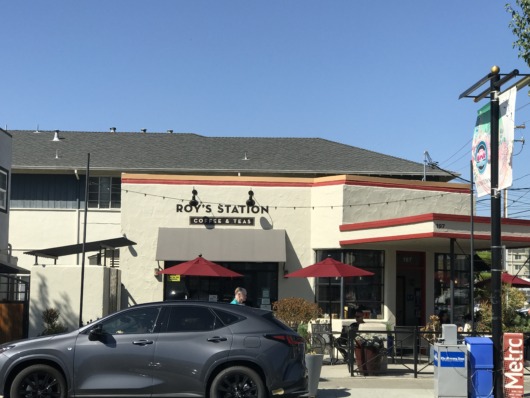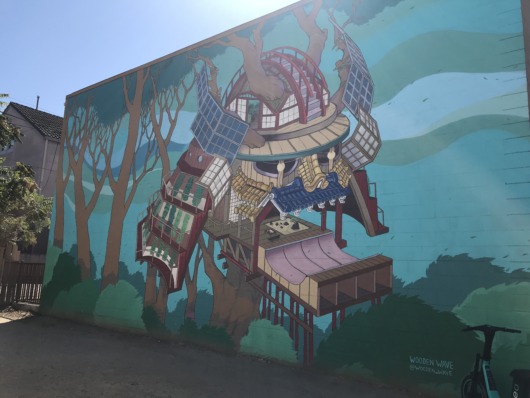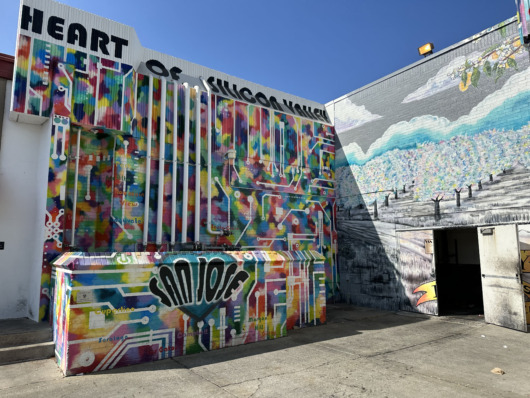 Artwork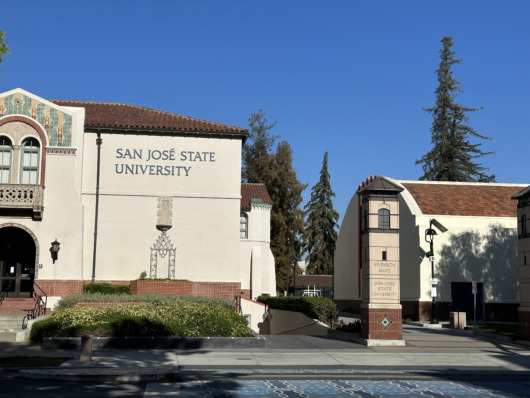 San Jose State University.  The university campus in general was quite bland, nothing in comparison to Montana State University.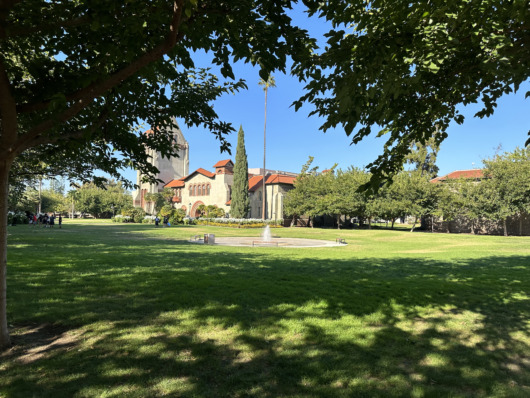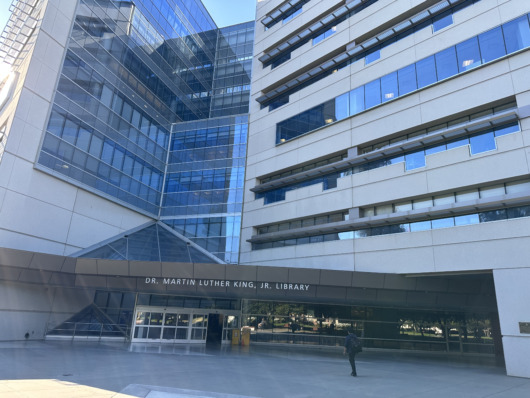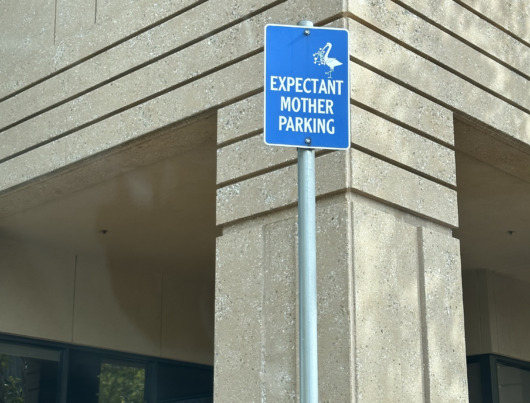 Parking at a Google working location.  First time I see "Expectant Mother Parking".  Good idea!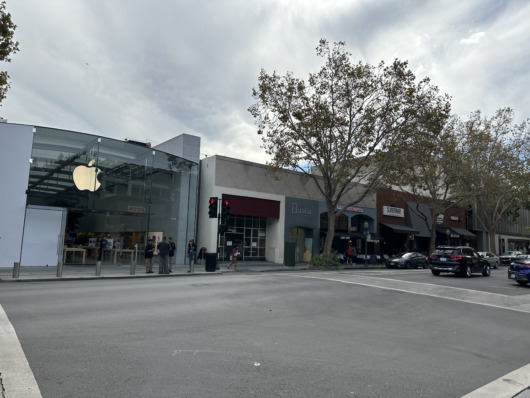 Can't believe I wasn't told about going to this area earlier!  I actually liked Palo Alto and would have liked to spend more time here.  Unfortunately I only visited a few minutes of this place on the day I was flying back to HK.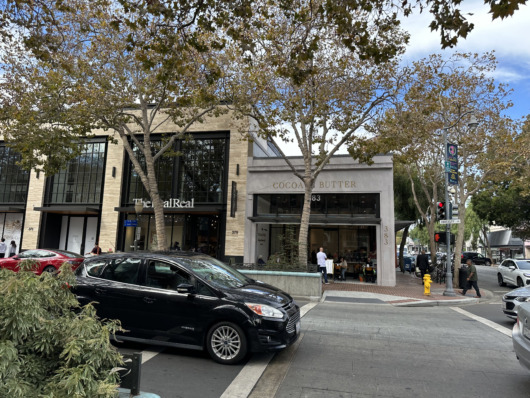 Palo Alto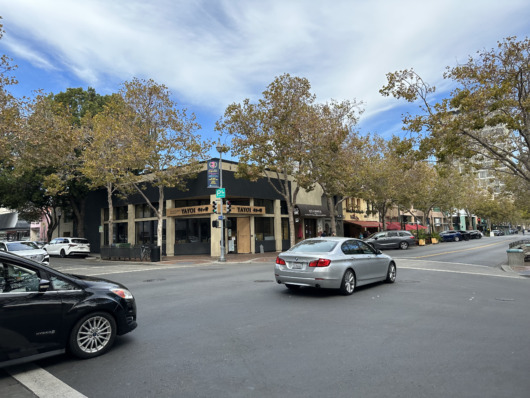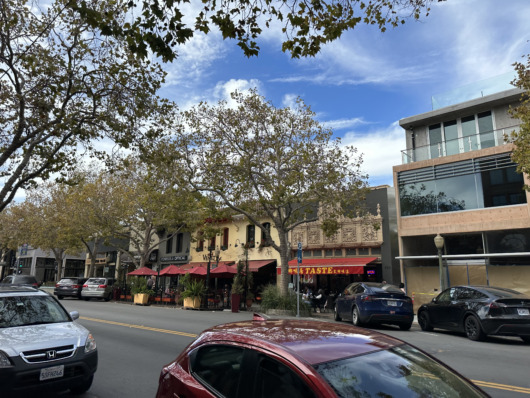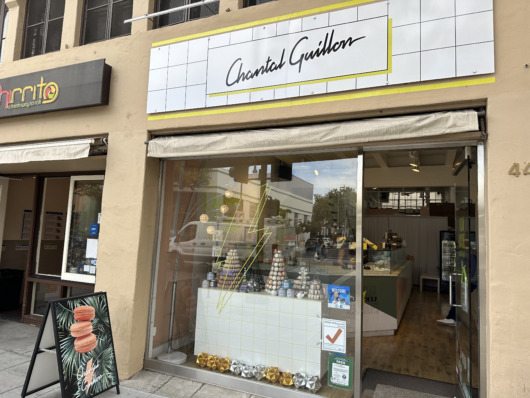 Chantal Guillon, great macarons!  Have to visit. (website)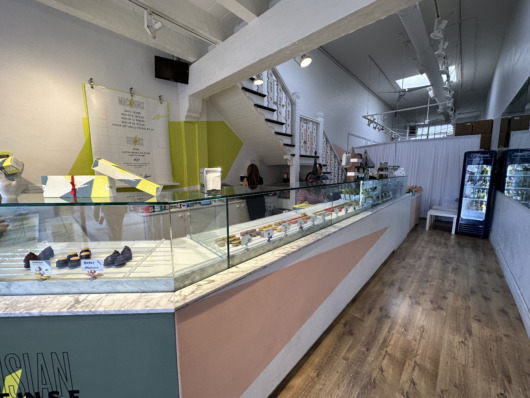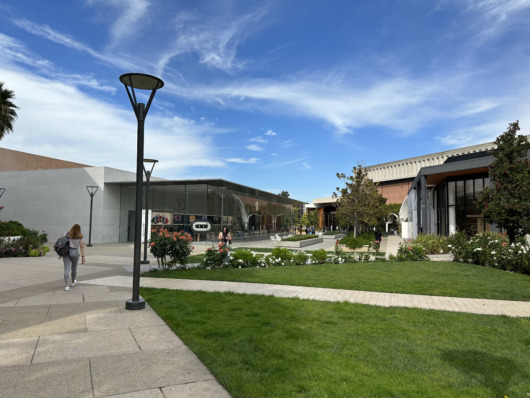 Nearby Palo Alto is the Stanford Shopping Center (website), another area I would have loved to spend more time.  Beautiful, classy, premium area.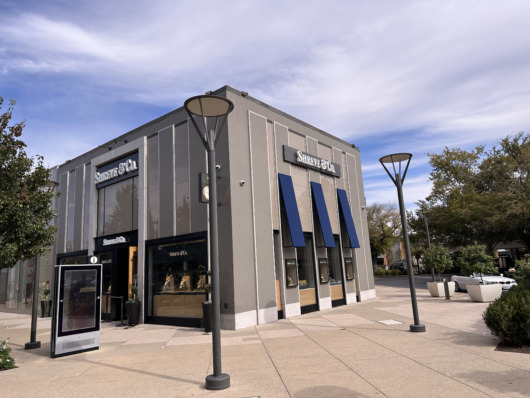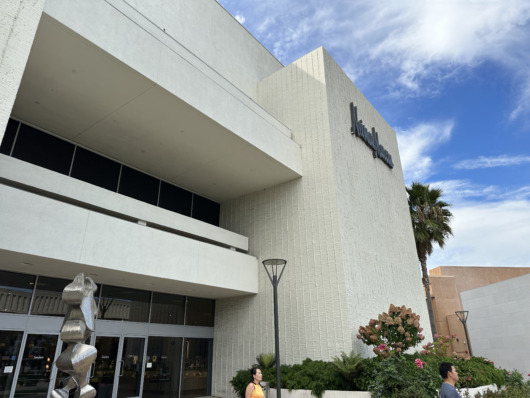 Nieman Marcus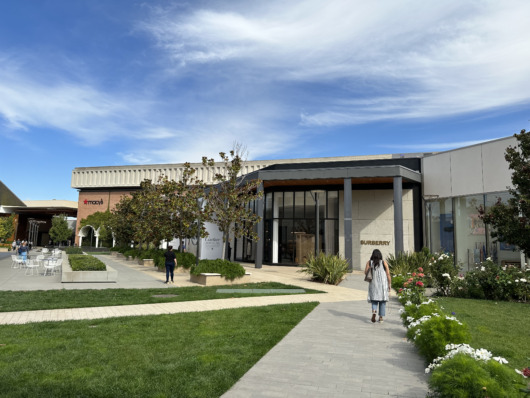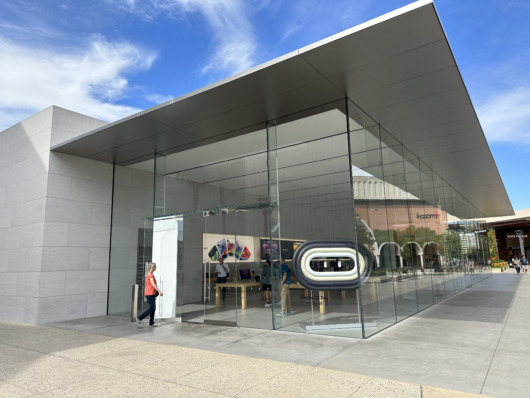 Apple store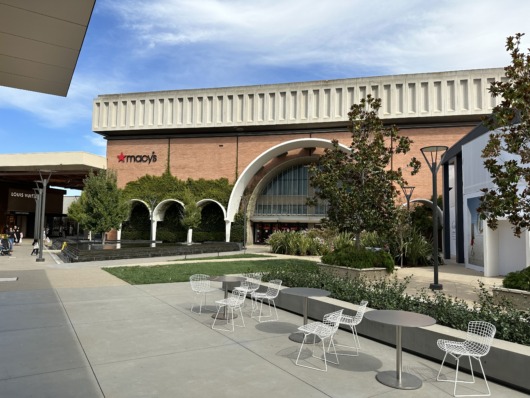 macy's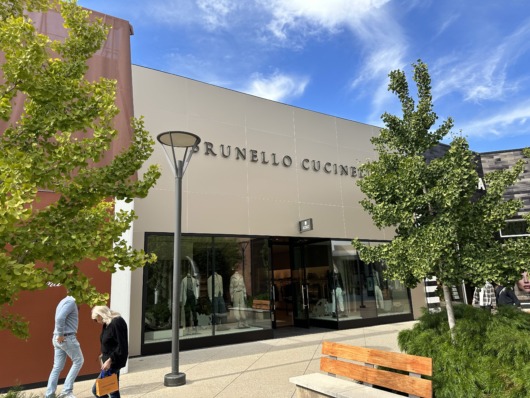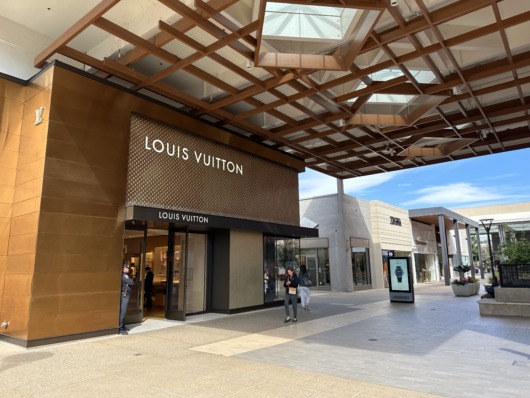 Louis Vuitton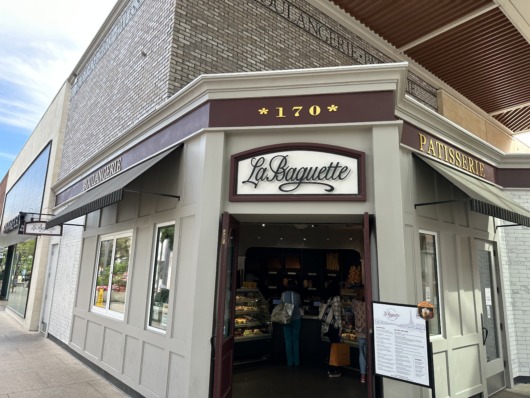 I know I'm photo dumping for Stanford Shopping Center, but all the shops are sooo nice!  Here is La Baguette (website)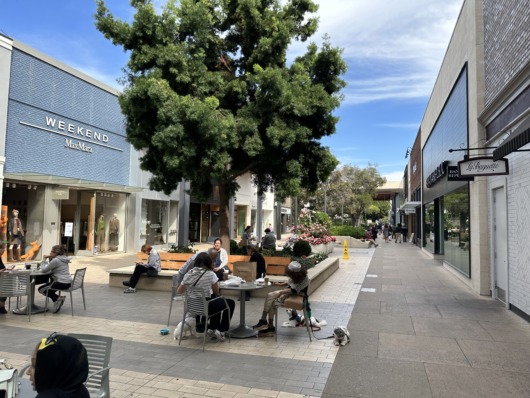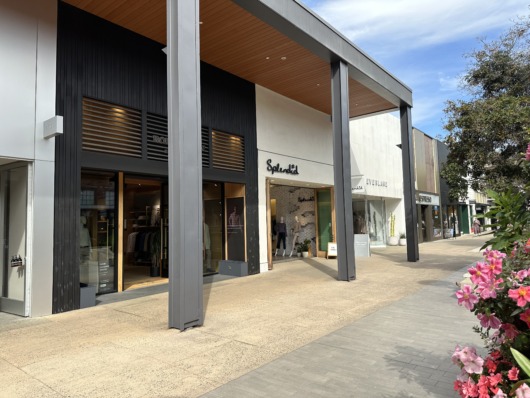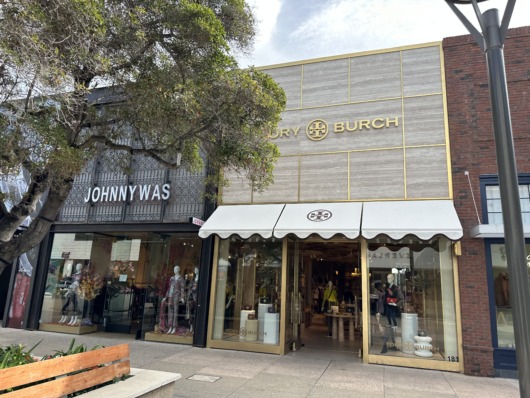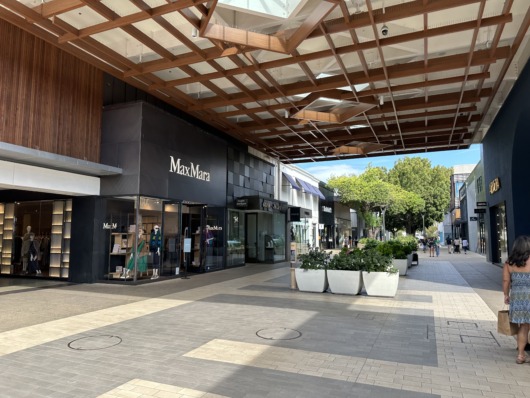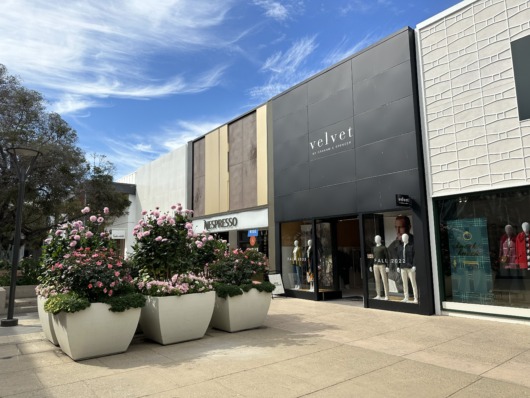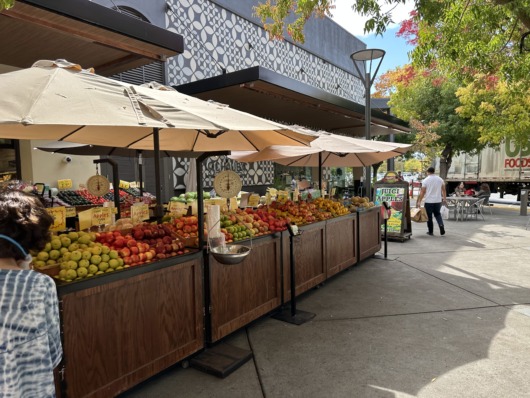 Juicy fruits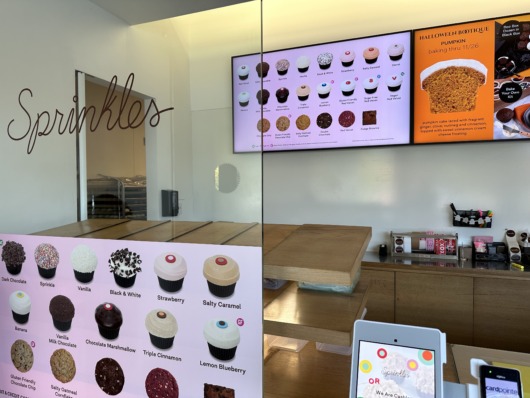 Sprinkles cupcakes, another yummy place!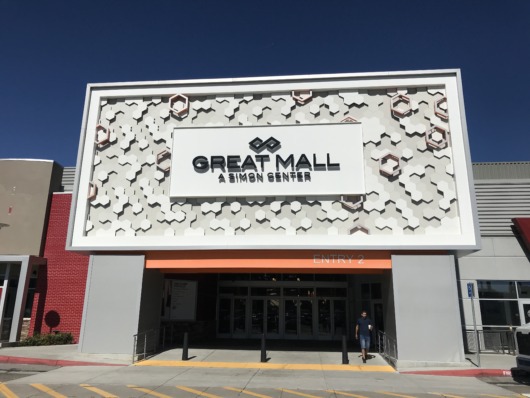 Great Mall (website) We actually liked this Outlet mall more than the spread out Outlet shops style because everywhere can be walked and we felt there were more options and brands here to see, and in fact we felt this place was larger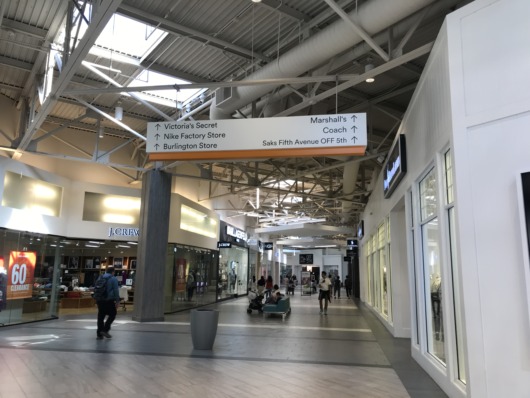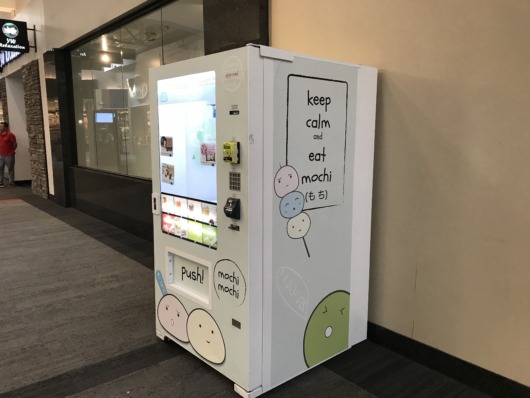 Cute mochi machine in the Great Mall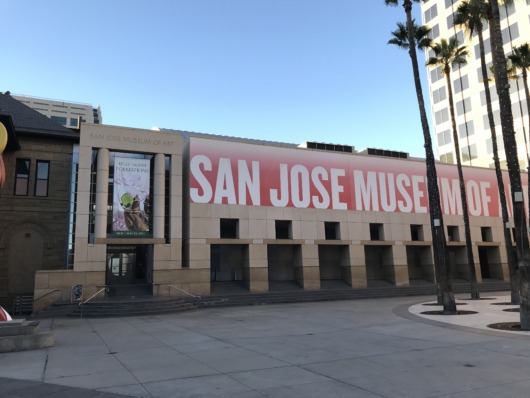 San Jose Museum of Art (website)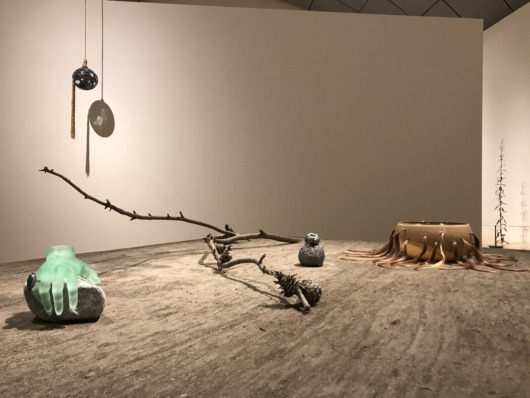 San Jose had so little things to do that's why we decided to go here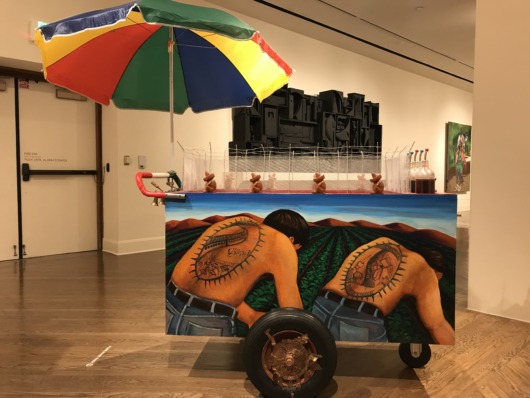 However, it is recommended NOT to go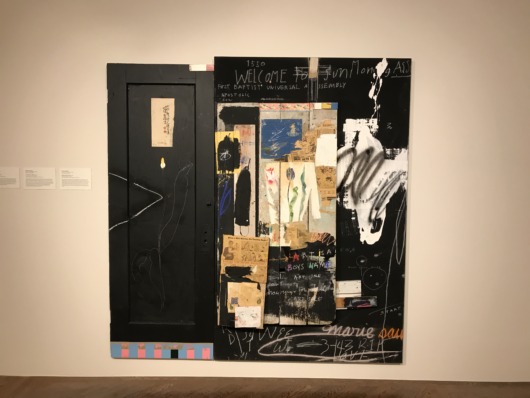 The museum itself is very underwhelming with just 2 floors.  You can visit the whole place within 10-15 minutes, and it costs $10 per adult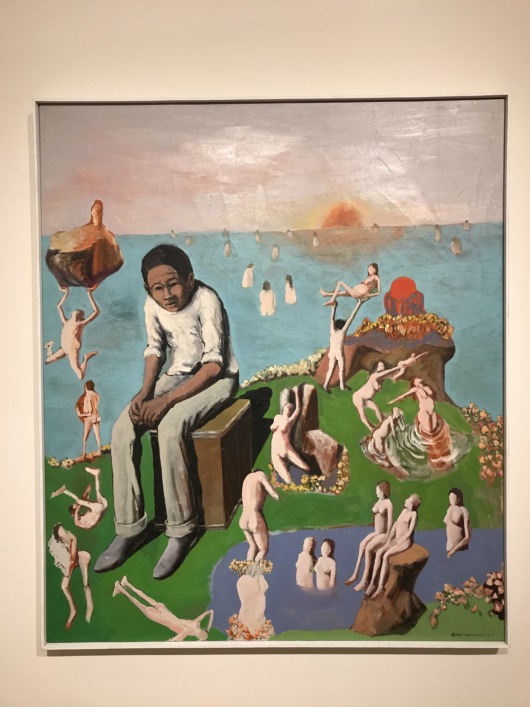 If you insist on going, try to make it the first Friday of the month since it's free.  Remember to check the opening hours as it varies each day.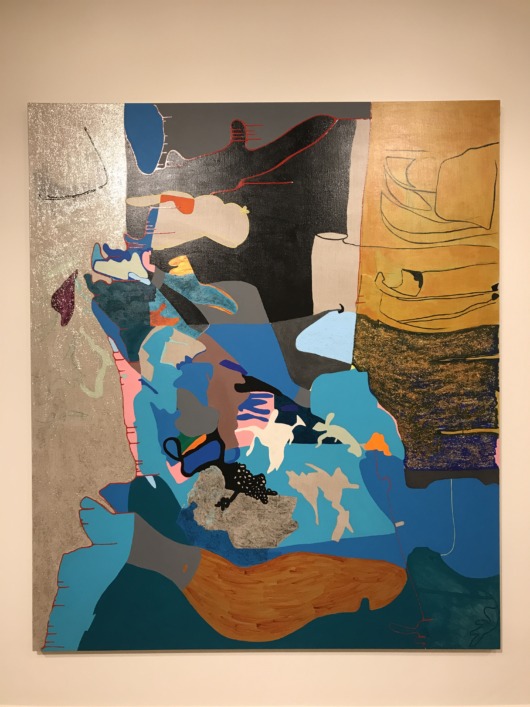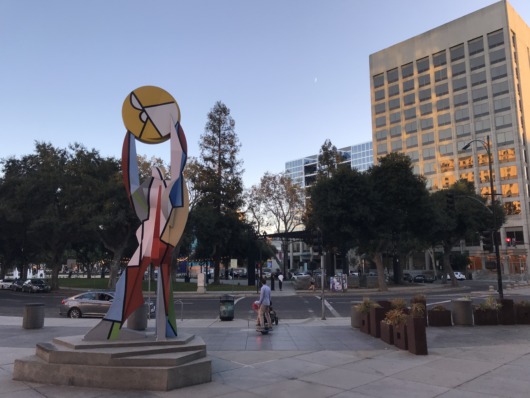 Outside the museum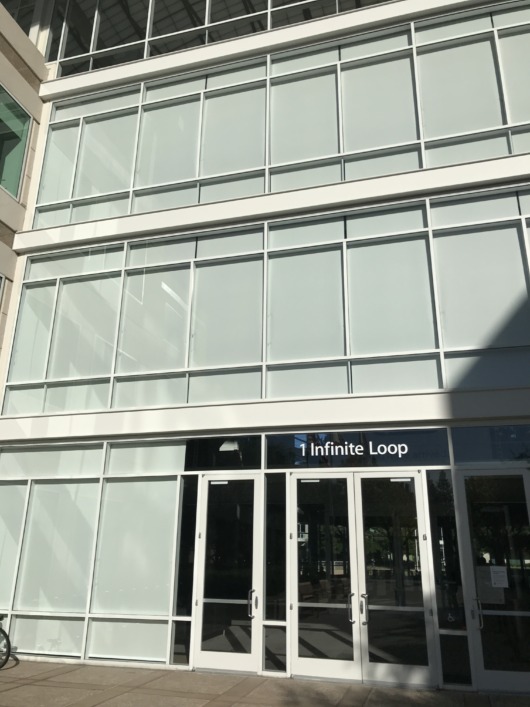 Apple HQ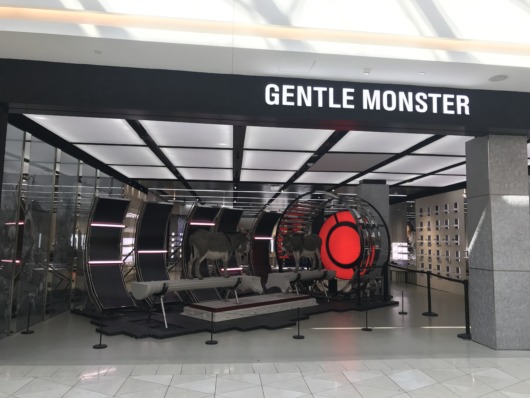 Inside Westfield Valley Fair (website)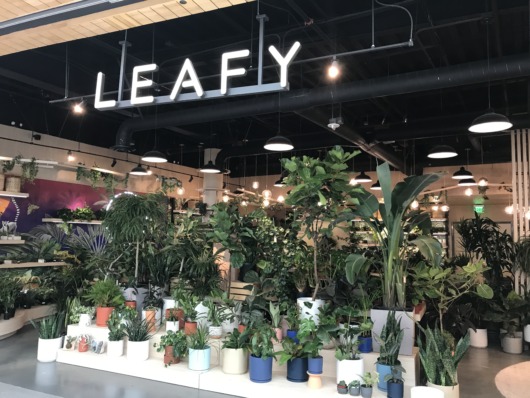 A proper shopping mall with many things to see and buy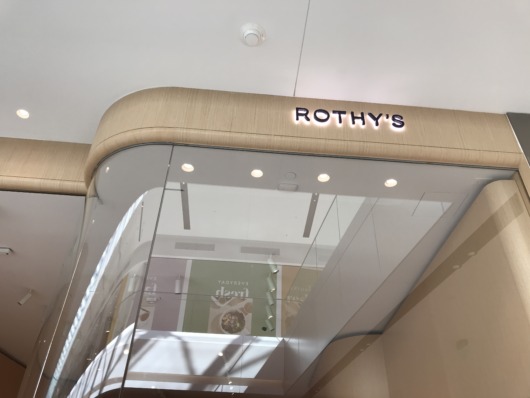 Rothy's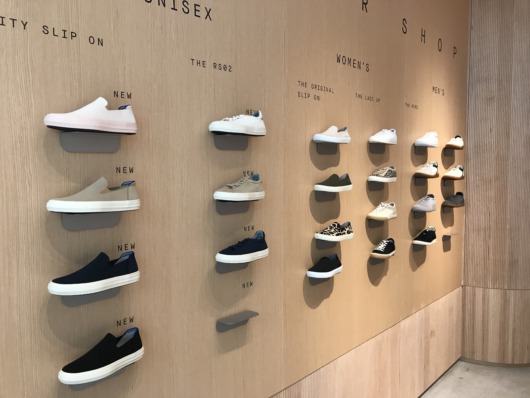 Rothy's shoes, I want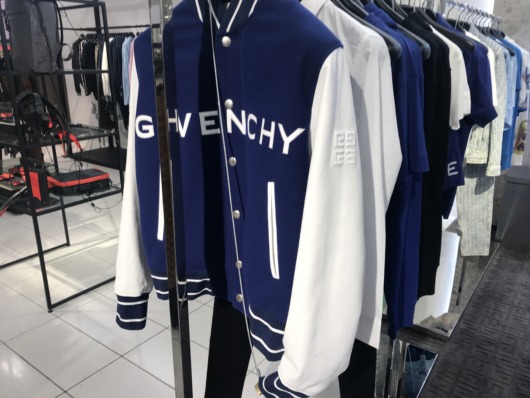 Givenchy, I also want
So if you're looking for things to do in San Jose and Fremont, hope this blog post helped!