Muir Woods National Monument is a great and wonderful walk for families, seniors, and even advanced hikers.
We were supposed to go to Yosemite. But after realizing that most of the water from the waterfalls has dried up there, and that the Glacier Point Road was closed in 2022, meaning we won't have driving access to other viewing points such as Glacier Point, Sentinel Dome, and Taft Point, we decided that it wasn't as worthwhile to go there and we planned something different.
Just a little north of San Francisco, Muir Woods is one of the last remaining preserved redwood forests in the Bay Area. Some of the redwood trees are 1,000 years old and reach more than 250 feet tall.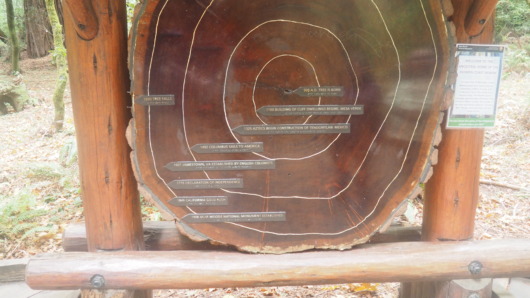 From the tree rings you can estimate how old a tree is.
Muir Woods National Monument began from 1908, when President Roosevelt signed a legislation to protect redwood forest from destruction.  Currently, it inhabits over 380 different plants and animals.
Before coming here, please note that there is only a limited amount parking spaces, so you have to reserve a parking spot in advance! You can go Muir Woods Parking and Shuttle Reservations for more information and for reservation.  There are also entry fees, and for adults they cost $15 per person. If you have an America the Beautiful pass, you are allowed access to the park as well.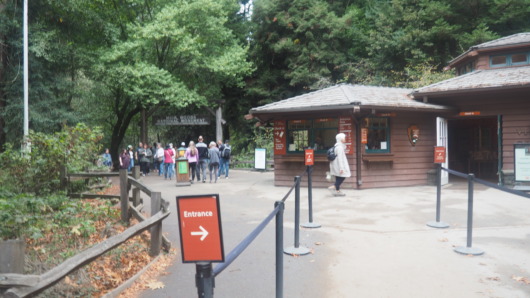 While parking must be reserved in advance, you can buy admission tickets online or when you get there.
Muir Woods is a very easy hike where all the roads are flat.  If you walk only the flat roads and through the Cathedral Grove, it will take you 1-2 hours and you'll be done.  However, there are other trails that are more strenuous and may take 3-5 hours depending on which hike you choose to do.  We only walked the main roads this time.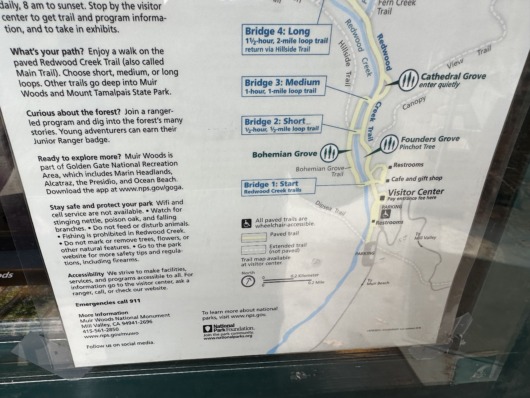 It's one road and you can embark on any of the bridges to return to the visitor center. The time written includes return, so for example if you decide to take bridge 3, it will take one hour to go there and back to visitor center. But the hike is so easy that you'll probably be taking the bridge from bridge 4.  And I found that the times written here are quite conservative.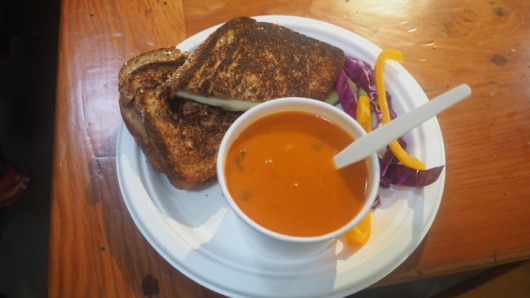 Before you take off, there are restrooms and a cafe near the visitor centre.  The grilled cheese and tomato soup were recommended by other bloggers that I researched, so being the foodie me, I had to try!  Both met their expectations and were very yummy.  There was also a Marin Melt which blends 3 different cheeses together as grilled cheese sandwich.  You cannot eat food while walking on the trail so I suggest you to plan some time to finish the food in the cafe.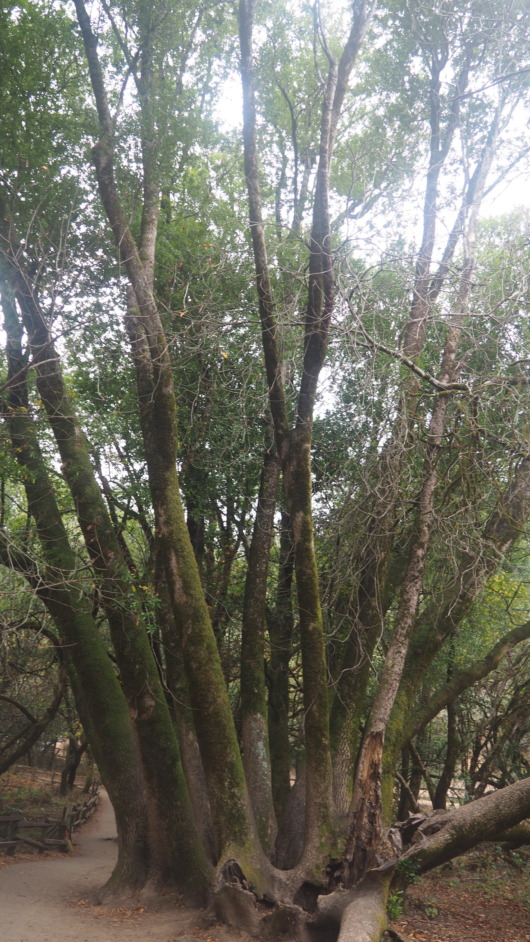 The tree with many fingers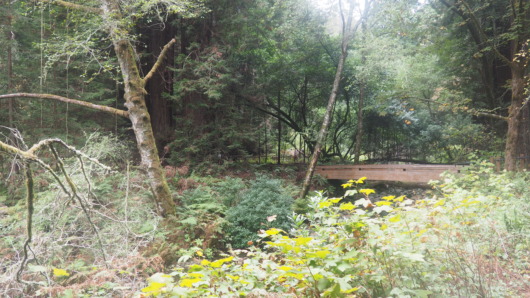 A glimpse into the redwood forest.  If you don't want any more spoilers, please scroll up or go to a different post!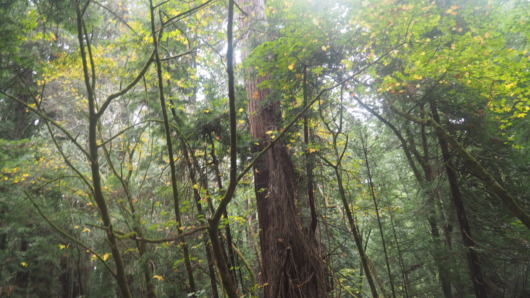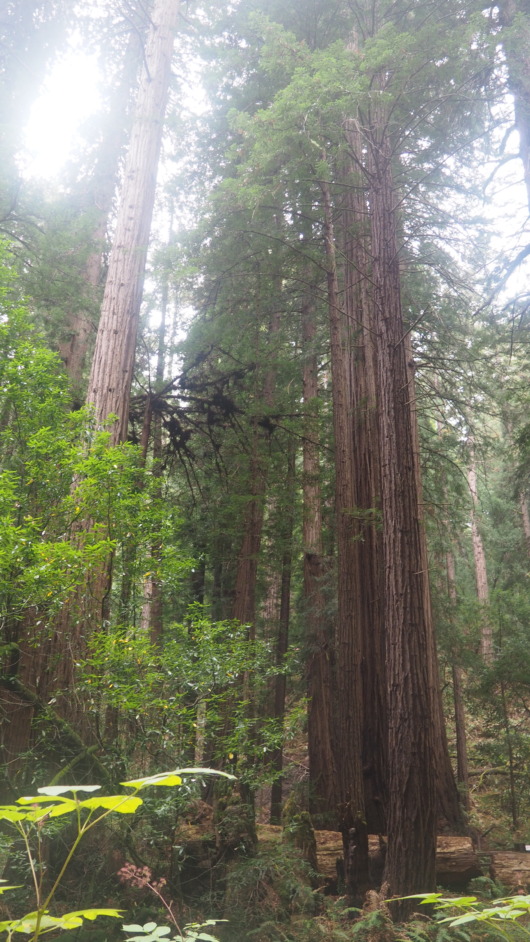 I was mesmerized by how freaking tall these were!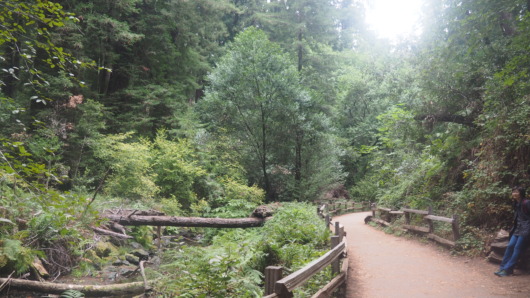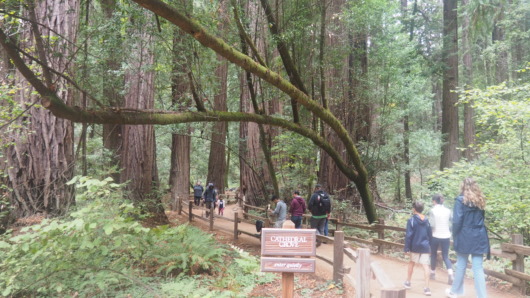 When we went, the air was cool and chill.  I overheard someone said that sunlight would seep in on sunny days.  The morning we went was a little foggy and rainy.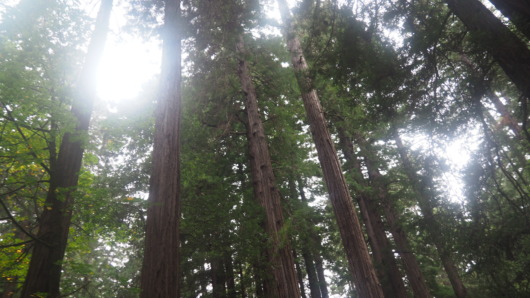 Look up!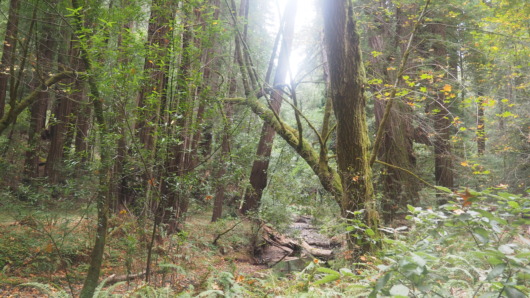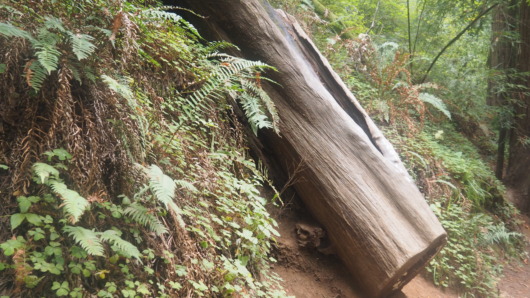 A fallen tree trunk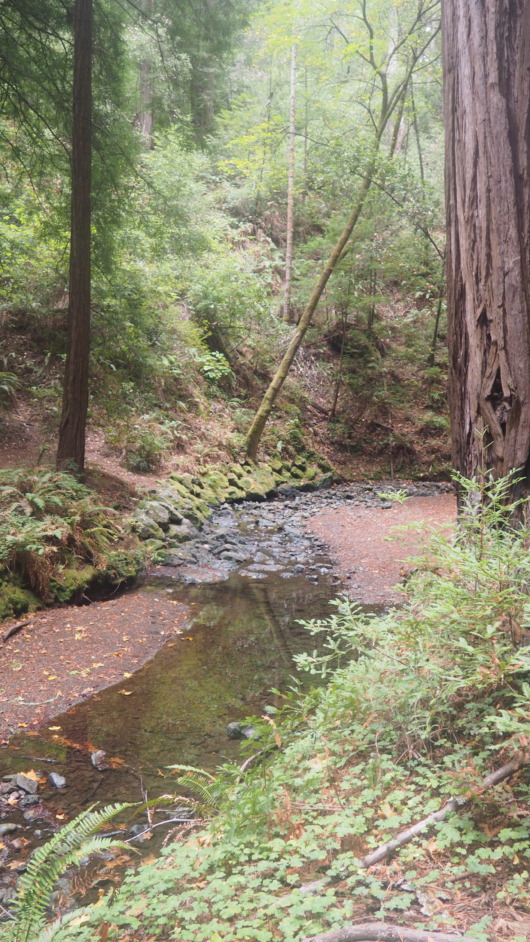 If you're ever in the Bay area and looking for an easy hike that requires half a day and to be mesmerized by nature, you should definitely visit this place!
One last note – when driving there, the roads towards the end tend to get a bit windy and narrow, so be careful once you start driving up the mountain.
Their brochure: