For each of the Days posts in Yellowstone, I'll be pretty much photo dumping a lot of beautiful photos I've taken throughout my route for that particular day.  Some of you who wish to be mesmerized upon reaching there, you can just read the text in these beginning paragraphs.
Route taken (focus on Northwest of park): Gibbon Falls, Artists' Paintpots, Norris Geyser Basin, Mammoth Hot Springs
*For Mammoth Hot Springs, we took a detour on day three to come back to see the Canary Hot Springs since we missed it on Day two.  However, we suggest that when you are in Mammoth Hot Springs to also visit there to save time
For all my Yellowstone tips – The Best Tips For Yellowstone When Visiting From West Yellowstone
Spoilers ahead of amazing Yellowstone photos!!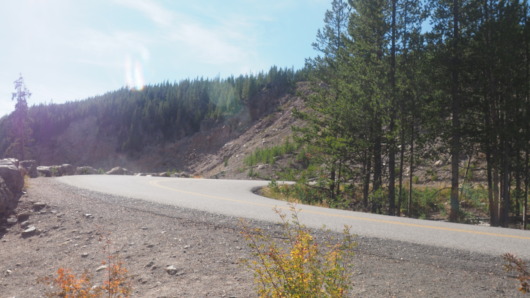 On the way to our next adventure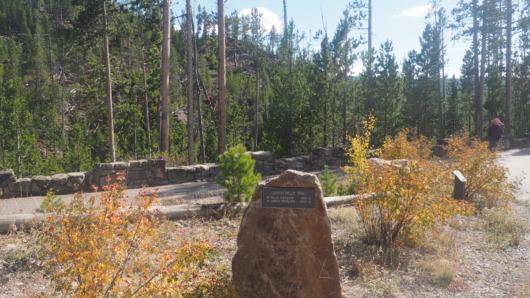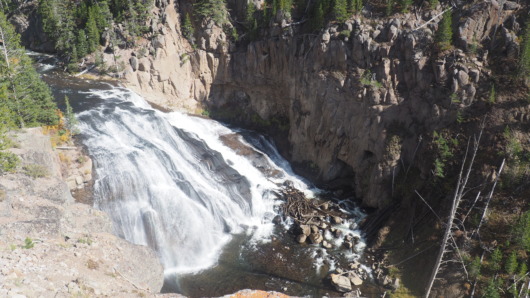 Gibbon Falls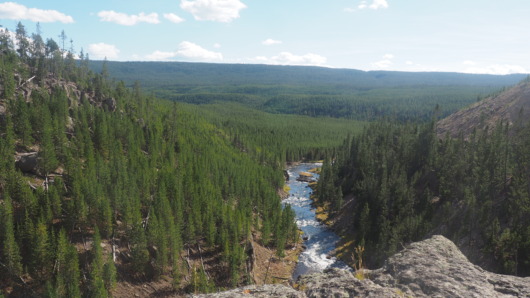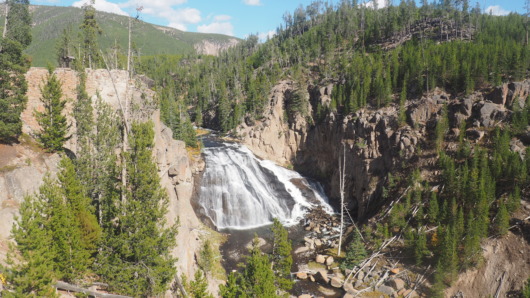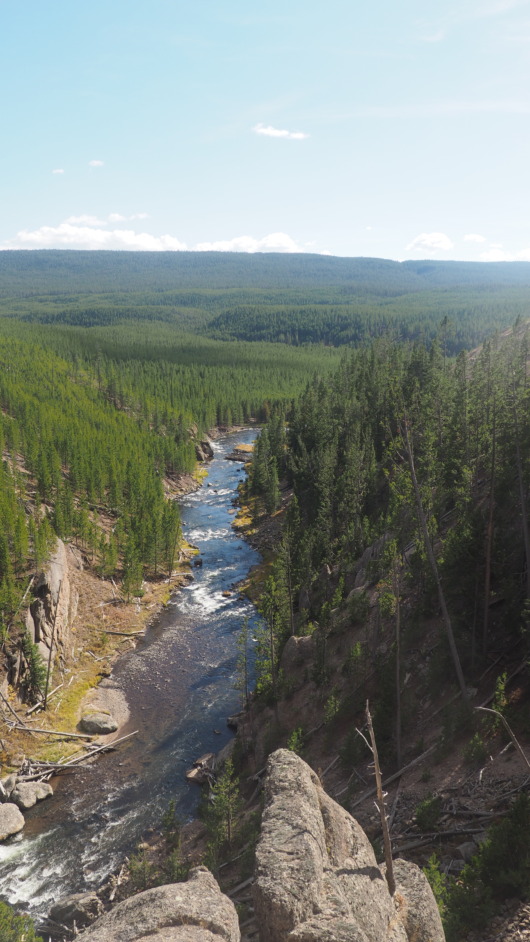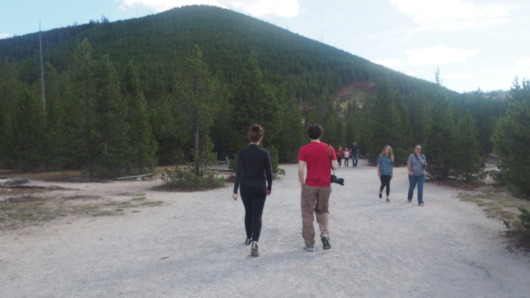 A very easy short walk to see Artists' Paintpots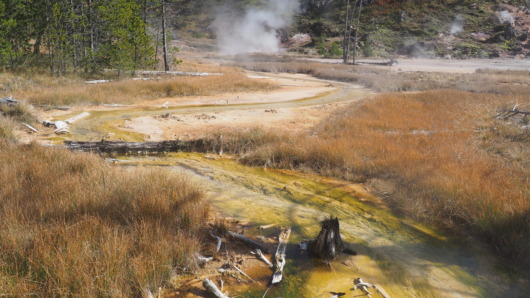 Artists' Paintpots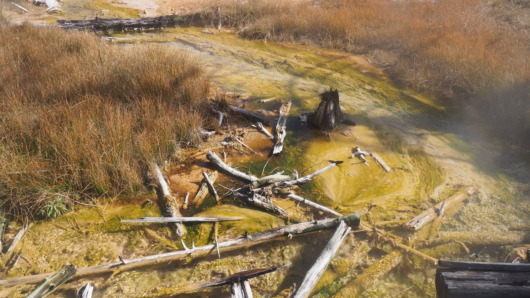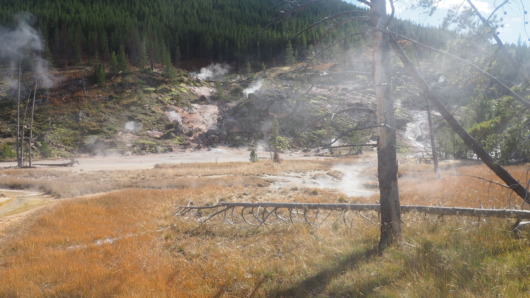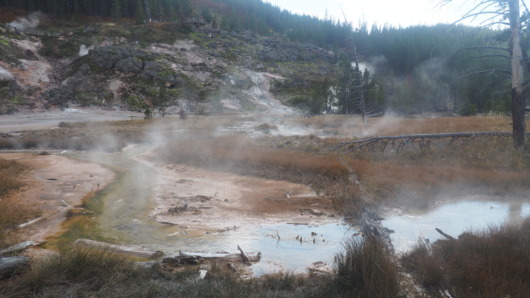 You could see why this place was called Artists' Paintpots.  The colors were so vibrant and well meshed, looking from here looks like a painting itself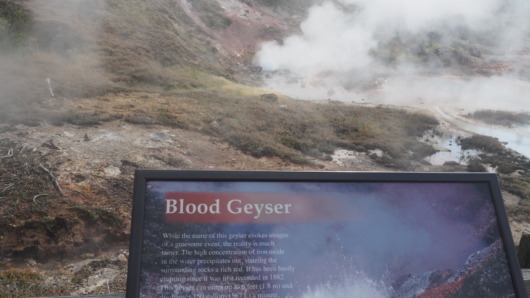 Blood Geyser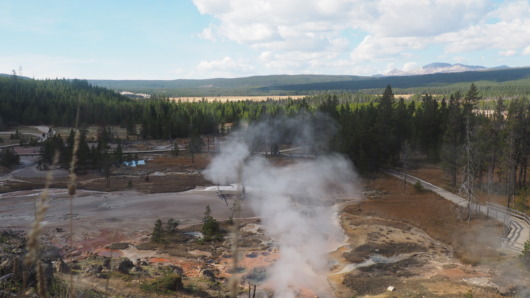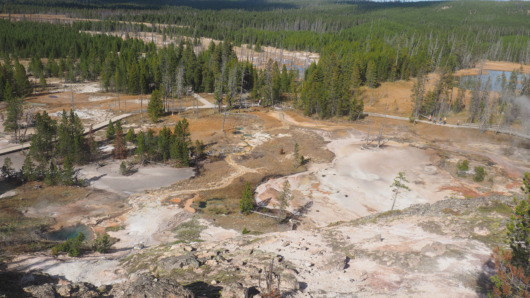 Still at Artists' Paintpots but having made it to the top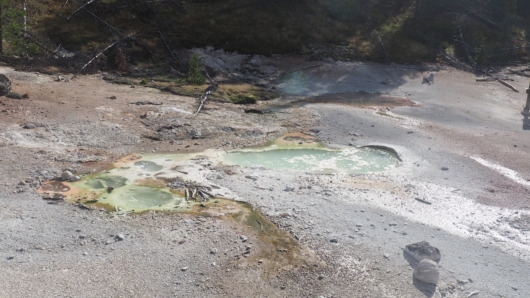 It's not one of the most popular stops, but I highly recommend going here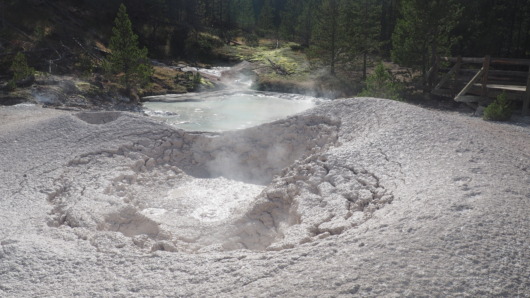 Bubbly, bubbly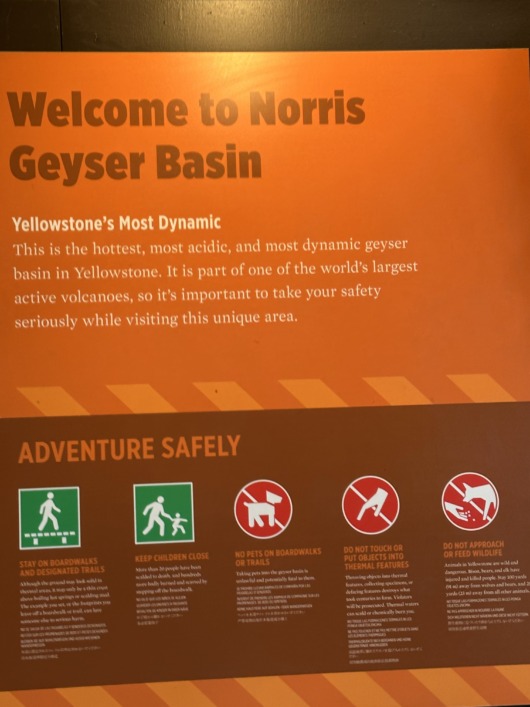 Next stop was Norris Geyser Basin, which also includes the Norris Porcelain Basin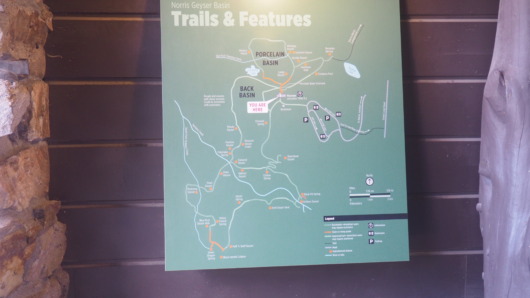 It's split into the Porcelain Basin and Back Basin.  IMO, Porcelain Basin is wayyy better than Back Basin.  So depending on your time, you can decide to visit it first if you're in a rush, or if you want to be awed you can visit it after Back Basin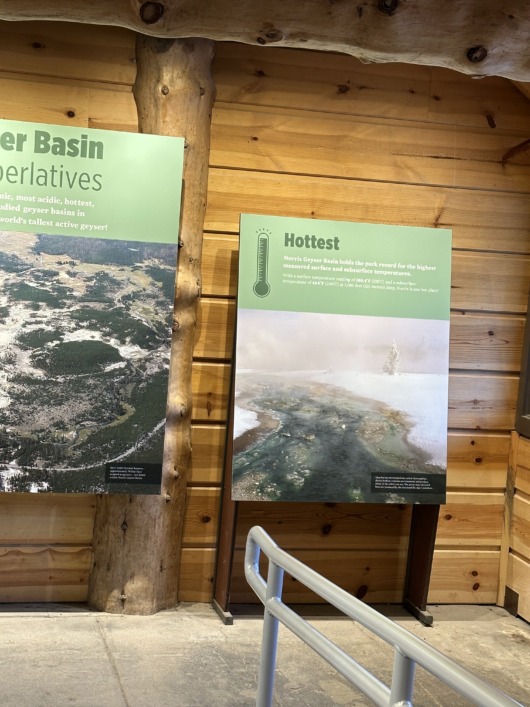 Hottest geysers are in Norris Geyser Basin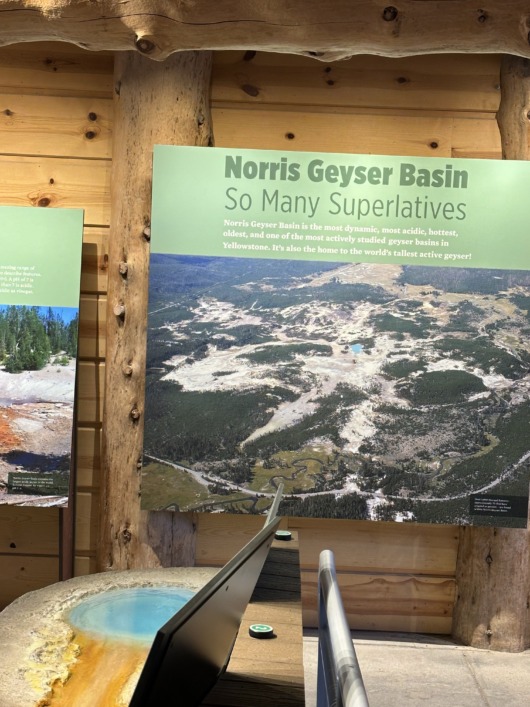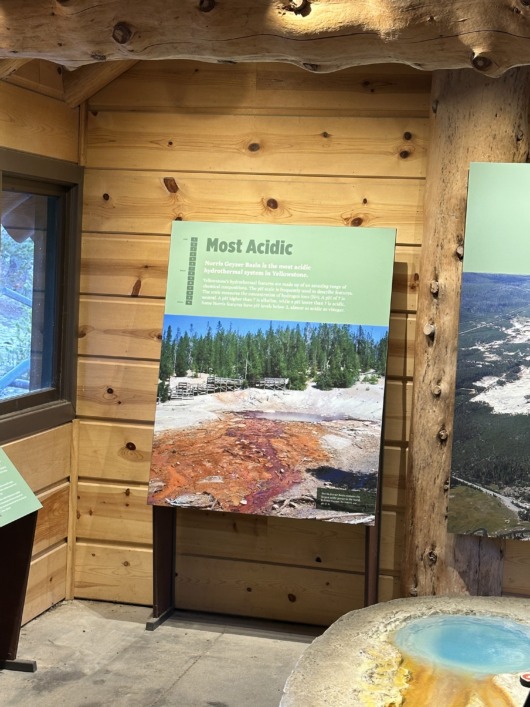 Also the most acidic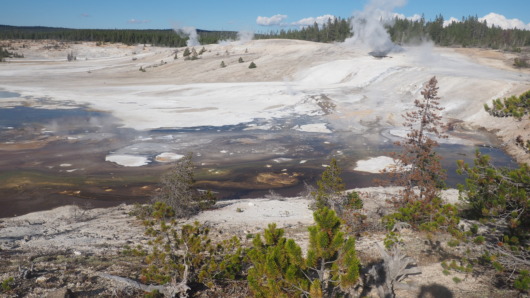 Norris Porcelain Basin.  This sight was stunning.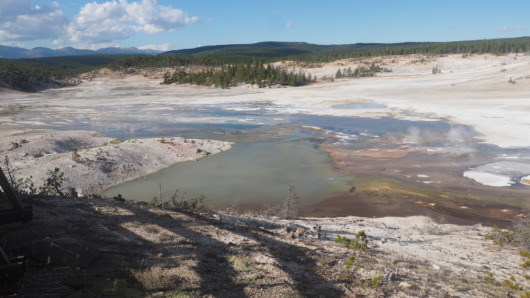 It felt like it never ended.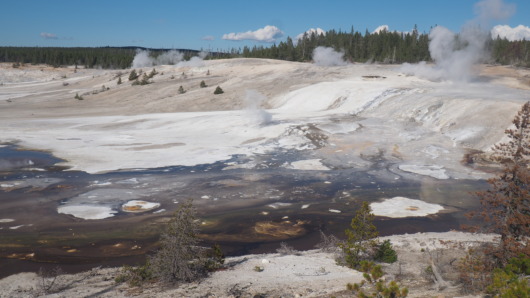 While Old Faithful and Grand Prismatic Spring are probably the most popular in Yellowstone National Park, my favourite and what I think should be #1 is this – Norris Porcelain Basin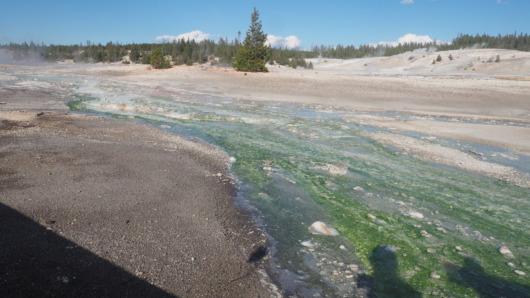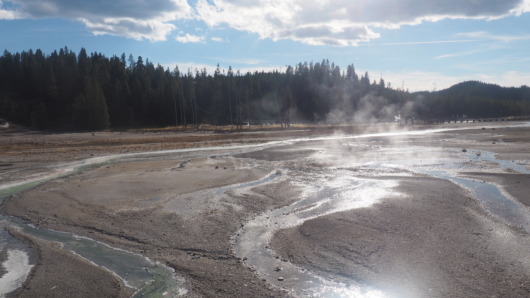 Photos can't capture the magnitude of how grand this place was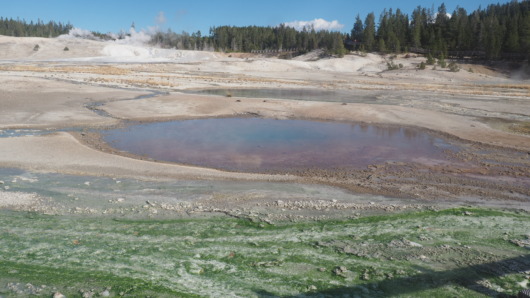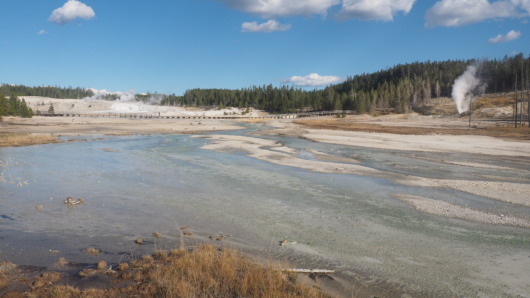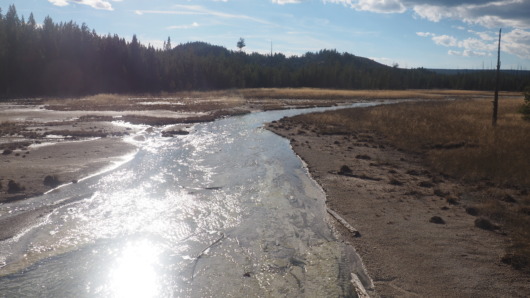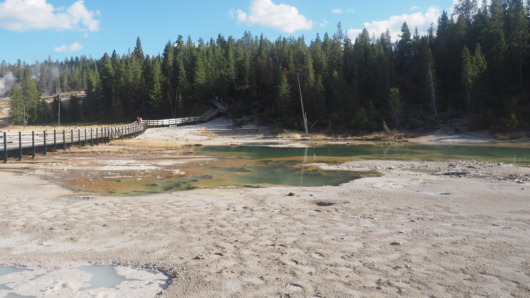 Again, easy board walks around Norris Porcelain basin.  Lots of photo taking opportunities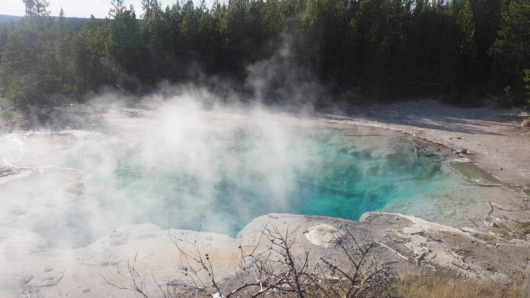 Moving on we are at Back Basin.  This is Emerald Spring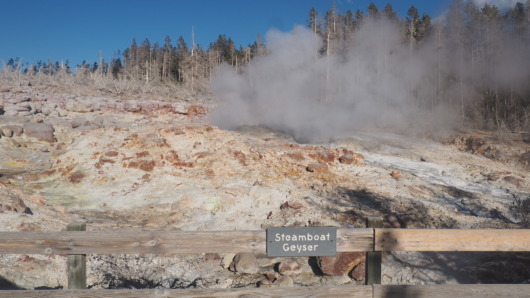 Steamboat Geyser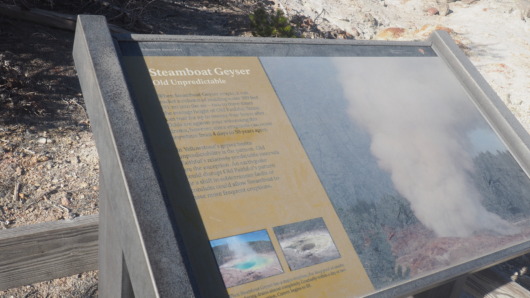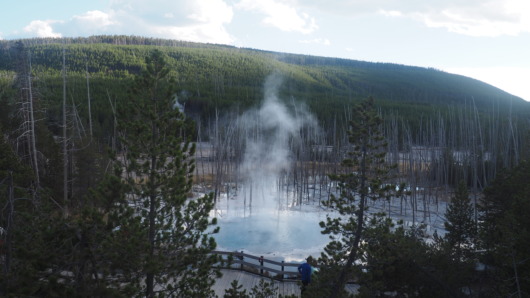 At Back Basin, unlike Porcelain Basin which seems to be one grand complete imagery, the geysers and springs here are all individually presented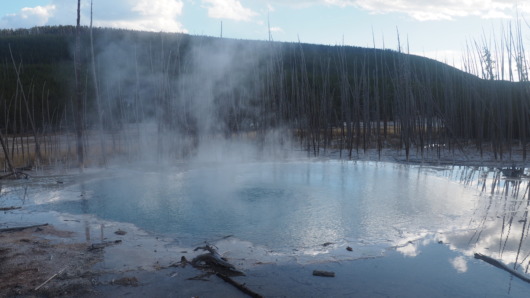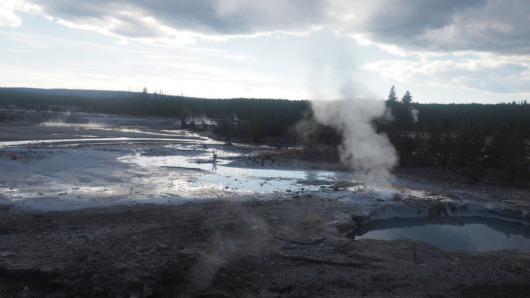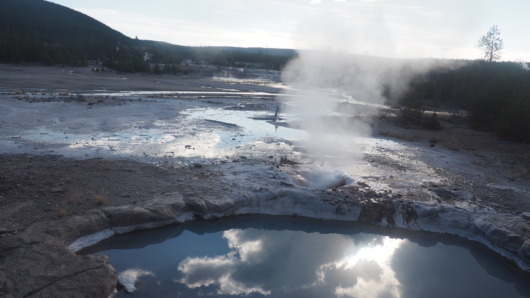 Nonetheless, they were still absolutely incredible and superb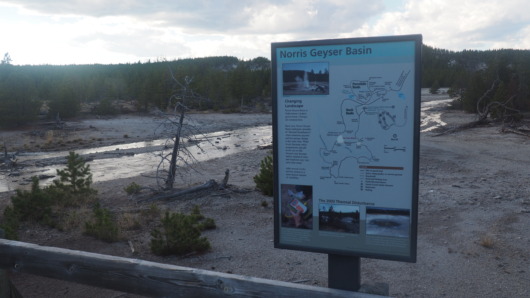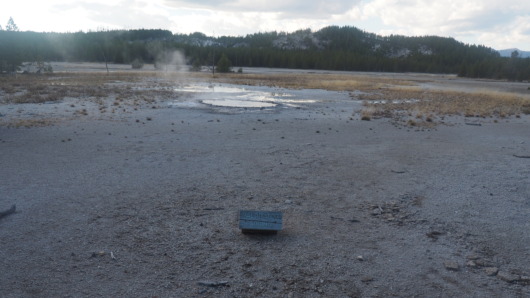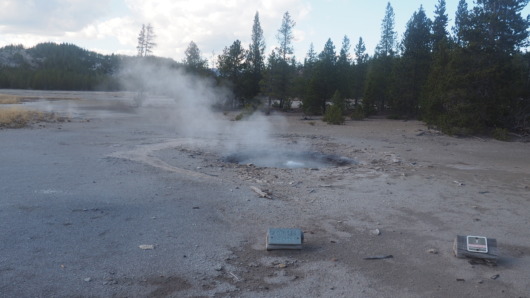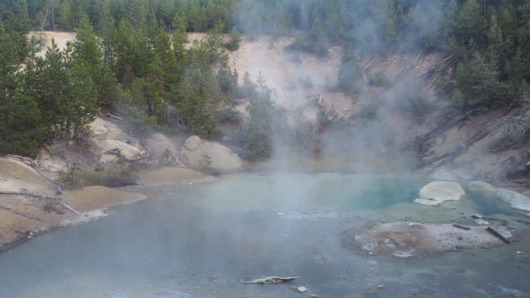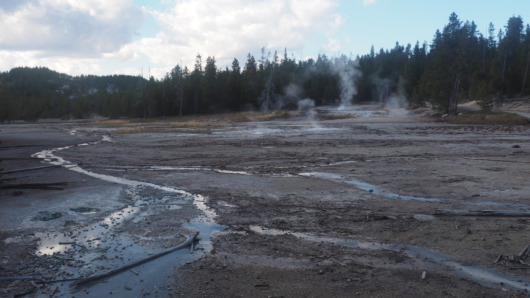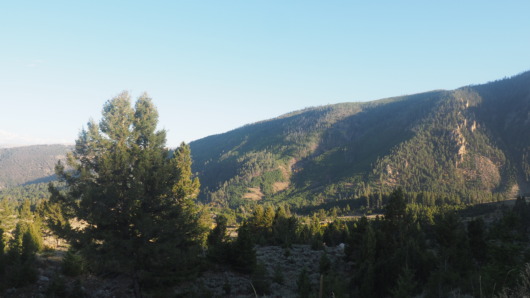 On our way to Mammoth Hot Springs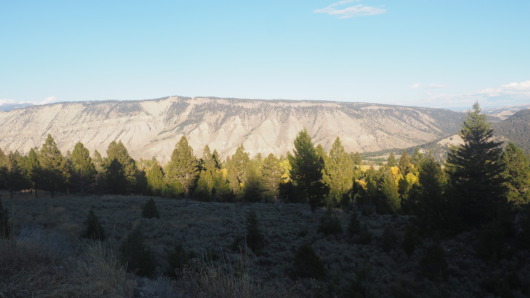 Stopping by to take some scenic photos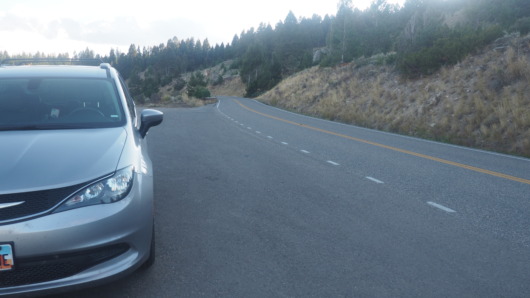 Like a car ad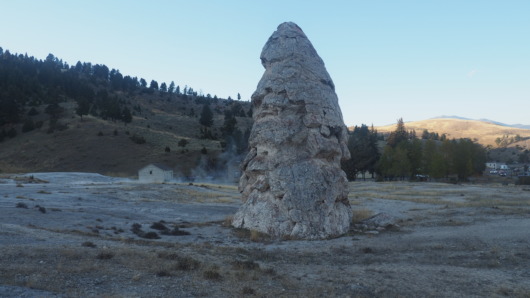 Above is Liberty Cap.  Finally at Mammoth Hot Springs.  There is an accommodation here so there is also general store and actual hot springs for you to dip in if you stay in the accommodation.  There's restrooms and even a post office here too.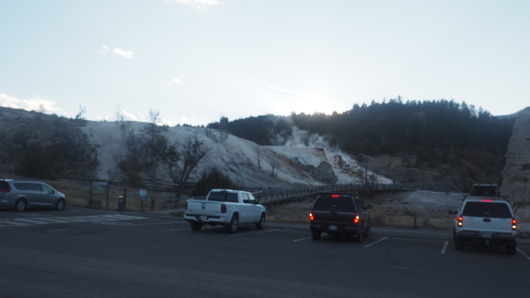 Parking lot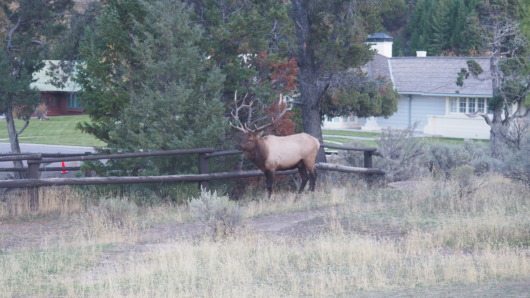 We saw so many moose when we arrived.  Apparently this one beat the crap out of another moose one day before we arrived, where the second moose lost one of its antlers.  The park rangers told us to step away from the moose, especially whichever direction they were heading, because this alpha moose apparently saw the second moose in the vicinity again and there was the potential they could fight again.  Anti climatic ending – nothing happened though.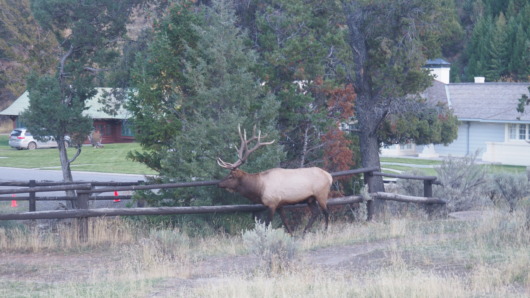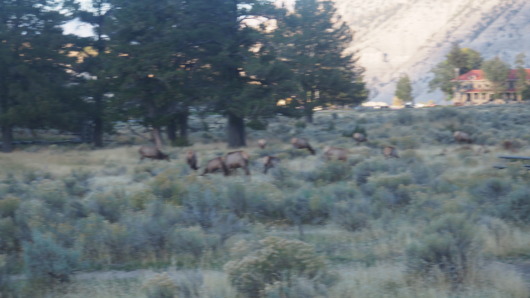 A lot of female moose showing off their bum bums.  Sorry for the blurry photo.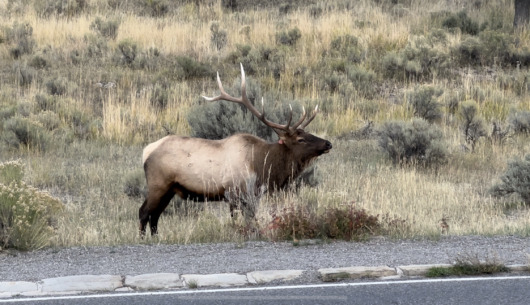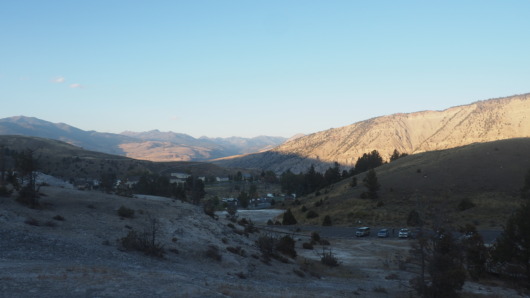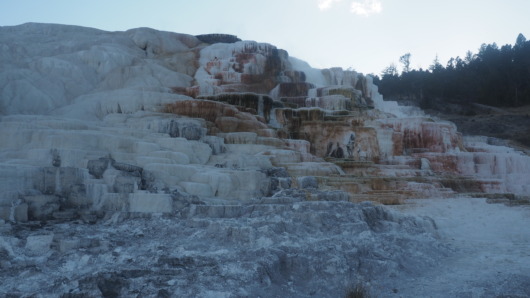 I think this is Devils Thumb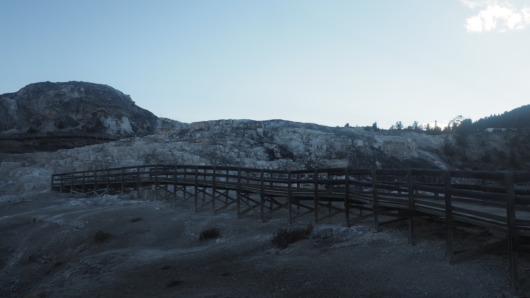 A bit of a hike upwards to get to see different springs and terraces.  There's Canary Springs, Minerva Terrace, Angel Terrace, and many more.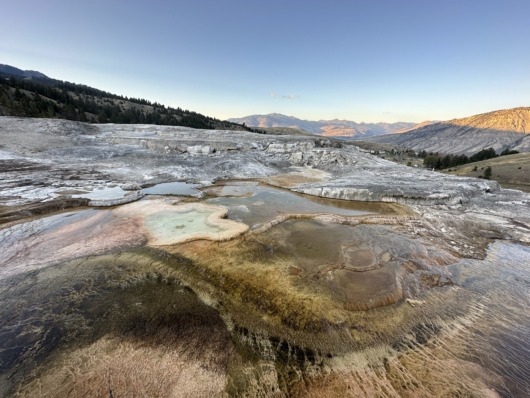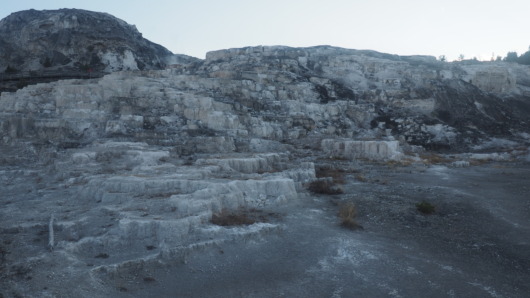 It's near winter so there's less water flowing from these terraces.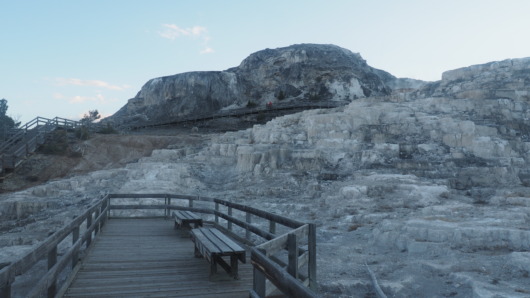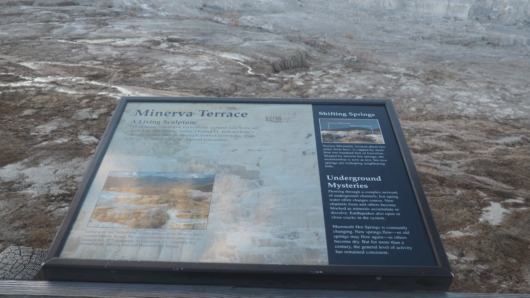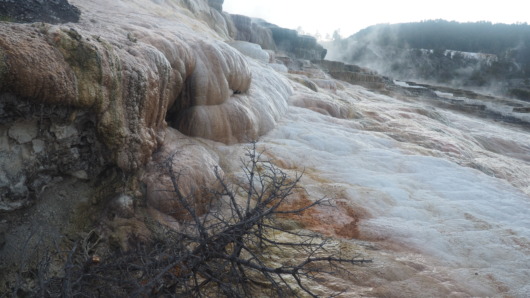 Minerva Terrace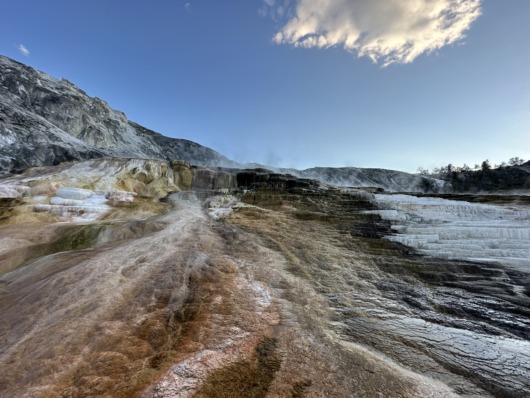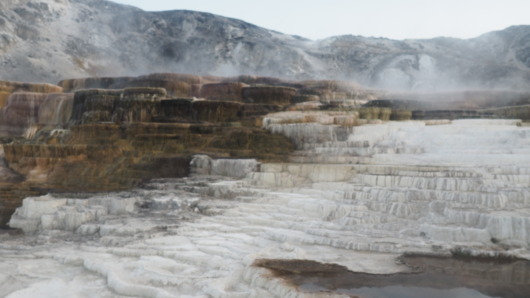 We did see a bit of water flowing from Minerva Terrace though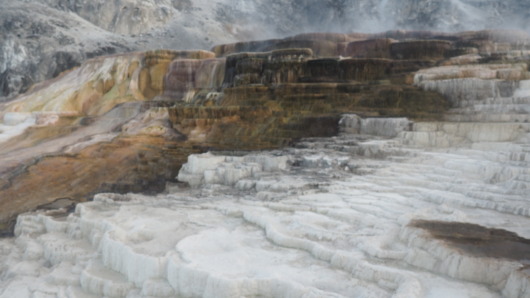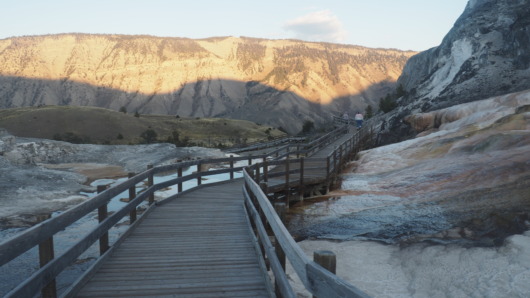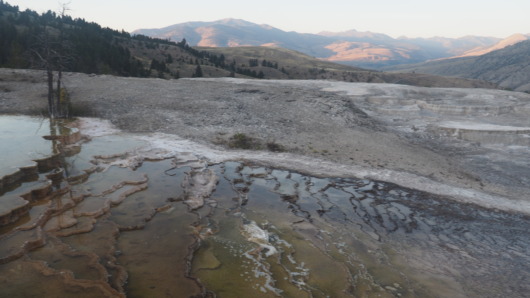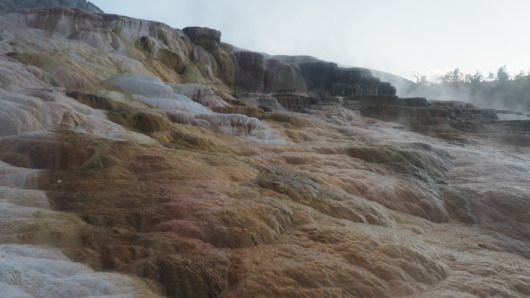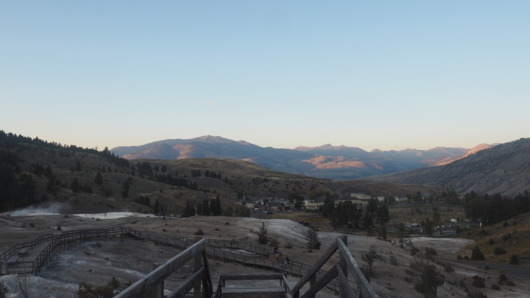 Watching the sun set upon us.  It did get a little chilly when we were there, around 6 – 6:30pm.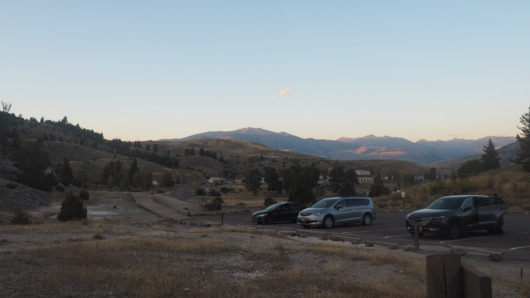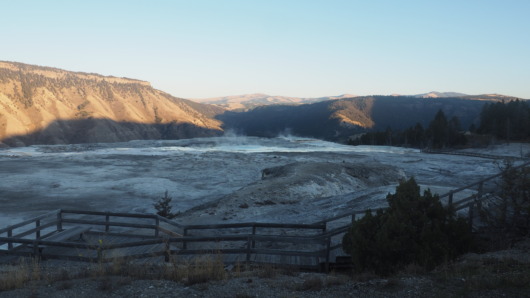 The part of Mammoth Hot Springs we had to take a detour to come back to on day three – Canary Spring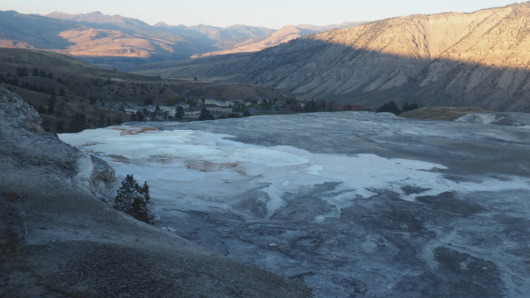 Make sure to visit it when you are in Mammoth Hot Spring and don't be like us.  Luckily we were near Mammoth Hot Spring along the way back, but MHS is actually at the tip of the northwest corner of the park so it's actually quite far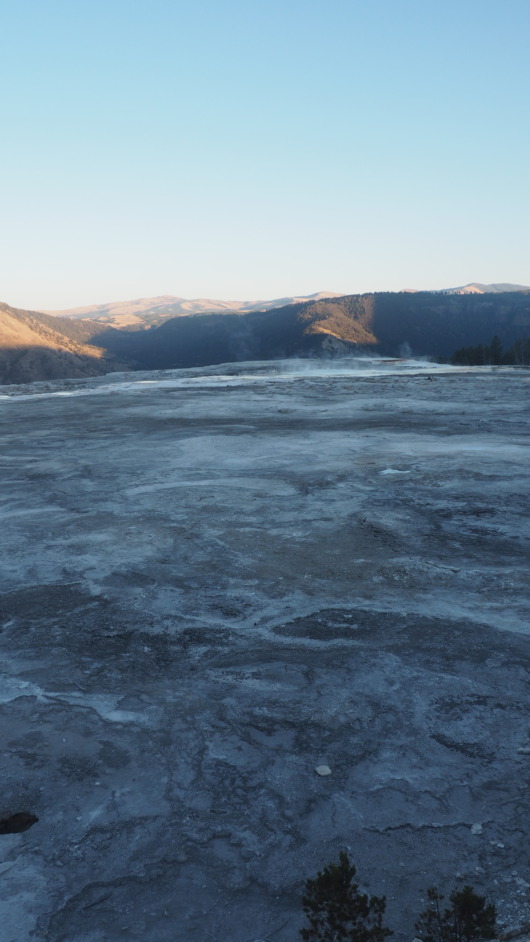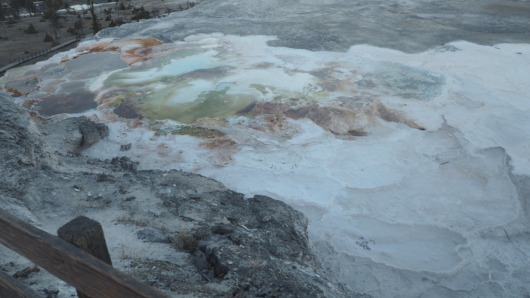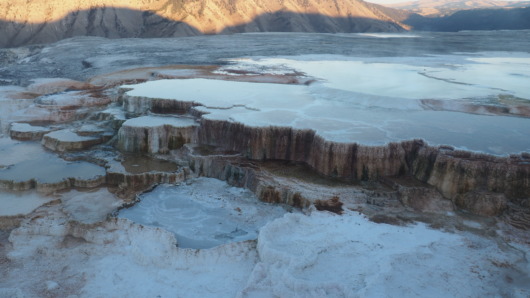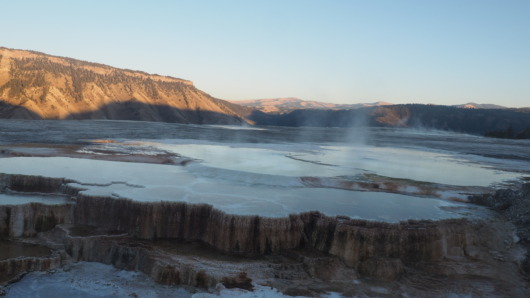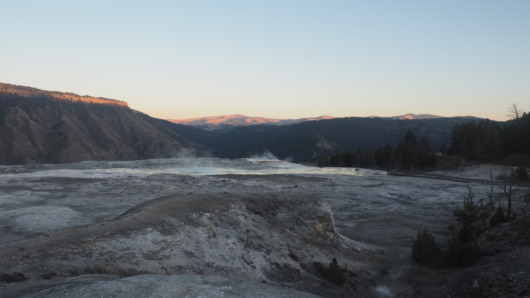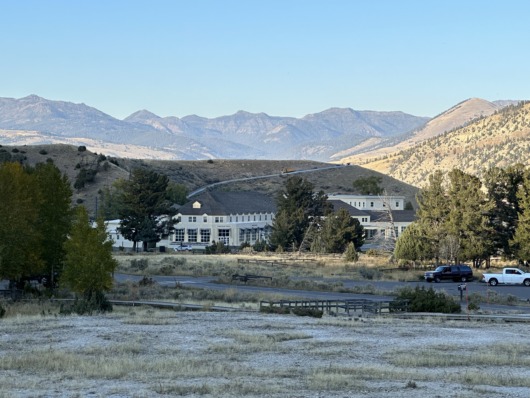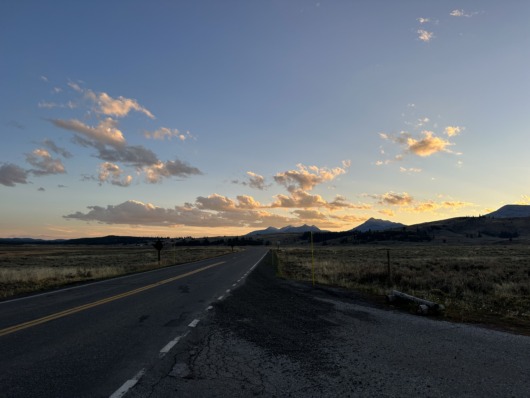 Driving home, sunset
Which one was your favourite photo?  What area would you like to visit most?  Let us know in the comments below or on Instagram!