When I was researching about the busiest months to go to Yellowstone, I was worried.  Most people visited the place during the summer months of June, July, and August.  Nearing beginning of October, all the cabins in Yellowstone were starting to close, the north, northeast, and east entrances were closed, and the weather would drop to like 1 degree Celsius.  Would the roads be too slippery to drive?  Would there be more bears coming out in the wild?
Turns out, when we went during early October, it was the perfect time to go, and I wasn't even exaggerating.  The number of people there was just right – you were always able to find a parking spot, and there were just enough people to not feel you were deserted and that you were going to be safe, but still had plenty of space to move around and take photos.
Then there's the weather.  The weather was perfect.  Even in the afternoon, you could get by with a t-shirt.  It was only until a little before sunset when you would start to feel chilly.  That's when you will need to wear a jacket.
All things considered, I'd say our trip to Yellowstone was perfect in terms of pacing, timing, and the overall planning of the trip, and I want to share my tips with you to ensure you have a good time there as well.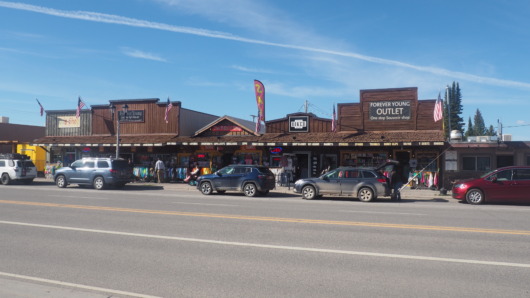 A picture of West Yellowstone
Top Tips When Visiting Yellowstone
As explicitly stated in the beginning, early October was a terrific week to visit Yellowstone – great weather, not too many people
While we brought our bear spray can, and after being from scared of seeing bears to actually wanting to see bears, we never ended up using our cans because we saw no bears.  But, I still encourage to bring one with you just in case
4 days is just enough and a good enough time to visit each corner of Yellowstone (you'll probably split each day into southwest, northwest, northeast, and southeast).  I'll have blog posts for each of these days too.  If you're planning to do long hikes and stop by even the minor sites, then you'll need more than 4 days here
At night, you'll probably need a fur jacket, but you won't need those snow jackets if you're going in October
you can buy admission tickets / passes at the West Yellowstone entrance directly.  If you're planning to see other national parks in US, there is Great America National Park passes annually or lifetime that you can purchase which may be a better deal for those who are going to look at more parks
Aim to visit 4-5 points of interest each day, that's probably the most you can visit.  You will have to drive, there might be some walking for certain sites, and you'll definitely be taking lots of photos
Don't drive too fast as animals do come out on the road
There is 0 internet in Yellowstone, so plan your route beforehand!  The routes are very easy, you're literally driving straight one way with very little turns at certain intersections, but you'll want to know roughly where each site is.  There will be signs indicating when you're about to reach a point.
Bring water with you to drink, but also bring tap water so you can wash your hands.  Some of their "toilets" are non flushable and do not have sink, so you'll need to bring water or at least wet wipes to clean your hands
Start your day before lunch, and you're likely leaving Yellowstone after sunset since the place goes completely dark.  For us, we usually left our Airbnb around 10-11am (takes 30 mins for us to get to entrance), and started driving back to our place around 6:30pm.
It is much better to stay at a location closer to West entrance than South entrance.  South entrance was bare, West entrance has the West Yellowstone town where you can get food, fill up your equipment, use the bathroom first etc. basically lots of shops and restaurants and the entrance is literally less than 5 minutes away.  There are motels in West Yellowstone so you can skip the 30 min drive (cannot attest to the quality of the motels), or you can be like us and stay in Idaho in Island Park and drive 30 minutes to and from West entrance each day.  I cannot comment on the other entrances
Bring a plastic bag each day so you can throw away your trash.  Do not throw your rubbish just anywhere in Yellowstone
It is highly advisable to bring your own lunch!  The lodges / shops / restaurants in Yellowstone are far apart and you don't want to waste your time trying to find a place to eat, so make sure you have a packed lunch beforehand so you can drive to different sites and eat whenever you feel like it!
Bring – camera (duh), binoculars, hiking stick for people who have trouble walking like seniors, and sunglasses.  Oh and also hat, and sun screen if you're afraid of too much sunlight
Prior going into West entrance, we would always stop by the West Yellowstone Public Library to use their clean bathroom and to use their wifi (since we didn't had wifi in our Airbnb as well)
And of course make sure your gas tank has enough gas!  I found that gas was cheaper in West Yellowstone town than near by Airbnb where I'm farther away from anything, so it might be the same for you as well
A good Youtube video we relied on to plan our trip – https://www.youtube.com/watch?v=sKSwpd3VFzE (Yellowstone National Park – 4 day itinerary)
These are pretty much the best tips I can give you!  Now onto more information about our accommodation and West Yellowstone.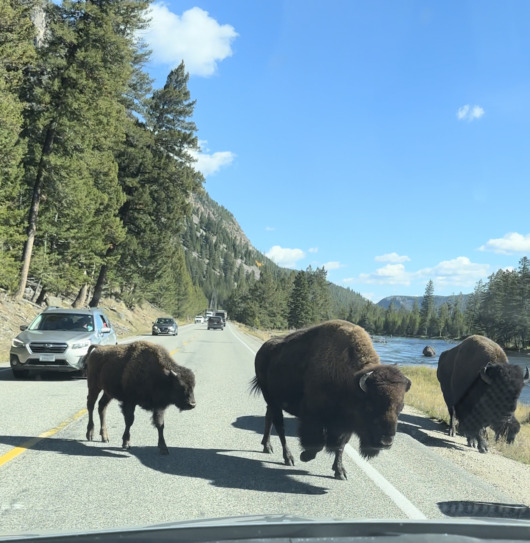 Reason why you don't want to drive too fast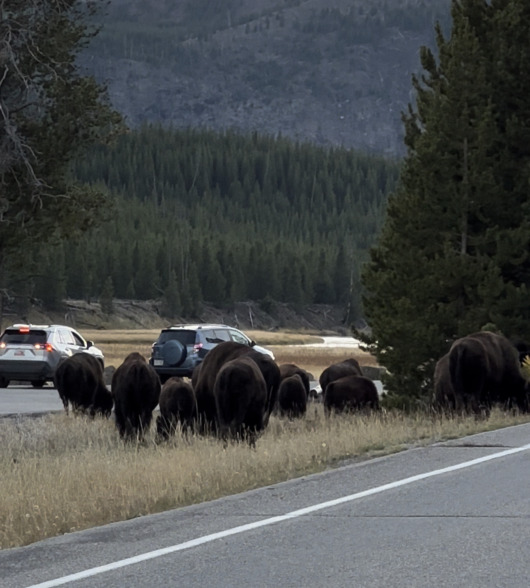 Airbnb (website)
An absolutely cute and cozy cottage in Idaho in Island Park, 30 mins away from West entrance of Yellowstone.  We love the cabin feel.  We love how the house was decorated with bears.  We love how bear can sprays were provided and that everything was neat and tidy and board games were also supplied.  There were only 2 bedrooms with 3 beds.  We didn't like how there was only one bathroom.  And the worst part about that place was there was completely 0 wifi.  We tried to reset it and contact the host but it just didn't work – they said it was cause of the area they are in.  When we tried to use our mobile data, it didn't work as well or was very very very slow.  Therefore you can just assume that there was no wifi in our Airbnb.  Anyway, I don't know whether it was really just the area or the airbnb itself, but prepare to have very limited and spotty wifi at best.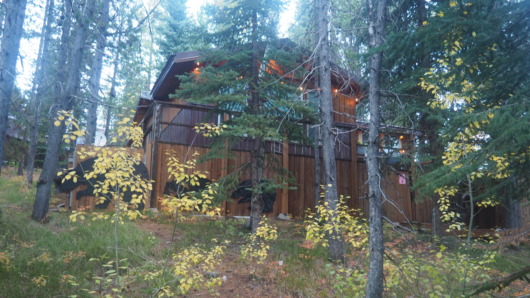 The cottage that we stayed in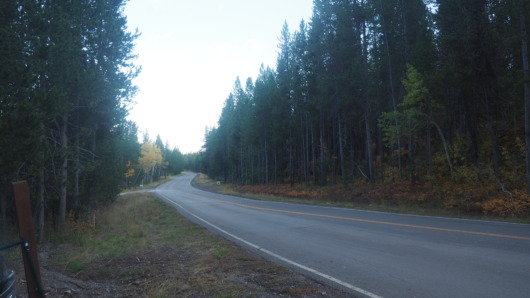 The long road right outside our cabin.  It was super hard to find the place when coming back from pitch black night.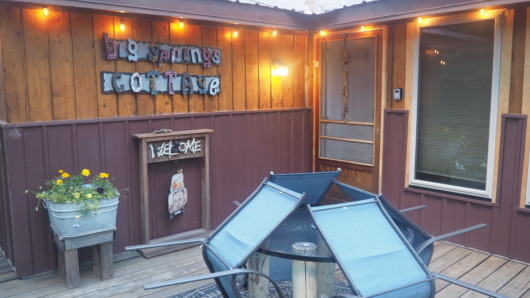 The entrance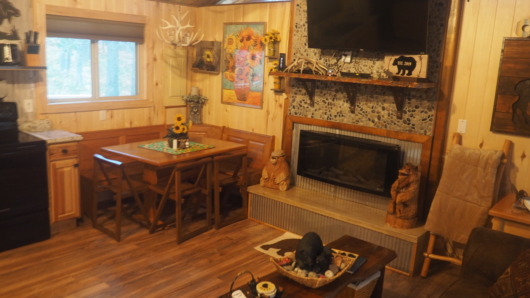 The electric fireplace kept us warm at night!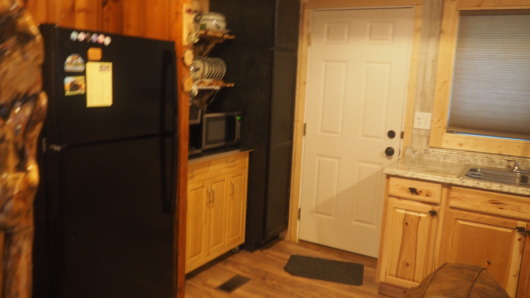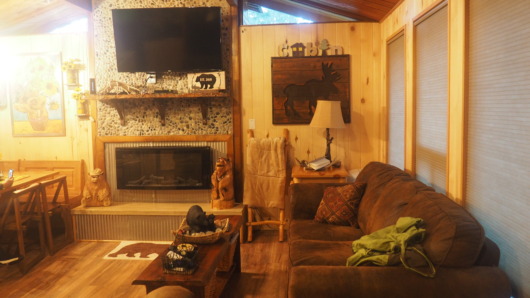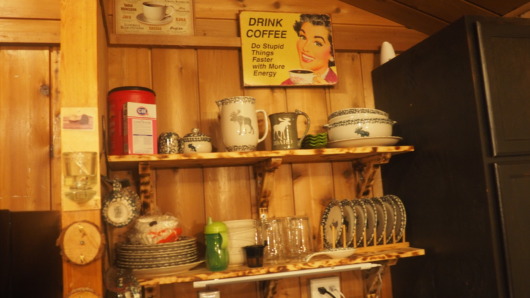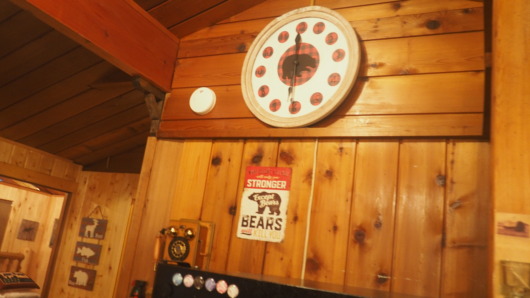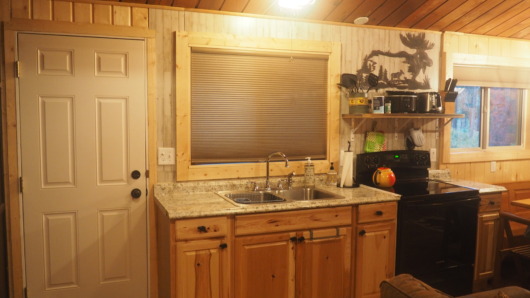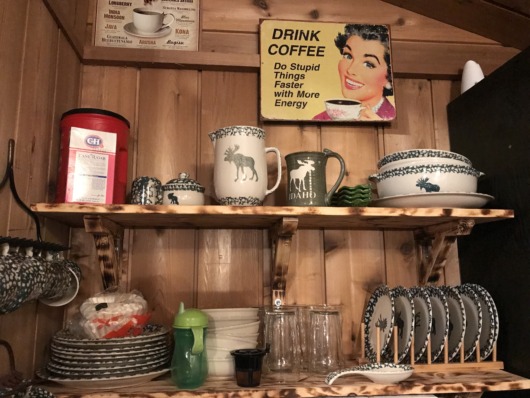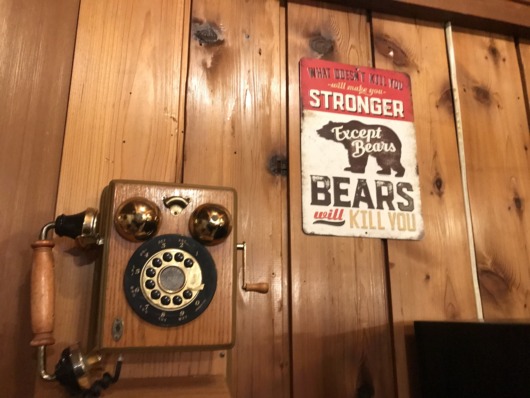 Bear spray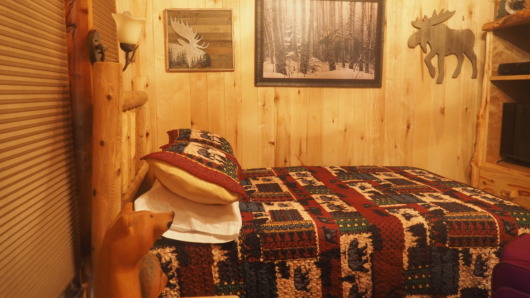 One of the beds in the bedroom with two beds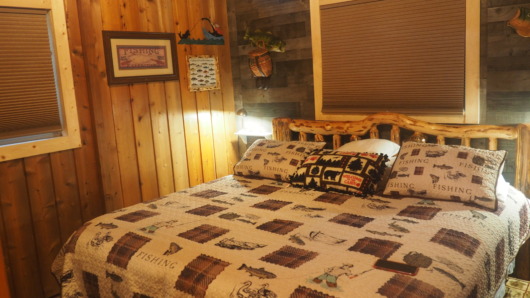 The bedroom with the bigger bed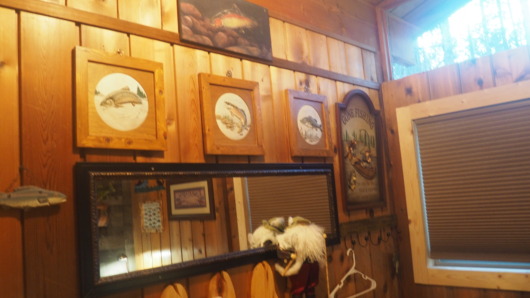 The fishing art decorated in the bedroom with the bigger bed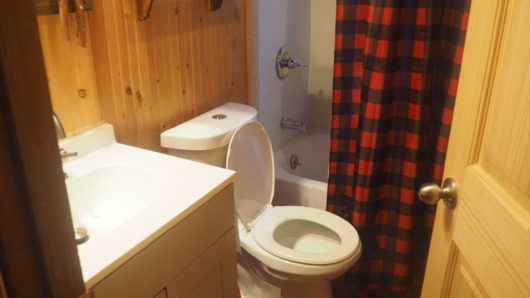 The bathroom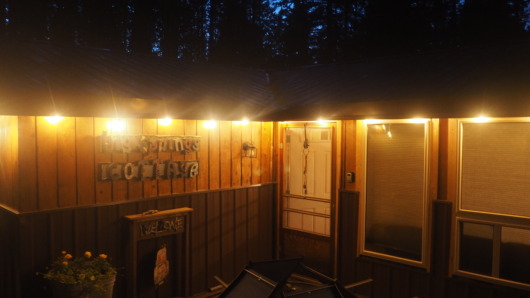 The cabin at night.  Luckily we had these lights to guide our way to the cabin.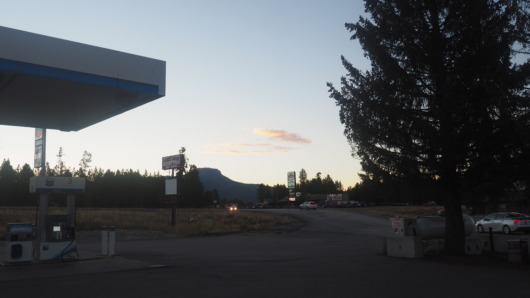 Idaho sky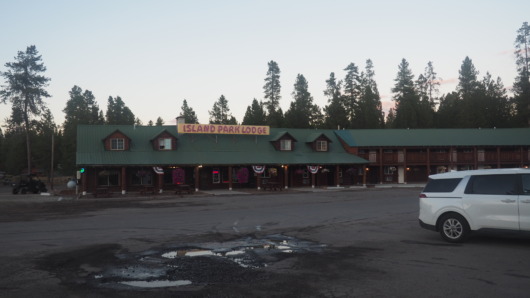 Island Park Lodge, about a 5min drive from our place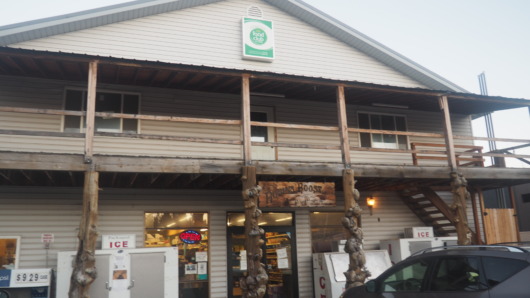 Robin's Roost, the small supermarket nearby our place (5 mins drive) to stock up on our groceries.  I think we also bought shampoo and body wash here too since we weren't supplied any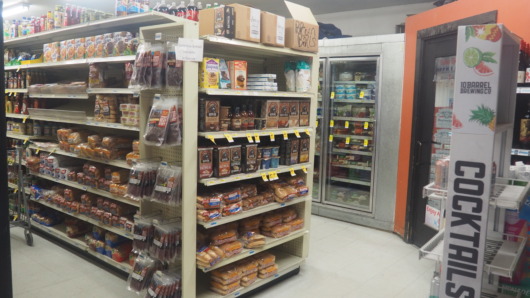 Inside Robin's Roost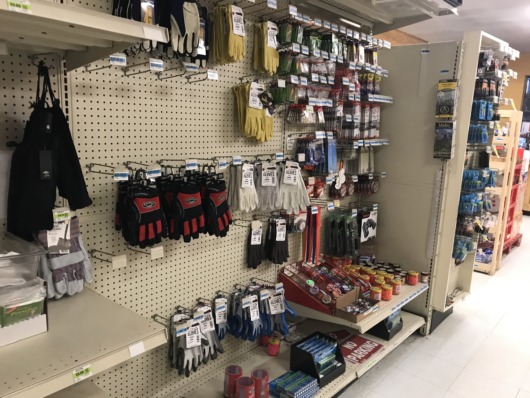 Old Faithful Inn (website)
For those looking to live in Yellowstone National Park, one of the longer opened ones even during October would be Old Faithful Inn.  To my surprise, it was very well maintained, clean, comfortable.  I thought it would be old and run down, but it wasn't at all.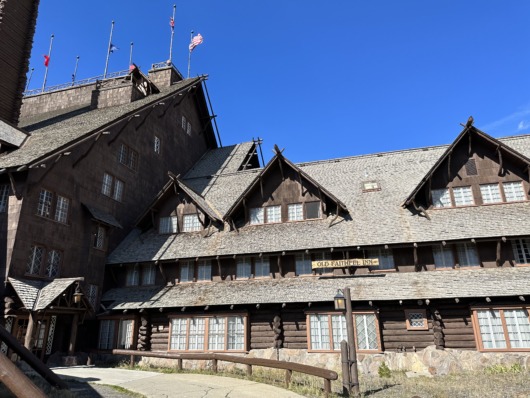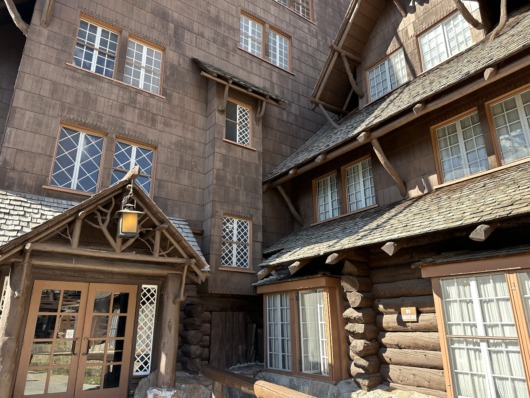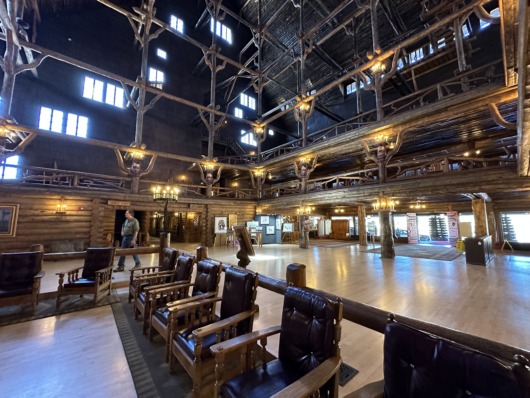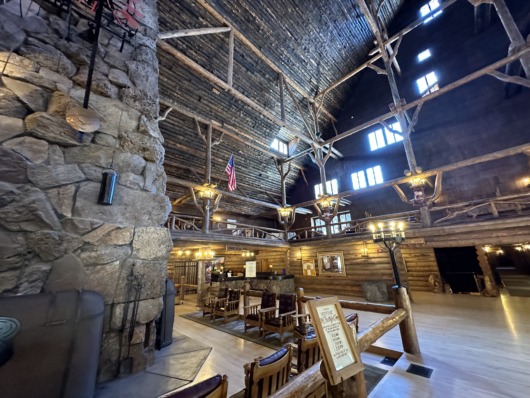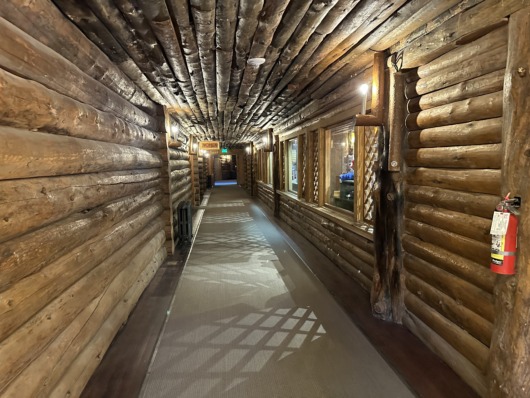 Hallway to rooms
West Yellowstone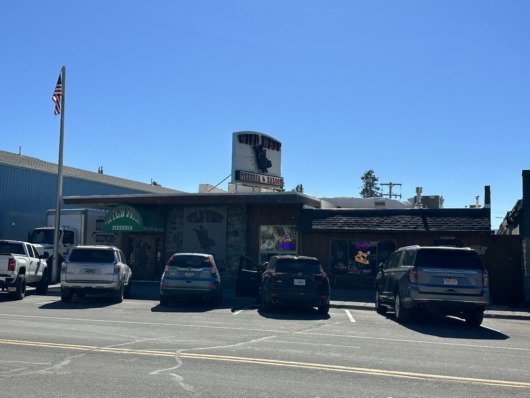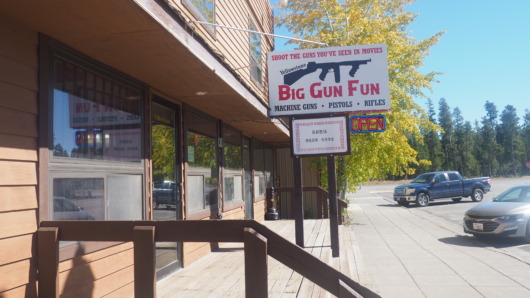 Big Gun Fun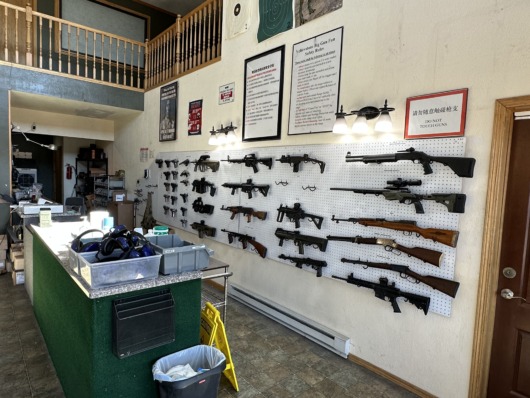 Obviously being in Midwest, we'd be curious about guns.  I got to hold onto a Romanian AK47.  Obviously you felt a bit of weight, but it wasn't as heavy as I'd expect.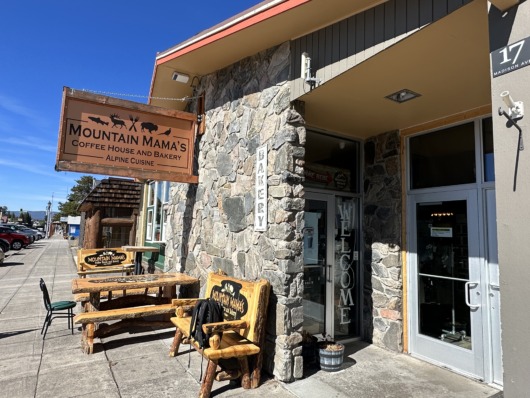 Mountain Mama's Coffee House and Bakery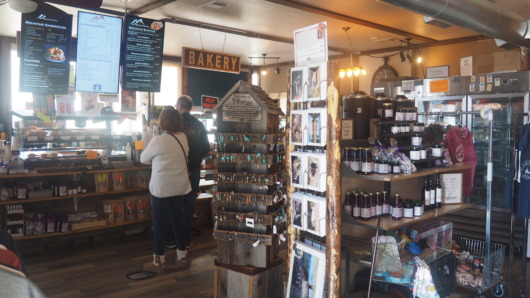 In my opinion, they make really good coffee!  And they have wifi here too, although for seating there's only one table.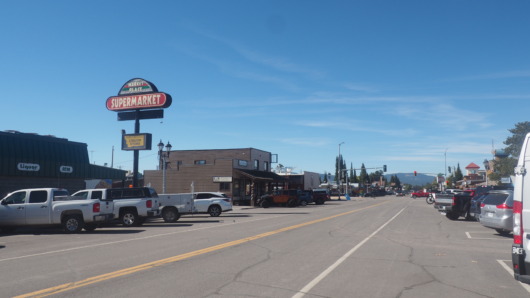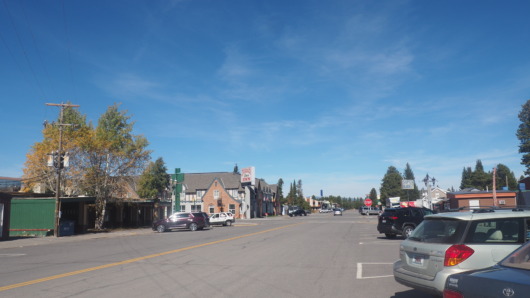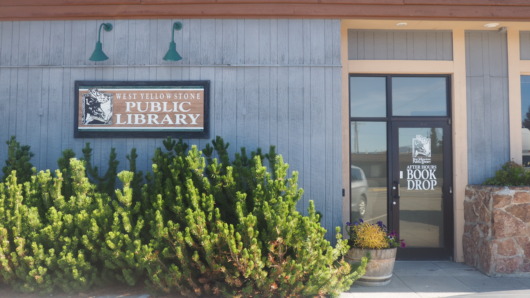 West Yellowstone Public Library, where we went for wifi and bathroom break before heading off to Yellowstone Park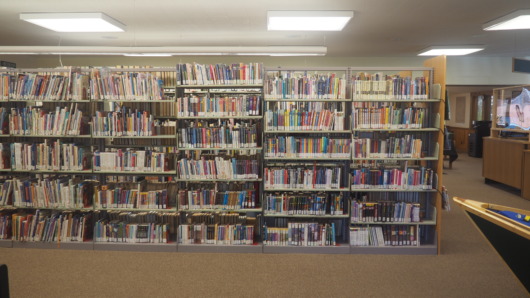 There were even some books near the entrance that were being sold for $1 only, hardcovers!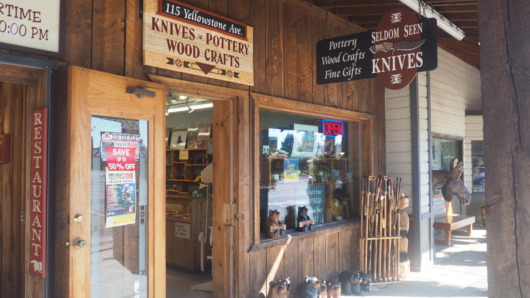 Lots of unique knives, quite possibly mainly for hunting and camping, that you wouldn't see elsewhere.  Beautifully designed.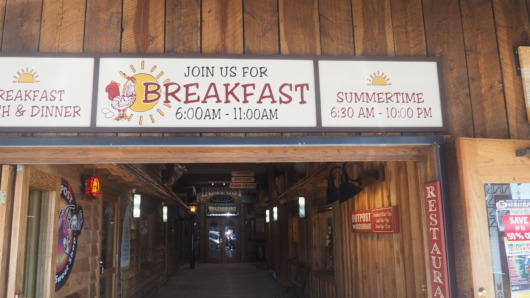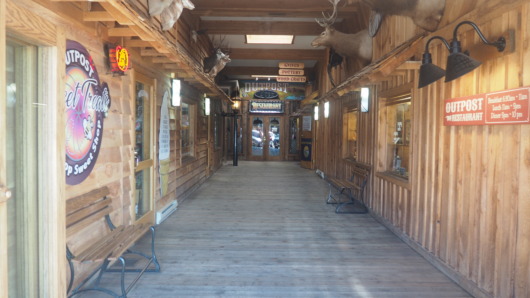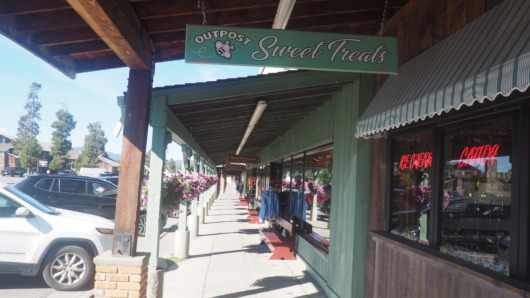 Outpost Sweet Treats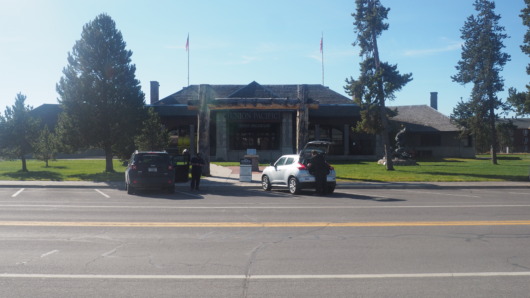 Museum of the Yellowstone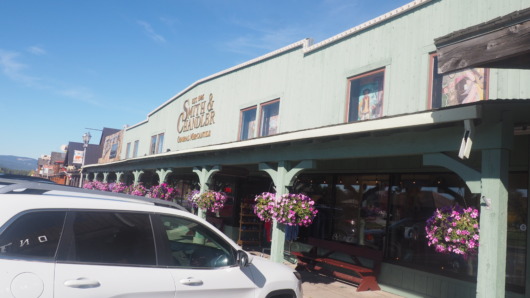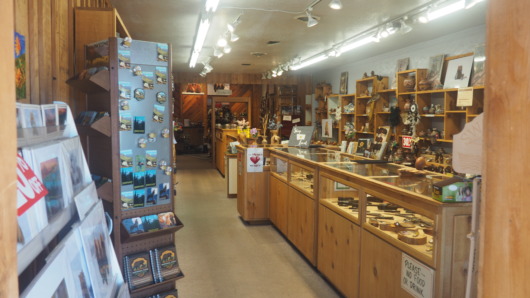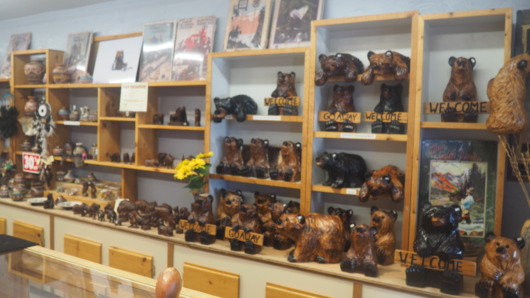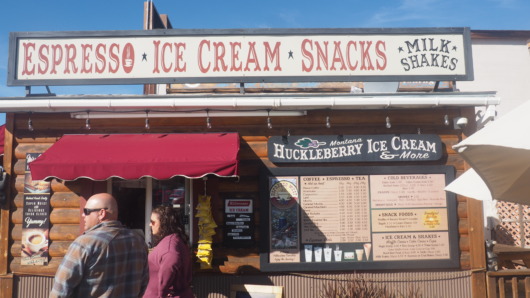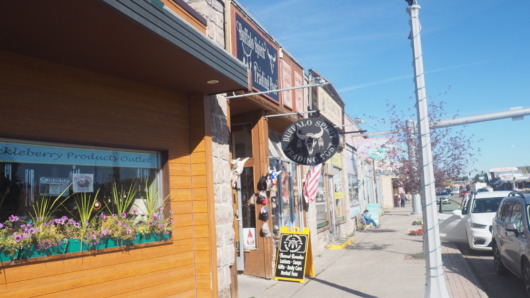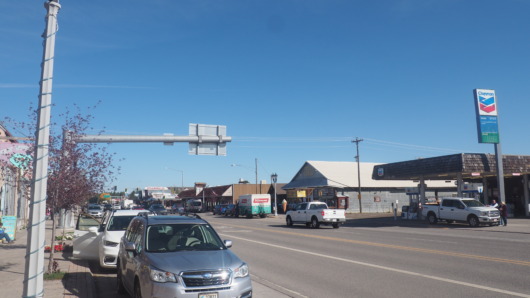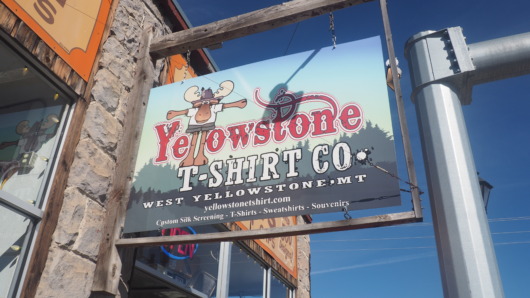 Yellowstone T-shirt Co.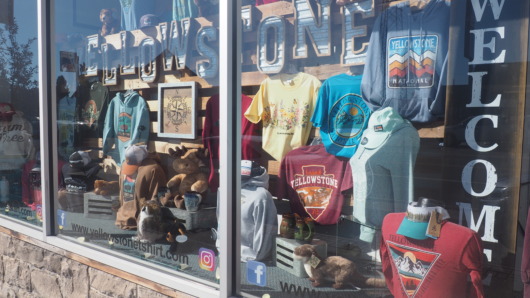 Many souvenir shops around town, especially selling t-shirts and magnets related to Yellowstone Park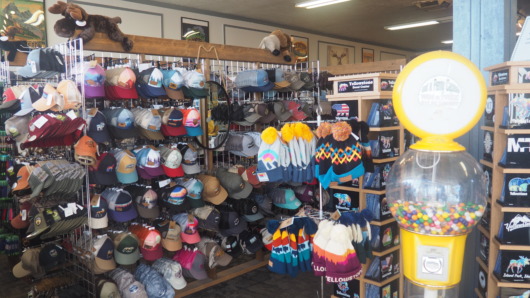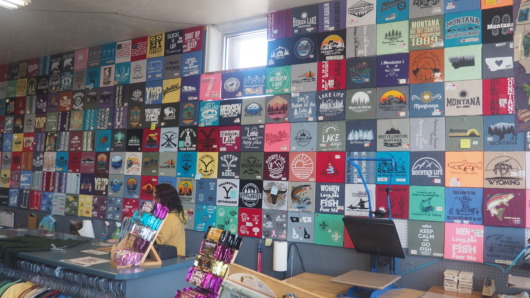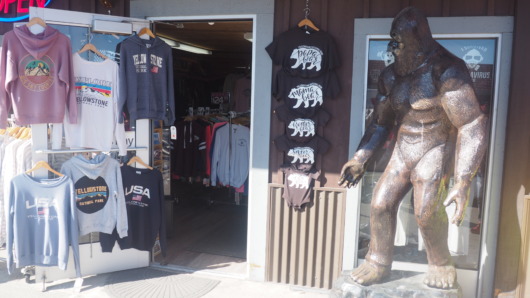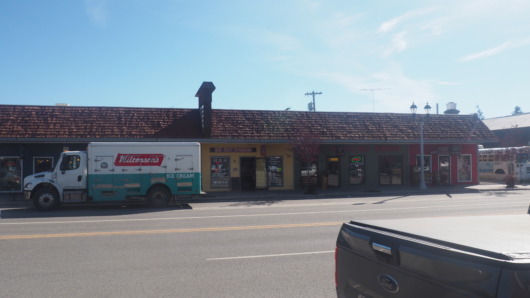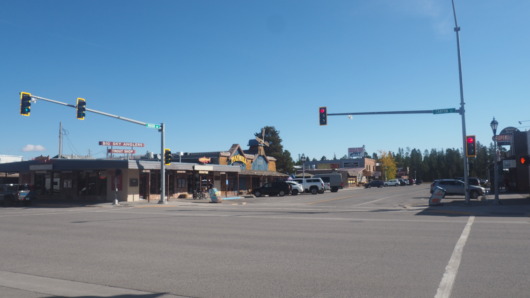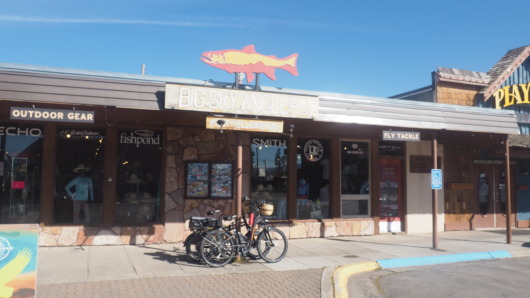 Big Sky Anglers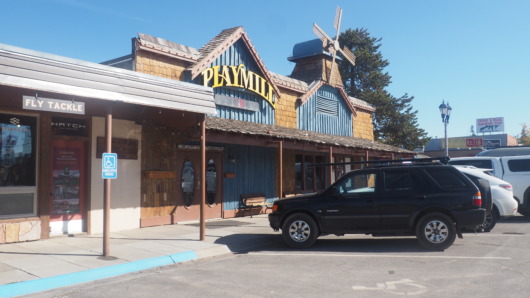 Playmill – a theatre
Canyon Square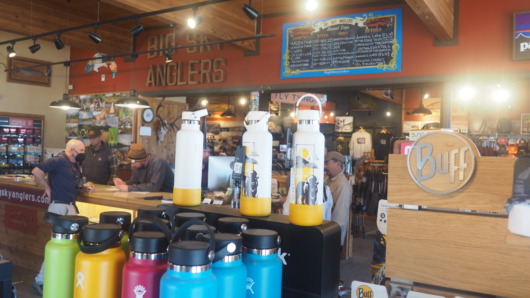 Back to Big Sky Anglers, for fly fishing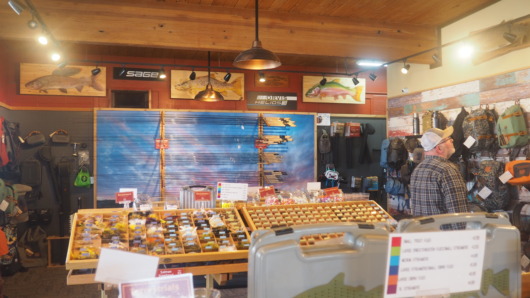 Lots of fish bait to choose from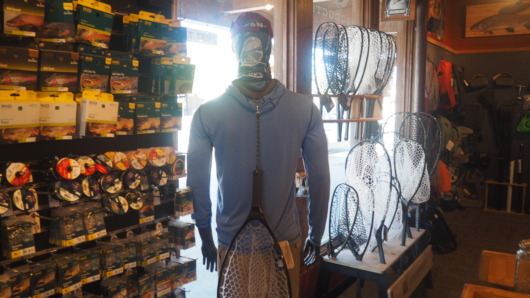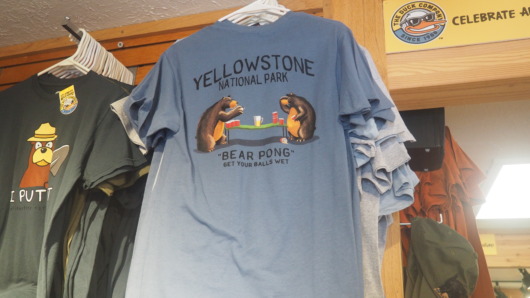 Bear pong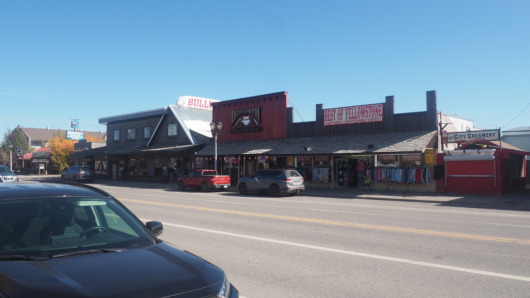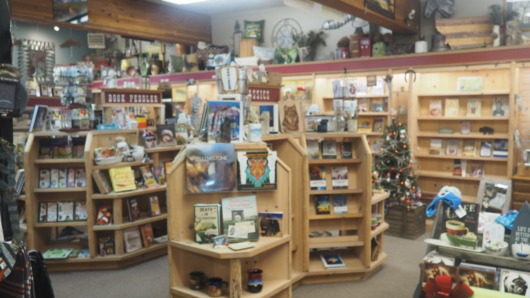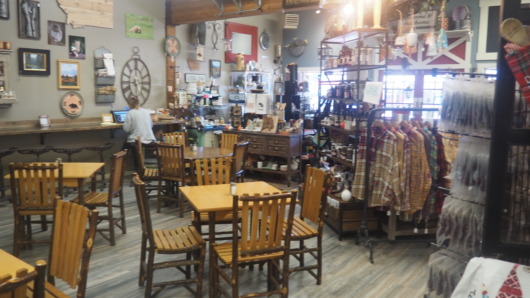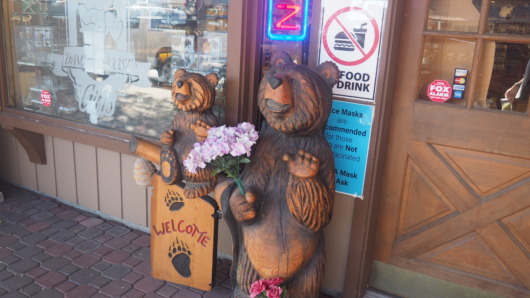 Bears are a widespread "mascot" around town, even though of course we don't want to see one up close in real life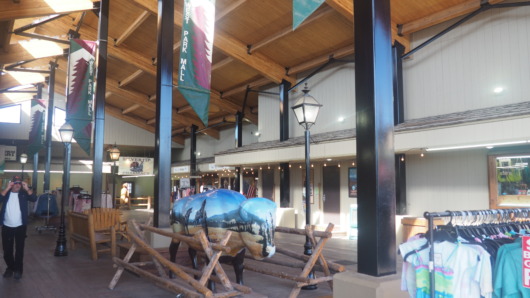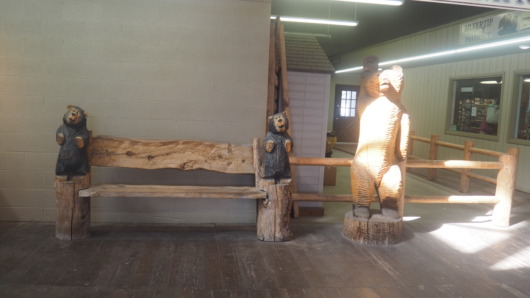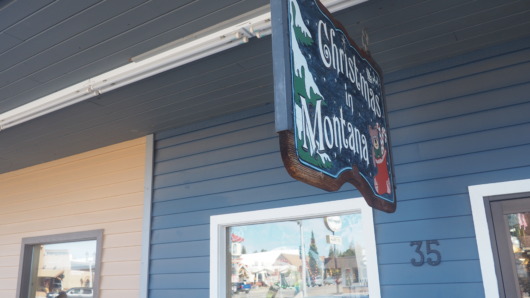 Christmas in Montana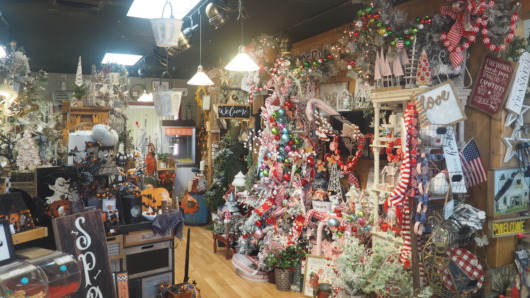 Super Christmas feel!  Love it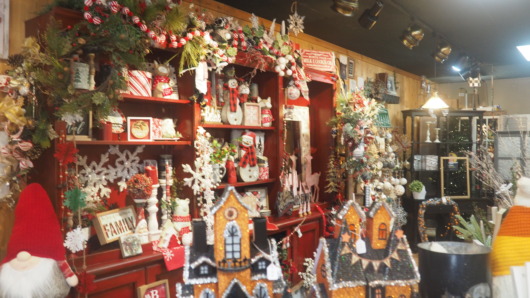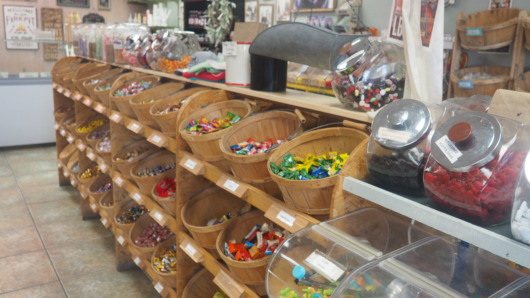 Rustic Candy Shop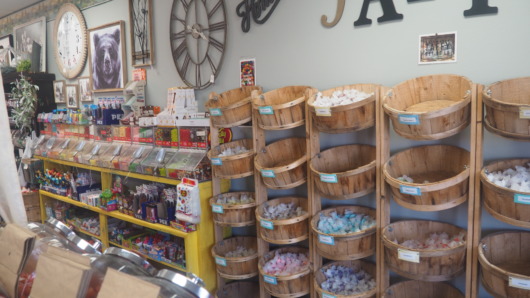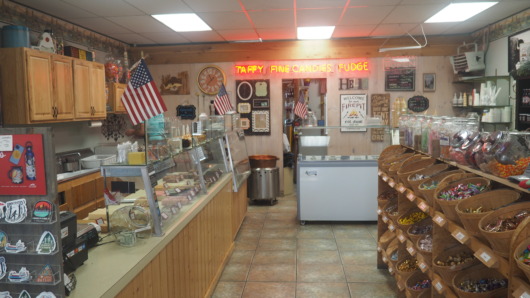 Bear Country Bakery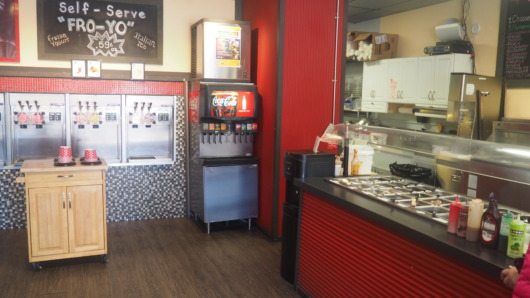 Yogi's Waffle & Grill (website) – our favorite place to get sandwiches before entering the park!  You must eat sandwiches while they are hot; they just don't taste as yummy after they've gone cold.  My favorite sandwich was their Philly Cheesesteak.  They do an awesome job with it.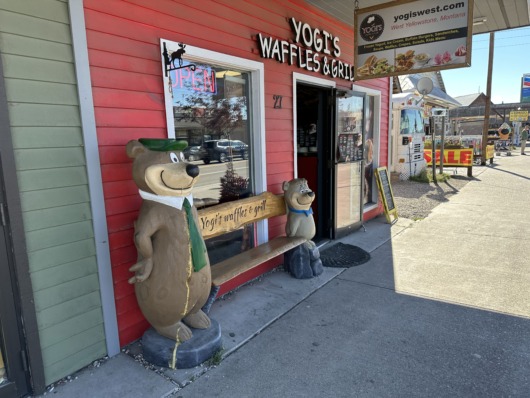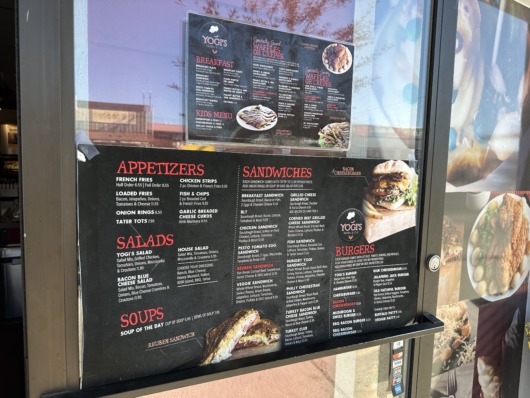 Their menu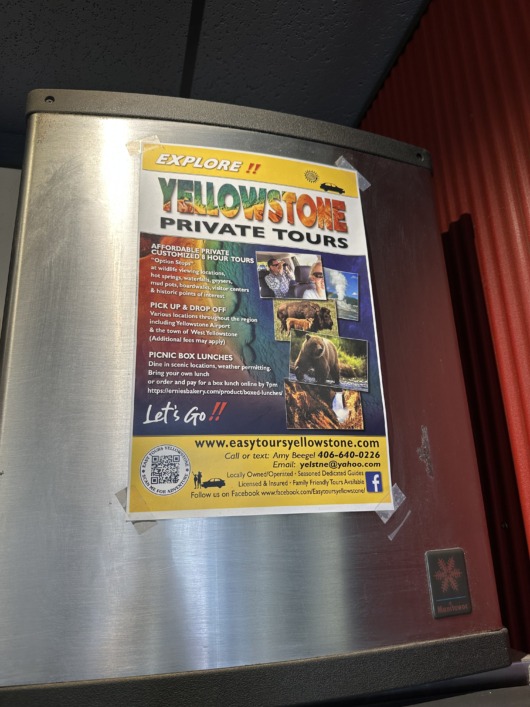 Private tours to Yellowstone are actually quite expensive… can be USD 100-150 per person for one day!  What a great way to make a living.
Canyon Village
There are usually villages at each corner where there will be general stores, lodges, restaurants, restrooms and more.  Below are some photos I took of Canyon Village when we stopped by to replenish ourselves.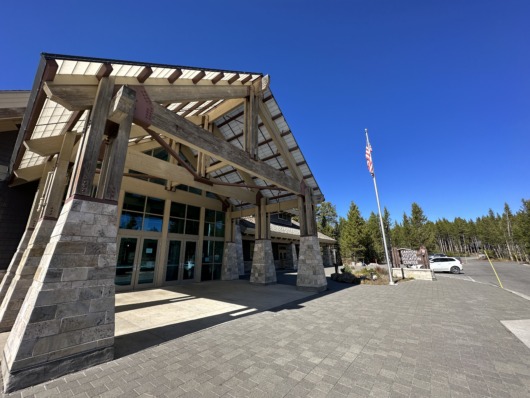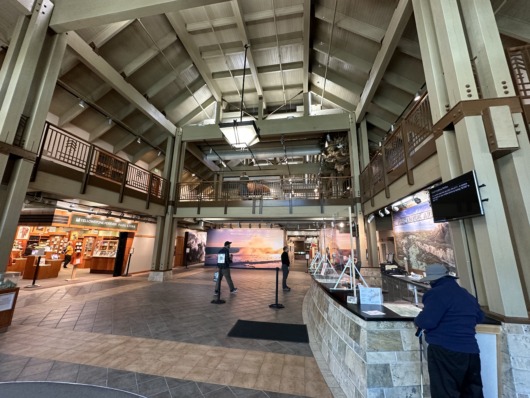 Souvenir shop to the left, museum to the north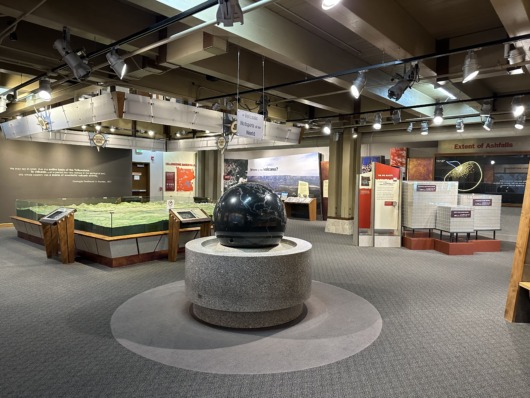 Inside the museum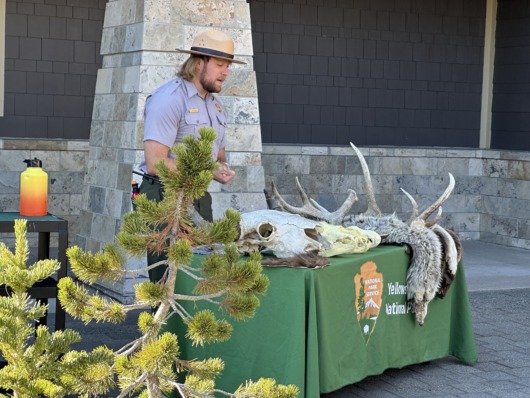 A park ranger explaining some of these animal skulls and fur
Yellowstone General Stores
In the villages and nearby the different lodge accommodations, there usually is a general store nearby it.  In the general store, there are shops to buy souvenirs and to buy food and drinks and sometimes a bit of grocery items.  Here is one from the Canyon Village.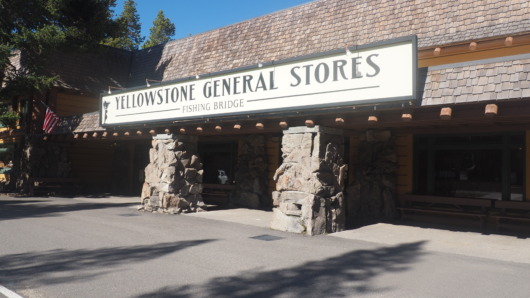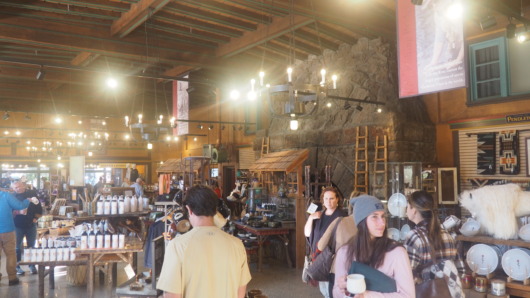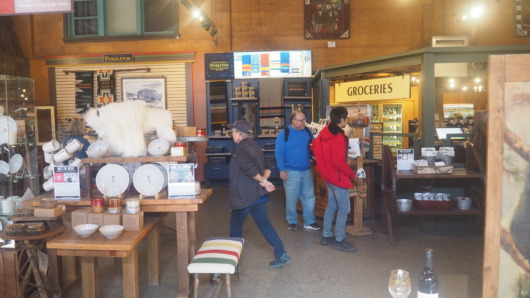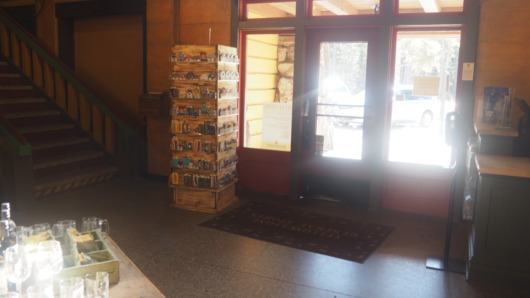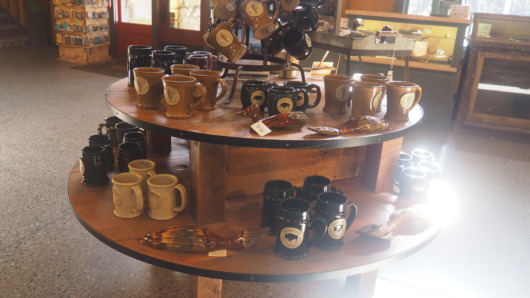 What else would you like to know about Yellowstone tips?  And if you've been to Yellowstone before (or even other large national parks), what other advice or tips would you give?  Write in the comment section below or let us know through our Contact page!