Don't go during the very offseason in Santorini.
A lot of amazing accommodations are not opened.  A lot of amazing restaurants are not opened.  The weather can be terrible – frosty and cold while raining, making the cobbled pathways slippery and uncomfortable to walk in.  Sometimes, it hails at night.  It's pitch black during the night.  A lot of shops aren't opened.
Yet again, perhaps due to these reasons we had cheaper accommodations and flights.  Perhaps that's why Santorini seemed like it belonged to us, as there were no other tourists to fight with.
As in the millions of pictures you see of Santorini, it really is a picturesque place to be.  Whip out your camera, randomly take a picture, and it's almost guarantee you will have a good shot of the place.  Although even whipping out your camera would still be difficult when your hands are trembling from the freezing cold.  I'm telling you – the weather was so cold, that after the first dinner we had, we literally wanted to jump onto the first taxi to go back to our accommodation because we can't stand the weather anymore, but our hotel had already arranged a pickup for us and we were mad because we didn't see the driver at the original drop off spot and weren't willing to wait any longer.  We ended up finding the driver regardless, luckily.
Accommodation
Aqua Luxury Suites Santorini
I booked this hotel through agoda.  Good location from the good restaurants, although all the good restaurants were closed.  It's located in Imerovigli, which is about a 30 minute walk to Fira, between Fira and Oia.  Getting there wasn't difficult, as it was a 15 minute cab ride from the airport.  Funnily enough, any request you ask of them they usually were able to fulfill for you.  You get to live in one of those "white caves" you see sprawling around Santorini, so that was fun.  Quite a romantic spot I must say.  I believe it gets packed all year round because when we wanted to get a room in the morning to check in, they said all their rooms were fully booked and we would have to check in at the usual time at around 2pm.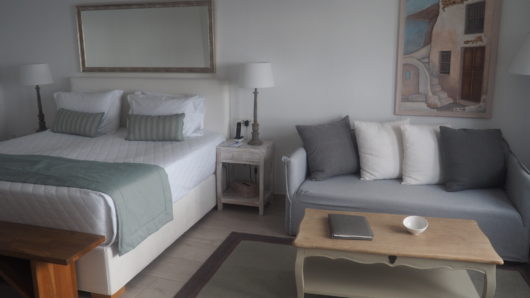 The bed and sofa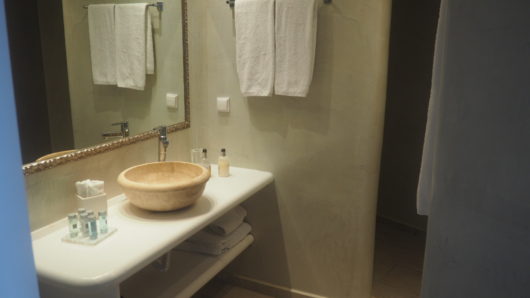 Bathroom with a nice shower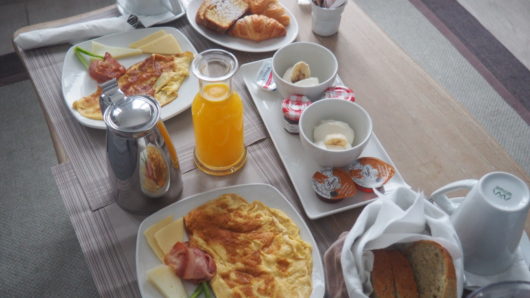 Bed in breakfast… you have to choose a time slot for when the food to arrive.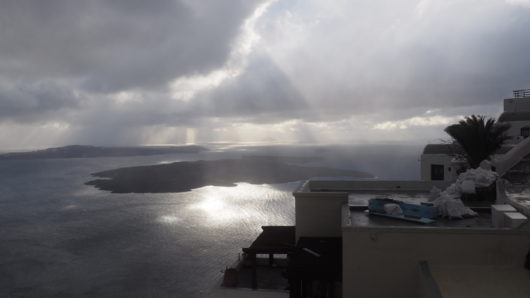 The view from our Balcony.  A bit gray as the weather was gloomy the first day.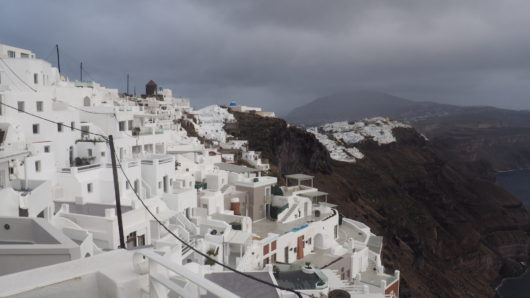 The view right outside the suites.  As you can see, each exterior of the places were unidentifiable with each other, so if you don't have your directions and try to recognize the place visually, you are going to get lost.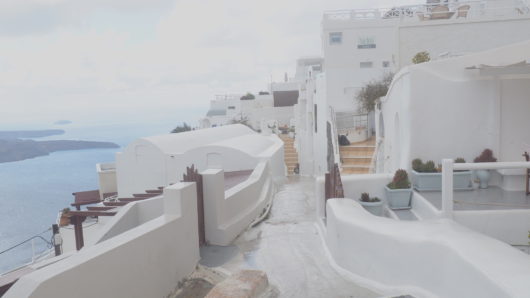 The path to our suites.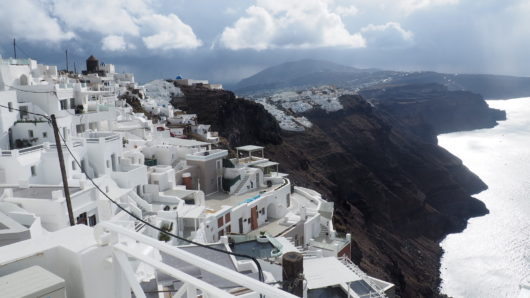 On a good day, again from our balcony
Map of Santorini
Transportation
Originally, we booked Ryanair to and from Santorini.  On the flight there, it was snowing in Athens and our cab driver and us encountered some heavy snowy conditions that prevented us from getting to the airport directly, so we had to take the metro to the Athens International Airport but by the time we reached the airport, we missed our flight.
So we caught the next earliest flight, which was Olympic Air, a subsidiary of Aegean Airlines.  They had many frequent flights to Santorini from Athens.  By the way, you might also want to consider checking in your luggages at the baggage counter/lockers instead of bringing them along as the fees for that may be more expensive… we were there for 2 days and we did the calculation and saw it was worth it.
A little rant – Ryanair lives up to its name, being cheap in price and being cheap in method.  Remember with Ryanair you must, must do online check in!  If you don't and check in at the counter, they charge you a ridiculous amount, almost the fee itself.  Update Jun. 4, 2017: Found the receipt, and the cost was Euros 111.60 for 2 persons… ridiculous!
As you know, Athens and Santorini are located pretty close together.  Pretty much a few minutes after the safety instructions by the flight attendant, they would tell you to fasten your seat belts already to prepare for landing.  The whole flight duration was around 30 minutes.  I found the short duration quite funny.
Also, at the Santorini airport, there is no immigration counter for arrival.  Once you land, there is a bus that picks you up to the arrival hall, which is once again a really short duration – a one minute ride.  Hilarious.  And then you just walk out, and there are taxis waiting for you.
Enough about the flights, what about the actual transportation in Santorini?  OK, the first day there, we walked to Fira.  Walking would definitely have been nice other than the fact that we were there in December and we were pretty much frozen.  We borrowed our hotel's umbrella as it was raining but the wind kept inverting the umbrella.  Not the best walking experience.  But, Santorini is a walking city somewhat during better weather conditions.
Of course, we also took taxis as well.  Like all the places in Europe, taxis aren't cheap, so I wouldn't taxi to each location.  For example, if I had stuff to do in Fira, I wouldn't take a taxi to each location in Fira, but rather just walk around Fira and then take a taxi to the next area once I'm done.  Radio Taxi Santorini can be called at +30 2286022555, or +30 2286023951.
A very good option, especially during the cold weather like this, is to rent a car.  Thankfully we did that during the second day otherwise we would have been very discouraged to continue walking around in cold, damp socks in our wet shoes.  Our suites arranged a rented car for us for 24 hours and it was great!  Take a picture, get back in to stay warm.  Roads… I would say are relatively easy to drive.  The drive from Imerovigli to Oia was fantastic as well.
The car we rented.  I didn't like this ride.
Food
Because we went during such cold weather, many restaurants were closed.  As such, our options were very limited.
Update Jun. 4, 2017: By the way, we loved the Santorini white wine!  One such white wine we loved was the Santorini White Gavala.
diverso cafe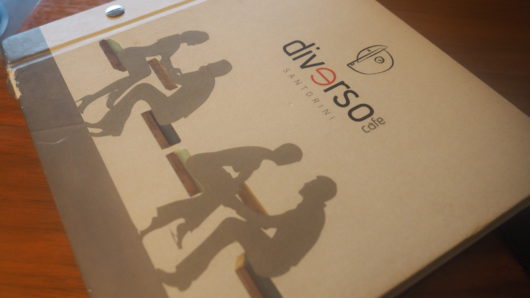 One of the few options that were available.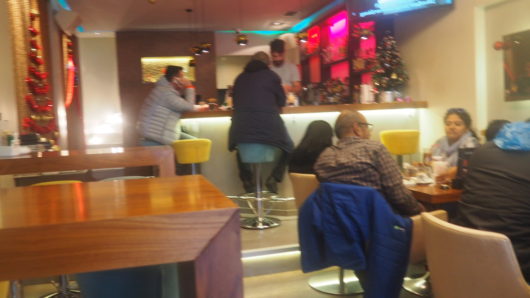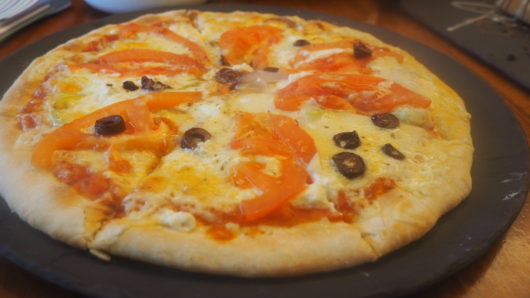 Pizza.  Not bad.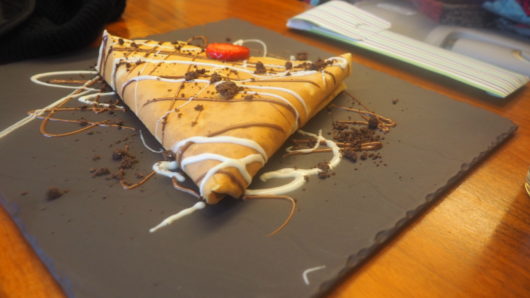 Feeling crepe.
Naoussa Restaurant
Supposingly a good restaurant, it was one of the restaurants that served traditional Greek food.  Did it exceed beyond our expectations?  No.  But let's just say it was decent.  The manager gave us some complimentary wine to try as well.  Speaking of wine, the wine selection at Santorini was much better than ones we had at Athens.  Go for wine produced in Santorini, not anywhere else in Greece.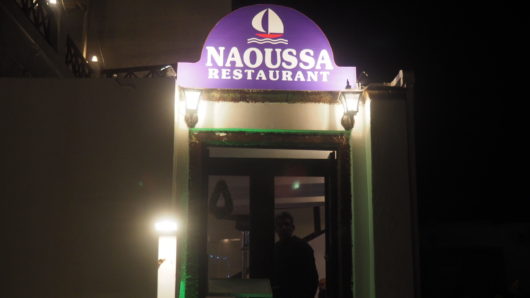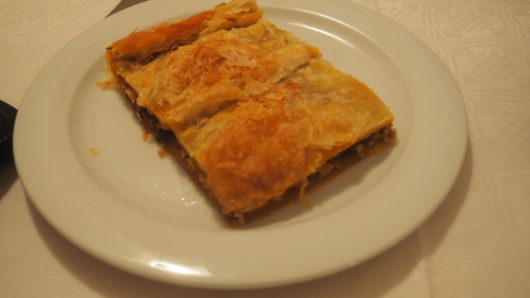 Some beef dish he recommended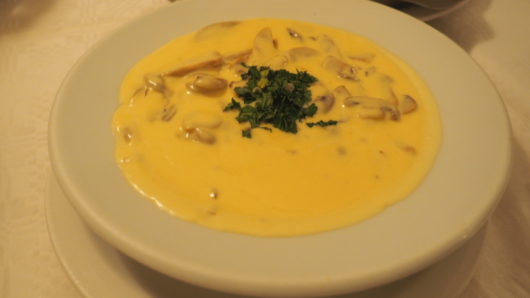 Mushrooms a la Creme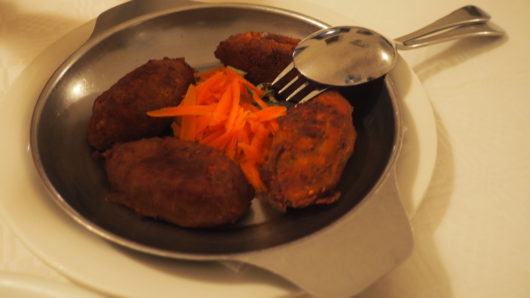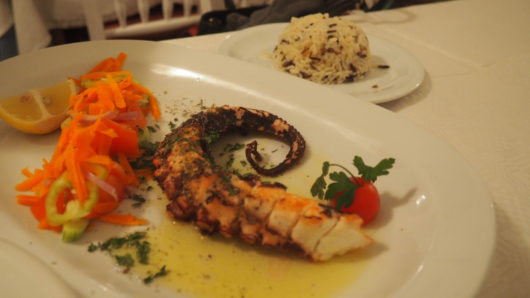 Grilled octopus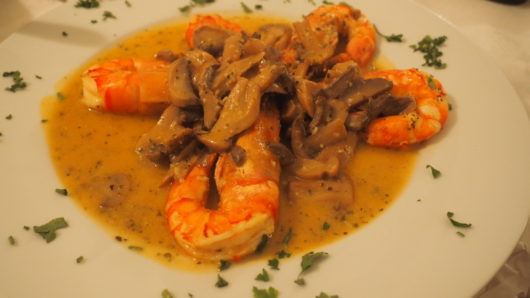 Skiza Pizzeria Cafe
During our sightseeing at Oia, this was pretty much the only restaurant that was open.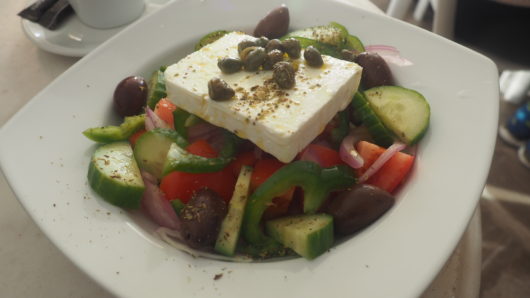 Greek salad
Restaurant Alkiona
This restaurant was something we stumbled upon during our time in Oia, before we went to watch the sunset.  Meh.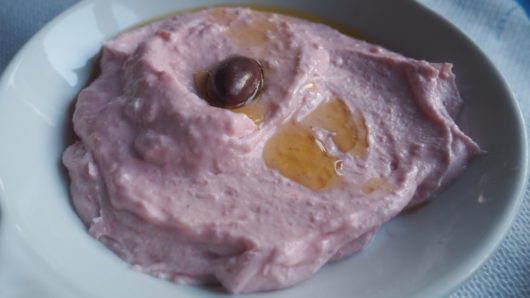 Taramasalata – a dip made from the salted and cured roe of the cod, carp, or grey mullet.  Traditional Greek dish, didn't really like it.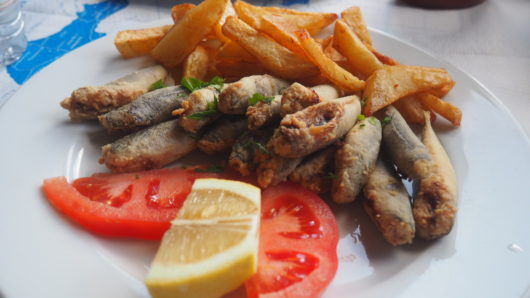 Fried smelts.  I didn't like it, cause of its many small bones.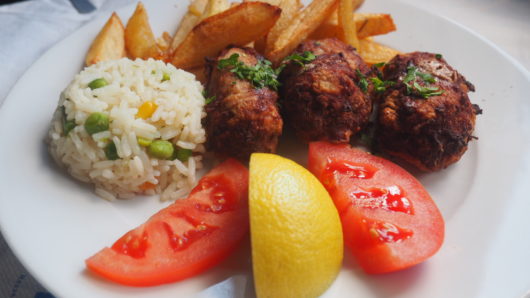 Lamb.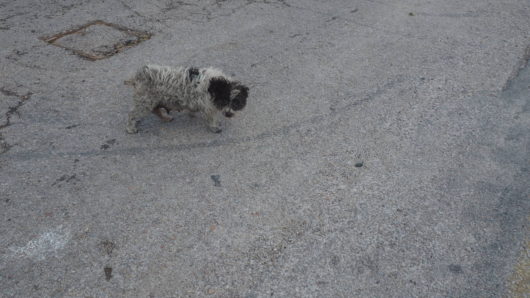 Thought he was a stray dog.  Tried to feed him.  Had a dog family.
Things To Do
The part that you've all been waiting for – the pictures!  Since there wasn't much to do during our time there, except for taking photos, this will just be picture after picture with captions to describe what's going on if necessary.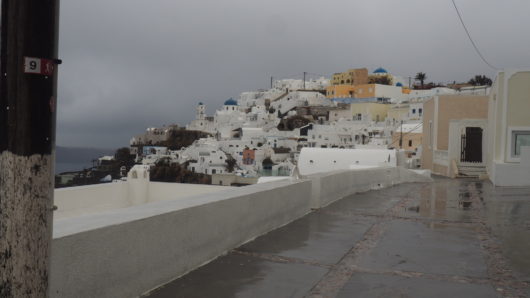 Our walk to Fira, prior.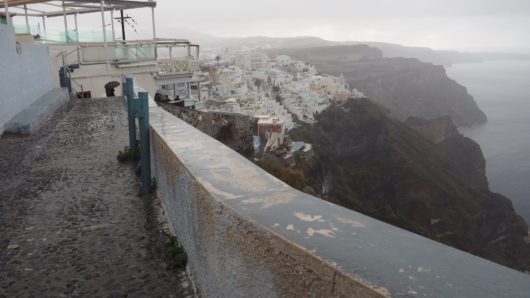 On the way to Fira.  As you can see, the weather was gray and gloomy, and the floor was wet.
Museum of Prehistoric Thera.  Overpriced, you can walk around this in 5 minutes.  Picture above imagine walking in one circle, and that's the whole museum.  Similar to the potteries you see in the museums in Athens.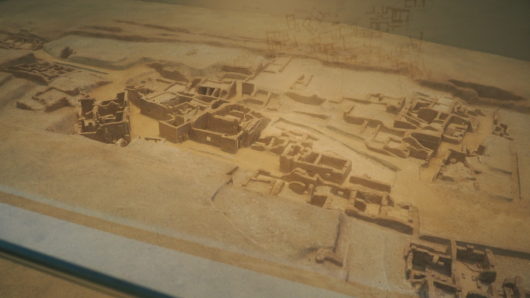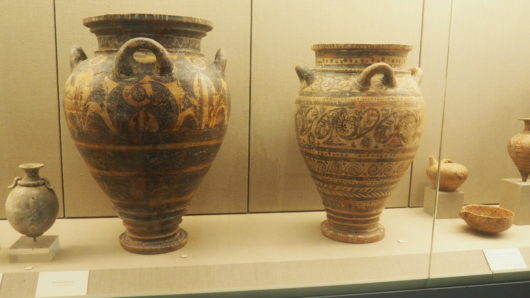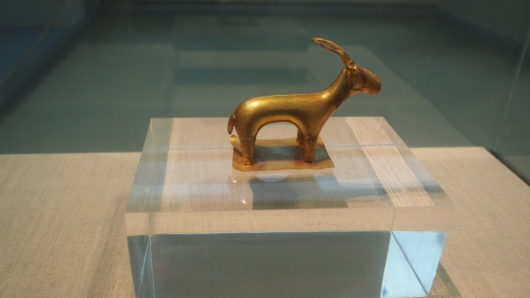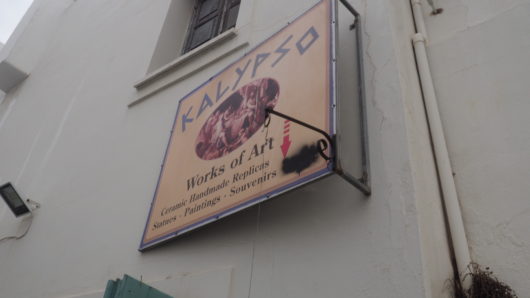 One of the art and ceramic places in Fira.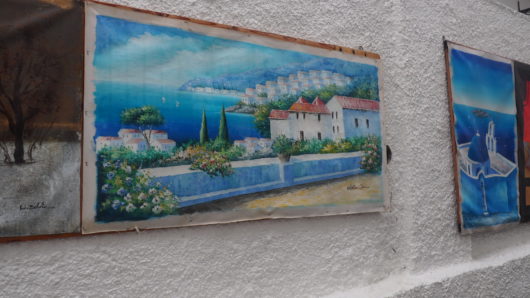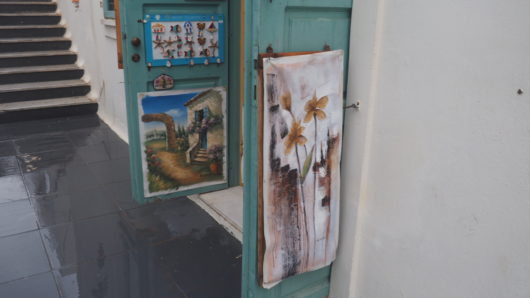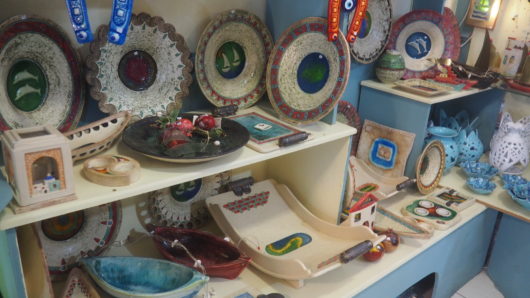 This shop of works of popular art is called Kalipso Santorini.  It's in Fira Santorini Shopping Center Fabrika.  Tel.: +30 22860 23993.  e-mail [email protected]  Check it out as they have very cool designs.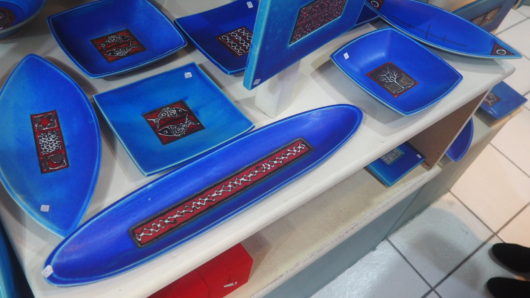 Actually a lot of the stuff were quite unique and impressive.  Some were even created by the shop owner himself.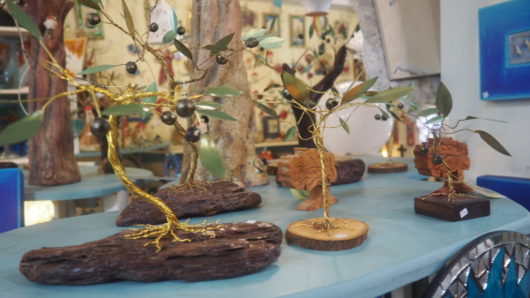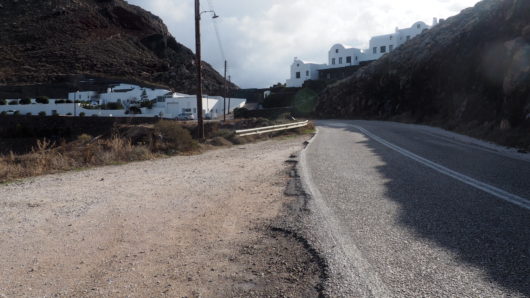 On the way to Oia on the second day.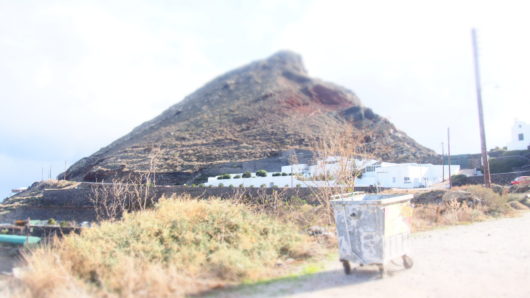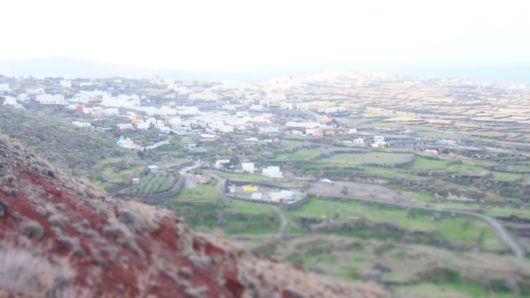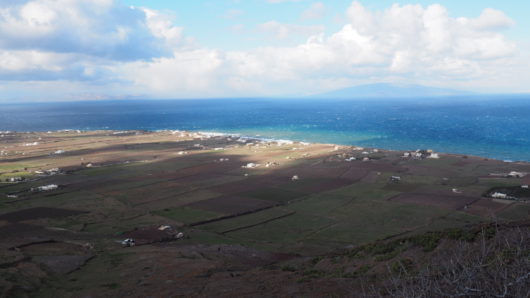 Luckily our second day here promised us some good weather.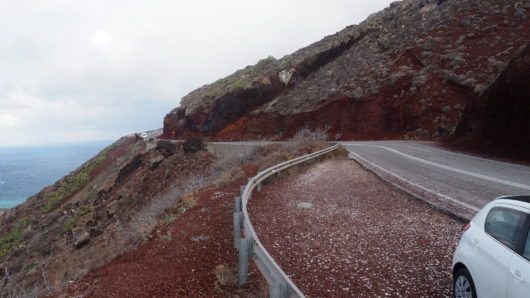 Beautiful red volcanic rocks.  Scientists are worried about an active volcano at the north of Santorini.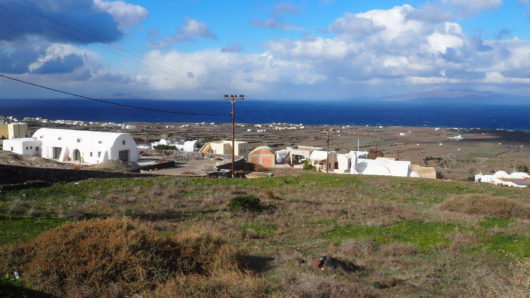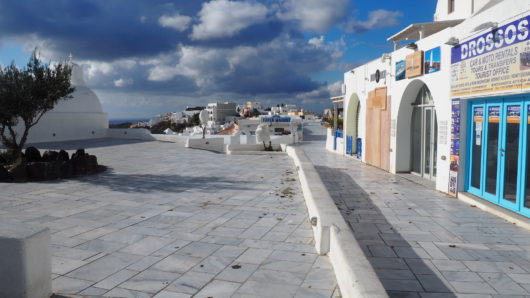 Beginning of Oia.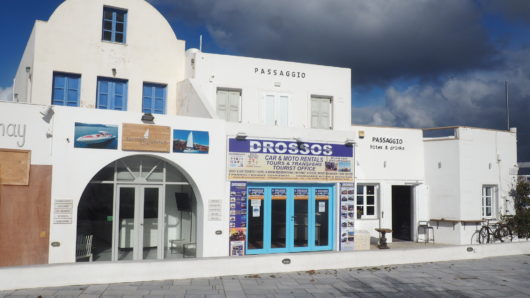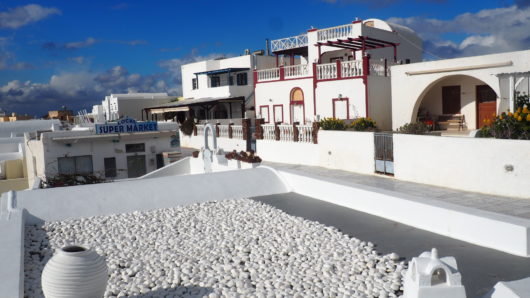 As you can see, the area is pretty much empty.  You can walk in and out without trouble.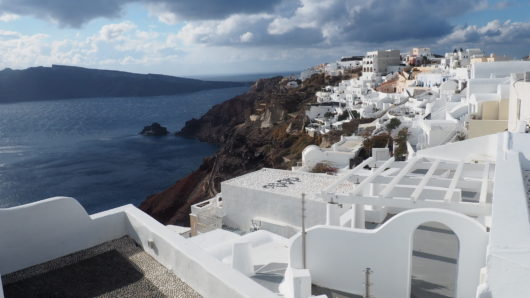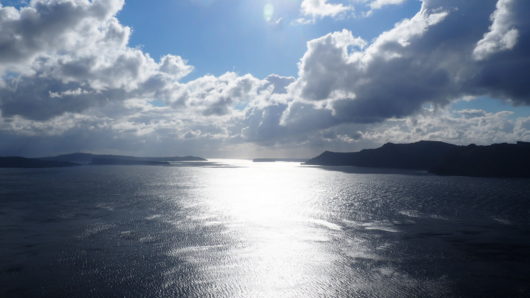 All the picturesque pictures of Santorini, the most beautiful ones, are usually of Oia, as you'll see in the following pictures.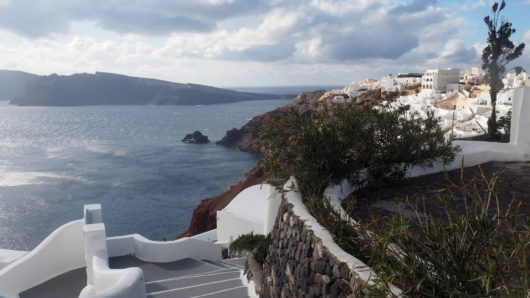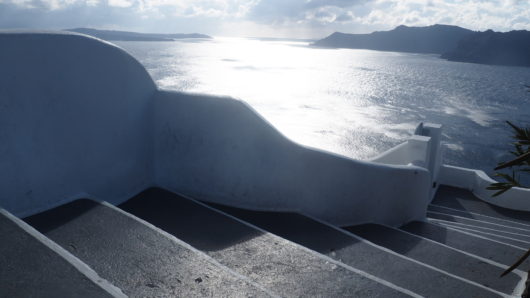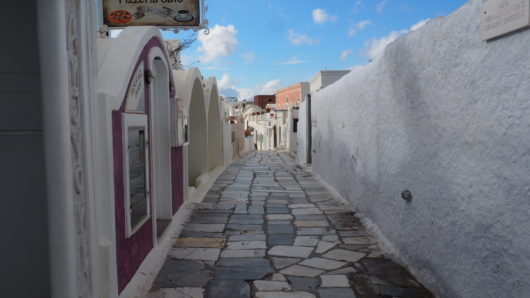 Walking along.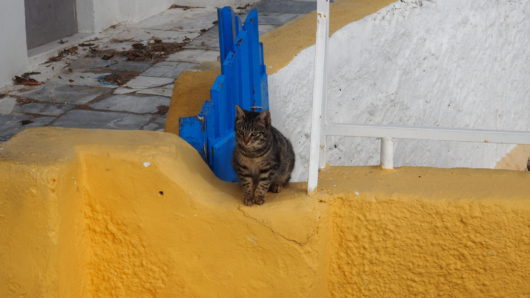 For some reason, there are many cats in Greece.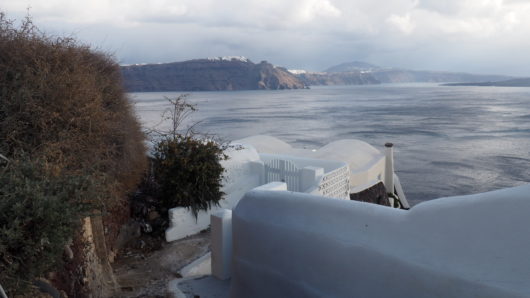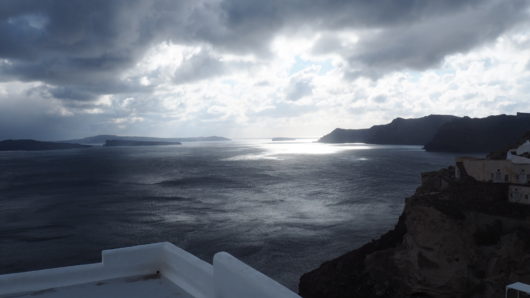 A glimpse of heavenly lights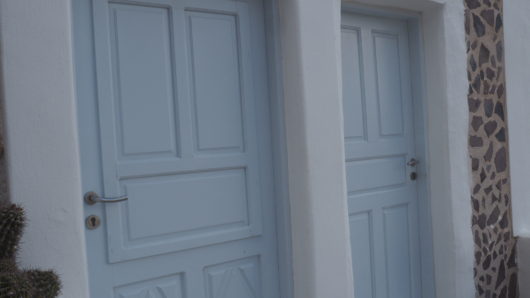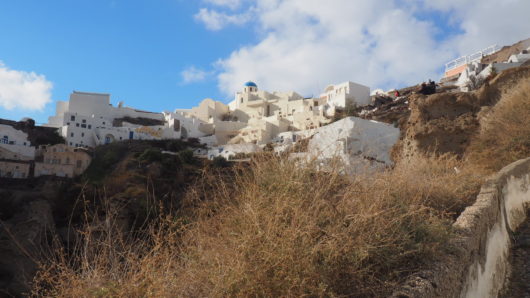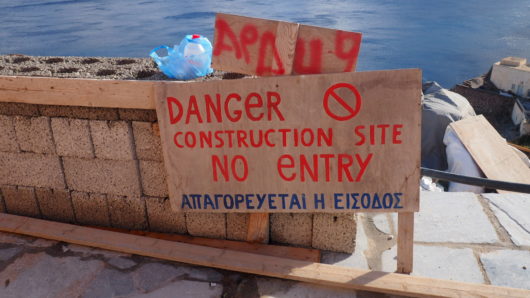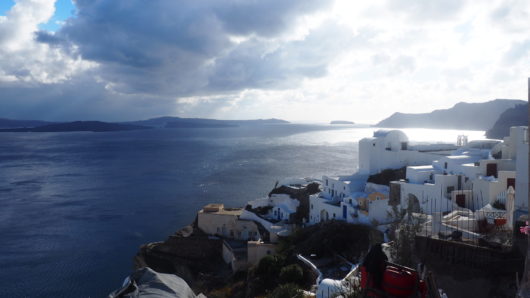 My favorite picture of Santorini.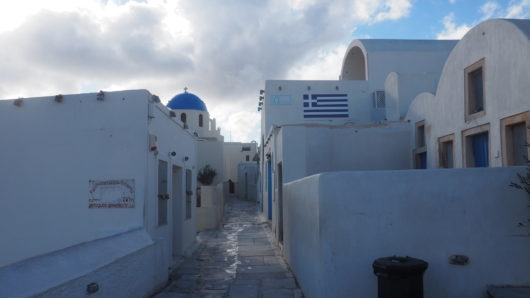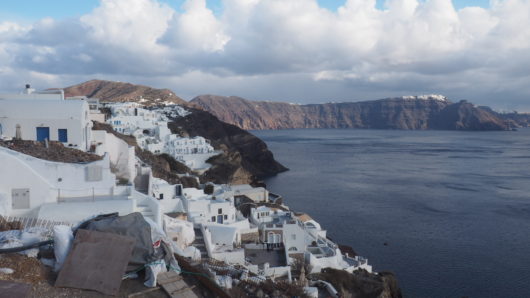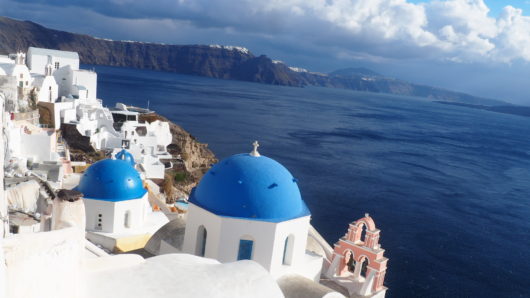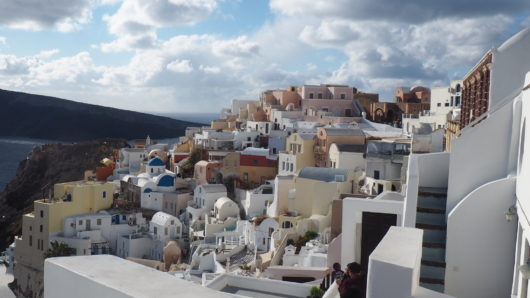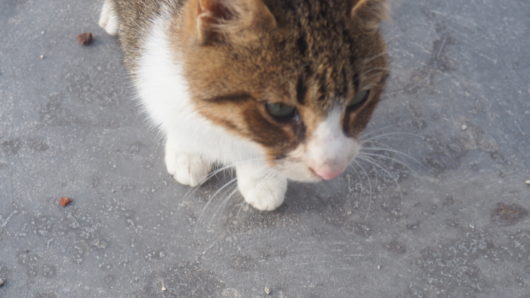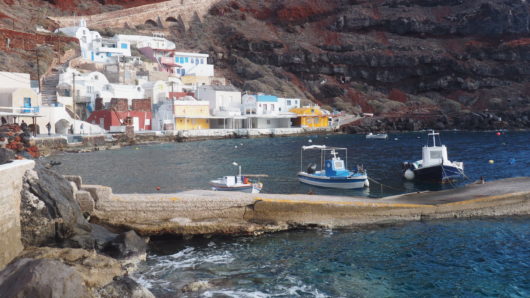 Ammoudi, north western tip of Santorini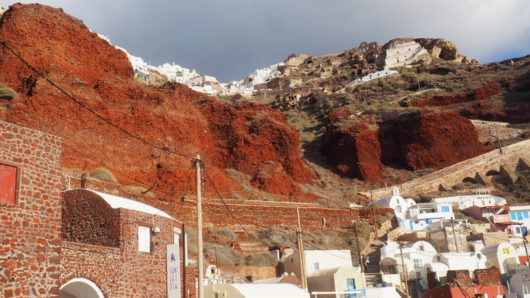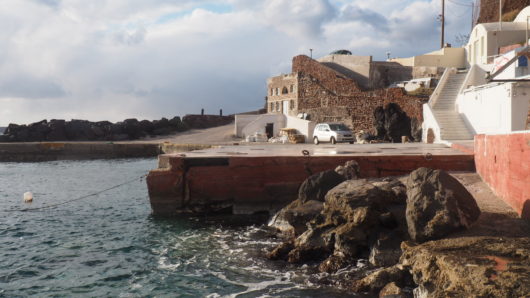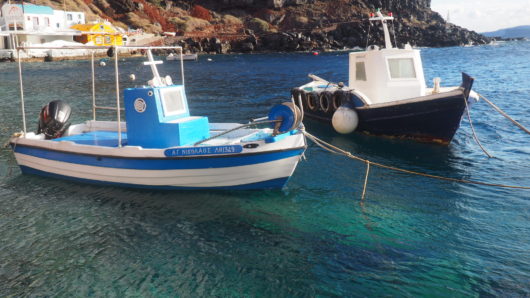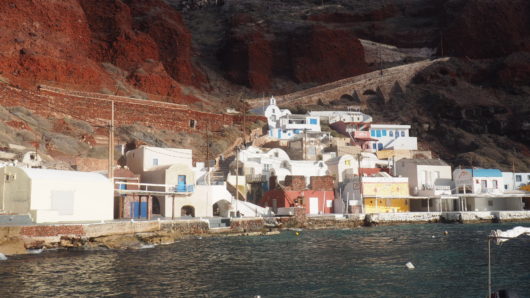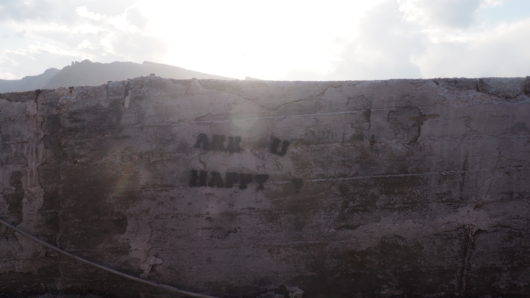 Are u happy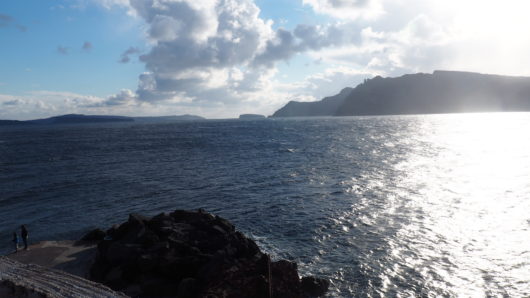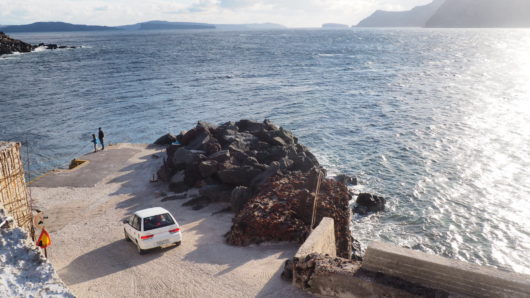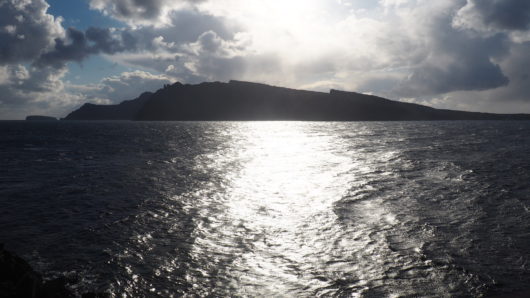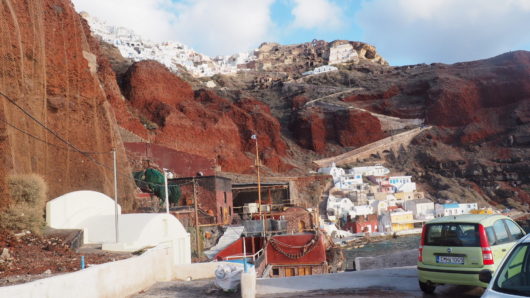 I'm like posting pictures at different angles, but they are all too beautiful to be left out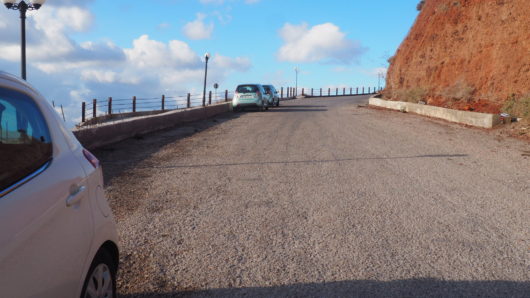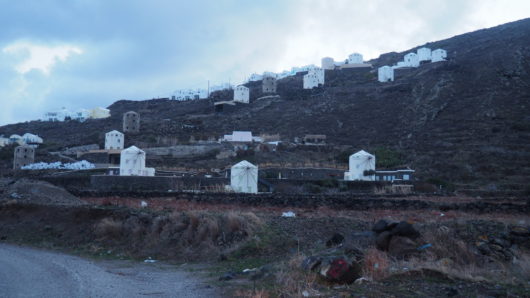 On the way back to Fira, driving.  We took an alternative route by heading through Tholos instead to get a different view.  Not much to see, you get to see windmill houses like these, and you get pretty close to the ocean as well.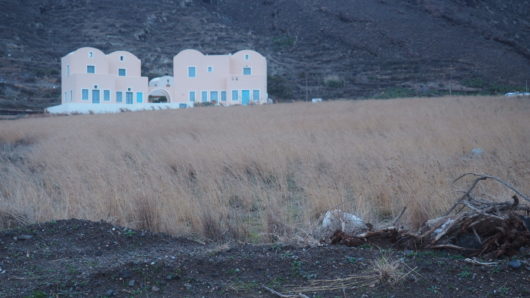 Tada.  So that's it for my third leg of this Christmas / New Year trip!  I can see Santorini being an absolutely chilling (notice the pun haha), fun place to be not during summer, but just before and after summer so not during its peak times, when more stuff is open.  But still, we had a good time there and wouldn't mind coming back, just not during winter of course.
Other things we didn't do:
Hire a quad bike
Winery Tour
Walk the Volcano
Ride Donkeys
Swim in the Hot Springs
Seafood Restaurants of Amoudi Bay
Koo Club
2 Brothers
Mamounia
Caldera
Pyrgos
Drink Donkey Beer
Ancient Thira
Boutari Winery
Ancient Akrotiri
Kamari Beach
Red Beach
MATI Art Gallery
*Last updated: Mar. 15, 2017