I once read a blog saying that there were many cities where you're supposed to walk and take in the experience of the new travel destination, but Dubai was not one of them.
I concur.
Our final destination was supposed to be Athens, Greece.  However, there were no direct flights available when we went just before Christmas from Hong Kong; there had to be a stopover.  After looking at multiple choices, we settled on Dubai.  Why?  Well, the feedback we've gotten from Dubai was that it was a city where you can spend two to three days there and it was enough.  My own opinion on that later.
So, we arrived quite early at 5:35am to the Dubai International Airport.  Contrary to all the lauding and praise of the airport, I was not amused.  Nothing suggested modern, forward, or unique.  Sure it was in light desert colors, giving it of Middle Eastern theme, and sure there were restaurants and shops that were open at 2am when we were on our flights back to Hong Kong, suggesting they were probably opened 24/7, and sure it's gigantic, but it didn't stand out.  I mean, I would take the HK Airport or Singapore Changi Airport over Dubai Int'l Airport.
The feel of Dubai was a simple, laid back city.  The restaurant service, the walking pace, everything felt very leisure, in a non-rushed pace, which was quite an annoyance at first just coming from Hong Kong and trying to get out of the airport asap.  Even the metro felt it was driving at a "colloquial" pace.  Not saying it's casual or unprofessional, just saying it's the way of life here.
Looking around Dubai, you get an eerie familiarity with another a place nearby Hong Kong – China.  Dubai, like some cities in China, present a similar situation in that a lot of architecture and structures are very modern and very nice and progressive… then there are so many projects that are incomplete.  So many!  And it's like they have paused or have given up on these projects.  I'm curious to what will happen to these incompletions in the upcoming decade.
By the way, even if you are there for 2 days like me, get a sim card.  I think the sim card would have saved me much time walking to the right routes rather than having to rely on the locals there for directions, who sometimes are not very clear or sometimes they may even point you to the wrong direction!  Speaking only from personal experience.
Also, as mentioned, we went during December, which I think is the perfect time to go to Dubai… perfect weather!
Transportation
I want to bring up transportation first to relieve you from the suspense of the first sentence of this blog.  I repeat, Dubai is not a walking city.  Don't let Google Maps trick you like how it tricked me thinking that yeah maybe we can walk to here and there, and our hotel Grosvenor House is close by to Palm Jumeirah and you can walk from the stem of the leaf to Atlantis… no no no.  All the buildings are so big and so spaced out it takes forever to walk.  Some roads look promising only for you to discover it ends up being a dead end and then you have to do a complicated and big circle to arrive to where you want to be.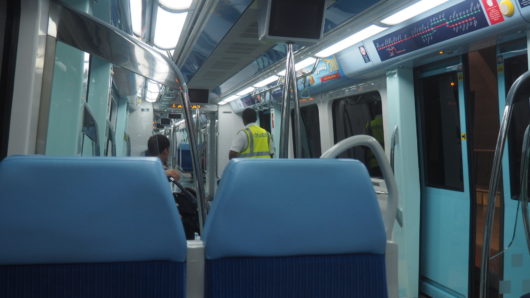 The Dubai Metro is one way to get around.  You can buy day passes at the airport if you think you will take the metro a lot.  On the first day, we bought the one day pass, only to have rode on the metro once.  The second day we hopped on the metro more times, but only a few.  There's a reason for this.
See the picture above, look at the top right?  There's a green line and a red line and I've never encountered a metro system as simple as Dubai.  I was thrilled!  It was so easy to understand.  Later on I realized it was a double edged sword… they only have two lines but they never bring you close enough to where you want to be!  All the stuff are usually located further than just a few steps from the station.  Even the Dubai Mall station really just brings you to a station that connects you to an air conditioned bridge and you have to walk on the bridge for 20-25 minutes, even with the assistance of a travelator, before you actually get to the Dubai Mall!  It's crazy.
Also, from the airport, I noticed that there were a lot, a lot of men in the train cabins.  In case you are a woman and don't feel comfortable, there are train cabins that are only for women, just like in Japan.
On a sidenote, the Dubai metro is driverless.  Yep, I didn't even know that until after I started writing this blog and was doing a bit of research.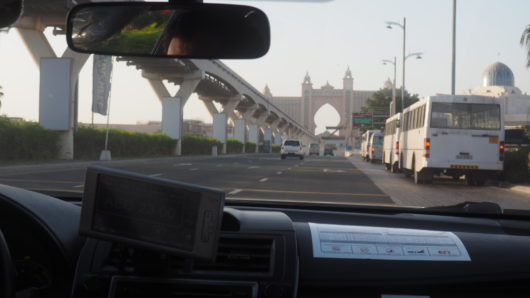 This is our taxi ride to Atlantis, the Palm.  Taxis are the way to go in Dubai.  They aren't that expensive, cheaper than Hong Kong, I would say comparable to Singapore.  If you can't take metro, hop on a taxi.  They won't kill your wallet.
Funny story about this cab driver featured in the pic… so around the time this picture was taken, he had to use the bathroom.  He stopped the car, told us not to leave, and ran to the bathroom.  So guess what we did… yeah we just got out of the cab so we didn't had to pay anything…
Just kidding!  Good people like us, we stayed in the taxi.  Of course we told him to deduct the fare when the meter was running while he was in the bathroom.
We also had another time where we had a Pakistani taxi driver, and told us actually a lot of Pakistanis and Indians come to Dubai to work.  Anyway we had a delightful conversation… privately talk to me about it if you're interested about the conversation.
We didn't take the bus once, so maybe you can try that as well.
Our flights from and to Dubai were by Emirates.  I know Emirates has been highly ranked again and again as one of the most outstanding flights to take, but how good can you actually make a plane ride, right?  Emirates scores highly in doing little things that score big points, like providing you a hot wet towel, very good interactive system, instaphotos for you to keep as memory, stickers to tell the flight stewardesses to wake you up never or when it's meal time etc. but a plane ride is a plane ride.  An economy seat is still an economy seat.  If Emirates economy seat was like a first class in Cathay, then we're talking.
Accommodation
We had a pleasant stay at Grosvenor House.  Situated south of Dubai, it's not as close as it seems to everywhere else, especially to the Palm.  Still, rooms were big… I didn't even know I had booked a one bedroom apartment until I stepped inside the room, checked my bookings to make sure they gave me the right room, and yeah.  But I believe that may be their minimum size, and they are also manage the famous Buddha Bar.  Even though we arrived early to the hotel, they managed to get us a room.
The reception counter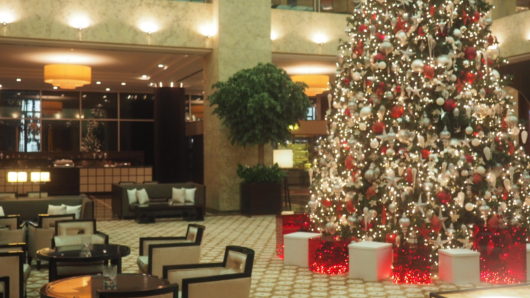 Arrived on the 24th of December in Dubai
The one bedroom apartment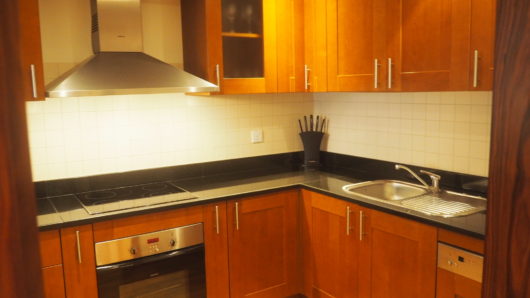 Kitchen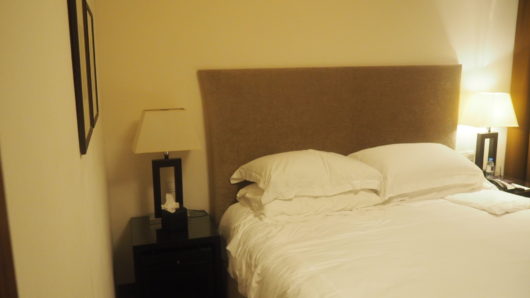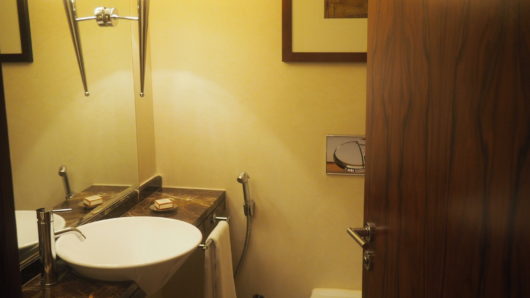 One lavatory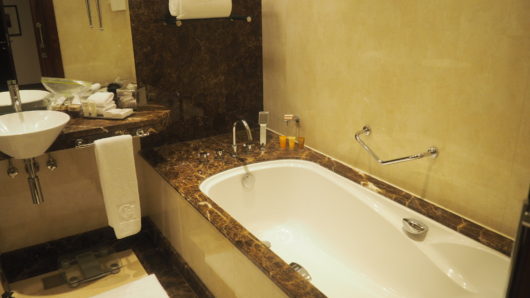 And there's still a bathroom with shower and bathtub.
The view outside Grosvenor House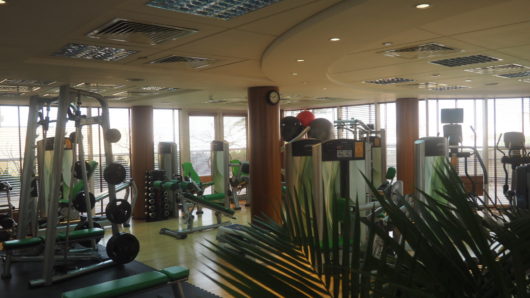 They also have a gym and a swimming pool.
Food
What made this trip spectacular was the food!  If I were to come to Dubai again, it would be for the food and parties.  Anyway.
Al Shorfa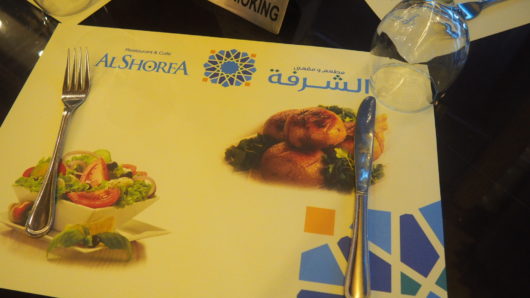 Why did we choose this restaurant?  Well, after dumping our baggages in our room, we were starving.  It was like 8am.  Nothing nearby was open except for this.  And it was Arabic.  And there were two tables with people, one of them had people smoking shisha.
That, by the way, doesn't make this place negative.  Just because it was the only option available doesn't mean the restaurant sucked, cause it didn't!  Actually it was pretty decent.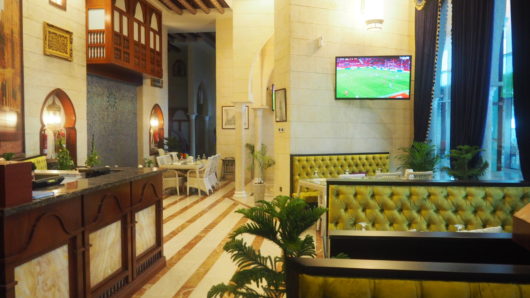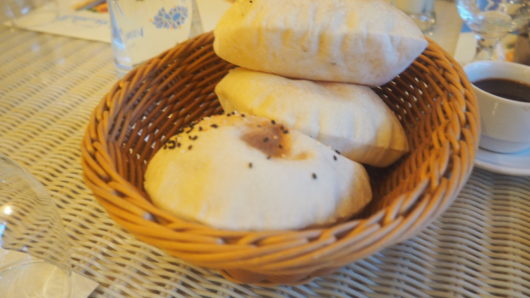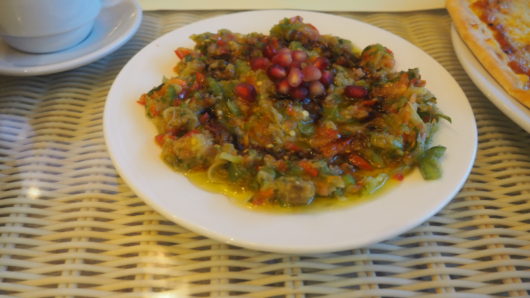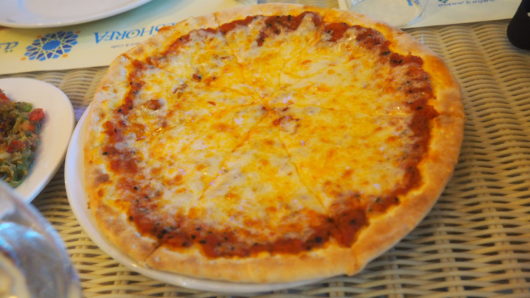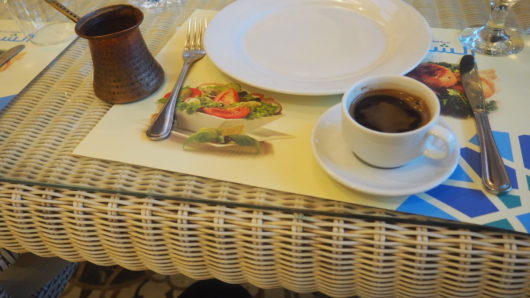 A very strong… Turkish coffee.
Café Bateel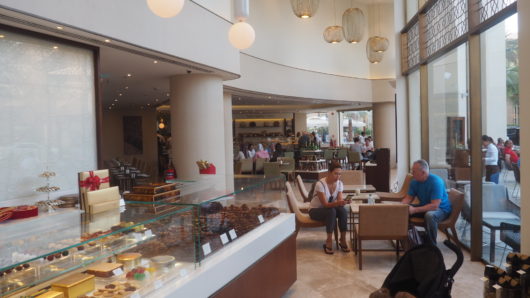 While walking over from our hotel to the JBR Beach, we stumbled upon this gem!  Actually, while this is a chain restaurant around Dubai, this particular branch was phenomenal!  The desserts were outstanding, I even walked over on the second day to buy chicken wraps for breakfast the next day and they were outstanding, and since Dubai is famous for dates (the fruits, not like going out) they used them in their recipes and made their own products… like I even bought my own date vinegar.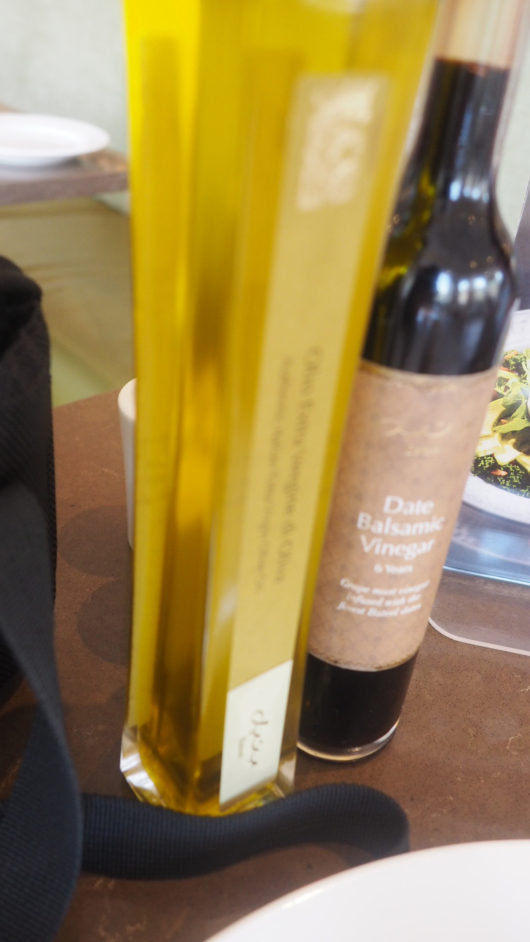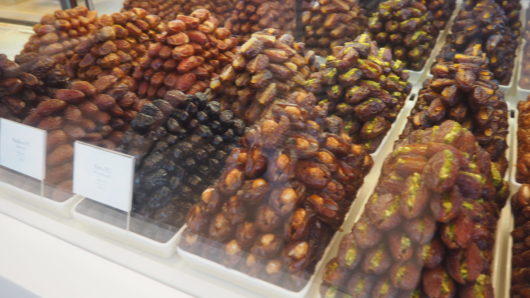 Dates
I think this is the Bateel Sticky Toffee Pudding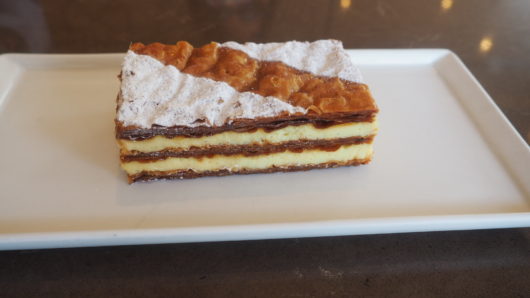 This should be the Dhibs Millefeuille
See more of their main menu by clicking here.
Arabian Tea House Cafe
Another 'surprise' that we got as we were approaching Dubai Museum.  Curiosity didn't kill the cat this time, and we were in for a special treat.  The food, while to be honest was good but nothing spectacular, they decorated the place so it was pretty cute and homey.  Too bad they didn't had shisha.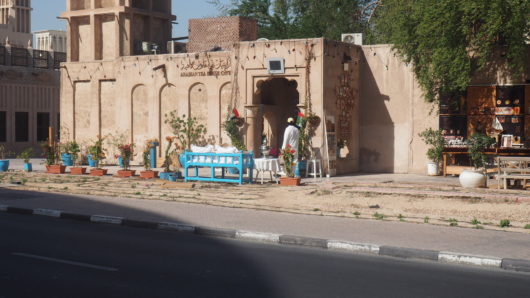 Outside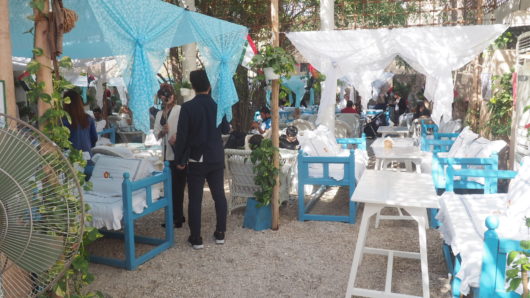 The baby blue and white décor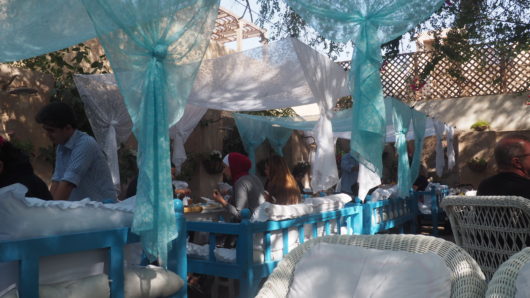 Avocado milkshake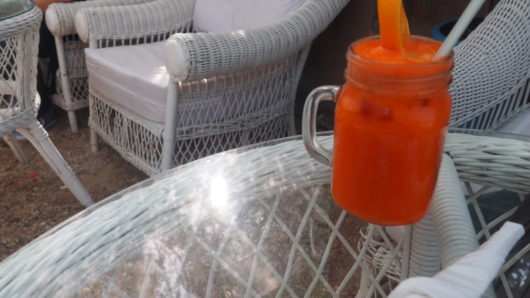 Carrot orange juice – blended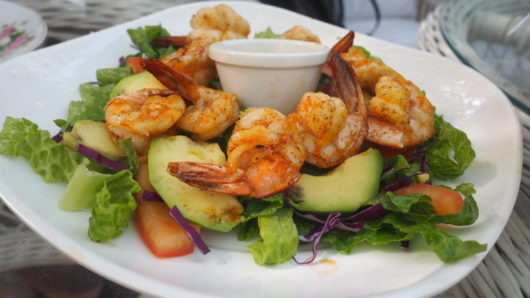 Shrimp avocado salad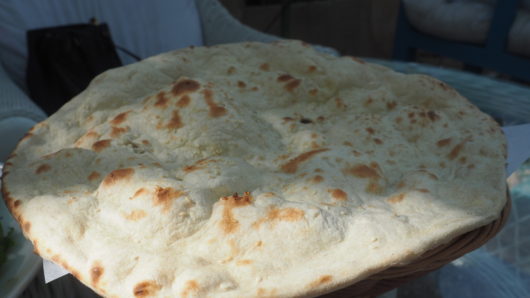 Attracts flies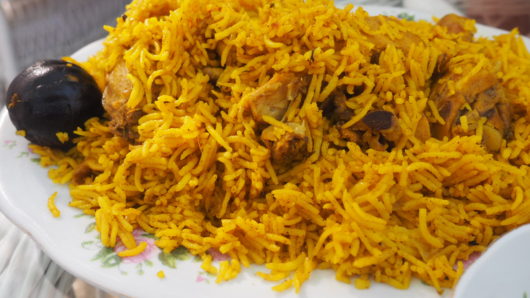 Chicken with rice.  Goes well with yogurt and spicy sauce mixed.
They love their yogurt as dipping sauce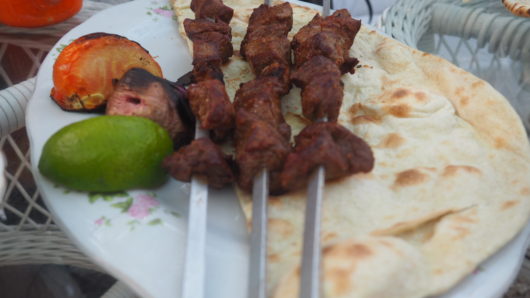 Lamb Skewers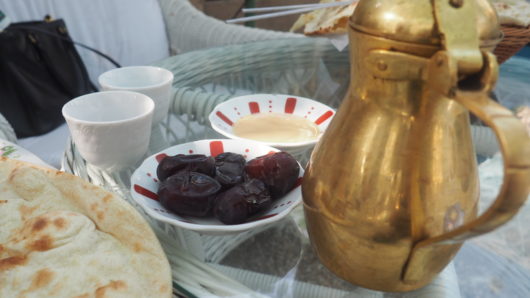 Arabic coffee… I prefer Turkish coffee.  Arabic coffee not as strong as well.
Pierchic
Finally on to the good stuff!  Pierchic was booked days before for X'mas eve and it was awarded as the best seafood restaurant by numerous reviewers.  Really romantic setting, you can see the Burj Al Arab, and it's a beautiful walk / golf cart ride to there.  Click here for website.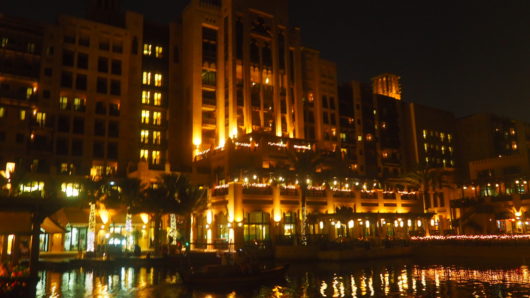 Jumeirah Mina a'Salam, the hotel we entered to walk and take golf cart ride to restaurant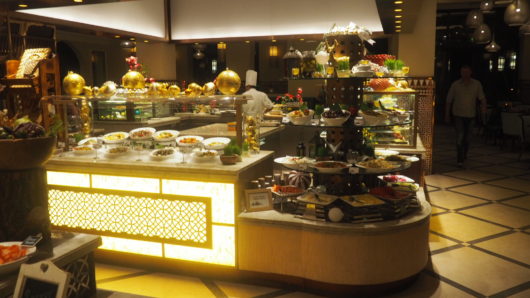 The buffet in Jumeirah Mina a'Salam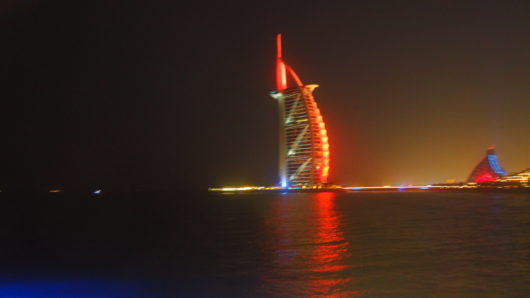 The view of Burj Al Arab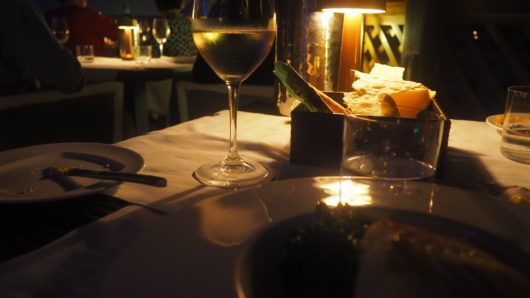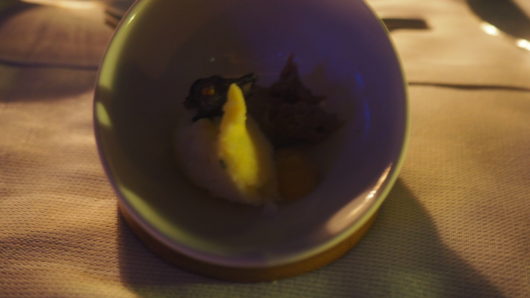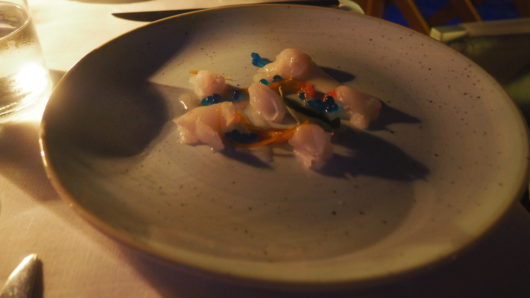 Dorade Royale Carpaccio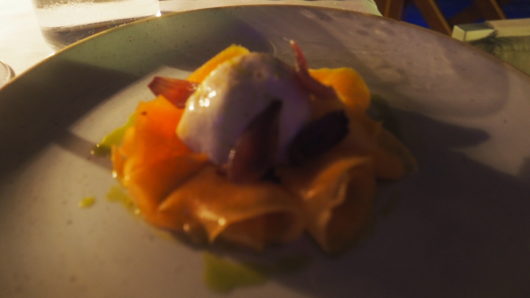 Chanterais Melon Salad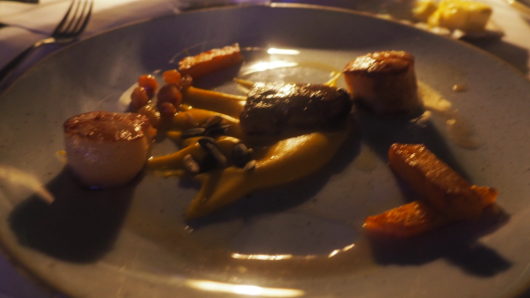 Seared King Scallops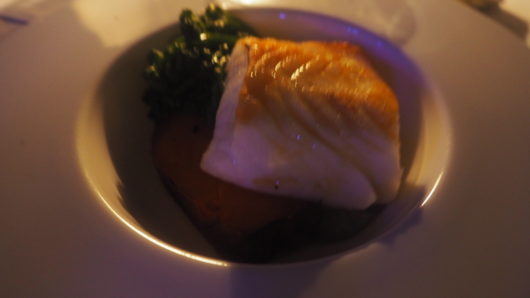 "Glacier 51" Chilean Seabass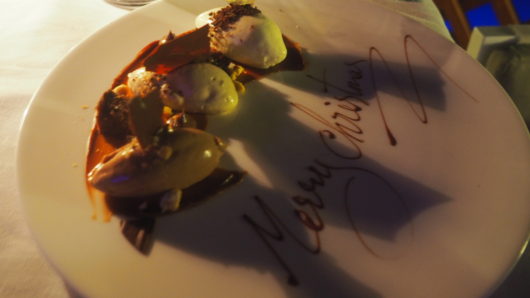 Manjari Chocolate & Sea Salted Hazelnut
For more details on what we ate and the menu, click here.
Very, very good!  But overall in this trip, the best restaurant goes to…
Coya
Rated as the best restaurant in 2016 by Timeout Dubai magazine, Coya lives up to its name.  Located in the classy, elegant, yet simple Four Seasons Resort in Dubai, Coya is currently a strong contender on my top 10 eats of the whole world of where I've eaten.  Let me tell you, the food in the following pictures look normal, but you will have to go there to taste the food to understand the awesome amazingness of this restaurant.  If I were to go to Dubai again just for Coya, I would do it.  This is no joke.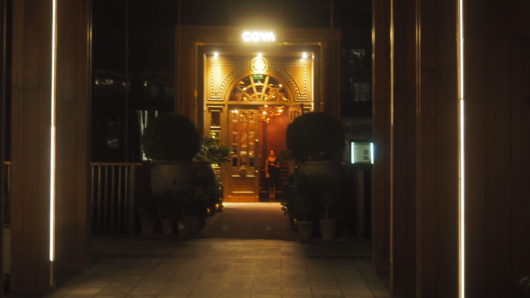 Just before we were blown away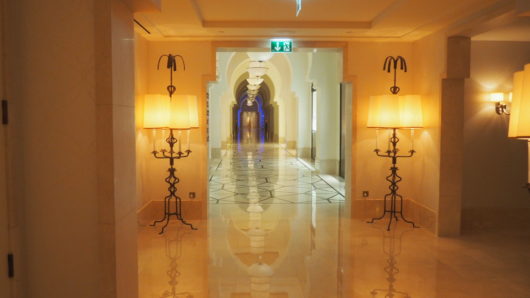 We walked around the resort a bit first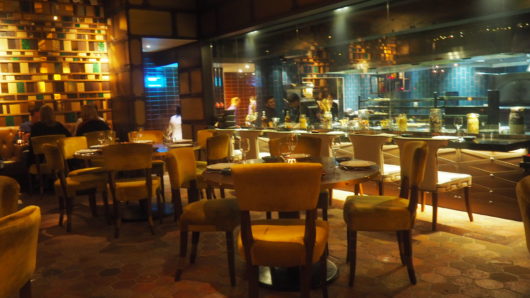 Inside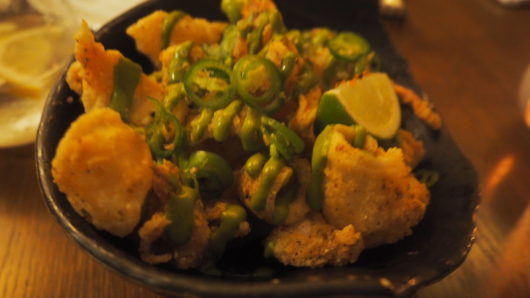 Calamares con Ocopa (Calamari)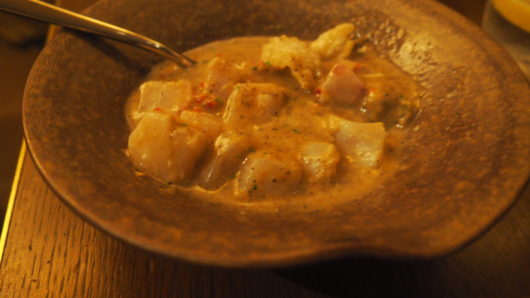 Pargo a la Trufa (Red snapper with Truffle in Ponzu sauce)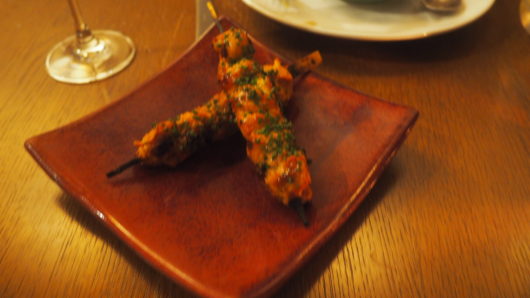 Pollo (Marinated Chicken Skewers with garlic)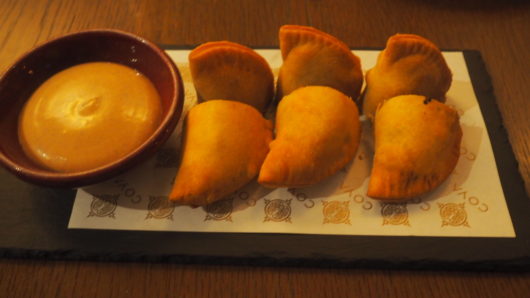 Empanadas de Buey (Oxtail)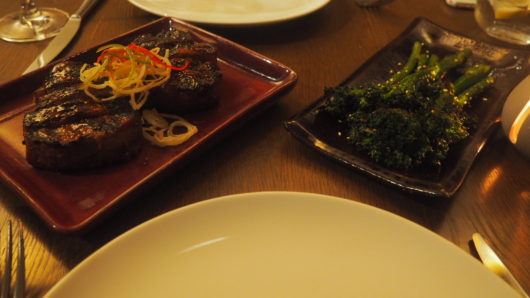 Solomillo de Res + Brócoli (Beef fillet and broccoli)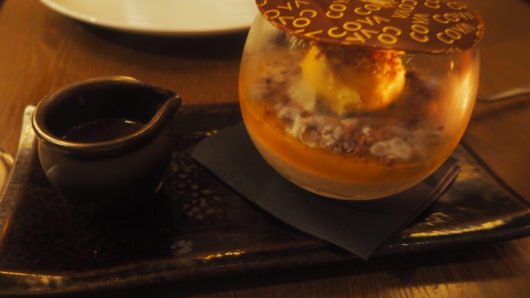 Praline Mousse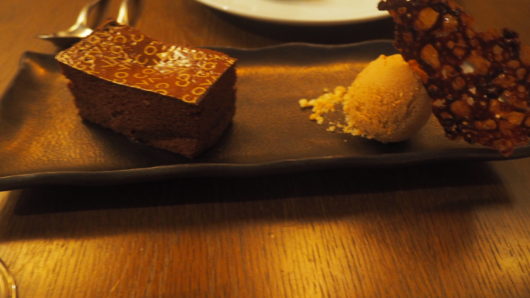 Chocolate Fundido
For more of Coya's main menu, click here.  For its dessert menu, click here.
Things To Do
Starving?  Well hang in there a bit more.  We still got to go over the things that we did in Dubai.
JBR Beach
JBR Beach looked promising… from the website.  It looked like an exciting beachy hub with high end boutique retail and a beach with chill house music going on all the time.  Walking from the hotel, there were those things, but not in the way that I was imagining them to be.  At least going there, we stumbled upon the Café Bateel, which I absolutely loved.  Minutes away from our hotel walking distance, including a jaywalking bit where you have to cross 8 lanes no traffic light.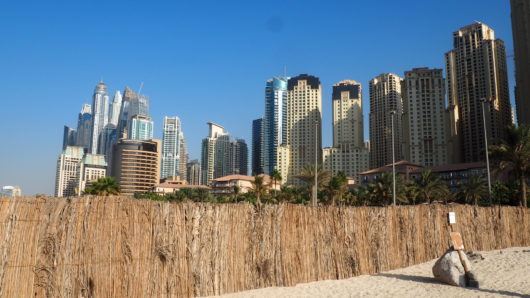 Looking from behind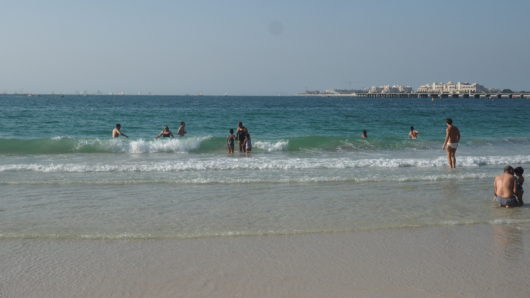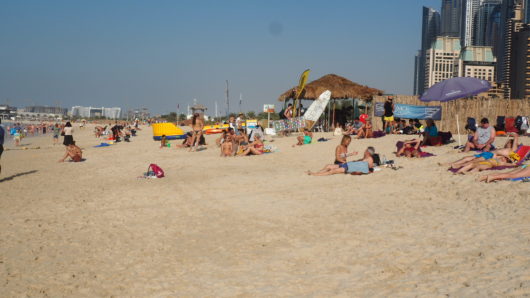 Atlantis, the Palm
Atlantis, the Palm is a family resort located at the tip of the palm leaf shaped island.  They got plenty of restaurants featuring different cuisines, a nightclub, and most importantly for the kids, they got water parks, dolphins, aquarium, diving… many water-related activities and parks.  As a visitor just looking around and not doing these water-related activities, you are in and out of this place max 45 minutes… unless you're there to eat or check out the aquarium.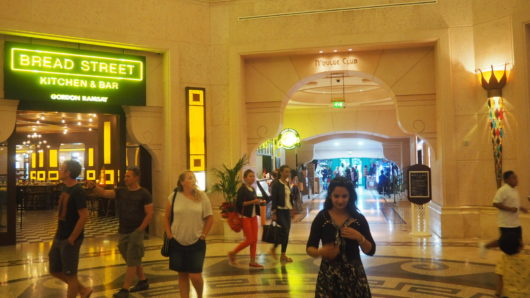 Also got shopping.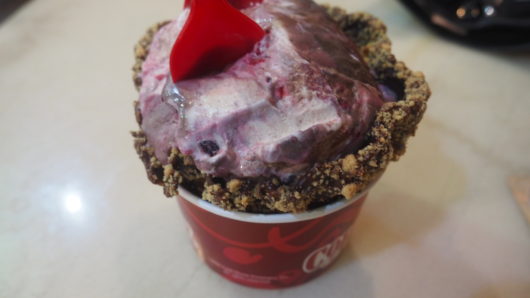 We tried Cold stone.  The "chefs" there were really professional!  So they mix different scoops of ice cream on a cold metal plate and use like Teppanyaki knives to create their masterpiece and they can throw it up in the air 100cm and still catch it with their knives.  Impressive!  Like a show, well worth.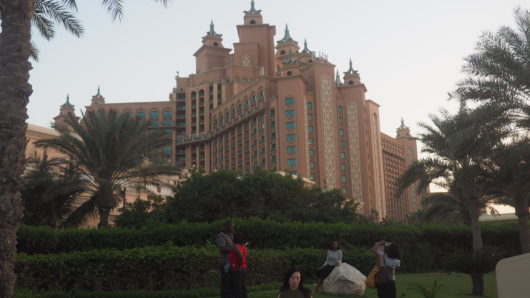 Outside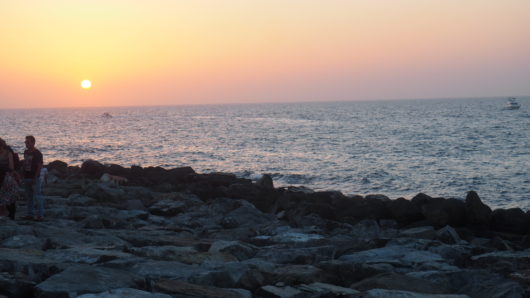 Sunset
Burj Al Arab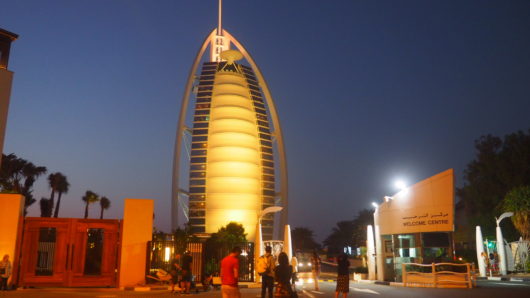 Not much to say about this place except that you see the Welcome Centre?  Well they are strict about the entrance and you can only come in if you are staying there.
Souk Madinat Jumeirah
This place, Souk Madinat Jumeirah, is well worth going.  This place is created to replicate an authentic Arabian marketplace.  Click on the link for a more detailed, vivid description, but basically there's a lot of eateries, bars, and especially shopping to do.
The products they sell are very intricate and quite good quality.  Looking at their price tags, I couldn't believe how much they were worth!
By the way, we went at a good time.  Since it was Christmas Eve, they had a Christmas fair going on as well, especially entertaining for the young kids.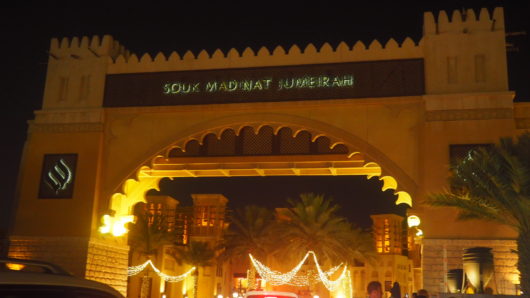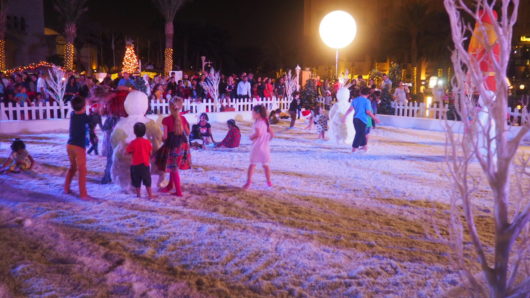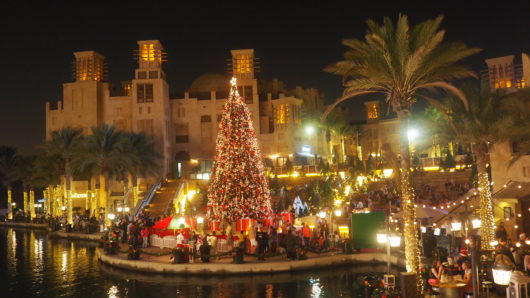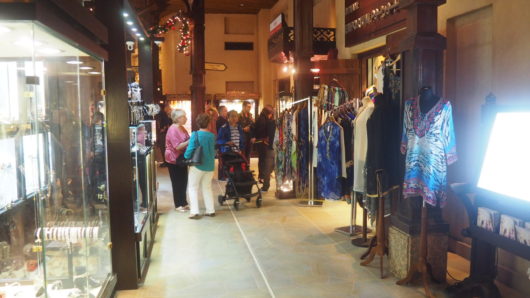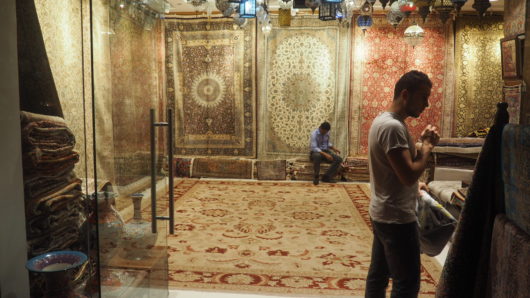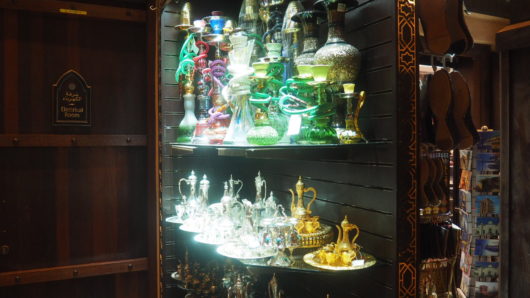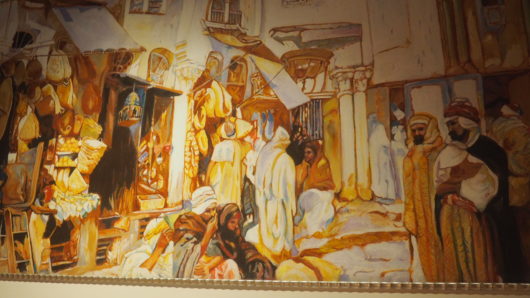 Gold Souk and Spice Souk
The Gold Souk and Spice Souk are closer to the airport, and contrasts from the sprawling modern skyscrapers around the city… here at these souks we are brought back to the more traditional side of Dubai.  If there was ever a time I felt that I was like Aladdin where he stumbled upon a cave of gold and treasure, this was the time.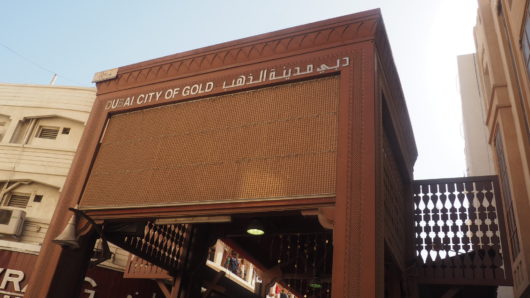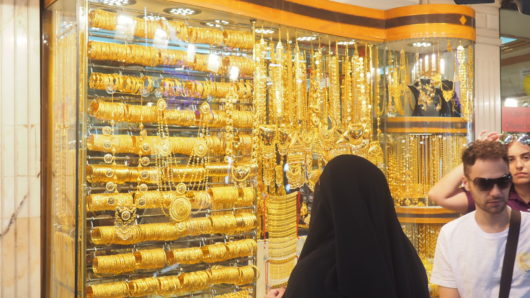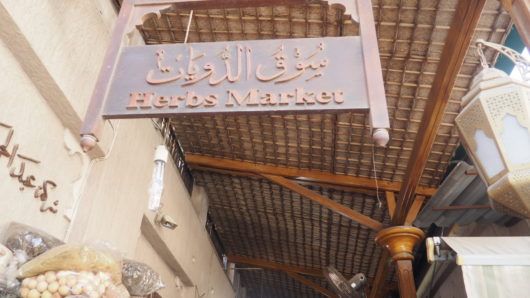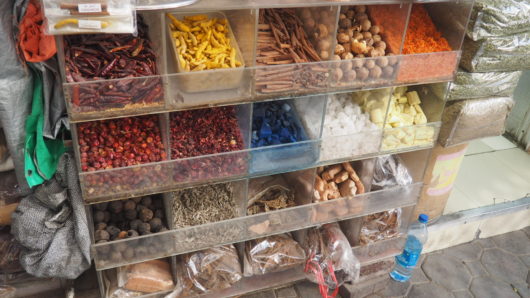 In the alleyway of the 'Herbs Market', you get to experience a lot of the raw condiments.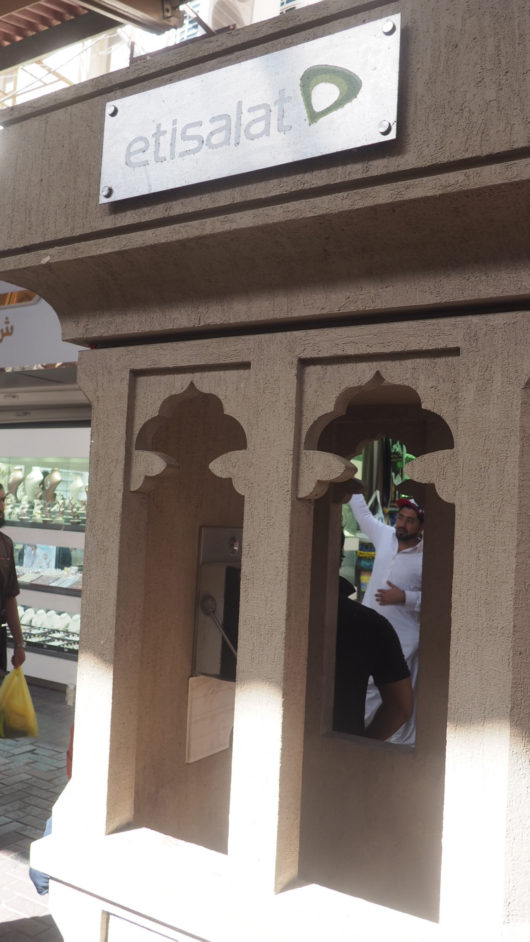 Etisalat Phone Booth.  Etisalat is a major mobile operator in UAE, along with Du.
Dubai Museum
For Dhs 3, you get a quick walkthrough on how Dubai became the city it was today, through first being a trading port, a fishing and through pearl diving, to the discovery of oil which led to its riches today.  You also get a glimpse of how people used to live, their way of life, what they used to do etc. in the Dubai Museum.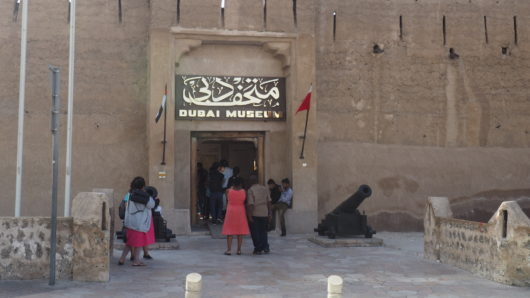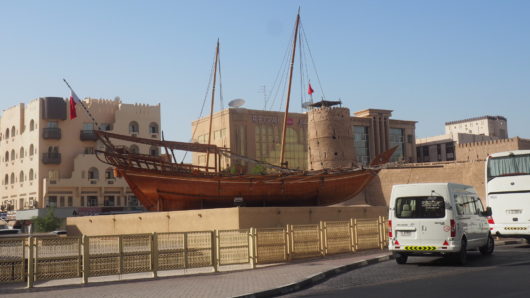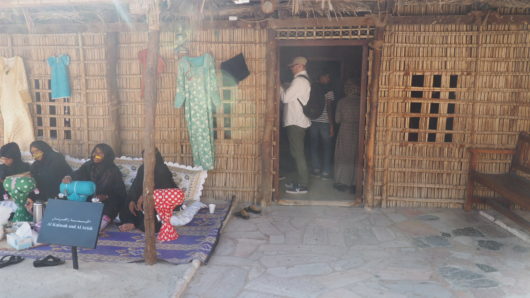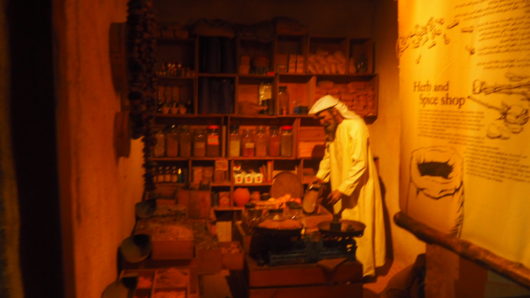 Dubai Mall
In my own experience, the Dubai Mall is famous for a couple of things.  First as mentioned, the ridiculous time to get to the actual Dubai Mall from the metro.  After a good day of walking, walking 20 minutes to get to the mall is not very enticing.  They even tease you near the end with a couple of side shops so you think you're there, then there's an overhead sign saying you're almost there.
Secondly, Dubai Mall is huge!  I know it's already famous for that, and it really lives up to this reputation.
Third, it is ridiculously international.  There's a store from Australia, then one from the United Kingdom, then there's Tim Horton's from Canada, and then of course the usual from United States, and here and there from other different countries as well.
Then there's the Dubai Fountain, the water show that starts at 6:30pm.  People are gonna say oh it's worth it it's cool… Ok nothing can so far beat the one outside Bellagio in Las Vegas.  However, what is funny is how short it was.  After one song, you'd think there would be more, like a 2-3 minute performance, but that really was it.  It's like you know when that happens, and you're like wait that's it, already finished?
I think the thing that stood out the most was that sometimes you can tell when a "group of family" are together, as in the man has his multiple wives together… or even you can tell when they are not together with the man.  Some I've even seen 4 different wives in 4 different generations!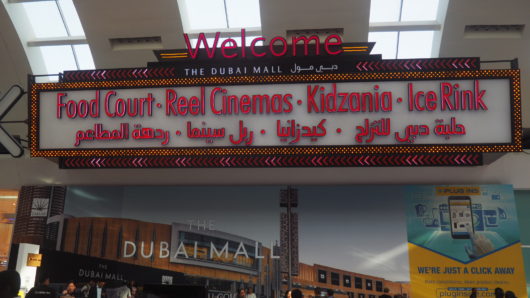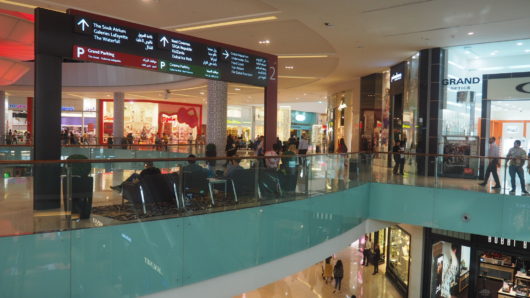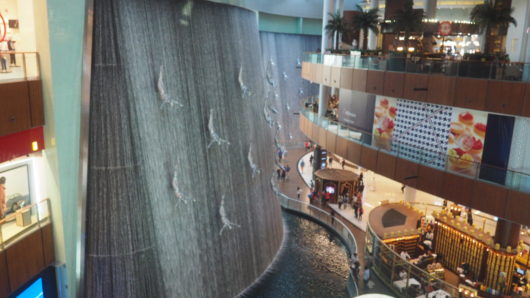 Burj Khalifa
Only passed by Burj Khalifa, didn't really go in or spend time there.  Saw it along the way to Dubai Mall and outside the mall.  Anyway, presenting to you, the tallest skyscraper in the world: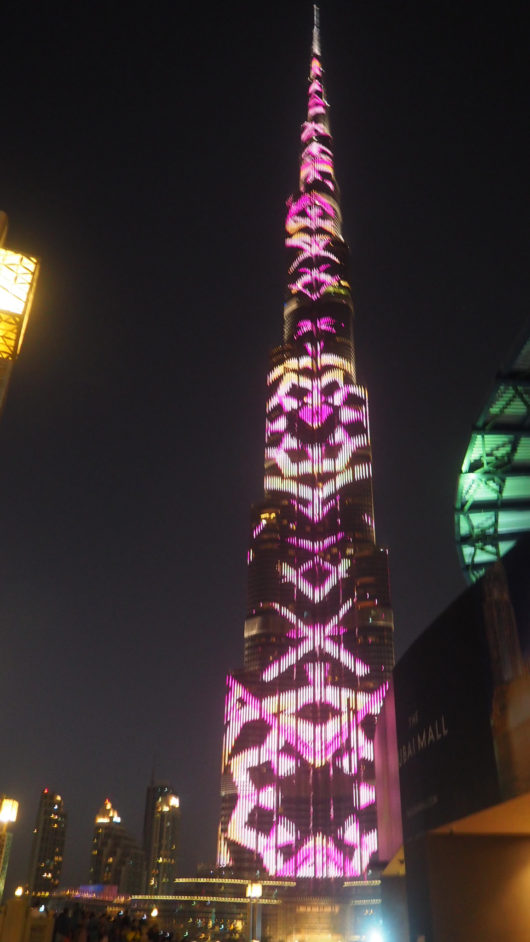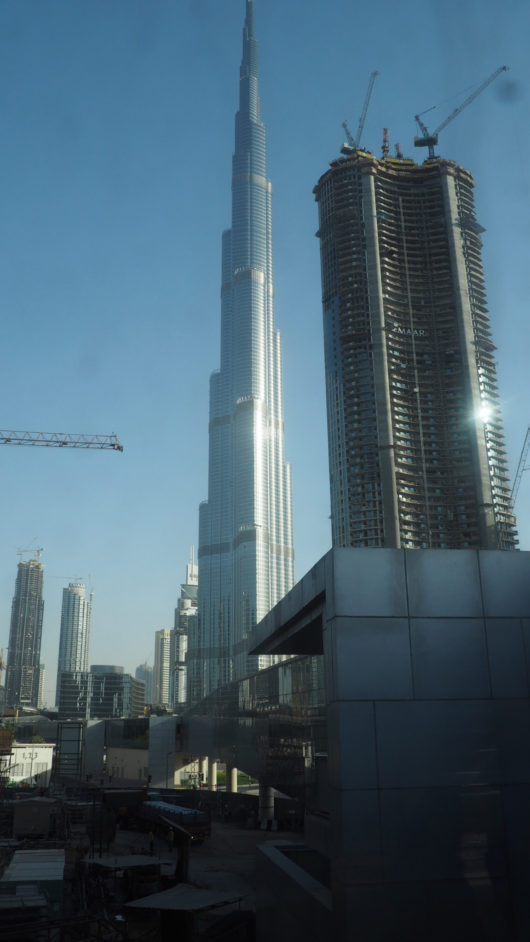 Nightlife
Buddha Bar
Actually for this trip, we never did anything that's related to nightlife.  We just stepped in Buddha Bar just because it was next to our hotel.  It's pretty cool as there is a humungous buddha and the decor is quite fitting for a Asian / Middle Eastern oriented bar.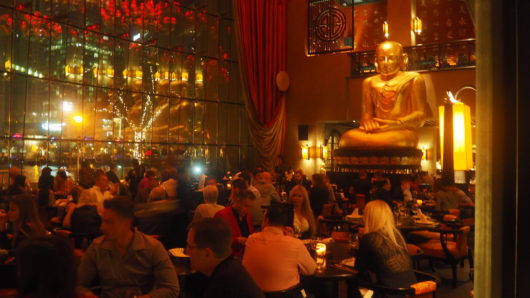 So my take on Dubai?  Great!  If you're here just to visit its cultural and historical aspects, and you're casual about it, I would suggest around 3 days and it will cover what I've seen plus the desert and a bit more.  Would I be back?  During winter definitely!  I can see this city being a really fun city for fine dining and lots of partying.  See you soon Dubai!
Other things to do I wrote down for my itinerary but didn't do:
Ras Al Khor Wildlife Sanctuary
Dubai Creek
Dubai Fountains
Dubai Ferry to Al Ghubaiba then walk to Al Fahidi, Dubai Museum
The Bastakia Quarter
Dubai Marina Yacht Club
One and Only Royal Mirage Spa
Champagne Brunches at Spectrum on One and Yalumba
Other drinking places: 360 Degrees, Bar 44, Grosvenor House, Mina Seyahi's Barasti
Restaurants: Bastakiah Nights
*last updated: Nov. 23, 2017