Apparently Jack Ma is residing in Hakone, Japan and enjoying lots of uni and toro?  And planning to learn about advanced agricultural technology and bring back to China?  Or so the media says.
Now that I've captured your attention, going to Hakone for my second time was a delight.  Hakone is most notable for its ryokans, and there is no feeling that feels more authentically Japanese than staying at a ryokan and being served a Japanese breakfast and dinner, and sleeping on a tatami.
Hakone really isn't a place for sightseeing and activities.  I think the most interesting would probably be the museums, especially the glass museum we visited, but the rest weren't that impressive.  You go to Hakone to enjoy the ryokans mainly.  If you haven't done so already, you can read about my last trip to Hakone at Let's Drive: Izu Peninsula, Hakone, Gotemba
Accommodations (meal pics in the Meal section)
Aura Tachibana あうら橘 (website)
Aura Tachibana is a traditional Japanese ryokan.  You'll get to sleep in a Japanese tatami, so the room itself doesn't have any beds, and there is no aircon!  There is a heater.  But if you need more cold air coming in, you'll need to open the windows or balcony to let it seep into your room.
I enjoyed the experience quite a lot.  Upon checking in, they will also offer you a complimentary cup of delicious green tea.  The public onsens were quite empty during night (most times was just me myself, and a few times 1 other person) and you can even book private onsens for 45 minutes and overlook Hakone.  Very fun.
Unfortunately on this day, it was quite rainy, so outdoor onsen was extremely cold (from the rain) and hot (from the onsen itself), so it was hot and cold and hot and cold.
Dinner is not included!  As I assumed (so we had to go outside to eat).  If you want to include dinner, you must add on to it while booking.  Breakfast is included however.  That being said, I was glad I didn't add on dinner, because I thought that the breakfast was just meh, probably out of all the ryokan meals I've had, the worst one.  It was still decent, but definitely below my expectations.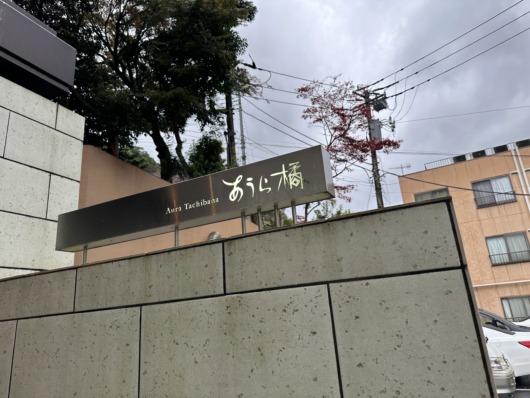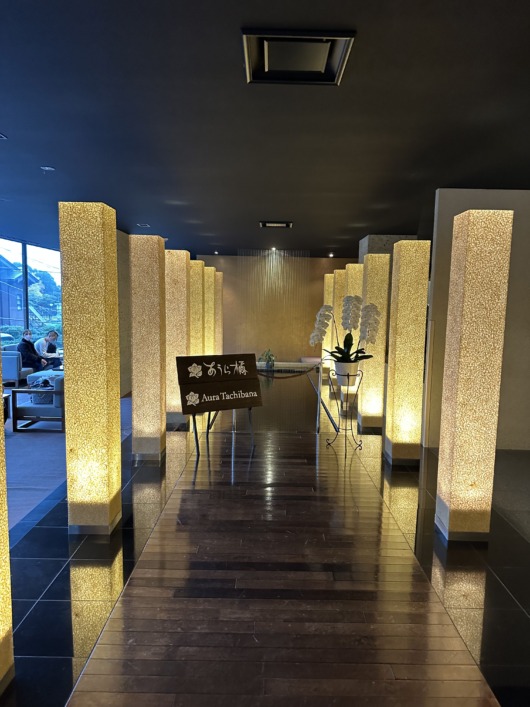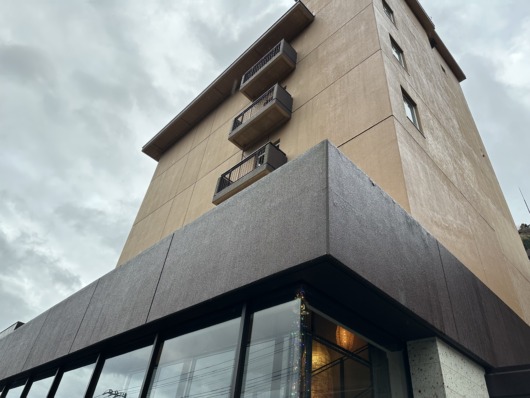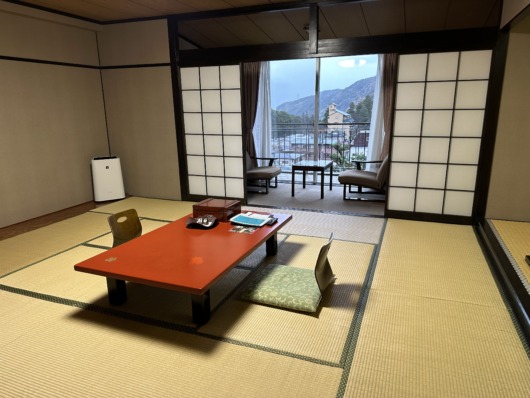 The room in its entirety.  It was hard to find many electrical sockets; some were near the front door.  During your time outside, which they will ask, they will pull out tatami beds for you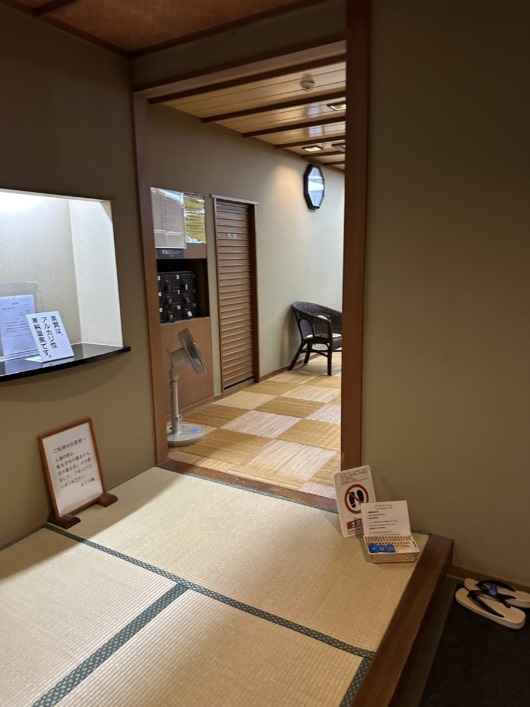 On the way to public onsen.  You take off your slippers and clip it with a number.  See those black boxes?  Those are lockers to put your room key and the slipper tag reminder in there.  Remember to bring your bath and face towels from the room.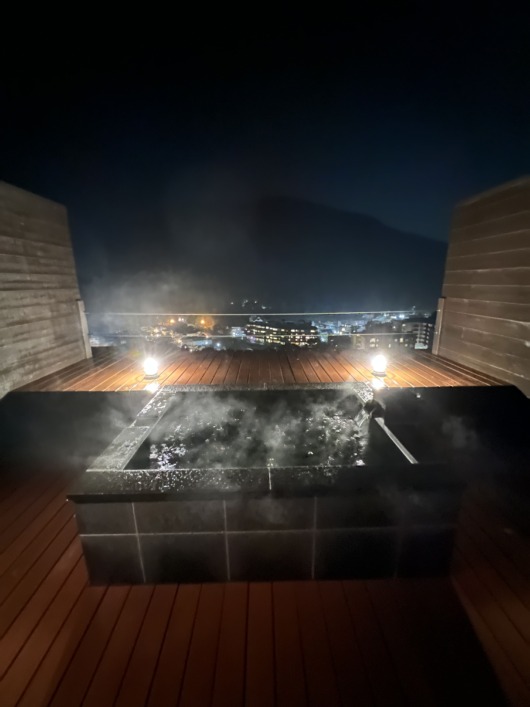 Private onsen you have to book (have to pay) for 45 mins, but great view
Kinnotake Tonosawa
While Aura was traditional, Kinnotake was more modern and upscale, but still retaining a lot of Japanese elements in the room and throughout the ryokan.  This was an amazing ryokan, but again it's also quite pricey and also one of the top ryokans in Hakone.
That said, it was so worth it.  We didn't get the standard room since they ran out during those dates, so we were forced to get a deluxe room, but so so worth it.  Private onsen, massive space, incredible layout.  Do it for at least one day and fully enjoy it.  Plus it is usually booked out.  We were very lucky as we got the corner room, so it probably was a tad bigger as well.
Dinner and breakfast were both included, and both were incredibly delicious.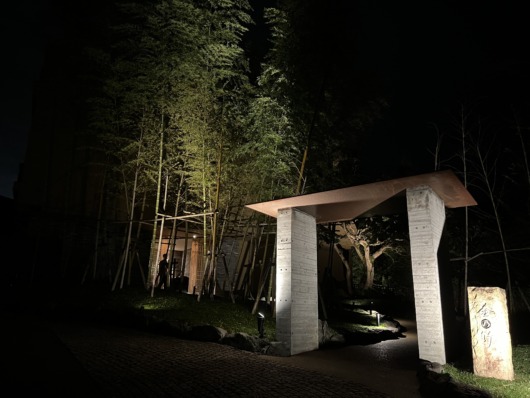 Arrived quite late at night.  Check in time was between 3-7pm and they said there was no after check in.  We got there around 7:05pm, but luckily they still accommodated us.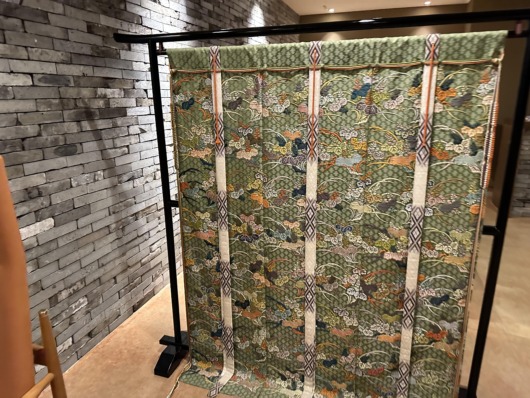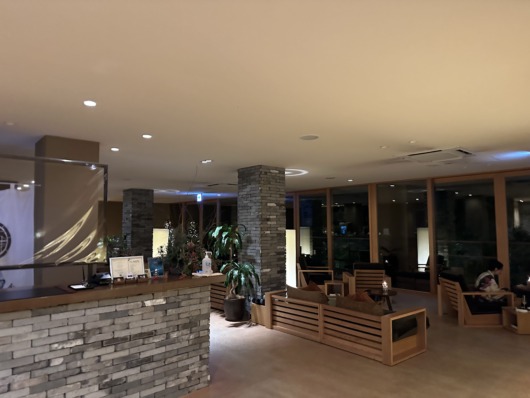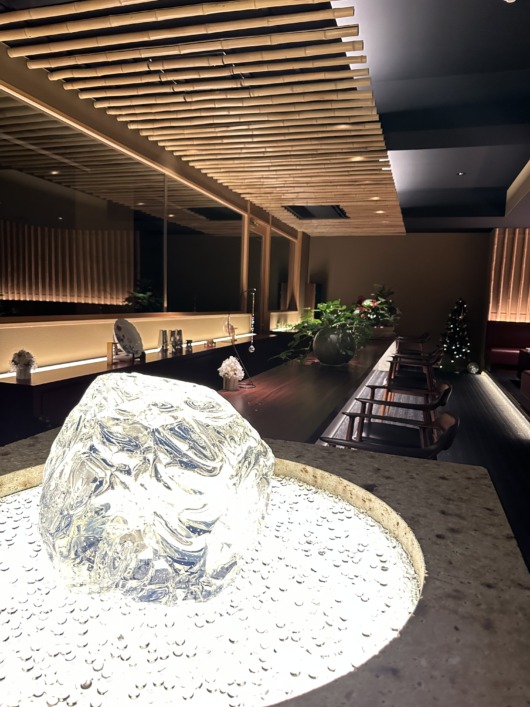 A "secret" luxury bar with a beautiful ice sculpture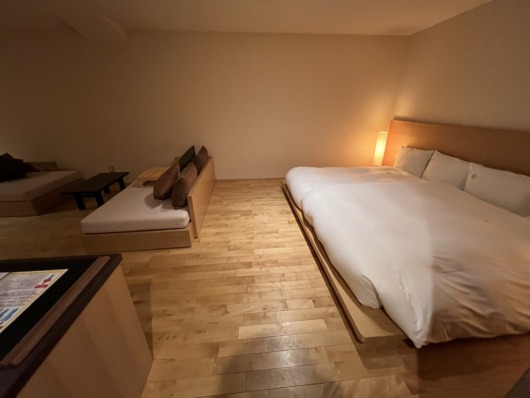 Our room ❤️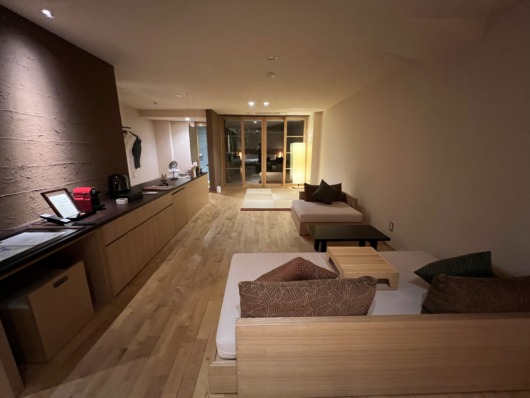 Look how much space there is!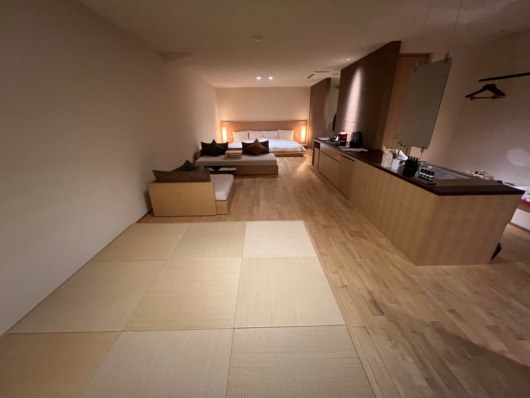 Even includes a tatami!  And a sofa area.  And an open " bathroom sink"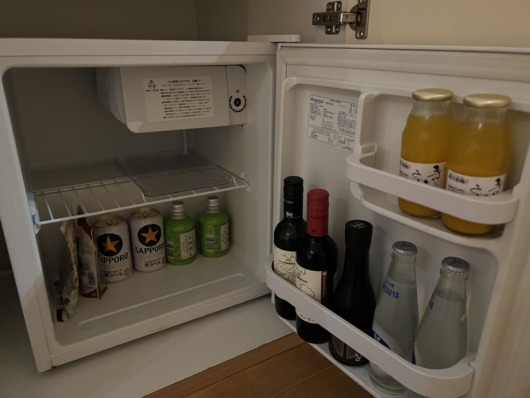 Mini bar ALL complimentary.  Another reason why the room was so worth.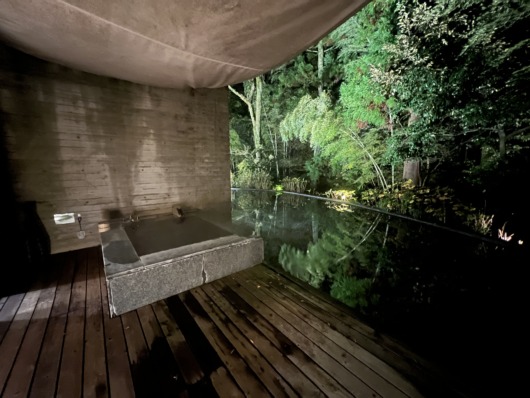 Private onsen right outside the room.  The onsen was SOOO hot.  Had to kept adjusting constantly.  The view of the trees was unbelievable.  The shallow water right in front not to enter!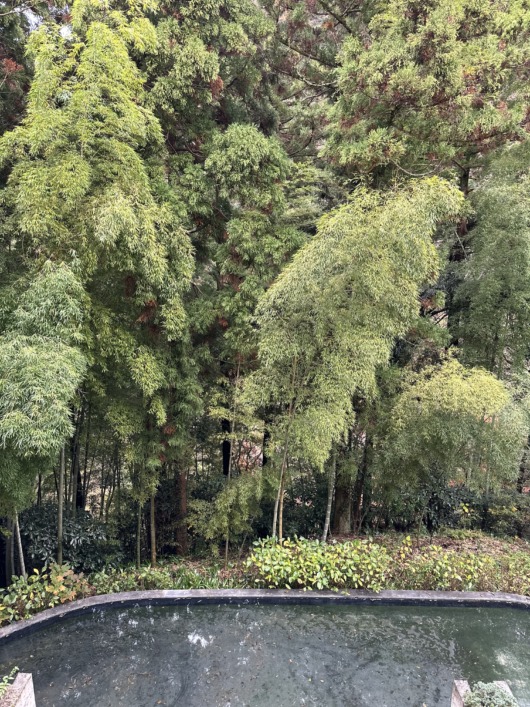 Morning view
Meals
Cocoro (hakonenavi.jp)
Since we didn't have dinner at Aura Tachibana, we had to seek out other restaurants elsewhere.  It was pretty difficult because most restaurants actually close at around 6-7pm (I assume because most people actually eat in their ryokans), and when we were looking for soba noodles, since that's one Japanese food staple we haven't had time to eat yet, we found one that we went and was closed!  So we resorted to this nearby Japanese curry place.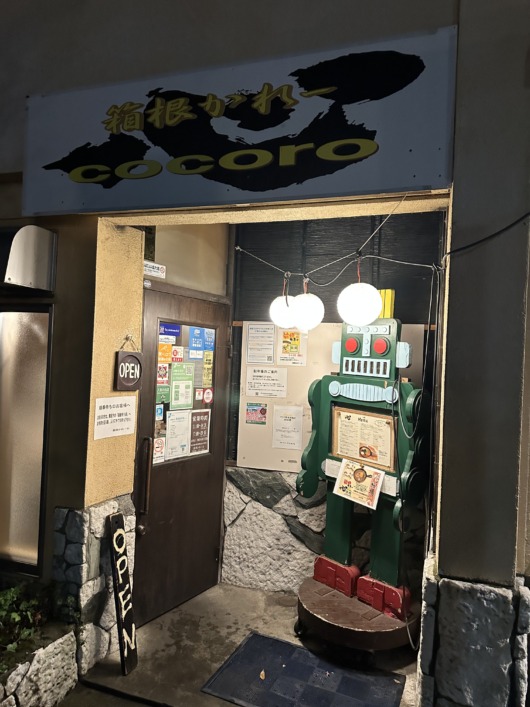 Funny looking robot greeting us with the menu as its heart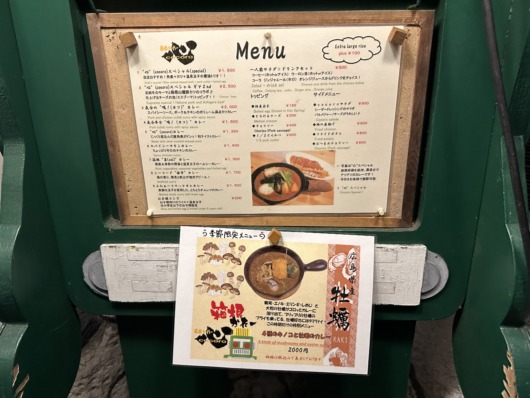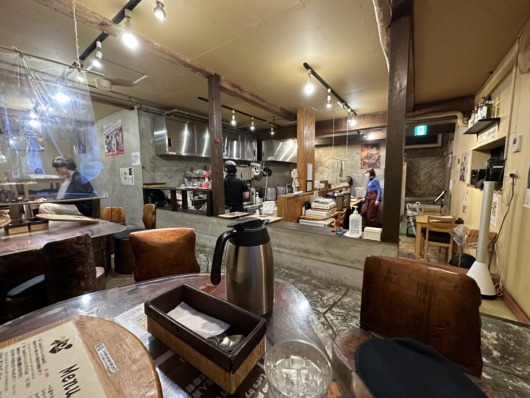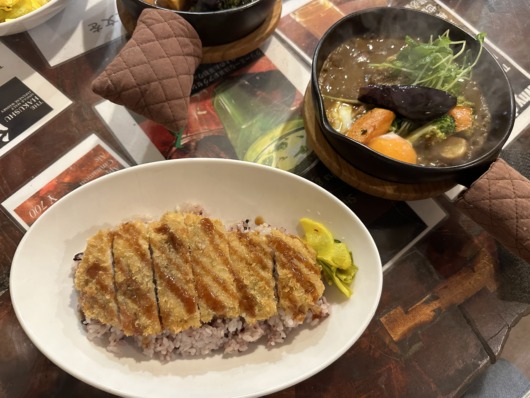 Pork tonkatsu curry, yum!  Btw Hakone curry is slightly different than Japanese curry as it is less sweet.  Also, Japanese curry, including this one, they usually aren't that spicy at all.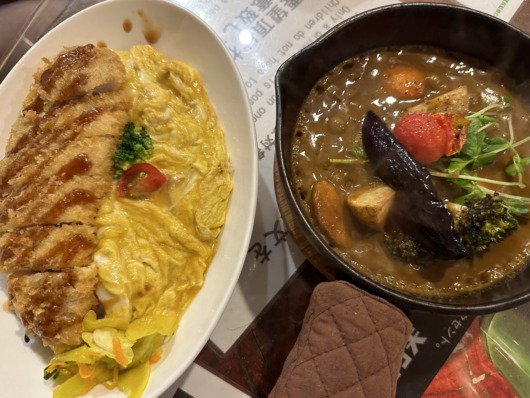 With egg omelette rice!
Hakone Bakery
Bakery shops that can be found in train stations, and if I were to guess in many areas around Hakone.  Just your normal Asian bakery branch, the bread was okay but nothing special.  Can skip.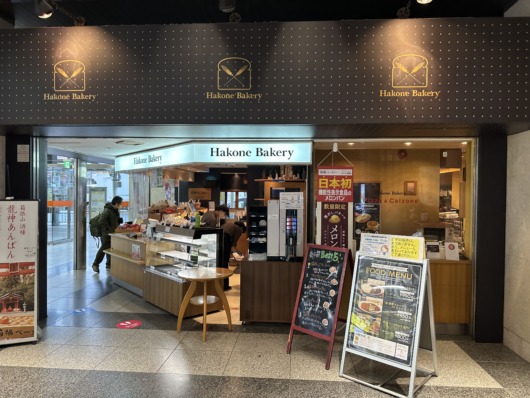 Aura Tachibana (breakfast)
Like said above, the meal was definitely below my expectations.  I like Japanese breakfast as it is quite light, but unfortunately the taste was just okay.  I think we had the breakfast at 8 or 8:30am, whatever their latest time was.  Checkout time was 10am I think.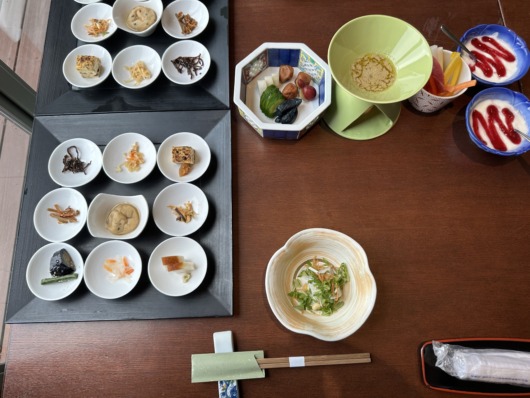 Lots of small dishes and pickles, yogurt at the right side.  Soso didn't finish.  The green bowl was a sauce used to dip the carrots and raw vegetables.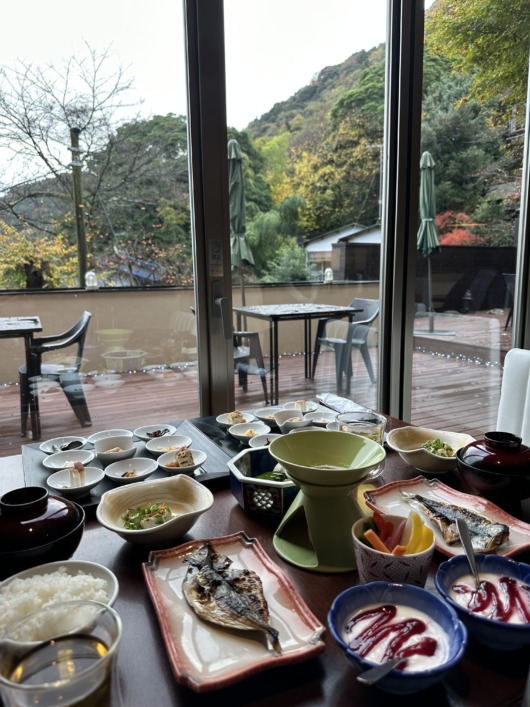 Kinnotake Tonosawa (dinner)
Dinner was awesome!  Loved it.  Very sumptuous, each dish came pretty quick right after another.  Yummy!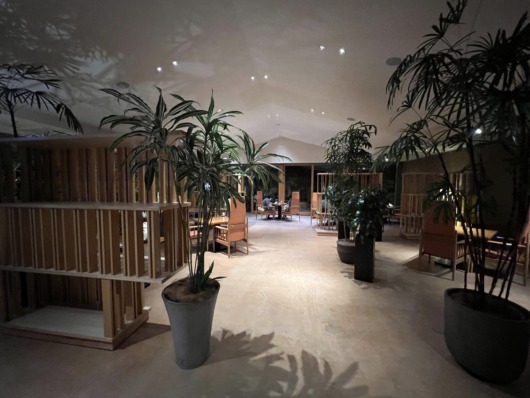 The area we dined in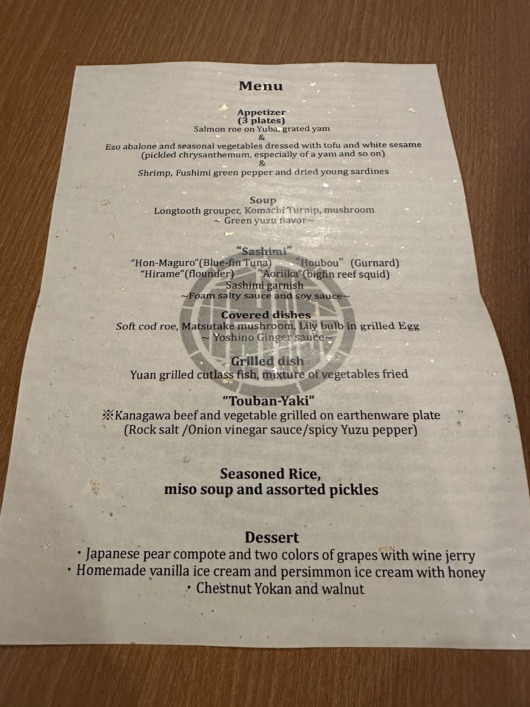 Menu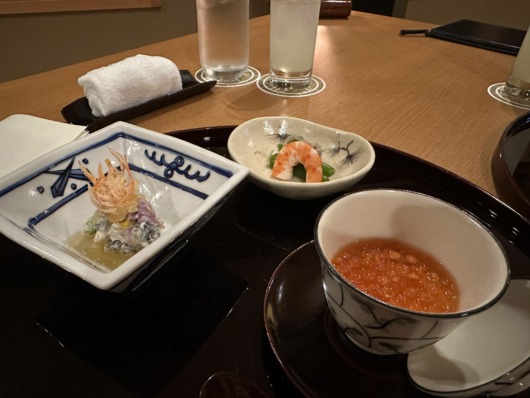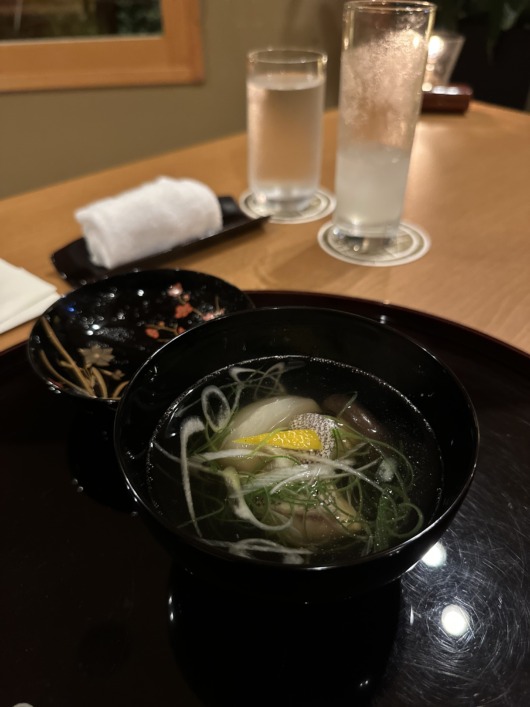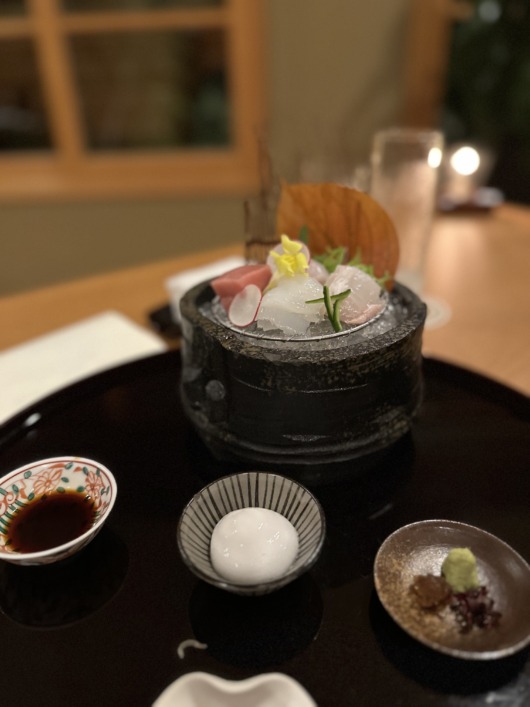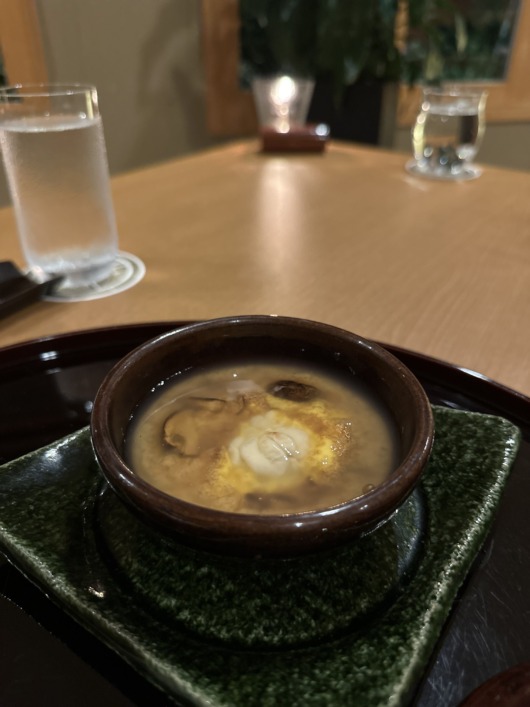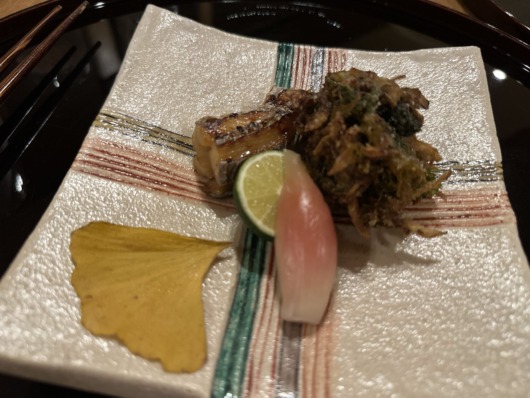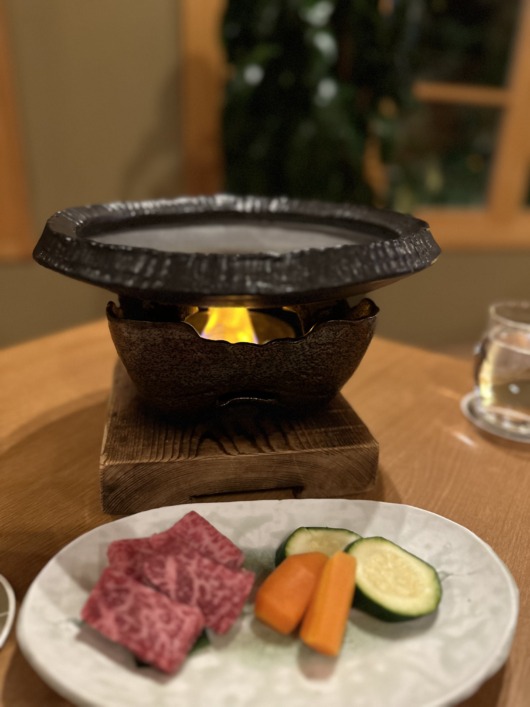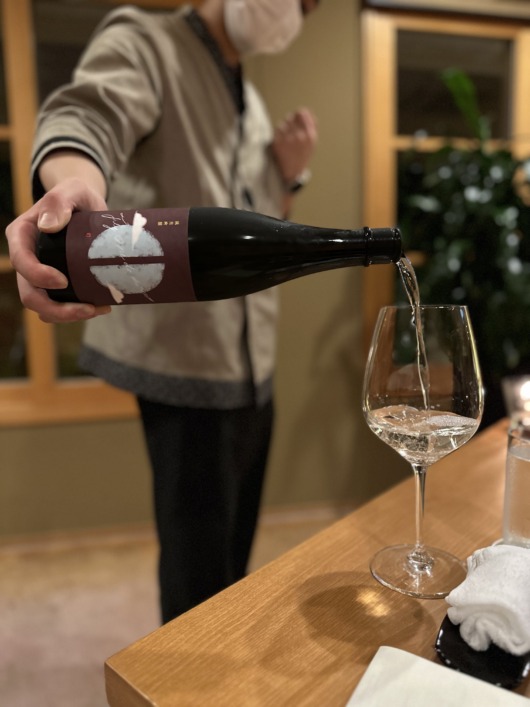 Pouring sake into a glass instead of those short sake glasses, fancy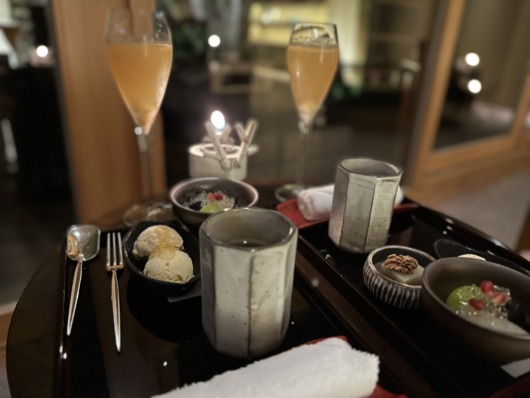 After we were done the meal, we ate our dessert AND the complimentary snacks and cocktail that supposedly was used to welcome us.  They relocated us to the lounge for this.
Favourites from this meal were the Touban-Yaki, Yuan grilled cutlass fish, and sashimi.
Kinnotake Tonosawa (breakfast)
Breakfast here was also yummy!  I still preferred dinner though.  As usual, the Japanese style breakfast was light, but definitely tastier than at Aura's.  I think you could have chosen western breakfast as well.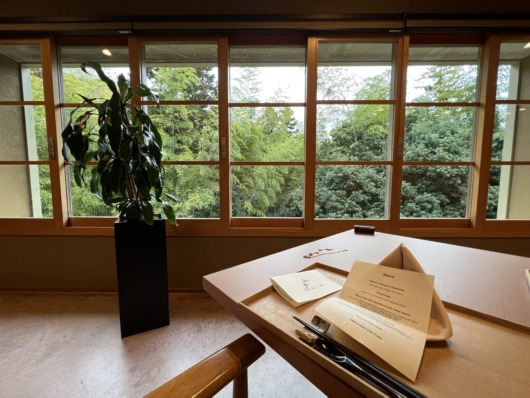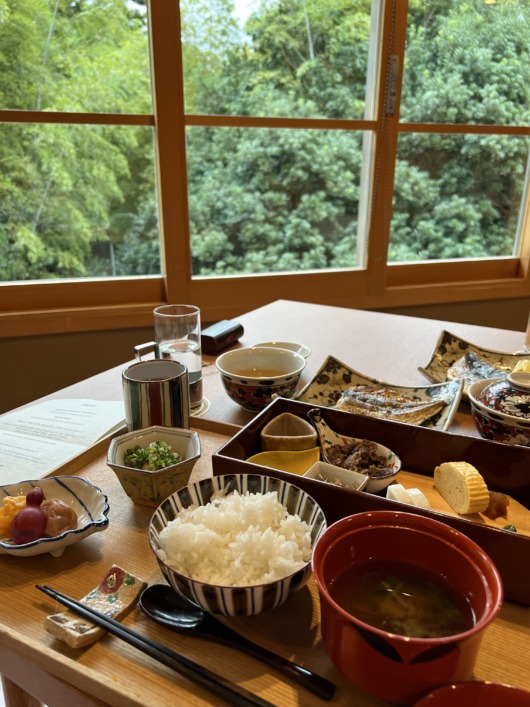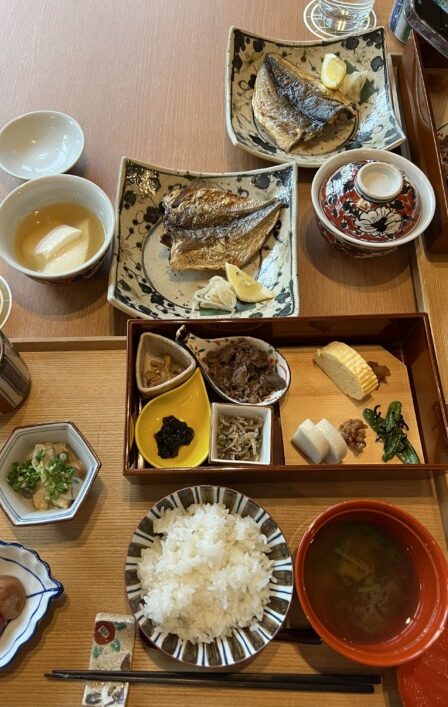 Less food than breakfast, but still very oishi!
Getting Around
There were buses that I saw around Hakone, but to be honest I think that's mainly for locals.  I think the best way to get around Hakone is by renting a car and driving.  That being said, driving isn't all that easy because there are a lot of big and narrow turns that you have to go through.  And if you happened to be like me and drove during pitch black darkness with heavy rain, it makes things even worse.  So if you're an absolute beginner driver, it's better to find someone else to drive.
Things to Do
A quick word before the activities we've done – since we went during winter (end of November / early December), the sun set was at 4:30pm, after which it becomes very dark.  So if you were to come during winter, try to do all the outdoorsy stuff before 4:30pm.  And in Hakone, things close kinda early like 6pm so you'll need to plan accordingly.  Also make sure to check opening hours as well as some places and museums may not open on specific days.
Hakone Glass Forest Venetian Glass Museum (website)
Free to go in and check out, this museum was opened in 1996 as a specialized museum of Venetian glass.  Absolutely beautiful here.  We came during a very rainy and dark night and still had a wonderful time browsing around here.  In fact, it was pretty empty, making it all the more enjoyable.  I'll let the photos speak for themselves.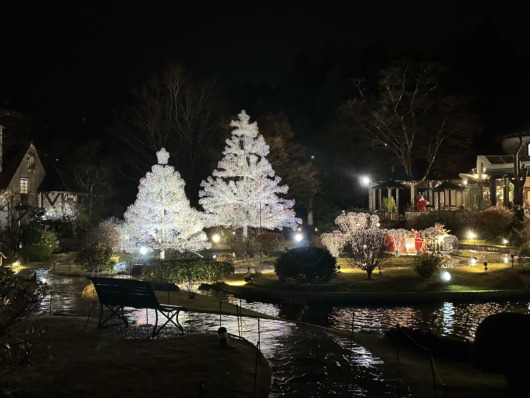 Just in time for Christmas!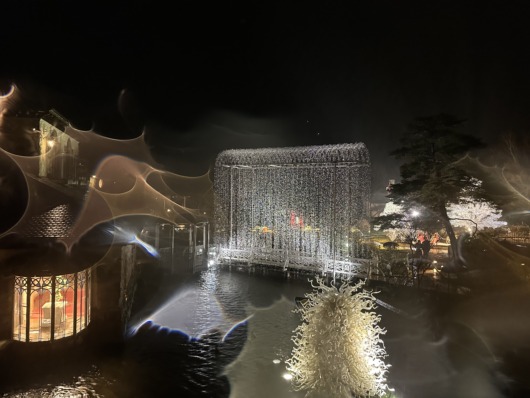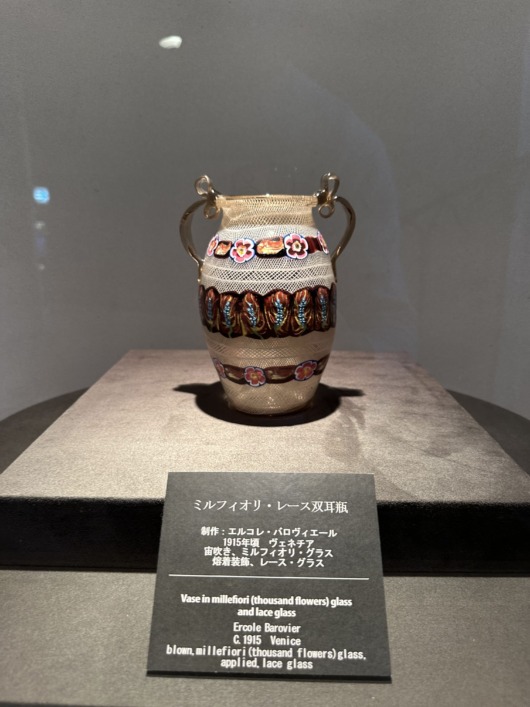 These were sooo beautiful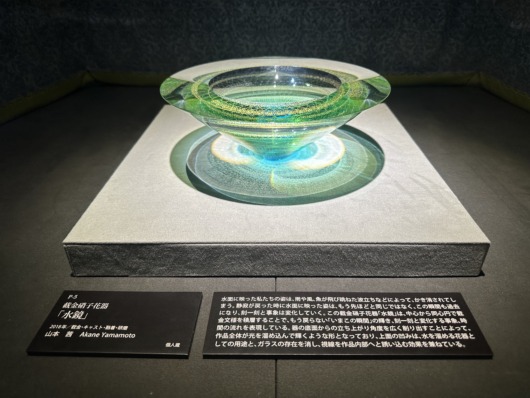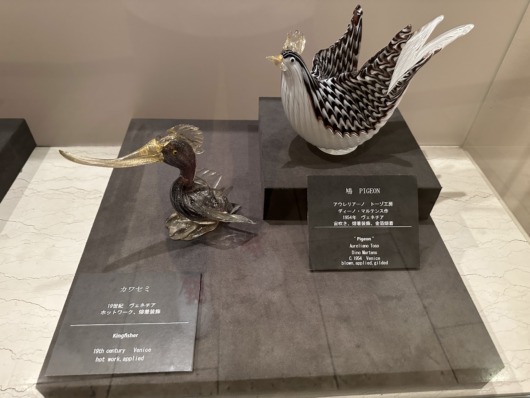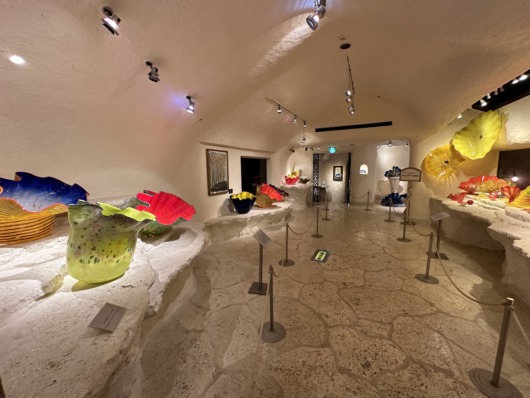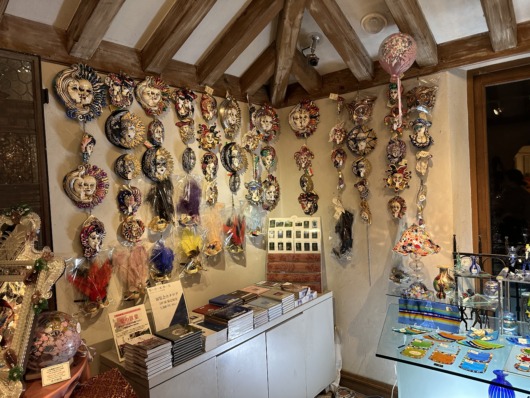 Venetian masks… as museum is Venetian glass museum
Sengokuhara Highlands
Supposedly some attractions such as the silver grass meadow, Sengokuhara Marsh, and Hakone Wetland Flower Garden.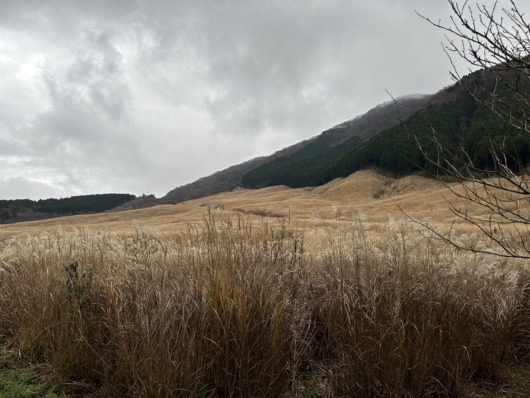 We were brought here because we were looking for a specific soba restaurant, but it was closed.  Soba again!  Why are soba restaurants always closed and bringing us to random spots haha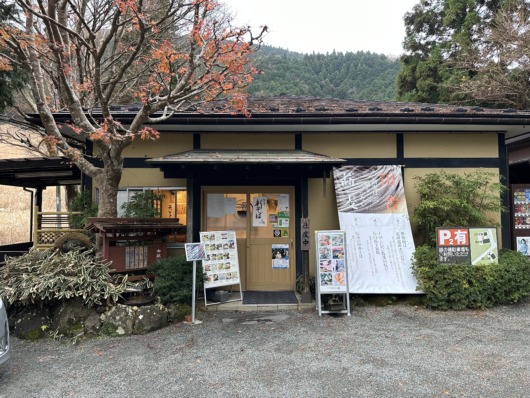 We passed by this ramen? place that we thought was open since the lights were on, but apparently wasn't, so again no meal for us
Hakone Shrine 箱根神社
When you're looking for things to do in Hakone, you will see that Lake Ashinoko 芦ノ湖 (or Lake Ashi) is one of the main attractions.  But there's many spots that surround Lake Ashi, including Hakone Shrine as a quick stop.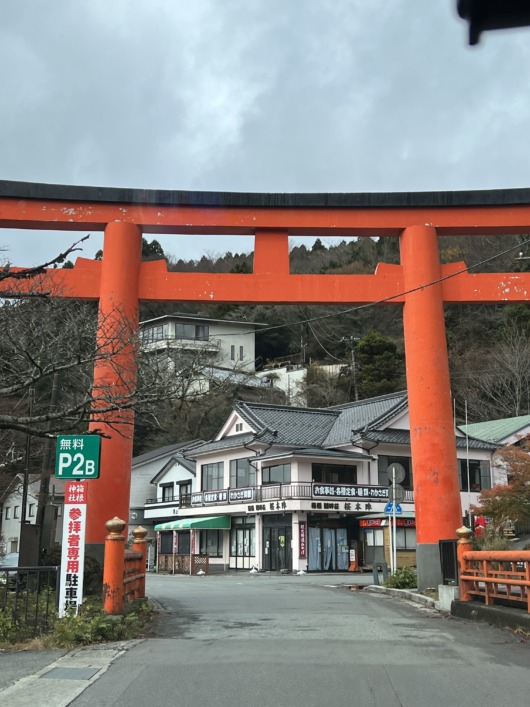 Passed by this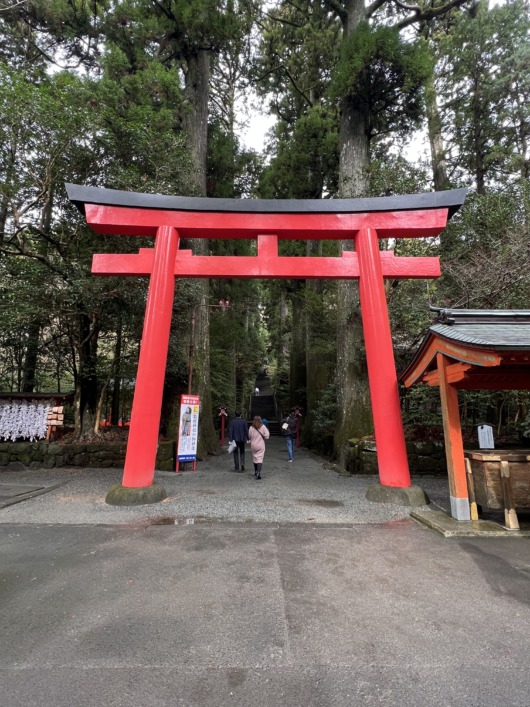 Entrance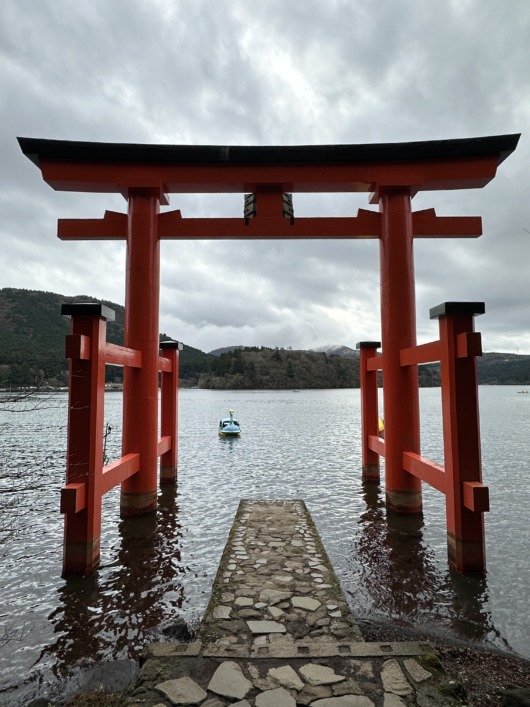 Many people come here to take photos of themselves with this.  Great for Instagram.  This is called Heiwa no Tori 箱根神社 平和の鳥居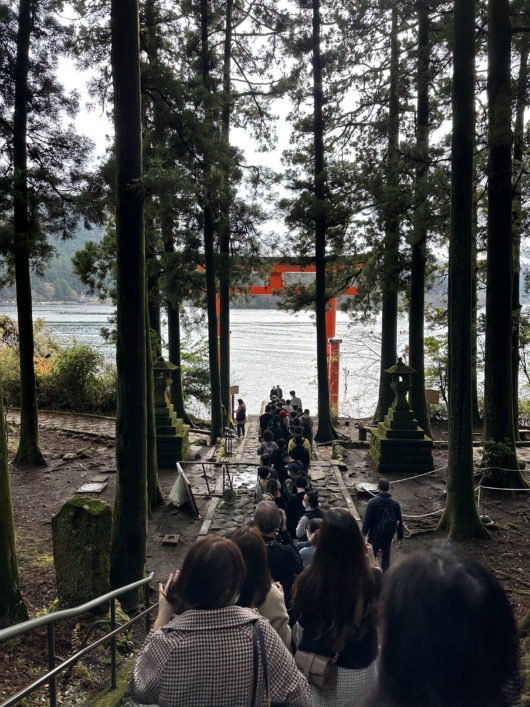 As evident from this pic.  We waited about 30-40 mins to take 1-2 minute photos 😂
Onshi-Hakone Park 箱根公園 (website)
Again around Lake Ashi, a nice quiet park to walk around and get in touch with nature.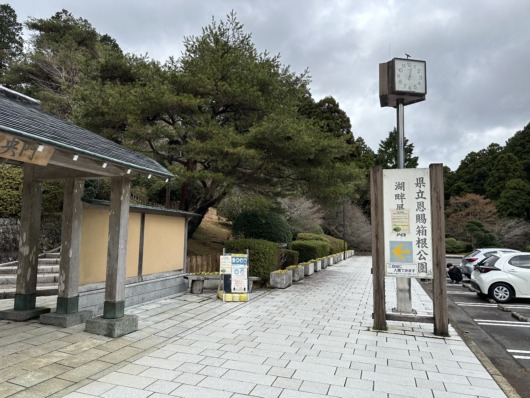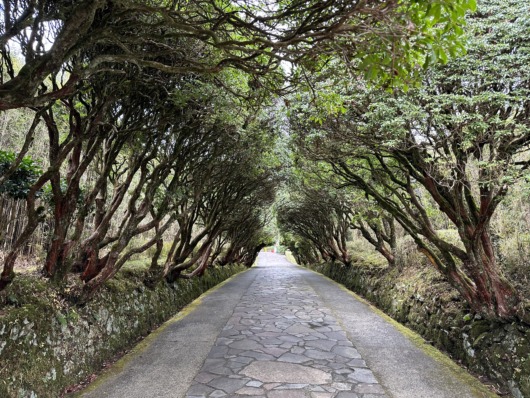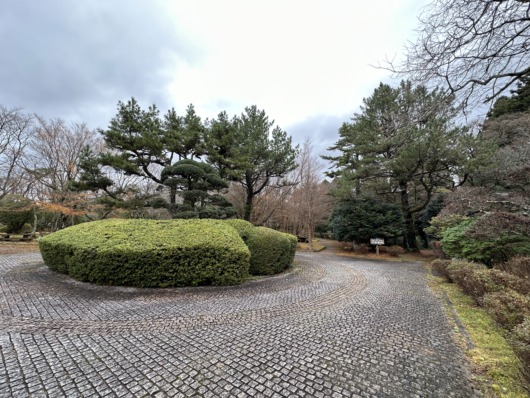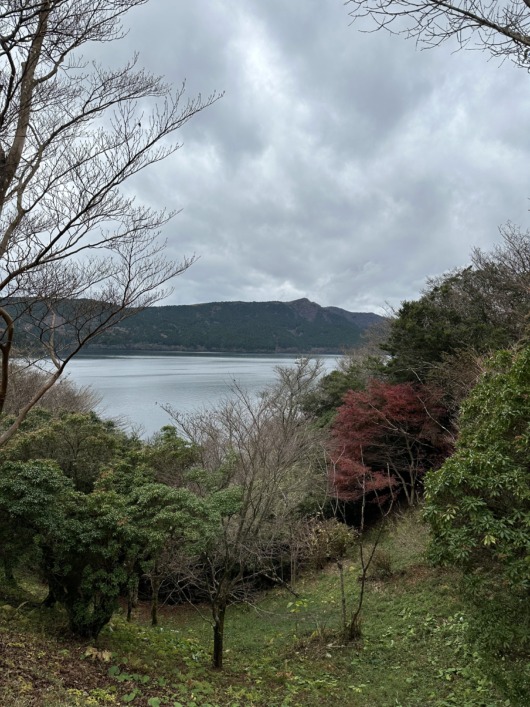 Gotemba Premium Outlet (website)
Also mentioned in my previous blog post before, Gotemba Premium Outlet offers a ton of brands to buy from.  It's got three sections – west, east, and hill side, so you'll need at least half a day to browse around each of the sections.  We were there for less than 2 hours so we had to rush and see a lot of the shops rather quickly.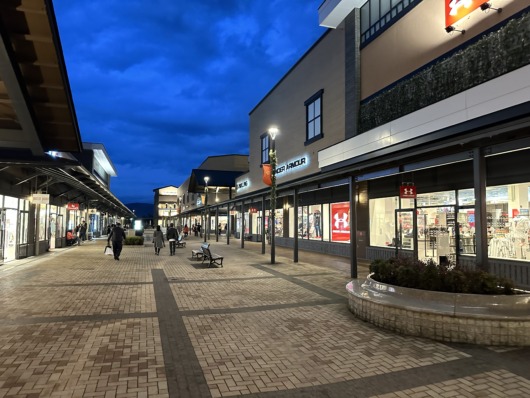 Hakone Komagatake Ropeway 箱根 駒ヶ岳ロープウェー (Japan Guide)
To get to the top of Mt. Hakone and reach Hakone Mototsumiya Shrine, you'll need to get on a large cable car ride, which approximately takes about 7 mins one way.  To get to the bottom of the station, you should look for Hakone-en station on Google Maps (near The Prince Hakone Ashinoko).  When you arrive, there should be an aquarium and a restaurant nearby as well.
From HAKONE JAPAN (website), "Hakone-Komagatake holds Hakone's most famous power spot, Hakone Motomiya, at its summit, and from the observatory, you can enjoy a spectacular view of Mt. One of the features of Hakone-Komagatake is that although it is 1,356 meters above sea level, the ropeway can be used to reach the summit, making it easy to enjoy mountain hiking. We recommend the starry sky astronomical observation night tour. Because the air is so clear, you can observe a star-filled sky and even watch a meteor shower. At the Hakone-Genmiya Shrine on the summit of the mountain, there is a rock called Umagureishi, which is said to be the rock on which God descended on a white horse, creating a mysterious atmosphere."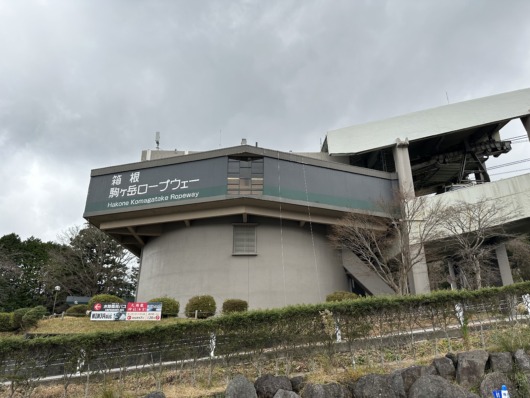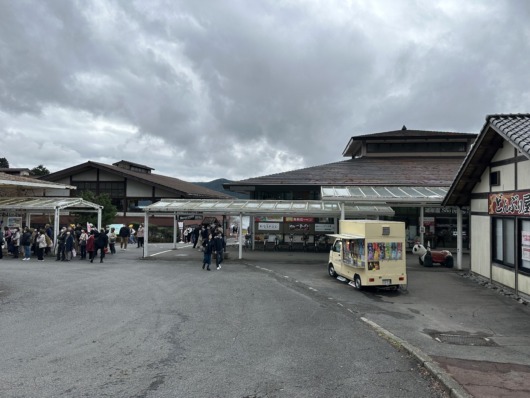 The aquarium nearby.  Lots of school children that day.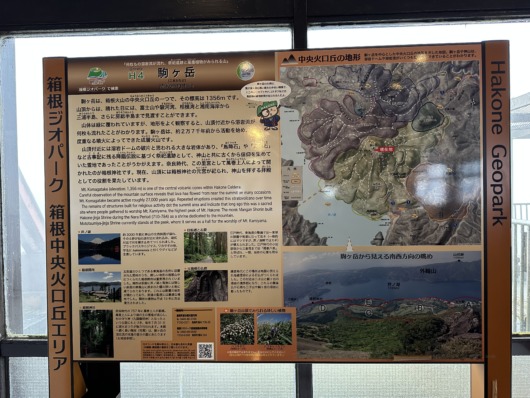 Information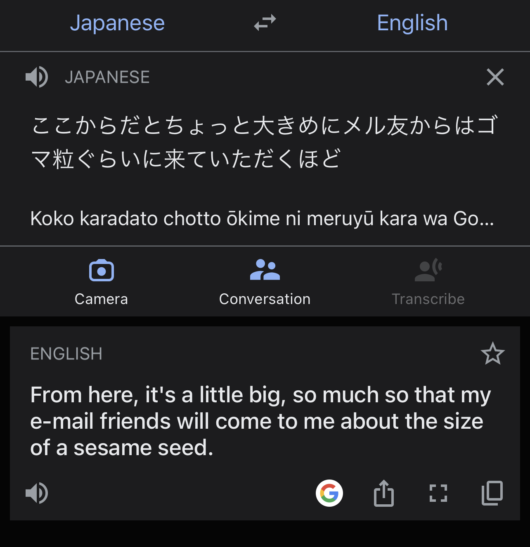 So funny to translate the cable car operator's speech
This is so deep in so many ways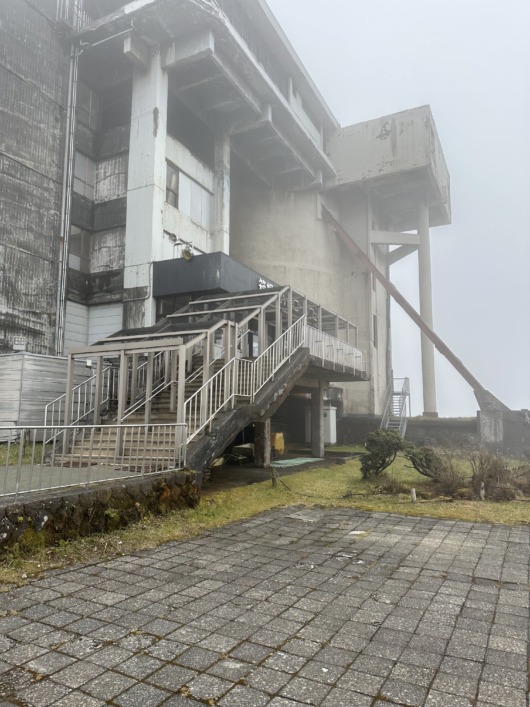 Reached the top, chilly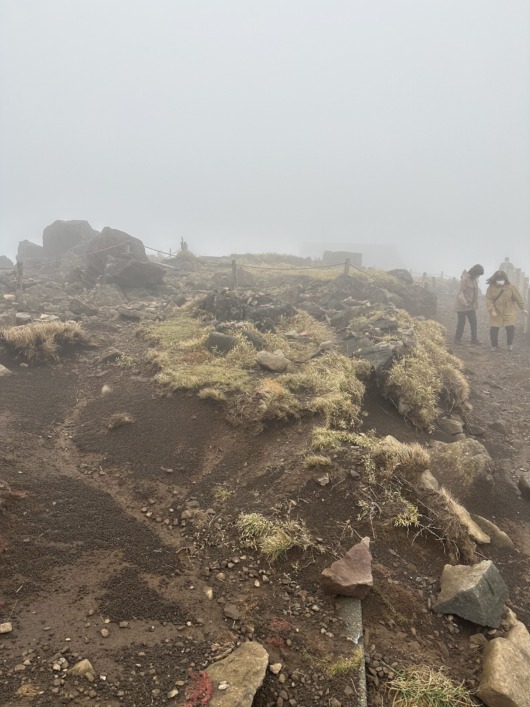 Different hiking paths to embark on.  As you can see from the photo, not the best day to go up.  Surrounded by complete fog.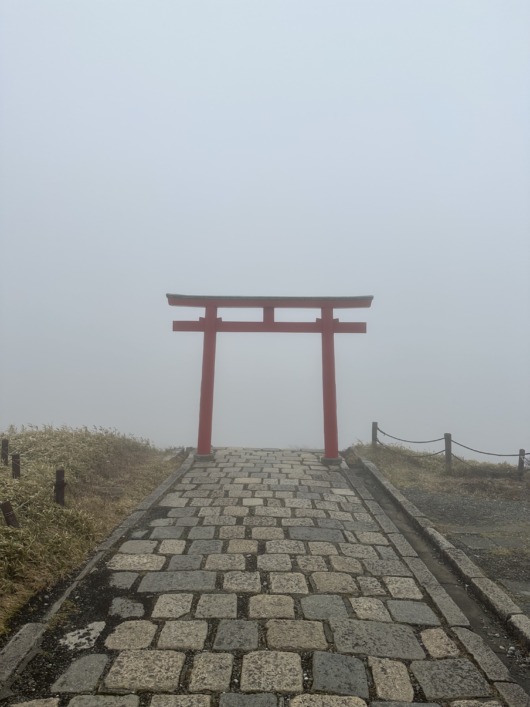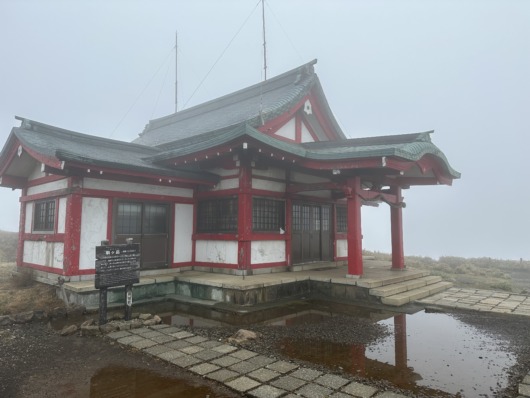 Hakone Mototsumiya Shrine 箱根元宮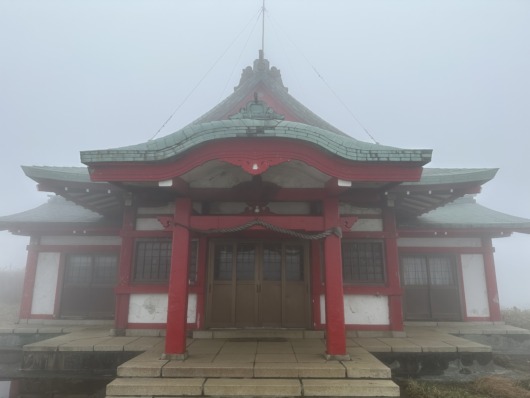 Hakone Mototsumiya Shrine 箱根元宮 but facing us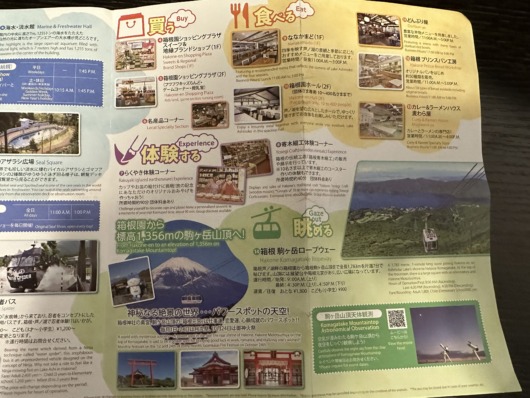 Their brochure, restaurants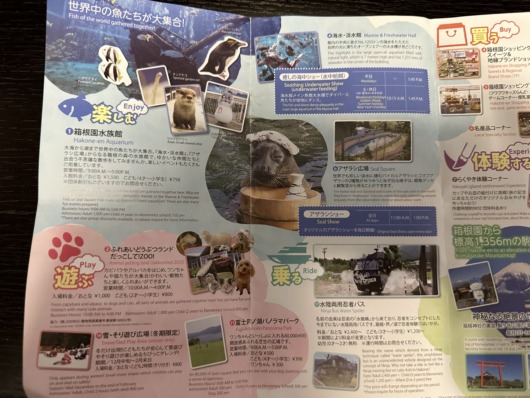 Their brochure, aquarium good for kids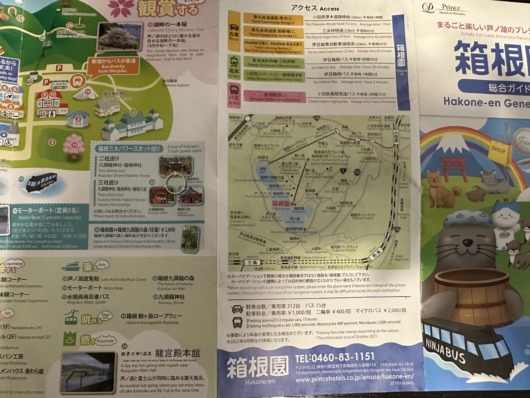 Their brochure, public transportation to get there
As mentioned, Hakone is great for onsen and ryokans.  Or maybe if you're looking for Jack Ma.
Rest of our researched itinerary that we didn't do:
Tea ceremony:

https://www.hakone-tozan.co.jp/gorapark/en/map/tea/

(Gora Park)

Okada Art Museum

Hiryu Waterfalls

Lake Ashinoko 芦ノ湖 (well we did go but you can go around the lake to check out other sceneries) –

Around the south side of the lake are attractions such as Hakone Shrine (we went), Hakone Torii Gates, Hakone 9 Headed Dragon, Onshi Park, Suginamiki, Narukawa Art Museum

Owakudani 大涌谷

POLA Museum of Art

Hakone Ropeway (different from Hakone Cable Car)