I came to Copenhagen to explore a new city / country prior to going to Tomorrowland (click here for my tips on surviving Tomorrowland).  As the first Nordic country I've ever been to, overall I have to say I thoroughly enjoyed my time there.  Everything was simple, minimal, walkable / bikeable, clean, organized, and civilized.
I came here without any expectations except for the fact that food was supposed to be expensive in these Nordic places.  But to my surprise, it wasn't as bad as I'd imagined.  Plus, I only knew about Noma, the holy grail of three star Michelin restaurants.  But little did I know that there were a lot of fine dining restaurants and aspiring Michelin restaurants in this city.  My friend even commented that a lot of the techniques used in Michelin restaurants around the world were first adopted here in Copenhagen.  The reason for that was because of its relaxed culture, allowing chefs to take on risks and experiment; compared with many other places in the world, chefs would be scolded for making mistakes.
Adding on to that, from stories I hear from other people, Denmark does have a culture of leniency and relaxation and a stronger emphasis on work life balance.  For example, if you're in United States or Asia, you're expected to go to school and go directly to university then start working.  In Denmark, it's expected of you to take a gap year before, during or after college so you can take time off and do what you want.  I even had a friend's family in law where one of their daughters in Denmark took a total of three gap years, so by the time she was in the workforce she was 25 years old or something like that.  What I'm trying to say is that Denmark has a very relaxed culture, which encourages people to find what they like, discover about themselves, and allows them to experiment and take risks more.
For this blog, unlike what I've been doing in the past where I list all the restaurants, things to do and lump everything into one category, I'll actually list what I did on a day to day basis instead (except for accommodation).  Also, to avoid bombardment of the flow of this post, extra photos will be placed at the bottom of the blog post.  Lastly, if you want to see videos I took in Copenhagen, you can check out the Youtube shorts by going to my Youtube channel @travelwithabutterfly.  Read Days Three and Four by going to the second part of this Copenhagen blog.
Accommodation
Coco Hotel (website)
A boutique hotel centrally located in Copenhagen, the entrance first confuses you as it gives off a feel of a cafe when you first enter.  The lobby is a cafe, and therefore I initially thought the front desk was the reception desk for the cafe, but it turned out to be the check in desk as well.  But it's not a big confusion, as within a minute I figured it out.
The hotel colours were earthy and warm, and the vibe of this place was that it was a good spot for young and trendy travellers.  The hotel was very clean, and you can even rent bikes there for the whole day for €15 (trust me it's very cheap considering other bike options).  For about €175 per night, it's really affordable in our opinion.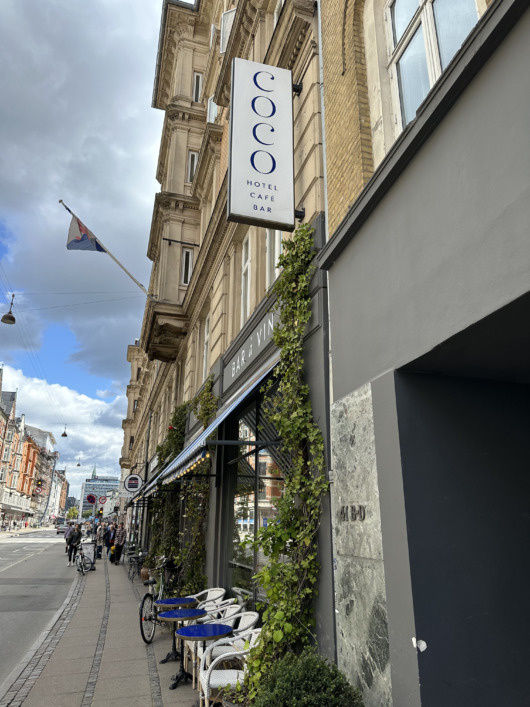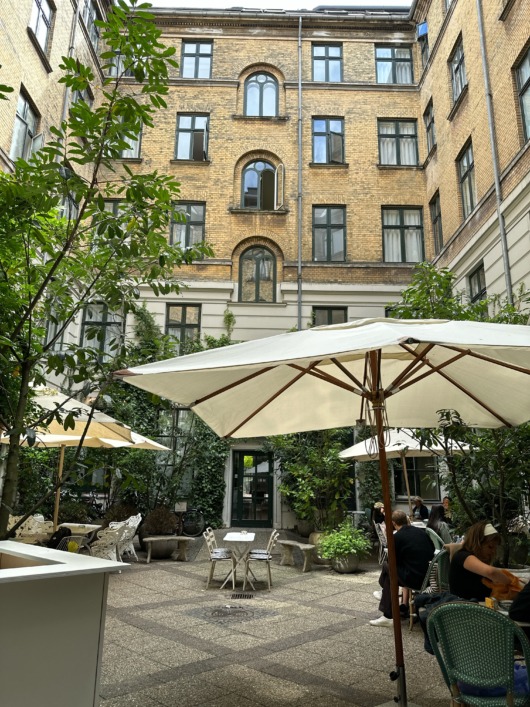 A beautiful, green terrace right next to the hotel.  See a lot of people like to eat here, but can be slightly noisy as our room was right upstairs.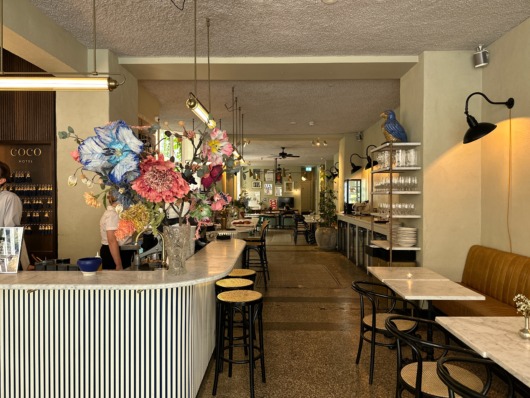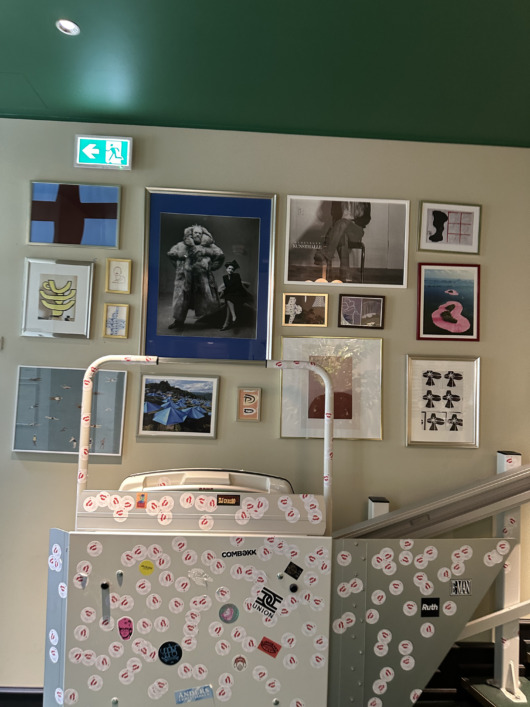 Handicap friendly.  Also you can feel the artsiness of this hotel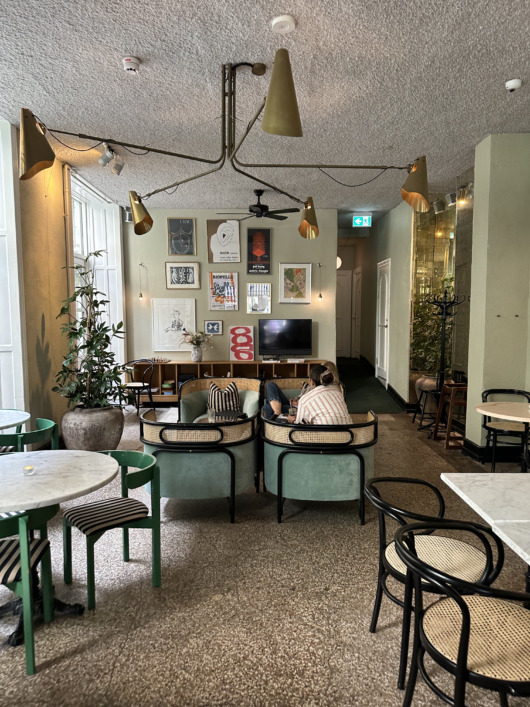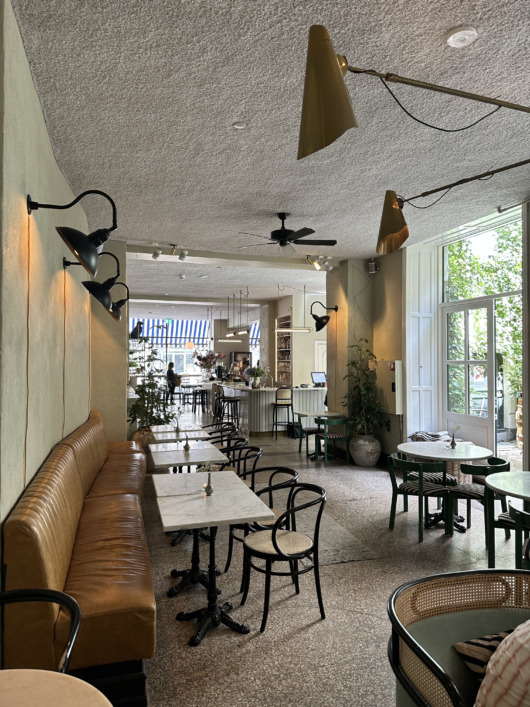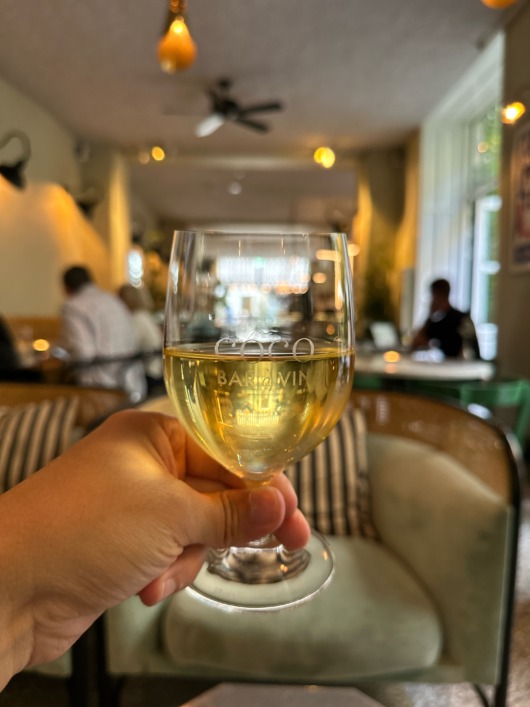 During 5-6pm happy hour, they also offer a complimentary glass of white wine or red wine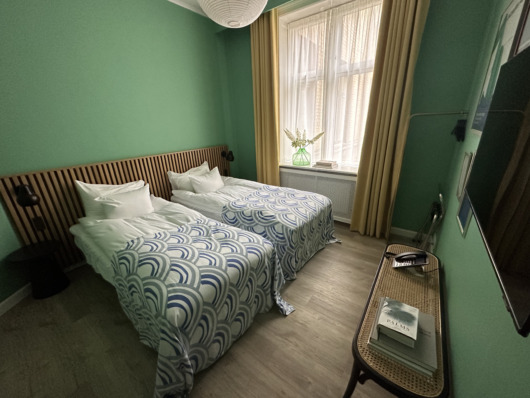 Beds were comfortable, mattresses weren't too soft or hard.  Room was a bit smaller than expected, barely enough room to lay down two big suitcases.  Not enough outlets as well in my opinion.  Clean and tidy.  If size isn't important for you, then again I would recommend this hotel.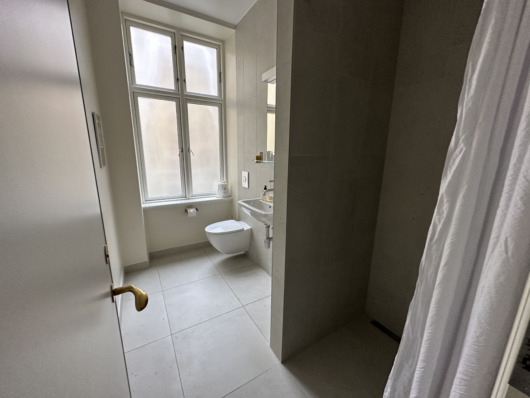 This is their bathroom.  I didn't like how the shower floor was the same level as the bathroom, but that's my own personal preference.
Day One
Landed at Copenhagen Airport.  At the arrivals section, the airport seems small.  It's only later on when I went to departures and passing the security check did I realise how big the airport was.  Very clean and organised, passed through the security check very efficiently at the airport.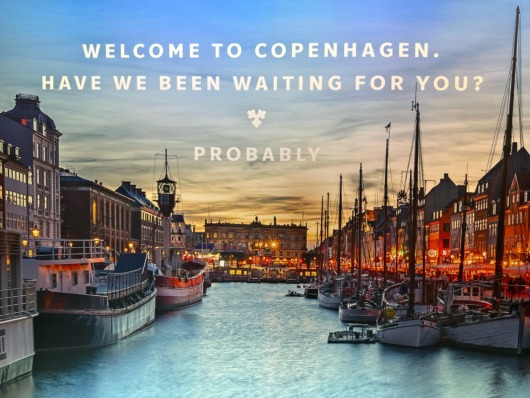 Ad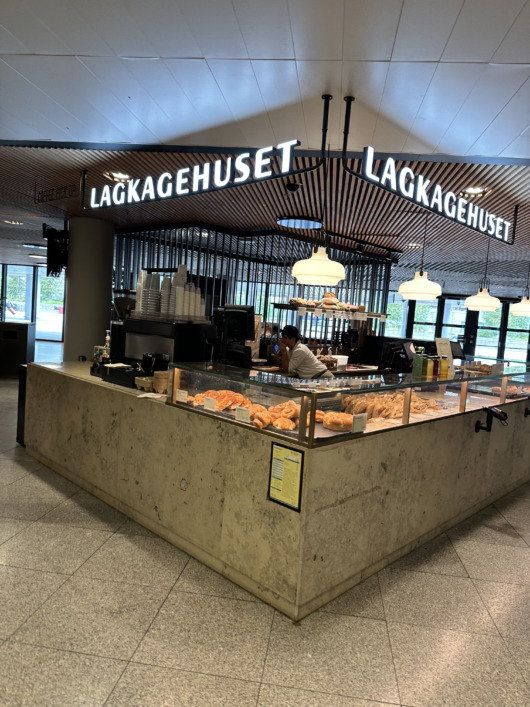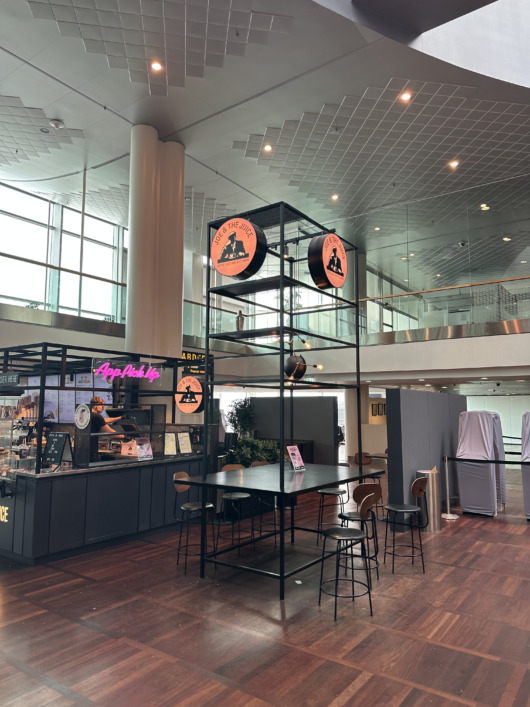 I know a friend's wife's family who owns the fruit juice shop, Joe & The Juice, and it's everywhere in Copenhagen.  In fact, I went to a store in New York, which you can read about here.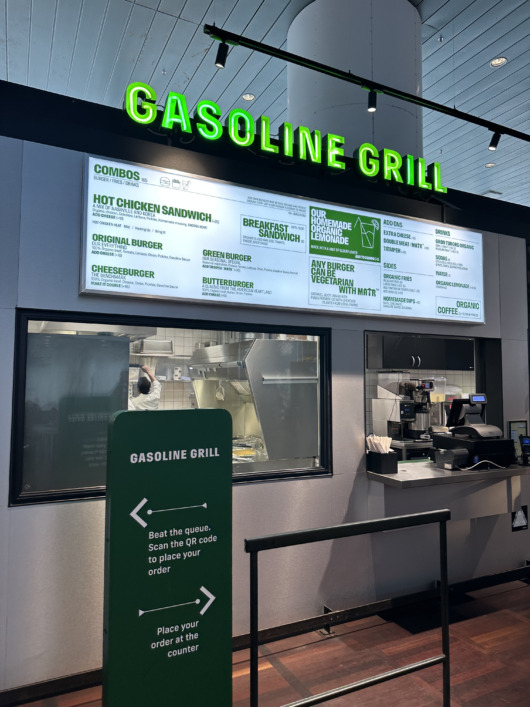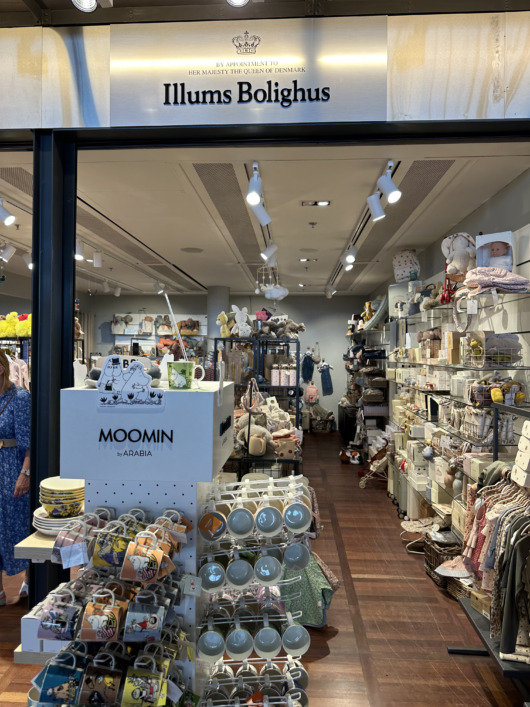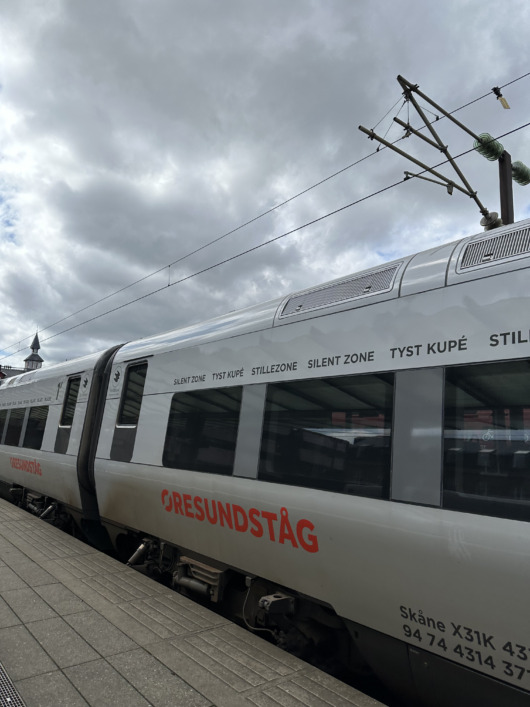 I was incredibly confused from the airport.  There was no staff available to direct me or ask me as to where to get to my destination.  I just bought a ticket to Osteoport (according to Google maps), saw a train that was leaving there, and just took it
Inside the train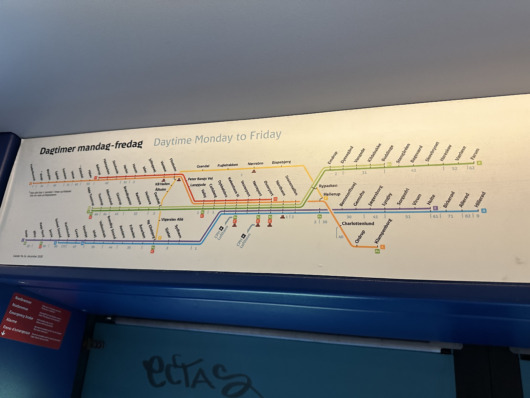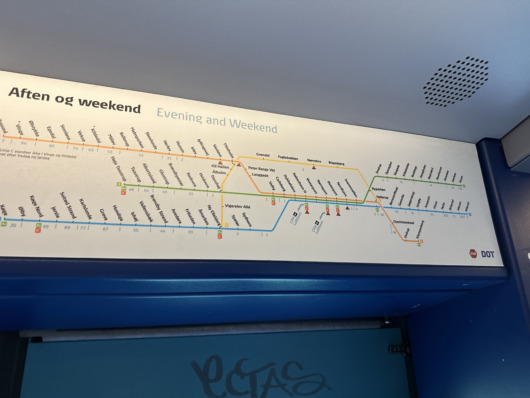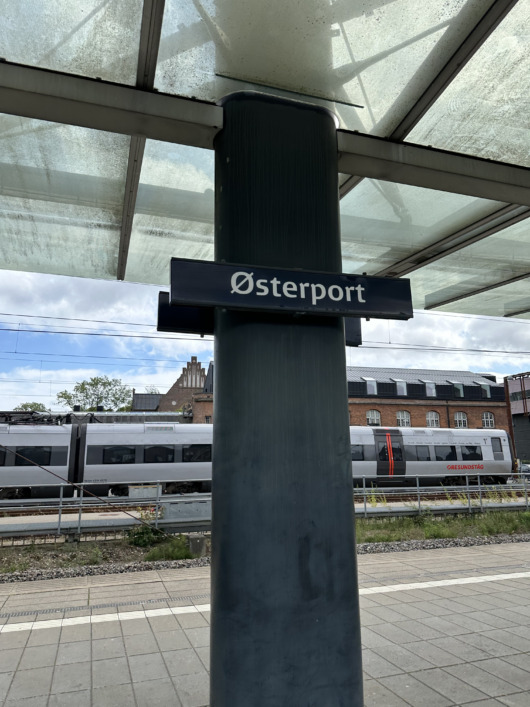 Turns out I shouldn't have gotten off at Osterport, but at Vesterport.  Had to carry the luggages up the stairs and went back down to take another train in the opposite direction for one stop.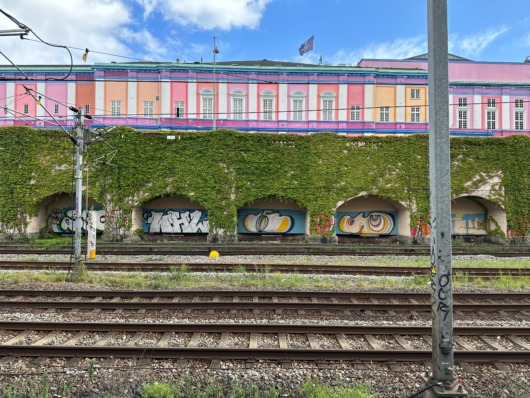 Palads, Vesterport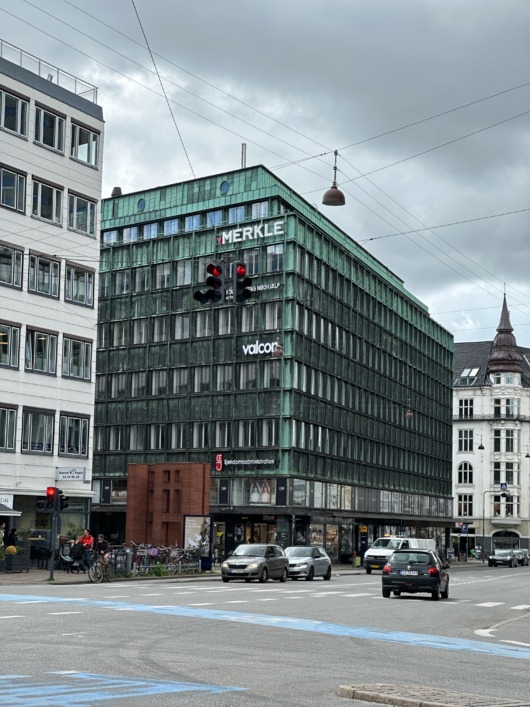 Along the way to the Coco hotel, I saw some very striking architectural designs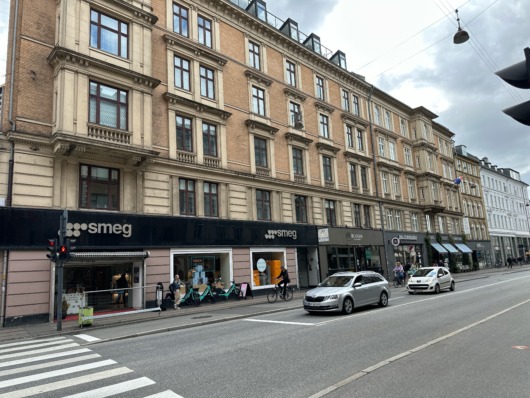 And I was bathing in the minimalist designs of Copenhagen buildings
After we checked into the Coco Hotel, we were a bit hungry.  It was already 3:30pm, and our dinner was around 6:30pm – 7pm, so we wanted to have a quick bite nearby.  This is what we found…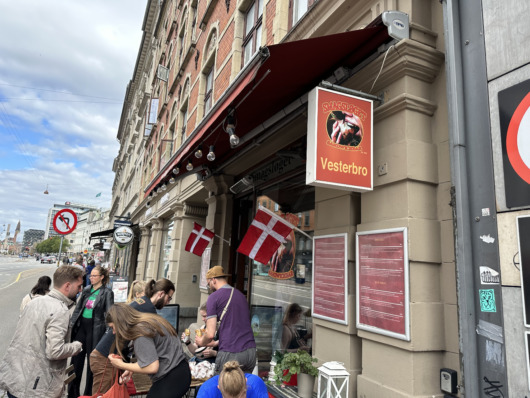 Smagsloget, 2 mins walking distance away from our hotel, highly popular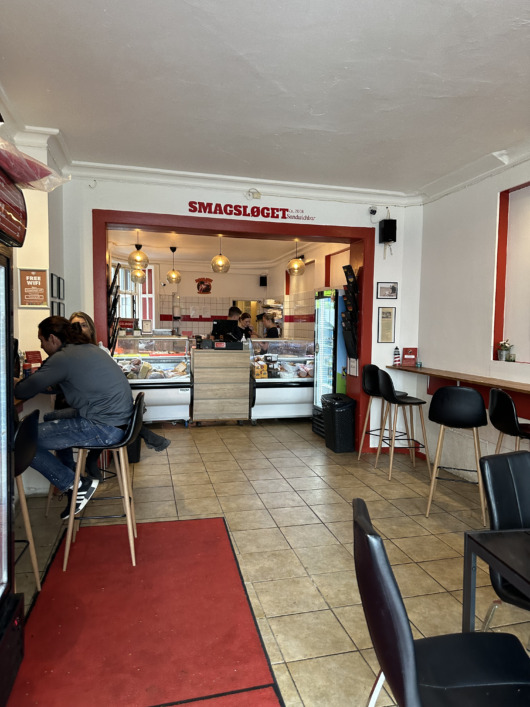 Smagsloget sandwich shop (website)
Think this was the The smash hit! Roastbeef, Spanish manchego cheese and homemade salsa. Sandwich cream and chili pesto spread. Soooo freaking good.  I am blown away by the bread in Copenhagen in general fyi.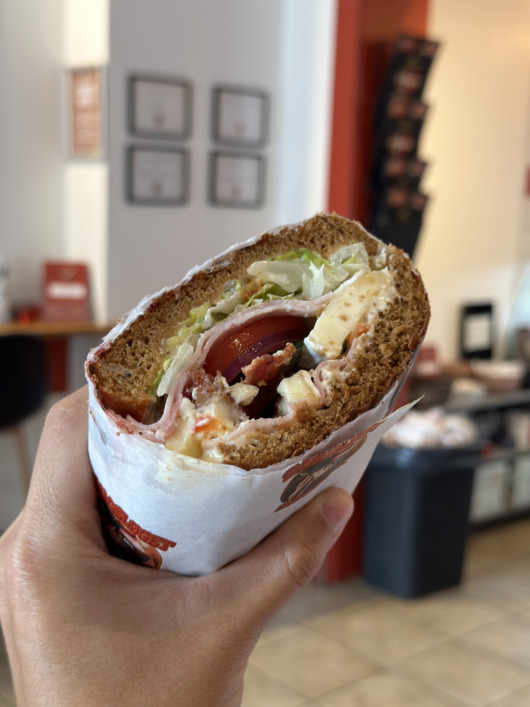 The recommendation! Danish ham, brie cheese, bacon and homemade salsa. Sandwich cream spread.  The absolute best sandwich ever!  Everything matched with each other beautifully to create this mixture of heaven and tastefulness in your mouth.  Nothing sticks out too much, they all complement each other to get the perfect taste and texture.  Honestly, one of the best sandwiches I've ever had in my life.
After our incredible meal, we went back to our hotel room, took a short nap, and then headed out again for dinner, where we will pass by Stroget and Nyhavn.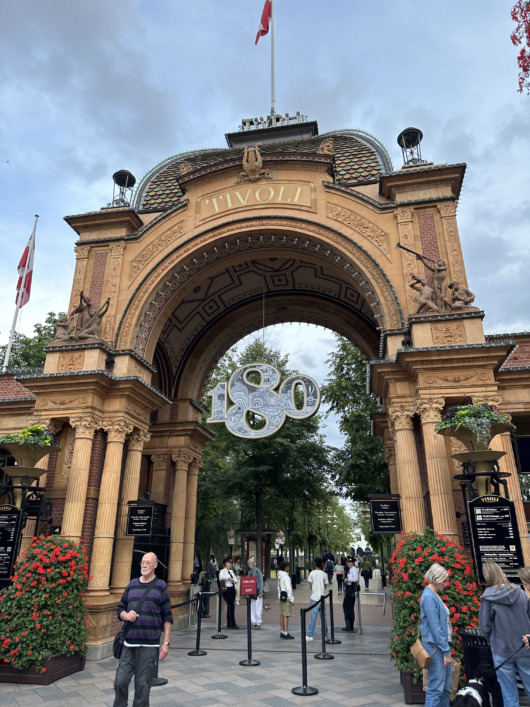 We passed by the entrance of the Tivoli Gardens (website).  It's very famous as it is the second oldest amusement park in the world.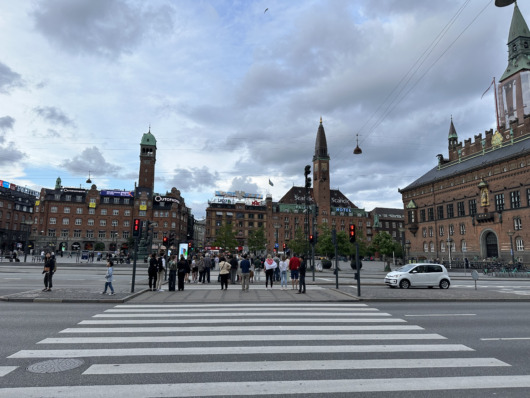 Passing by the City Hall Square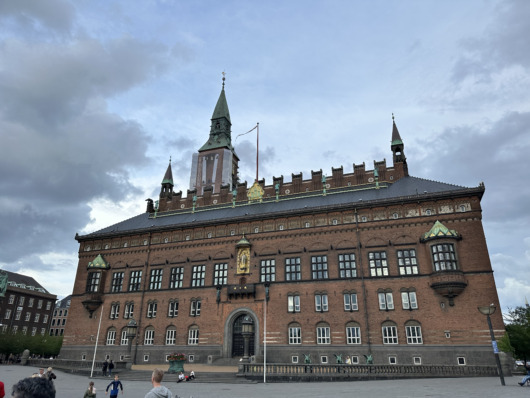 City Hall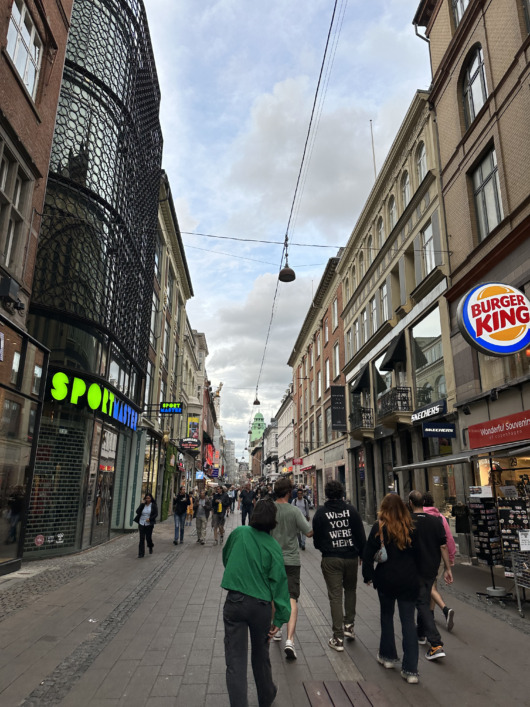 Stroget, the main shopping street and one of Europe's longest pedestrian streets with loads of shops from budget-friendly to luxury.  In my opinion, a very touristy area, with lots of international brands that you can see pretty much everywhere else, especially in Western cities.  It's famous, but super touristy.
Also Stroget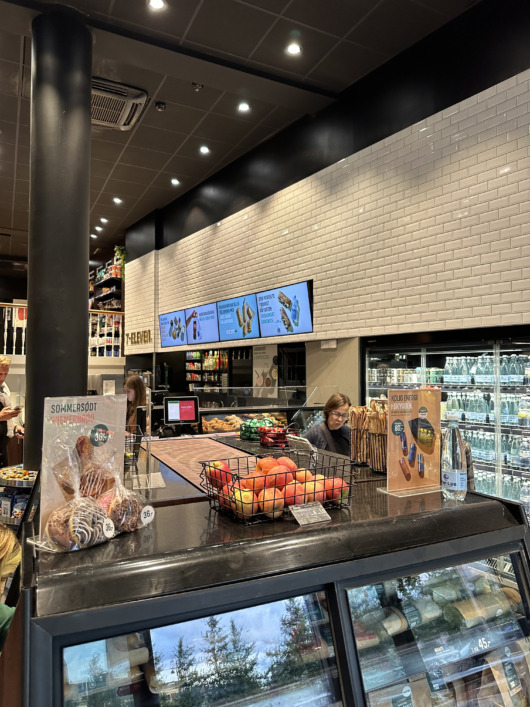 We passed by a convenience store to get hydrated, super clean and tidy and neat.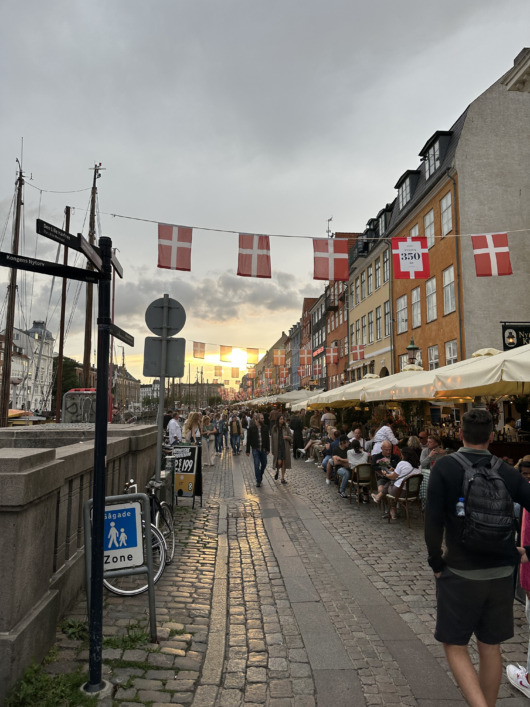 As we were walking to our restaurant, we passed by Nyhavn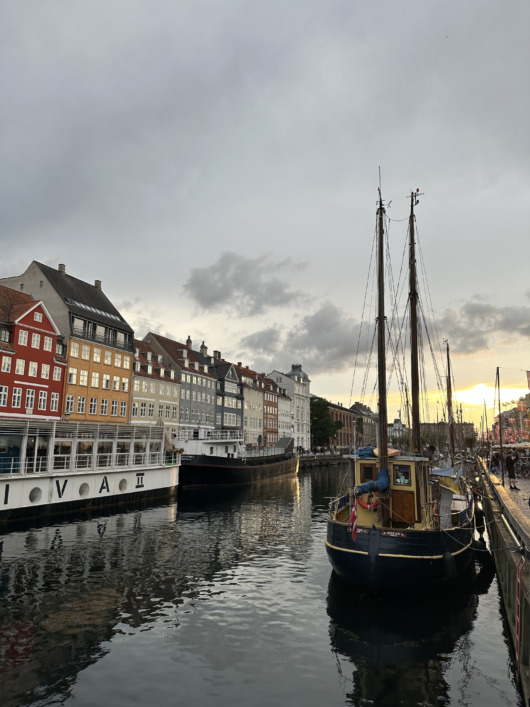 Nyhavn is a 17th-century waterfront, canal and entertainment district with simple but brightly coloured 17th and early 18th century townhouses and bars, cafes and restaurants lined up in a perfect row.  Again also a touristy place, but the vibes here feel a bit less so that locals come here too.  It reminds me of Stanley in Hong Kong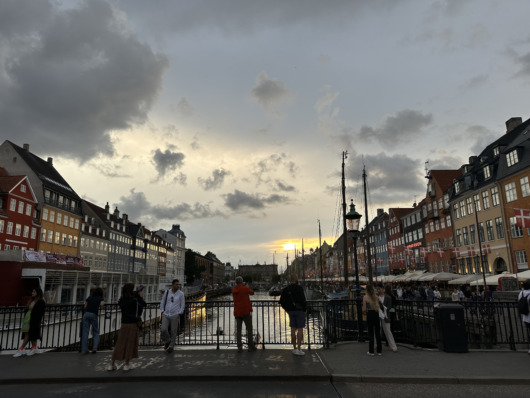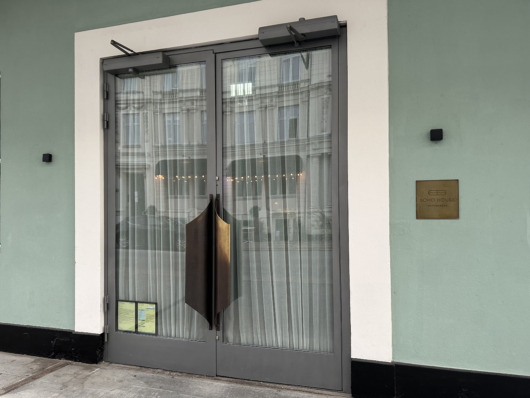 We wanted to check out Soho House Copenhagen (website) and realized it was right nearby Nyhavn, so we did a quick tour around the place.  We were a bit unimpressed as it was the smallest Soho House we've seen and it was empty (albeit it was a Monday though, but still).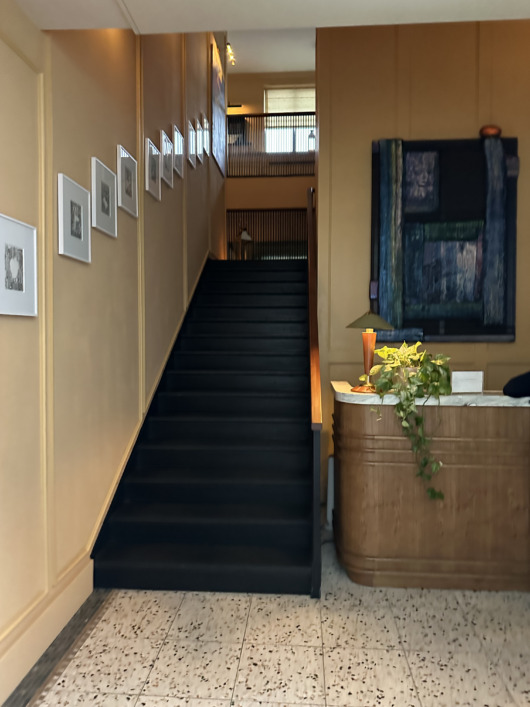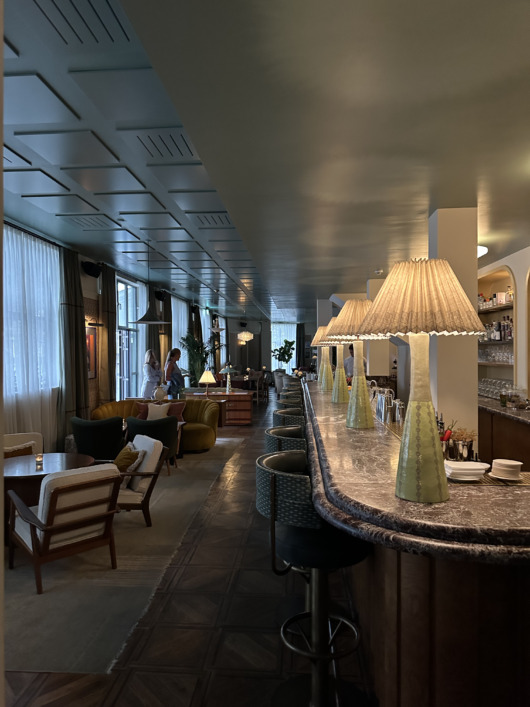 Inside the Soho House area.  I think this was literally it, no gym or anything or other floors, just members' area to chill and a bar.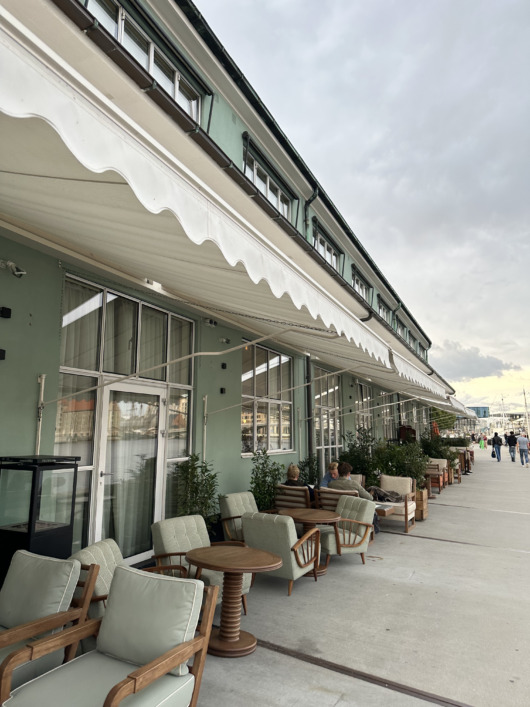 You can sit outside as well if you'd like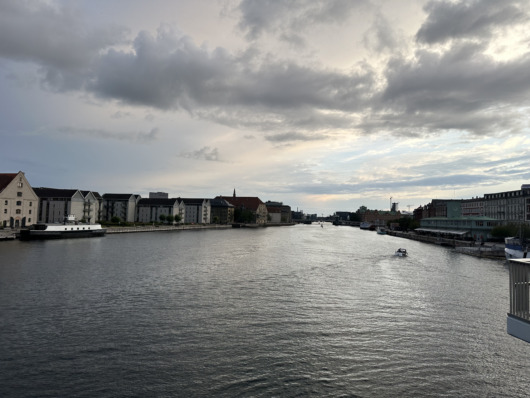 We had to cross a bridge called Inderhavnsbroen to get to the other area where our restaurant was located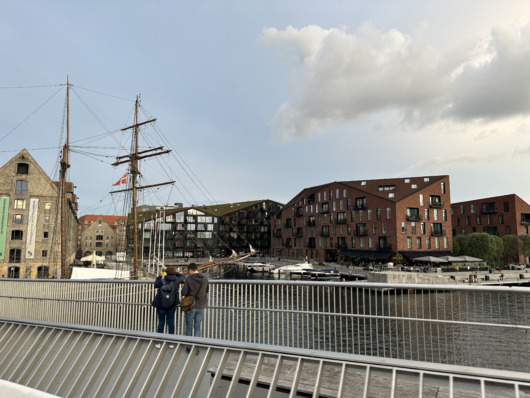 Inderhavnsbroen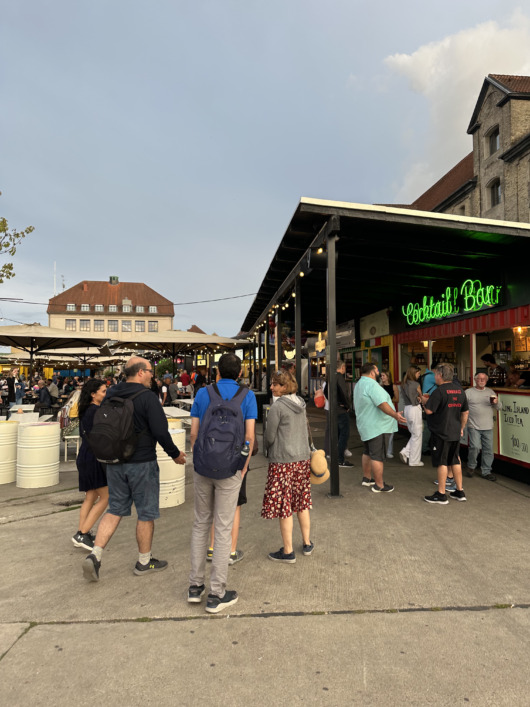 We stumbled upon a lively food square next to the restaurant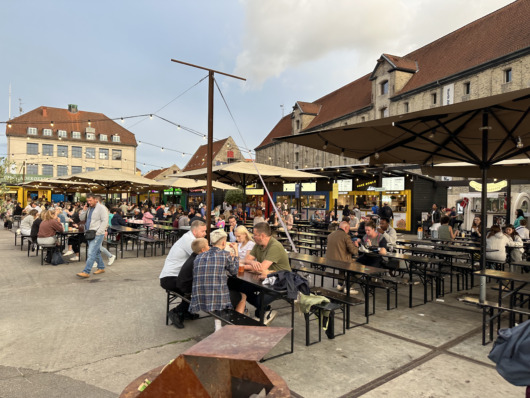 Lots of different food stalls to try out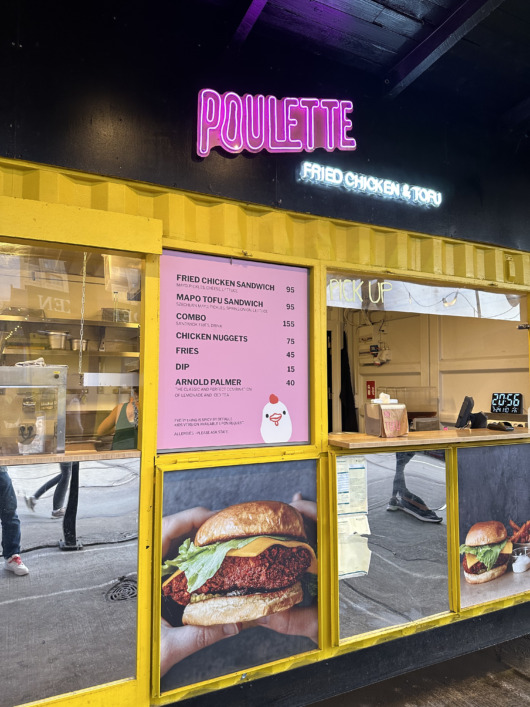 Poulette was one of the chicken sandwich places we wanted to try which we never got to try because there were so many other places / meals we had to eat.  If you do try it, please let me know how it is!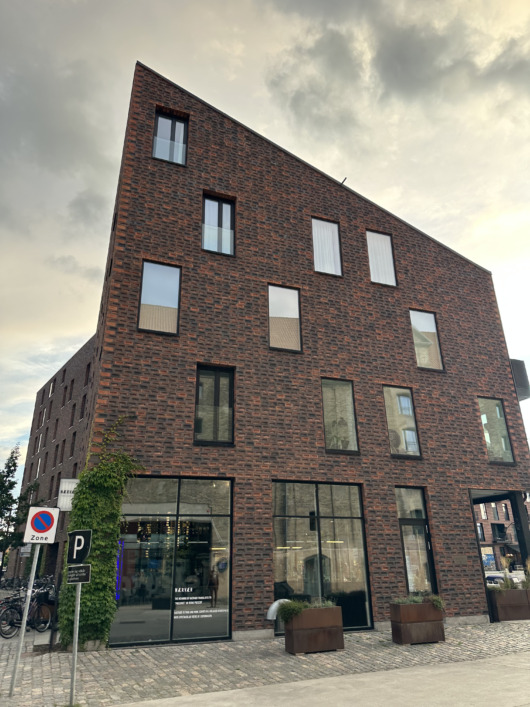 Interesting architecture we saw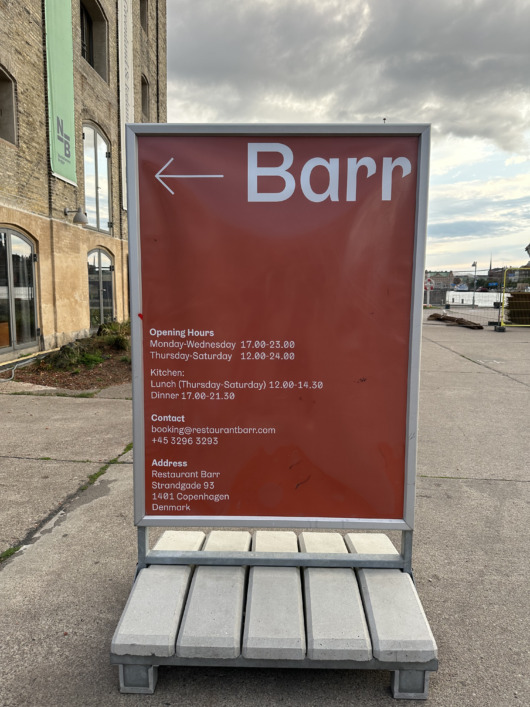 This sign was confusing.  It pointed to a direction which was the backdoor of the restaurant and we actually had to walk all around the building to get to the front.  The pathway to the entrance was quite obscure.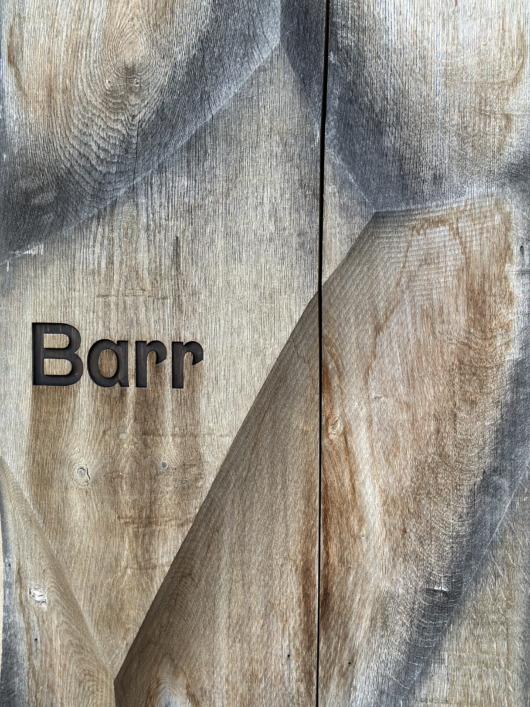 Restaurant Barr (website)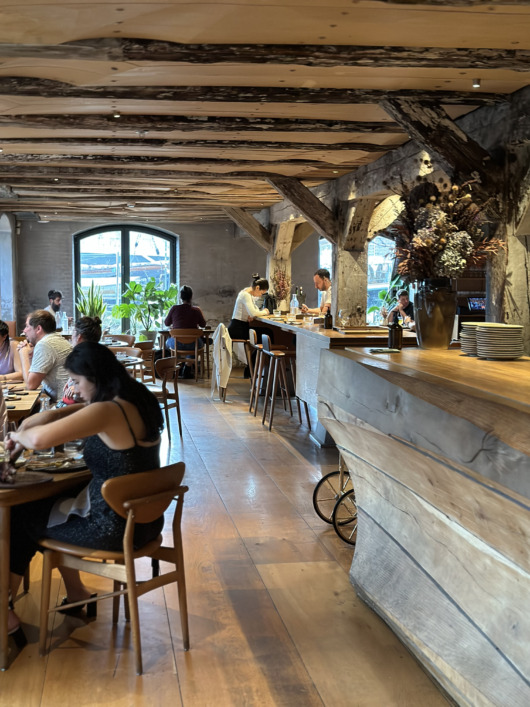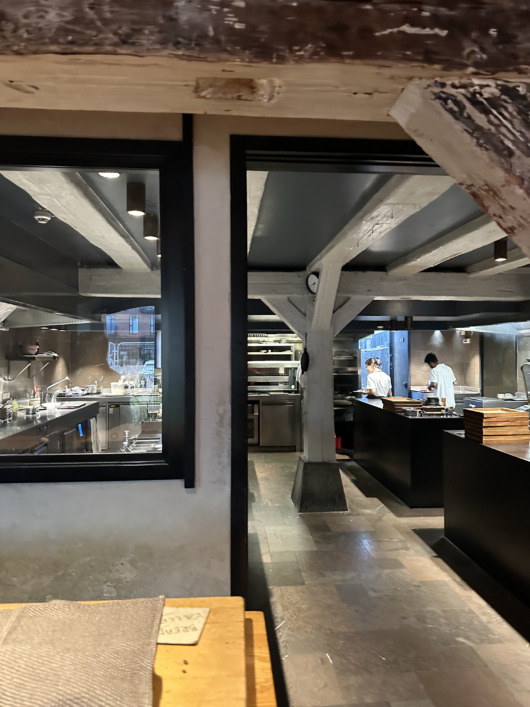 Did you know that the famous Noma restaurant used to be located here?  This was the kitchen that Noma used, and now it's being occupied by Barr.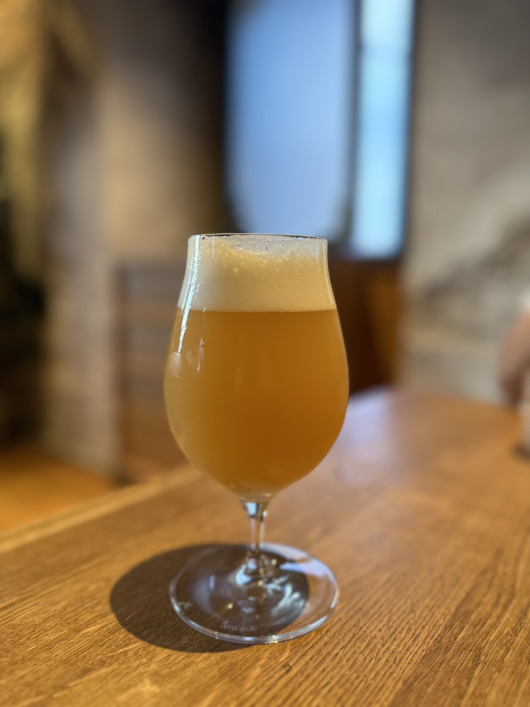 We came here mainly because my friend said it was famous for their craft beer.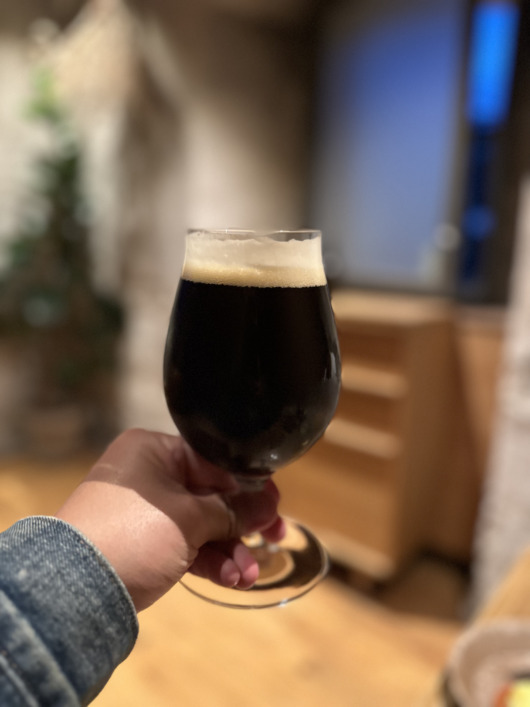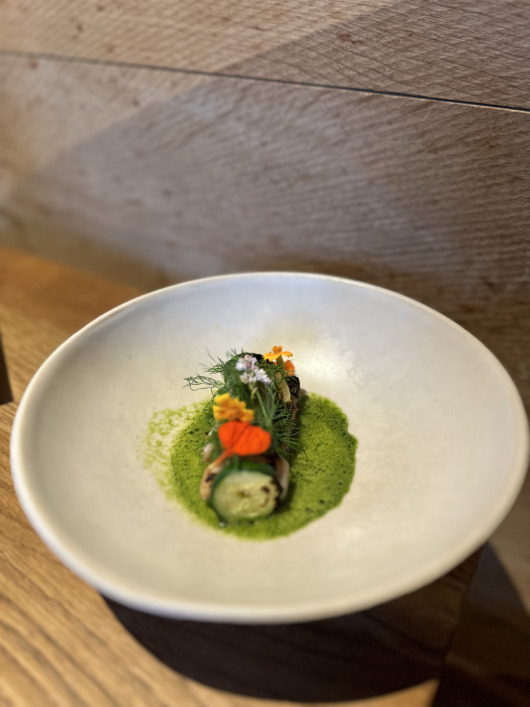 We got the 4 course meal.  Grilled Mackerel – Zucchini, gooseberry, and blackcurrant leave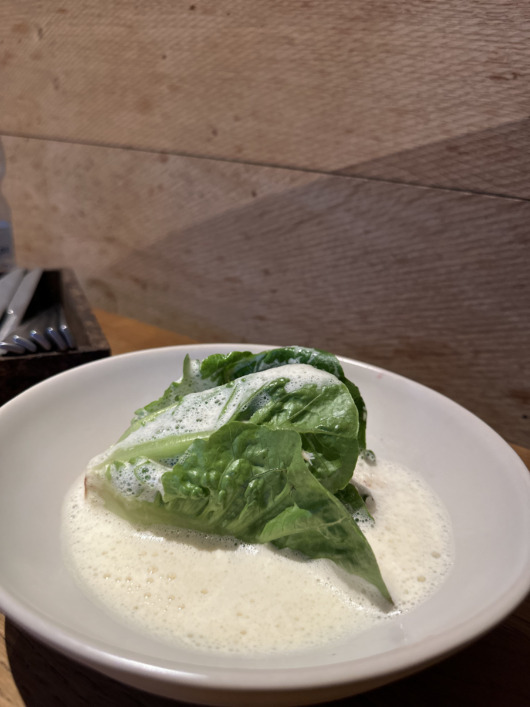 Brown crab -Romaine salad, green strawberries and whey sauce.  My friend said these foam and sauces that is used everywhere globally in Michelin restaurants was first invented in Denmark, because the culture allowed chefs to be innovative and they came up with this.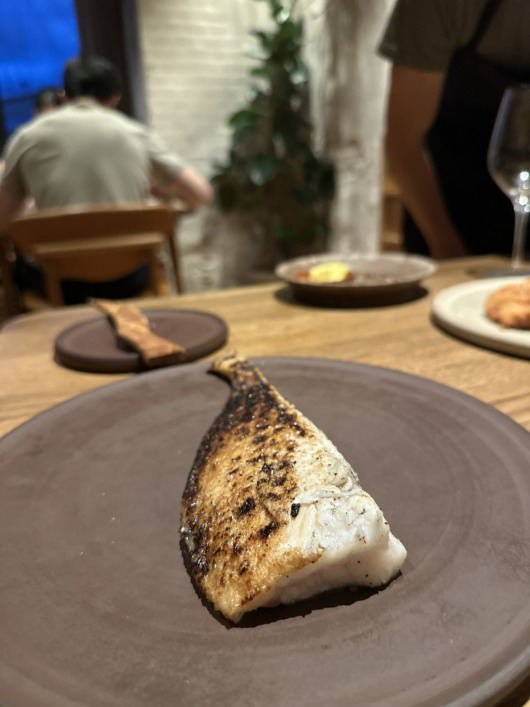 Grilled Plaice – Pointed cabbage and elderflower sauce.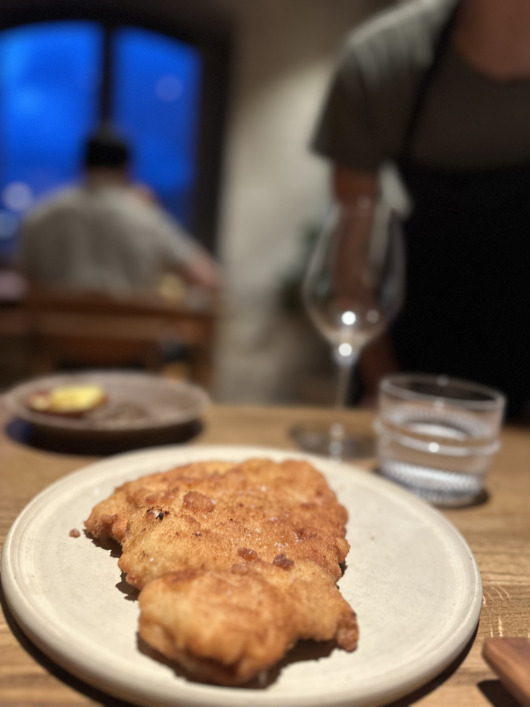 Pork chop – Hay baked beetroot and carrot. with pickle cucumber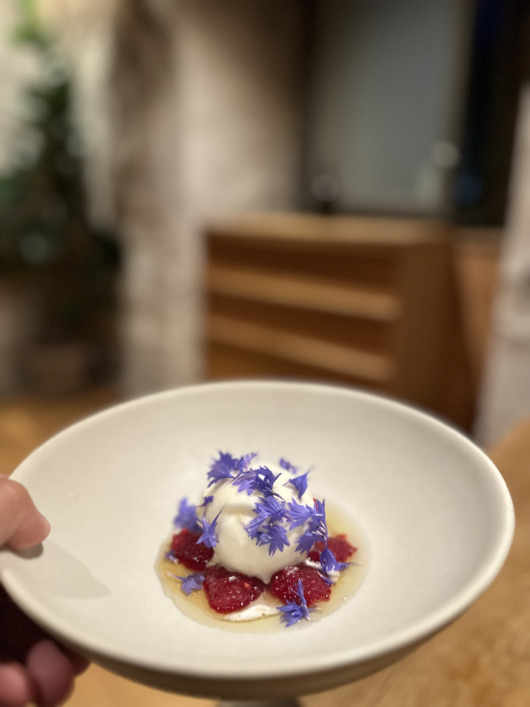 Grilled Cherries – Cremefraiche icecream and blackcurrant leave oil.
Our impression of this place was that the beers were great, but the food was decent but nothing spectacular.  If you're reading this, unless you love craft beer, I think it's other restaurants that can potentially taste better.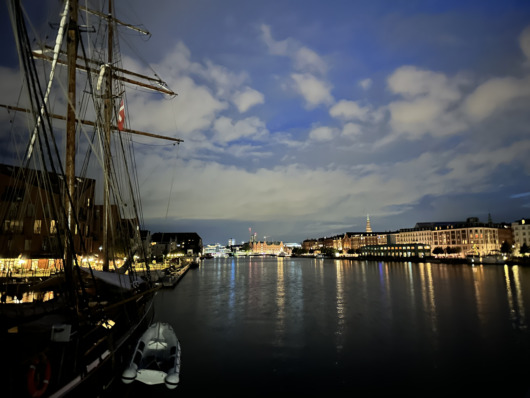 Night time in Nyhavn.  We were so tired and didn't want to walk the 30-40 mins back to our hotel, and it was pretty dark after sunset, so we caught a bus that brought us within walking distance to our hotel.  By the way, buses there are pretty expensive.  Forgot how much, but I just remember wow it's actually quite pricey even for a short trip.
Day Two
We started off our second day by making our way to Norrebro, the trendy district known for its diverse food scene, boutique shops, and vibrant street life.  In reality, I find some areas of Norrebro to be more like street market / market place clothings, similar to Mong Kok in Hong Kong like cheaper wanna be brands, but there is an area in Norrebro that has a lot of nice high end boutique Danish shops as well.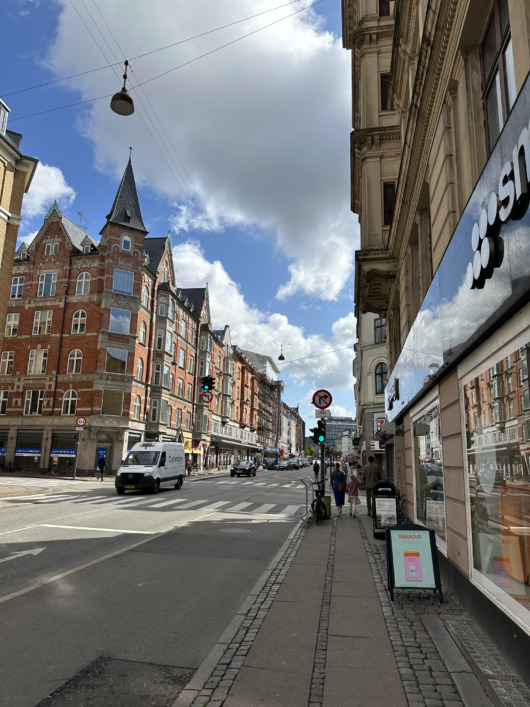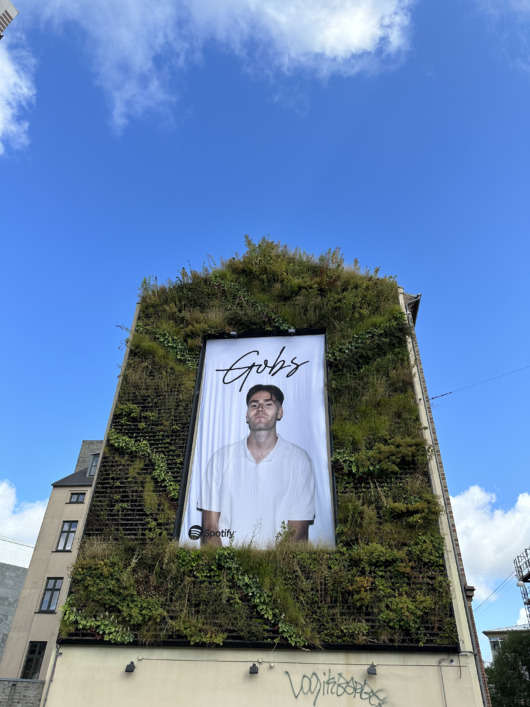 Whos is Gobs??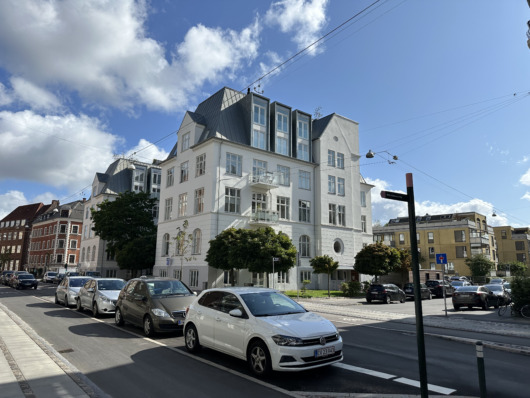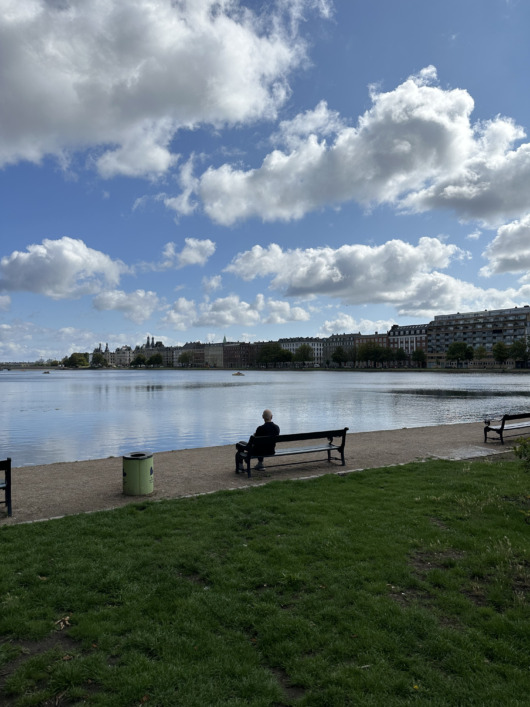 We had a leisure stroll walking alongside this beautiful, clear Peblinge So lake.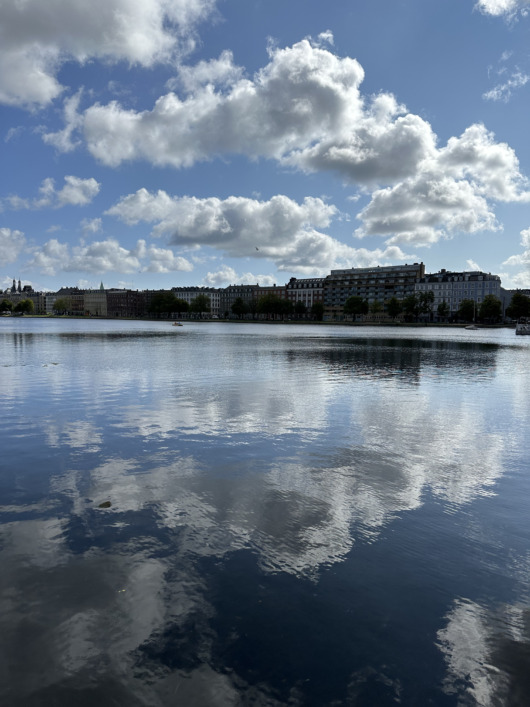 It was so clear you can see the reflection of the sky clearly on the lake.  It's so gorgeous that the reflection looks like an oil painting.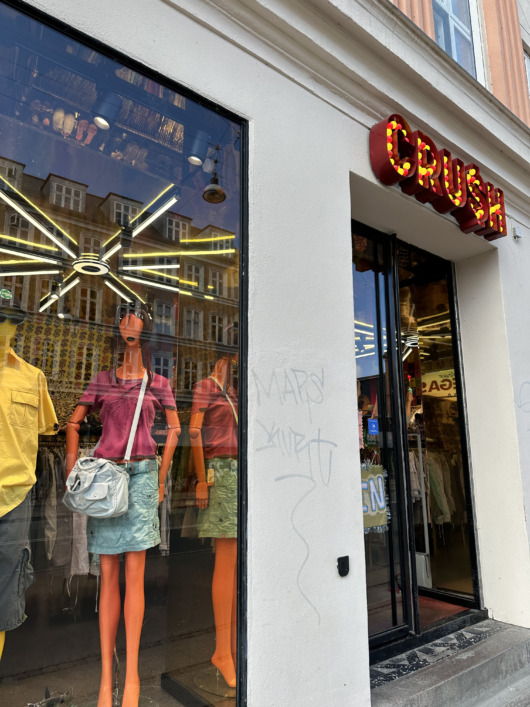 Norrebro shops.  You see what I mean the fashion here looks a bit cheap…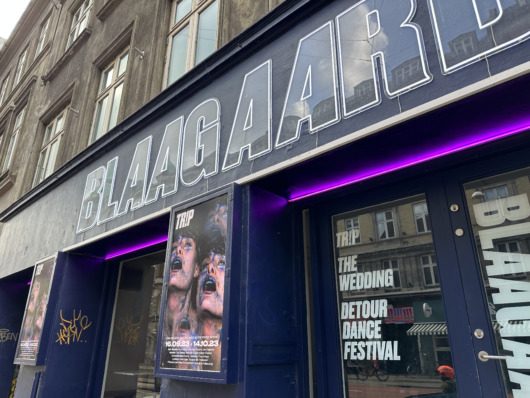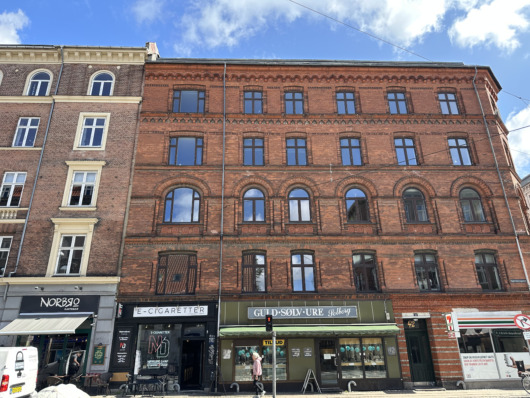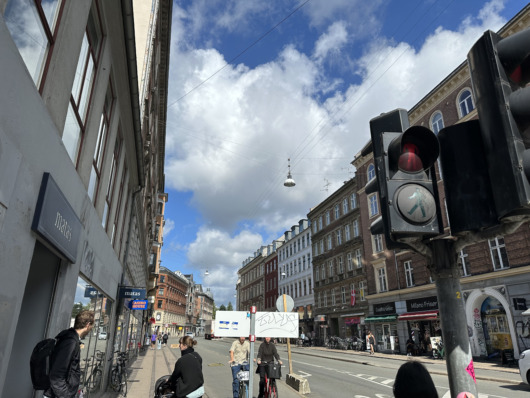 Norrebro.  We were here around 10-11am, and there were much more people (and young people matter fact) than where our hotel was or when we were walking there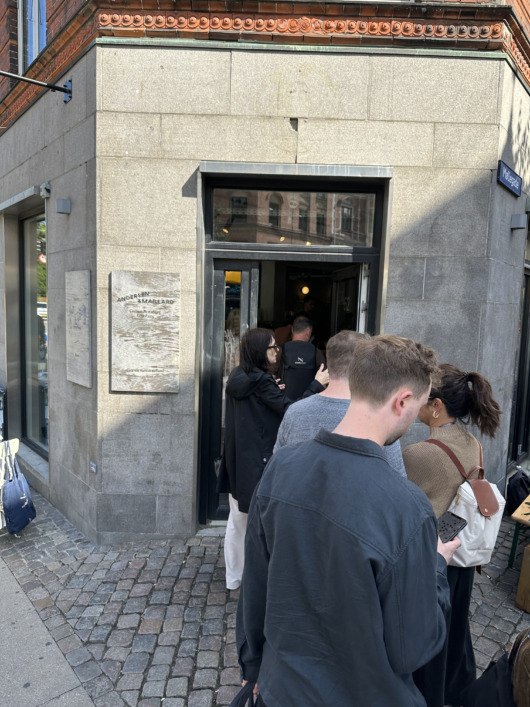 The only place with a line, this bakery called…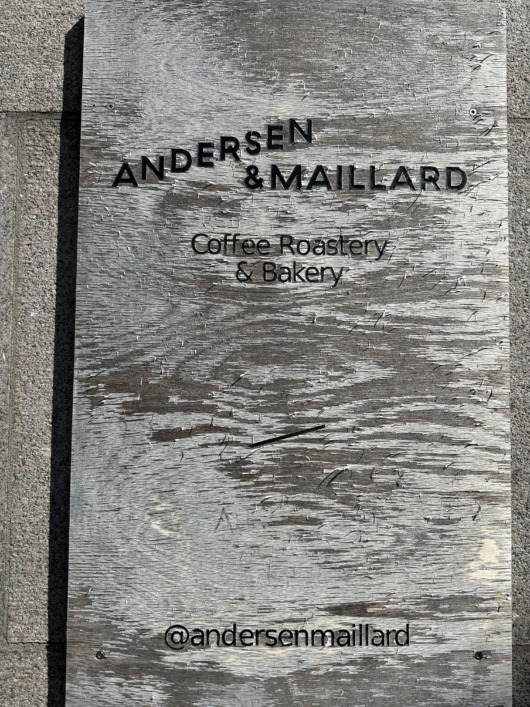 Andersen & Maillard (website) They start their day at 3am to ensure the best croissants and bakery goods.  Also a coffee cafe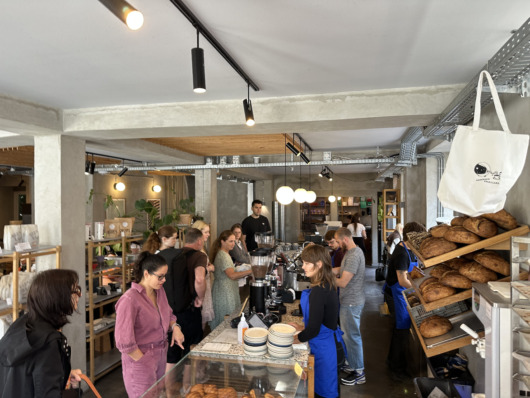 They're located right in the beating heart of Norrebro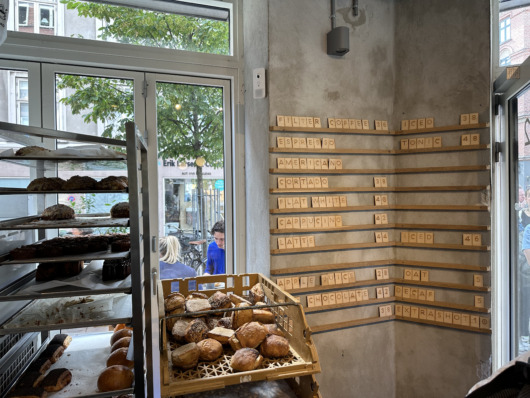 Their coffee menu
This chocolate filled pastry was incredibly delicious, highly recommend for chocolate lovers!  In fact, with any filling or portion sizes or wine pouring, Danish restaurants have been very generous rather than stingy.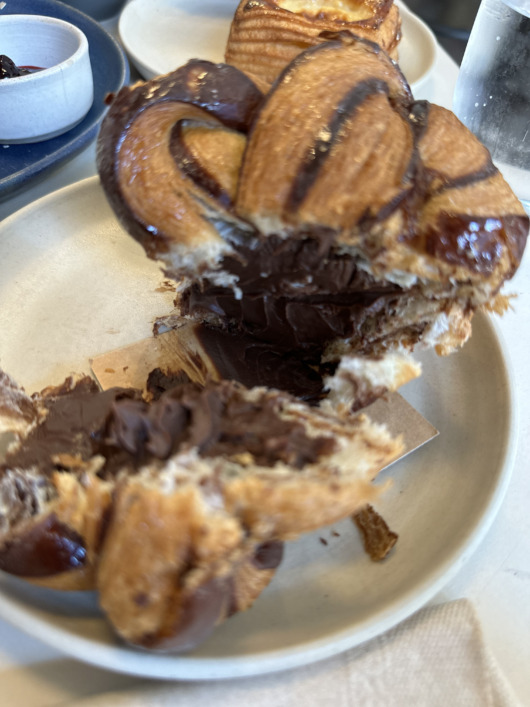 Look how generous they were with their chocolate stuffing.  Most places are not as generous.  The chocolate inside is rich in flavor.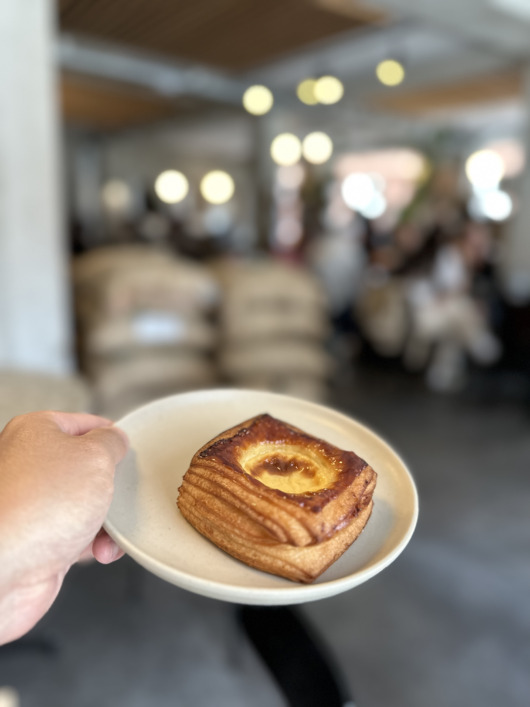 It's like some pudding pastry that's popular in Denmark.  I'm seriously impressed by all the bread everywhere, whether it's just table bread or bakery goods.  Their bread quality there is just phenomenal.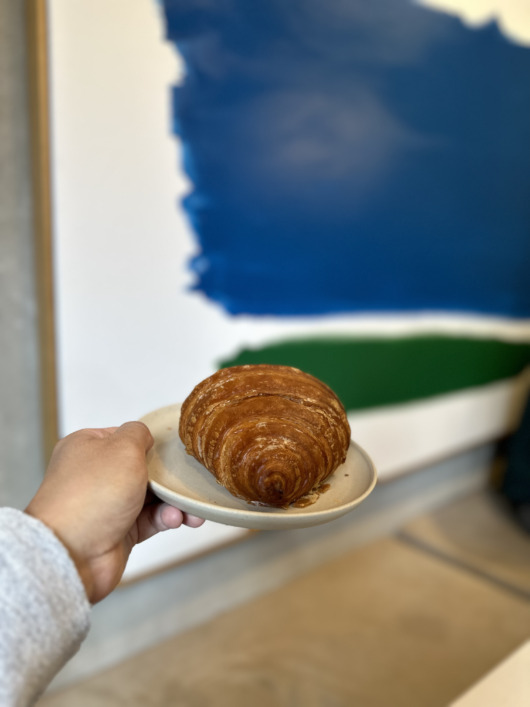 I think it was supposed to be some coffee croissant but we barely tasted any coffee.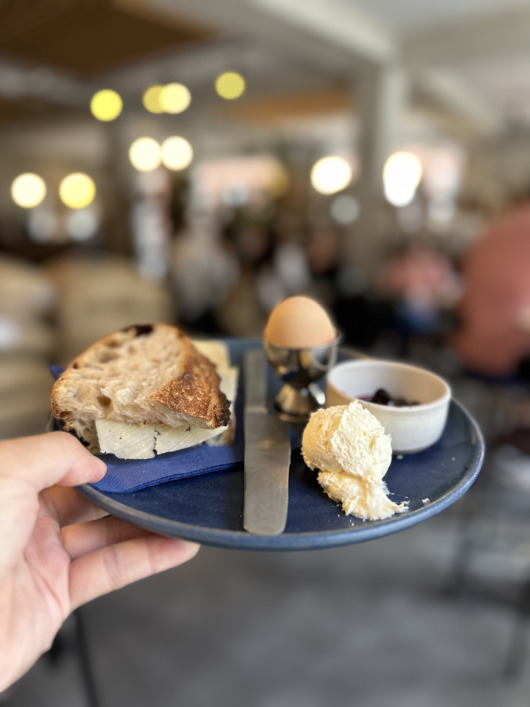 Soft boiled egg, cranberry that's supposed to be added to the bread with cheese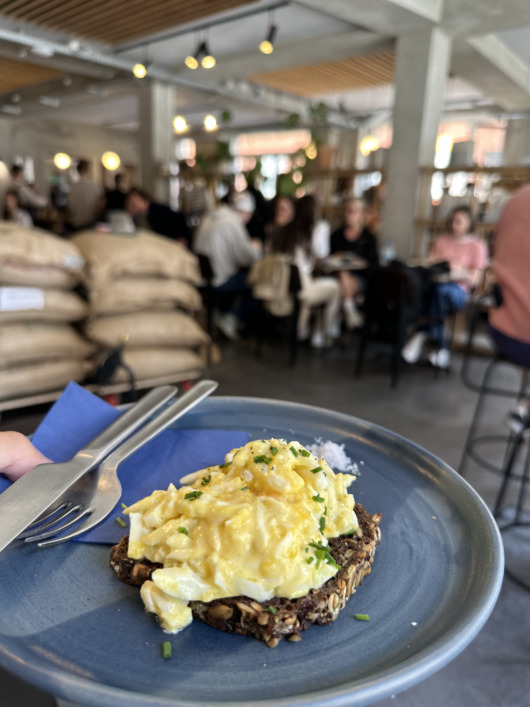 Scrambled eggs on toast.  I don't know how we can eat so much, and we had lunch in about 1.5 – 2 hours afterwards.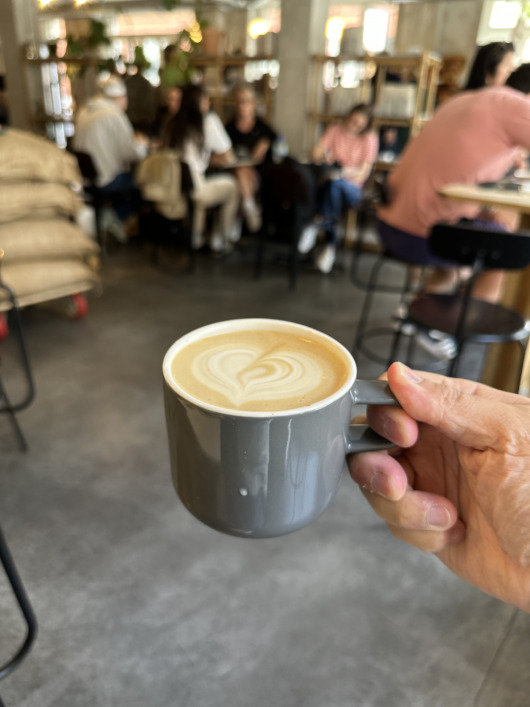 Latte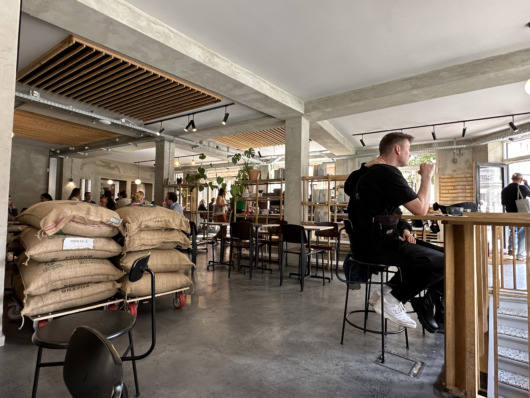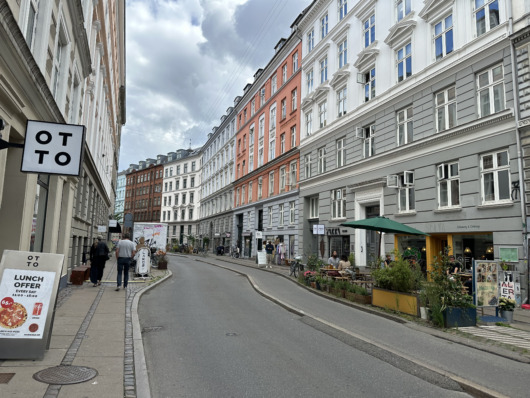 Elmegade is the street / area with the nice boutique shops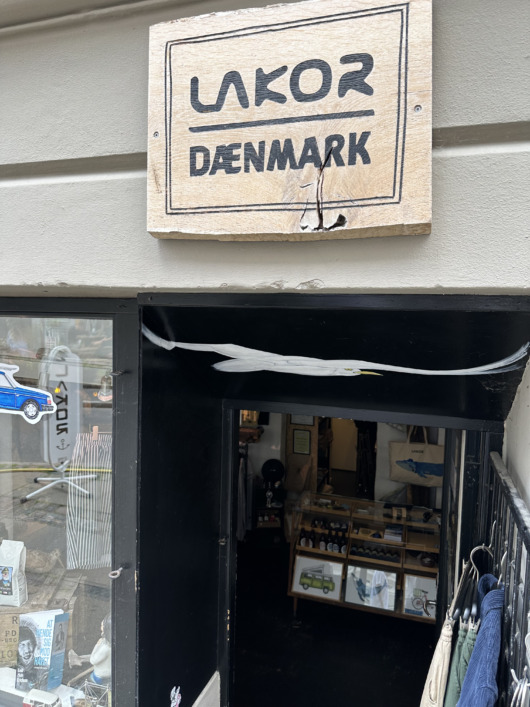 Lakor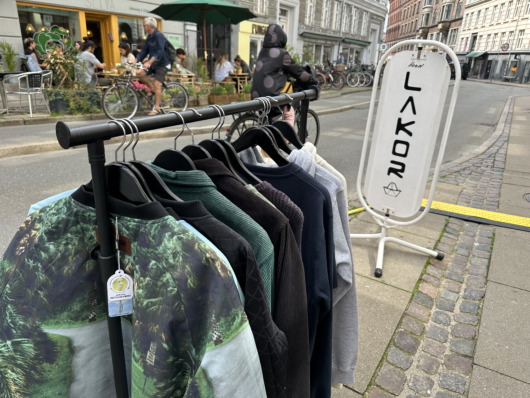 Surprisingly, we found more male fashion shops around this area more than women's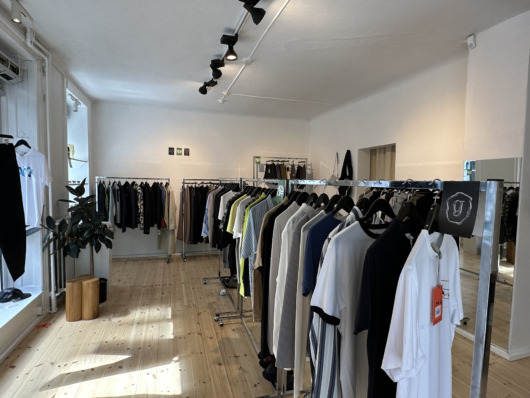 So many clothes were on sale today in the area when we went.  A lot of the shops were offering 30% up to 70% discount!
Grocery, a fashion shop not a grocery store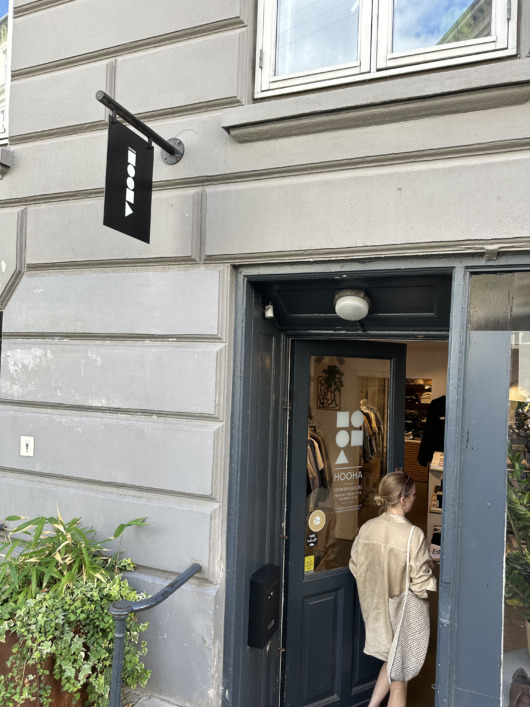 Hooha (website)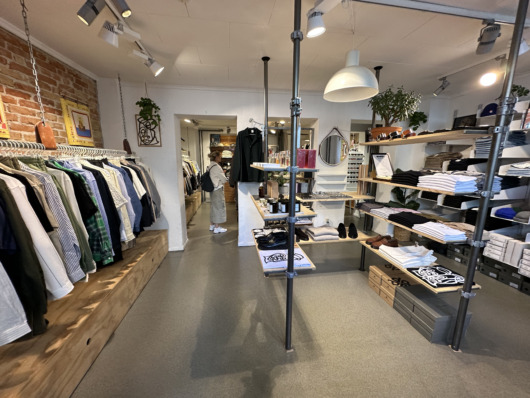 So I actually bought a lot of stuff here, like 3 t-shirts and 2 long pants.  The shopkeeper told us that you see a lot of guys in Copenhagen wear jewellery and accessories because the guys in Copenhagen tend to have a very minimal, simple, plain style for their top and pants, so in order to make it more personalized, they use jewellery and accessories to stand out.  Which is true – a lot of guys here wear necklaces.
Packyard (website) also bought a t-shirt here.  All things considered, with the tax refund and the summer sales that was going on, the prices for these clothings were very reasonable and great value!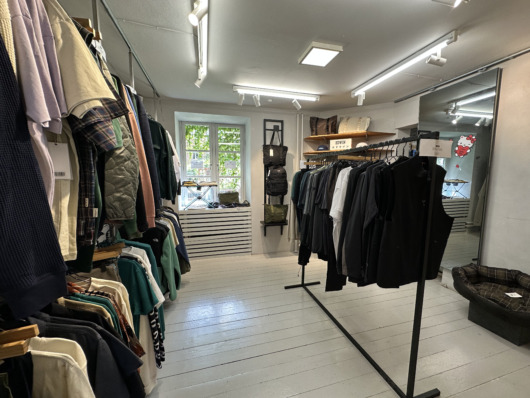 Packyard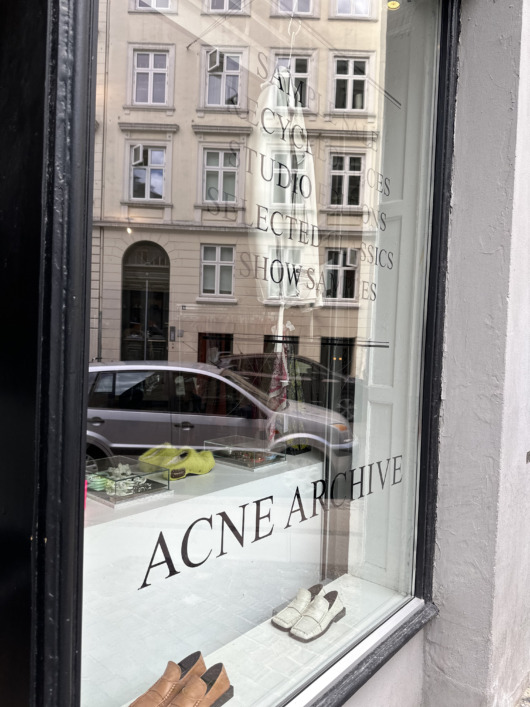 Acne Archive (Visit Copenhagen), the outlet shop for Acne Studios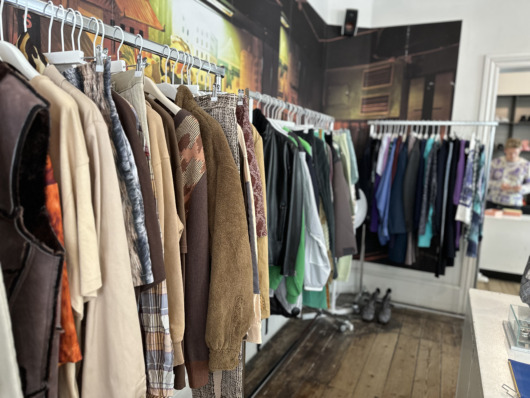 Hand picked classics, showpieces, accessories, shoes, and from previous collections up to 75% off.  Yes, I bought something from here as well!  But I had to purposely come back on the last day to buy it cause I was indecisive on whether I should get it or not.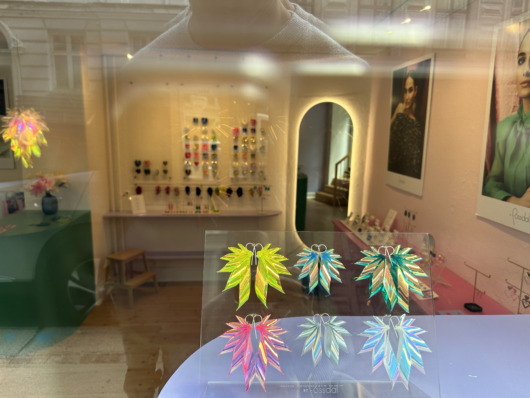 Some bright, eye catching "Butterfly looking" women's jewellery
We made our way to our lunch place after our unexpected shopping spree.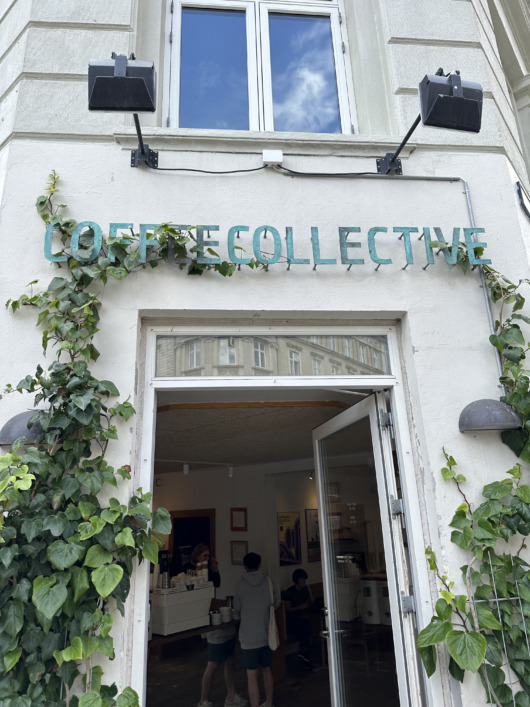 Coffee Collective, a famous coffee cafe chain in Copenhagen (website)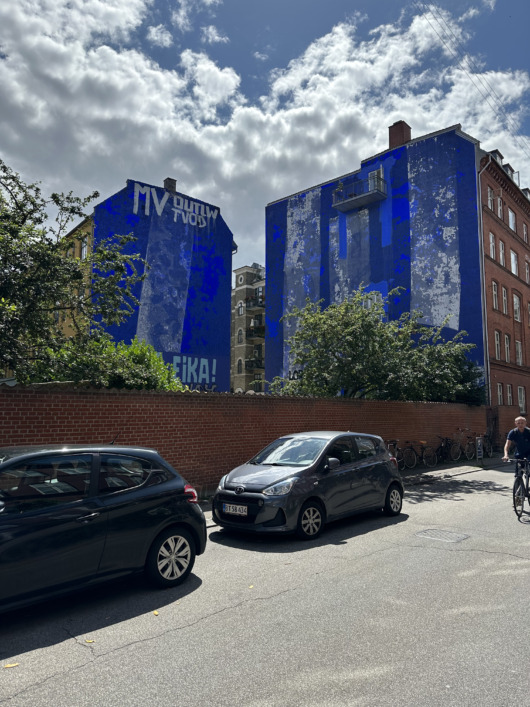 These blue painted walled buildings caught my eye.  I could not figure out what this was, but it was opposite of the restaurant we went to.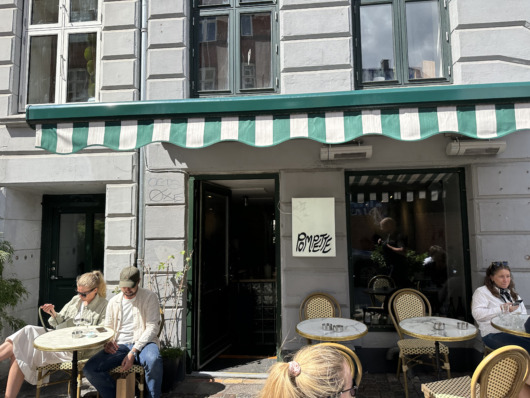 Our lunch place at this place called Pompette (website)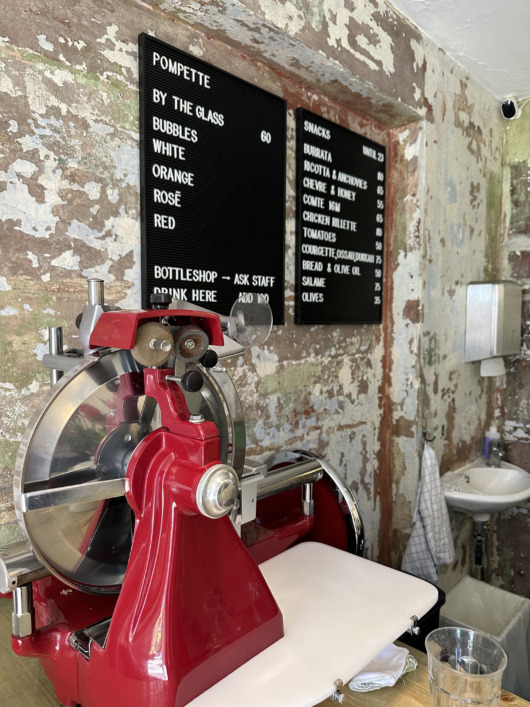 Pompette is a wine bar that my friend wanted to check out since it served many a lot of great natural wines at friendly prices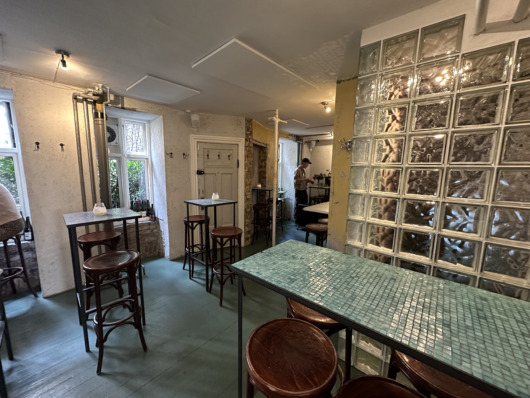 Most of the people that came sat outside to embrace the lovely cool weather (yes it can still be chilly during the mornings and esp. after sunset even during summer)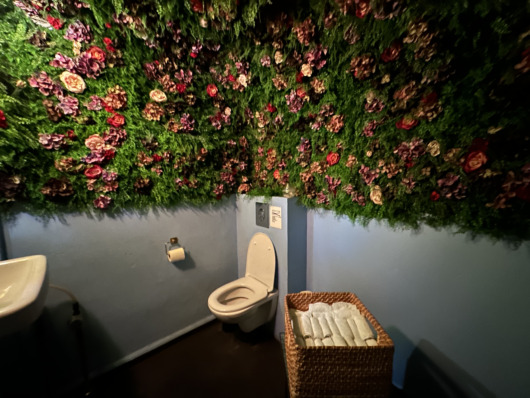 This is the selfie toilet, where everyone is encouraged to take a selfie with the sink mirror.  I actually thought this was a fantastic idea and a very creative way to make the bathroom more interesting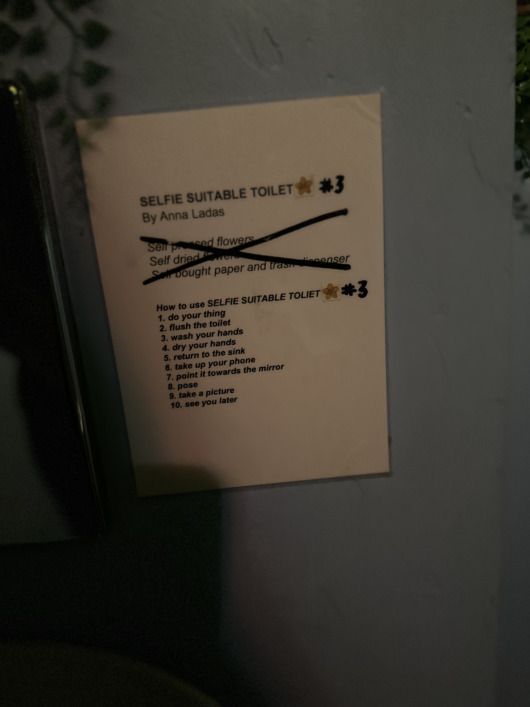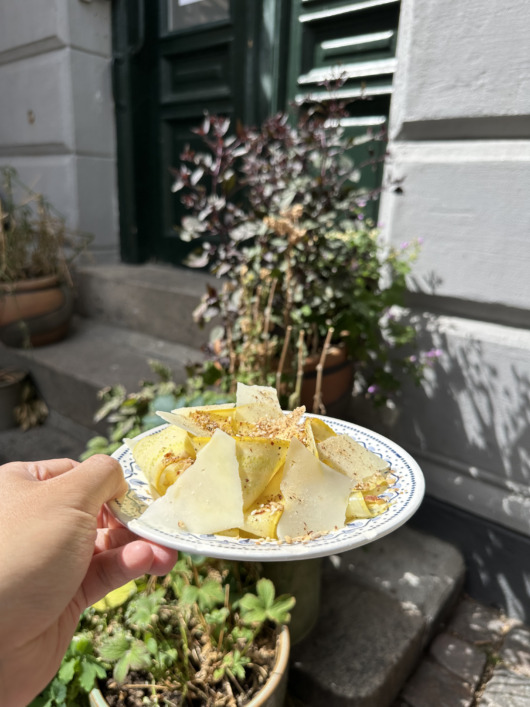 I think zucchini slices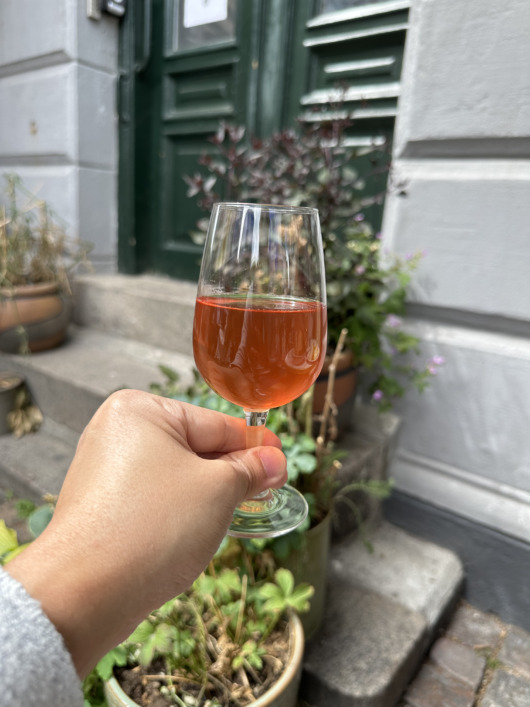 I think this was an orange wine that we tried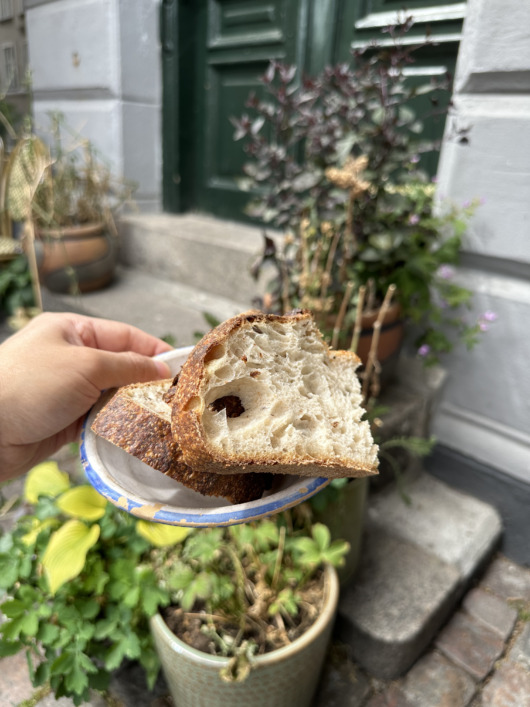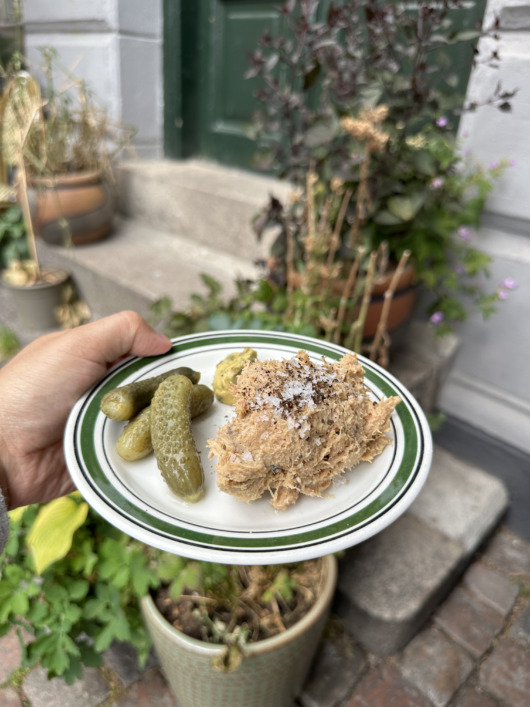 Foie gras, raw.  Was good with the bread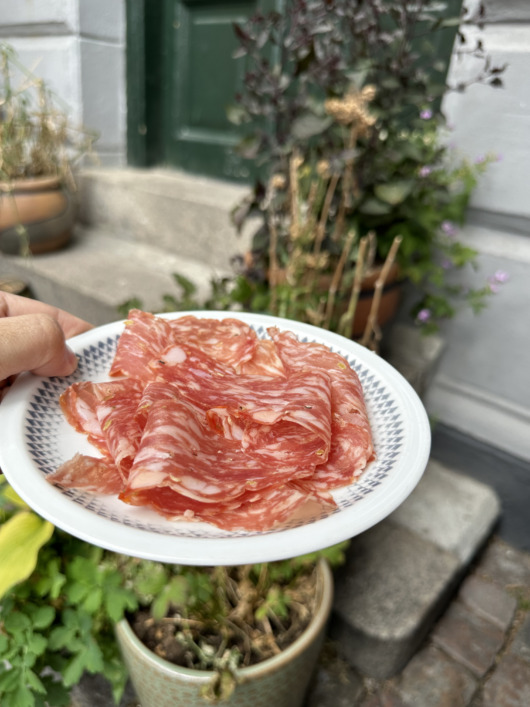 I think like mentioned just now, the food was decent again, but you can see it's like a wine bar with small bites, so the food was not its emphasis.  If you're coming for small bites and some nice light wine, this is a good place for you.
We then started making our way to the Rosenborg Castle.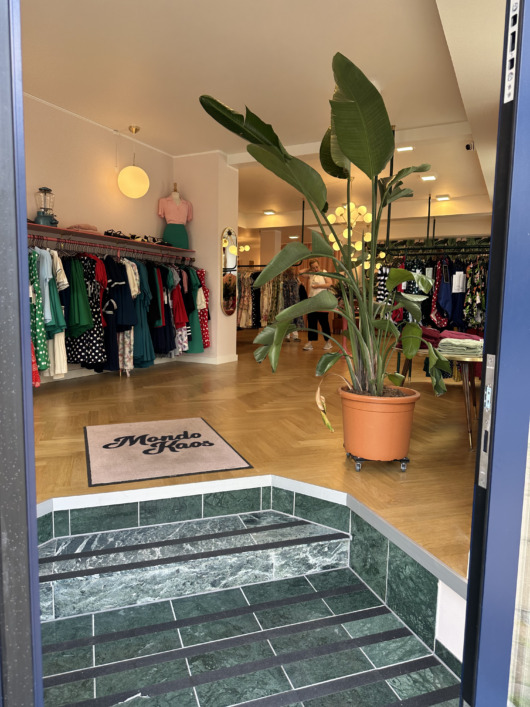 On our way, we passed by this shop called Mondo Kaos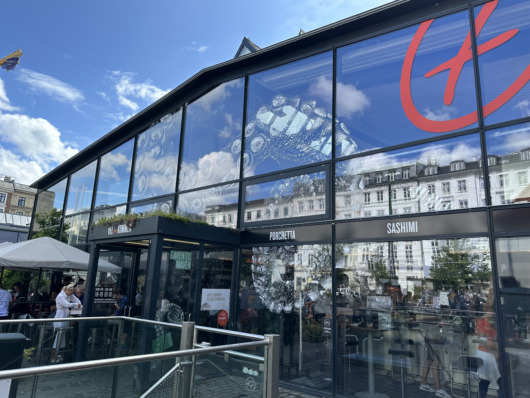 We also unexpectedly passed by this TorvehallerneKBH, Fresh Food Market place.  Very cool place, should be a place to go for more tourists.  Here's your bonus for reading my blog!  Don't think it's listed in many tourist books or blogs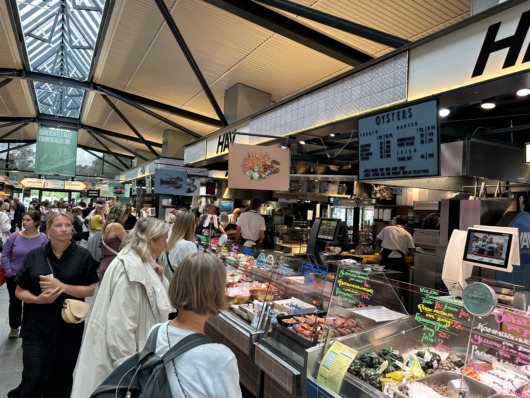 Fresh food market where you can buy different raw food items or even dine outside at different restaurants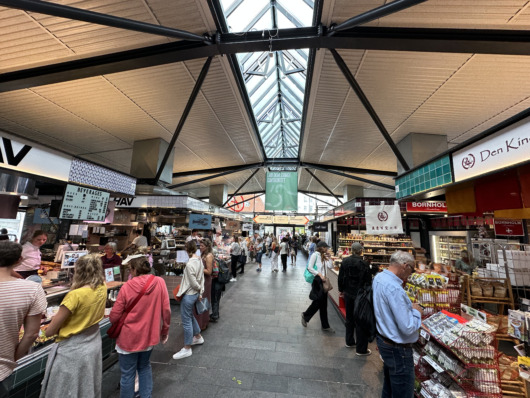 I'm so used to the wet markets in Hong Kong that this place just feels sooo clean and organized and clean.  Everywhere in Copenhagen is just sooo clean and like… they hold a standard to themselves to ensure everything is proper and clean if you know what I mean.  Oh did I mention how clean it was again?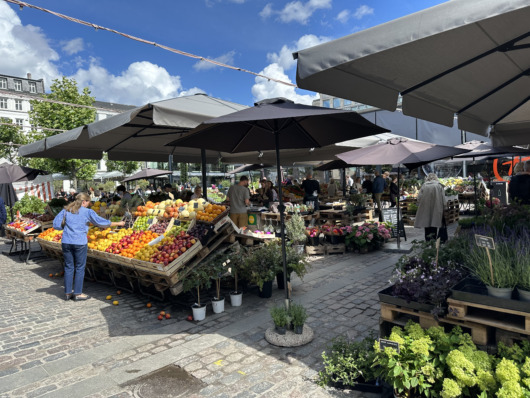 Fruits and flowers being sold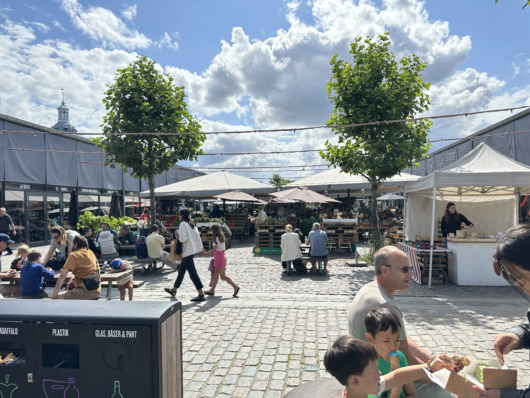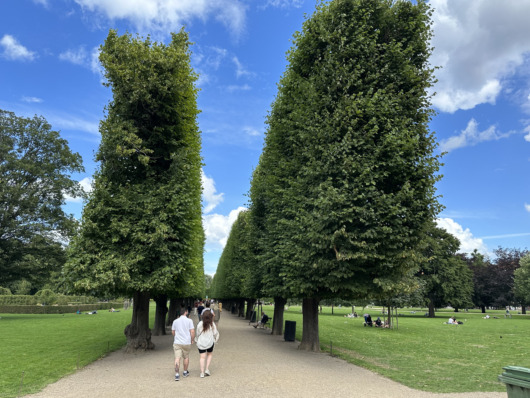 Finally after a 20 min walk, we arrived at the beautiful green gardens of Rosenborg Castle (Rosenborg Slot)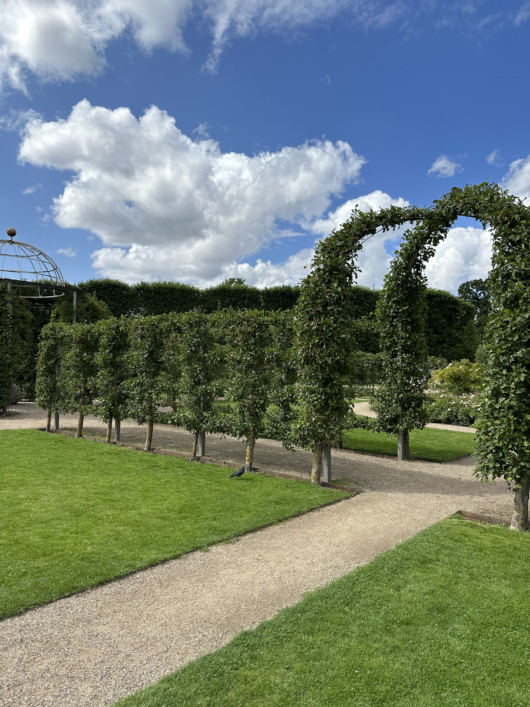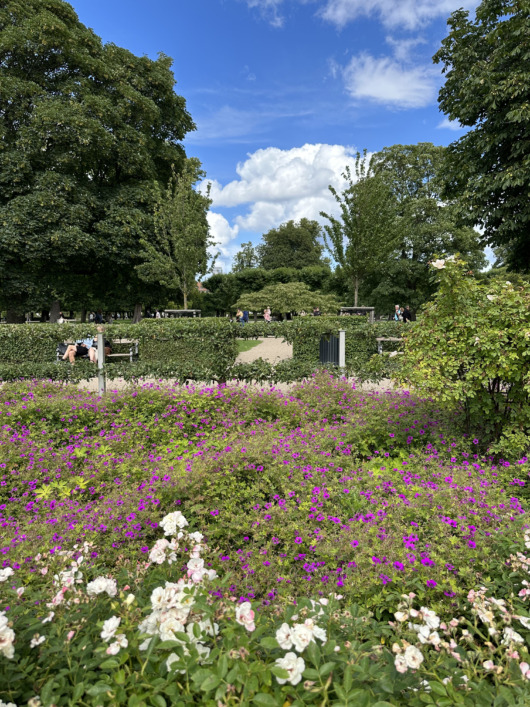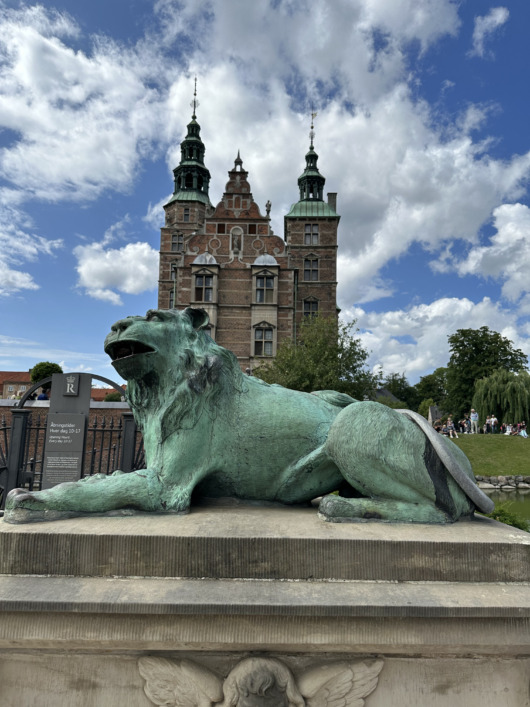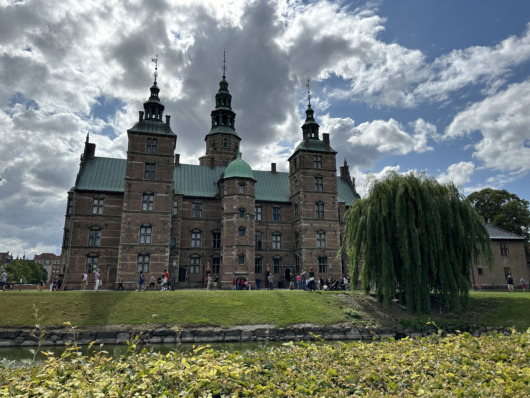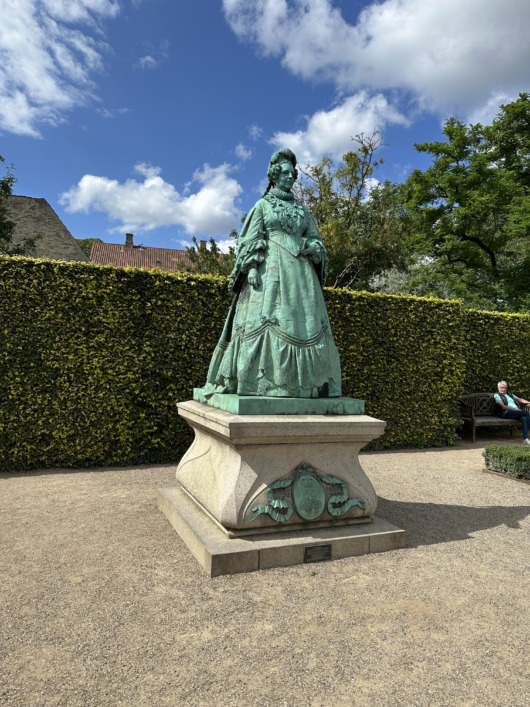 So, we actually didn't end up entering Rosenborg Castle because by the time we got there (around 4pm to 4:30pm), the tickets for the day were already sold out.  We thought we could walk in.  If you're interested in seeing inside of the Rosenborg Castle, you have to read part two of my Copenhagen blog as I did go to the castle on the next day (third day).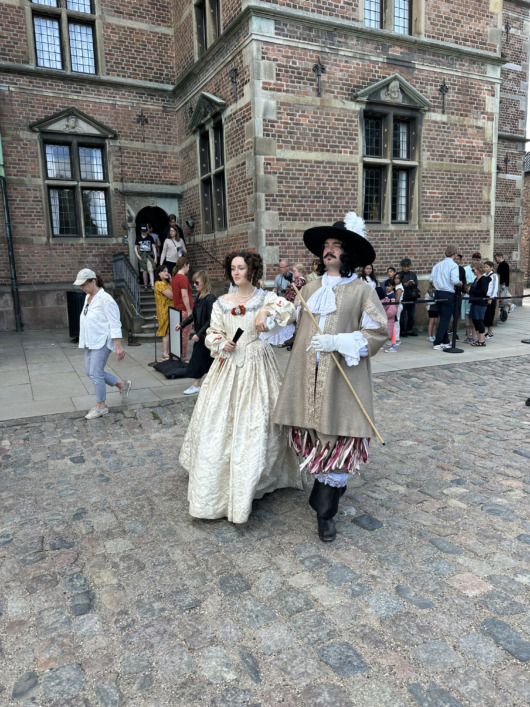 Time travellers from the past
As we could not get tickets to Rosenborg Castle, we did something nearby instead, which was also on our itinerary, which was to visit the National Gallery of Denmark (website) / Statens Museum for Kunst.
It's a fabulous art gallery featuring the works of many Danish artists from the past to the present, and also an art gallery featuring many other European artists from the past to the present as well.  It's a huge gallery that can take at least two hours, leisurely at least three to four hours, and the quality of the art pieces were superb, so I definitely recommend putting this into your itinerary especially if you're an art lover.
I'll be putting about 20 photos here, but I took so many photos so scroll to the bottom to the Extra Photos section to see way more photos I took of the gallery.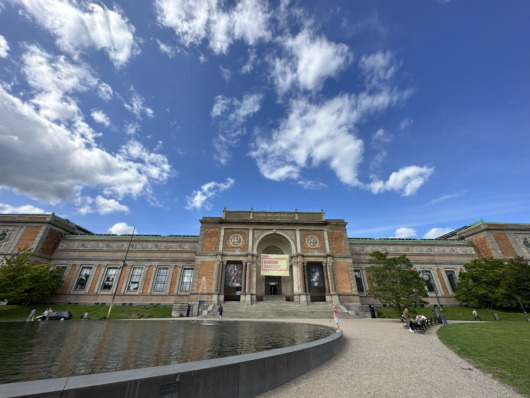 From the outside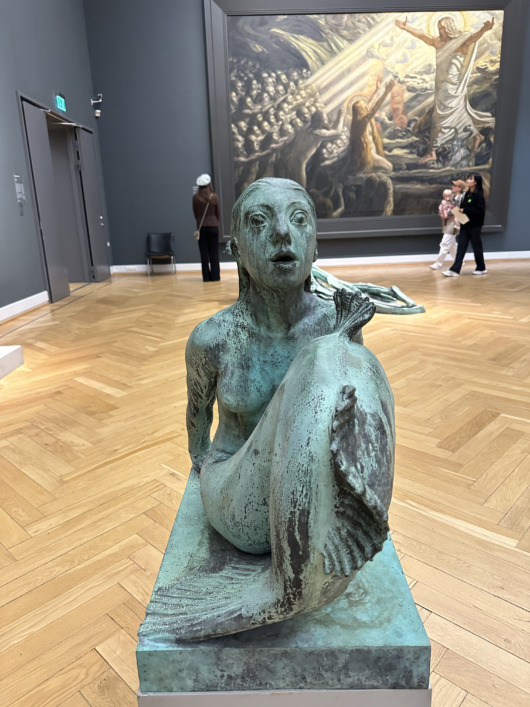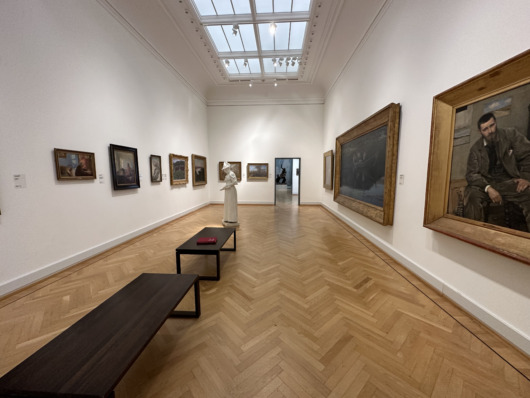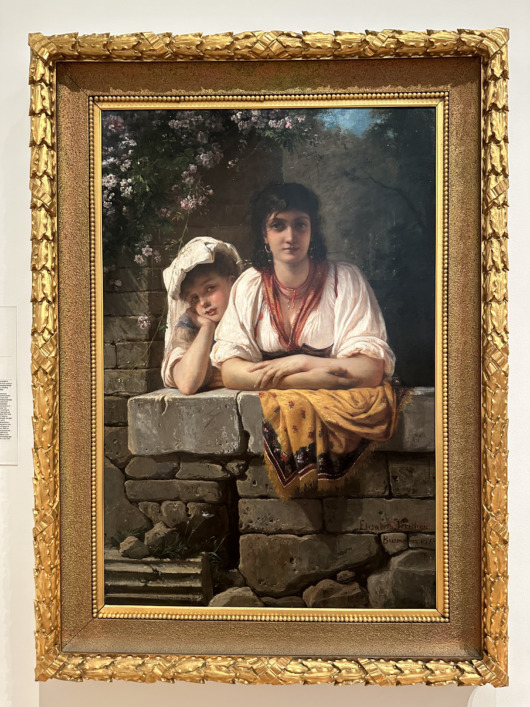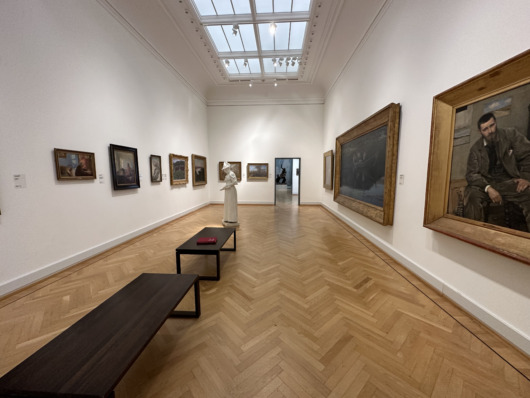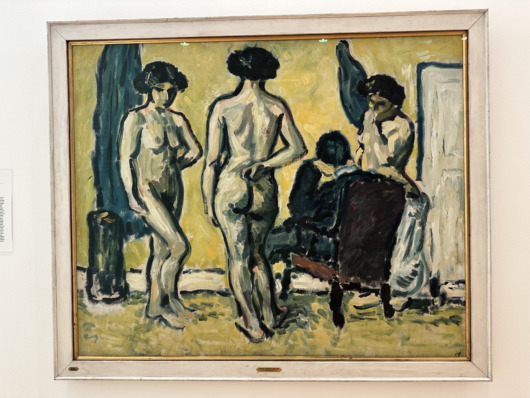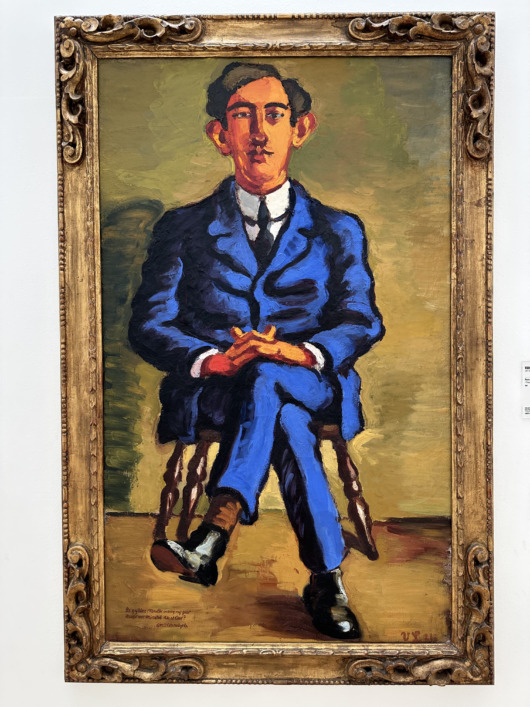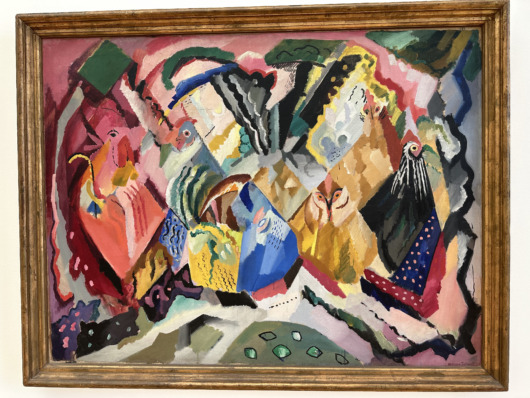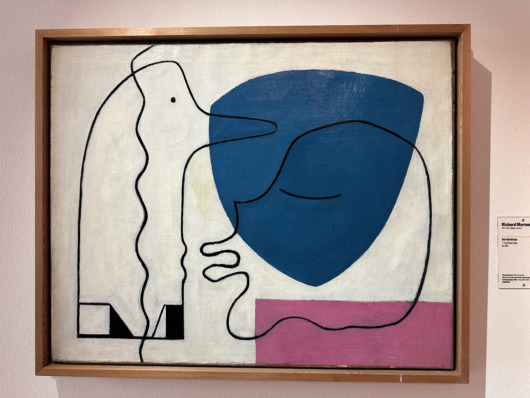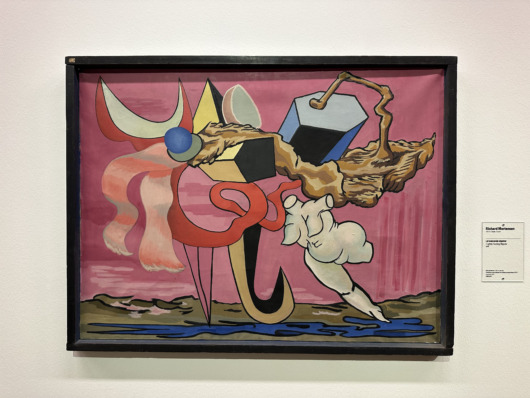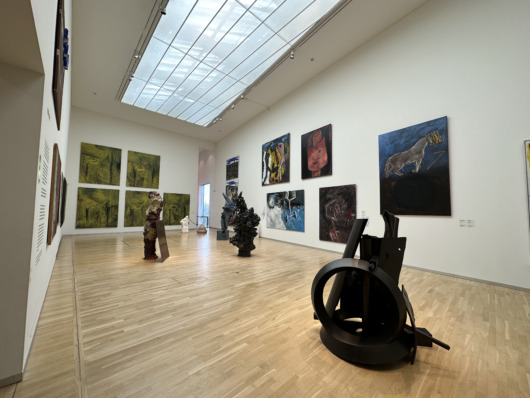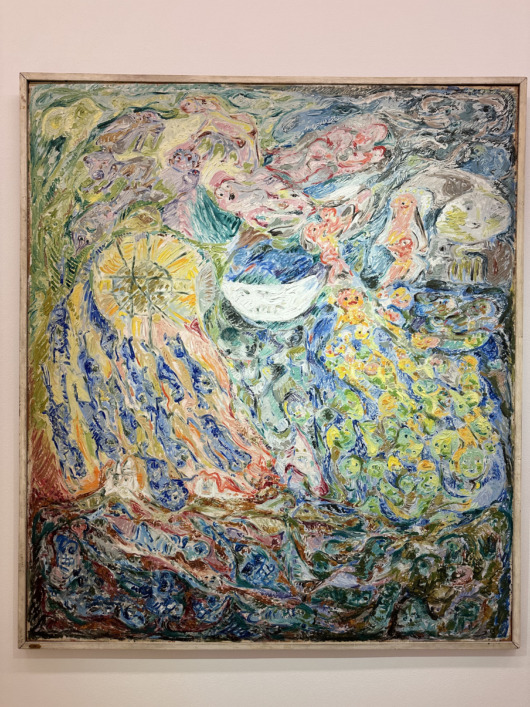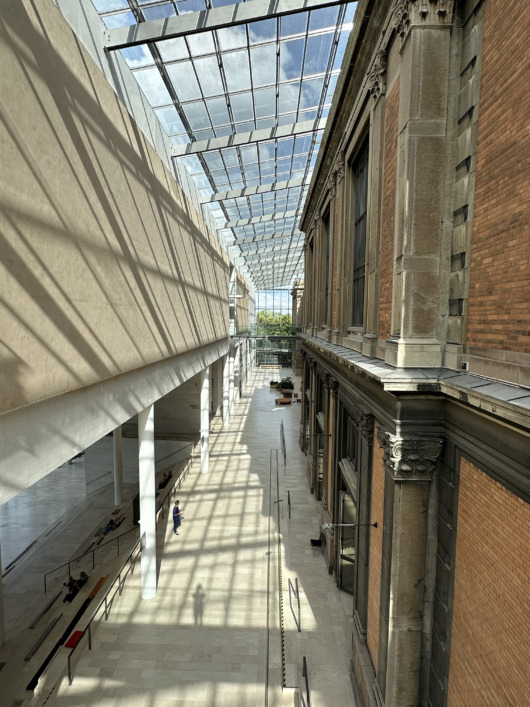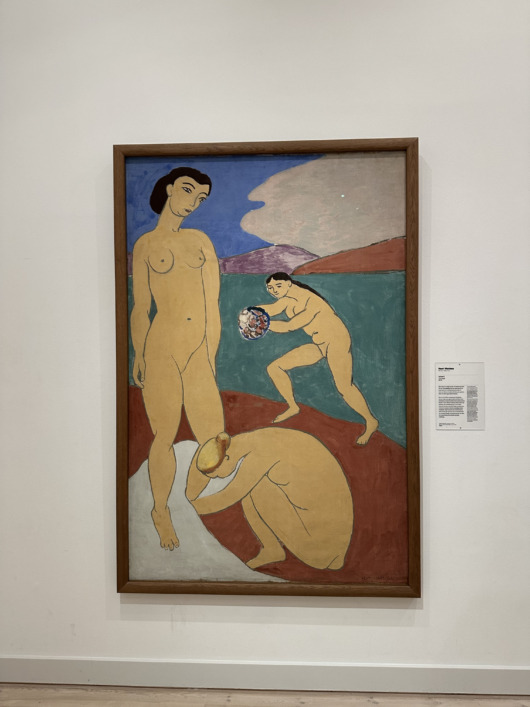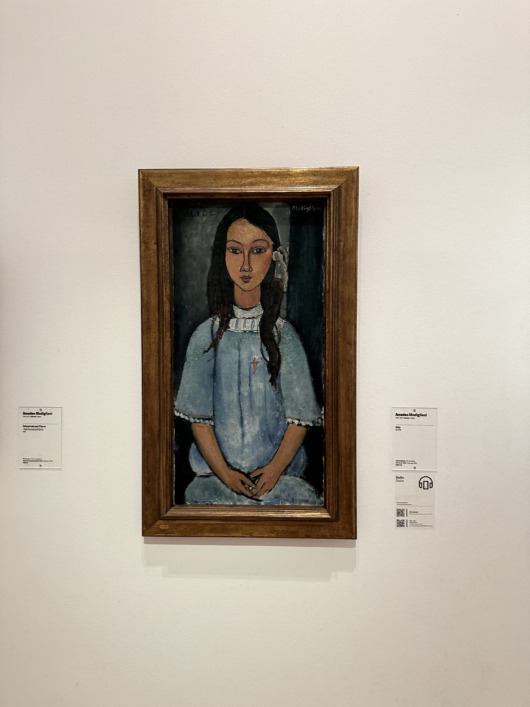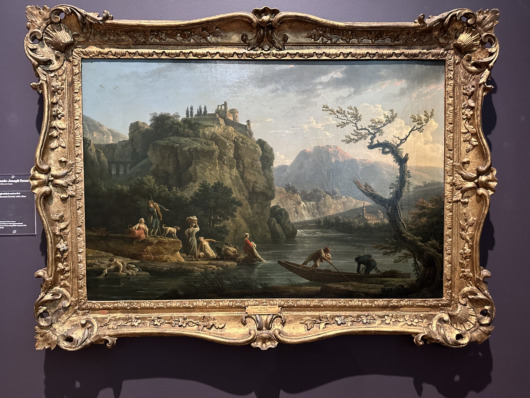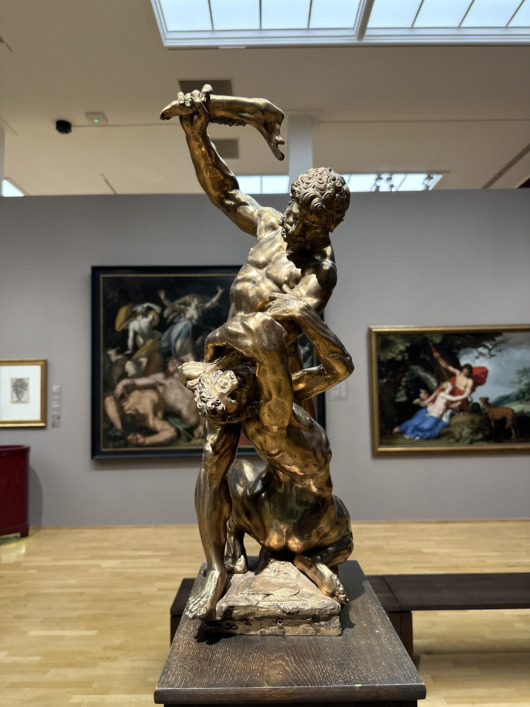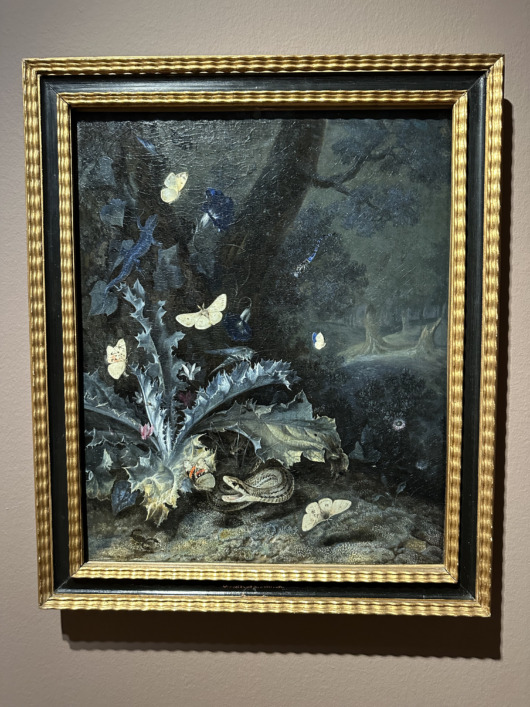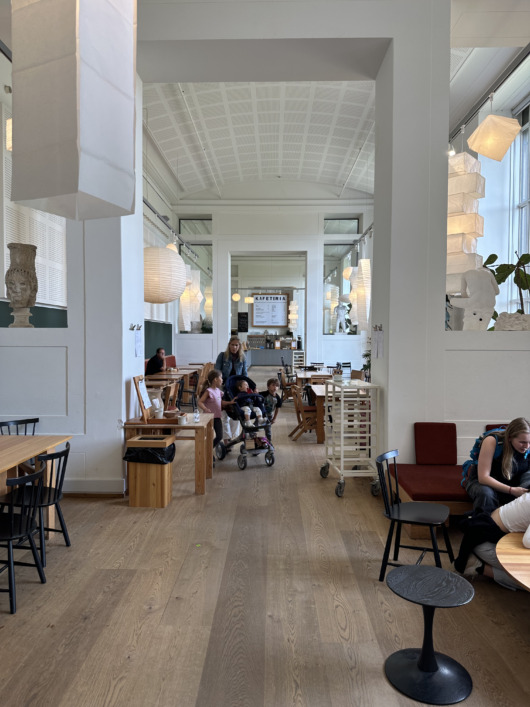 Their cafeteria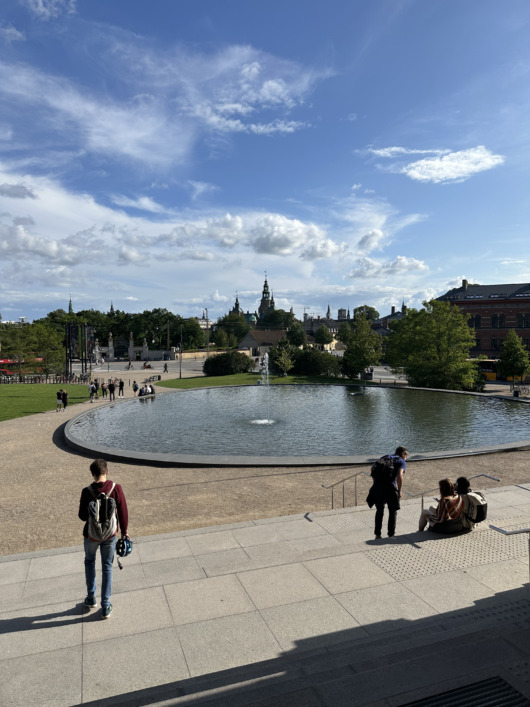 After resting at Rosenborg Palace a little bit since it was too early to go to dinner, we then proceeded to head towards Marv and Ben for our dinner.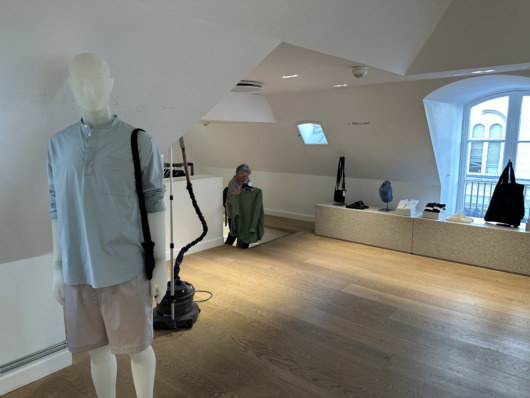 Shopped and bought some stuff at COS store in Stroget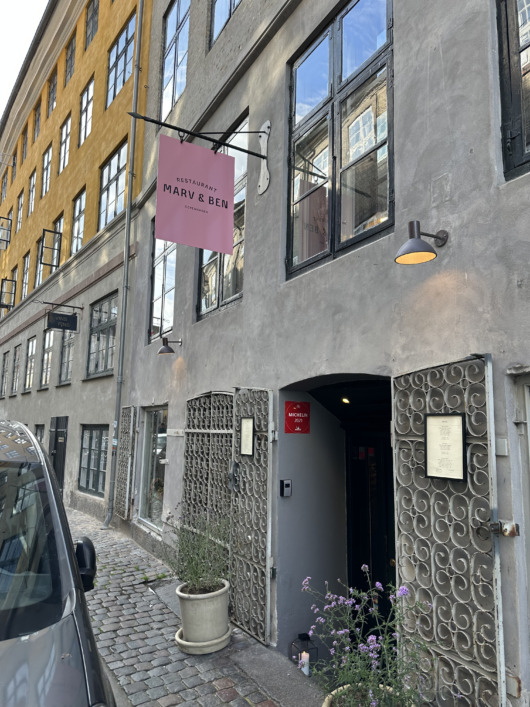 Marv and Ben (website), a Michelin recommended restaurant.  Make sure you make reservations.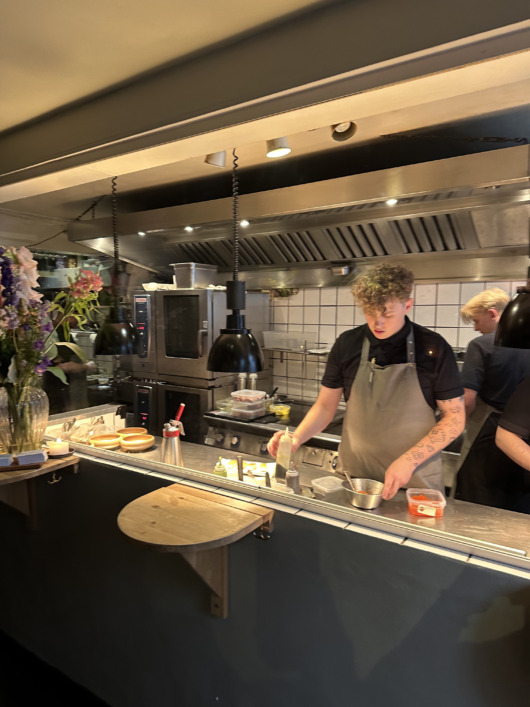 Here's what the Michelin recommended guide had to say about this restaurant "Organic produce features in seasonal cooking which displays purity and depth of flavour." and Google, "Venue with an open kitchen & spartan decor for creative locally sourced food & an organic wine list."  And from their own website, "Nordic gastronomy made from the seasons ingredients from local small producers."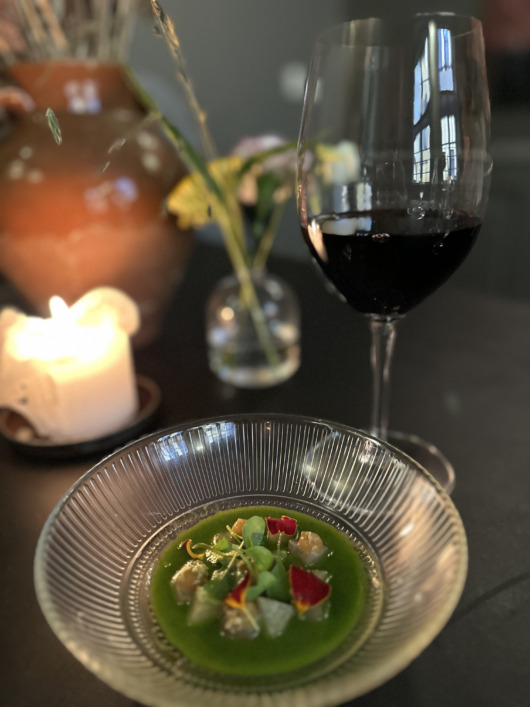 We ordered the six course menu.  This first dish was Scallop – green strawberry – elderflower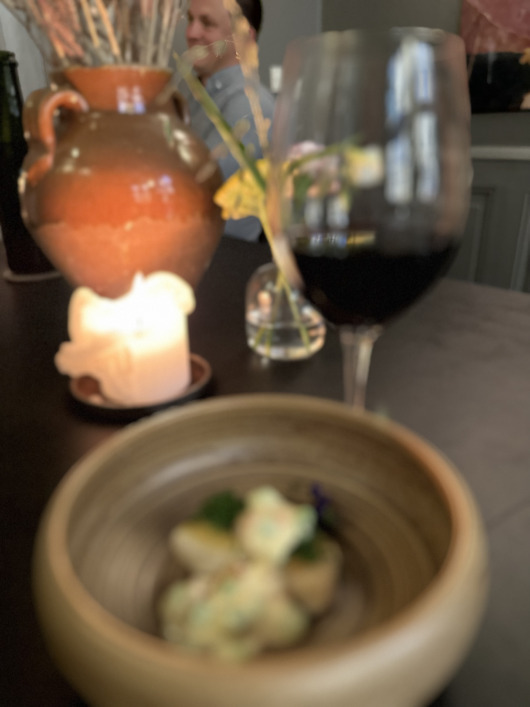 Second dish was Hake – peas – miso
Third dish was Potato – smoked cheese – lovage (no photo).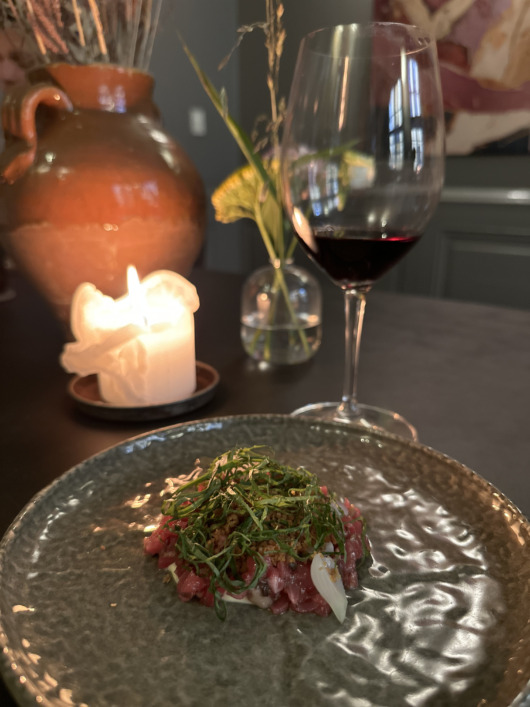 Fourth dish was Raw beef – mushroom – chicken skin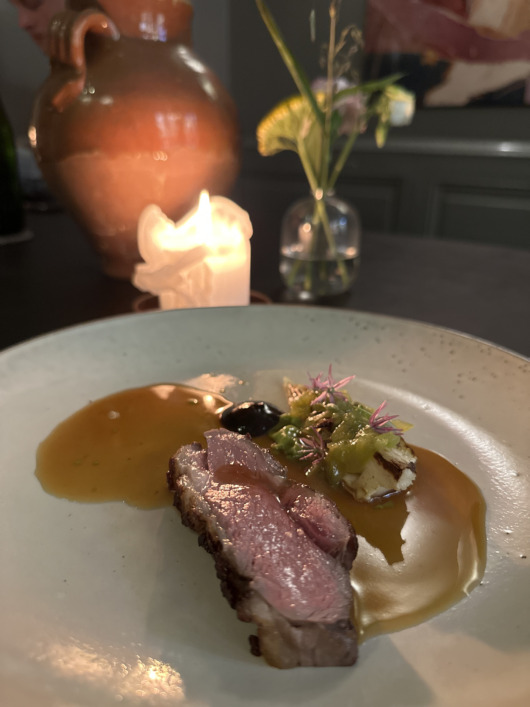 Fifth dish was Lamb – cabbage – gooseberry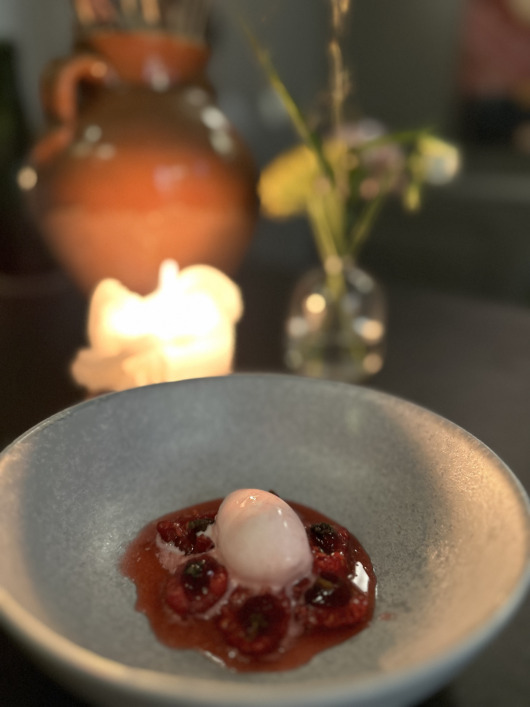 Last dish was Blueberries – cep mushroom – caramel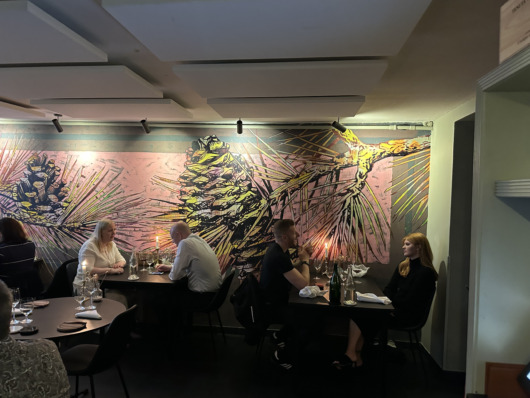 For the price of 650 Danish Krone for six course meal, honestly not bad at all!  With wine pairing it'd be double the price at 1300.  I'd have to say Marv and Ben has the making of one star Michelin restaurant taste and flavor, the flavors of all dishes were much more flavorful and better than the night we had yesterday at Restaurant Barr.  Definitely recommend going to Marv and Ben!  The ingredients used were just much better.
So I'm going to wrap up with Days one and two right here since it's already a 3,000 word blog post and I feel that it's already wayyy too long.  To read part two for days three and four, click here to continue.
Love the bread in Copenhagen and the fine dining here.  Love the walkable-ness and the weather when it is not super cold or raining.  I also love the shopping here – love the summer sales, the plain simple fashion styles that also have the fit I'm looking for.  Yeah, the bread is spectacular here!
Extra Photos
To avoid putting too many photos between the texts, I've included this section for those who want to see more pictures after the post.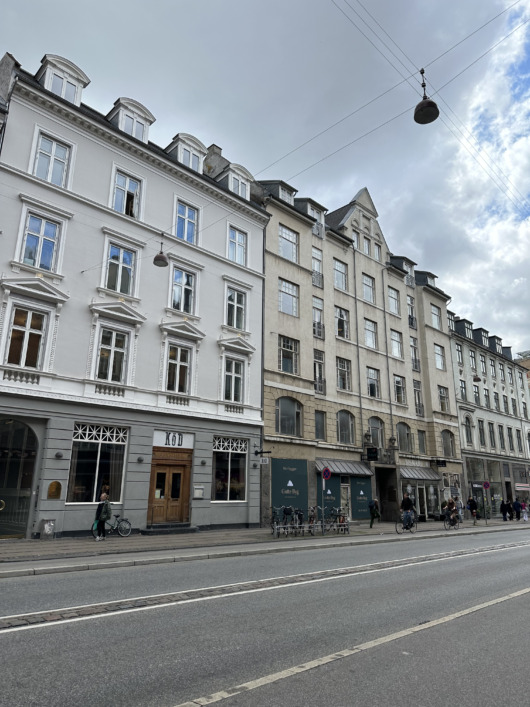 Area around our hotel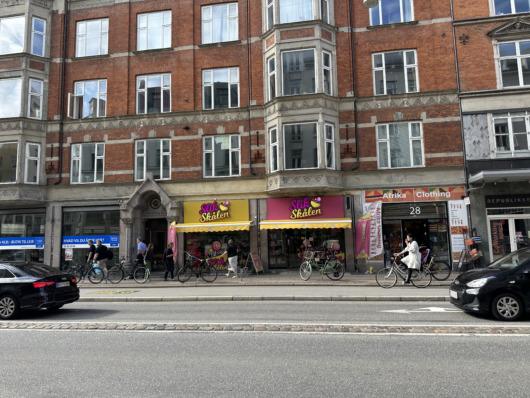 Area around our hotel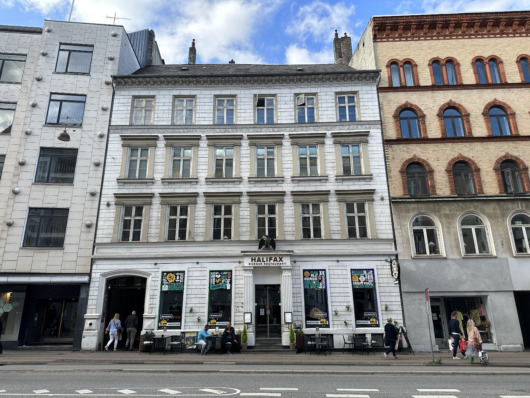 Area around our hotel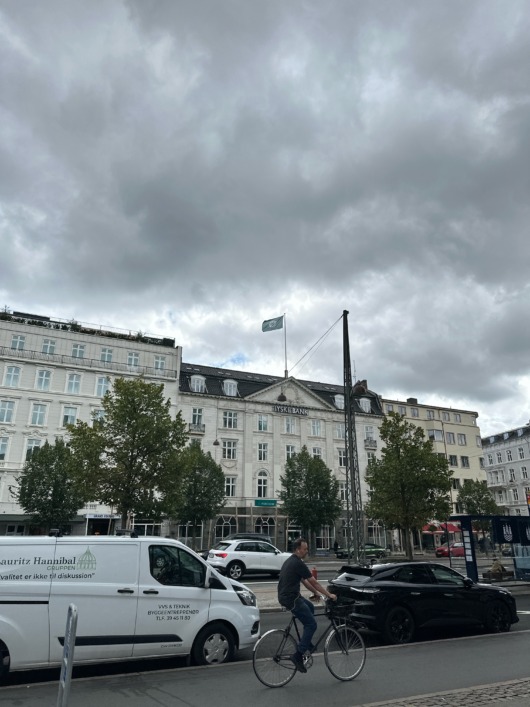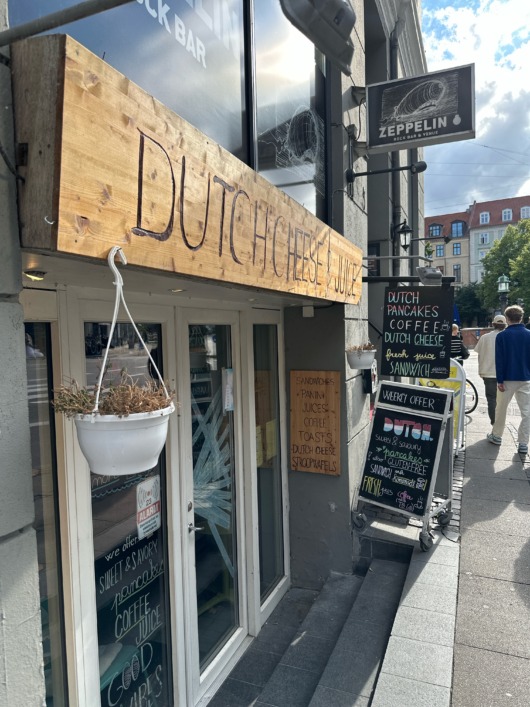 Dutch cheese and juice shop nearby our hotel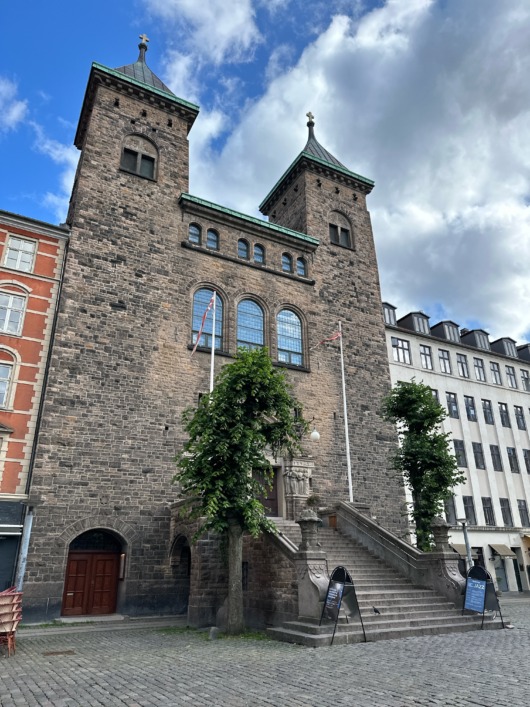 Nearby our hotel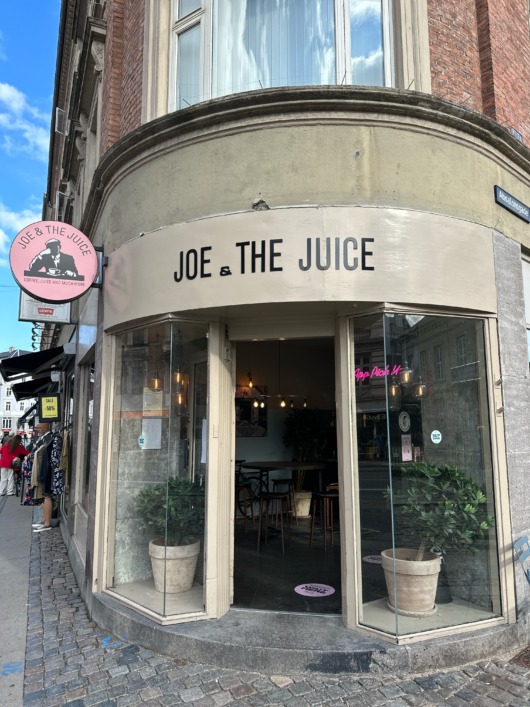 Again, another Joe and the Juice shop nearby our hotel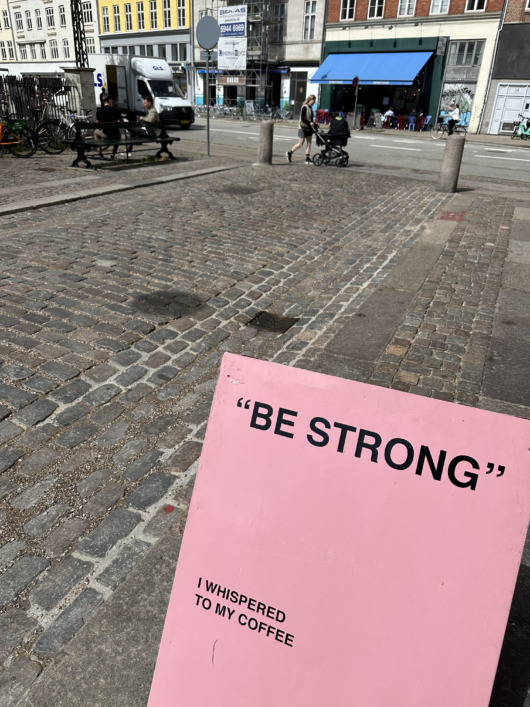 Be strong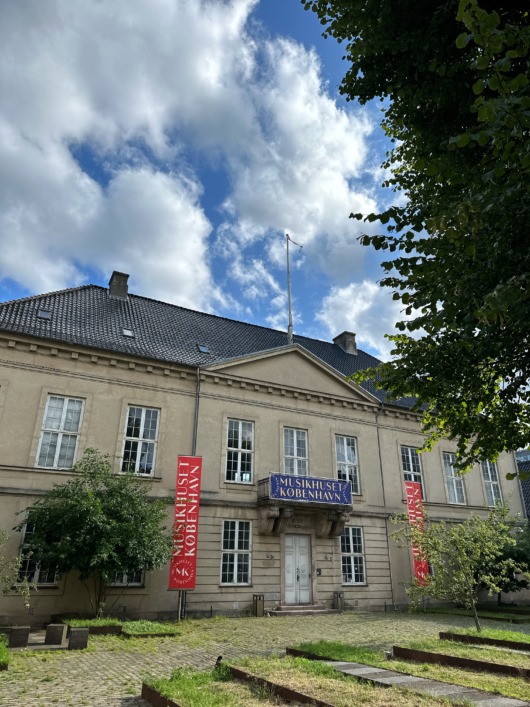 Musikhuset Kobenhavn (website) music venue near our hotel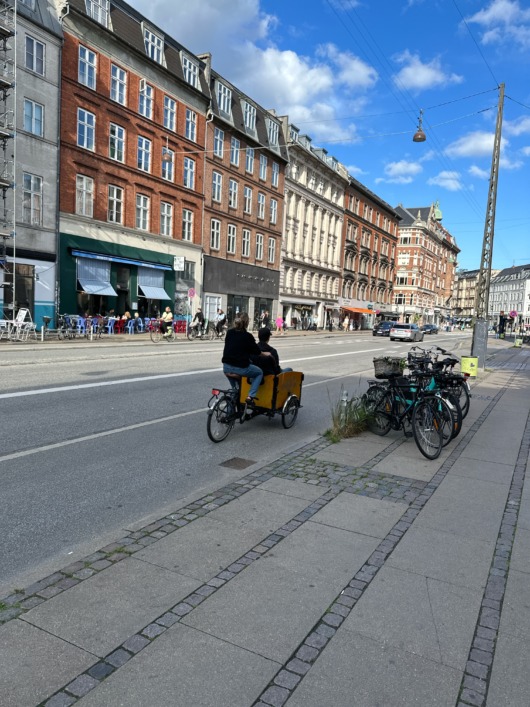 Nearby our hotel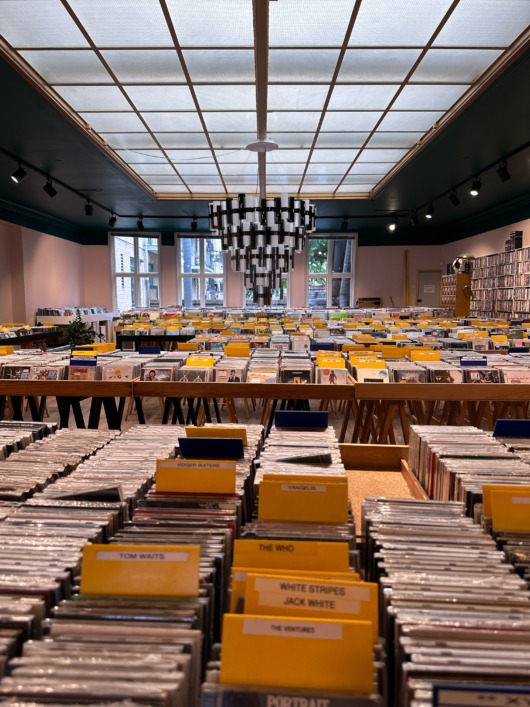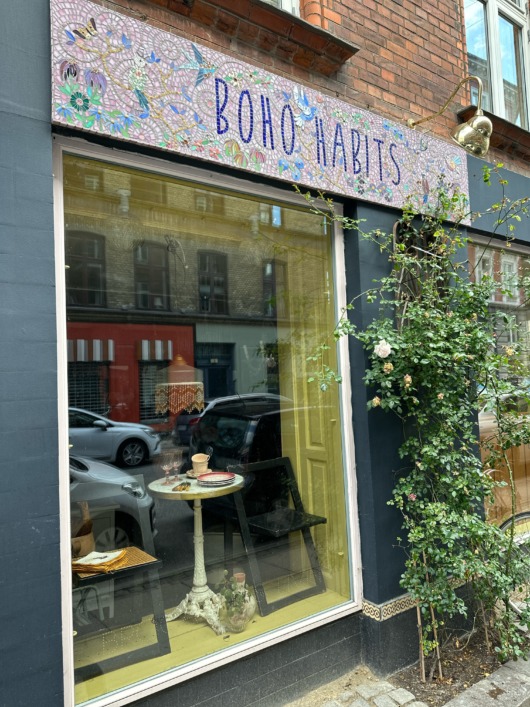 Boho Habits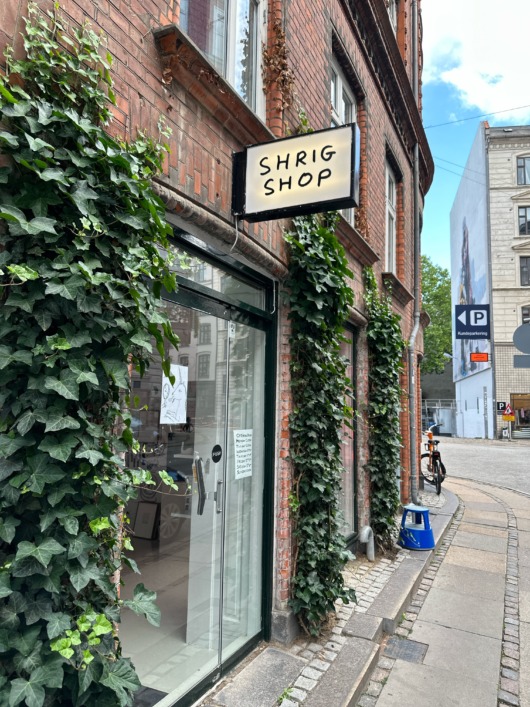 Shrig Shop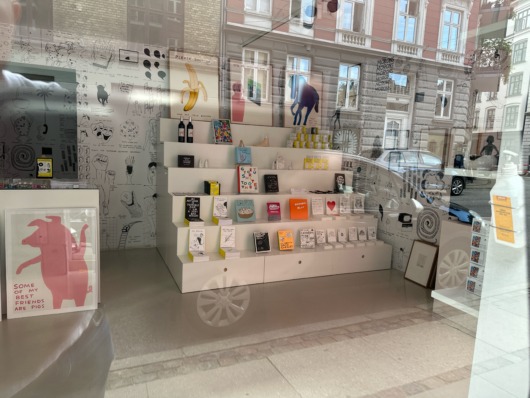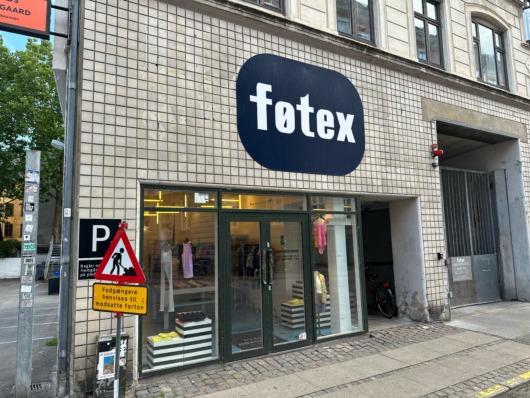 Fotex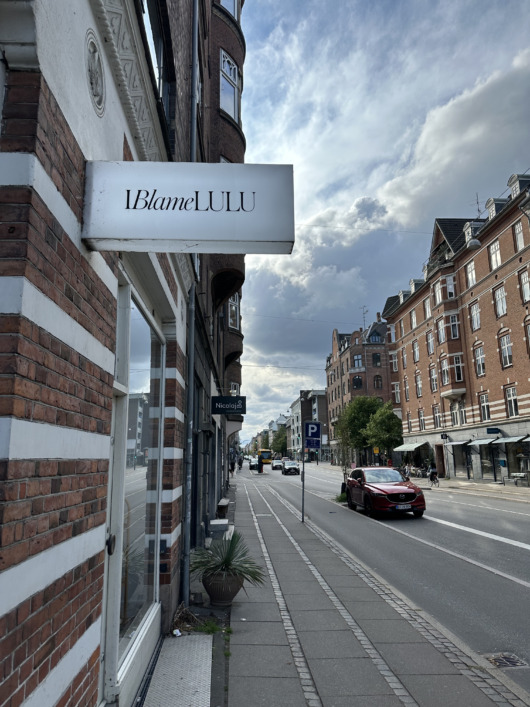 IBlameLULU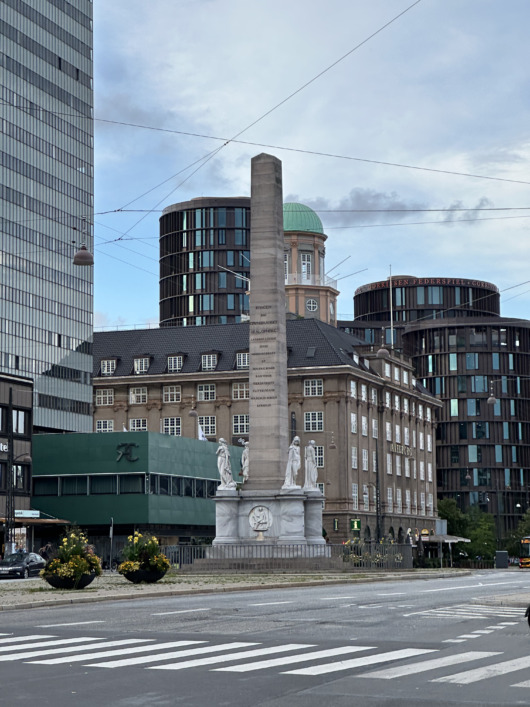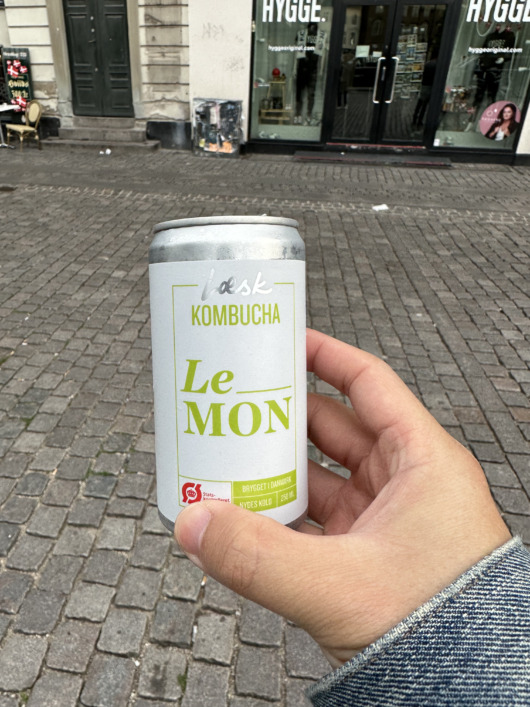 The Kombucha I got when we made our way to Nyhavn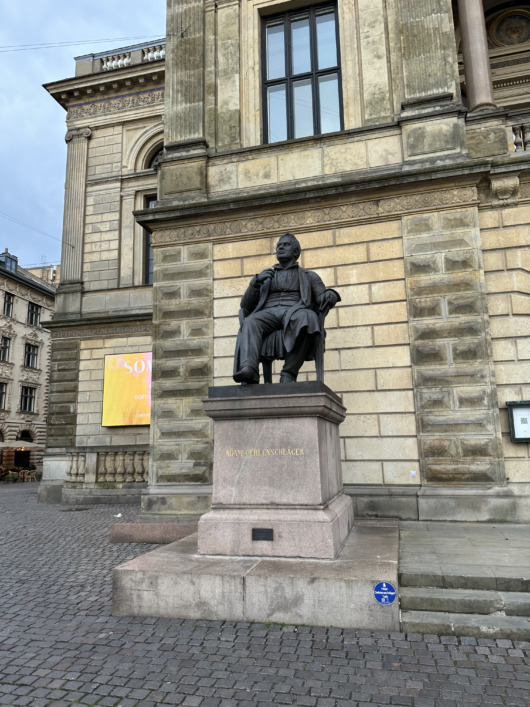 Something we saw on our way to Nyhavn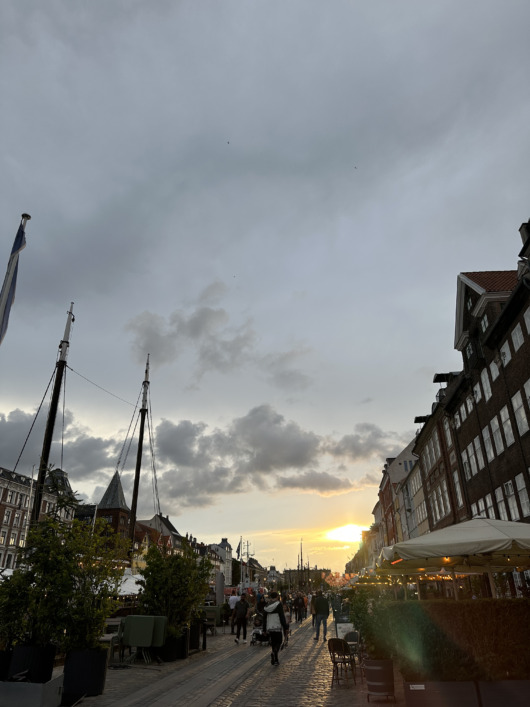 Nyhavn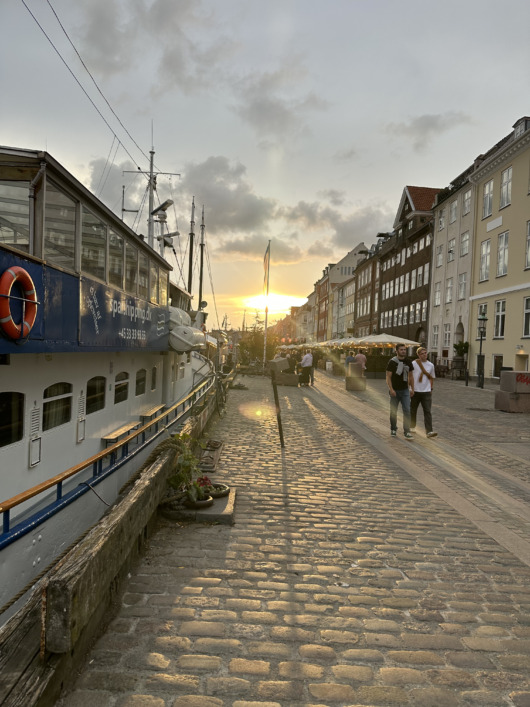 Sun setting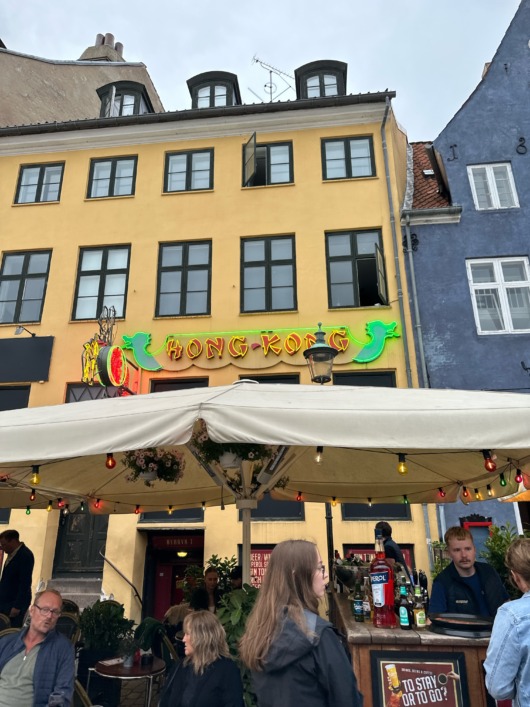 Hong Kong in Copenhagen !?!  Seems Hong Kong is quite popular with the Danish!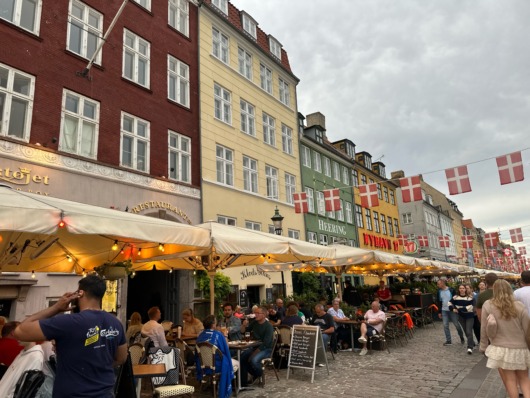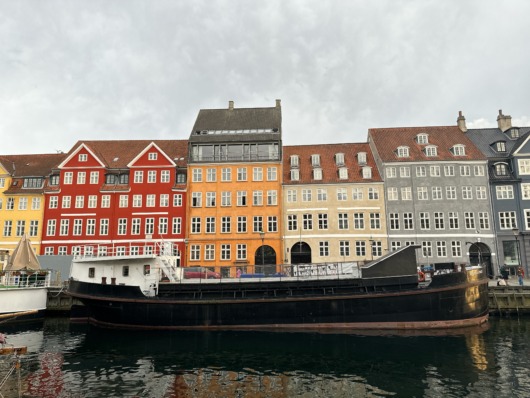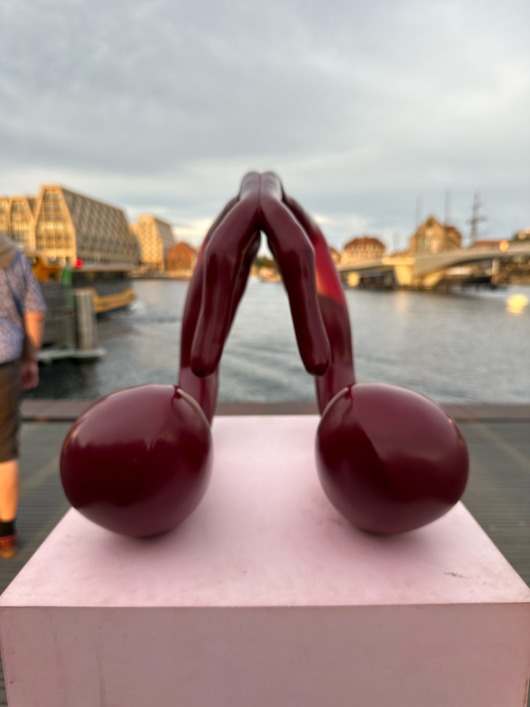 What is this!?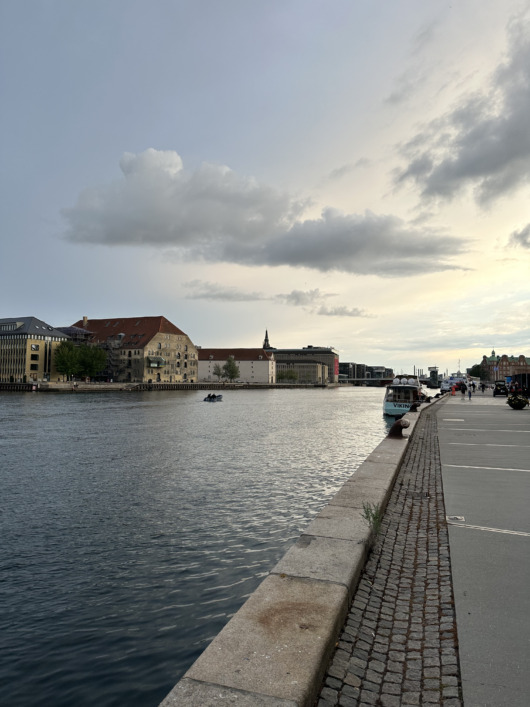 The view outside Soho House, Copenhagen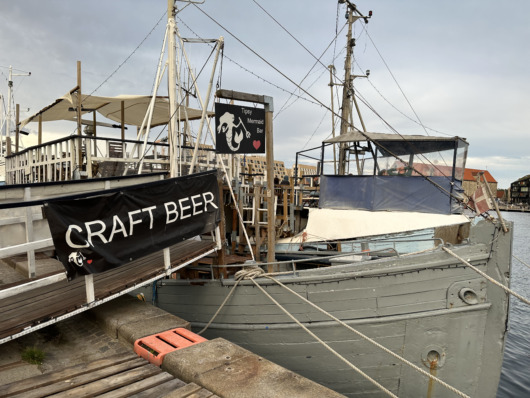 Tipsy Mermaid, a craft beer bar on a boat right next to Soho House.  Really cool venue!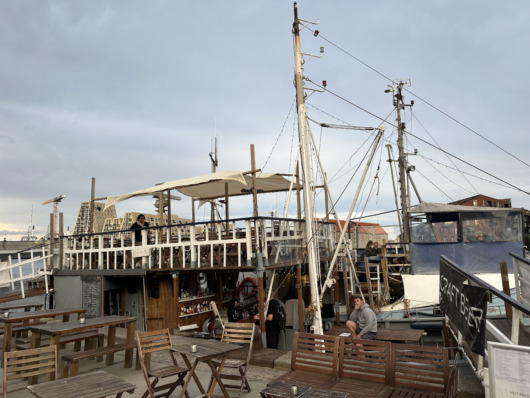 Tipsy Mermaid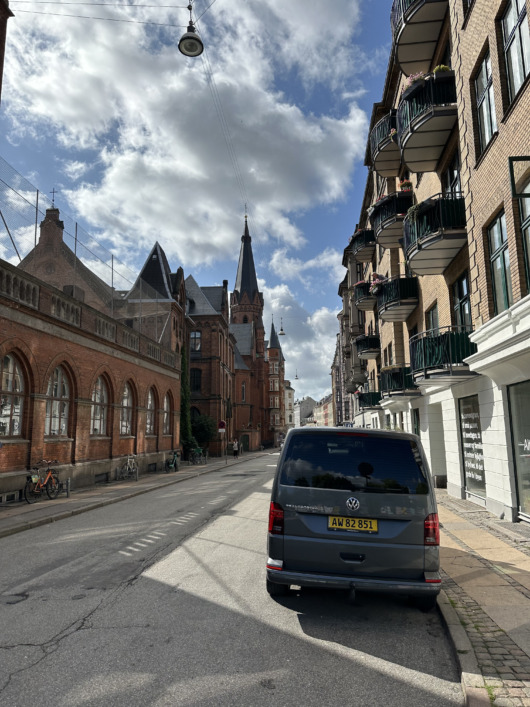 On our way to Norrebro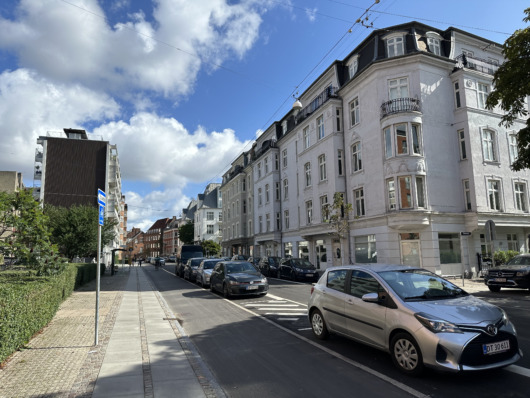 Also on our way to Norrebro.  Love this magnificent white color of the houses.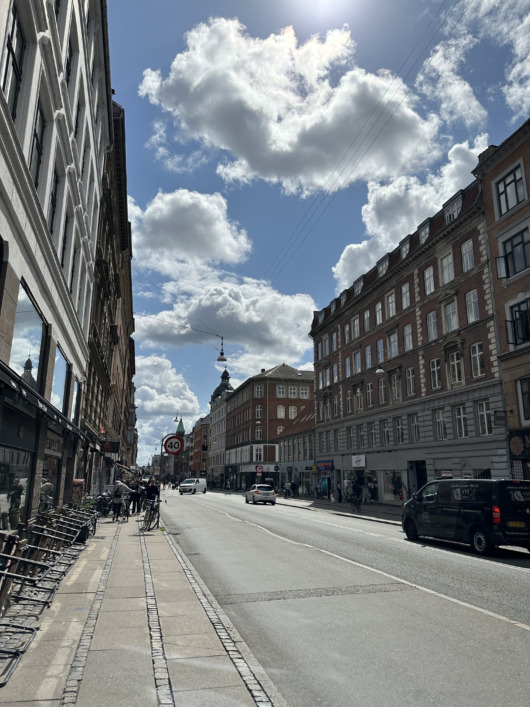 More pics of Norrebro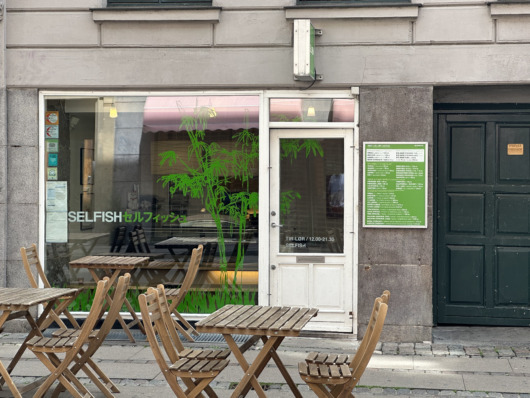 Passed by this restaurant called SELFISH that does sushi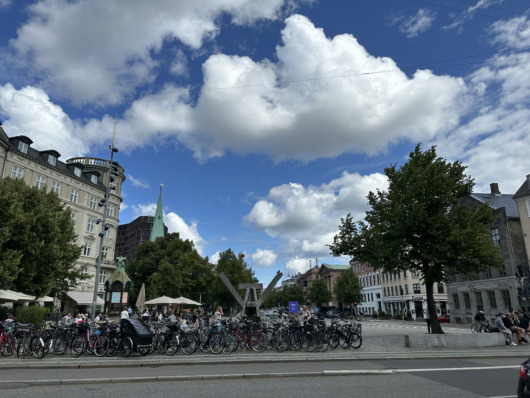 Norrebro, near Elmegade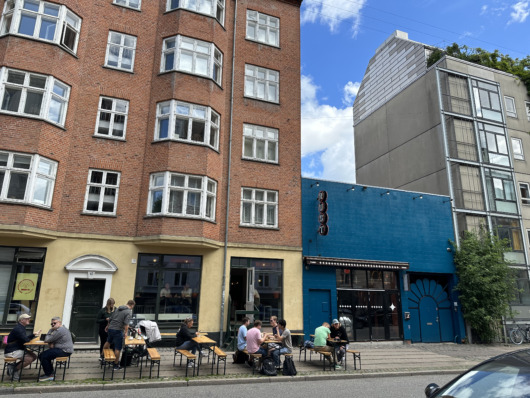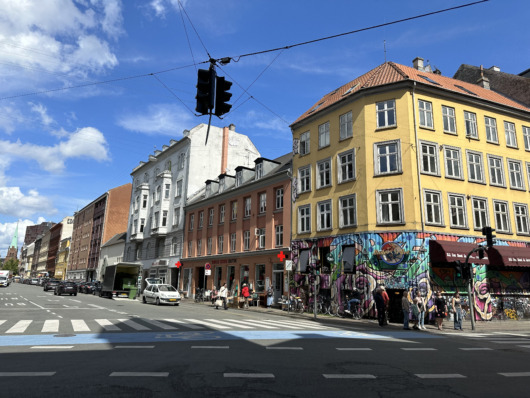 More Norrebro pics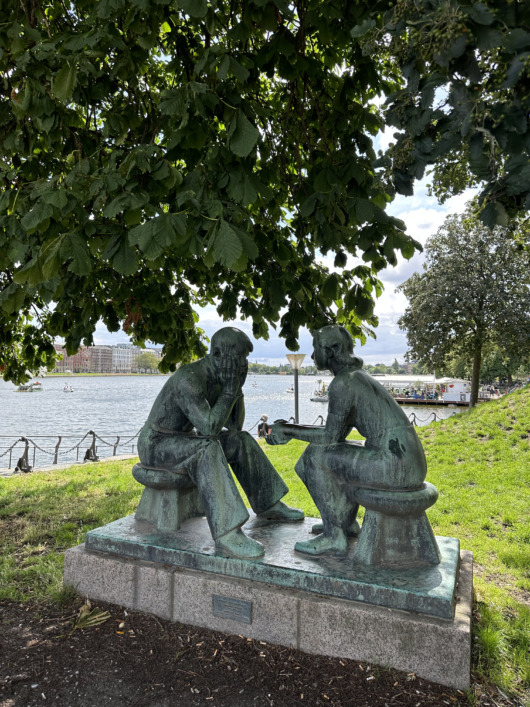 We passed by Peblinge So, Lake again with this turquoise beautifully carved statue.  What do you think their facial expressions tell you?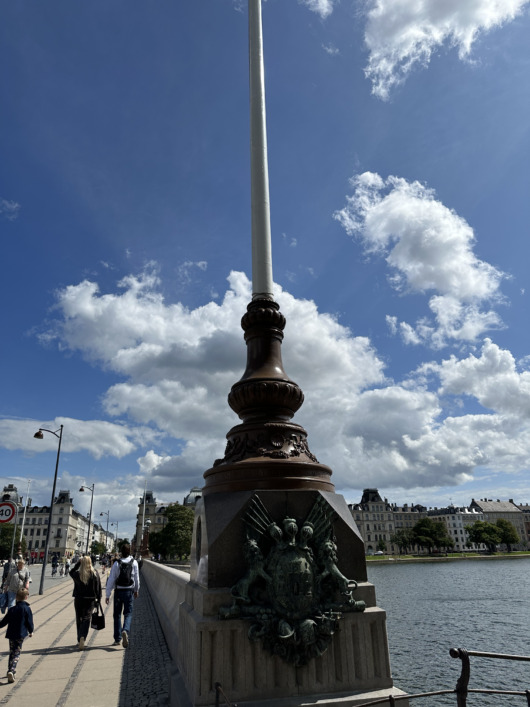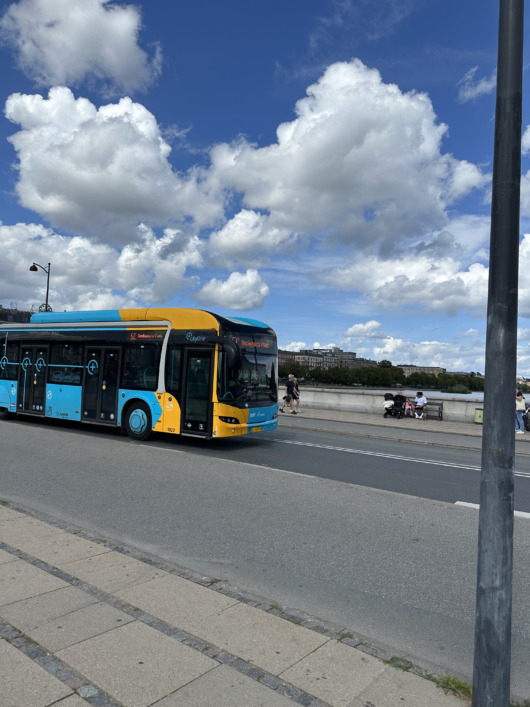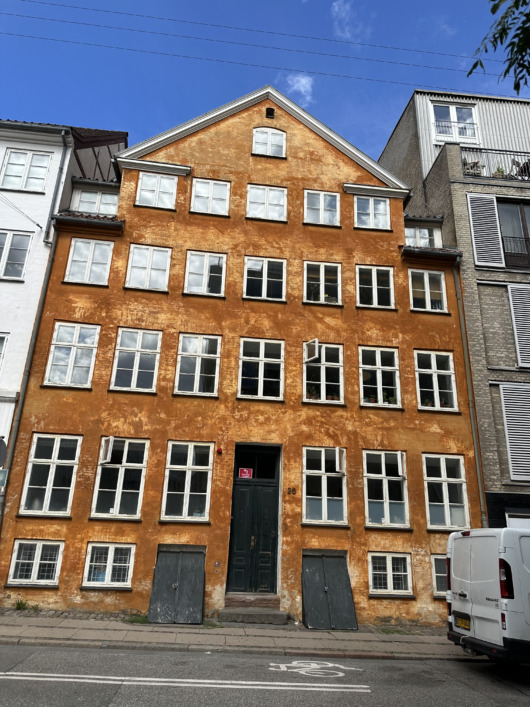 On our way to Rosenborg Castle, I took a few photos of buildings I thought looked interesting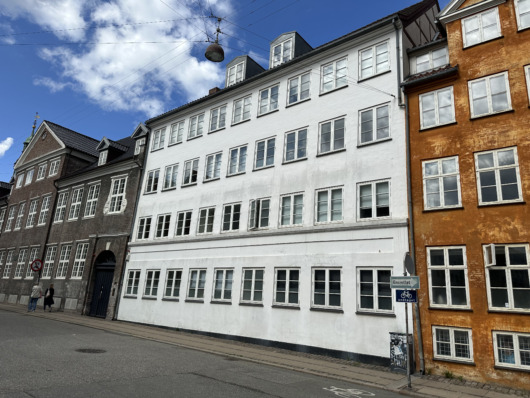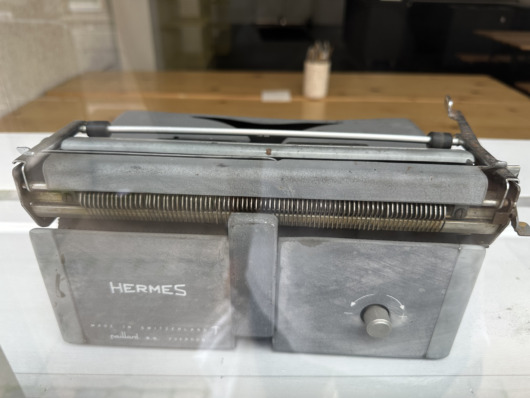 Spotted a Hermes typewriter!?  I think this Hermes company is different from the luxury fashion brand, but can someone confirm?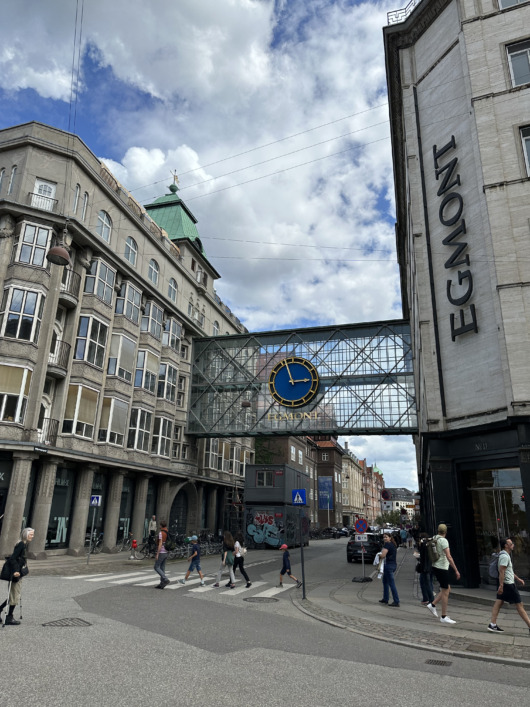 A big clock right in the middle of the street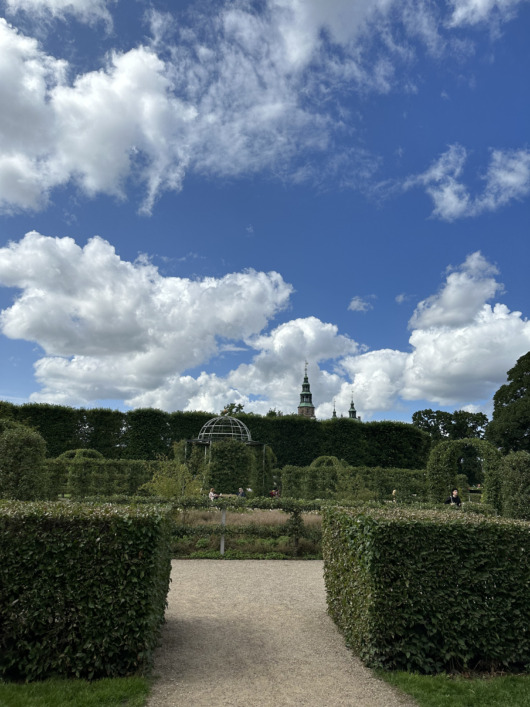 More pics of Rosenborg Castle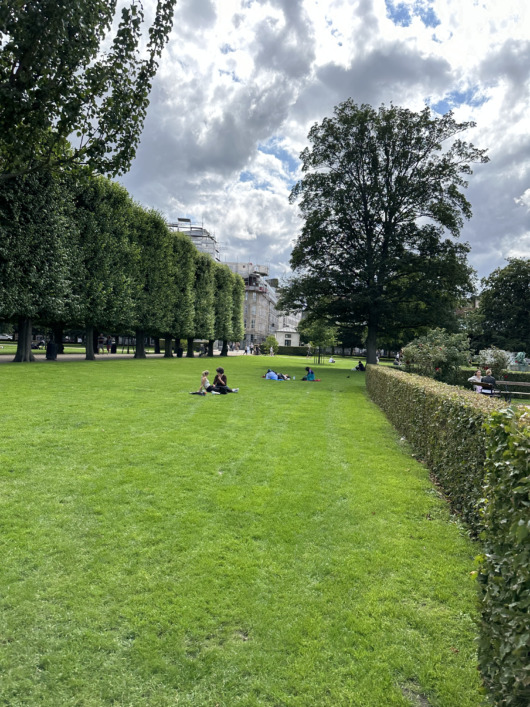 More pics on Rosenborg Castle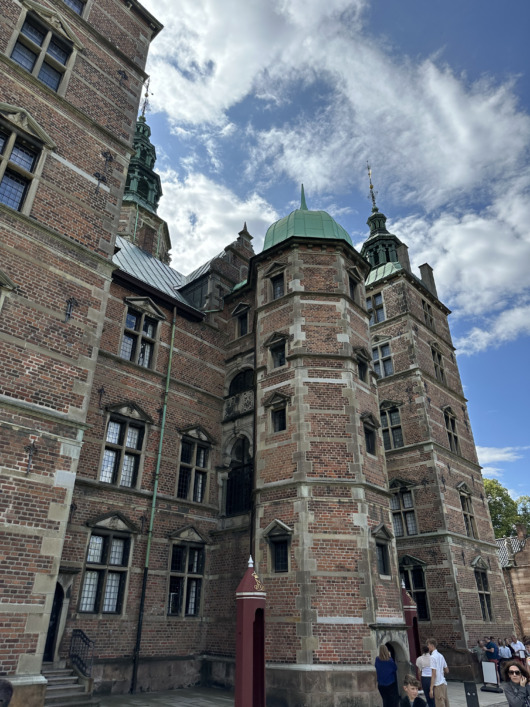 Rosenborg Castle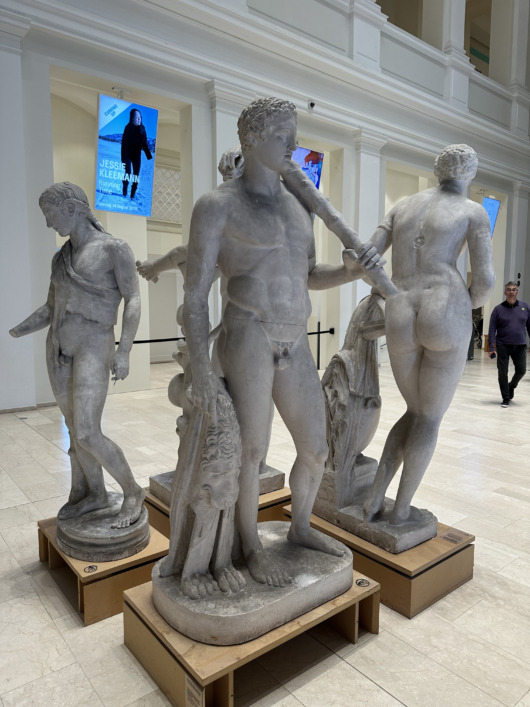 From here till the caption says so will be all from National Gallery of Denmark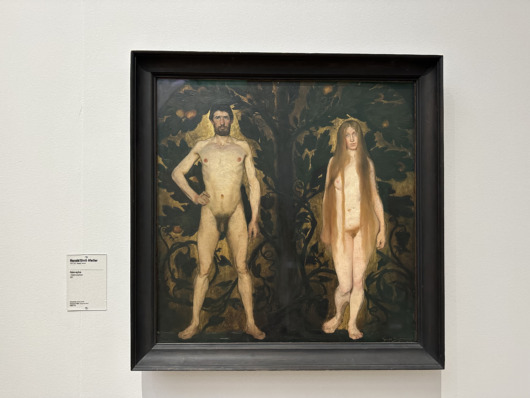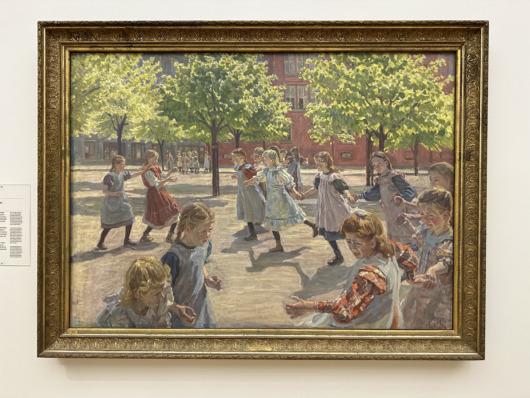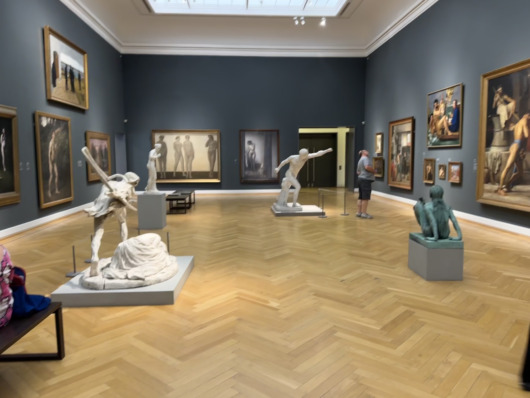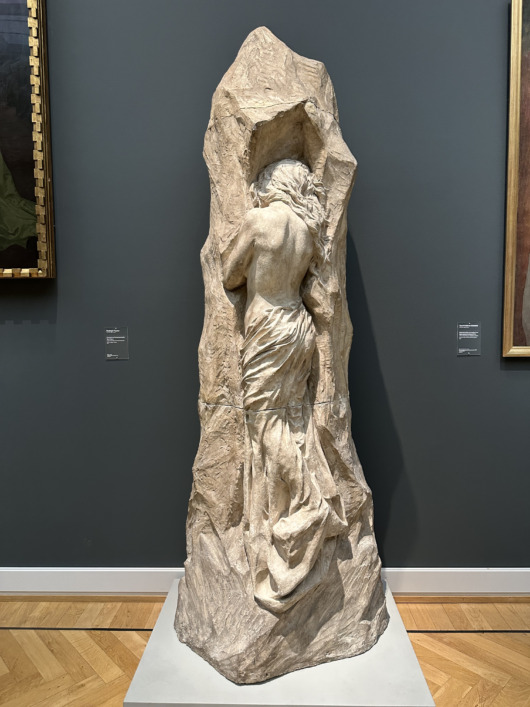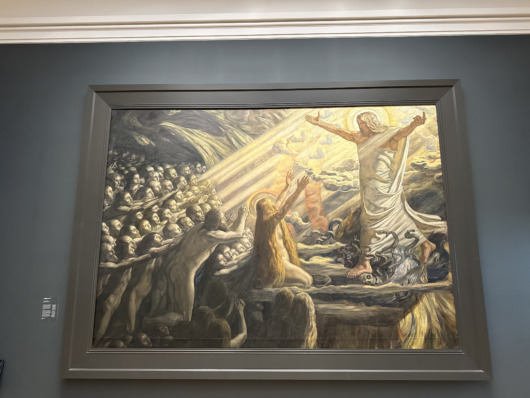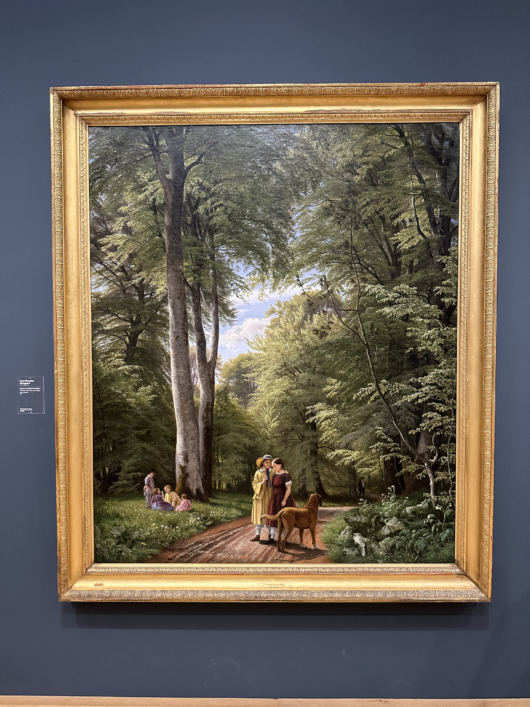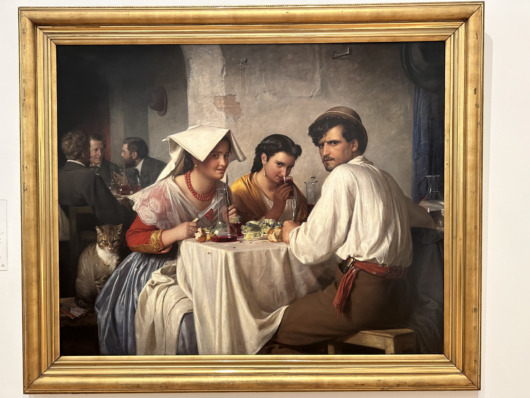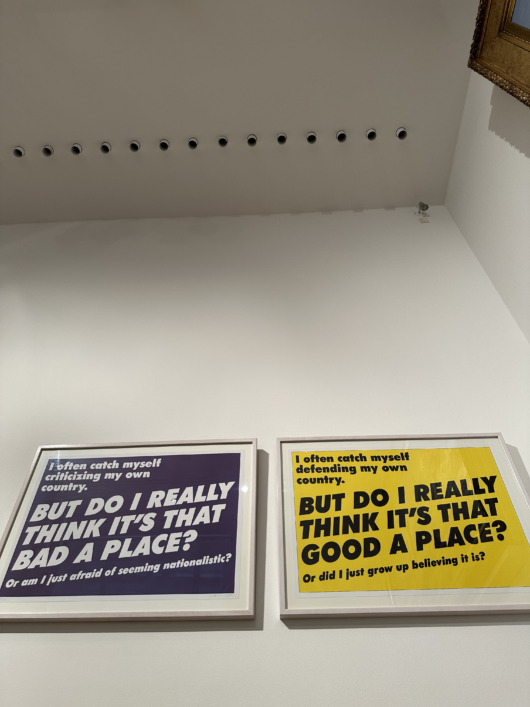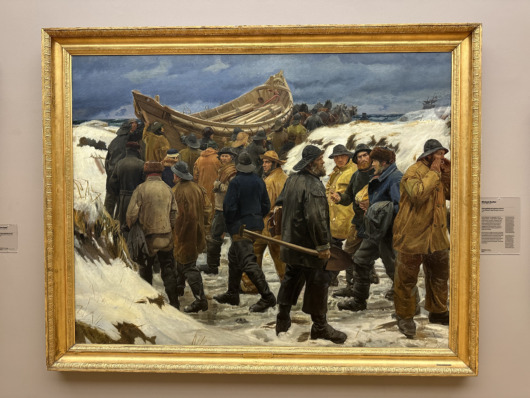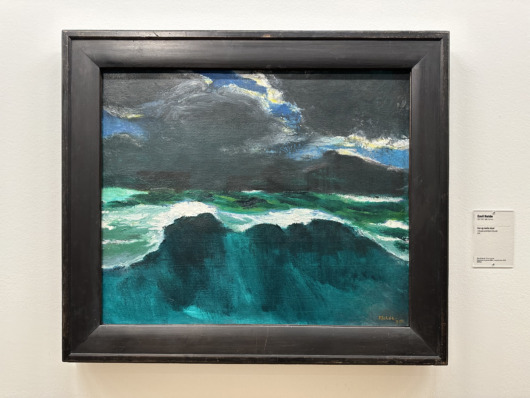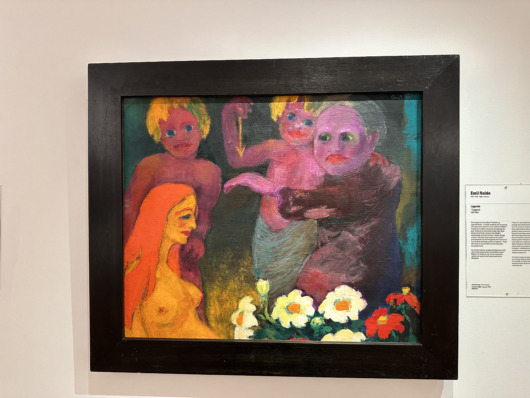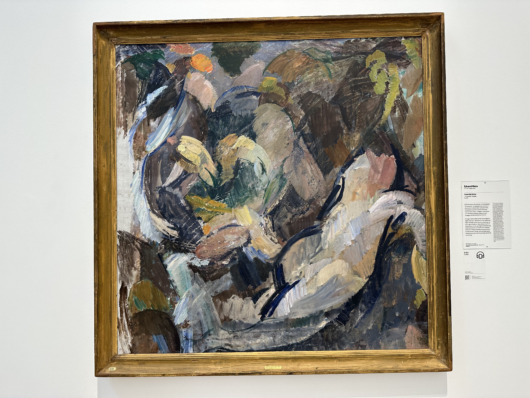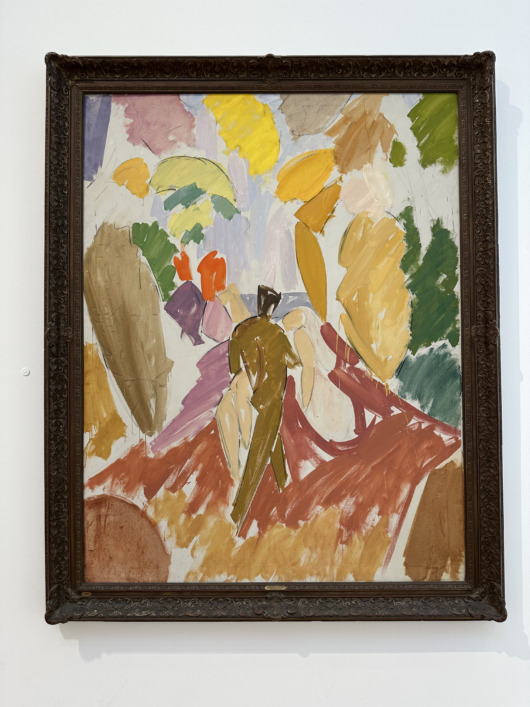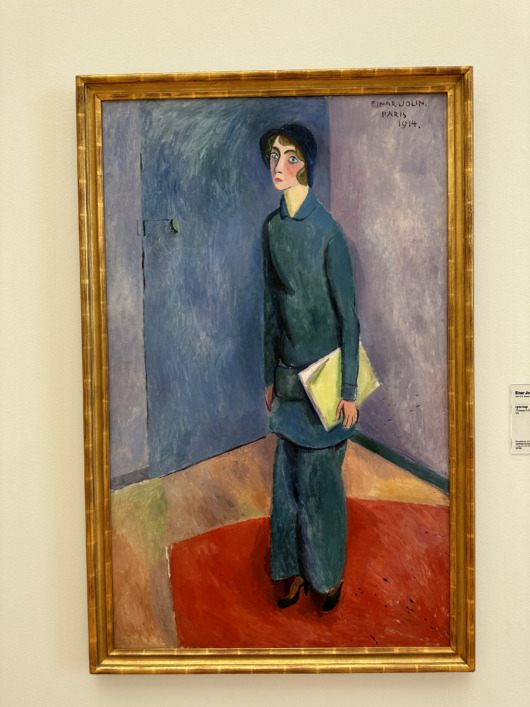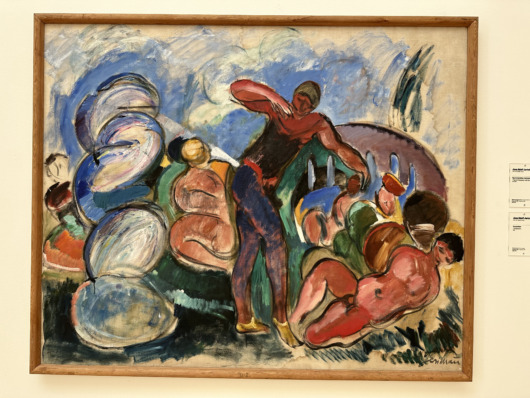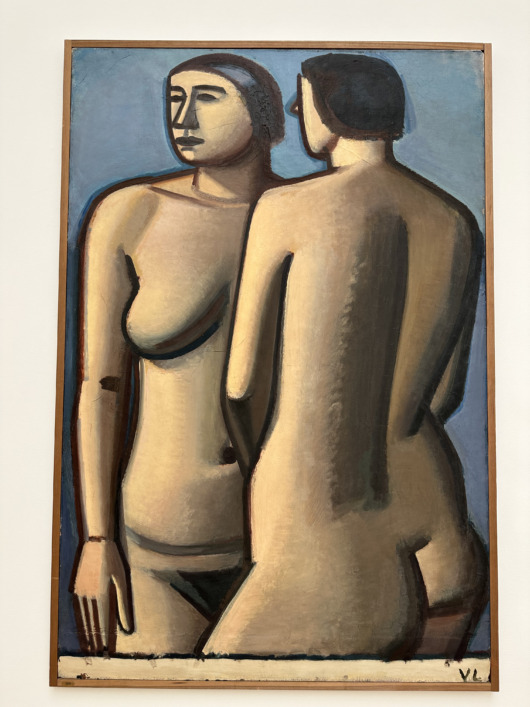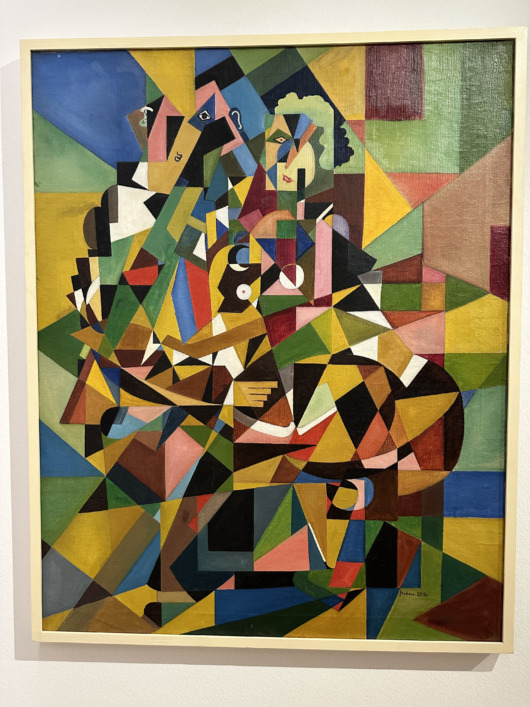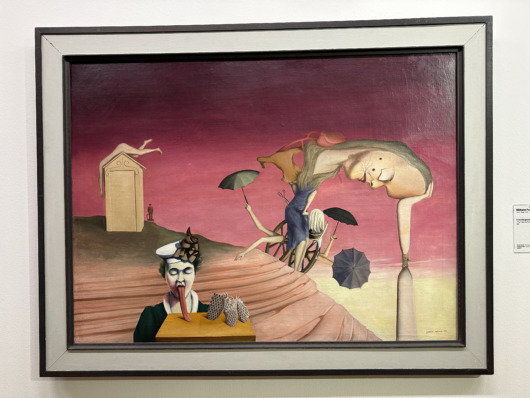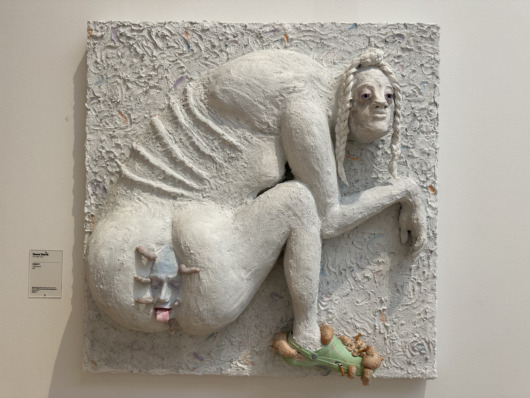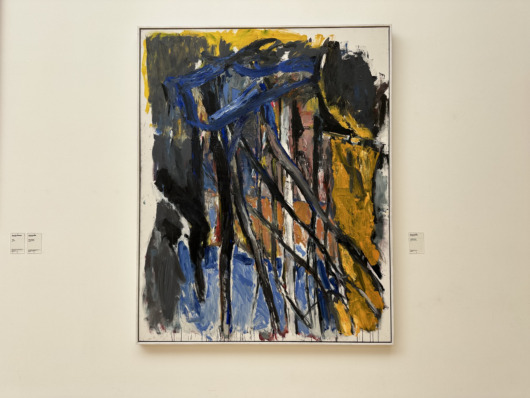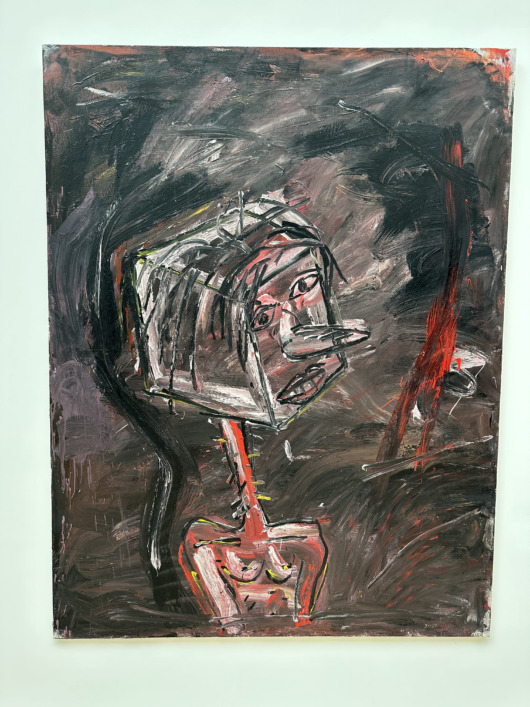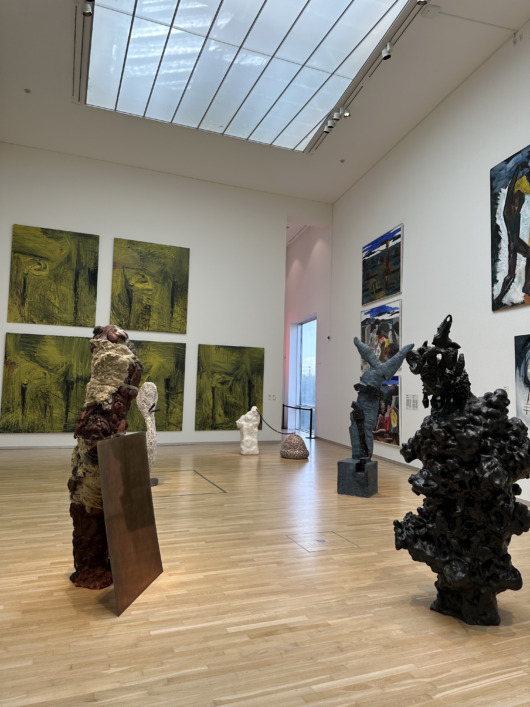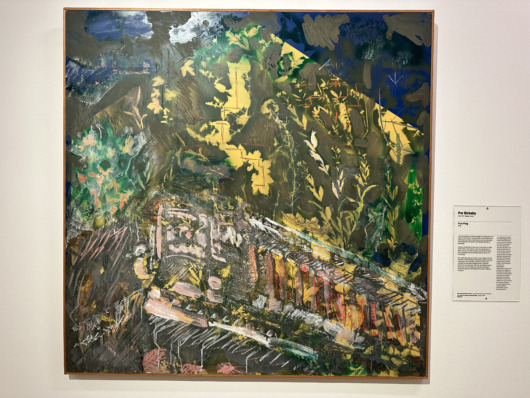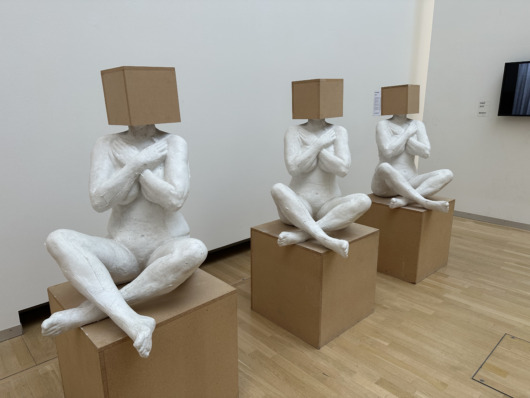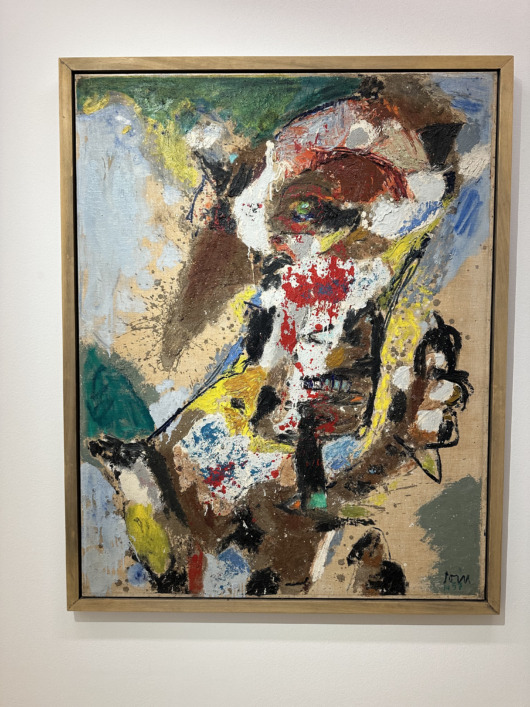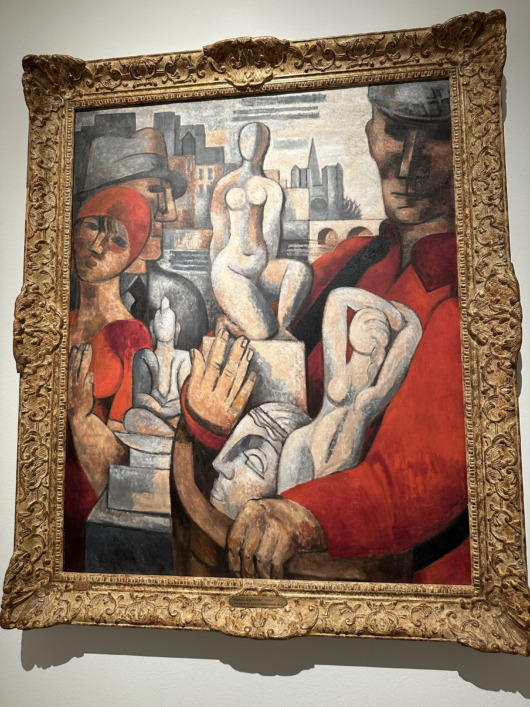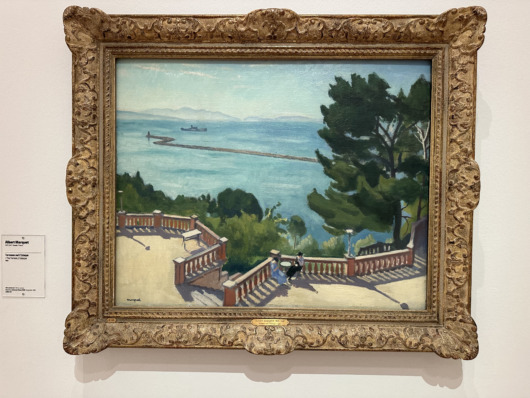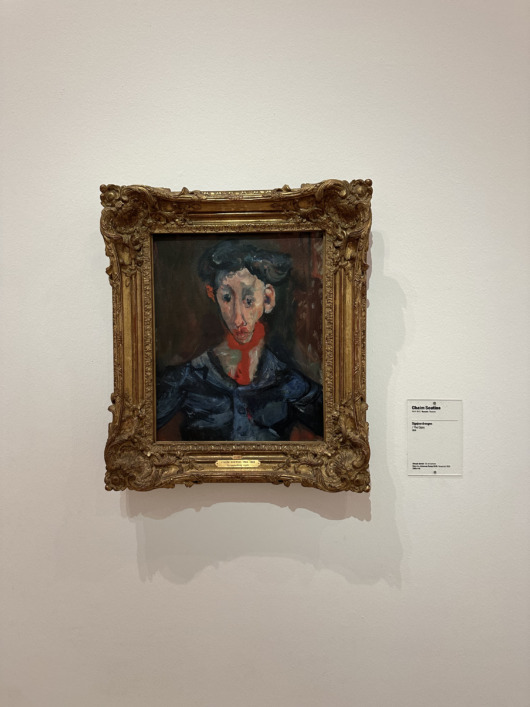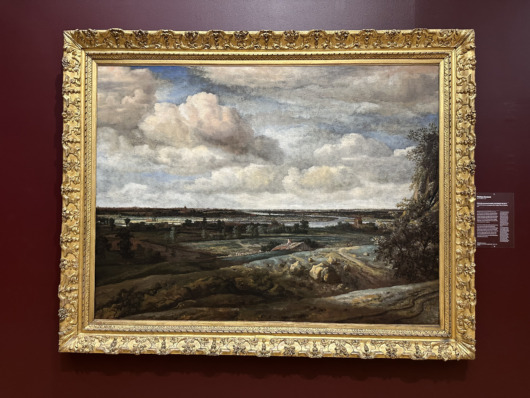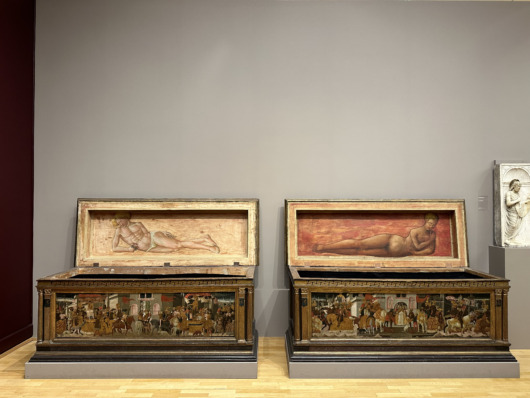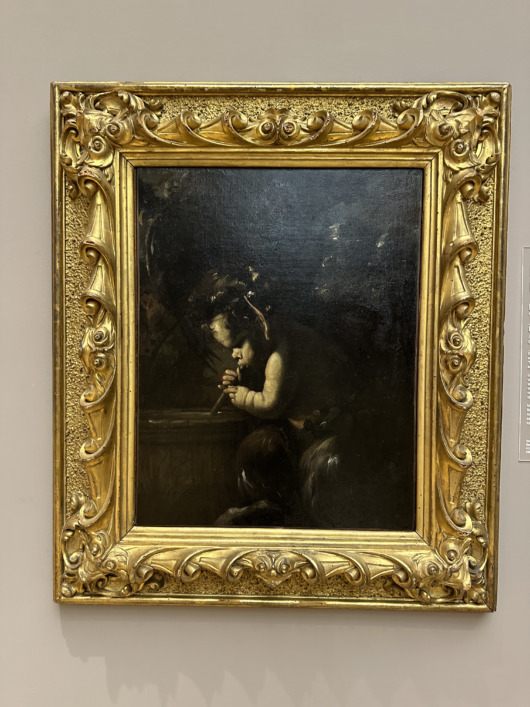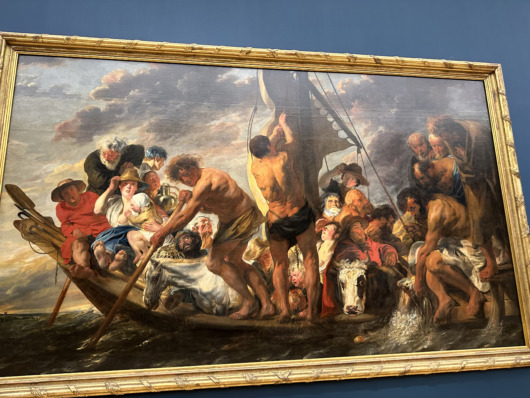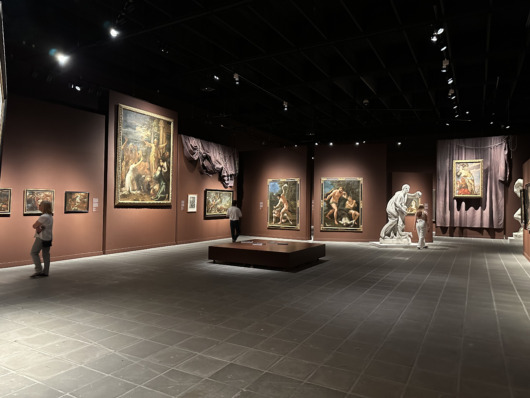 Baroque collection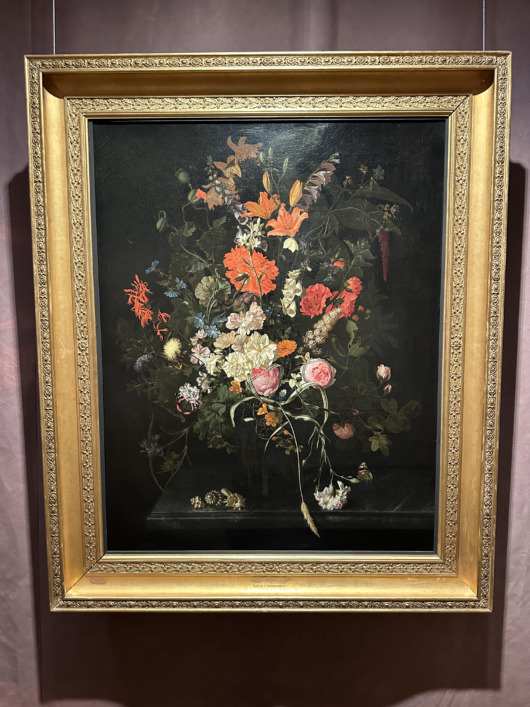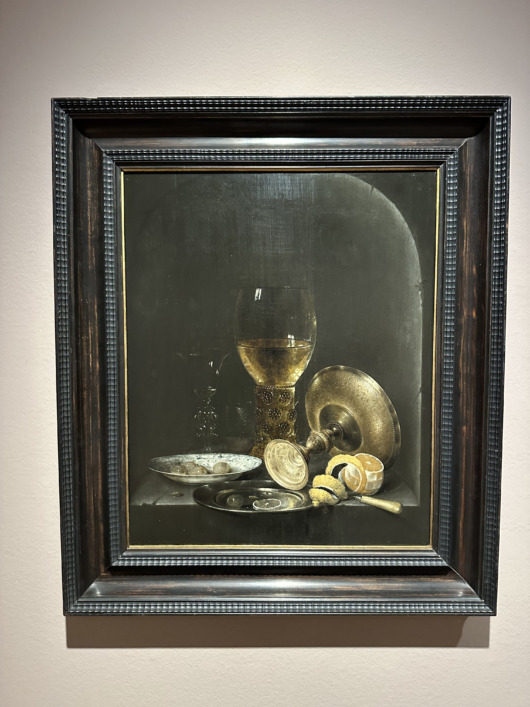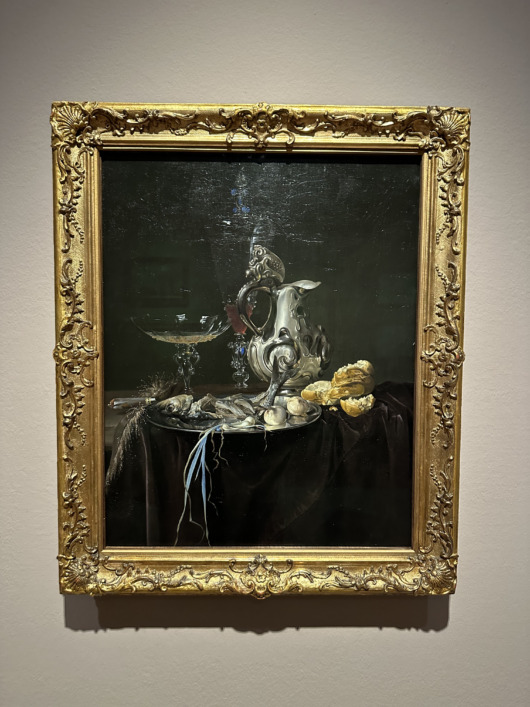 End of the National Gallery of Denmark photos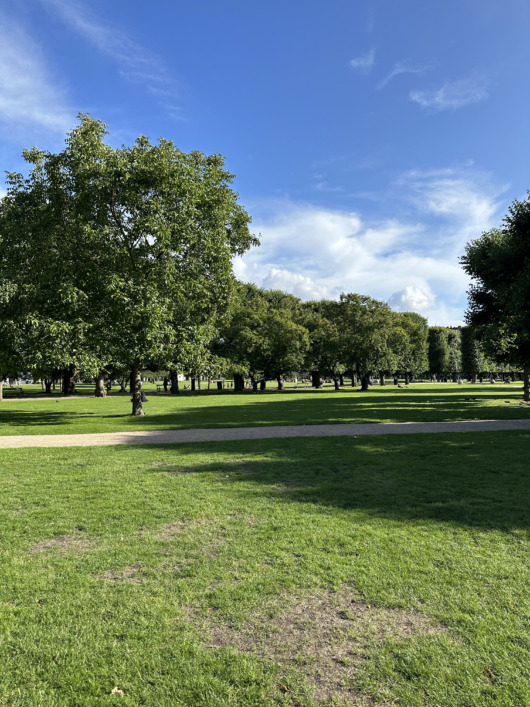 Had a brief rest on the grasses of the Rosenborg Castle courtyard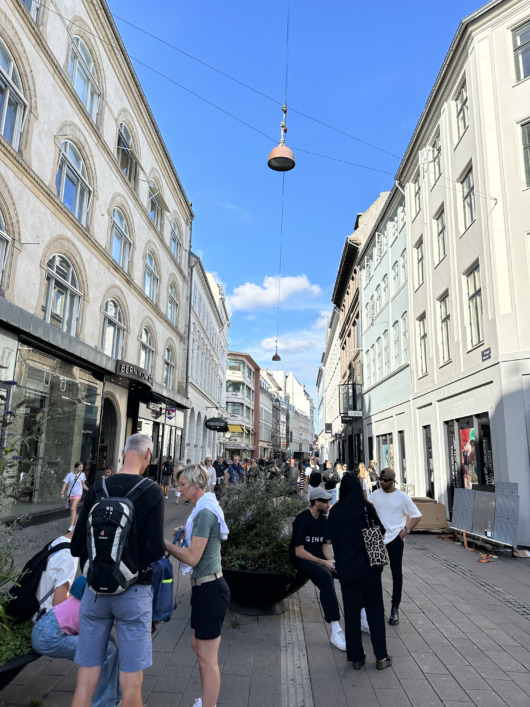 Passed by Stroget on our way to Marv & Ben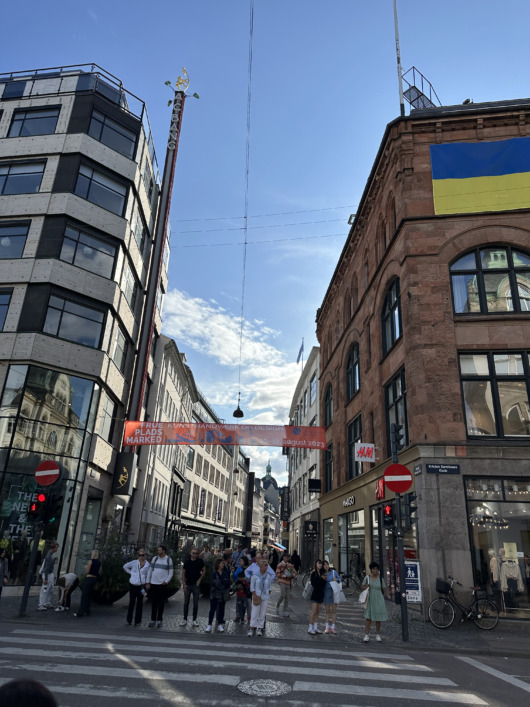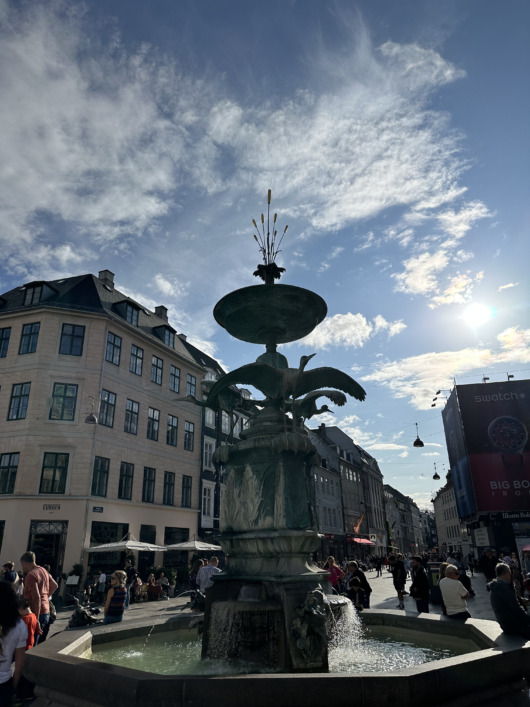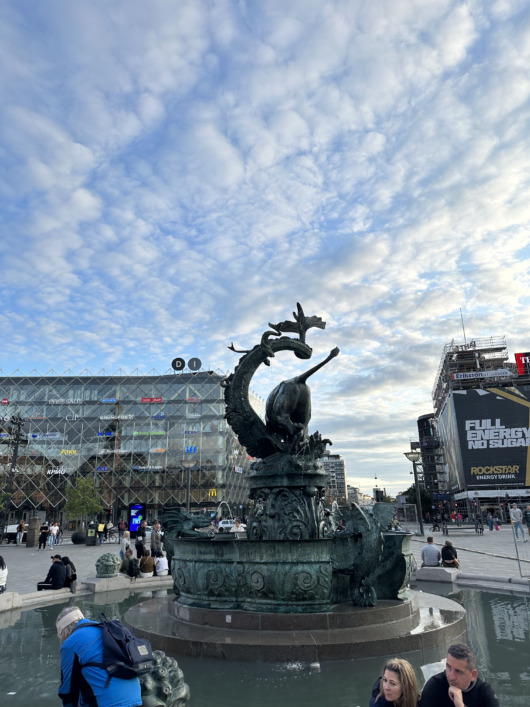 On the way back from Marv and Ben to the hotel.  Yes the skies were still lit and bright even though it was probably like 8ish pm by now.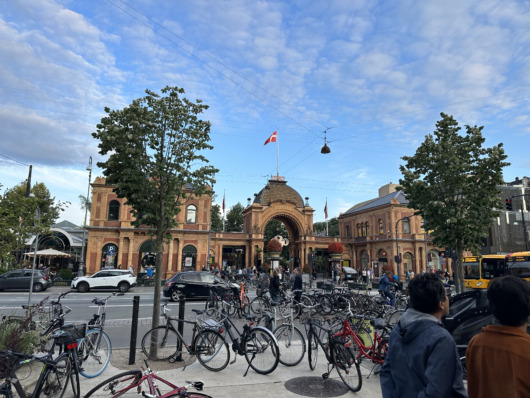 We passed by Tivoli Gardens again.