This is a continuation of my 4 days Copenhagen trip, featuring Days Three and Four.  If you haven't done so already, you can read about Part one for Days one and two right here.  Some of my thoughts and opinions on Copenhagen were expressed in the previous post, so I highly encourage you to read that post before reading this.  Moving on directly – and again I will post extra photos at the bottom to make the flow of the blog post feel a bit better rather than bombard with loads of photos.  For my Youtube shorts for Copenhagen, click here for shorts.
Day Three
Our first stop was checking out this bakery place called Hart Bageri (website), which was about a 10 min walk from our Coco Hotel.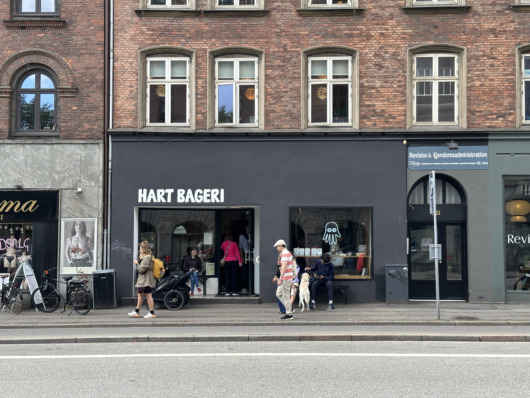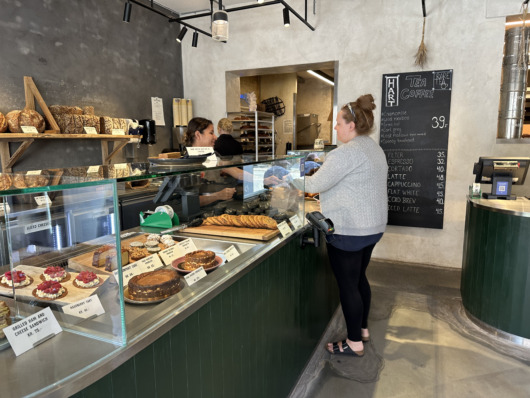 You can say that my friend really loves pastries, but so do I (mainly in Copenhagen though).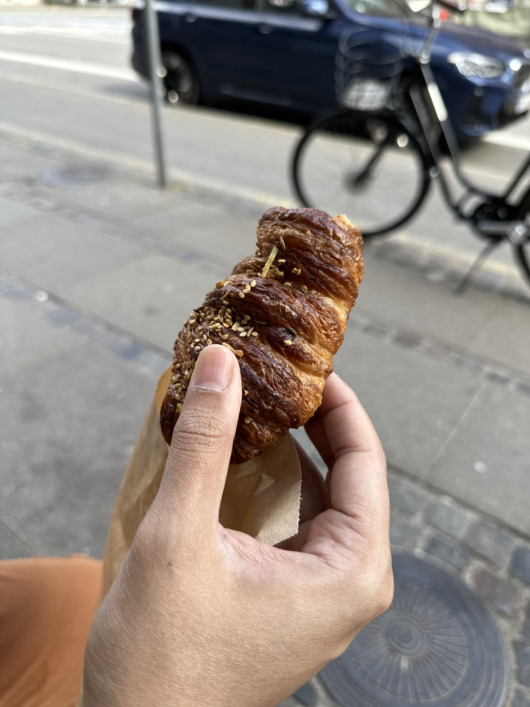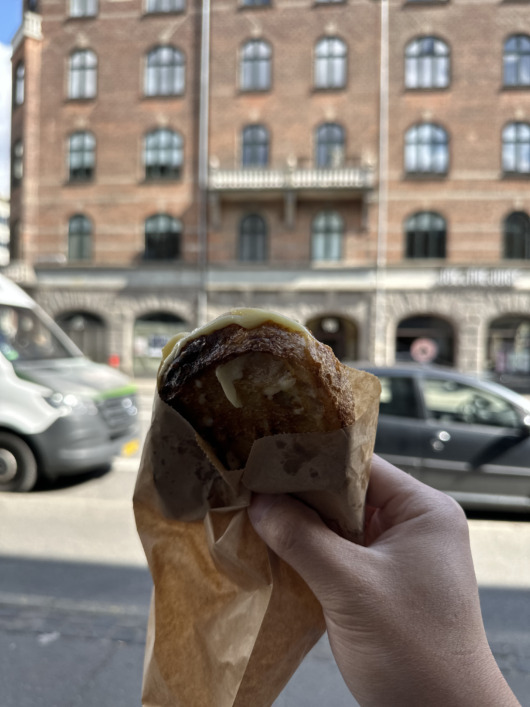 Grilled ham and cheese sandwich I think, so so yummy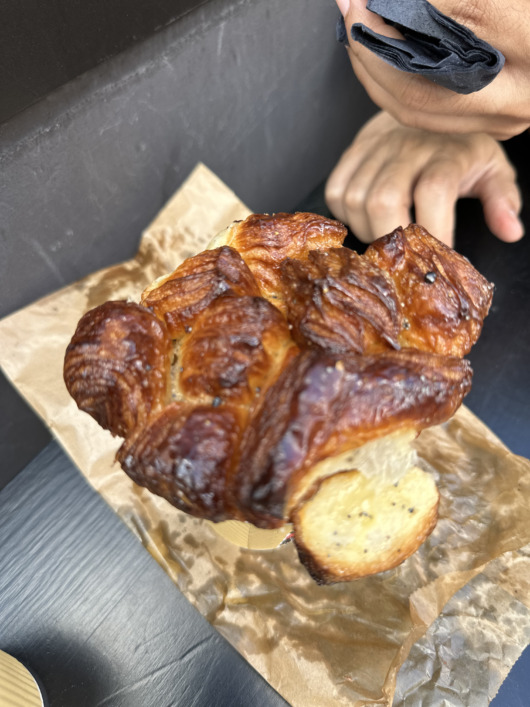 Forgot what but also yummy
Around the Hart Bageri neighborhood, there was a street filled with boutique and interesting shops as well.  I checked them out briefly as well.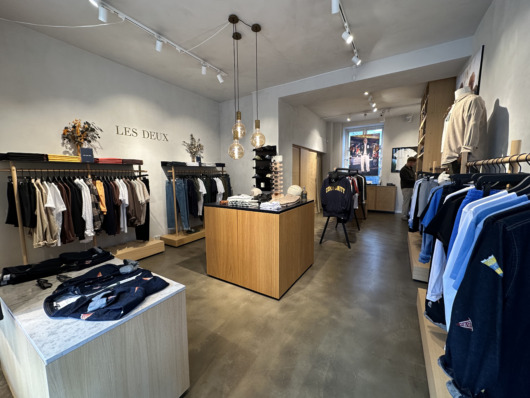 Les Deux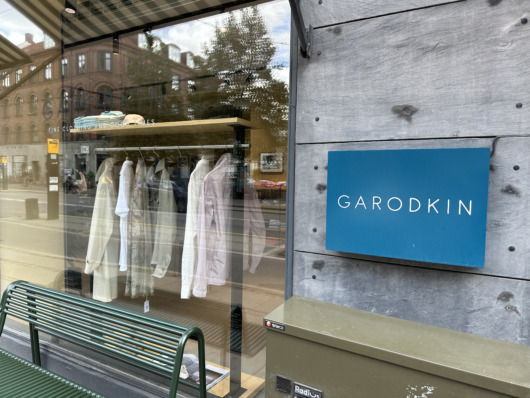 Garodkin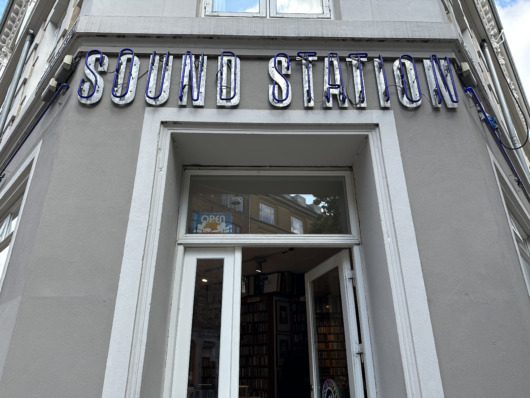 Sound Station, sold a lot of vinyl records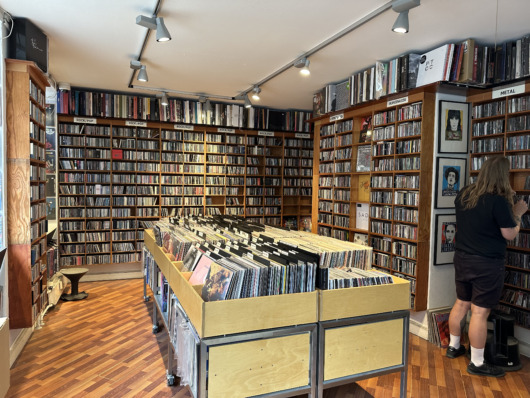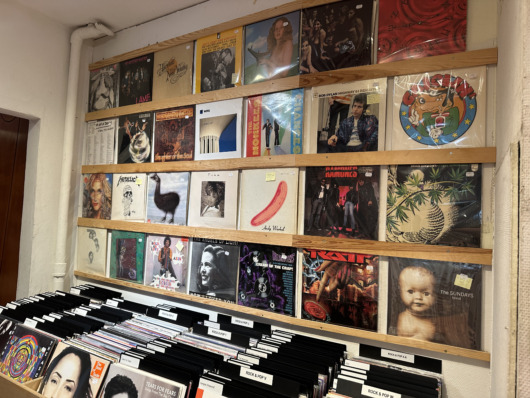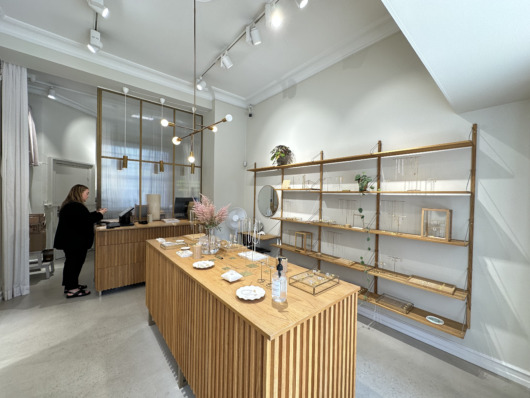 Pernille Corydon Jewellery (website).  Pernille is a Danish designer who designed all these jewellery in the store.
After reuniting at our hotel, we set our way to Rosenborg Castle.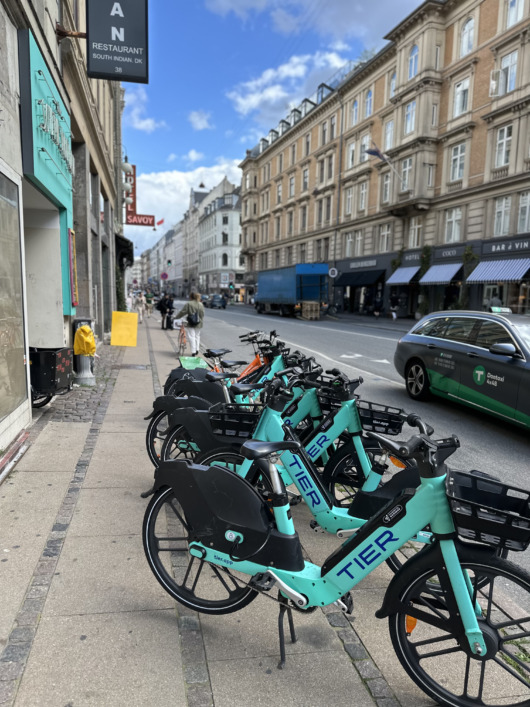 We rented these public bike rental, thinking it would be cheap… (TIER website)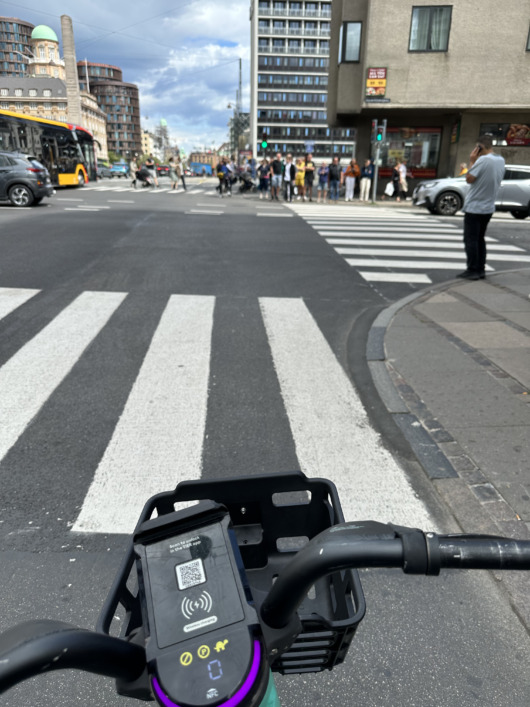 But they turned out to be very expensive.  I think it costed €25 for a 15 min bike ride?  It would have costed us €15 to rent a bike at our hotel for the whole day 😭  By the way these aren't ordinary bikes, these are electric bikes, so a single pedal and you will feel a huge momentum forward as the bikes are powered electronically so it kind of powers forward a bit so be careful when riding around with lots of people.  See that QR code?  You can put your phone there and also charge your phone – I thought that was pretty cool.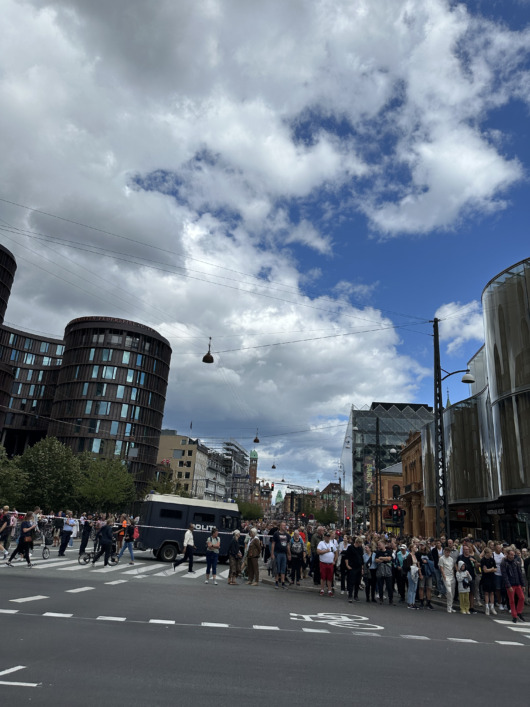 Not sure why, but on this particular Wednesday, as you can see, this district was unexpectedly filled with crowds of people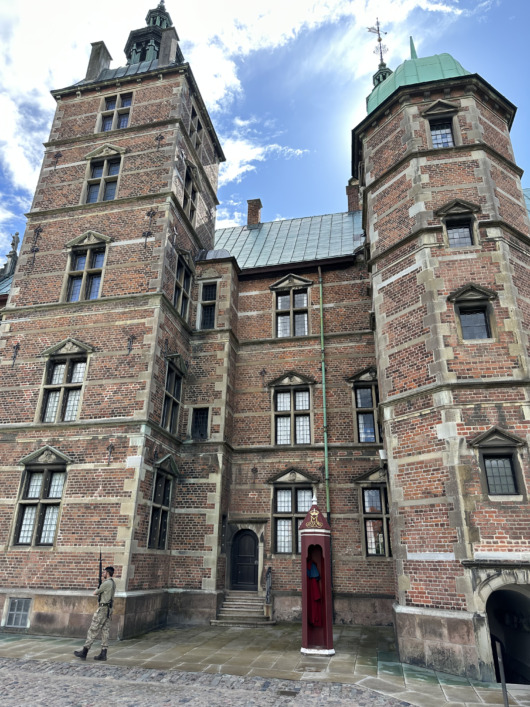 Rosenborg Castle / Rosenborg Slot (website)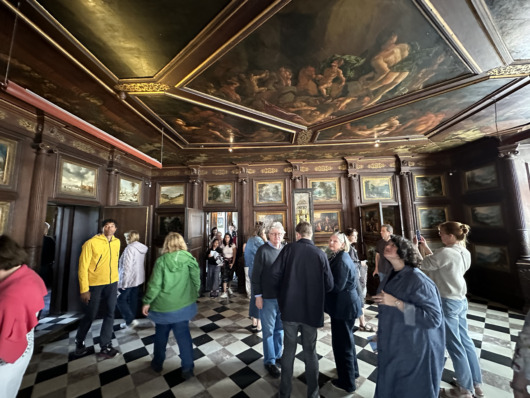 Remember to buy your tickets beforehand.  Maybe you can try to buy in the morning, but by afternoon you definitely can't walk in.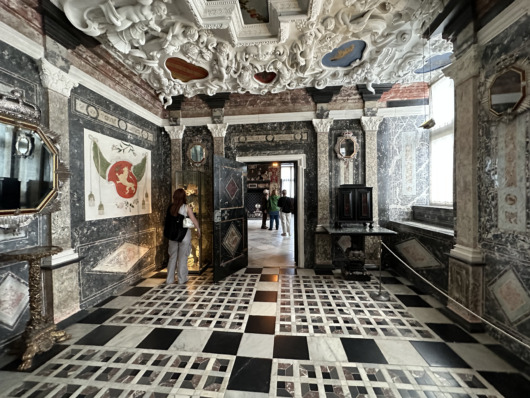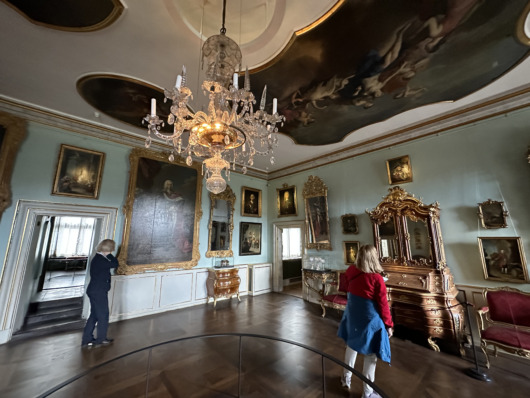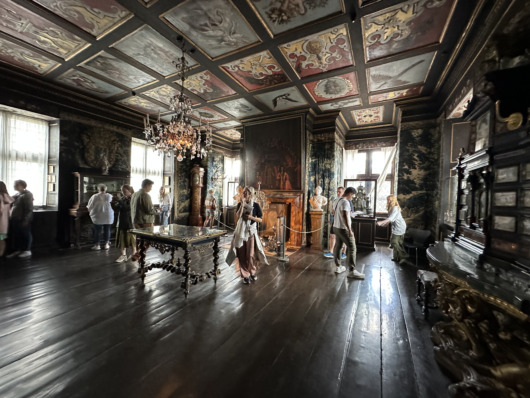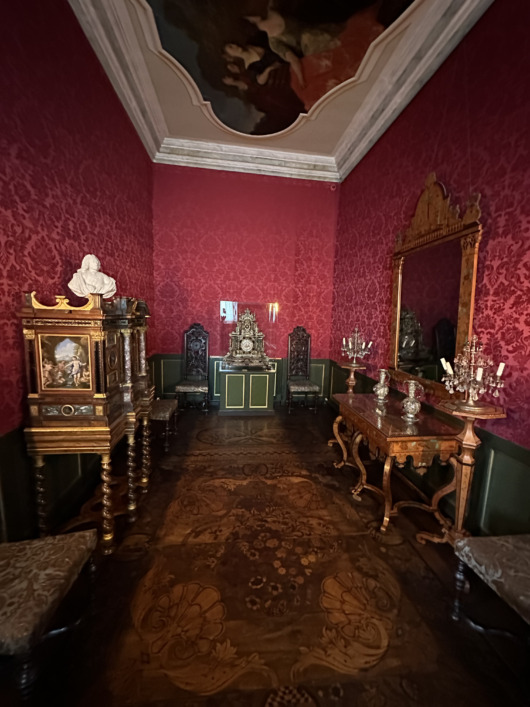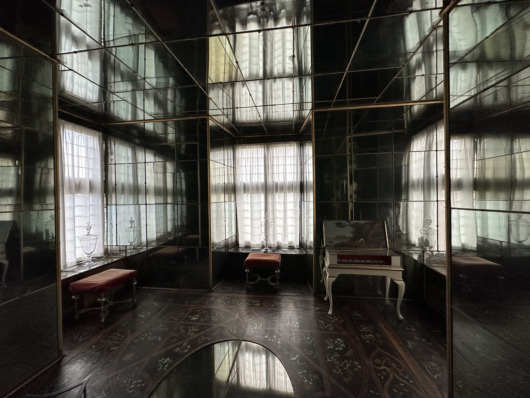 One of my favourite rooms – the mirror room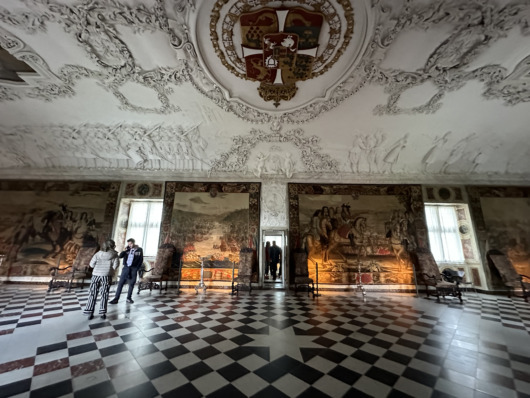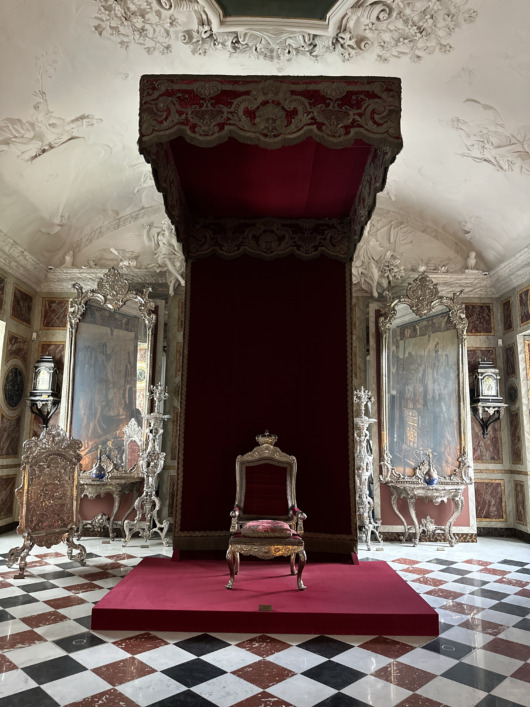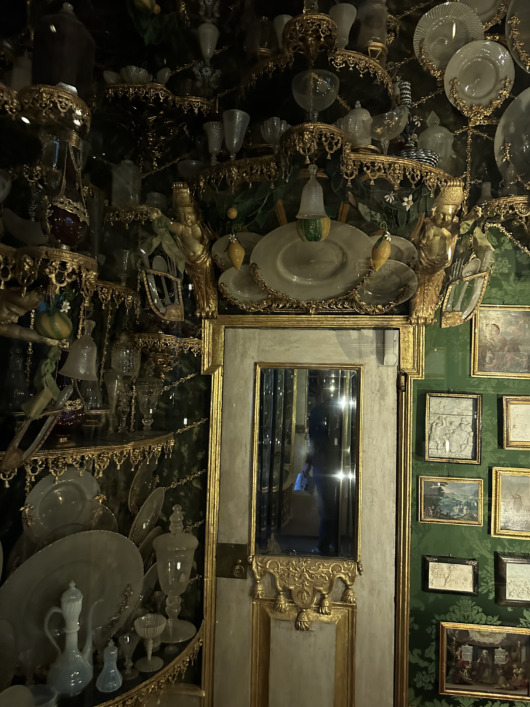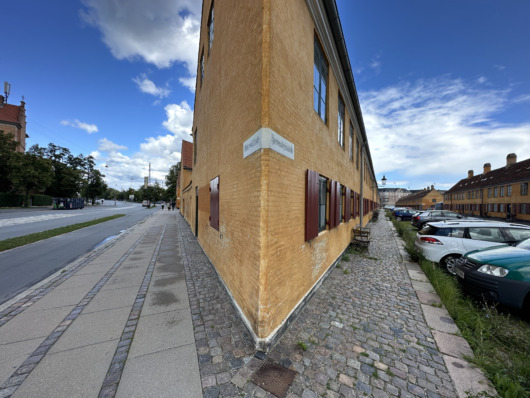 We made about a 12 minute walk to get to Nyboder, this area is famous for its many yellow houses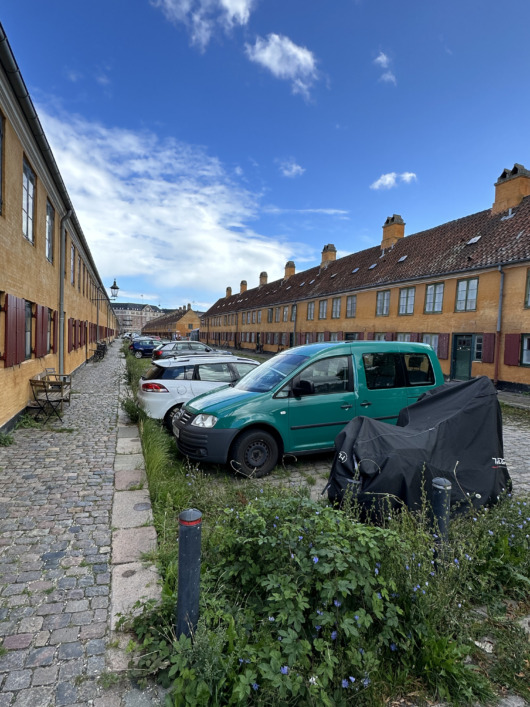 If you're like me, you're in and out of this place in 10 mins.  Nothing to see here, just a few rows of yellow houses lined together, great for some quick photoshooting.
We then made our way to Christianhavn to visit Freetown Christiania.  By the way, our itinerary was actually suggested by ChatGPT (for the things to do; I had to rearrange a bit based on how tired we were and also to ensure that we did all the things in one area first rather than going back and forth).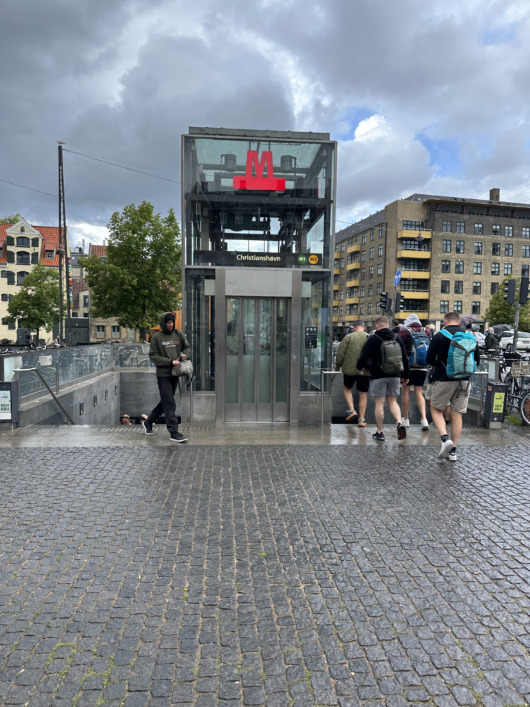 At this point, it was raining quite a bit in Christianhavn, so we Google mapped and chose a place we felt was good enough to eat.  We haven't eaten yet, and it was like.. 3pm? 4pm?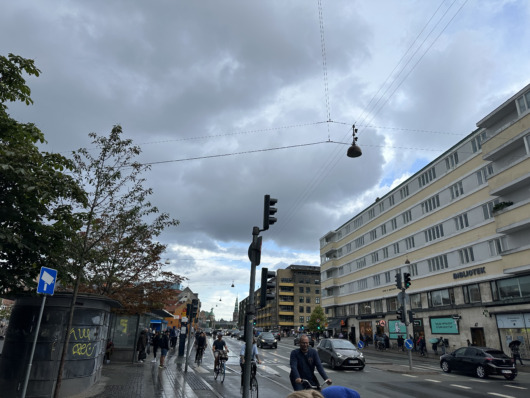 Christianhavn district, the east side of Copenhagen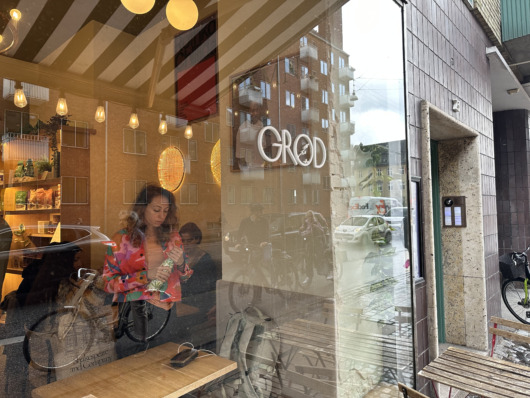 We ate at Grod (website), a notable congee place in Copenhagen
I actually find this place to be an interesting concept since I usually only eat Chinese congee, and a western congee is unheard of, let alone a restaurant for it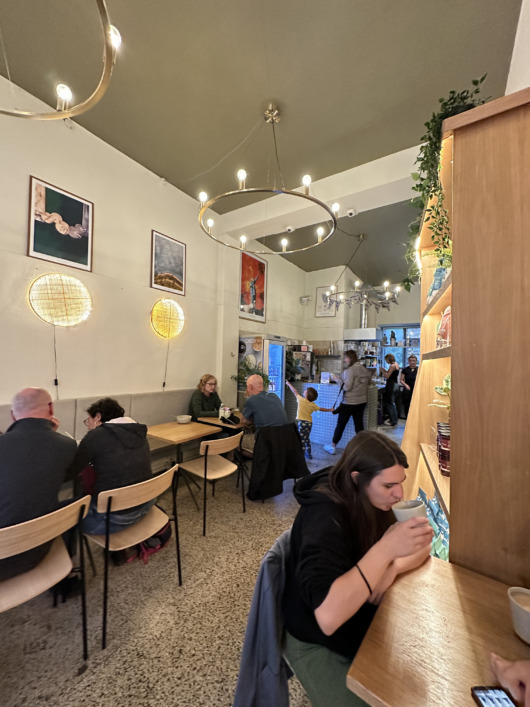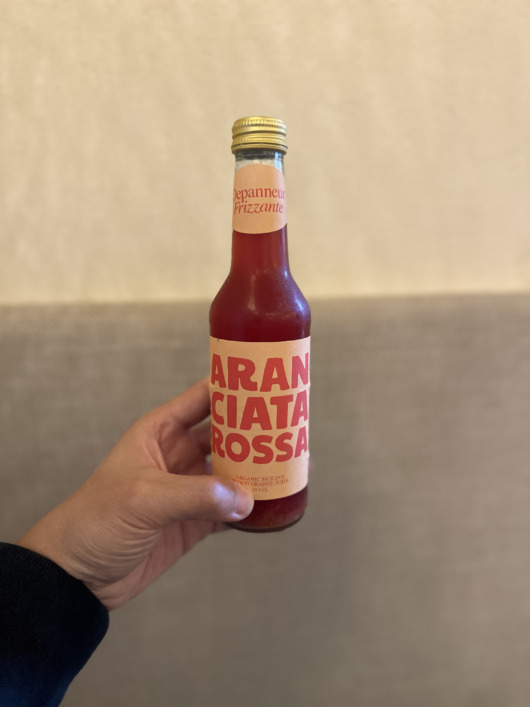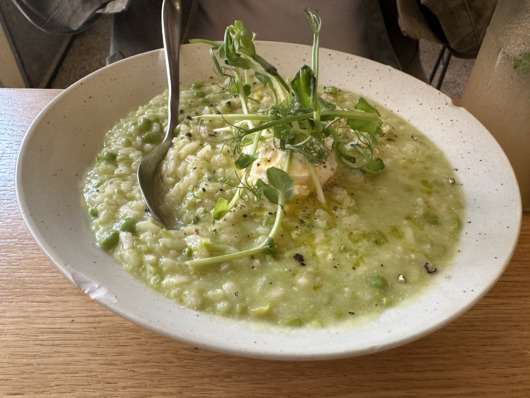 I think this was asparagus risotto but not 100% sure – With asparagus, 'ravost', lemon vinaigrette, pea shoots and black pepper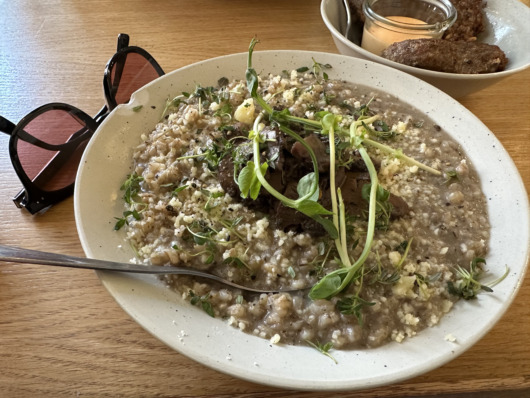 Mushroom Barley-otto bowl – Mushroom barley-otto with cabbage, kale, cherry tomatoes, pickled mushrooms, roasted almonds and truffle mayo.  As skeptical as I was in the beginning, after having my first bite of my bowl, I actually thought it was incredibly yummy!  I would recommend to come if you're nearby the area.
Luckily, after our delightful congees, the skies cleared up, and we made our way to Freetown Christiania.  It was very fascinating to visit the place because this neighborhood was so bohemian, hipster, carefree, fuck the government, counter culture kind of vibes.  It used to be run by a lot of gangs apparently, but now as the tourists started packing people started moving away from this neighborhood.  Still, it's a very interesting place, and don't worry if you're not into weed and drugs and stuff, because families pass by here too.  The neighborhood has a lot of street art as well.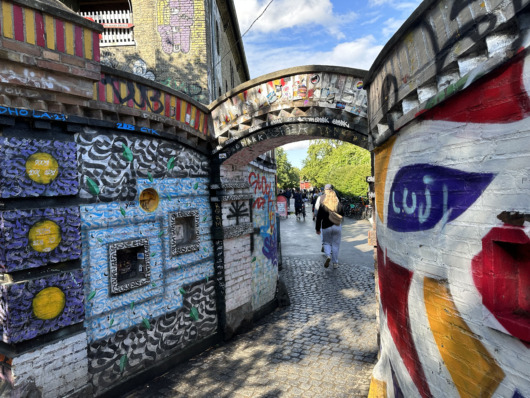 Your journey begins here to Freetown Christiania (Wikipedia)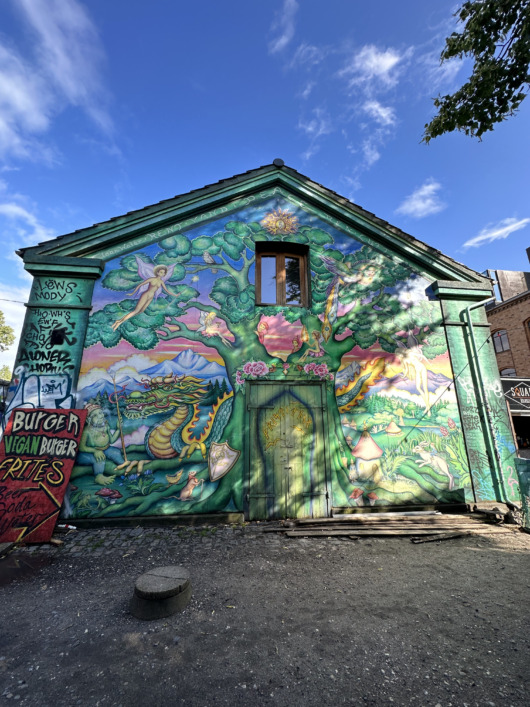 Not long after this point, I was banned from filming or taking photos, because apparently the "dealers" there don't like it.  Notice the left side of this photo – apparently this place is also known for vegan food as well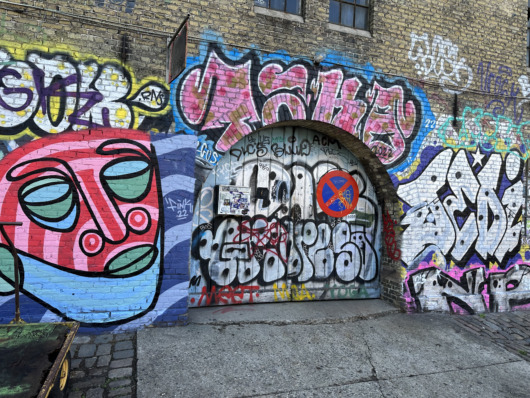 I think around this point was where dealers were asking us if we wanted stuff or goodies.  We presumably assumed weed because they were more open about it, but I would not be surprised if they also sold stuff like cocaine and MDMA and other drugs
Surprisingly, there was a beautiful lake behind all of this alternative lifestyle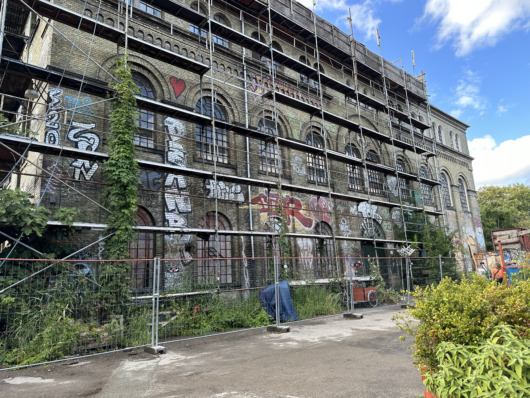 There was also this bar / restaurant where people would just be smoking on the rooftop.  I hate to say it, but the stereotypical hipsters that you can imagine – their unshaved beards and long hair buns, eccentric eyes, tattoos, leather clothing, smoking weed, can be spotted here and a lot of people live up to that stereotype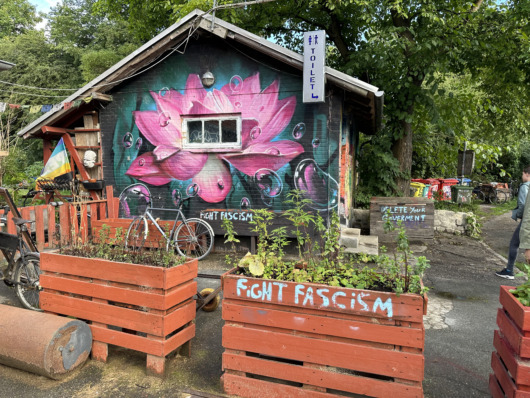 Delete your government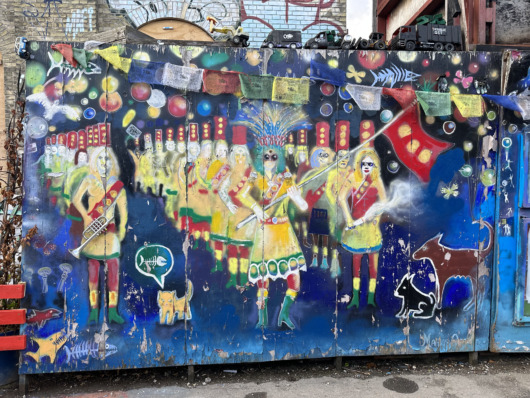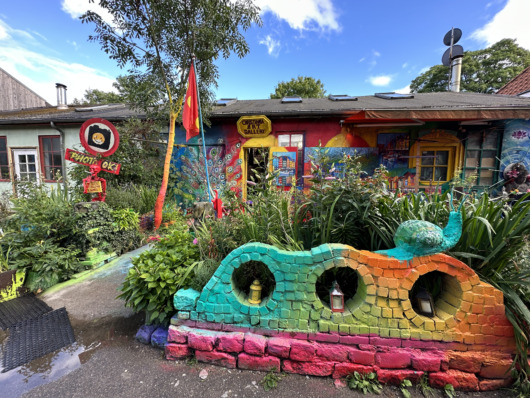 Photo OK!  So I took.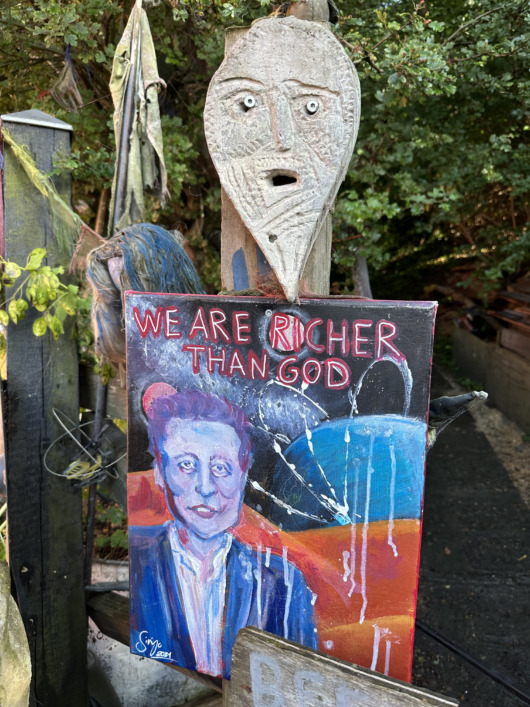 Why is Elon Musk here?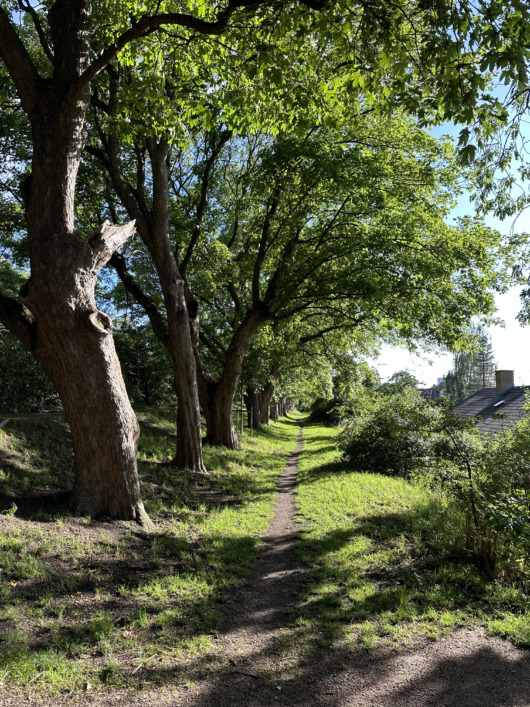 Again, another beautiful nature pathway where you see a line of trees, one bowing lower after another.  Minutes away you get the eccentric, intriguing neighborhood, then you arrive here in some tranquility and peace.  Maybe that's why they are linked together?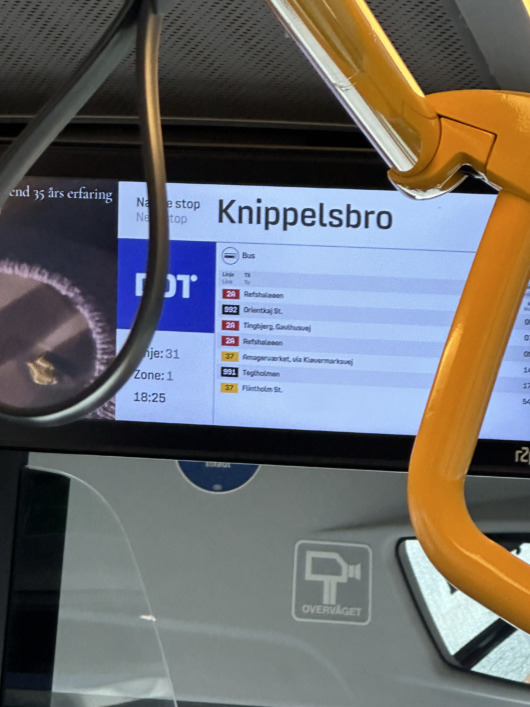 After Freetown, my friend felt so tired and wanted to take a taxi.  I was very hesitant and said noo.. cause we can just take the bus and it's like the same travel time but cheaper… and it would only be like a 3min walk from our hotel.  Luckily he agreed and we took the bus, saving us a bit of money.  Oh, I took this photo because "Knippels, bro."  Get it? heh.
After we had a bit of a rest back at the hotel, we went on an adventure, a liquid adventure.  What was supposed to be just visiting two bars/places ended up being a night of five places.  Note that most of these places were in the meatpacking district.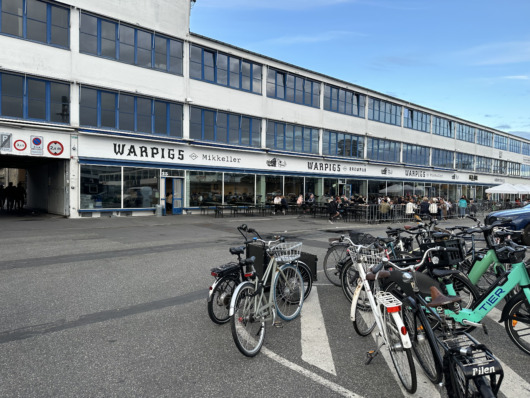 The first place we visited was Warpigs (website)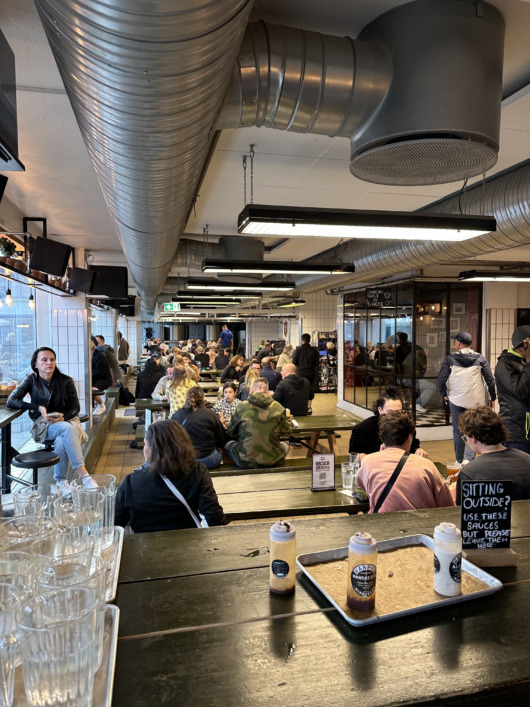 It was pretty chilly outside so after sitting a bit outdoors, we decided to move indoors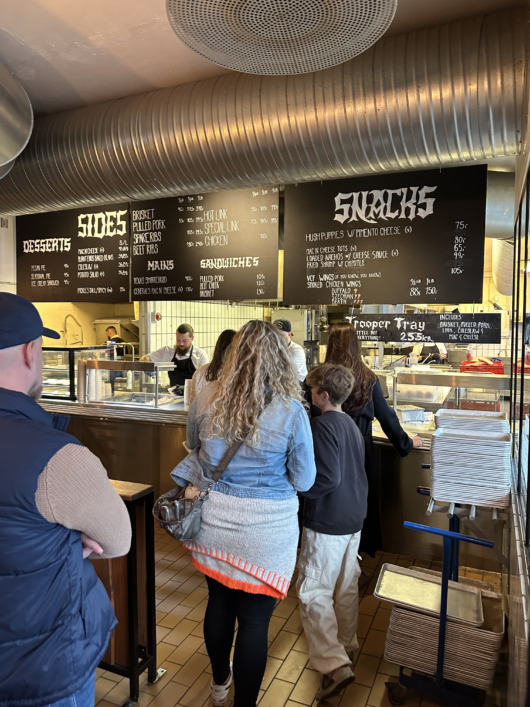 Not only do they serve authentic Texas barbecue food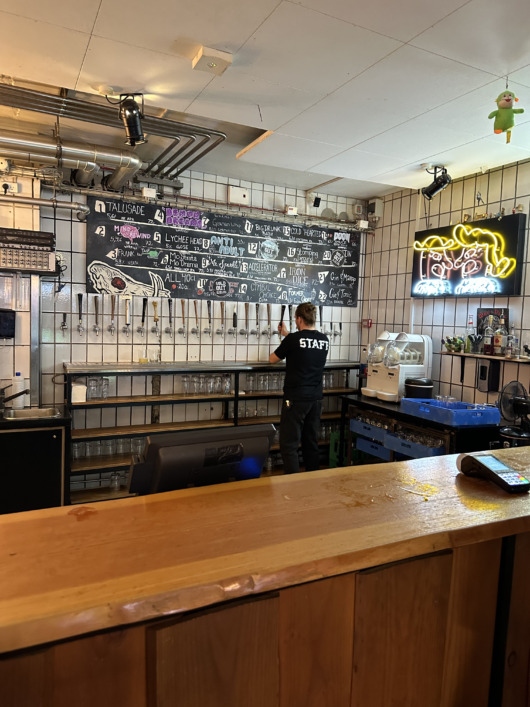 They also served American-Danish style brews.  Pretty much the main reason we came actually, for their beers.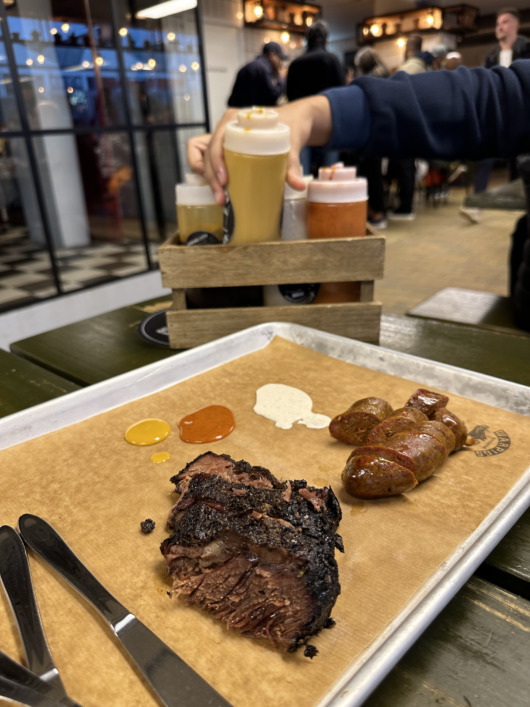 We wanted the brisket but it ran out, sadly.  So we had beef ribs and hot links.  Quite yummy!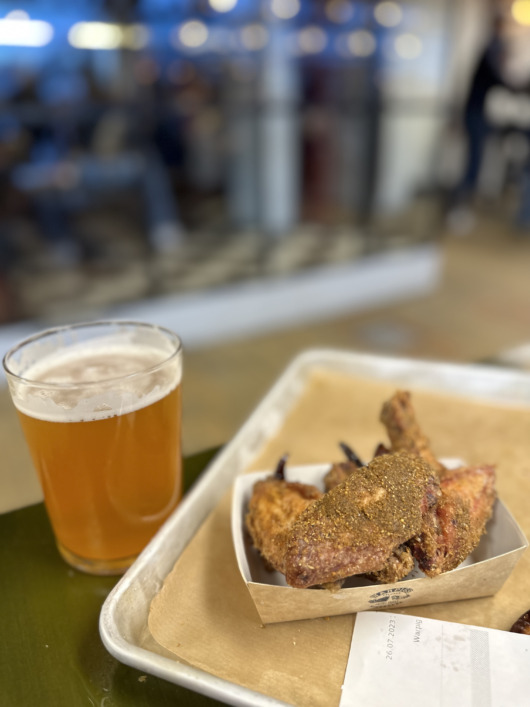 Also ordered some wings to satiate our hunger.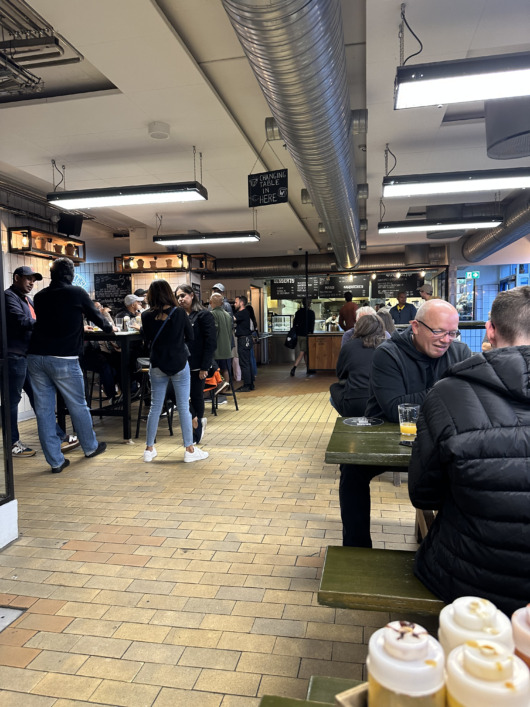 Even though it was a Wednesday, the place was still packed.  A great place for friends and family together.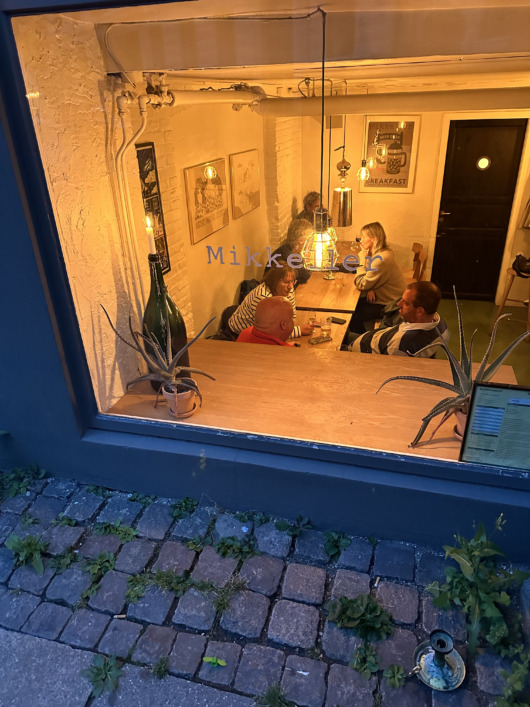 The next place we visited was the Mikkeller Bar (website), a couple minutes away.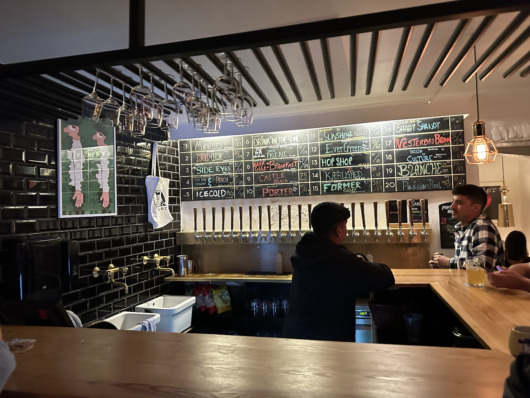 Wide range of selection of beer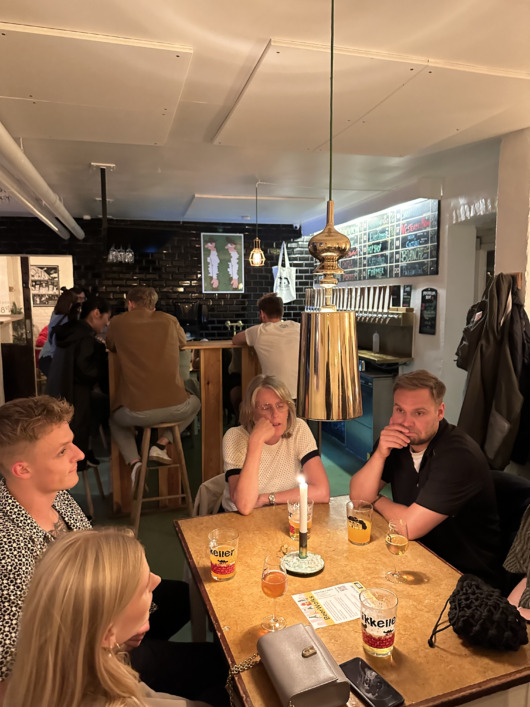 A small, well lit, homey vibe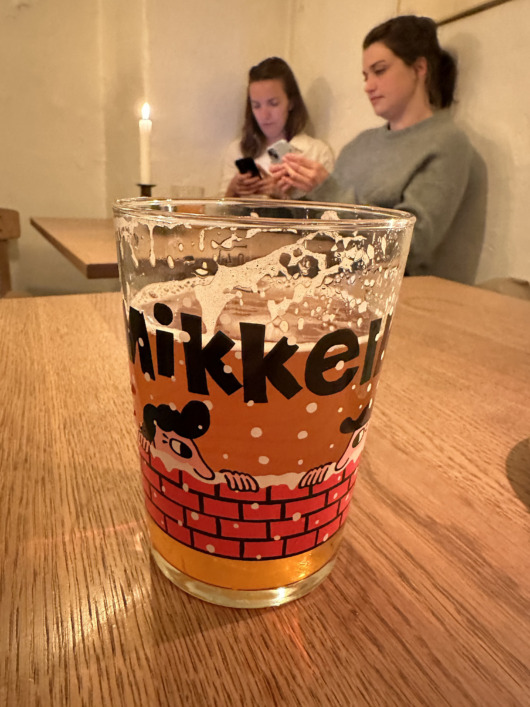 Having not drank enough, we started to find other places.  Mainly through Google Maps and just bars that we passed by that looked interesting.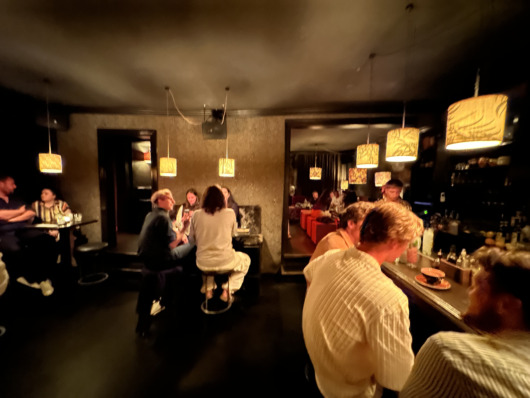 1656 Cocktail Bar (Visit Copenhagen) was one that looked so intriguing that we just had to pop by.  It was in between Mikkeler Bar and Warpigs.  By the way the entrance looked, you thought it was like a speakeasy.  You can order classic cocktails and a few specialty cocktails here.  What's interesting is that in the men's bathroom, they play a soundtrack of a woman gently moaning as if she was having a pleasure that was building up.  I think I uploaded the video in the Youtube shorts of my Travel with a Butterfly account of this (let me know if you can't find it though).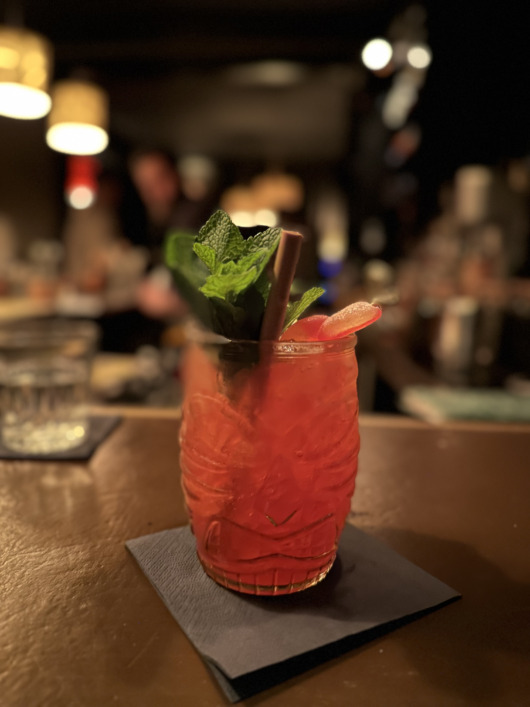 This is the Billionaires' Cocktail.  I mean… it's not really made of gold though.  Taste was refreshing and not too sweet or mild.  Perfect cool temperature.  The bartender there was a professional.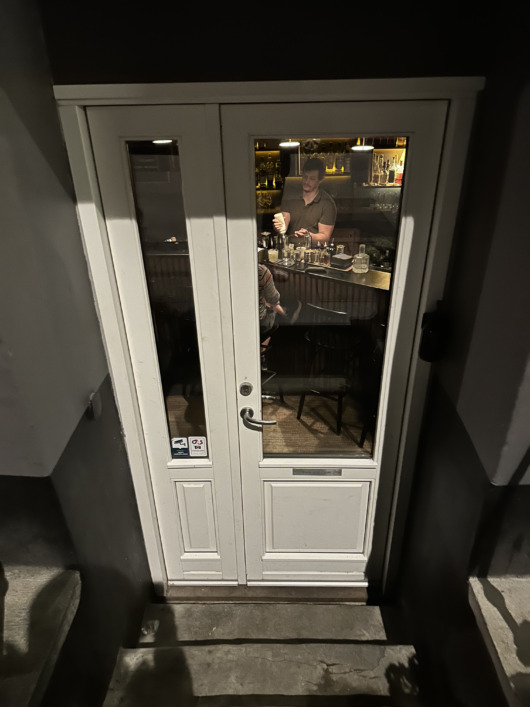 As if three bars weren't enough, we visited another bar called Duck and Cover (website).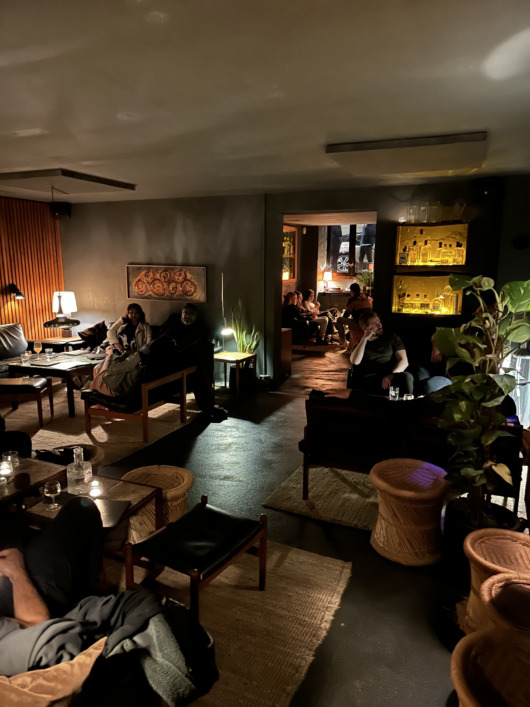 This bar was probably the fanciest, most elegant bar that we visited, I loved it here.  Kind of reminded me of The Raines Law Room in New York City.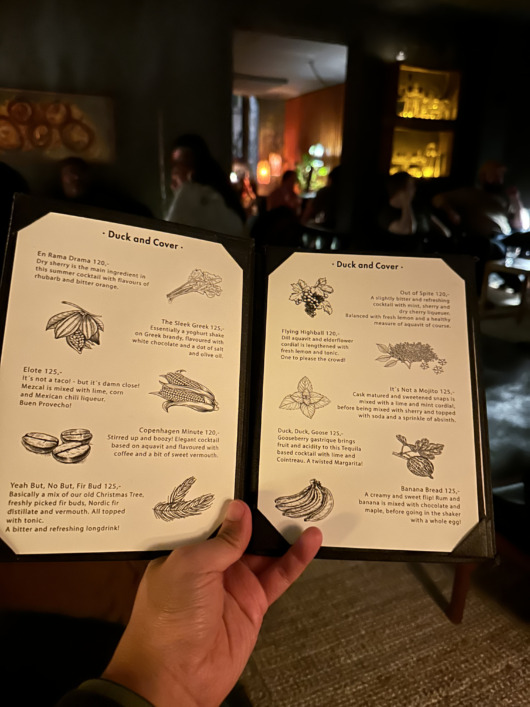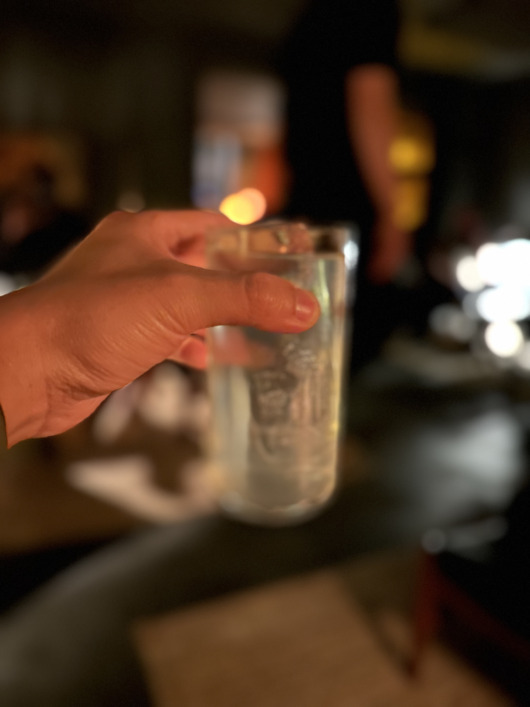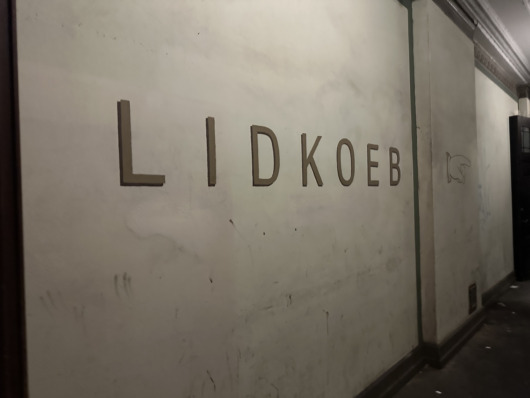 And finally, we make it to the last bar that was diagonally across from our hotel, Lidkoeb (website).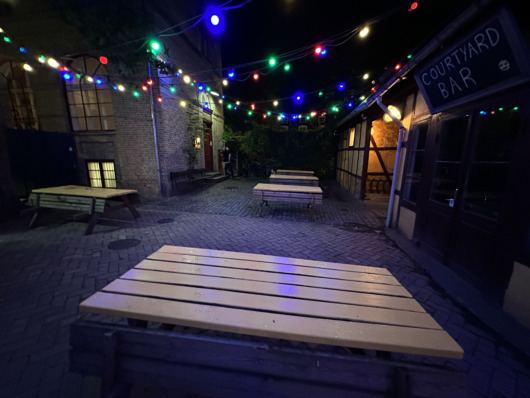 Outside before you enter, reminded me of Christmas lights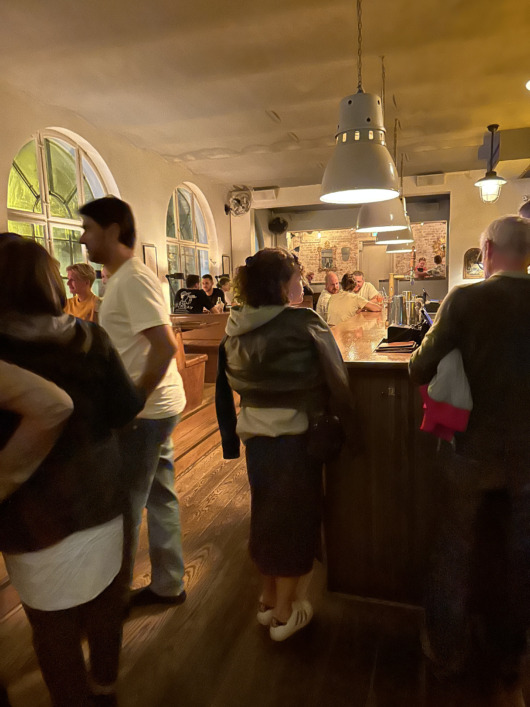 The lower floor is a cocktail bar, although it feels more like a well lit beer bar.  Wooden floor with wooden tables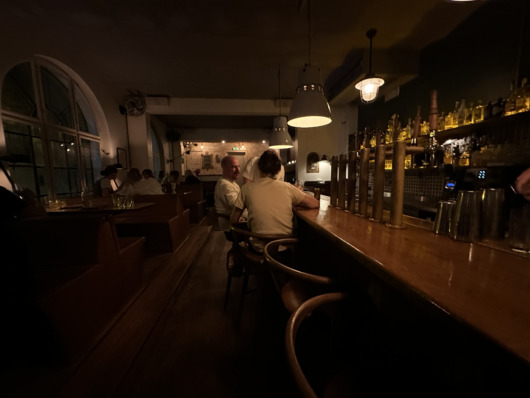 When the lights were dimmed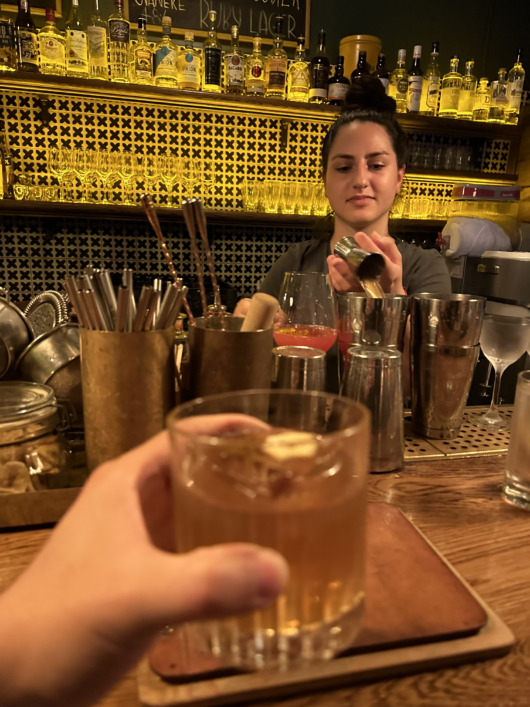 Cheers!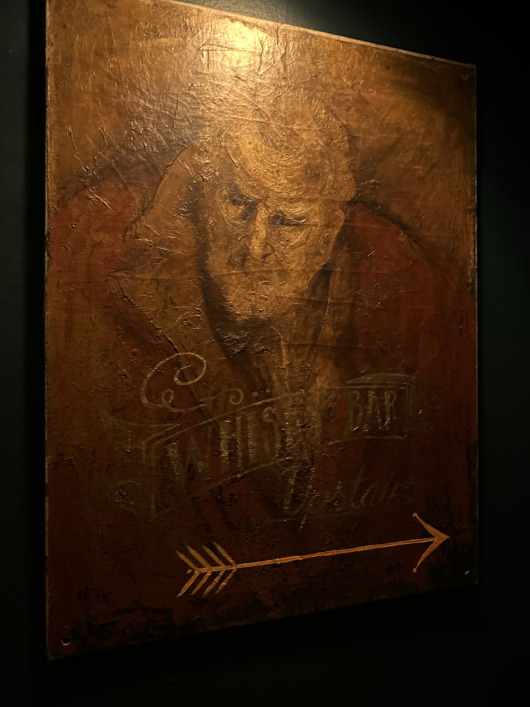 We were then led to their Whisky Bar, which was upstairs.  It felt very secretive as no one was on this floor.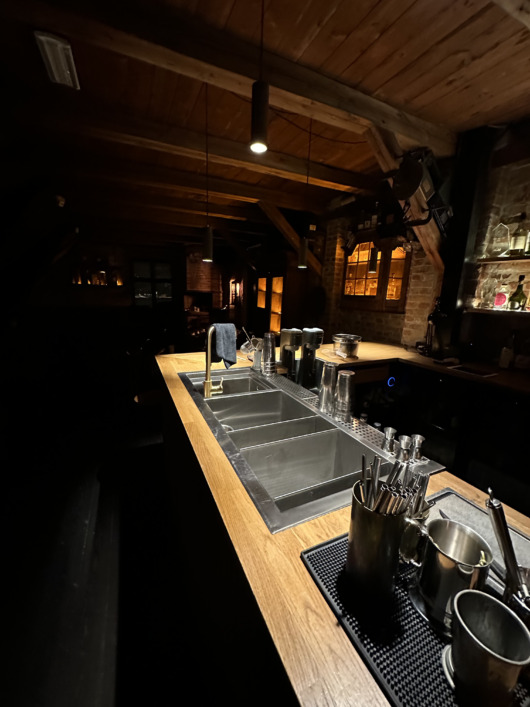 Complete emptiness, exclusively for us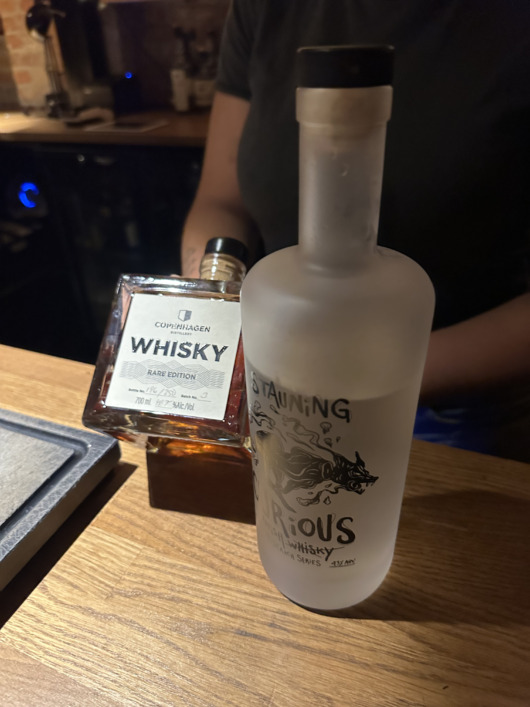 We got to check out their whisky collection, and some of their Copenhagen whisky collection as well.
As you can imagine, I got a pretty bad hangover the next day.  Mixing beers and cocktails with a small dinner was a terrible idea.  I felt the worst the entire trip on my Day four.
Day Four
Having managed to force myself to get a hold of myself from the hangover and morning grogginess, we got dressed and headed out to eat Kebab nearby.  Unfortunately for us, it was pouring within minutes of walking along the way, and we were fully exposed to the heavy rain at a children playground, that is until we found a tree that we could hide for a couple minutes until the rain subsided.
When the rain lessened a bit, we paced ourselves to Kebabistan, a highly rated Kebab place in Copenhagen, walkable distance from our hotel.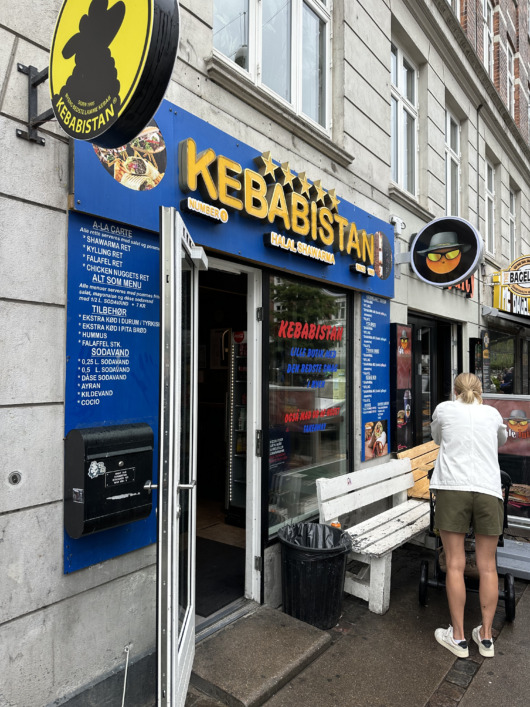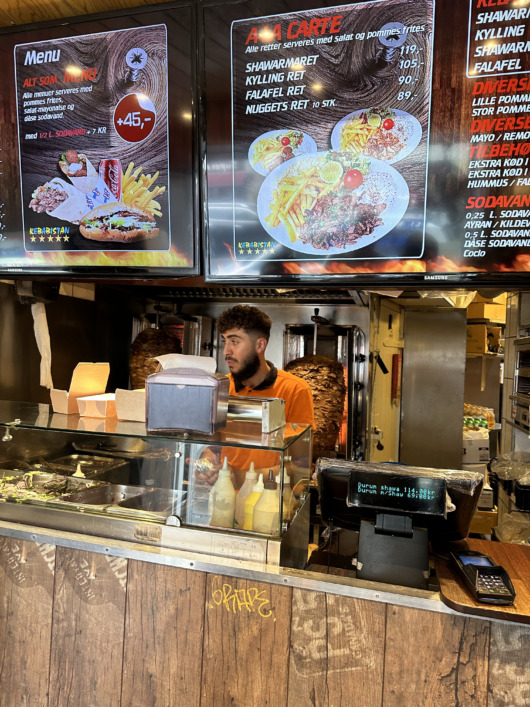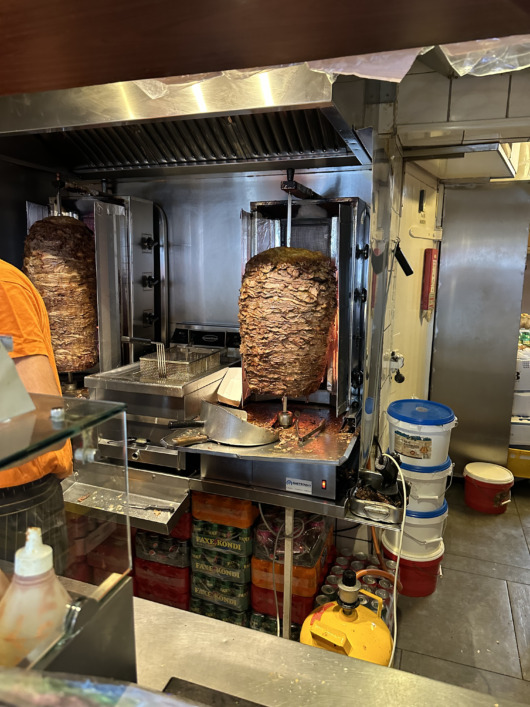 Lamb meat being roasted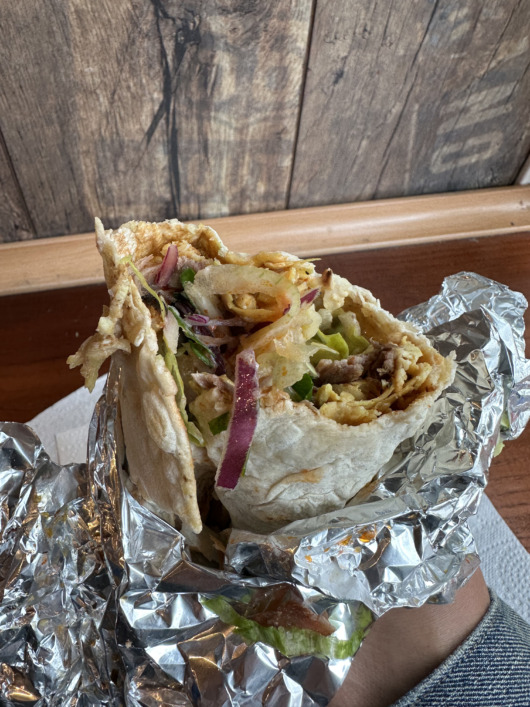 My friend really liked the texture of the pita and also the filling inside, tasted juicier and more flavorful than the ones in Hong Kong.  I thought this one and the one I go to in Hong Kong were both just as good; maybe cause I was usually tipsy when I have kebab in Hong Kong 😂  Anyway I got the mixed meat one with lamb and beef
My friend wanted to chill at a cafe near the meatpacking district, but actually while we were walking fast to the kebab place in the rain, we passed by this other interesting cafe place, so we decided to check out the latter.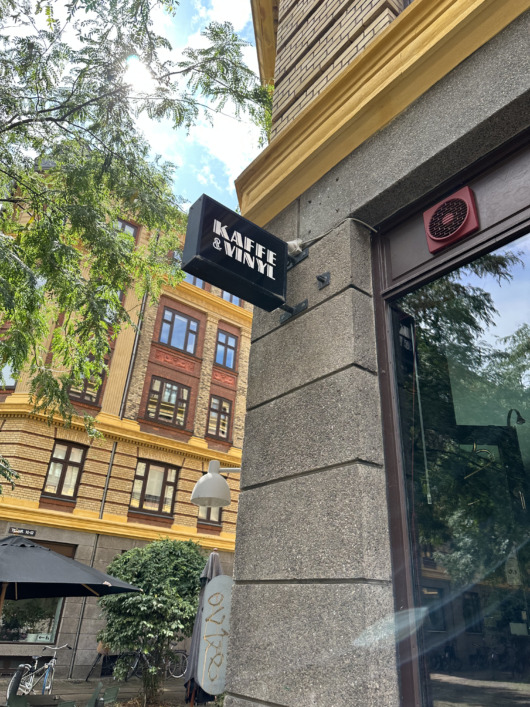 Just 5 minutes away from Kebabistan was Kaffe & Vinyl (Instagram)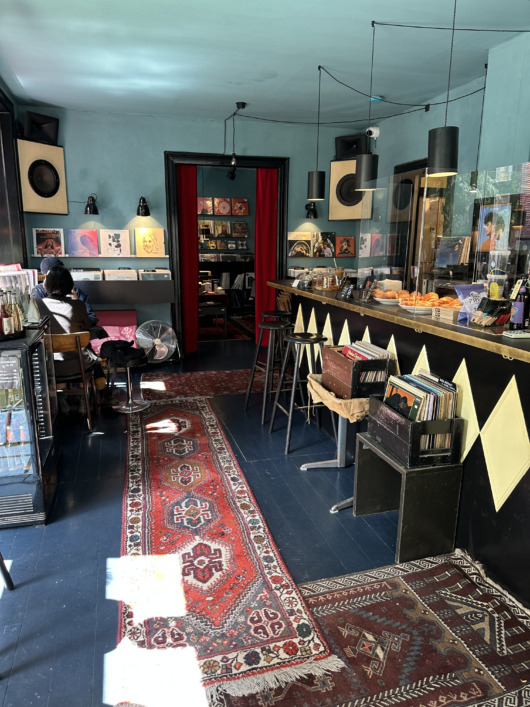 So basically this cafe was a vinyl record shop and espresso bar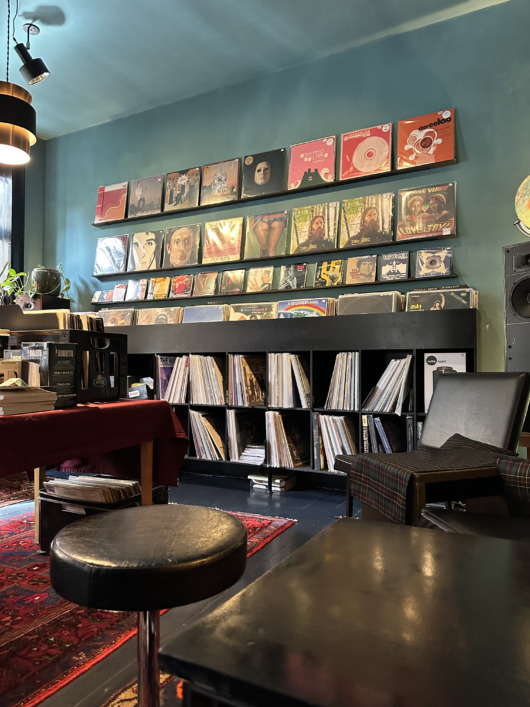 We sat in a room past the red curtains with an organized vinyl records neatly placed on the walls.  This cafe gave me sort of an Arabic vibe
I later ditched my friend to walk back to Norrebro to go to Acne Archives to buy the Tiffany teal green oversized hoodie I've been thinking about the past four days.  Since I was leaving today in the afternoon, I had to get it, now.  It was a little over a 30 min walk to there one way, and back to the hotel was another 30 min.  I left around 2pm from the cafe, and made it back to Coco Hotel by 3:15pm.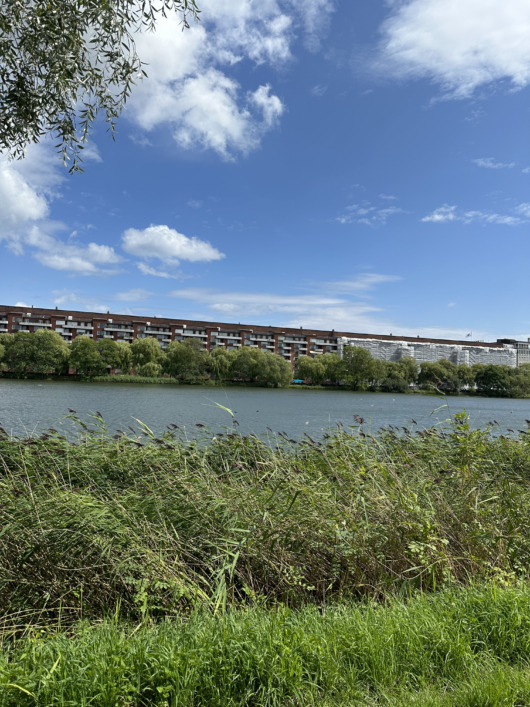 Had a nice brisk walk along the Peblinge So, Lake again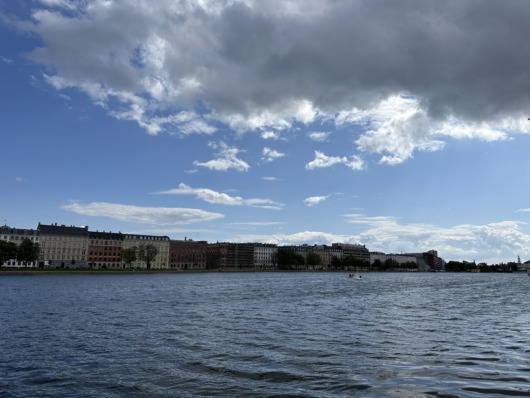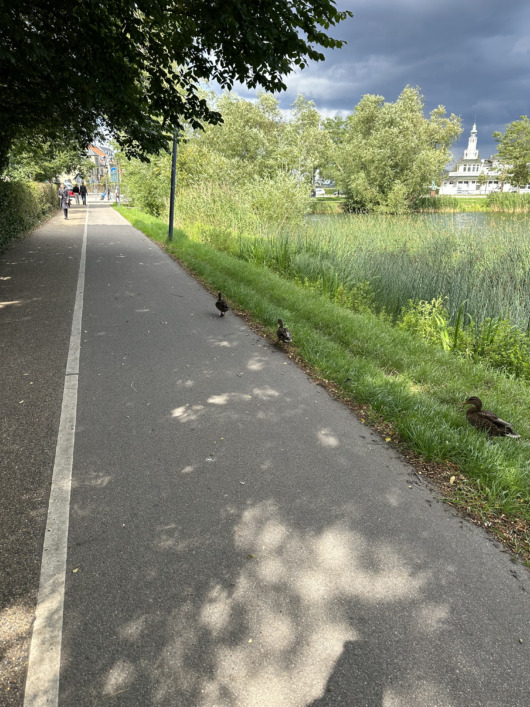 This time I saw ducks! 🦆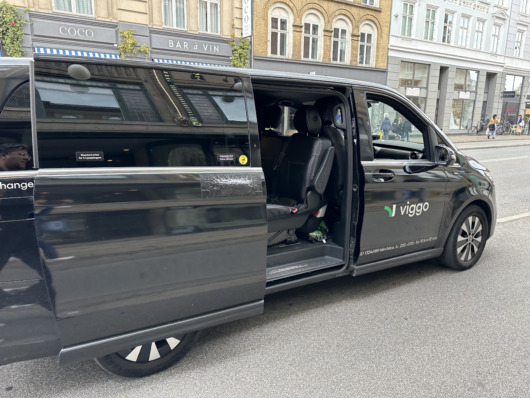 Made it back to our scheduled 3:15pm meetup time, and because of all the luggages we were carrying, we called Viggo (website), the taxi hailing app.  It was definitely a good idea not to save and get on the metro and instead share a taxi together even though it was more expensive, about €20+ for a 15 min taxi ride.  Not bad since we had so many heavy luggages.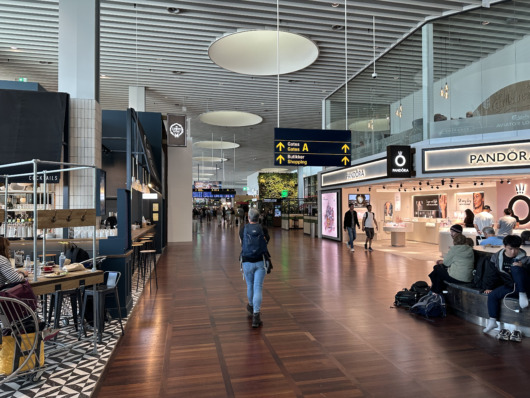 After we checked in and passed through the security gate, man the Copenhagen Airport was like this gigantic mall.  You'd think their airport was miniscule, but it's at their departure hall that you find all these shops and restaurants to explore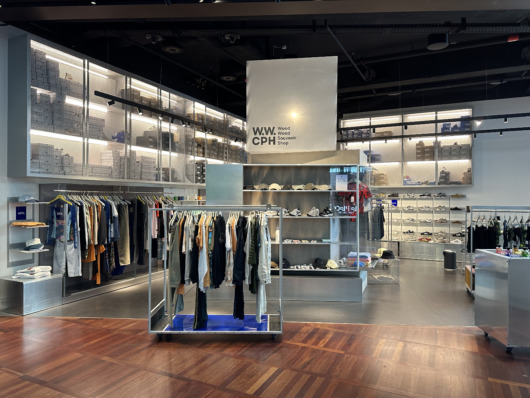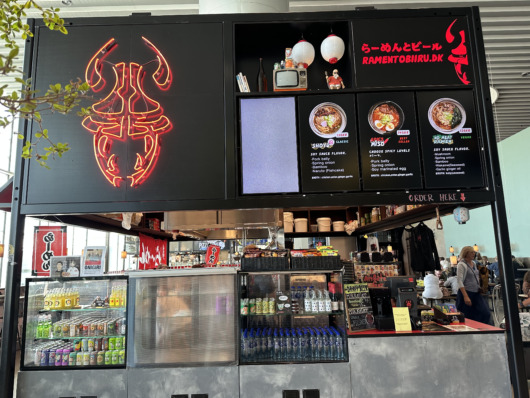 Ramen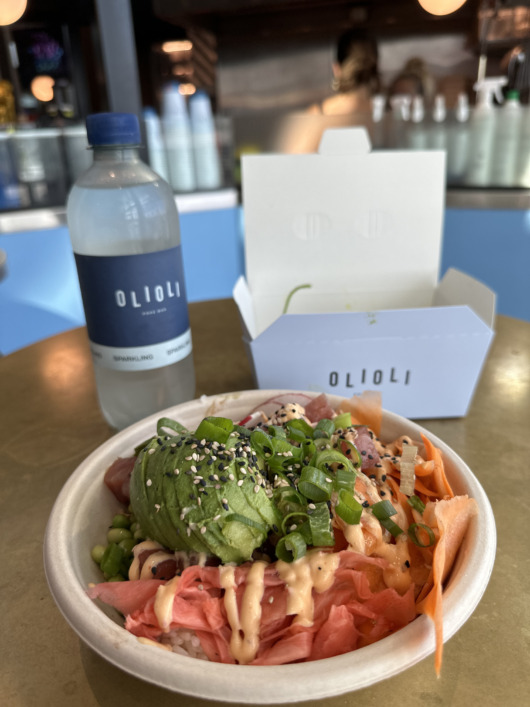 I ate this poké bowl place called Olioli, tryna be healthy
So that pretty much wraps up my Copenhagen trip!  If you still haven't read Part One of my Copenhagen trip yet, read it here.
My key takeaways from this trip was that a) Copenhagen's bread was phenomenal, the best and b) Copenhagen is a biking / walkable city, it'll be boring for tourists within a matter of days but I find it to be a possible city to live in for at least a few months or maybe a short few years, c) go in the summer because it's already freakin' chilly at night in the summer, d) I would have done more fine dining here since its their thing and e) shopping here is great if you like these boutique shops that sell simple design clothing with nice cut / fit and they have summer sales and they sell a lot of accessories for men here.
Let me know what you think of the new format!  From sorting by categories into sorting by days.  I might actually reduce the number of photos in my upcoming blog posts as well, and hope it'll make reading my blog post a bit more easy.
List of Other Touristy Things We Didn't Do
Go in Tivoli Gardens
Visit Christiansborg Palace
Visit iconic Little Mermaid Statue (heard it was overrated though)
Visit Carlsberg Glyptotek, a museum with extensive collection of art, including ancient sculptures and impressionist masterpieces
Explore Frederiksstaden and its Amalienborg Palace and the Marble Church
Extra Photos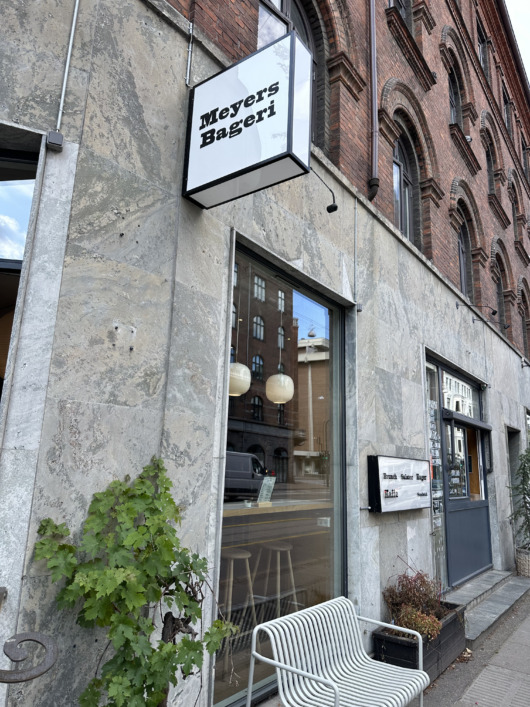 There's a Meyers Bageri right next door to Hari Bageri, but it's not this one.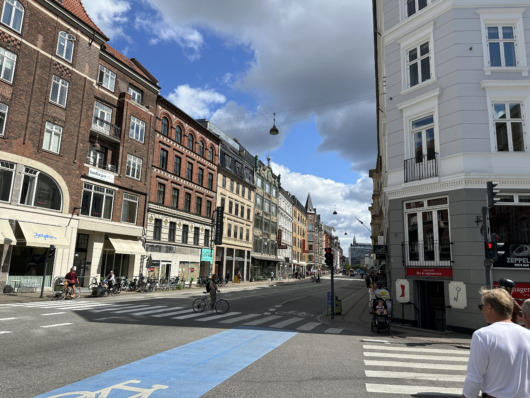 Around our hotel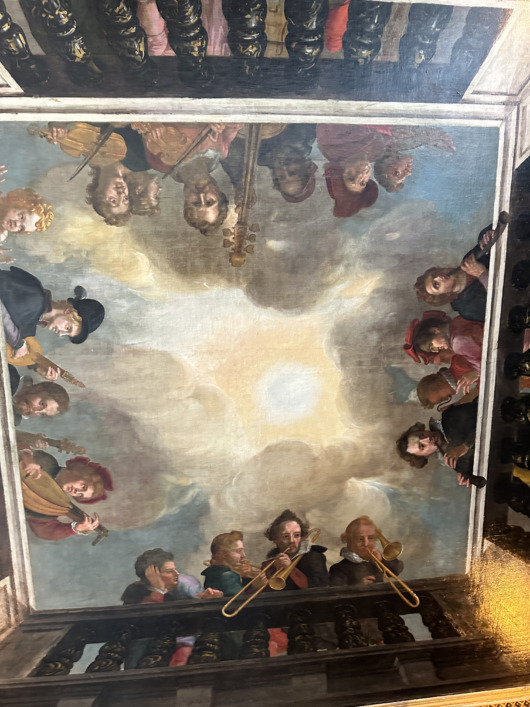 More pics of Rosenborg Castle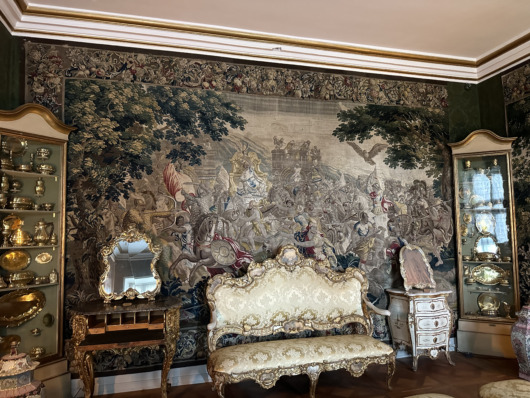 More pics of Rosenborg Castle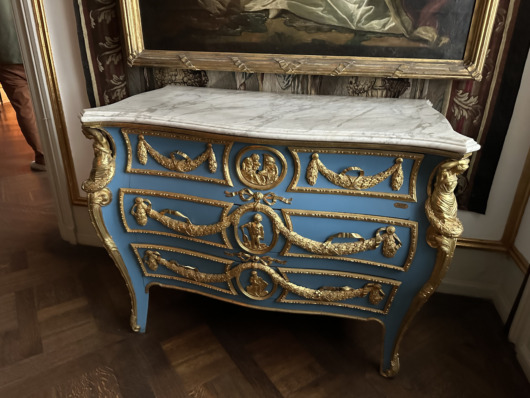 More pics of Rosenborg Castle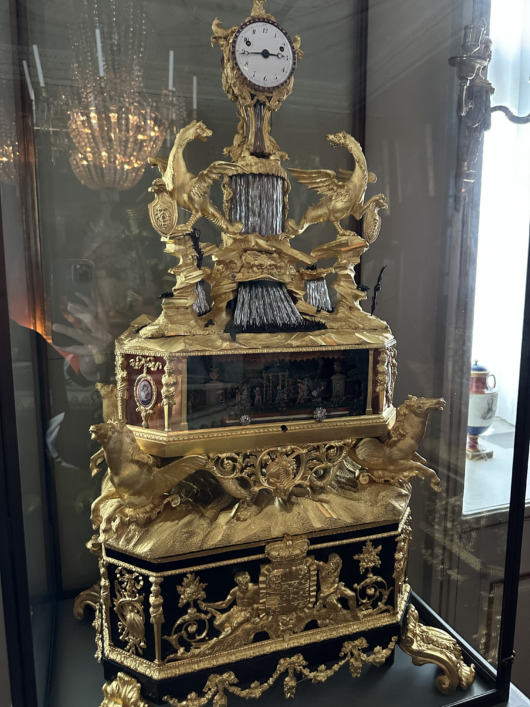 More pics of Rosenborg Castle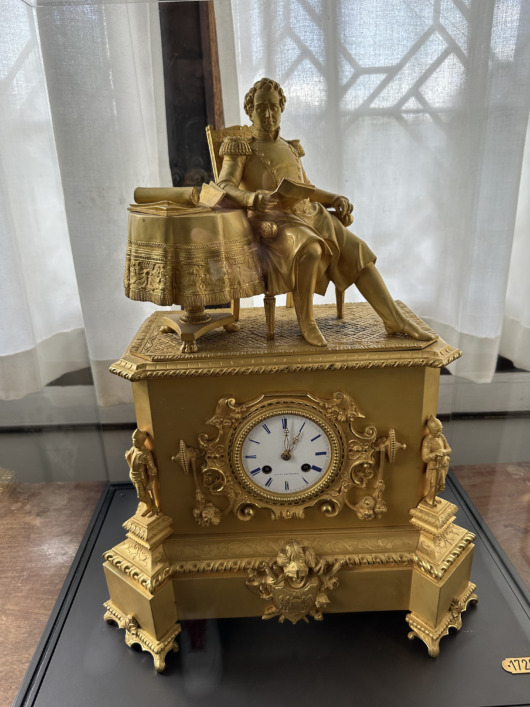 More pics of Rosenborg Castle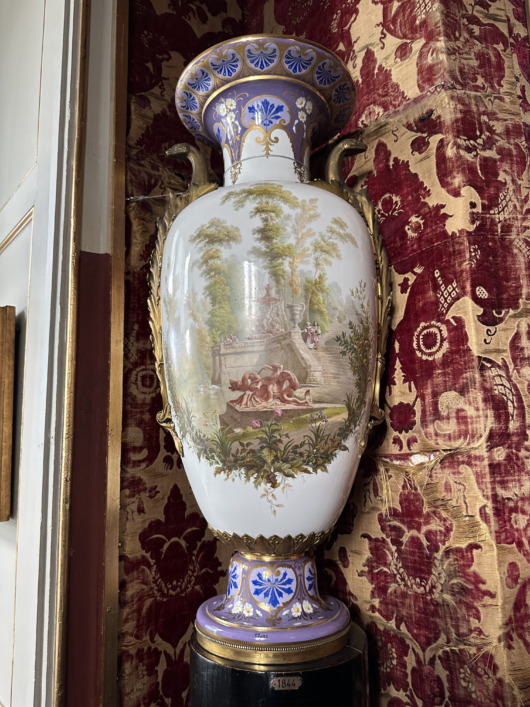 More pics of Rosenborg Castle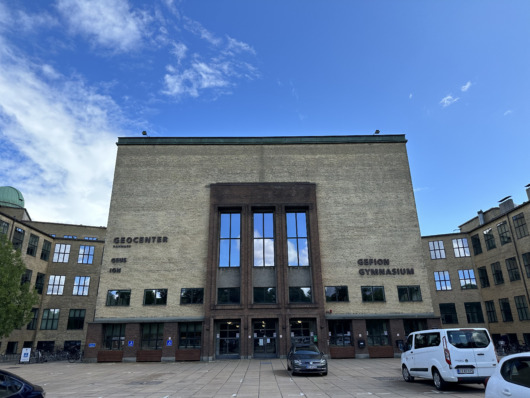 Not sure what this Geocenter Gefion Gymansium was, but just took a photo of it since it looked interesting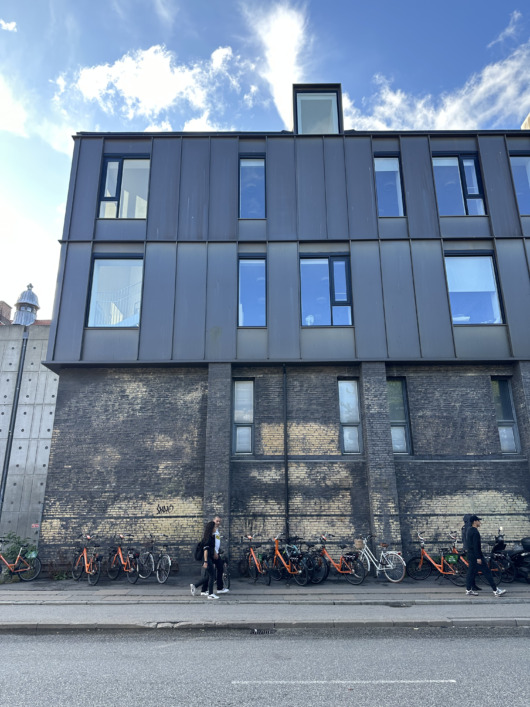 Some random building with an interesting windows concept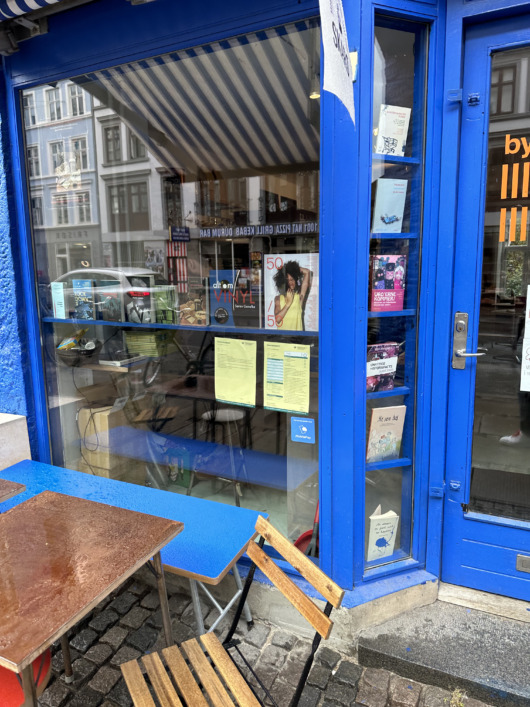 A shop nearby our hotel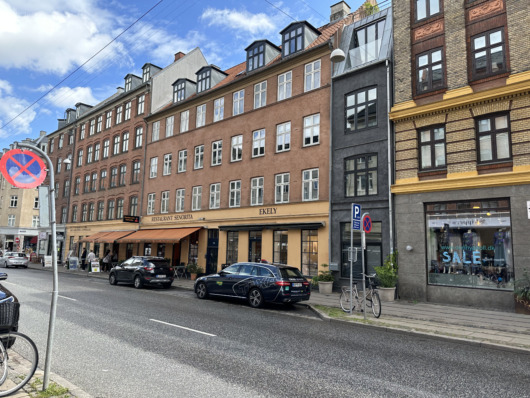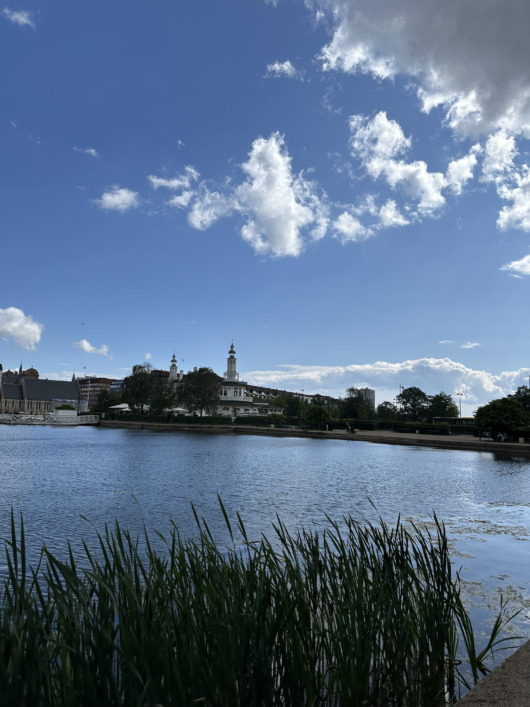 Peblinge So, Lake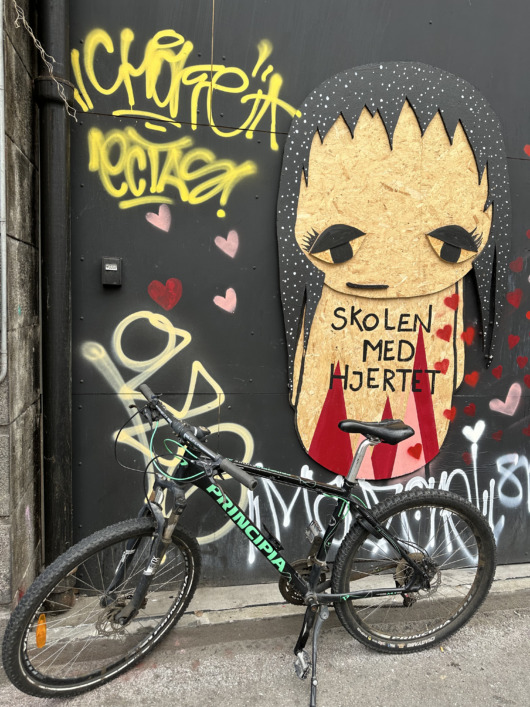 Near Norrebro I saw this