Tulum: A Tropical Paradise You'll Never Forget! -> I've been trying a lot of stuff for ChatGPT, whether it's for writing lyrics, asking history questions, and helping me write blog posts.  So a bit of the stuff you'll find might be more "ChatGPT" voice, but I'll include any details where I think it's missing from my own experience and emotions.  ChatGPT is here mainly to make the language more colourful and to provide more facts and information that pertains to each place of interest where I myself am too dumb to know all of it, that way as a reader I hope you'll also get more insight to what the place is about rather than just rather I like it or not and why.
This post will focus mainly on our hotel resorts and food/restaurants.  For things that we did in Tulum and car rental, click here.  To read about how to avoid common scams in Mexico (car rental, gas, driving tips), click here.
Anyway, I was pleasantly surprised by Tulum. I didn't expect it to be as vibrant as it is, but the endless sandy beaches and crystal-clear waters were a sight to behold, not to mention all the water activities this place offers. It reminded me of Bali, a place I cherish very much, and I couldn't help but feel like I was back in my favorite tropical paradise. As much as I loved Tulum, I was surprised to find that it's quite pricey. Even more so than what I'm used to paying back in Hong Kong! I was also surprised that it was getting pretty hot at the end of April as well, around 30 degrees I believe. But don't let that dissuade you from enjoying all that Tulum has to offer.
My trip to Tulum didn't start that smoothly. I missed my flight to Cancun due to unforeseen traffic on the road the morning after the Coachella festival. This left me with a stressful and frustrating two-three hours of trying to book the next flight at lightning speed. We even almost purchased a flight that departed at 12:30pm/1pm (original flight was like 10:30am) through the phone (since the flight didn't show up online as it was cutting close to departure) but the man at the check-in counter told us that 5 minutes before check in closes, we had to have paid the flight otherwise it would have been too late and we would have paid and not get on board, so that was another stressful 45 minutes that resulted in us giving up at the payment step.  We ended up missing out on all the flights that day and had to take the one that departed that night at 1:30 am! We had to cancel our first night's lodging (successful) and rearrange our car rental pick up for the second day. If only we had gone to the airport earlier. Live and learn, right?
Accommodations
Conrad Tulum (website)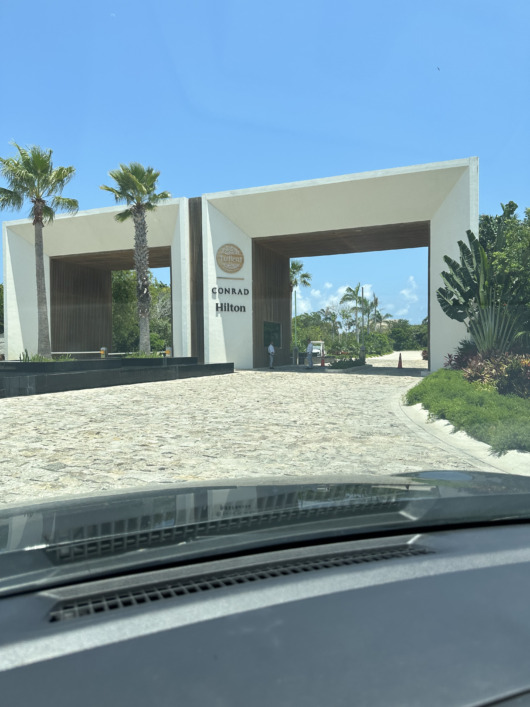 Conrad Tulum is a breathtaking beachfront resort situated on the pristine white sand beaches of the Caribbean Sea. This luxurious escape offers a combination of contemporary design, elegant amenities, and a serene ambiance that will leave you feeling refreshed and completely rejuvenated. The property features 114 spacious suites and villas, all beautifully appointed with sleek furnishings, top-of-the-line technology, and private terraces or balconies overlooking the mesmerizing turquoise waters. Conrad Tulum offers an array of dining options ranging from casual poolside fare to gourmet cuisine at its signature restaurant. Relax and unwind at the spa, which incorporates ancient Mayan healing techniques, or take advantage of the resort's many recreational activities, including snorkeling, kayaking, and beach volleyball. Whether you're traveling with your significant other, family, or friends, Conrad Tulum provides the ultimate luxurious vacation experience that will surpass all expectations.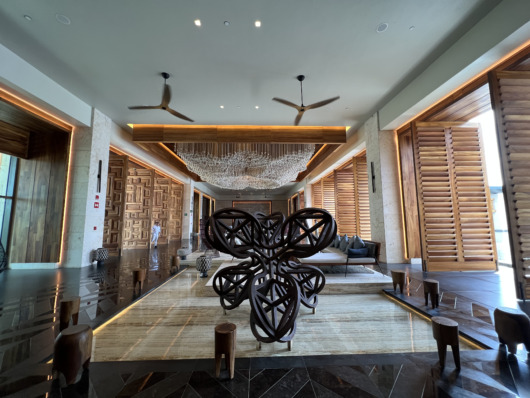 The first night of our stay was at Conrad Tulum which was absolutely stunning and worth every penny we paid. It was modern luxury at its finest. From the entrance to their pools and the size of the entire resort, everything was breathtaking. The rooms were splendid, and the young but professional and friendly staff made our stay even more memorable. Plus, it was news that it only opened in 2022, so all the facilities were still pretty brand new!  We paid roughly USD 330 for one night, which in my opinion was considered a bargain after experiencing what it had to offer.  It was too bad that we only stayed for one night, so we made the most out of it.  (Beware below for the many photos on Conrad Tulum cause that's how beautiful it was)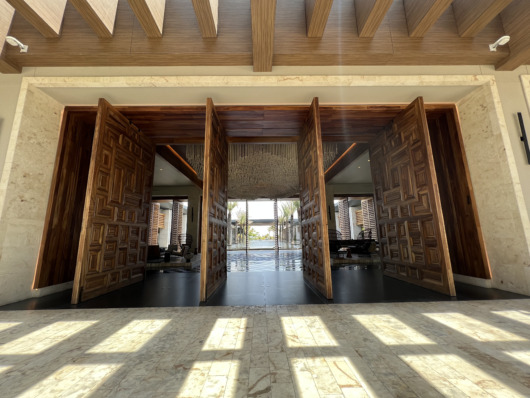 Right when we arrived, I was already mesmerized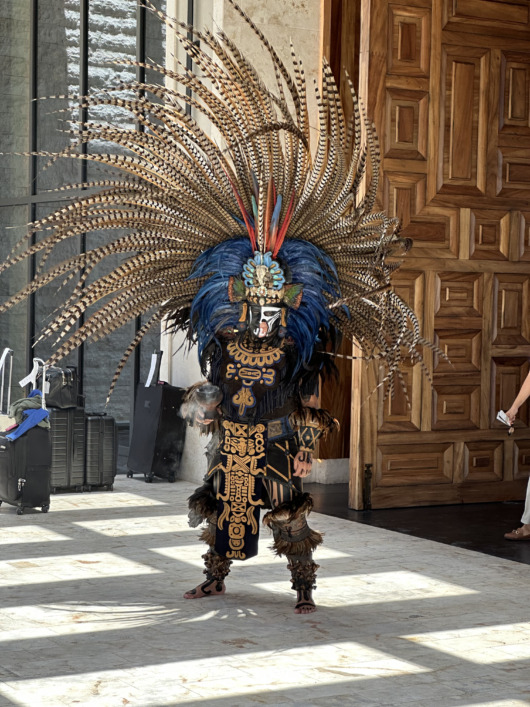 Greetings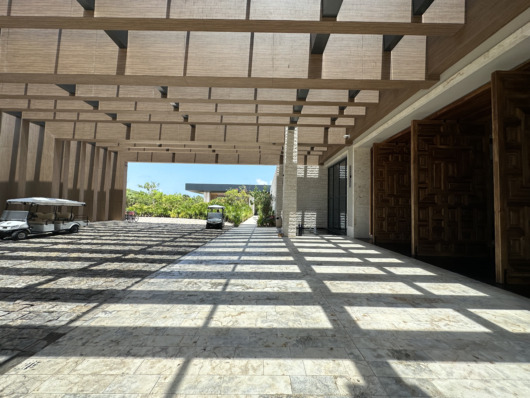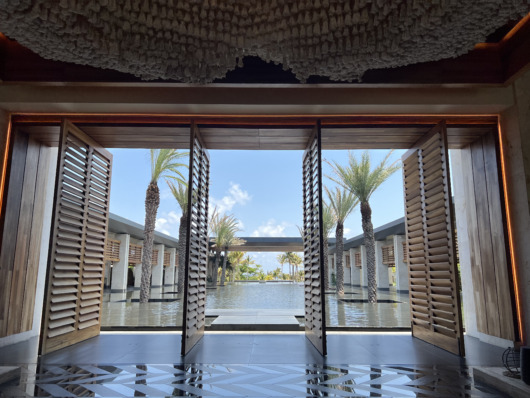 You get to see a view of what's to come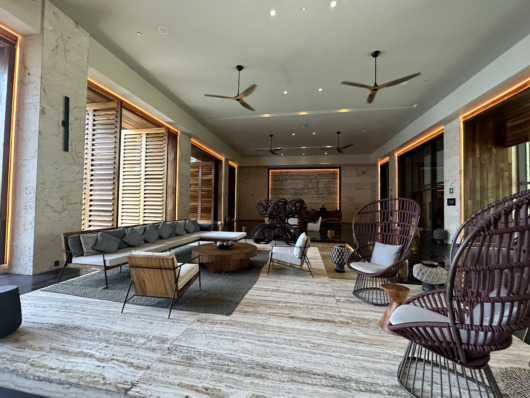 Where we sat down in the lobby to do the paperwork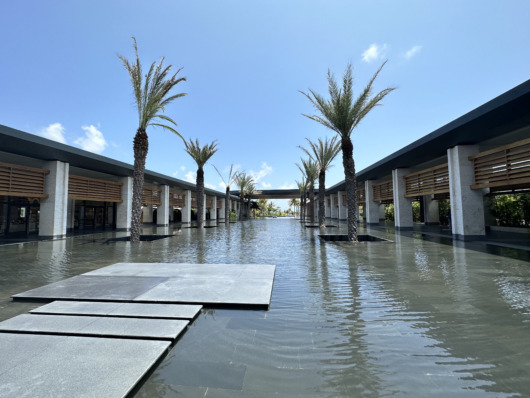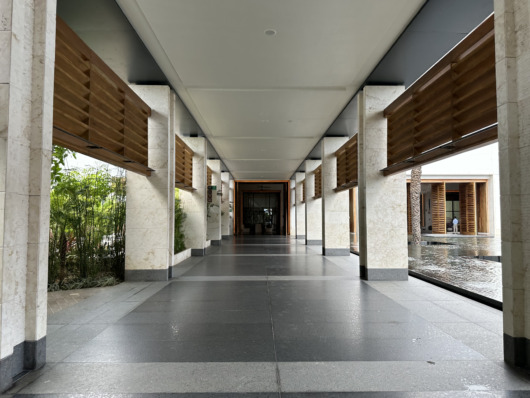 Walking along the sides of the outdoor corridor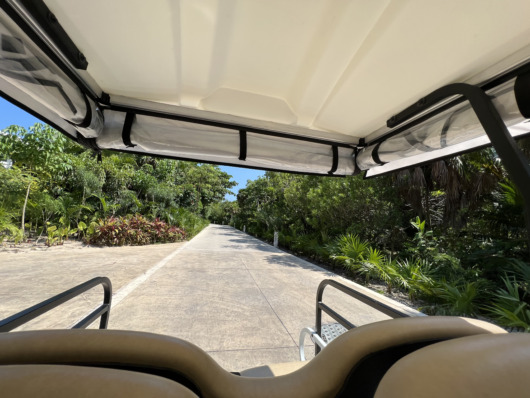 We were driven on golf carts to go to our rooms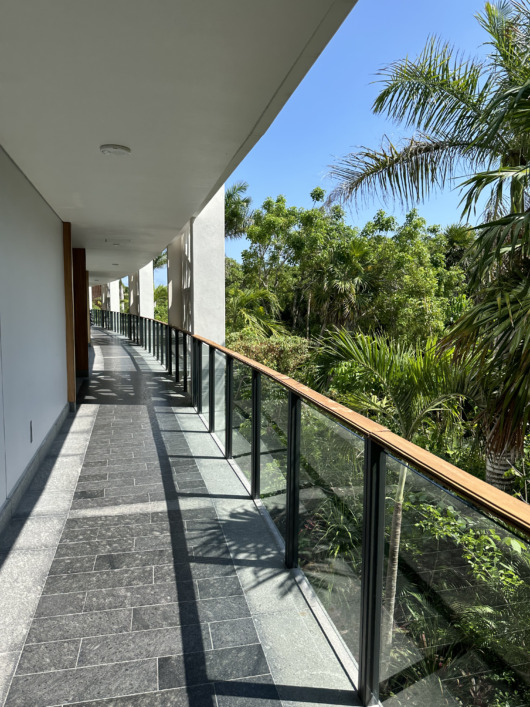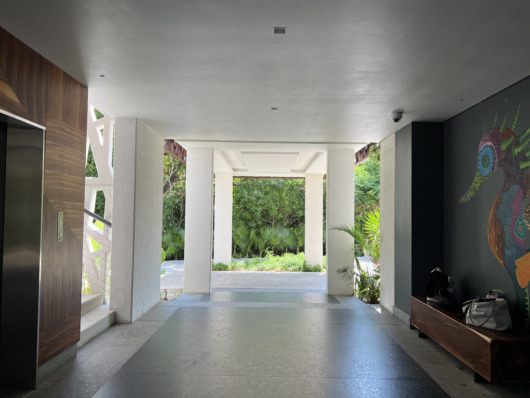 Each section had their own "casa" or house of rooms
And volia, our bed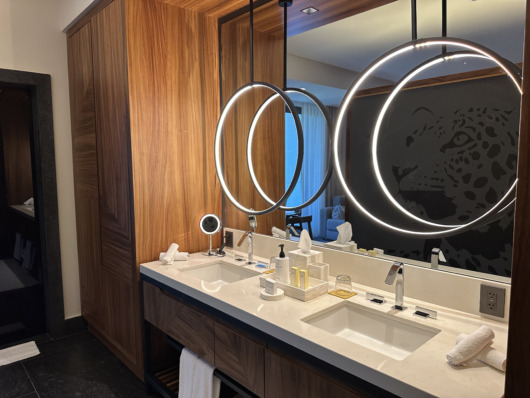 I'm a huge fan of double sinks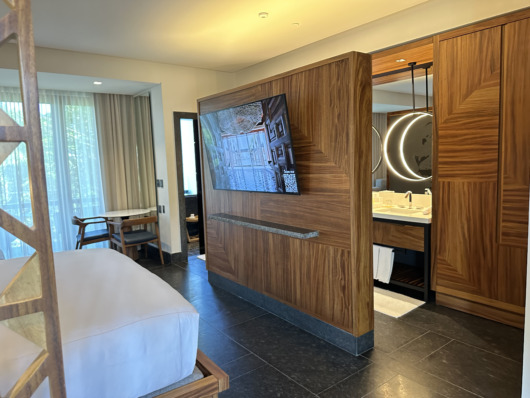 The room layout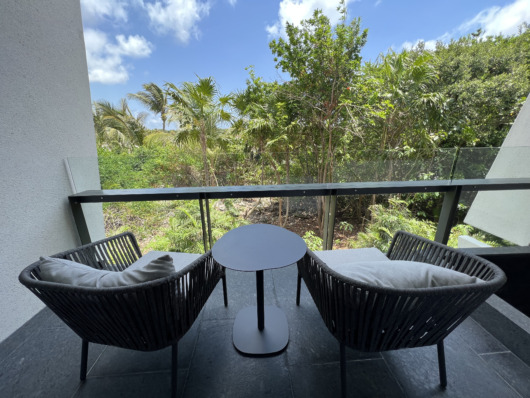 A small balcony that allowed us to see the jungle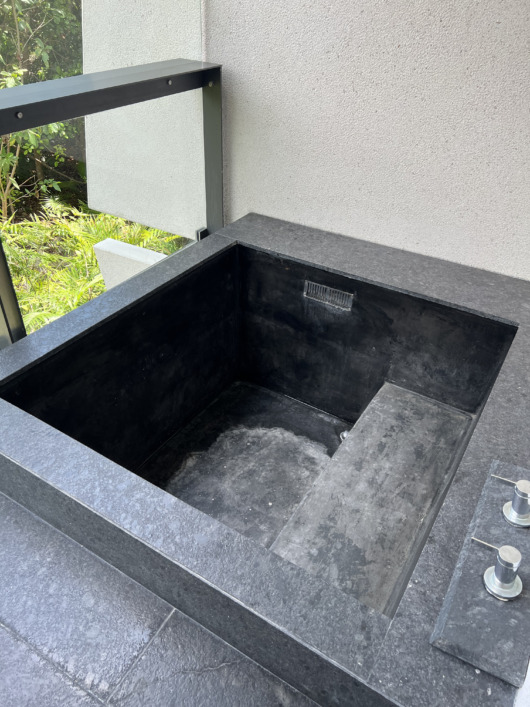 Hot tub (that didn't really work for us?)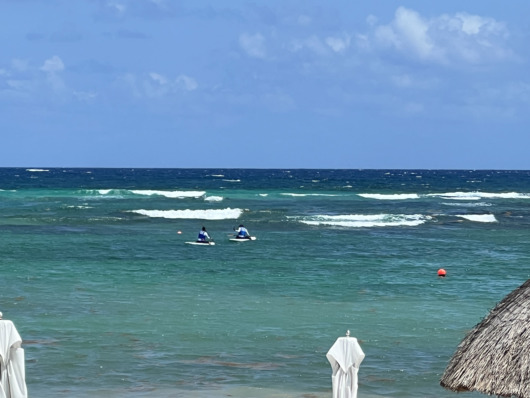 Water activities like kayaking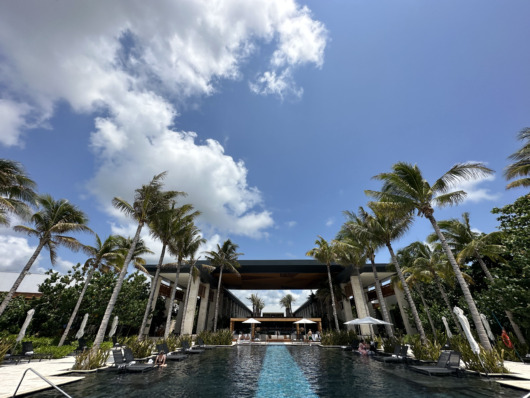 Fancy a swim?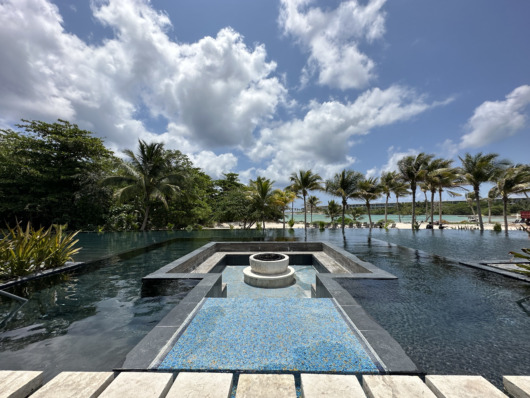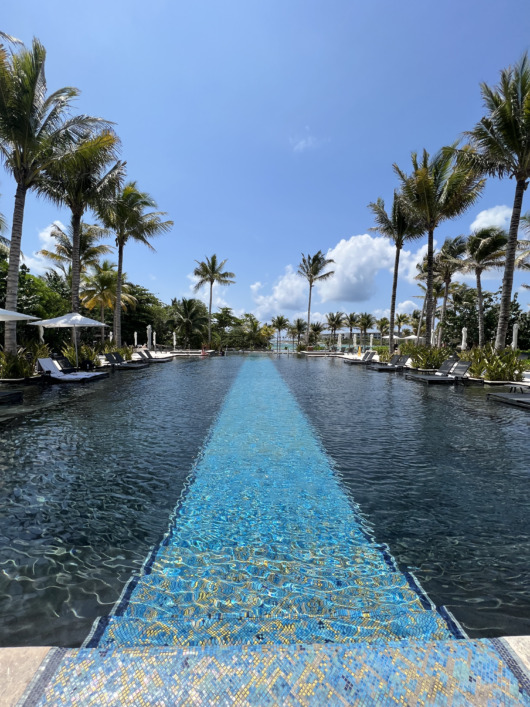 Why go to the beaches in Tulum when you can just stay in Conrad Tulum and try out their five different swimming pools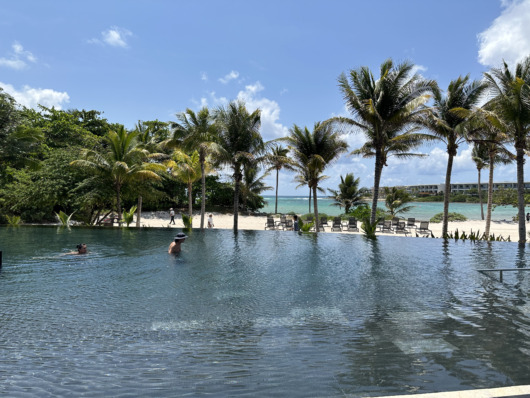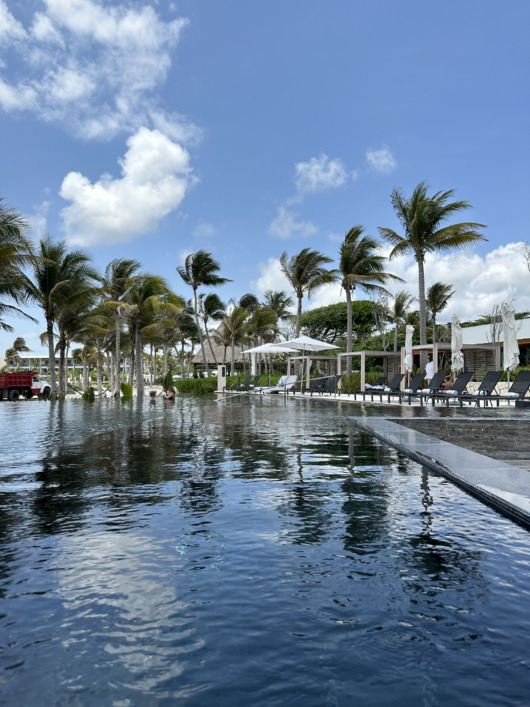 Just gorgeous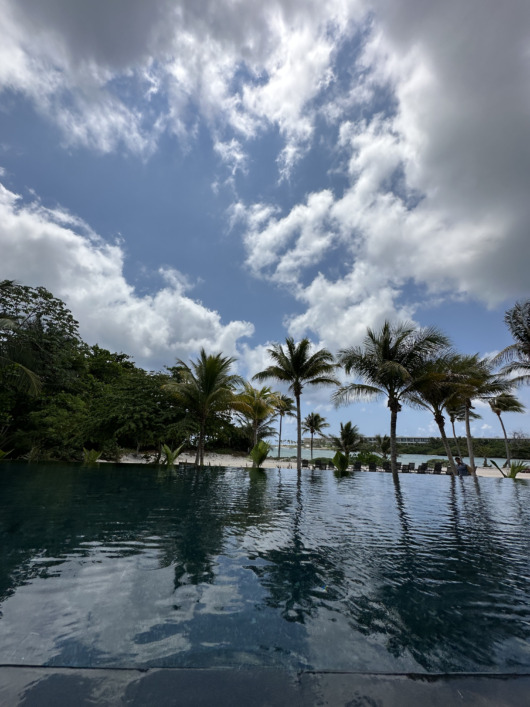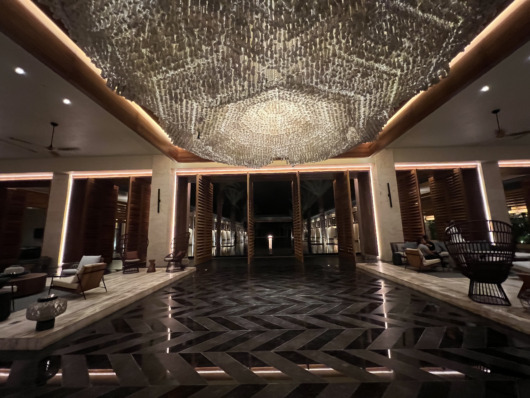 When we arrived back in our hotel in the evening, the lobby was just as stunning in a different way
Azulik (website)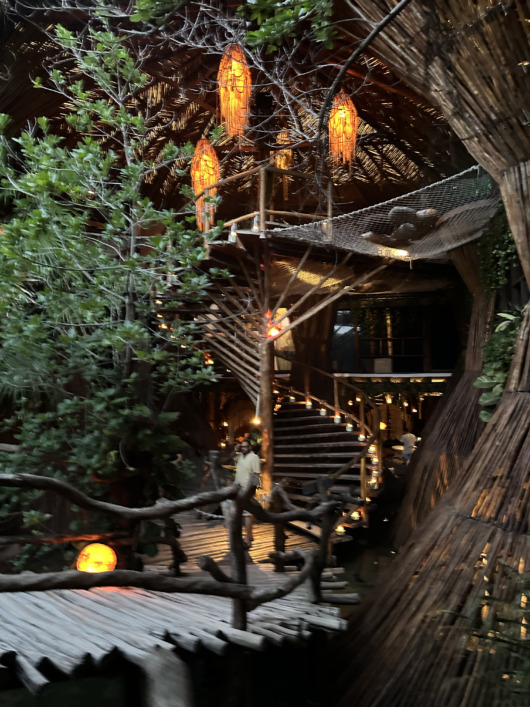 On the second day, we stayed at Azulik Tulum. Azulik Tulum is an eco-friendly resort that is designed to blend seamlessly into the natural surroundings to create a unique and magical experience. The property is situated along a pristine stretch of beach, surrounded by lush jungle foliage and swaying palm trees. Azulik Tulum offers a range of accommodation options that are handcrafted by Mayan artisans, featuring locally sourced materials and designed to evoke a sense of rustic elegance. Some of the accommodations feature stunning ocean views, while others offer a tranquil jungle setting. The resort also features a variety of dining options, including a beachfront restaurant that serves fresh seafood and a cliffside bar that offers handcrafted cocktails and stunning sunset views.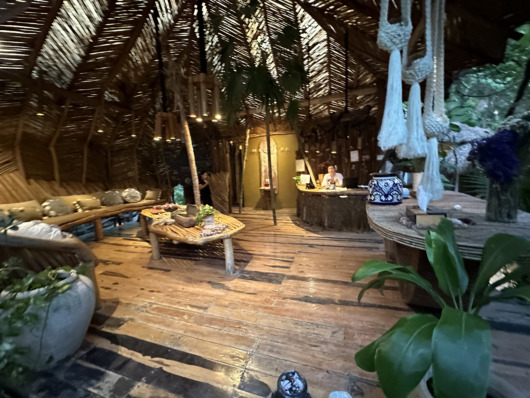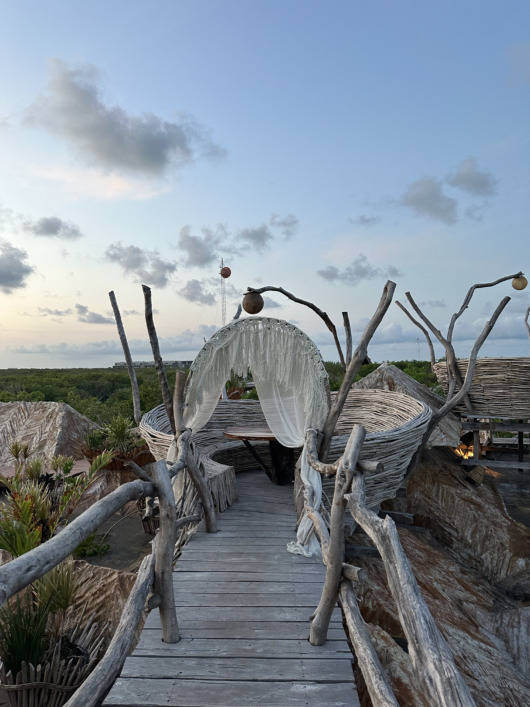 The iconic bird's nest, I think it was like around USD 500 to sit here for breakfast
Azulik was very overpriced in my opinion. The whole concept and design of the hotel were wonderful, with twisting branches and an overall feel of being lost in the jungle. However, eco-friendly hotels aren't suitable for everyone, and I realized this when I stepped into my room. There were no electronic lights, only a few candles, so once Tulum was dark, we had to rely on our iPhone's light to see. There's no air conditioning either, only a fan on top of the bed. The outdoor entrance looked dull, but once we stepped inside, it was beautiful. One good feature that stood out was the baggage handlers, who carried our 25kg luggages to our room, stepping on uneven surfaces and crossing large pebble stones on a human-made mini-river. I was impressed with the hotel's Apothecary bar and morning yoga classes. The sunset experience we had was also unforgettable. Taking a sip of my cocktail while watching the sun slowly slip into the ocean was an experience that is hard to put into words. We also enjoyed the free breakfast, and spending time at the spectacular terrace watching the sunset while sipping cocktails.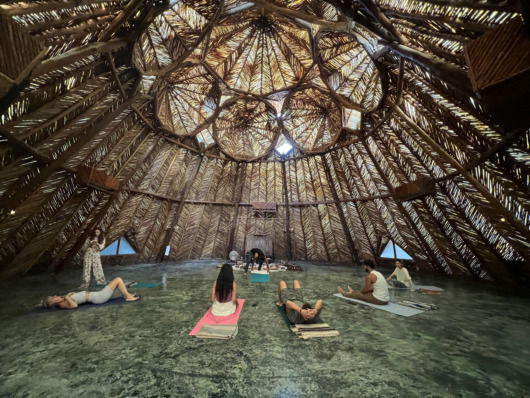 A picture of our morning yoga session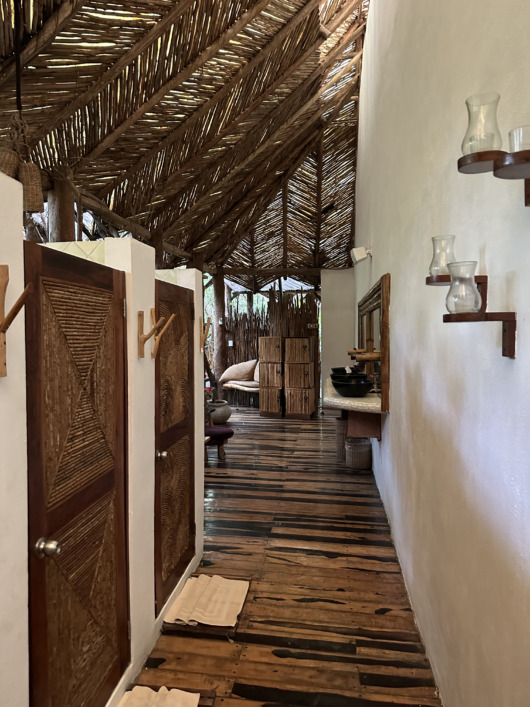 The changing rooms along the way to yoga session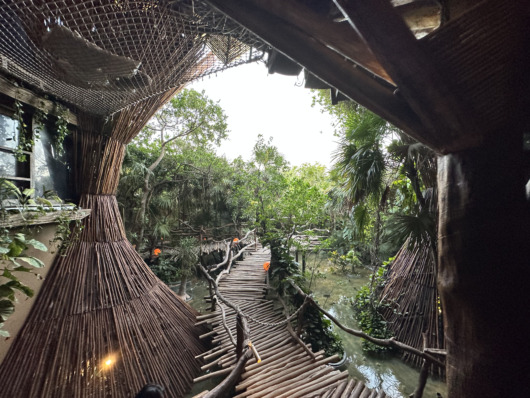 This is the entrance, so yeah at first my eyes dropped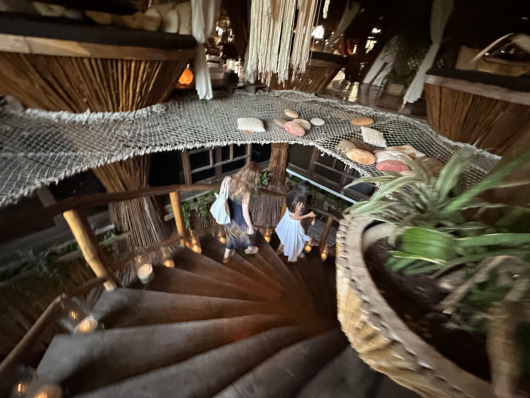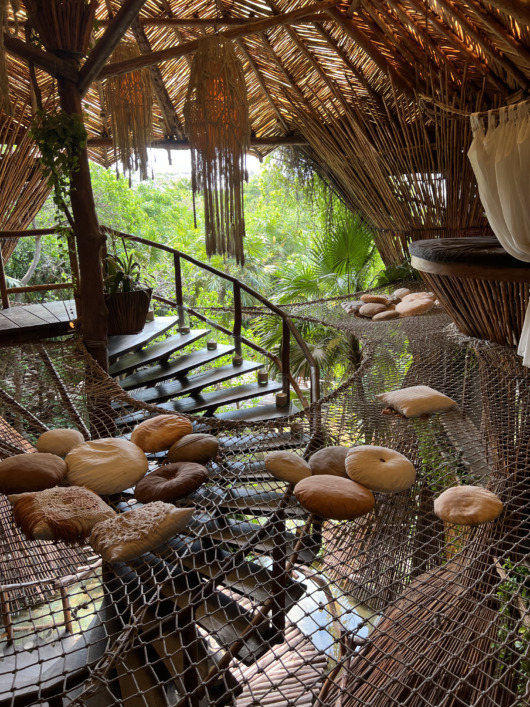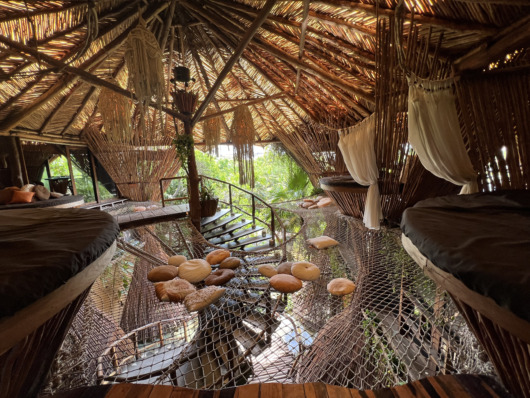 This part of the area is so nice, that's why I'm posting multiple photos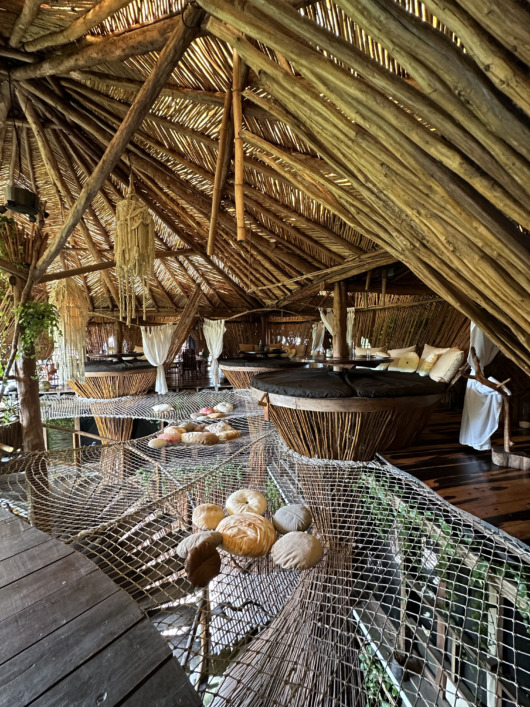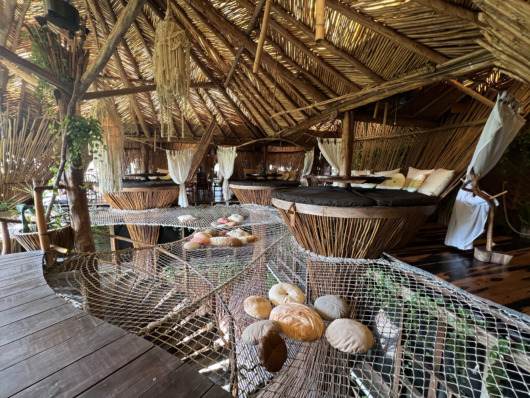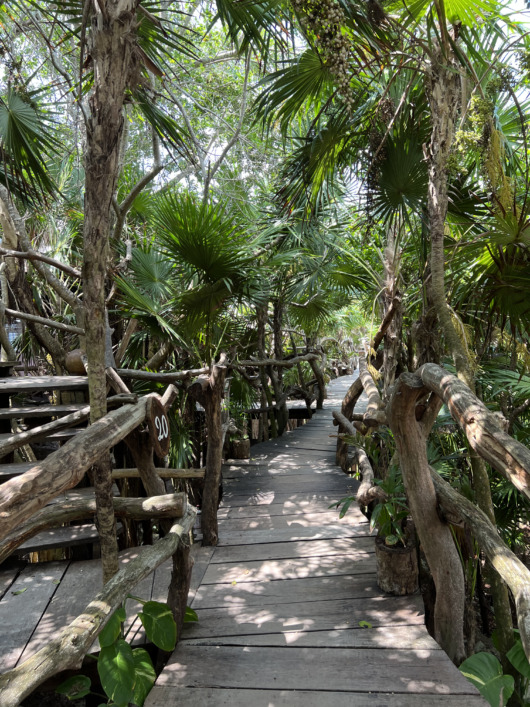 The pathways to our rooms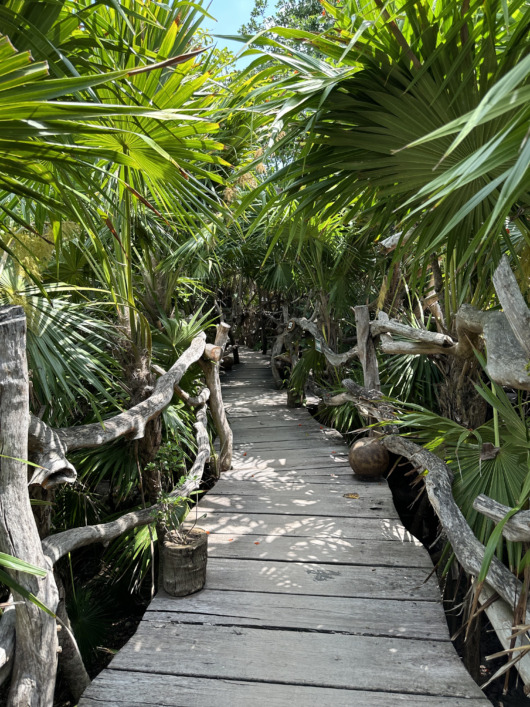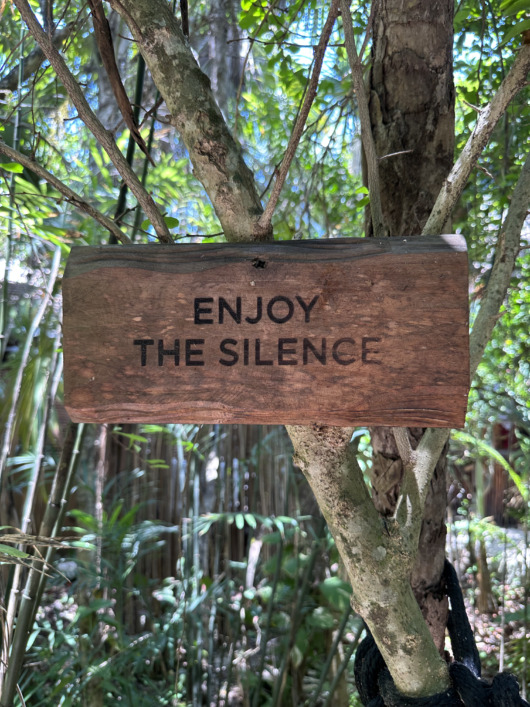 This is an adults only resort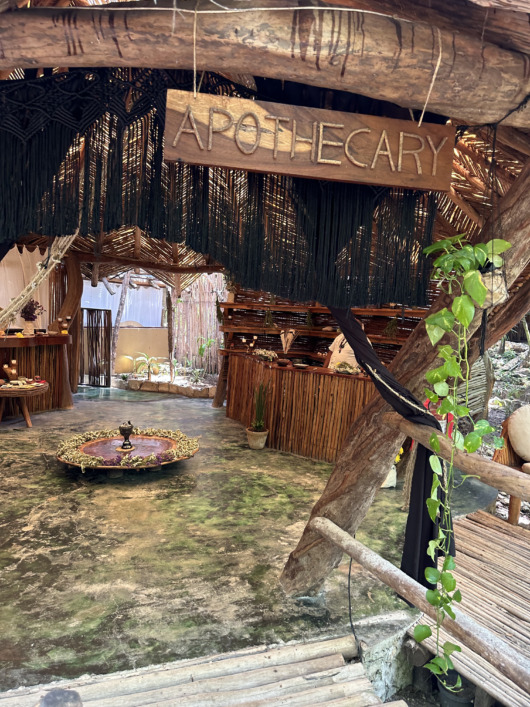 The bar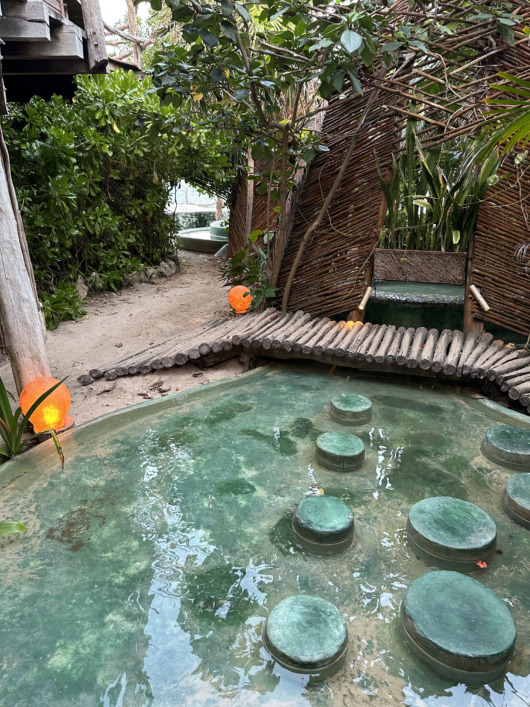 These are the "pebble stones" that we have to walk on… luckily we didn't had to carry our own luggages walking on them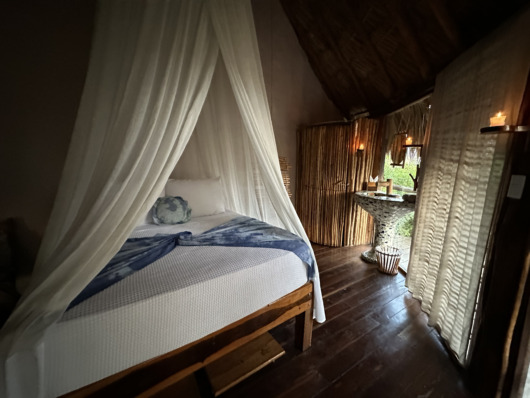 Our room.  It's actually quite small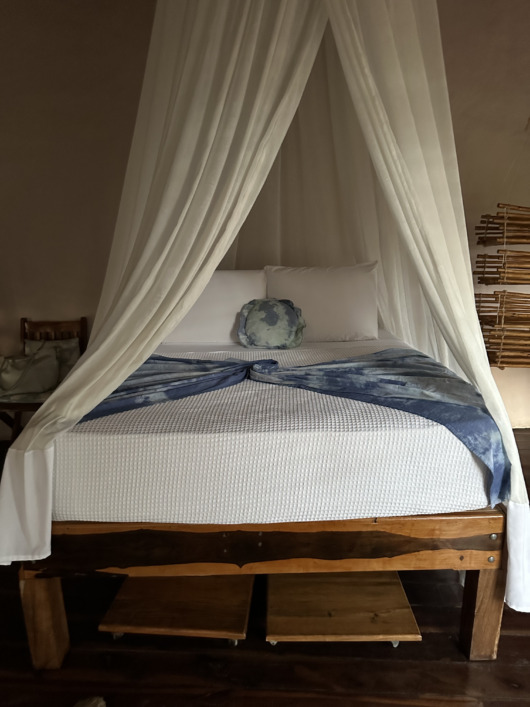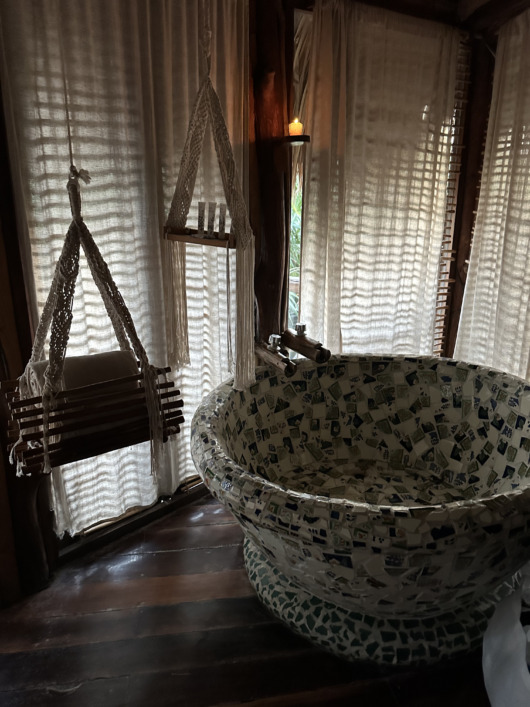 The bathtub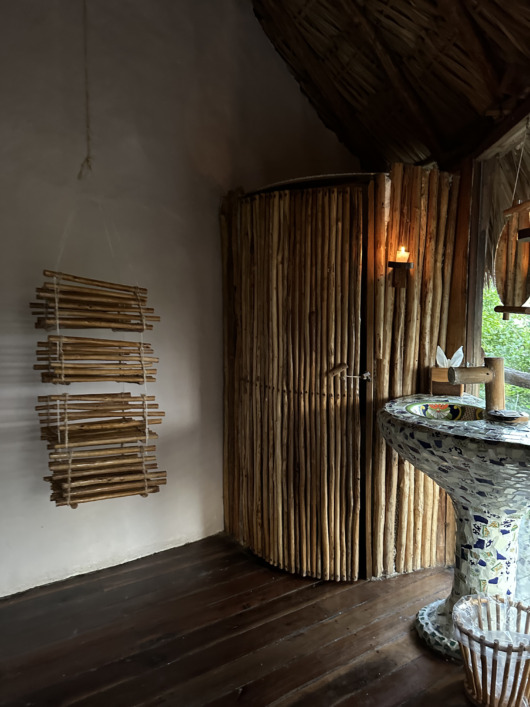 Behind that is the bathroom.  Again no light, so at night it's pitch black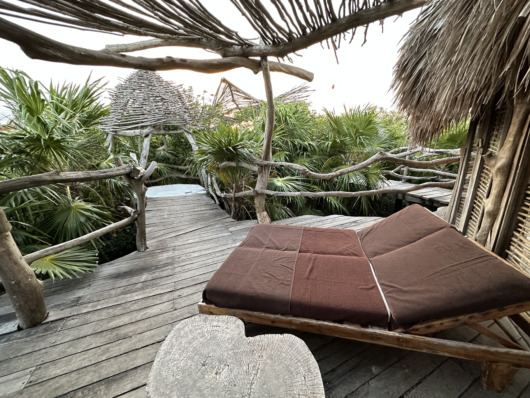 They also have an outdoor hot tub at the end, also part of our room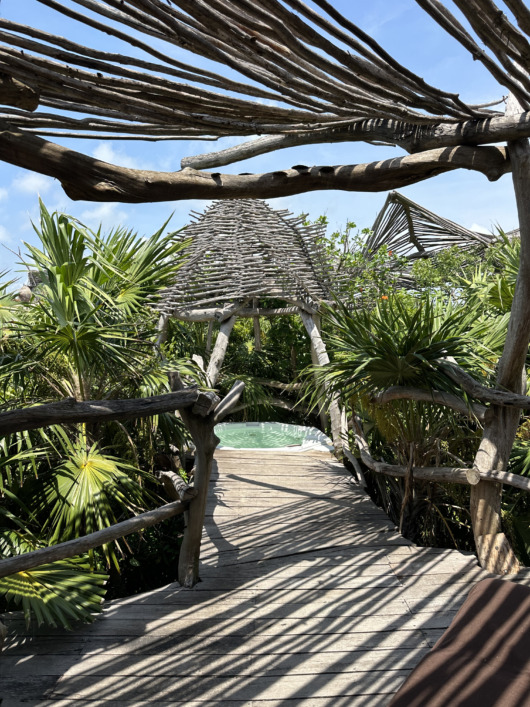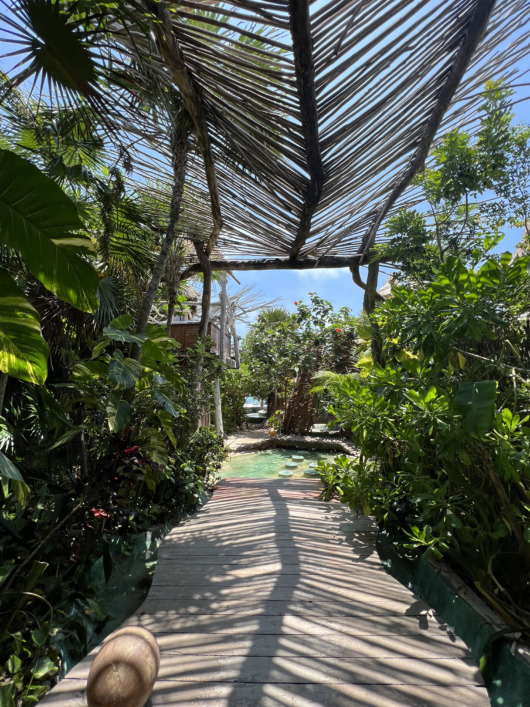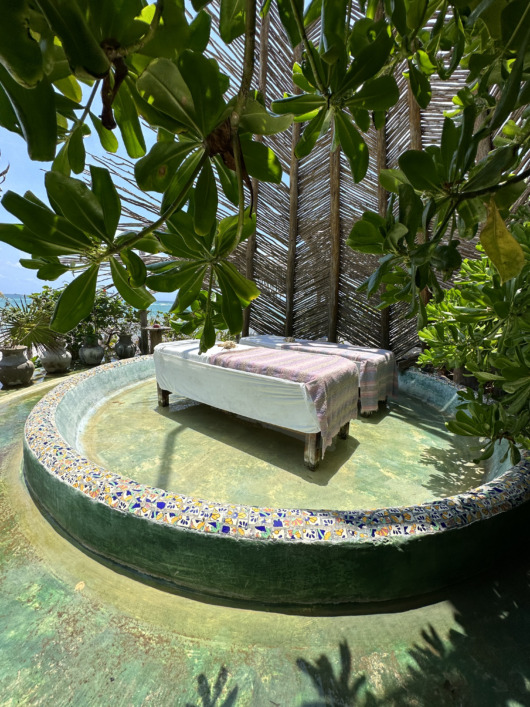 Not our room, but I think this might be the spa/massage area?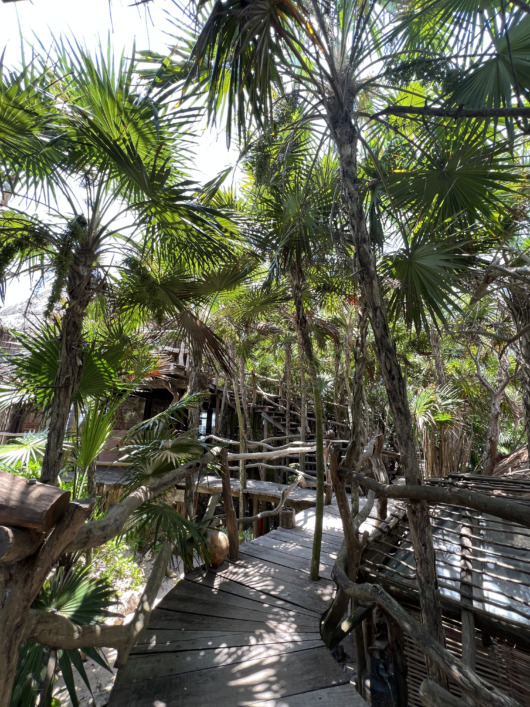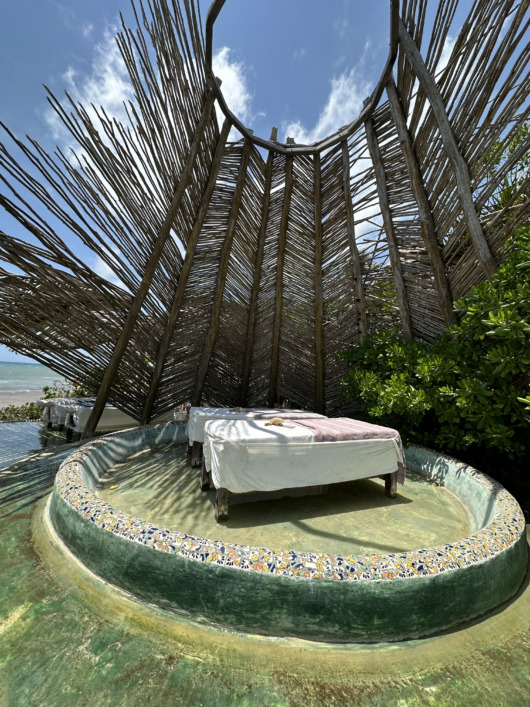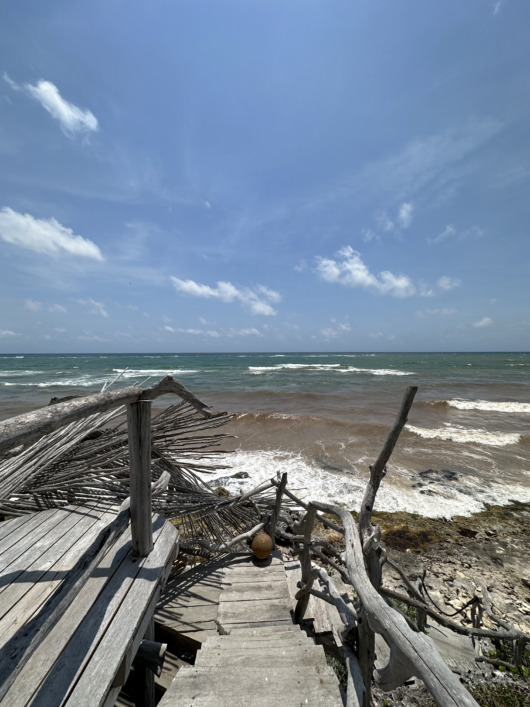 They also have a beach as well, nearby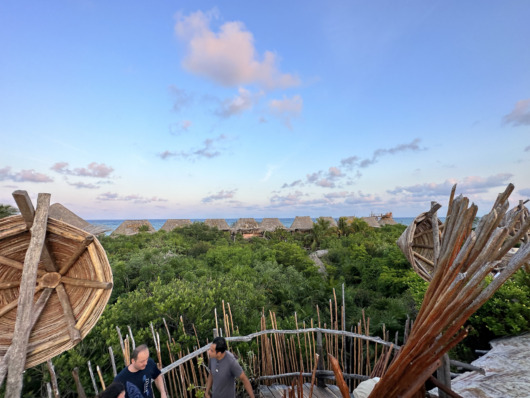 Climbing up to the sunset experience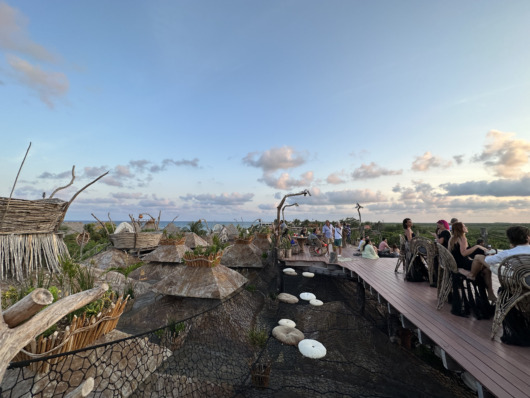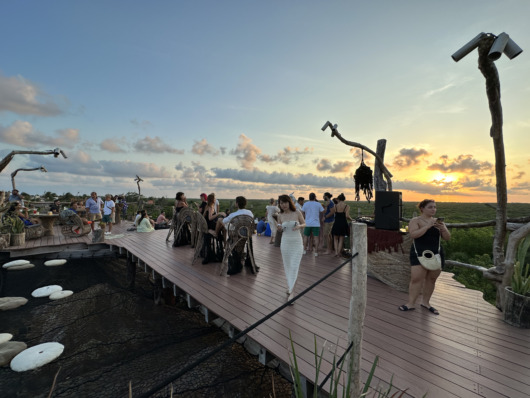 Everybody was up here, so amazing.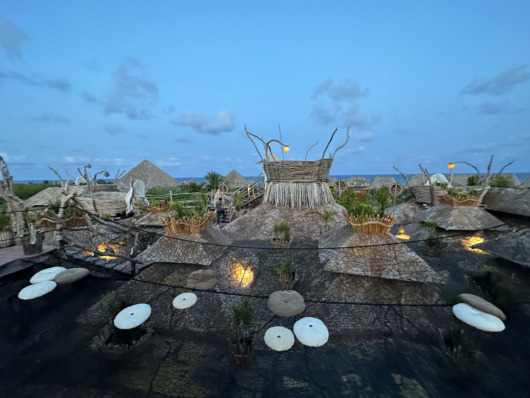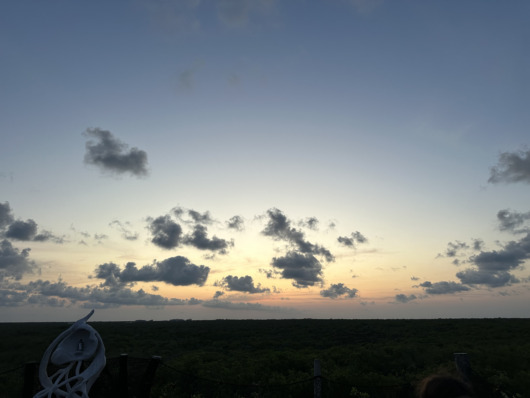 We went to our room first after getting a glimpse of the sunset experience, and within 15 minutes it was already starting to get dark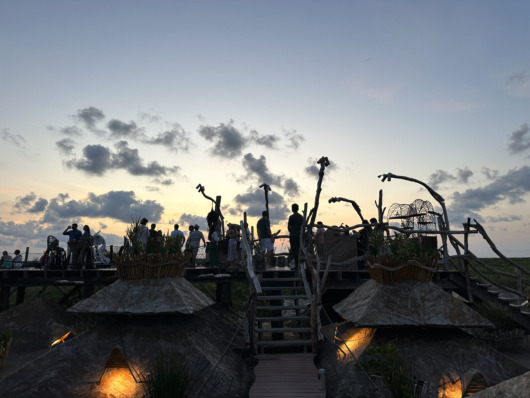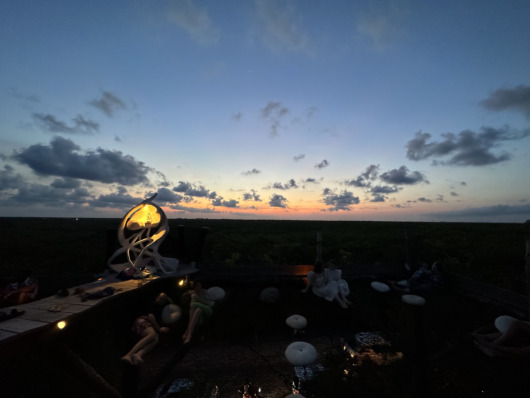 Even when it's getting dark it was beautiful.  You can see some people here chilling on top of the net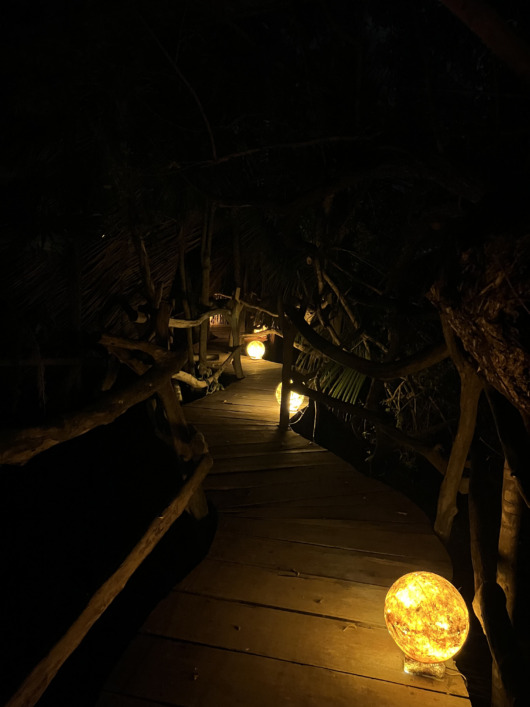 When we got back to Azulik at night, it was pretty dark throughout.  We actually got lost trying to find our rooms, like for 15 mins, and went in a large circle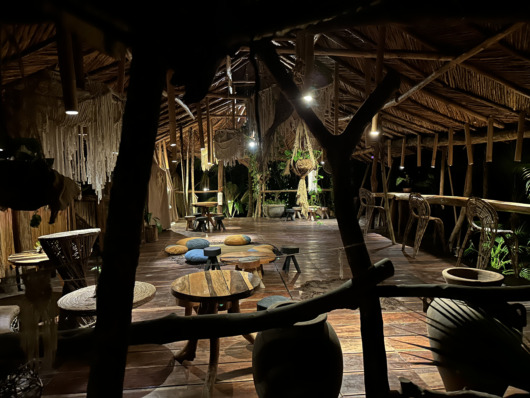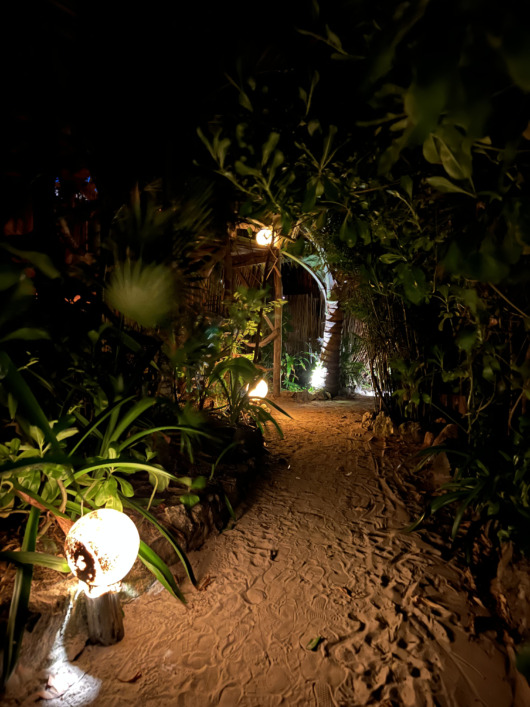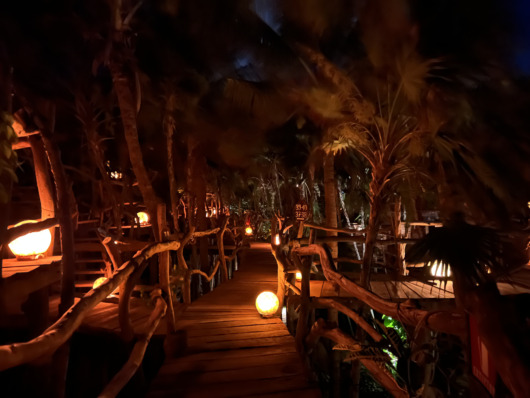 Going around and around, where is our room again?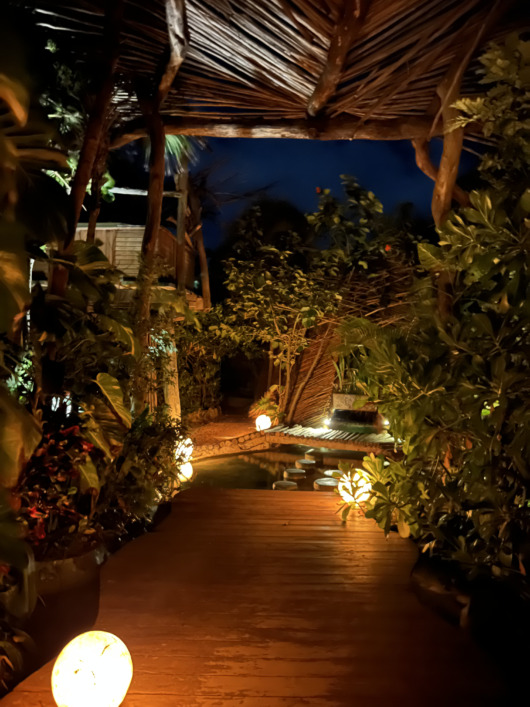 The hostess told us it took her two weeks then you'll get used to finding everything around Azulik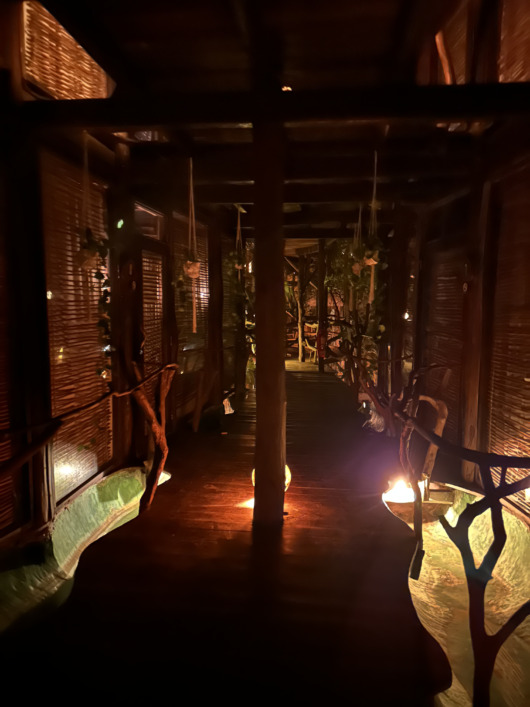 Finally back!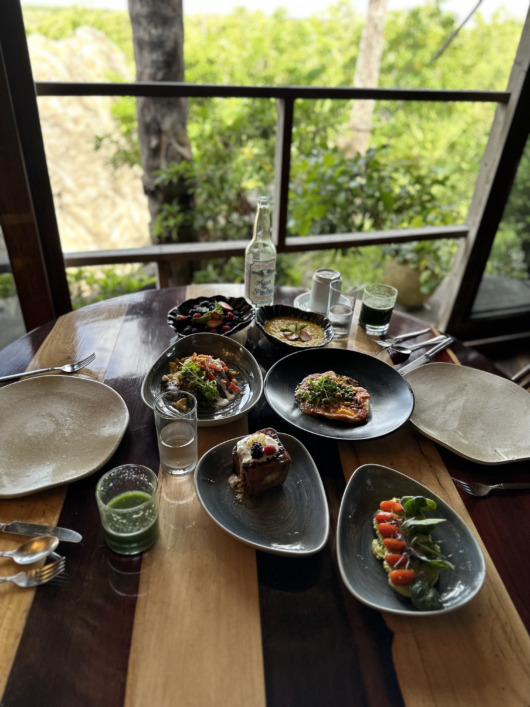 Our breakfast in the morning, it was unlimited breakfast food!  To be honest, the food was just okay, but it's unlimited food you can order, and also the juices as well are unlimited refills
Other amazing hotels we didn't stay at: Vidanta, Mayakoba
Restaurants and Food
Matcha Mama (website)
Matcha Mama is a popular organic cafe known for its refreshing drinks and healthy snacks. The cafe offers an array of matcha-based drinks, smoothie bowls, and raw desserts made with locally sourced ingredients. With its laid-back vibe and colorful decor, Matcha Mama Tulum has become a hotspot for health-conscious travelers looking for a delicious and nutritious pick-me-up.
We tried Matcha Mama in Tulum Pueblo, which I considered was overpriced for the type of food they offered. It wasn't worth the tourist prices in my opinion.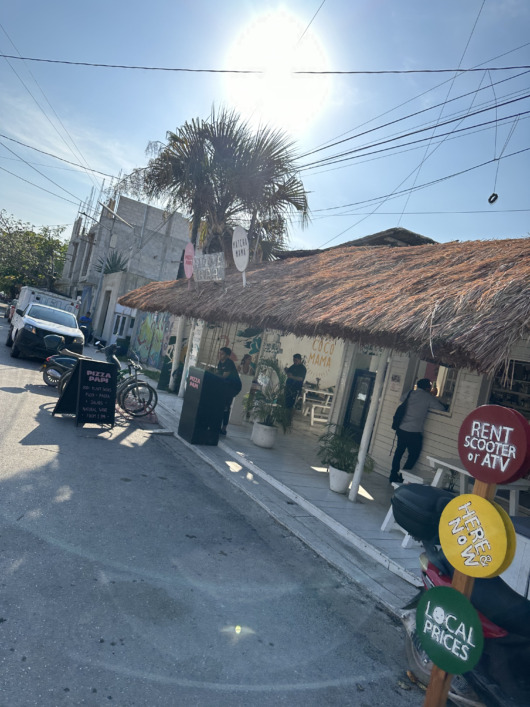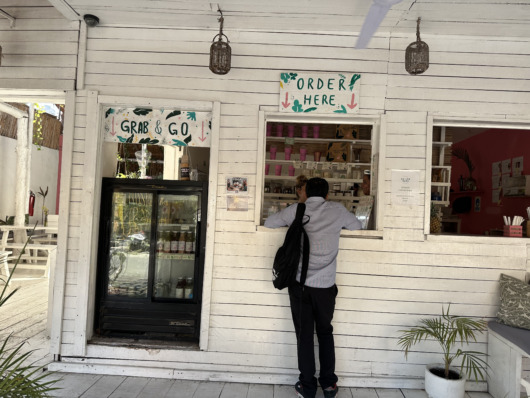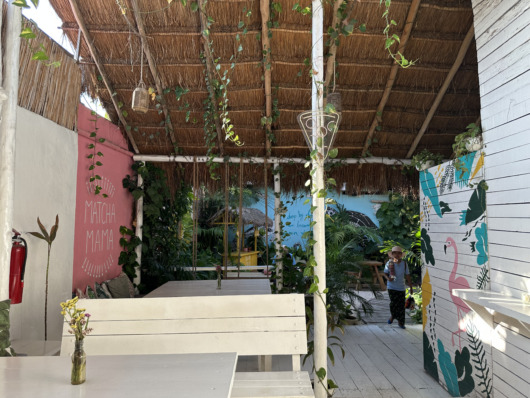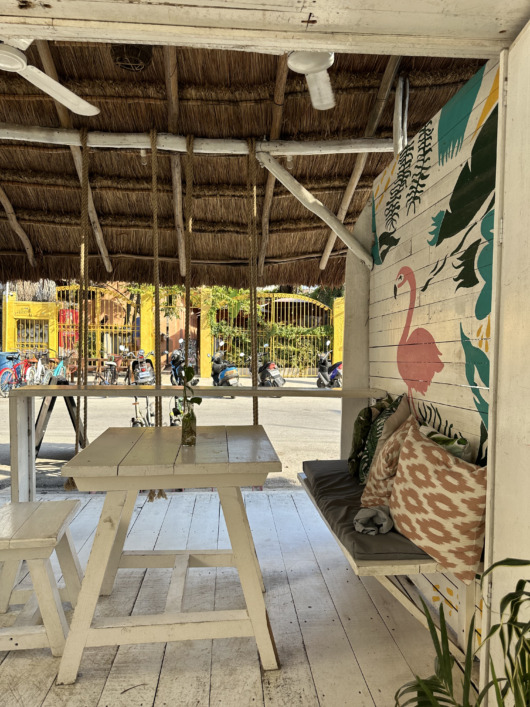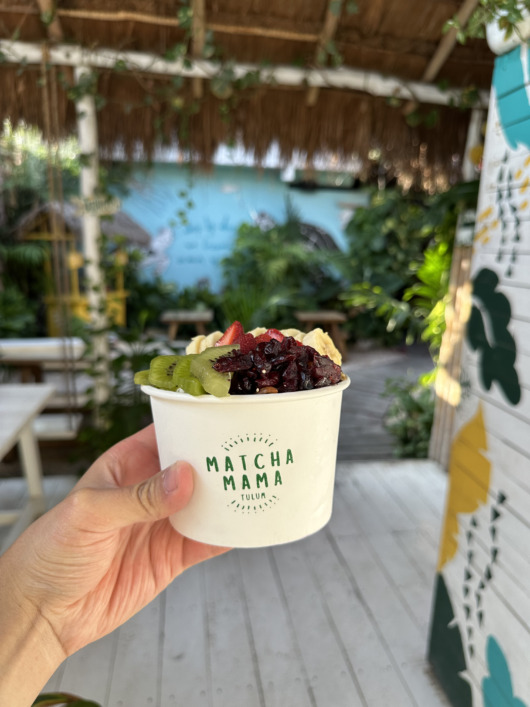 We got the acai berry bowl, but overall the taste was just okay and that the acai berry bowl I had in Coachella was better
Arca (website)
Arca Tulum is a high-end restaurant that serves contemporary Mexican cuisine in a beautiful open-air setting. The restaurant features a wood-fired grill and an extensive cocktail menu, making it a popular spot for foodies and cocktail enthusiasts alike. The dishes at Arca Tulum are seasonally inspired, with a focus on local and sustainable ingredients, making for a unique and unforgettable dining experience.
In my opinion, the food in Arca was decent and pretty good, but nothing like exceptional or anything.  Food again was like prices in Hong Kong when it came to nice restaurants.  One thing that shocked me was the parking, because they didn't really had their own parking lot, so we had to parking opposite of the restaurant, which charged us USD 20 for the entire night (we were only there for three hours).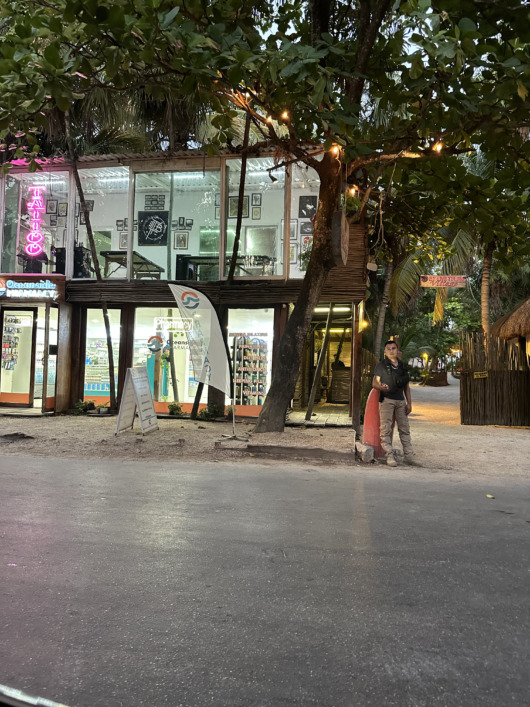 The super expensive parking area, where you see the black polo guy standing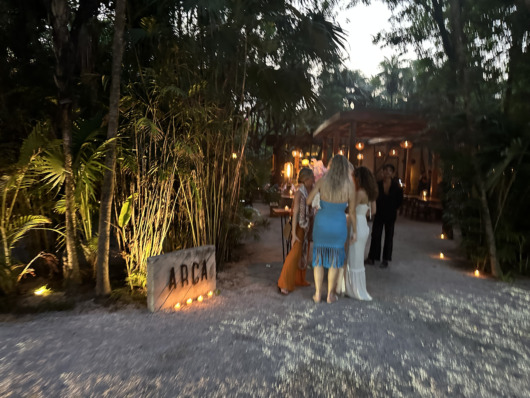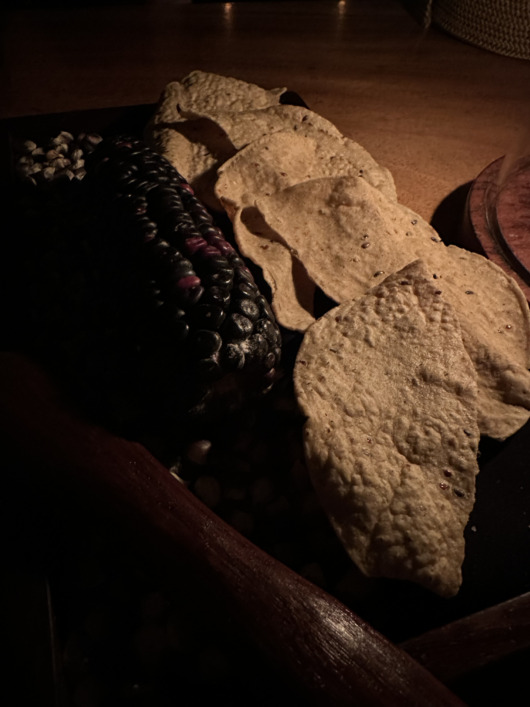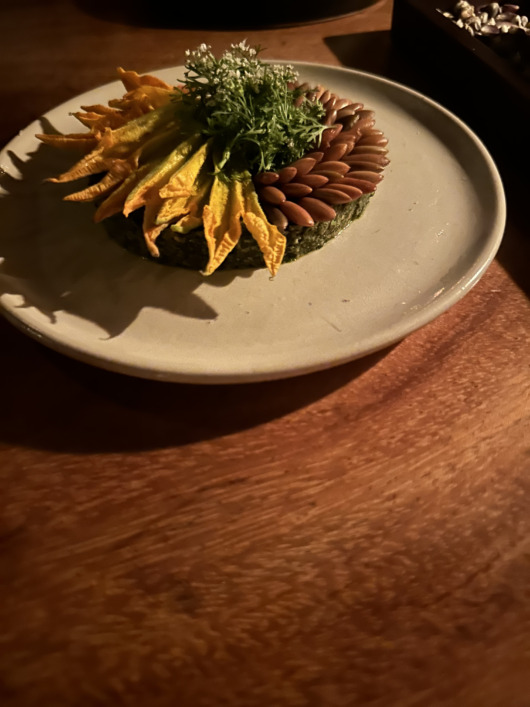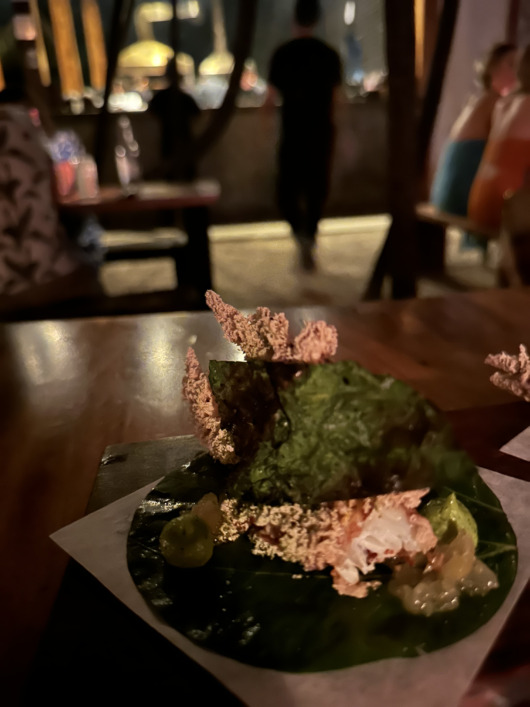 Soft shell crab, Amaranth Tempura, Grosella and Pickled Habanero Salsa, Chaya Emulsion, Fried Chaya, Chaya Powder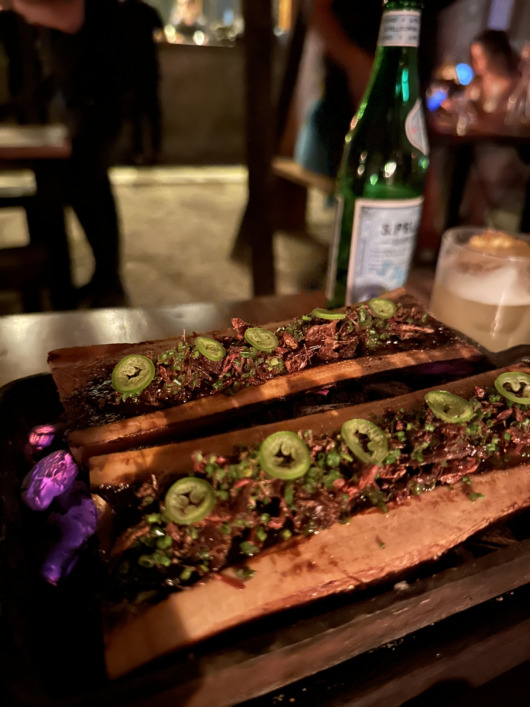 Roasted bone marrow, Tamarind and Pasilla Glacé, Charred Scallion Salsa, Pickled Onion Flowers, House Grilled Bread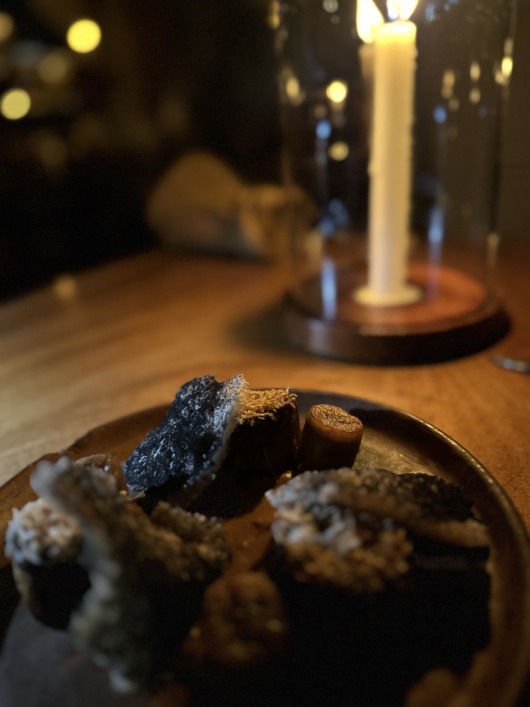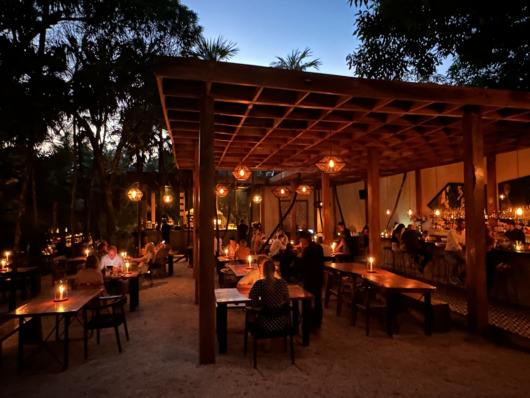 The décor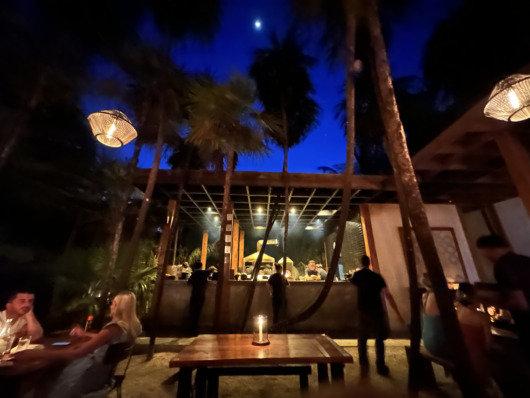 The kitchen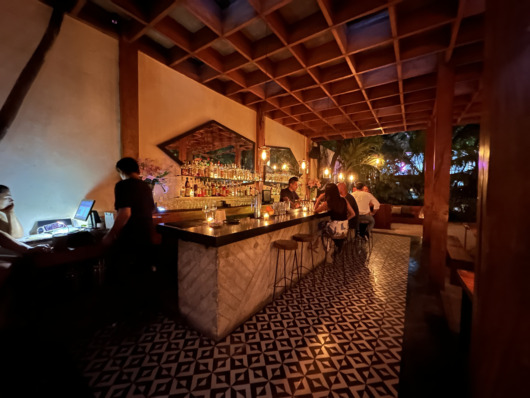 The bar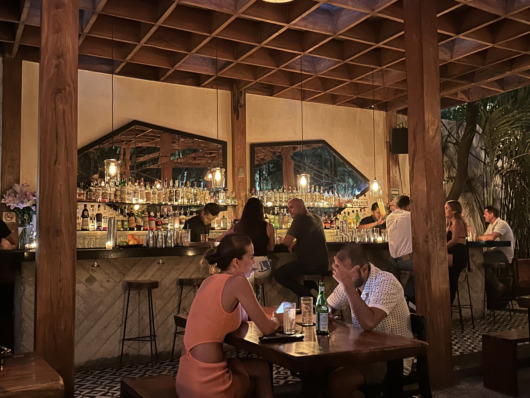 At the back of Arca, feels perfect for a party room
Conrad Tulum Chiringuitos (website)
Since we were in a hurry, we decided not to venture too far and stay in Conrad Tulum to eat before going to Akumal Bay that day.  There are 11 dining venues from Mexican to Asian flavors in the resort, but ultimately we decided to eat at their "snack bar" Chiringuitos – Crudo. It was situated near the beach in an open-air environment and they served simple and clean food that was also very delicious, and I was impressed by their portion sizes, which were much more generous than I expected from a 5-star hotel.  I loved that I got to eat delicious and clean food cause in Hong Kong it's really hard to find this.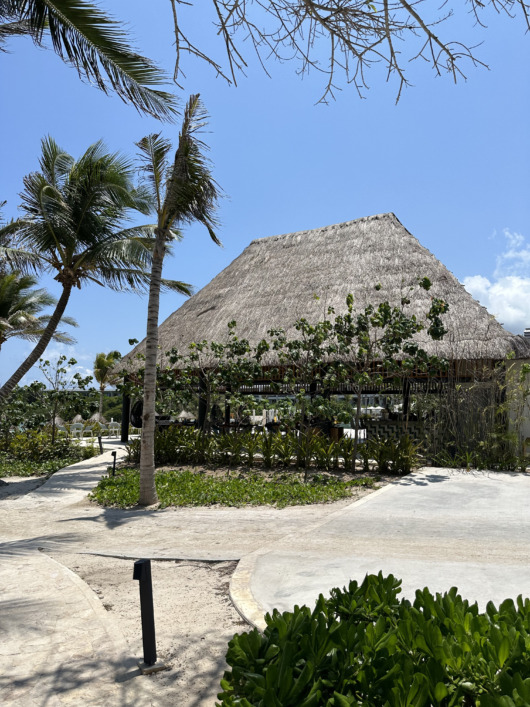 That's Crudo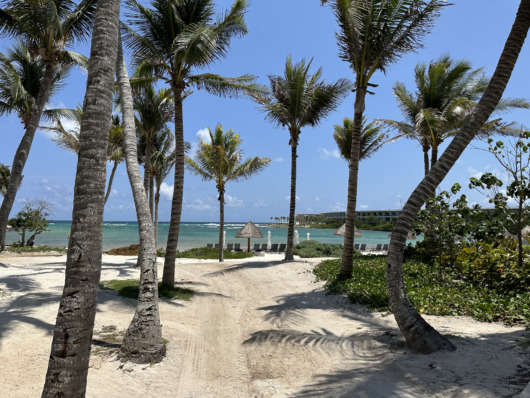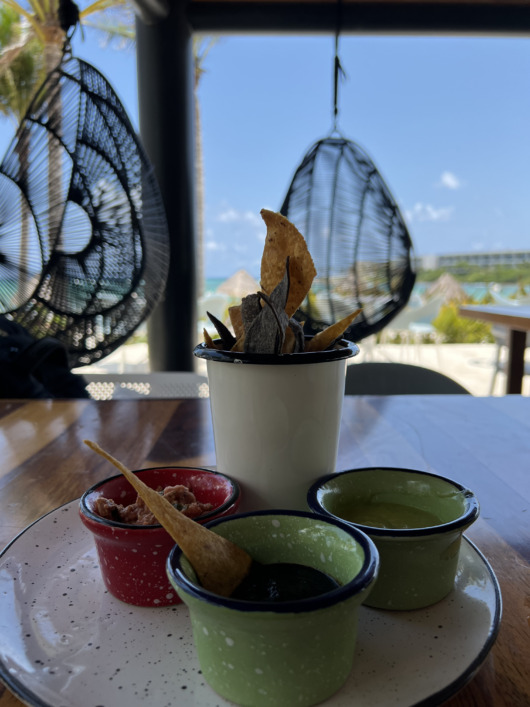 Chips with different salsa sauces, yum!!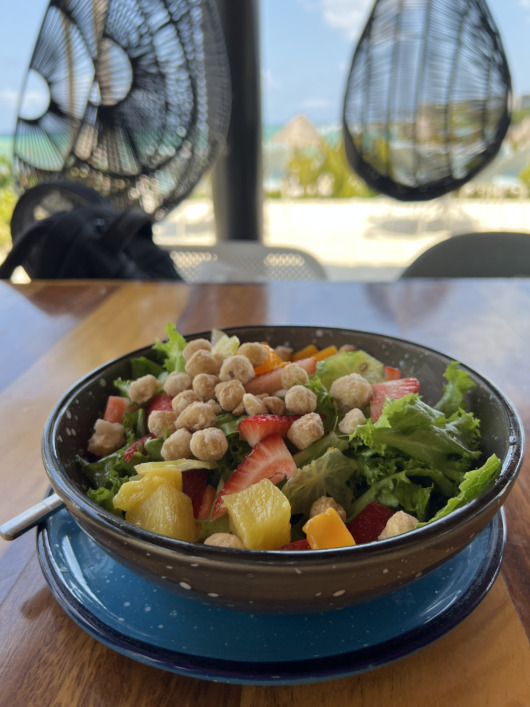 Otoch – Spinach, arugula, seasonal fruit, grilled pineapple, mixed nuts, citrus vinaigrette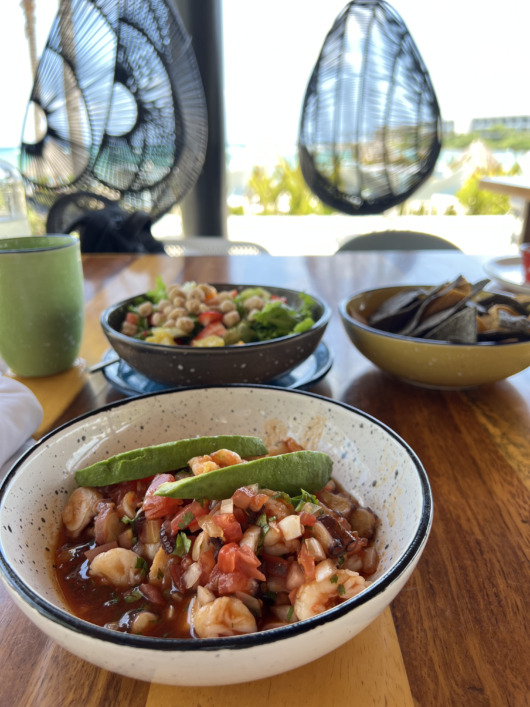 Seafood coctel – Octopus, macha mayonnaise, pico de gallo, cilantro, avocado, habanero ashes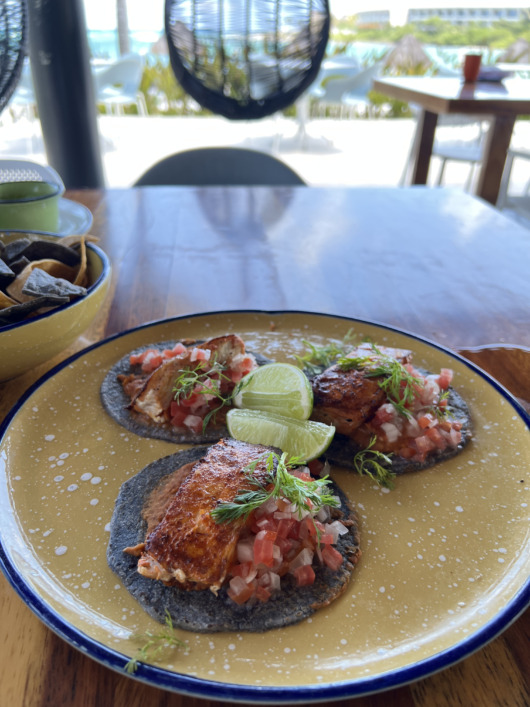 Fish tacos, we had to ask them to reheat since it came a bit cool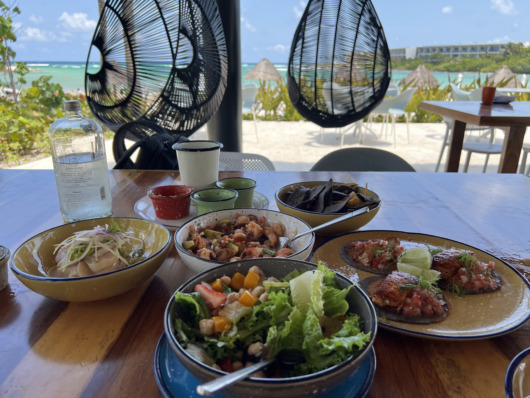 The whole meal
Hartwood (website)
Hartwood Tulum is a rustic, farm-to-table restaurant that celebrates the flavors of the Yucatan Peninsula. The menu features wood-fired dishes and uses locally-sourced ingredients, including fresh seafood and produce from the restaurant's own farm. Hartwood Tulum is known for its innovative cocktails and relaxed, intimate atmosphere, making it the most popular destination and hardest to book restaurant for expats, foodies and travelers looking for an authentic dining experience.  (Note: they close on Mondays and Tuesdays)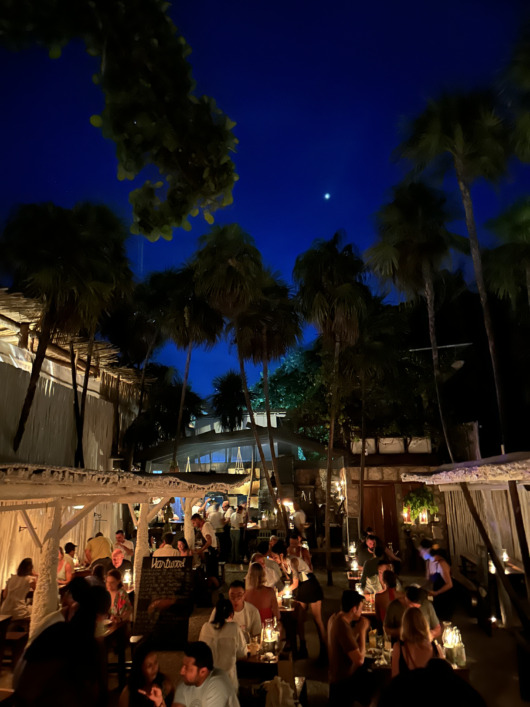 We actually missed our booking by an hour at Hartwood since we checked in late at Azulik; we even asked our Azulik hostess to happens to know many restaurants who even acknowledged that it is almost impossible to get our booking for us if we are going to be late for 30 mins.   Luckily, even though we missed our booking, we still managed to get a table, although we had to wait for over an hour before being seated.  Our patience paid off as we enjoyed top-notch food and the stunning ambiance that made Hartwood the most popular restaurant in Tulum.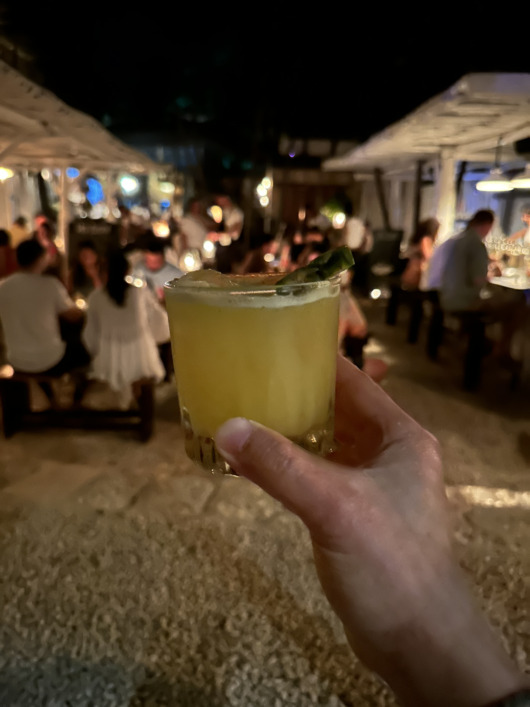 While we were waiting for a table, we ordered a drink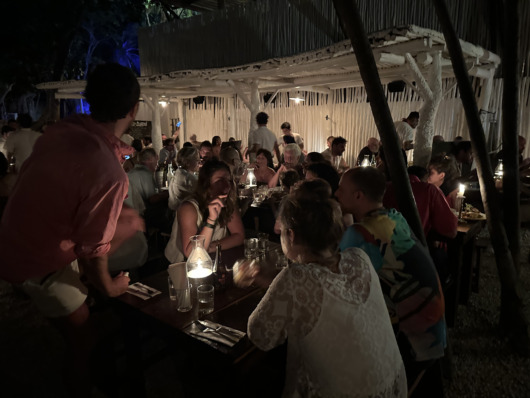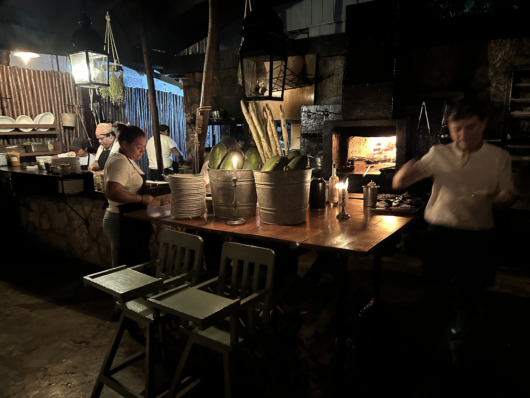 The kitchen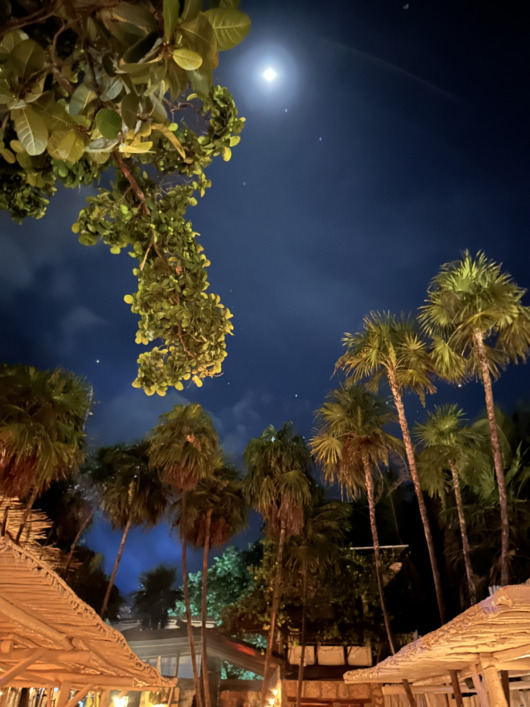 The starry night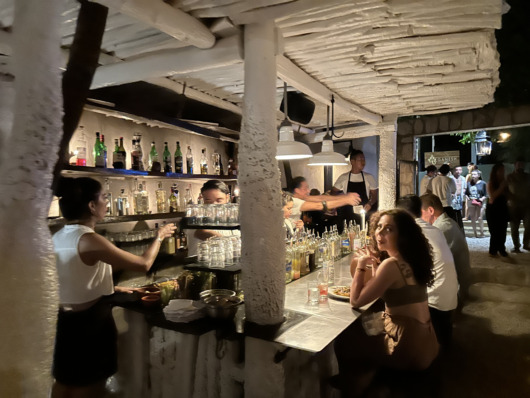 The bar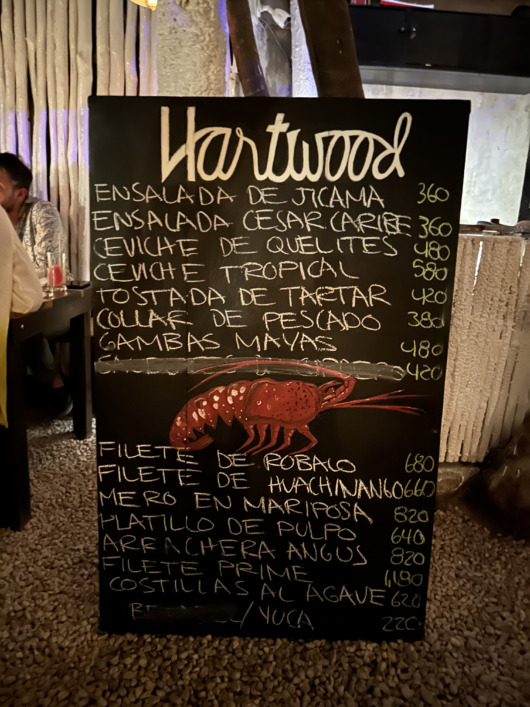 Menu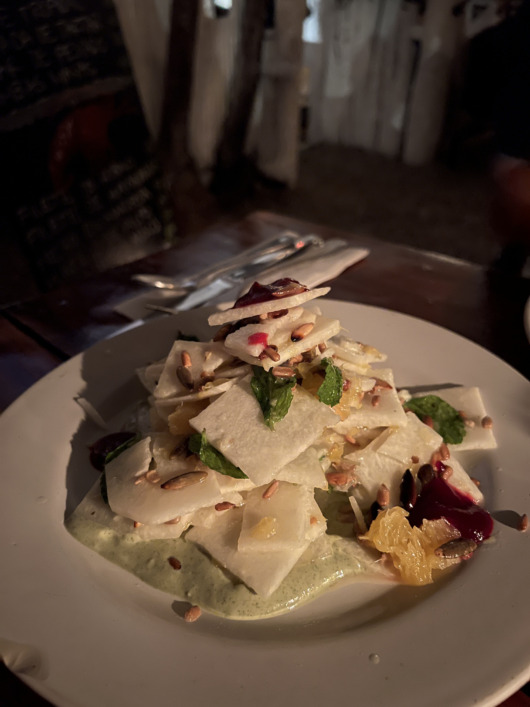 Know that the menu at Hartwood changes daily "based on the sea and land that offers them new harvests each day"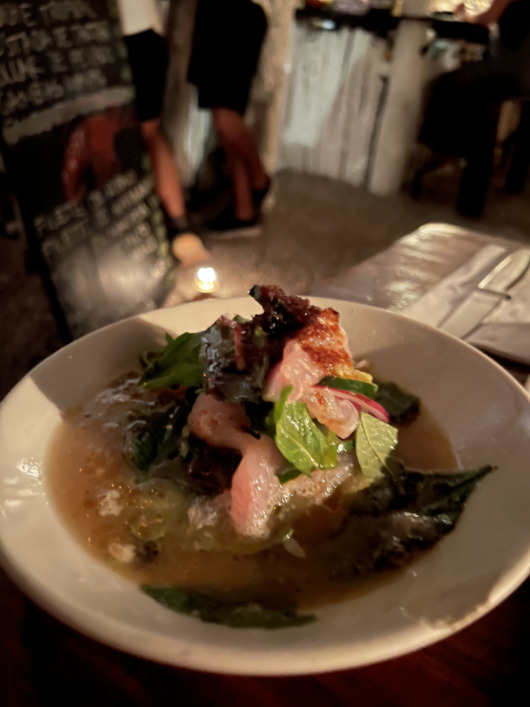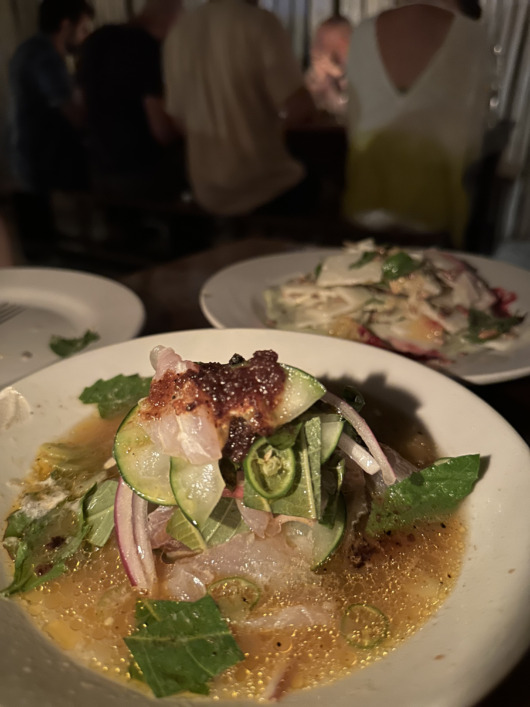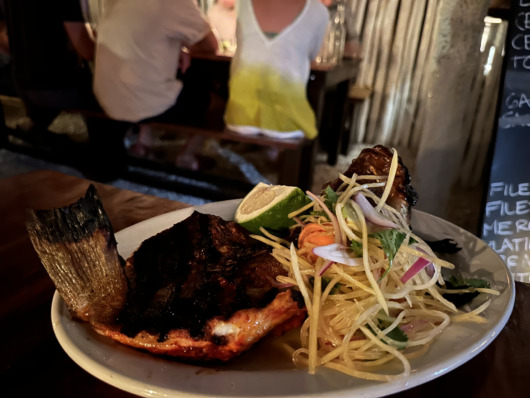 Fish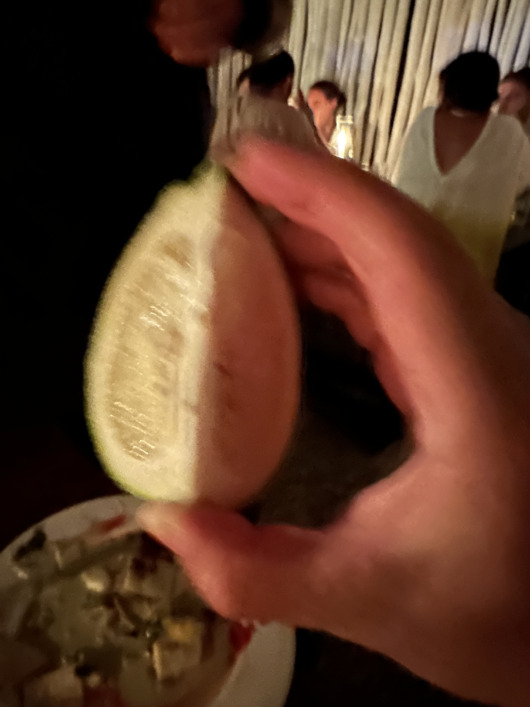 Think this is a Persian lime?  Less aromatic and less flavorful than typical limes, but purposely given for our dish.  Also this fruit is much bigger than typical limes you use on tacos and pho noodles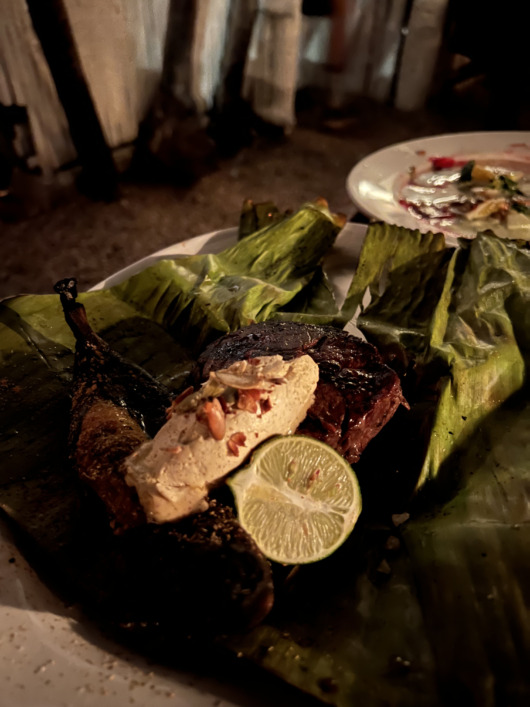 Beef
Although my trip to Tulum didn't start as planned, the overall experience was brilliant. Tulum was a unique place that combined luxury and nature in brilliant harmony. I'm going to stop this post here and will do a second post on the things to do such as cenotes, swimming with turtles at Akumal Bay, and Chichen Itza and more since this has been a pretty long post (words and photos wise)!
Other Restaurants that I researched that I thought were worth giving a shot:
Wild Tulum

Campanella Cremerie (good cafe)

Bal Nak

Casa Jaguar (allows reservations)

RosaNegra (Latam food with South American focus, takes reservations, expensive)

Gitano (mediterranean, mexican, american)

La Negra Tomasa – try the Torresona, a show-stopping Sinaloan seafood tower of raw and cooked shrimp, tuna, cooked octopus, and mahi-mahi formed in a ring mold with slices of purple onion, cucumber, and layers of fresh avocado, all bathed in lime juice and salsa negra. A variety of seafood tostadas, fiery aguachiles, and Sinaloan seafood tacos, like a gobernador stuffed with melted Gouda and grilled shrimp, are paired with cold beers and international cocktails such as Old Fashioneds, Aperol spritzes, and espresso martinis.

Safari (open for breakfast, lunch, dinner) classic Yucatan house and combines flavors and cooking techniques from across the Yucatan Peninsula.  Try their Mexican avocado on toast, although it may not be for everyone. It's a grilled avocado dish served on a tortilla and paired with homemade salsa.

Cenzontle

Ziggy's

Encanto Cantina (Mexican spirits, tacos, ceviche, and botanas, should try to go)*

Dona Paty Tacos de Guisado (should try to go) – Not only does she prepare tacos that are absolutely to die for, but she also serves guisado, a Mexican stew served alongside corn tortillas.

Taqueria Honorio (Breakfast tacos, also recommended and popular)*

Antojitos La Chiapaneca (authentic tacos, Tulum center, recommend! Late night street tacos)*




El Canaston (Cheap tacos)

Antojitos La Chiapaneca (cheap tacos, also mentioned multiple times)

Tacos y Tortas El Tio (opens late night?)

Taqueria Don Beto (Cochinita pibil slow roasted pork dish, tacos)*

Aca Tacos de Canasta (mid morning snack) Avenida Satélite, look for a bright yellow banner, tan beach umbrella, and pair of bamboo tiki bars that serve as a taco stand. tacos de canasta (steamed tacos) filled with scrambled eggs with the spinachlike chaya, red mole with chicken, or chicharron prensado (intense pork marinated in adobo).