In my previous post on Nonstop Eating in Taipei, I again talked about all the different types of restaurants, food stalls, and nightlife places you could check out within the vicinity of the main areas of Taipei.  But the real fun from this trip were during my moments when I was exploring the outskirts of Taipei – Keelung for the Keelung Squid Festival, Jiufen Old Street, Houtong Cat Village, Tamsui, and briefly Ruifang when coming back from Jiufen.
It's quite nice to visit these areas, just because they offer a glimpse of a different side of Taipei that you don't really get to see.  Anyway, this post will be broken down into different sections by each area that I visited.
Jiufen Old Street
What's popular about this place was that it inadvertently was an inspiration for some of the scenes in Spirited Away for Hayao Miyazaki, where you can see from the movie the imitation of the red lanterns and street filled with food stalls along the path.
I have to say this about Jiufen Old Street though… I was not impressed.  If anything, this area felt more like a tourist trap.  If any of you have been to Stanley Market in Hong Kong, the feeling is the same – a lot of handmade goods and products that are of adequate quality with no brands piled up in different shops and a lot of food stalls, not restaurants, with shopkeepers asking you to buy their snacks and food products, usually they are famous for one type of food item.  The prices felt slightly more expensive than what you would pay for within the city itself.  The red lanterns and its inspiration on the famous Japanese anime were the gimmicks of the place, which I guess succeeded as lots of tourists were on the streets.
If I remember correctly, I took a bus from Zhongxiao Fuxing MRT station and it took about 1.5 hours to get there.  Actually, I think it would be better if you stopped by Ruifang station and change to a bus there.  The method I used, it took around 30 minutes before the bus actually came, so all in all it was a 2 hour trip.  I think if you changed to Ruifang station, there are way more buses from there to get to Jiufen, and I think you would have had a shorter travel duration than me.  Anyway just google how to get to Jiufen Old Street and you'll get a ton of suggestions.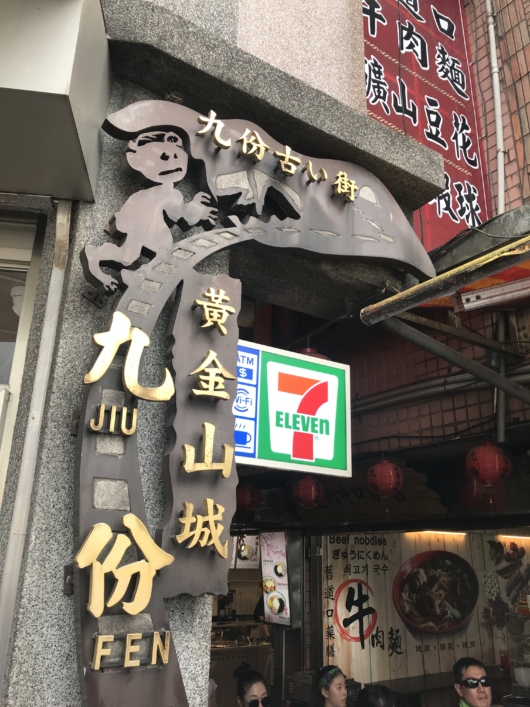 Pretty much the beginning of the street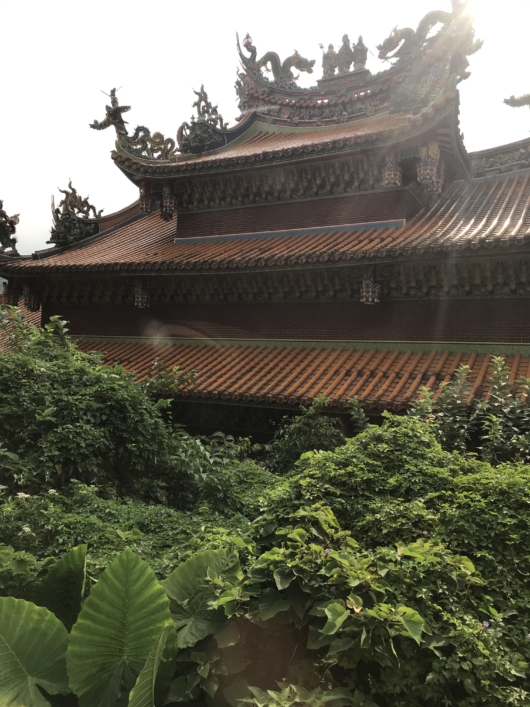 You will know you are there when you see this temple.  Right after this temple is the bus stop, which is literally like 20 seconds away.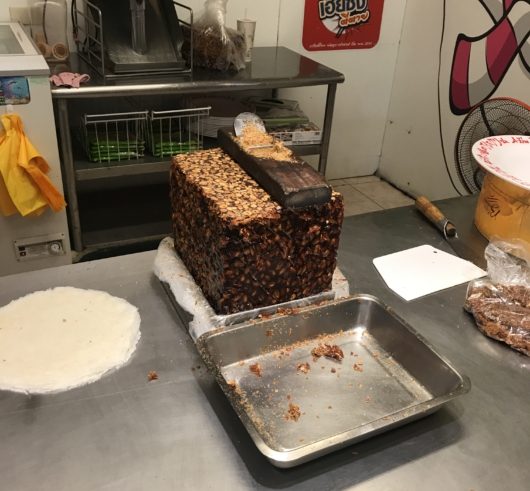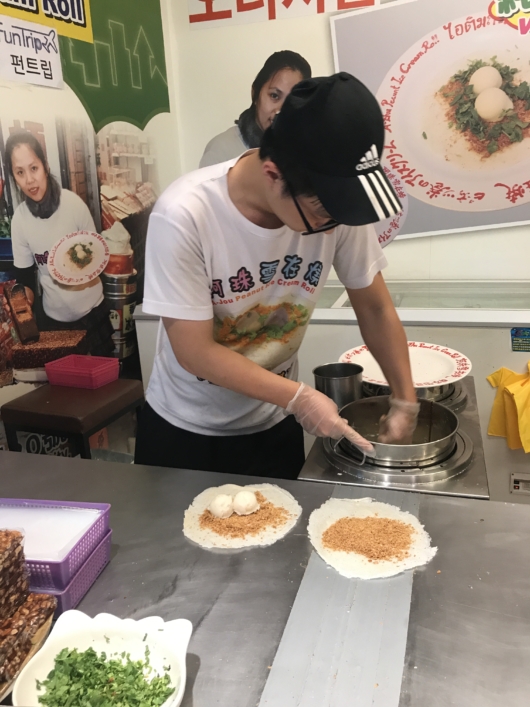 Some guy making my favorite peanut ice cream roll, and yes I did order one!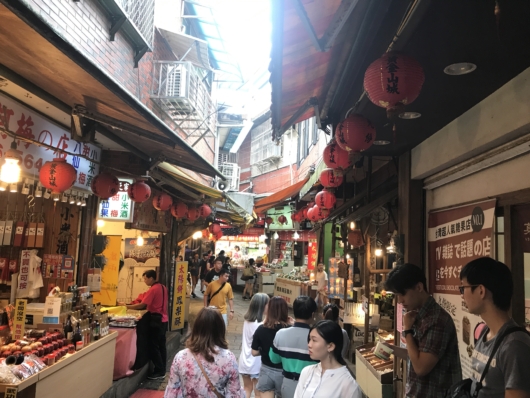 The style and decoration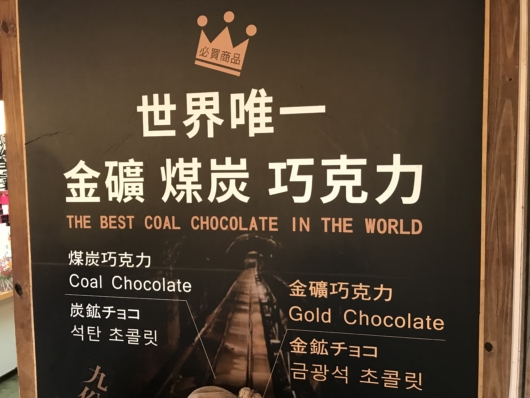 Some coal chocolate shop… but some coal chocolate CANNOT be eaten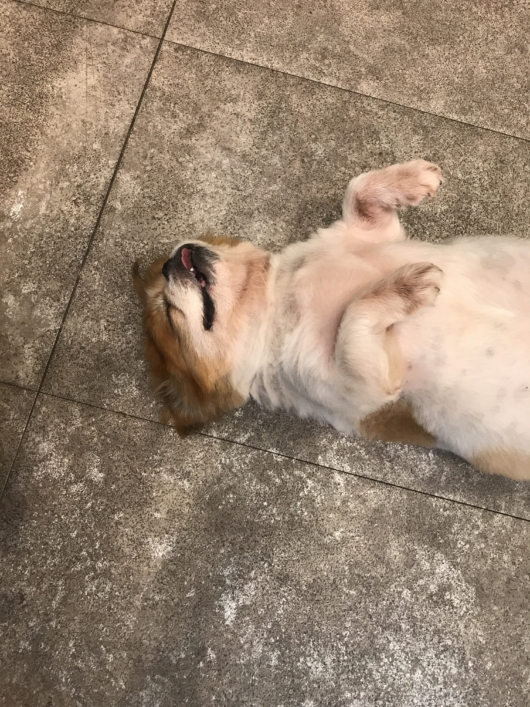 This dog was the cutest thing ever… all four of its legs were like in this position, his body was facing towards the sky, and JUST LOOK AT THAT EXPRESSION sooo cute looks like he's dreaming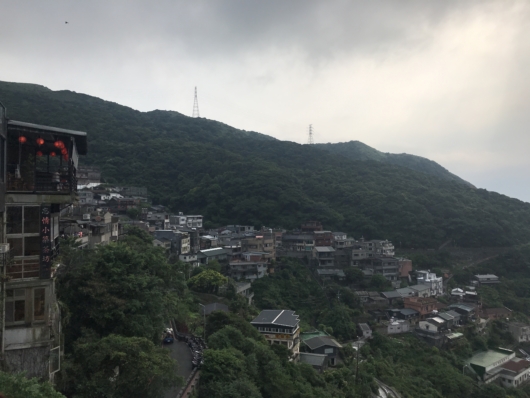 View from the top #1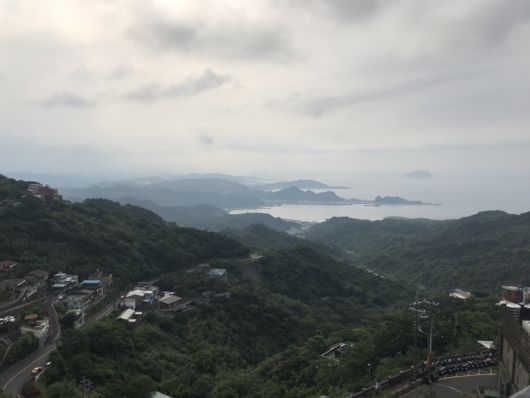 View from the top #2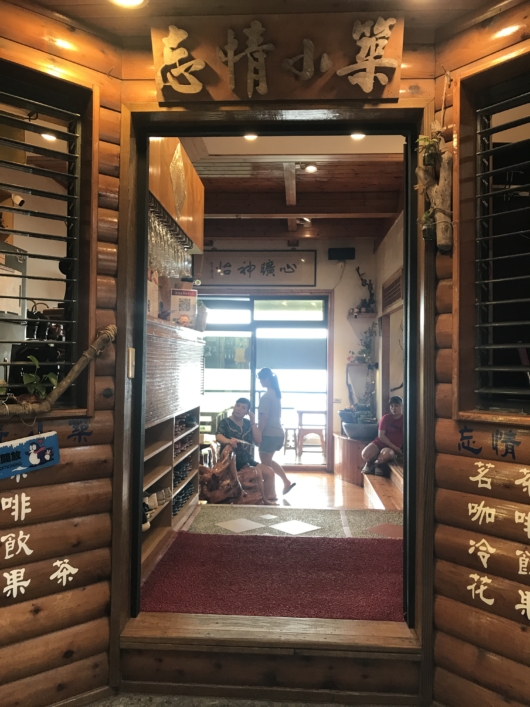 Some tea/coffee café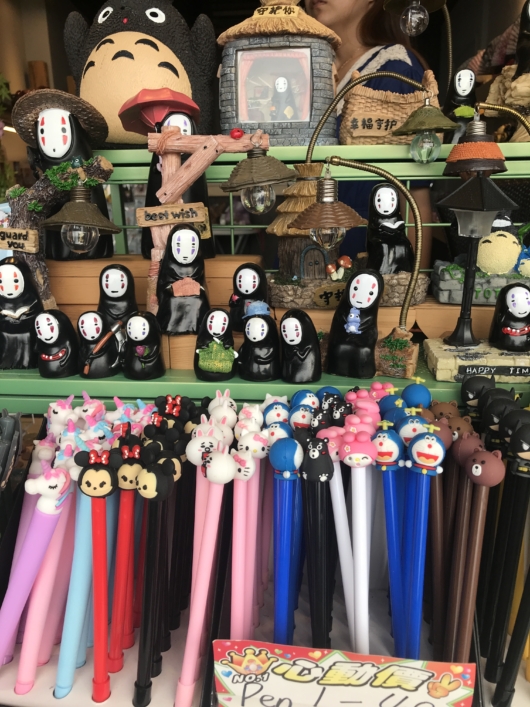 No Face Pens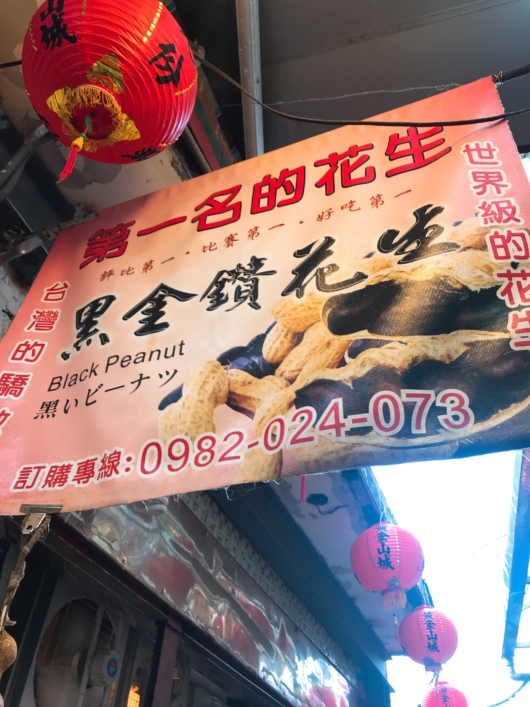 Black Peanuts, initial taste you can taste the roastedness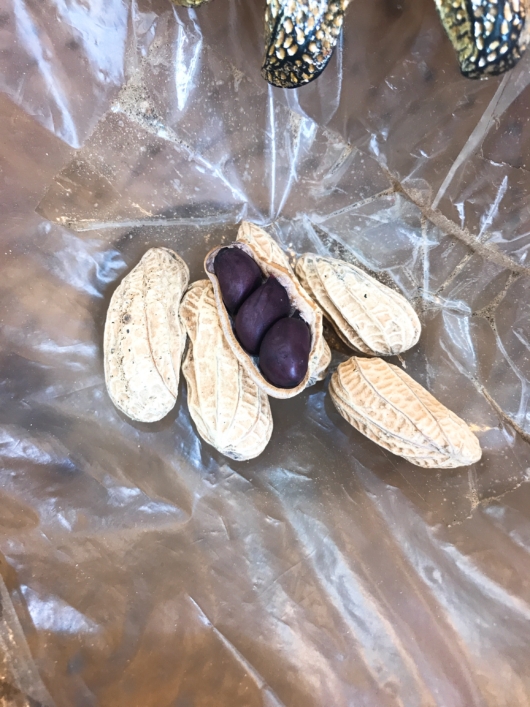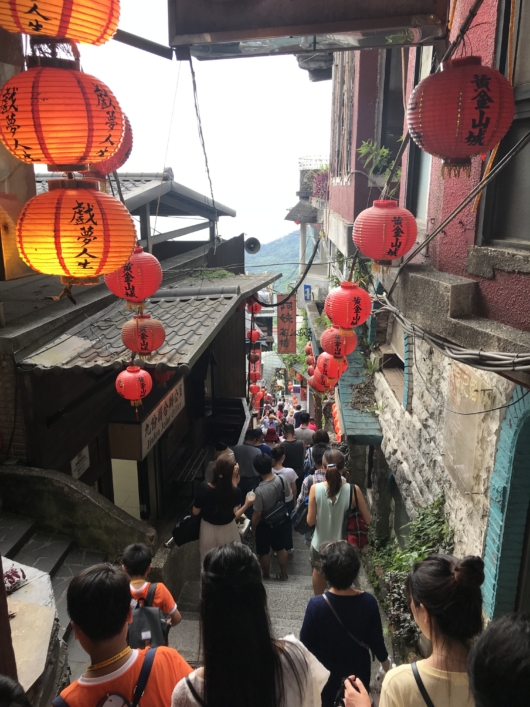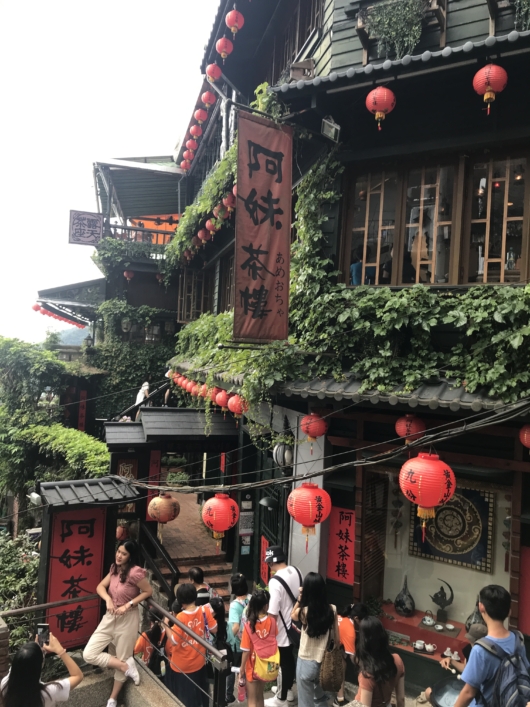 Apparently this tea place is supposed to be quite famous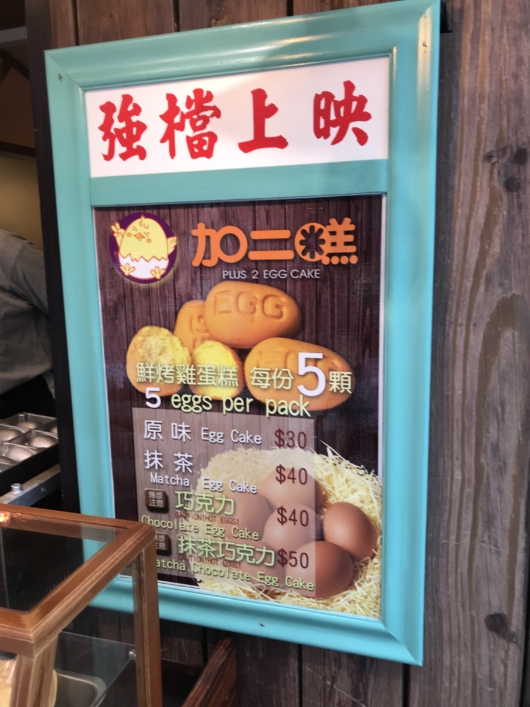 Plus 2 egg cake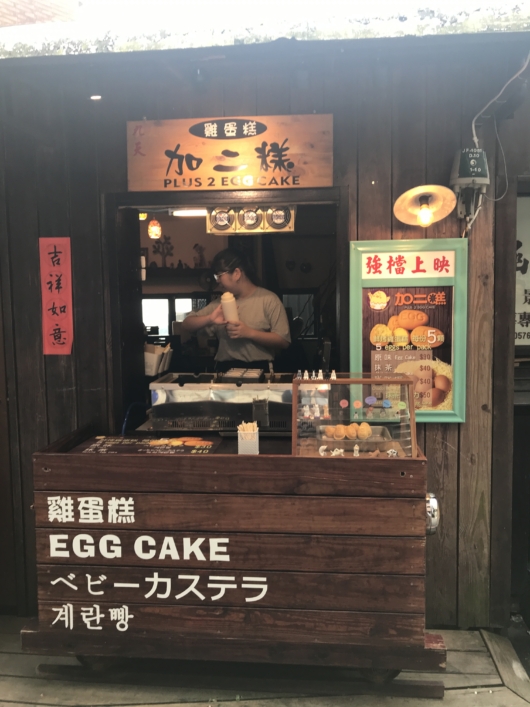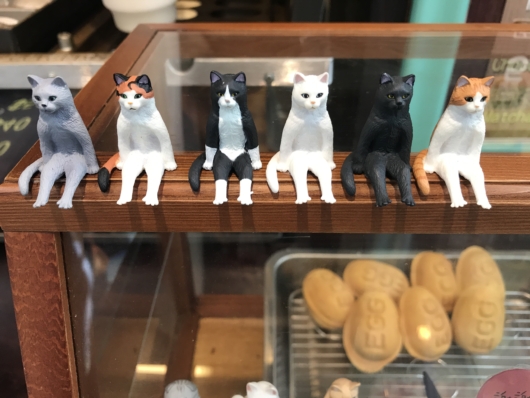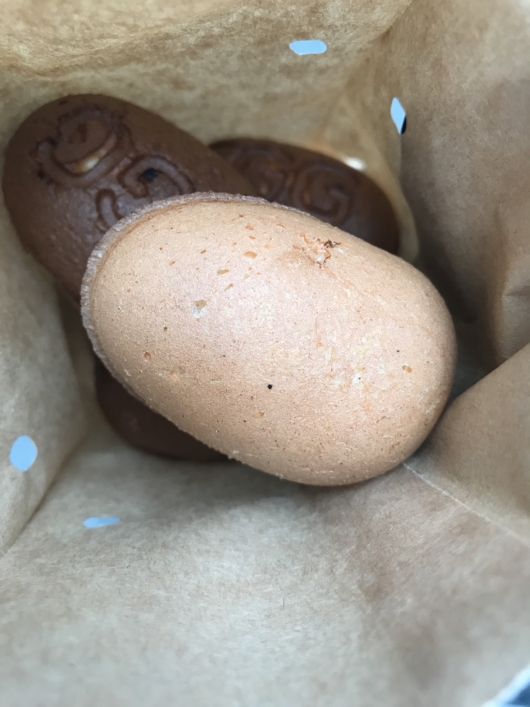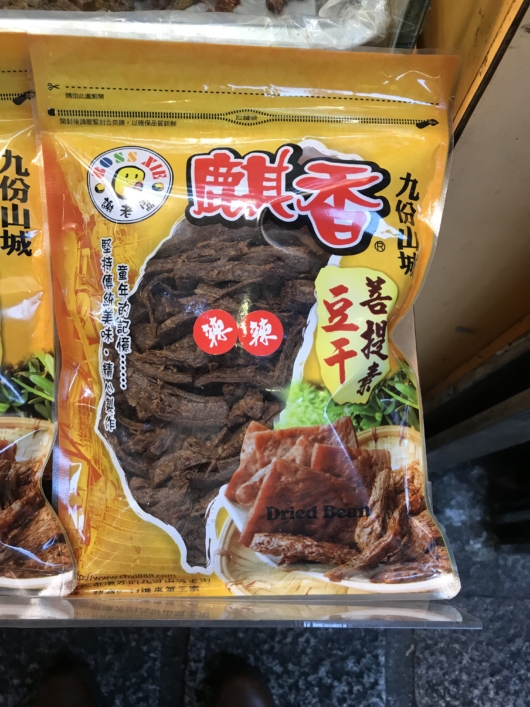 Dried bean but it taste like those dried pork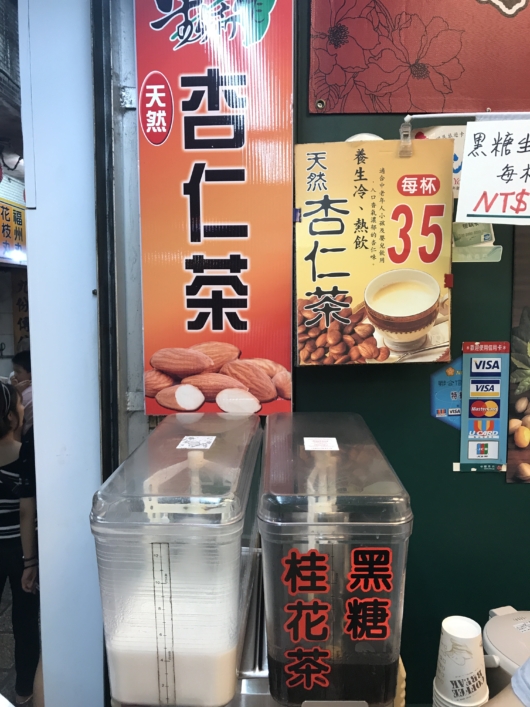 Almond tea, you can smell the sweetness and coolness of almond from a distance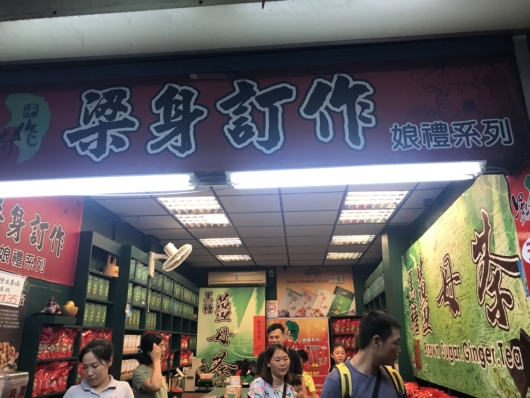 I think these are for bridal gifts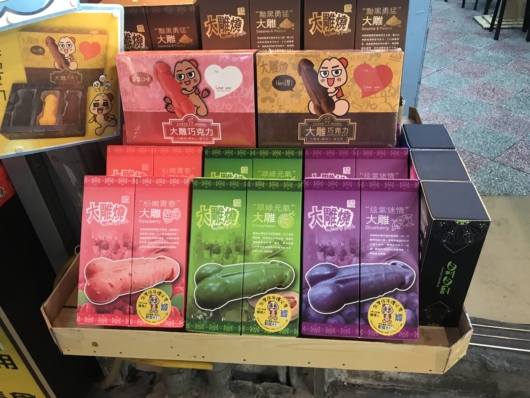 As you can see for example they were selling penis cakes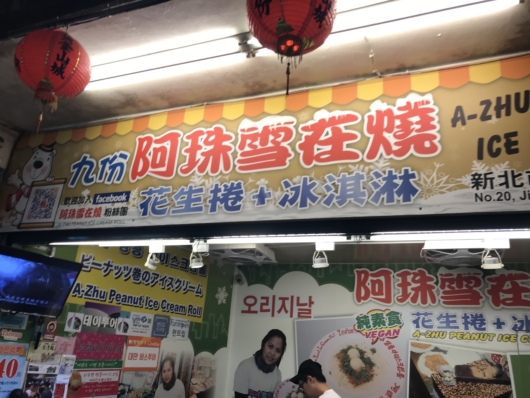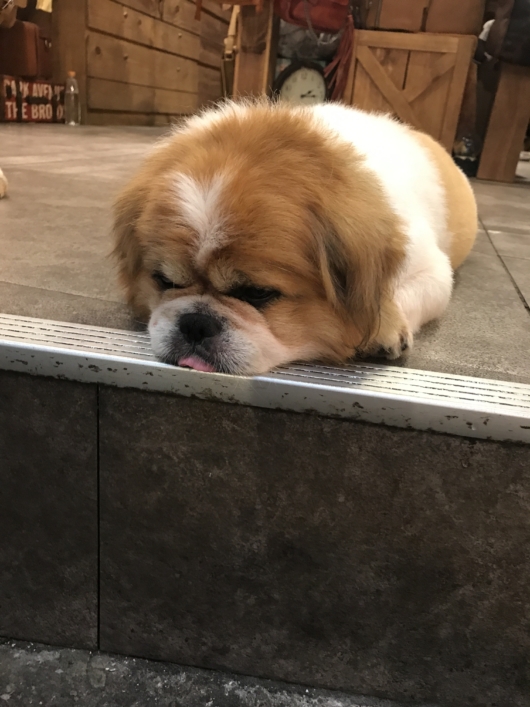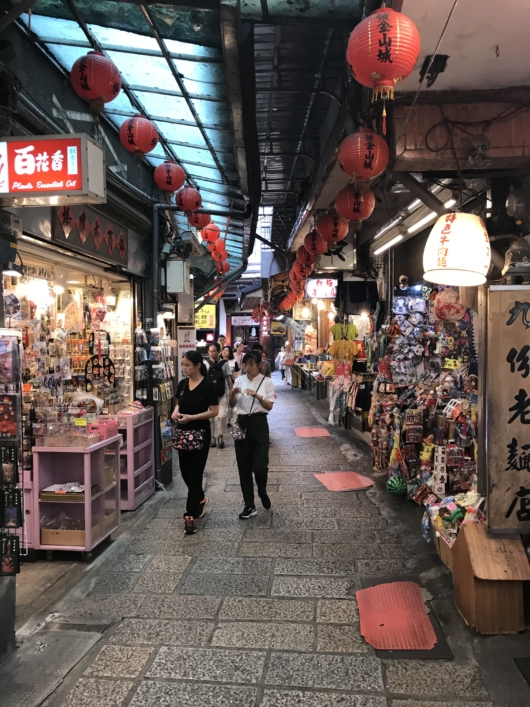 Houtong Cat Village
Situated about a 15 minute car ride from Jiufen Old Street, I decided to check it out because supposedly there were a lot of cats!
From Jiufen Old Street, I asked the cab driver to take me to Houtong Cat Village.  I asked him the price, to which he quoted NWT 390.  I felt that was expensive in Taiwanese standards, so I asked if it could be cheaper, and he said this is a fixed rate cannot be cheaper and he said it's also a 20 minute ride.  So I hopped on to his taxi and not even 15 minutes, we are already at the destination.  I paid him NWT 400 and he didn't even give the change back.  All in all, I felt that he was scamming me, and I think he did scam me!!  He asked if I wanted him to wait for me, he said 30 mins should be enough to see everything, and there really was no other transportation and trains were so infrequent, about 1.5 hours every train, so I acquiesced and said fine, and that we will meet back at 6pm.
I managed to finish seeing the village by 5:56pm, and I came back down I still didn't see the taxi.  Even by 6pm I didn't see back my taxi driver.  So at 6:05pm there was a bus coming, I decided to hop on it anyway because what if my taxi driver never came back?  As the bus was heading towards the Ruifang Train station, I think I recognised the first three letters of this scammy taxi driver.
Anyway, enough about the taxi driver, here are the photos: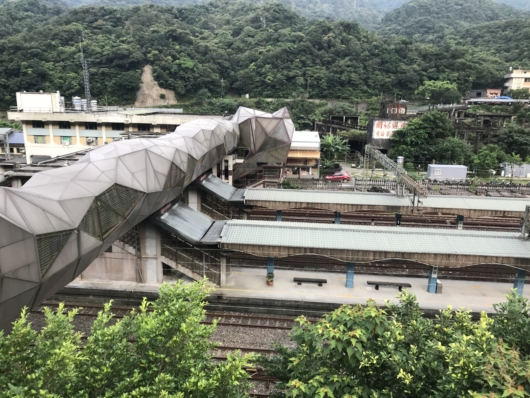 How the outside of the Houtong Rail Station looks like.  There are infrequent trains and infrequent buses, so check the schedule for the times first.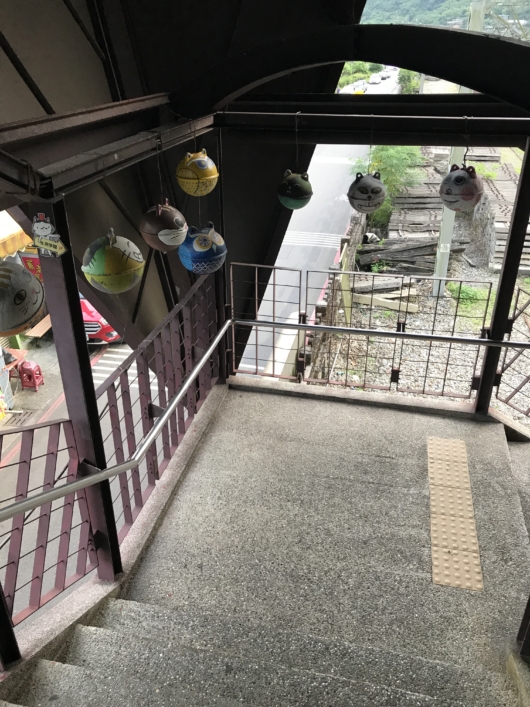 Climbing up some stairs and you see lots of balls painted in cat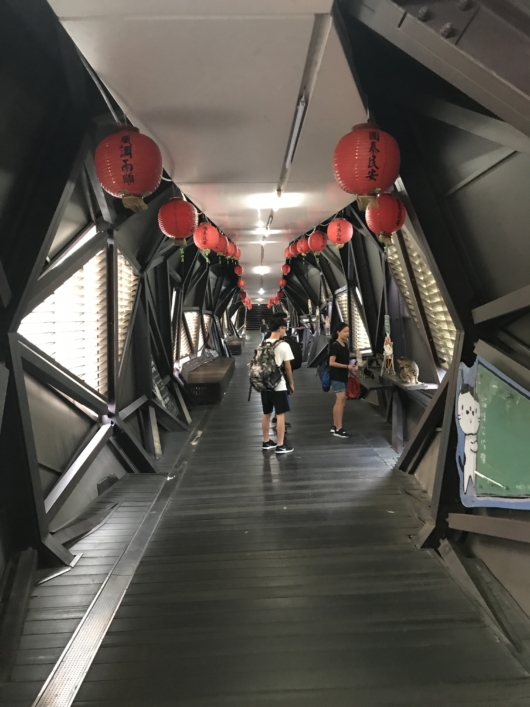 Inside the angular tunnel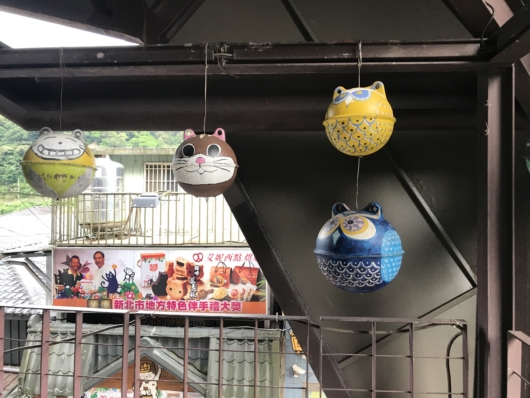 Close up of the decorative cat balls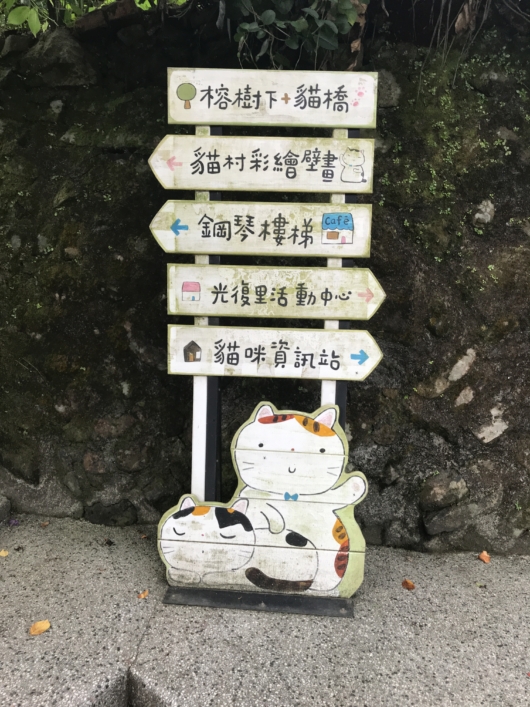 Which way you want to go?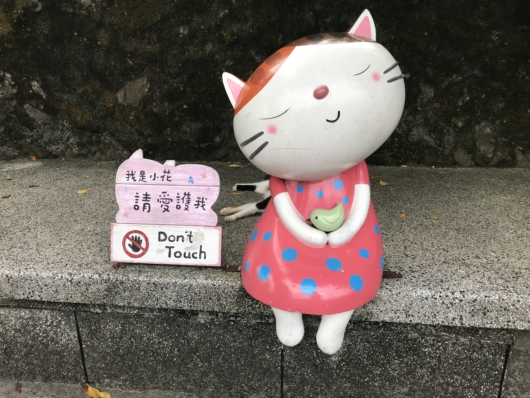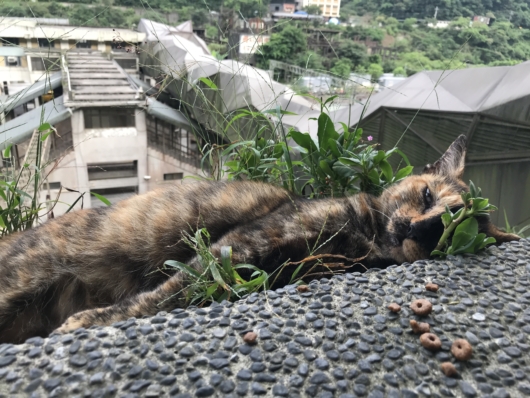 All the cats were doing were just falling asleep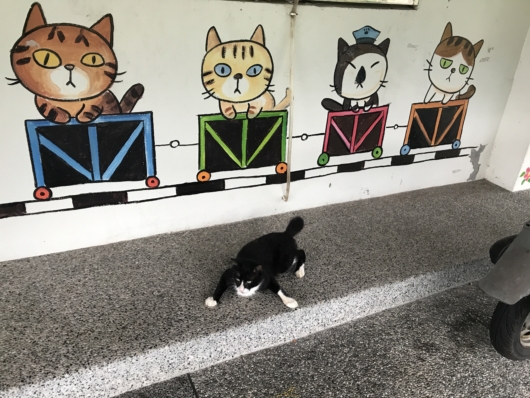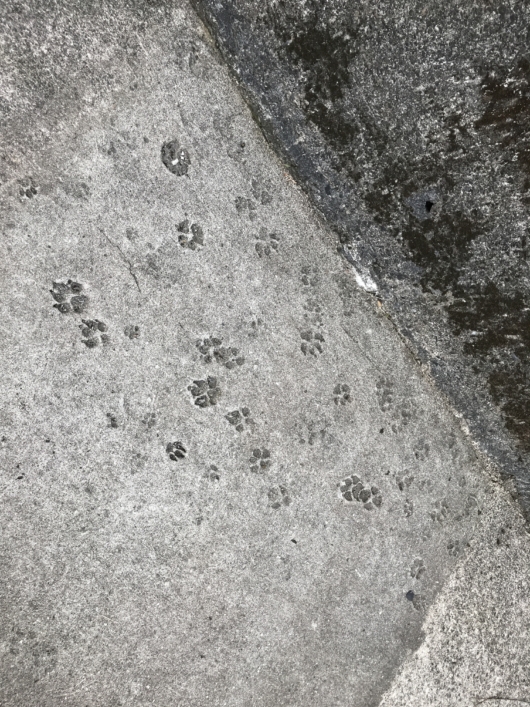 Cat paws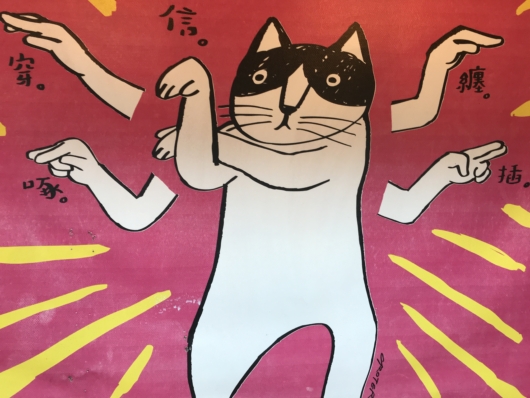 Thousand Hand Cat
Sleeping on top of an aircon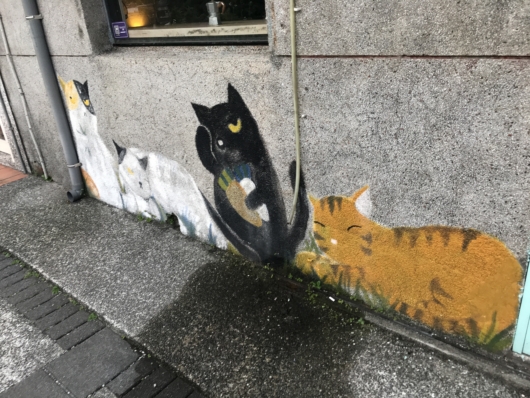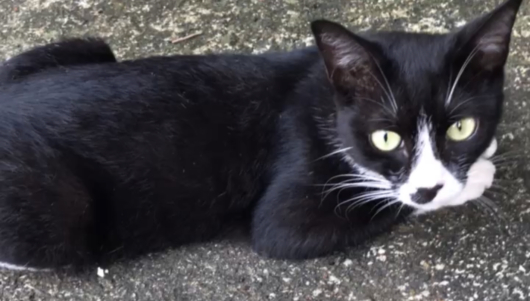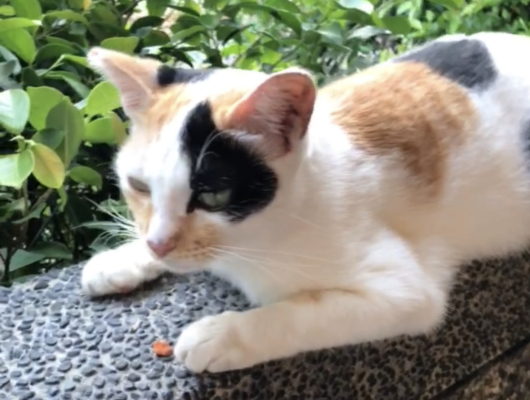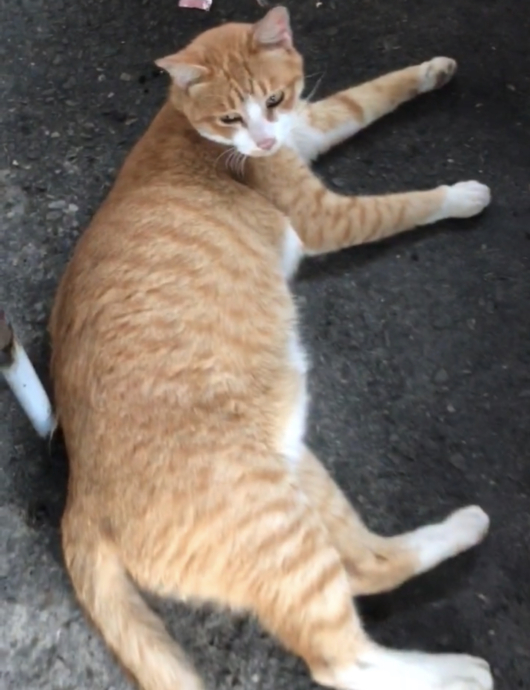 Garfield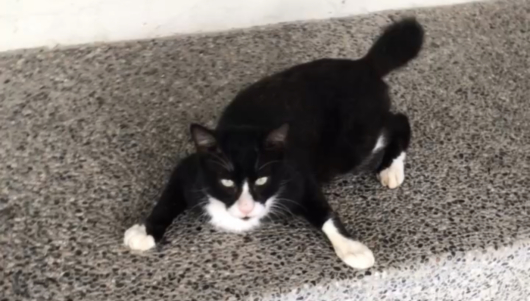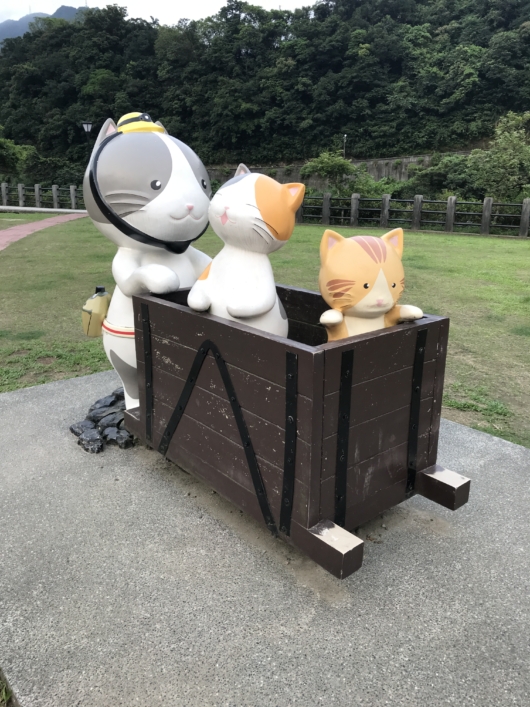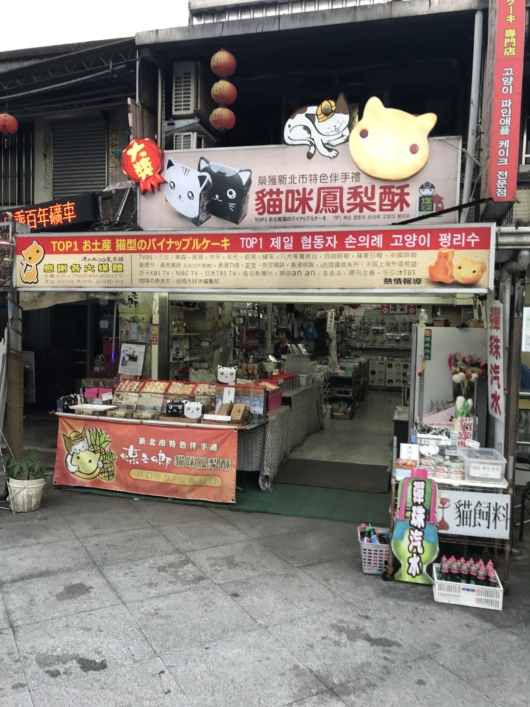 Souvenir Shop
One of the cafes in Houtong Cat Village
Ruifang Food Court
The sketchier the better.  Upon landing at the bus stop outside Ruifang Train Station, I noticed to my left that there was a Ruifang Food Court.  The curiosity cat + foodie in me decided that I at least had to check it out, so in I went discovering the many different foods that locals enjoyed.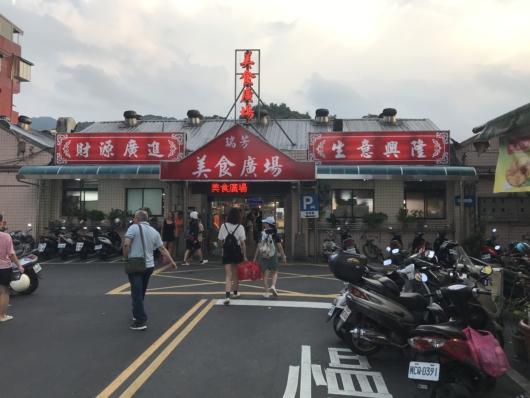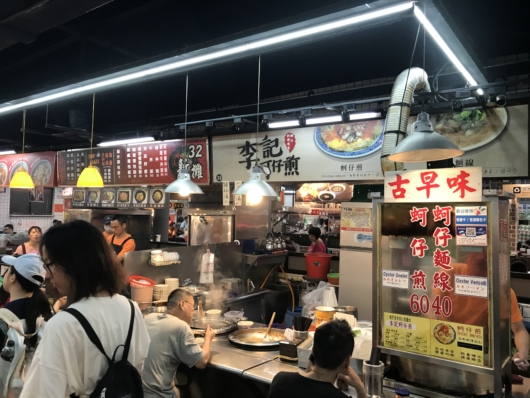 Inside the Ruifang Food Court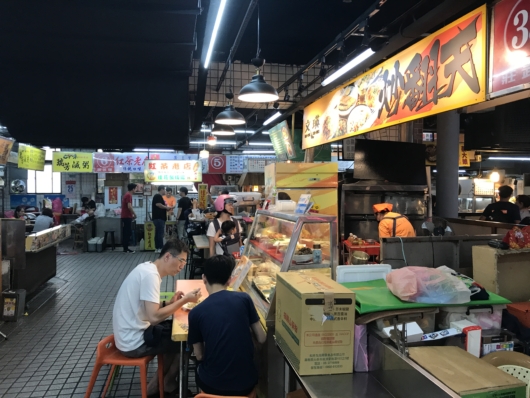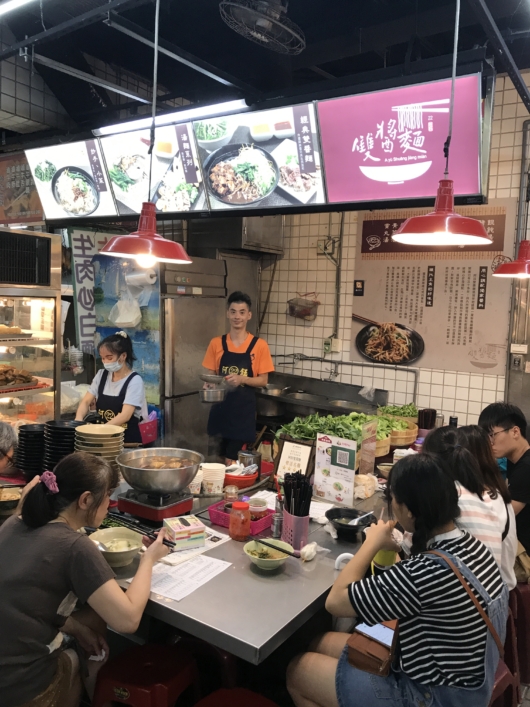 I decided to try out this place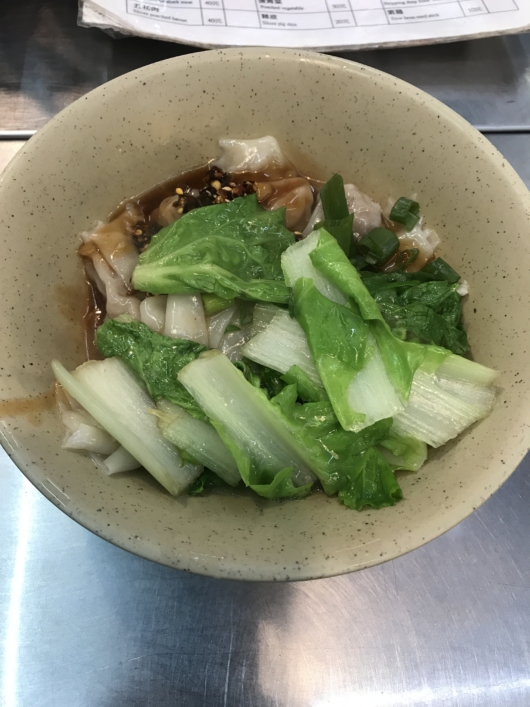 Tried their dumplings with chilli oil 紅油抄手
I also got one of their pepper cakes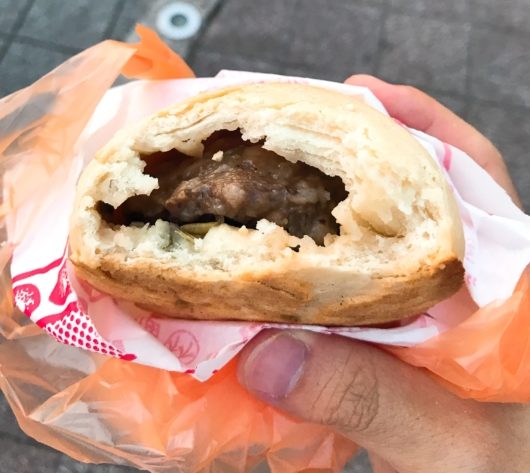 This motherfucka squirted some juice at me and it got on my jeans and was scalding hot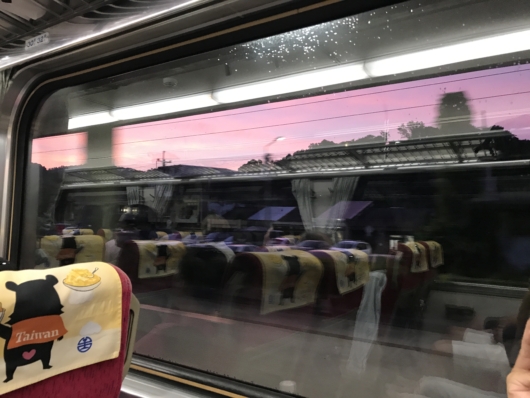 On the train ride back.  Absolutely gorgeous sky.
Keelung Squid Festival (Facebook)
I scoured over many pages of Google to finally be able to find more information about this Keelung Squid Festival.  Most of the information directed you to Keelung's Ghost Festival, which wasn't what I wanted.  I wanted to eat squid!  Now you can save half an hour now that I have linked up the Facebook page just right above.
The reason I even found out about this festival in the first place was because I turned on the television and was watching some local Taiwanese news when the advertisement for this Keelung Squid Festival appeared, and I was like why not?  Especially the less information there was about it, the more I wanted to go so that I could really be on the path less taken as a tourist.
Getting to the Keelung Station was rather easy for me.  There was a bus right from Shoudu Bus Shi Fu Zhuanyun Station, which was literally right next to the Taipei City Hall Station, that directly goes to Keelung Station.  Easy peasy.
The difficulty and surprise I was faced with was that after getting to Keelung Station, realising that the Keelung Squid Festival wasn't actually near Keelung Station, but Badouzi Fishing Harbor, which required a bus transit.  So if I remembered correctly, I took the 103 bus from near the Keelung Station to get there, and that itself took about another 40 minutes.  You can also take the 101 bus as well.
I'm not exactly sure how often they have this festival, so if anyone does know please let me know, but you can always look at their Facebook page for the latest update.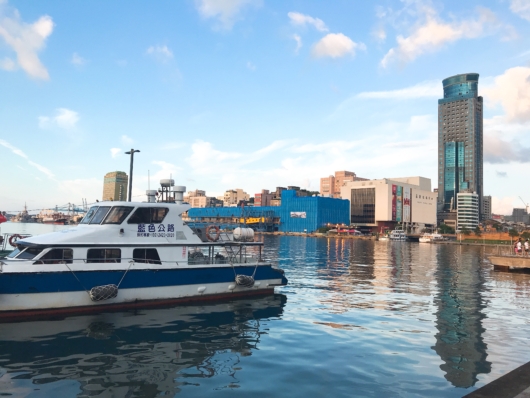 Once you get off the bus stop at Keelung Station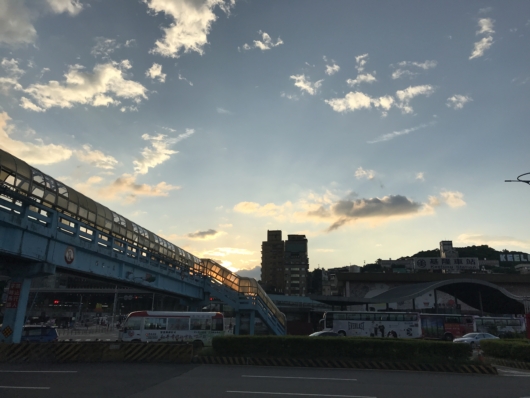 Another gorgeous photo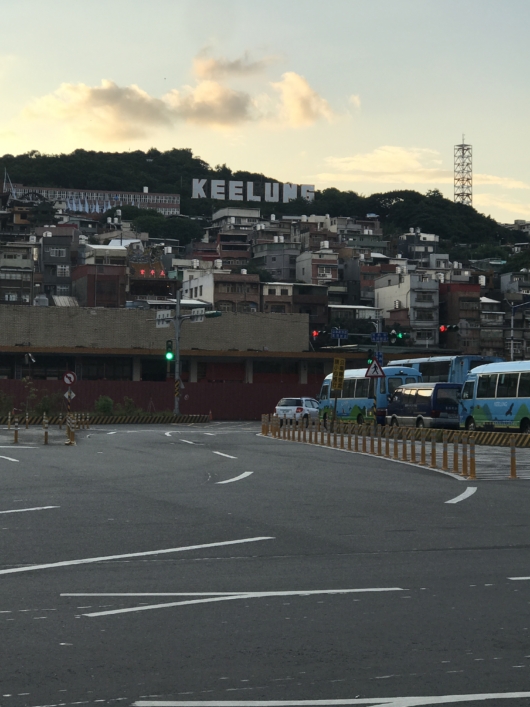 Keelung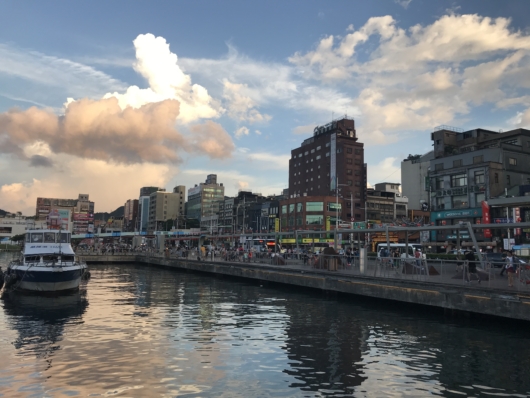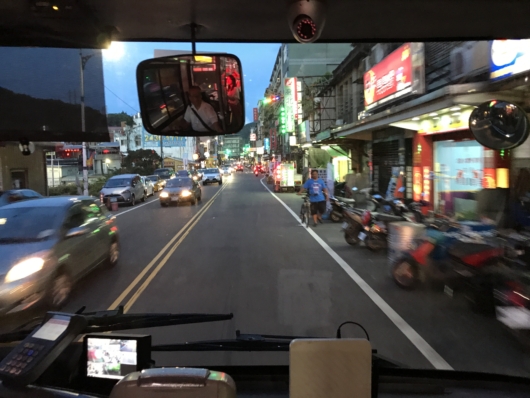 The bus ride going to Badouzi Fishing Harbor, along the way you see many local stores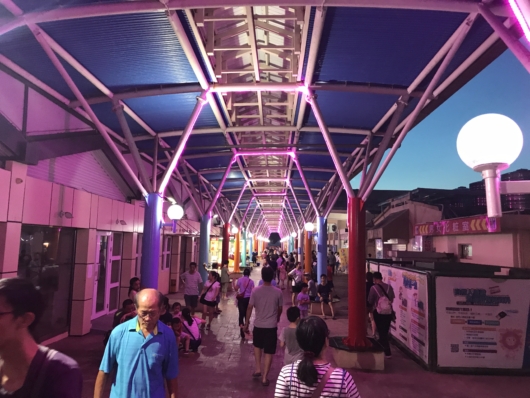 Really cool how you are greeted with pink lighting at the Badouzi Fishing Harbor
Along the way it's pretty much a wet seafood market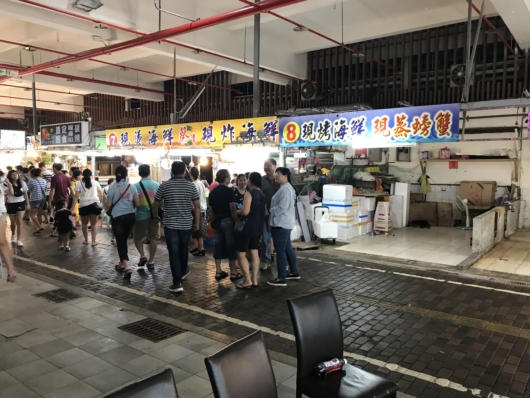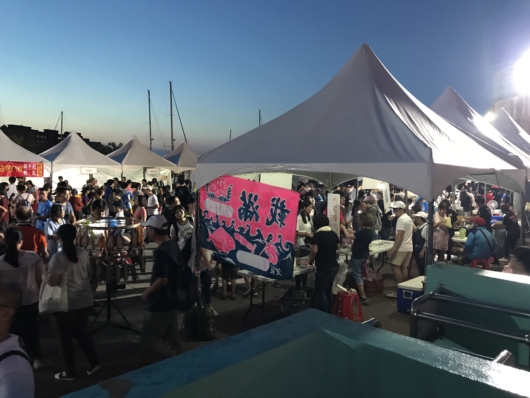 And finally, I have arrived!  I think this was about 6:52pm?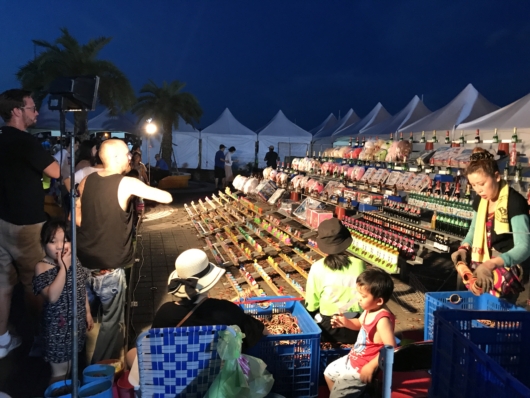 Saw some expats play games, where you're supposed to land a ring onto a bottle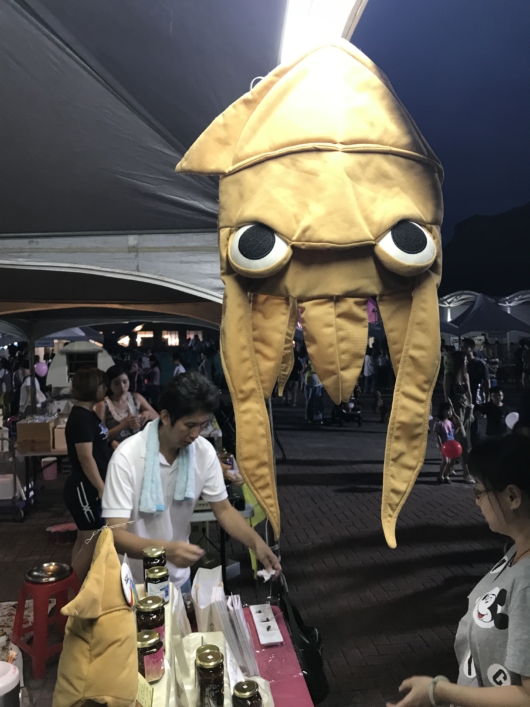 Why I'm here and why it's so afraid of me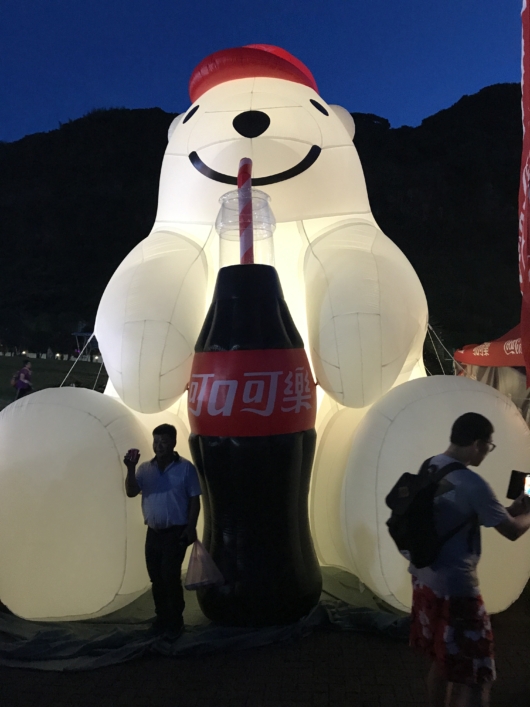 Sponsored by Coca Cola Polar Bear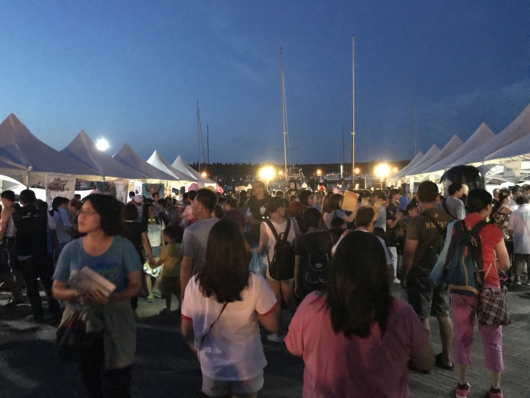 Most of these stalls aren't even food stalls by the way.  They are all like stalls promoting different community services and social services of the Keelung community.  I'd say only about 25% of these stalls were related to food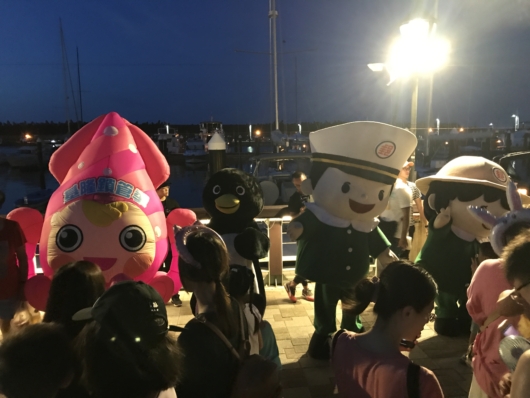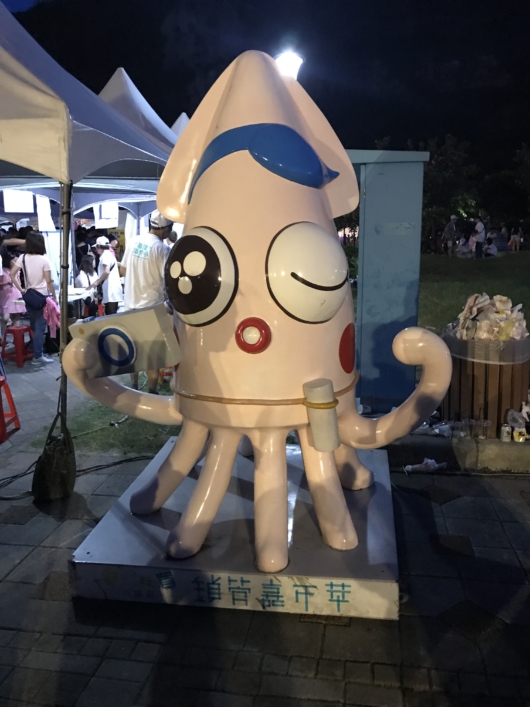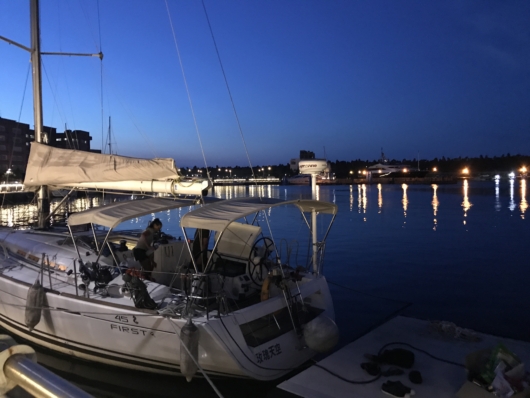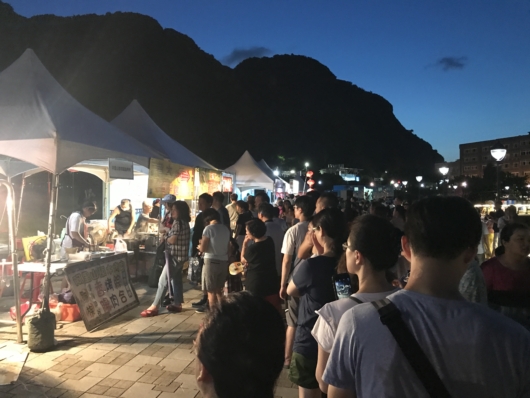 This was the line.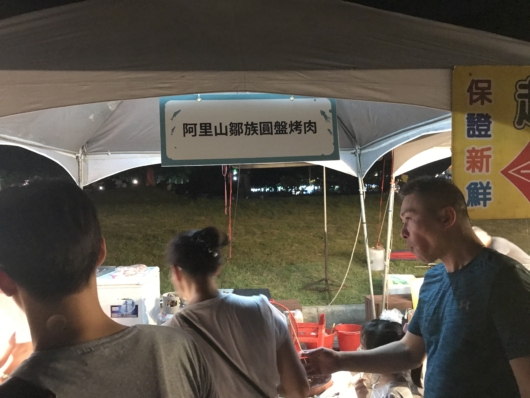 This was the store for the line.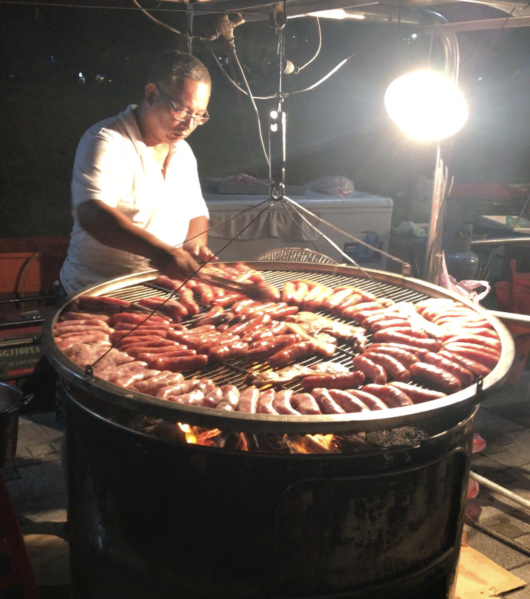 This was the cook and the sausages.  So many sausages, should be quite fast right?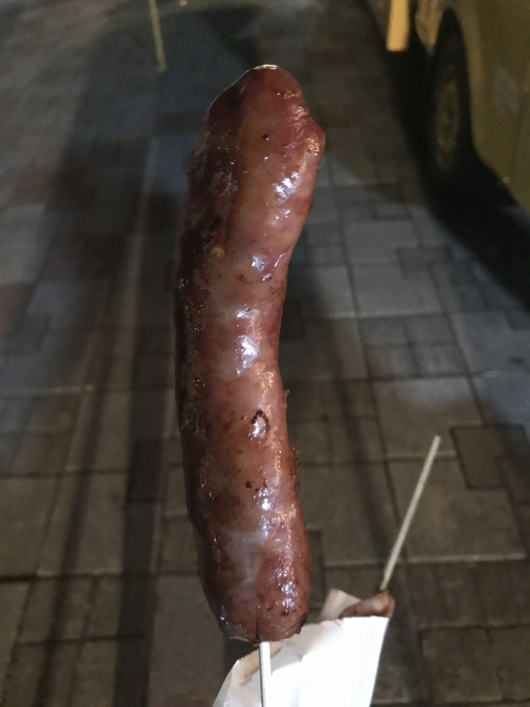 The freaking line took me 50 minutes just for me to get this sausage!! ?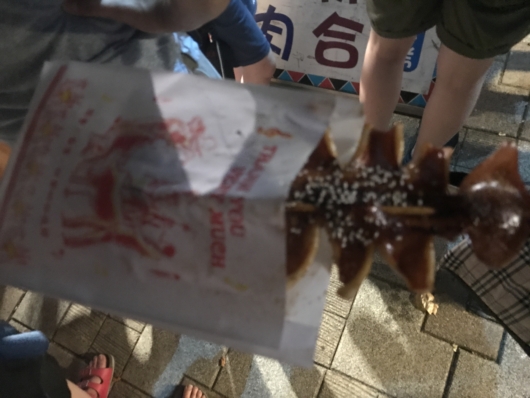 While I was waiting, I went to the stall with no line and ordered this grilled squid.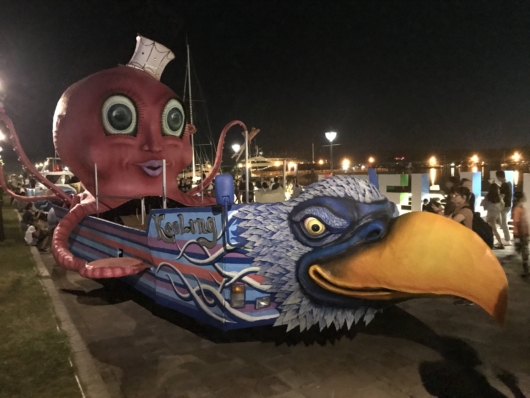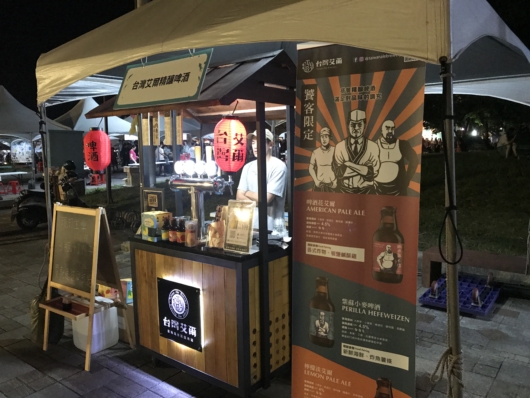 Taipei Ale Brewery (their Facebook)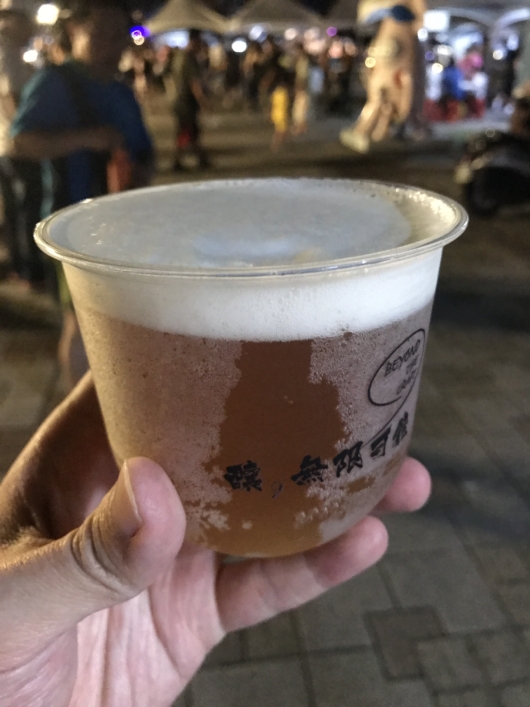 Actually tasted quite good!  I'm surprised by Taiwanese alcohol so far.  For example, Kavalan which is Taiwanese whiskey is actually quite good too!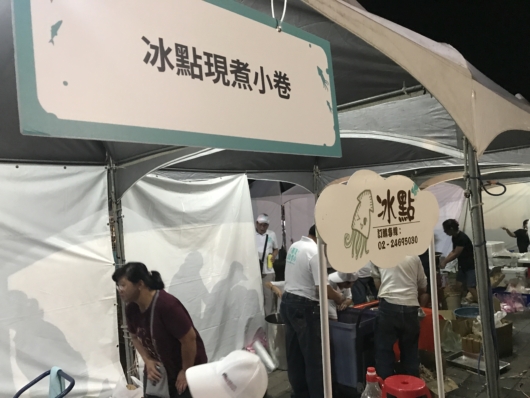 Another food stall I tried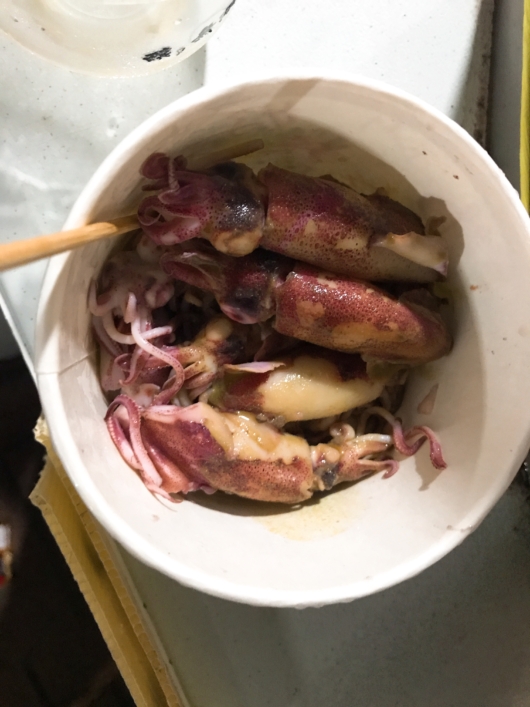 I had a few bites of these and I was done.  I don't like eating the bony part of the squid.  And I think eating its eyeballs tasted so… gooey and rubbery yeah I didn't like it, ate a bit and threw out the rest.
Badouzi Weekend Night Market
While trying to find a bus stop to get back to Keelung Station, I saw that this place was filled with lights and people.  Upon further inspection, I realised that I inadvertently arrived at the Badouzi Weekend Night Market.
However, just like other night markets in Taipei, the night market in Badouzi was filled with energy and optimism but in the end, it always ended in disappointment in terms of the food quality.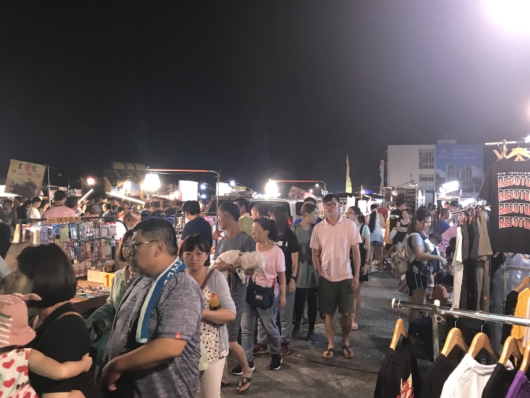 There were mini games.  You need to get 5/6 balls to win a prize.  I was soooo close, I managed to get 4!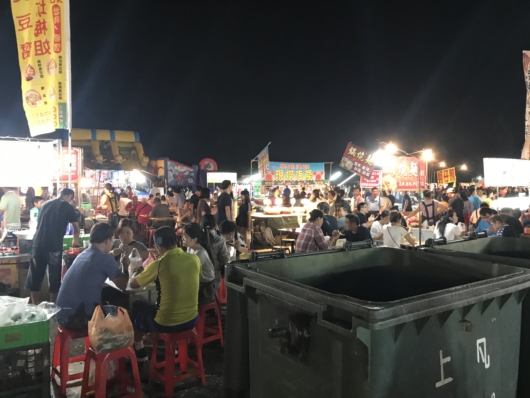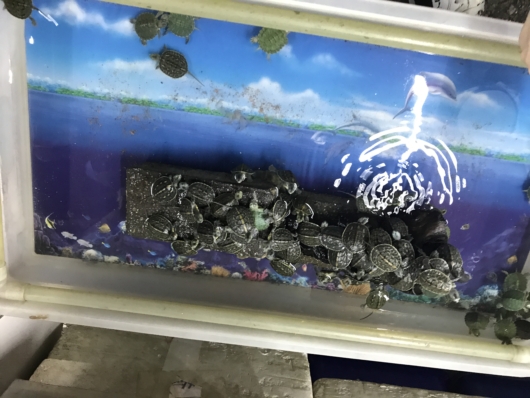 Lots of baby turtles piling onto each other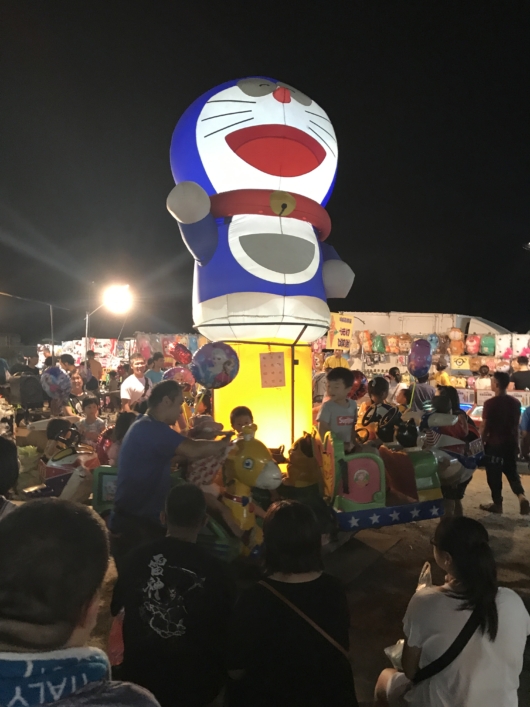 Doraemon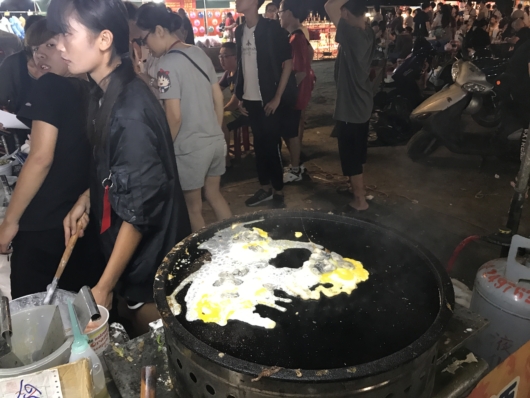 I thought all three were for me!  I only ordered one!  Three eggs and this many oysters… heavy cholesterol!  I was worried.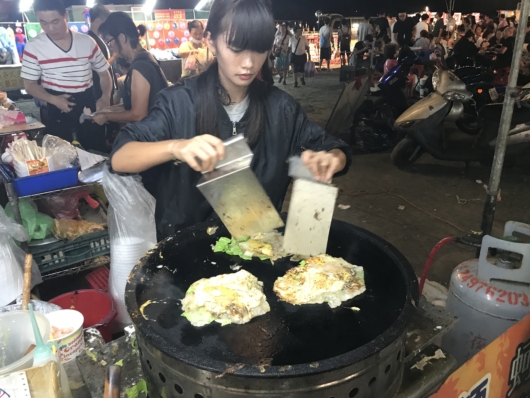 But actually she was just cooking multiple oyster pancakes at the same time.  This was meh.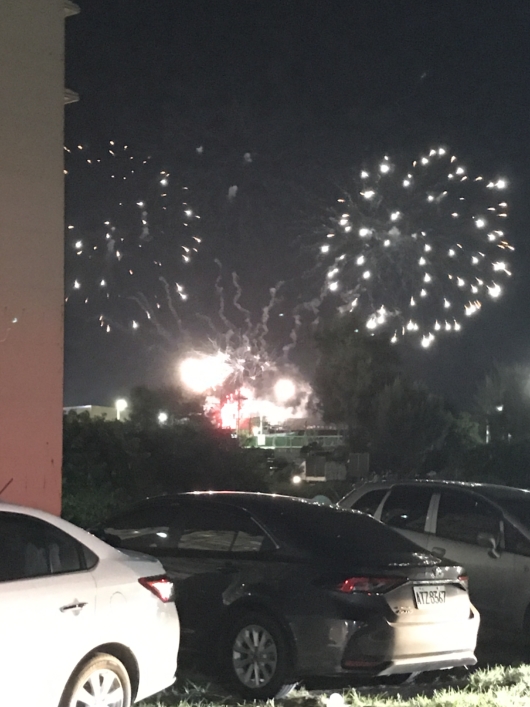 Fireworks!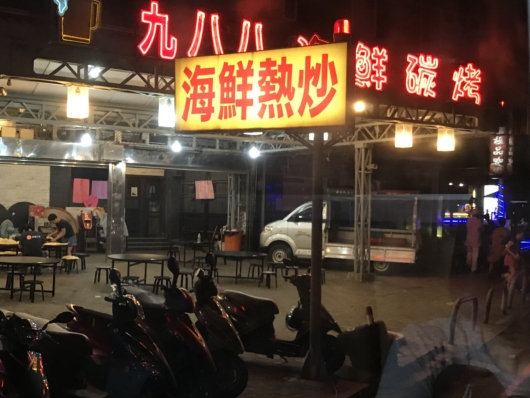 A restaurant in Badouzi.  Grilled seafood.  Something like 988 Seafood, and most buses actually stop here.
Some Keelung Diamond Bridge, nearby the Keelung station.
Tamsui
At the furthest spot on the red line sits the Tamsui station, what my friend calls the "Santa Monica of Taipei."  It's situated on the most northern west part of Taipei.  Although Google Maps has said that it will take about 1.5 hours for me to get there, I ended up getting there within 1 hour just by MRT.
Tamsui is a great district to explore for both locals and tourists alike.  There are many food stalls, cafes, and it's again close to the seaside so it's a great place to catch sunsets.
If you have enough time, I highly recommend coming here for at least half a day, especially if you are coming with your girlfriend or boyfriend.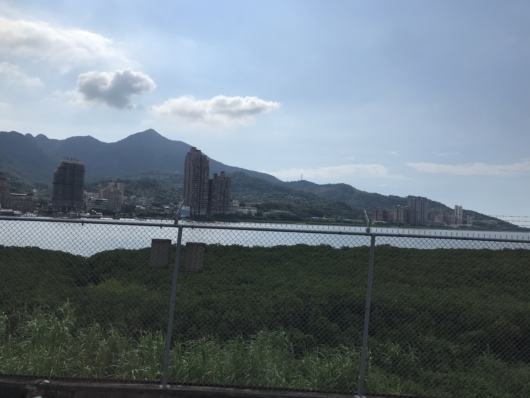 Along the way on the MRT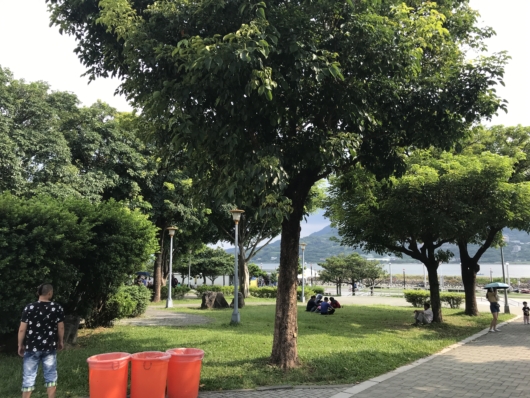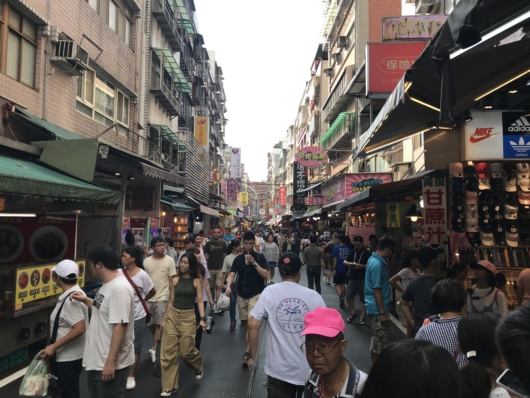 Part of the Tamsui Old Street
This shop had many deformed creatures that you can take a look at.  So for example if you like double headed animals or animals whose one hand or one leg is enlarged, this is the place for you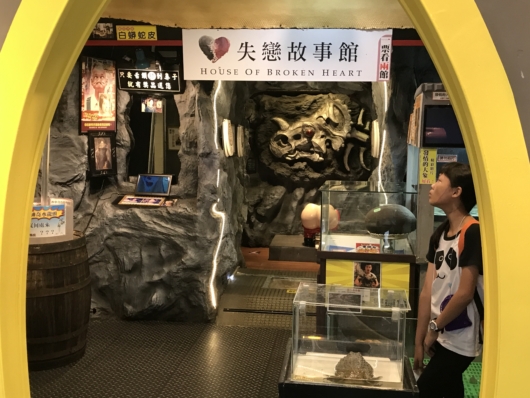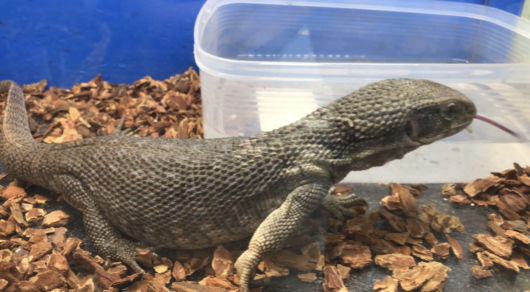 Giant sized lizard?
People and animals with their slightly deformed attributes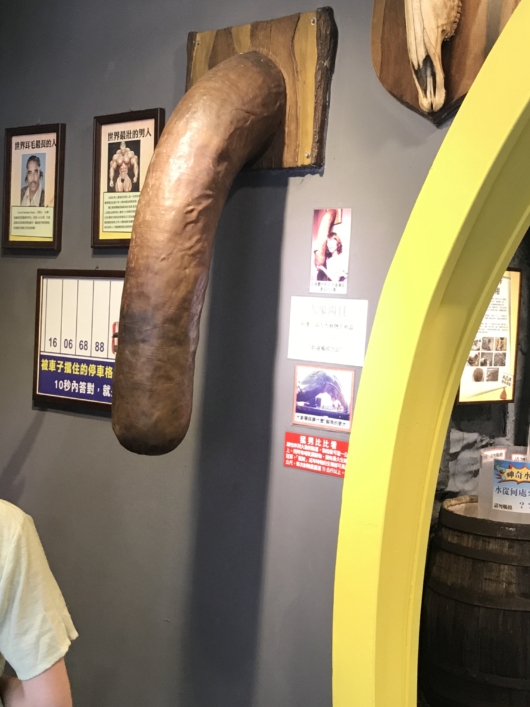 Apparently an oversized elephant penis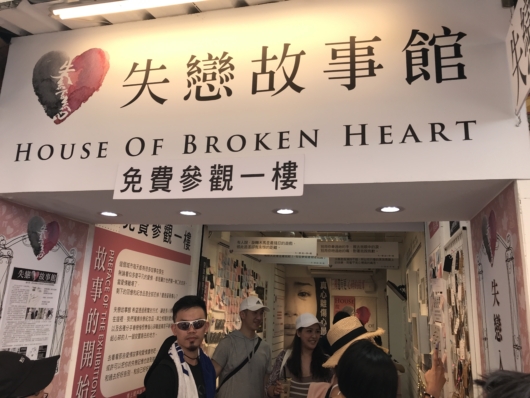 House of Broken Heart, for those who have their hearts broken.  There are free entrance times for ladies during specific hours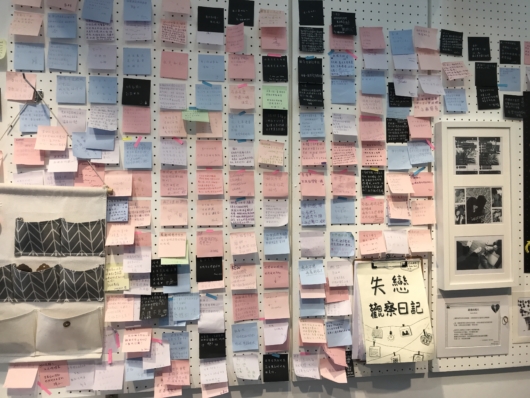 Notepads.  I wrote one too… Just wrote 🙁 lol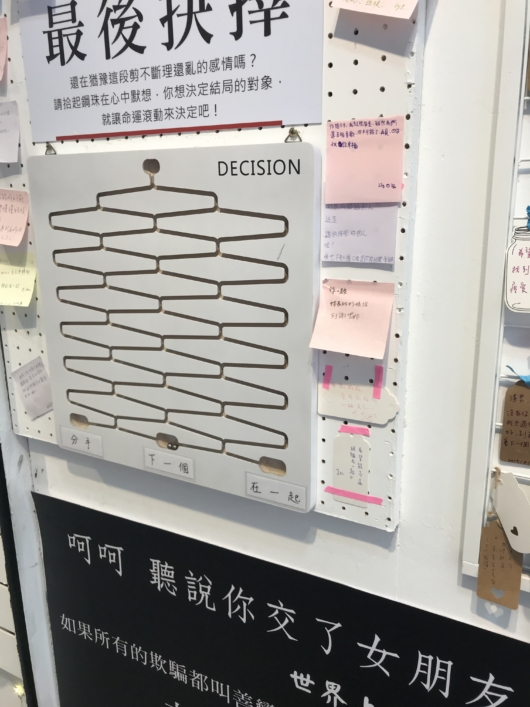 To break up or to be together?  This is a great way to break up or get together with someone if you know the trick I feel like.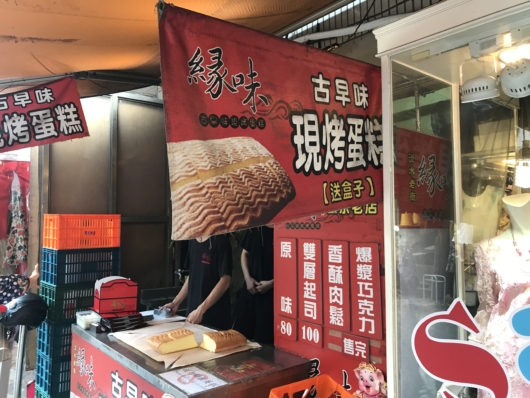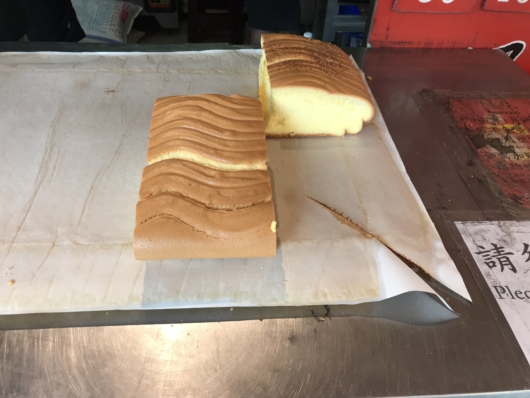 I only wanted one small piece, not the entire thing, but they only sold for one big thing at a time.  And it only costed NWT 80!
Not so good croissant.  How do I know?  Cause I tried.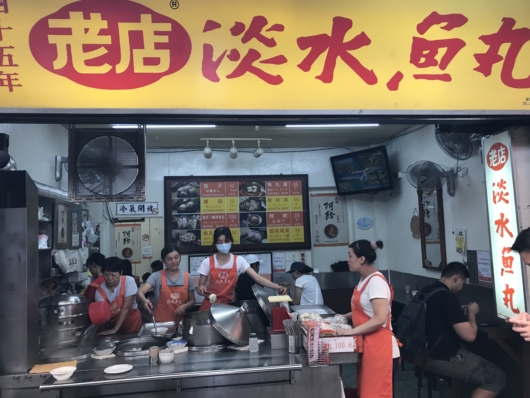 This was actually good and lots of people.  I had a fishball soup.  Coincidentally, once we went in, it started pouring.  Funny fact – it was raining heavily from 3:30pm to 5pm for the past few days I was there.  It wouldn't rain in the morning or night, only specifically during those hours.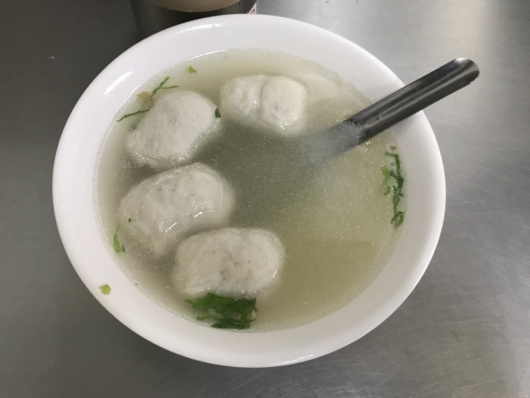 This was actually really good!  I highly recommend.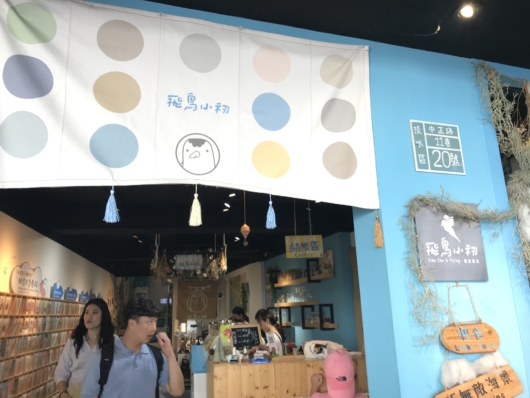 My friend found this on Google Maps.  High rating!  Lots of kids so we felt a bit out of place as this place also provided crayons and arts and crafts for the children to play.  This place is called Xiao Chu is flying!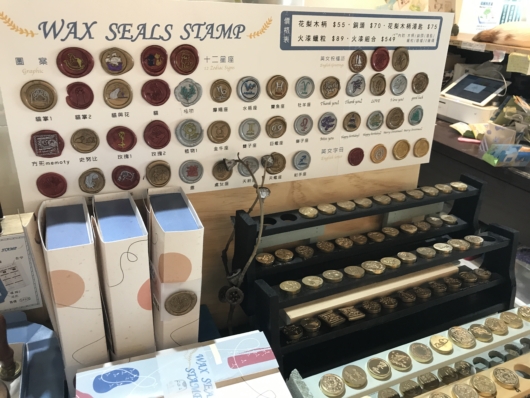 They also sell wax seals stamp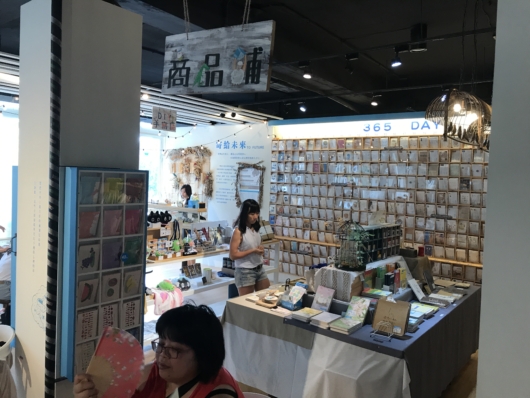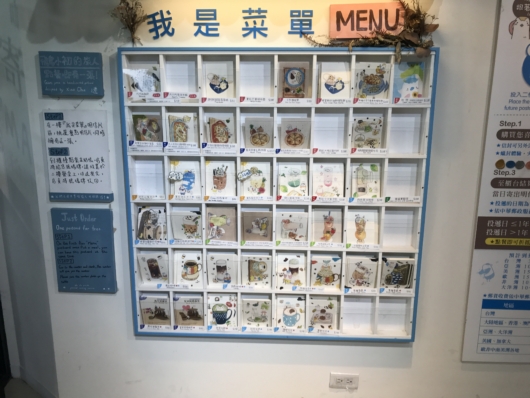 It's really cool concept.  Their "menu" is actually you select the food item you want then you take the postcard for that food menu and give it to the cashier.  After paying, you actually get to keep the postcard!
You can even deliver your mail as well.
Lots and lots of postcards.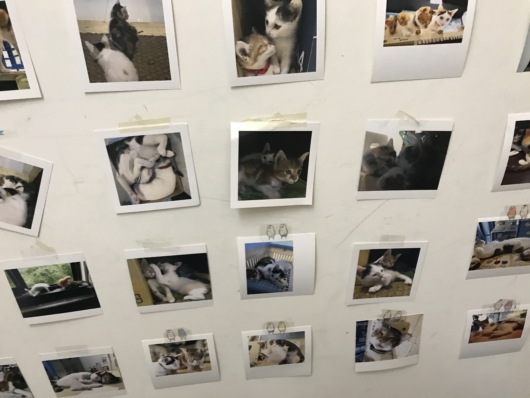 The restaurant also has cats as pets, so these are photos of their cat.
Caramel Macchiato.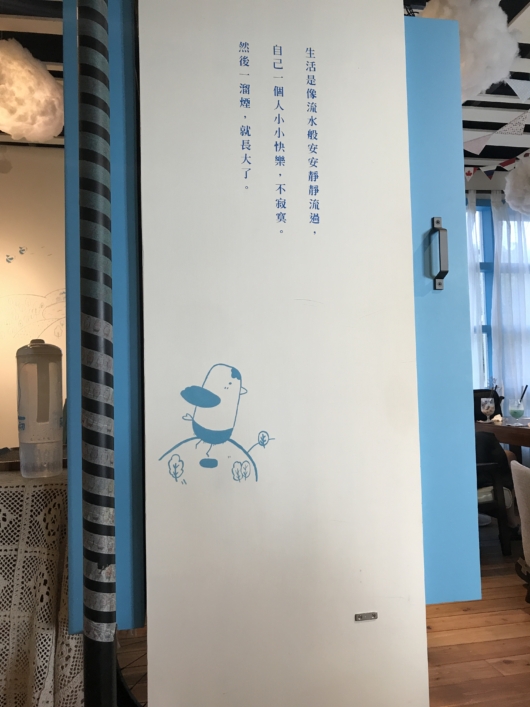 Right outside that postcard café is the Tamsui Ferryboat Wharf.  You can choose to either go to Bali (not Indonesia, just the island across) or the Fisherman's Wharf.  We went to the latter.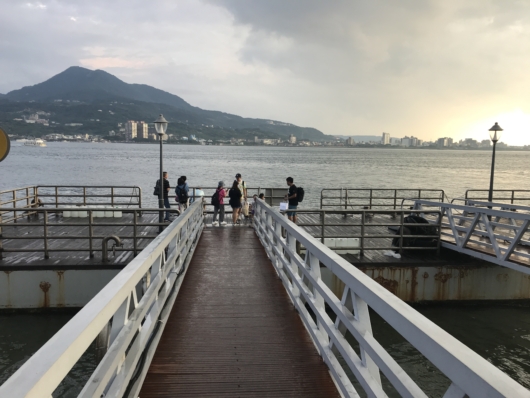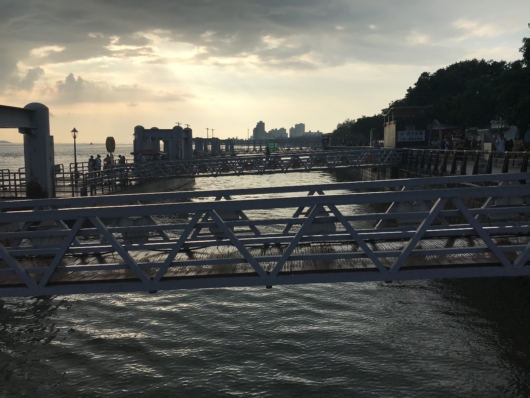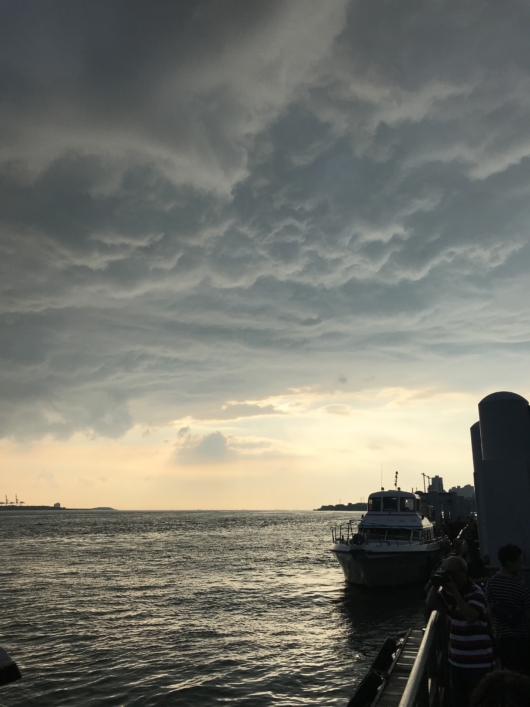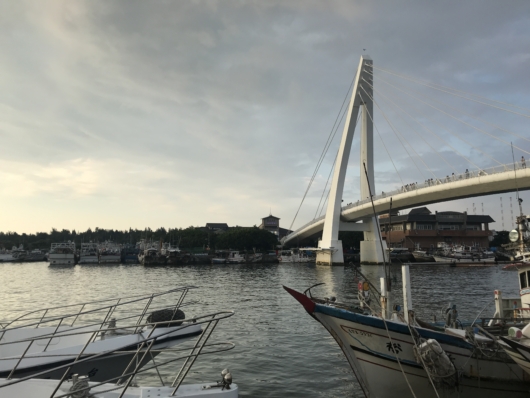 Arrived at the Tamsui Fisherman's Wharf.  This bridge is the notable Lover's Bridge, but its name is probably just a gimmick as the bridge itself doesn't resemble lovers in any way.  Correct me if there's a backstory behind this.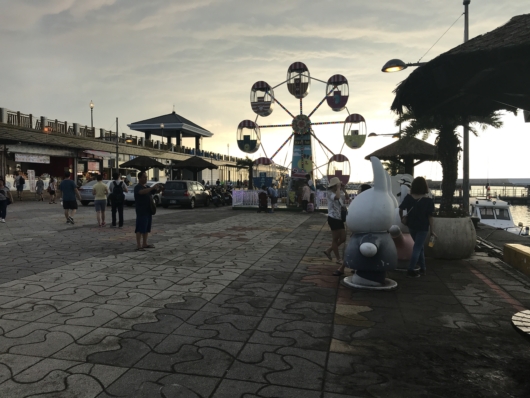 Tamsui's Fisherman Wharf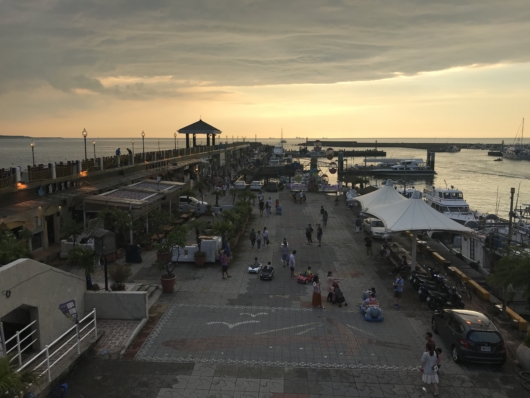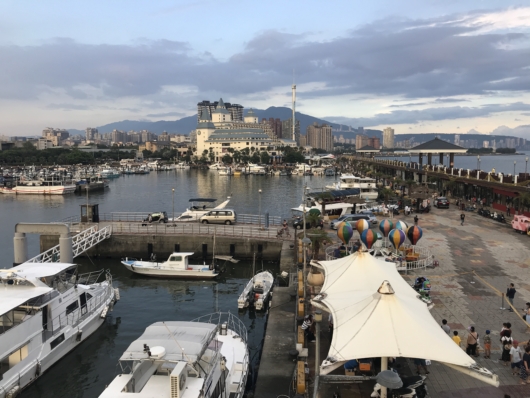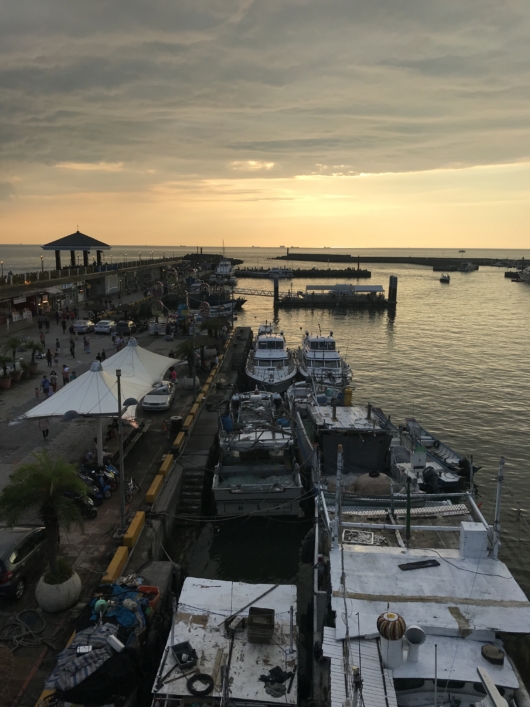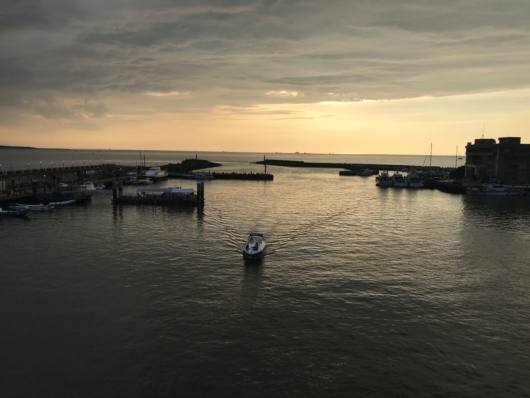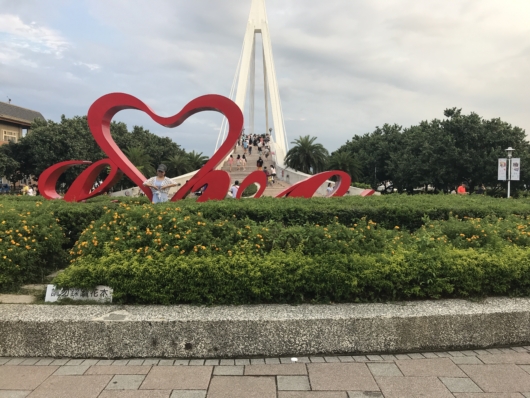 The other side of the Lover's bridge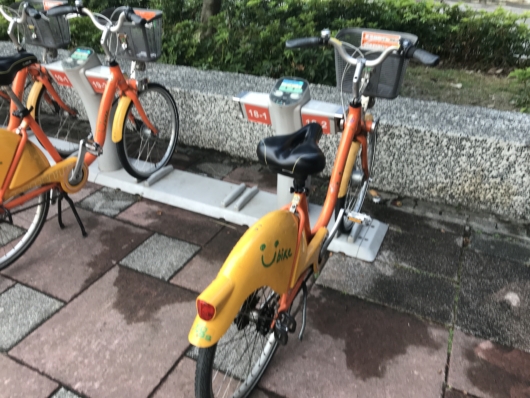 We decided it'd be fun to bike back to Tamsui station, so we unlocked these bike sharing bikes from YouBike.  You don't need the app or Taiwanese number to do this, there is a machine next to these bikes where you just have to give your credit card and make a deposit.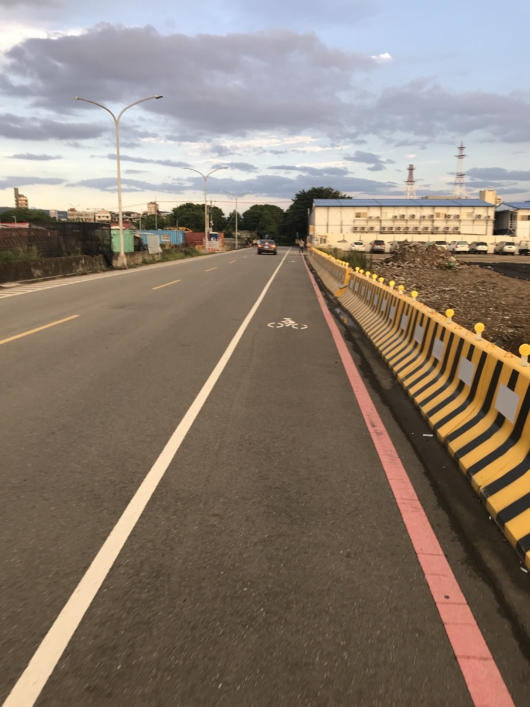 From Tamsui's Fisherman Wharf we bike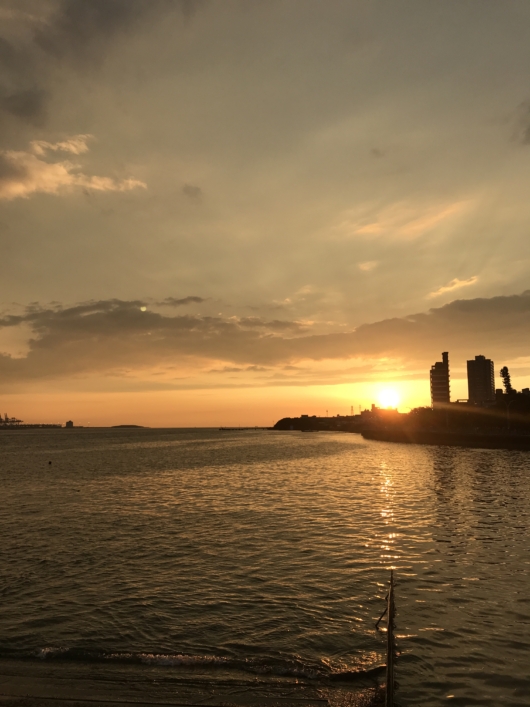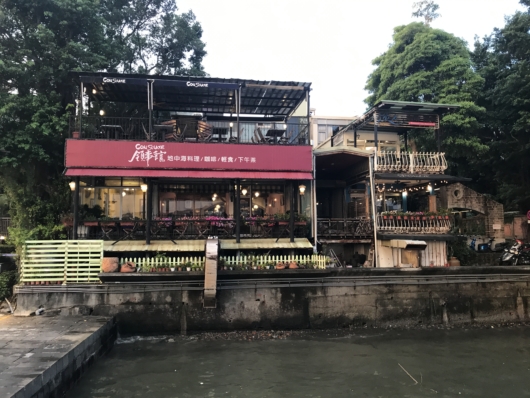 Looks pretty cool and quaint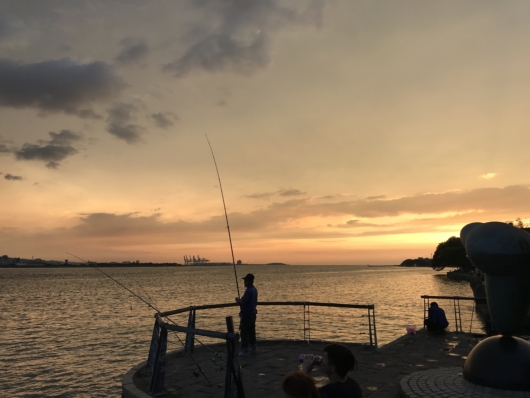 Golden pinkish skies
Another recommended cafe – 白水café restaurant; we didn't end up going as we didn't have time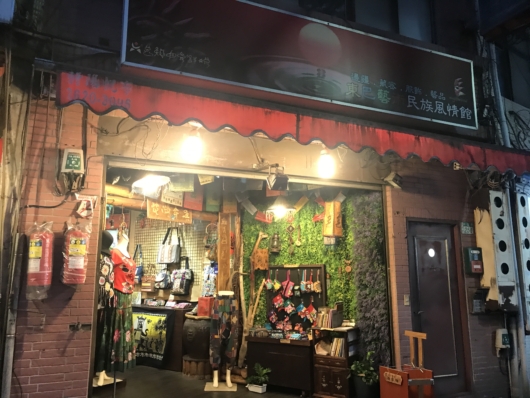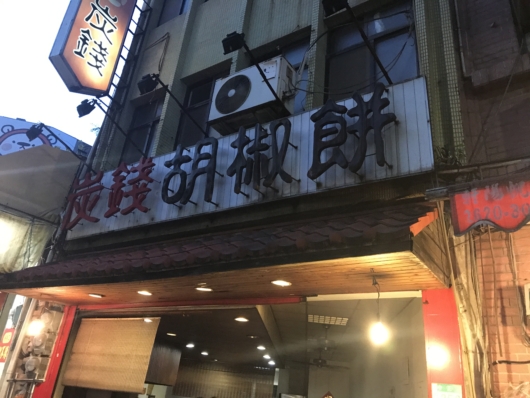 All these shops were shops we pass by on our bike back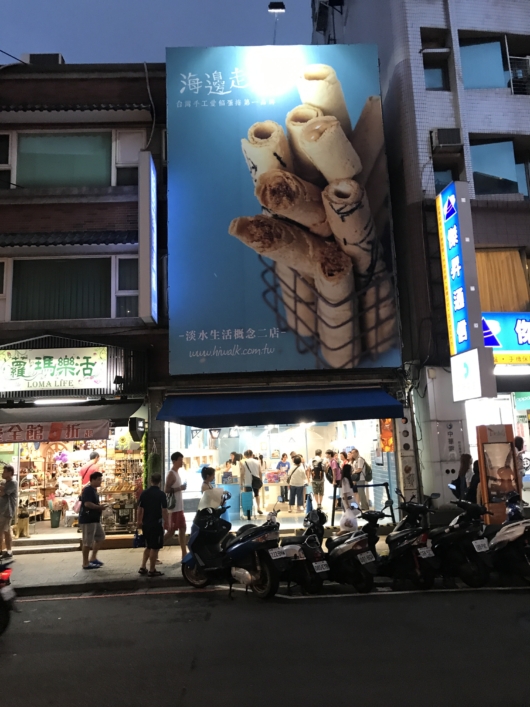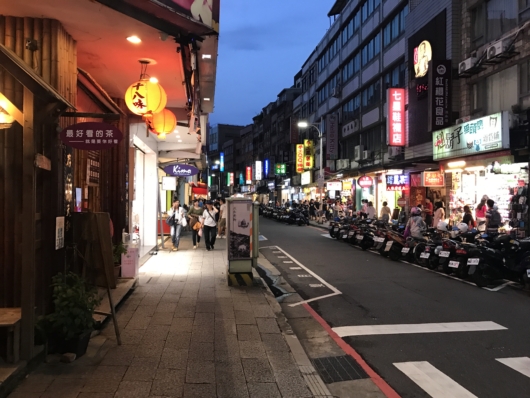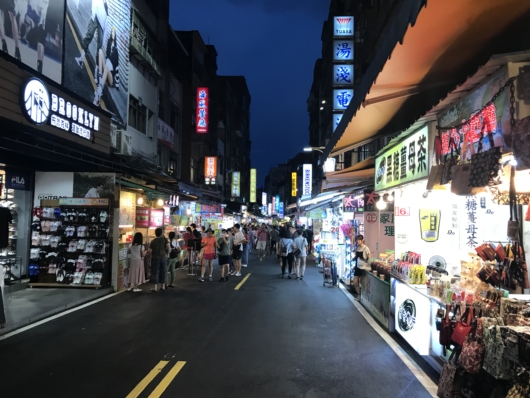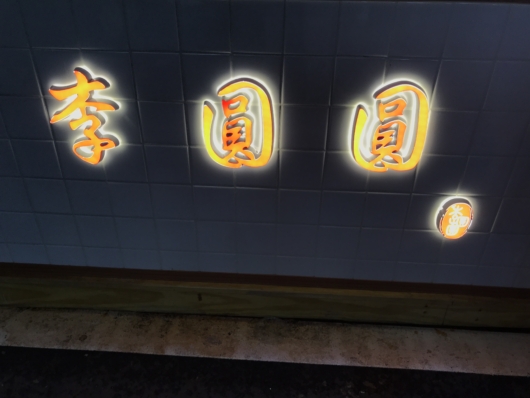 李圓圓 – Some brown sugar boba place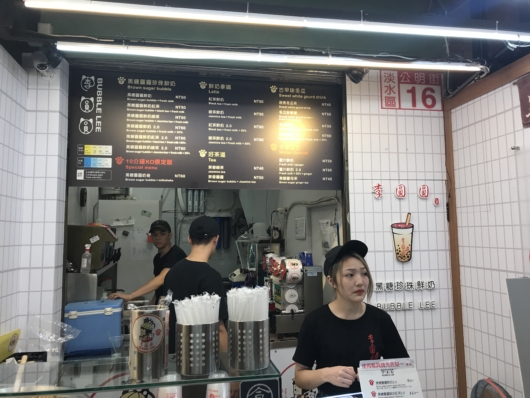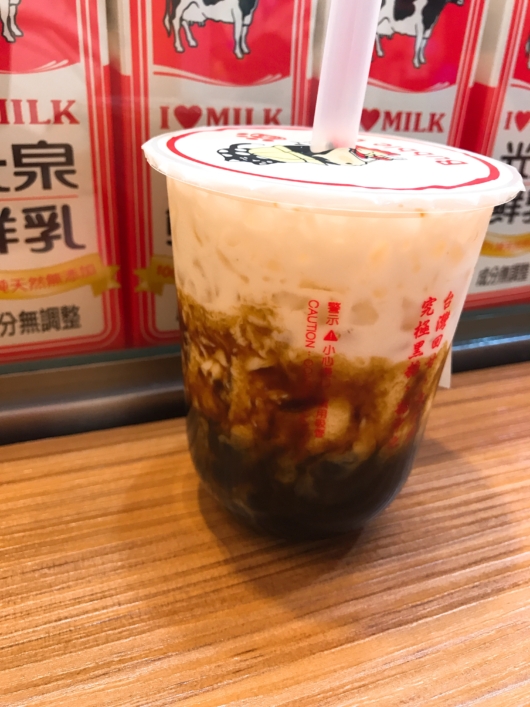 Yup I ordered one!  Don't shake, just stir with straw
So that's all the outskirt parts of Taipei I visited!  Amongst all of them, which one intrigued you the most, or made you compelled the most to visit it?  Keelung?  Tamsui?  Jiufen/Ruifang?  Let me know!
And if you haven't done so already, you can also read my Nonstop Eating in Taipei which were things I did on the same trip.