You know you're really getting a sense and vibe of a city once you start exploring the outer parts of the city.  For example, in Tokyo the first few times I would stick around the areas of Shibuya, Shinjuku, Roppongi… you know, all the main districts you have to first go as a tourist in Tokyo.  Then once you've been there multiple times, you will want to start to explore other less popular areas.  This usually happens with me around the 4th to 5th time I visit a city.  Taipei was no exception – this time, besides just being around Taipei 101, I managed to go to Jiufen Old Street, Keelung, Tamsui, and Houtong Cat Village.
I'm not sure if I mentioned this in my previous blog posts, probably did, but I tend to be attracted to places closer to the seaside.  That's why some of my top favourite cities in the world that I've been to include Barcelona, Cape Town, Gold Coast, pretty much everywhere in Japan, the French Riviera etc.  That's why I would say that I actually enjoyed going to places like Keelung and Tamsui, where I was treated to beautiful, stunning sunsets that left an indelible memory for me (I realised how much of a sucker I am for sunsets, especially the sunsets that morphs the skies from your typical sky blue to delicious colors like pink, purple, gold that occur on a sporadical basis).
For this blog post, I will start off by naming the things I did in Taipei and breaking down by the usual sections – accommodations, foods, things to do, nightlife etc. then I will do each section by each area that I covered.  I will share what I did, my opinions, fun anecdotes etc.
Edit: After writing this post, I realised just covering the main part of Taipei itself was way too long, so the upcoming/next post will focus on the outer skirts of Taipei like Keelung, Tamsui, Jiufen, Houtong, and Ruifang district.  It's out!  Read more at Outskirts of Taipei.
Taipei
Accommodation (Airbnb)
So once again I stayed at an Airbnb in Taipei.  I preferred the loft one more but this one was more of a bargain.  This time again, I was situated near Taipei 101, or more precisely, a 5 minute walk from the Breeze Xin Yi or Taipei City Hall station.
There were a couple of things I did not like about the place I stayed in, one that there were a handful of ants, second the building was quite old although the place inside was quite renovated and tidy and clean, and third was that you had to carry two sets of keys with you when you go out – one for the door to your room, and one for the main door.  Oh also, the pictures made the place seem larger than it was.  Also for the shower part, I couldn't figure out for a long time how to turn on the shower head, until I asked the hostess and showed her a picture and she told me that you had to turn the faucet head towards the left (there were no directions and no on/off lever).
That said, the hostess always replied within minutes when I had an enquiry, the bed was comfortable and large, and it was quite convenient.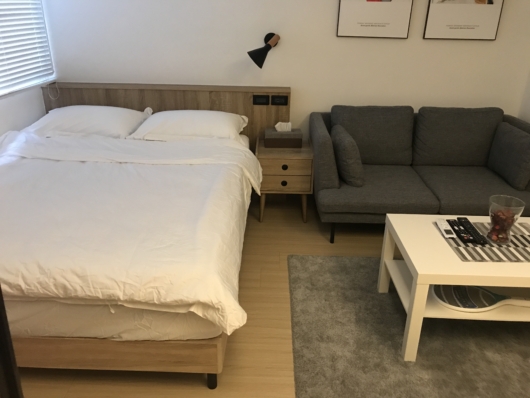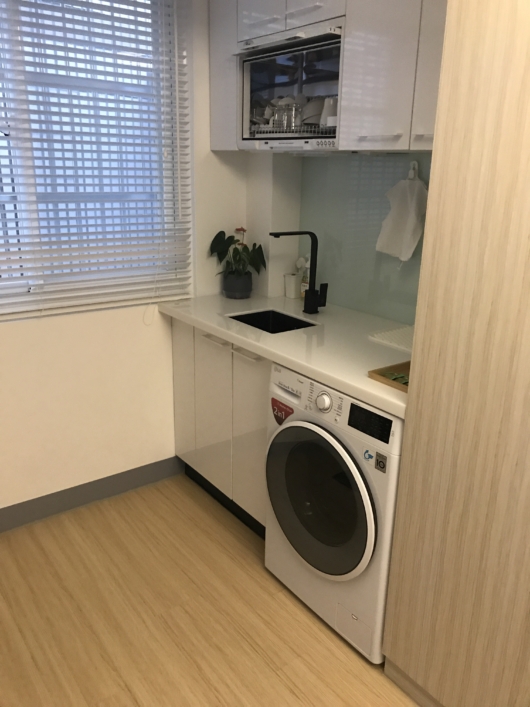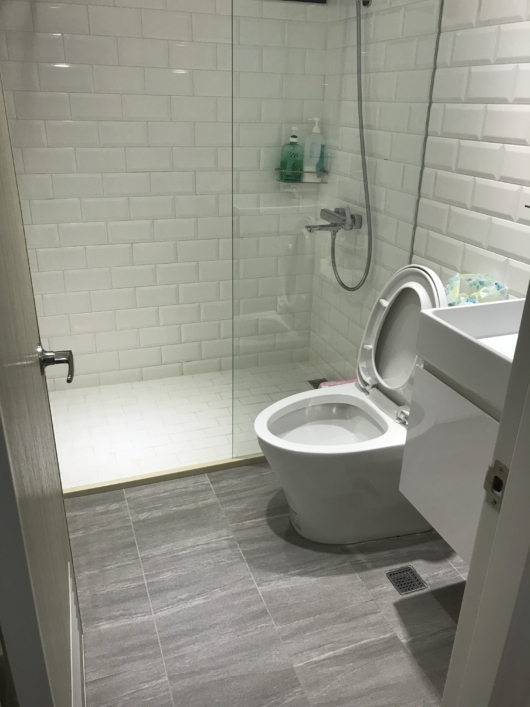 If you want to stay here, please email me.  It costed about HKD 300 per night (that roughly translates to USD 38 per night).
Restaurants and Foods
A quick note – most of Taipei's restaurants close pretty early, like around 9pm, so be sure to grab dinner by 8pm or you'd be limited in your options after.  Another thing – most places are not open during Sundays.
高三考碳烤吐司 KSS Sandwich (Facebook)
So apparently this sandwich place has a couple of branches around Taipei, but the one I went to was nearby my Airbnb.  This was my second lunch at that time, after I had a bowl of minced pork rice (see below).
The reason I even went to this place because I saw the words 碳烤 roasted and I thought it would be like roasted French toast, which sounded interesting.  I ordered one of their recommended dishes, but turns out it was just a pork/egg/lettuce/mayo sandwich.
It's decent, but nothing exciting.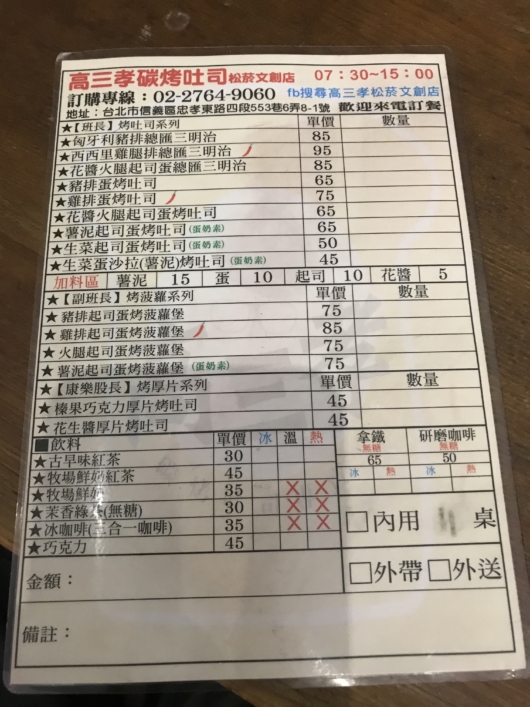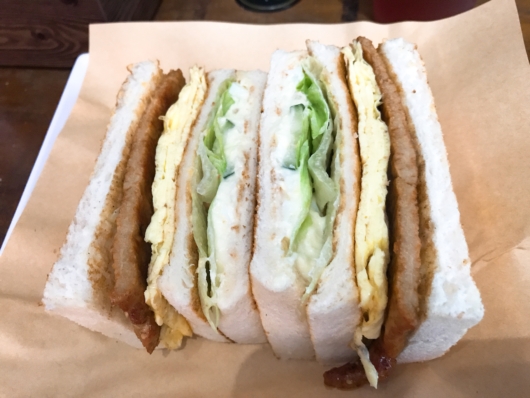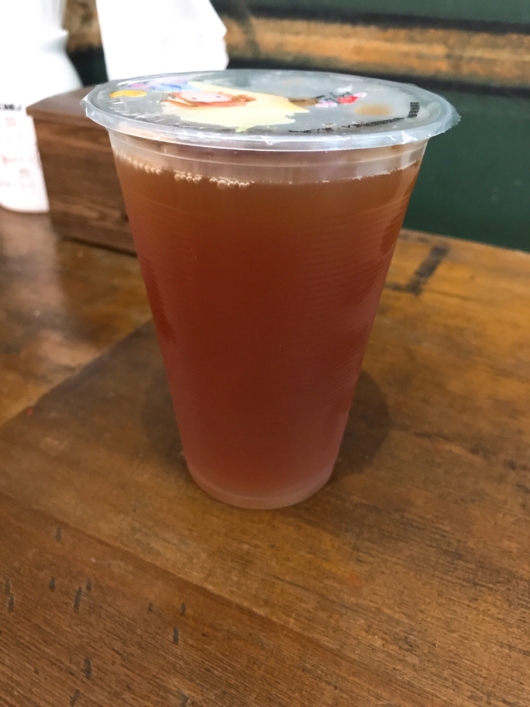 And it comes with this red tea
Burger Out (Facebook)
This is a burger joint nearby my Airbnb.  I didn't realise that Taipei actually had a lot of really good food, and I only realised it after this trip… you sort of have to dig around and find out where they are.  Tip: usually the night markets are not the best places to eat in Taipei.  Anyway, Burger Out not only was an establishment that had great burgers, it literally had one of the best burgers in my life, and definitely the best chicken burger I've had in the world!
So the concept of Burger Out is really simple – you pick a chicken burger accompanied with one of the four spicy flavors – sriracha mayo, szechuan, wasabi, or korean spicy.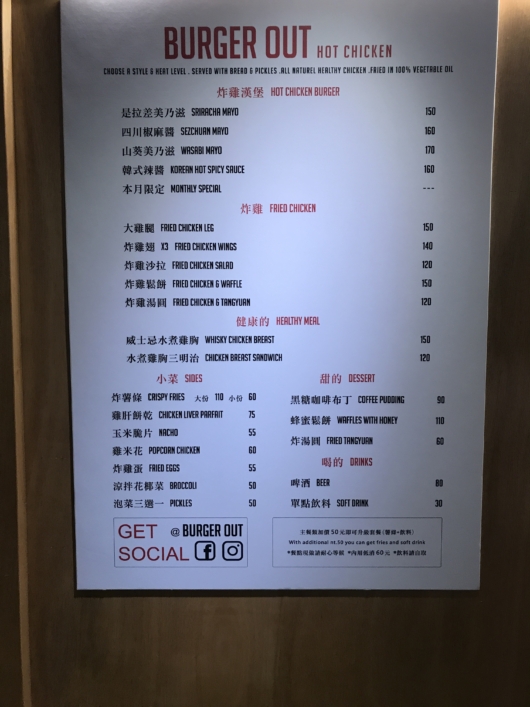 This is their menu
So I asked which of the four was the most popular burgers amongst their customers, and the staff said that although all four are probably equally favored, their classic one is the first one, the sriracha mayo, so that was the one I picked.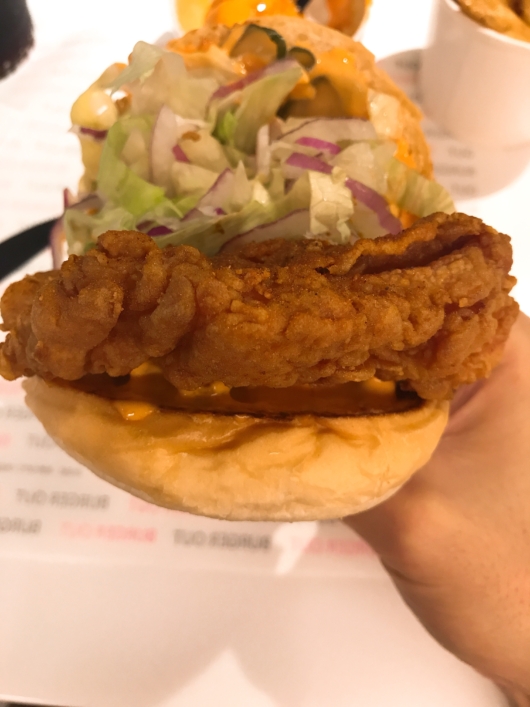 Not appealing in pictures, but a mouthgasm nonetheless.  The first bite I had with the chicken and the sauce, wow, it gave an incredible piquant taste.  Fried just right to still get juicy bites of the chicken, the temperature was hot enough, and the sauce was an excellent complement with the chicken in terms of its amount and its flavor.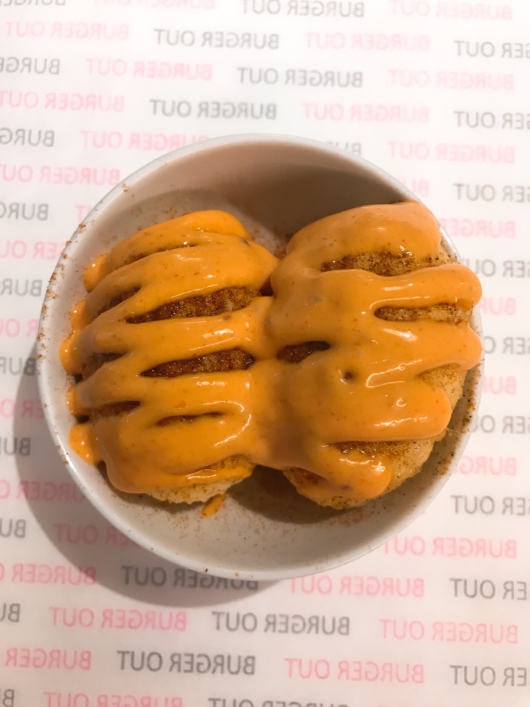 I also got some fried eggs, fries (not shown but delicious) and coke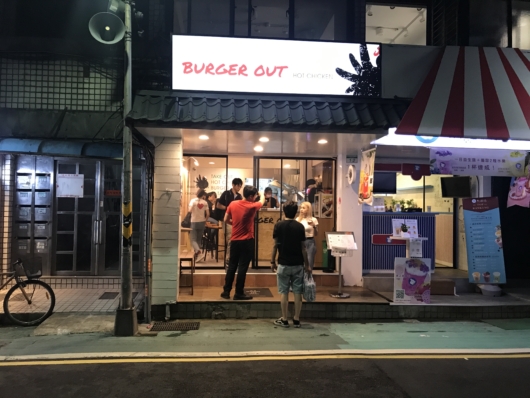 The store from outside.  Most people, I believe, actually order food delivery from foodpanda or something, but I highly recommend staying here to eat
Deer's Hotpot Bistro (Facebook)
Remember in my previous post about Taipei, where you can read at Serendipity Moments in Taipei, I mentioned about this place?  Well this time I actually managed to try it, as again this place was literally diagonally across from where I was living.  Despite this being the most lavish meal I had, it only costed me around a bit more than HKD 300 (we're talking about USD 40 here, my most expensive meal this trip).
At this price, it'd be considered somewhat expensive in Taipei in comparison to other restaurants in general, so there was high expectations for this place.  Yet, it did not disappoint.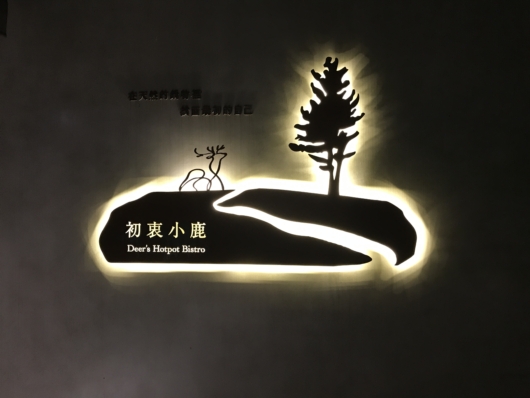 Once again, the sign illuminating the place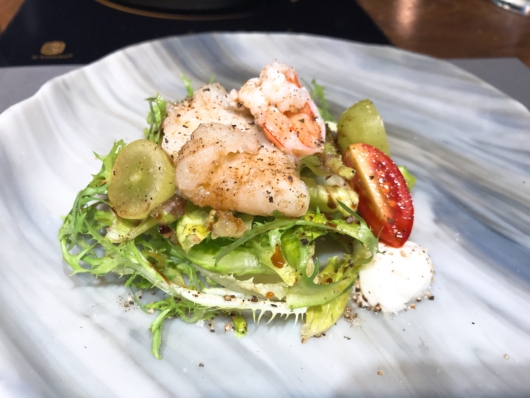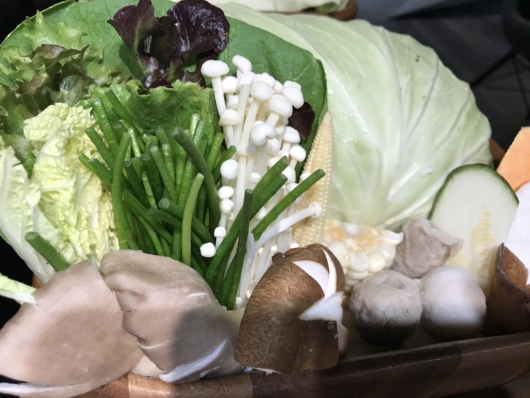 You can have a la carte for the meat, or make it a meal which includes a salad, vegetables (as seen above), dessert, and rice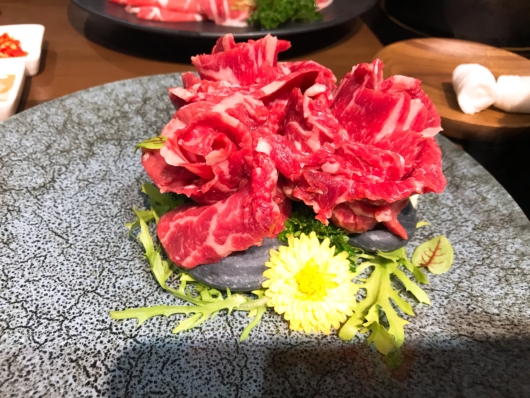 This was the meat I ordered, nom nom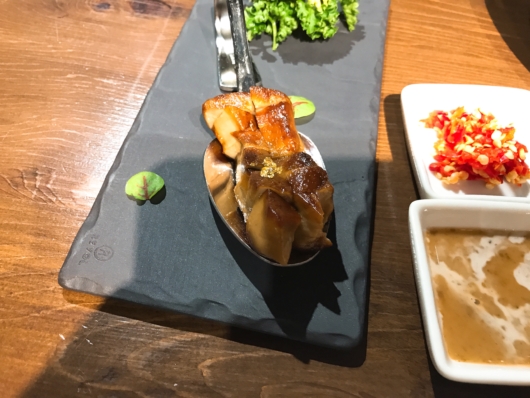 You can also choose to have some light accompaniments to eat together with your meat.  Originally I wanted uni, but they ran out, so I picked the next one I wanted which was duck liver.  Each time I grabbed a piece of meat, I would also take a small chunk of this duck liver, dip it into a sauce, and put the two together in my mouth to create a match made in heaven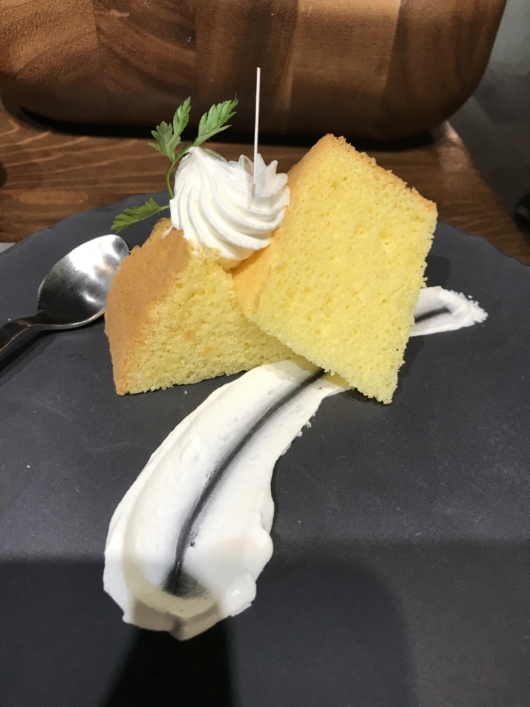 Dessert.  They ran out the original one, so we had to settle for the sponge cake.
A random street store in Zhongxiao Dunhua station
So I passed by one of those local stores where they have a menu plastered with large characters on the food items that they have, sitting on stools, no walls or air con, and a couple of elders working this place.  I wanted to try something local.  I ended up getting this meatball noodle soup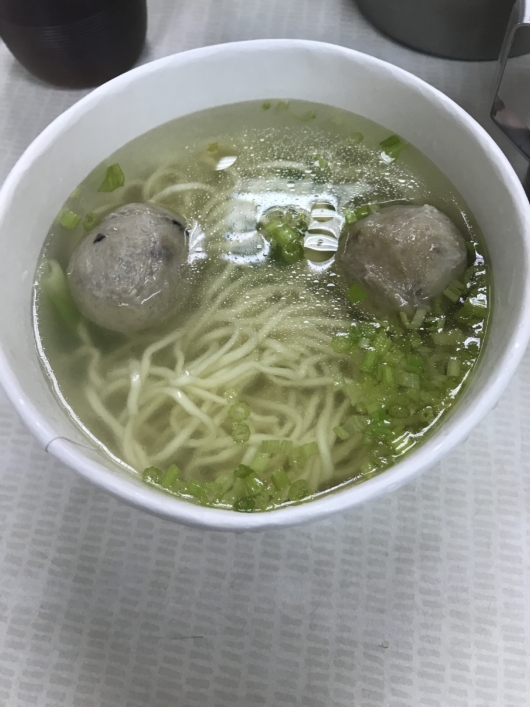 Funny story – prior to leaving, I asked the staff if I had already paid them, cause I wasn't sure whether I paid them or not.  They thought I said that I didn't have money or forgot my money, and they didn't even flinch and were super nice and polite and said it's ok I didn't have to pay.  Realising they misunderstood me, I reiterated myself and asked if I had paid, and one of the staff said I haven't paid yet.  How much was this?  If I recall correctly, around NWT 30, which is almost equivalent to HKD 7.5, which is just less than USD 1.
味家魯肉飯
This place was literally right next to where I lived.  I loved their minced pork rice (魯肉飯) soooo much that I came here to have my "first" lunch at least three times.  For a bowl of their large minced pork rice (which to be honest was actually a normal portion), the price was just NWT 40, so HKD 10.  It often wasn't enough so I would find somewhere else to have a second meal, but this would always be my appetizer for lunch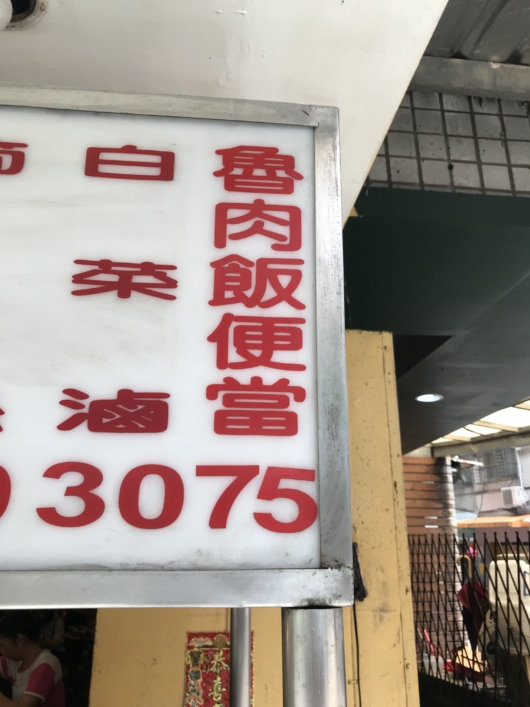 The NWT 75 is just the price for a set, but if you just order the minced pork rice, the large portion is NWT 40, and the small bowl is NWT 25
One of the best minced pork rice I ever had, not just in Taipei, but in my life.  I often would also add their spicy sauce as well.  Great texture, flavorful, authentic, it is a must have in Taipei.  Probably one of the best, if not best, meals I had in Taipei
machi machi (Facebook)
On their Facebook page, the 'About' section says that the team has over 15 years of experience in restaurants, but due to their love and passion for tea and that it's something they drink everyday, they decided to open up this shop.
I passed by here because there was such a long queue that it got me curious as to what the buzz was about.  Even though it was a night, I was still sweating and standing for at least 25 minutes before I managed to get into the shop, then waited another 10 minutes for my strawberry milk drink.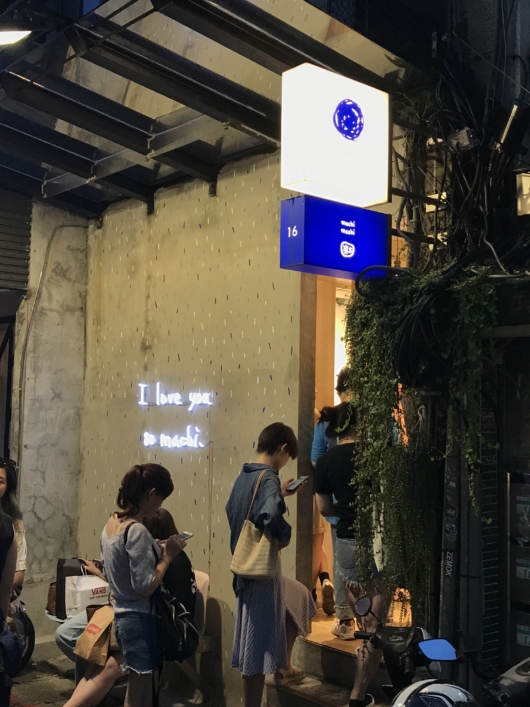 i love you so machi.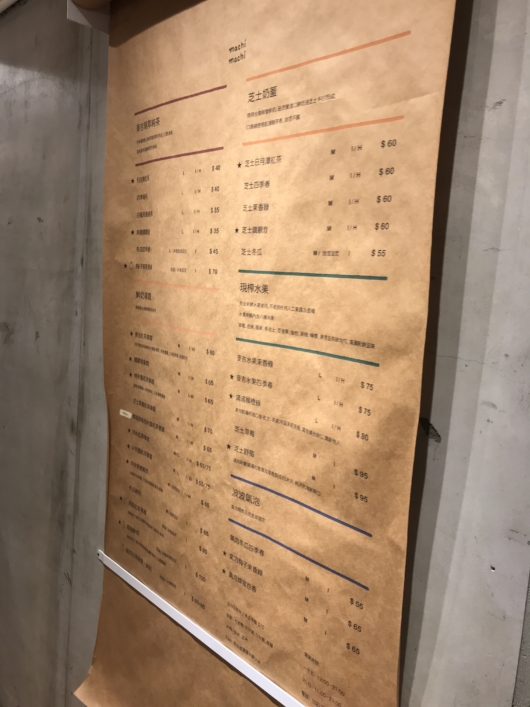 Their menu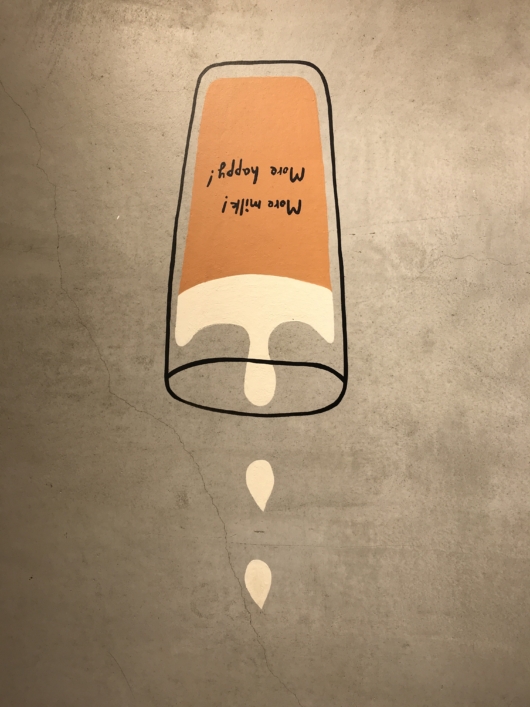 Wall art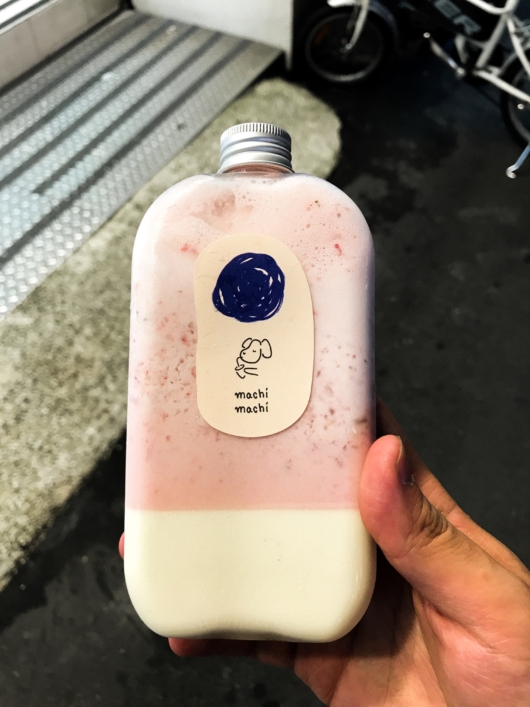 The drink I got.  You put the straw into the bottom and just drink it.  The top consisted of a light, unsweetened, unfiltered strawberry flavor while the bottom consisted of a chunky, heavier pieces of milk, so both the strawberry and milk contrasted in texture but you will still arrive at an interesting taste.
PiZZAHOOD (Facebook)
Pizzahood was again right around the corner of my place, and served as my second meal for lunch when the minced pork rice wasn't full enough for me.  It looked interesting, and I was craving for pizza for some time already even prior to this trip, so I went in.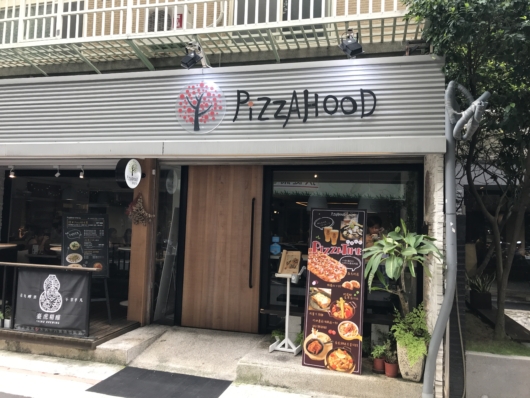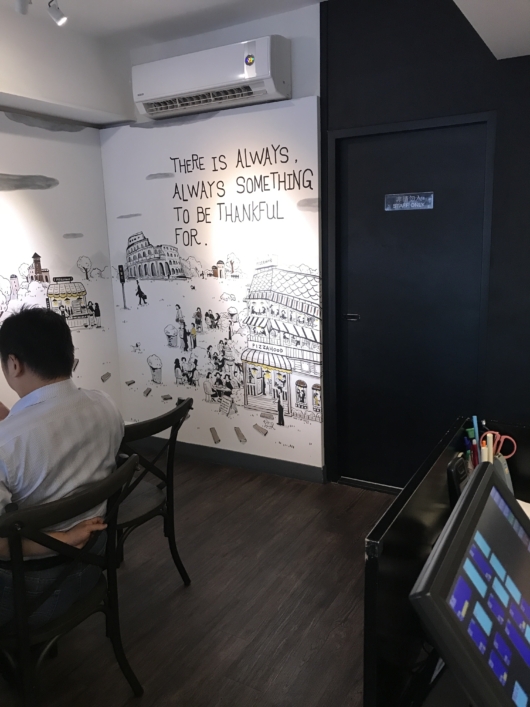 The décor of this place, a lot of black and white sketches around the wall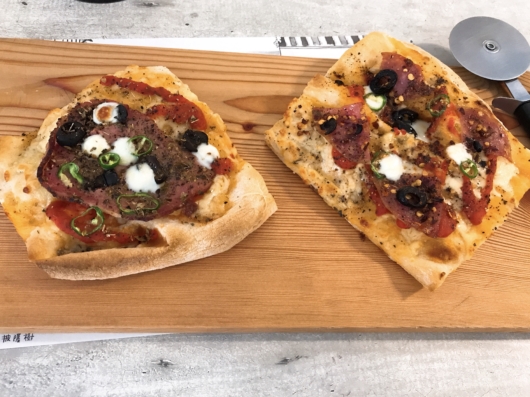 I got the oregano beef pizza and spicy salami pizza, along with a drink.  This lunch set only costed me NWT 190, if I remember correctly, so a little less than HKD 50.  This image doesn't totally capture the size of the pizza, because each of these pizzas were almost as huge as 8 business cards (4 per row, 2 rows) (I got this analogy as there were some business cards on my bed, and I was thinking hmmm.. what's the best item to describe the size of this pizza)  Oh and the pizzas?  They were great!  Pizzas are hard to be bad though, so pizza standards are high in general, but this was still really good.
Din Tai Fung Taipei 101
You've finally made it to Taipei, it's 7:30pm, and you head over to Din Tai Fung hoping to get a seat.  But wait, what's this?  The line extends outside of the mall?  Yeah that's right, rookie mistake, don't go here during peak hours!  It's incredibly hyped and popular so I have never been to this branch despite my multiple attempts passing by this place until finally, on the first day of my arrival, I decided to come here for a late lunch at… 4pm and got myself a seat within 10 minutes.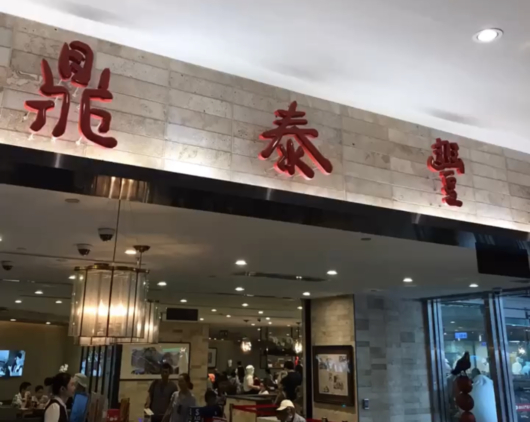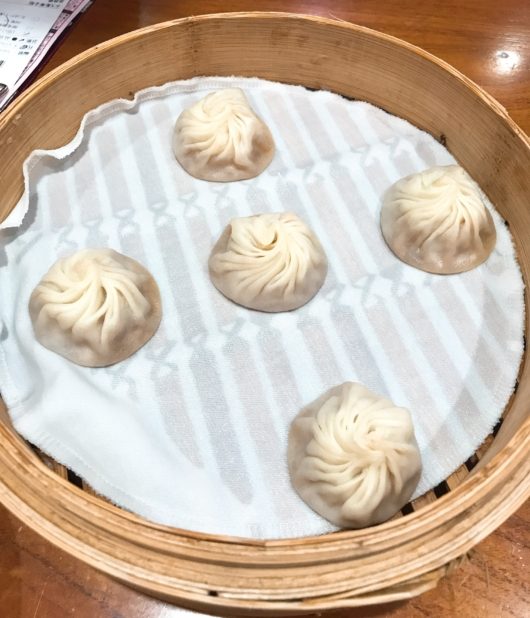 Obviously had to get their signature, which was their Xiao Long Bao, or translated to mini Chinese steamed pork bun with lots of hot soup inside.  I like how the skin doesn't break that easily, the poorer quality ones do.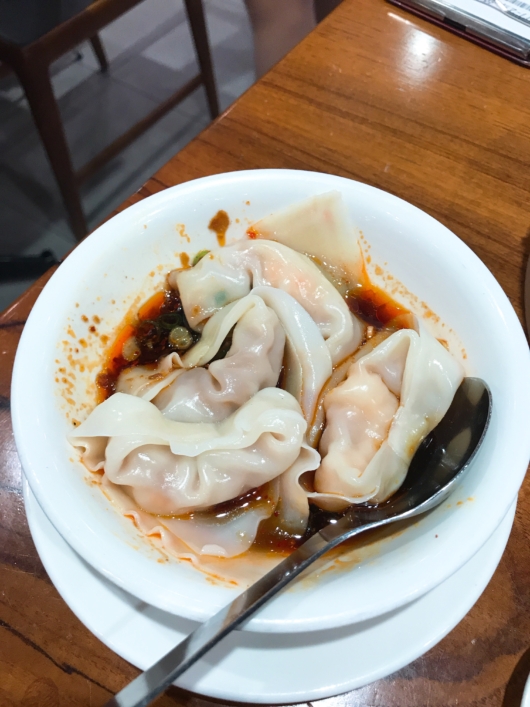 紅油抄手 or known as dumplings in chilli oil in English.  Another recommended dish.  Very soft skin, great flavor inside.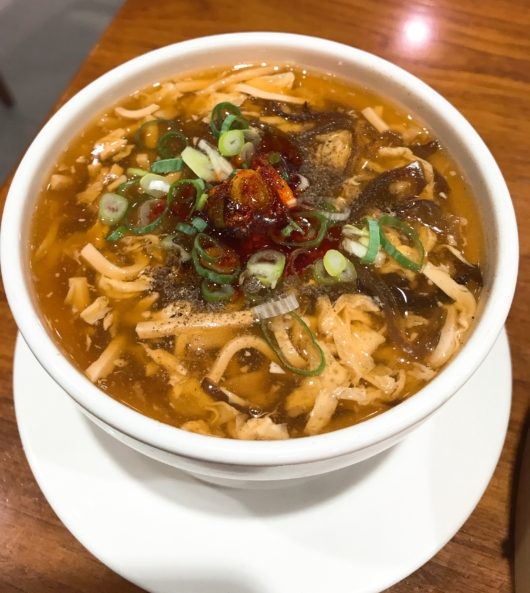 And another one of their recommended dishes, the hot and sour soup.  I preferred the soup to be spicier, but that's just personal preference.
My verdict?  Great quality but overhyped.  Between a disaster and exemplary, I would say this branch earned itself the phrases really good / noteworthy / awesome.
白暮蛋餅先生2號店松菸
My friend told me that Taipei is also famous for its breakfast restaurants (早餐店) so I looked one up nearby my Airbnb and found a couple on the street perpendicular to where I lived on the morning of my departure.
I judged on which one I should enter based on the store's appearance and their menu options, and decided to enter 白暮蛋餅先生2號店松菸.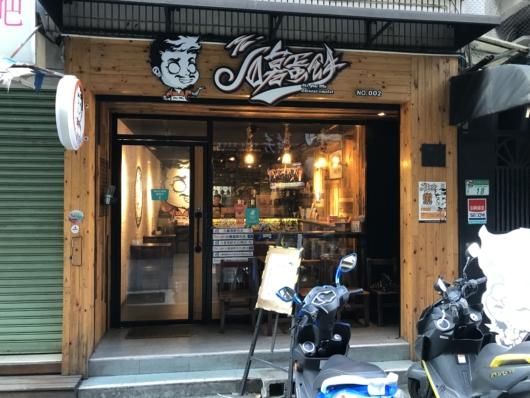 Different breakfast stores have different menu options, some have sort of like egg wraps, others have like sandwiches which you will see below.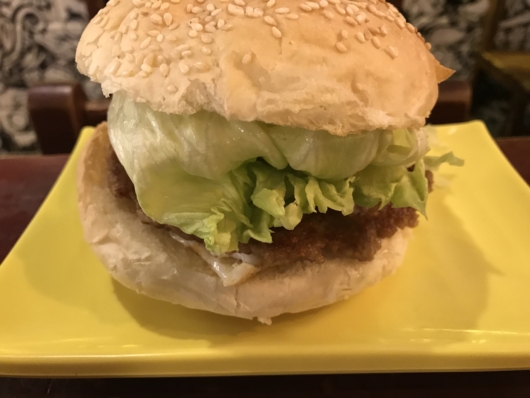 The pork fillet burger with sesame bun.  No wonder I gained 4lbs after this trip
Other restaurants in Taipei that I didn't go but took photos of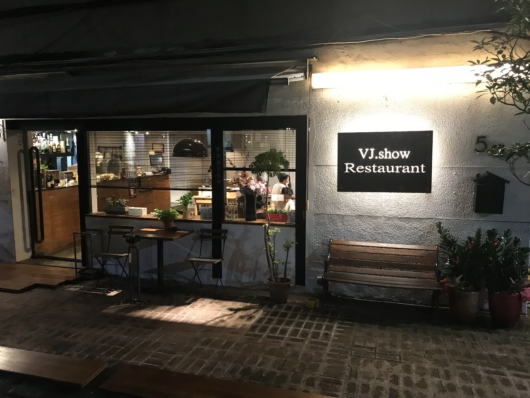 VJ.show Restaurant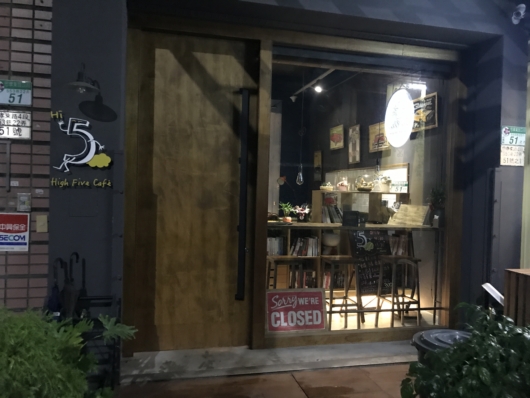 High Five Cafe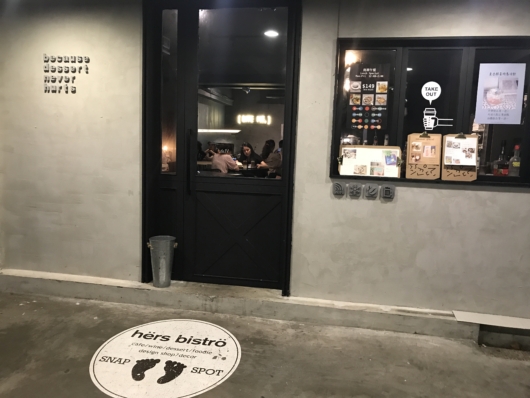 hers bistro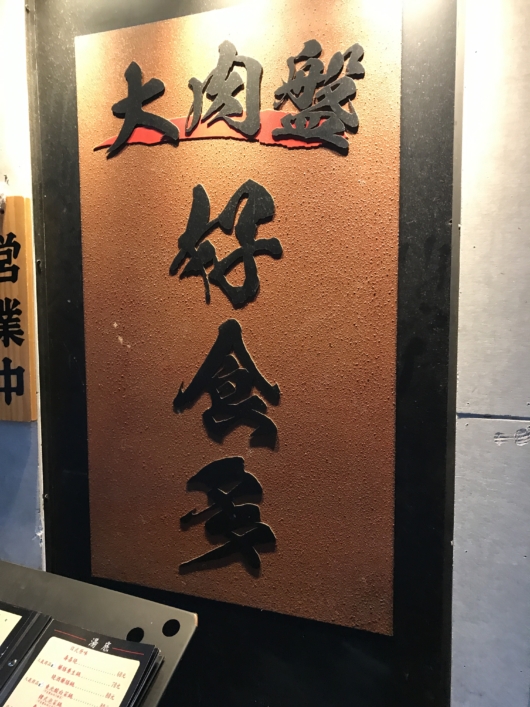 好食多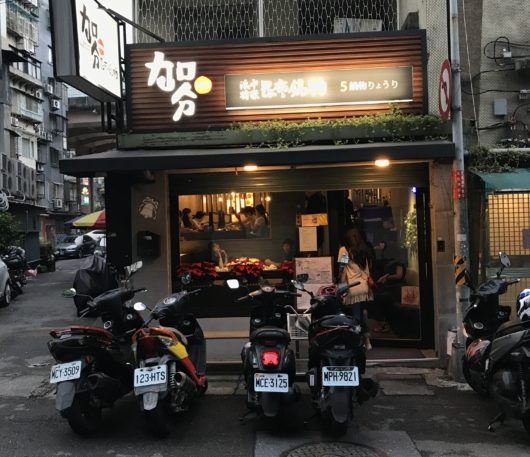 加分100%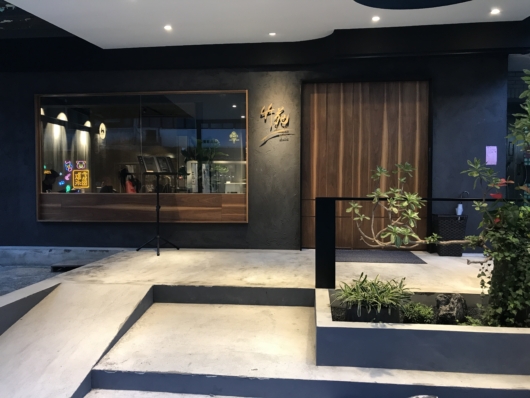 竹苑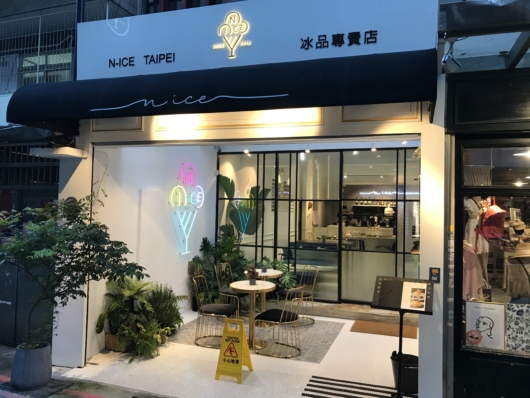 N-ice Taipei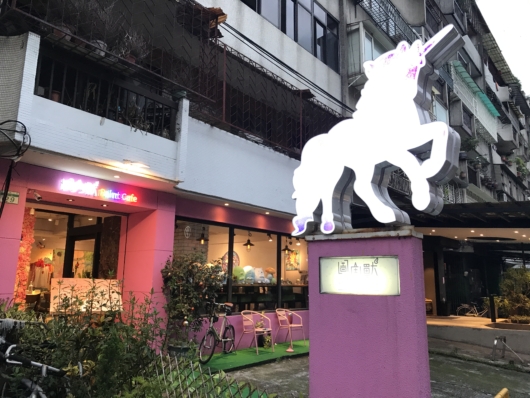 Paint Cafe Taipei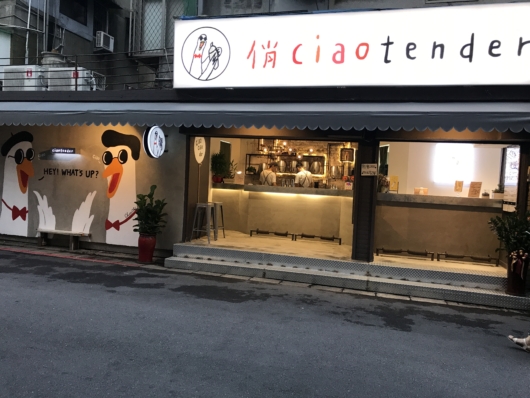 ciaotender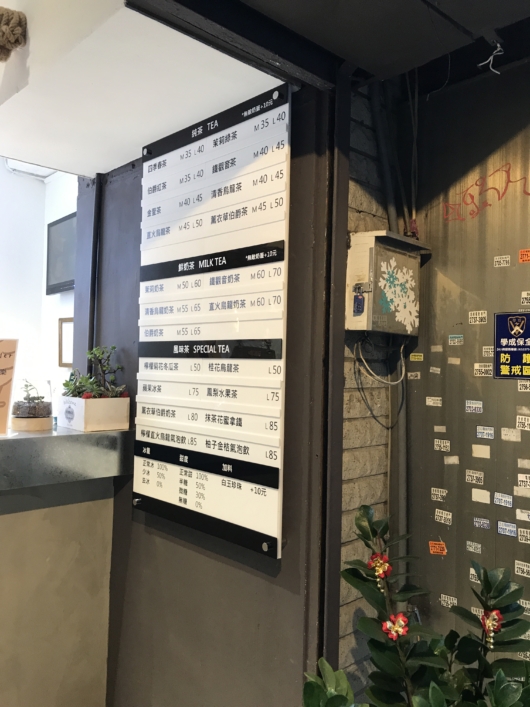 ciaotender's menu
Also another really good one: 魚本味日本料理, near Minquan W. Rd. lots of good reviews on Google Maps, many comments saying it is incredible value
For more restaurants, visit the blogs below:
Things to Do
Nu Cafe Taipei (Facebook)
Again on the same street on where I was living was this beautiful, colorful, striking cafe that stood at the corner that intersected between the main road and my neighborhood street.  It already caught my attention when I was finding my Airbnb on the first afternoon, as if it was a peacock showboating its gradient colors to attract my attention.
Lo and behold, I did end up spending a couple hours in the cafe for the purposes of work, and my productivity was higher than that of being in my airbnb.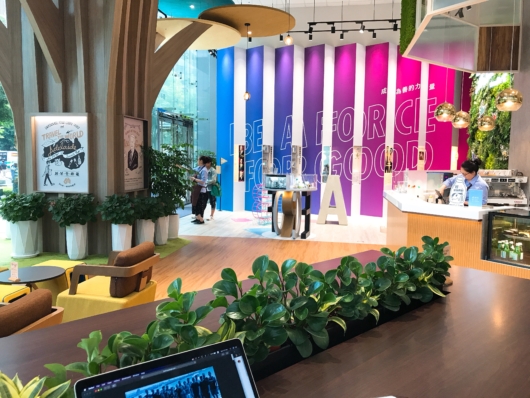 Playful, whimsical colors enliven the atmosphere of this place.  You can see I'm actually working at the bottom left there is my laptop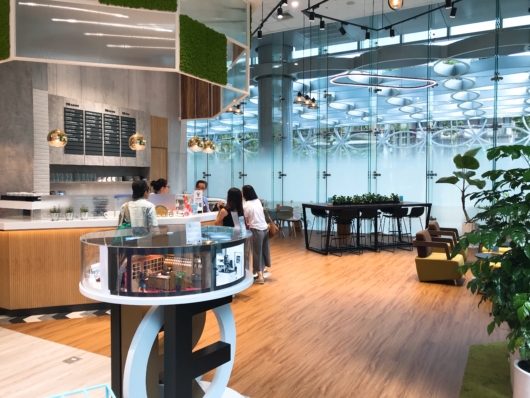 Initially the place was empty as I came around lunch time, but soon enough it was so packed that patrons couldn't find seats and had to wait their turns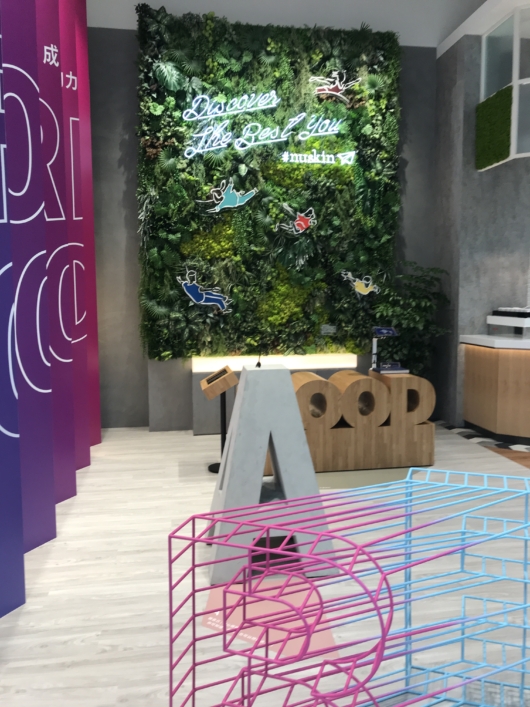 Upon stepping into the entrance you will get this view
Hunny Collection Taipei
Just passed by this store, took a pic.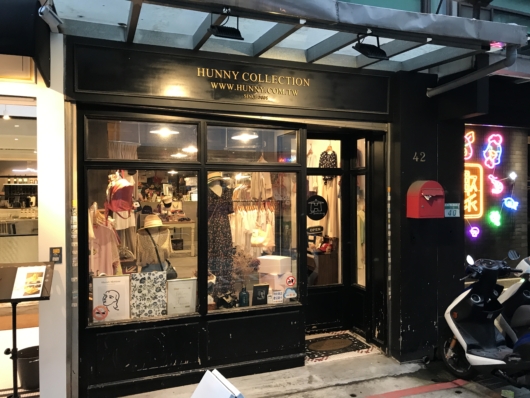 Snappp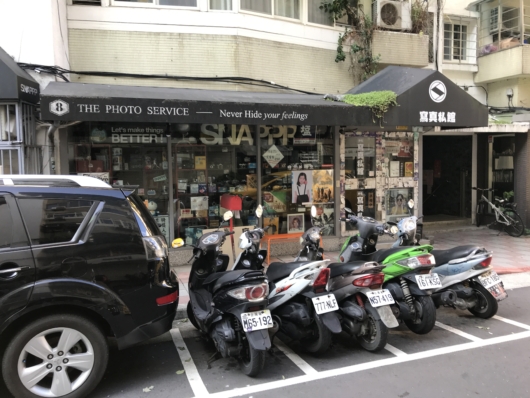 A shop for photographers, nearby my Airbnb
Eslite Dunnan Store
One of the most popular things to do in Taipei is to visit the Eslite bookstores.  Do not be alarmed if people are just sitting on the staircases reading the books, as it is considered appropriate and allowed for book lovers to grab a spot and start reading a book even if they haven't purchased it yet.
Also there is a store in this bookstore called Majorlin (https://www.majorlin.com.tw) they sold motorcycle biker hats.  They also ship globally so you can check to see if there are any hats you want.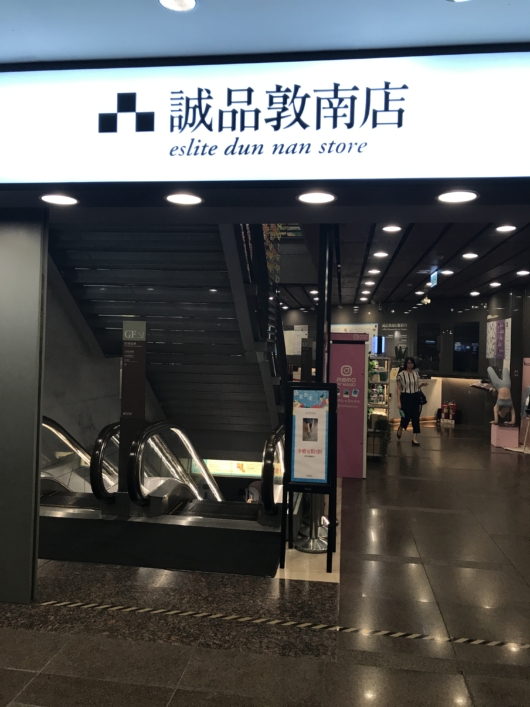 Nightlife – Bars and Nightclubs
Wonder bar&lounge (Facebook)
Last time I also passed by this bar but didn't go in.  This time we decided to check this place out and it turns out it was actually pretty fun and convivial!  We managed to meet the host, who was extremely friendly and generous and wanted us to meet some of her other friends as well.  Funnily enough, we connected as she told us that she was from UC Irvine! (I also studied in California).  Definitely have to come here… one of the cocktail girls also gave us a special offer where if we bought these special cocktails, we get to play some games where we have to tap rapidly between two buttons within 10 seconds and if we get over 100 taps, we get another round of free drinks, which we did!  The special cocktails were priced the same as the cocktails on the menu.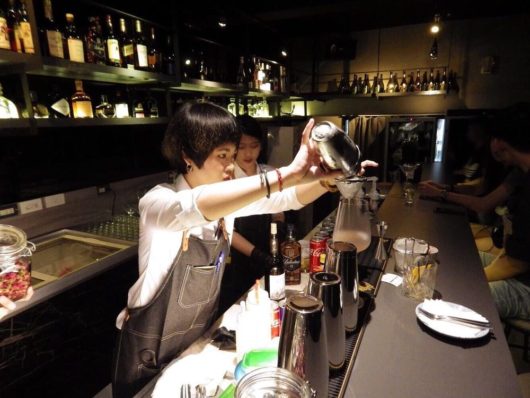 Not my pic, grabbed it from Yelp Singapore
BARCODE (Facebook)
Out of all the bars I've been to in Taipei, this one probably tops my favourite just because of its magnificent views and resplendent atmosphere and décor.  We came right after going to wonder bar&lounge, and I was thoroughly stunned the second I walked into the place.
BARCODE is located near the ATT area.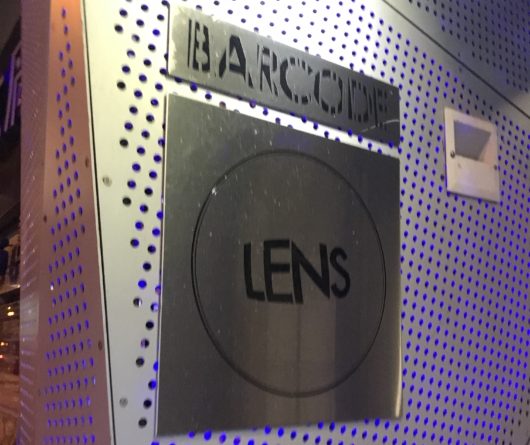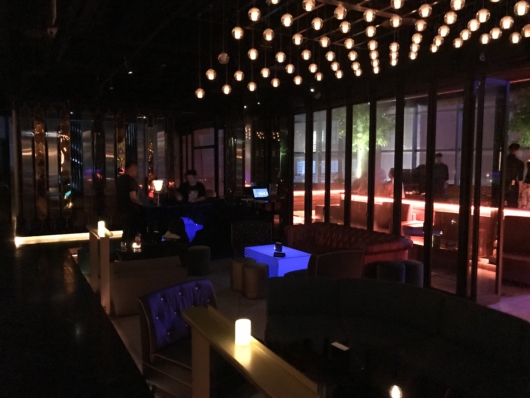 Inside the venue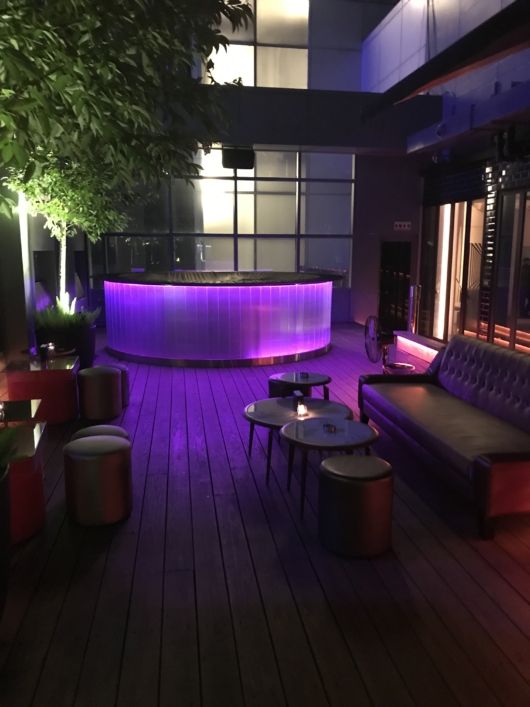 Outside the venue.  From their Facebook page, "Taipei's premier lounge and nighttime destination. Featuring a wide selection of custom, unique cocktails, upscale decor, relaxed and comfortable atmosphere, and DJ's specializing in a wide range of music from classic house, acid jazz, funk, new wave and more."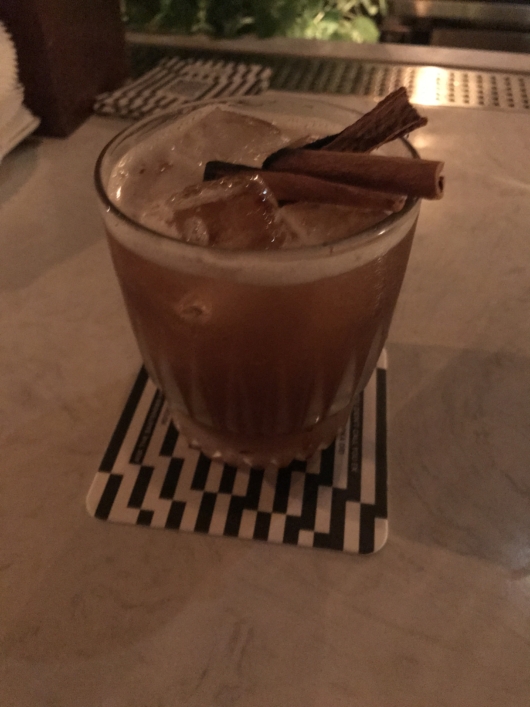 Amazing cocktail
Terminal One (Facebook)
Didn't go in, but the concept seemed cool.  From their Facebook page, "Terminal One was founded on the concept on establishing a venue where all cabin-crews, captains and other airline members, can get together and feel more comfortable in an environment they are most familiar with! It is unbeknownst to the public , but the airline industry is quite a different world amongst the general community ! This is where Terminal One has its place, because this is where "two worlds" can meet and and be enlightened by each other's company ! What better way to be inspired by each others world ? Sipping on a luscious and savory cocktail concocted by our warm-hearted staff!"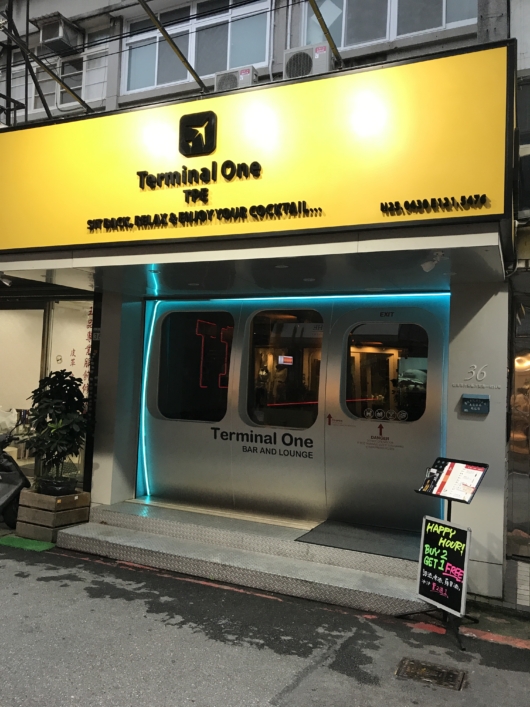 Ounce (Facebook)
There are two popular speakeasies in Taipei, one being Alchemy which I've been last year, and therefore I decided to check out the other one Ounce.
I thought the disguise at the front was really cool, where they set up the ancient SNES system, but actually the door to the speakeasy was right next to it.
Great cocktails, relaxing and chill vibes, it feels enchanting and enigmatic, great place to take dates.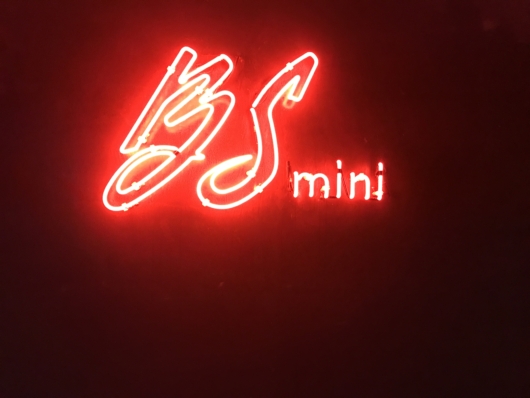 The storefront logo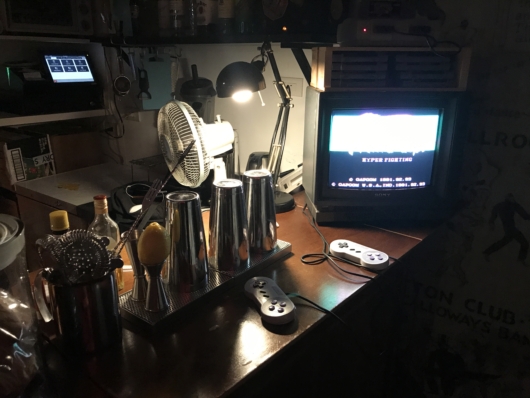 Illusion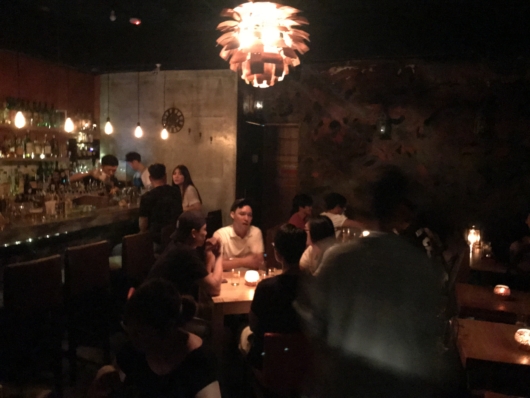 The actual bar
23 Music Room (Facebook)
I wanted to check out this place as they had sorta a "HOUSE + FUNKY SHIT" music kind of night and it seemed more underground which I wanted to check out.  I thought it would be a standalone bar or club or something, but it was actually located inside the Taipei Flower Expo.  And inside this Taipei Flower Expo, there were actually many other bars and clubs, geared towards mainly young students and young expats.  I saw more international people here than anywhere else in Taipei.  It really reminded me of Clarke Quay and gave such an impression.
Anyway, great night, a tight knit group of music lovers in a dark room enjoying the DJ beats.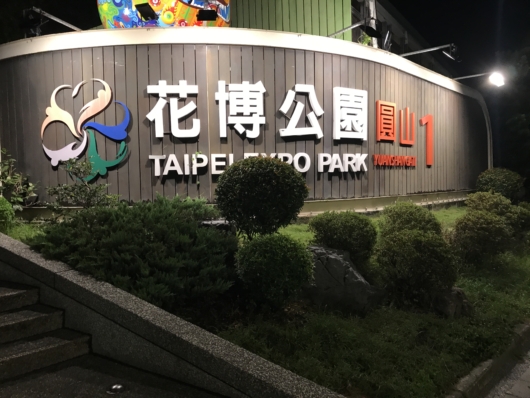 Taipei Expo Park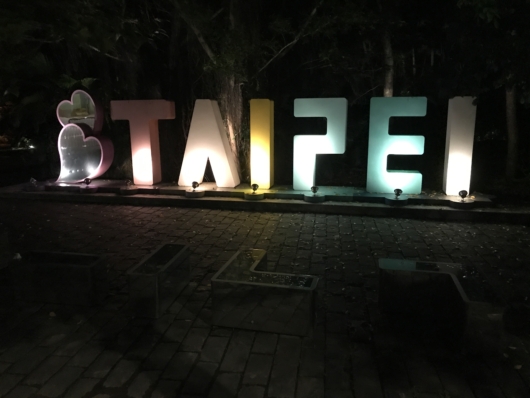 TAIPEI sign.  Sorry a bit dark, this was around 11:35pm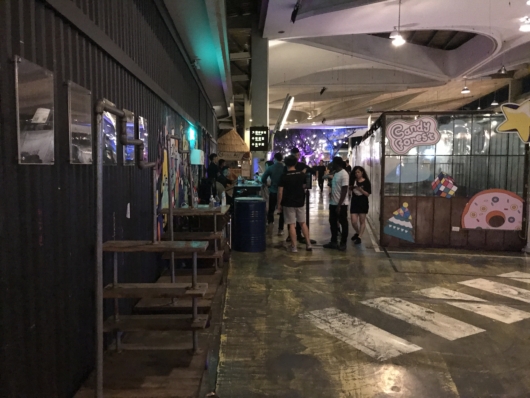 All the bars and stuff.  There's another young club called Triangles apparently my friend says it's really fun, although the crowd that enter tend to be quite young, I'm guessing around 18 years old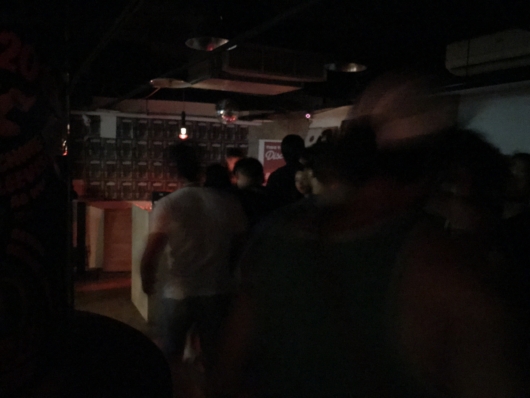 Inside 23 Music Room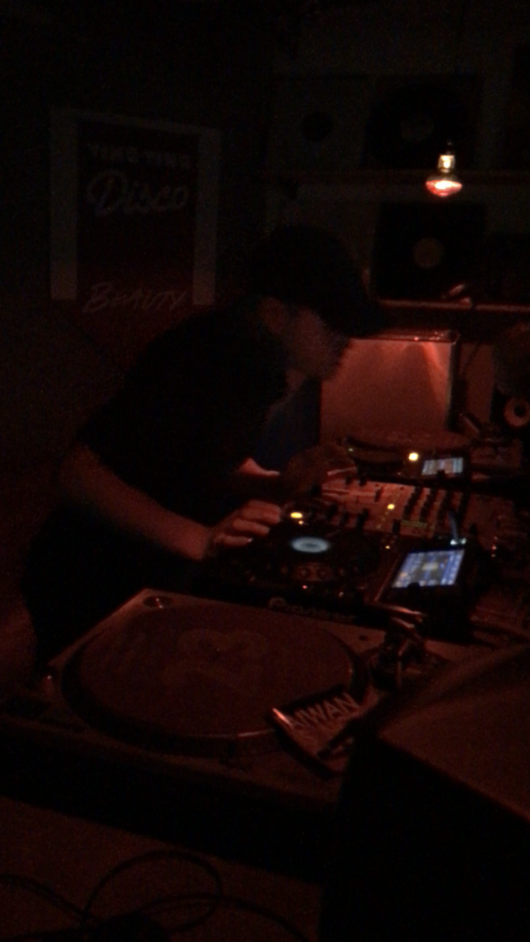 Work it
Other venues we went to over the course of this trip were KOR and Omni, but these places I've either covered or been there many times so not going to mention about it in this post.
Also, in general and I still believe so, many of the Taiwanese people are extremely polite and courteous and super nice.  Talking on telephones are highly discouraged on the MRT and when they talk, it's often done in a gentle and soft manner.  Even when they are impatient, they won't show it, as you will discover in my next post at Keelung Squid Festival.  However, something I did notice was that during the morning rush hour, even though most Taiwanese people are extremely polite and kind, sometimes they will show their aggression or displeasure in the most mildest and subtle of ways.  For example, when I was going into the MRT station near the turnstile which allowed entry in both directions, a couple times I noticed that they would race to get to the turnstile before I did.  They wouldn't run, but they would start walking faster.  As a young boy I wouldn't notice this, but now I feel more experienced in picking up subtle cues.
OK, it seems like this post is already quite lengthy, I'm hitting more than 3,000 words already, and if I continued talking about the things I've done on the outskirts of this city, it will be waaaayyy too long, so I am going to just end here and work on the other blog post soon enough, STAY TUNED!
My other three Taiwan posts:
More things to do from outside blogs:
Last updated: Aug. 5, 2019