If you've never been to Yellowstone, you would think that Grand Teton is one of the most incredible national parks in the world.  We went in early/middle October, right after Yellowstone.  To be honest, it's very hard to top Yellowstone, but Grand Teton by itself is magnificent to go to regardless and should be included as part of your Yellowstone trip.  While most blogs might advise two days to visit Grand Teton, we managed to do it one day at a comfortable pace.
Grand Teton encompasses mountain ranges, pristine lakes, valleys, rivers, open skies, alpine terrains, and if you're lucky beautiful wildlife.  In Grand Teton, your itinerary should be almost like a loop.
If you are coming from Yellowstone, unless you are already living south of Yellowstone, I highly recommend moving to an accommodation near Jackson so it's more convenient for you to reach Grand Teton.  For more information on Jackson, you can read Jackson Hole, The Affluent Town.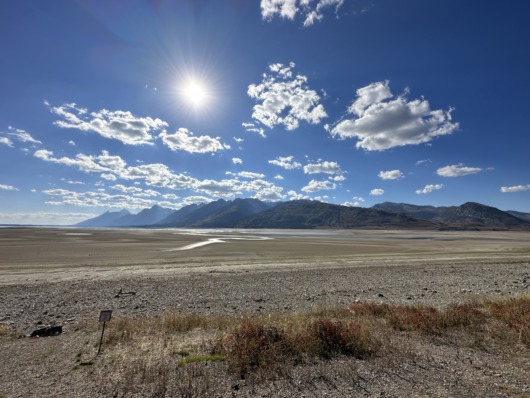 I forgot which stop this photo belongs, so I'm using it as a way to preview Grand Teton.  I think it's Potholes Turnout or Lower Willow Flats Overlook, although I'm not 100% certain.
I'm trying to reduce the number of words and photos in my posts to keep it short, but man oh man there were just so many photos, some taken in the same location at multiple angles, and I had a hard time deleting them, so I decided to include all of them as well.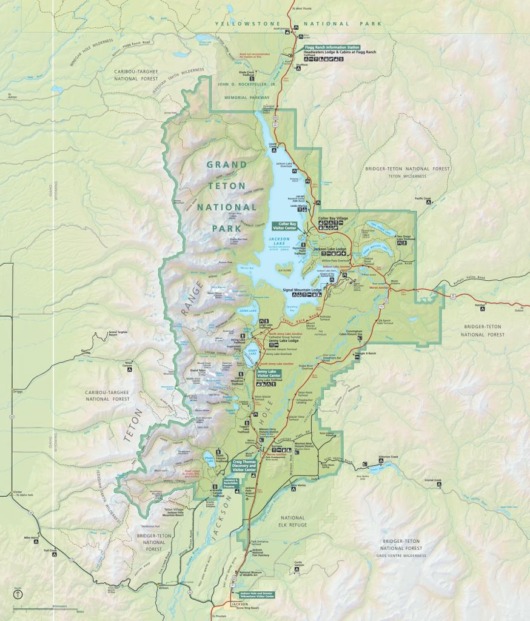 Must visits
These are the stops in my opinion that I think you must go to in Grand Teton.  I did not order them in order of which to visit first, so you and your friends can map out the stops in order that best fit your schedule.
Oxbow Bend Turnout
Because this was the most north of Grand Teton, and we were driving south from Yellowstone to get to our accommodation in Jackson Hole, and since we were passing by Oxbow Bend Turnout, we decided to quickly stop by to take a few photos.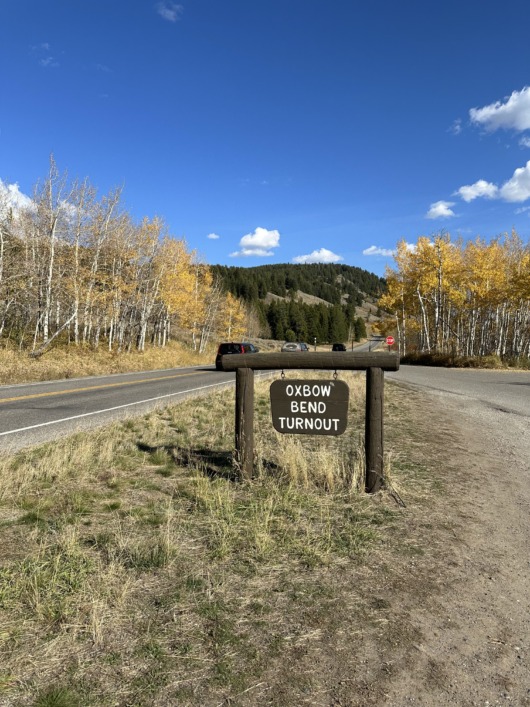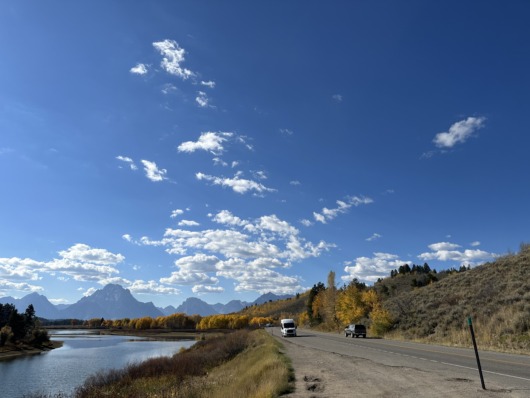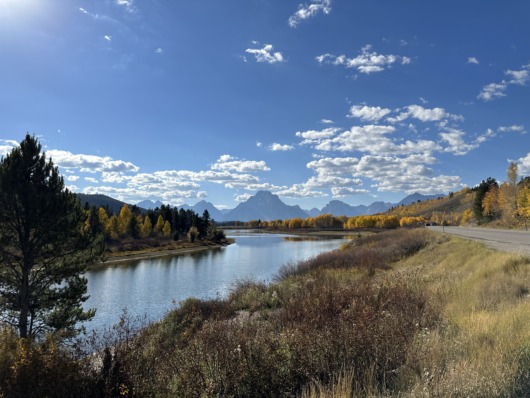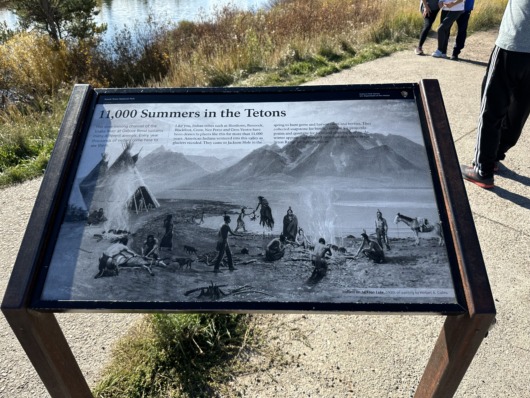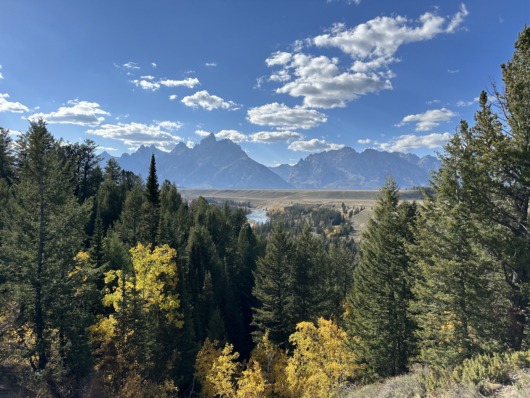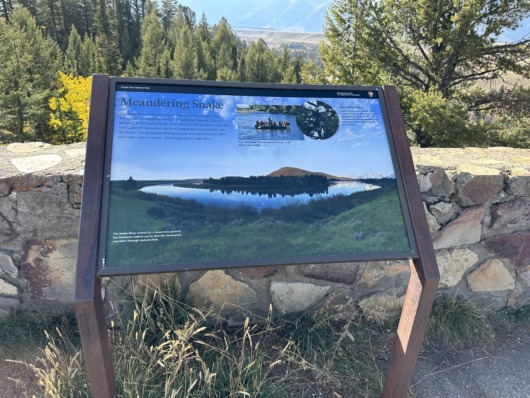 Snake River – a major river of the greater Pacific Northwest region in the United States and the largest North American river that empties into the Pacific Ocean.  Many businesses in Jackson attribute their name from Snake River.
Taggart Lake
Discover this lake by embarking on an easy 3 mile hike to and from the carpark.  It will take roughly 1.5 to 2 hours to go there and return in total.  It is located near the Moose junction.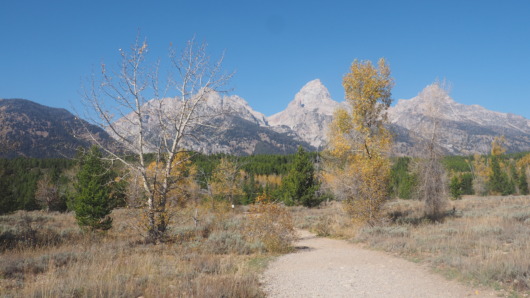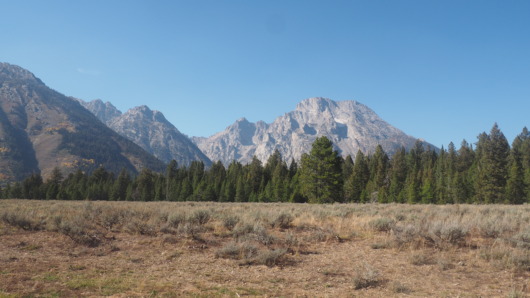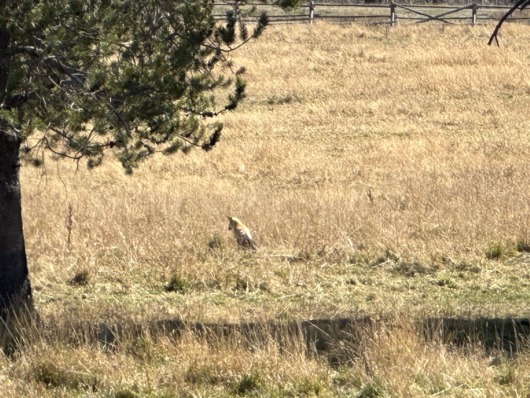 While we were walking we saw this fox!!  Different than the baby fox we saw at our Airbnb in Jackson Hole, but it continues to be incredible!  Second time I saw a real fox in my life from the same trip.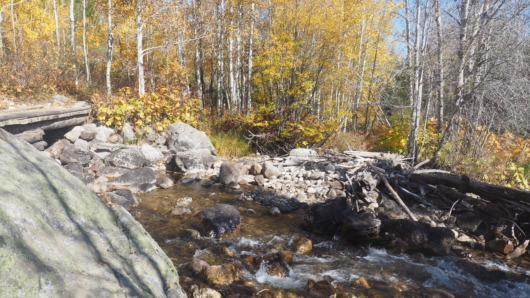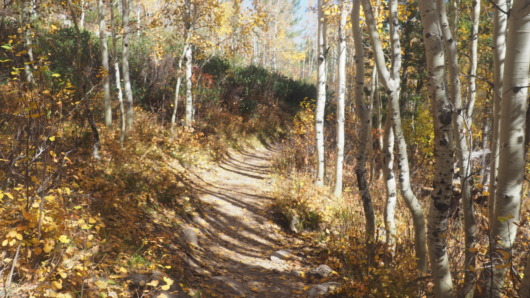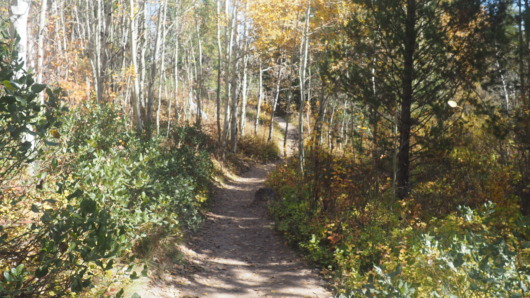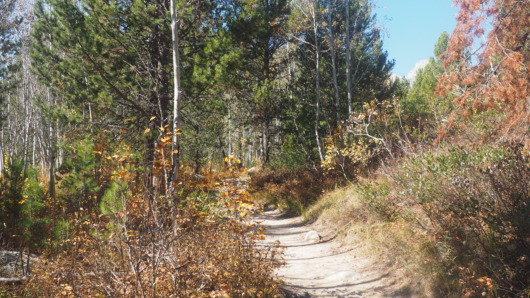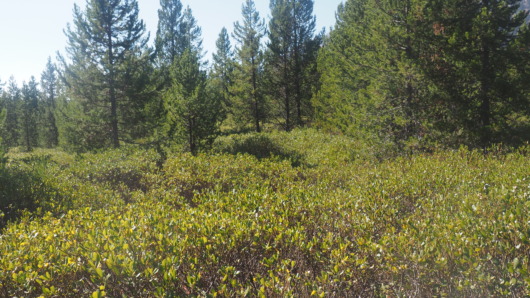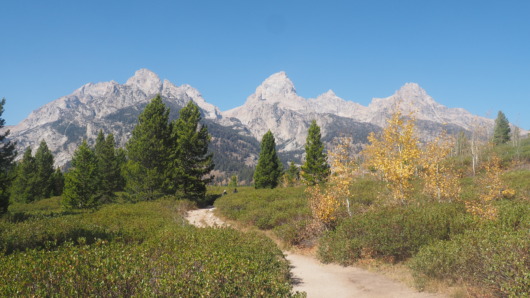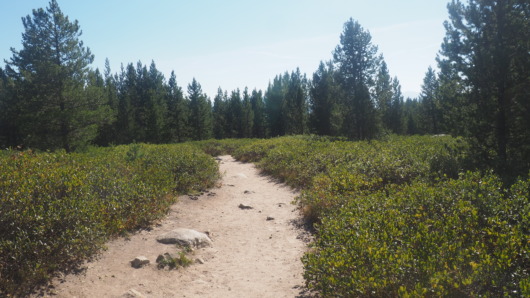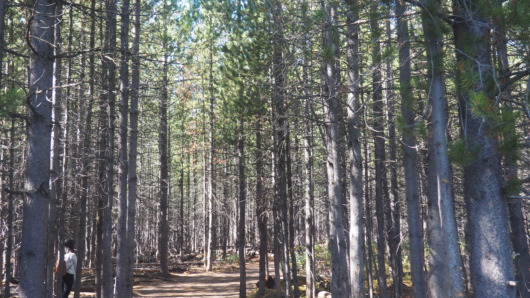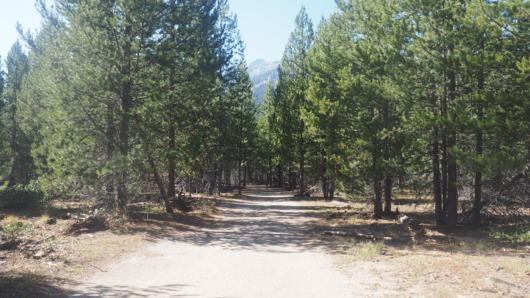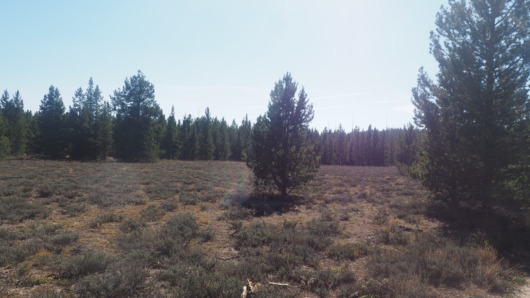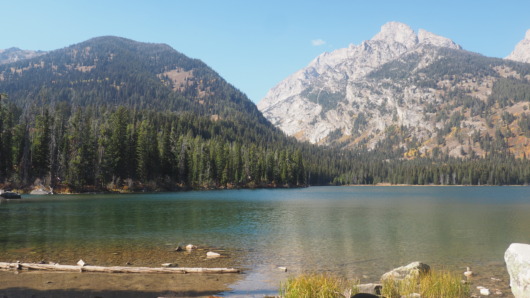 The idyllic Taggart Lake, finally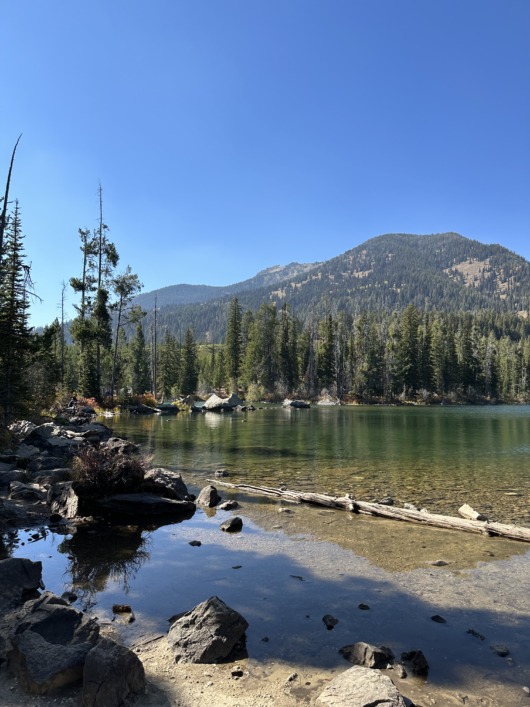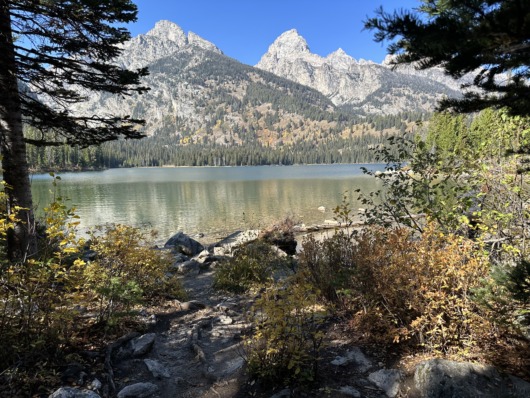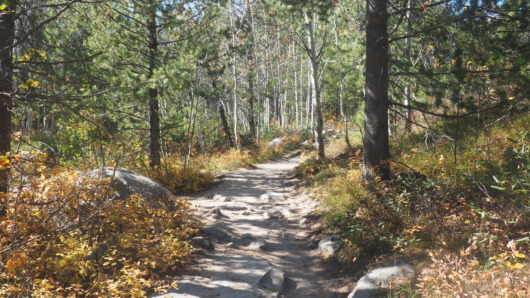 On the way back, same route but retaking some photos of the trail again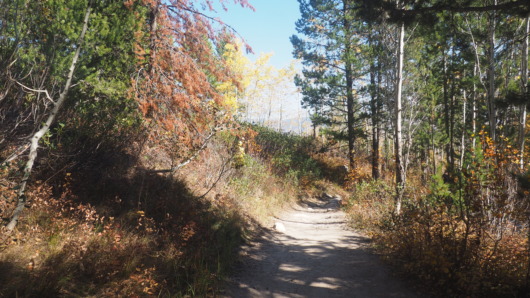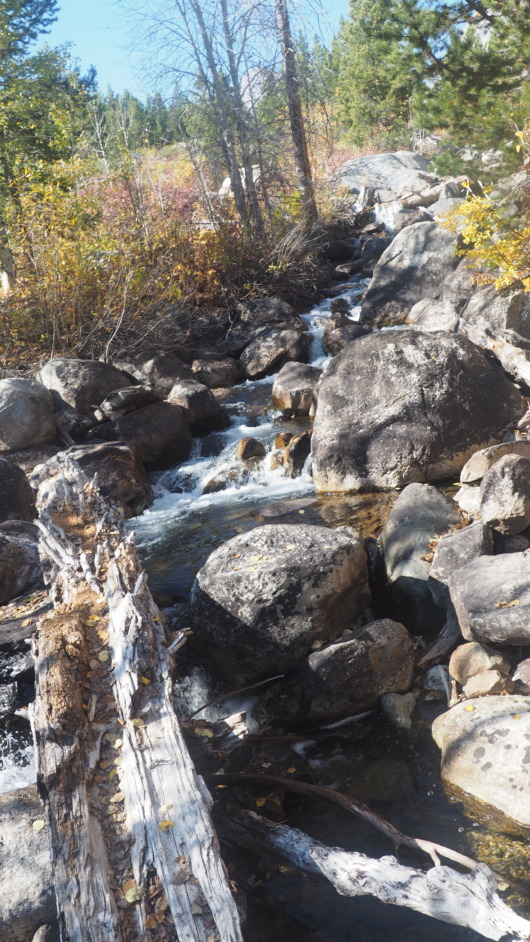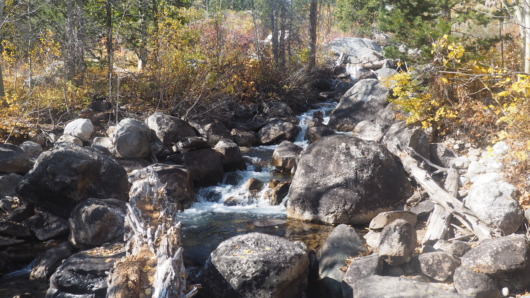 Jenny Lake
Jenny Lake is a huge, magnificent lake in Grand Teton that you must visit to enjoy its spectacular views.  It is much larger than Taggart Lake.  And what's better than Taggart is that you don't have to do a ~1.6 mile hike to get there.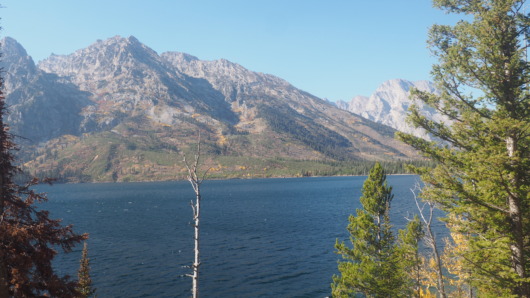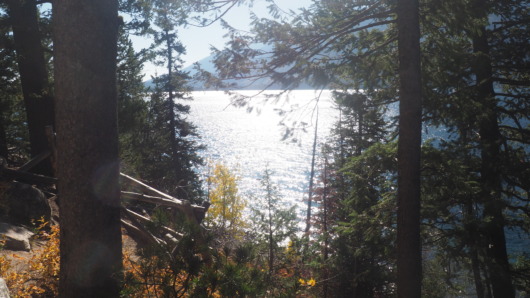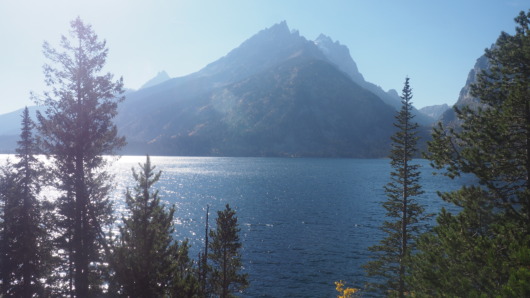 While we simply parked our car and took a few photos of the lake, apparently there is a shuttle boat every 15 minutes that you can pay a small fee for to soak into the views even more.
Jackson Lake Dam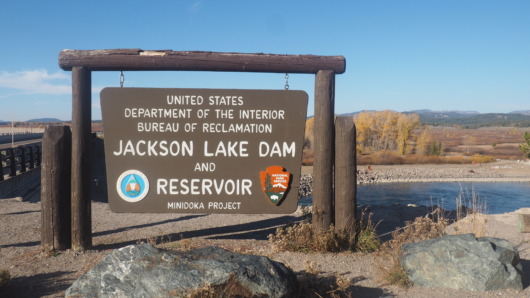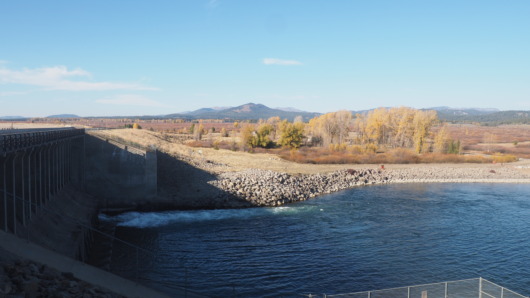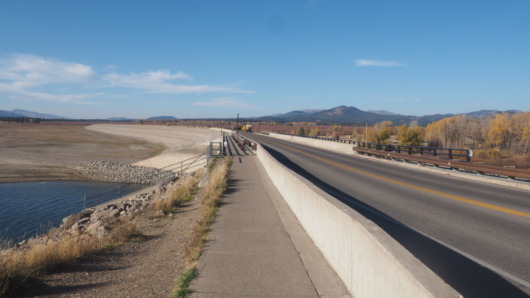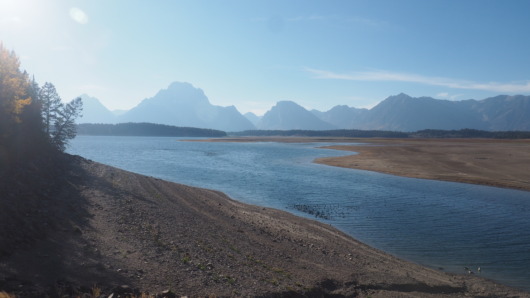 You see a lot of dark dots near the bottom middle of the photo?  That's a lot of baby ducklings swimming to their parents.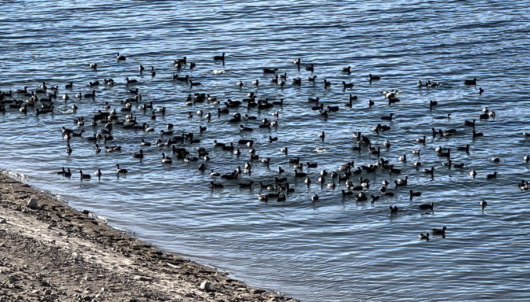 Here's a closeup (from a video I took).  The parents were just chilling and playing around while waiting.
Lower Schwabacher Landing
If you go to Schwabacher Landing, there is an upper road and lower road.  We didn't go to the upper road, but apparently you can take wonderful photos with Grand Tetons in the backdrop.
We went to the lower road and we found the views mesmerizing.  It's not as highly touted as other areas of Grand Teton, which makes this in my opinion a sort of "secret" gem with incredible views.
Schwabacher is a spot on the snake river and gives you easy access to the river.  I remember a mother trying to teach her kid how to skip rocks on the water lol.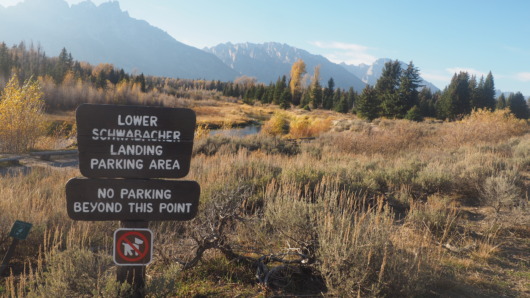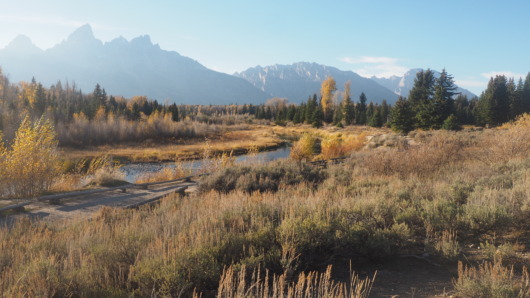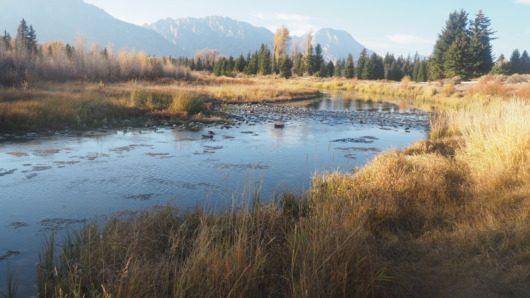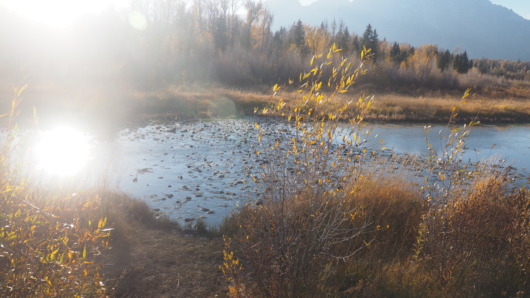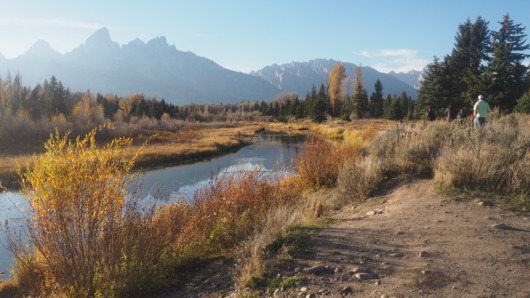 Strolling along the snake river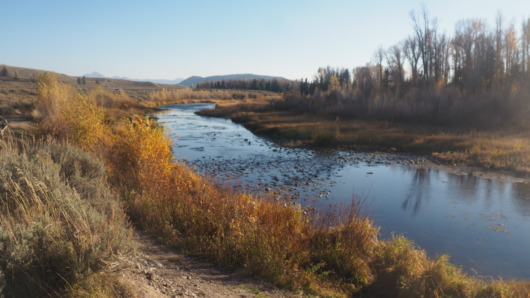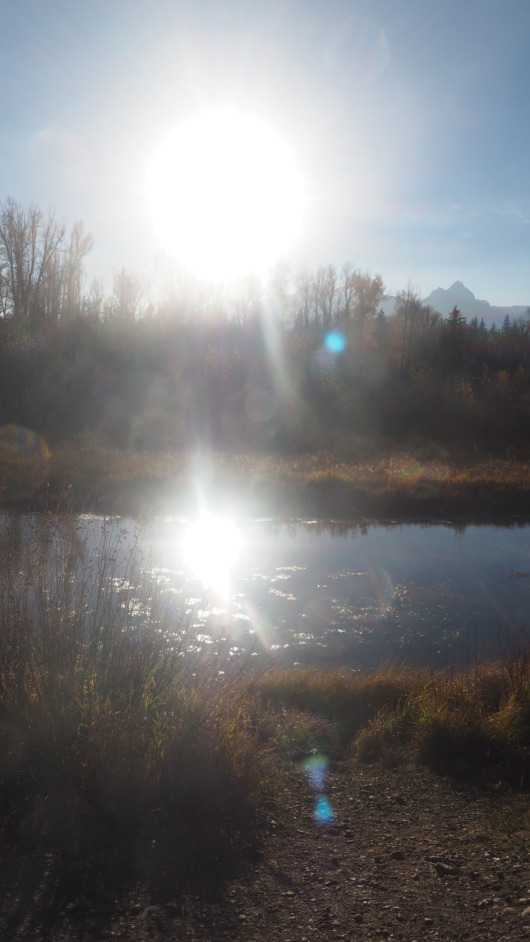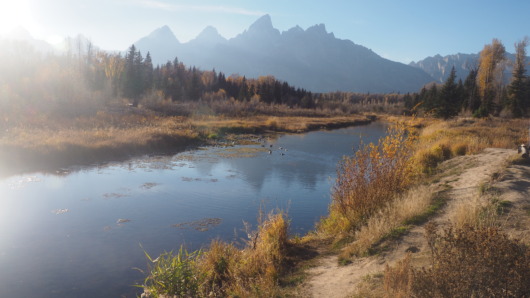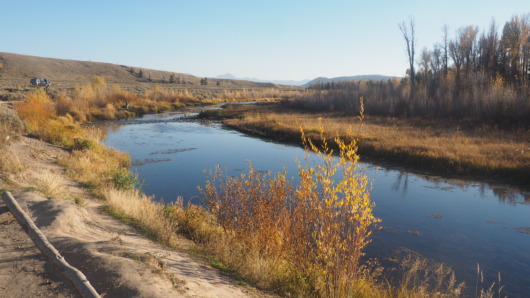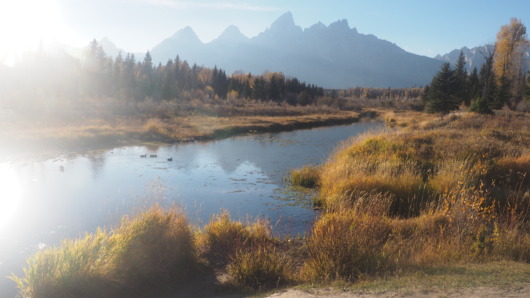 If you notice a couple of black spots on the photo, that's cause they are ducks as well
Optional
Signal Mountain
Getting to the top of the mountain, while driving up a bit of narrow and steep roads, you are rewarded with views of open field.  I slotted into the Optional category as I felt that the open fields that we see here don't necessarily justify it to making it mandatory visit if you are pressed on time.  On a given regular day though, it's definitely a stop you can check out.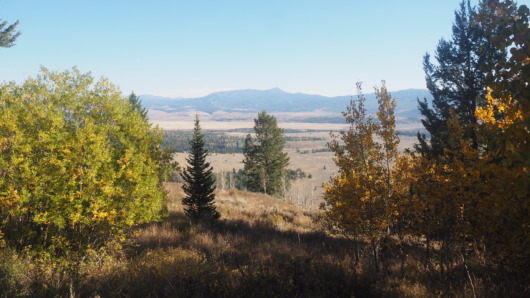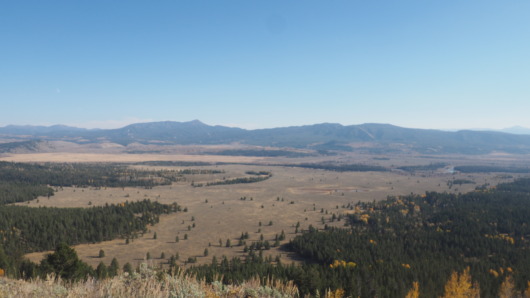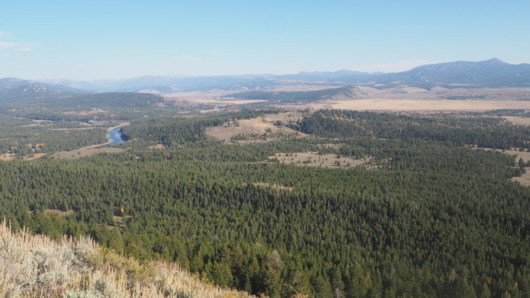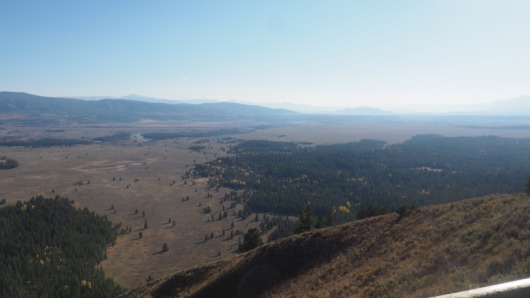 J.P. Cunningham Cabin
So apparently the historical significance of this cabin is that it remains one of the last few remaining structures from the homestead era when settlers filed for nearly 400 claims in Jackson Hole.  From the late 1800s.
For those who don't know what homestead is (I didn't), it refers to a house and surrounding land owned by a family, usually including a farmhouse.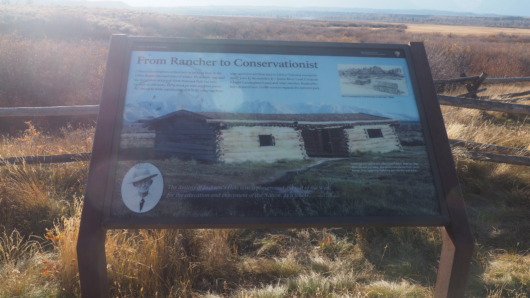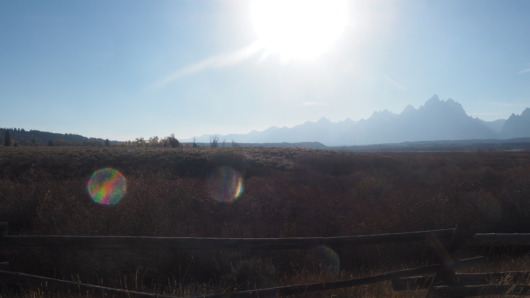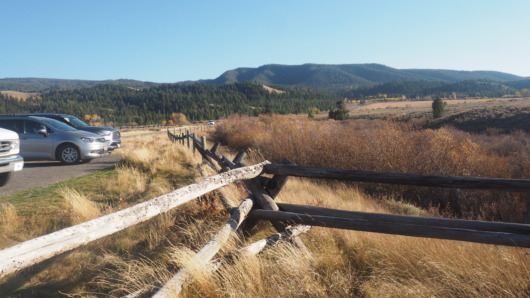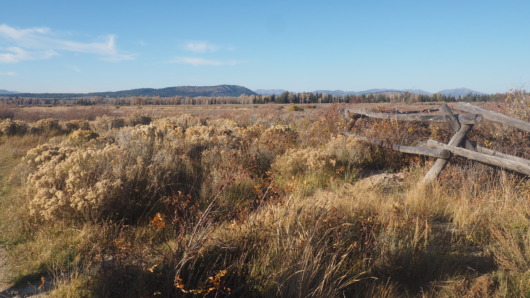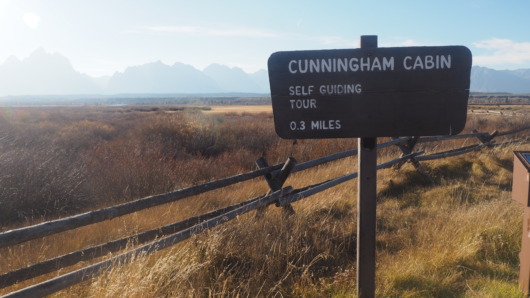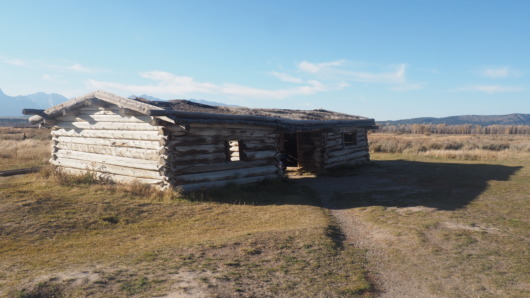 Size is roughly 12.6m x 4.6m, fitting two rooms
Mormon Row
The Mormon Row Historic District encompasses six building clusters and a separate ruin to "illustrate Mormon settlement in the area and comprise such features as drainage systems, barns, fields, and corrals."  For more information, you can visit the National Park Service website and Wikipedia.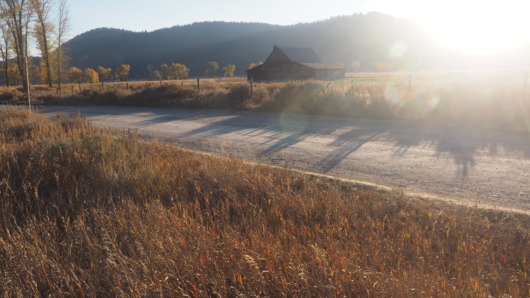 John Moulton barn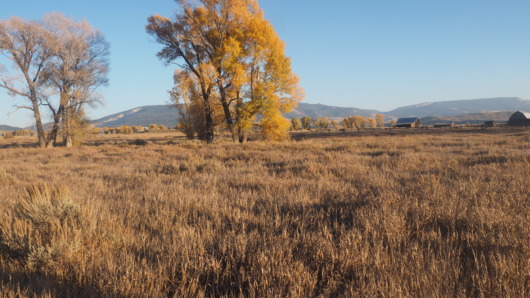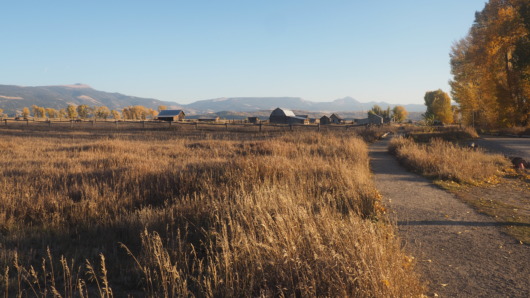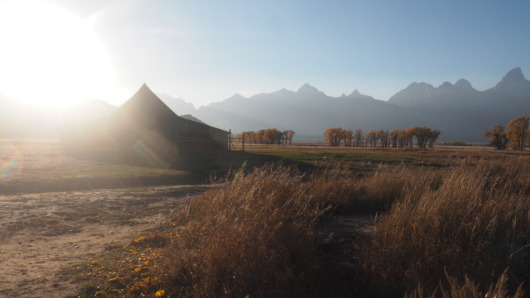 My opinion of Grand Teton?  It is definitely worth a visit!  For us, we visited Yellowstone first before going Grand Teton, and Yellowstone is unbeatable in regards to how blown away we were, which in a sense was unfair for Grand Teton but GT was still very beautiful.  Lots of beautiful mountain ranges, lots of beautiful lakes and rivers, lots of autumn trees.  It's not really just going to these spots that make Grand Teton, but it's about the whole area itself and enjoying all the views it gives you while at different scenic spots or when driving around.
The hardest part about Grand Teton was definitely the hike for Taggart Lake, because everything else was just driving to the spot.  I would try to pack everything in a day and be there by 10:30am, but you should be able to complete everything in 1.5-2 days (but then you will have to drive back again, and we didn't want to do that so we tried to pack everything, which still gave us plenty of time we weren't really in a rush).