This year was Fuji Rock's 20th year hosted by SMASH Corporation Limited.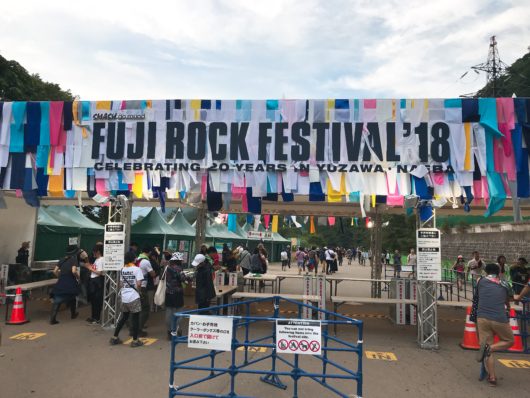 This trip was somewhat unexpected for me.  I "raised my hand" to say that I would go and let my friend did most of the organizing.  Even about 2 weeks before the event, I hadn't heard back from him about any confirmations for hotels, the flights, or even the event tickets themselves, so I thought that I wouldn't be going to FUJI Rock after all.  Thank goodness that this trip actually went through, because I had a lot of fun.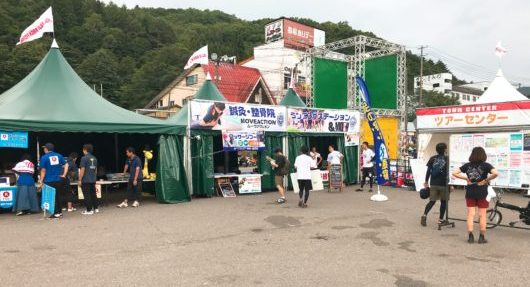 There is massage, also known as MOVEACTION
I would have to say of all the music festivals so far, this one picked extremely talented acts who performed well in live, had a really powerful sound system, and had a diverse amount of genres that everyone was bound to find something that they would like.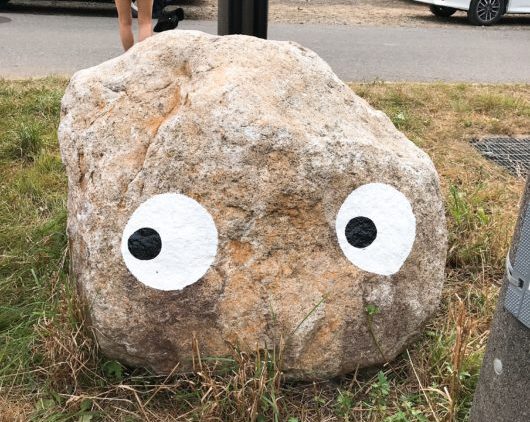 Even the rocks have eyes because they know they were bound to find something
What's most impressive about this festival is that since it's a family friendly event, so you would actually see a lot of kids here and there as well.  Also, I love how there is nothing aggressively crazy at the festival; everyone was very civilised and not drunk and just took care of themselves.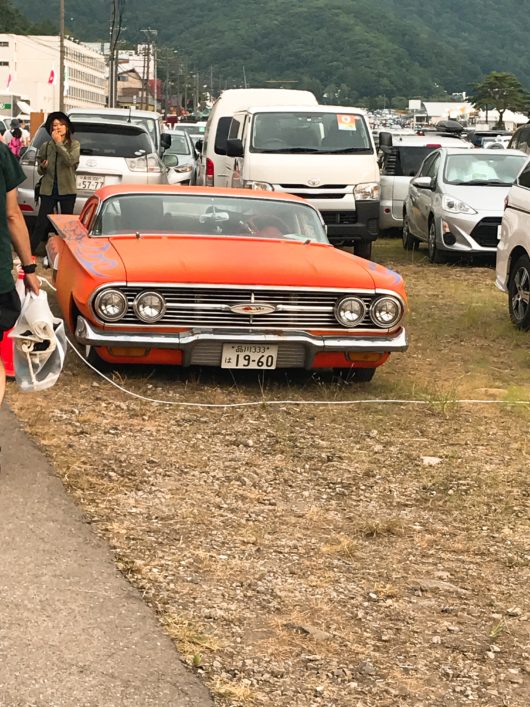 Accommodation and Transportation
Ichibo Senri Onyuyado Nakaya (website)
Our hotel was a 5-minute taxi ride from Echigo-Yuzawa station, the station where all the shuttle buses to Fuji Rock was.  In fact, you can actually call this hotel to pick you up or drop you off at the station during the Fuji Rock period during certain hours.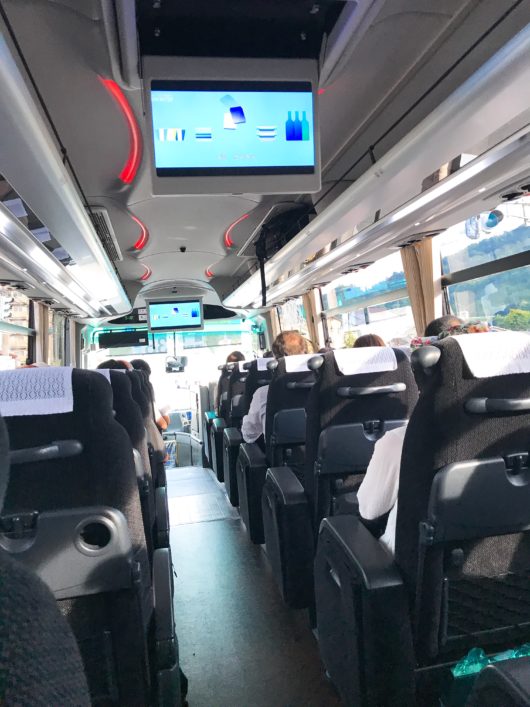 Shuttle bus to Fuji Rock.  About a 40 min ride to get there.  Very great video instructing you the Do's and Don'ts at Fuji Rock.  Most of the time, you have to take off your shoes before using the bus seats' foot steps.  But I'm guessing that since a lot of tourists wouldn't know or obey this rule, they covered every foot step with plastic green bags.  Super organised and I was very impressed.
Our hotel was great.  On Friday it seemed like we were the only ones in the entire hotel.  The onsen was to ourselves, and yes they still had onsen available even in the summer.  For some reason, when we went to the outdoor onsen, even though it was summer and quite hot, there was a nice windy breeze and the surroundings was cool enough to make onsen quite enjoyable.  The onsen was amazing as we got to look out to the public area.  They also had an indoor onsen and a sauna as well.
Breakfast was served at 3 time options – 7:30am, 8:00am, and 8:30am (pick one).  Of course, we opted for the 8:30am both days since we both wanted to sleep in more.  They served very traditional Japanese food.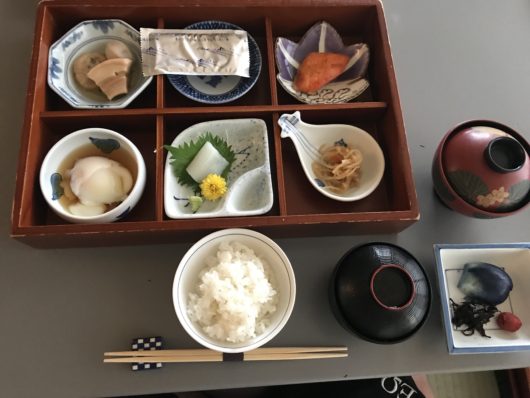 Our rooms were quite spacious – we were living tatami style, and in the bathroom you can overlook the outdoors so it felt like you were bathing while enjoying a fabulous Japanese view.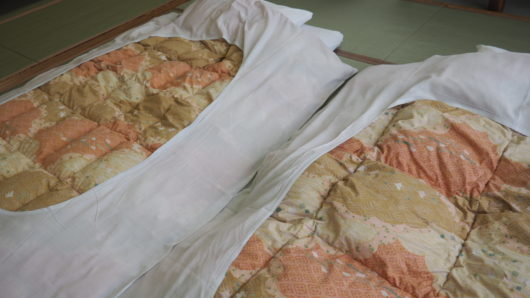 Actually very comfortable.  Except when the morning comes, light seeps in and you cannot 'cover the curtains'.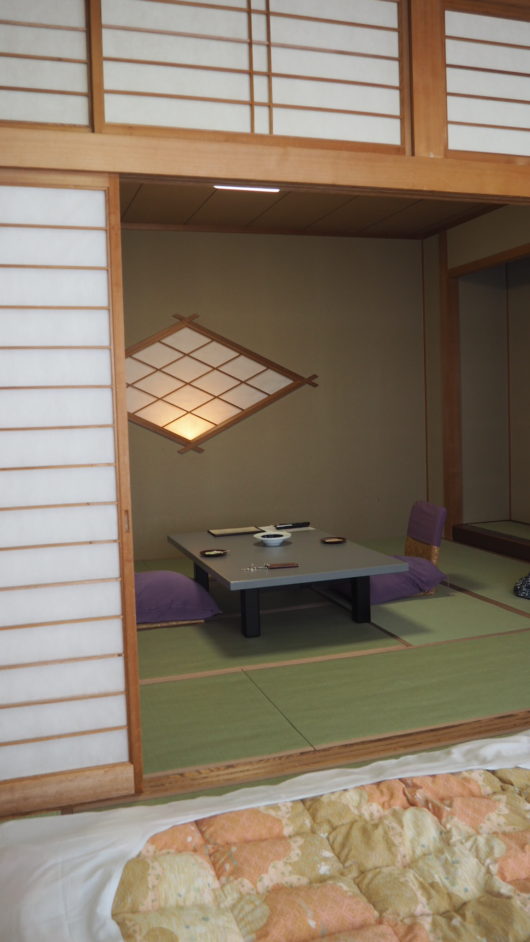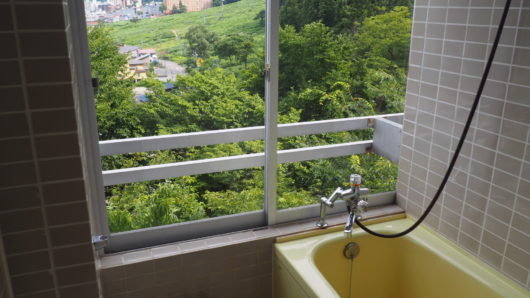 Enjoy your shower while looking outside.  NO CURTAINS.  Actually most of the time we showered after onsen anyway.
That said, the downside is that it actually isn't located next to Fuji Rock.  One time, I got back to the station around 6:45am, and since there were very few taxis with people queuing already, and since the pick up car from our hotel wasn't available until 7:30am, I had to walk back all the way to the hotel, which wasn't extremely bad took about 20 minutes, but I didn't had any phone battery left so I relied on my instinct and on my memory from my "outdoor onsen experience" on the things I was supposed to pass through to get back to the hotel.
If you want to stay close without camping, there is the Naeba Prince Hotel which you must book really early as it gets full very quickly.  I've heard that the hotel is actually soso so don't expect a 5 star service and room.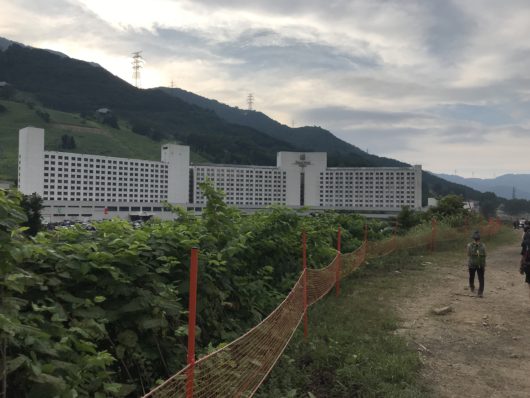 Naeba Prince Hotel (website).  Most rooms are booked by the company to save it for the artists.
Food
In most music festivals, you might expect the food to be meh.  I personally think that the claim that food in Fuji Rock is outstanding is a bit overhyped, but compared to a lot of music festivals, it actually is pretty good.  Now not all the stalls provide delicious dishes, so you really have to just do a trial and error to find the good ones.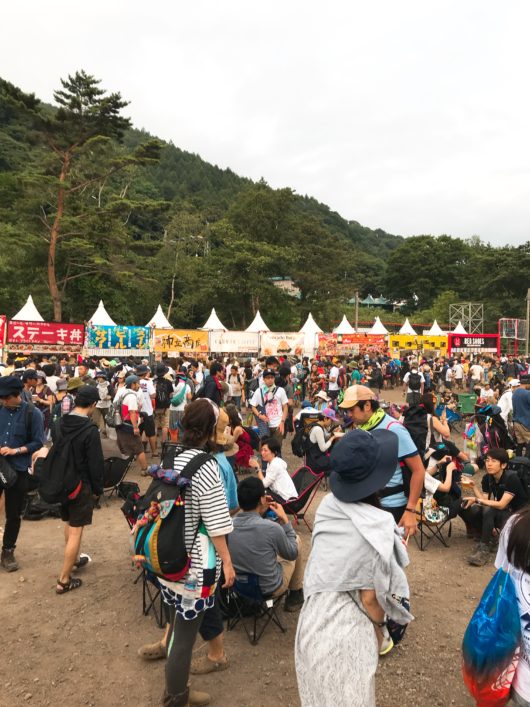 Food stalls EVERYWHERE.
There were lots of different styles, from Taiwanese rice and noodles to Okonomiyaki and Japanese curry and ramen and more.  Our favourites were a chicken rice and wagyu rice.  One was near the entrance, and the other was at the opposite end of the festival (30+ mins walking distance from entrance).  Many of the foods were priced reasonably.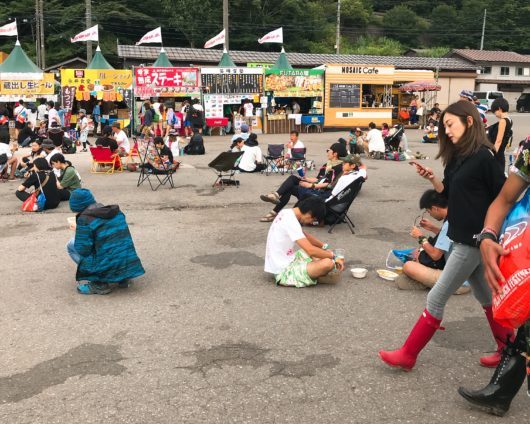 Even before you get into the venue, there will be food stalls.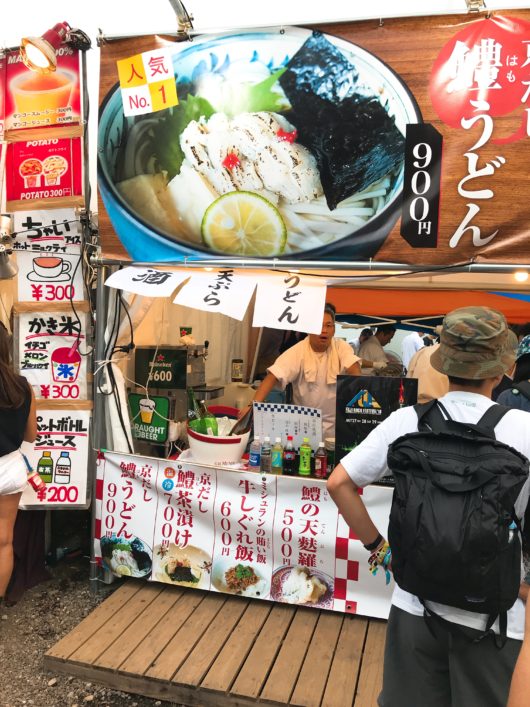 Fish Udon Kyoto Style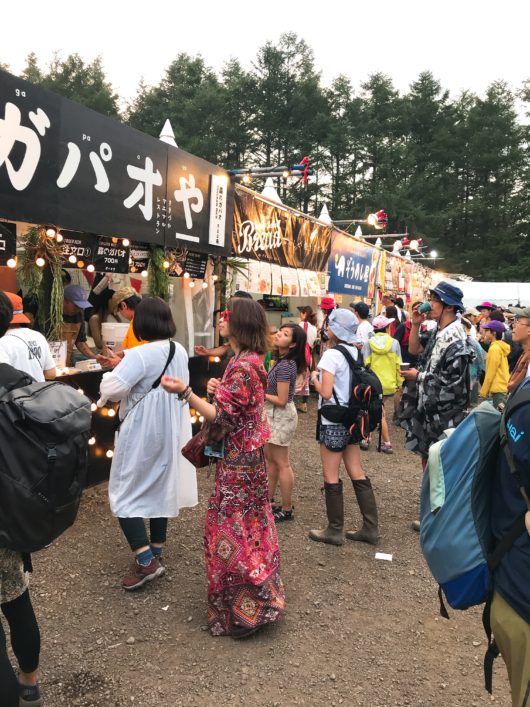 This black stall to the left was where we had our delicious chicken rice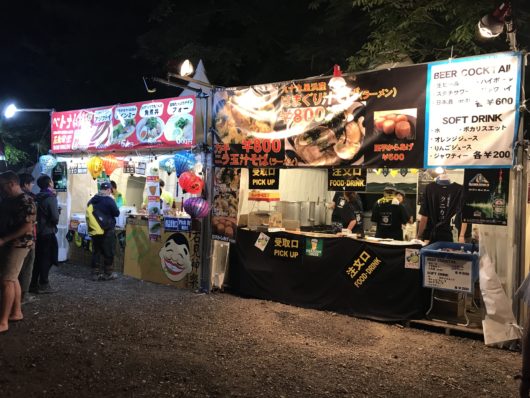 Tomato curry.  Not very good as it was warm when served, and it was a bit too liquidy.  Also, we preferred the normal Japanese curry.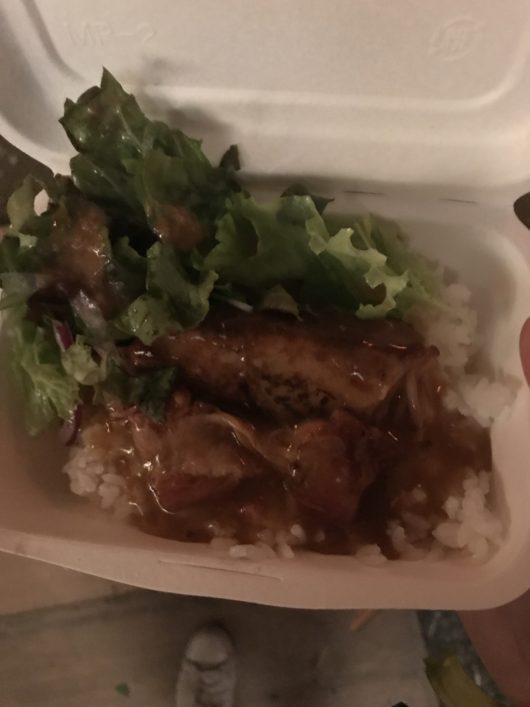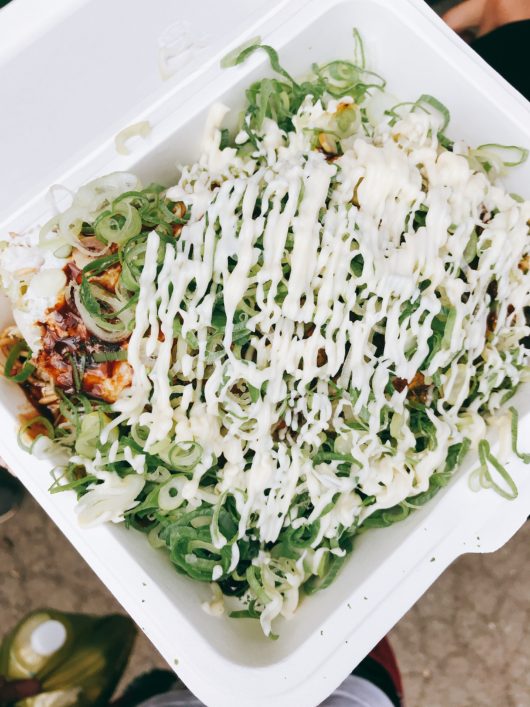 Okonomiyaki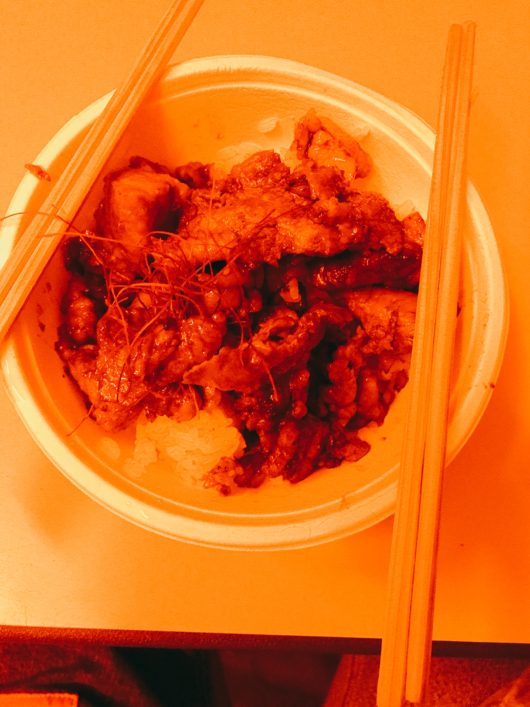 Wagyu rice.  This one was the BOMB.
I also got poutine as well haha.  Yes we were fatties.
There were also craft beers, organic coffee, and lots of other alcoholic and non-alcoholic beverages you can get at the event.  When lining up for food stalls, especially when they have a long line, they may give you a "sign post" that says its the end of the line since it may get confusing with so many people at Fuji Rock, and you pass it on to the person behind you.  I thought that was very clever.
The Experience 
If I had to use three adjectives to describe this festival, I would have say impressive, surprising, and inspiring.  Impressive because all the music was good; it was extremely well organised (small rooms of improvement though could be if a typhoon came like what happened).  Surprising because there were so many cool acts and I did not expect this many people or how professionally organised this would be.  Inspiring because after listening to all these music, now I want to take my music more seriously.  In fact, something I have to do this week is to listen to the rest of the artists that I haven't heard yet.
Friday's lineup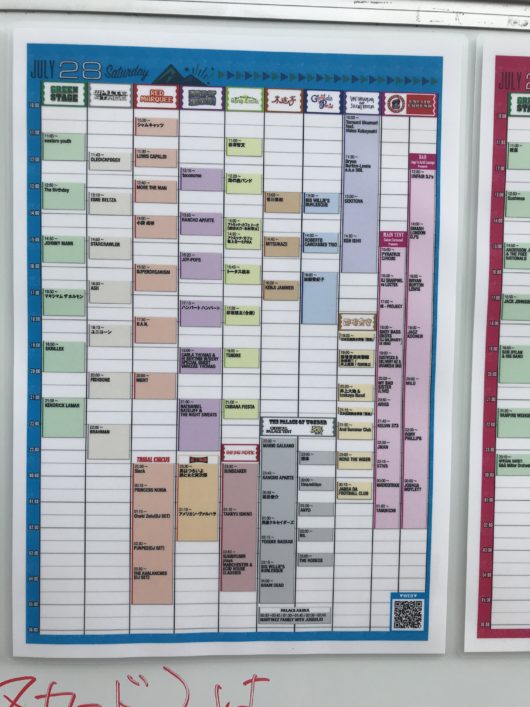 Saturday's lineup
Acts we listened to and highly recommended – NERD, Kendrick Lamar, SUPERORGANISM, Sakanaction, Post Malone, D.A.N. (DJ Set), Ken Ishii, Mushy, Goth Trad, D.A.N., MGMT, MY BAD SISTER, THE AVALANCHES (DJ Set), and more.
Sakanaction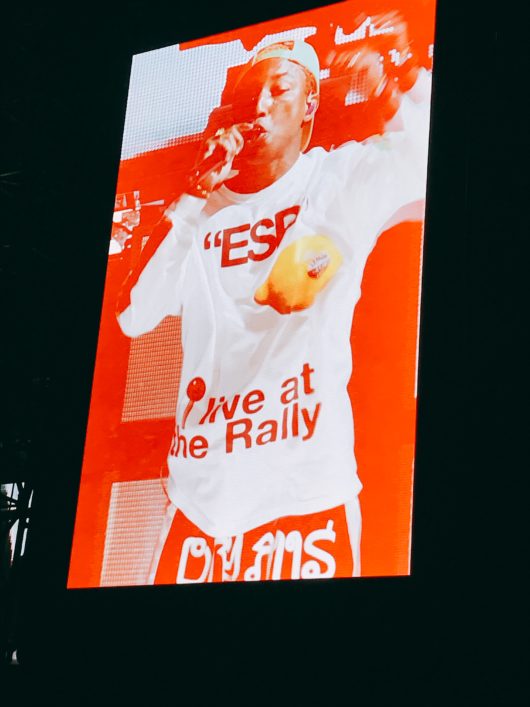 Pharrell – he tried many times to get a circle open so that people can mosh, not knowing that moshing is actually restricted in the festival =P still he managed to pull off somewhat of a circle to get people sorta moshing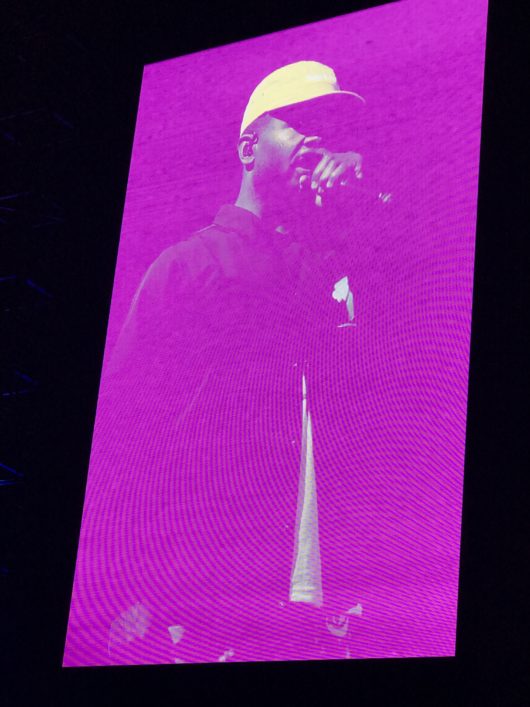 Other duo from NERD – Chad Hugo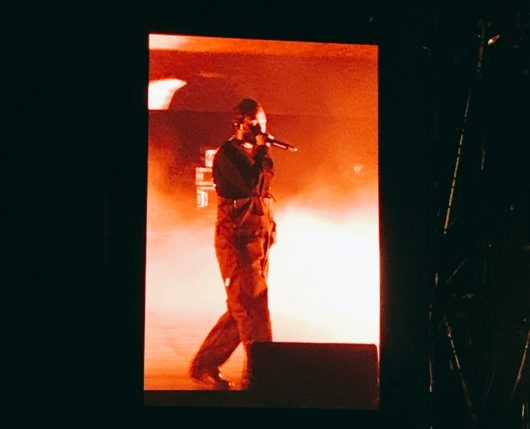 Kendrick Lamar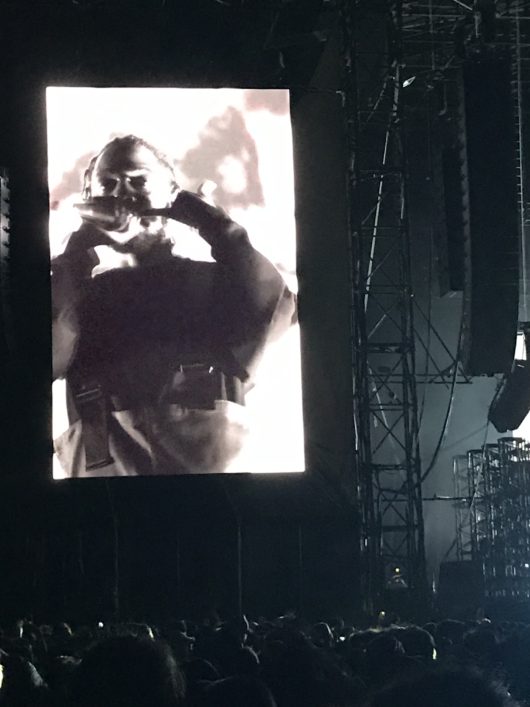 Touring as Kung Fu Kenny
Stage for KL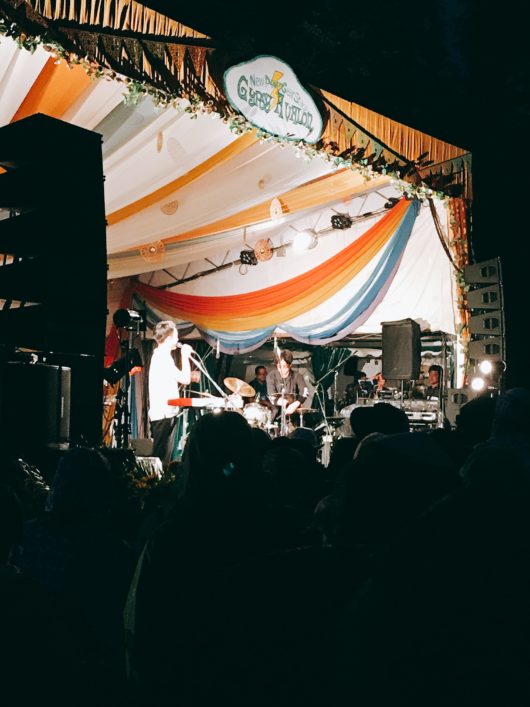 Another Japanese artist at the Gypsy Avalon stage.  We stayed briefly for about 5 mins.
What's also cool is you get to bask into the beautiful sunset of Japan.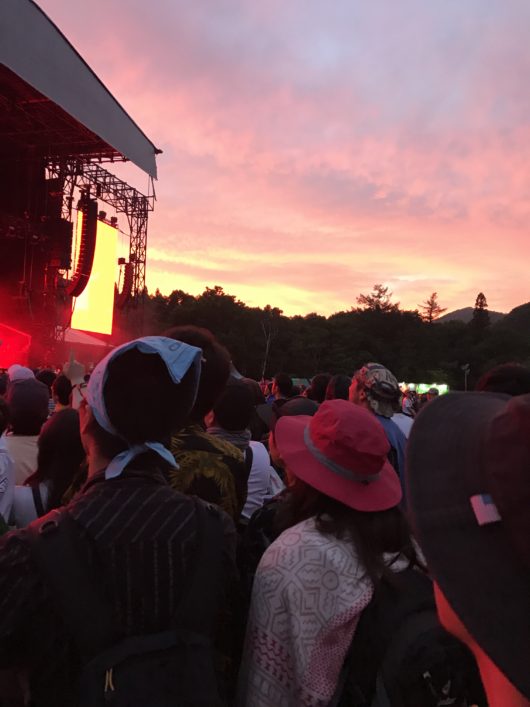 Tips and Strategies
Here are a few pointers to help you with your future Fuji Rock experiences:
Listen to the artists ahead and see which ones you really want to listen to.  We ended up stumbling into a few artists depending on its time slot and location, which all thankfully ended up to be amazing acts.  There are so many artists to see, but you have to be realistic in that you aren't going to see all of them.  I would average out to have seen about one artist for every 2 hours.  You also need to factor in walking time, eating lunch time, waiting for your friends time, fighting to get into the venue time, bathroom time, and so forth.
It does get quite chilly at night, so if you wish you can bring a light jacket.
Do make sure you note the time of the last shuttle bus!  On Friday, we thought the last shuttle bus was at 3am, so we were waiting to catch it at 2am, only for the security guards to tell us that the last one was at 1am!  So what ended up happening was that our friend had to randomly ask a Japanese stranger to help us book a taxi.  We asked what the taxi license was, and he just said to recognize a black taxi with a green top (which was like all the other taxis).  All the taxis that were stopping by would shout for your name, and none of the taxis shouted our name.  It was supposed to be a 15 minute wait, but we kept waiting and waiting and decided we will just grab one of those empty taxis that aren't reserved through the phone.  In fact, we actually weren't in line, so we were telling the people queuing that we were really sorry but since we arrived there first if we could just jump the queue so we could go home, and thankfully they were OK with that.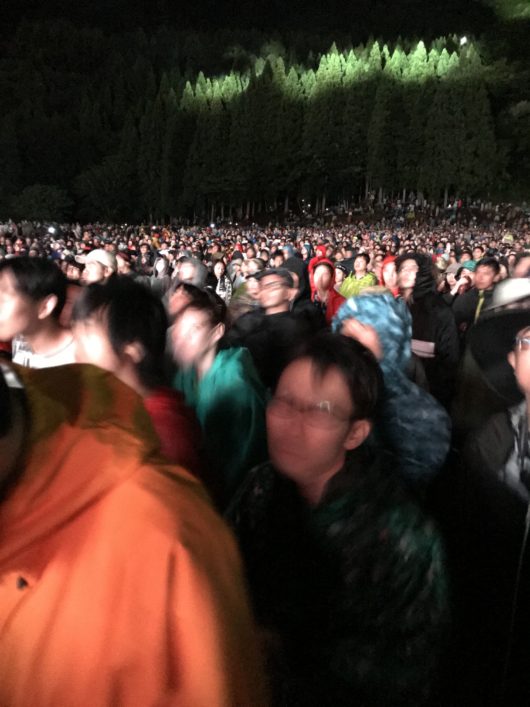 Everyone was wearing poncho cause typhoon winds and rain was pouring on Saturday.
See if it's going to be a rainy season.  My friend was clever enough to recognize that it was going to rain on Saturday since a typhoon was expected to come so we bought ourselves ponchos.  And boy was that a really great decision since it ended up raining extremely heavily from 5pm throughout the entire night and it was freezing cold.  I have never experienced winter during summer season before.  It was raining so hard that my shoes continued to be soaking wet the next day, which I had to keep wearing =[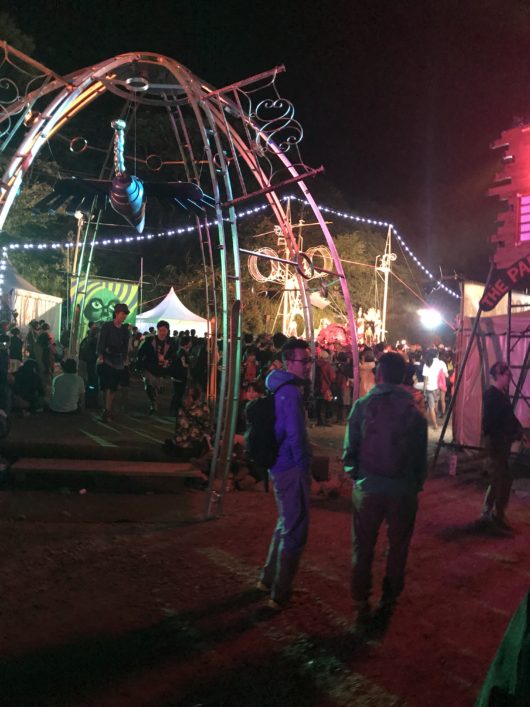 Clean up your own trash.  Their festival is super clean because everyone cleans up themselves.  You do not need to bring your own plastic bags as there will be trash areas here and there.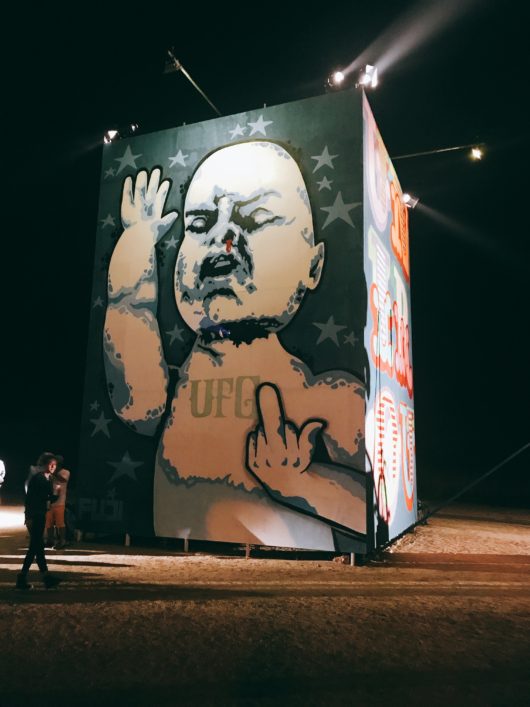 Clean up yourselves or otherwise this baby will come for you
Be there early!  There were so many installations and artists that we couldn't manage to see because we ran out of time.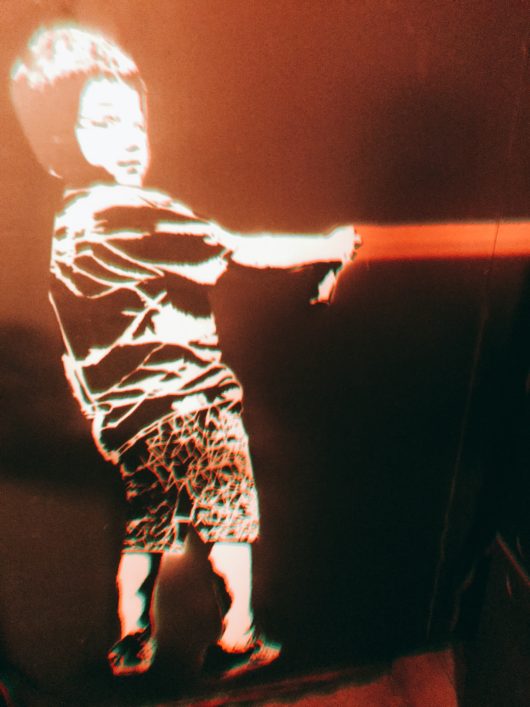 There is a gondola for you to get to the top of the mountain.
If you want to dress outrageous and hippie, well now is your chance.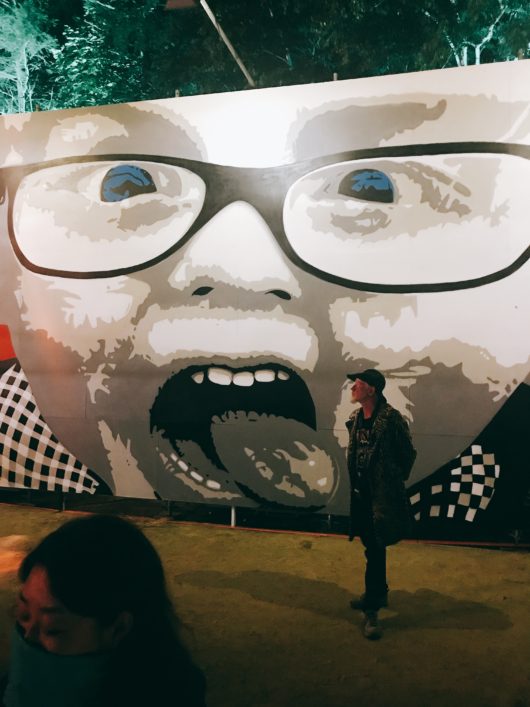 If there is an act you really want to see, be there at least 15 minutes early if you want to stand in the front, and at least 30 mins early for the major headliners.
Friday seemed to have less people than Saturday or Sunday.
If we were to do it again next year, we may just book the night for Friday, and on Saturday we would have just pulled an all night and catch the bus at 5am to go straight back to Tokyo.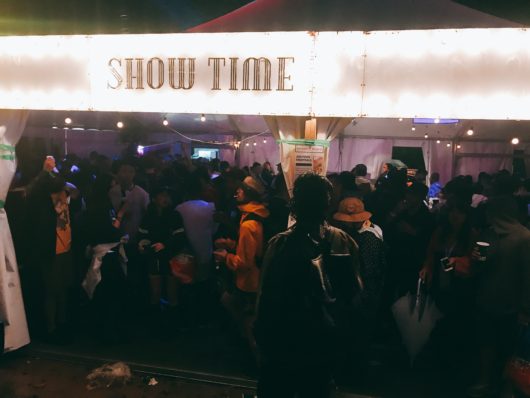 Buy your return ticket for the bullet train after you arrive.  On Friday after we got to the Echigo Yuzawa station, my friend once again made a really clever decision to buy the bullet train ticket and the Narita Express ticket there and then rather than waiting till Sunday.  It turned out to be a great decision because when we got to the station on Sunday to leave, there was a massive line of Fuji Rock attendees trying to buy tickets back, so we saved a lot of time and guaranteed us a spot for the bullet train to ensure we were able to get back in time for our flight back to Hong Kong.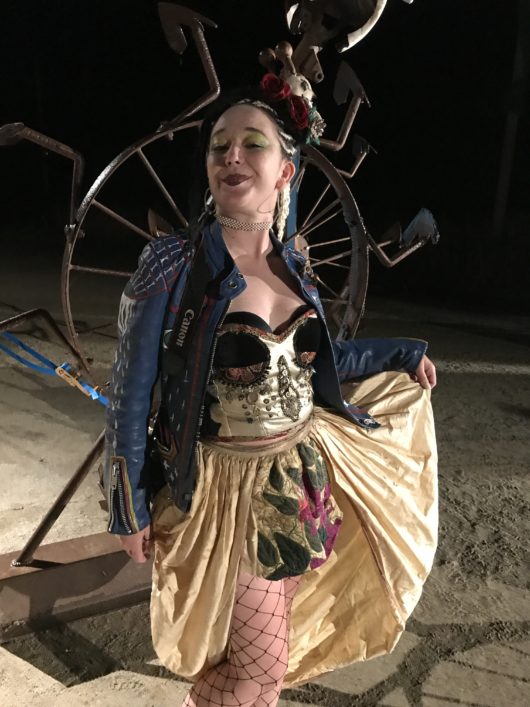 She was promoting for her friends MY BAD SISTERS, dance music with British rap on top… amazing!
Of course if possible, try to have a friend who can speak Japanese and it will make your lives 10x easier.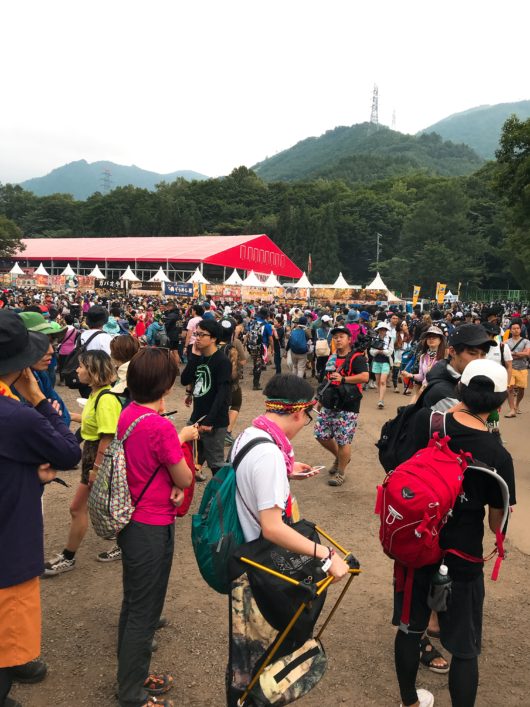 Lots of people.  To the left is the Red Marquee tent.
If you plan on camping, make sure your tent has a bottom!  One of our friends rented a tent from Tokyo and it only had the cover and the two wires to set up the tent, so basically they had to sleep on grass!  You don't want to do that.
Bring an external phone charger if you worry your phone won't make it through the night, as there are no charging stations.
Do not wear white shoes.  In fact, only wear shoes that you feel comfortable throwing away.  It is a very dusty area.  And if it rains, it pretty much guarantees your shoes to be disposable after the event.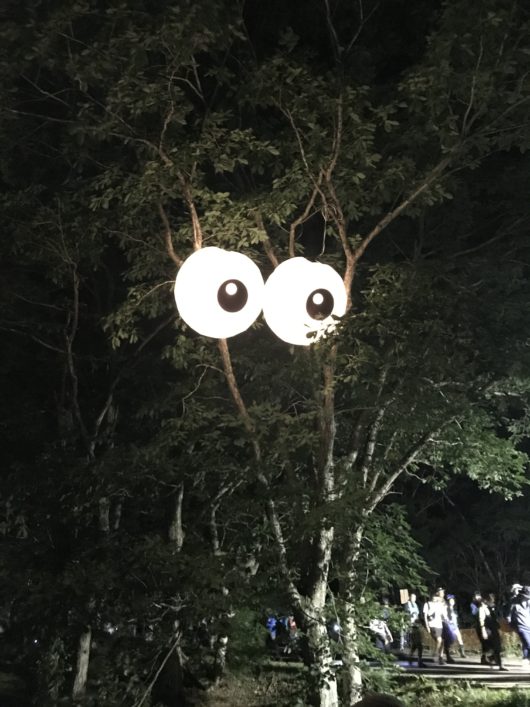 If you are aiming for the 5am bus, be there early.  I left with some friends to get the 5am bus, leaving at 4:45am while fighting against the rain and the typhoon winds holding us back, and since there were so many people queuing, we ended up taking the bus at around 6am instead.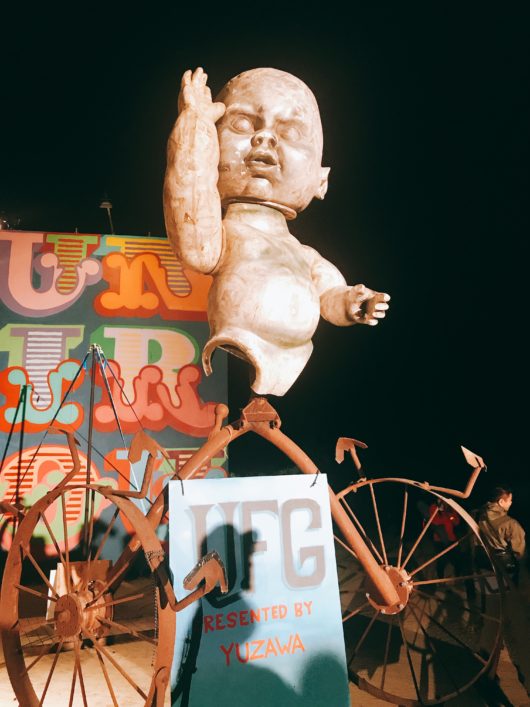 Don't stick with just the familiar artists.  OK I know I was mainly here to see NERD and Kendrick Lamar, but my greatest moments were just walking to different stages and discovering artists I haven't heard of before.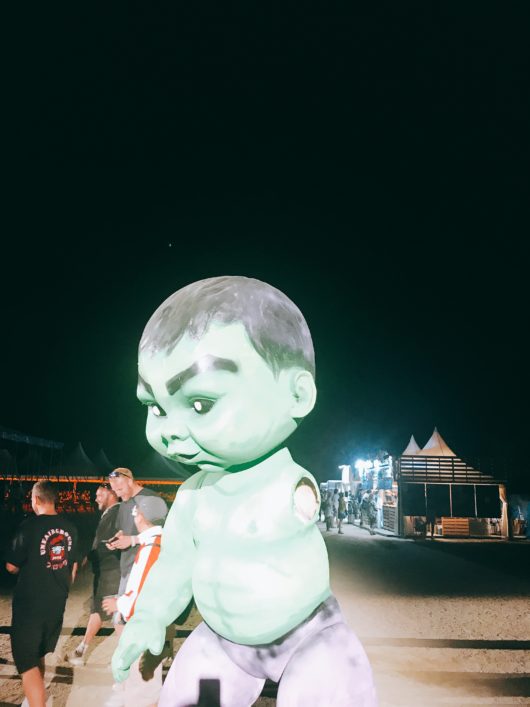 Baby Hulk!  Where is its arm?? :\
Some people bring those foldable chairs so you don't have to sit on the floor/grass.  You cannot use these chairs in Red Marquee tent.
They only accept cash, not credit card, so remember to bring sufficient cash.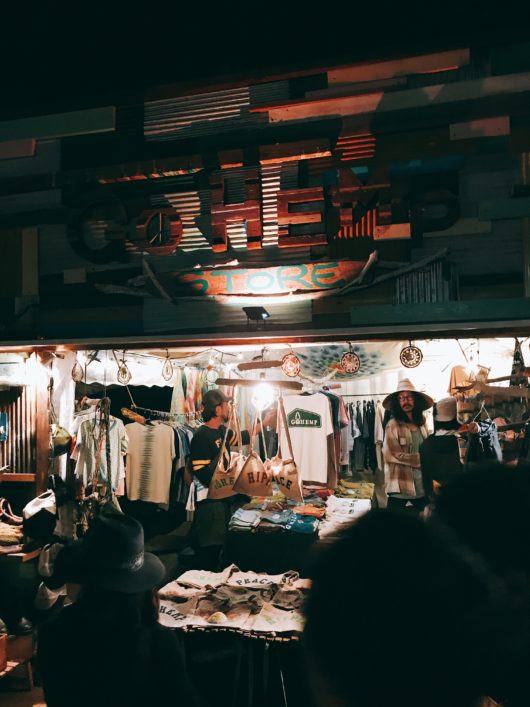 There were small boutique / hippie /vintage shops here and there for you to check out
Wear sunscreen if you're going to be there in the daytime for a long time.
You can buy ponchos, snacks, rain boots, souvenirs at the Echigo-Yuzawa station.  No umbrellas can be brought to the venue however.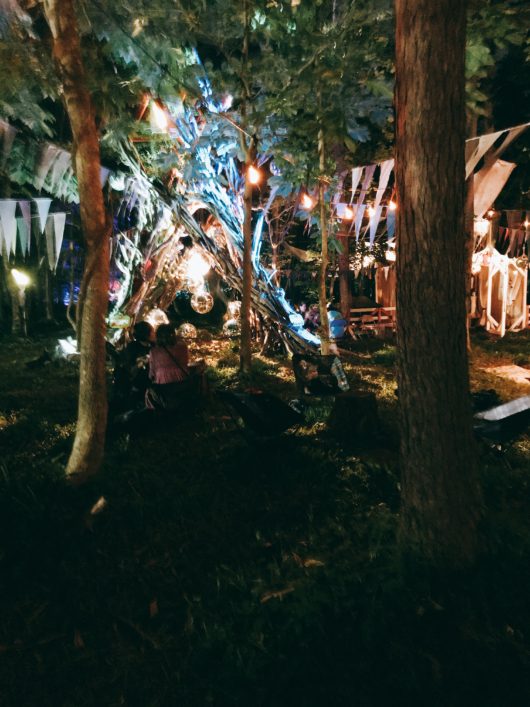 I repeat – spend some time to check out the art installations and cool features around the venue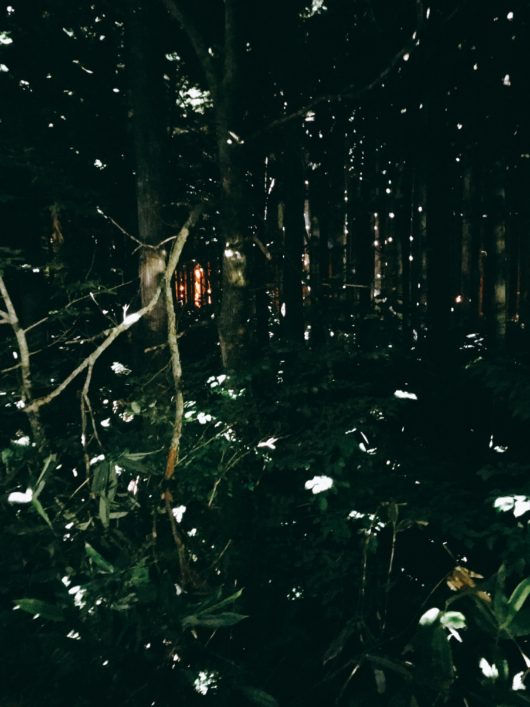 A forest lit up just by a disco ball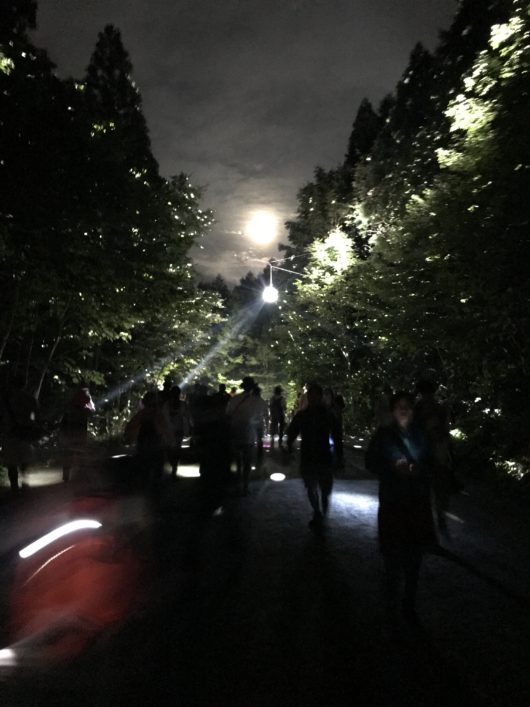 So simple yet so effective
If I were asked if I would recommend a friend to go, 10/10 they need to go once in their lifetime.  I'm already thinking about going to next year's event… this time hopefully with knowing basics of Japanese.  I'll leave next year's event to keep you at awe, that's it for now!