It's amazing how two countries separated by a 2 hour flight can contrast so differently, and yet this is what I experienced during my trip to Cambodia.
Unlike the skyscrapers and luxurious cars in Hong Kong, Cambodia was about the dust and the beating sun.  We were at both Phnom Penh and Siem Reap, with the former being extremely dusty.  The weather was extremely hot, but without the humidity, I personally found it more accommodating than the insufferable humidity that is in Hong Kong.
One thing I particularly noticed was the number of different international influences the country has.  The streets have prominent French figures named after them.  There are numerous US company brands everywhere, not to mention the numerous Chinese companies that also exist in this developing country.  When you witness this many different country influences, you know the country's been through some turmoil.
The food was okay and the temples were great, but besides that and the resorts, I felt I had seen enough of the country already.  By the way, you have to have to buy these extremely comfortable pants (see pic below).  They are extremely cheap (you can bargain it down to about USD 5 for 2 pairs), they prevent mosquitoes, and they are very soft and comfy to wear.  After the first day in Cambodia, I wore these type of pants for the rest of my trip.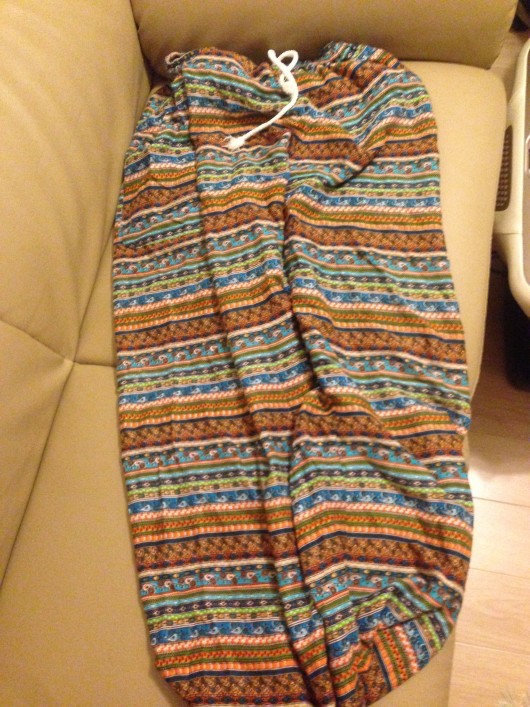 Actually these pants were bought by my roommate from Thailand as a souvenir to me.  After wearing these and spotting them in Cambodia, I couldn't resist but buy a few extra pairs for myself and for my friends.
This post will be focusing on Phnom Penh (Days 1 and 4).  For Siem Reap, please go to: https://travelwithabutterfly.com/surviving-the-cambodian-heat-siem-reap/
General Tips
Language – They can speak some simple English so you will do fine knowing English there.
Currency – They accept USD.  Bring USD.
Tuk Tuks – in general, you can hire them for USD 1 or 2 for short trips.  In Siem Riep, the cost for the whole day for looking at Angkor temples was USD 15.
Tipping – not needed, if so USD 1 is enough
Children – don't give them stuff.  This will encourage them to beg instead of going to school.
Bargain – negotiate almost everything in the markets and tuk tuks
Useful telephone numbers –
Fire Department (24 hour) T: 023 723 555
Police (24 Hour) T: 023 366 841; 023 720 235
Traffic Police T: 023 722 067
Ambulance T: 023 724 891
Angkor Temple Passes – In order to visit the temples in Angkor, you need to purchase the day passes!  Prices are as follow – for one day pass it is USD 20, for three days it's USD 40, and I think for five days it's USD 60.  We purchased the three days pass.  Your tuk tuk driver should remind you and and will bring you to the ticket center; that's where you have to pass through anyway.
Things to bring – suntan lotion, hat, mosquito repellent, umbrella, camera, sunglasses
Shots Needed – Since I'm no doctor, here's a site that tells you what types of shots you may need or are recommended: Centers for Disease Control and Prevention for Cambodia
Bodia Spa – they have one spa in Phnom Penh, two in Siem Reap.
Phnom Penh: National Museum above U-Care Pharmacy. (855) 23 226 199
Siem Reap: Old market area above U-Care Pharmacy. (855) 63 761 593.  Or, Heritage Suites Hotel behind Wat Polanka. (855) 63 762 428
We were mainly around the area of Wat Phnom and Royal Palace.
Transportation
Giant Ibis – initially at first I was extremely hesitant to ride on night buses.  The number of factors that seem to contribute to car accidents (driver is fatigued from lack of sleep, drunk drivers, uneven and not well built roads, hard to see in the dark etc.) just didn't seem like a worthy risk.  Here was the post that made me afraid: http://www.movetocambodia.com/transportation/five-reasons-not-to-travel-by-night-bus-in-cambodia/.  But after reading this post about Giant Ibis, I decided to give it a go.
I was thoroughly impressed with the first bus.  We took the one at 11:30pm and our seats were actually beds!  They had wifi, aircon, charger, plenty of space, toilet, etc.  In a way, it was even better than some hotels I've stayed at!  Unfortunately, the bus somehow had problems and we ended up having to take on a second bus which was less comfortable as the seats were slanted.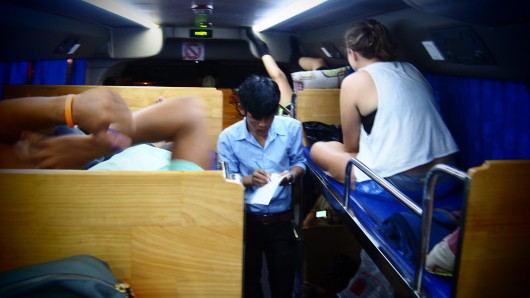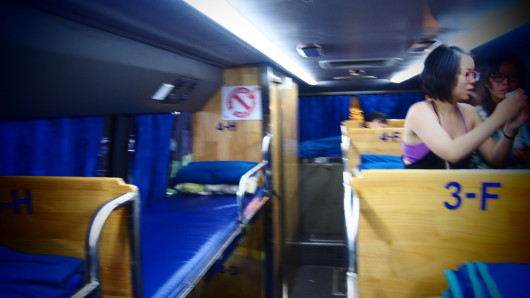 The two photos above were from the first bus.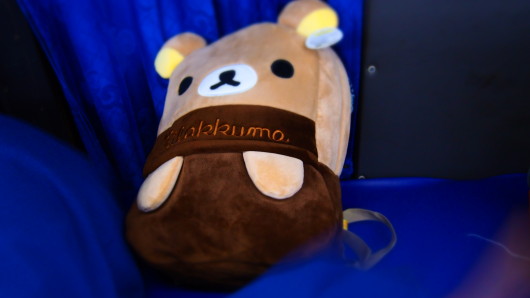 My bag that I bought.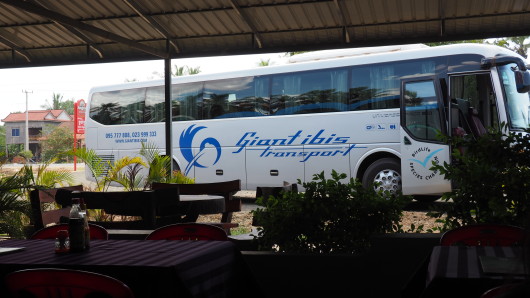 The bus returning from Siem Reap to Phnom Penh.
Tuk Tuk – the cheapest and most convenient way to get around the cities.  Many of the drivers will be asking to see if you want a ride.  Remember to bargain, and don't be shy to make it low!  For example, a driver who quoted us USD 40 to go to Banteay Srei ended up costing only USD 20.  At the end of the day, they know that this is a business and as such they usually test you by setting the price high and anchoring the price.  You can tip them later if they provide good service, usually an extra USD 1 or 2 is enough.  You know they are earning a lot when some of them are carrying iPhone 6's in their pockets and playing candy crush.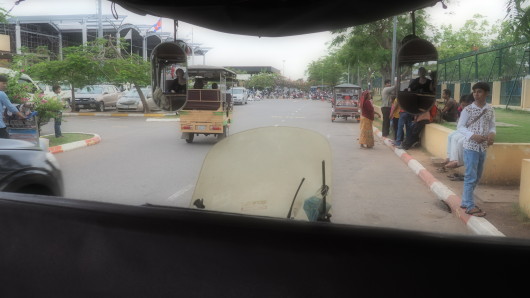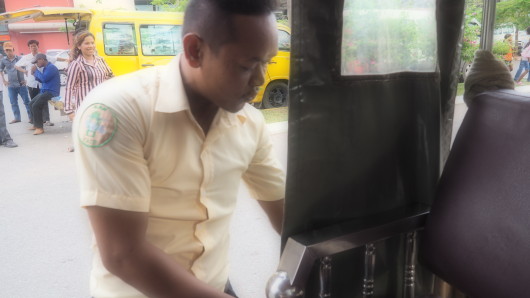 This driver reminded me of Kendrick Lamar.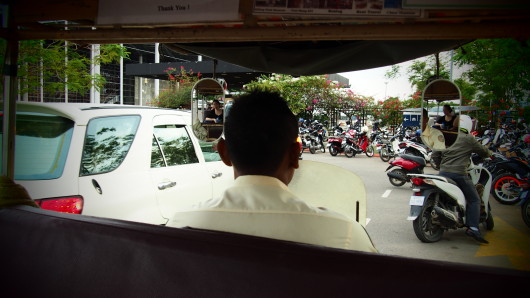 Day One
It was a quick two hour flight from Hong Kong to Phnom Penh.  Even then, meal was still included on our flight.  Awesome!
After leaving the exits of the airport, we were naturally greeted by a herd of drivers who wanted to do business with us.  We went with a Kendrick Lamar look alike since he was working for a company, and they had a fixed price of USD 9 for going to Phnom Penh's night market.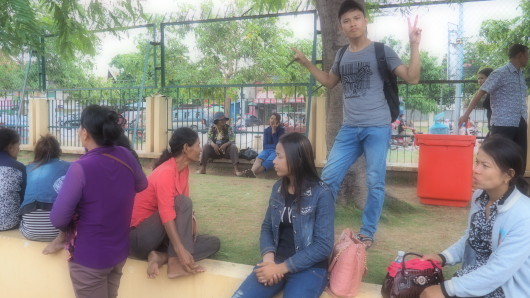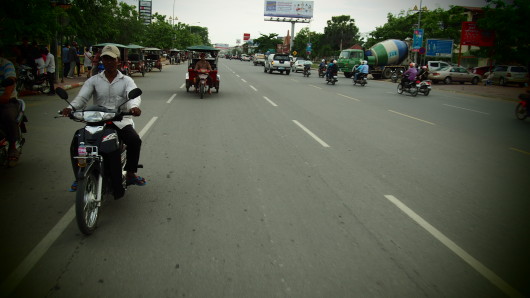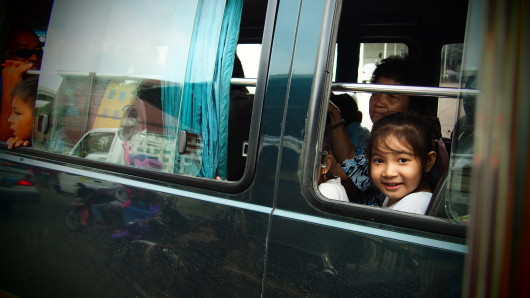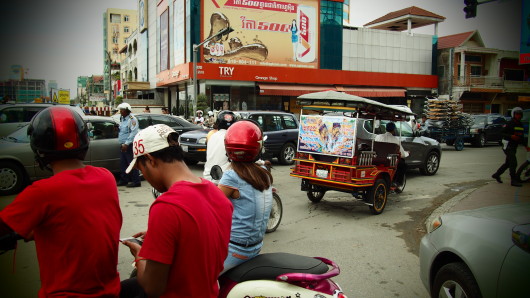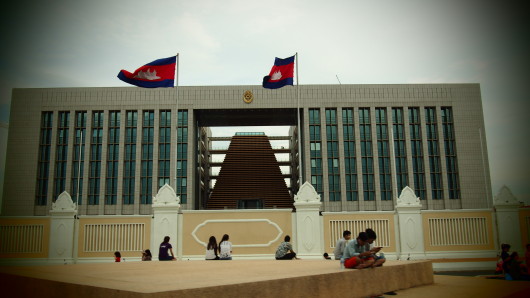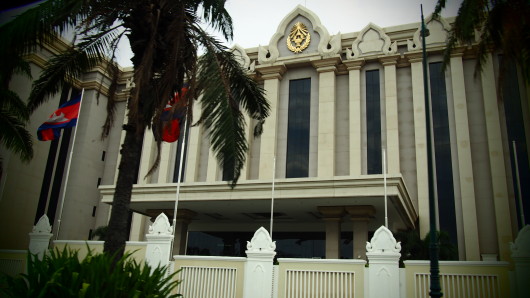 The hustle and bustle wasn't there in the afternoon in the night market.  A quick stroll around the night market and we were practically done – it reminded us of the ladies' market in Mong Kok.  Anyway, we decided to follow the river that was next to the night market and arrived at the Royal Palace.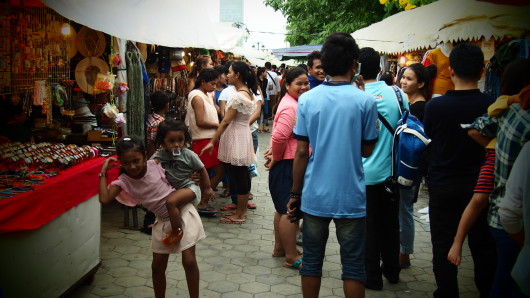 Night market… in the afternoon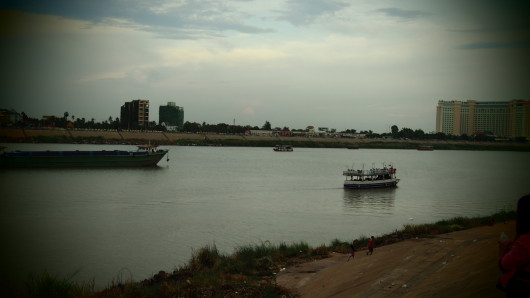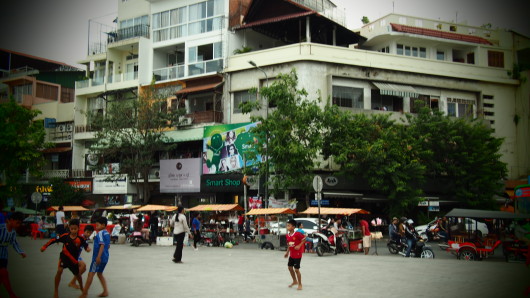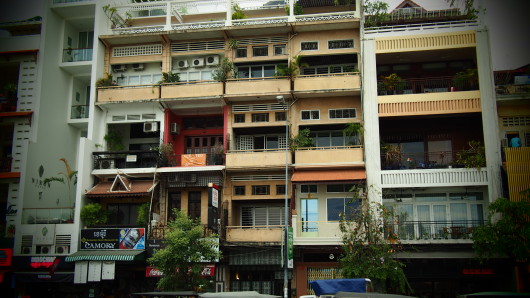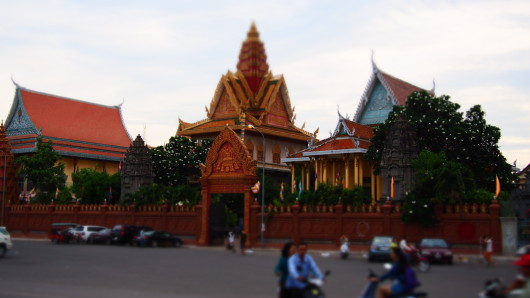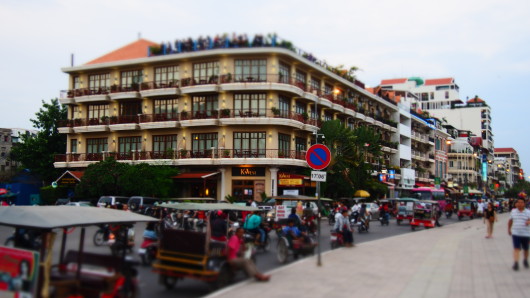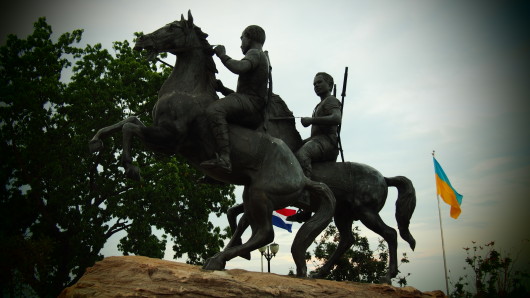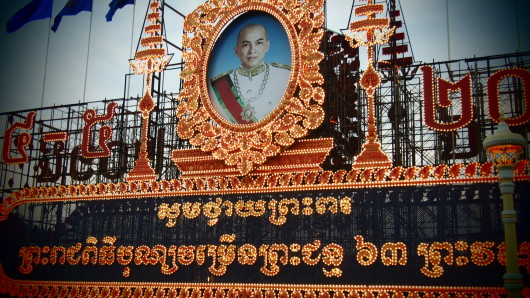 Royal Palace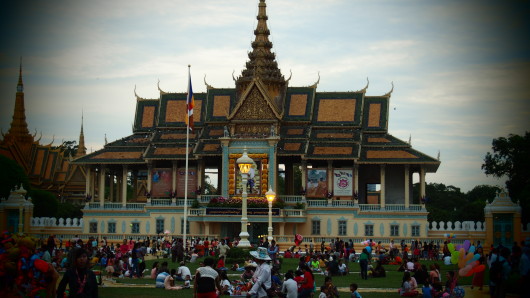 Also Royal Palace.  A lot of people were sitting outside.
As the sun set, we decided to get some beef noodles pho, went to a bar, and also had a massage.  We then returned to the night market when there was more people, shopped around, bought some stuff (the pants I said was really comfortable at the beginning for example) and also ate at the street markets.  You even get to sit on those huge beach mats to eat.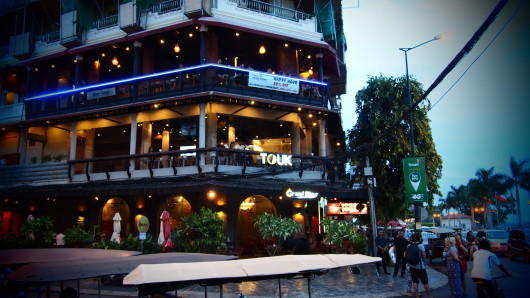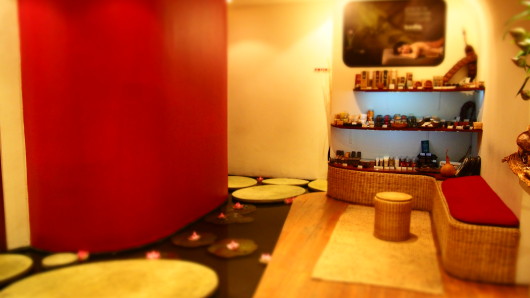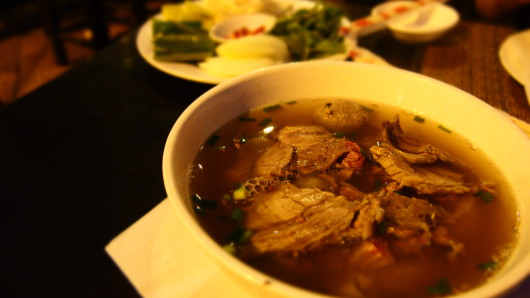 USD 4 for pho.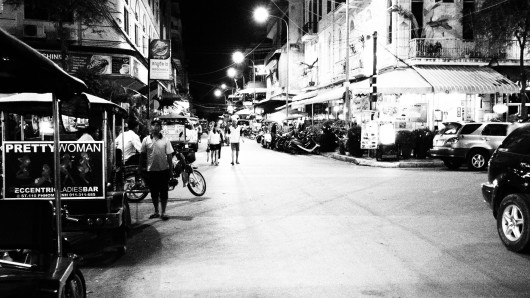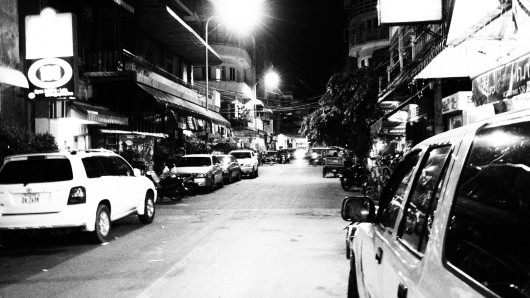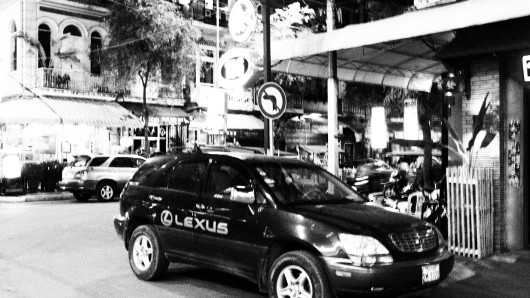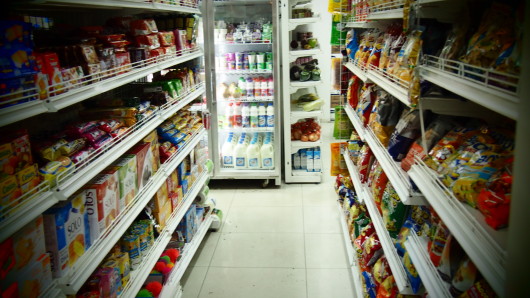 Convenience store.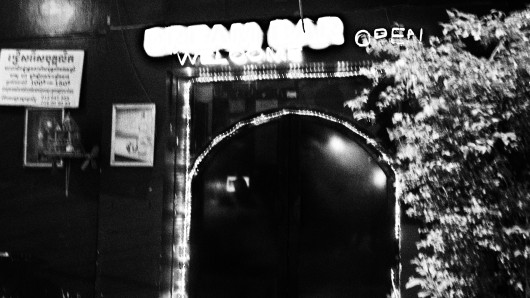 One of the seedy bars around the area.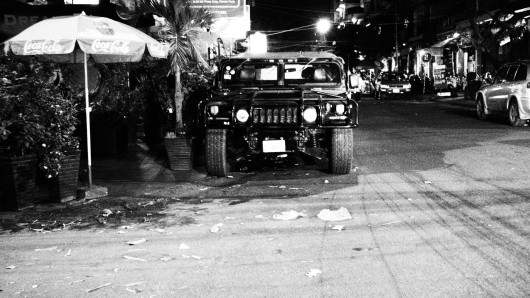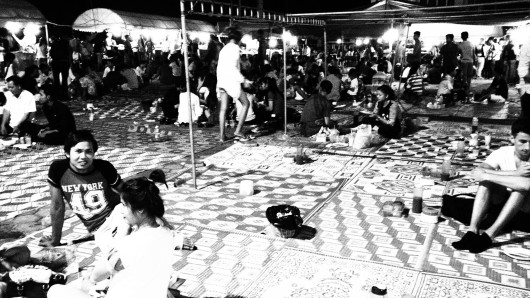 Place where people congregated and ate.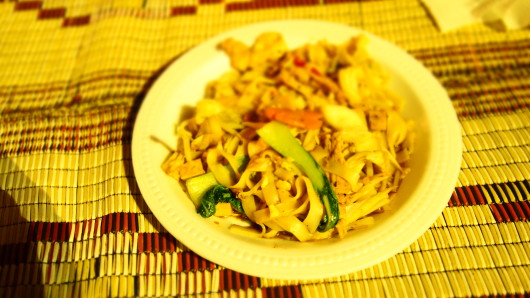 Pad Thai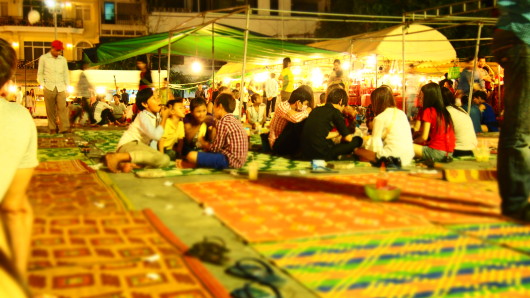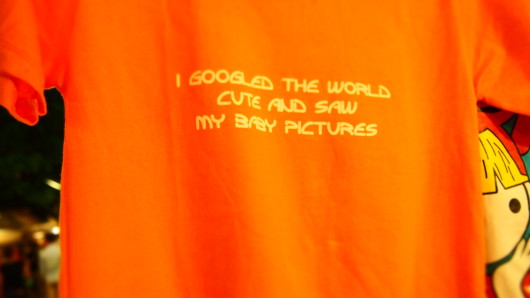 I think this t-shirt belongs to me.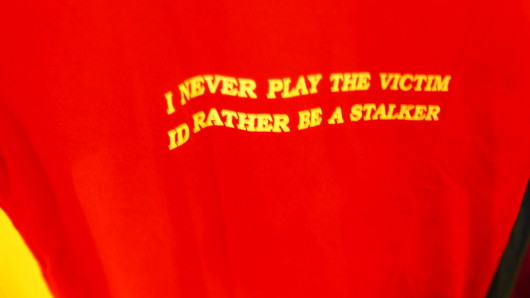 And this t-shirt is definitely for you! 😉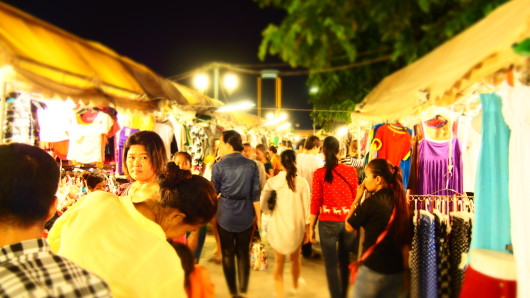 Night Market – more happening now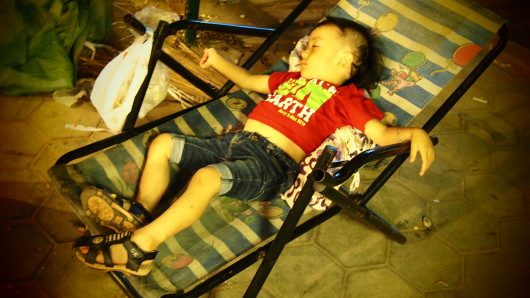 Like a boss.
We still had about an hour and so we chilled at a bar called Mao's.  There they had scantily dressed women along with some pool tables and darts.  Really good drinks though… they make really good smoothies.  Before I forget, actually arriving at Phnom Penh after 3-4 hours, and there were already people trying to sell me… guess what… weed!  They were like it's good stuff… it happened twice (no I didn't purchase!).  At 11:30pm, our Giant Ibis bus departed from Siem Reap to Phnom Penh.
Day Four
A 6 hour drive and we were back at Phnom Penh at 1:30pm.  Since our flight was at 6:15pm, we had enough time to partake in one more 'thing to do'.  Trip advisor had Choeung Ek Genocidal Center, aka The Killing Fields, ranked really high… number 1 of things to do, so we decided to go there.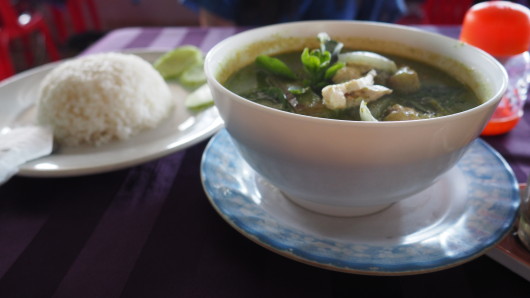 Our stop halfway to Siem Reap and we were treated with some chicken green curry.  But always look at the fresh leaves that accompany the meal… this one actually had a caterpillar on one of them!  Alive!!! I was a bit freaked out >.<
In typical fashion, a tuk tuk driver came to us once we arrived and asked where we were going.  We said we were interested in going to the Killing Fields and then we need to go to the airport after.  First quote?  USD 40.  Wtf!  So I was like no way… we would do it for USD 15 since that was what it cost for whole day in Siem Reap.  He got down to USD 30 because he said Killing Fields was really far.  I said USD 25.  He insisted on USD 30.  I said well if you won't get down to this price, we're just gonna go for a massage.  Final price? USD 25.  Even now when I'm thinking about it, I felt a bit ripped off.
But, the Killing fields was pretty far.  It took more than an hour from the night market (where we were dropped off) to get there.  The roads were very uneven and was very dusty… lots of dust getting into my face, mouth etc.
Anyway so a brief description of the Killing Fields.  Basically, it serves as a mass grave for the victims of Khmer Rouge, a party in Cambodia that killed a million people from 1975 to 1979.  In this fields, about 20,000 people died here.  There are 129 mass graves to serve as a testimony to the atrocities and to pay our respects to the victims.  It's very tragic.  You will see from going there and from my pictures that the way people were killed was very brutal.  While we paid for USD 3 per person since we were tight on time, I would recommend you to pay USD 6 which would include an audio set (comes in many different languages) so that you will understand the site better.  Otherwise, we were very clueless as to what each area represented… it was just green pastries mainly for us.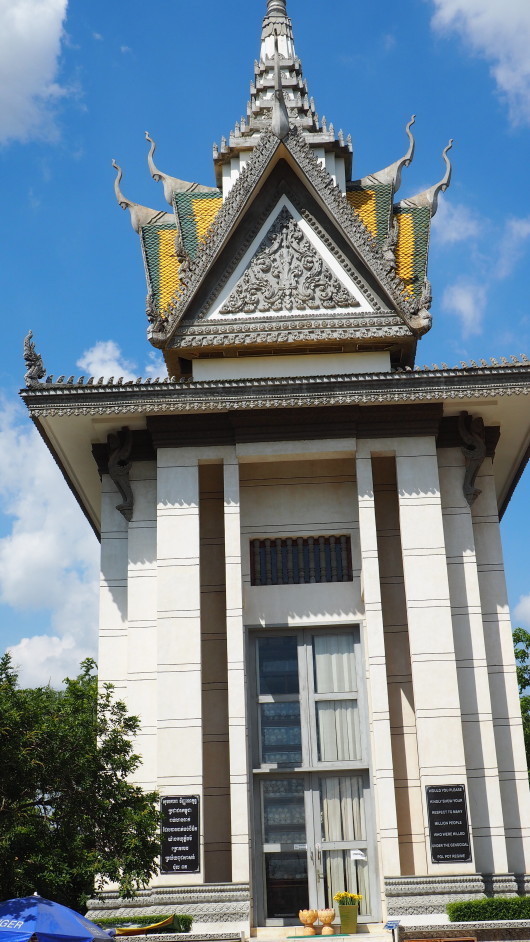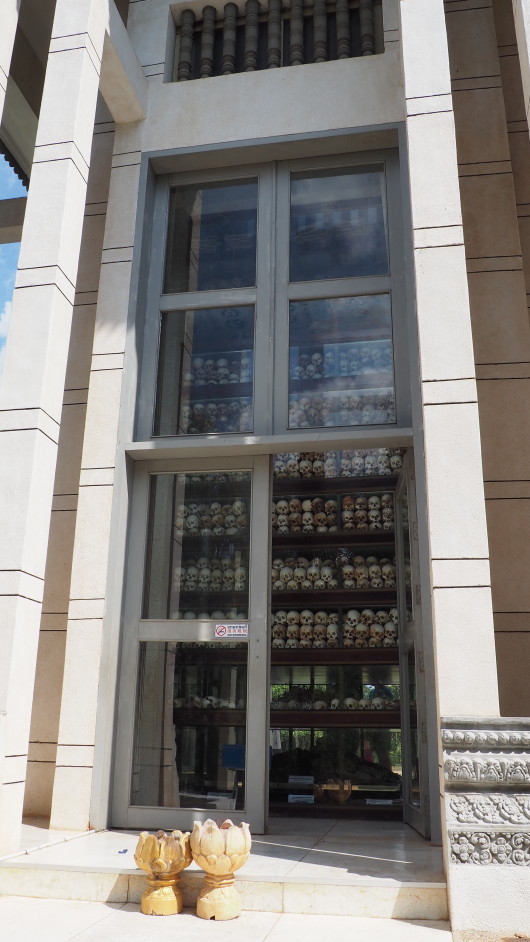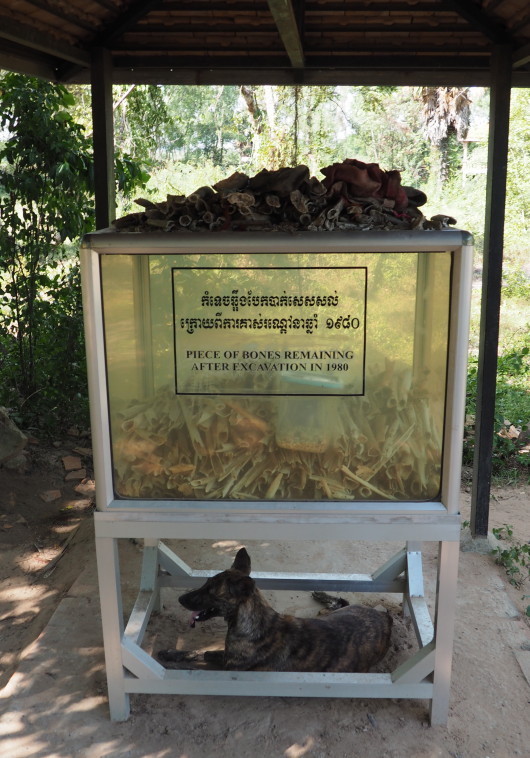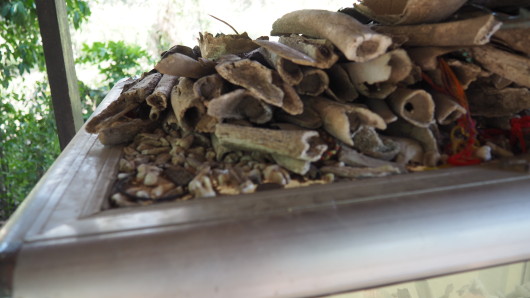 Yes, these are human bones.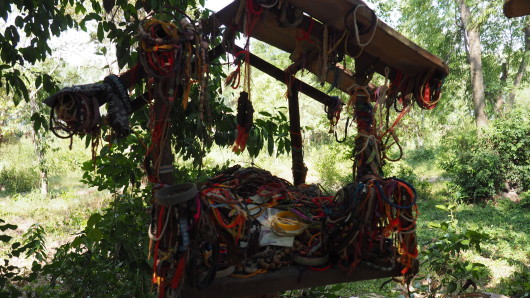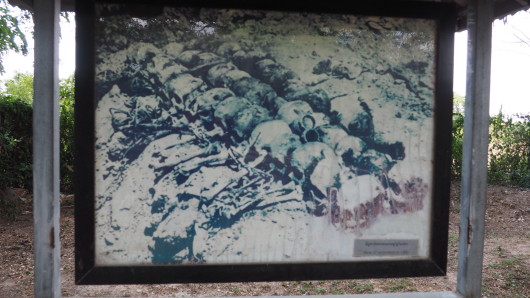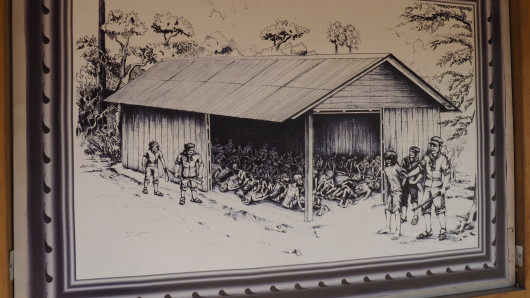 This hut was created because at first, they were killing the victims on the day that they arrived.  But because more and more victims were coming in each day, they weren't able to kill them quick enough, so they built this hut and the victims were tied with shackles so they couldn't move and escape.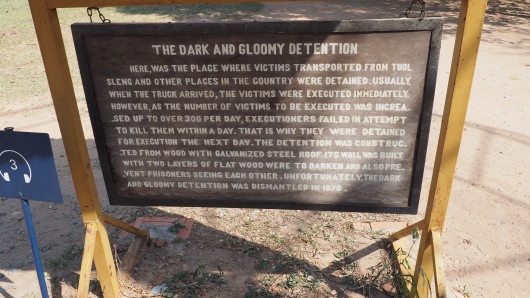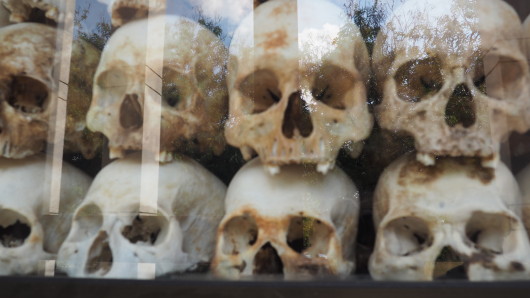 Happy Halloween!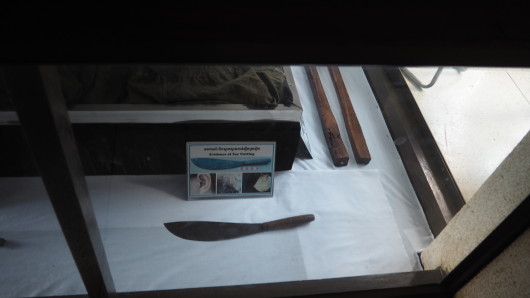 One of the weapons used in the executions.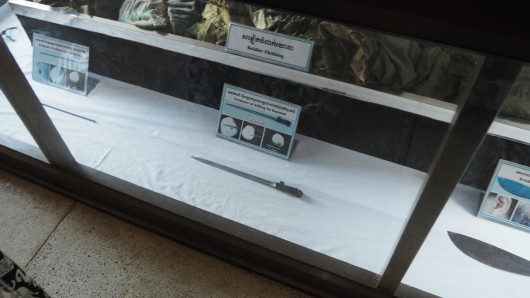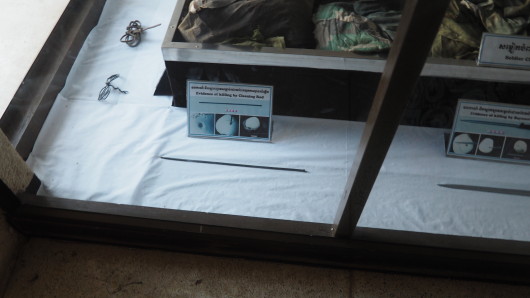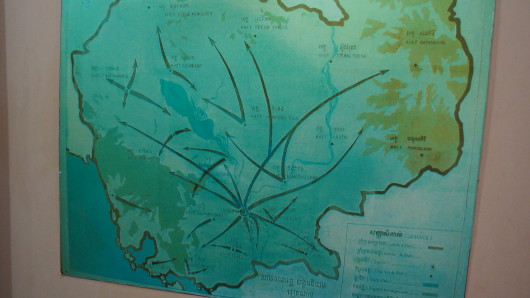 If I remember quickly, this shows the victims getting out of this Cambodian area.
With not much time remaining, we made our way to the airport and checked in early.  Did I mention we were pigs?  We ate again at a FCC restaurant in the airport.  I couldn't wait to be back to Hong Kong where air con exists everywhere and everywhere is much more developed.  Mad appreciate Cambodia, and saddened by how history has made it lost many of years of development, but I am glad to be going back to Hong Kong.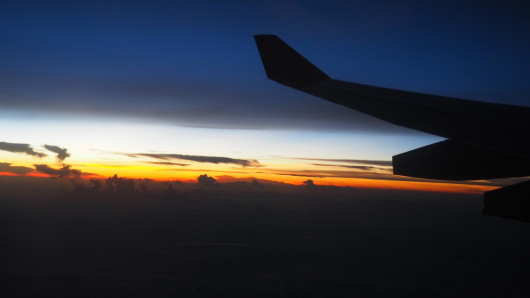 Would you like to go to Phnom Penh?  If so, why?
To read about Siem Reap, click here.
(Last update: Dec. 15, 2015)
 *Originally published on Jun. 17, 2015