Chengdu was everything I expected it to be, and at the same time everything I didn't expect it to be.
Chengdu, an up and coming Chinese city, was in most areas similar to that of Shenzhen, appearance wise.  Old buildings, dirt, pollution… you could tell Chengdu was a Chinese city.  If anything, Chengdu was a bit scarier than Shenzhen as you can see that many buildings weren't occupied and there were buildings that were still under construction with no clear indication that these buildings would be completed.
At the same time, Chengdu has areas where they were much more visually appealing and bustling, like Shanghai's Xin Tian Di.  These areas included Wide and Narrow Alleys, Jinli Road, and Lan Kwai Fong.  They still included Chinese elements to it, such as the incorporation of Chinese ancient architecture, but the vibe of these places gave them a much more modern atmosphere as well.
It is almost impossible to break the bank here considering how everything is ridiculously cheap – transportation, food, accommodation (unless if you're living in the international brands such as Grand Hyatt of course).  You would feel like a king or queen here.
Accommodation: I stayed at a friend's place at Tong Zi Lin.  Actually his place was rather convenient as it was 5 mins away from the Tong Zi Lin station.  If you want to go baller style, I would suggest booking a stay at Grand Hyatt or at Temple House.
Transportation: While I took the subway several times (ridiculously cheap), honestly the way to go is Uber.  Uber there is incredibly cheap; a shared ride (which often doesn't pick up other people anyway) would cost about 5 RMB for like a 10-15 minute ride.  Yeah you read that right, 5 yuan!  Seriously, probably Chengdu and Chiang Mai has had the cheapest transportation so far for all the places I've visited.  But the subway is quite convenient too to reach certain major areas.  You would also need to take trains to access to further places outside of Chengdu, especially when going to the tourist scenery spots.  They have different train stations so make sure you go to the right one.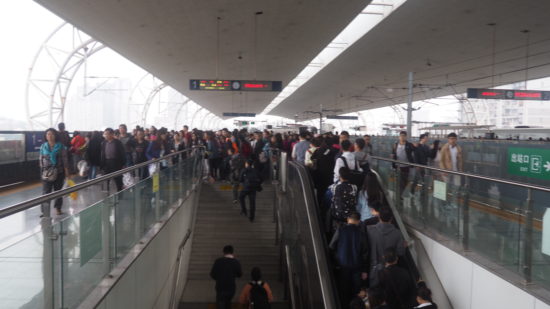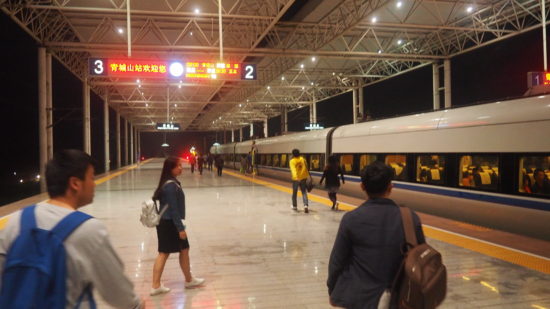 When taking the train, you can book your train tickets via Wechat wallet or through 12306.cn.  Remember, don't buy your train tickets last minute as they tend to run out quick!  Also, I would suggest being at the station an hour before your train departure time as it can get quite hectic, especially when you have to line up at the counter to retrieve your tickets.  I think 12306.cn website doesn't work past 11pm and opens up again in the morning so make sure you purchase your tickets before then.  In fact, the trains don't run on a frequent basis.  For example, when I was in Mount Qingcheng, I thought I could buy my return ticket when I arrived at 11:30am to come back at 5:40pm.  But by the time I arrived there, the tickets were already sold out, and the next earliest train was 8:20pm.  Yeah, great way to ruin your schedule!
Food
At those local places, remember that a small portion is actually quite huge.  Imagine going to Starbucks getting a regular but receiving a grande, yeah the size disparity is huge over there for food size portions.  And remember, most dishes here in Sichuan are spicy! (my favorite).  But be careful eating too much of this Sichuan cuisine for a long term… so much oil and spiciness, and noodles, is hard to digest and even in Sichuan they have hospitals specializing in Anorectal disorder.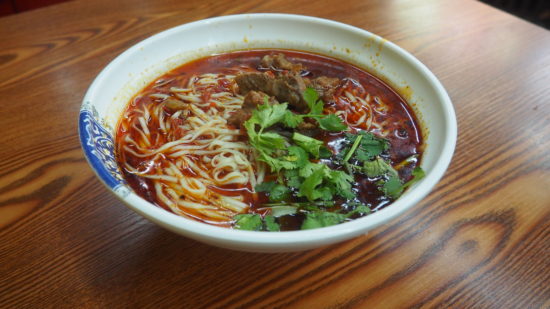 Beef Noodles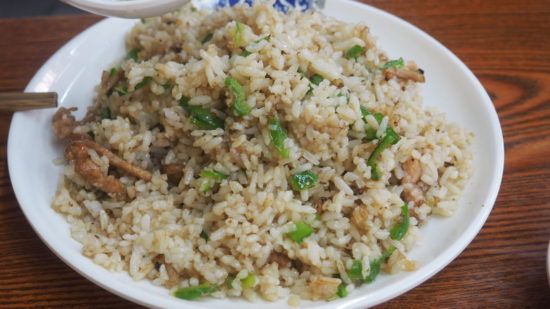 Fried Rice.  We came to this restaurant at like 2am.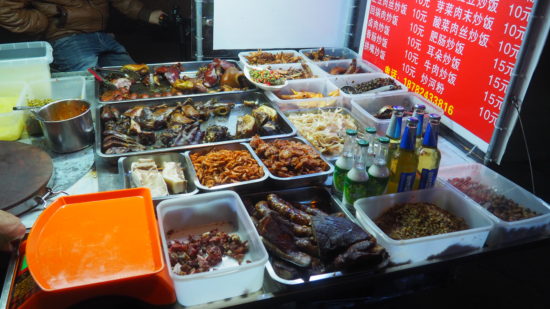 Food carts late night where we ate.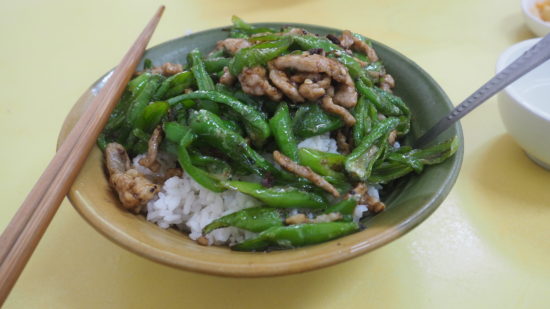 The next day my friend took me to this place nearby where he was going to work.  This is a green pepper pork rice.  Fantastic.  He calls some of these local restaurants "fly restaurants" in the sense that they attract flies because of how delicious they are.  If you are a sanitary person, Chengdu may not be the place for you, especially these fly restaurants.  The sanitation grade for this restaurant was 'C', but this was the grade they got in 2013 or something and haven't been updated since, at least not shown publicly.
Restaurant my friend took me to in Wide and Narrow Alley.  More about the place below.  This restaurant, we were suppose to wait for an hour before we were seated.  However, they also had a Sichuan opera at the basement and if we paid RMB 80 per person, we don't have to wait and we can enjoy meal while watching opera.  So I opted for the opera.  Opera pics below.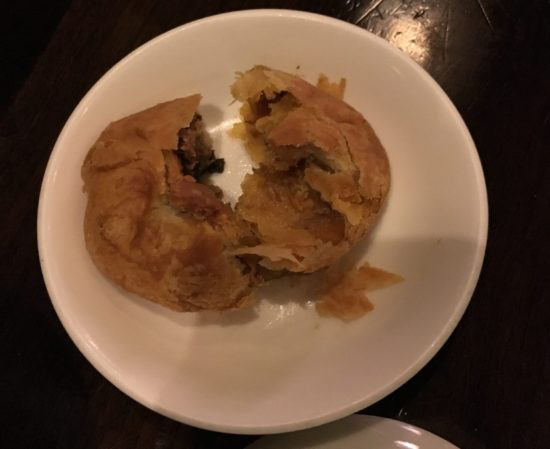 Beef Pastry Puff. Sorry I took this picture before we started eating it.. was too hungry.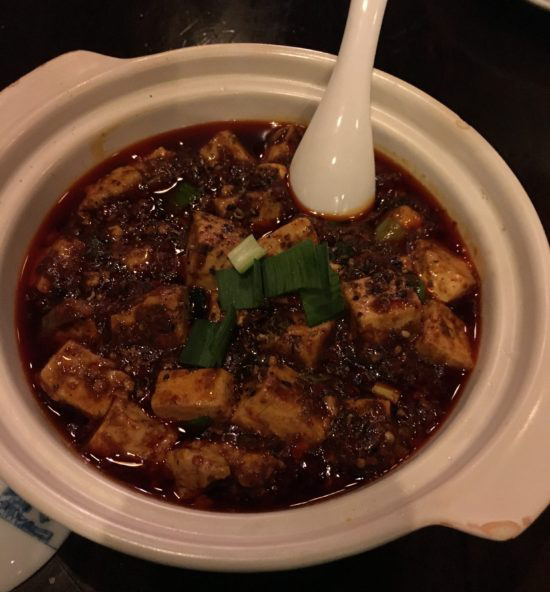 Mapo Tofu, with numbing spiciness.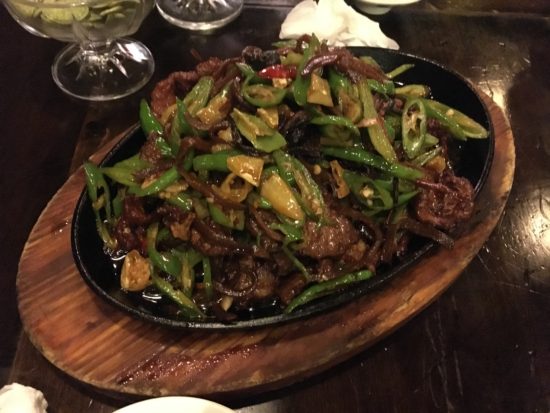 Green pepper beef.  Eat the small chilis and your tongue will be on fire.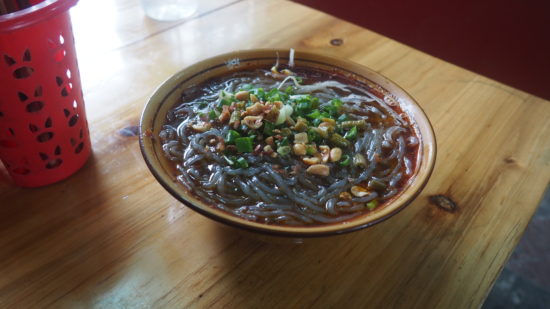 Hot and Sour Sweet Potato Noodles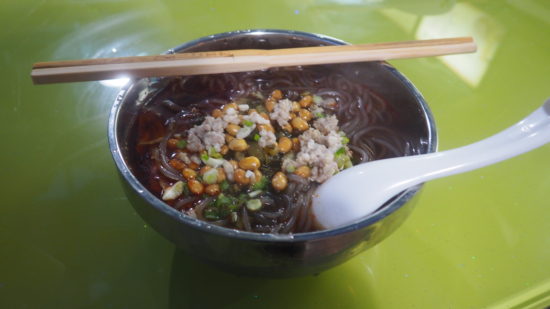 Minced Pork Noodles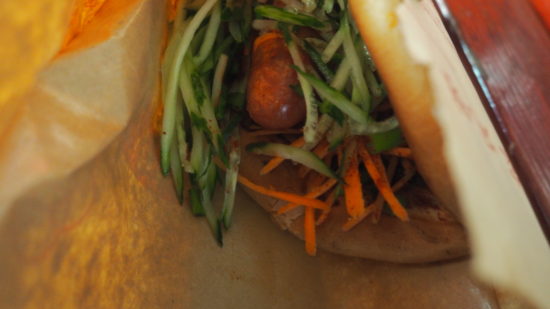 Some street food I ate in Chunxi Road.  Sausage plus raw vegetables plus dough.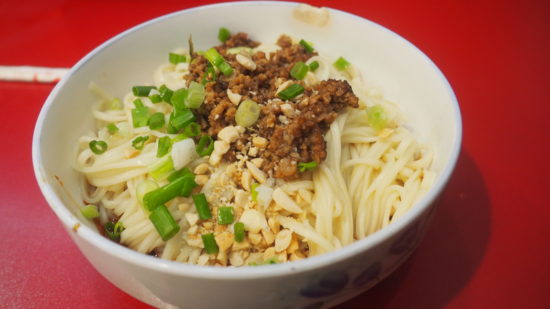 By this time I was extremely full… food felt like it was creeping up my throat.  But, this is Chengdu, and I love spicy food.  I went to another restaurant in Chunxi Road and ate Dandan Noodles, but Sichuan style.  Shanghai has Dandan noodles but they usually have soup; this one the sauce and flavor is at the bottom and you have to mix the noodles well to appreciate its full flavor.
Had this pork with rice before heading off to Leshan.
An Uber driver recommended and took us to this place to buy sweet skinned duck in Leshan.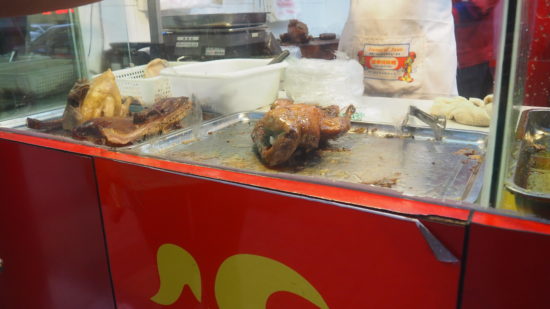 You can buy a half or a whole of a duck.  Delicious.  Sweet skinned duck is a famous delicacy in Leshan, the place to see the Big Buddha.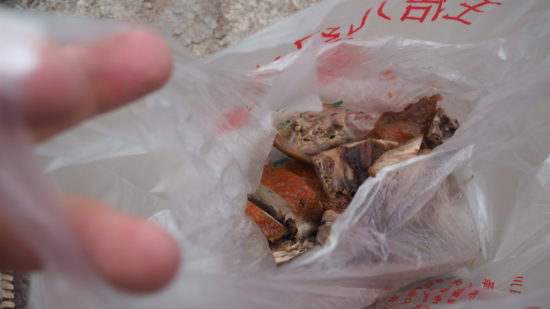 Sweet skinned duck, cut.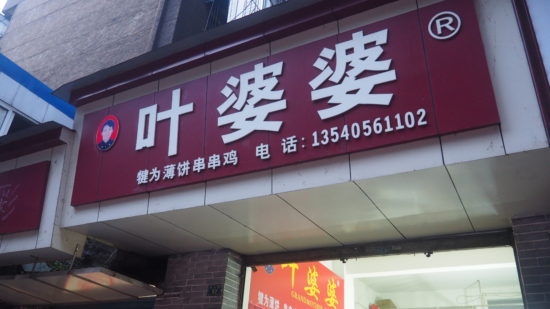 One of many Chuanchuanxiang restaurant.
We sat down at the restaurant above and ate these skewers.  This is called Chuanchuanxiang, skewers with bamboo splinters.  You eat as many as you want then they count the skewers for you and tally up the price for you.  Make sure you know what you are eating as some of these skewers may be organs such as liver and heart (good for some, bad for others like me).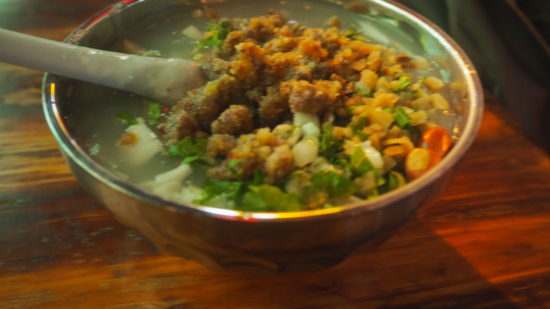 As night came upon us, we sat at these small tables and chairs and ate at food carts.  This dish is Tofu Brain… no it doesn't actually have brain (although you can eat pig brain in China… my friend ate pig brain in hot pot in Emei so…).  Soft tofu, spicy, flavorful, amazing!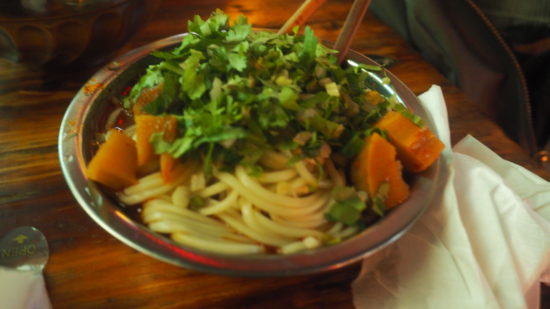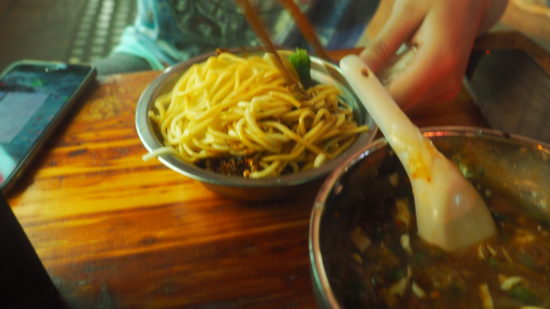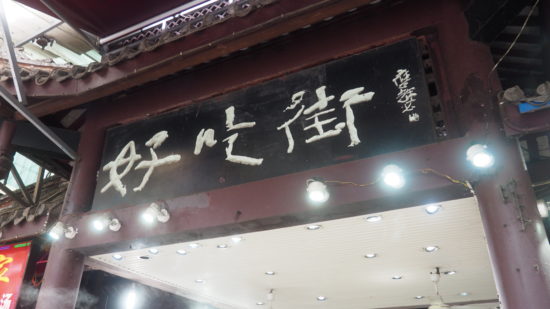 Nearby base of Emei Mountain, there is a place called Delicious Street.  Sorry to spoil to you, but this place isn't spectacular or what not… in fact it's local food catered to tourists if you know what I mean.  Food is slightly more expensive (but obviously still ridiculously cheap).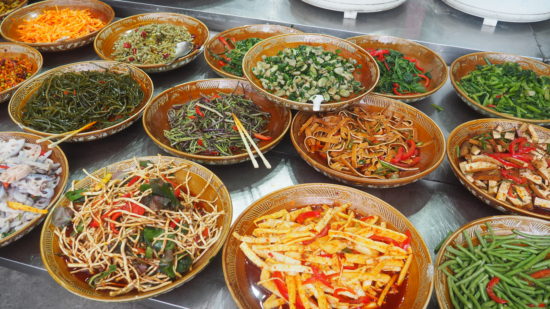 Some cold dishes laid out in front of us.  I think we got a 15 yuan small dish to sample four to five of these dishes.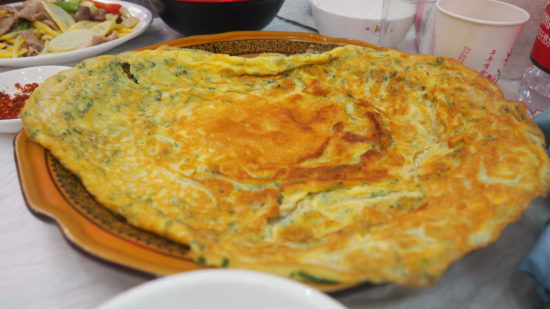 Egg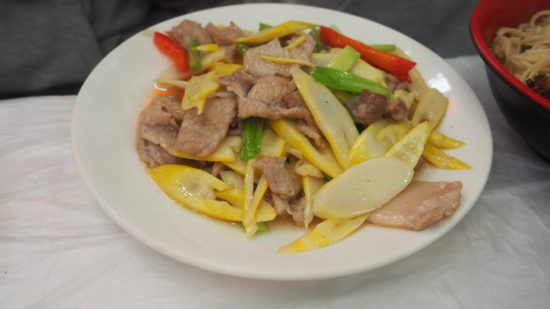 Pork
Water Boiled Beef.  As red as this picture seems, it's not as spicy as it looks.  In fact, some of the noodle pictures from above are much spicier than this dish.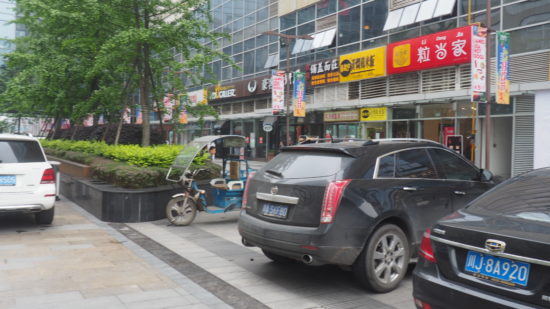 Met up with my friend near Incubation Park Station.  He says many people come here for lunch as many people work here.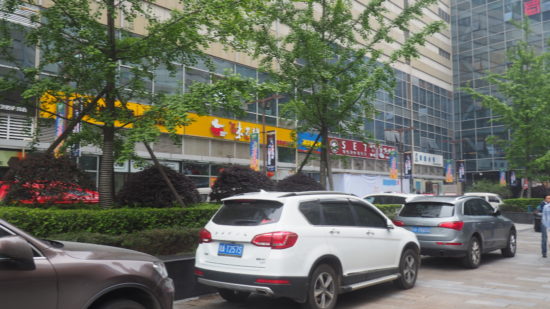 This is just near Incubation Park Station.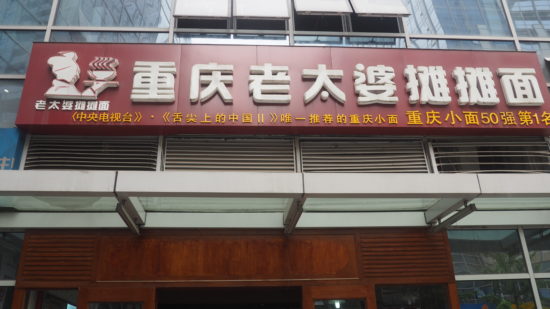 This is the first restaurant we tried.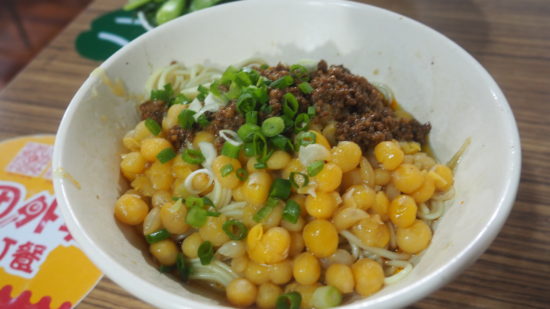 Fried Sauced Noodles, or "Zha Jiang Mian", in the above restaurant.  Delicious and spicy, and many beans.  Make sure you tell the restaurant to not add MSG.  Locals will look at you funny, saying it has no taste without MSG.  This picture above is already with no MSG.  And trust me, it has a lot of taste and spice already.  By the way, this is small portion.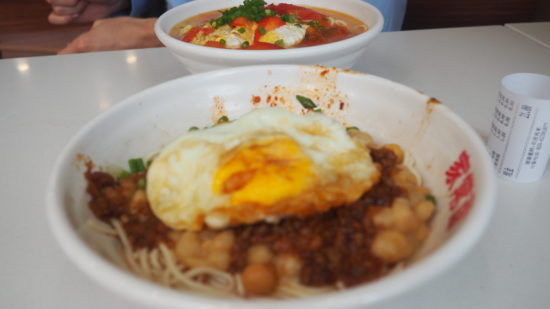 A couple restaurants down and I'm eating Fried Sauce Noodles again, with an egg on top.  My friend prefers this restaurant, but to me I like the first one more because of its flavor and spiciness.  This one is too tame for me.  Across, he's eating tomato egg noodles.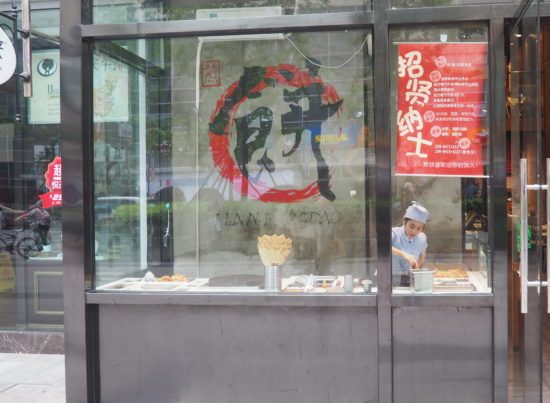 Fried egg pancake.  Right between the two restaurants we ate.
Food challenge!  After two bowls of noodles, try to finish one fried egg pancake, wrapped with beef inside.  I tried but failed.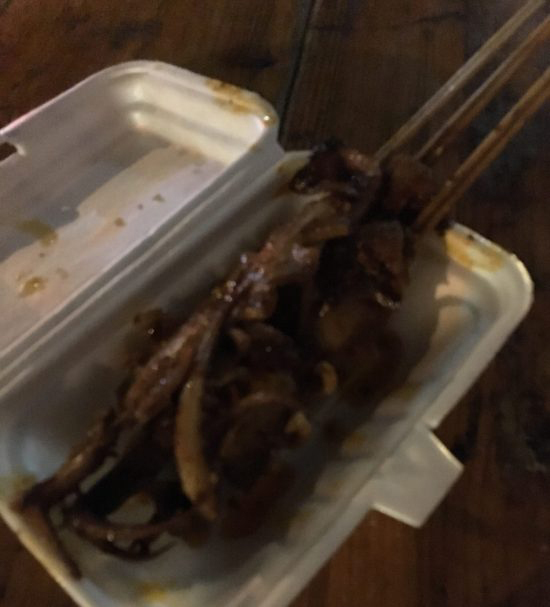 The BOMB.  These squid skewers were probably one of my most favorite food this trip.  Extra extra spicy!  I ordered another set immediately after I finished this one.  I was going to order a 3rd set too then I realized I was just being drunk.  These food carts are near Lan Kwai Fong.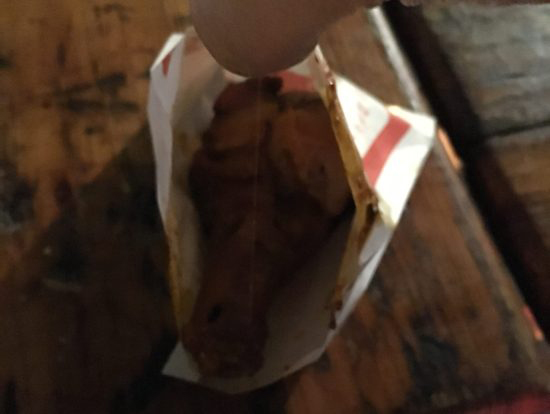 Also from the same place as the squid skewers.  Also very good!  Great late night snack.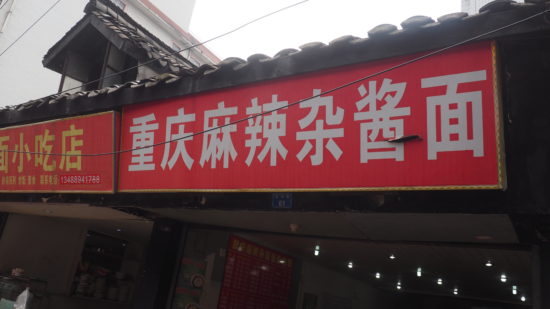 Chongqing Spicy Fried Sauce Noodles.  This restaurant is right outside the entrance of the Wenshu Yuan Monastery.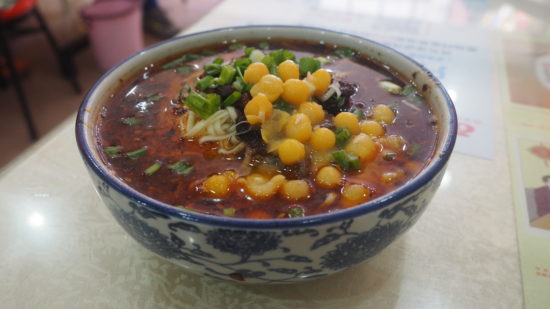 Because of the restaurant name, I had to make sure I ordered fried sauce noodles yet again.  This time with soup.  But I don't drink that.  Too oily.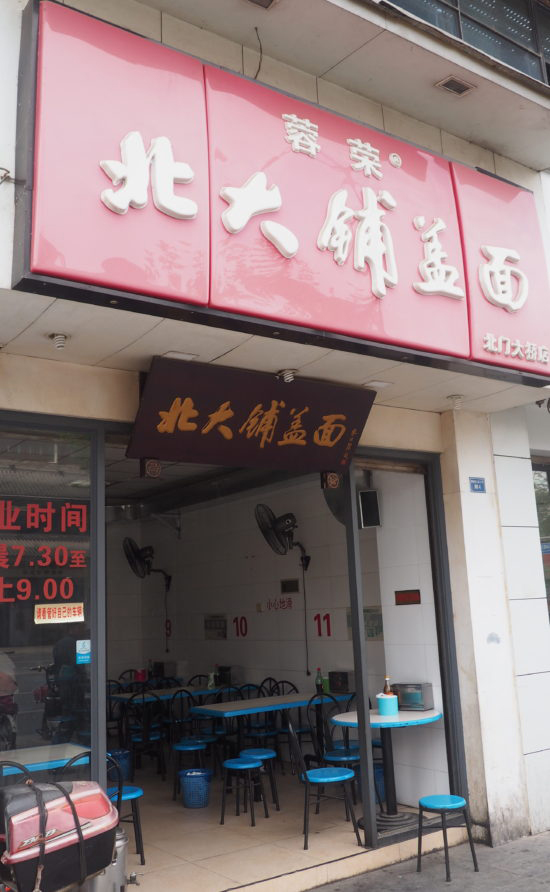 About a 10 minute walk from Wenshu Yuan Monastery, going north on North Street (coincidentally) you will see a bridge.  Cross it, then on your left about the first few restaurants you will see this restaurant.  This is famous for its blanket noodles.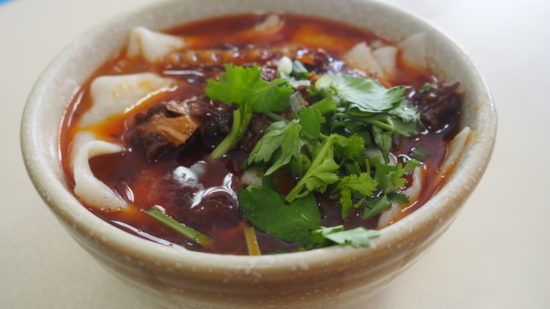 As you can see the noodles are much more wider and longer than normal noodles.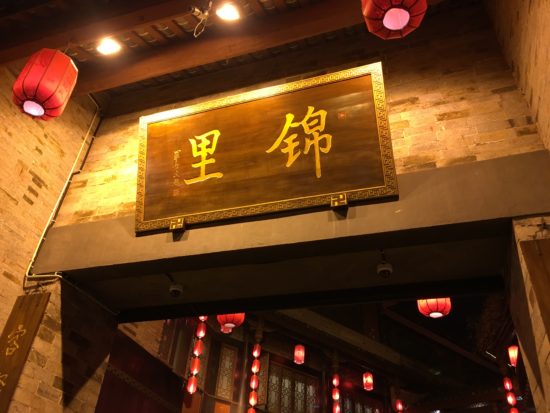 I decided to include Jinli Ancient Street as part of the Food subtopic since really, this whole street was just filled with food!  However, just like the Taiwanese night markets, it's catered towards tourists, meaning that the food here is interesting, but their taste often is subpar.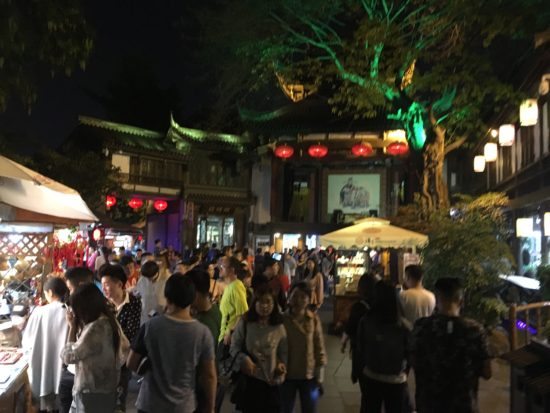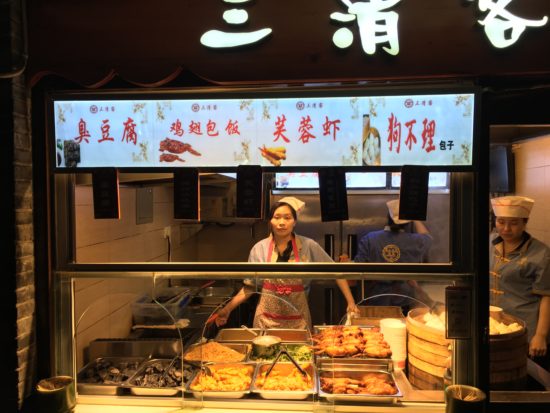 Lots of different stuff to try, including stinky tofu and chicken wing with rice stuffed in it.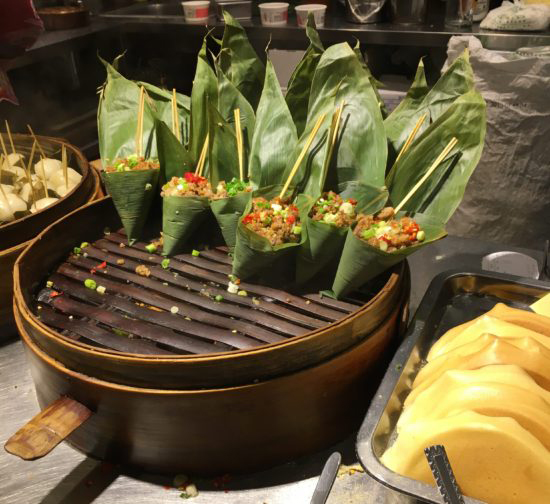 Didn't try it, but it's like glutinous rice wrapped in bamboo with spices and peppers.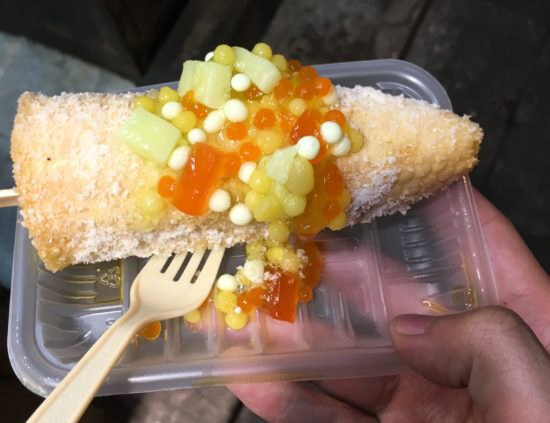 Fried ice cream… really bad, just don't order it.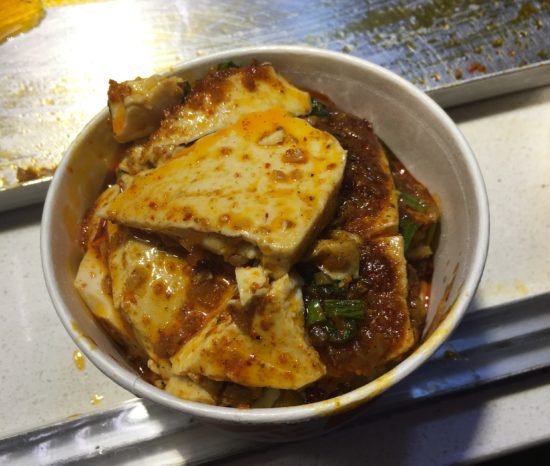 For RMB 10, this is quite a lot.  Took me half an hour to finish this.  Quite good actually.  This is tofu by the way.
Things To Do
Eating is already one of those must do things in Chengdu.  But besides eating, there's of course may scenery and cultural places to see and visit.  Here are some that I went to:
Giant Panda Breeding Research Base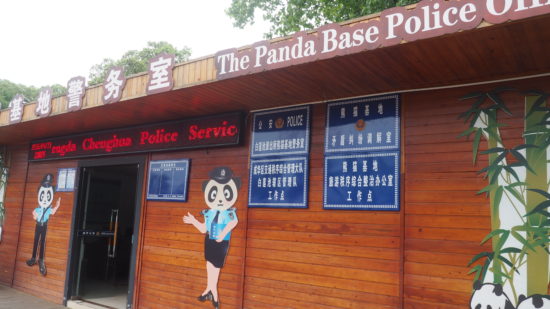 How can you not come and see the pandas when you are in Chengdu?  One of the places hosting the almost extinct pandas, this place is a bit of a way from the city.  You can't take the subway directly here.  There are some buses that can take you here however.  Or like me, you can take Uber.  It was like RMB 30.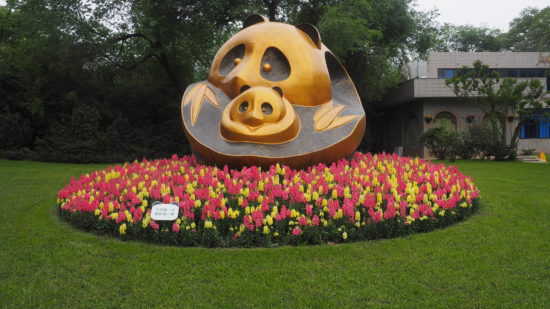 They also have a Panda museum there, so I learned a lot about Panda facts.  Will share some with each Panda picture.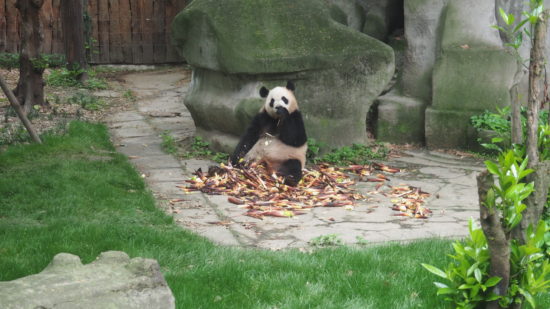 Pandas eat 16 hours a day.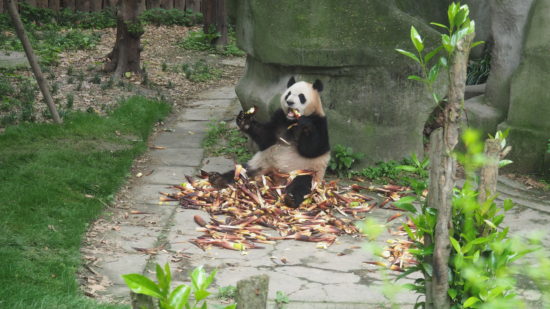 In a distant past, they used to be carnivores, and hence their sharp teeth and digestive system.  They have to eat a long time because their digestive system isn't good at digesting bamboo, so they need to eat a lot to get the necessary nutrients.
They sleep on trees to avoid predators.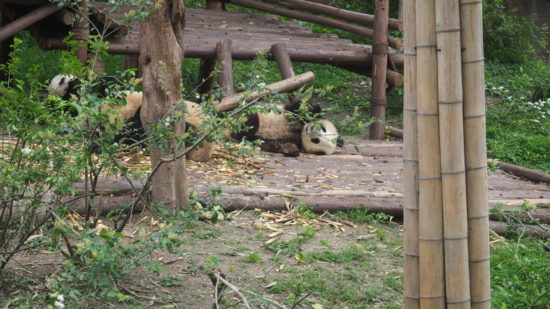 They only move as much as they need to to conserve energy.
Pandas are one of few bears that don't hibernate during the winter.  They will travel far distances on ice in cold places to find water and food.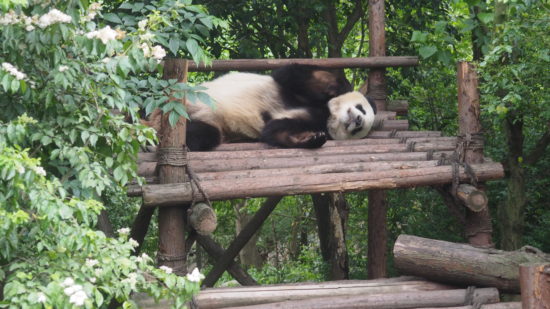 Pandas are very picky in selecting their mate.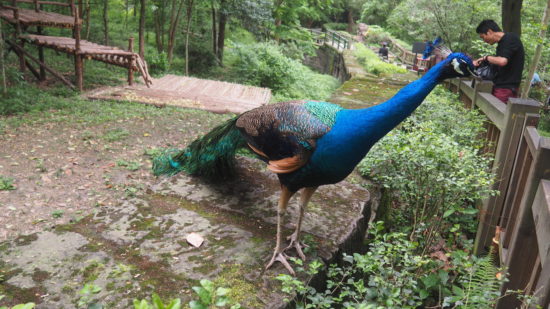 There were also peacocks there.  Also saw two peacocks fighting.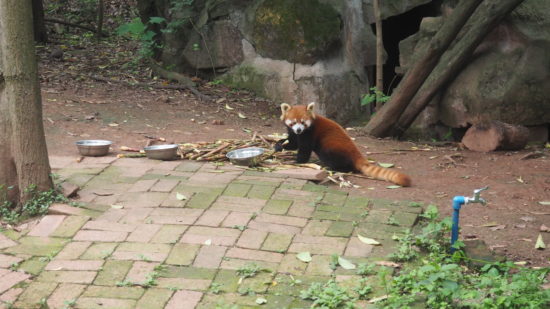 Also have Red Pandas.  They leave their scent to mark their territory.
Wide and Narrow Alley
Both Wide and Narrow Alley and Jinli Road are nice touristy places that are well maintained.  The 'special' part about wide and narrow alley is that one alley is wide and one alley is narrow… although to be honest both alleys are like normal size alleys… neither of them are an exaggeration of the adjective that they should be representing.  Regardless, they have many restaurants and many shops to choose from, like places to buy tea.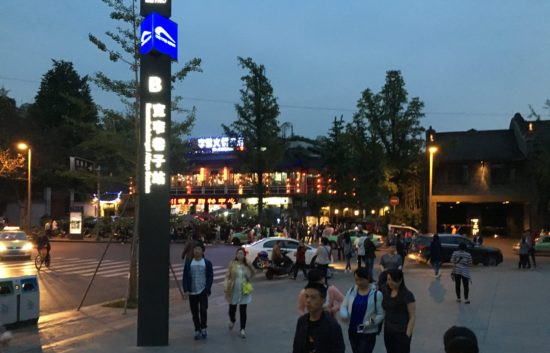 Wide and Narrow Alley Station.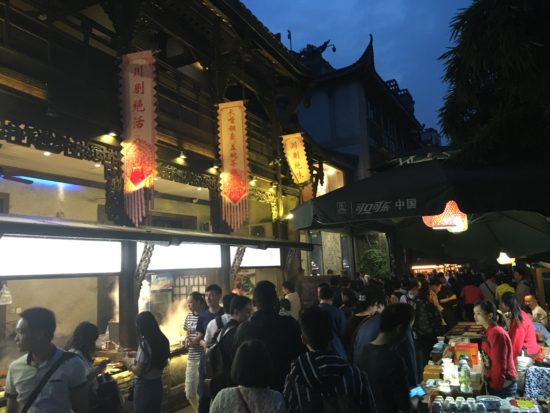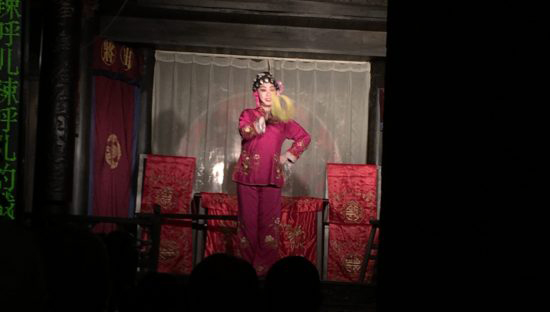 Sichuan Opera is one of the more popular things to do here.  Again, I was fortunate enough to watch one as the restaurant I went to provided this entertainment.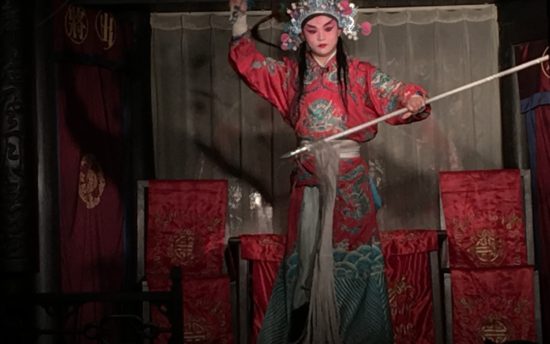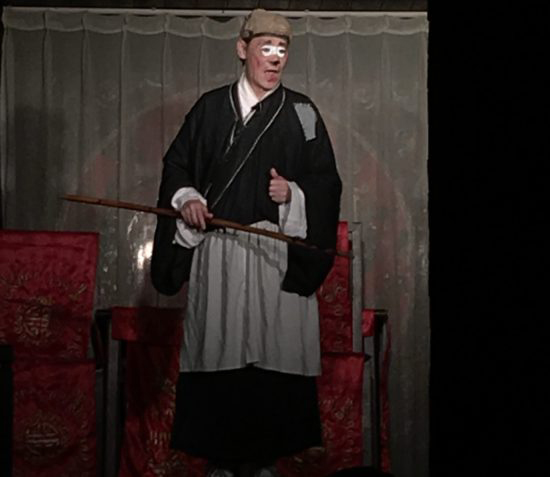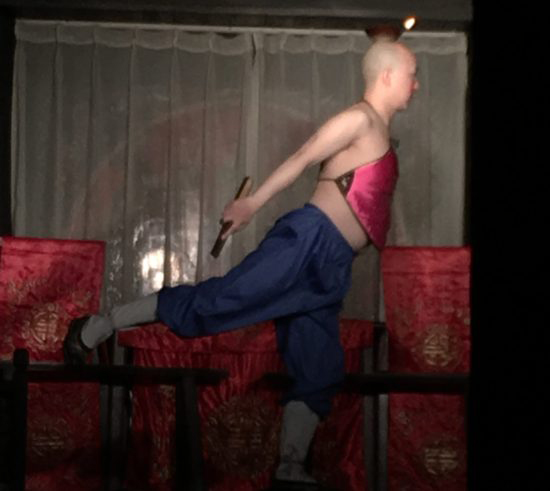 Yeah I had no idea what was going on.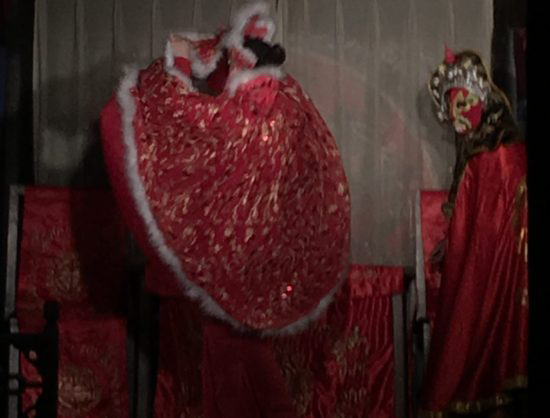 One aspect that is notable for Sichuan opera is that they have an act where they perform a face changing ritual, where they change masks in front of you so quick you don't notice when or how they changed their masks.
Mount Qingcheng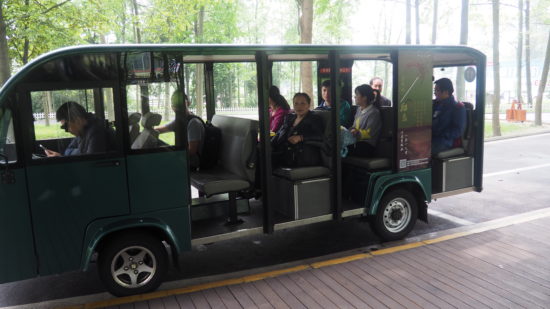 Take this vehicle so it brings you to the frontside entrance of Mount Qingcheng.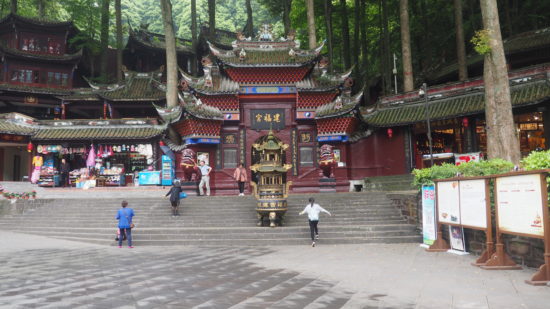 Mount Qingcheng Entrance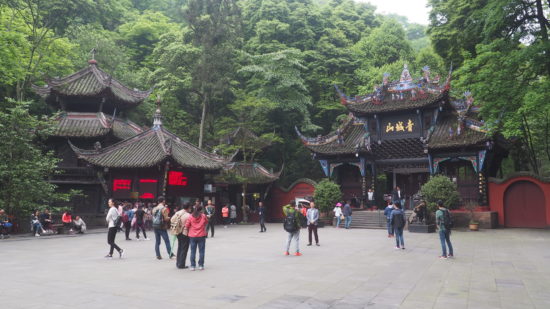 At the left is the ticket counter.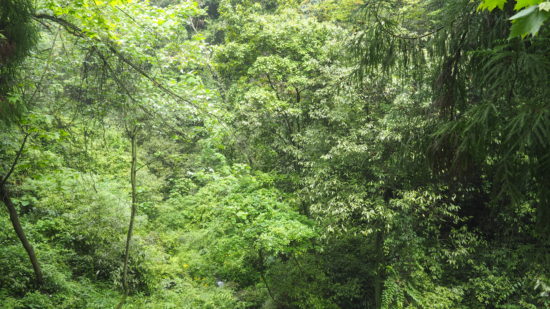 Green.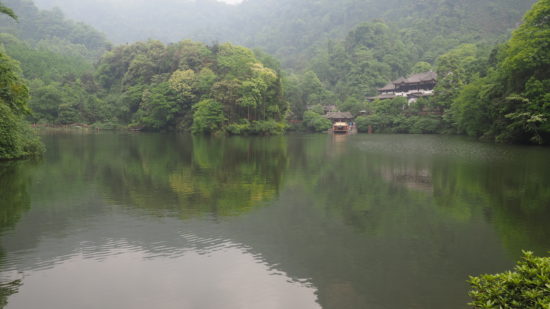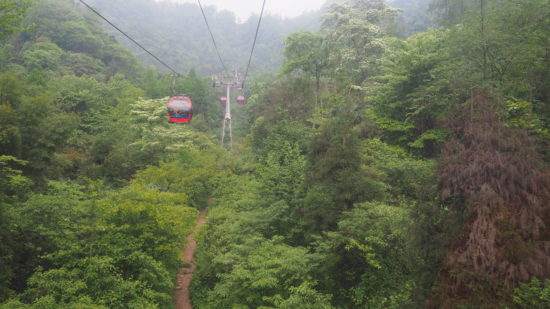 You can choose to take or not take cable car.  I took cable car up, walked back down.  Even after taking cable car, you still have to walk a bit to get to the top.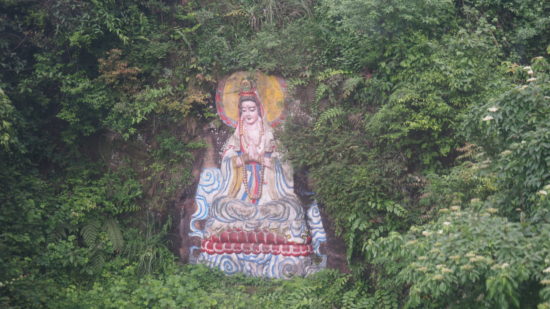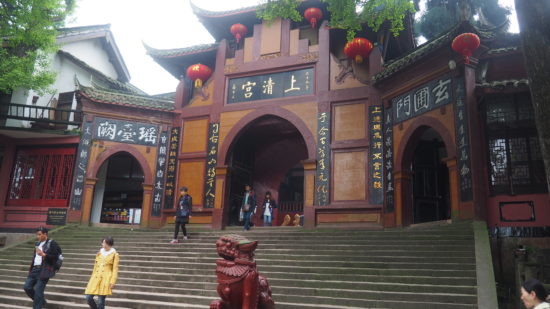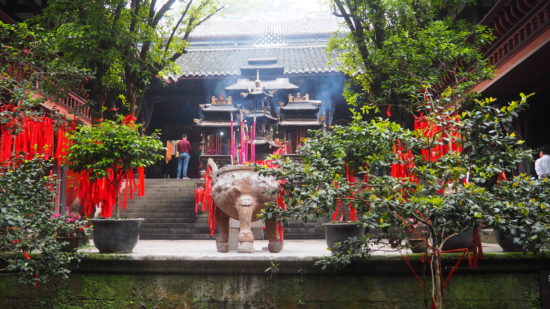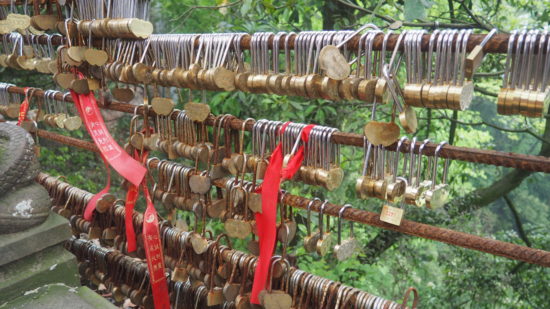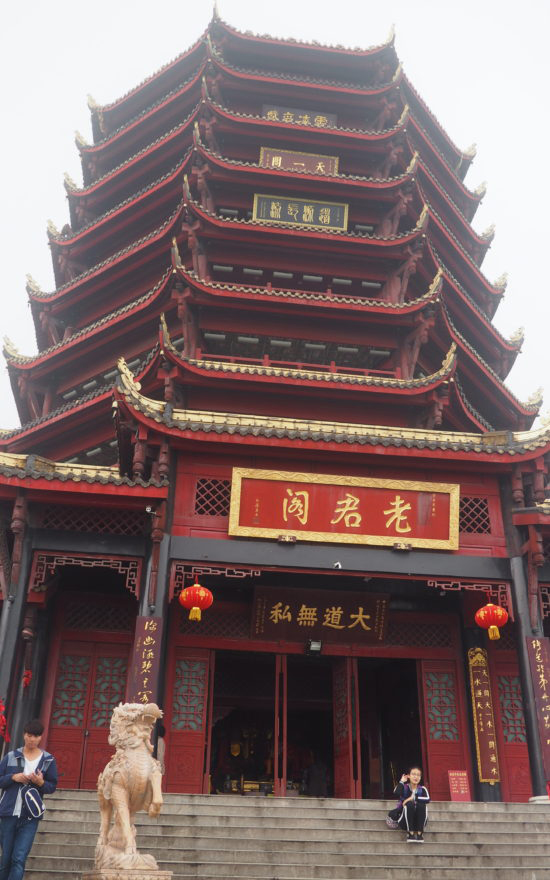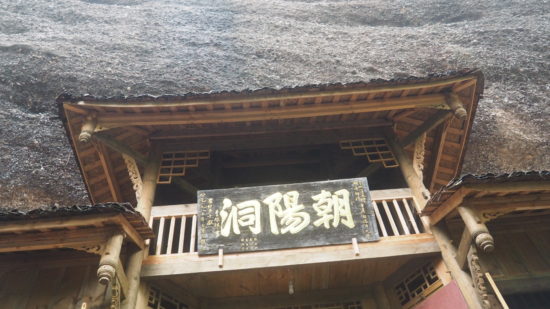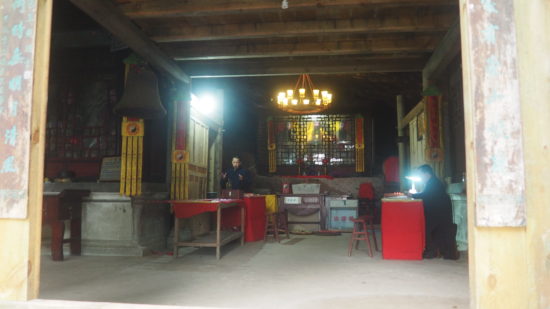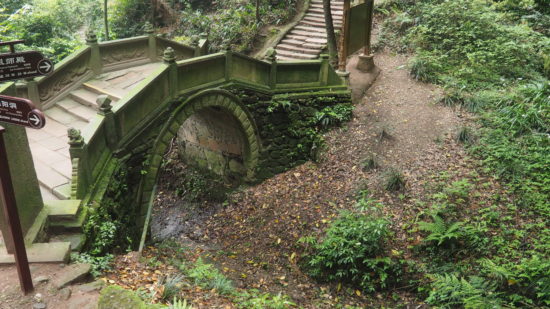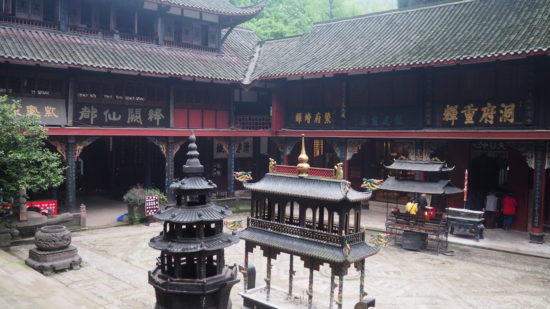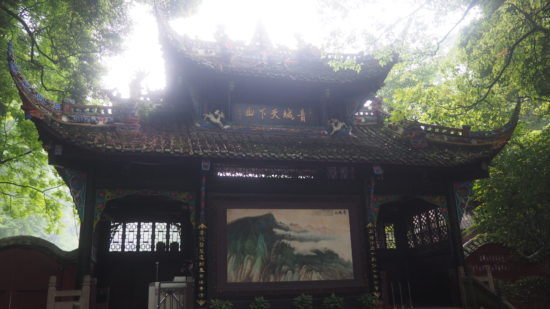 Chunxi Road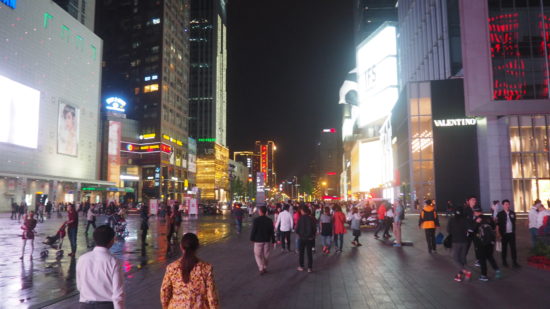 Chunxi Road.  It honestly reminds me of Tokyo's Shibuya… not there yet.  But shopping and chain restaurants are all here.  Also very modern and cleaner than the normal parts of Chengdu.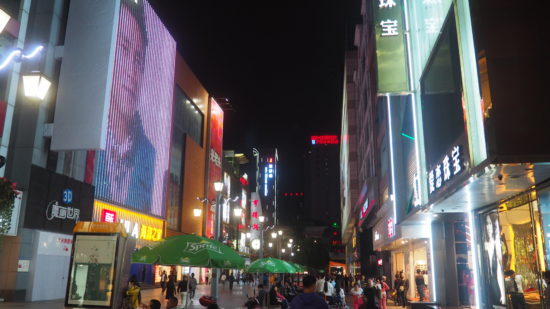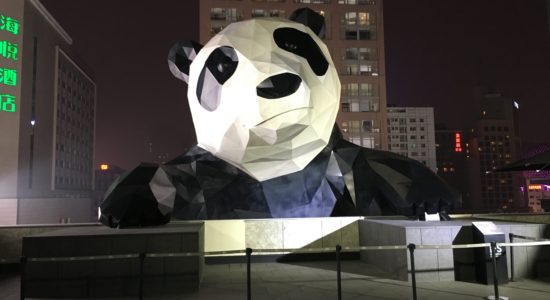 You can also go and visit the IFS Mall, and at the rooftop is this gigantic panda.  You can see the panda from below as well.
Leshan
Funnily enough, we were suppose to visit the Big Buddha.  However, we got there really late, and both the visiting hours and the boat ride were closed (it closed at like 5 or 6pm, we got there 5ish pm).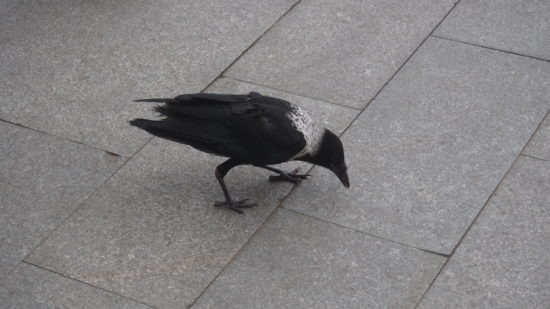 So instead I get to see these birds.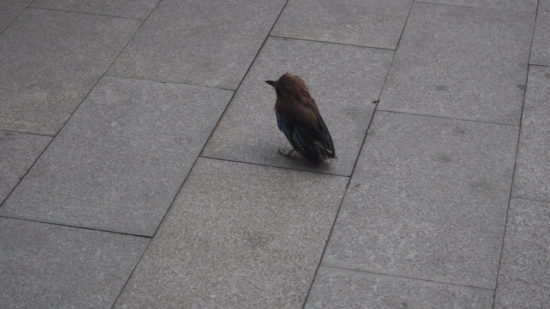 And of course eat a lot of food, as noted above.  Leshan is famous for its food though.
Mount Emei
Mount Emei also requires a train ride from Chengdu as well.  If you were to actually hike Mount Emei, it will take about 2-3 days.  If you took bus or car to go up, then cable car, then you can make the hike back and forth in one day.  If you take the bus, it will take about 2 hours each way.  Because we were late, we had to take car (which costed more) to go back and forth (1 hour each way).  These car drivers can be found nearby the base of Mount Emei.  Also even during May, at the top of the mountain there will be snow.  However it isn't extremely cold as it isn't windy.  But, if you do have altitude sickness, you might feel a bit slightly of this when going up.  You can also buy bamboo sticks to use as a cane while going up and down.  Bamboo sticks are also good for fending off monkeys.  If you don't hike, you probably won't see many monkeys, but if you do, be prepared.  Don't have open bags and don't feed and don't provoke them.  Because monkeys have been spoiled by tourists from before, they are very aggressive in taking what they want.  I heard a friend's friend who got bit by a monkey and was afraid of getting rabies, and it's hard to find a hospital who would actually treat you than a doctor who will just say, "Don't worry about it."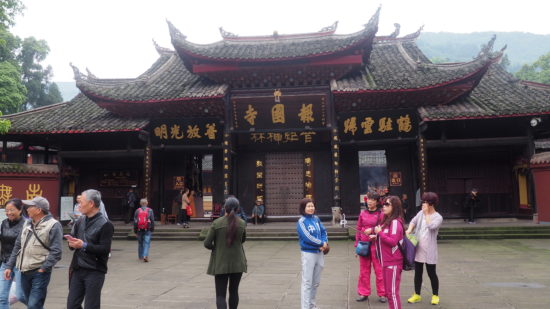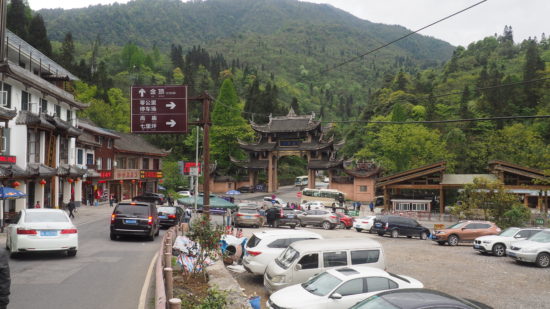 This is where the car dropped us off and we had to take another bus to go up to the cable car station.  You also have to buy bus tickets and entrance tickets beforehand, which our driver took us to before coming here.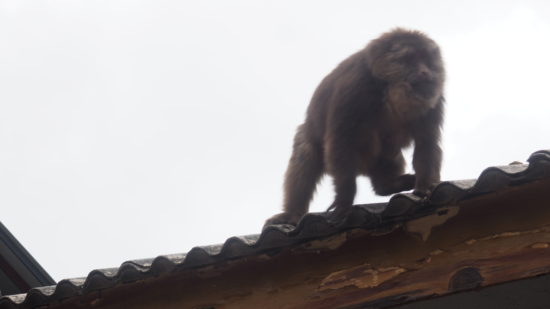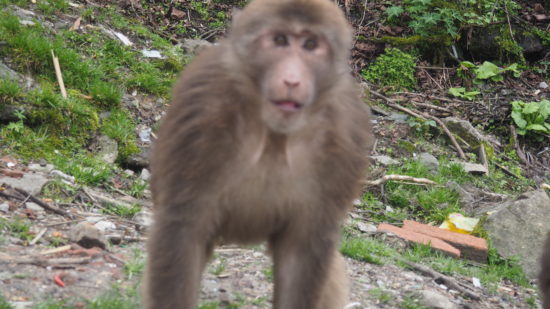 Monkey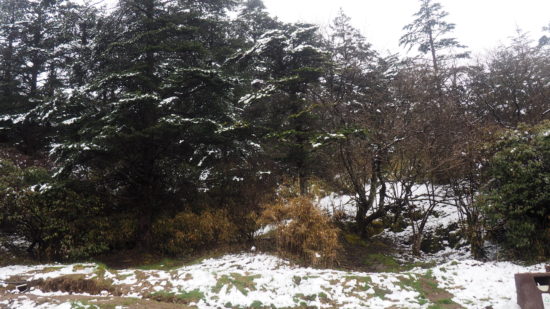 Right when we got to the top, snow.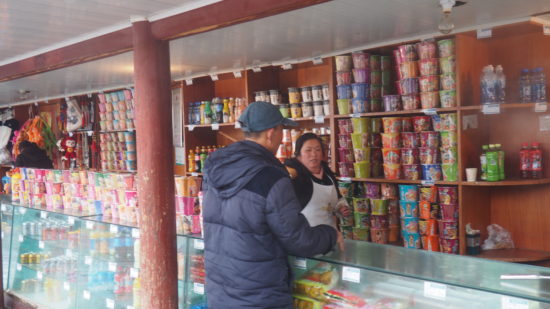 There are shops while hiking to the top, that sells food and drinks and even alcohol.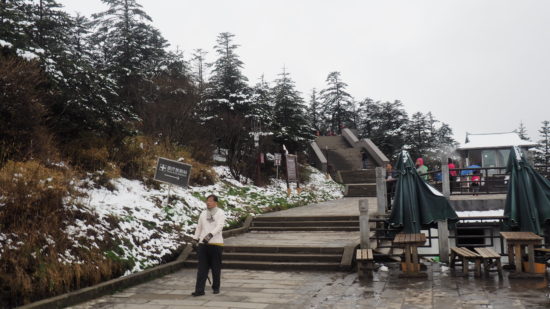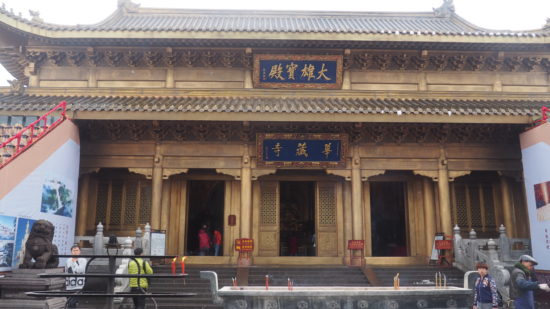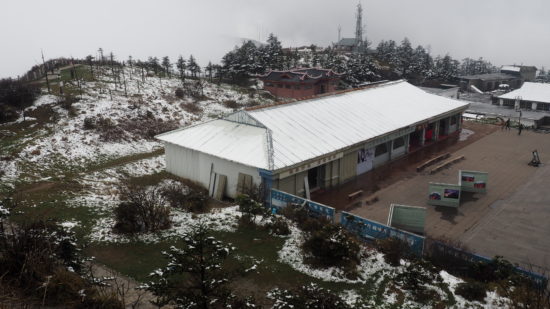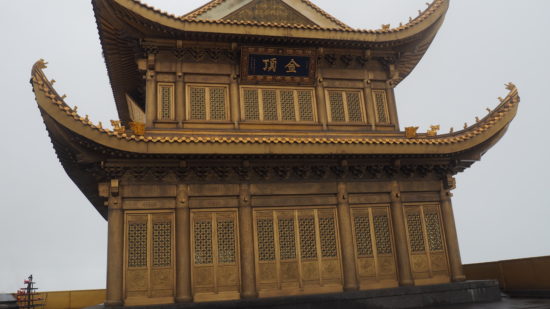 Golden Peak.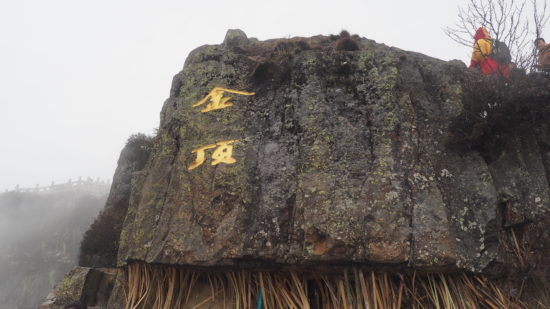 Golden Peak.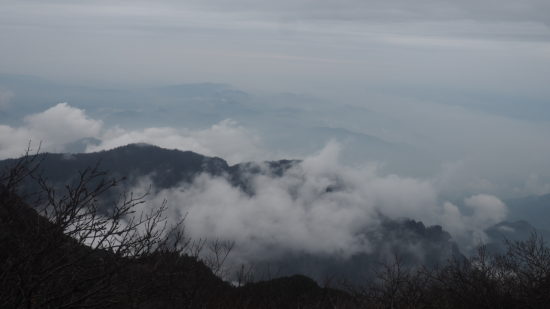 From above.
New Century Global Centre
New Century Global Centre is the world's largest building in terms of floor area.  They have different shopping departments such as Lotte Department Store and also their own Global Centre department store.  They also have a water park with their own artificial beach as well.  However, when I went, the whole place was actually very empty, except for Starbucks.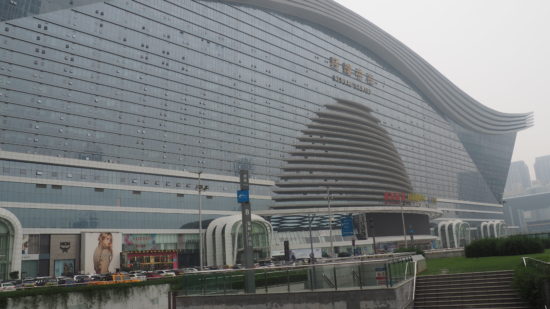 From outside.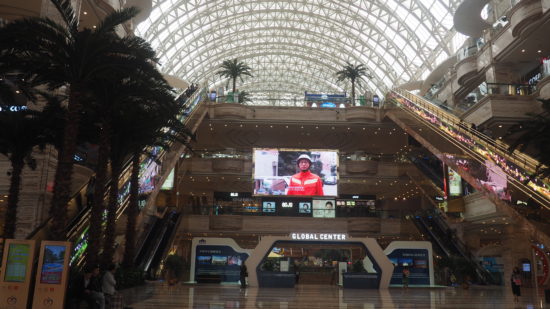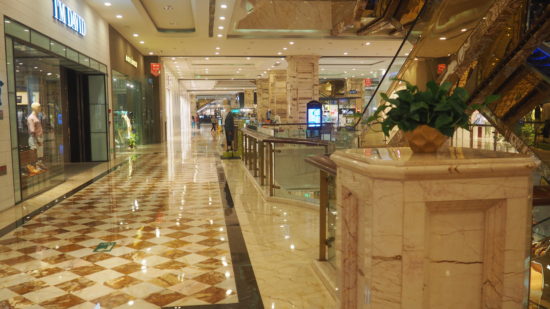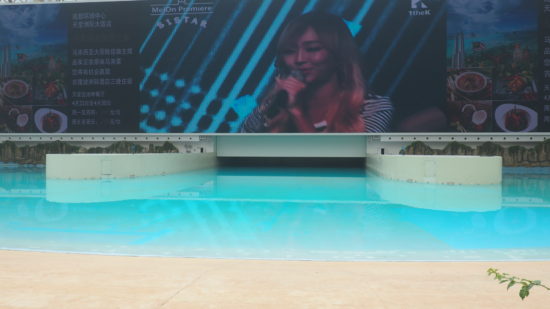 This is the artificial beach… it was playing K-pop concert.  This isn't open until later in May.
Wenshu Yuan Monastery
You can visit the Wenshu Yuan Monastery as line 1 metro takes you nearby to it.  It is still a 7 minute walk away from the metro station however.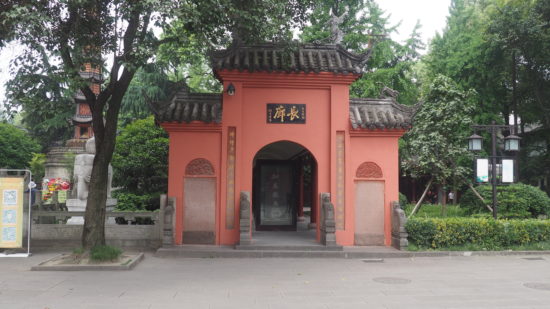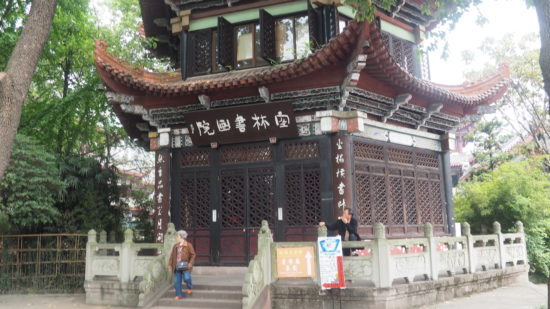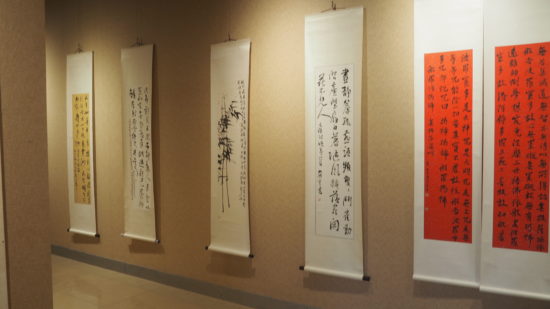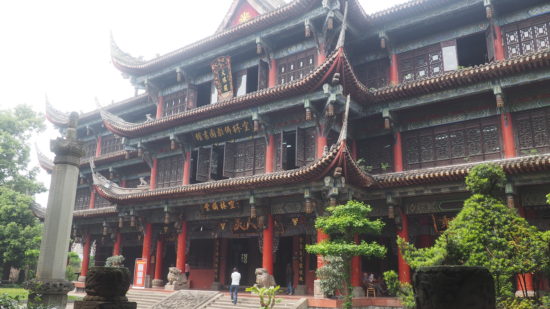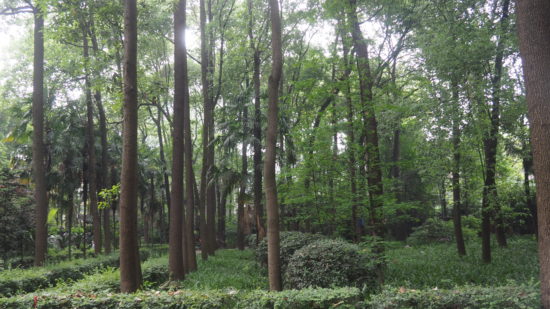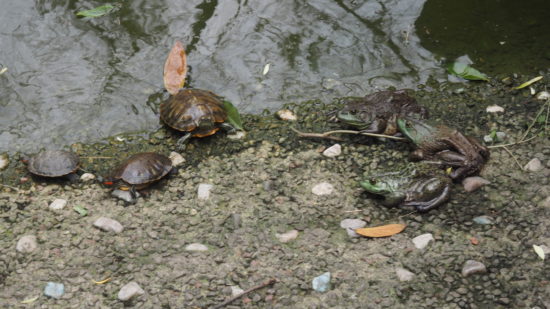 Some turtles and frogs.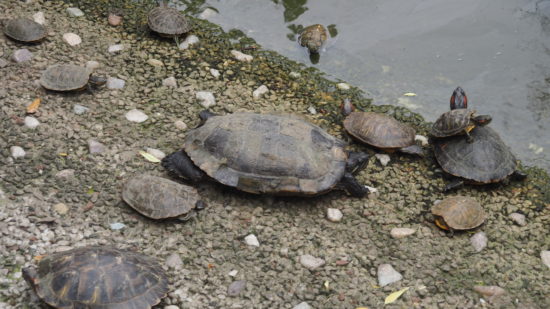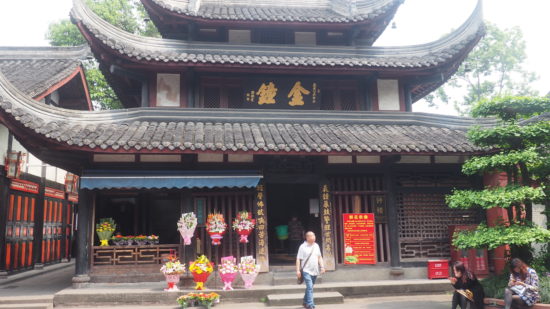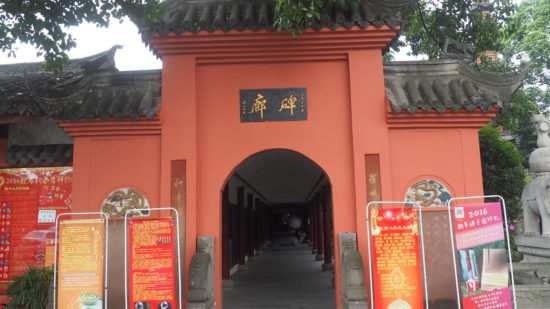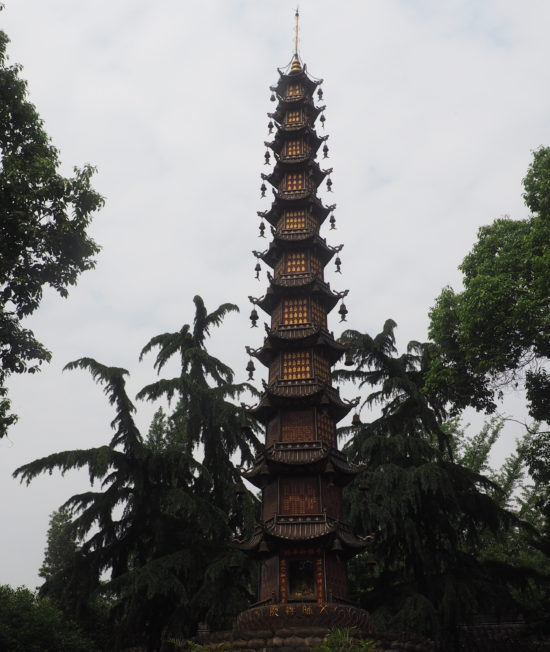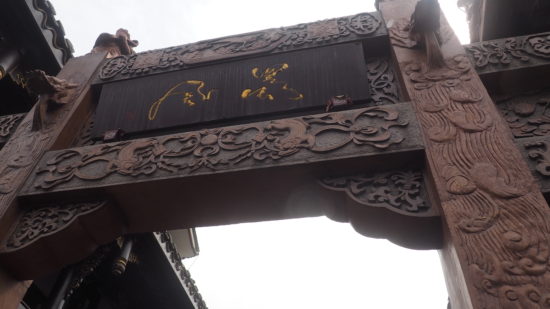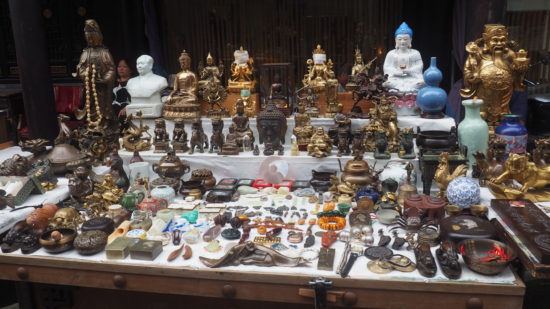 Some sacred relics you can purchase outside Wenshu Yuan Monastery.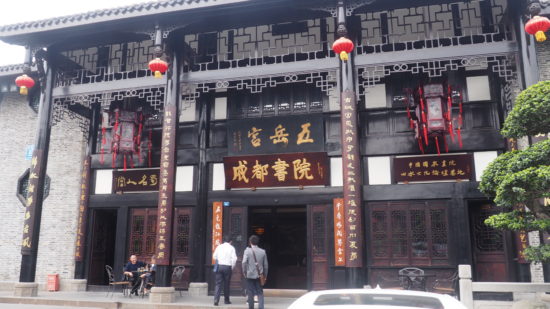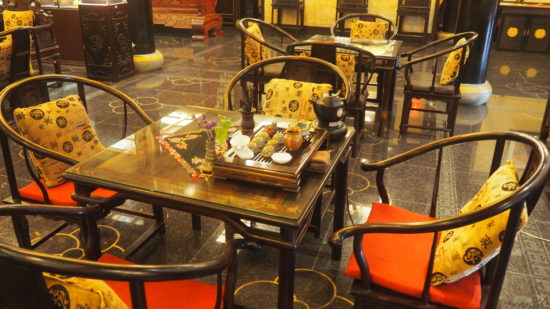 Nightlife
Let's just say that nightlife in Chengdu is quite interesting.  The recently opened Space Club marks an up and coming popping nightlife vibe that suggests more parties and clubs to be happening soon.  They also have their own Lan Kwai Fong, also opened by Allan Zeman, which while relatively empty, has potential to be the next Singapore's Clarke Quay (similar vibe).  If you want to go for something much more underground, you can go to Poly Centre, an actual office building but with party places all located on the top floor… great way to use a commercial building that's for sure.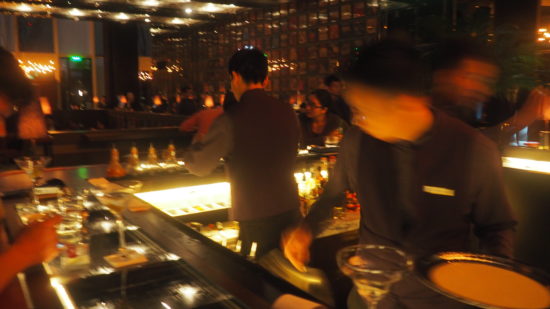 Besides the aforementioned, you can go to hotel bars, such as this one, and drink in their bars.  This one here is Grand Hyatt's Xi-Mi.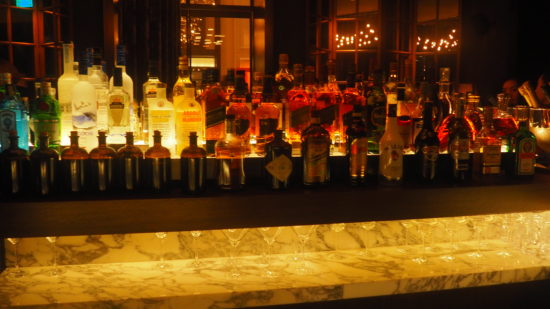 Grand Hyatt Xi-Mi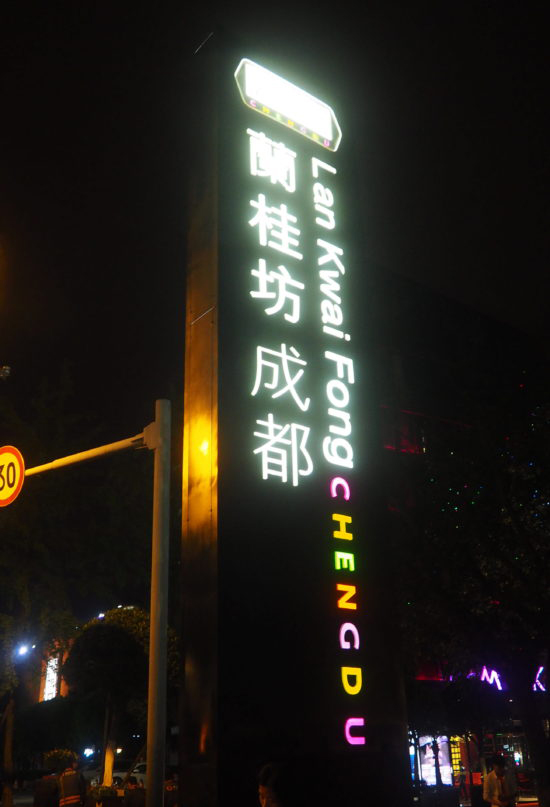 Self explanatory.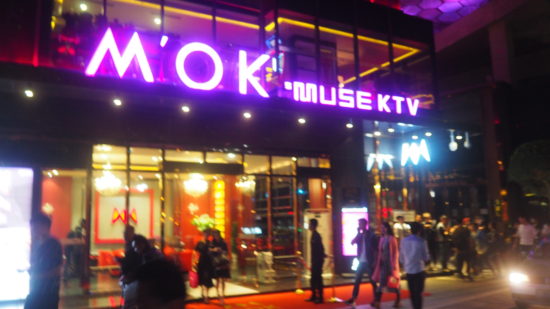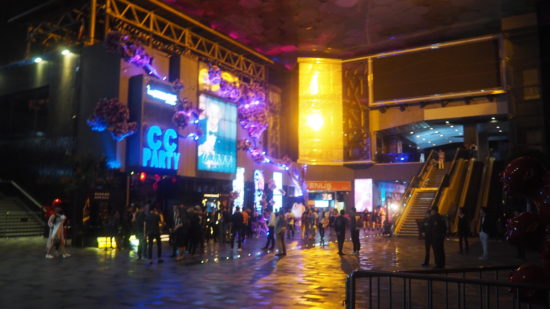 Across from Lan Kwai Fong, across the bridge, is a street lined up with many Chinese bars.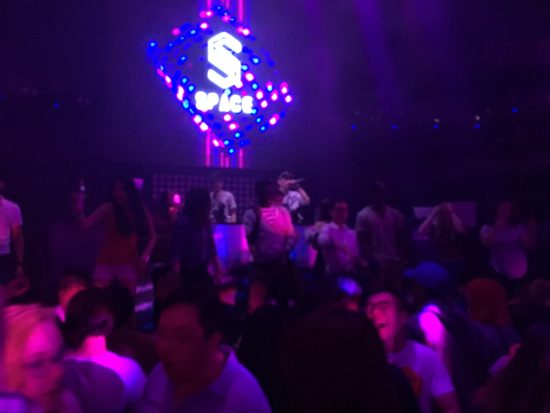 The infamous Space Club.  What's funny is that if you are a foreigner or expat, you are often brought to the front middle of the club, and you get free flow of cheap alcohol.  You also get to go in for free.  The locals usually have to pay for entrance fee and pay for tables, although they are sitting tables.  This isn't just exclusive to Space Club, most foreigners or expats have free entry to many bars and clubs.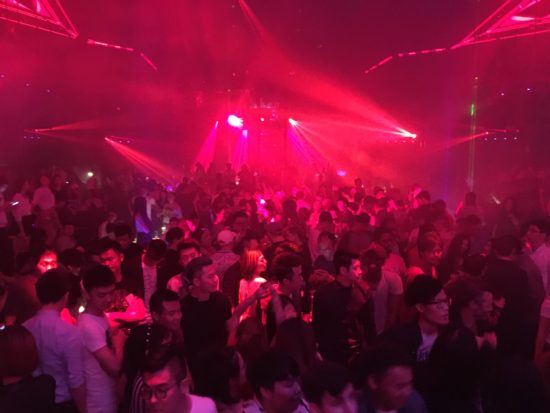 Unlike many clubs where they ban you from dancing on stage, this one doesn't.  This is the view from being on stage.  The club is quite long… the picture doesn't show the length of this club.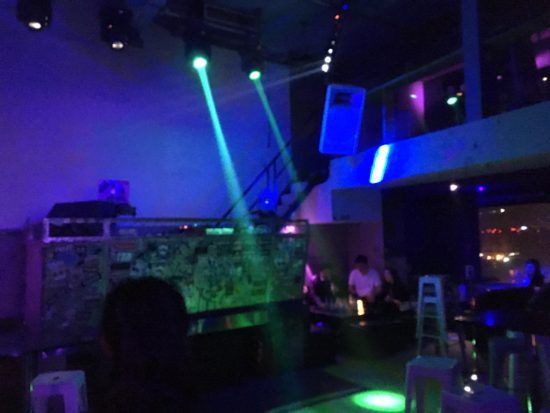 I tried taking many pictures of other places in Poly Centre, but they all turn out to be pitch black.  This one was closing down, but it provided me enough light for a decent picture.  As you can see the feel is more underground and more grudgy, but definitely the fun factor is up there with LKF and Space Club.  It really just depends on what kind of partying atmosphere you're aiming for.
My trip to Chengdu was unexpectedly fun.  There was everything I loved – spicy food, culture, good nightlife, good late night snacks, and everything was so cheap it's pretty much laughable.  People say one week is usually enough for Chengdu… honestly I was there for one week and I still haven't gone to other scenery places like the famous Jiuzhaigou.  So you probably want to stay for more than one week to fully appreciate what Chengdu and its surroundings has to offer.