I love the name Valencia; it's an incredibly lovely, classy and eloquent name.  The name suggests of modern, sleek, and futuristic, but the city has a combination of both.  You'd be impressed by Valencia's Old Town and at the same time its modern City of Arts and Sciences.
When we arrived at Valencia, I guess it was the start of the month for the Las Fallas Festival.  The Las Fallas Festival is held to commemorate Saint Joseph in Valencia and burns monuments to celebrate.  For a five day event, street parties are held everywhere celebrating the historic, the religious, and the comedic.  Anyway, we didn't arrive exactly on Las Fallas Festival (it is ending today, the date I started first writing this post, March 19, 2018) but we were already there when they started the beginnings of the festival – meaning the explosions and firecrackers.
It was a terrible experience as a tourist not knowing what's going on… the firecrackers and explosions that were literally everywhere in Old Town sounded like we were at war rather than a celebration.  If you want, contact me for a video of the sounds that were going on and you would think planes were dropping bombs!
Accommodation
Hotel Ilunion Aqua 4 (website)
I forgot to take photos of this hotel!  My apologies.
The hotel is definitely an upgrade from our previous accommodation, Barcelo Sants Hotel, the hotel that takes you out to outer space.  Rooms feel more spacious, one person's usage of a bathroom wouldn't disturb the other person's, and the double beds aren't just two beds stuck together!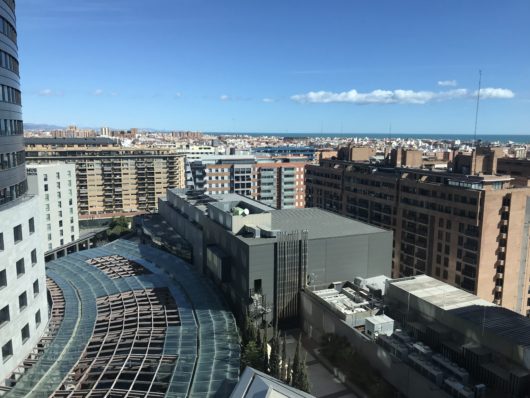 The view from our room
Places to Eat
Tapearte
This was one of the recommended restaurants to go to that was nearby our hotel as suggested by the hotel staff.  Once again, like the other restaurants on this trip, it were the restaurants that weren't pre-booked that often gave us the biggest surprises.
So Tapearte provides tapas and paella.  Food was actually really good!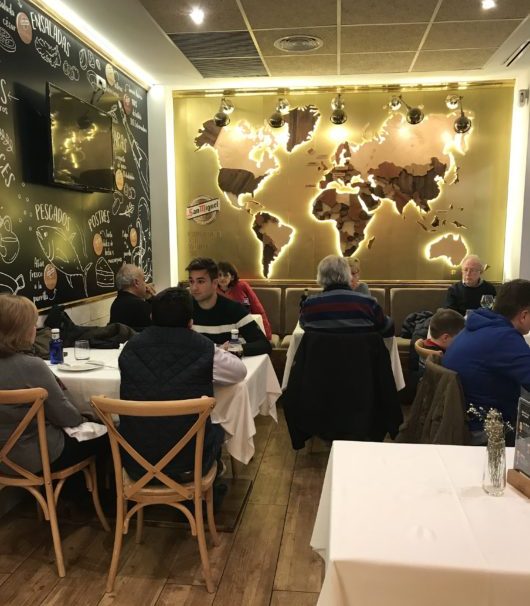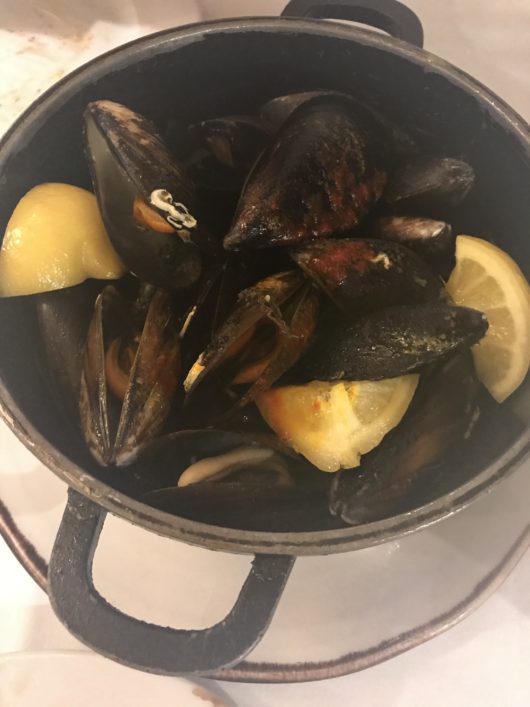 Mussels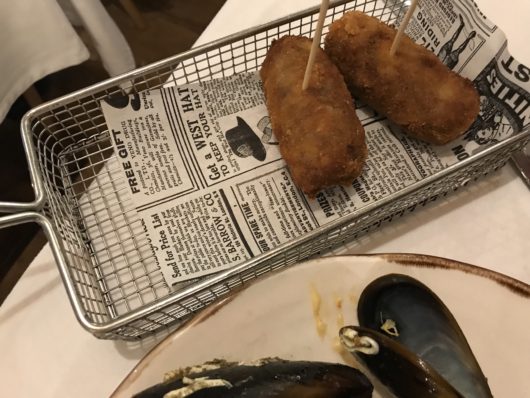 Ham Croquette, where the inside was actually warm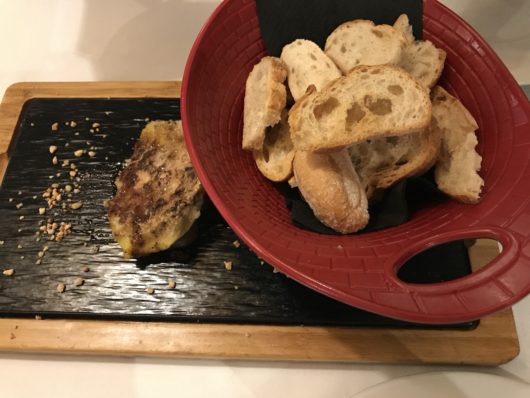 Foie Gras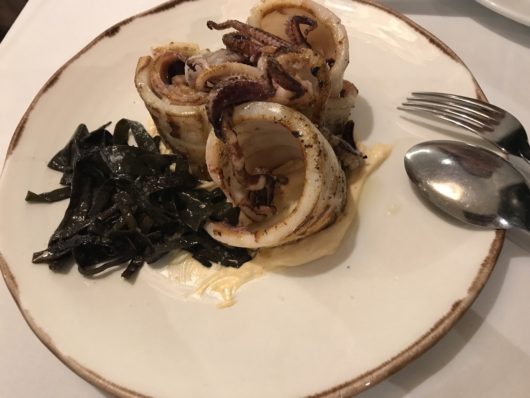 My favorite – the grilled calamari!!!  It was one of my favorite dishes in my whole Barcelona/Valencia trip!
Mercado Central (website)
It's up for debate as to whether to place this in the 'Places to Eat' category or 'Things to Do' category, but I felt that since it was related to food and that there were restaurants in Mercado Central, it was more appropriate to fit it here.
As the name translates, this place was generally a market.  There were a few small restaurants here and there, yes, and they will packed with people, but in general it was people selling things like ham, vegetables, fruits, fruit juices, seafood, other kinds of meat, and so forth.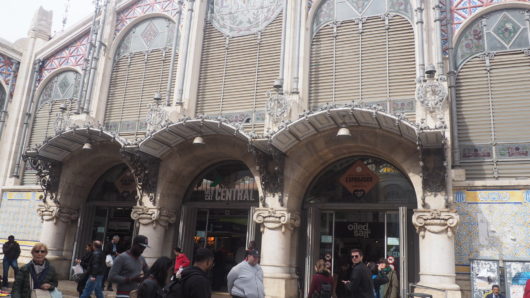 Outside the entrance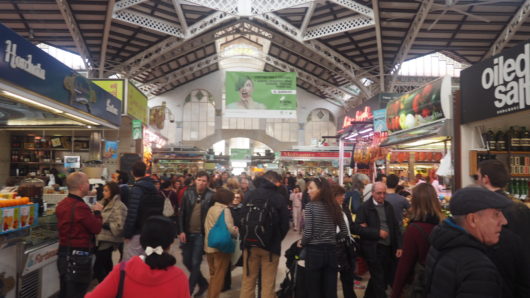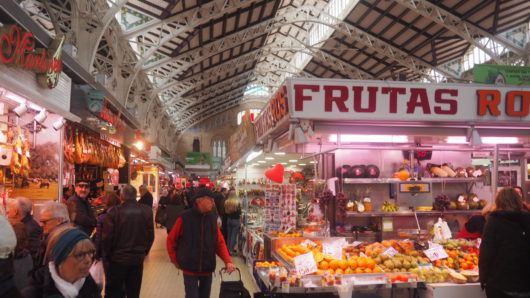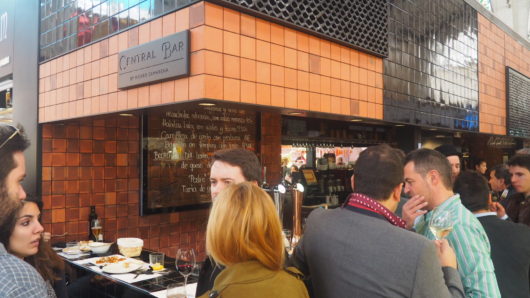 One of the handful of restaurants inside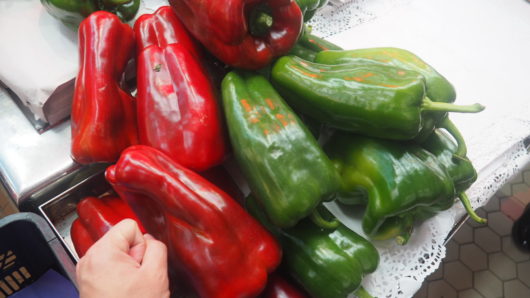 A stall was selling red and green bell peppers.  I purpose held my fist so that you can compare the size difference between my fist and the peppers… they were huge!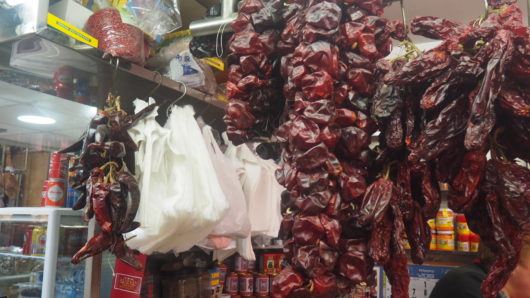 Horchateria Santa Catalina (website)
Supposedly this was a very highly rated Horchata place in Valencia located in Old Town.  I love Horchata, or at least I thought I did, until I realized that there were different types of Horchata in the world!  The ones I've been having were in Los Angeles, and they were probably the Mexican Horchatas that had cinnamon flavors and were sweeter.  The ones here, in Spain, were actually salty and tasted and smelled like chlorine in the swimming pool.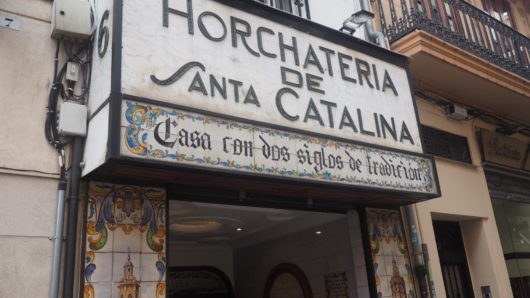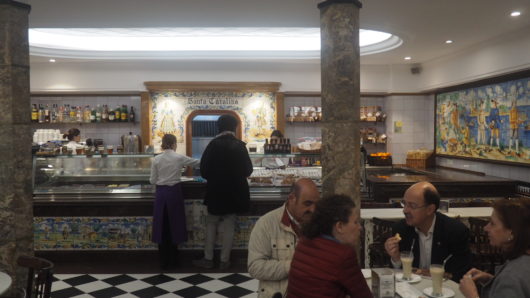 Make sure that when you search you search the right one on Google Maps, otherwise Google Maps takes you to a location several minutes away where you keep finding but for some reason it doesn't exist!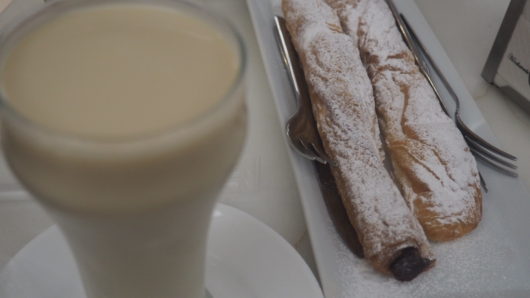 This.  Neither the Horchata or the chocolate stuffed churros was delicious.
Veneta Food & Gelato Italiano (website)
As the winner for one of their flavors for Gelato Festival, Veneta was something we stumbled across while being lost searching for Santa Catalina.
Haven't had any lunch or breakfast by 2pm, we decided to swoop in and get some gelato while continuing our search for Horchata.  So we went here to take a rest.
The flavor that won the Gelato festival was great, but it was short of outstanding.  It was creative and different sure, but it didn't leave your taste buds hanging for more.  It left no craving or memory of the flavor afterwards.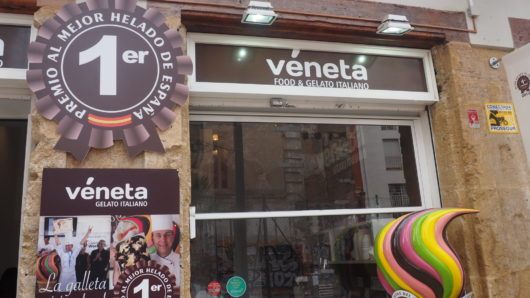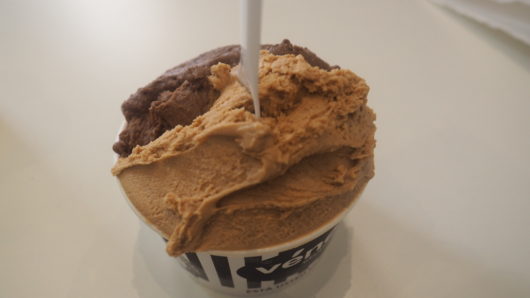 Got two flavors – chocolate and coffee
La Marcelina
There were many restaurants lined up near the Playa del Cabanyal beach.  We were deciding between La Marcelina and La Pepica, both restaurants that were famed for paella.
Valencia is most famous for their paella, as it was the city that paella was originated from.  The traditional paella would have consisted of rabbit meat, which is not to my liking, but nowadays a lot of restaurants if you want rabbit meat you can order the Valencia style paella.  Otherwise usually the traditional paellas consist of chicken meat.
We ended up choosing La Marcelina because it was packed with people and the decor was filled with skin color and was brighter and gave a more classical, imperial feel to it.  La Pepita felt more sketchy and street.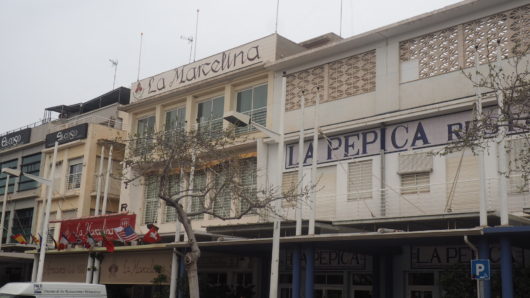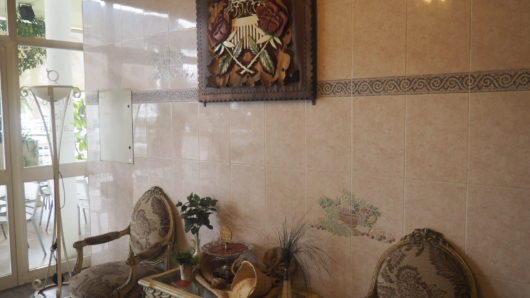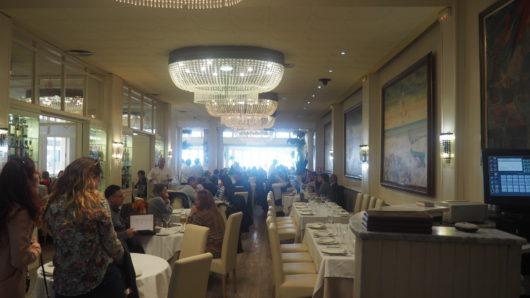 Inside the restaurant.  We were there at around 3pm, which was the prime time for when Spaniards eat lunch.  We couldn't walk in as they were "fully booked" with reservations.  So, our lunch time ended up being 4pm instead!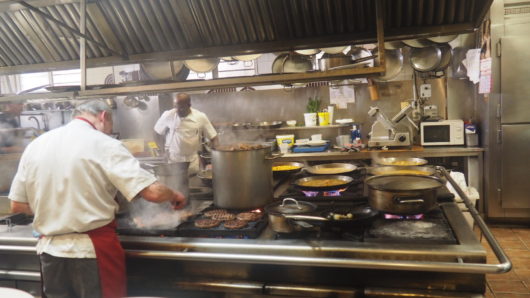 The chefs hard at work.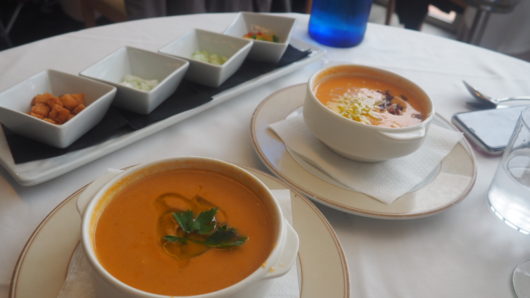 We got two types of soup, one was tomato soup and the other was a mixed veggies soup.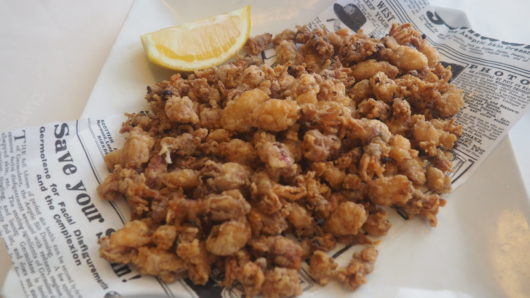 Can't believe we also got the baby squids, because…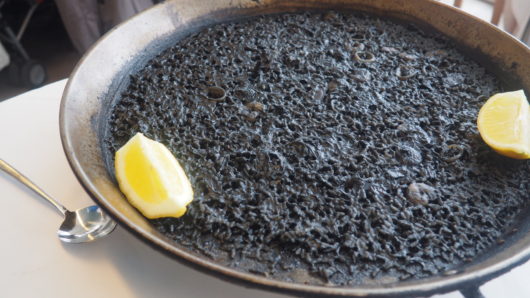 This "Arroz Negro" squid ink paella was filling.  The picture is deceiving!  We literally ate 12-14 bowls of rice to finish this.  Imagine – we didn't eat breakfast, we ate two scoops of ice cream and one churro, so we were still hungry, then we finished this meal, and that night we didn't even ate dinner.  We were still very full prior to sleeping!
Bastard Coffee & Kitchen, Valencia (website)
On Sunday, we have to leave very early to make it to Sitges and more importantly, making it to our flight!  So the night before, I searched up a couple of places nearby Valencia that was open for breakfast… especially as you know, the Spanish culture seems to lean towards eating later than usual for both lunch and dinner.
Bastard was just something that I picked because of its location, not because of its name.  What's funny about this place is that even though they had a breakfast menu, most of their 'breakfast' were only available at 10am, even though they opened at 8am, the time that we actually arrived.  The only things that were available were tomato bread and muffin / pastries.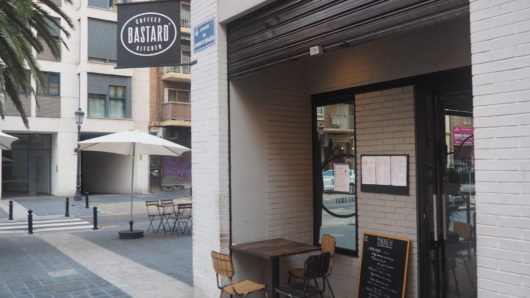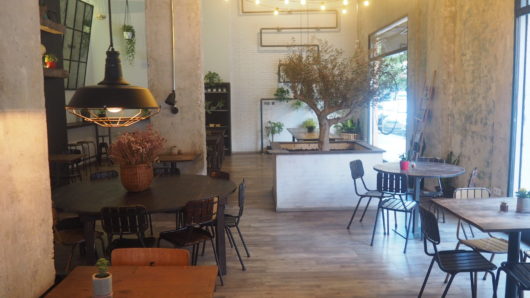 Things To Do
Aqua Multiespacio
I guess it's owned by our hotel management as well, hence both share the names Aqua.  Aqua is a simple and prominent shopping mall in Valencia, housing familiar names for both clothing and restaurants like McDonald's, Zara, Mango, Haagen Daz…
Not much to see and do if you live in a city filled with shopping malls with international brands, although they do house more big European brand names.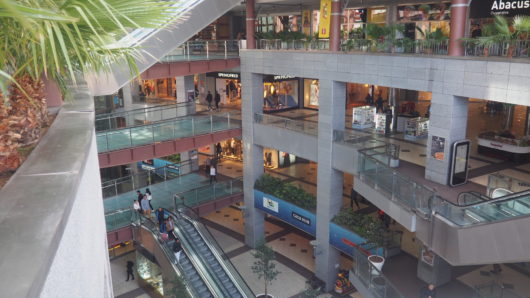 City of Arts and Science (website)
Apparently it's an entertainment-based cultural and architectural complex in Valencia.  We didn't get a chance to marvel inside it, although from the outside you can see its futuristicish design.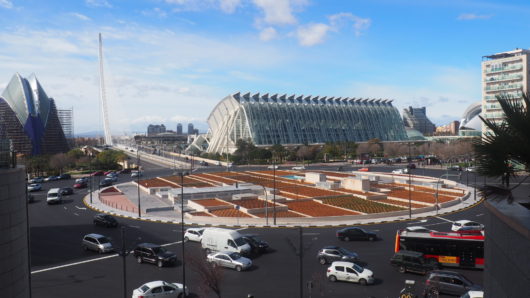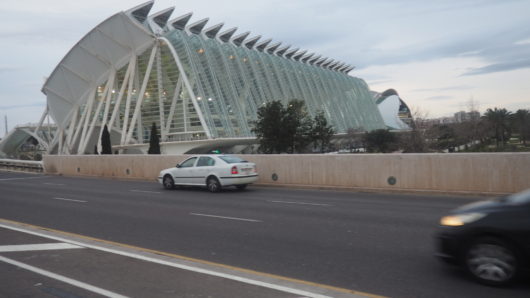 Not sure what this is… a swimming pool maybe?
Old Town Valencia (website)
Old Town Valencia is great.  Old Town doesn't feel like an old town at all; in fact, I would argue it looks newer than even other city centers or richer places in major cities.  Or at least it feels like.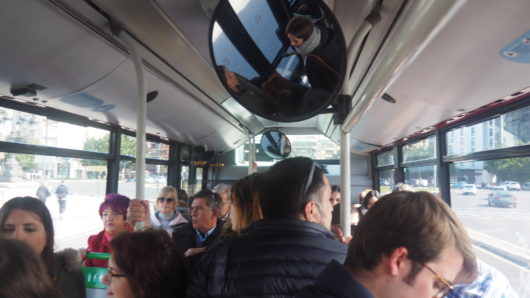 Taking a bus to Valencia Old Town.  Google Maps is fairly accurate as to where to take the bus.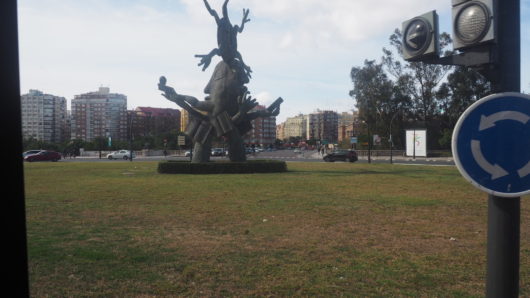 Along the bus ride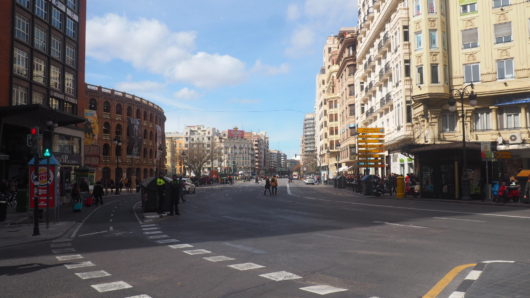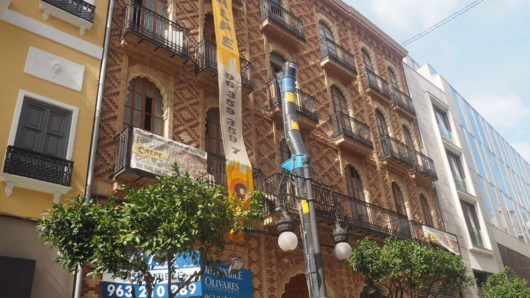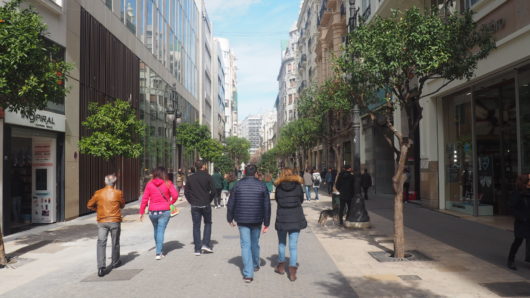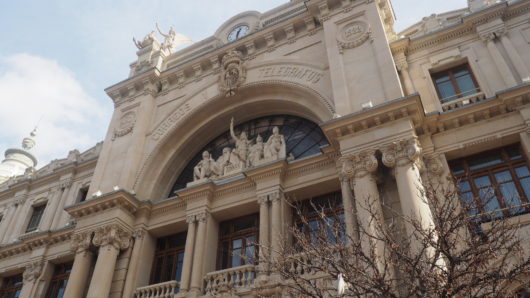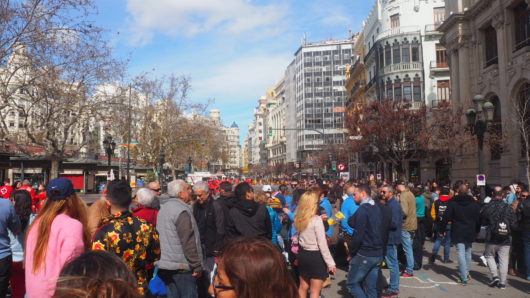 Like I said, since it was the beginning of the month of the Las Fallas Festival, there were crowds of people waiting for the celebrations and parades to begin.  The real festival hasn't even started!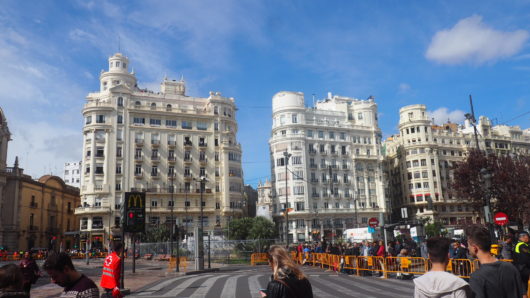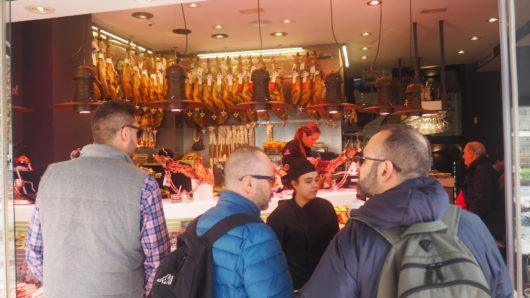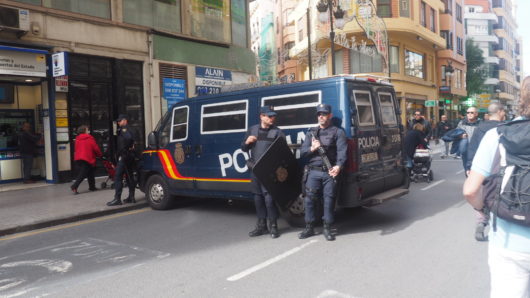 The police were everywhere.  Apparently the police don't like being taken photos of.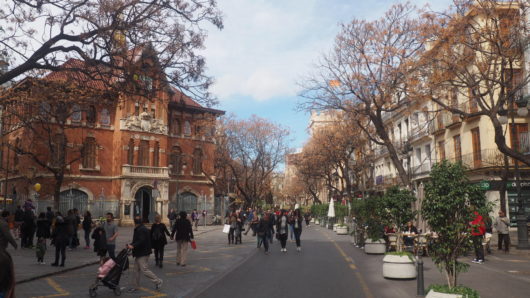 Old Town Valencia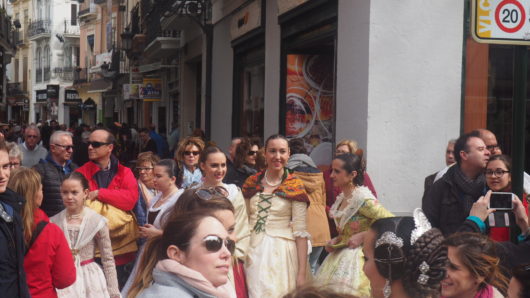 Spanish Girls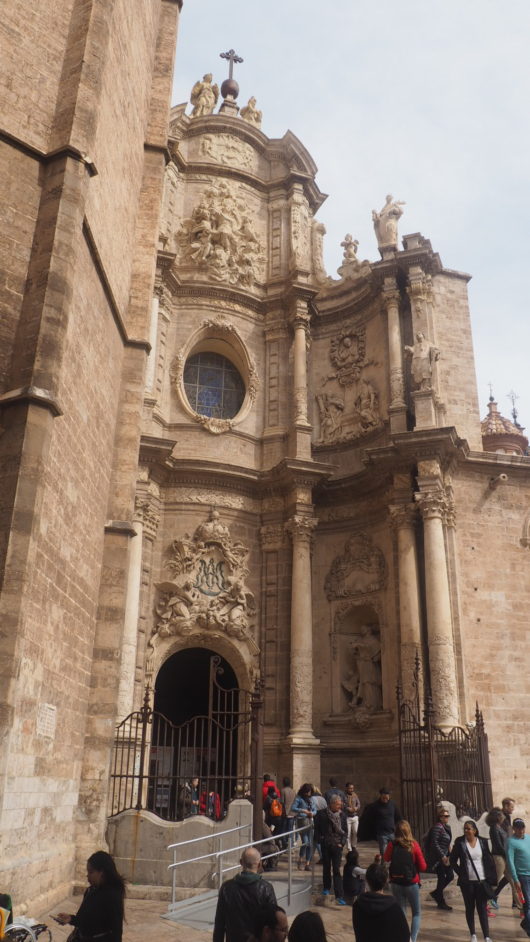 Valencia Cathedral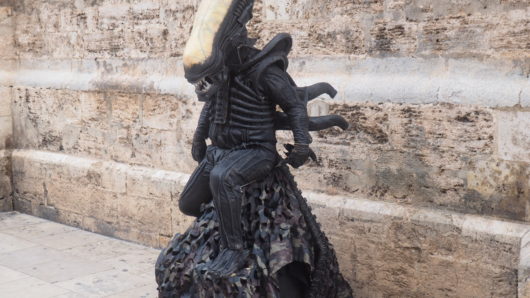 Alien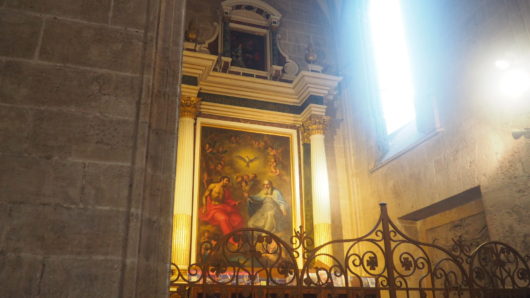 Valencia Cathedral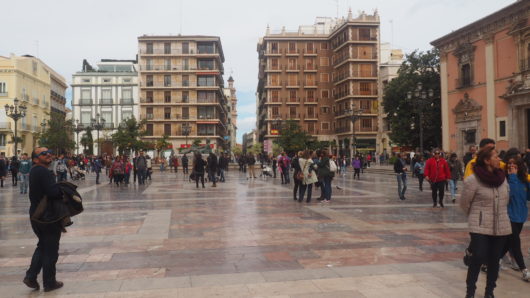 Plaza de la Virgen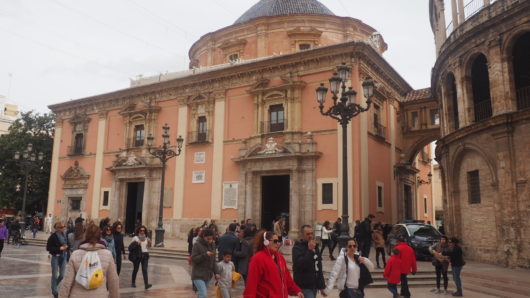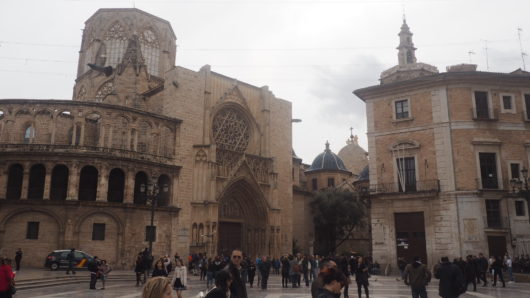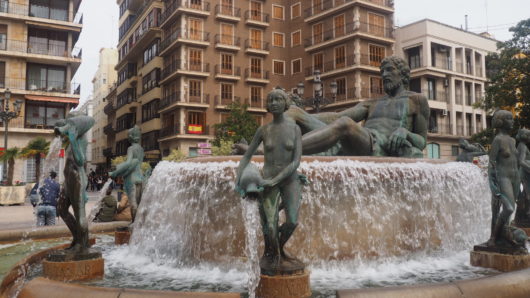 Playa Del Cabanyal
This beach is located east of Valencia.  This is where all the paella restaurants close to the coast are located.  Great place to dine with a good view.  Also during hotter months, probably a great place to sit by the beach as well.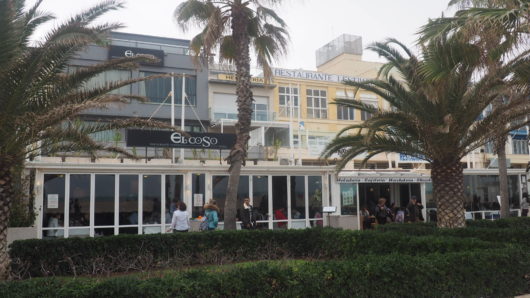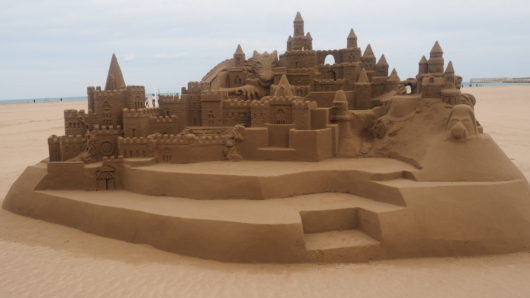 Someone built this amazing sand castle.  The artist was standing next to it the entire time.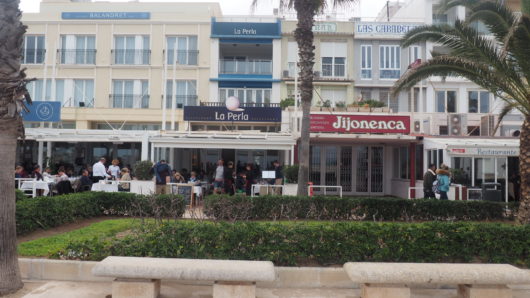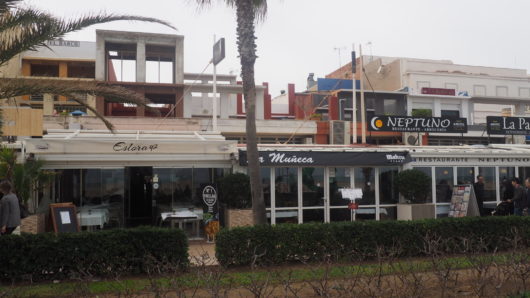 L'Oceanogràfic (website)
From Wikipedia,
"The Oceanographic is the largest complex of its type in Europe with a surface of 110,000 square metres (1,200,000 sq ft) and a water capacity of 42,000,000 litres (11,000,000 US gal). This includes a 26,000,000-litre (6,900,000 US gal) dolphinarium and a 7,000,000-litre (1,800,000 US gal) ocean tank with sharks, rays and other fish. There are 45,000 animals of 500 different species including fish, mammals, birds, reptiles and invertebrates — amongst these are sharks, penguins, dolphins, sea lions, walruses, beluga whales, and more — all inhabiting nine underwater towers. Each tower is structured in two levels and represent the major ecosystems of the planet.
The park is divided into ten areas. The marine areas reflect the Mediterranean habitats, the polar oceans — the Arctic, the islands, the tropical seas, the temperate seas and the Red Sea. The park also includes a dolphinarium, an auditorium with a Red Sea aquarium, an area of mangrove swamps and marshland, and a garden with more than 80 different species of plant.
The sea water is pumped from the beach of La Malva-Rosa having passed all of the necessary requirements for quality.
The architecture of the complex is a work of the architect Félix Candela and the engineers Alberto Domingo and Carlos Lázaro, who made the structural design of the concrete coverings of the buildings."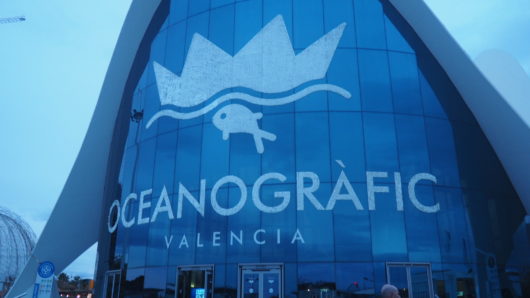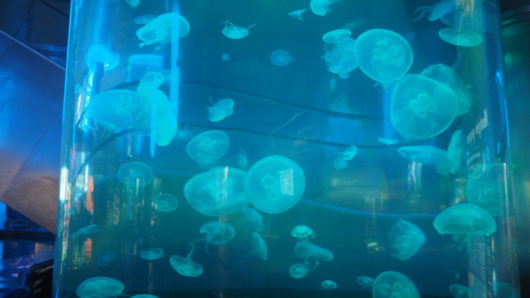 Jellyfish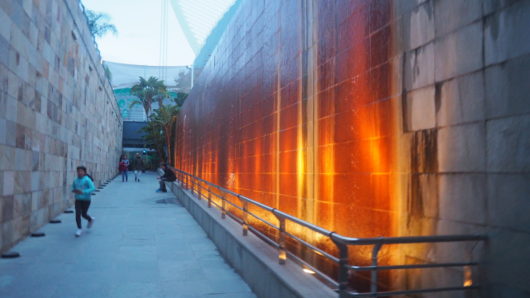 Water wall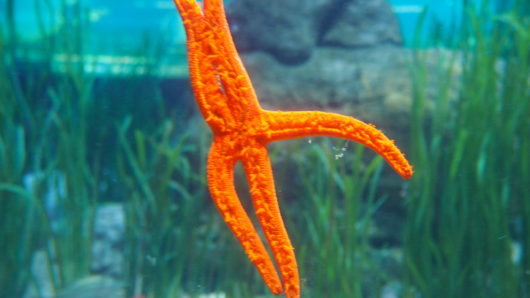 Starfish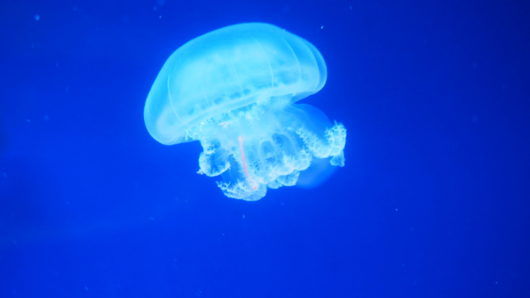 Up close and personal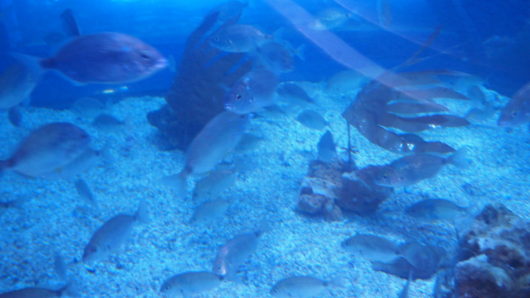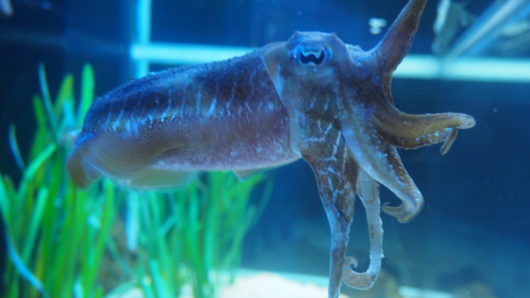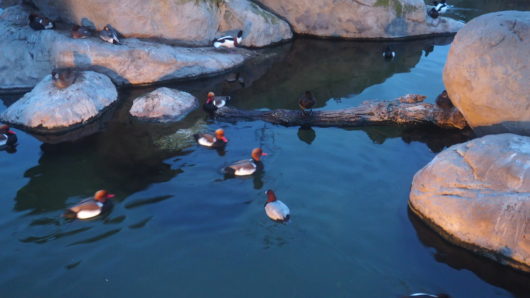 Ducks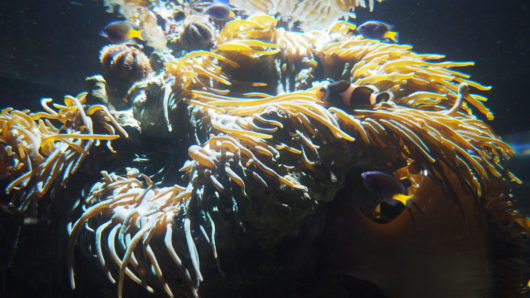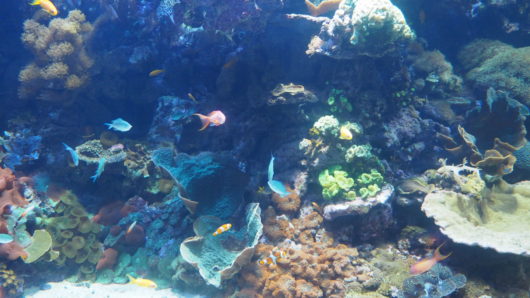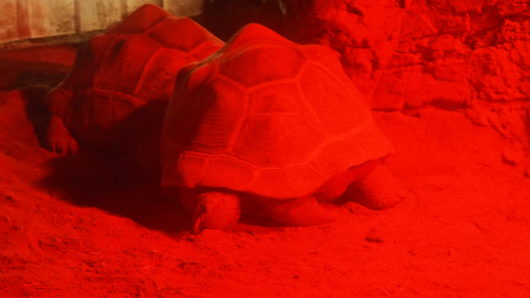 Party in Mya Club (website)
Initially, I wanted to go to L'Umbracle, which was also in the City of Arts and Sciences.  However, since L'Umbracle was only open during the summer months, so we had to go to a different club called Mya, which was also in the same location.
Mya was tailored for young University students both international and local, a majority of course being local.
The entry didn't begin until 1am, and apparently clubs in Spain in general don't really start partying until 2 or 3am.
With a purple pink decor and a sweet sound system, this was actually a really good clubbing setup.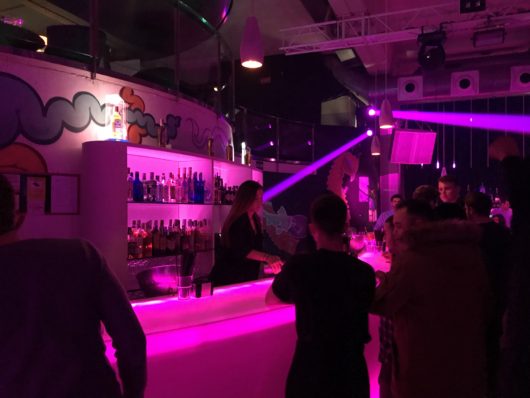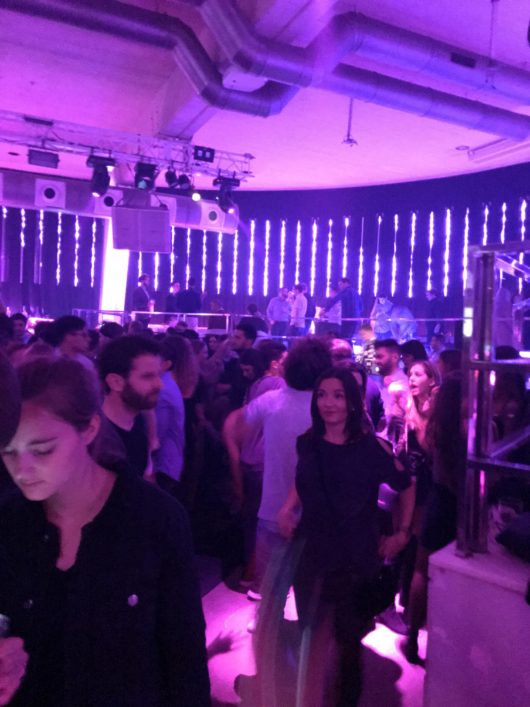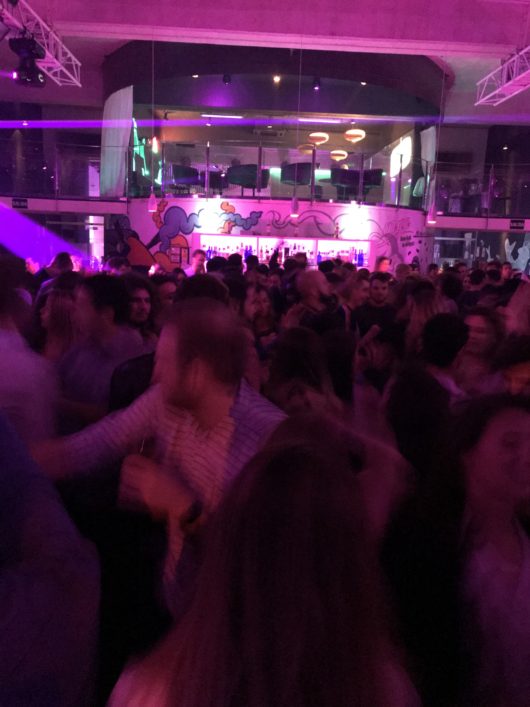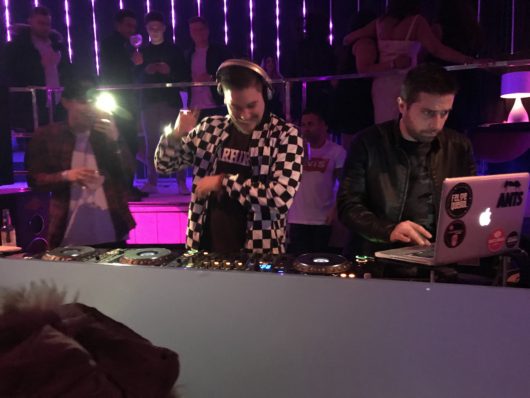 I actually enjoyed my time in Valencia and would definitely want to come back again given the opportunity.