When you visit the Dubai desert, you'll understand why the Arabs feel such an intense devotion towards it. The seemingly seamless desert of Dubai with its red dunes is the true home of Arabs from around the world. By experiencing the desert, you too, get to share in this legacy. So get ready for your desert safari in Dubai, to explore the fascinating contrast of virgin blue skies with red sands and to ponder its mystical silence.  Listen to the strange susurration of the granules of sand as they move with the breeze. Let the magic seep in!
*this post was guest written by Neha from dubaiwikia.com
(if you'd like to do any of the activities below, visit RAYNA TOURS at https://www.raynatours.com/city-tours/tours-by-type/Desert-Safari-Tours-11694.aspx)
Camel Riding
Camels have been the ancient mode of transport in deserts around the world for millennia. Bounce over the dunes on a huge, Arabian camel decorated with beads, colourfully woven carpets, bells and leather seats. It's time to feel like an Arabian nomadic adventurer!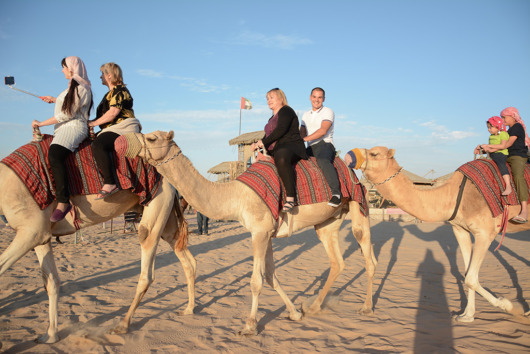 Adrenaline-jerking Desert Sports
One of the coolest desert experiences is sports! Speed, thrills, adrenaline jerks – you name it. Here are the top ones:
Sand Boarding
Sandboarding is like surfing – you balance standing or lying belly down on a board as you fly down a dune.  It's great fun, and it's a safe sport for kids, as there's no danger of drowning.
Dune Bashing
Imagine flying on tall red dunes while safely belted into a luxurious leather seat in a 4×4 vehicle. A professional driver will be at the wheel, to take you on a major twisting, turning ride that'll thrill you to your core. If you love adrenaline sports, you'll adore this mega-rollercoaster, all natural, with sands flying all around you.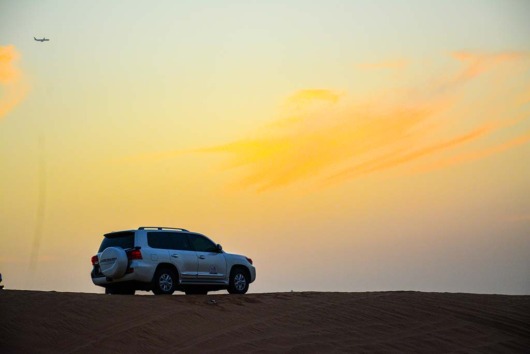 Dirt Biking
Dubai's deserts have many dry wadis, or old river beds that are perfect for dirt biking. We offer lessons for beginners, complete with safety gear, first aid supplies and more. So go ahead, take one of our well-tuned bikes and jump high, land hard, swish around and speed safely in the Dubai desert.
Fat Tire Biking
A fat-tire bike with its over-sized tires is literally designed to be ridden over the shifting desert sands. Test your fitness levels as you traverse the desert for hours at an end on a fat-tire bike. We are equipped with all possible safety gear, so kick that starter, throwing up rivers of sand and off you go!
ATV Safari
A quad bike, or ATV, otherwise known as a dune buggy, is a bit more difficult to handle than a dirt bike. But if you have mastery over one, you can be assured of an exciting experience. We'll help you with protective gear and riding instructions if you need any. Get ready for a challenging dune buggy ride Dubai, one of the most exciting desert sports ever.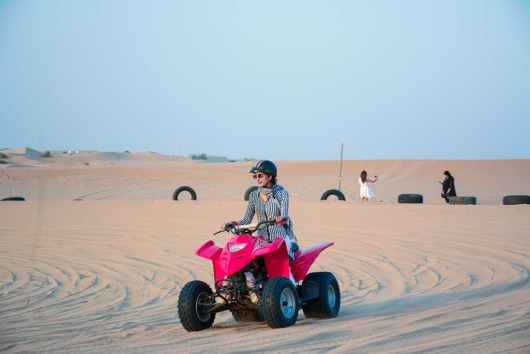 Jeep Safari
Explore miles of desert by jeep, watching out for its unique flora and fauna in air-conditioned comfort. Sit back on the luxurious leather seats as we drive you around the desert, watching the dunes appear and disappear. Jeep safaris are part of the morning desert safari Dubai package.
Evening Party in the Desert!
Remember, it's the desert, a pristine, ancient land. Our evening safari party is all about enjoying the Arabian culture, and feasting away.
Dinner in the Desert
A delightful Emirati barbeque dinner, both meat and veg and a variety of sauces, rice dishes, salads, desserts and non-alcoholic drinks. The buffet setting makes it easy for everyone to eat at our communal Bedouin tent. You can also take your plates out into the desert and enjoy the cool breezes as you eat.
Cultural Entertainment!
Get ready for belly dancing by beautiful Russian girls, and tanura dancing by male dancers in illuminated costumes. The huge communal tent literally throbs with traditional Arabian beats. Sway in time to the music while smoking hookah smoke, sitting back on silk cushions in the Middle Eastern style. Henna artists will apply fragrant herbal tattoos on your arms and feet while you relax.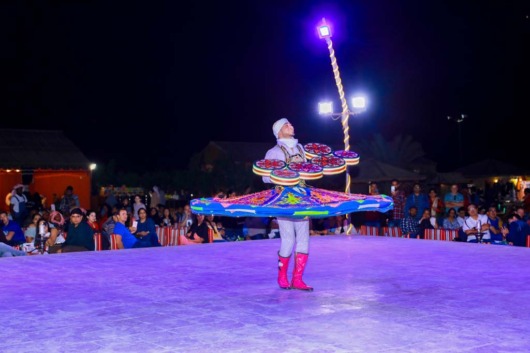 Sunset Photo Shoot
People come from all over the world to experience the spectacular desert sunset. Desert safari guides will set up a tripod and telephoto camera lens. If you're not used to this equipment, our expert will capture fascinating photographs of the desert sunset. Do you want to wear traditional Bedouin costumes and pose against the setting sun? Go for it!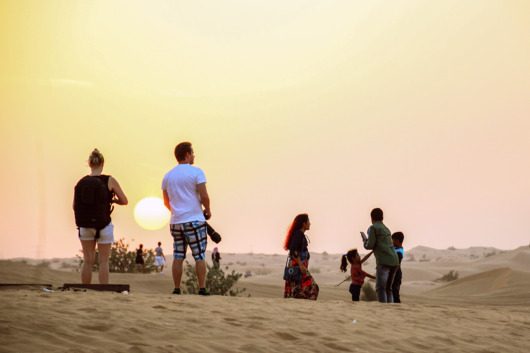 Hot Air Ballooning
Want to see the desert from a different perspective? Then sign up for a hot air balloon ride, which usually begins at dawn, when you can enjoy the beautiful sunrise. Be sure to bring a great camera with telephoto lens to capture the unique desert animals in action.
Falconry
Falcons are beautiful predatory birds which can fly 4,000 feet high. Get ready for a fabulous demonstration of prey hunting by our trained falcons. Feel free to take plenty of pictures and videos of the falcon flying over the pristine desert environment.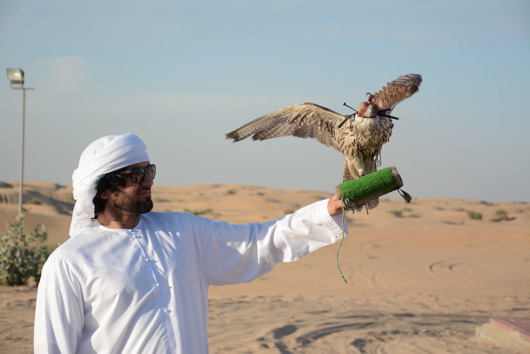 Horse Riding
The ancient nomads rode horses as well as camels into battle. Riding the sturdy Arabian horse with its lovely long legs is a unique experience. For an hour or two, give yourself up to the desert, riding hard across the hard wadis just like the native Bedouins.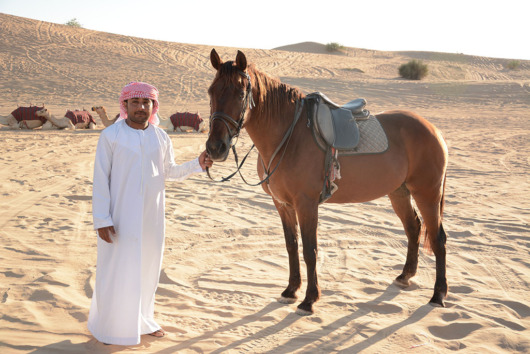 Vintage Land Rover Riding
How about a nice ride in the desert in an uber-luxurious vintage Land Rover? It's a desert safari in full style, seated in completely luxurious, air-conditioned comfort. We can stop wherever you want to, for breaks and pictures and selfies.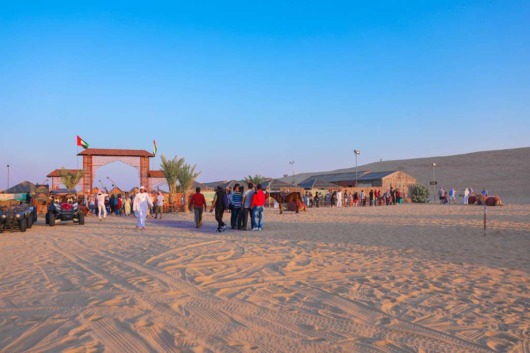 Visit to the Hatta Heritage Village
The Hatta Heritage Village is a place where the past is reborn. It's a restored mountain village in the Hatta Mountains, where people live in stone houses and use the ancient Falaj irrigation system. There are traditional handicrafts for sale here, along with a chance to observe the Bedouin culture close up.
Overnight Desert Camping
Camping out in the desert at night is one of the most romantic things you can do. After the fantastic dinner, you can put down your sleeping bag in the communal sleeping tent or sleep under the stars. Watch the brilliant stars on the perfect black sky, unmuted by smog and then experience the most magnificent sunrise of your life.
Night Safari
Want to explore the desert at night? Take a guide with you and head out on camels. Or, sign up for a 5-hour private vintage Land Rover tour to spot the night wildlife in the desert. You'll have a professional desert expert who'll point out interesting details to you. Do some stargazing and spot constellations with the help of our astronomer guide.
Conclusion
There are many fabulous things to do in the desert, and we have listed several of them. The desert is like a beautiful blank canvas with great potential. What you can do there is limited only by your imagination. So why not plan on a trip to the Dubai desert and get away from the pandemic paranoia?
To book to do any of the activities above, visit RAYNA TOURS at https://www.raynatours.com/city-tours/tours-by-type/Desert-Safari-Tours-11694.aspx
This blog post was guest written by Neha from dubaiwikia.com.
Neha has a post-graduate degree in English Literature and is a passionate traveler. When she is not traveling, she spends her time reading, trying out different cuisines, and planning her next adventure.