With plane ticket prices jacked up during Christmas period but still wanting to travel, we decided, "Why not try the new High Speed Railway in Hong Kong?" and go somewhere in China, like Guangzhou?  So two days before our trip, we decided to book our hotels and train tickets, leaving on a Thursday, and coming back to Hong Kong the following night.  So yeah, one night in Guangzhou.
One look at the people from Guangzhou and you can see the huge resemblance, in fact I would say just a mirror copy, of people from Hong Kong.  Compared with other Asians such as Japanese, Taiwanese, Koreans, even other provinces from China, you could still see some sort of difference between them and Hong Kong people.  But with Guangzhou, you could literally swap these two populations and they wouldn't differ in terms of their physical appearances.
In fact, I could quickly imagine how Hong Kong would have been if it wasn't occupied by the British but instead was governed by China all this time… it may have been very identical to the city of Guangzhou.
As is infamous in China, Guangzhou's smog has the sky covered so that you can barely see the sky unless you're lucky.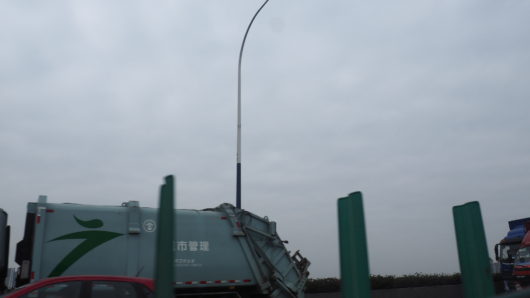 On the way to our hotel, you can barely see anything.
Despite it being a province where people spoke Cantonese, we found that some people only spoke Mandarin as well, so we had to adjust accordingly.
What I also found funny is that wherever you go, it doesn't seem as population dense in Hong Kong… except until you cramp into the subway station, where everyone is pushing and shoving out of the subways.  Forget about your courtesy and etiquette when it comes to the subway station, just make sure you get off or on the train by being proactive (not aggressive).
Apologies in advance for some poor photo quality.  I was watching some YouTube to improve my photo shooting techniques, so I followed its instructions and reseted to the camera's factory default, adjusted some settings, and now the point and shoot technique tends to be more blurry now.  I think the YouTube video's basics were defined as basics for the upcoming professional… like I would need to take the time to adjust each of the camera's settings for the pics like a true professional photographer, that's why my technique of just point and shoot resulted some blurrier pics here.
Also I will be using some Chinese characters in this blog, so if you see some funky characters, it may be because its Chinese characters or your computer may not be able to detect the Chinese language.
Accommodations
Hotel Sofitel Guangzhou Sunrich (website)
Even during this Christmas period, hotels were relatively cheap.  You can even consider hotels like Conrad as well that provides a relatively good value, even if you book it 2-3 days before.
The hotel's lobby is quite "Chinese" style.  They even hired Westerners who spoke fluent Mandarin.  Very friendly service.  Rooms were spacious and the bathroom was very nice.  There was a minibar (not free), good view, and they have an executive desk and also a very nice red seat in the room.  They also provided a gym 24 hours and they also have a swimming pool as well and a spa.
While the location isn't exactly in the financial centre, it's only a 6 min taxi ride away, and plus there were many good chain restaurants around Sofitel's area, around a 10 minute walk, which we also ventured into.
Sofitel Guangzhou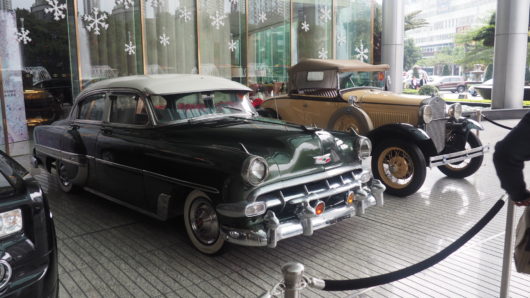 Right outside Sofitel… perhaps they use these cars for limousine services?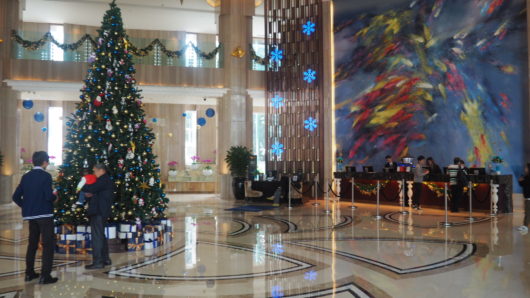 Inside the lobby.  Christmas doesn't get any holidays in China, but they do get celebrated.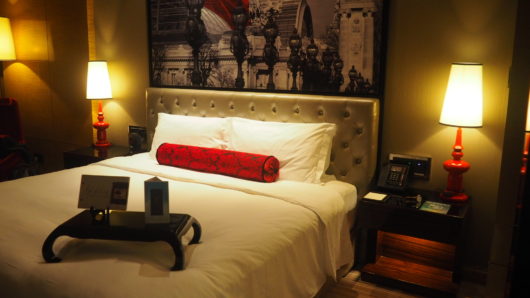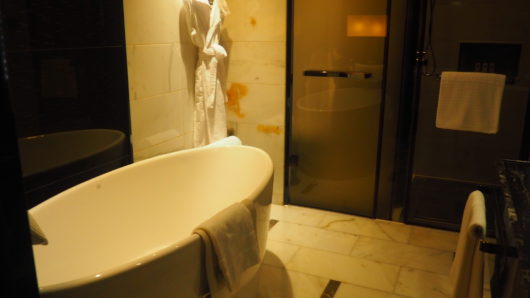 Bathtub, shower on the right
Guangzhou Marriott Hotel Tianhe (website)
Obviously we didn't stay here, since we were only here for one night, so there was no point in staying in 2 different hotels.  But we passed by the hotel so we stopped to take some photos.  Again, very "Chinese" style and its lobby is on 5/f.  If you ask me, Sofitel is a much better hotel than Marriott in Guangzhou.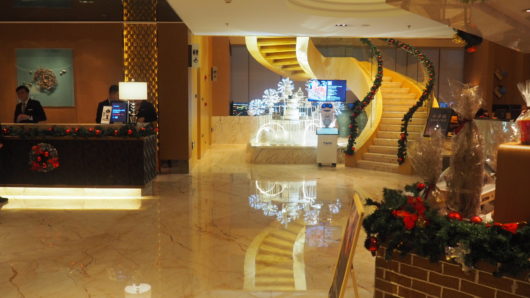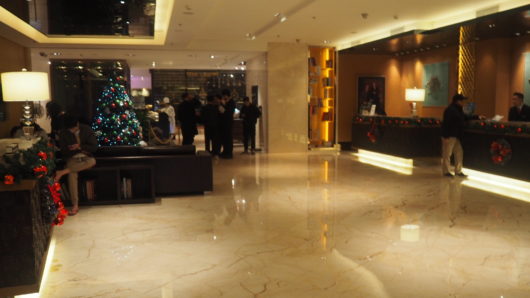 White Swan Hotel Guangzhou (website)
The White Swan Hotel Guangzhou is considered the hotel to be at in Guangzhou back in the day.  Its a 5 star luxury hotel with a sort of class defined by it and with traditional Chinese decor and ambience.  In fact, there are road signs dedicated to showing you the direction on how to drive to this hotel.  The hotel overlooks the Pearl River.
We only got to see the lobby and some bits of its interior, but the ambience already tells you this is a really classy hotel, similar to The Shilla in Seoul.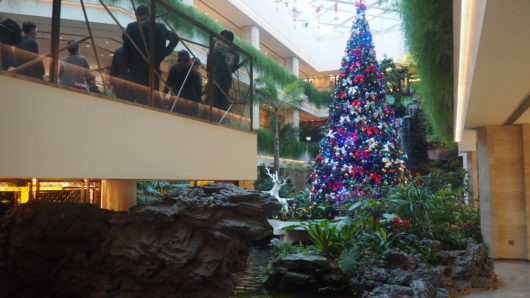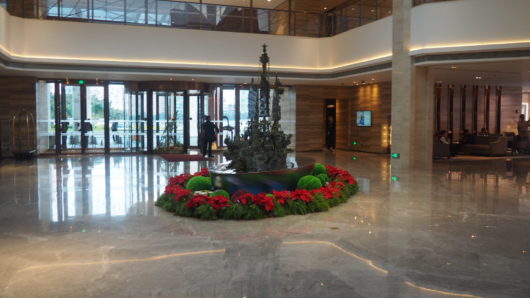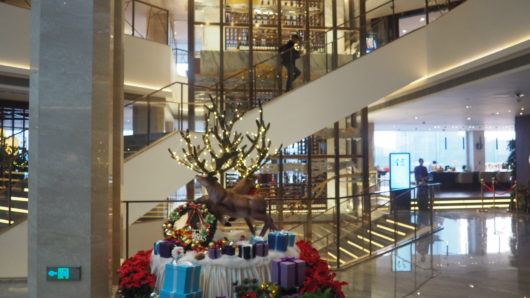 Transportation
High speed railway trains
One of the main highlights of this trip was riding the high speed railway train from the recently opened Hong Kong West Kowloon Railway Station.  Opened in Sep. 2018, there was a lot of contention and delays about this station because protesters were arguing that Hong Kong shouldn't lease some of its land to China since we are being governed by the "One Country, Two systems" policy.  The land lease was required so that people travelling with this high speed railway train didn't had to get on the train, ride a bit, then get off the train once they reach Shenzhen for passport control, and then get back on the train… it would completely be impractical.  Instead, now it allows people to depart from Hong Kong and enter into "China territory" at the same place, so that they don't have to disembark the train just to go through immigration control then to enter the train again.
OK anyway there are a couple of trains you can get on to.  There is this "Hong Kong" train that only goes as far as to Guangzhou South Railway station, and these trains are newer and also have the ability to actually turn 180 degrees in case you want to mingle with the rows behind you.  Then there are other trains such as the "China" trains that go to Beijing or Shanghai… I've ridden on both but their difference isn't that noticeable.
Be careful though… sometimes some commuters take their shoes off and eat peanuts on the train… very impolite and disgusting.  Sometimes they will just sit in your seat and if you ask them to move, they will say just sit in the seat a few rows in front of you it's all the same, and when you try to argue with them they will say, "Why are you so annoying?"  and even the attendant will just ask you to move to the other seat as well, siding with rude commuter.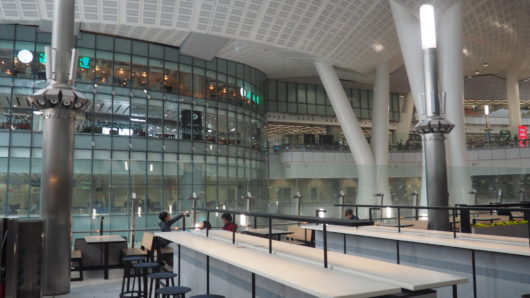 Hong Kong West Kowloon Railway Station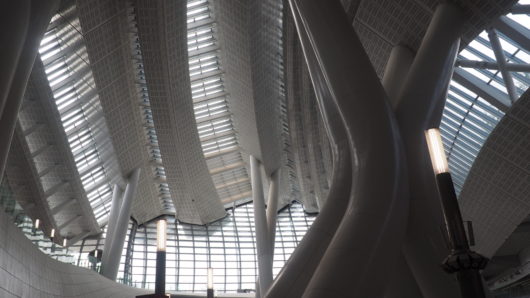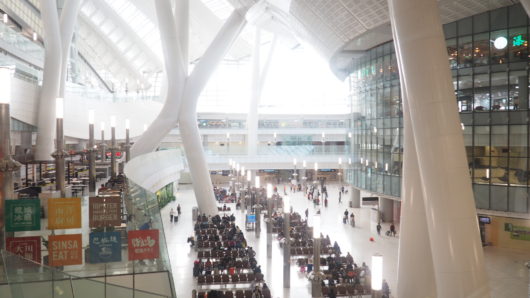 It's suggested to arrive at the station 45 minutes before your departure time.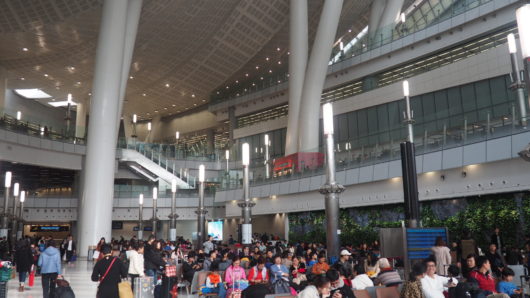 The restaurants I've encountered here are all fast cheap eats.  You can get to this station either through the Kowloon station or Austin station.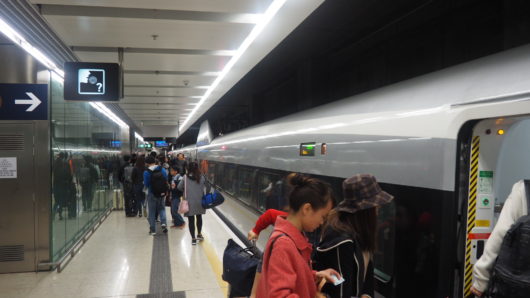 The Hong Kong style train.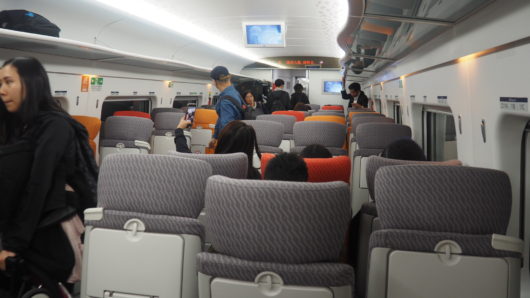 They have different classes, second class, first class, VIP class, and something like a super class.  Honestly, the second class is already very sufficient as it is more spacious than a premium economy on an aircraft.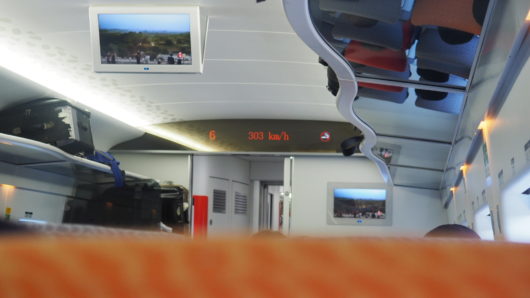 Going at 303 km/h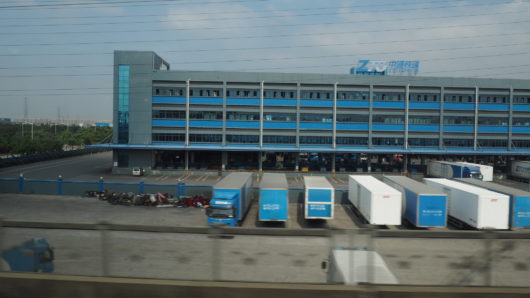 On the way to Guangzhou, a lot of industrial buildings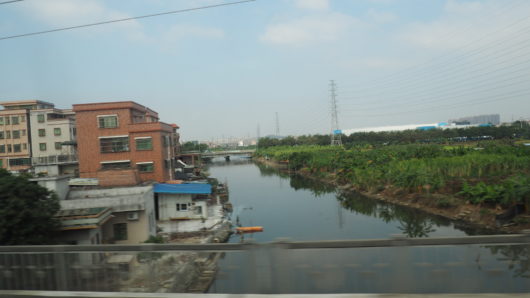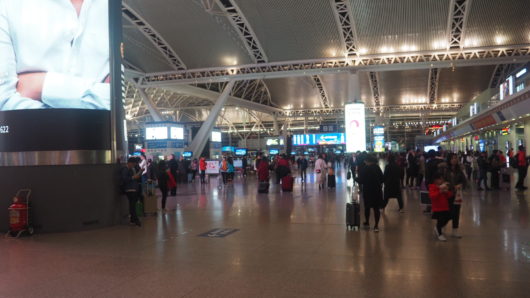 This is the Guangzhou South Railway station.  Massive in scale, many fast food chain restaurants.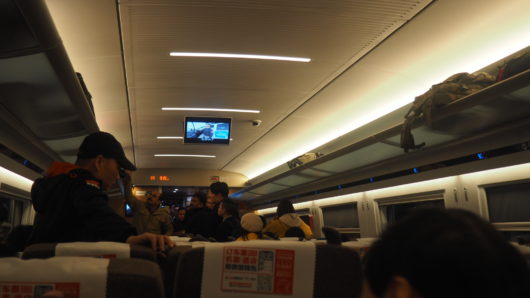 This time I was riding the "China" style train back.  The seats are just a tad smaller, but overall the experience was very similar.
Subway Stations and Taxis
While going around Guangzhou, your two most viable options are taking the subway and taxis.  Subways are ridiculously cheap… we've never paid more than 3 RMB per ride per person.  That's less than USD 0.5 per ride!  Taxis are relatively cheap as well since you'll be around the center of Guangzhou.  From the Guangzhou South Railway station to Sofitel, which was about a 40 minute ride, we spent about 80 RMB one way, so that's almost USD 11.50, not bad at all.  Then within the city itself, most of our taxis never costed more than 20 RMB since they were all close by.  It's entirely up to you on which transportation to choose.  Sometimes the subway may be more convenient if the station is just right nearby where you are.  The only downside of the subway is that it can easily get packed especially during the rush hours, where tons and tons of people cramp together and people will start scolding and yelling other people how impolite they are and how they should be squeezing more into the center etc.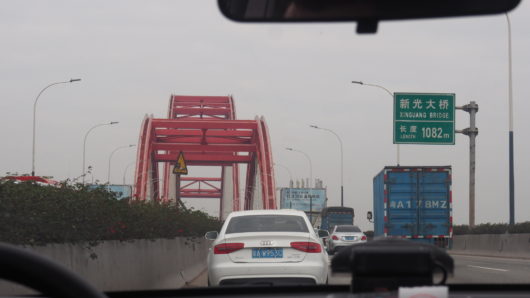 Taking the taxi from Guangzhou South Railway Station, and here we ride on the Xinguang Bridge
Restaurants and Food
The main purpose of going on this trip was mainly for the food.  So here are a few restaurants and food items we tried and my verdict on each of them:
陕西面馆 Shaanxi Flavor Noodle Restaurant
Its one of those sort of "dirty" cheap restaurants with single and old men and women enjoying their noodles by themselves.  Its recommended by locals and tourists alike, but since they have different branches, perhaps the branch we went to was more sketchy.  In fact, on the wall they posted their food hygiene quality, which was rated as excellent, OK, and a -____- face which meant not that OK, and that restaurant's hygiene was -___-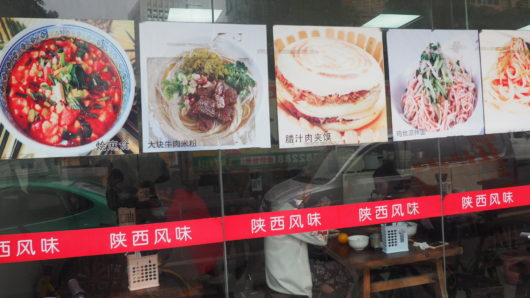 Outside the restaurant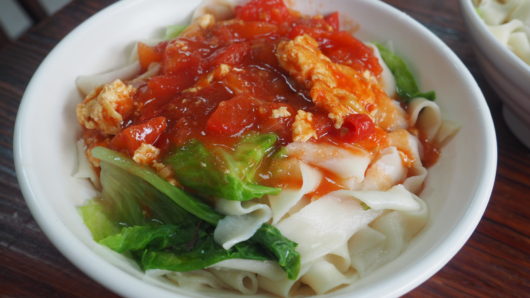 Tomato and egg noodles.  Actually these noodles were quite tasty!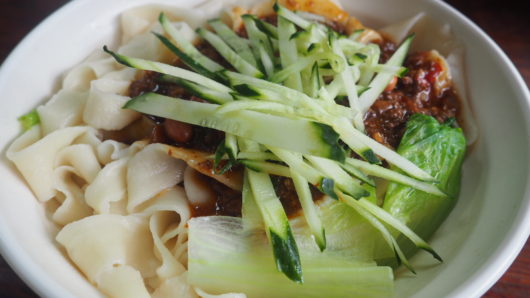 Zhajiangmian.  I was a bit worried since there was some swine fever going on in Guangzhou, but I guess the bad ones were already eliminated… Anyway again the noodles were quite good despite the restaurant's appearance.  I wouldn't mind going here again, perhaps a different branch.
Heytea
This chain of cheese tea shops have been the rage in recent years.  Starting in 2012 and now making its way outside of Mainland China and into Hong Kong in 2018, we've seen the news that people were queuing for 3 hours just to get a cup of these in Hong Kong.  Three hours in line!
Fortunately for us, we placed our order, and they told us to come back in 30 mins.  After 30 mins, the order was still not yet ready.  Why did it take such a long time if there weren't that many people at the shop in the first place?
Two reasons.  One – people were placing orders in the app, then getting it after.  Two, there were many delivery platforms (like Deliveroo and Uber Eats) that were getting orders from their app and then delivering it to other consumers.
I've never seen a shop this busy… these staff really had no time to relax and they were consistently and constantly working!
Also what's unfortunate is that working at these front line positions, such as waiters, assistants, even restaurants, their salaries range from RMB 3,000 to RMB 4,500 and only 4 days of holidays per month.  I thought in a city like Guangzhou their purchasing power will be higher and thus the salary, because these salaries were similar to Chengdu when I was there, but no, they were the same!  So low.
Anyway, any respectable shopping mall should have a Hey Tea in it.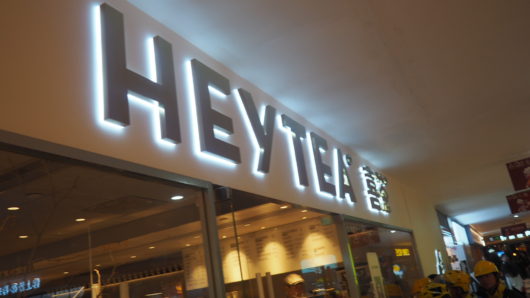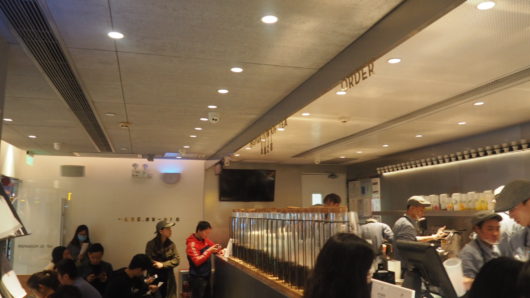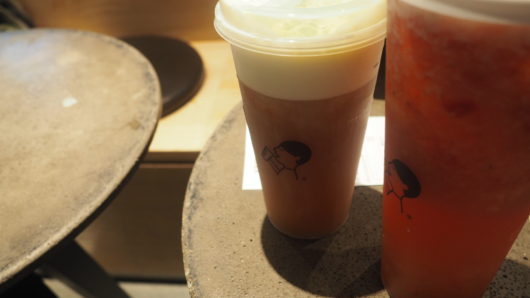 I don't like Cheese or cream cheese so I got the strawberry with strawberry bits with no cheese on the right.  The tea was very delicious!  Has that tea aroma that's lacking in many of these chain tea shops.
穗银肠粉店 Suiyin Rice Noodle Rolls Store
Apparently the really popular Yinji Rice Noodle Rolls Store was really good at one point, but then after its popularity, its quality had immensely downgraded, and so we decided to try this one, the Suiyin Rice Noodle Rolls store.
I personally didn't like it that much, thinking that the rice noodle rolls were broken easily, the taste was kinda shabby, and the sauce was a bit bland.  I prefer the rice noodle rolls in Hong Kong when you yumcha.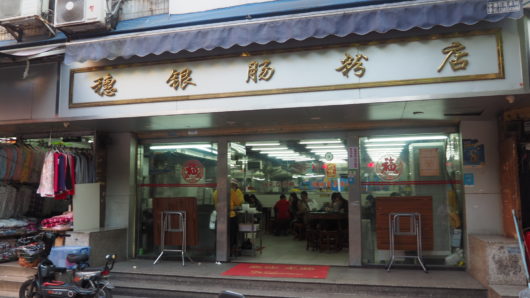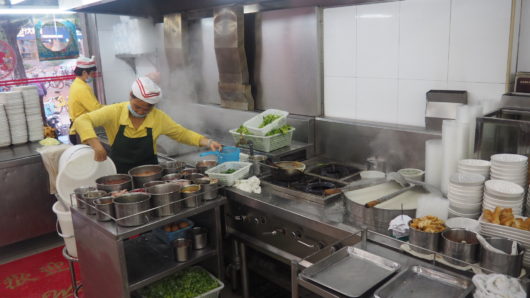 Harbin Dongbei Food
This restaurant was situated about a 10 minute walk from our Sofitel hotel.  At first, I thought this was one of those sort of BBQ restaurants where you had to cook your own raw food, but instead all the food came cooked, and they just had this apparatus where they used Ikea candles and an aluminium foil on top to keep the food warm.
Still, the food was pretty good.  They used a lot of Xinjiang spices for their food.
Also what was really cool was that everything was done online.  You scan their QR code on the table, they recognize your table number, and you place your orders through their online system.  When you pay, you can either pay through Alipay or Wechat Pay (or you can simply use cash like us), so everything was sort of automated.  Many restaurants are like that as well in China.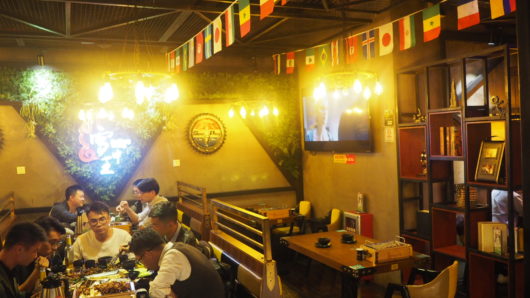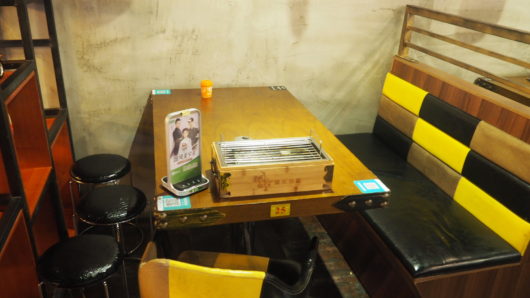 This was the apparatus I was talking about.  Metal bars, underneath were three Ikea candles, and they put an aluminium foil on top to keep your skewers warm.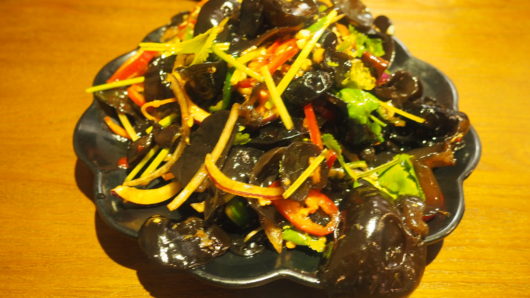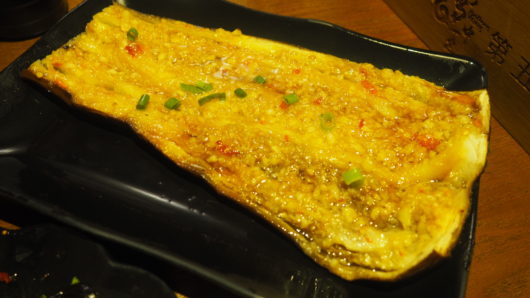 Asparagus, probably my favorite food.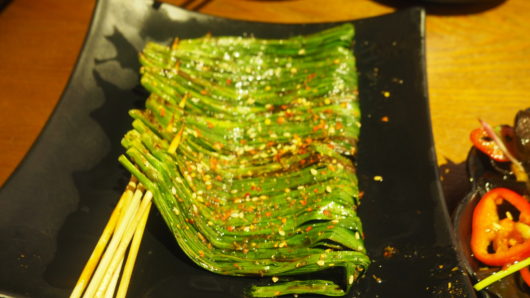 Squid
Chicken wings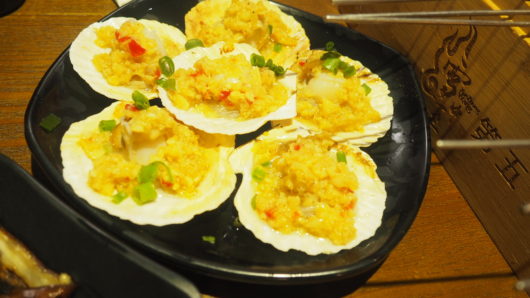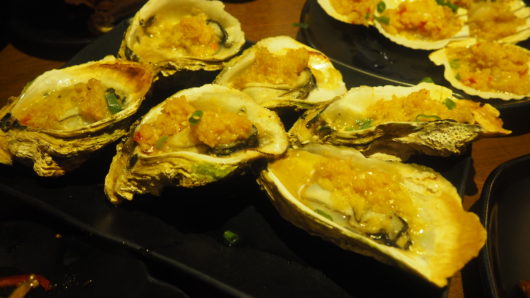 Oysters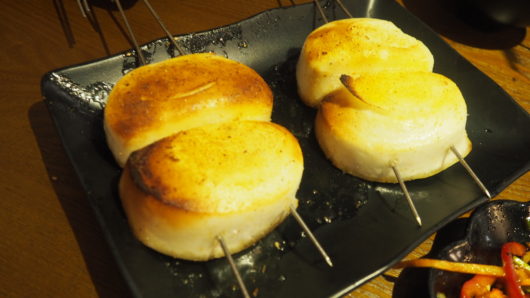 Steamed buns.  Could only eat one since I was so full by then.
Dian Du De 點都德
A Chinese dimsum restaurant about a 7 min ride from our Sofitel hotel.  We thought we had to wait for a long time since we arrived at 1pm and there were about 15 tables ahead of us for the 1-2 person tables.  But actually, we waited only for about 7 mins since the monitor kept updating a new number every few seconds or so, and soon it was our turn.
And we realised why the queue was moving so quickly after, when we went upstairs, the place was massive!  It was like a palace.
It's a really cool restaurant as they have the traditional tea set up prepared, where there was a fire boiling the water in the kettle, where you pour the hot water in the teapot with tea leaves, then you use a filter to pour it into your cup.  The tea was very good.
In terms of price, actually this is considered quite pricey in my opinion as the dim sum is actually same price, if not more expensive, than Hong Kong, and considering how the price index in general in Guangzhou has been relatively cheaper than Hong Kong, I was surprised to see such high prices here.
Overall, the food tastes were pretty good, but nothing spectacular or memorable.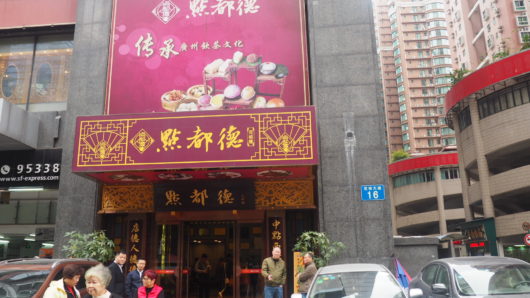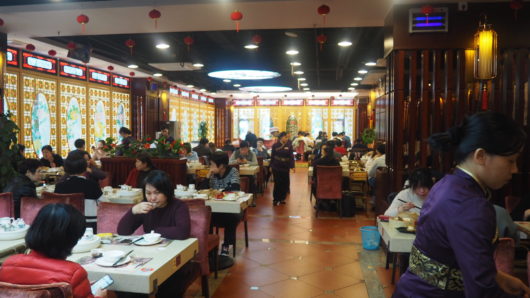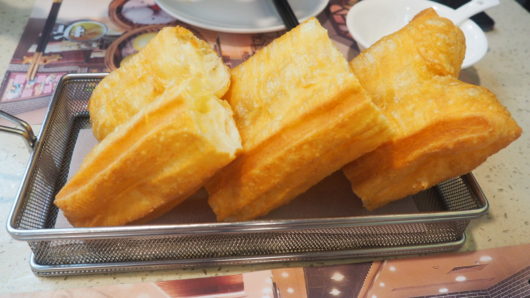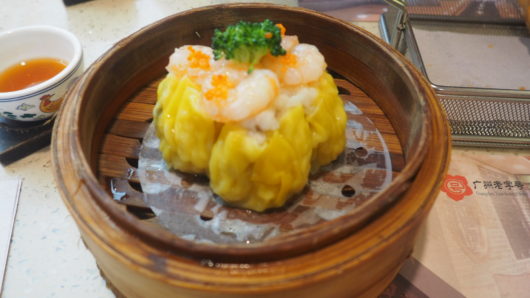 Siu mai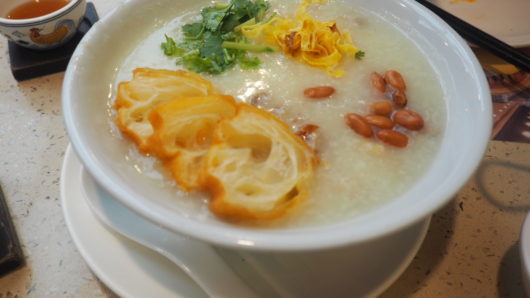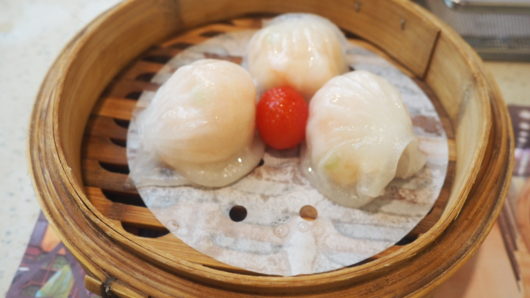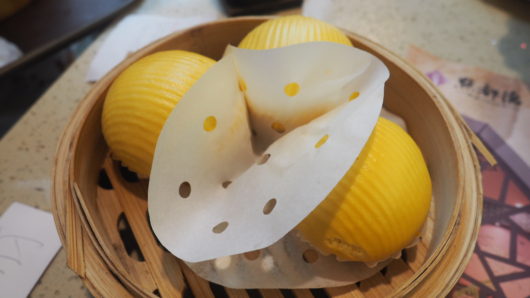 Lau sa bao.  The golden custard that's in these buns.  I thought the liquid was a bit too runny inside.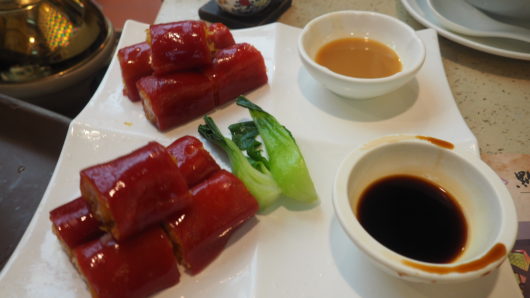 Red rice noodle rolls, one of their signature dishes.
仁信甜品 Ren Xin Tian Pin
Well known for their double boiled milk pudding.  I ended up getting the almond soup and I actually preferred the almond soup over the red bean double boiled milk pudding.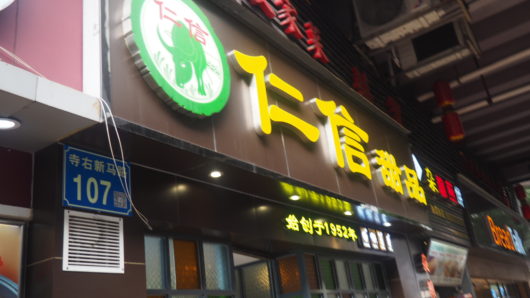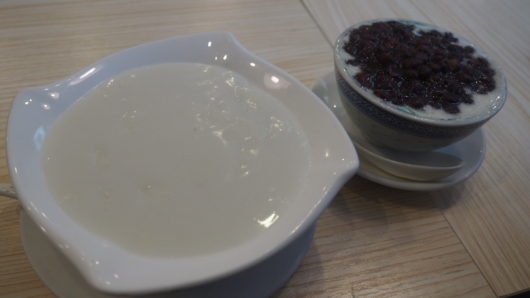 Luk Show
We really wanted to try this restaurant as you can eat the sour spicy fish here.  Before getting to the entrance, it looked like there was nobody, until you actually went in and you saw that there were people seating as if they were waiting for the renewal of their driver license at the DMV.  When we got our queuing ticket, we were about 20 tickets behind, and the staff said it will take us at least 30 minutes for our table.  We were in a bit of a rush, since it was our dinner meal and we had to rush to Sofitel to get our backpacks then take the taxi back to Guangzhou South Railway Station, and so we waited for just about 15 minutes.  However within these span of 15 minutes, only 2 tables were called, so we eventually gave up and went somewhere else.  Mind you, this was at 6pm only.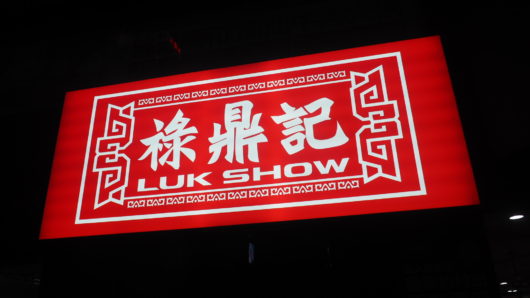 云海肴 Mystic South-Yunnan Ethnic Cuisine
So instead of eating at Luk Show, we decided to eat at Mystic South, which was a Yunnan restaurant located in Grandview Mall on the 6/f.  Despite being in a shopping mall, I actually thoroughly enjoyed eating at this place.  The food came fast, within 10 minutes all 5 dishes came.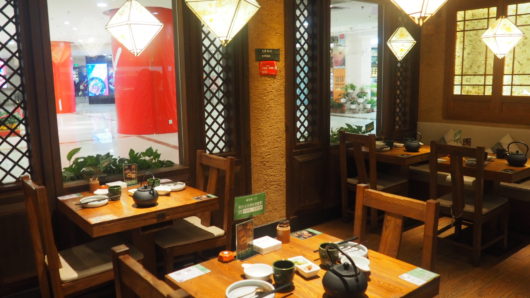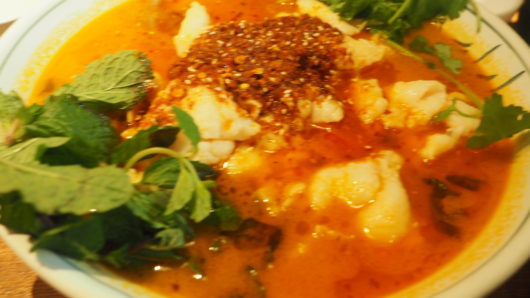 Sour spicy BONELESS fish.  Not even sour and a tad spicy, with lots of fried garlic and spring onion.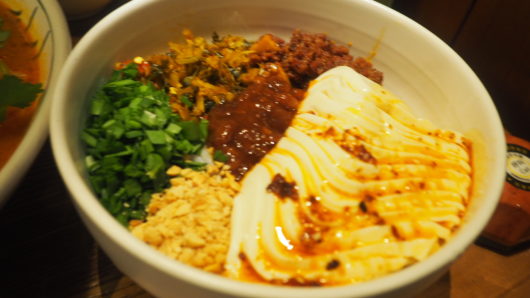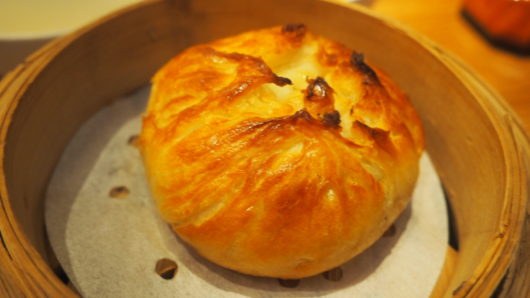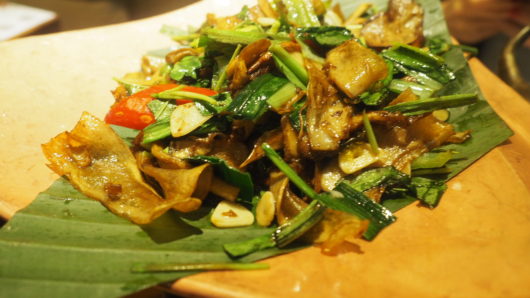 Their most signature dish is the 牛肝菌 Boletus.  It costed almost RMB 100 for this dish, about 40-45% of our bill!  Was it worth it in comparison to the other dishes?  I didn't think so, it was pretty typical.  I liked the fish more.  By the way, everything here was very oily, but that's typical Chinese food.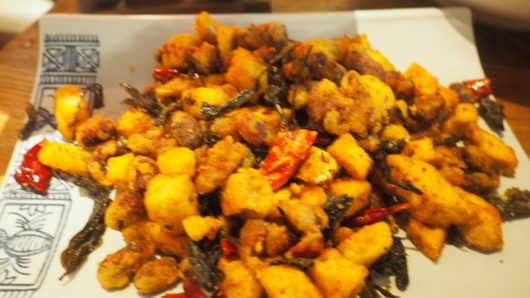 Tofu
逗蛙 Douwa
Another restaurant we passed by in China Plaza is Douwa.  In this restaurant, all you eat are frogs.  Yes… FROGS.  All frog dishes.  It makes it more haunting with a "SuperFrog" right outside its restaurant entrance.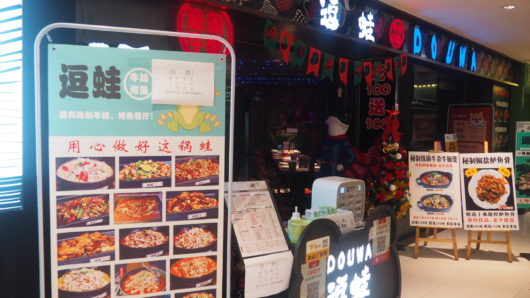 I've tried frog before, which tastes like fish and looks like chicken but yeah, not interested
Other Things to Do
Shopping
The malls here in general are very typical and contain pretty much the same big brands as other international shopping malls.  The architecture and style of these shopping malls tend to be quite rectangular with a bit concave and convex that make the architectural design a little bit more interesting.
However, the shopping mall that impressed me most was the K11 Art Mall Guangzhou.  While there is already a K11 mall in Hong Kong, the one in Guangzhou is definitely more spacious, has more interesting and boutique shops, and the decor and ambience is definitely a notch higher than the one in Hong Kong, lending itself to be comparable to other shopping centres in Macau.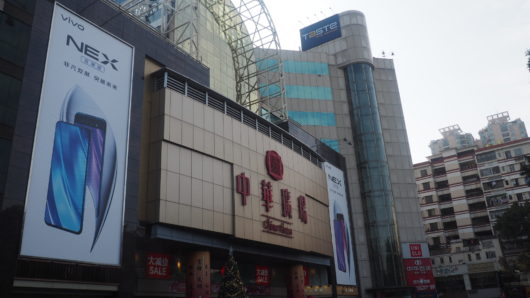 中华广场 China Plaza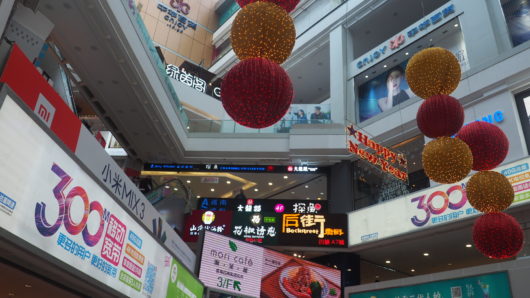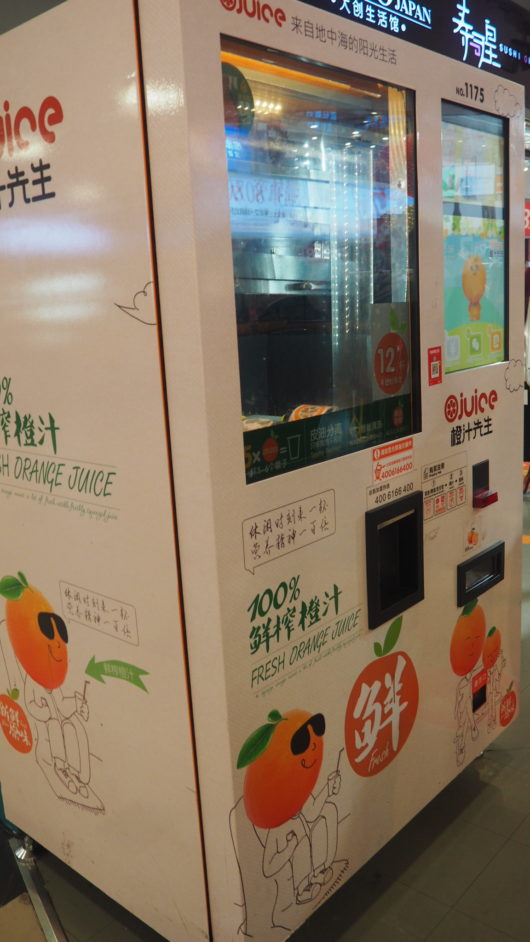 Mr. Juicy vending machines in China Plaza.  You spot these machines throughout Guangzhou's shopping malls.  They take 5-6 rather small oranges and make "fresh" orange juice for you on the spot just for RMB 12.
Times Square Guangzhou.  Just took a pic since there was also a Times Square in Hong Kong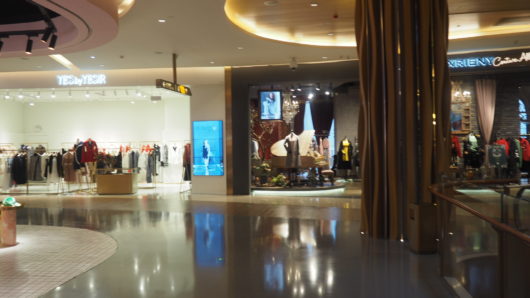 The Guangzhou K11 Art Mall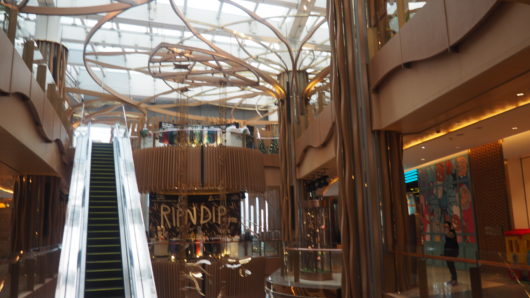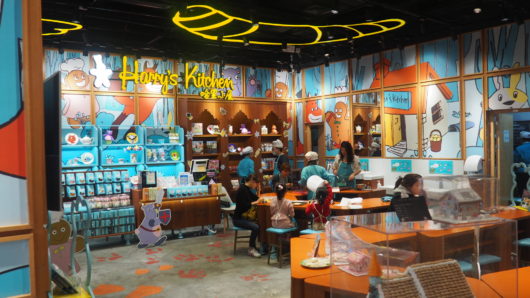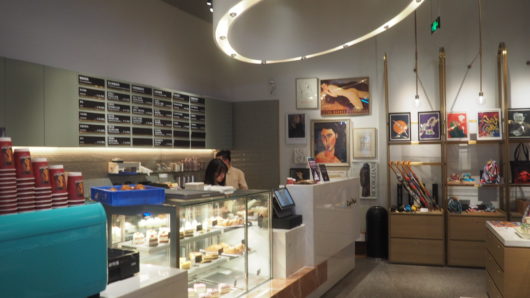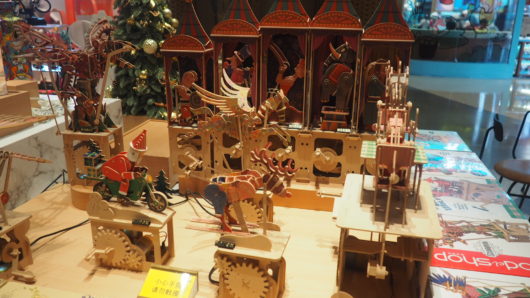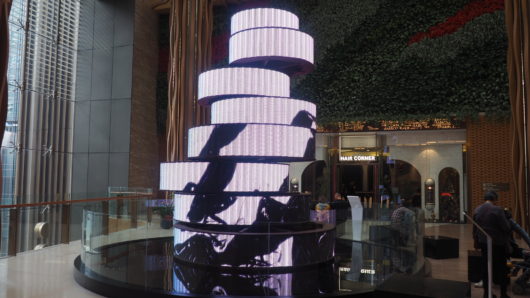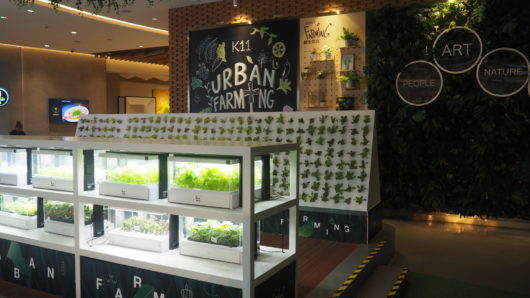 Urban Farming in K11.  They showed how each of the plants looked like at a given day.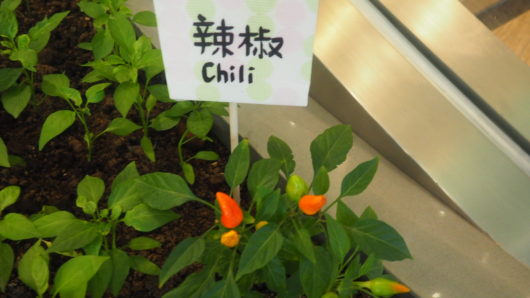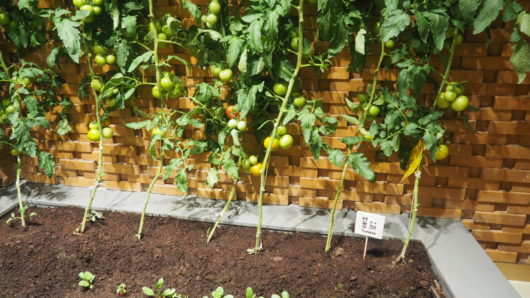 Tomatoes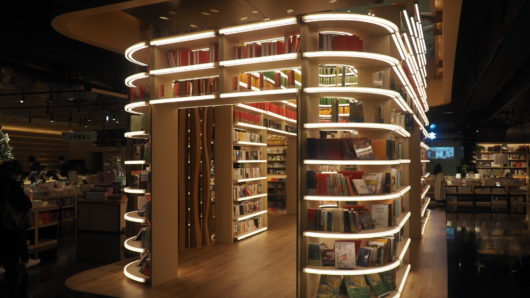 Bookstore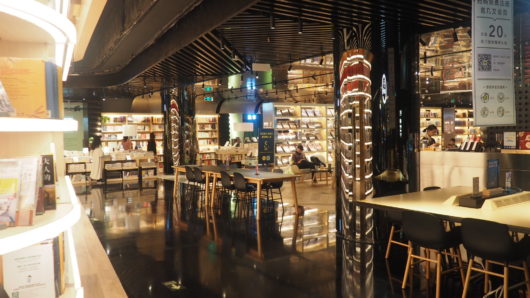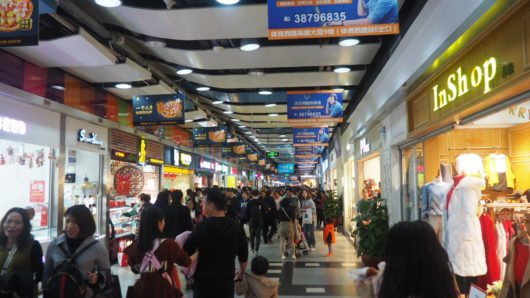 At a different underground shopping passage, the 天河又一城 Tianhe Festival Walk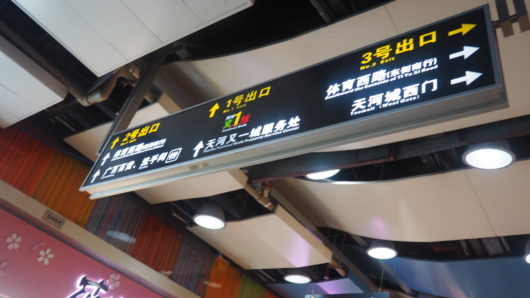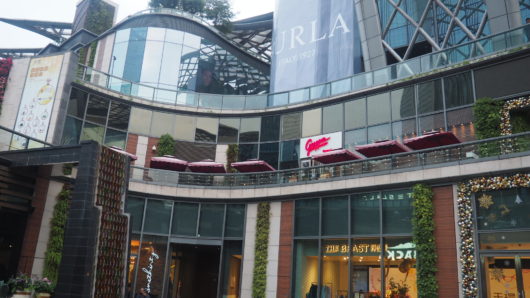 And nearby the Tianhe Festival Walk was the Grandview Mall, with many international restaurant chains such as Grappas and Outback Steakhouse and Pizza Express, and they also have international brands such as Porsche and Furla inside
Walking and Sightseeing
Other things to do and see in Guangzhou:
Canton Tower, an iconic landmark in Guangzhou, known for its "thin waistline".  It was the tallest tower for a brief period, replacing CN Tower, until Tokyo opened its Tokyo Skytree.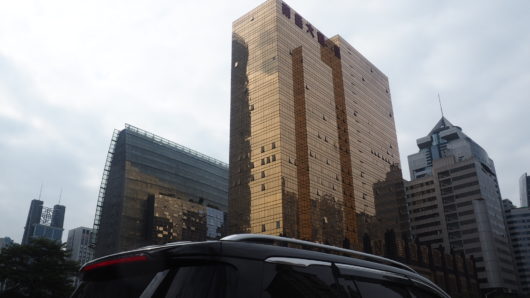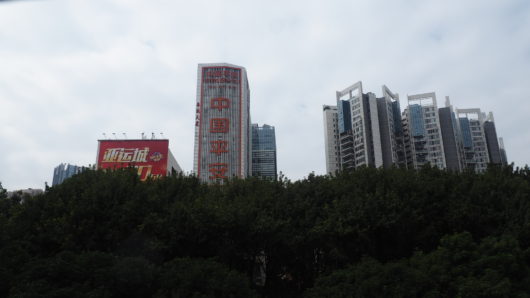 Ping An Insurance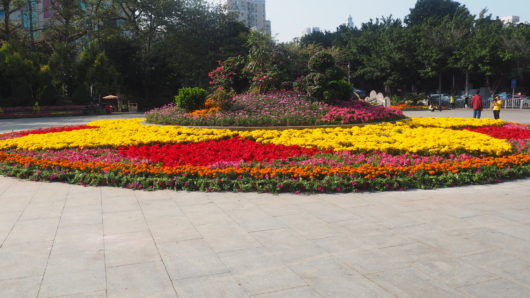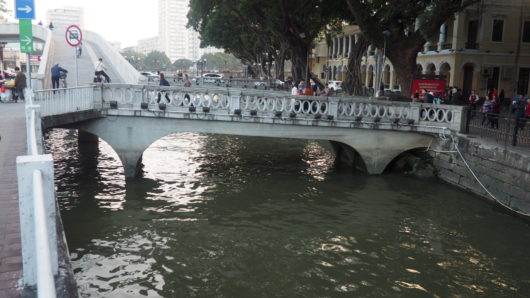 Shamian Park Guangzhou
Kafelaku Coffee Guangzhou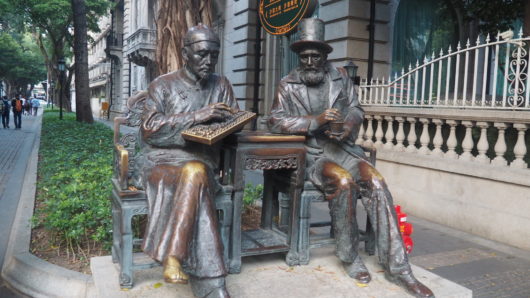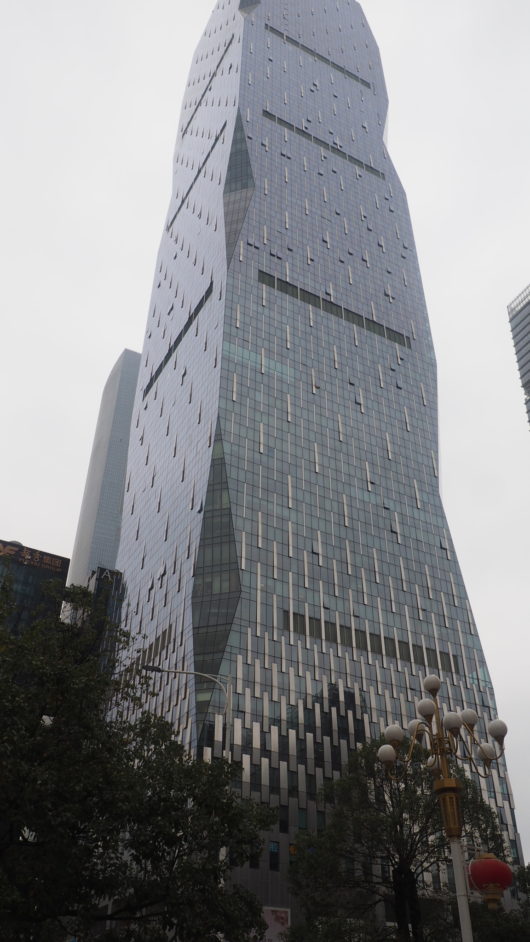 Huacheng Avenue, probably the "financial centre" of Guangzhou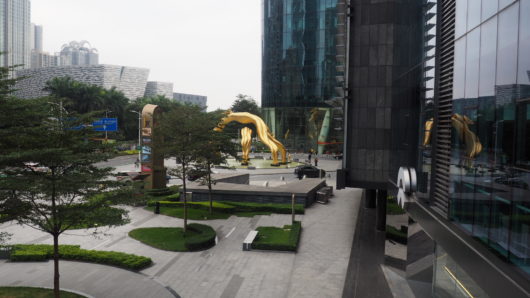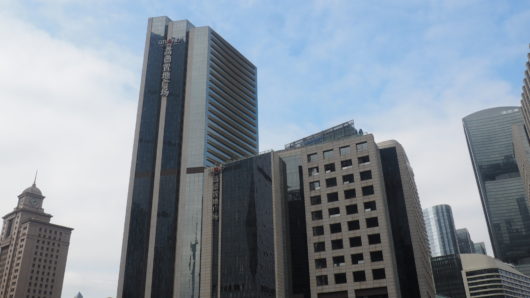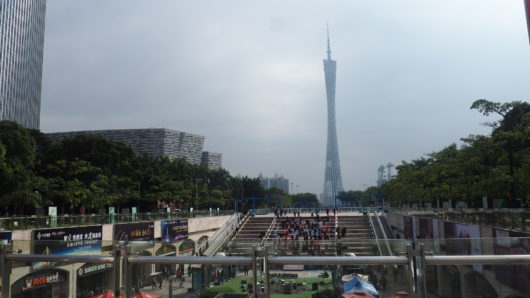 Canton Tower from afar.  At the bottom of the pic, people seated down awaiting for a hip hop dance performance with audience participation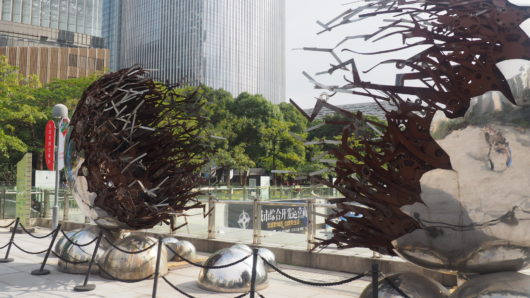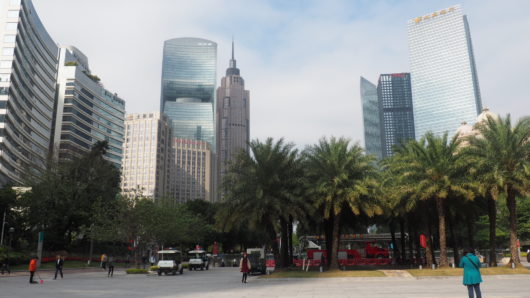 And that's it, our one night in Guangzhou!  Even we found two days to fill an itinerary of things to do quite difficult in Guangzhou.  I guess if you were here to see more historical and cultural landmarks, you would have to spend a couple of days here since they tend to not be in the city.  But other than that, there's not much to do here except shopping and eating.  And if you've seen all the shopping brands before, and it's not like you can eat all the time, what else can you do?  It's a one day getaway just to try out other foods, but other than that I wouldn't come back here just for leisure.  I see a lot of business potential here though… it's really cool how China has embraced all this digital and automation systems here, with all the digital pay and such.  Even their gadgets… Vivo had introduced a dual screen for front and back of the phone that can operate at the same time, and when taking pics, you can select a pose template so that the photographer and you can tell each other how to pose better.  And they even had accessories for a controller add on to your phone… something important only for Asian countries especially in China since everyone was playing mobile gamings on the phone!  The downside of course is that everyone is glued to their phones all the time, even during dates.
Resources