Prior to this trip, people told me that a few days in Osaka would be sufficient.  As a tourist after visiting the city, I'd agree.  Osaka isn't really a boring city.  I am sure if I lived there, I would have fun there.  It also gives off a fun, youthful, and vibrant culture to it.  Not to mention there is a lot of shopping and good food there.
But Osaka is like any other city with its own foods and shopping.  However as a tourist, you would definitely have enough time to visit all the important attractions within 3 days.  Mind you, I was there for about 2.5 days… but from my research online and from my guidebook, I felt I have covered the major attractions that I had to see.
And Osaka is a convenient stop for you to travel to other major parts of Japan – Kyoto, Nara, and Kobe to name a few.  And the nightlife there seems to be pretty happening on any given weekday.
Accommodations
Osaka Fujiya Hotel – http://www.osakafujiya.jp/english/.
I arrived at night and this was my first night in Osaka.  The morning after I had intended to go to Kyoto.  My intention was to book a hotel near Namba station, but this hotel was actually a bit farther from the station than I had intended, so I ended up taking a taxi from the Namba station.  Like other budget hotels in Japan, the rooms are small, but they are still manageable.  They have enough room for you for the bathroom, for beds and also a desk.  They also have a TV as well.  For the price I paid, I couldn't be more satisfied.  Actually, the hotel was very close to Dotonbori, like a 5 minute walk away.  You can also borrow umbrellas from the lobby as well.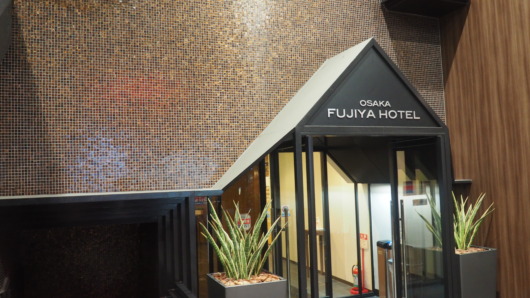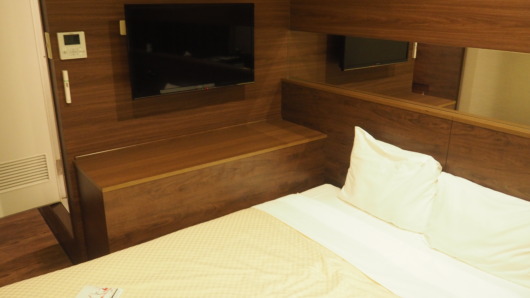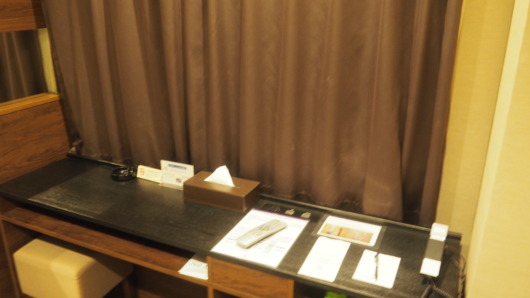 Dormy Inn Premium Namba – http://www.agoda.com/dormy-inn-premium-namba/hotel/osaka-jp.html.
Upon arriving from Kyoto back to Osaka, I had a disappointing experience where my host wasn't able to accommodate me in her airbnb since she forgot to provide me the instructions to get the key in the mailbox, and I wasn't able to contact her, so I had to spend my first night back in Osaka at a hotel.  But no matter, I know a brand that I can go for – Dormy Inn!  Actually, I really love this brand as I think their hotels are amazing for the price you pay.  Again similar to Osaka Fujiya Hotel, compact room but big enough to have everything you need.  They also have spa as well (in any of their hotels you go to!)  Once again, Dormy Inn continues to impress me (well, the hotel design is exactly the same as the one I stayed at in Nagoya).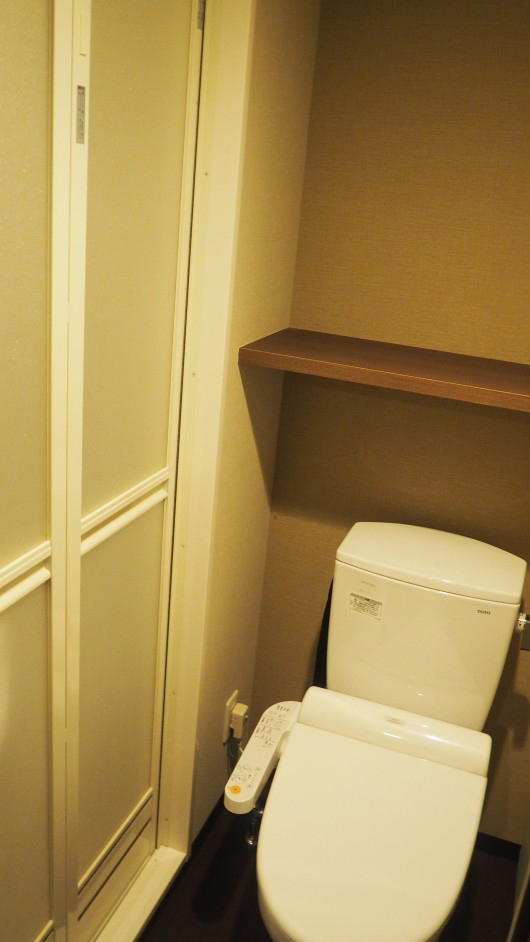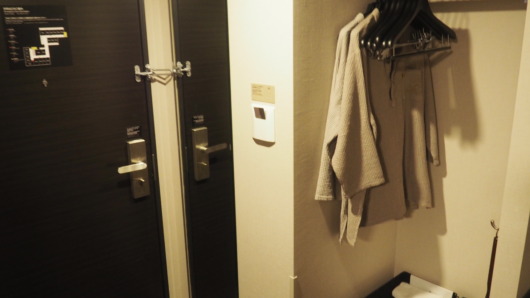 Aribnb in Namba – https://www.airbnb.com/rooms/7778057
As I was saying, the first night back in Osaka from Kyoto, I wasn't able to contact the host for the details in how to get access to the key.  After a bit of fuss and such (and even once getting key access to a different room where there was already someone else living in there!) we finally managed to solve the issue.  She gave me back the money for the first night, but as said… yeah I was a bit disappointed from the hassle…  So make sure that you have all your entrance information beforehand before your trip and not leave it last minute!
Actually the location is quite far south from Namba… I would prefer just staying at Dormy Inn as it was closest to the train stations.  It takes about a 10-15 minute walk to the stations so I would prefer just have taken taxi to get there.  Provided is internet, TV, and towels.  Quite comfy, good enough for a single person or a couple (although the bed might be a bit small for 2 people).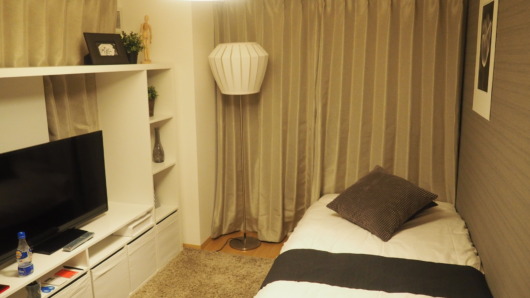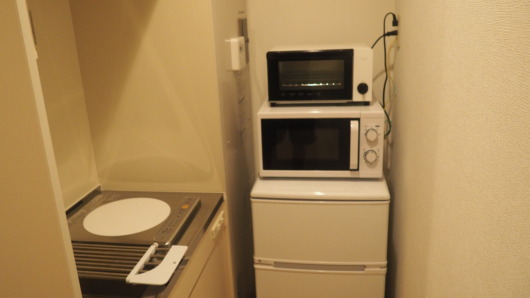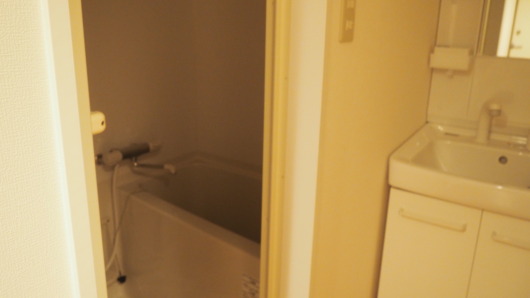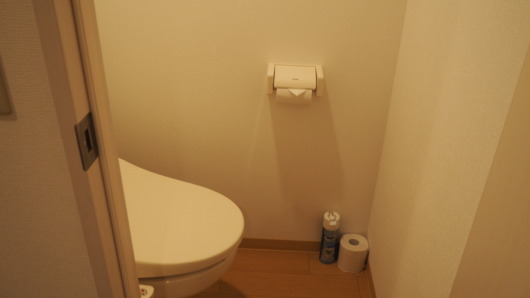 Transportation
Upon arrival at the Osaka Kansei airport, you will be overwhelmed by the extreme amount of train lines.  You look at the train map and you'd think you're studying astrophysics.  There are two different train companies – one is local, and one is JR Train.  Even though let's say they both bring you to Umeda, their stations will be located apart from each other.  Also, note that there are many different "speed" trains, as in some run through every station, some are express trains where they skip a few stations, and some are super express trains where they skip a majority of the stations.  Trains are indicated by their arrival time… be sure to get to the platform before the arrival time as they are very punctual.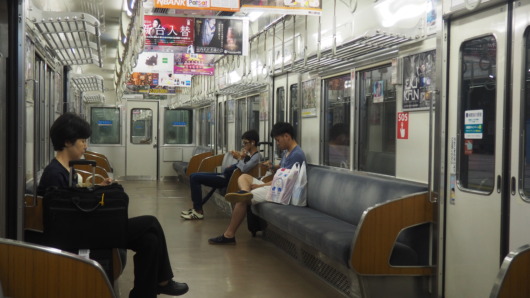 Restaurants
Street Takoyaki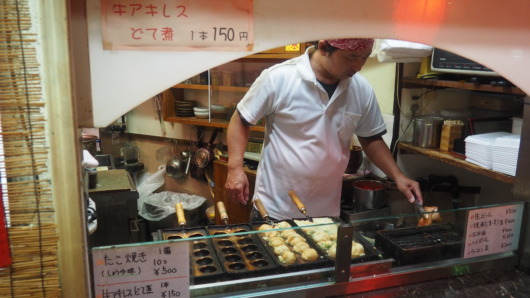 One of Osaka's main delicacies, this takoyaki shop was found near the Osaka Fujiya Hotel.  You will find these delicious octopus balls pretty much anywhere in Osaka.
Yum!
Ramen place in Dotonbori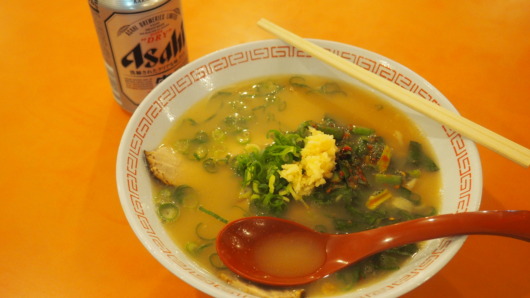 Stumbled upon this ramen place in Dotonbori… it was like 12am-1am packed with people so I decided to give it a try.  However the inside of this place doesn't seem very clean and tidy… the taste was OK only, not fantastic.  I had higher expectations coming in.  I guess it makes a good late night snack.  At this place, you order the ramen and beer from vending machines.
Some restaurant in Sennichimae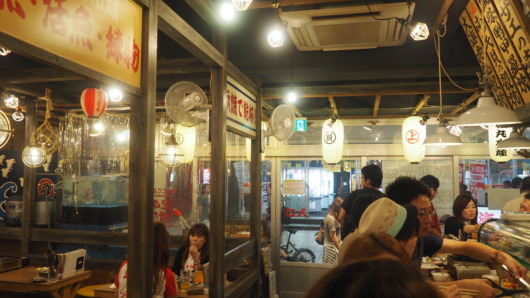 So basically I just decided to come into this restaurant, again because I saw quite some people.  Mainly they do grilled stuff and also sashimi.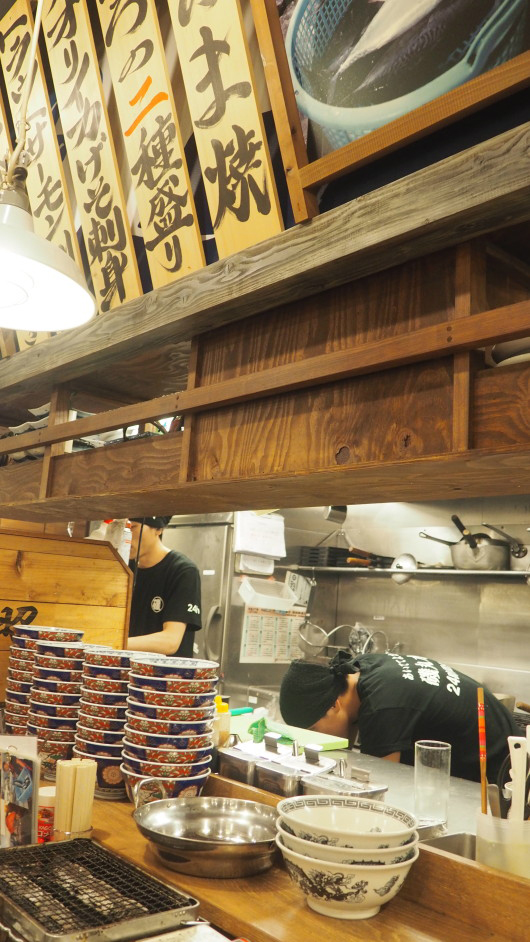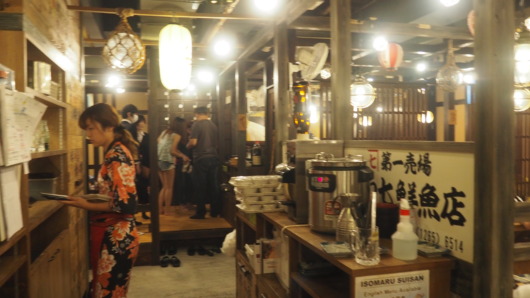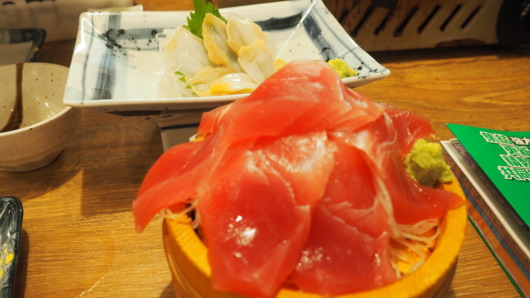 Jiyuken (http://www.jiyuken.co.jp)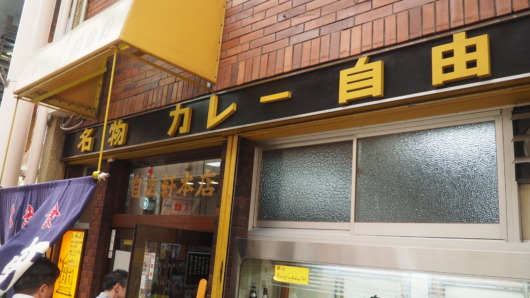 The first time I wanted to try it, it was already past last order time at night.  So I purposely made another trip to go again when it started the restaurant… 11am.  However I ended up arriving at around 12pm.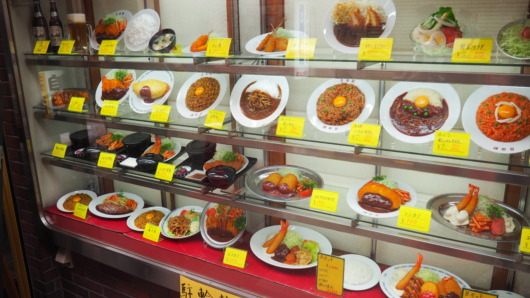 Ahh.. I miss this already. Went here because of strong recommendations from guide books.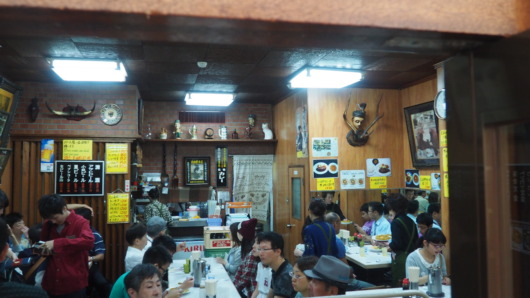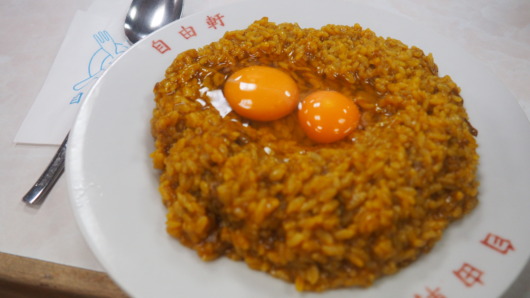 Nom.  Curry rice with raw eggs.
Skewers near Osaka Castle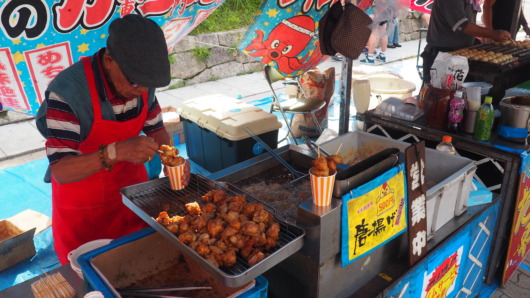 Grilled chicken.  This is the one I got.  I am not sure if they usually have this near Osaka Castle as there seemed to be a festival going on that day.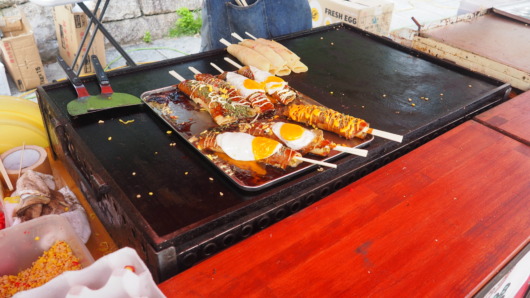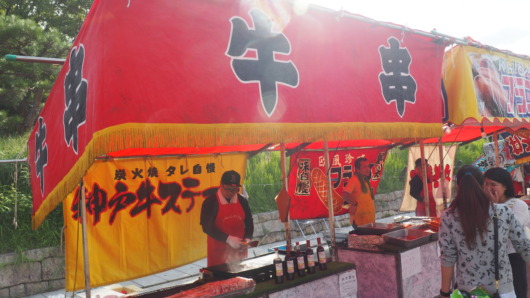 Kobe beef skewers….. I was too full to try though.
Kushikatu Daruma (http://www.kushikatu-daruma.com)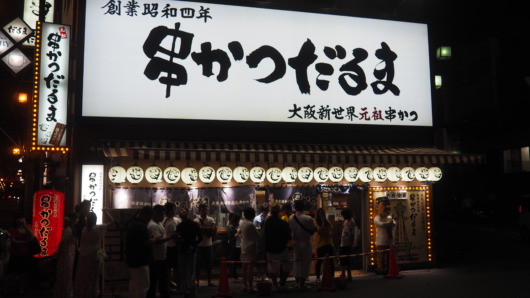 Again recommended by the guide book.  It is near the Tsutenkaku.  Lots of people lining up at around 7:30pm-8pm.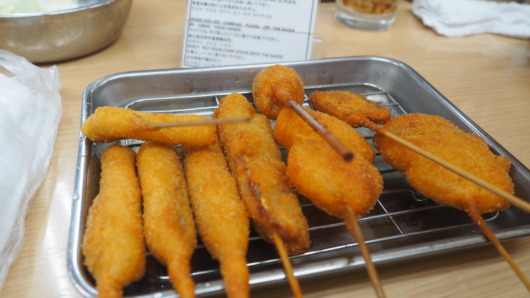 Basically you choose what you want to eat and then they will deep fry the stuff for you.  You can then dip the skewers into their special sauce… no double dipping though!  As you are sharing the sauce with other people.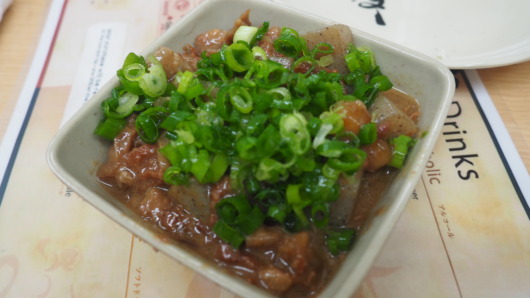 Okonomiyaki near Umeda Station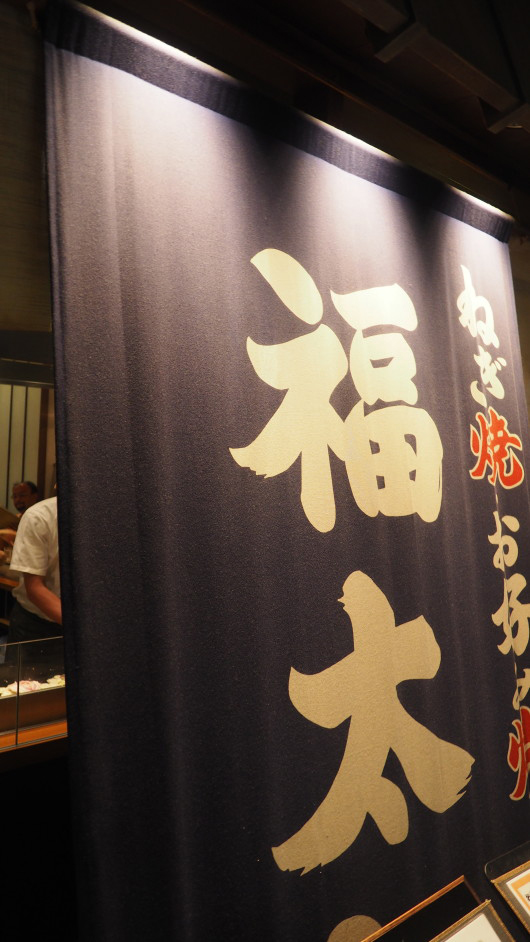 Okonomiyaki is one of Osaka's main food delicacies, so I had to try it before I went.  There was a lot of people in this restaurant that was making Okonomiyaki.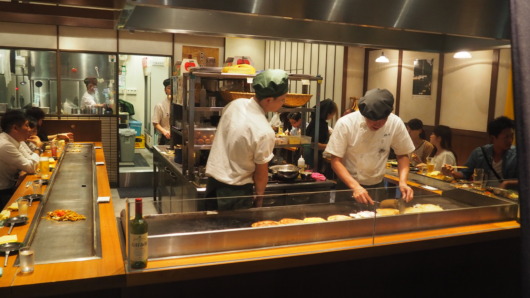 It's located in a shopping mall near the Umeda station called Grand Front Osaka.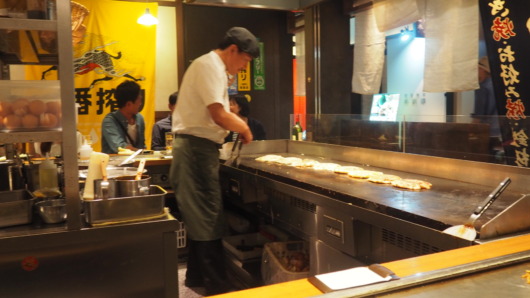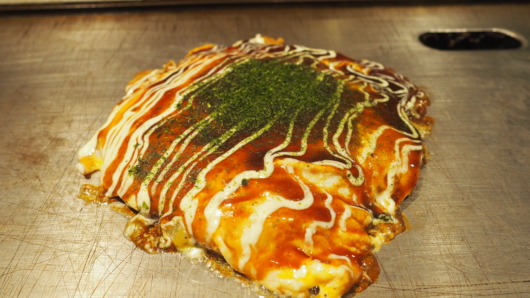 Things to Do
Dotonbori – is one of the main tourist areas to visit in Osaka.  It has everything you expect in the central part of any city – lots of restaurants, nightclubs, bars, shopping… they even have a beautiful canal with bridges all over the canal which adds a special touch to it.  In typical Japanese fashion, they have illuminated billboards everywhere.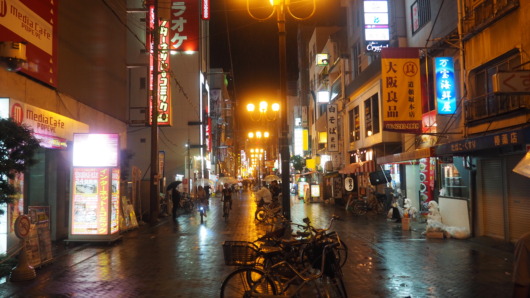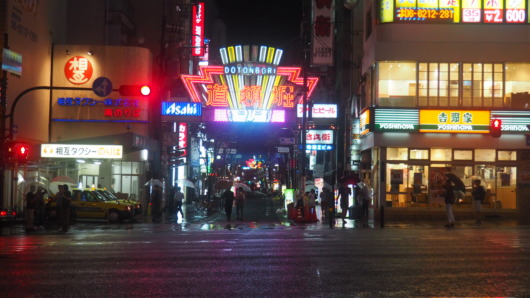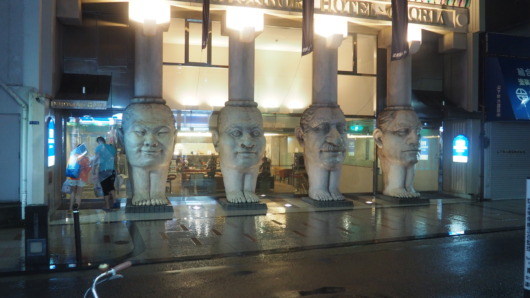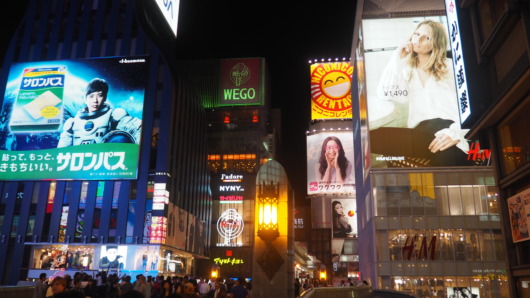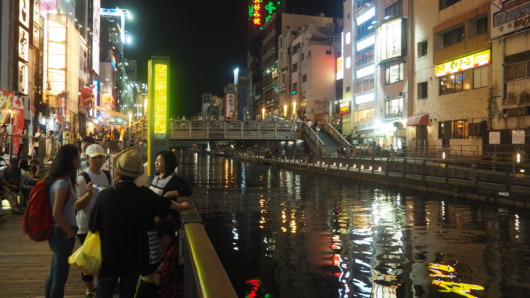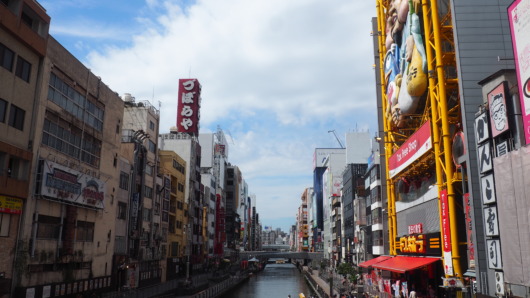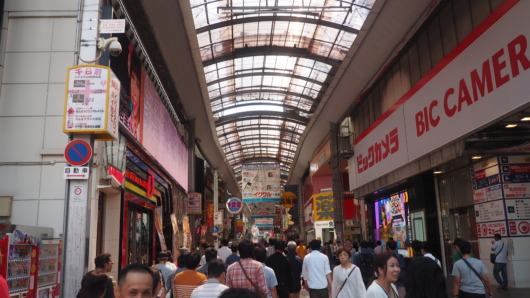 Sennichimae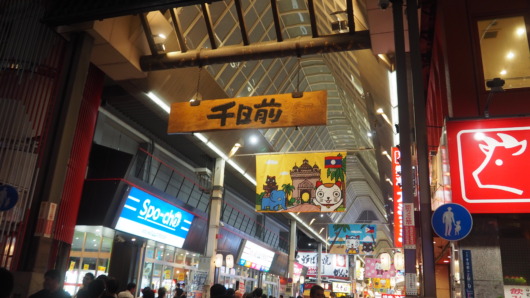 Osaka Castle (website)
Located about 30 minutes from Namba station, this castle is massive.  Took me half a day to walk around the area.  Inside the castle itself has lots and lots of ancient artifacts along with historical information about the significance of the castle.  The Osaka Castle is one of the most popular sightseeing attractions in Osaka as it was a major role for unification of Japan in the 16th Century.  Around the castle is beautiful trees and land everywhere.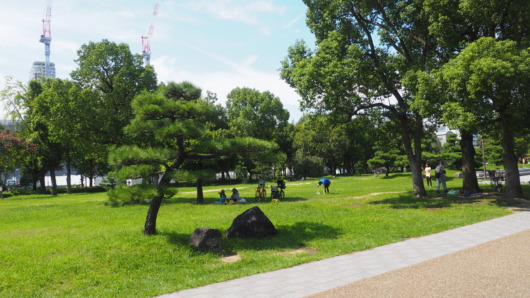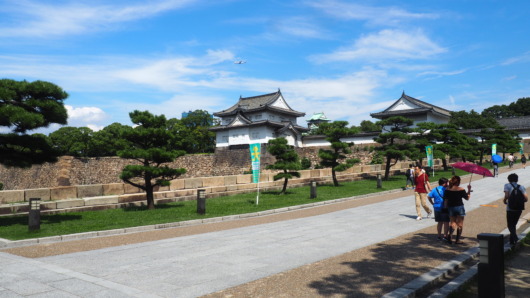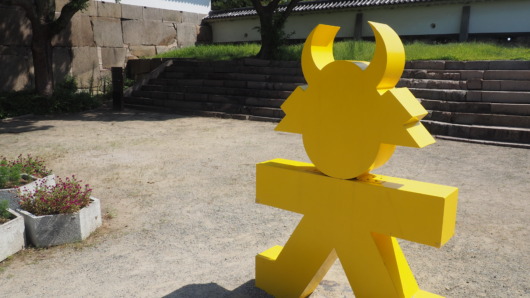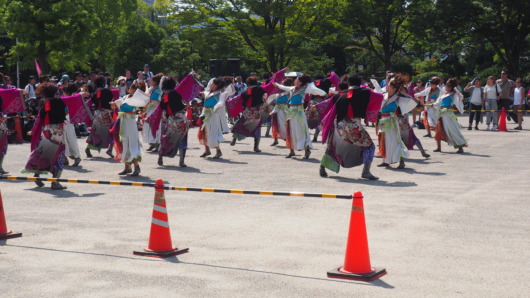 Performing some traditional dance.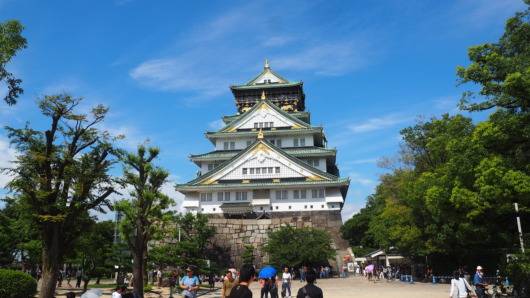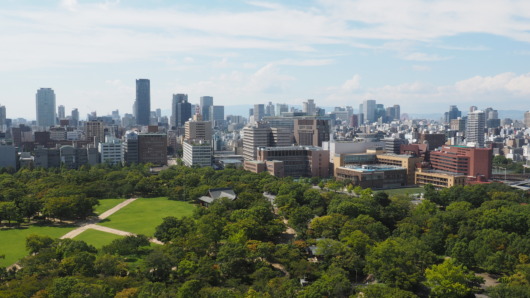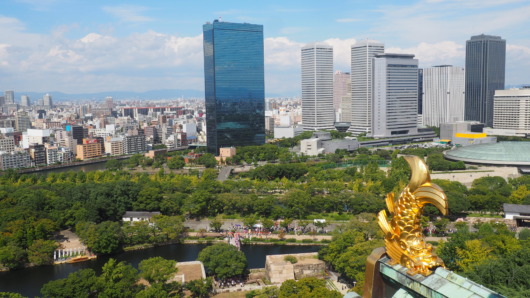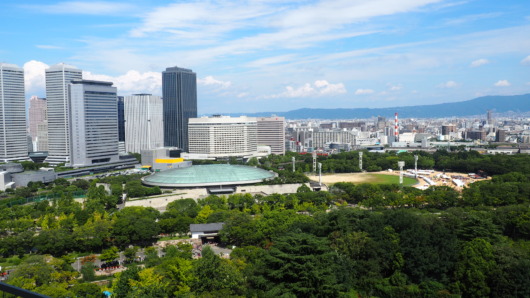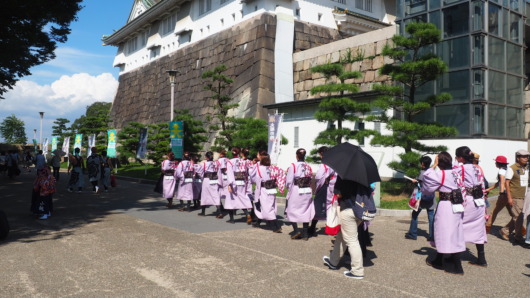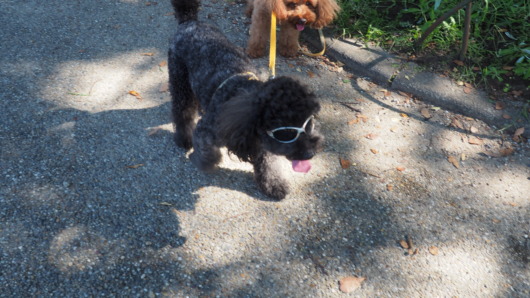 Cool dog.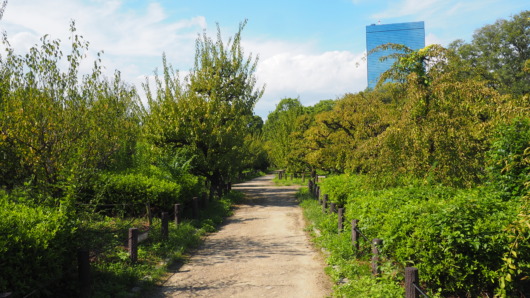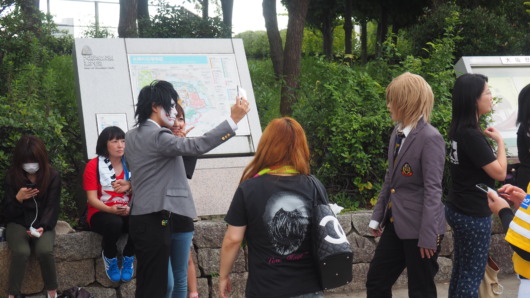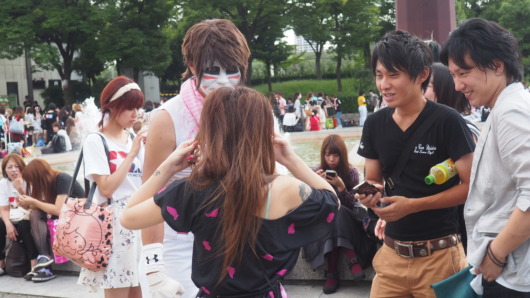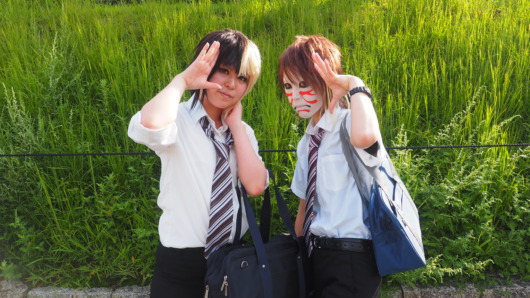 Some event going on… not sure what.
Some indie bands performing.  This band attracted a huge crowd.
Tennoji
Honestly, not much to do here.  There is the Tennoji Zoo (didn't go), Spaworld, and the Tsutenkaku Tower.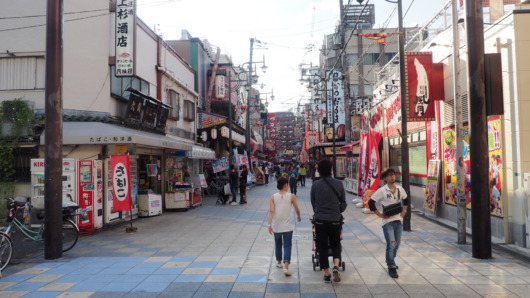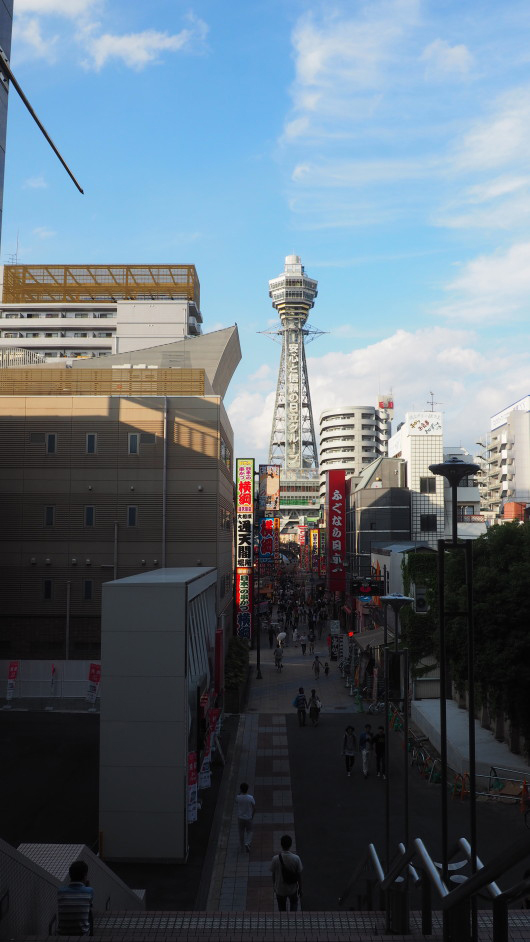 Tsūtenkaku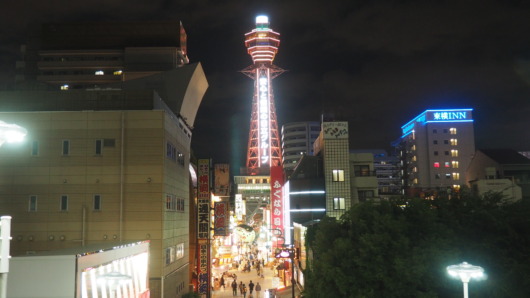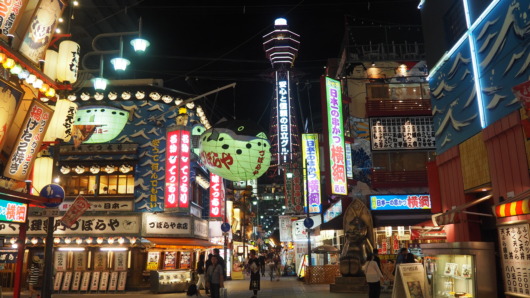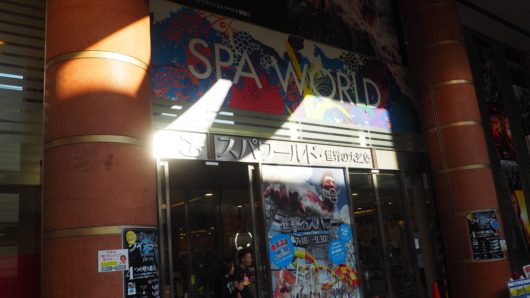 Basically a huge complex designed for spa and swimming.  There is one floor dedicated to men, another floor dedicated to women.  It is 24 hours.  Not expensive at all… if I remember correctly it's probably HKD 100 ish?  There is an Asia zone and a Europe zone and I believe they switch males to females on different days… I am not sure about that though.  Men were in Asia zone when I went.  Also have stone spa, food, kids stuff, and lockers.  Actually, you can even book rooms there to stay for the night.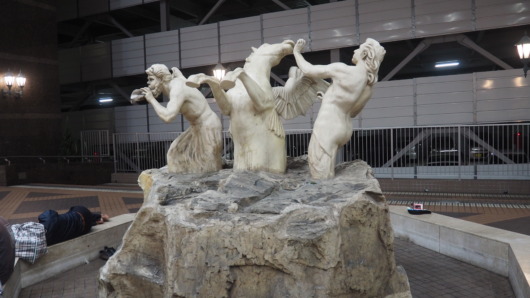 Outside Spa World.
Shopping at Umeda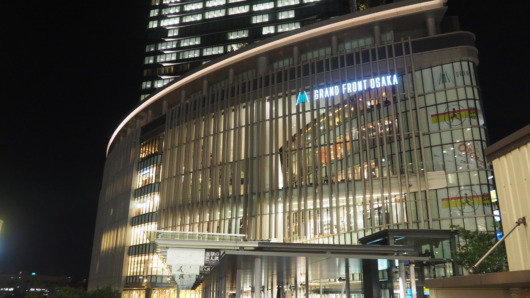 One of the newer malls there, quite nice to walk around with many restaurants on the upper floors.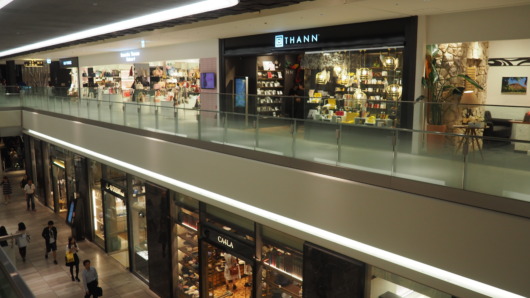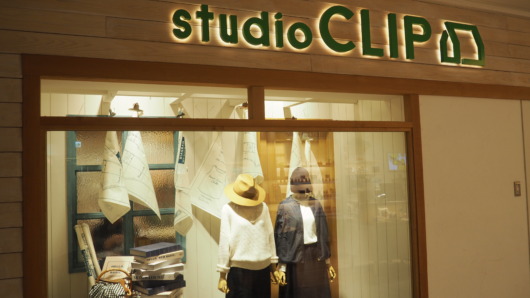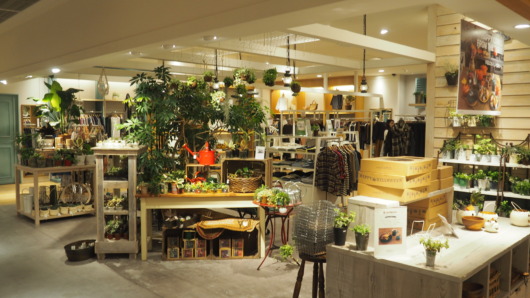 Umeda Sky Tower
The Umeda Sky Tower was completed in 1993.  It's basically a pair of skyscrapers connected by an atrium hanging in mid air.  This atrium (or called Garden) is where most tourists go… you go up there and basically you can see Osaka from high up.  Having been to other towers before, the height of this place wasn't exactly impressive.  What was impressive, architecturally, is that they built the pair of skyscrapers first and the floating garden on ground, before actually lifting the floating garden to where it currently is and installing it securely between the two skyscrapers.  It was the first time in the world that there was this practice in the architecture world.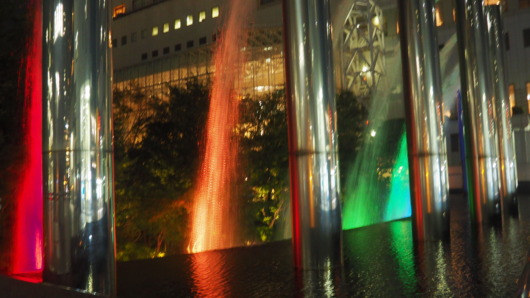 Outside the sky towers were man made water shows with changing color displays.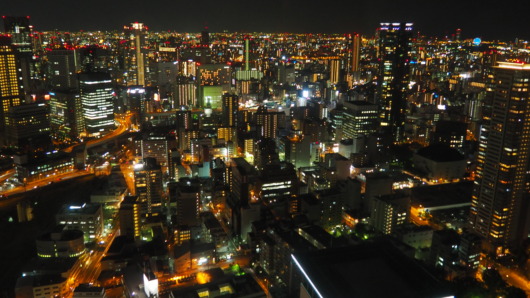 View from above.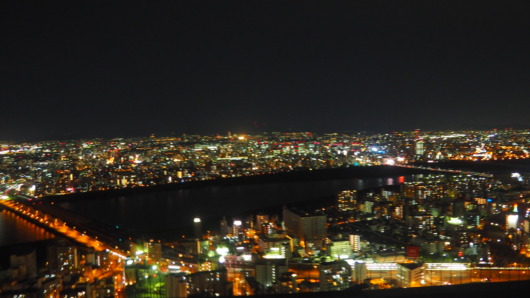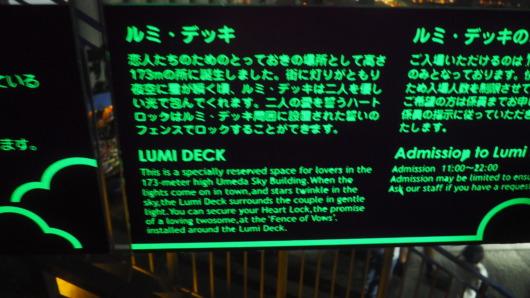 Conclusion
There's not much to do in Osaka besides the usual city stuff… shopping and eating.  In general, Osaka people are more friendly and open than say people in Tokyo (even the Japanese locals can confirm this… well most big international cities in the world adopt a colder attitude).  I would come here again though, I love the energy and youthfulness in this city, and I have to stop here to go to one of my favorite cities, Kyoto, anyway.  But I wouldn't mind spending Osaka for a few days… again like other cities in Japan I had a really difficult time communicating as most of them didn't know English.  Also I would take some time before your first Osaka trip to understand the train system.
Read about Kyoto or Nara/Kobe.
Last Update: Dec. 15, 2015
*Originally published on Nov. 18, 2015